<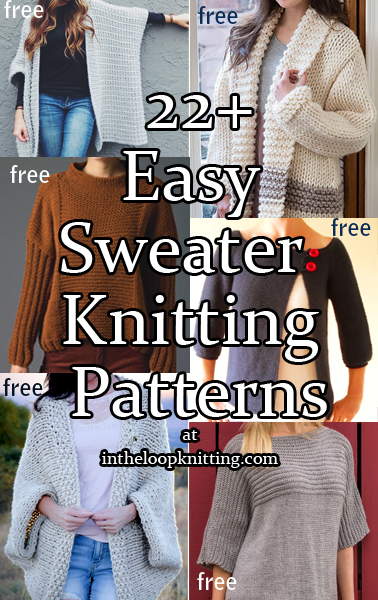 Patterns for pullovers, cardigans and vests that have been rated easy by their designers and/or your fellow knitters.
To get the knitting patterns, scroll down the page to the individual pattern you want and click on the link to that pattern.
These patterns are not my designs but links to other designers who have generously shared their patterns. If you have questions about how to knit a specific pattern, please contact the designer directly.
All links on this site are for informational purposes, but please note that some links are to affiliate sellers that pay me a small commission on purchases.
Free Patterns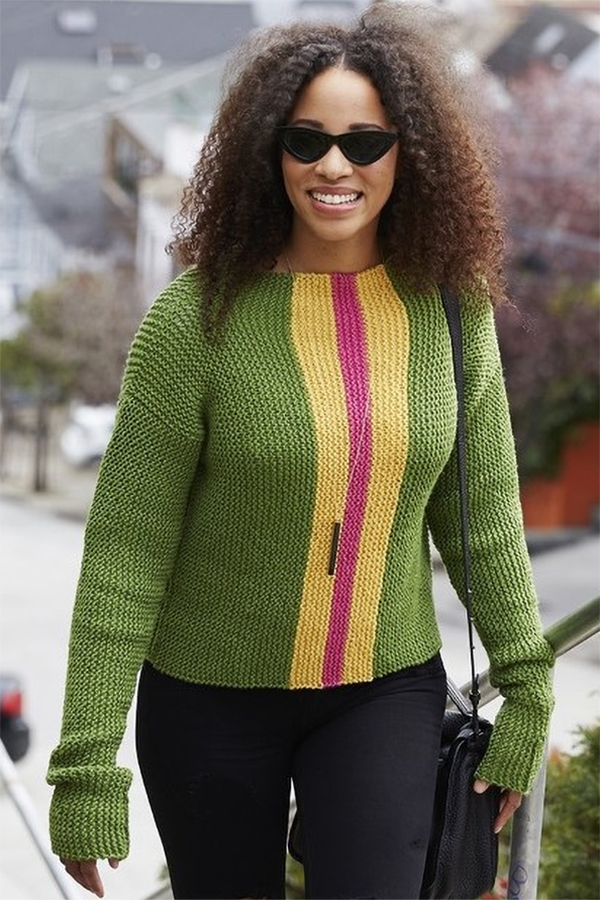 Everyday Chic Sweater
Garter stitch long-sleeved pullover with striped front. Knit in 4 pieces with no shaping in body pieces. No picking up stitches. It looks like neckline is created by folding collar under. Sizes from Small to 3XL. Designed by Rebecca Velasquez for Red Heart. Rated easy by Red Heart. Worsted weight yarn.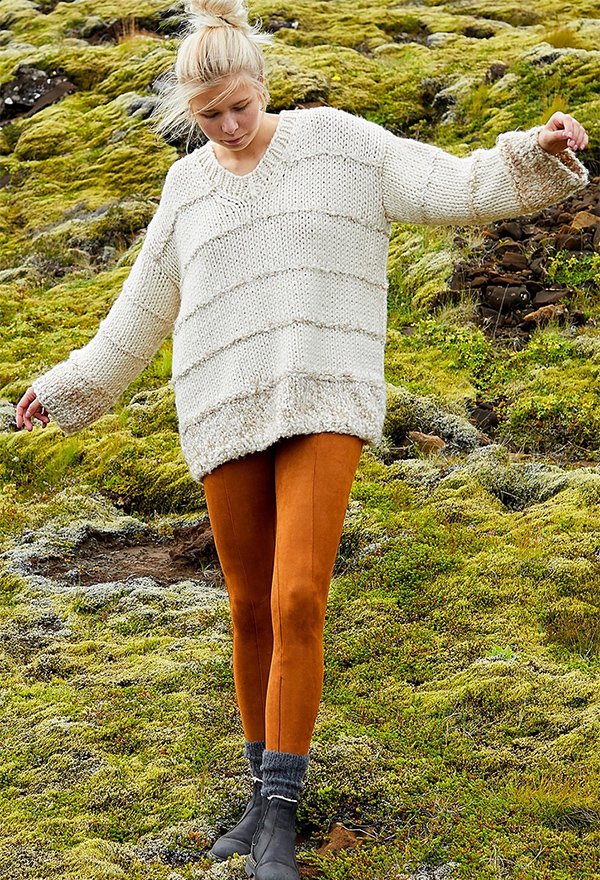 Dagny Pullover
Long-sleeved oversized pullover sweater with a v neck and contrasting textured yarn in cuffs, hem, and details. Knit in 4 pieces with limited shaping. Some picking up of stitches for ribbed neck. Sizes 1X, 2X, L, M, S. Designed by Vladimir Teriokhin for Lion Brand yarn. Rated easy, suitable for advanced beginners, by Lion. Quick knit in super bulky weight yarn.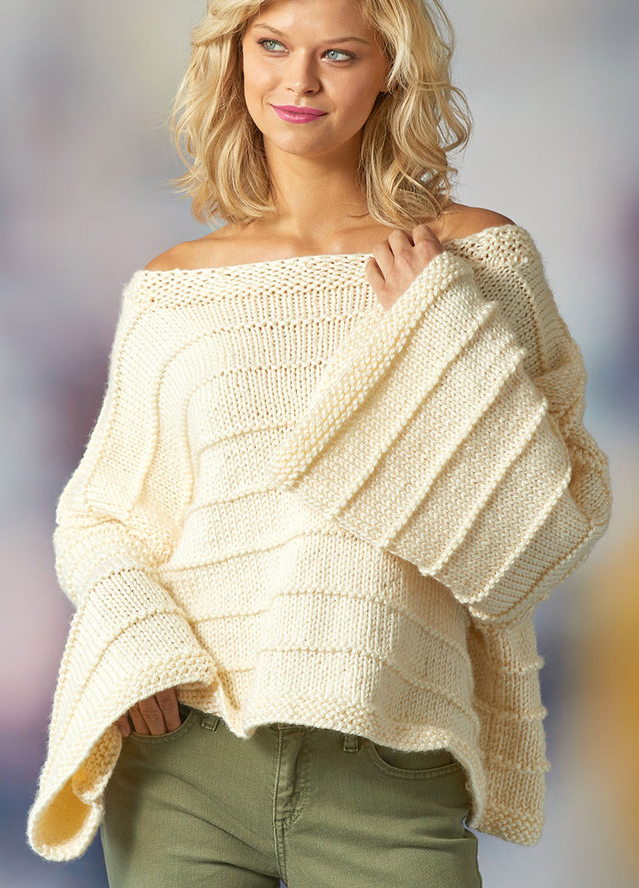 Cozy Big Bell Sweater
Pullover with swinging silhouette with oversized bell sleeves. Knit in 4 pieces with ridged stockinette. Some picking up of stitches at neck sides. Sizes Small - XXXLarge. Designed by Sara Kay Hartmann for Red Heart yarn. Rated easy by the designer. Bulky weight yarn.

On The Double Pullover
Quick easy long-sleeved sweater is knit in stockinette and rib using two strands of worsted weight yarn. The gradient color is achieved by using multi-colored yarn with the colorways staggered for contrast. Sizes XS to 5XL. The pattern does require picking up some stitches on part of the neckline. The top example uses the Blackberry Mousse colorway and the bottom example uses Poached Pear.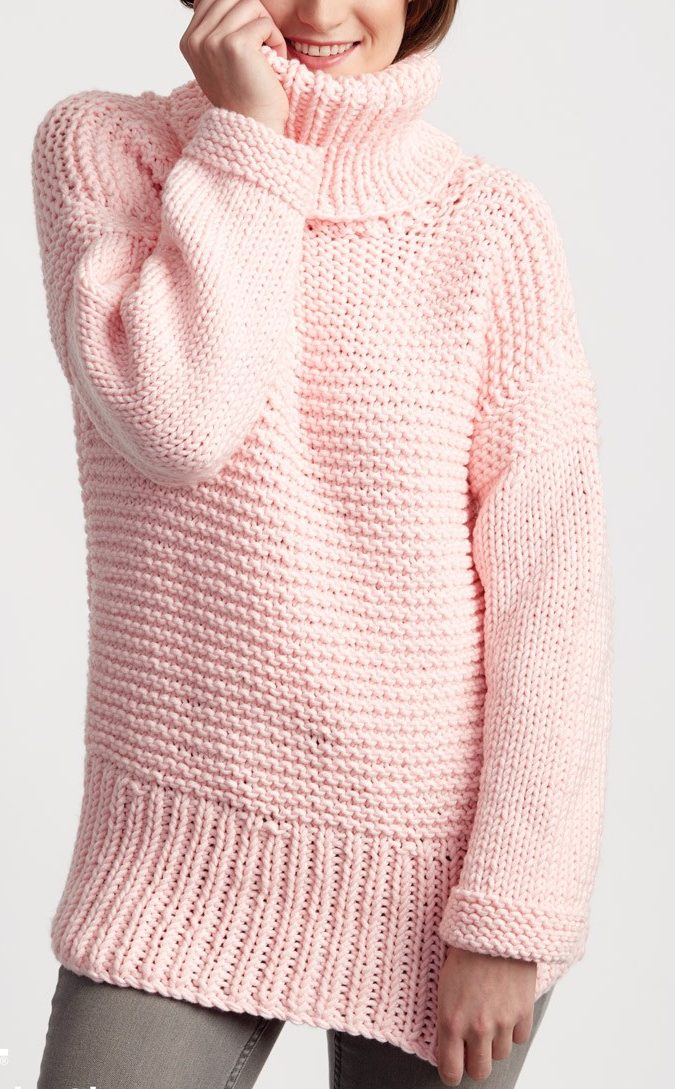 Big Box Pullover
Long-sleeved sweater is rated easy by the Bernat Design Team. It does require picking up a few stitches for the side of the collar. Sizes from XS to 5XL. Quick knit in super bulky yarn.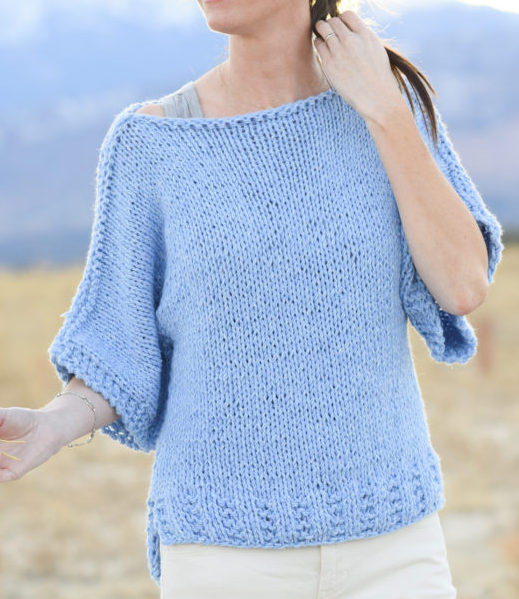 T Shirt Pullover
The designer Mama in a Stitch says that this short sleeved sweater is as simple as it gets. Knit two pieces of stockinette with a pretty rib hem and seam. Quick knit holding two strands of worsted yarn together. S, M, L, XL. Also available as a kit.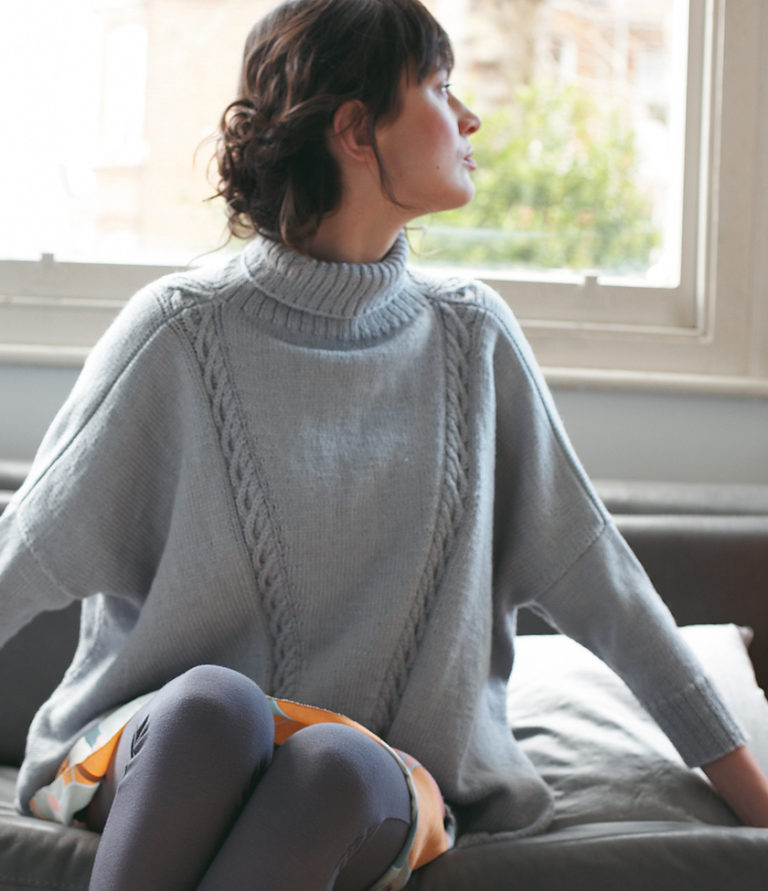 Sasha
This oversized pullover by Debbie Bliss is four knit pieces with minimal shaping, mostly stockinette with cable detail. Stitches are picked up for the turtleneck collar but you could leave it off. Pattern seems easy to me. S/M, M/L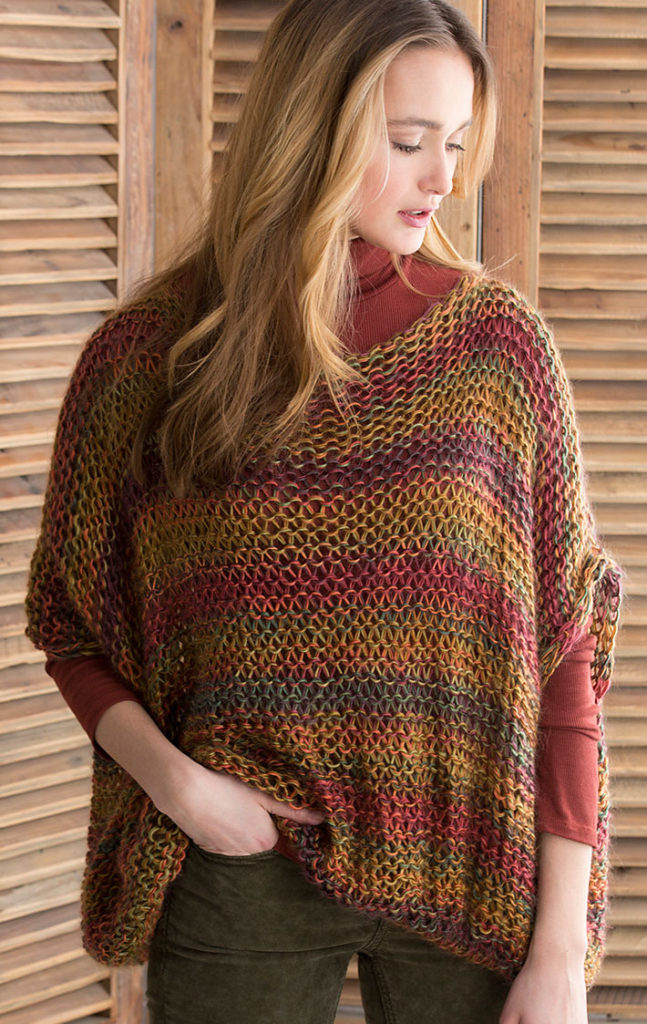 Relaxed Pullover
Easy sweater pattern in reverse stockinette. Great with multi-color yarn.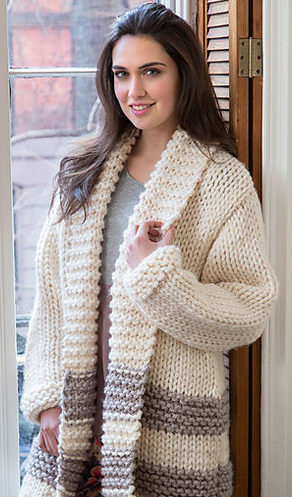 Cozy Car Coat
This easy cardigan jacket by Heather Lodinsky knits up quickly in super bulky yarn. I always wanted one of these!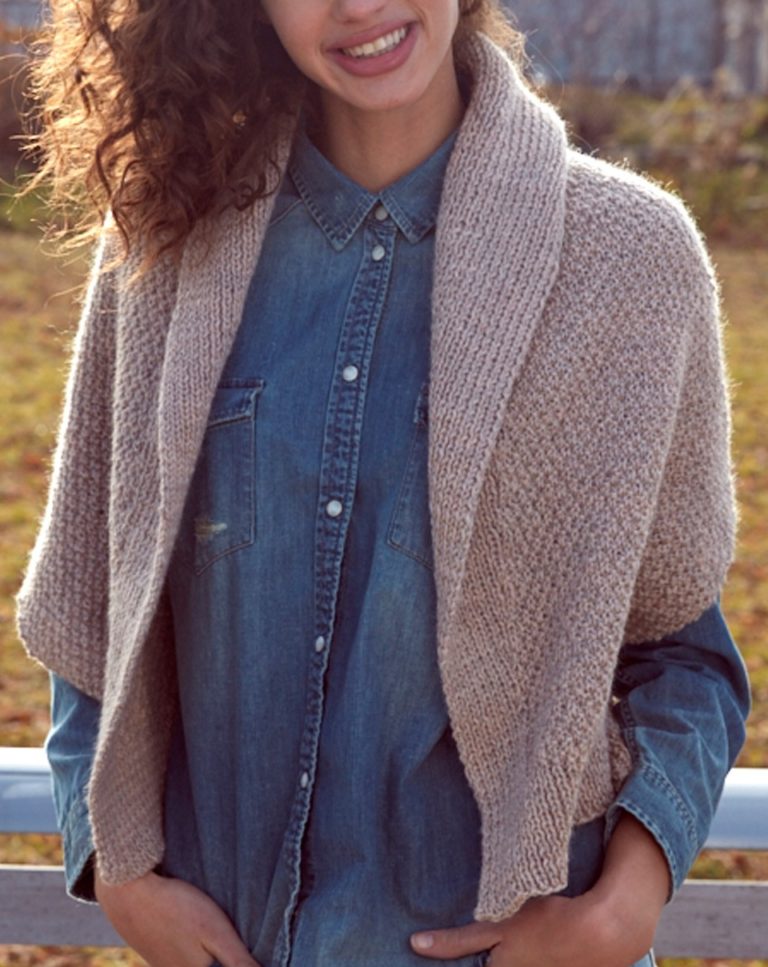 Envelope Cardigan
Easy sweater pattern features the Irish Moss Stitch and shawl collar. Knit in two pieces with the only shaping in the collar. From Patons Yarn. Sizes from XS to 5XL.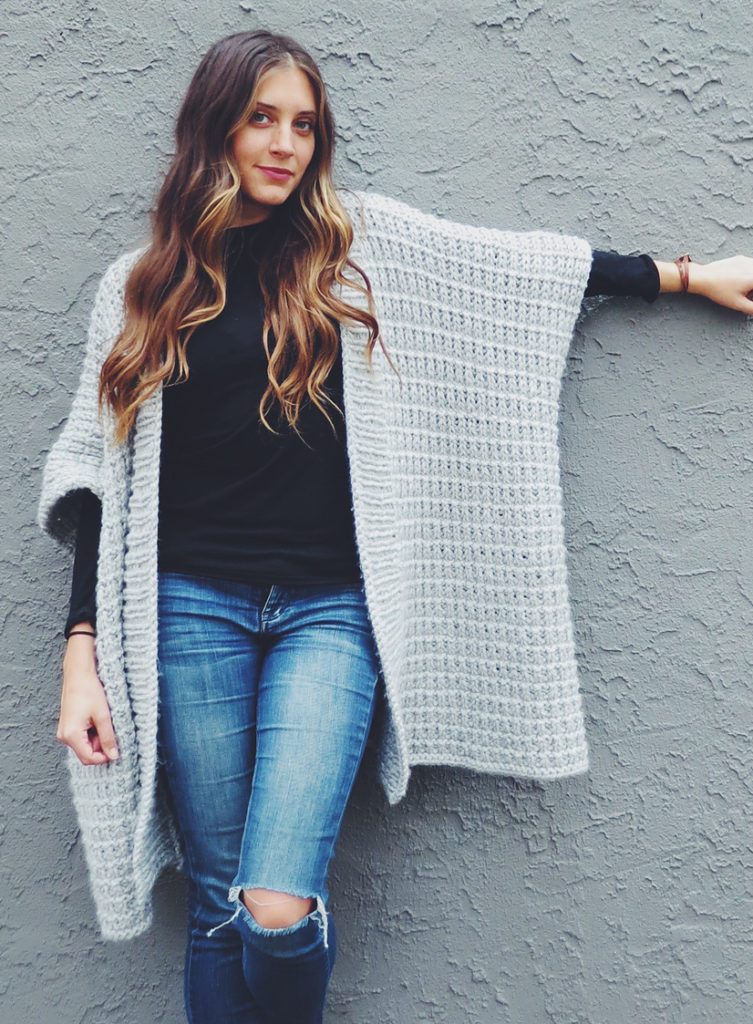 Cloaked in Clouds Poncho
Alexandra Tavel's easy cardigan sweater was inspired by blanket ruanas and features a wide rib collar and a thermal stitch for warmth. Quick project in bulky yarn, it is rated easy by the designer and Ravelrers.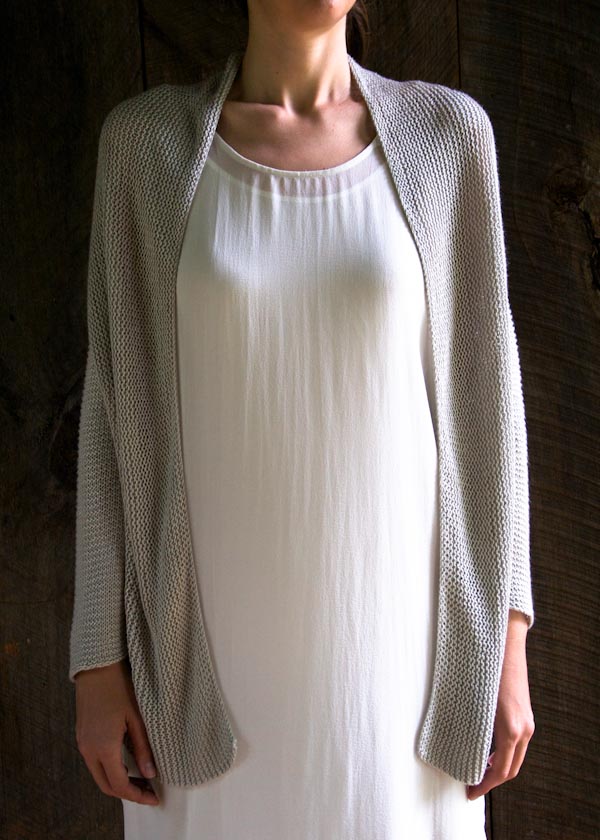 Folded Squares Cardigan
Purl Soho's ingenious design is three garter stitch pieces assembled to form a soft drape in six sizes available: 34 (38, 42, 46, 50, 54)
More Free Patterns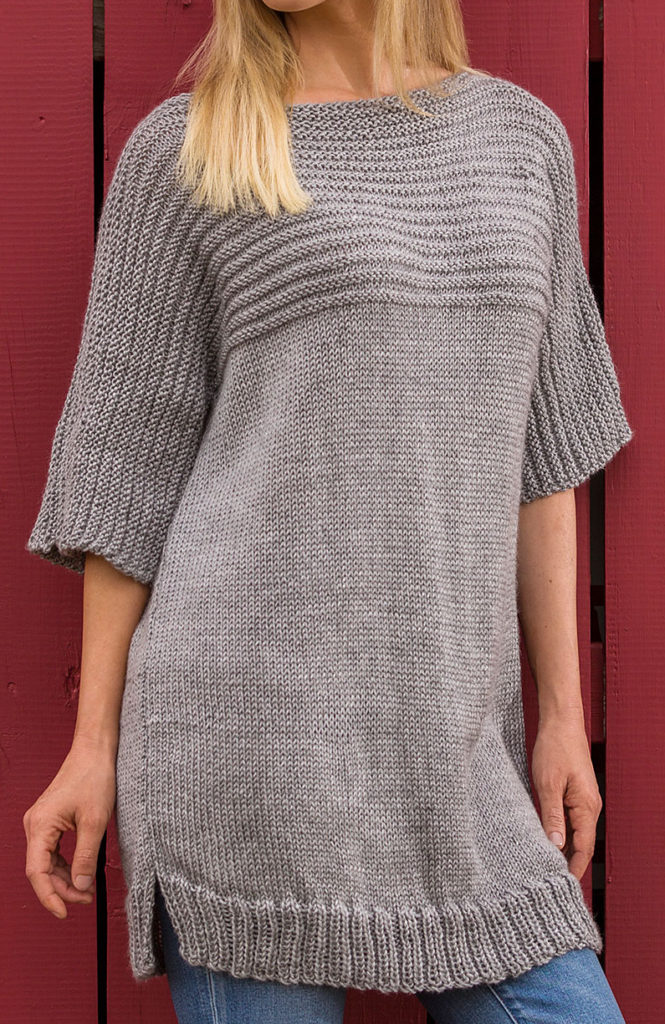 Big Comfy Sweater
This easy pullover by Lorna Miser is constructed of two identical pieces. Both back and front are worked from the lower edge upwards. At underarm, stitches are cast on each side of piece for sleeves.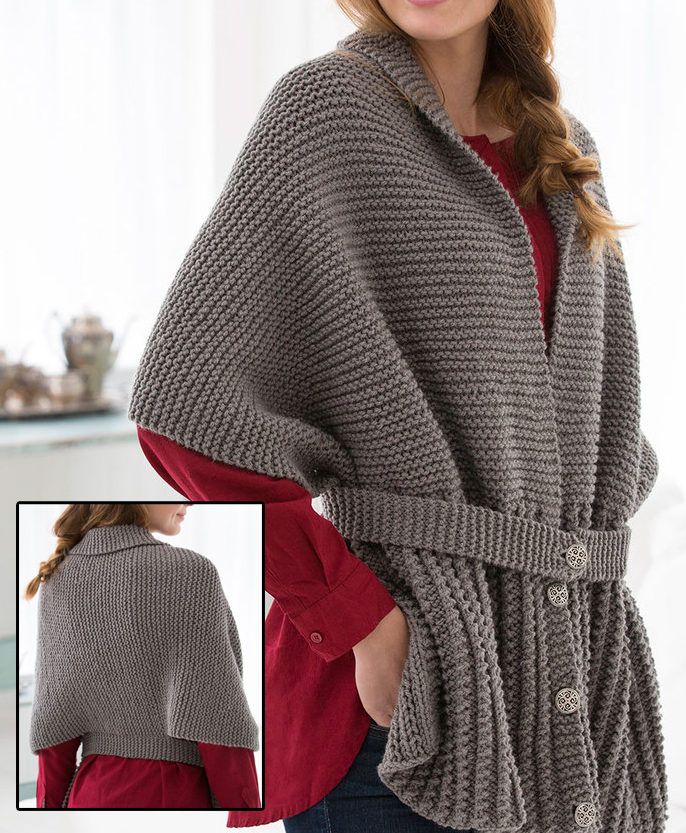 Sweater Scarf
This easy cardigan wrap was inspired by a "sweater-scarf" from 1917, in the early years that women worked with the Red Cross. It is made from a knit rectangle and belt. Designed by Julie Farmer for Red Heart.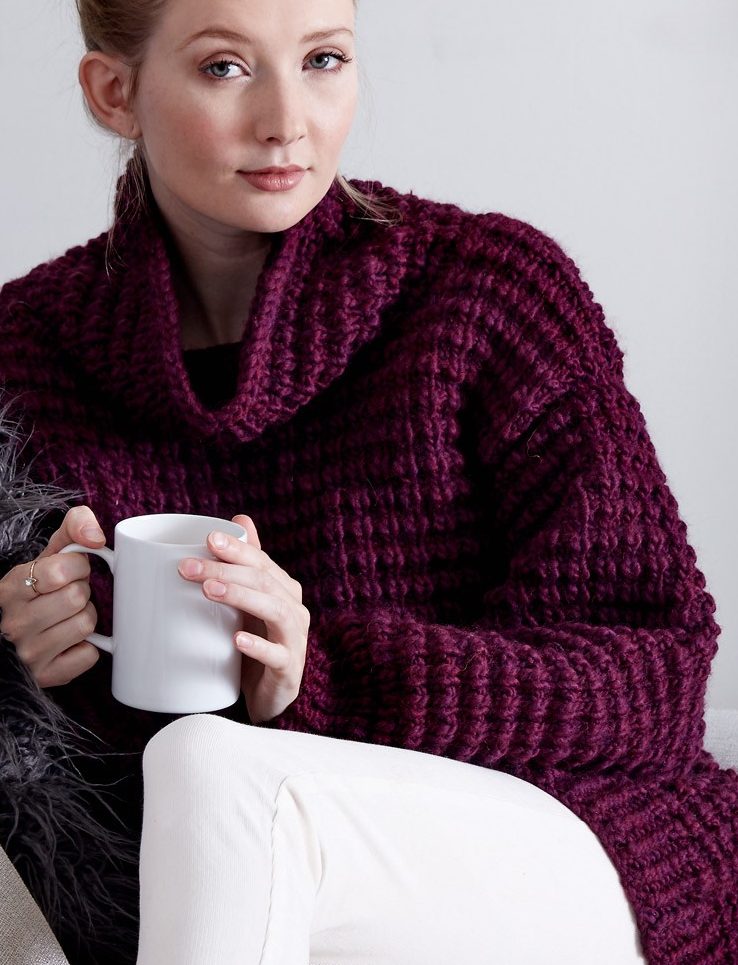 Easy-Going Knit Pullover
This tunic length long sleeved sweater by Bernat features a 4 row repeat texture and is rated easy by the designer. Quick knit in bulky yarn.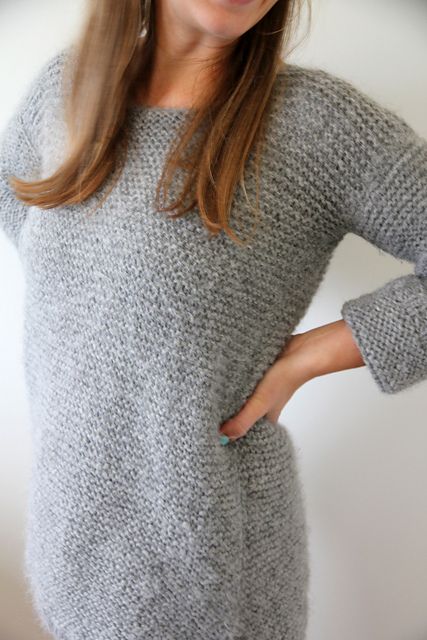 Skappelgenseren
Very easy pullover sweater pattern that's great for beginners and stylish by Dorthe Skappel. The pictured project is by guroskaar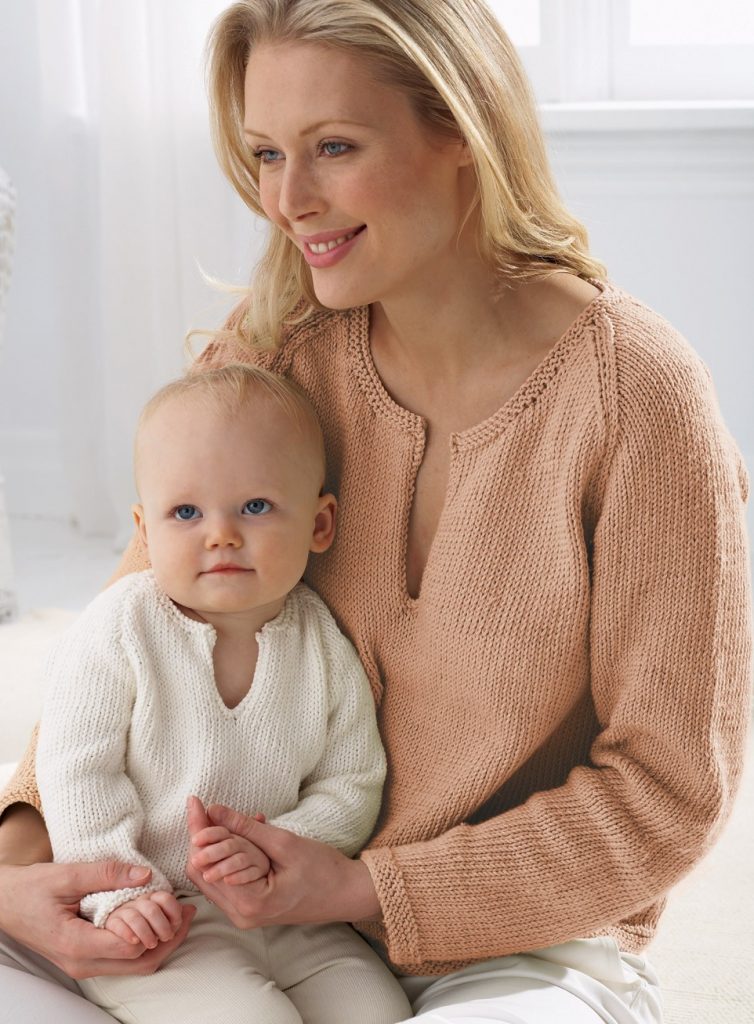 Mom and Baby Pullover
What a perfect gift for the new mother! Easy pattern from Bernat for matching pullover sweaters with v-necks in baby and women's sizes. Baby sizes from 3 months to 18 months. Women's sizes from XS to 5XL.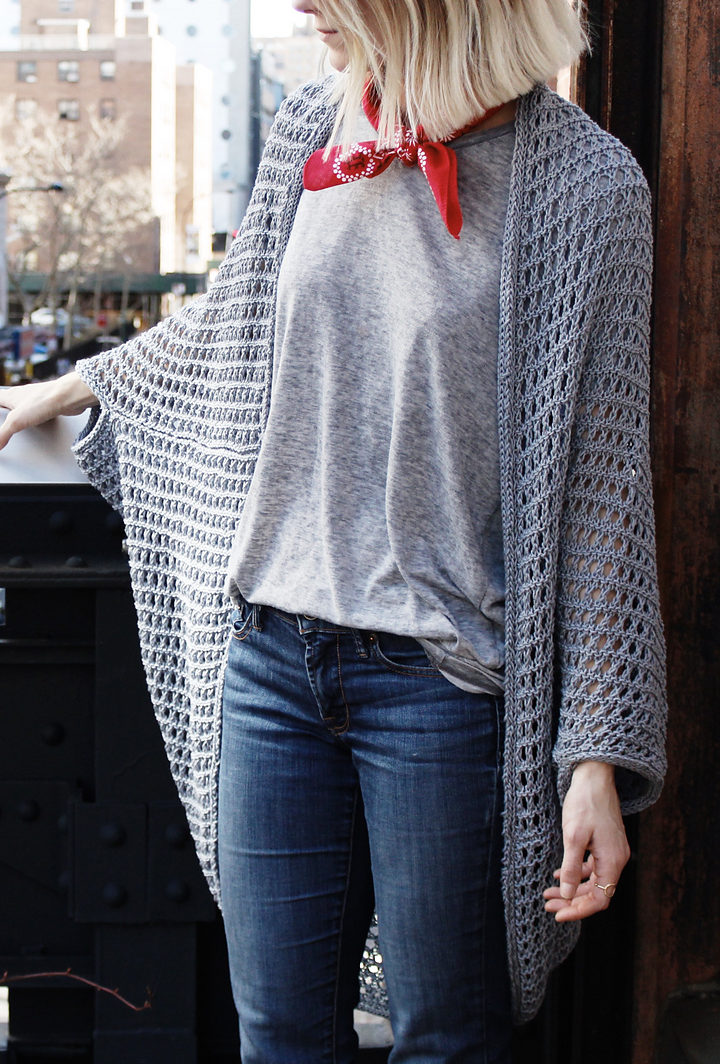 Chelsea Cape
This easy cocoon cardigan is knit in a lace net that drapes beautifully. Designed by Alexandra Tavel for Two of Wands. Also available as a kit.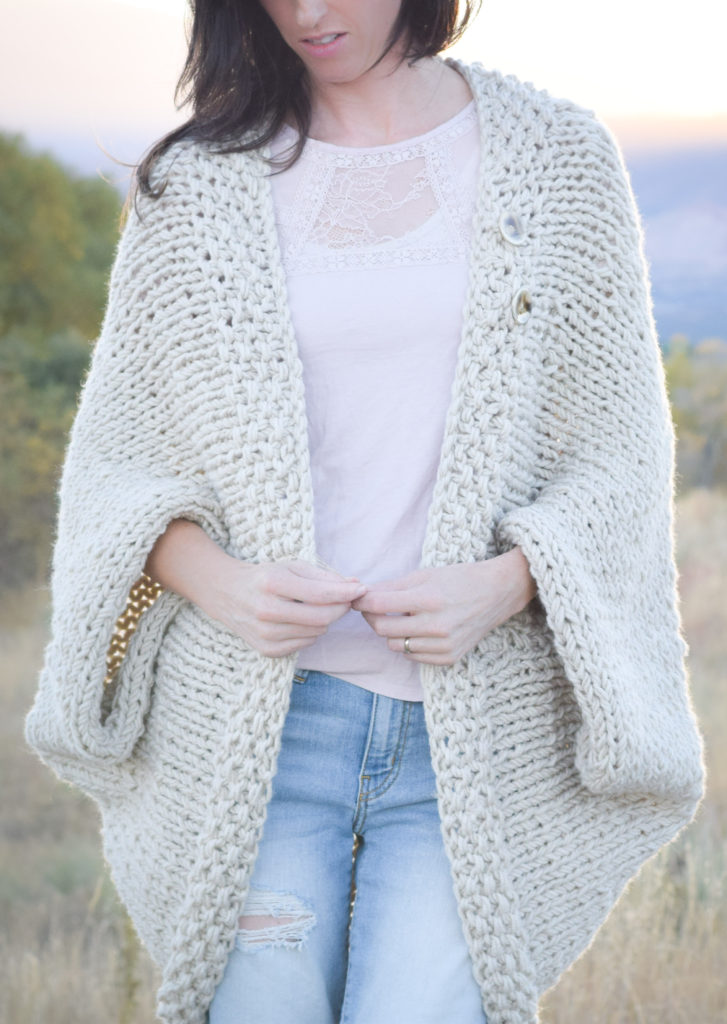 Easy Blanket Sweater
Jessica from Mama in a Stitch created this cocoon cardigan that she calls a wearable blanket. Quick knit with two strands of chunky yarn held together.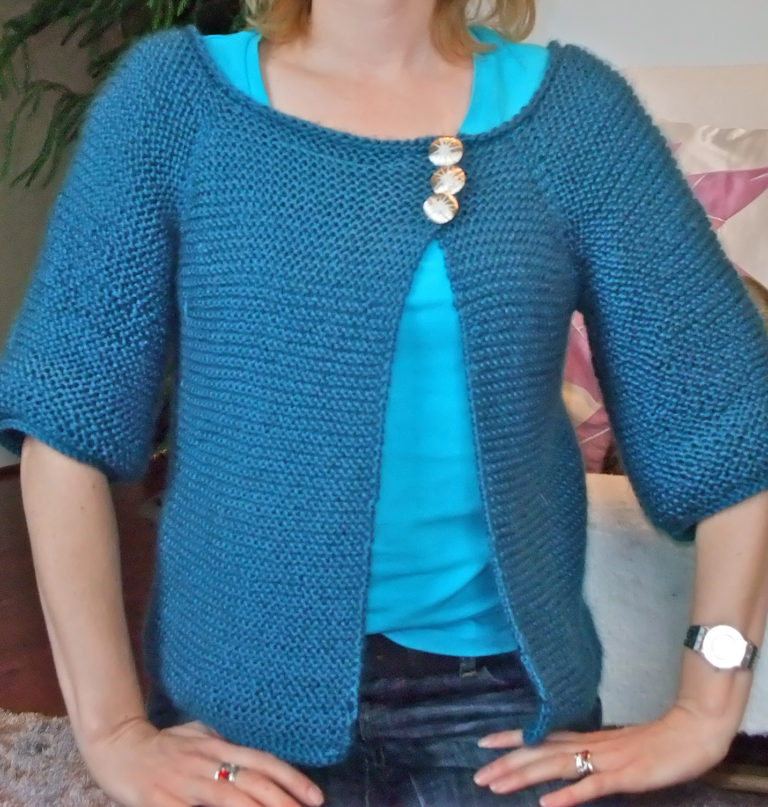 Garter Stitch Swingy Sweater
Jenn Pellerin's simple asymmetrical top-down raglan cardigan is worked in all knit stitches. Rated as easy by more than 100 Raverlrers. Pictured project by lbeckste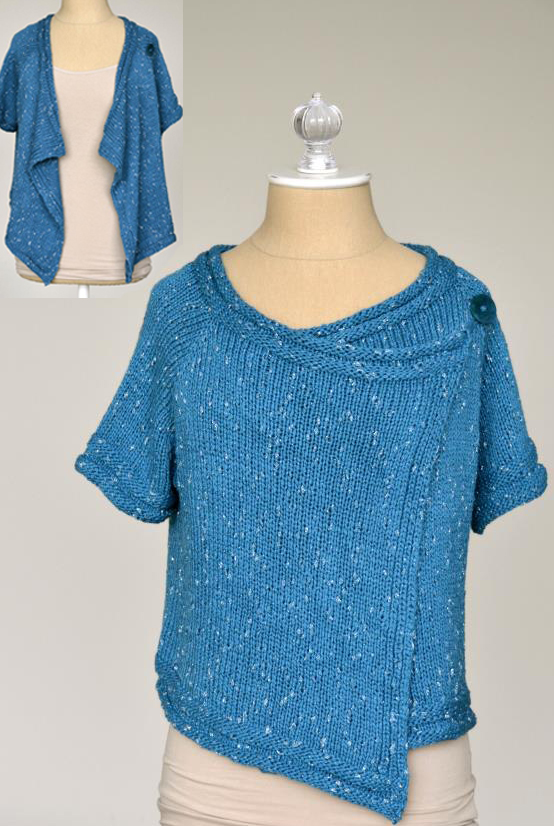 Drape Front Cardigan
This short-sleeved sweater from Universal Yarn looks great with buttoned in an asymmetric overlap, or open and draped or one side buttoned and the other draped. It's knit in one piece from the top down mostly in stockinette with sleeves knit from picked up stitches. Small (Medium, Large, 1X, 2X)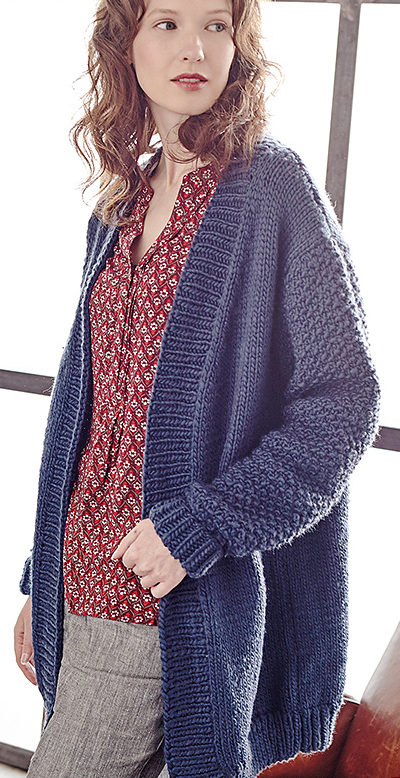 Tyburn Cardigan
This cozy long-sleeved sweater by Sarah Hatton features mostly stockinette with ribbed sloped front and seed stitch set-in sleeves. Quick knit in bulky yarn. Rated easy by Ravelrers and skill level 2 by Rowan.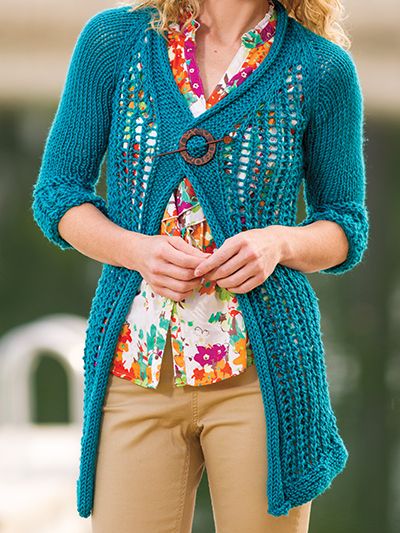 Cozy Lace Cardigan
Designed by Amy Gunderson, this cardigan is a quick knit in worsted yarn. Rated easy by the designer and by Ravelrers. Woman's S, (M, L, XL, 2X, 3X) Recommended yarn is available on the pattern page.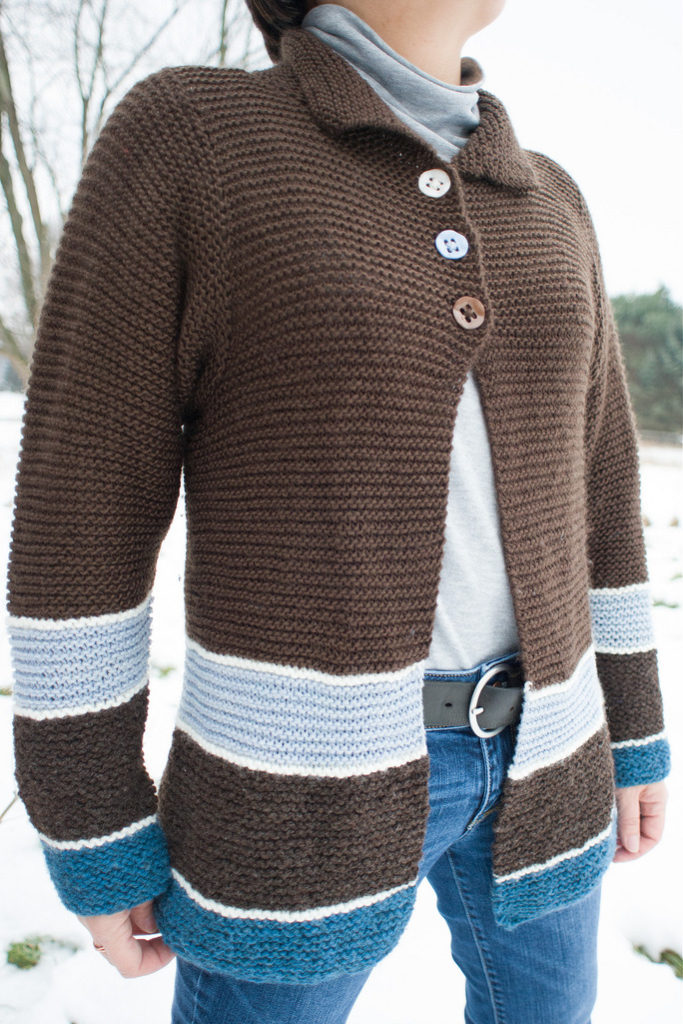 Sawtelle Cardigan
This easy sweater designed by Amanda Keep Williams made entirely of knit stitches (garter stitch) and the only seaming is at the shoulders. Bust 32 (36-40-44-48-52)" in Pictured project by schmidtknits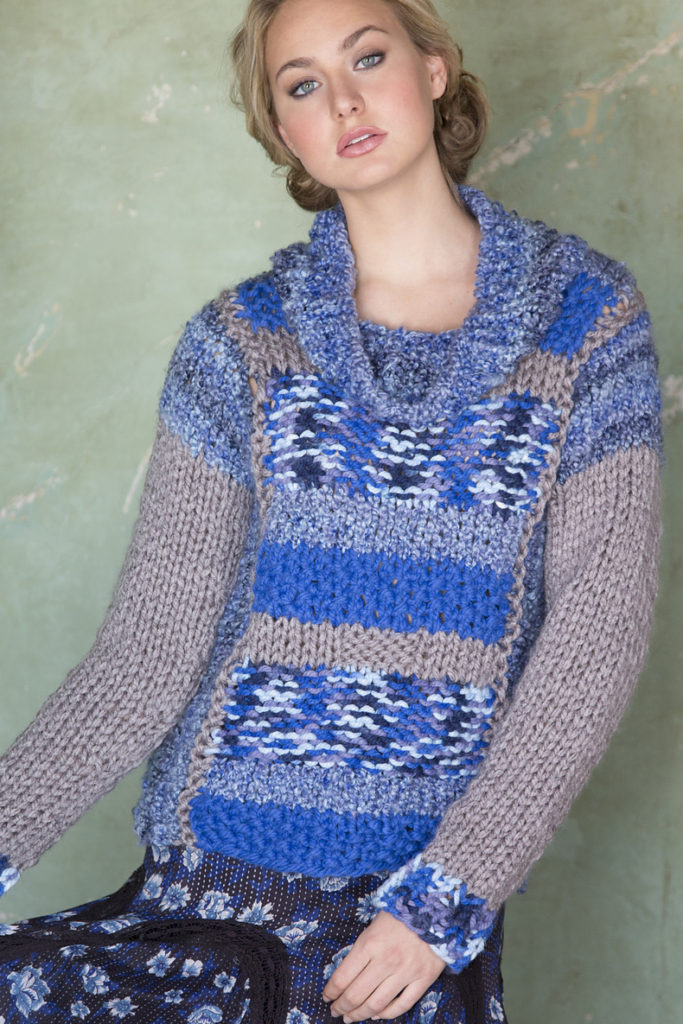 Mixed Textures Pullover
Lorna Miser's easy cowl neck sweater is knit with contrasting blocks of super bulky yarn.
Patterns for Purchase

Knitting Kit for Easy Krysten Ritter Sweater
Long sleeved pullover designed by Jessica Jones star and knitter Krysten Ritter in collaboration with We Are Knitters. Sizes S, M, L, XL. Rated easy by the designer.

River Braid Sweater
This relaxed fit long-sleeved pullover is very easy according to the designer. It's knit in one piece sideways in garter stitch. A continuous double cable runs up the sleeve, and splits for shaping the neckline.

Terra Garter Raglan Pullover
Top down long-sleeved sweater is knit in stockinette with garter stitched panels that contour the body. Sizes 35 (37¾, 41¼, 44, 46¾, 50¼)" bust circumference. Designed by Carol Feller for Interweave. Rated easy by Ravelrers.

Beginner Pullover
The designer says that this long-sleeved sweater is a great pattern for beginners. Knit in the round from the top down, it includes sizes: 34″, 36″ & 38″ bust

Hudson Valley Tunic
Garter stitch color blocks make this long sleeved pullover sweater stylish yet easy.

Shades of Gray
This cowl neck pullover is one of the 30+ projects featured in Casual Circular Knits. Knit in stockinette and seed stitch, it is rated easy by the designer and very easy to easy by Ravelrers. It looks like the body and sleeves are knit from side to side with a front panel. Great for multi-color yarn!

Veronica Vest
With unconventional shaping and construction, this vest also features a faux fur collar and a simple ridge pattern to create a very mod look. I couldn't find any skill level indications on this sweater but it looks like it may be seamless construction on circular needles. That means mostly knit stitches with some ribbing. The collar is probably done with picked up stitches.

Crisscross Meshy Top
This wrap front cardigan sweater is rated easy by Annie's and is great for layering. Sizes: S (M, L, XL, 2XL)

It's All About the Back Pullover
Easy long sleeved sweater in worsted weight with something a little sassy across the back. S (M, L, XL, 2XL)

Saturday Sweaters: Easy to Knit, Easy to Wear
A dozen sweaters in styles including tunics, cardigans, pullovers, jackets, and more. Finished chest measurements range from 33″ to 60″

Mont Blanc Cardigan
This easy sweater is a quick knit in super bulky yarn. Does involve picking up stitches.

Passionista Vest
Lena Skvagerson's simple-to-stitch vest is a versatile accessory and easy enough for beginners looking to branch out.

Montreal Cardigan
The designer says this draped front shrug is a super simple pattern, a great first garment for an advanced beginner looking to move beyond scarves and baby blankets. And a quick knit in super bulky yarn that the designer says can be finished in a weekend.