<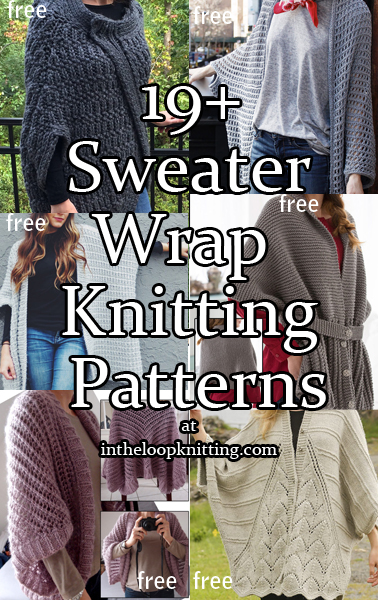 These are patterns for outwerwear that I think will be comfortable, easy and quick to take on and off with loose or no sleeves to rub against skin or clothes. I've included ruanas, cocoon cardigans, loose shrugs, ponchos with sleeves and other unstructured cardigans on this page.
To get the knitting patterns, scroll down the page to the individual pattern you want and click on the link to that pattern.
These patterns are not my designs but links to other designers who have generously shared their patterns. If you have questions about how to knit a specific pattern, please contact the designer directly.
All links on this site are for informational purposes, but please note that some links are to affiliate sellers that pay me a small commission on purchases.
Free Patterns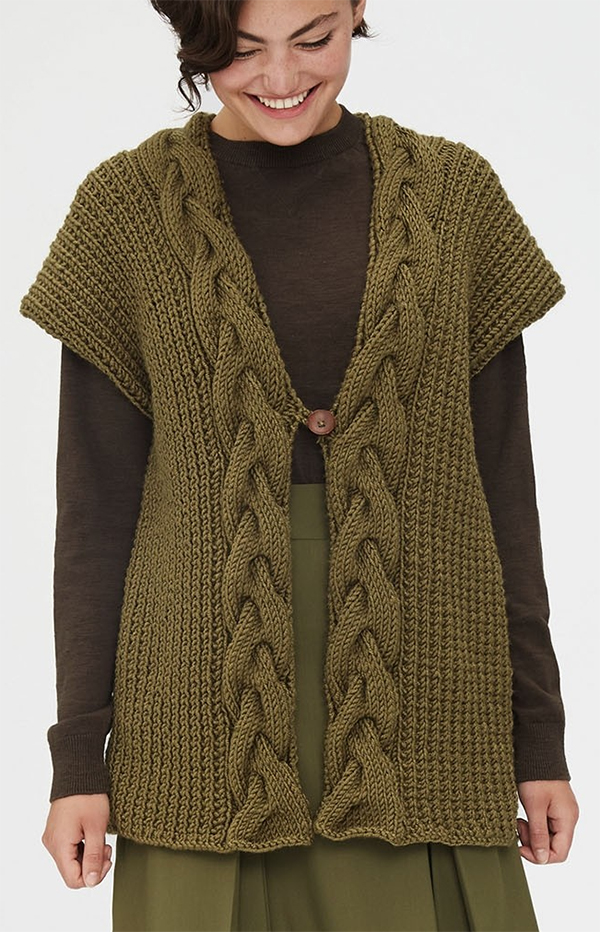 Catskills Ruana
This easy cardigan is knit with a 2 row repeat box rib stitch and edged with a plait cable. Worked flat in one piece. Designed by Lion Brand who rates it as easy+. Quick knit in bulky weight yarn.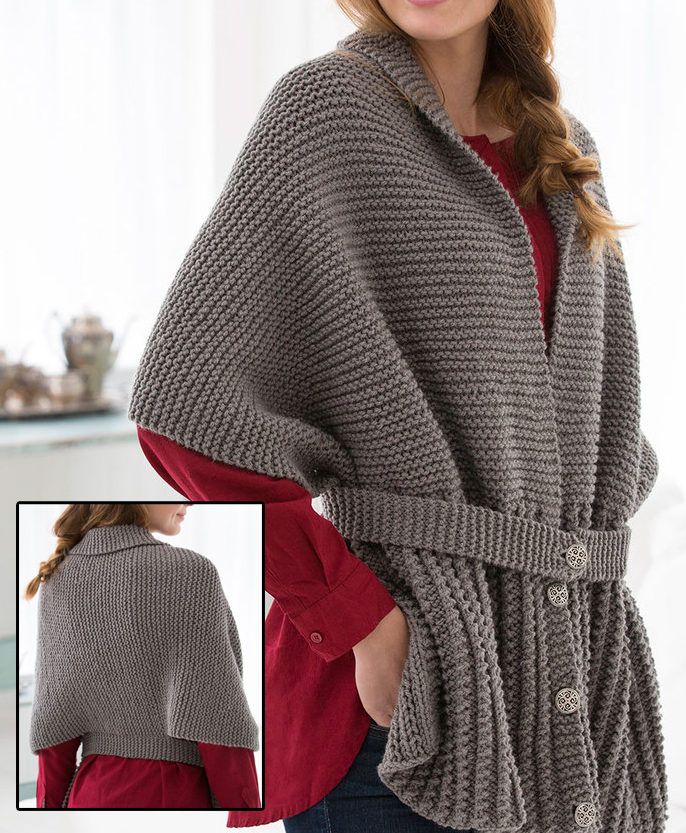 Sweater Scarf
This easy cardigan wrap was inspired by a "sweater-scarf" from 1917, in the early years that women worked with the Red Cross. It is made from a knit rectangle and belt. Designed by Julie Farmer for Red Heart.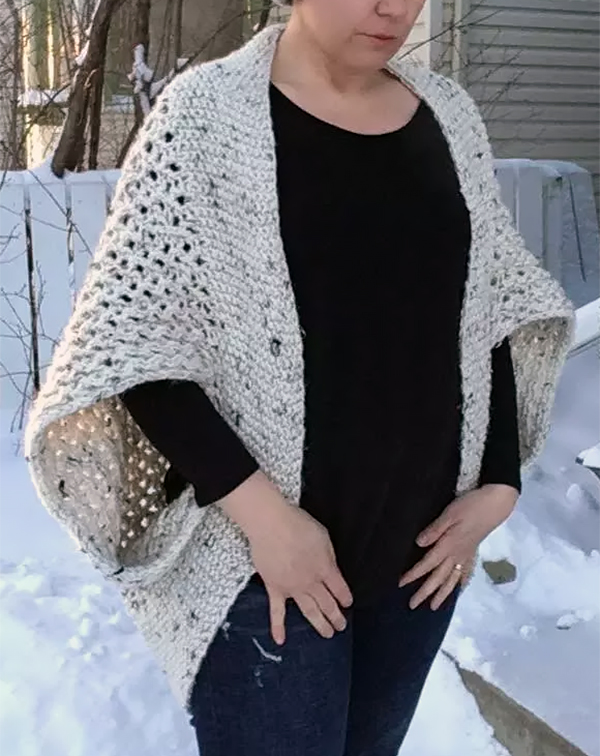 Chrysalis Cardigan
Cocoon wrap knit with a 4 row repeat lace stitch with seed stitch edging. Designed by Craft Evangelist.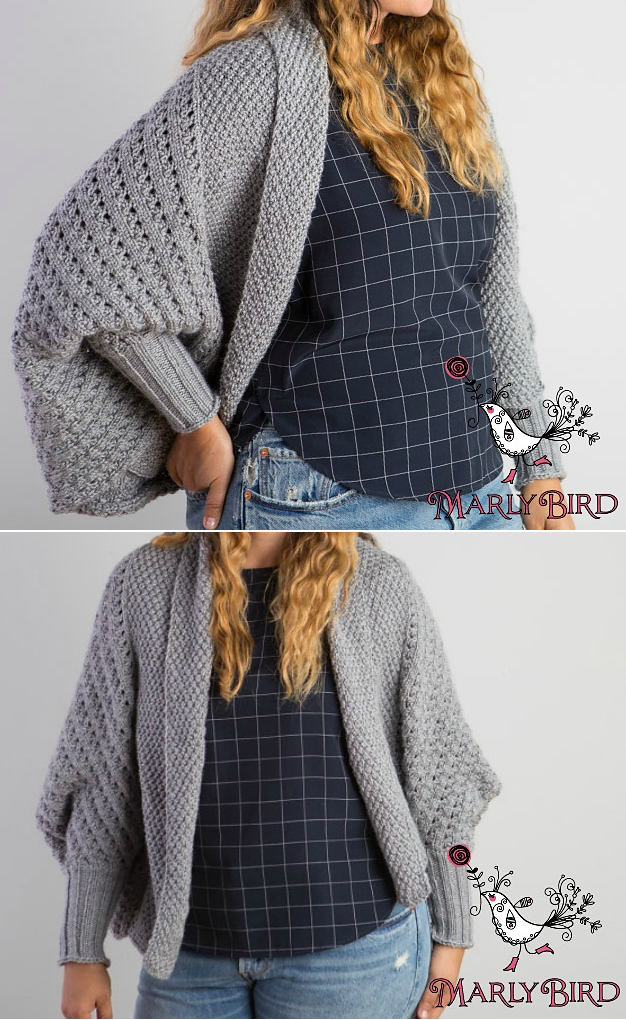 Cocoon Cardigan
Designed by Marly Bird, this long sleeved sweater features oversized lace sleeves with fitted cuffs, a shawl collar, and interesting overall texture. 3 sizes. Pattern and instructional video class available for free with a free trial at Creativebug OR purchase pattern and class individually.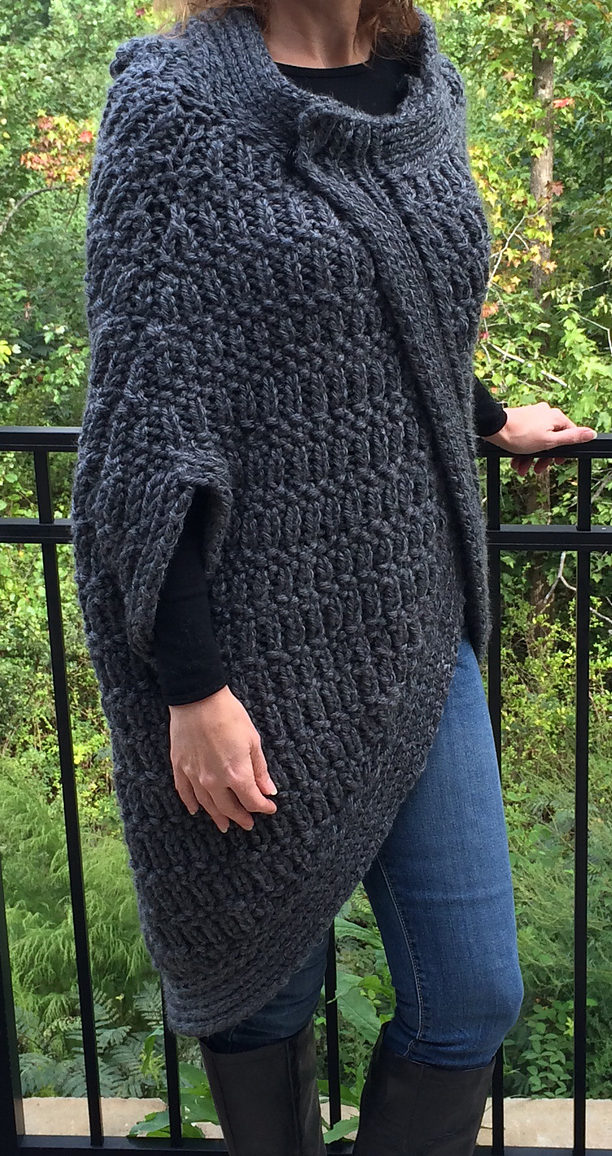 Cocoon Cape
Quick knit in super bulky yarn. Women's S/M (L/1X, 2X/3X). Pictured project by Moxiewaffles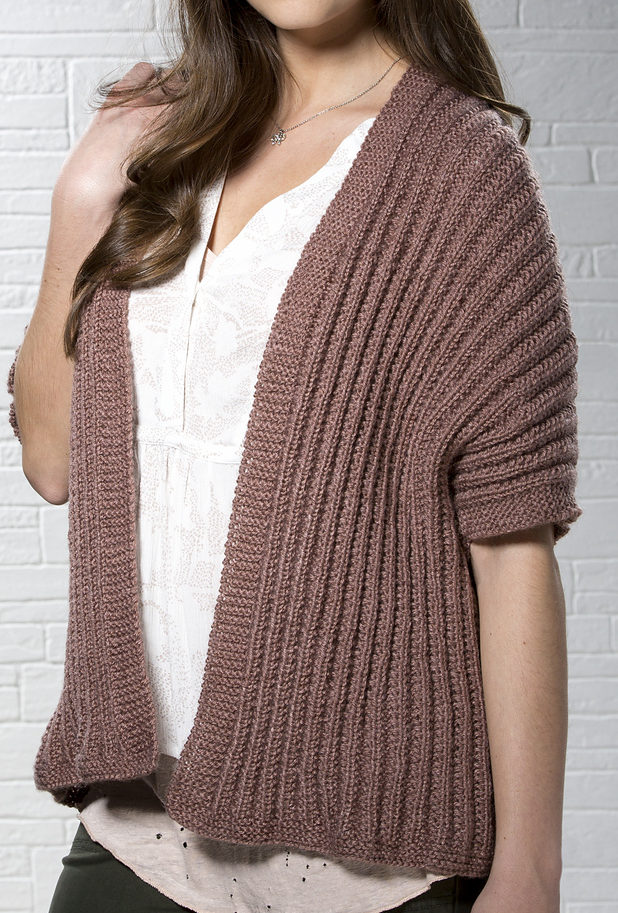 1 Row Repeat Rosy Disposition Cardi
This cardigan wrap is knit with a one row repeat Mistake Rib stitch in worsted weight yarn. Sises XS, S, M, L, XL. Designed by Stitch Studio Design Team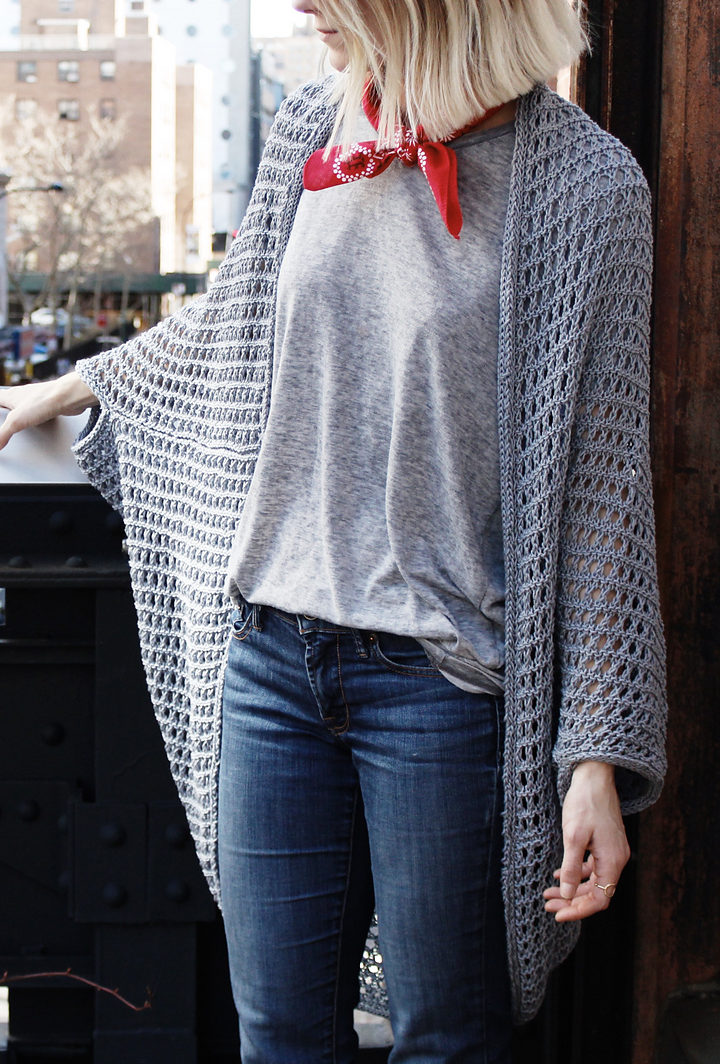 Chelsea Cape
This easy cocoon cardigan is knit in a lace net that drapes beautifully. Designed by Alexandra Tavel for Two of Wands.

Diamond Lace Kimono
This kimono style short sleeved cardigan is worked in one piece starting at the back. DK weight. One size fits most. Designed by Kaitlin Blasing of Originally Lovely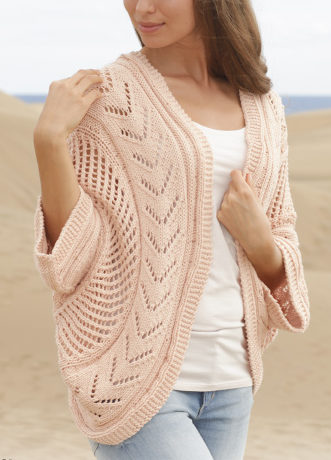 Summer Snug
Lace cocoon cardigan is made two pieces knit in the round and shaped with short rows. Designed by DROPS Design. Sizes S/M – L/XL – XXL /XXXL. Available in multiple languages.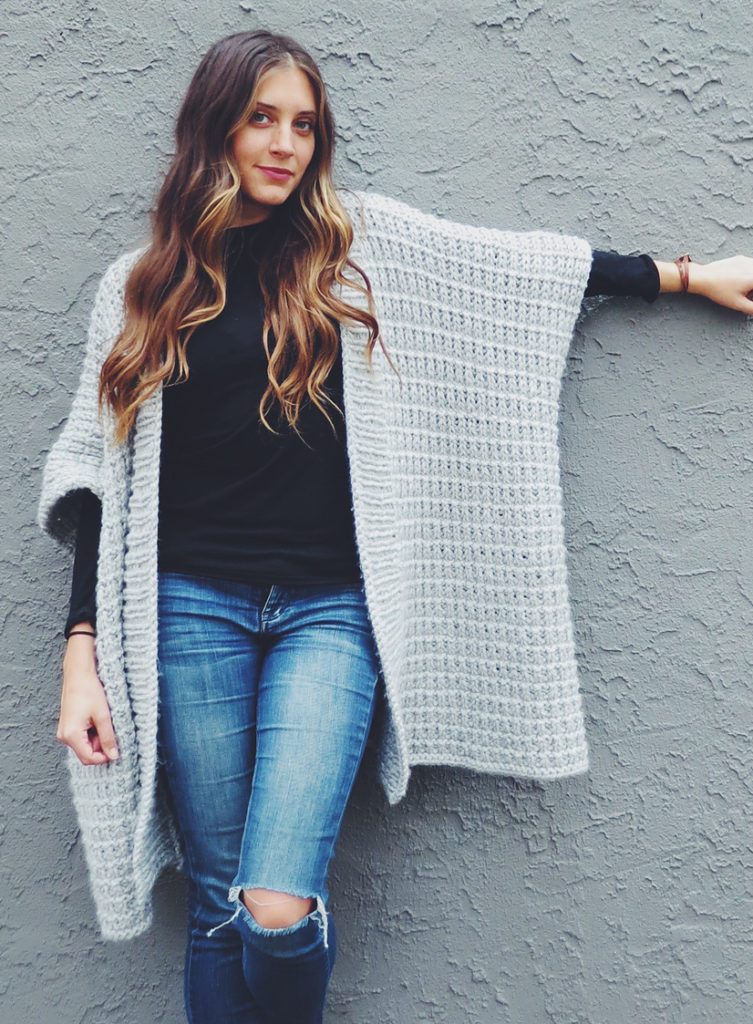 Cloaked in Clouds Poncho
Alexandra Tavel's easy cardigan sweater was inspired by blanket ruanas and features a wide rib collar and a thermal stitch for warmth. Quick project in bulky yarn, it is rated easy by the designer and Ravelrers.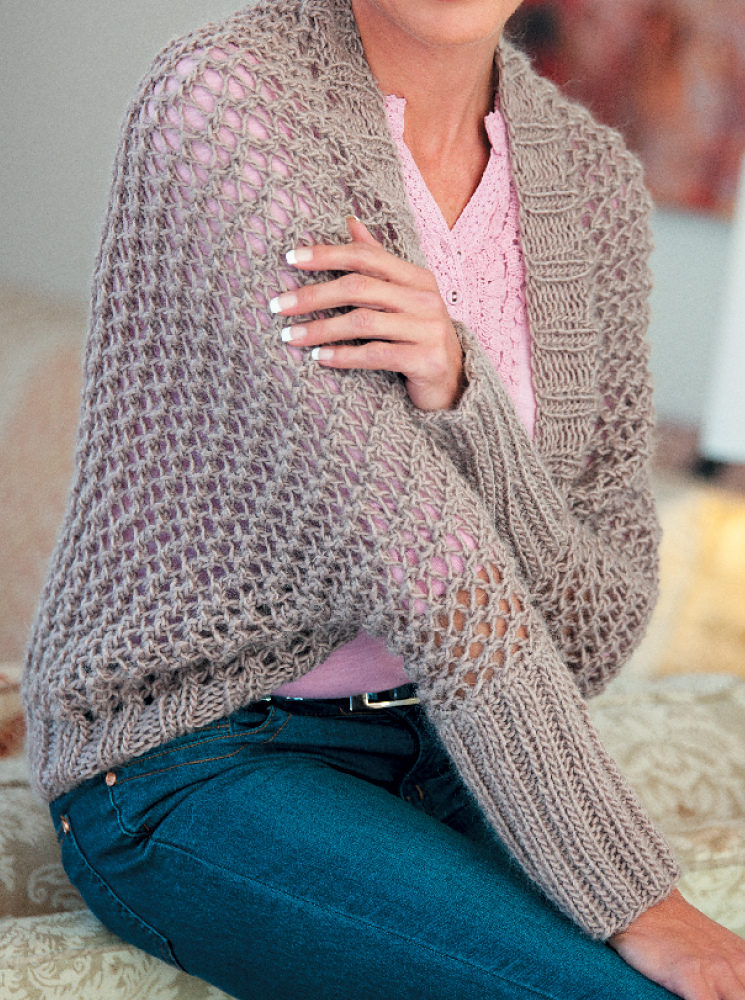 Open Lacy Shrug
Lace sweater wrap is knit with a 4-row repeat and sleeves are knit separately and sewn on. Quick knit in bulky yarn. Designed by Elaine van Wyk.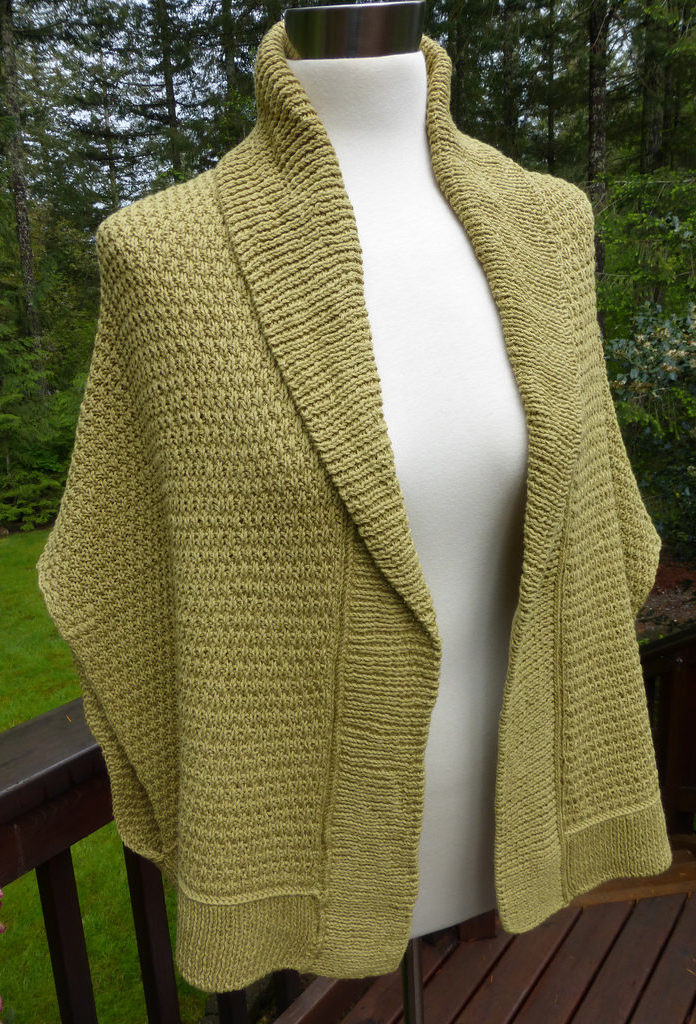 Chill Begone Sweater Wrap
This shawl collared cardigan is knit side to side in two pieces and seamed/grafted and then the collar and hem are knit from picked up stitches. Sm/Med and Med/Lrg Designed by Linda Braley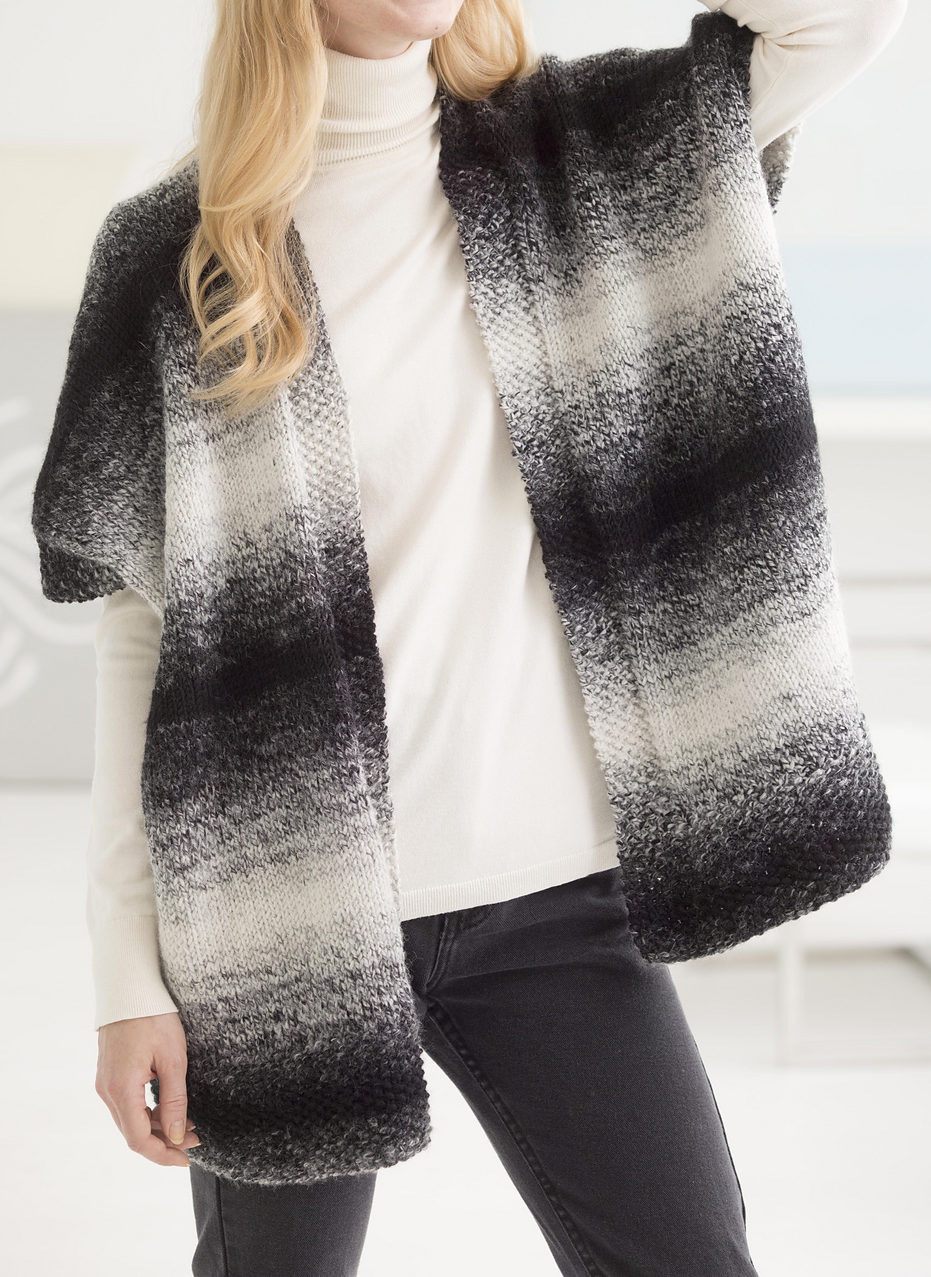 Free Spirit Topper
This easy cardigan is worked in 2 pieces in stockinette and seed stitch, then seamed together at back and sides. Quick knit in bulky yarn. Designed by Lion Brand.

Thysania
This oversized shrug cardigan features a cable and eyelet pattern knit in a rectangle that is seamed for armholes. Stitches are picked up for the cuffs and collar. Sizes XS-SM-L, 1X-2X, 3X-4X XS-S, M-L, 1X-2X, 3X-4X. Designed by Alison Green for Knitty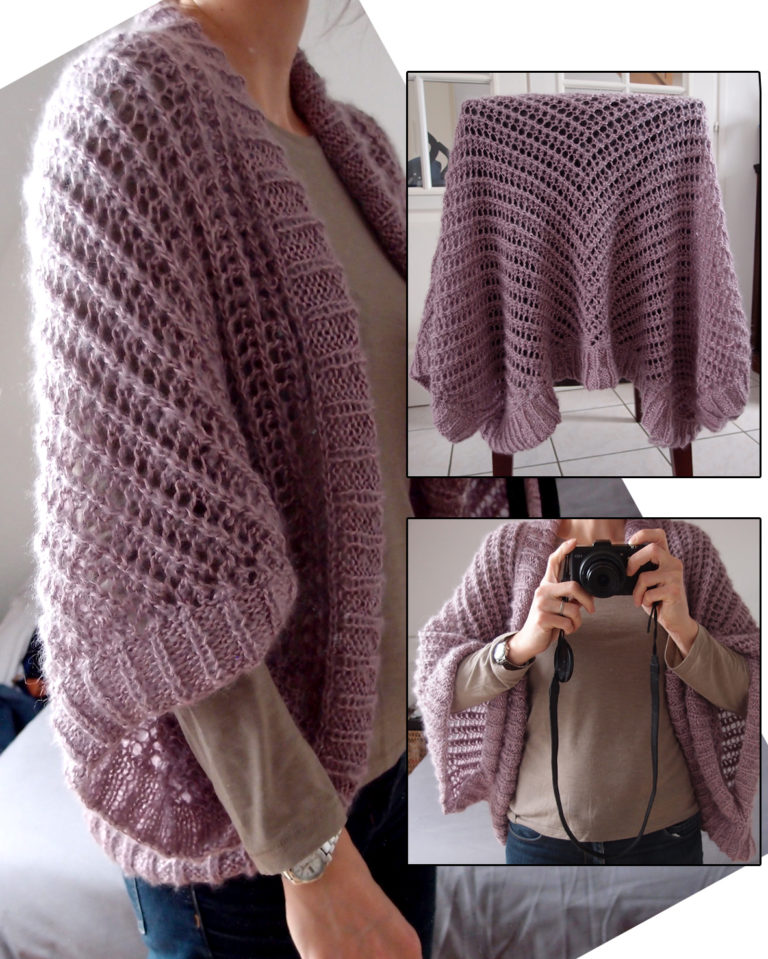 Lace Sweater Wrap
This lace shrug is made by knitting a lace piece, folding and seaming, then picking up stitches for the edge. Design by DROPS Design. Size: S/M – L/XL – XXL/ XXXL. Available in multiple languages. Original was knit with two strands of yarn on larger needles. Pictured project by Lamelo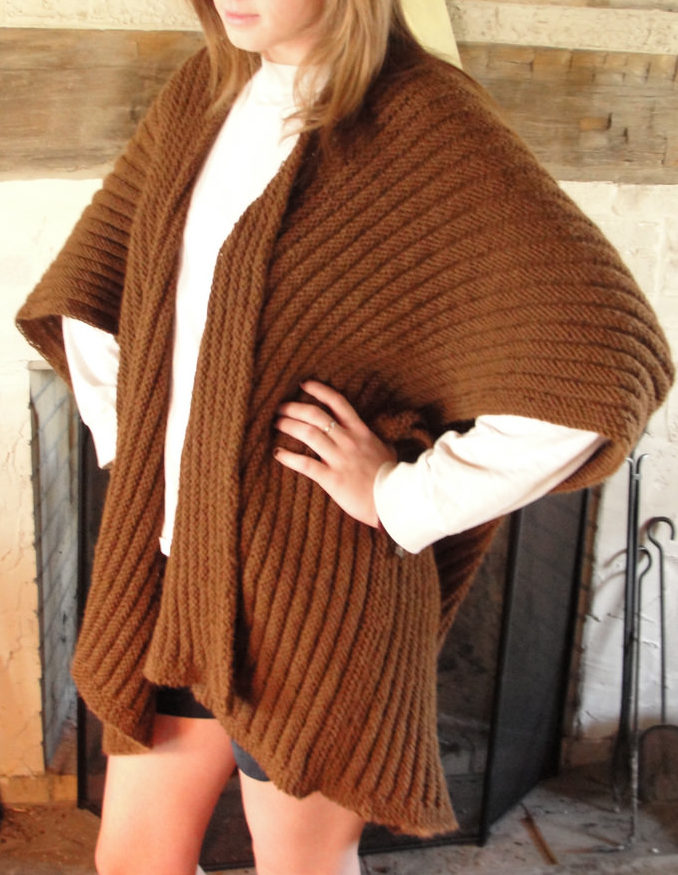 Ruana Style Wrap
This project is knit in one piece with a bind-off, cast-on slit for the front opening and then seamed to make the armholes. The original pattern by JoAnne Turcotte from Plymouth Yarns used a multi-colored yarn but I like the texture of the solid-color project from fiberfarmer .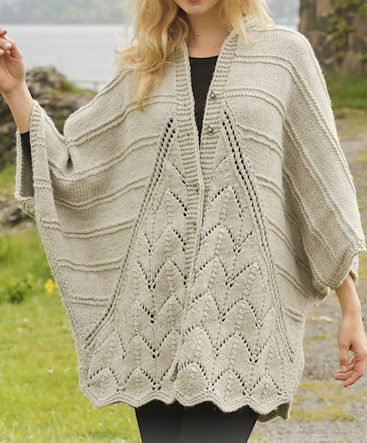 Ripple Tide Sweater Wrap
Oversized cardigan in three pieces with lace panels in front and back that add a natural scallop to the hem. Designed by DROPS Design. S/ M – L/XL – XXL – XXXL
Easy Blanket Sweater
Jessica from Mama in a Stitch created this cocoon cardigan that she calls a wearable blanket. Quick knit with two strands of chunky yarn held together.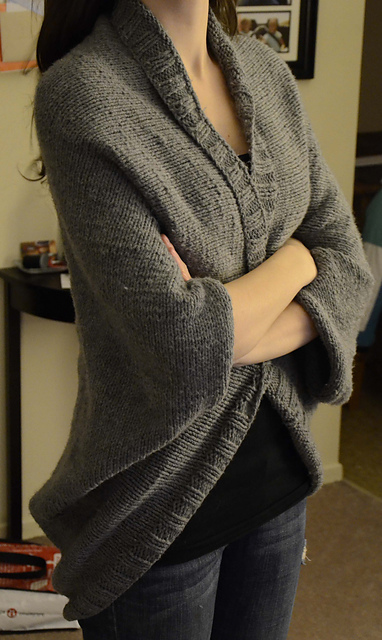 Speckled Shrug
Another folded rectangle shrug but this one from Lion Brand folds up with longer sleeves and more relaxed fit. Knit with ribbing at top and bottom and stockinette for the body. About 38 x 44 in. (96.5 x 112 cm), before folding and seaming. Pictured project by vcgroom
Cabled Batwing Cardigan
Sweater with loose three-quarter sleeves and cable details by Debbie Bliss. Sizes 81-117cm, 32-46in Pictured project by cymbalinepx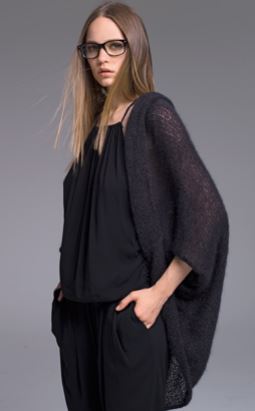 Cape Shrug
This is another variation on the folded shrug from Lana Grossa. I like this one for the helpful diagram that shows how it should be worn. It is knit in stockinette with double strand lace yarn but you could substitute one strand of fingering weight yarn.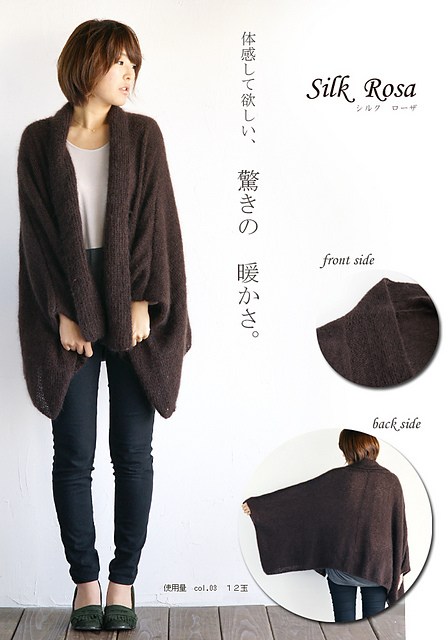 Silk Rosa Dolman Cardigan
Designed Pierrot yarns, this draped cardigan is knit in stockinette, seed stitch, and ribbing.
Patterns for Purchase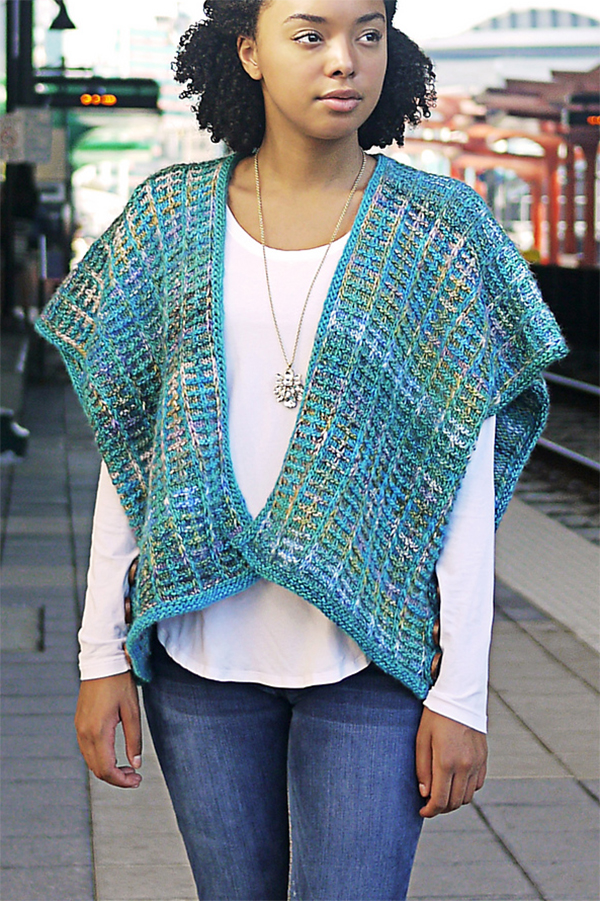 Kingston Cardigan
Textured wrap knit with 2 colorways in easy slipped stitch colorwork. Knit flat with button closures at sides. Sizes Small-Large (1X-3X). Designed by Amy Gunderson for Universal Yarn. Yarn available on pattern page.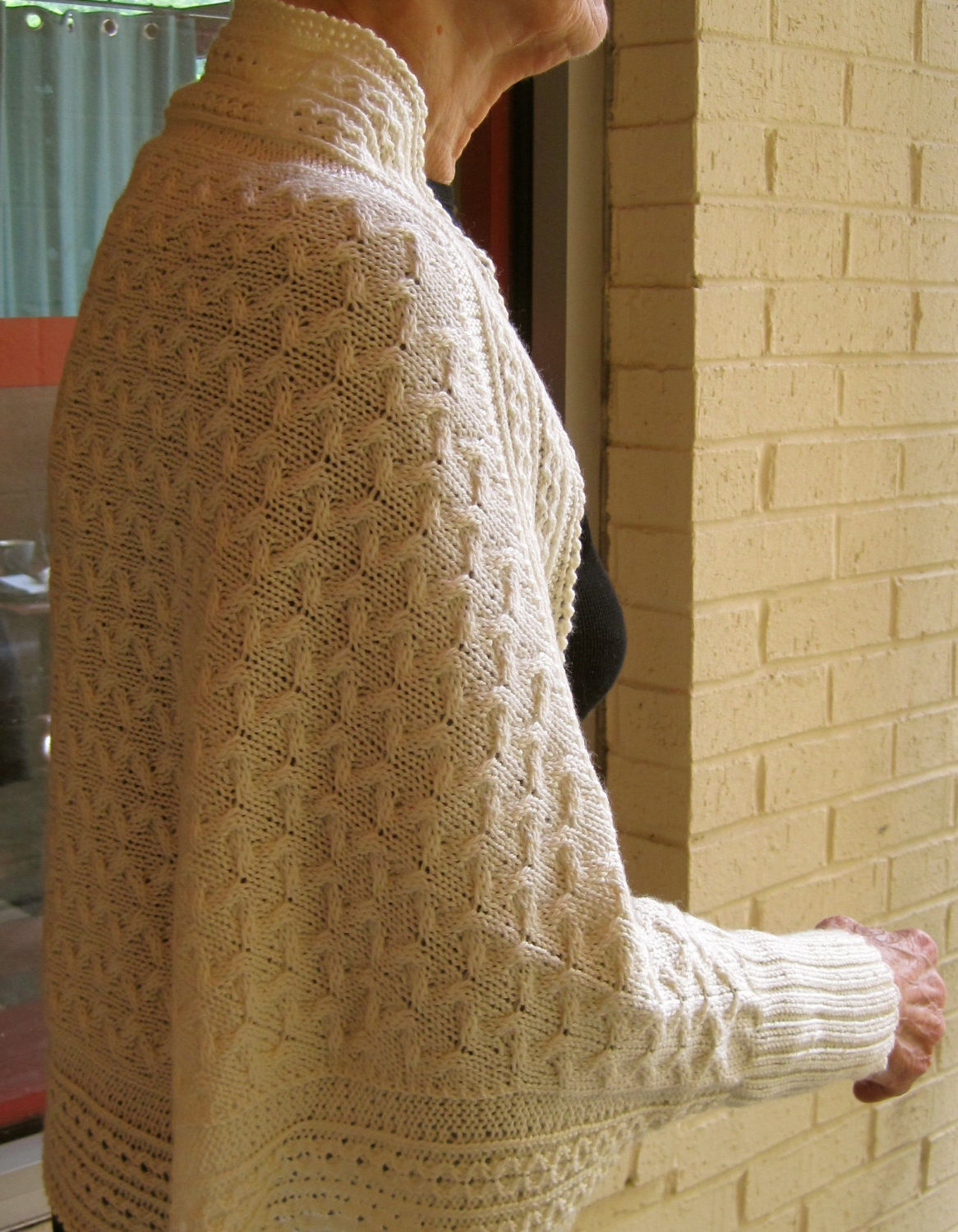 Longford Cuffed Cabled Shawl
This sweater wrap features features ribbed cuffs that help keep the shawl in place but give you freedom to use your hands. Cables are written out and charted.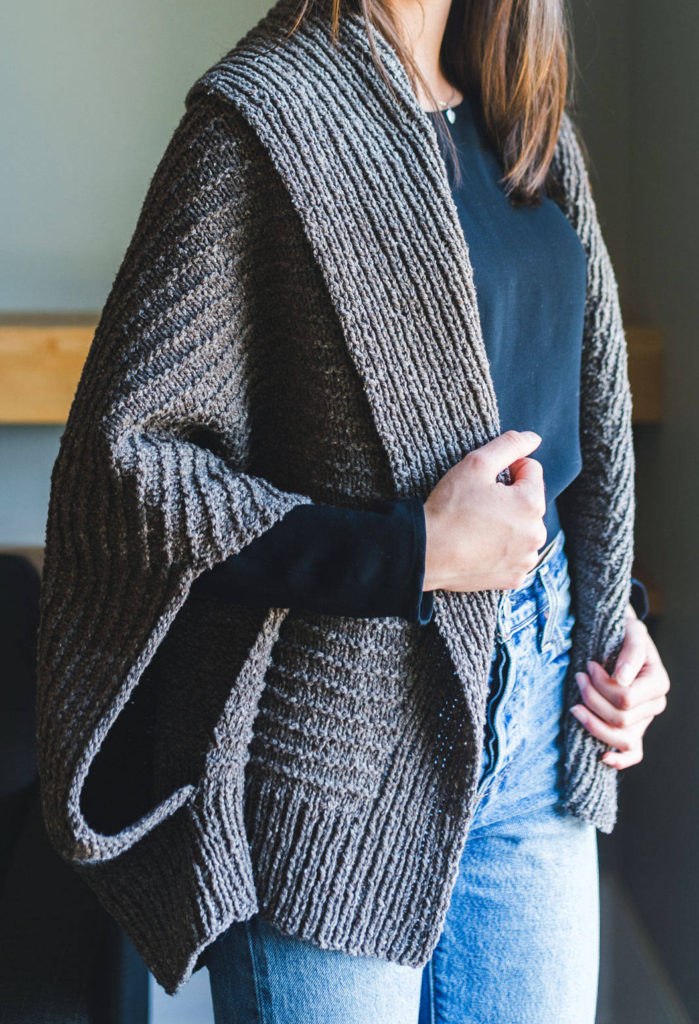 Veronika Cocoon Cardigan
This sweater wrap features an oversized shawl collar and textured ridge stitch body that is knit in one piece. 3 sizes.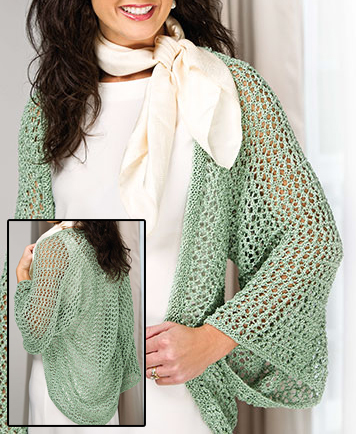 Sitka Cardigan
Easy lace sweater wrap in sizes S (M, L, XL, 2XL). Recommended yarn available on pattern page.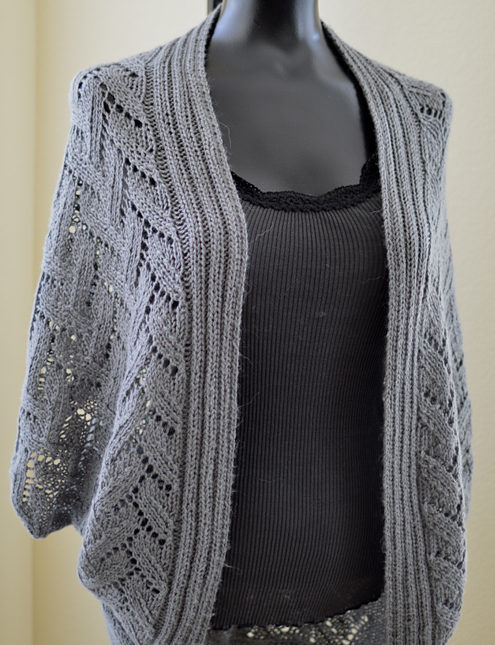 Calida Luxe Coccon Cardigan
Open lace cardigan with a cocoon silhouette. S/M (L/XL, 2XL/3XL).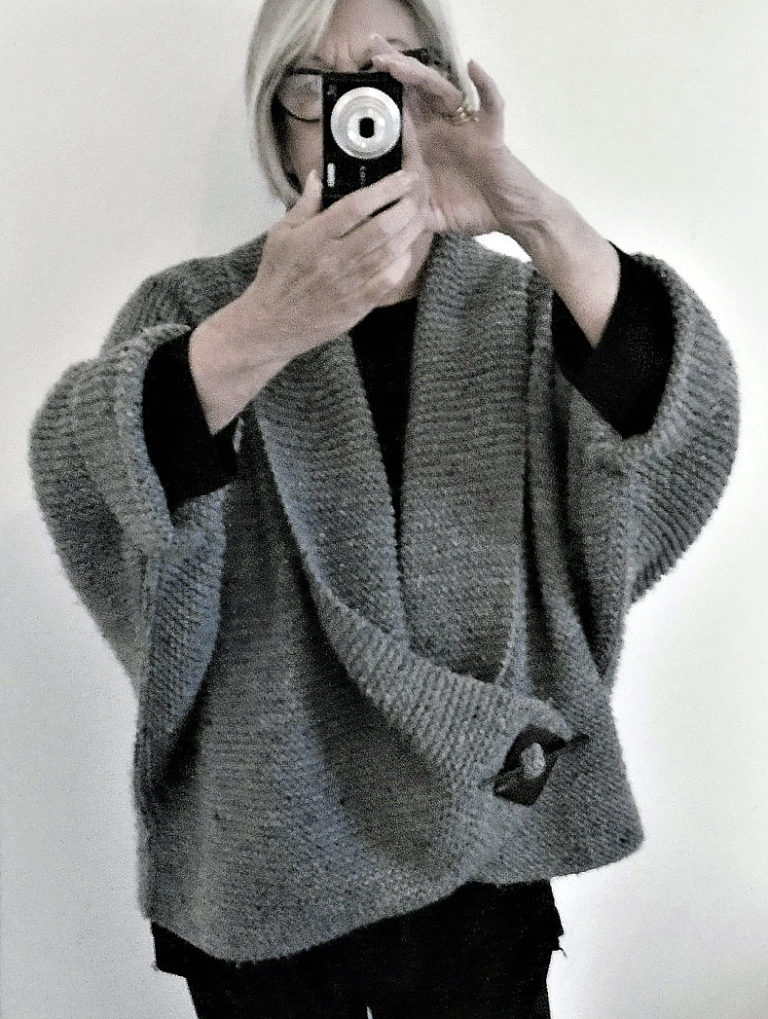 Garter Stitch Shawl Collar Cardigan
Easy pattern in one size fits 86cm 34in to 117cm 46in chest. Knit in garter stitch in one piece with just two seams.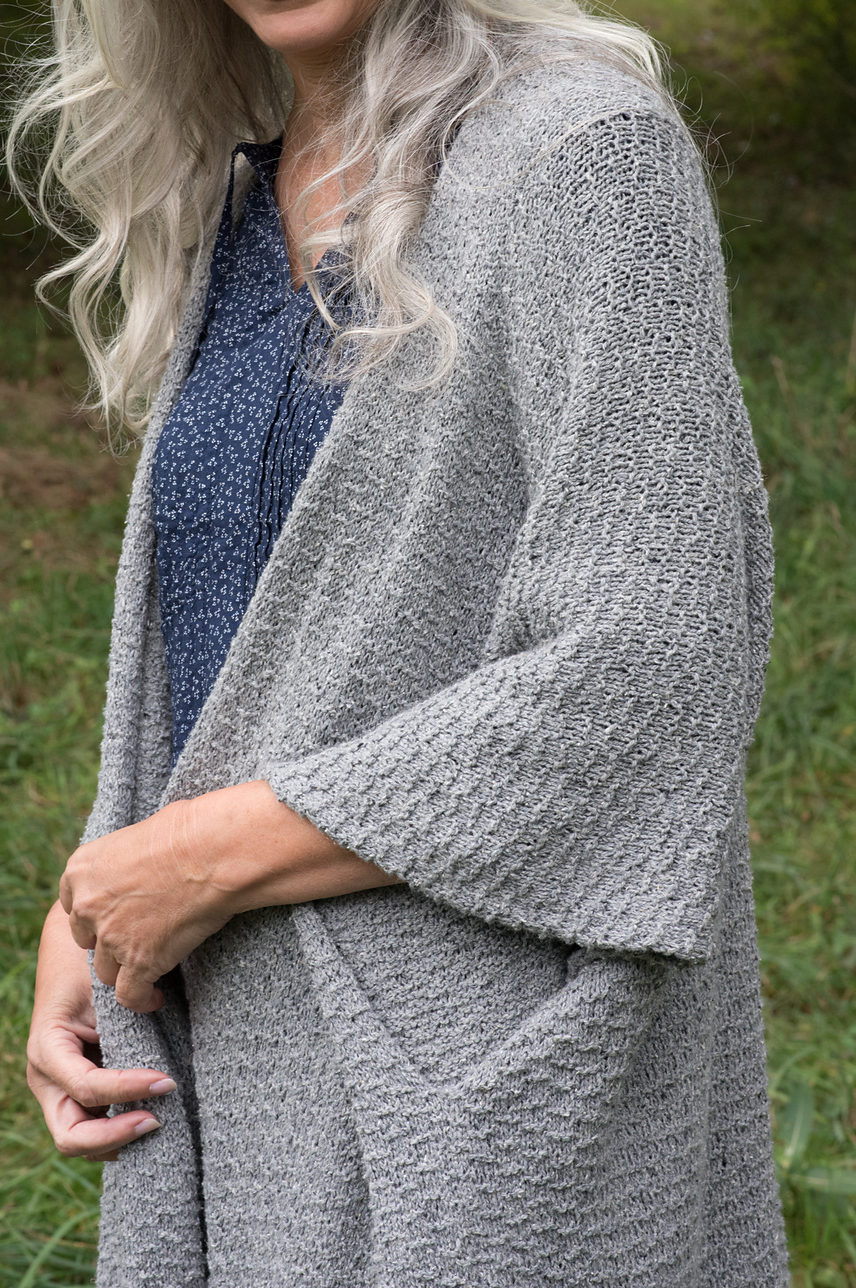 Sirocco Cardigan
Ruana with wide sleeves knit in a textured stitch in sizes 46(50-55-60)" across. Recommended yarn on pattern page.

Mont Blanc Cardigan
This easy sweater is a quick knit in super bulky yarn. Does involve picking up stitches.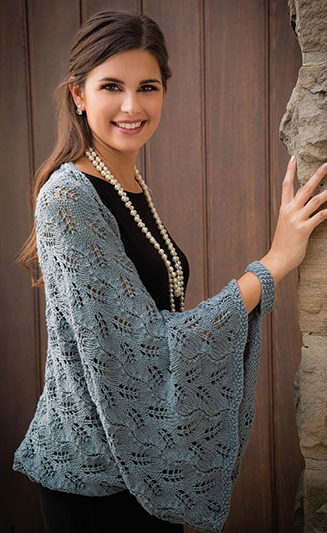 Tacoma Shrug
All-over lace shrug in sizes S (M, L, XL, 2XL)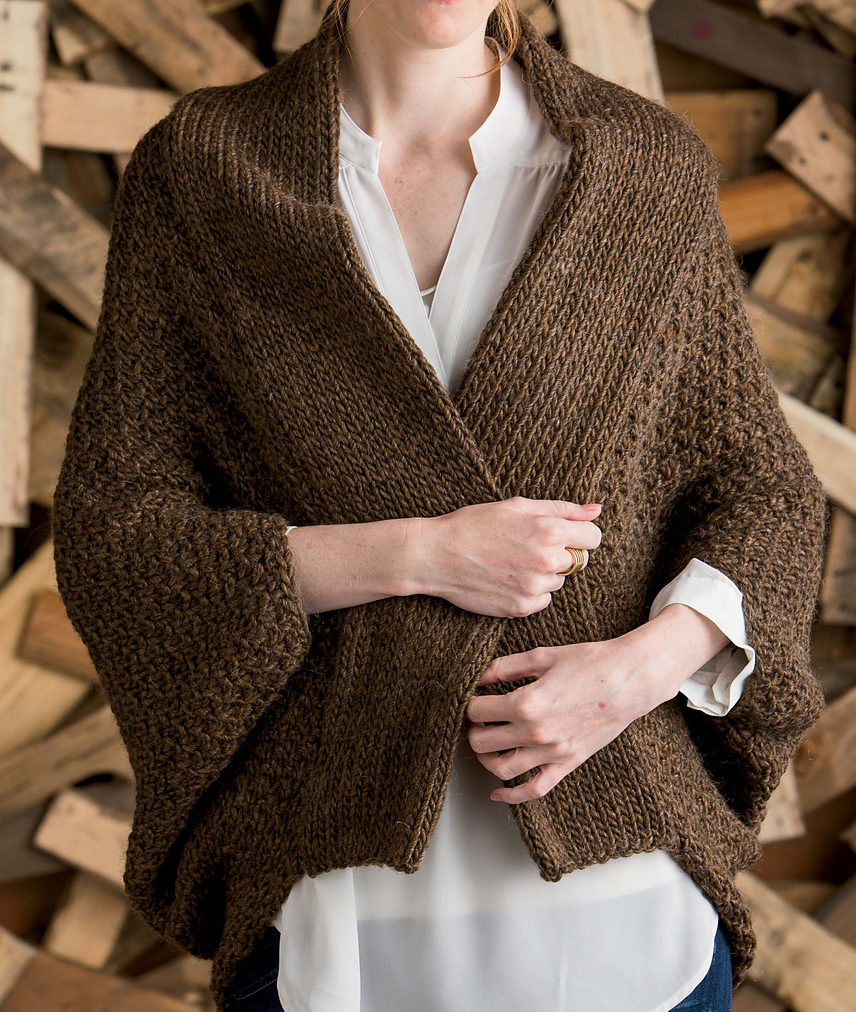 Cocoon Shrug
Fold and seam rectangles into an unconventional cardigan. Rated very easy by Ravelrers. Finished Size 40 (44, 48)" wide from cuff-to-cuff and 28 (32, 36)" high. Shrug shown measures 40". Designed by Nancy Ricci. Quick knit in bulky yarn.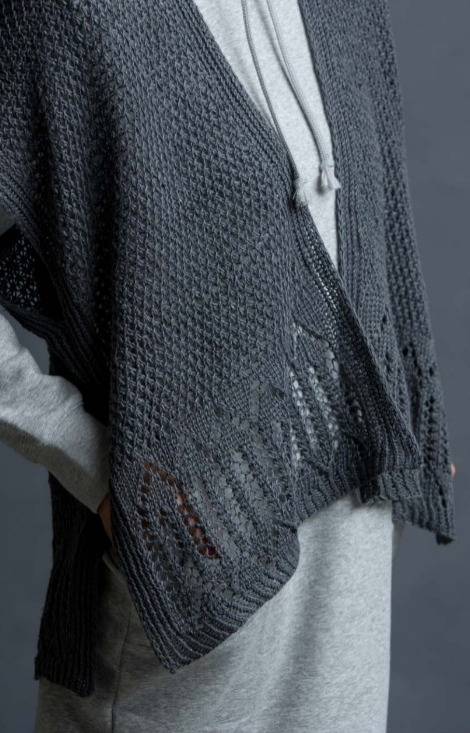 Pebble Beach Ruana
Open-front cardigan vest with unique lace hem perfect for layering. Sizes 24.5 (27.5, 30.75, 33.75)" wide. Designed by Amy Gunderson. One of the amazing patterns in knit.wear Wool Studio Vol. II Pattern Collection.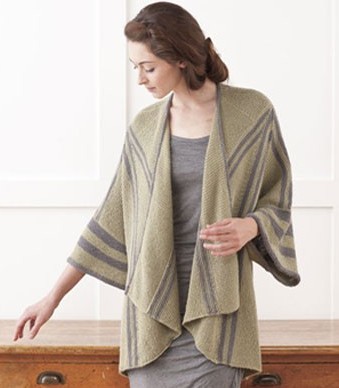 Multi-Drape Kimono
This fluid wrap is knit seamlessly using fun multi-directional knitting techniques. Sizes from 31″ to 50″ actual bust.