Pom Pom Hats Knitting Patterns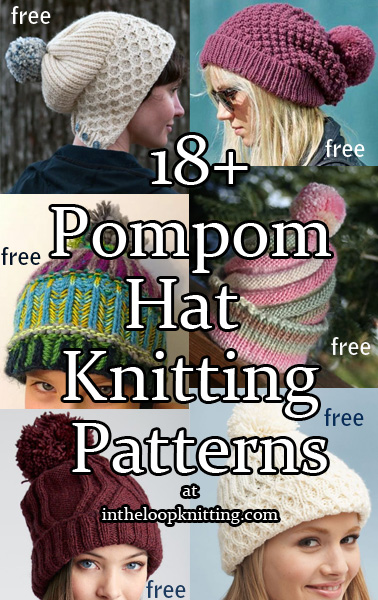 These hat knitting patterns have something in common – whether slouchy or beanie, cable or garter stitch, they are topped off with pompoms. If you want instruction or tools to make pompoms, I've got links below.
To get the knitting patterns, scroll down the page to the individual pattern you want and click on the link to that pattern.
These patterns are not my designs but links to other designers who have generously shared their patterns. If you have questions about how to knit a specific pattern, please contact the designer directly.
All links on this site are for informational purposes, but please note that some links are to affiliate sellers that pay me a small commission on purchases.

A Pompom With a Hat
This aptly named pattern has an eyecatching giant pompom with a beanie attached. Easy knit in super bulky yarn. The designer reports that it just takes a couple of hours. You can knit the hat without the huge pompom (or a smaller pompom) and then it will take one skein of the recommended yarn. Designed by Molly Conroy

Kulshan Hat
Sarah Pope's stylish hat features a honeycomb cable band,a slouchy crown in fisherman's rib topped with a pompom, and a button fastening that can be worn open in back, closed on the side, or in any other way you like.
Syncopation Adoration Hat by Stephen West
Stephen West is an amazing designer and it's a real treasure to find a free pattern like this colorful brioche ribbed hat with pom pom. This version of his hat design is by Glass Posse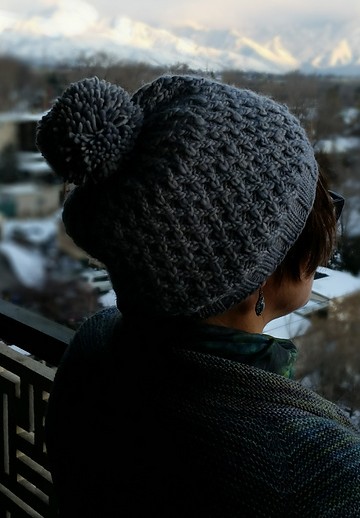 Diamond Weave Hat
Nancy Wilson's design features diamond patterns on a background of purl stitches. Uses only one skein of the recommended yarn, even including pompom.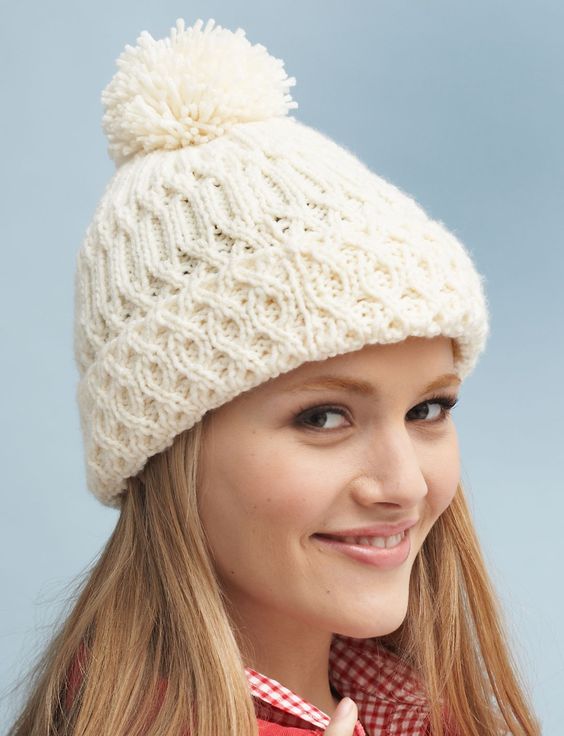 Aran Hat
This hat from Yarnspirations features a beautiful climbing cable pattern and pompom.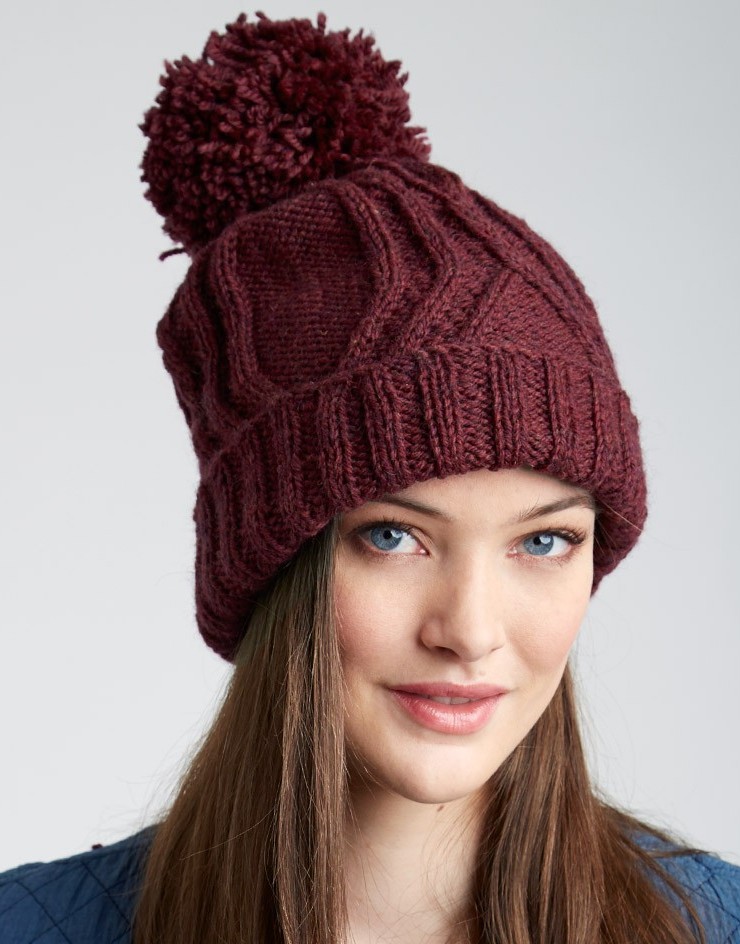 Cable Traveller Hat
Patons designed this hat with travelling cable and pompom.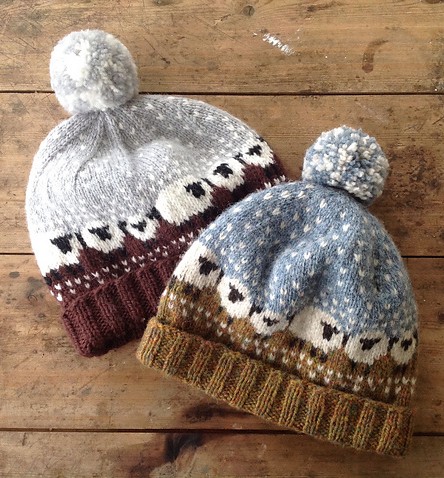 Baa-ble Hat
Donna Smith's hat featuring sheep is a quick knit and it makes an ideal introduction to Fair Isle / color work knitting.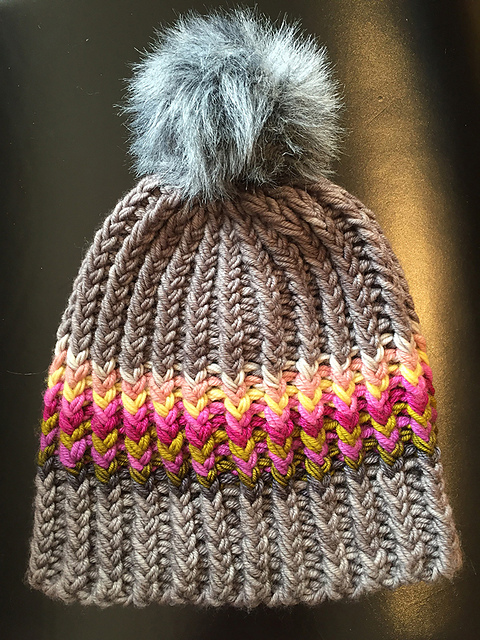 Twisted Ribster Hat
Great stash buster by Betsy Ioannou! You hold a variety of yarns of your choice in multiple strands to get a super chunky gauge.

Trifecta Earflap Hat
What's better than one pompom? The three pompoms on Gina Michele's easy ribbed beanie with earflaps.
Swirled Ski Hat
Designed by Caps for Kids, this cap comes in 2 sizes. Knit flat from side to side, increases on one side and decreases on the other turn vertical stripes into swirls when the cap is seamed. Great for multi-color yarn!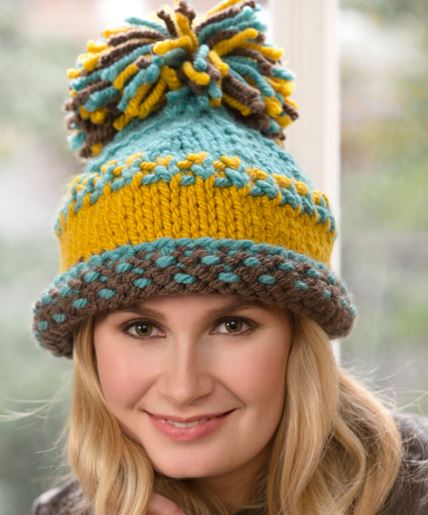 Bulky Hat
Red Heart UK's multi-color hat is knit in bulky yarn for a quick project.The bottom of the hat can be worn turned up or turned down.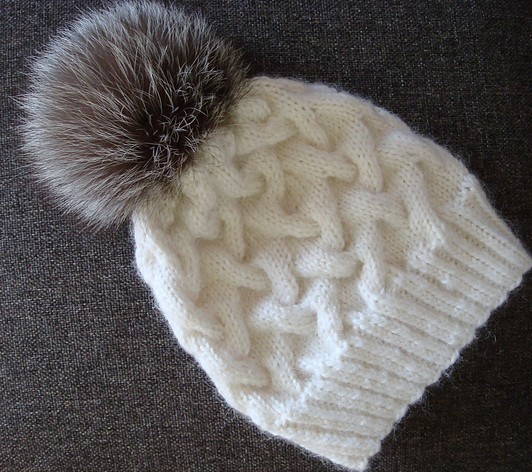 Winter Cable Hat
Annanitato Lolo's hat can be knit with one skein of the recommended yarn.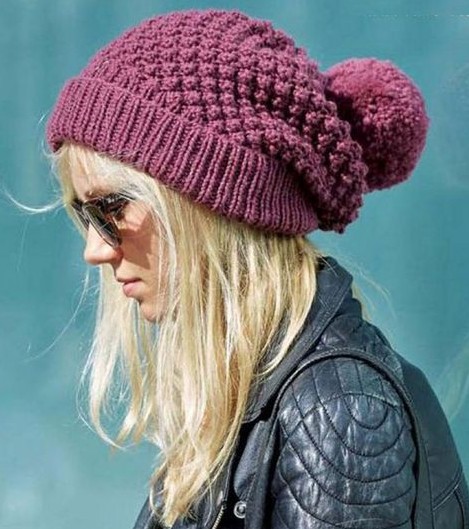 Blackberry Stitch Slouchy Hat
This slouchy beanie is knit in bulky yarn with texture from the blackberry stitch.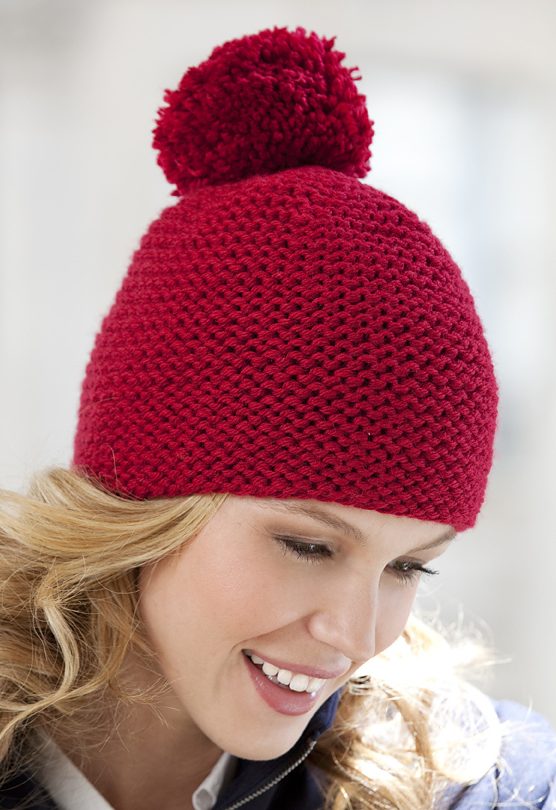 Great Garter Hat
Fast easy hat that's perfect for beginners by Jodi Lewanda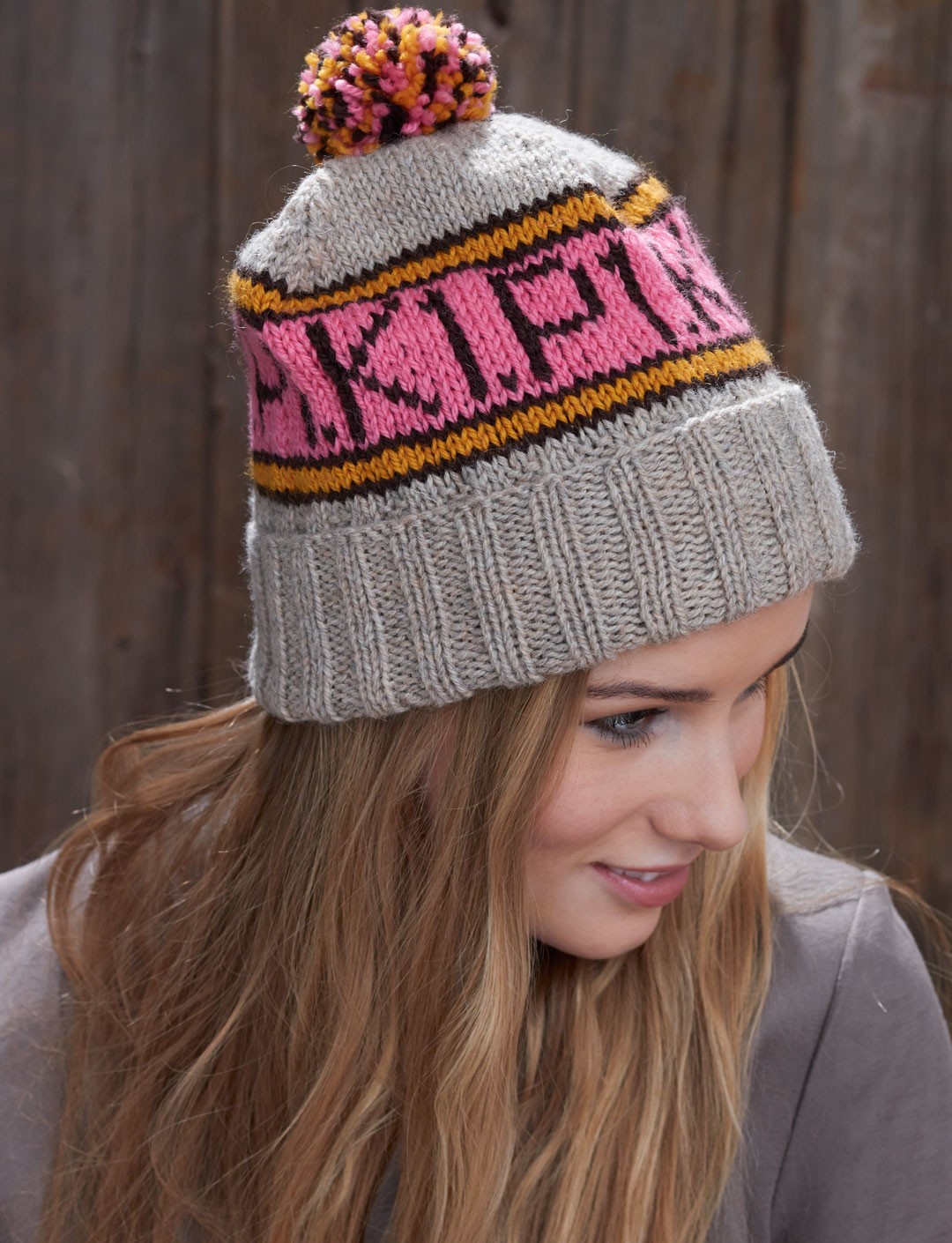 K1 P1 Toque
Patons created this hat that's perfect for knitters.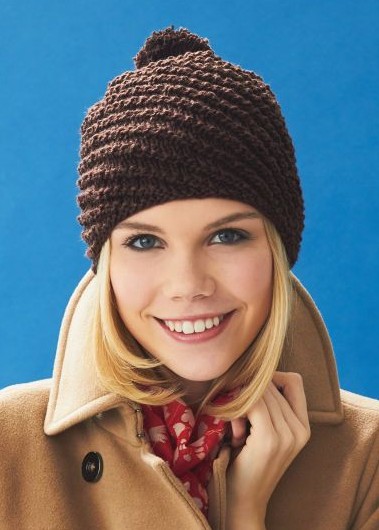 Diagonal Stitch Pom Pom Hat
Caron designed this hat that features a diagonal pattern that's great for beginners.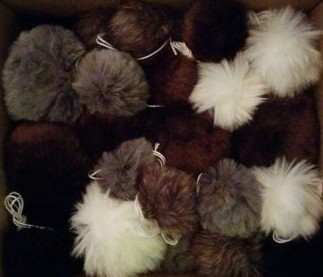 Faux Fur Pompoms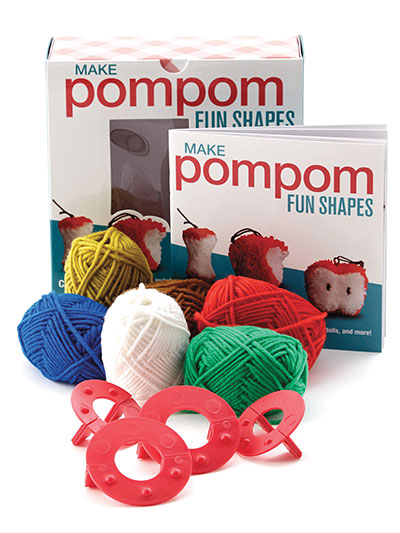 Make Pompom Fun Shapes Kit
This do-it-yourself kit includes pompom makers in 2 sizes, yarn in 6 different colors,a step-by-step, 16-page booklet with instructions for 6 exciting projects, as well as basic pompom directions. Supplies limited.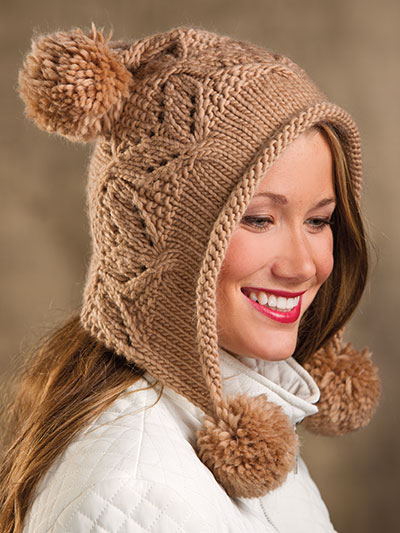 Mocha Hoodie
This half hat / half hood works up quickly — you can knit it in a weekend.

[widget id="black-studio-tinymce-13″]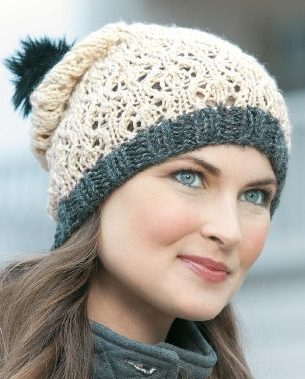 Lacy Hat
This slouchy lace toque style hat with pompom is one of 14 knitting patterns in the Beginner's Guide to Lace Knitting ebook by Rita Weiss. Other patterns include Lace Scarf, Crescent Shawl, Coaster, Heirloom Flower Doily, Scarf of Many Colors, Lacy Hat, Lovely Lace Scarf, Delightful Doily, Lovely Lace Collar Two Ways, Fir Cone Lace, Easy Edging, Lacy Market Bag, Elegant Edging, and Winter Lace Afghan
[widget id="black-studio-tinymce-30″]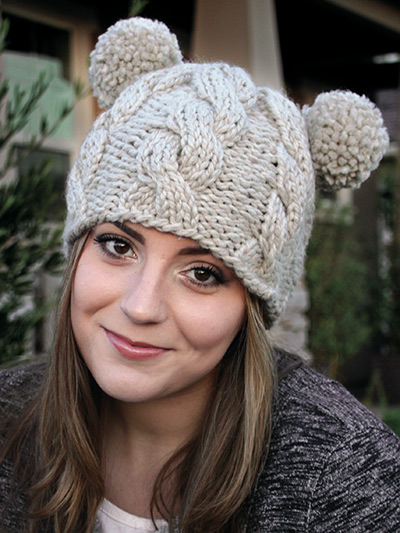 Bae Hat
A cabled beanie is elevated to a new level of chic with the addition of 2 fun and funky pompoms!

[widget id="black-studio-tinymce-13″]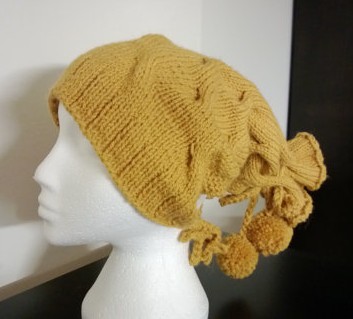 Twisted Pompom Hat
Really multifunctional accessory that can be worn as hat or cowl.
Terry Matz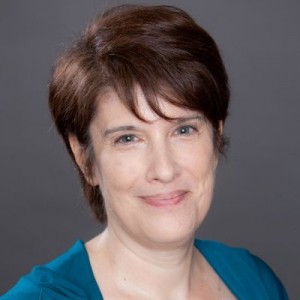 Terry is a knitting late-bloomer, learning to knit as an adult from Internet tutorials, because she wanted a craft that was useful, fun, and portable. Knitting hats for cancer patients inspired her to design her own patterns—available for free at her blog, intheloopknitting.com. Terry met her husband Ken at a science fiction convention and moved to the Kansas City area to be with him more than 30 years ago. Terry supports her yarn stash by creating websites and other digital media. Terry firmly believes in Knitting in Public—it's a great conversation starter!