Fantastical Creature Knitting Patterns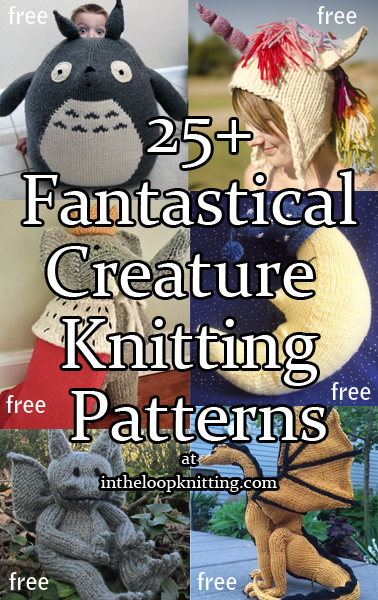 Knit these creatures from legends, myths, fairy tales, and fiction.
I have moved most of the dragon patterns to their own page:
To get the knitting patterns, scroll down the page to the individual pattern you want and click on the link to that pattern.
These patterns are not my designs but links to other designers who have generously shared their patterns. If you have questions about how to knit a specific pattern, please contact the designer directly.
All links on this site are for informational purposes, but please note that some links are to affiliate sellers that pay me a small commission on purchases.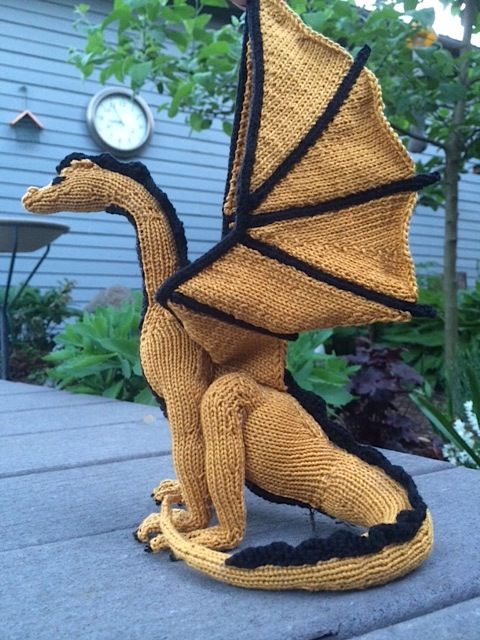 Dragon
NY Times Bestselling Author Kim Harrison designed this impressive dragon and has generously provided the pattern complete with photo and video tutorials.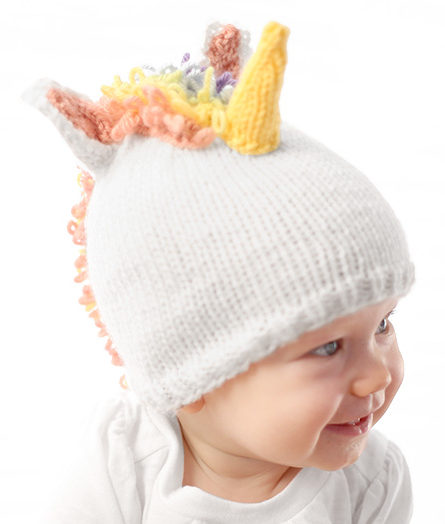 Magical Unicorn Baby Hat
Another adorable baby hat from Little Red Window. Web pattern for 6 months is free. More sizes and a printable pdf are available on Etsy.

Kraken or Cthulhu Mask
This tentacled ski mask / balaclava can turn you into a kraken, octopus, squid, Cthulhu or Davy Jones, whatever tentacled creature you want to be today. Designed by Segolene Roudot. Available in English and French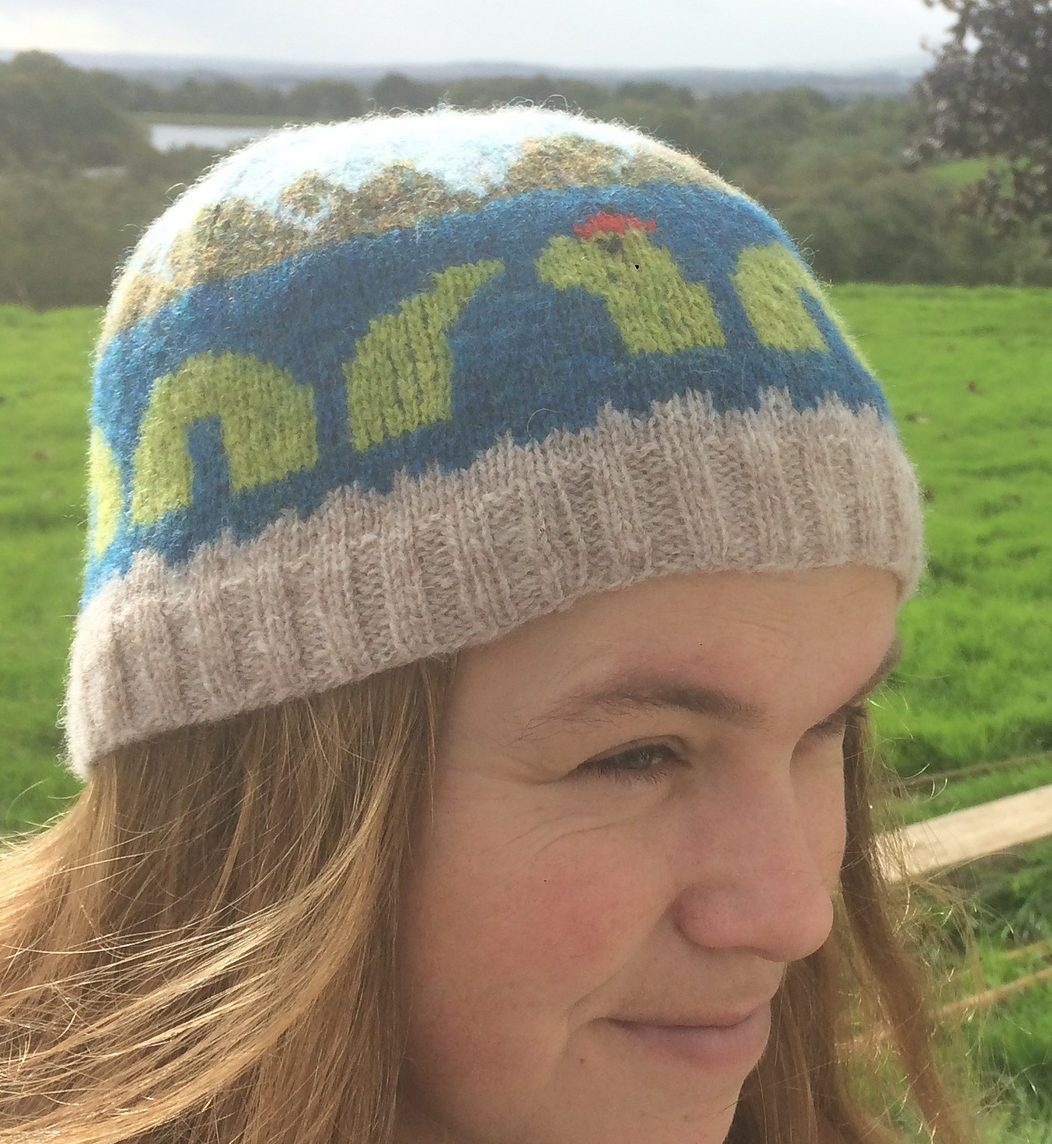 Nessie Hat
Colorful beanie featuring the Loch Ness Monster in colorwork. Designed by Clare Hutchinson. Pictured project by DinaP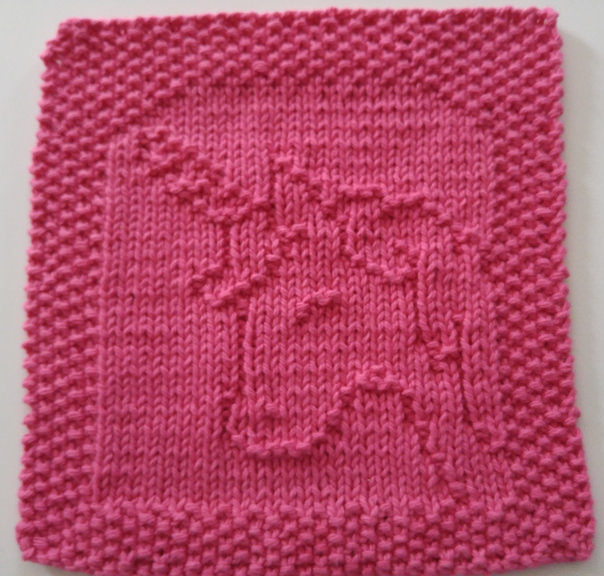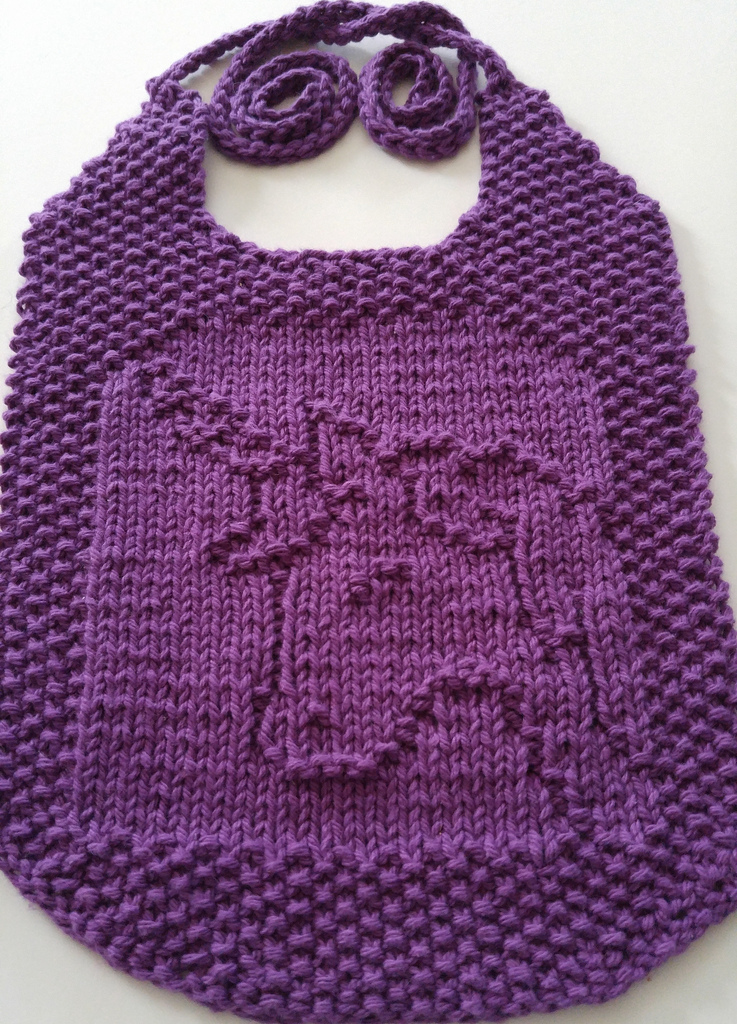 Baby Unicorn Cloth and Bib
A baby unicorn designed in knit and purl stitches by Elaine Fitzpatrick of Downcloverlaine. Both written instructions and a chart.

Cthulhu Amigurumi
Knithulhu by moon_custafer is a tiny toy Lovecraftian elder god. Pictured project by LeonieShi who used ribbon yarn.

Unicorn Hat
Brittany Tyler Simmonds designed this fantasy ear flap hat.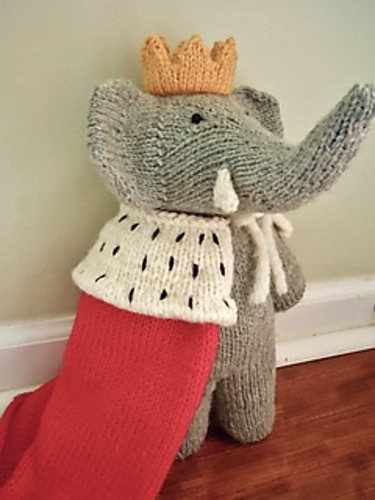 Babar
The beloved elephant comes to life in Sara Elizabeth Kellner's 11 inch toy. Instructions for Babar, his green suit, a bowler hat, king's cape, and crown are all included.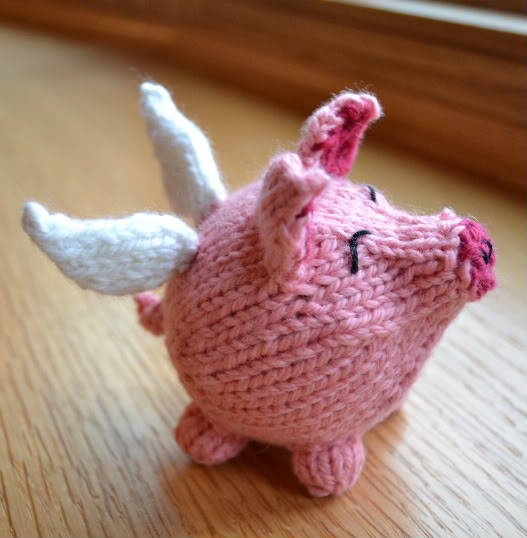 Oink Flying Pig
Now when someone says "when pigs fly" you'll can hand them Oink designed by Spud & Chloë! 3 ½ inches tall by 2 ½ inches wide.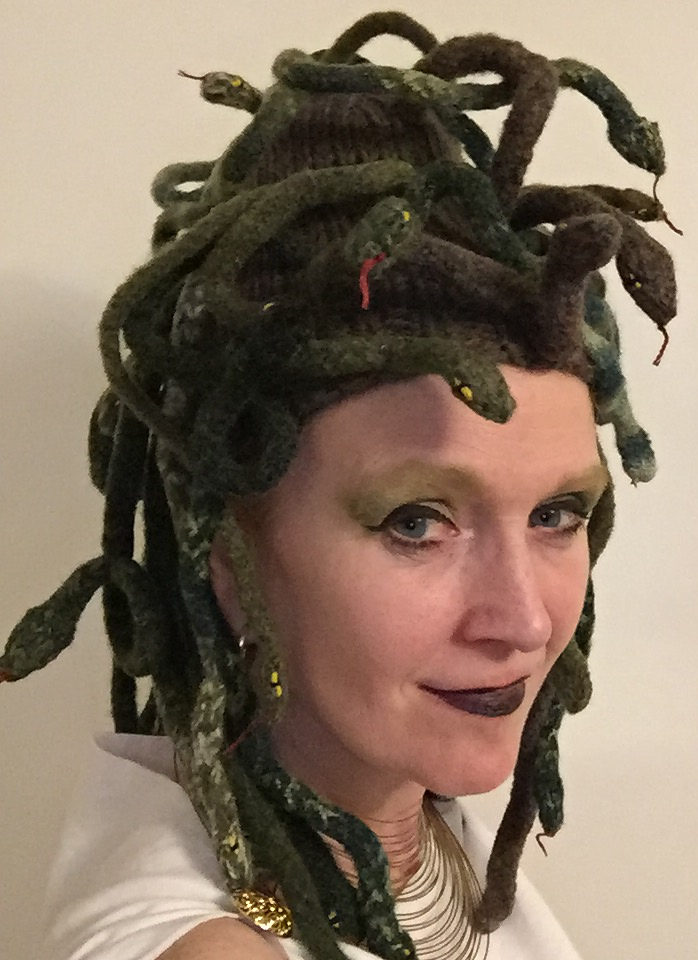 Medusa Hat
Snake covered  hat designed by Kathy Vogelhuber. Pictured project by Lixivia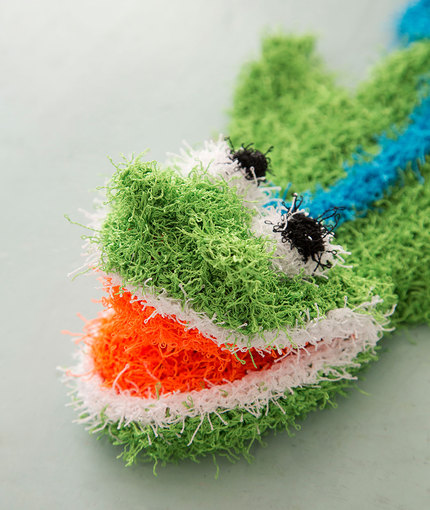 Sea Monster Bath Mitt
Michele Wilcox for Red Heart Yarn designed this adorable puppet that will make kids love bath time. If you use the recommended Red Heart Scrubby yarn, you'll get a  textured that's good for getting at dirt but soft enough to use on skin. Red Heart sent me a sample of the yarn for review.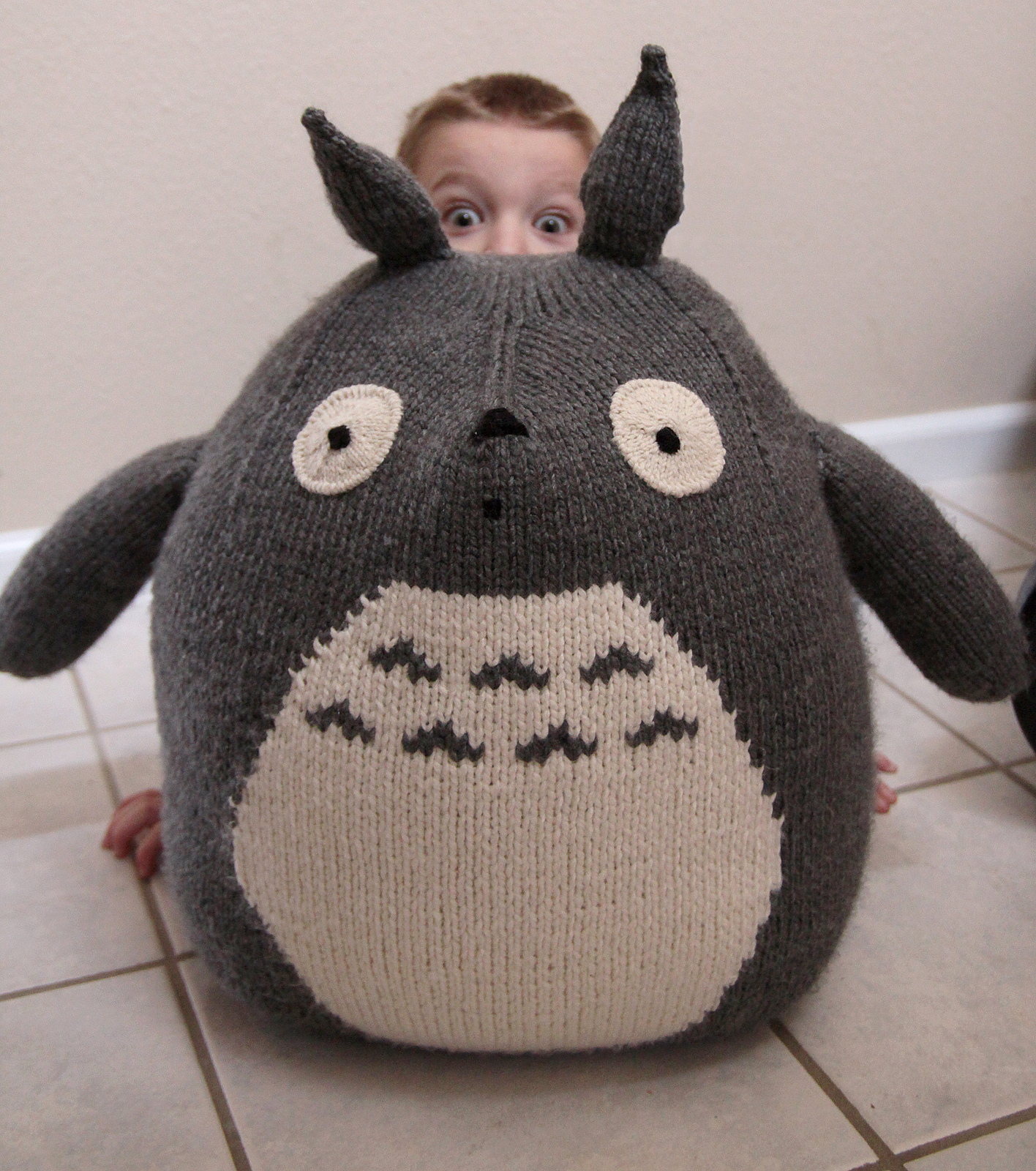 King of the Forest (Totoro)
This large cuddly toy is inspired by the shy forest spirits portrayed in Hayao Miyazaki's Japanese animated film My Neighbor Totoro. Designed by Robin Zillman. Finished Height: 22″ Pictured project by vrankin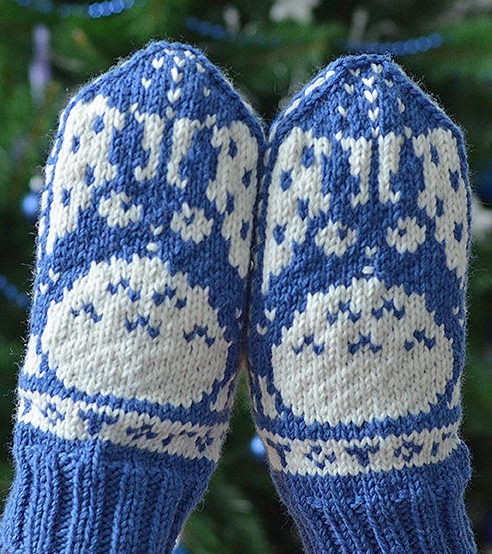 Totoro Mittens
Norwegian style mittens inspired by the shy forest spirits portrayed in Hayao Miyazaki's Japanese animated film My Neighbor Totoro. Designed by brella, the stranded colorwork features a big Totoro with an umbrella, two little Totoros, and a bunch of dust bunnies (or soot sprites) .Pictured project by djaya. Some Ravelrers have adapted for hats, sweaters, and more.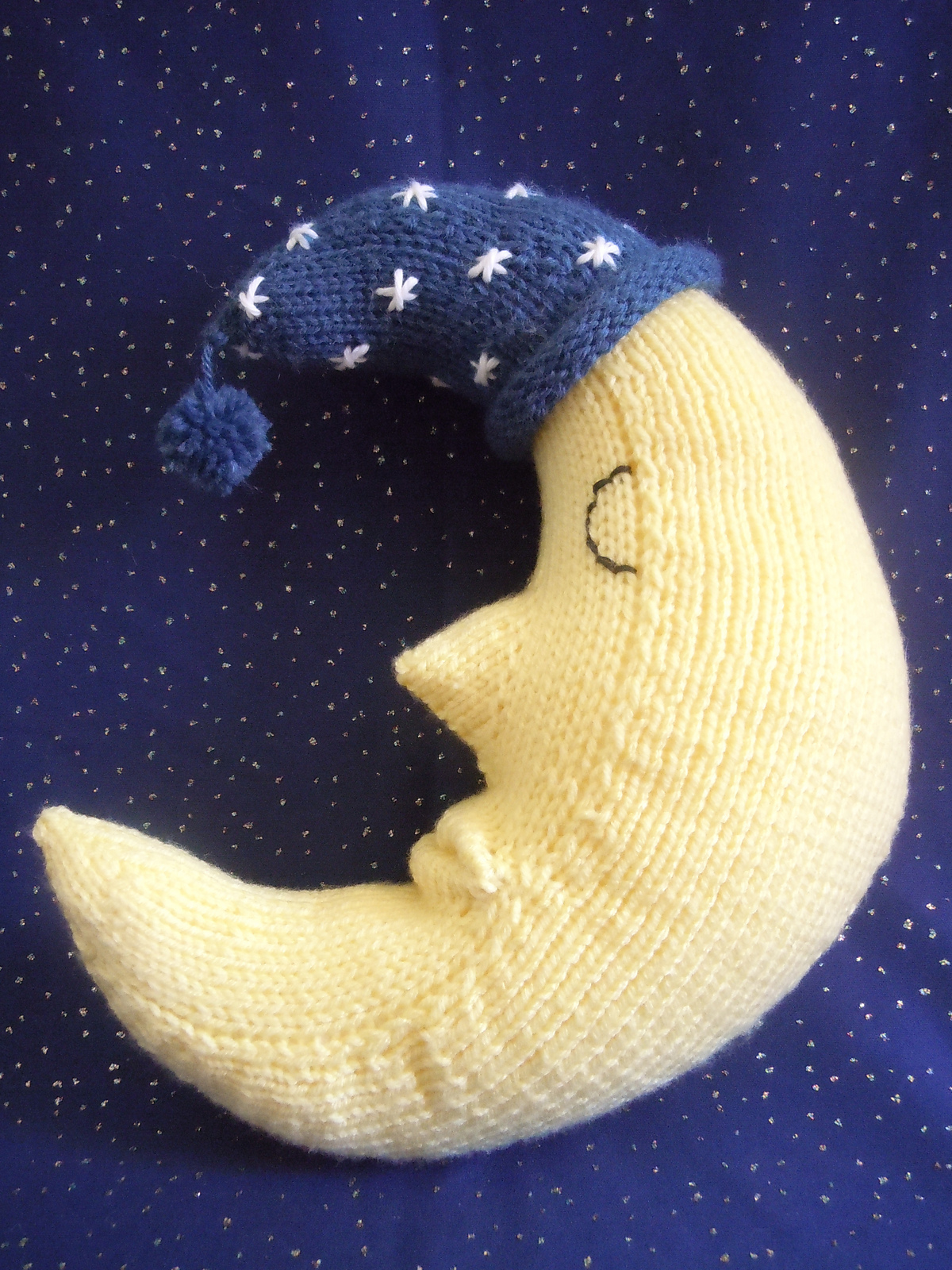 Man in the Moon Pillow
"Good Night" crescent moon shaped pillow is designed by Sara Elizabeth Kellner. Size 12 X 6 inches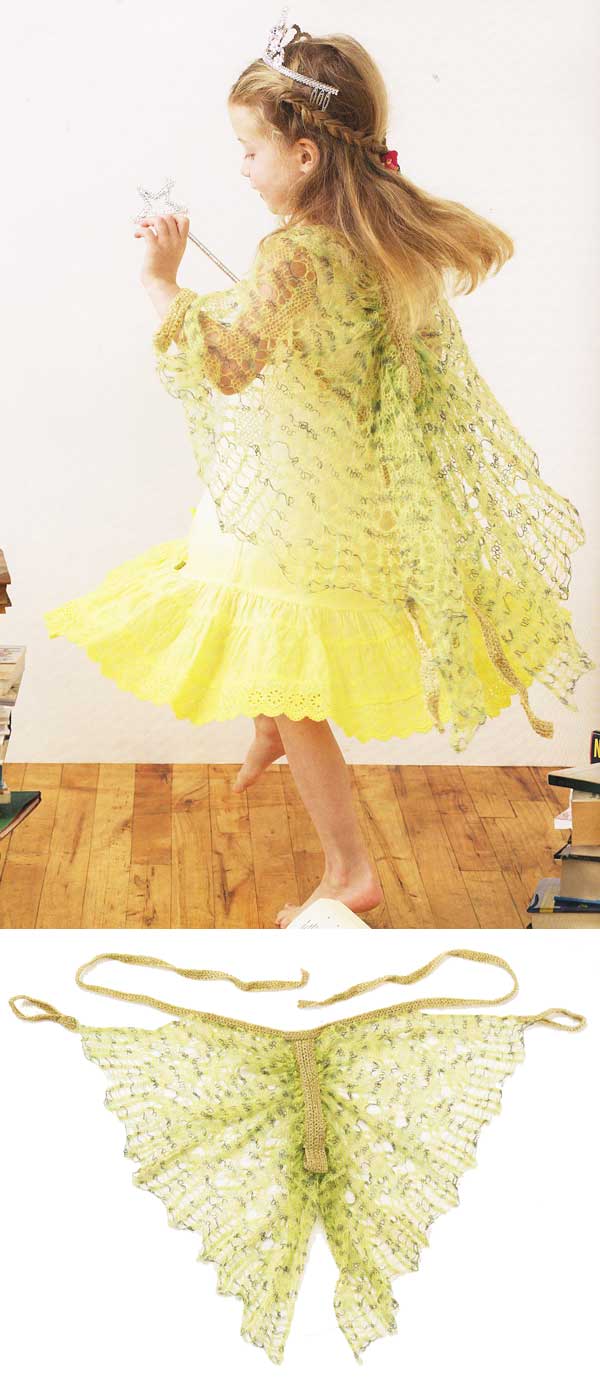 Woodland Fairy Wings
Kat Coyle's lace fairy wings are knit and then gathered into a centerpiece. Although the pattern calls for crocheting the central section and ties, I would think that you could knit them instead. Also though this pattern calls for mohair, Ravelrers have used a variety of yarns for their projects. This pattern is excerpted from her book Boho Baby Knits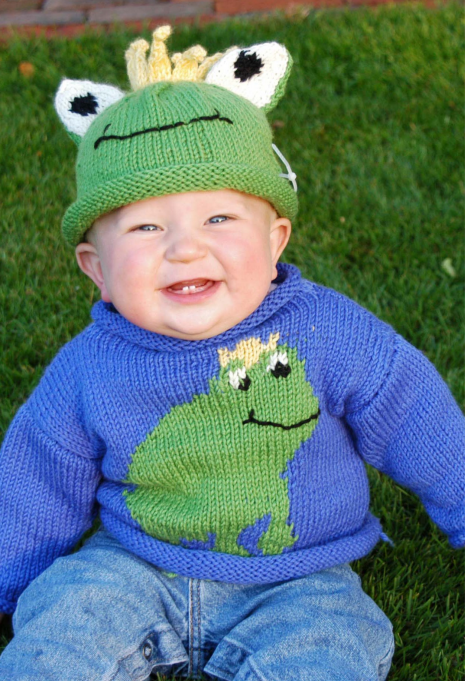 Frog Prince Baby Hat and Sweater
Sizes 6 mo. (1 yr, 2 yr, 4 yr). Designed by Cascade Yarns.
Monster Pants
Hrönn Jónsdóttir's leggings are sized for 9-18 months.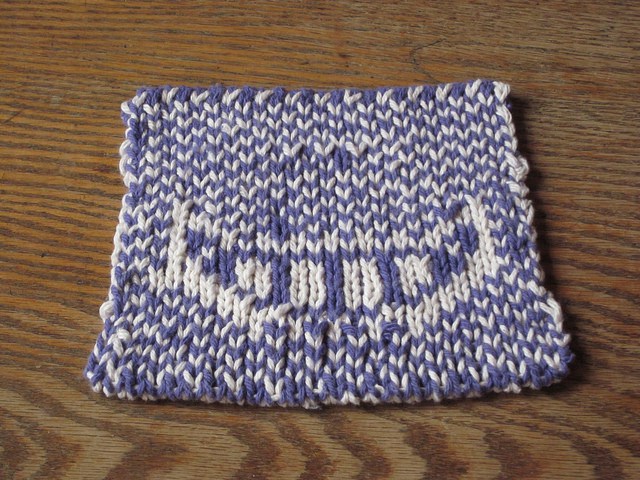 A Grin Without a Cat Potholder
This Cheshire Cat Potholder was designed by Monica Manceñido. The double knit design features the Cheshire Cat on the front and just his grin on the back.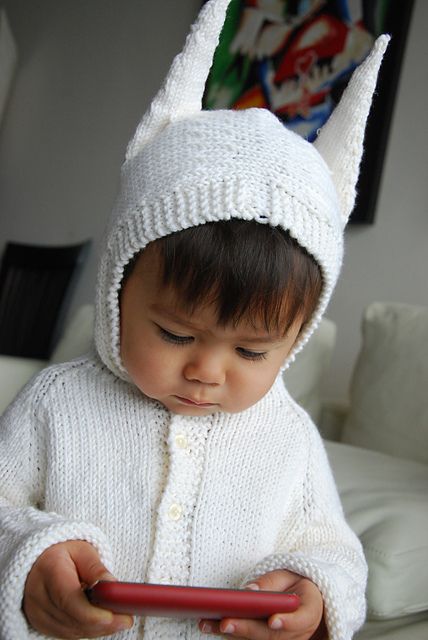 Wild Thing
Homero Luna designed this hoodie inspired by Max's 'Rumpus Suit' from Where the Wild Things Are, this pattern is available in 19 sizes, from infant to the largest Adult size w/a finished chest circumference of 56".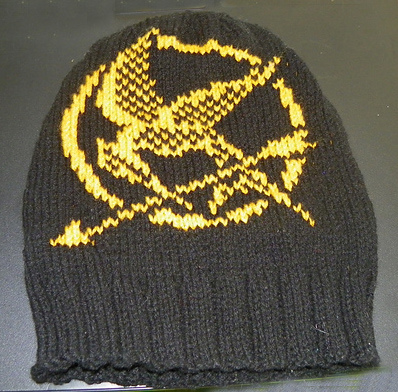 Mockingjay Slouchy Hat
MyDearAziraphale designed this hat with Katniss' signature bird from the Hunger Games.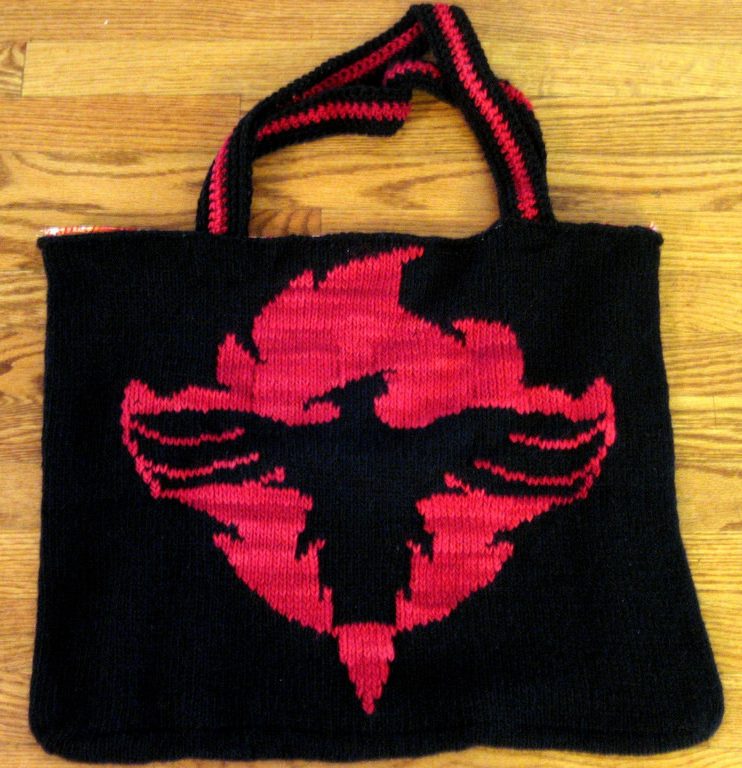 Phoenix Rising Bag
A Harry Potter and the Order of the Phoenix inspired tote bag.