Knitting patterns for Easter baskets, toys for baskets, treat holders, decorations, egg cozies and more.
To get the knitting patterns, scroll down the page to the individual pattern you want and click on the link to that pattern.
These patterns are not my designs but links to other designers who have generously shared their patterns. If you have questions about how to knit a specific pattern, please contact the designer directly.
All links on this site are for informational purposes, but please note that some links are to affiliate sellers that pay me a small commission on purchases.
Follow me for more patterns:
Free Patterns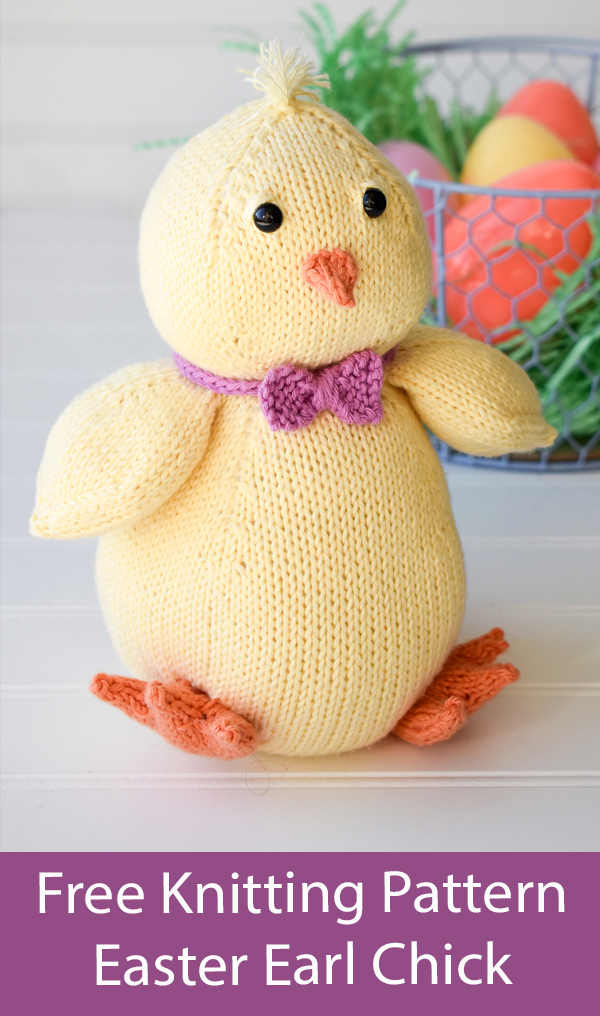 Easter Earl
Chick hatchling bird toy softie knit in the round. Size Height: approx. 8" tall. DK weight yarn. Designed by Rachel Brockman for Universal Yarn.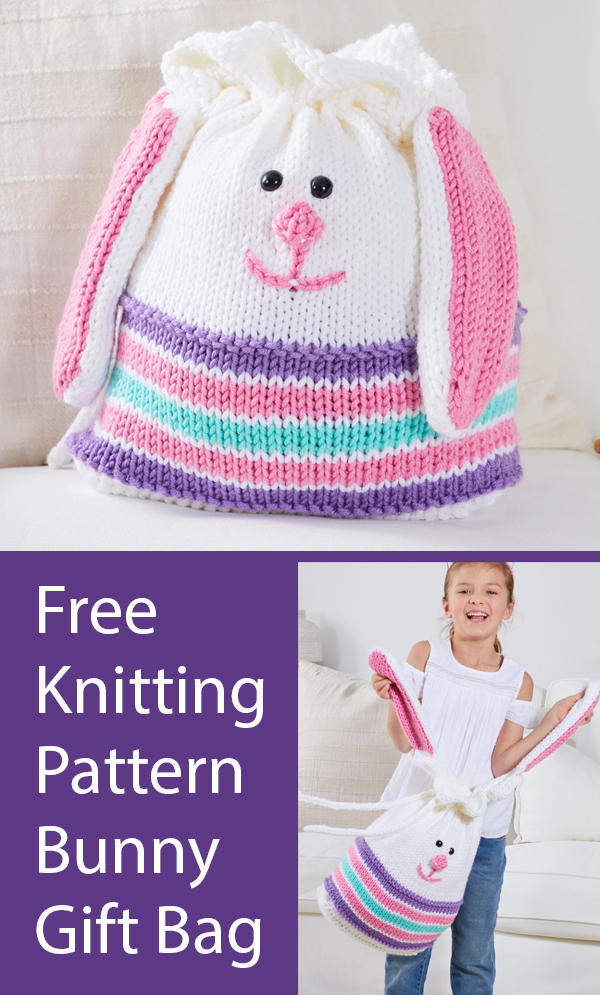 Bunny Gift Bag
Drawstring bag with ears and face to create a cute bunny. Or knit without for a pretty everyday bag. Finished Measurements: 28" x 19", though I think you could make a smaller version with a lighter weight yarn. Bulky weight yarn. Designed by Premier Yarns Design Team.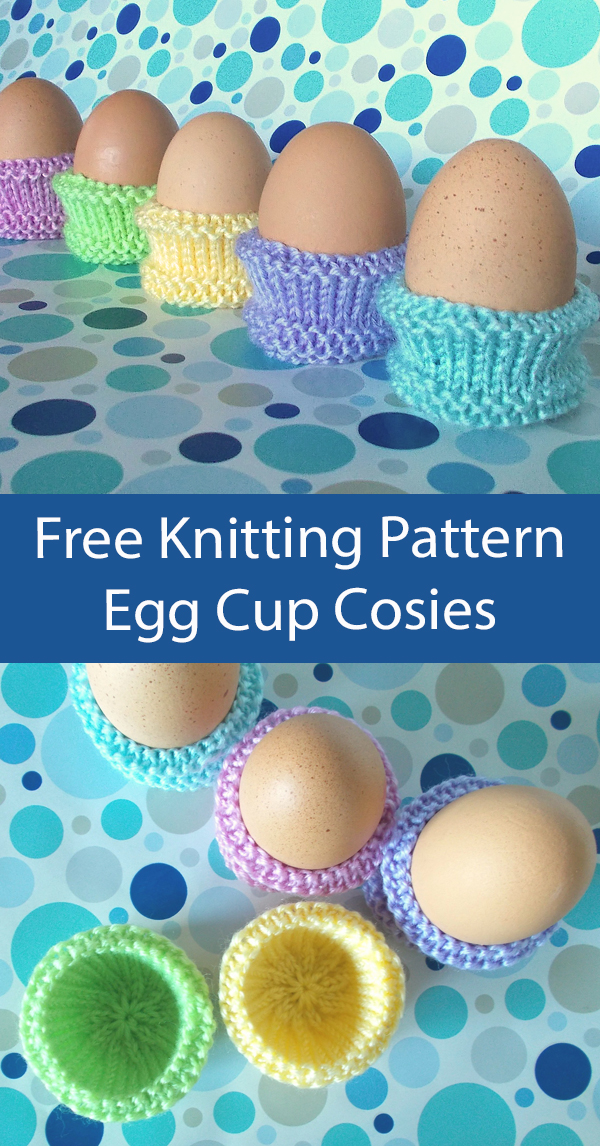 Egg Cup Cosies
These little Easter egg holders are seamless and worked entirely in the round from the bottom up. Uses just small amounts of DK or light worsted yarn, good for using up scraps. Hold the Eggs! designed by Ellen Kapusniak for StitchGeek.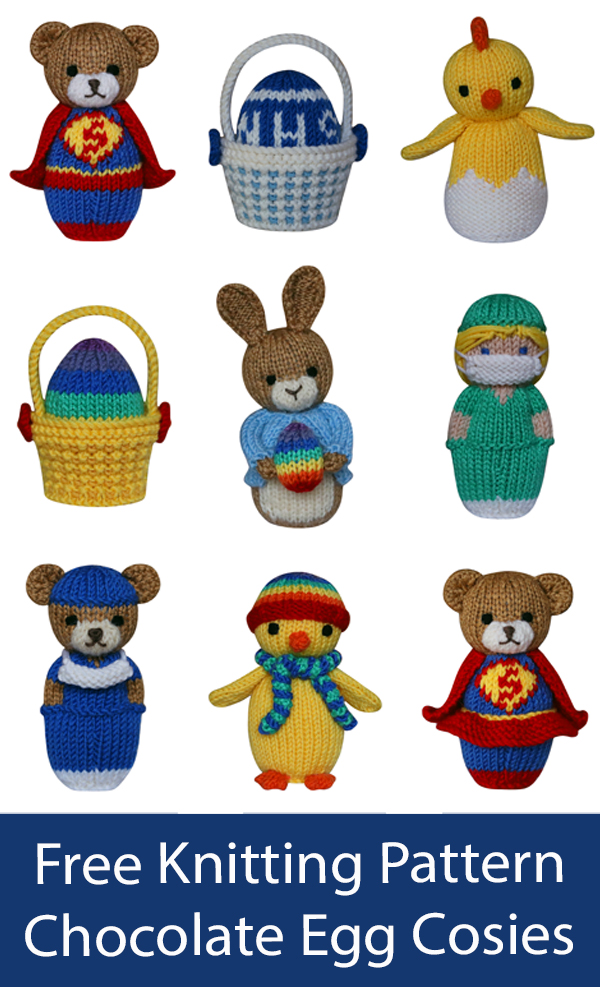 Chocolate Egg Cosies
These Easter treat cosies include instructions for superhero teddy bears, eggs in baskets, chicks, bunnies, and front line workers. They are knitted in one piece from the bottom up on straight needles. Designed to hold chocolate eggs which measure approximately 5-6cm in length and 3-4 cm in width. Designed by Knitables who allows charity fundraising sale of finished cosies.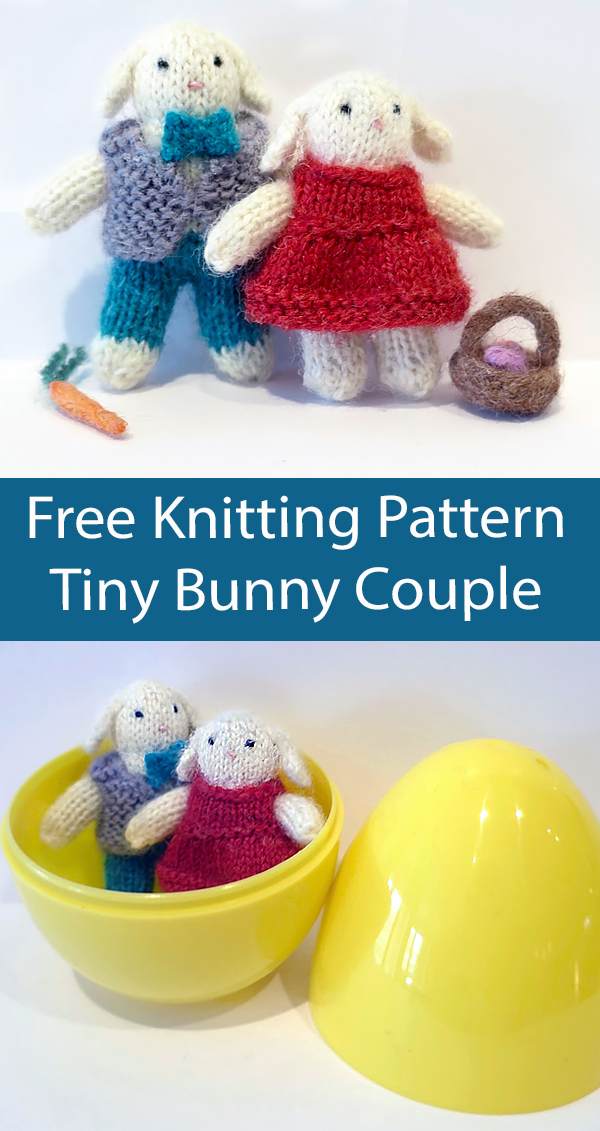 Tiny Bunny Couple
This tiny bunny couple is all dressed up for Easter and at about 2 inches tall - perfect to put in plastic Easter eggs or Easter baskets. The pattern includes instructions for the bunnies, clothing, carrot, basket and eggs. Designed by Kathy Lewinski.

Easter Wreath
Spring wreath with bunnies jumping in and out of holes, Easter eggs, butterflies, rainbow, and big warm sun. Designed by Nicola Valiji. DK weight yarn. Kit is also available for about $23.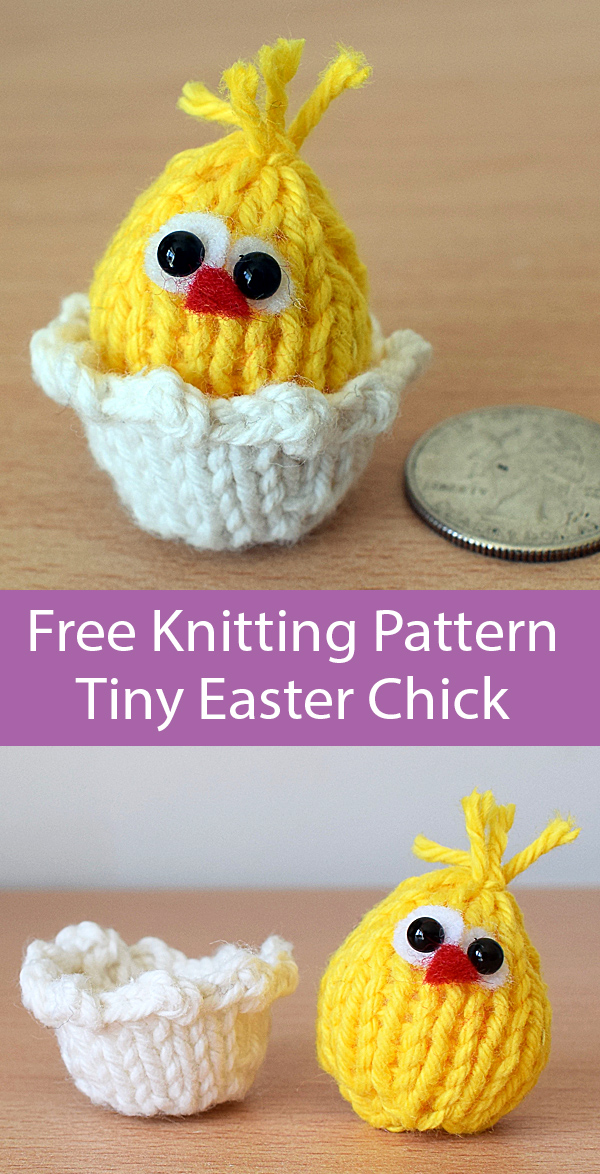 Tiny Easter Chick by Amanda Berry
This little yellow Easter chick sitting in a shell is a quick knit and great for using up scrap yarn. Great for Easter baskets or putting in plastic eggs. Approximately 3.5cm tall. Knit flat. Designed by Amanda Berry

Palm Leaf
Perfect for the Easter season or for all-year decoration or embellishment. Palm leaf is constructed by knitting in garter stitch and casting on and binding off to form the fronds. Quick project that takes 3-5 hours according to Joann's. Uses 1 skeing of the recommended aran weight yarn.

Easy Bunny Basket
Rabbit-eared basket perfect for holding treats or as Easter decor. It's knit on circular needles without increases or decreases with bottom closed by gathering. The ears are knit separately and then sewn on. Finish with a fluffy faux fur pom pom tail. Designed by Gina Michele. Jumbo weight yarn.

Chrissy Chick and the Egg-stras
Amigurumi baby bird with tiny bunny hat with egg friends. Great toys for Easter baskets! The chick is about 4" [10 cm] tall, not including hat. Designed by Nancy Anderson for Red Heart. All can be knit with one cake of special multicolored Amigurmi yarn from Red Heart.

Floppy Bunny Hat
Easy baby beanie knit in stockinette in the round with garter stitch bunny ears. Takes just 4 hours to knit in super bulky yarn according to the designer. Sizes 0-3 months, 3-6 months, 6-12 months and 18-24 months. Designed by Louise Bollanos.

Chick and Egg by Alan Dart
This tiny chick toy comes with her own Easter egg shell with picot edges. The chick is 7.5cm/3in tall, and the egg is 12.5cm/5in tall, 7.5cm/3in wide. Designed by Alan Dart.

Easter Chick Basket
Easy treat holder knit in one piece in garter stitch, folded and seamed. Designed by Gina Michele

Eggkins
Six egg-shaped animal toys perfect for Easter baskets or egg cups. Left to right (front row): chick, owlet, duckling; (back row): lamb, bunny, frog.. DK yarn. Designed by Chris de Longpre

Sweet Little Easter Baskets
Tiny baskets perfect for holding small treats like mini chocolate eggs. DK yarn. Designed by marianna mel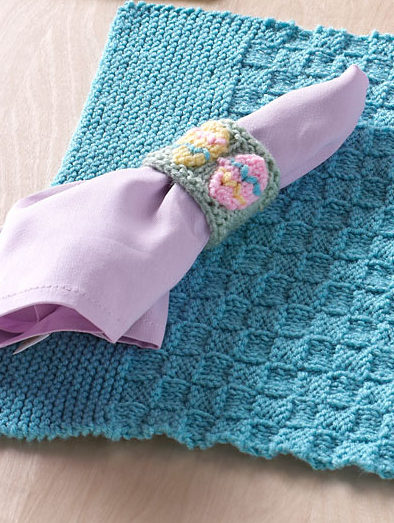 Easter Placemats with Easter Egg Napkin Rings
Rebecca J. Venton designed these easy festive placemats and napkin rings for Easter but you could use the colorful placemats all year round.

Spring Chick Toy
Easy bird toy pattern by Barbara Prime of Fuzzy Knits. Pictured birds in DK yarn are 7.5 cm long but size can be adapted with different yarn weights.

Bunny and Duck Flip Toy
This Mini-Reversible Duck to Bunny is a topsy turvy toy. Just turn one of the animal buddies inside out to see the new animal. Designed by Susan B. Anderson. Pictured project by azadi
More Free Patterns

Gumdrop Bunnies
These Five Little Bunnies by Laura Bain make quick toys for baskets or Easter decorations.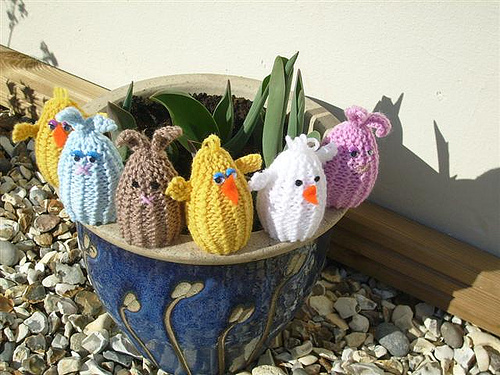 Easter Egg Treat Holders
Great for holding candy eggs! These little characters designed by Jean Greenhowe are all based on a garter stitch tube, with one half pushed inside the other half. This double knitted thickness and the stretchiness of garter stitch holds a chocolate egg securely in place, until it is squeezed out.
Get the free knitting pattern – scroll down the page to find the correct pattern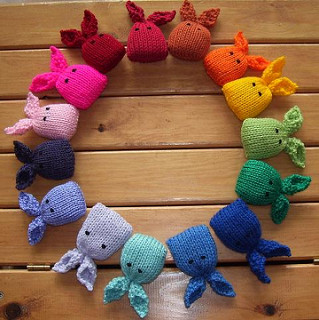 Catnip Bunnies
Great for leftover yarn, these bunnies designed by Selina Kyle are easy to make and practically seamless. Though designed to be filled with catnip they could also be used as sachets, bean bags, or tiny toys.
Download the free pattern at Ravelry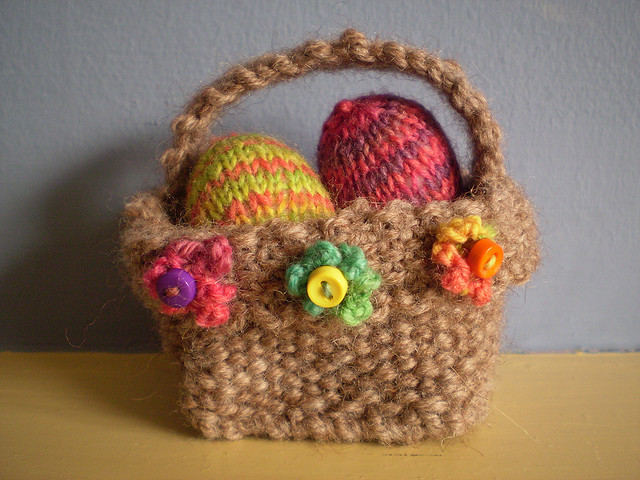 Mini Eggs in Basket
Frankie Brown brings us knitted mini eggs with their own knitted basket decorated with tiny knitted flowers.
Download the free pattern at Ravelry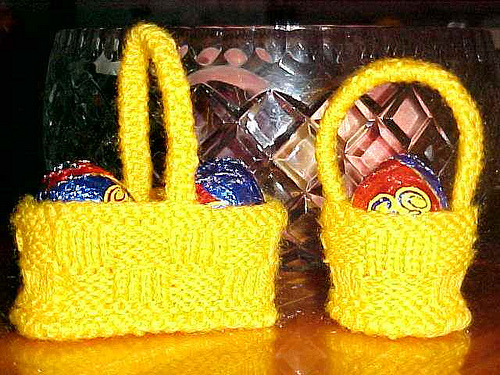 Small Easter Baskets
These basketweave basket treat holders designed by Jean Woods come in round or oblong.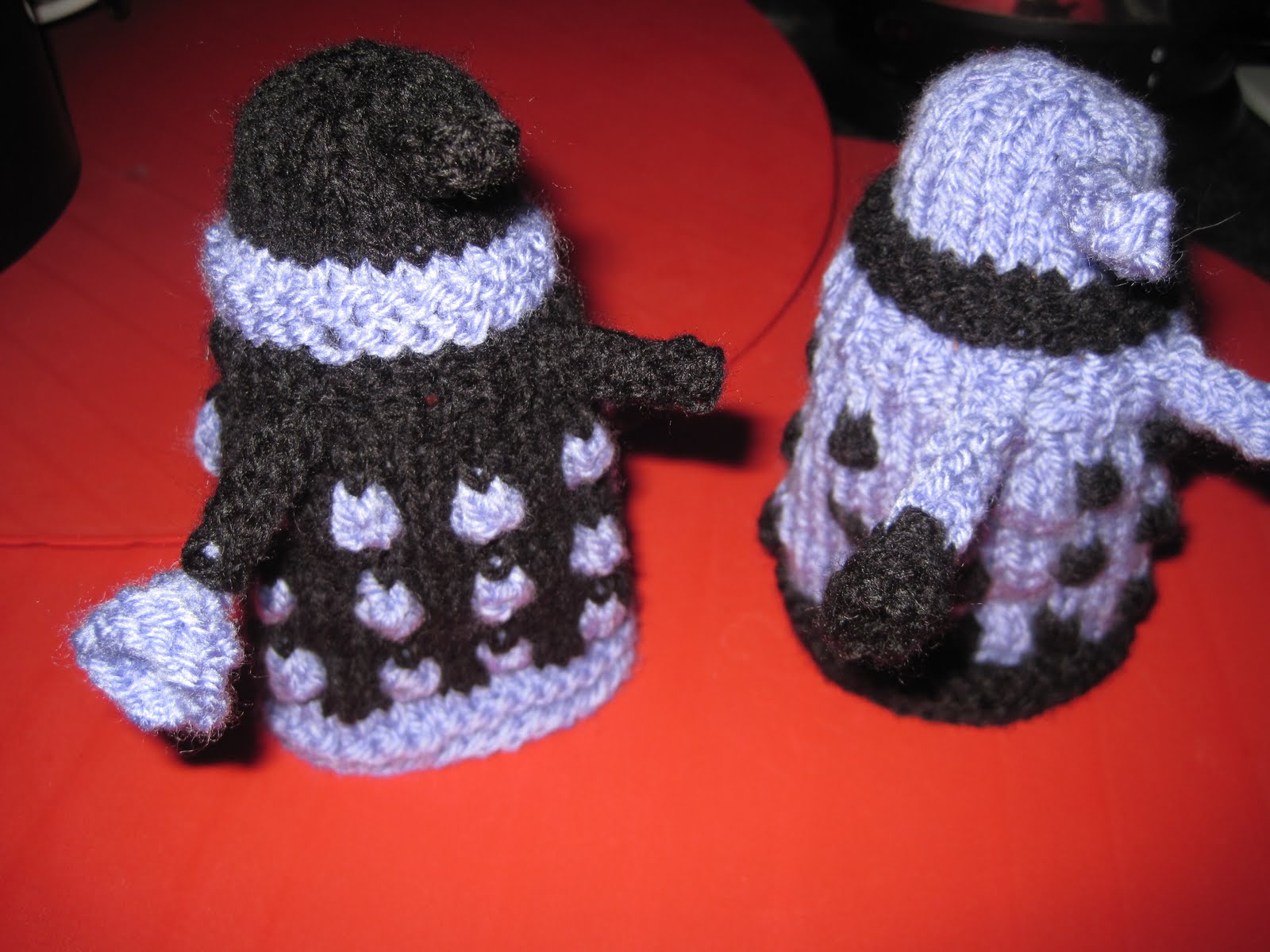 Dalek Egg Cozies
This Doctor Who inspired designs by Lyles' Knit are great for hiding chocolate eggs or Easter eggs. Easterminate!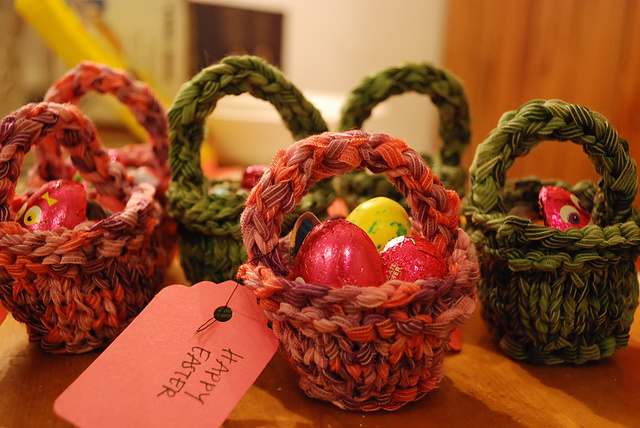 One Egg Easter Basket
This tiny Easter basket designed by Vivian Keys is the perfect size for one Easter egg or several small chocolate eggs. Pictured project by motherofsquirrel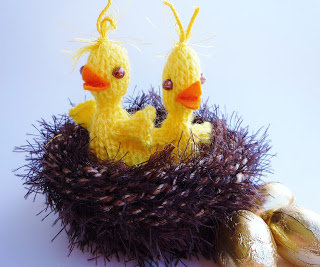 Chicks in Nest Candy Egg Holder
These baby birds are sitting pretty on chocolate eggs hidden in the nest!
Get the free patterns designed by Allison Hogg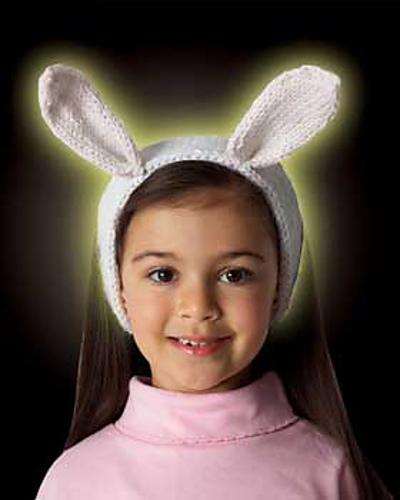 Bunny Ears Headband
Cute bunny ears headband pattern has sizes 2/4 & 6/10 yrs.

Knitted Square Bunny
Heartstrings Fiber Arts created this clever pattern to make a bunny out of a square piece of knitting.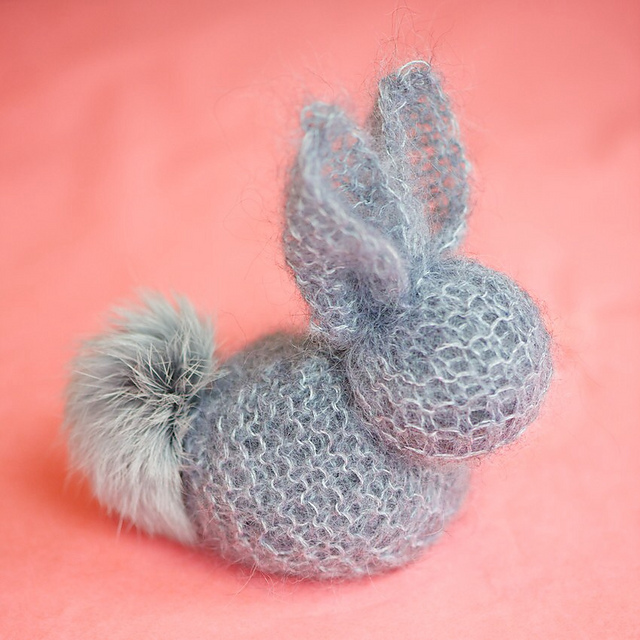 Another Knit Square Bunny
Here is another version of a bunny created by knitting a single square, designed by Annette of Lebenslustiger.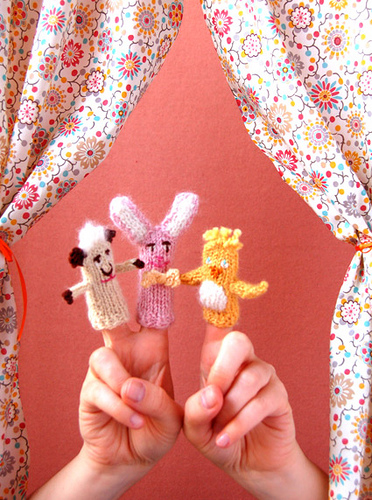 Easter Finger Puppets
Download the free knitting pattern by Purl Soho at Ravelry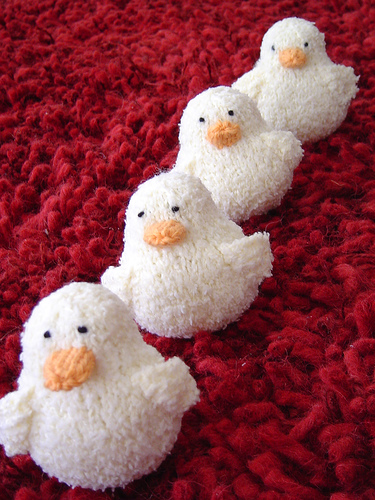 Easter Peeps
This pattern by Kat Lewinski includes modification for a bunny.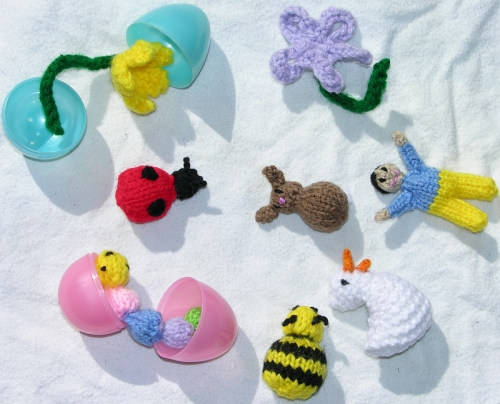 Mini Easter Egg Toys
This bee, ladybug, caterpillar, and bunny are just the right size to fit into a plastic egg.
Get the free knitting patterns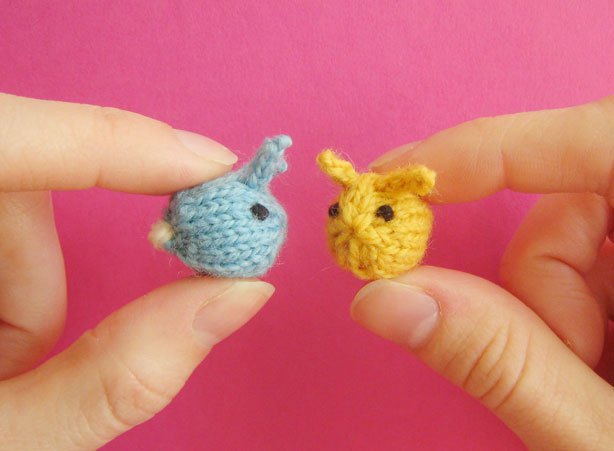 Tiny Baby Bunnies
These mini-marshmallow bunnies designed by Mochimochi Land make great plastic egg stuffers and are a good way to use leftover yarn.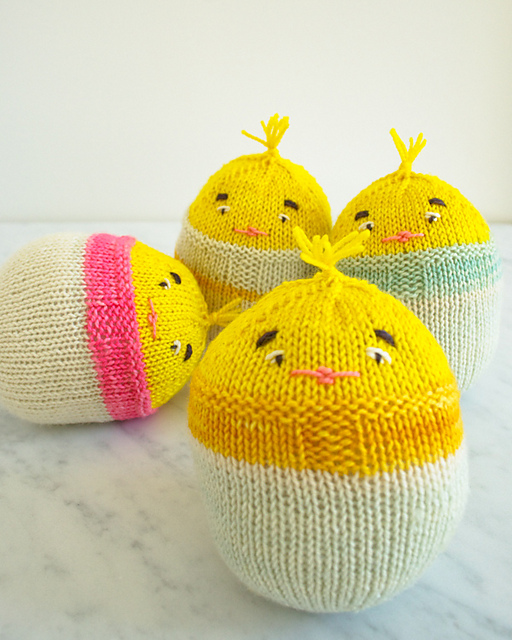 Chick in an Egg
Get the free pattern designed by Purl Soho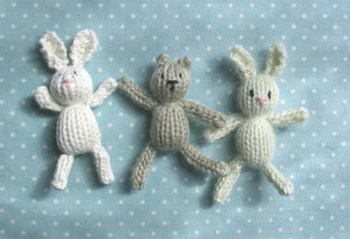 Teeny Tiny Knitted Animals
These tiny toys by Julie at Little Cotton Rabbits are just under 2.5 inches (6 cms) tall.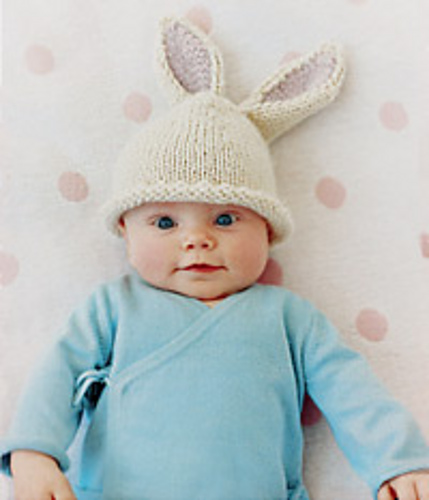 Bunny Beanie
This cute hat by Noe Knits fits babies age 3 to 6 months.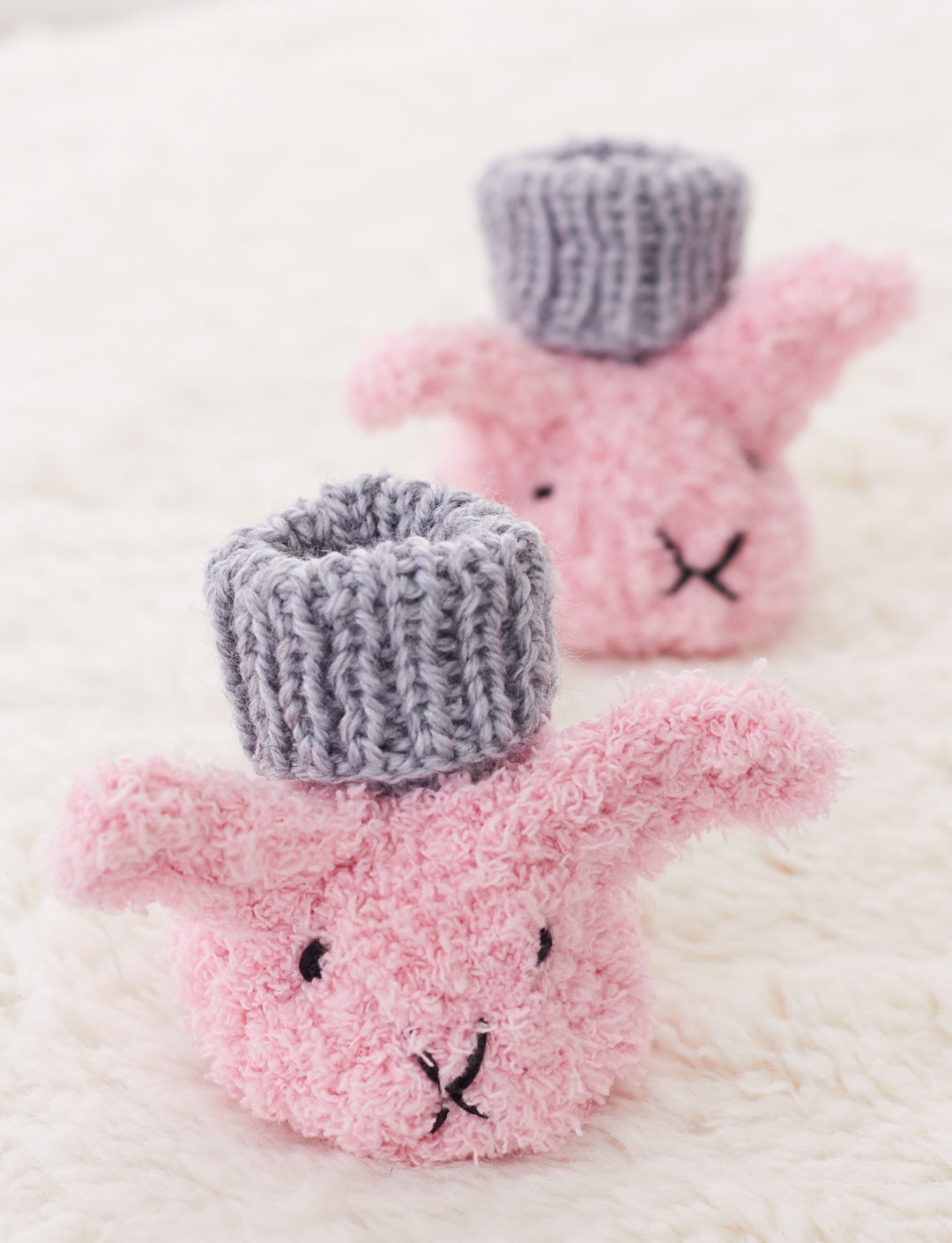 Itty Bitty Fuzzy Wuzzy Bunny Booties
This pattern for super soft booties from Yarnspirations is sized for 3, 6, and 12 months.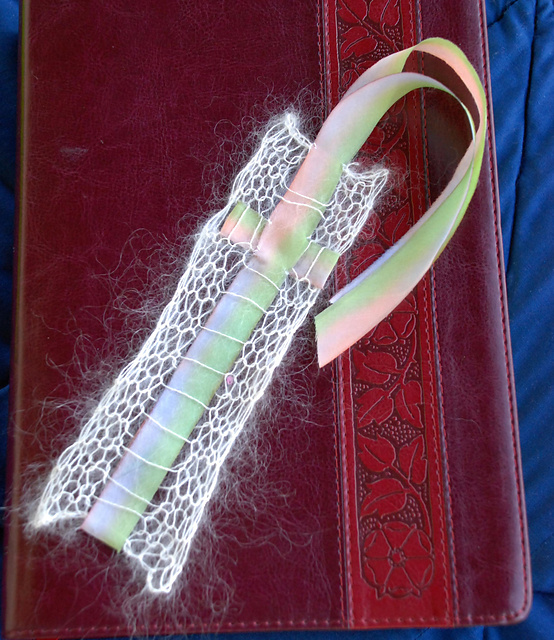 Simple Cross Bookmarks
Designed by Lori Klahn, this lace bookmark features a ribbon cross or a cross made of contrasting yarn.
Download the free knitting pattern at Ravelry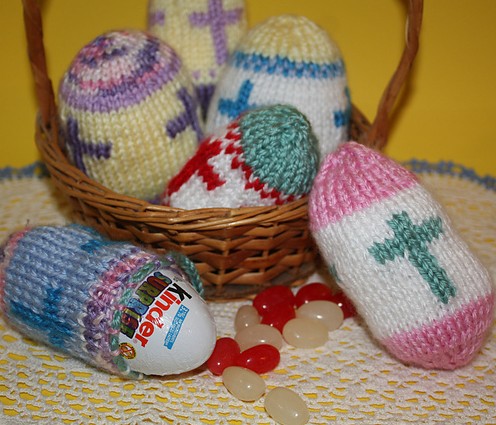 Cross Motif Easter Egg Treat Holders
Designed by Tat'sgrans Treasures, this pattern comes in two sizes and is knit flat seamed up the back.
Download the free pattern at Ravelry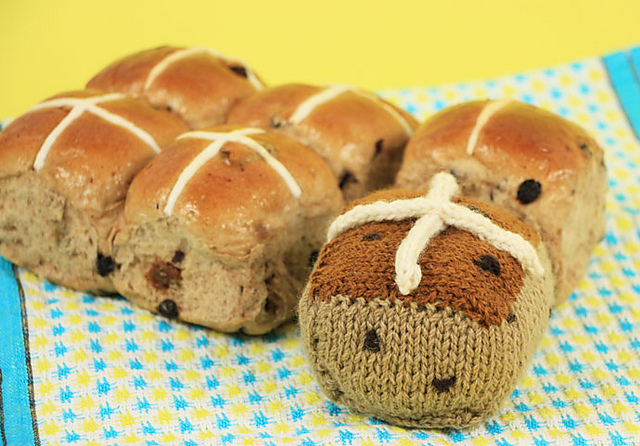 Knitted Hot Cross Bun
Cintia Gonzalez' pattern is knitted flat in stockinette stitch then sewn together for assembly and stuffing.
Icord is used with an instructional video included.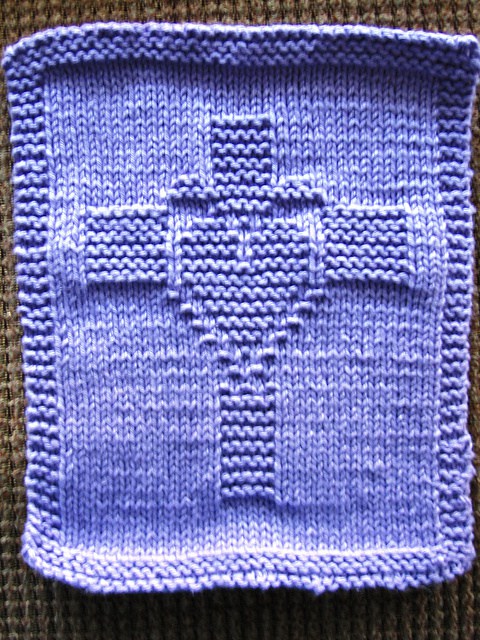 Shelley's Heart and Cross
This cross motif by Kathleen Brundige was created for a washcloth but can be used for other projects. Pictured project by rxolive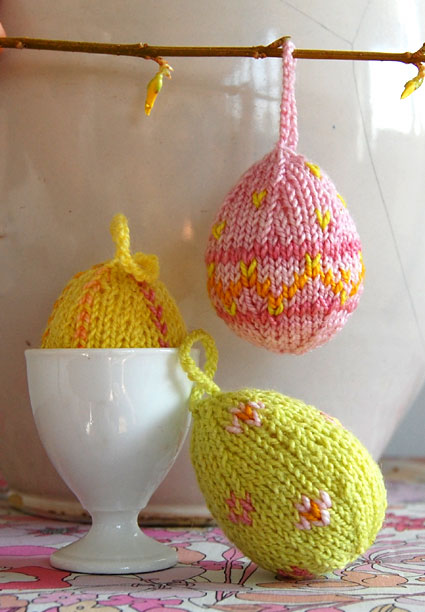 Easter Egg Ornaments
Easter eggs that last forever from Purl Soho.About 2 1/2 inches tall and 5 1/2 inches in diameter and stuffed with fiberfill, they are perfect for hanging from a tree or placing in a basket.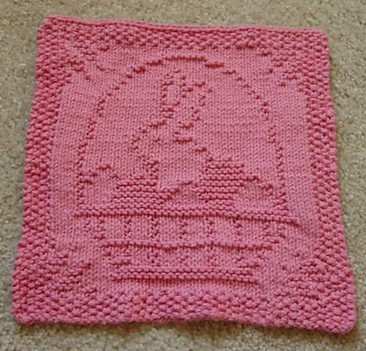 Easter Basket Washcloth
This pattern was originally part of a Knit Along and can be used as a motif for other projects. Pictured project by tezsocks
Get the free knitting pattern at Ravelry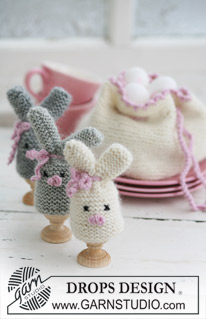 Bunny Egg Warmer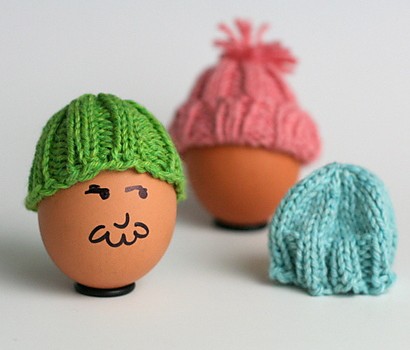 Egghead Hats
Knit tiny hats for your Easter eggs with these patterns from Emily Ivey
Download the free pattern on Ravelry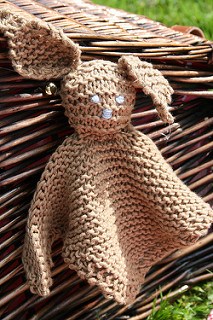 Cuddly Bunny Lovey
This baby blankie is based on a Norwegian pattern with English translation.
Patterns for Purchase

Bunny Basket
Easter basket with bunny rabbit ears, feet, and face. Approx. inner basket diam. 6 ½", basket 4 ½" high (without handle), 11" high (with handle). Designed by Rainebo. DK weight yarn.

Lamb Easter Basket With Animal Toys
No longer free - but only $1! Cute basket with rainbow handles and a bobble texture for a woolly sheep coat. Also comes with instructions for small animal toys to put in basket. Designed by Nicola Valiji. DK weight yarn.

Little Sweetie Unicorn Easter Egg Holder
Perfect for holding treats or other small items too! Unicorn lays at approximately 17cm from nose to base of feet. DK yarn. Designed by TobyCreates

Bunny Bunting
Quick bunnies are great for baby showers, nursery decor, easter decor, or as an applique or patch. Great stashbuster. Bulky weight yarn. Designed by K Blincoe.

Eggy Chicks
Egg shaped baby bird toys with hats. One chick has white broken shell shaped bottom as if it had just hatched. Instructions for making the two chicks (the yellow and white chick, the plain yellow chick in a hat, plus the instructions to knit the striped hat). All pieces are knitted flat (back and forth) on a pair of straight knitting needles. Designed by Amanda Berry. DK weight yarn.

Easter Diorama Ornaments
Diorama patterns available include two bunnies, egg painter duck, two chicks in nest, doll, chick with daisies, and 2 chicks. Designed by HandMadeAwards.

Sleepy Chick
This baby bird toy is quick to make and would be a lovely Easter gift. All pieces are knitted flat (back and forth) on a pair of straight knitting needles. FINISHED SIZE: The finished chick is approximately 8.5 cm tall. Designed by Amanda Berry. DK weight yarn.

Bunny Mug Cozy
Fits average size coffee mug (mug in photo measures 5" tall by 11.5" around). Designed by Simply Maggie who says it is suitable for beginners.

Easter Bunny Hat
This baby hat features fair isle Easter Bunnies complete with fluffy white tails. Sizes 0-3 months, 6 months, 12 months and 2T+. Designed by Cassie at Little Red Window.

Dragon and Unicorn Egg Cozies
Garter stitch toys designed to hold chocolate or Easter eggs. DK weight yarn. Designed by WoolyMcWoolface

Bunny Baskets
Felted bowls with bunny ears and pompom tails, perfect for Easter. 3 sizes: 3″, 4″, and 7″ diameter. Worsted weight yarn. Designed by Midknits

Bunny Egg Cozy
Finished size: approx 12cm (5 inches) from base to ear tip and it will fit over a large egg (organic of course) or a chocolate one if you prefer. Designed by Julie Williams, Little Cotton Rabbits

Ducky Egg Holder
Duck toy cradles chocolate or real eggs in its wings. Duck is approx 18cm high. DK yarn.

Bunny and Chicky
Amanda Berry designed these adorable Easter toys. The finished bunny is approximately 14cm tall (including the ears), and the chick is 6.5cm tall. DK yarn.

Easter Knits
Arne and Carlos provide a delightful collection of knit eggs, bunnies, and chicks, staying true to their taste for designs based on traditional Scandinavian knitwear, but giving them a fun, quirky twist by scaling them down into quick, small projects.

Hatching Easter Chick
Toy chick knit in the round approximately 3,93 inches (10cm) . DK yarn. Designed by Deniza's Toys Joys. The designer also takes orders for the completed toy.