Here are knitting patterns using recycled, reclaimed or upcycled materials such as yarn made from t-shirts, fabric, plastic bags – plarn, and more. Updated 1/31/23
To get the knitting patterns, scroll down the page to the individual pattern you want and click on the link to that pattern.
These patterns are not my designs but links to other designers who have generously shared their patterns. If you have questions about how to knit a specific pattern, please contact the designer directly.
All links on this site are for informational purposes, but please note that some links are to affiliate sellers that pay me a small commission on purchases.
Free Patterns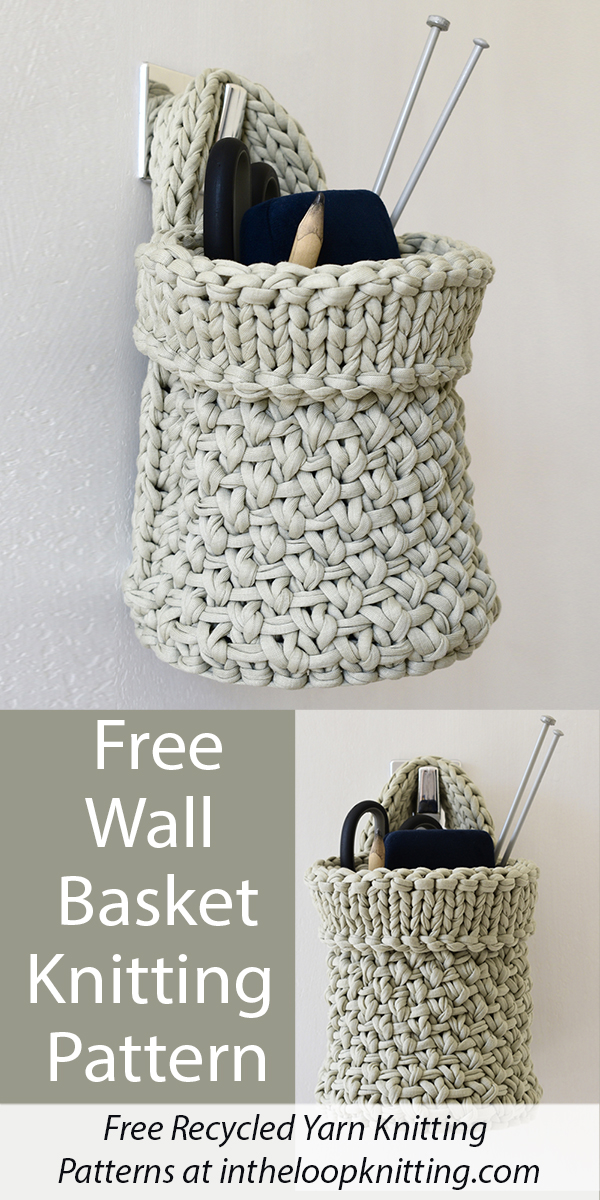 Perin Knitted Wall Basket
Hanging basket made using t-shirt yarn. Size 20cm (8in) tall including the hanging loop and is about 15cm (6in) diameter. Designed by Alice Quarterman. Super Bulky weight yarn.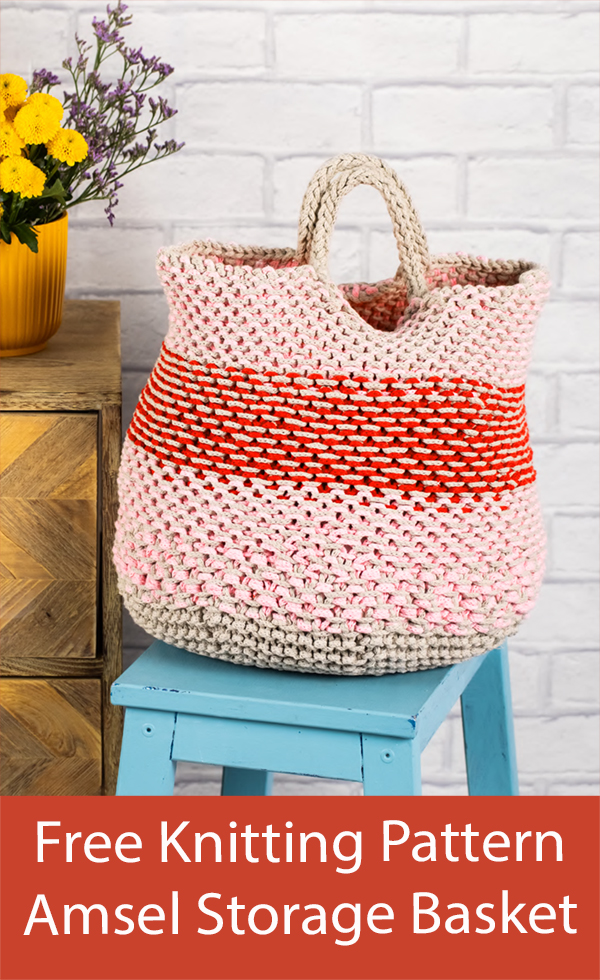 Amsel Storage Box
Storage basket tote with handles. Size Height: 9¾in/25cm Circumference: 35½in/90cm. Amsel Storage Box designed by Paintbox Yarns for Paintbox Recycled Big Cotton, a yarn made of recycled leftover fabric. Super Bulky weight yarn.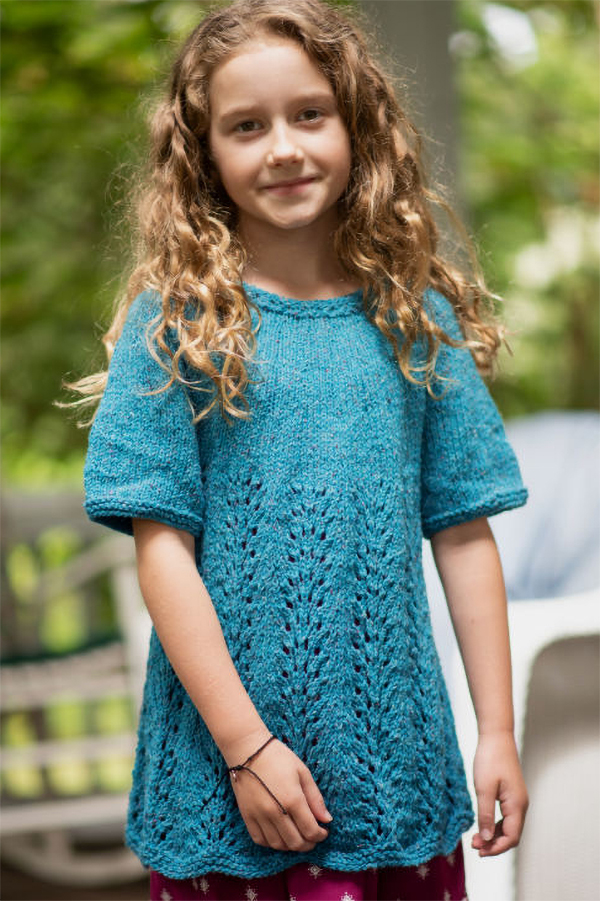 Hermione Dress
Child's dress or tunic pattern features a lace skirt knit with an easy four-row lace repeat. Child's sizes 2 (4, 6, 8, 10). Designed by the Berroco Design Team for Berroco Remix, a yarn made of recycled "waste fibers" (bits of fabric leftover from ready-to-wear clothing manufacturers). The fibers are shredded into small strips and then blended together and plied (as you would a natural fiber) to create a beautiful yarn that's slightly tweedy and entirely wool-free. Aran weight yarn.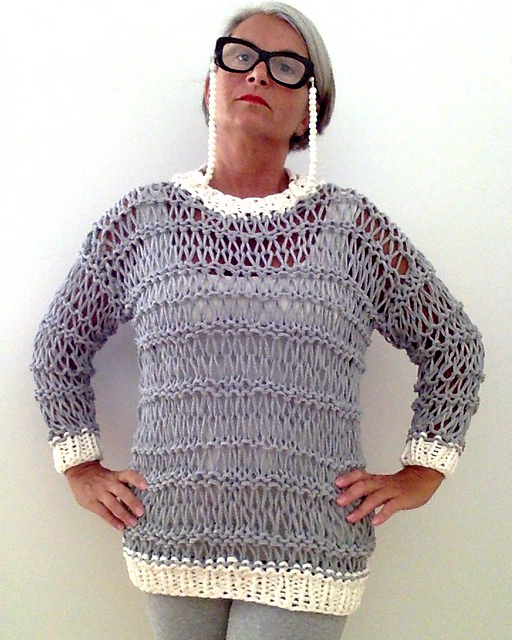 Openwork Sweater in T-Shirt Yarn
Love this pullover by Donatella Mestriner! The strips are cut at 3/4" width so won't be too bulky, and there will be enough to knit the whole garment.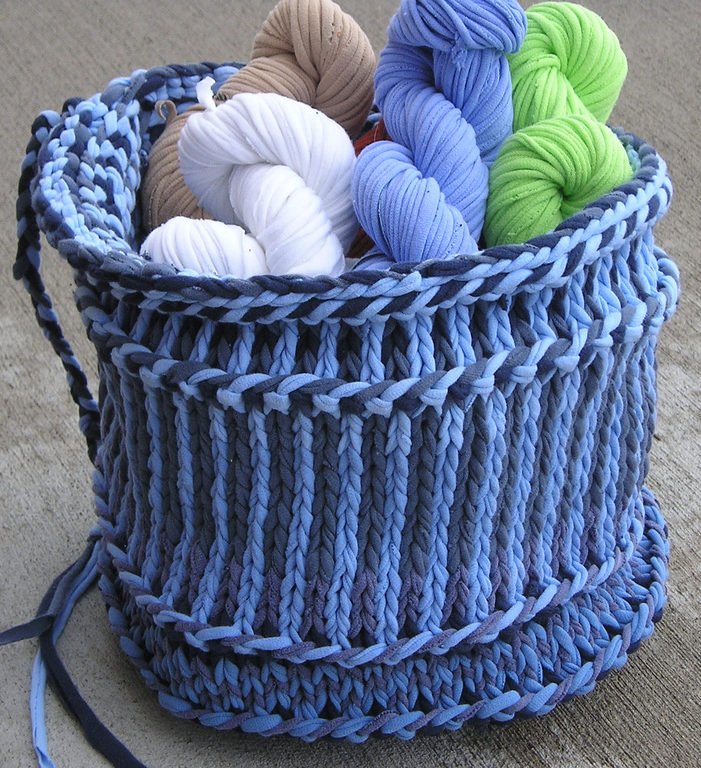 Twined Basket
This basket is knit with t-shirt yarn in twined technique that creates a sturdy fabric. Designed by Melissa Somerville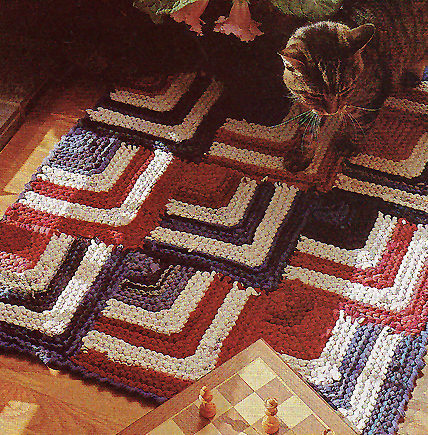 Tee Shirt Rag Rug
Rug made of mitered squares knit with tee shirt fabric. Designed by Jana Trent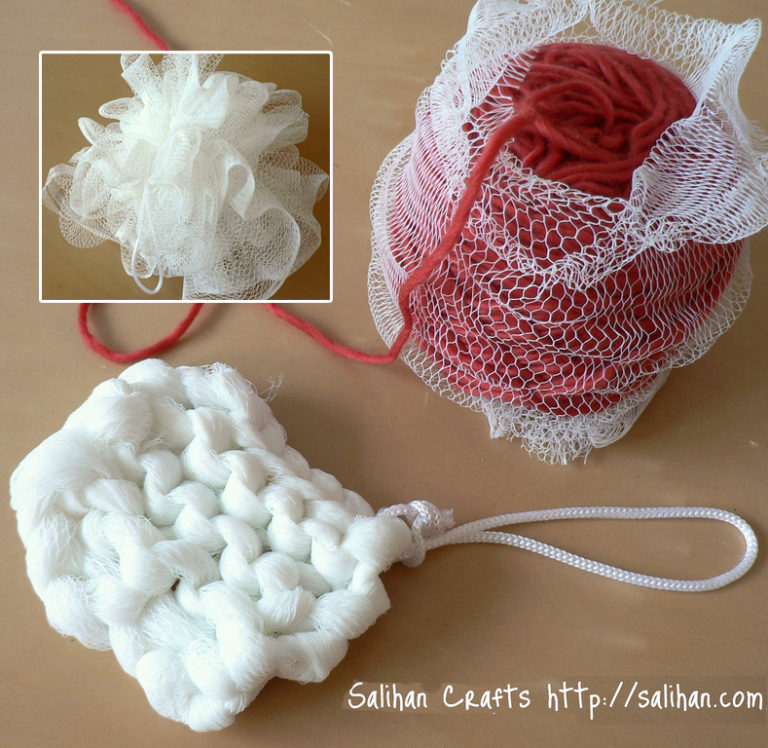 Recylcle Bath Puff Into Scrubber and Yarn Sleeve
Salihan Laugesen's ingenious instructions help you re-use bath puffs that have unraveled. Bath puffs are made from tubes of netting so you can cut off a portion of the netting tube and slip it over your yarn cakes or balls to keep them neat. Then you can knit the remaining netting into a scrubber to use in the shower or kitchen.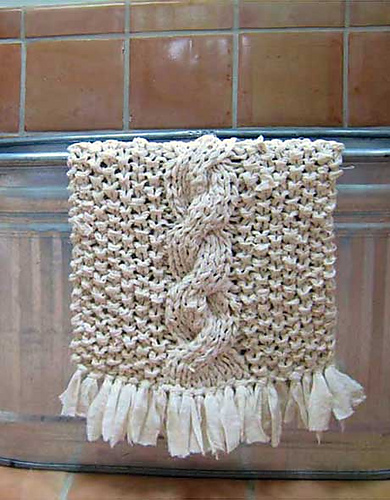 Cable Rag Rug
This Rag Bath Mat was knit from two pre-washed twin size sheets ripped into 1 ½" strips. Ravelrers have also used duvets, t-shirts and other fabric. Size approx. 18″ wide and length desired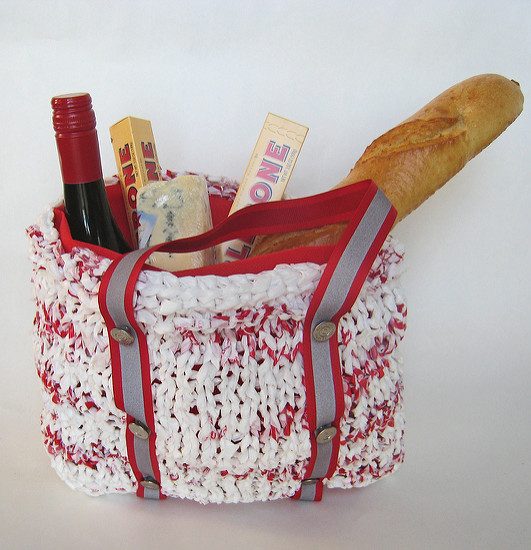 Re-Bag
Julie Weisenberger's totes are knit from plastic bags and come in two sizes – large and small.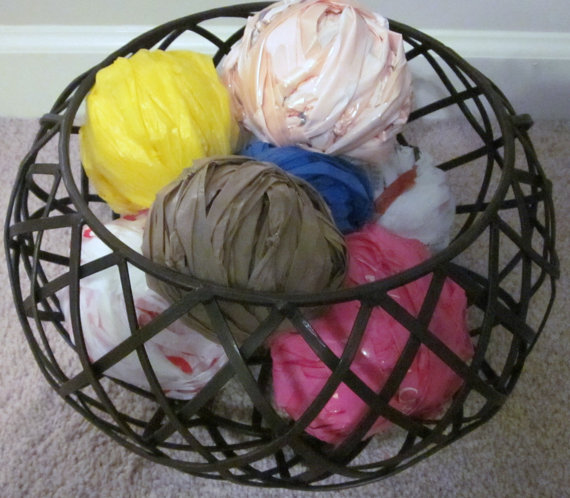 Plarn
Save time by buying your plastic bag yarn! You're still making eco-friendly designs without the hassle of cutting and winding the plastic bags. Many colors available!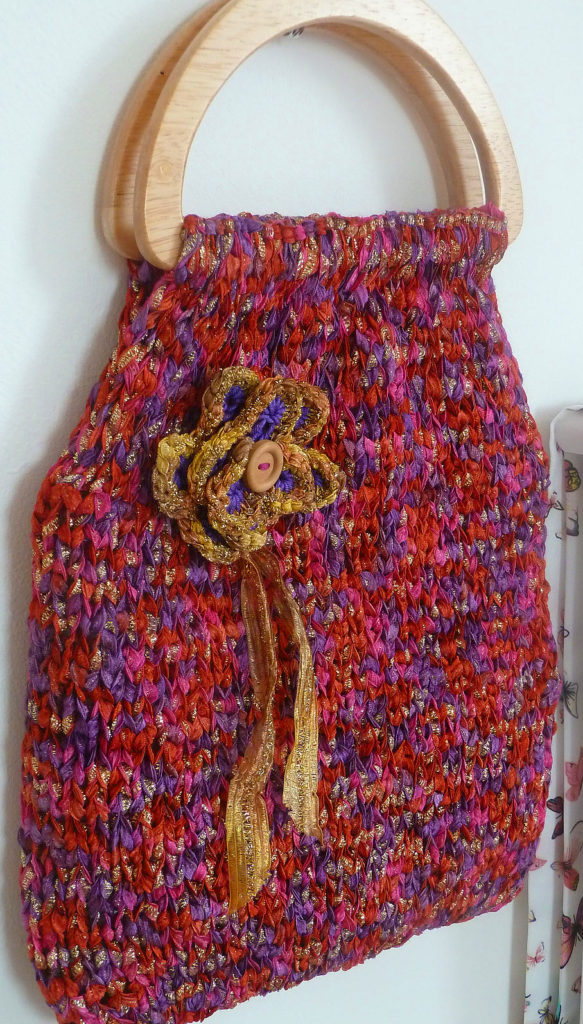 Sari Ribbon Easy Peasy Bag
This purse is designed for sari ribbon yarn and is a good use for recycled sari yarn. Bag is knit flat and then seamed to fit handles. Designed by Louisa Harding. Pictured project by peppin
More Free Patterns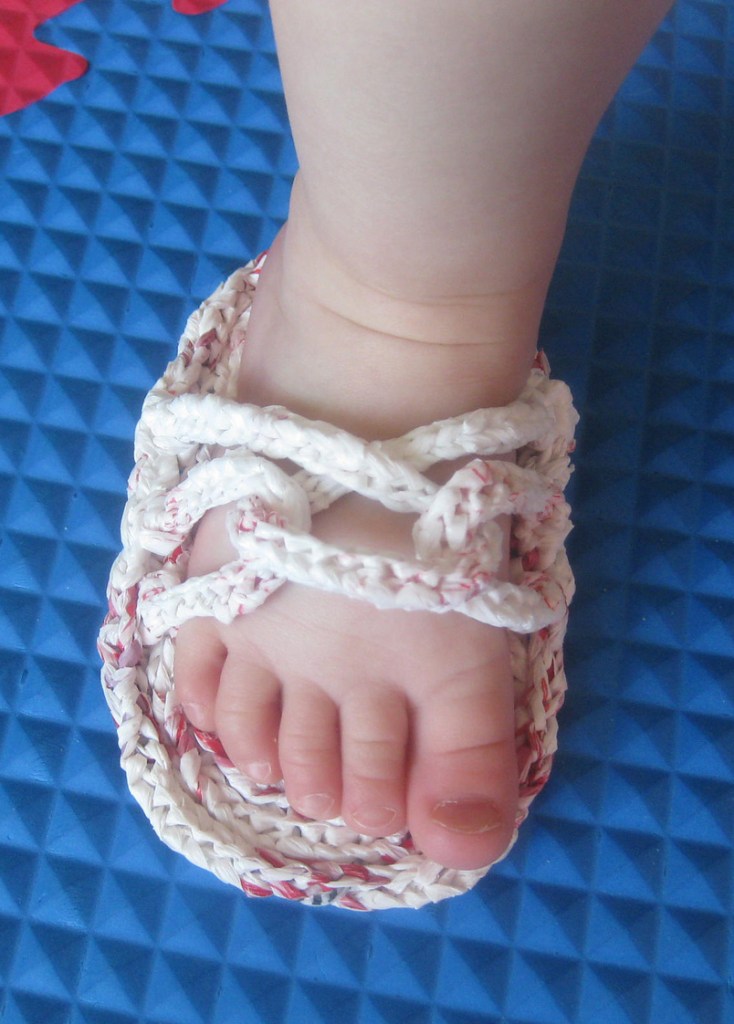 Plastic Bag I-cord Sandals
Kimberly Golynskiy designed these sandals as part of a thesis project to upcycle plastic bags. Size shown is for 12-18 months but is easily customizable.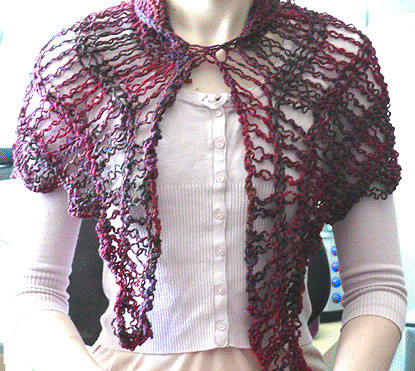 Polo Collar Shawl
This openwork drop-stitch shawl with garter stitch color gets its unique look from yarn reclaimed from a sweater. But you can knit it with regular yarn, of course! Designed by moon_custafer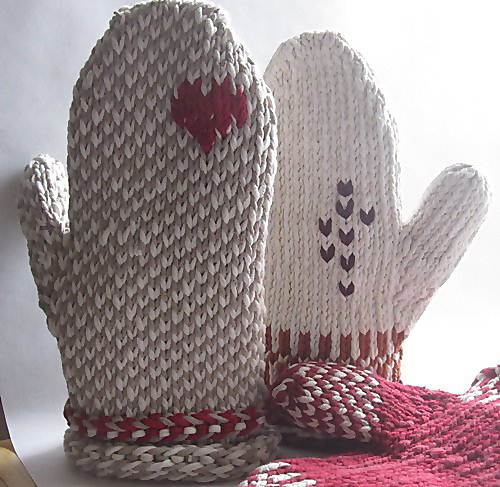 Upcycled Oven Mitts in T-Shirt Yarn
Melissa Somerville's oven mitts come in three sizes and take approximately two men's large t-shirts.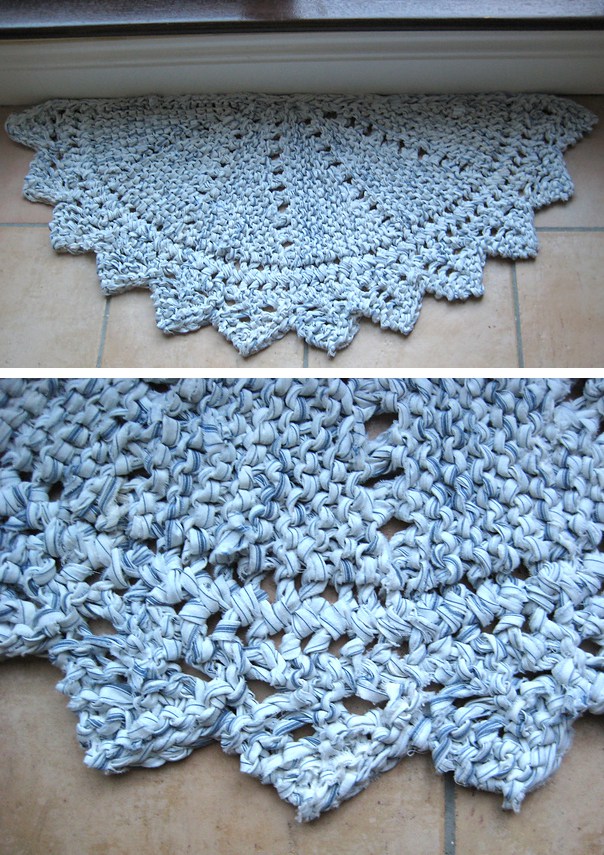 Rag Doily Rug
Julie Weisenberger's design uses old sheets for yarn to create a pretty and absorbent rug for bathrooms and entryways. Pictured project by print-of-the-wave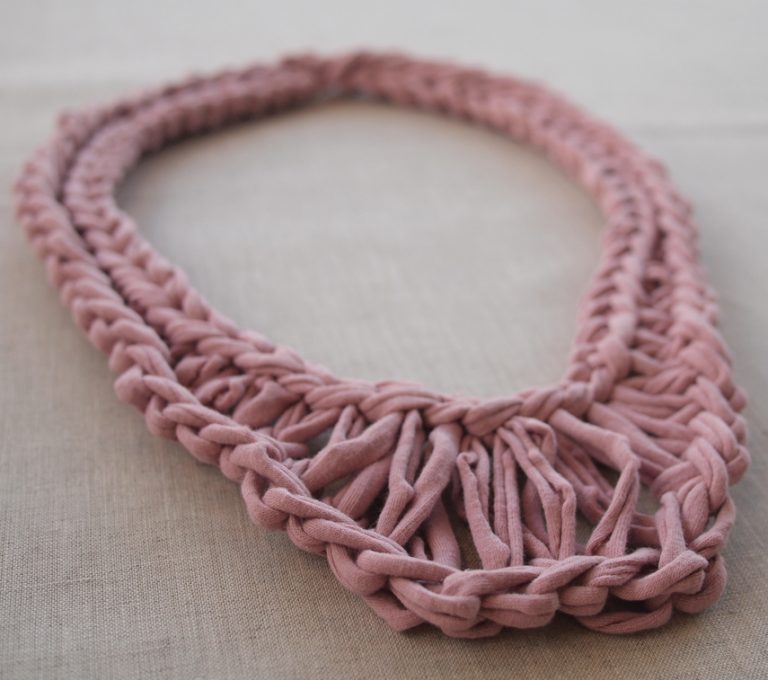 T-Shirt Yarn Necklace
Easy necklace design from Fancy Tiger Crafs.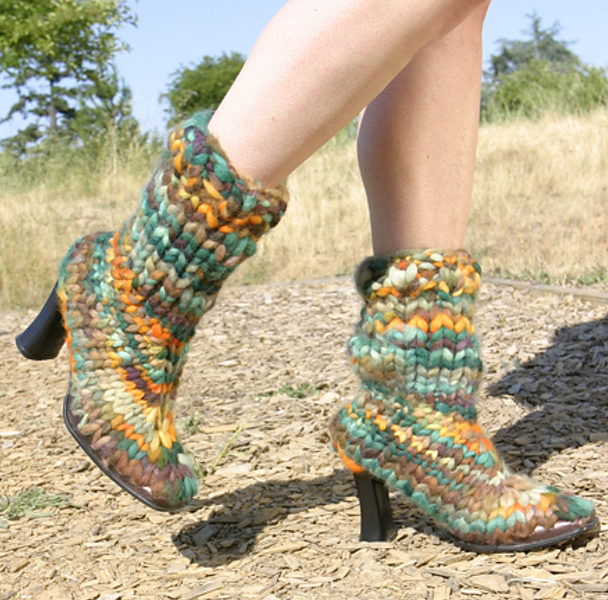 Knitted Boots
Upcycle a pair of unwanted shoes into mukluk style boots by knitting the boot upper through holes in the shoe. Jumbo yarn. Designed by Tina Marrin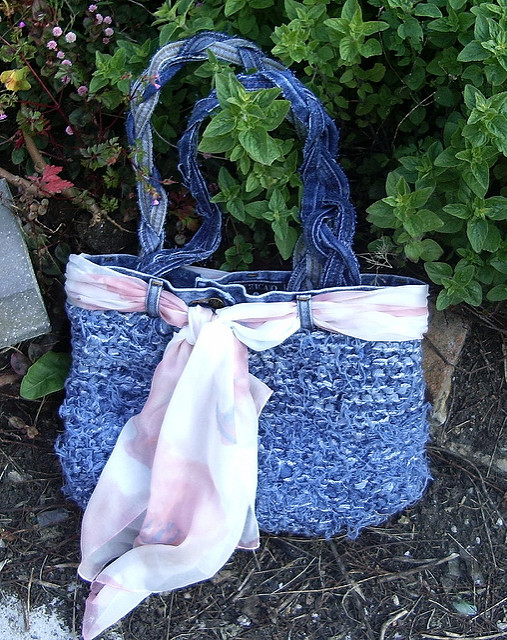 Injeanius
Janine Le Cras recycled old denim jeans to make this clever tote bag that even recycles the seams for the straps.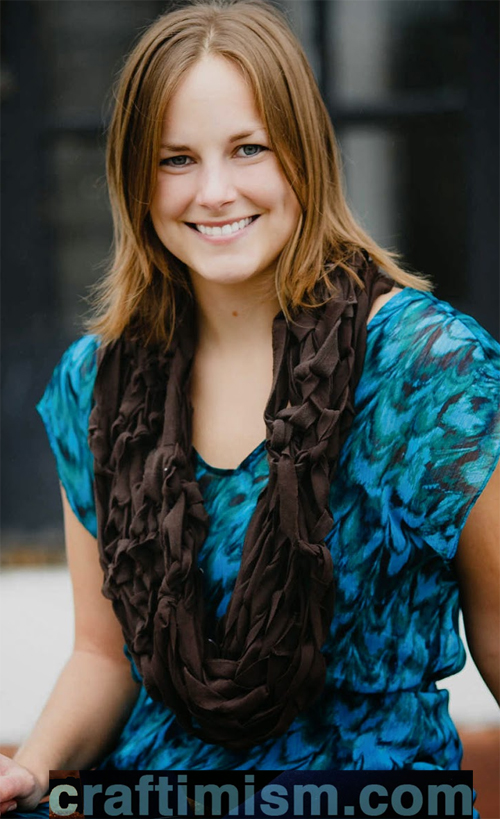 Arm Knit T-shirt Yarn Cowl
Heidi Arjes's cowl is stretchy and comfy and made from two t-shirts.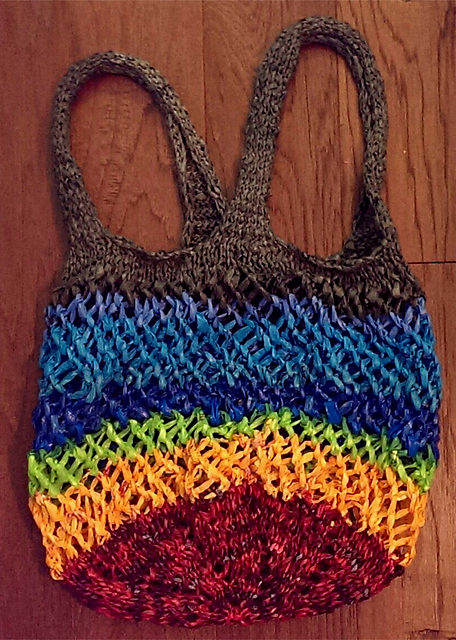 Plastic Bag Shopping Bag
This shopping bag won 1st place in a 2015 Earth Day Recycled Art Show for its creator jamiemyselfandi. Molly Aplet created the original design for this shopping bag knit from old shopping bags. However, this pictured project by jamiemyselfandi and others added several modifications so I recommend you check out the project gallery.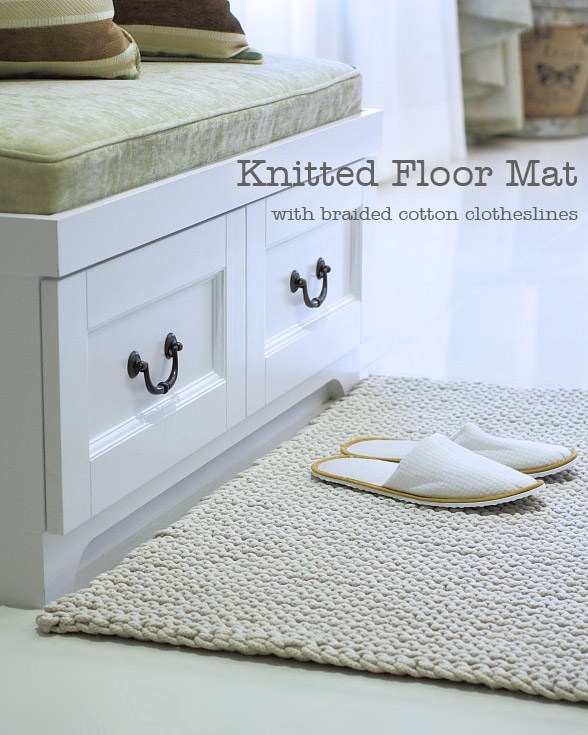 Clothesline Floor Mat
This floor rug by CraftPassion is 40″ x 29″ and made of durable clothesline rope.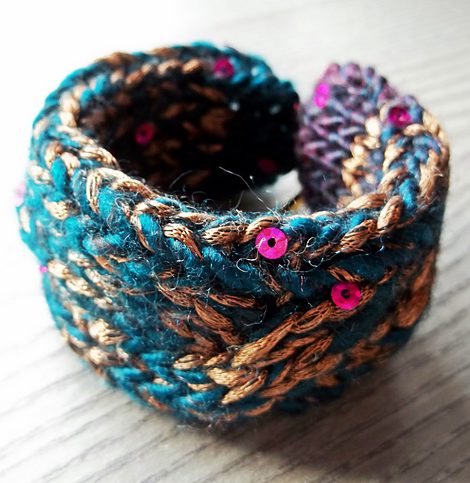 Recycled Plastic Bottle Cable Knit Bracelet
Zylo Lugosi's bracelet uses leftover plastic bottles to create the base of this bracelet. The instructions outline the cable knit cover and assembly instructions for the bracelet.

Plarn Bowl
Alison Hogg designed this small bowl that is about 4cms (1¾ in) high and 8cms (3¼ ins) in diameter.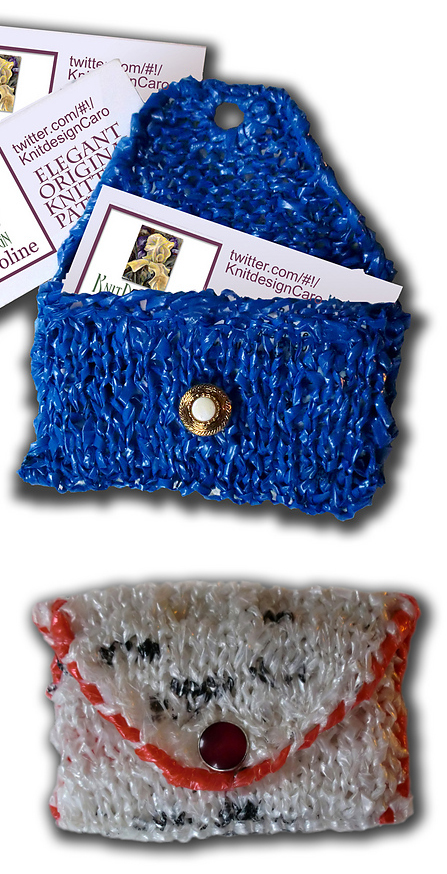 Recycled Plastic Business Card Case
Caroline Steinford's small pouch could be made using strips of any plastic (the more flexible, the better), scrap cloth, or less than a skein of leftover worsted-weight yarn.
Patterns for Purchase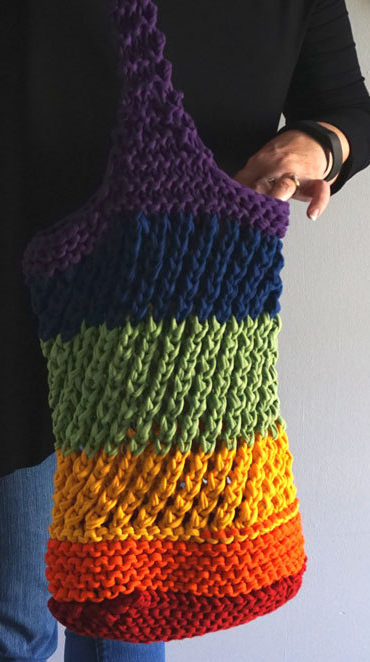 Market Tote with T-Shirt Yarn
This tote bag is knit with upcycled / recycled t-shirt yarn. Includes a tutorial on creating t-shirt yarn.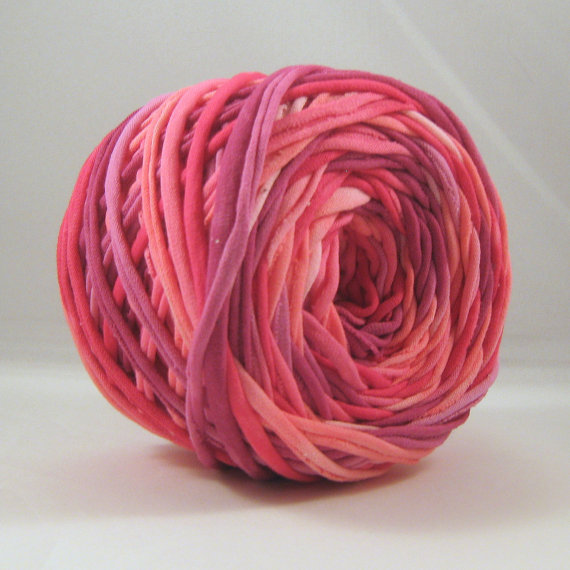 T-shirt yarn
Save time by buying your t-shirt yarn! You're still making eco-friendly designs without the hassle of cutting and winding. Many colors available!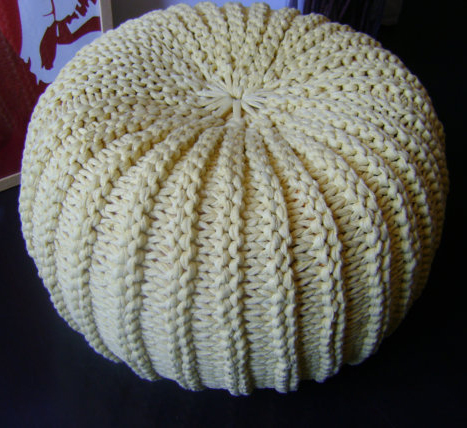 DIY Tutorial XXL Pouf
This footstool is knit with t-shirt yarn. Diameter 55 cm (22") Height 40 cm (16")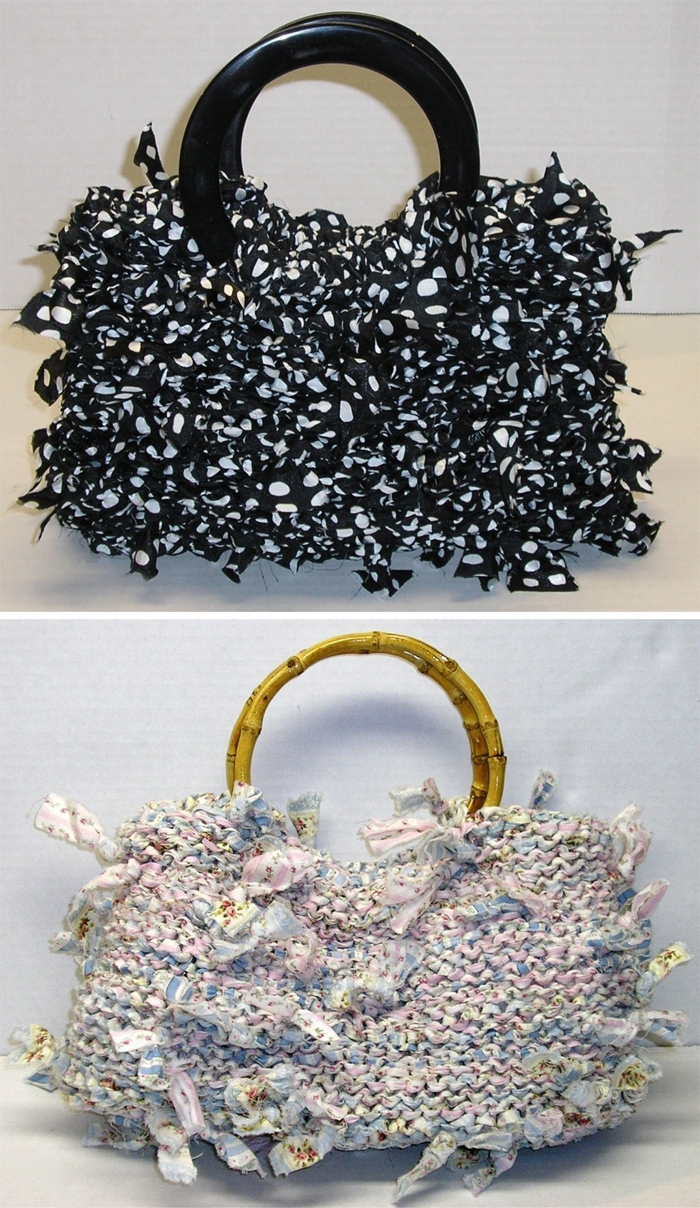 Rags to Riches Fabric Purses
Purses knit from fabric strips. Many options included to knit flat or in the round. 2 hour project. Measurements: 12″w x 12″h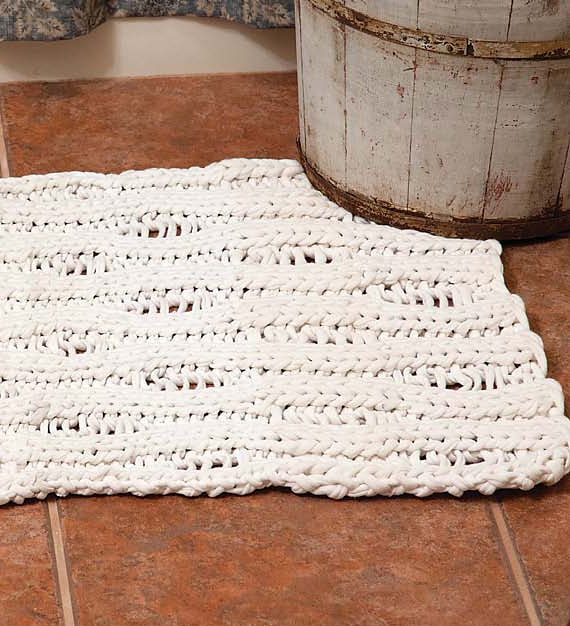 Denim Fluff Rug and Seafoam T-Shirt Rug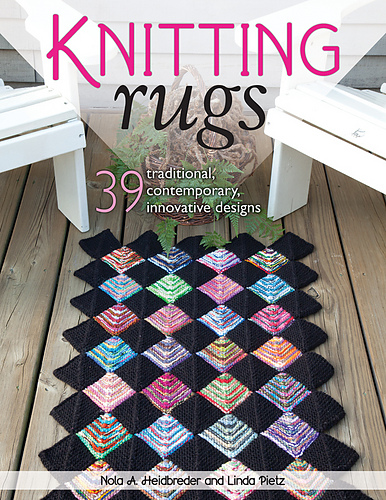 The Denim Fluff Rug is knit with old jeans cut in strips and yarn. The Seafoam Holey T-Shirt Rug is knit with t-shirt yarn in a classic drop stitch pattern. Two of the patterns in Knitting Rugs: 39 Traditional, Contemporary, Innovative Designs. Available in Kindle and Paperback (Prime available).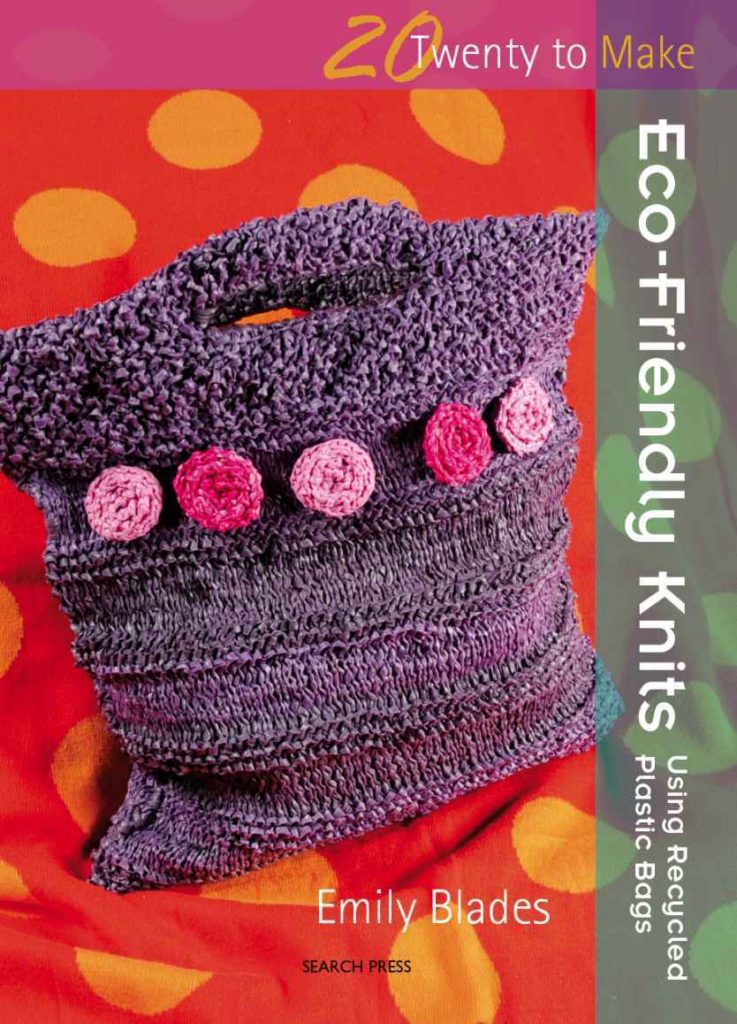 Eco-Friendly Knits
20 knitting paterns for plastic bag yarn including bags, jewelry, baskets, and more.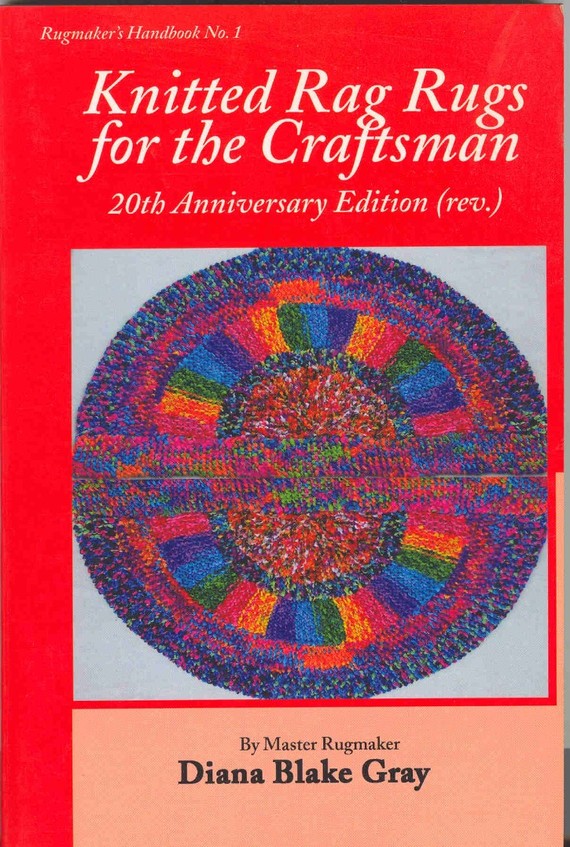 Knitted Rag Rugs
Detailed instructions for knitting rag rugs from fabric strips, using basic stitches. Step-by-step directions make it easy to create knitted rugs in many different forms and designs, such as shaggy rugs like the Shaker "confetti" rugs, strip or block assembly rugs, coil knitted rugs, wedge knitted rugs, bullseye rugs, hexagonal and even two methods to knit a heart shaped rug.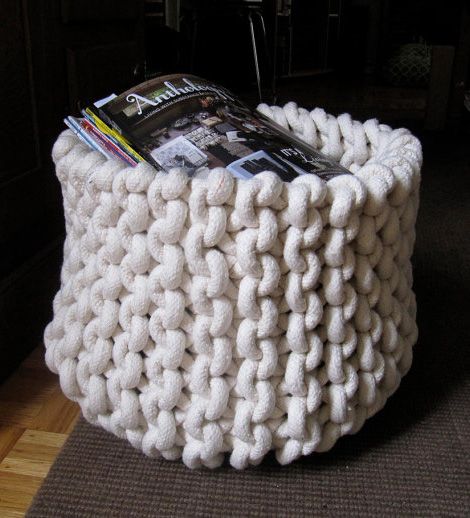 Rope Basket
Easy pattern for knitting a garter stitch basket from cotton rope.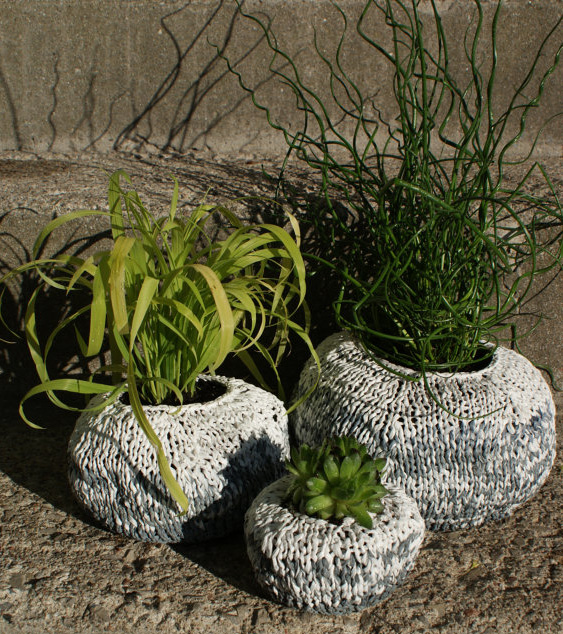 Ombre Garden Pods / Planters Using Plarn
Knitted plant pods from plastic bags make great planters! The woven plastic retains water while also allowing airflow and drainage! 3 sizes.