If you thought of lace shawls as only delicate wisps, take a look at some of these free knitting patterns for shawls and wraps in cotton yarn, bulky yarn, and worsted yarn. And, there are delicate lace shawls here, too!
To get the knitting patterns, scroll down the page to the individual pattern you want and click on the link to that pattern.
These patterns are not my designs but links to other designers who have generously shared their patterns. If you have questions about how to knit a specific pattern, please contact the designer directly.
All links on this site are for informational purposes, but please note that some links are to affiliate sellers that pay me a small commission on purchases.
Free Patterns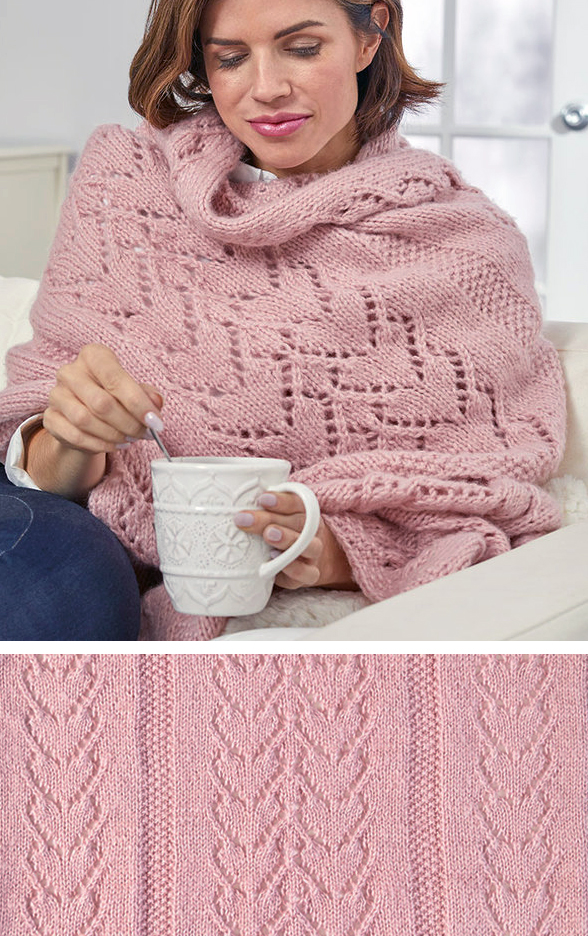 Warming Hearts Sofa Shawl
Rectangular wrap with lace heart panels. Designed by Lisa Gentry for Red Heart. Bulky weight yarn.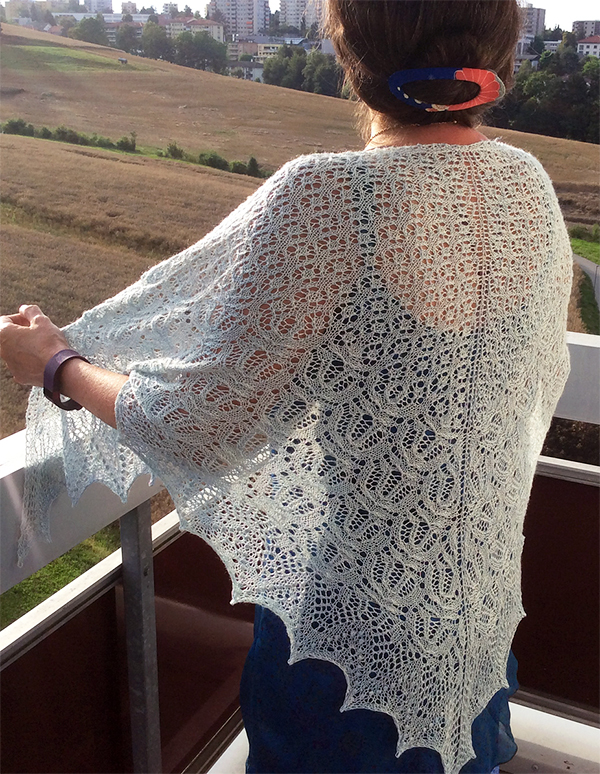 Percy Shawl
Estonian lace triangle shaped shawl. Perfect for special occasions and weddings. Designed by Sanne Kalkman. Pictured project by Tsumugi who shortened the edging.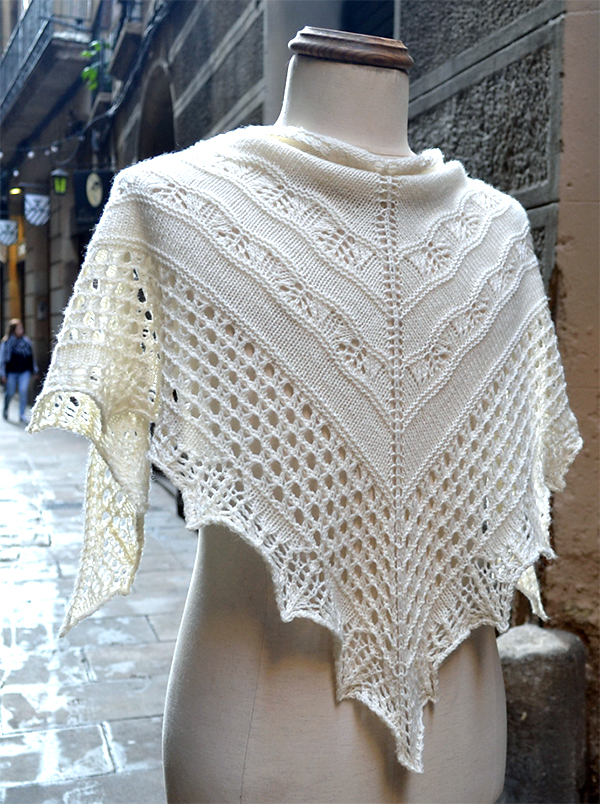 Sonora Shawl
Top down trianglular shaped lace shawl inspired by the desert. Designed by Jennifer Callahan. Fingering weight yarn. Uses just one skein of the recommended yarn.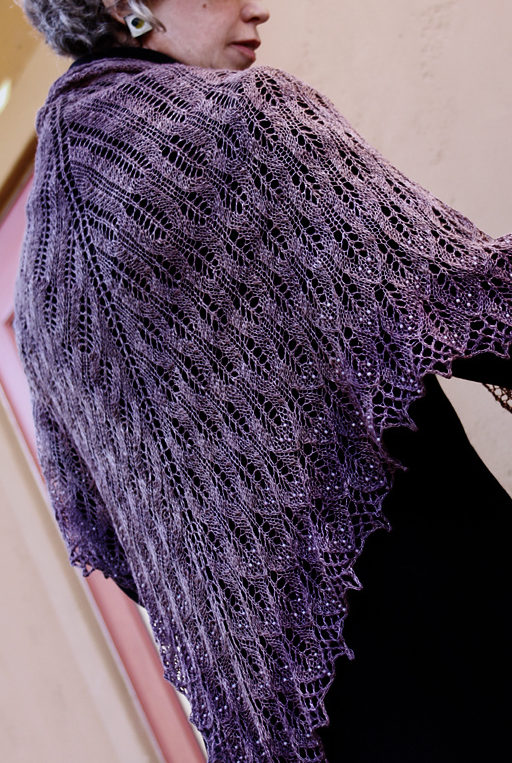 Bitterroot Shawl
This lace shawl can be sized as a scarf-sized shawlette or a larger wrap. Designed by by Rosemary (Romi) Hill for Knitty.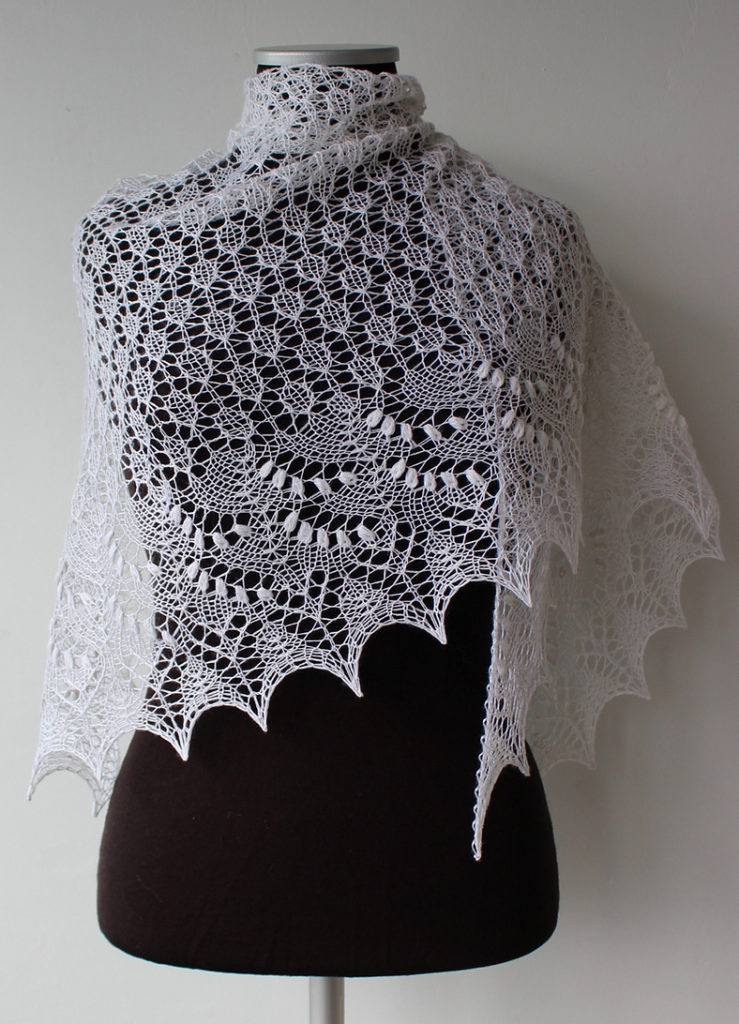 Swallowtail Shawl
This lace shawl features a simple bud lace pattern for the body that flows into a deep lily-of-the-valley border with a peaked edging. Designed by Evelyn A. Clark. Pictured project by K-Kristiina

Begonia Swirl Shawl
This stunning lace swirl shawl by Carfield Ma leaves me practically speechless. The pictured project is by jane510.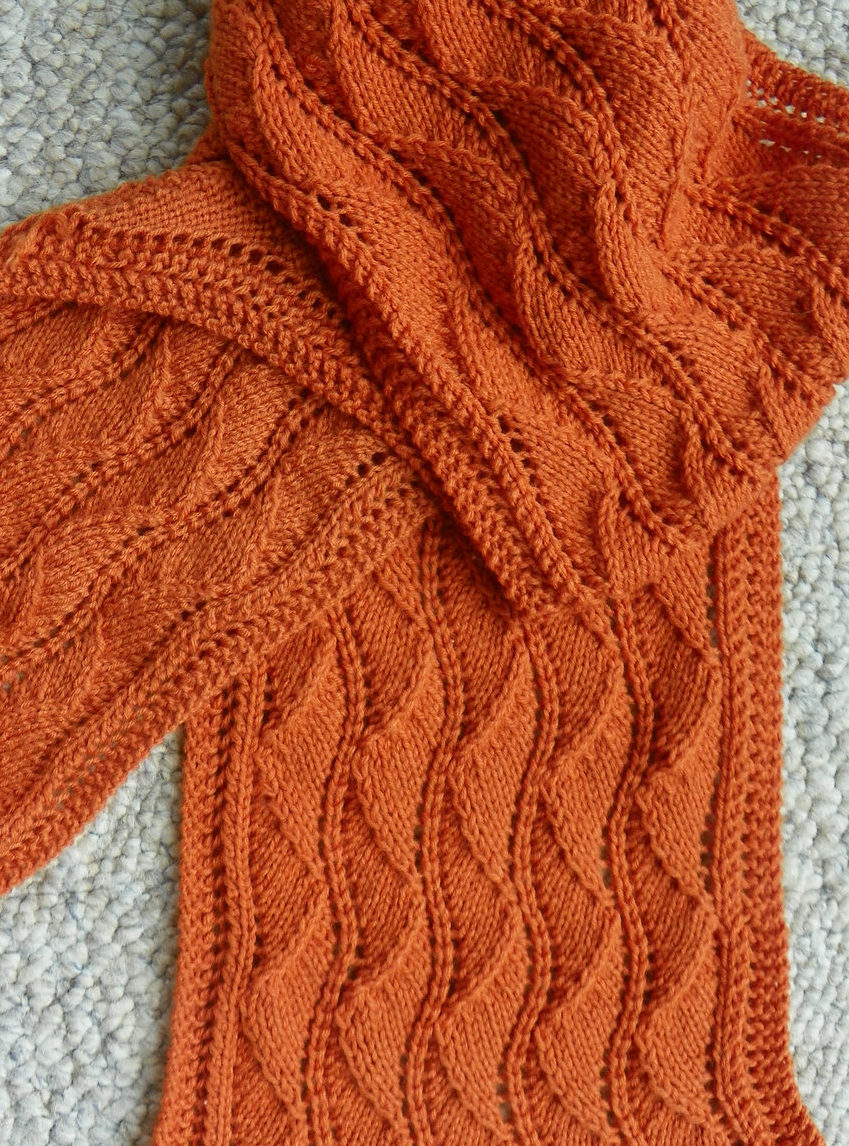 Ballet Lace Scarf
An all-over lace pattern is mirrored in purl stitches on the reverse. Designed by Franziska Collins. Pictured projects by wheatsue and willknitfortea.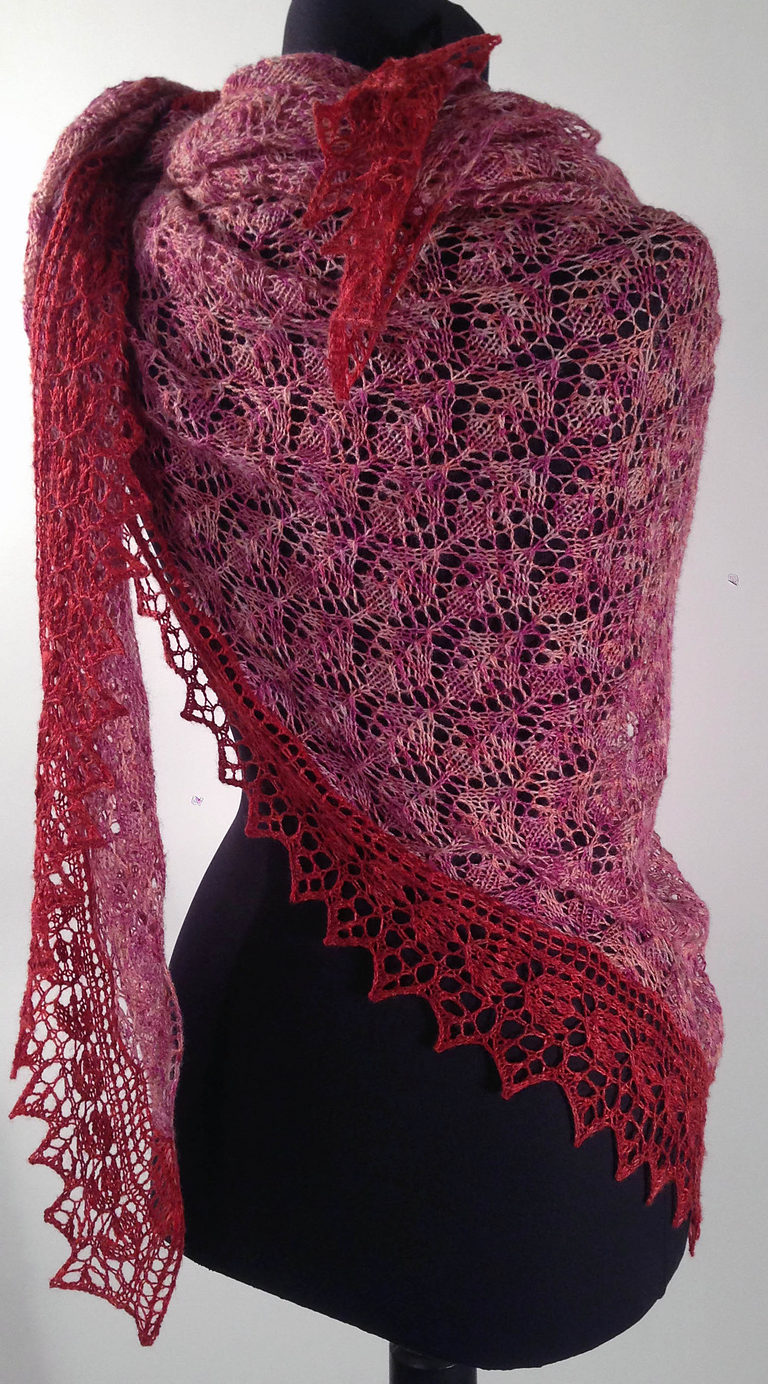 Wild Roses Shawl
This large triangular shawl is constructed by working the edging first, then picking up stitches and working the body. Designed by by Rae Blackledge for Willow Yarns.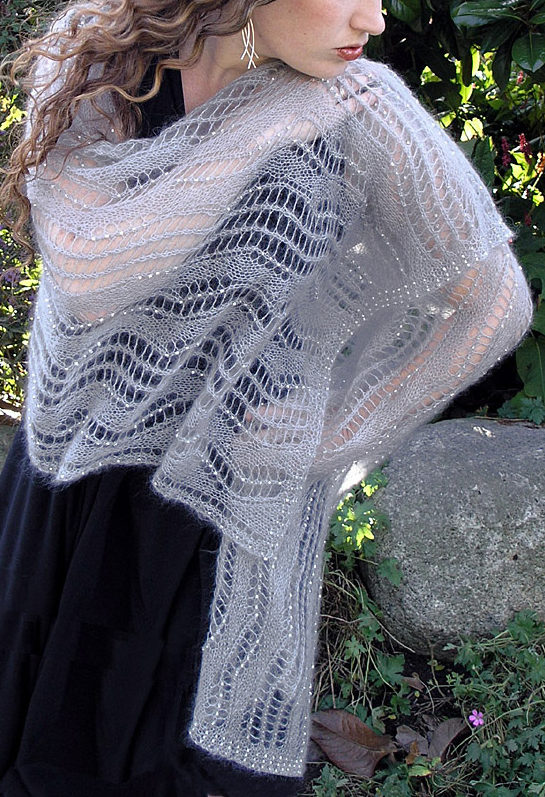 Liquid Silver Shawl
This lace stole features lace zigzags and optional beads. Designed by by Rosemary (Romi) Hill for elann. Great for weddings and special events.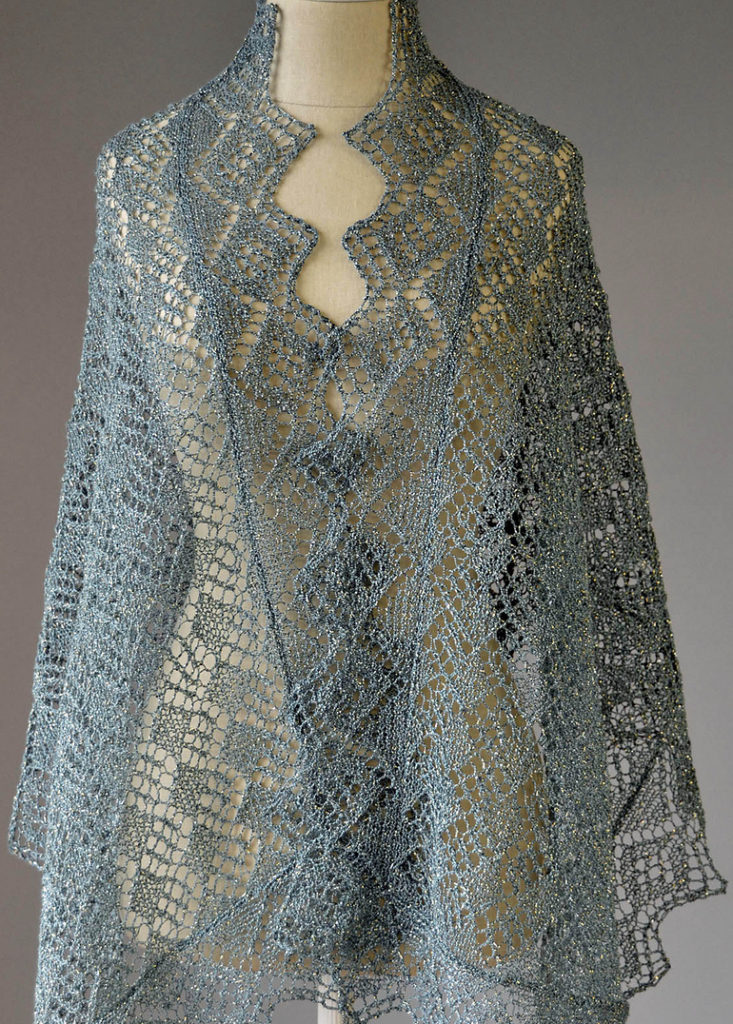 Whimsical Wrap
Lace shawl designed by Universal Yarn is created with yarn with a metallic shimmer.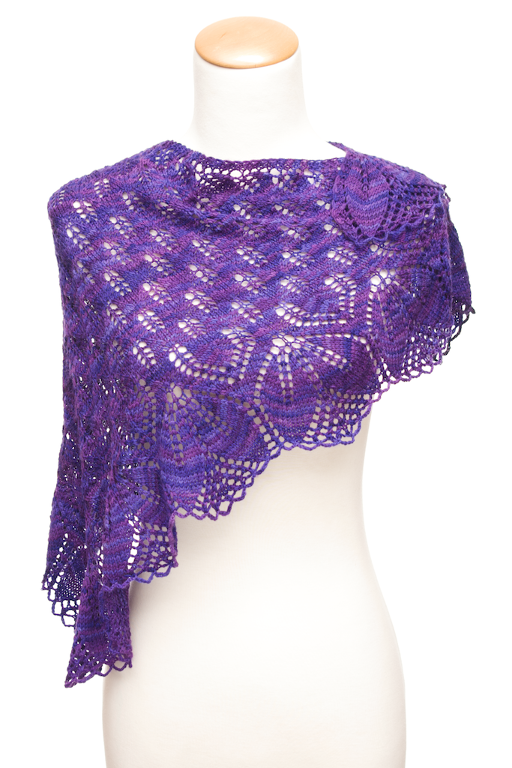 Haruni Shawl
Haruni is a triangular shawl designed by knitterain, worked from the top down, with a chain bind off. Pattern includes charts, written directions, and extensive notes.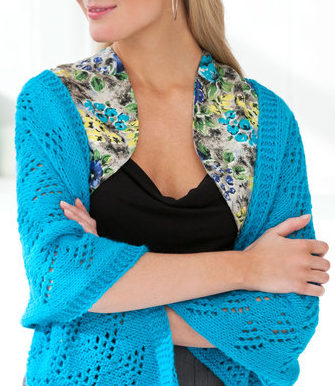 Day to Date Time Shawl
Triangles of lace make this Red Heart design a versatile shawl.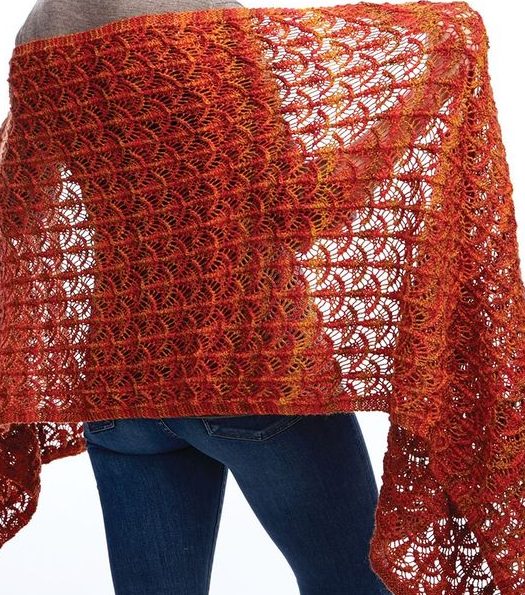 Fanfare Wrap
Versatile rectangular lace shawl or stole from Yarnspirations in fingering yarn. Approx 24" [61 cm] wide x 80" [203 cm] long (after blocking)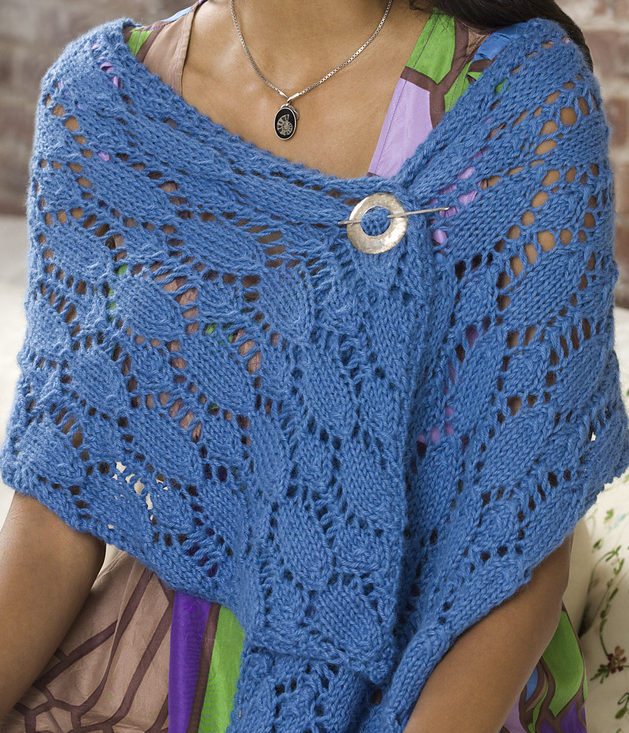 Samantha's Shawl
A worsted weight lace wrap with a simple lace pattern and tapered ends. Designed by Samantha Leaver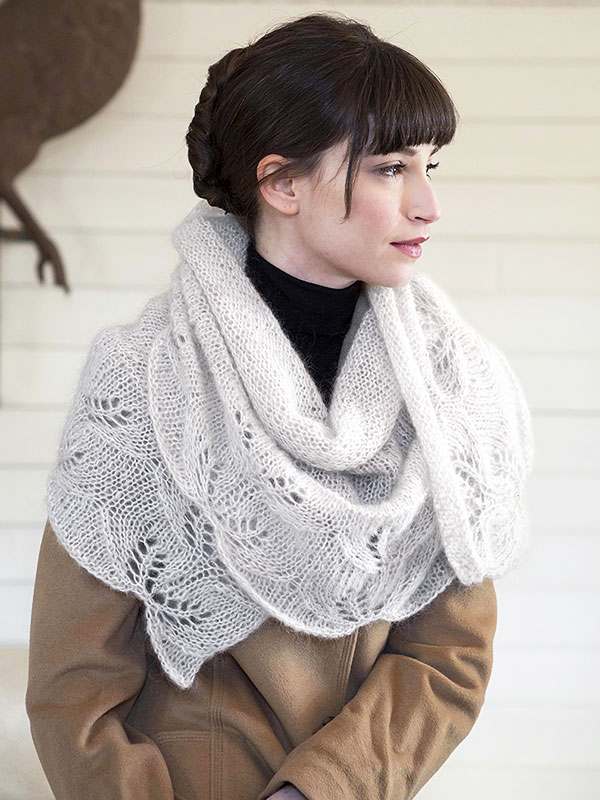 Hydrus
A lovely lace leaf border adorns a delicate stockinette body in this shawl by Berroco.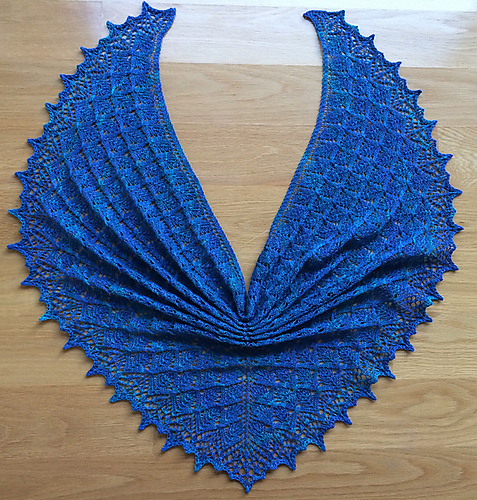 The Sea Speaks to Me
Athanasia Andritsou designed this triangular lace shawl for fingering yarn.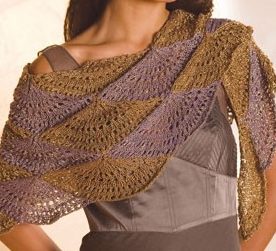 Swing Shawl
Designed by Berroco, this shell stitch lace shawl is shown in contrasting colors of their metallic yarn Lumina for extra glamour and shimmer. Approximate Width – 56" Approximate Length – 19" '
Nightsongs Shawl
Jane Araújo designed this lovely lace pattern. See this project on Ravelry.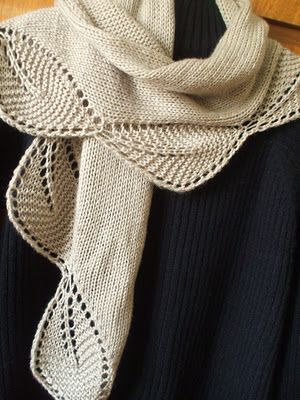 Garden View Shawlette
Tracy Withanee designed this wrap with a leaf lace border.

Candle Flame Shawl
Designed by Dean Crane, this pattern is designed for bulky yarn and larger needles, though the pictured project by ladycolori was done with sport weight yarn.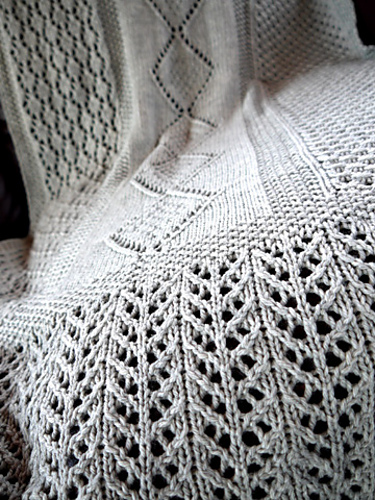 Lace Blanket Shawl
Denise Twum designed this worsted weight shawl with a diamond lace pattern panel surrounded by other lace stitches.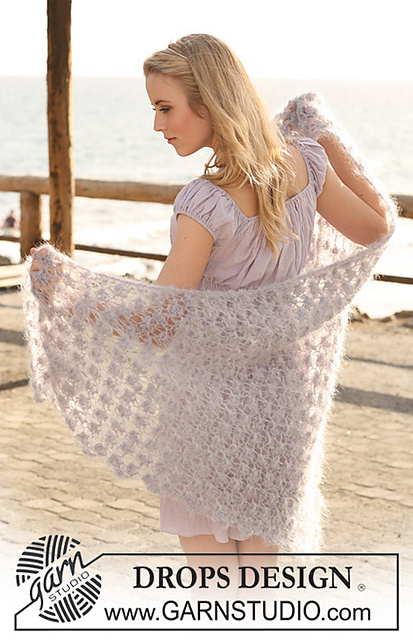 Phoebe Shawl
A berry stitch in bulky yarn makes this is a quick project. Get the free knitting pattern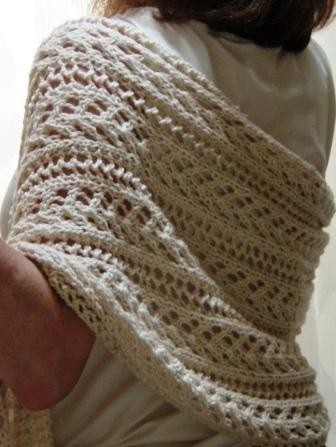 Summer Love Wrap
This cotton lace shawl is perfect for warmer weather.
Patterns for Purchase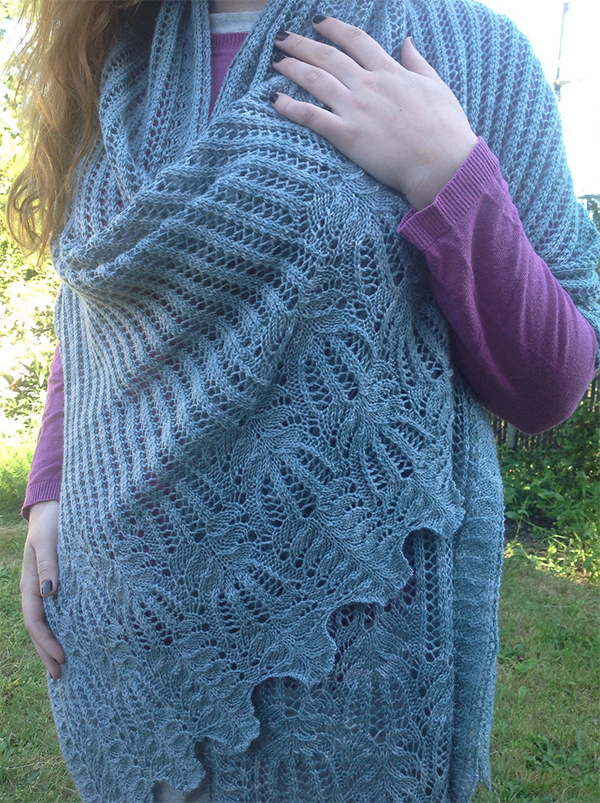 Pachelbel Shawl
Two simple lace patterns juxtaposed in five harmonious movements to create a piece that looks exquisite yet is deceptively easy to knit. Pachelbel comes in four sizes: scarf, stole, shawl and wrap. Size shown is shawl. Designed by Carol Sunday. Pictured project by Zeila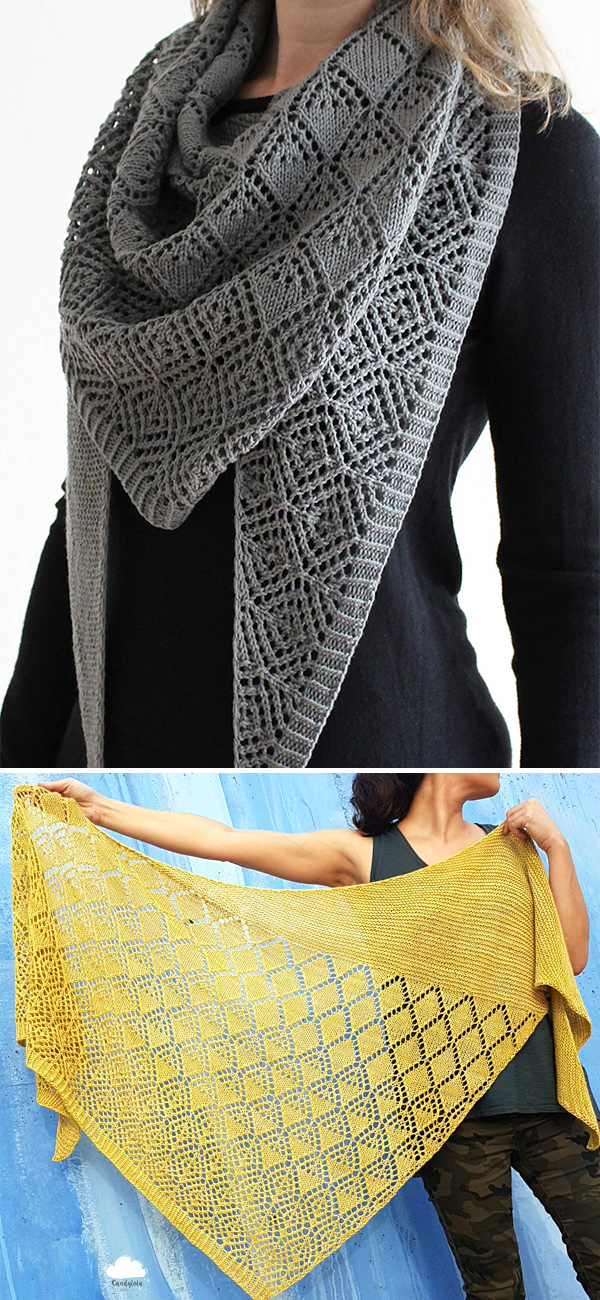 Diamonds for Amélie Shawl
A beautiful lace creates eye-catching diamonds on this elegant triangular shawl knit sideways. The lace section is created with 3 different lace motifs that transition seamlessly from and into each other. Designed by Lisa Hannes. Pictured projects by the designer and Candylola. Fingering weight yarn.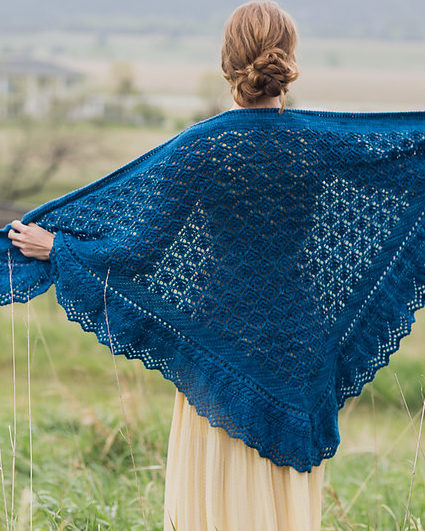 Squall Line Shawl
This oversized romantic lace shawl designed by Romi Hill is knit in worsted weight yarn and is 78" wide and 37" tall. It is one of the 16 charming knitting patterns in Interweave Knits Fall 2015 Digital Edition. At $7.99 for 16 knitting patterns, that means that each pattern is less than 50 cents each!

Gossamer Stars Scarf
Lace scarf in DK yarn. Designed by Kat Coyle. Pictured project by Velveta

Feathers, Fans, and Flowers
Beautiful shawl featuring a feather and fan lace pattern topped by a floral lace motif. One of the patterns in Knit Prayer Shawls.

Field of Daisies Shawl
This lovely lace shawl by TabithaDesigns is specially shaped to stay in place and features floral and leaf lace motifs. The versatile shawl can also be worn as a kerchief or scarf.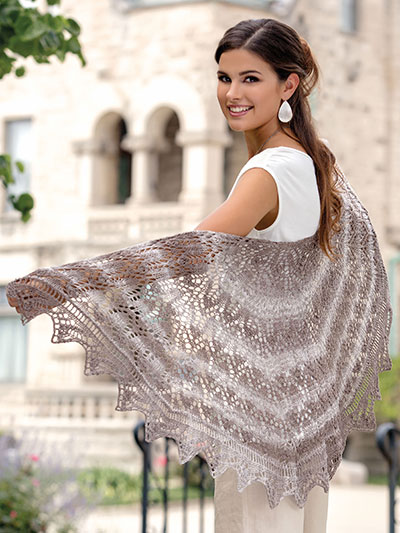 Keystone Shawl
This top-down, spiral-shaped shawl with layers of archways is adorned with nupps, an Estonian stitch that is like a bobble and resembles a flower bud. Sport-weight yarn.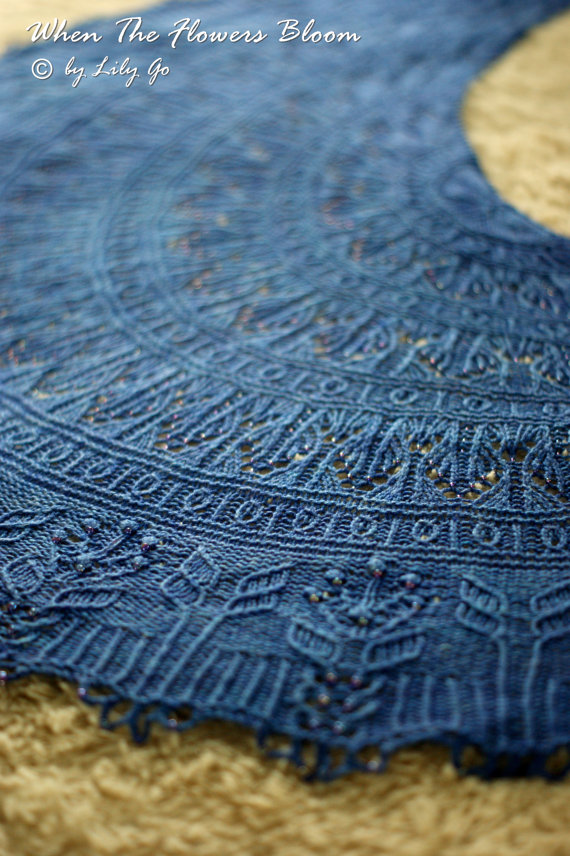 When the Flowers Boom Lace Shawl
This fingering weight semicircular shawl is worked from the bottom up. Pattern includes charts and row by row written directions. Three sizes: Wingspan: 112 (136, 160) cm / 44.1″ (53.5, 63)" This would be a great wedding or special occasion shawl!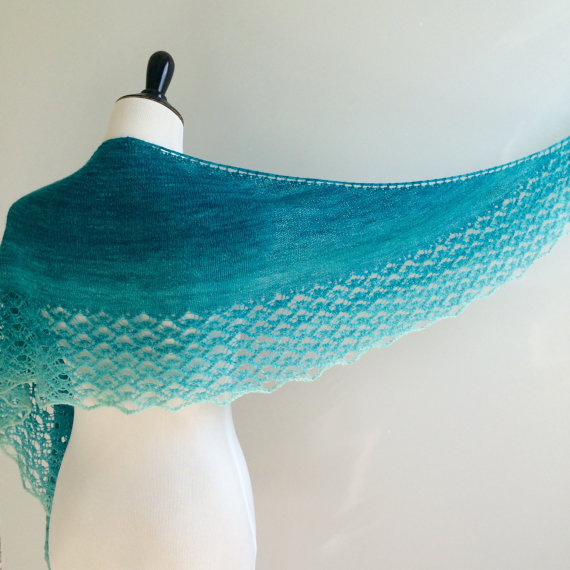 Havasu Falls
Havasu Falls is a crescent shaped shawl that is perfect for gradient yarns. Finished Size: 72 inches x 16 inches but easily customizable to get the size you want! Both charted and full written instructions are included.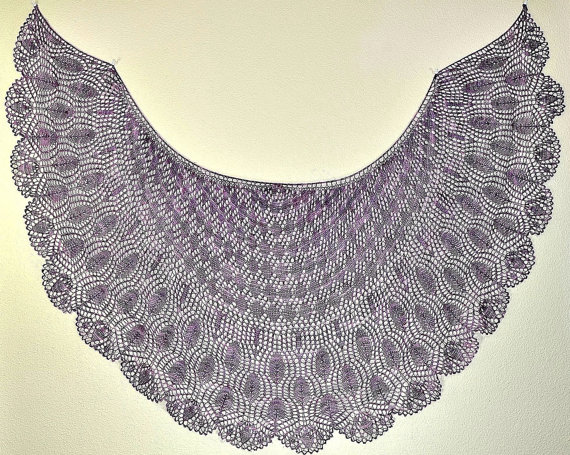 Wings of a Prayer Shawl
Kristi Holaas was inspired to create this design while she was praying for a friend. Knit top down in a crescent shape and flows into a half circle design, and finished off with lovely lace scallops, this shawl comes in three sizes: Small approximately 54"x20" Medium approximately 56"x22" Large approximately 64"x24"