One Skein Shawl Knitting Patterns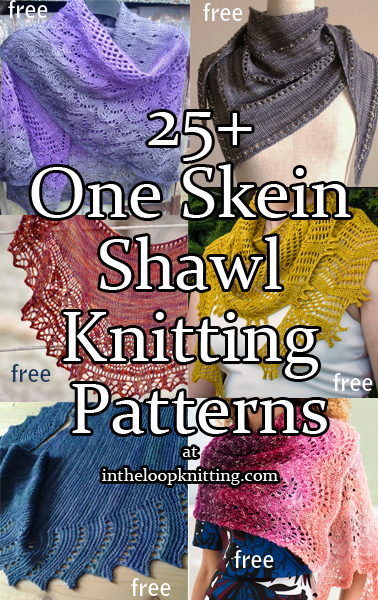 These shawls and shawlettes are designed with one skein of yarn. Most can be adapted for larger sizes with more yarn.
To get the knitting patterns, scroll down the page to the individual pattern you want and click on the link to that pattern.
These patterns are not my designs but links to other designers who have generously shared their patterns. If you have questions about how to knit a specific pattern, please contact the designer directly.
All links on this site are for informational purposes, but please note that some links are to affiliate sellers that pay me a small commission on purchases.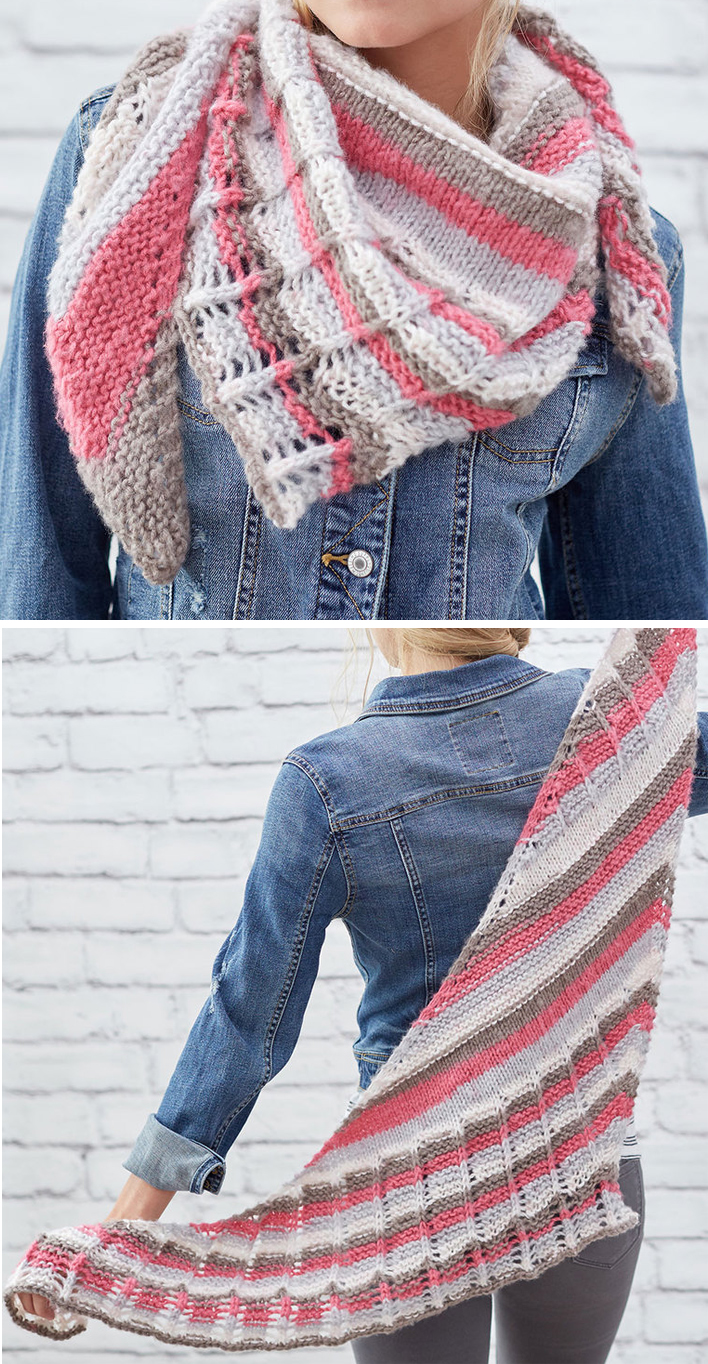 Lacy Stripes Shawl
Elongated triangle shawl with stockinette and slipped stitch lace pattern is perfect for self-striping yarn. Quick knit in bulky yarn. Uses just one ball of the recommended yarn (355 yards). Designed by Lisa Gentry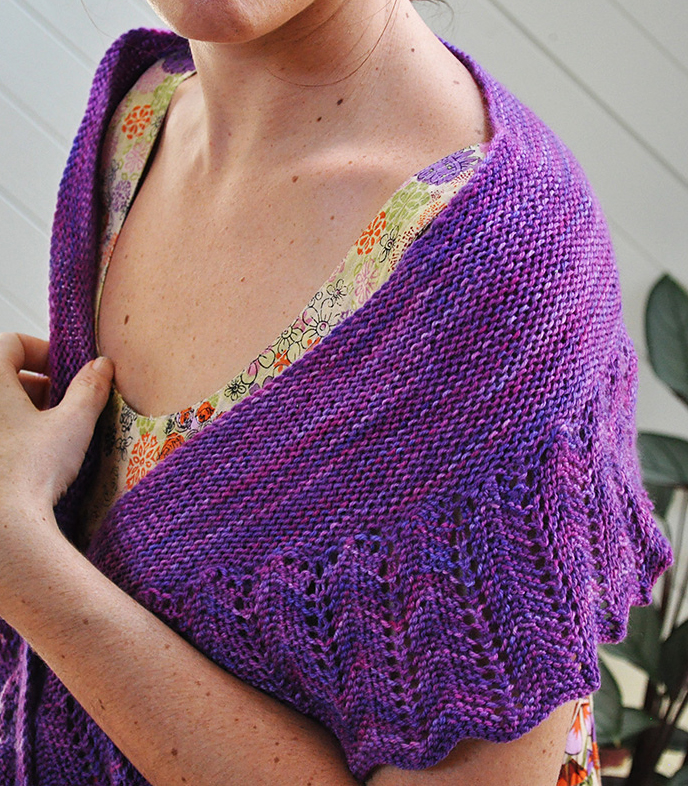 Shearwater Shawl
Crescent shaped shawl in garter stitch with easy lace border is designed for one skein of sock / fingering yarn. Designed by Kristen Finlay. Rated easy by most Ravelrers.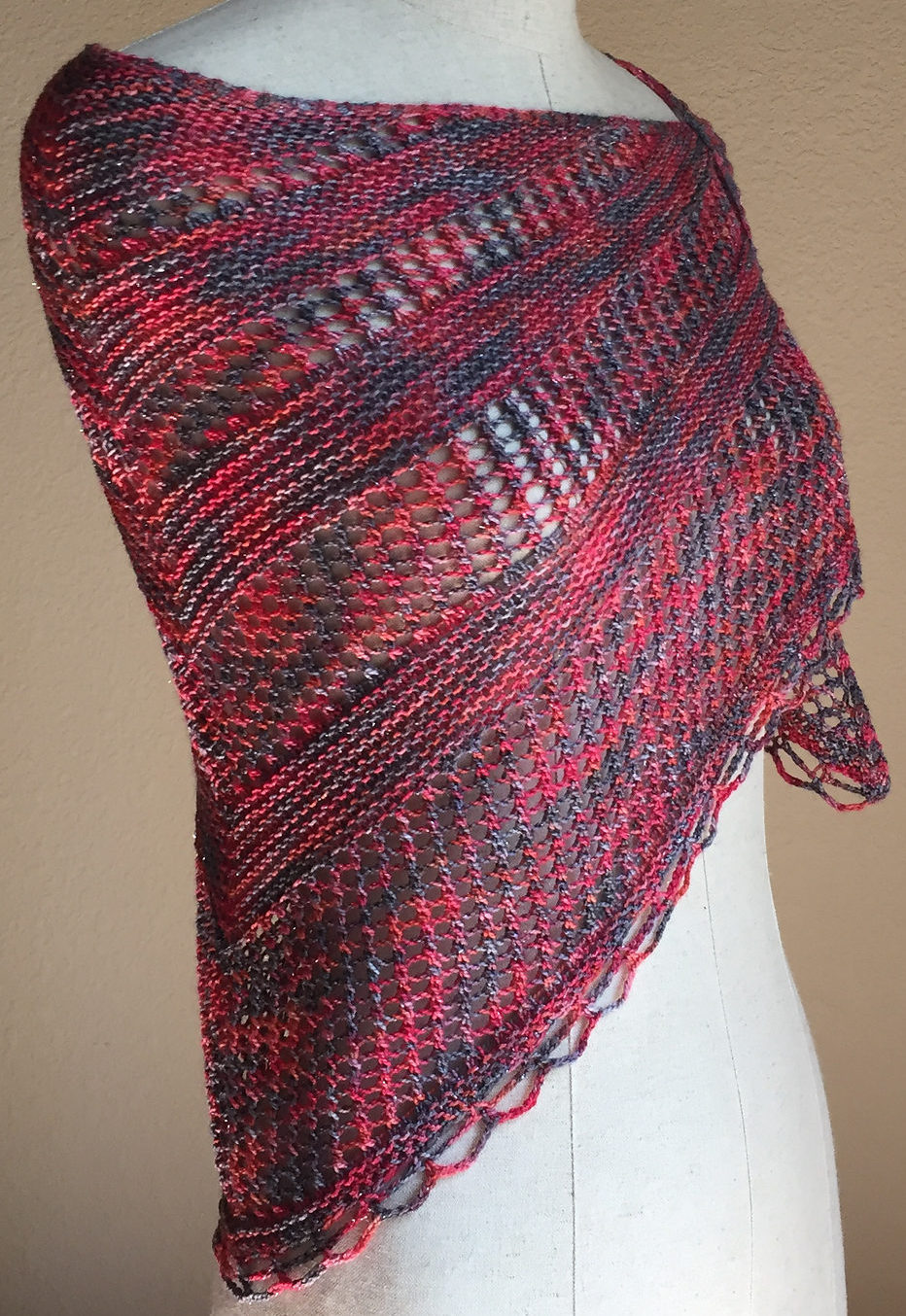 Reyna Shawl
This shawl was designed to showcase variegated colorways and to use one skein of variegated yarn though it looks spectacular in solid colors and larger sizes as well. Rated easy by most Ravelrers. Designed by Noora Laivolay. Pictured project by zpurls who used one skein (435yards) for the project and added a simple crocheted edge.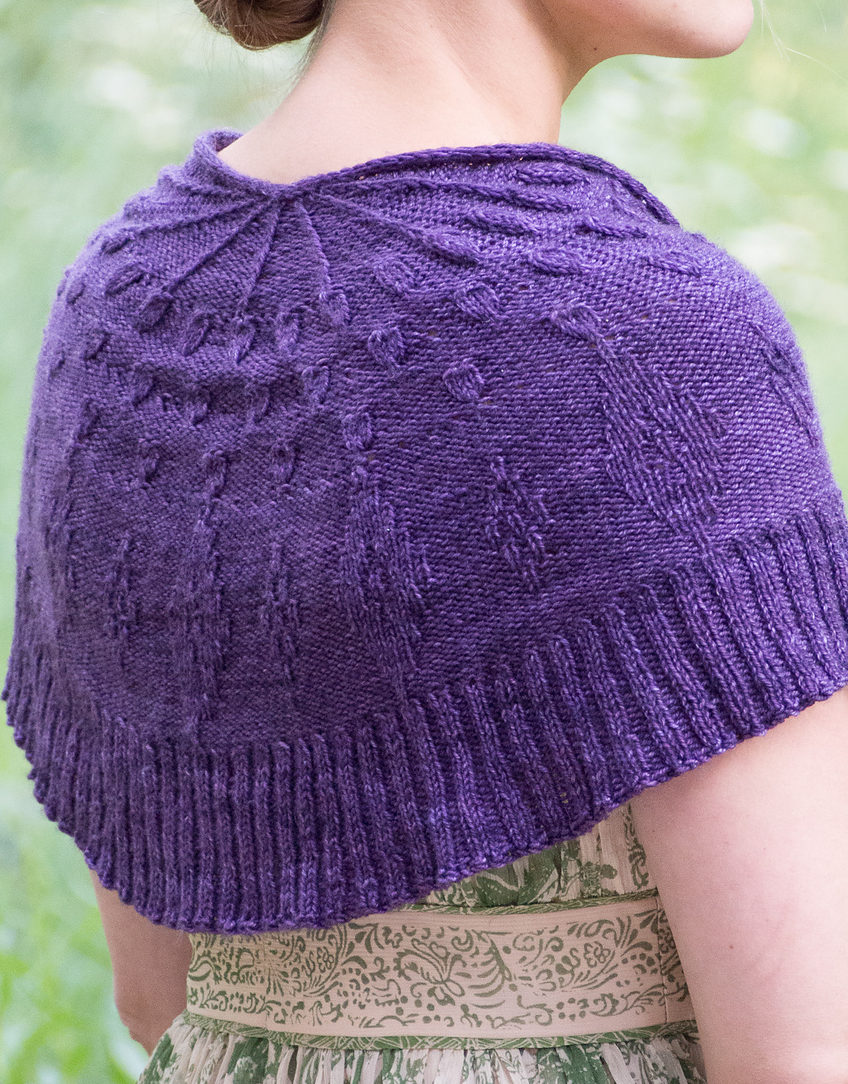 Tactile Stimuli
This semi-circular shawl creates its  textured design with just knit and purl, no lace, no cables. .Designed by Linette Grayum who used one skein of fingering weight yarn (440yards) for the project. Size: 39" x 13" 100 cm x 33 cm. Instructions charted and written.
Stormy Sky Shawl
Designed for that one skein of special yarn!  This asymmetrical shawl alternates sections of dropped stitches, eyelet lace, and garter stitch to showcase multi-colored yarn in skewed triangle. Easy to memorize. Designed by Life Is Cozy.Pictured project by River Poet who used one skein of Malabrigo yarn (420 yards) for the project.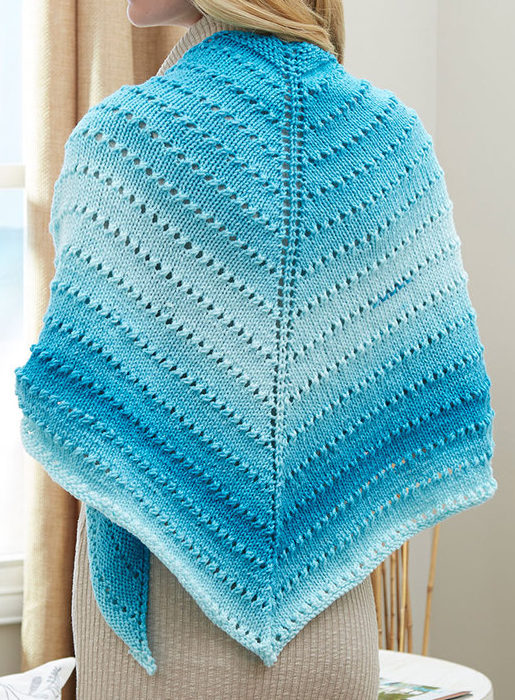 Simple Lace Triangle Shawl
This easy shawl takes just one skein of the recommended yarn and features rows of eyelets in stockinette that showcases ombre or multi-color yarn. Designed by Cathy Payson.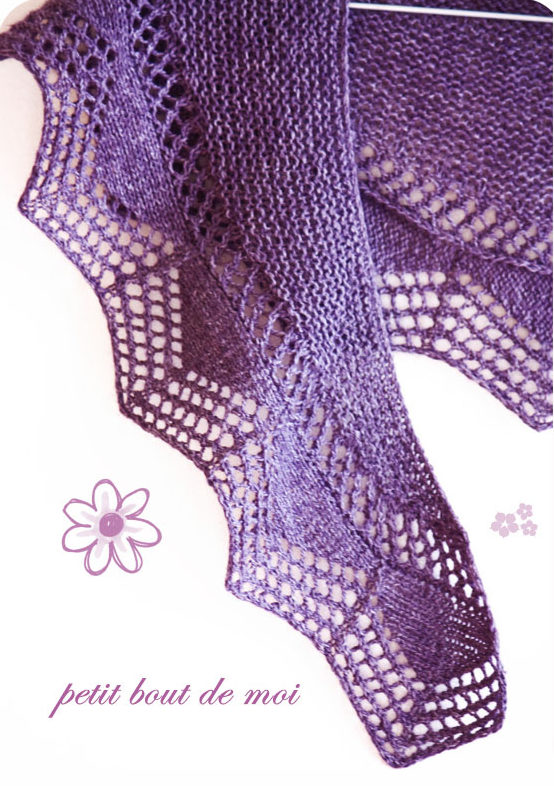 Cassis Shawlette
Lovely lace shawl with an eyelet zigzag border. The original project used one skein of fingering yarn – 383 yards – but there is a larger size version. Available in English and French. Designed by collete audrey.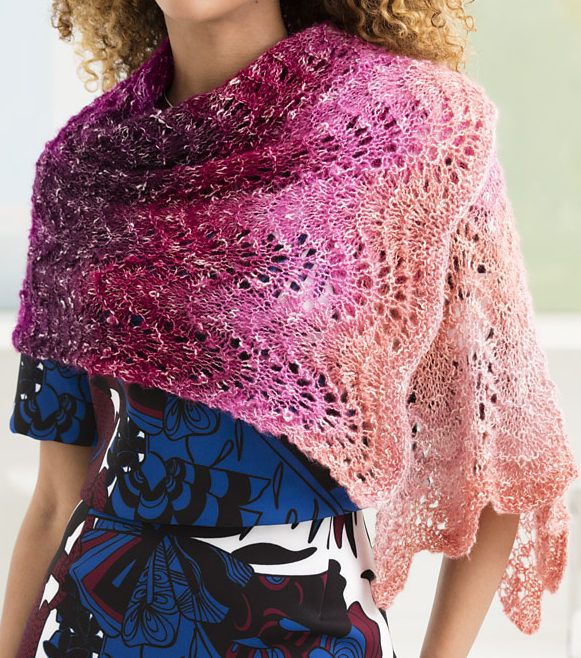 Feather and Fan Shawl
Lace rectanglular wrap that is rated easy by most of the Ravelrers. About 18 x 51 in. (45.5 x 129.5 cm). Perfect for multi-color yarn.Uses 518 yards (474 m) of Aran weight yarn. Designed by Lion Brand yarn.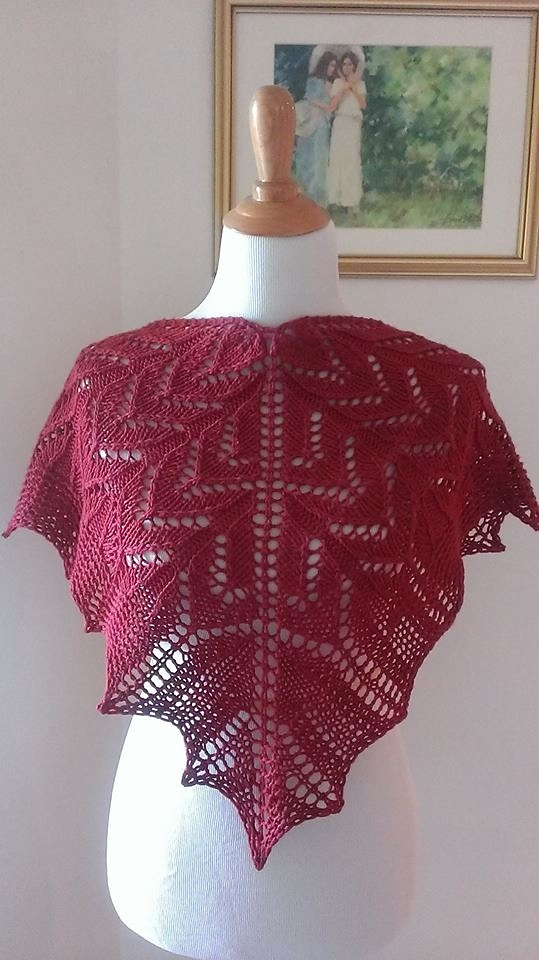 198 yds. of Heaven Shawl
Lace triangular shawlette designed for Aran weight yarn that can be adapted for different weights of yarn and sizes. Designed by Christy Verity. Pictured project by Dilshani who used 218 yards / one skein of worsted weight yarn.
[widget id="black-studio-tinymce-32″]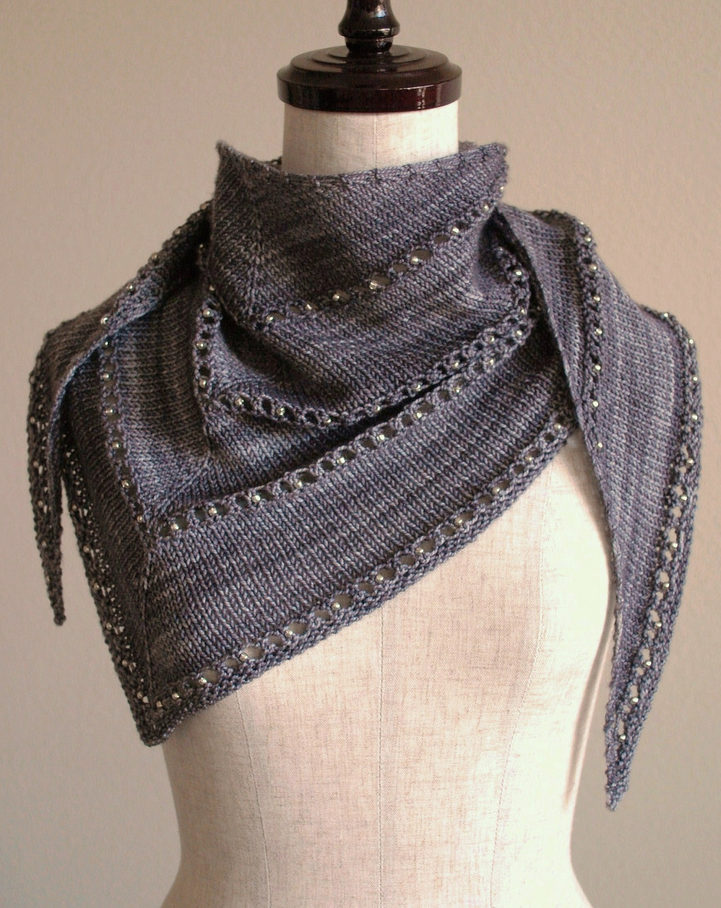 Age of Brass and Steam Wrap
Very easty triangular shawlette that can easily be made larger with more stockinette and garter ribbed eyelet sections. Designed by Orange Flower Yarn for DK yarn but can easily use worsted or fingering weight. Pictured project by knittimo who used one skein of sock yarn and added beads and some additional sections. Available in English, German, and Italian.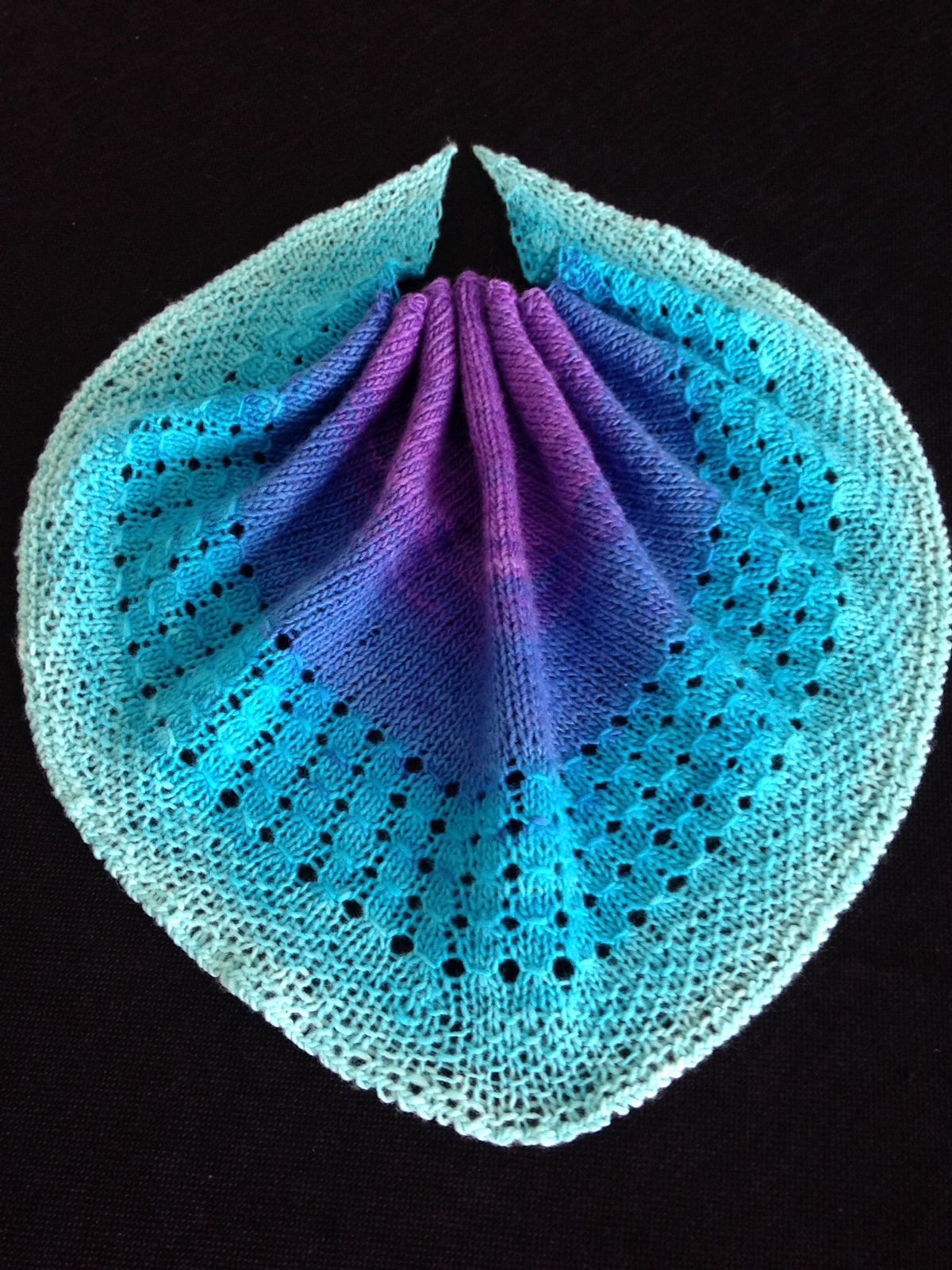 One Skein Elk Tooth Shawl
Shawl in three sections of stockinette, lace, and seed stitch. Designed by Caitlin ffrench for sport yarn but could be adapted ot other weights. Pictured project by OrangeJellyfish who used one skein of sport yarn. Looks great in variegated yarn!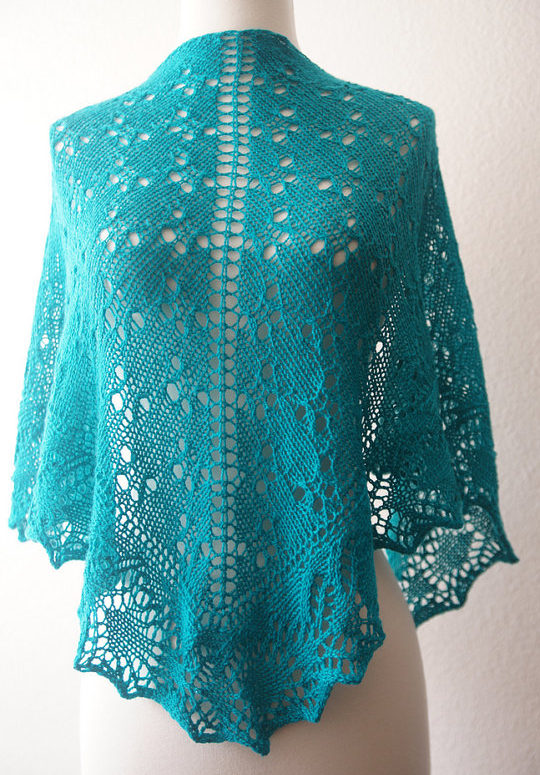 Silver Spoon Shawl
The Silver Spoon One Skein Shawl is traditional triangle shawl knit from the neck to the long edge. The Silver Spoon One Skein Shawl has a knit-on border which means it's not necessary to bind off 185+ stitches at once! 50 inches wide by 22 inches long after blocking. Used 100 grams 440 yards of fingering weight yarn.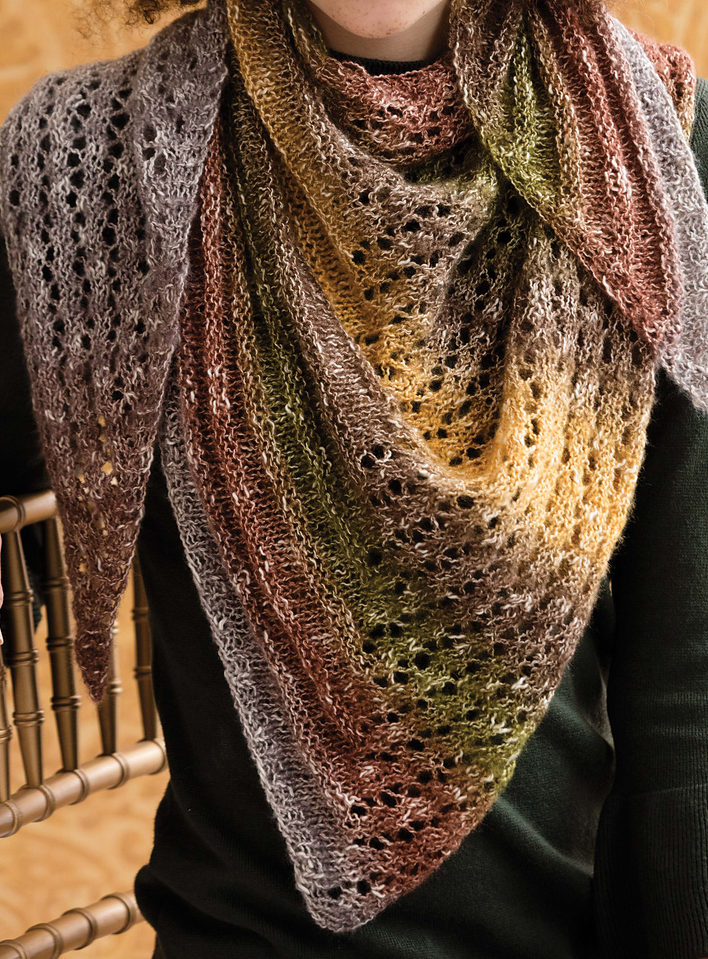 Right Triangle Shawl
The shifting of the two pattern stitches—welt and lace—form two smaller triangles inside the right-triangle shape. Uses one skein of the recommended yarn – 518 yards (474 m) of Aran weight yarn. Designed by Holli Yeoh. One of the patterns in Knit Simple Magazine, Fall 2016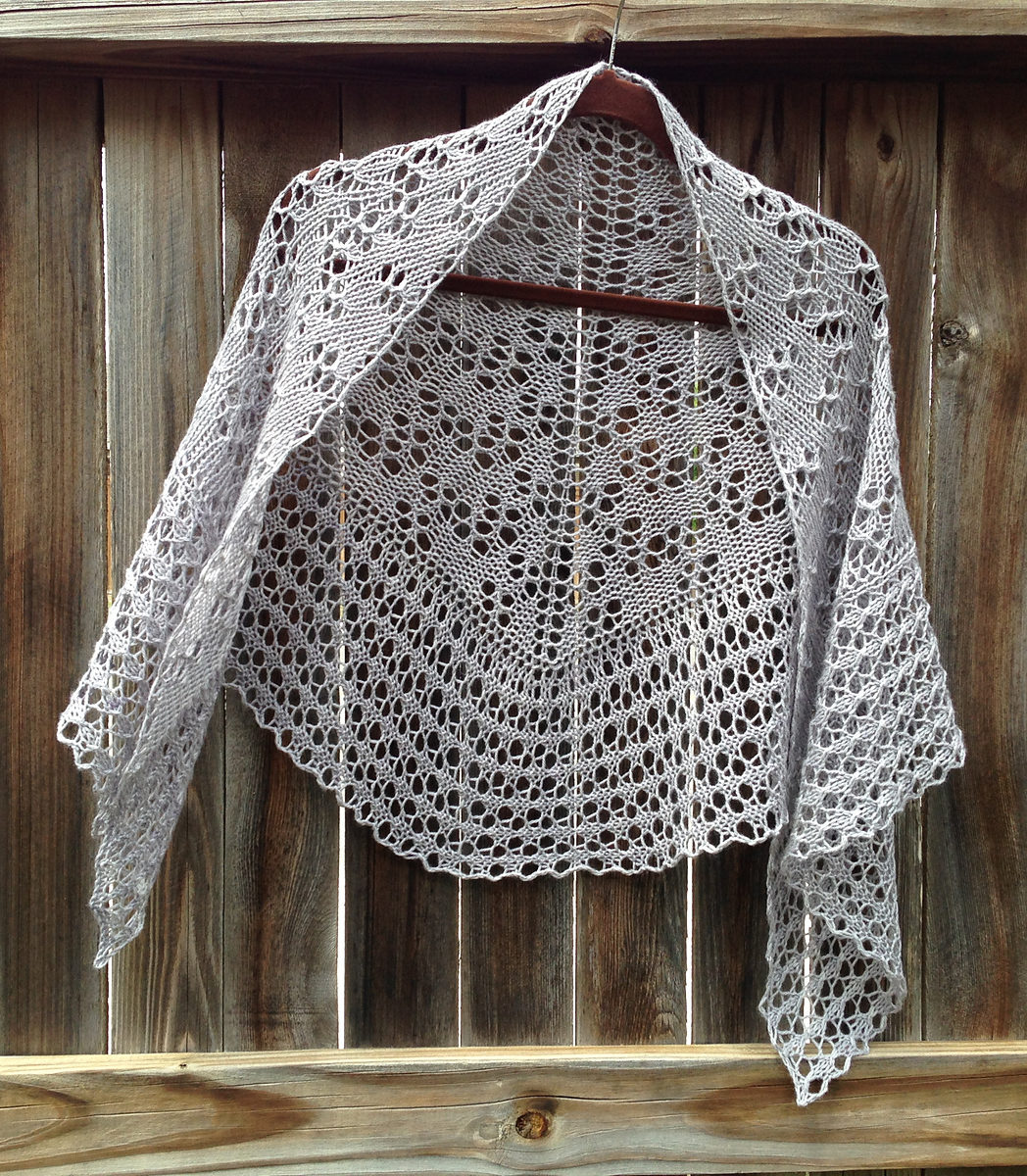 Damson One Skein Shawl
Easy DK yarn lace triangular shawl knit in one skein of DK weight – 330 yards (302 m). 52 inches wide by 23 inches long after blocking. Designed by Michelle Miller. Pictured project by abtotx. Etsy page shows a plum colored version. Rated easy by Ravelrers.
Flambe One Skein Shawl
Flambe One Skein Shawl knits up quickly with only one skein of sock yarn – 321 yards.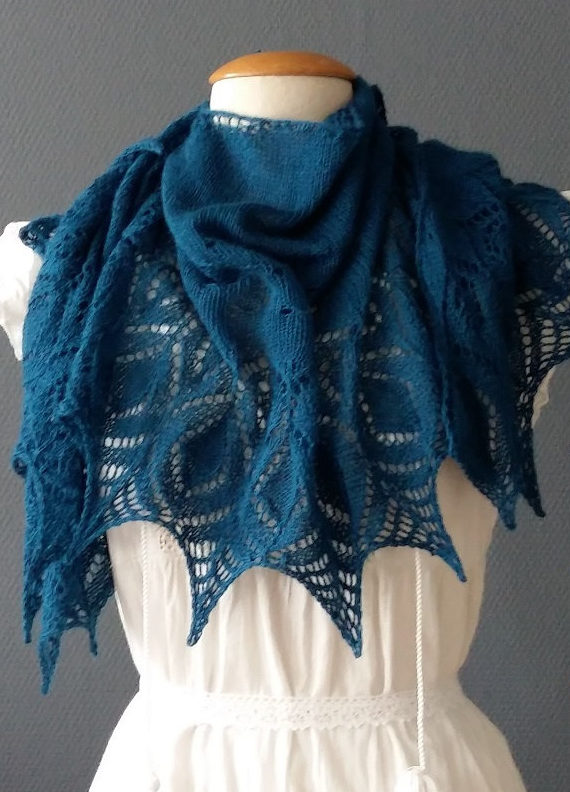 Kitten One Skein Shawl
A crescent shaped lace shawl with some 'new' techniques for yarn overs. Uses just one skein of lace yarn.
[widget id="black-studio-tinymce-32″]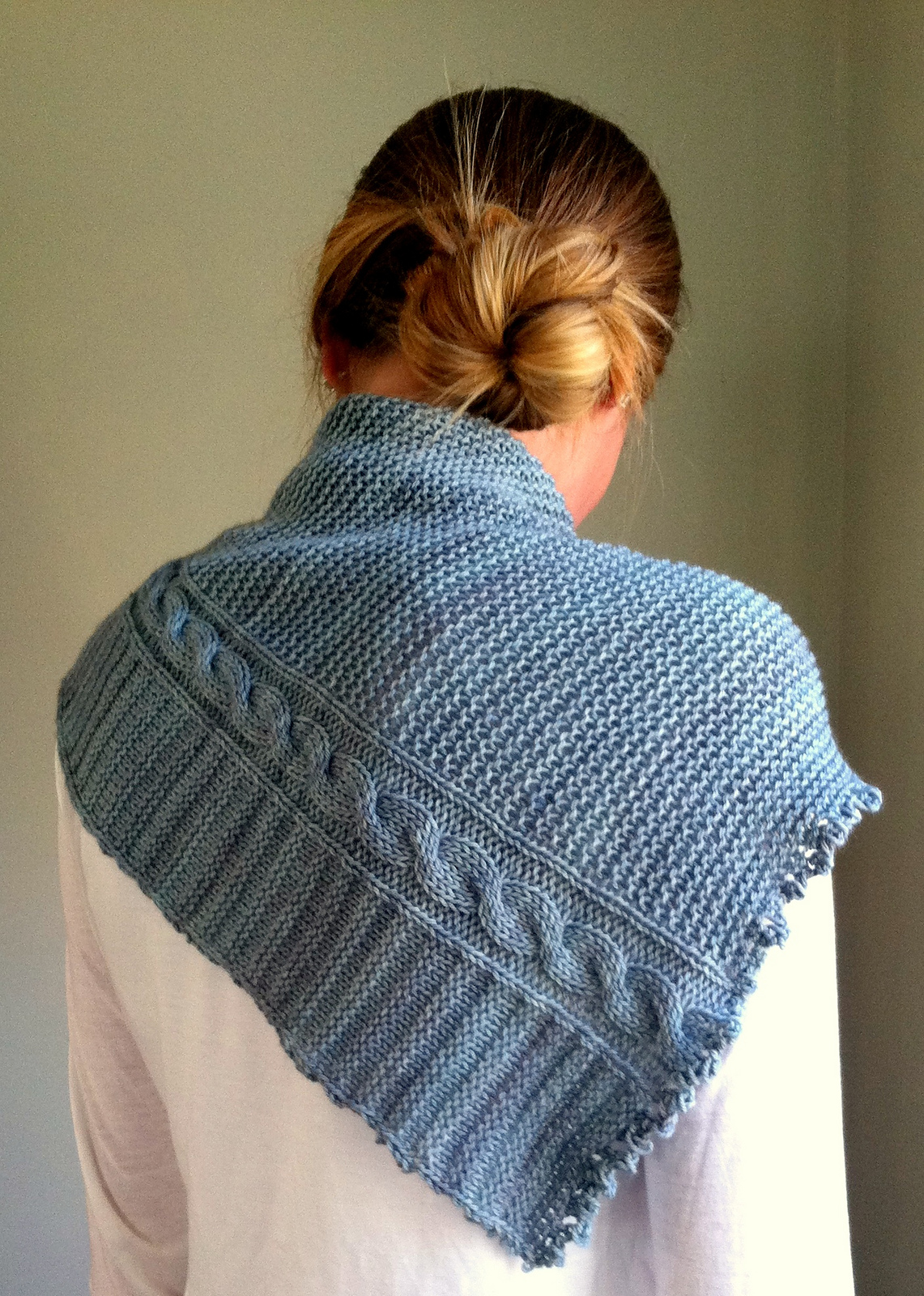 White Dwarf One Skein Shawl Kit
This cable shawlette kit comes with the pattern and one skein of Orion yarn. 20 colorways available or you can order a custom colorway. Appx. 45" wide across top x 19" deep at point but easily adjustable.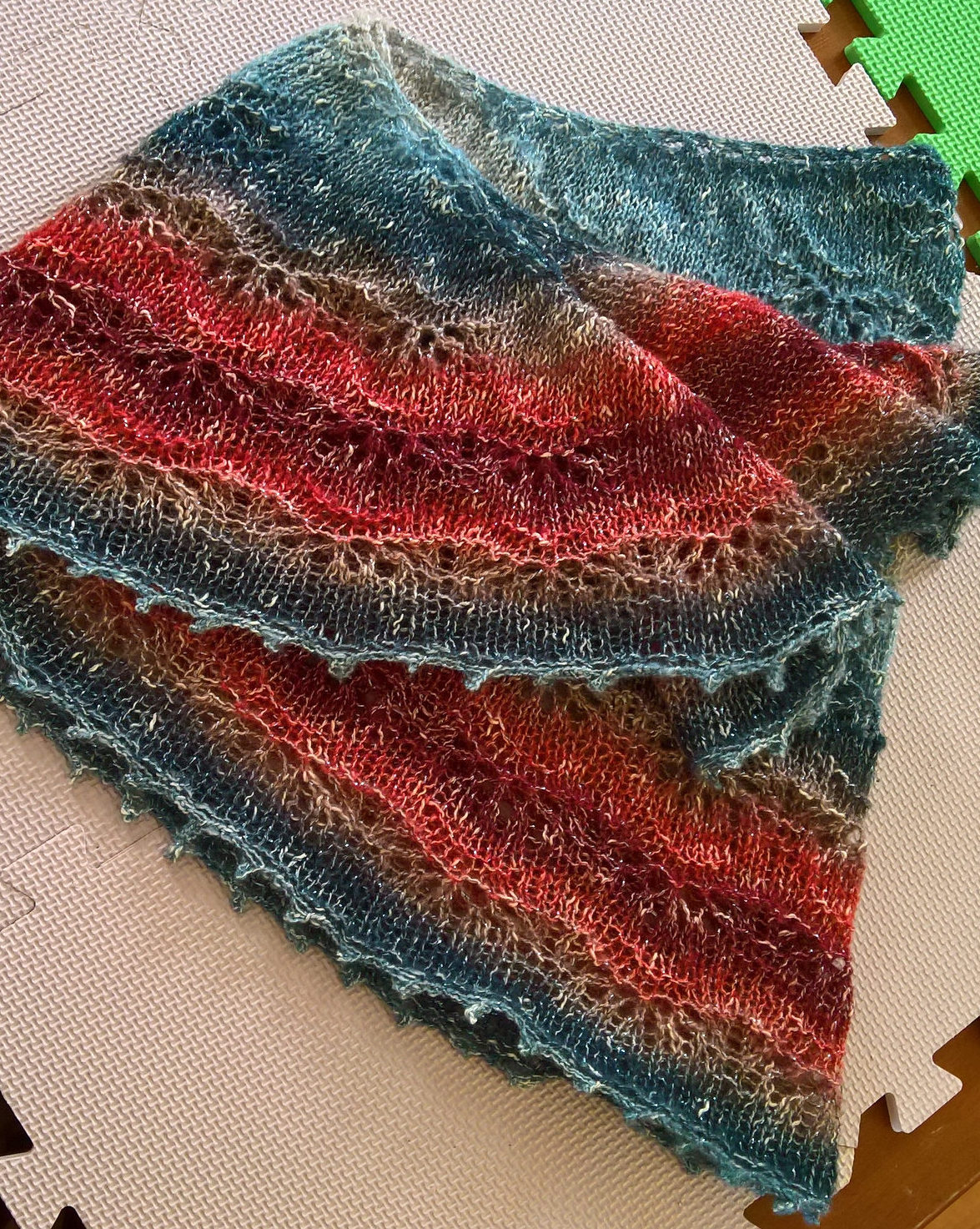 Snow Flower Shawl
This lace crescent shawl features a snow flower lace pattern (a 12-row repeat of garter, eyelets and stockinette) and uses one skein of the recommended yarn – 518 yards (474 m) of Aran weight yarn. Designed by by Zabeth Loisel-Weiner. One of the patterns in Vogue Knitting, Holiday 2016. Pictured project by brynn-elizabeth
Morgentau Shawl
This lovely lace shawlette takes just one skein of fingering / sock yarn but the pattern includes options for making a larger version, using different weights of yarn, and adding beads. Great for multi-color yarn

Plissados Scarf
Easy scarf or capelet featuring eyelet shaping and a fabulous ruffled border uses just one skein of the recommended yarn. Designed by Jean Clement, this pattern is one of the 53 patterns in the book Easy as 1-2-3 Skeins.
Terry Matz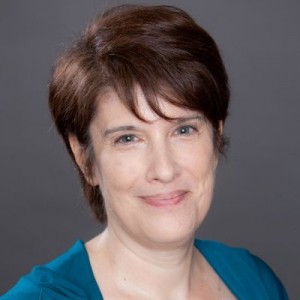 Terry is a knitting late-bloomer, learning to knit as an adult from Internet tutorials, because she wanted a craft that was useful, fun, and portable. Knitting hats for cancer patients inspired her to design her own patterns—available for free at her blog, intheloopknitting.com. Terry met her husband Ken at a science fiction convention and moved to the Kansas City area to be with him more than 30 years ago. Terry supports her yarn stash by creating websites and other digital media. Terry firmly believes in Knitting in Public—it's a great conversation starter!