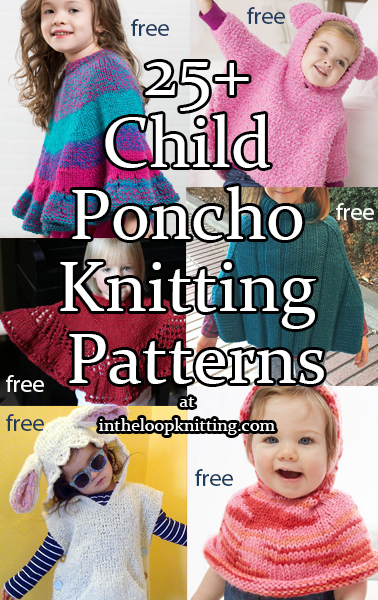 To get the knitting patterns, scroll down the page to the individual pattern you want and click on the link to that pattern.
These patterns are not my designs but links to other designers who have generously shared their patterns. If you have questions about how to knit a specific pattern, please contact the designer directly.
All links on this site are for informational purposes, but please note that some links are to affiliate sellers that pay me a small commission on purchases.
Free Patterns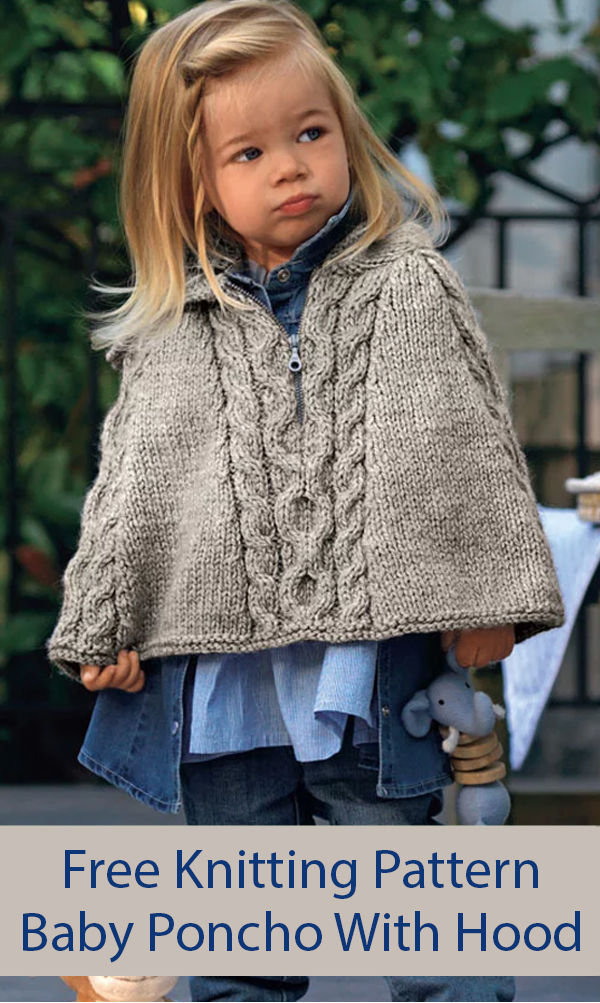 Hooded Baby Cape
Baby poncho with 12 row repeat cable panels and hood. To Fit Age: 6 to 24 Months. Bulky weight yarn. Designed by Bergere de France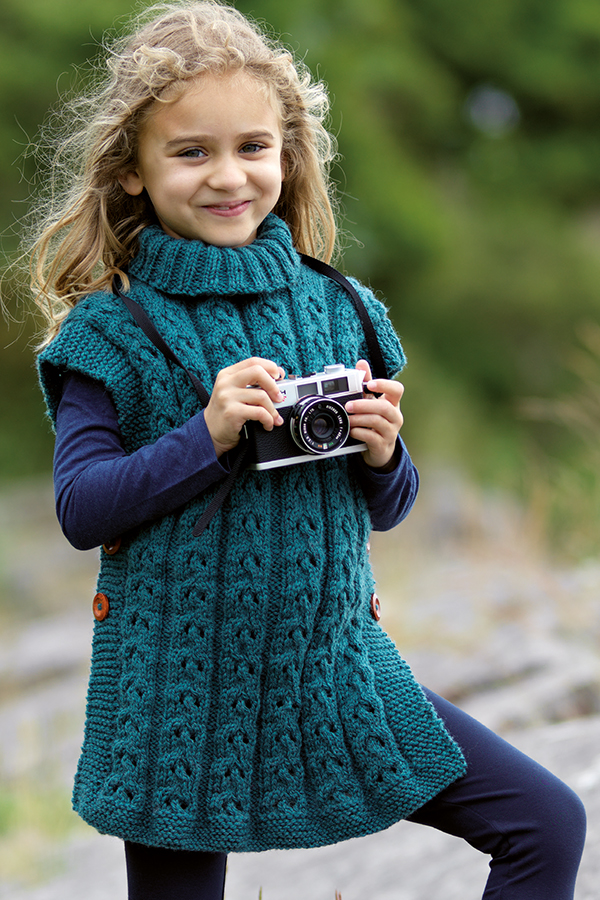 Sorcha Cabled Poncho
Tunic length pullover with buttons on the sides and knit with an 8 row repeat cable. 3 sizes for children from 4 years to 11 years. Designed for Deramore's. Also available as a kit.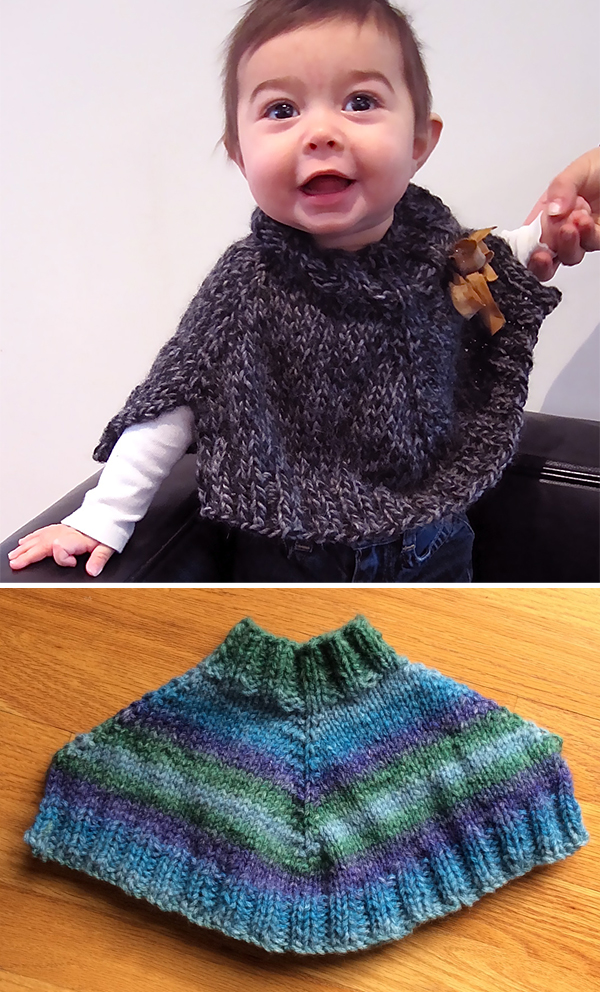 Baby Gaga Poncho
Rated easy by Ravelrers and the designer says it is suitable for beginners and can be finished in one day. Bulky weight. Sizes 3 months-2 years. Designed by Gina Bonomo. Pictured projects by the designer and SusRem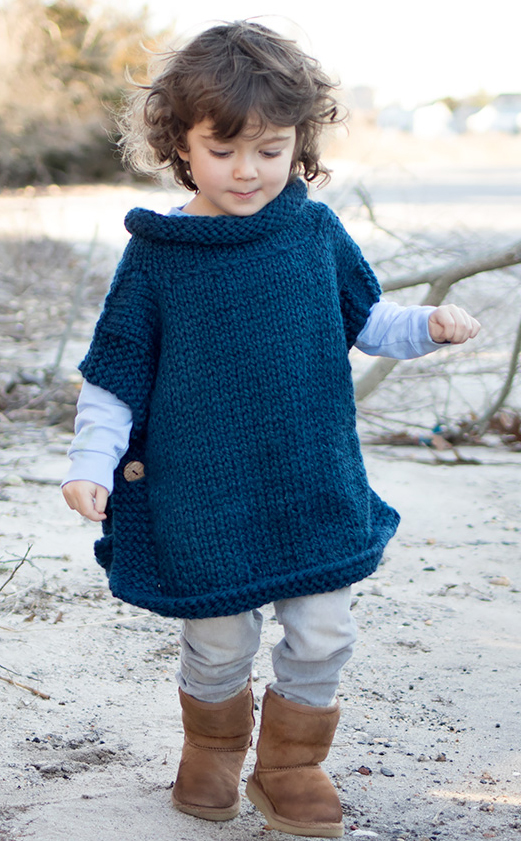 Easy Kid's Poncho
Knit in 2 pieces and buttoned up sides with a rolled neck created by picking up and knitting stitches. Super Bulky weight. Designed by Gina Michele who rated it easy.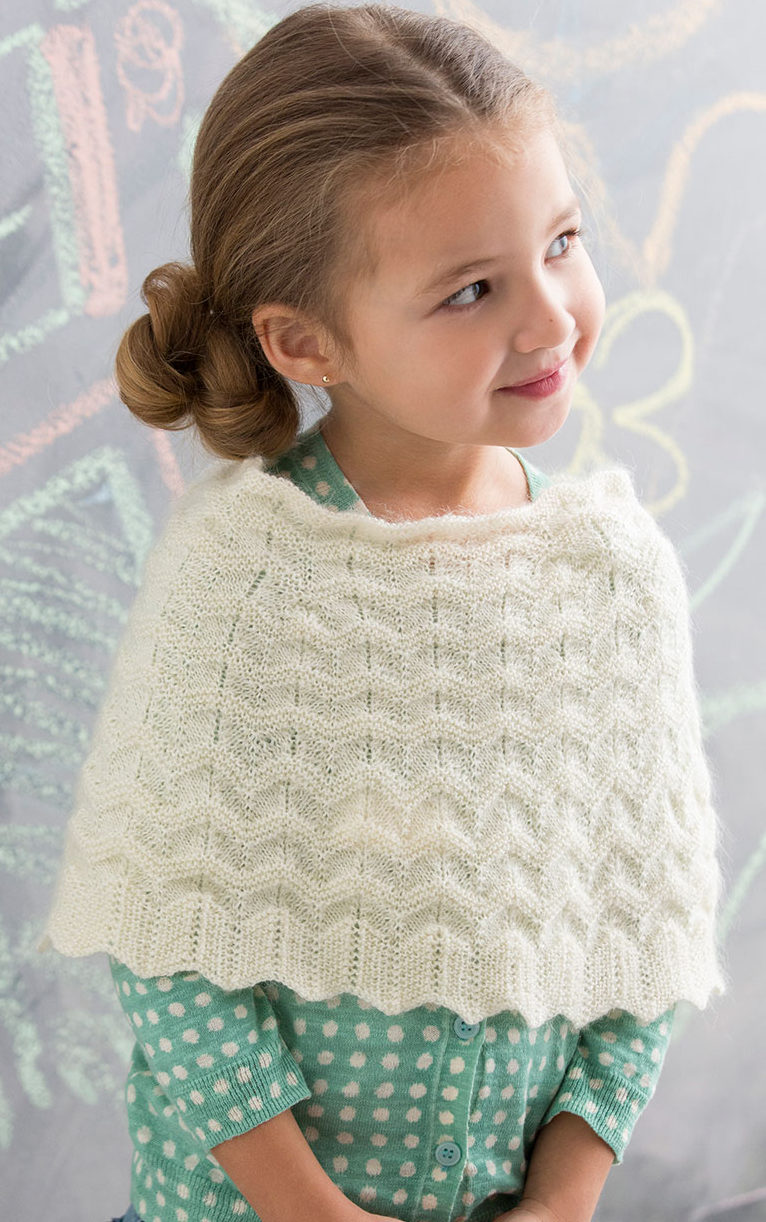 Chevron Poncho
This Girl's Poncho features an easy welted chevron pattern. Fingering weight. Sizes 2-8. Designed by Beth Whiteside for Red Heart. I think this would be a cute flower girl cape. Available in English and German.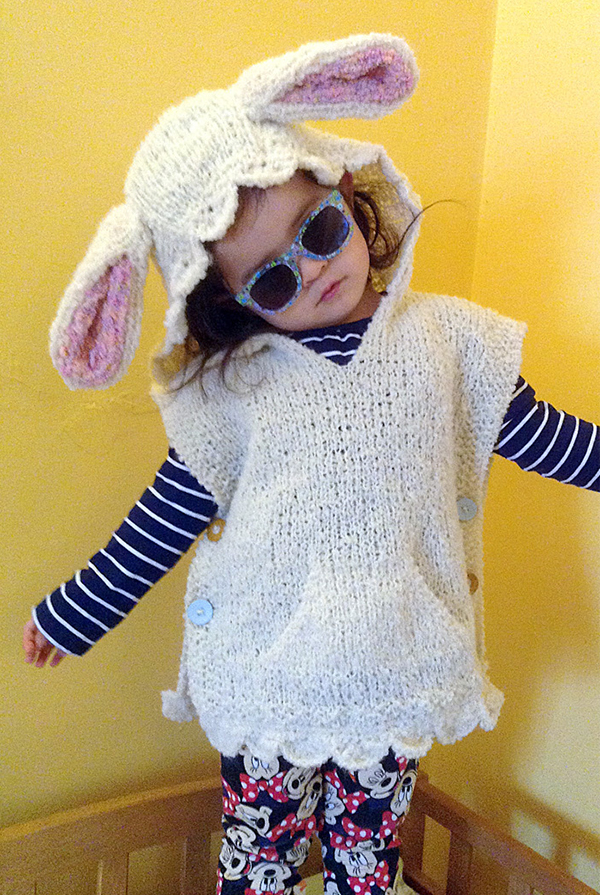 Cheeky Rabbit Poncho
Child's poncho with bunny hood with ears.lace borders, and buttoned sides. Designed by Noriko Grace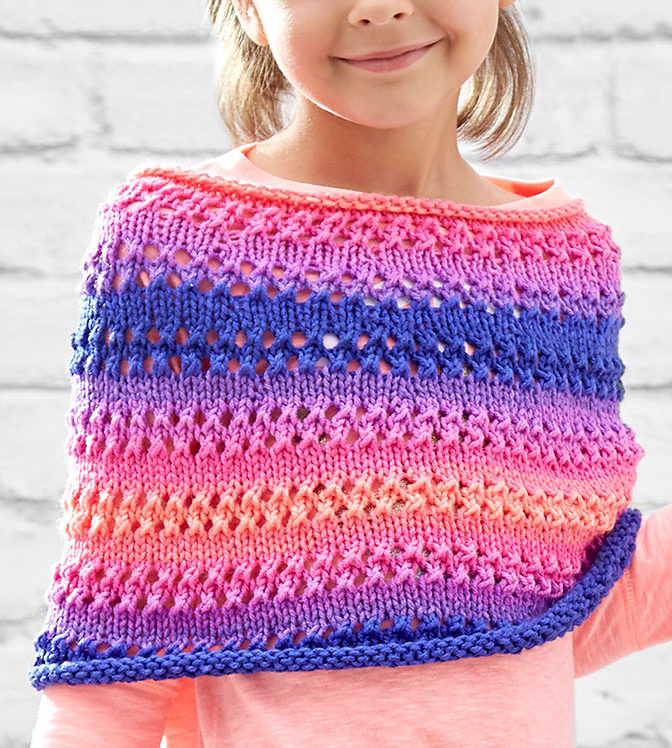 Cozy Kiddo Poncho
Easy poncho features eyelet lace and fits child sizes 4, 6-6X, and 8-10. Designed by Laura Bain for Red Heart. Great with self-striping or multi-color yarn!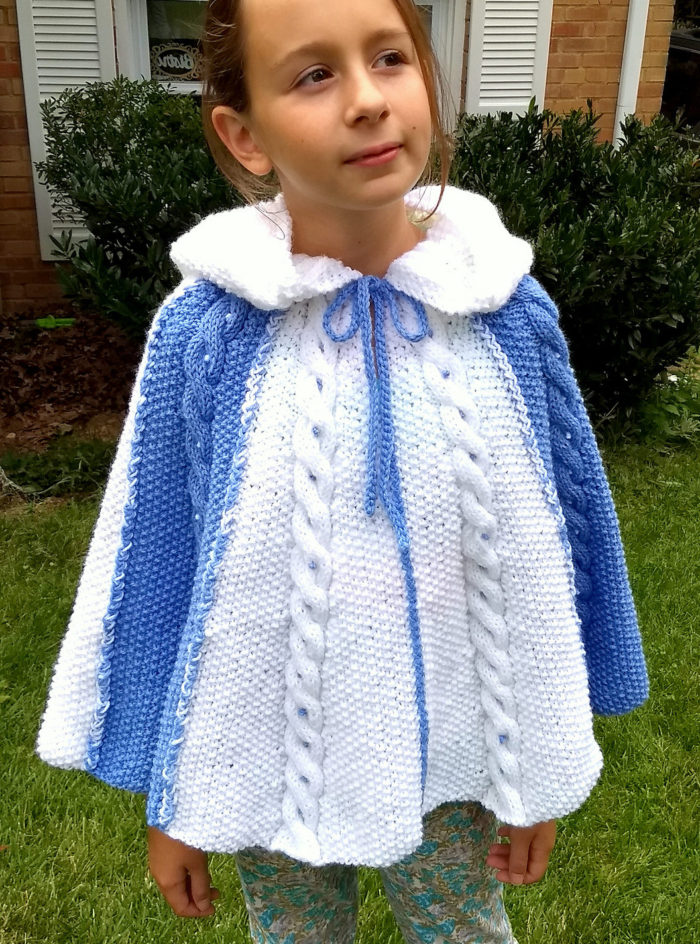 Nadia Poncho with Hood
Knitted in seed stitch with a single cable running through the middle of each panel and topped with a hood. Worsted weight. Size child 10-12. Designed by Maria Keffler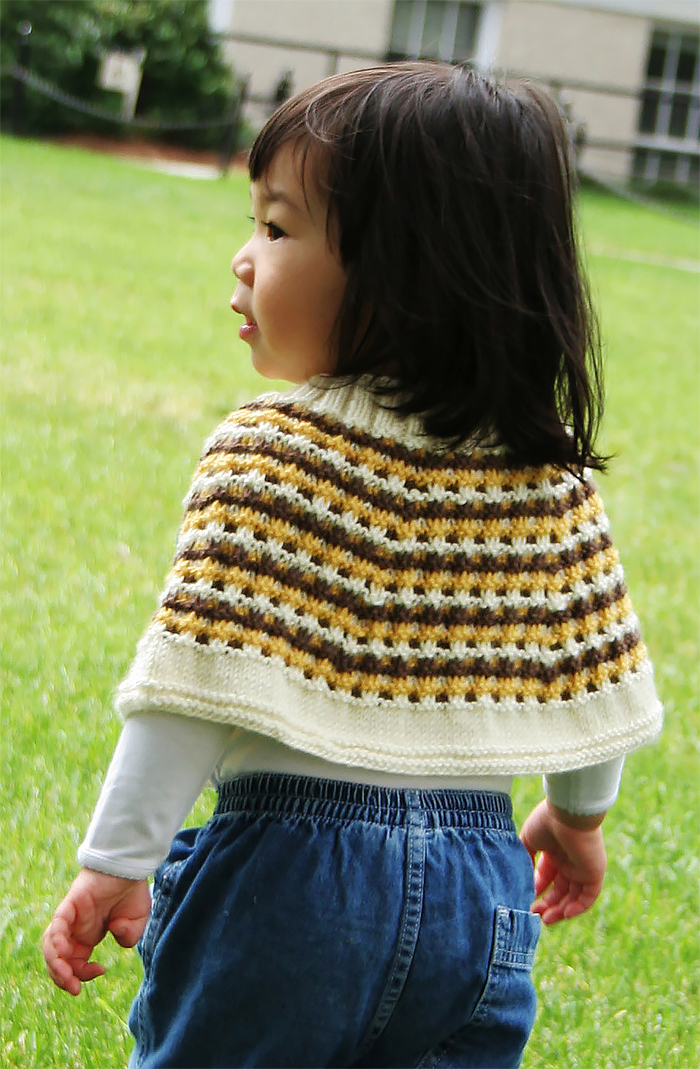 Little Bee Capelet
Poncho knit in a 4 round repeat: 2 rounds with garter stitches to create horizontal stripes and 2 rounds with stockinette stitches plus some slip stitches to create checkered squares. Sizes child 2-12. Designed by Yumiko Sakurai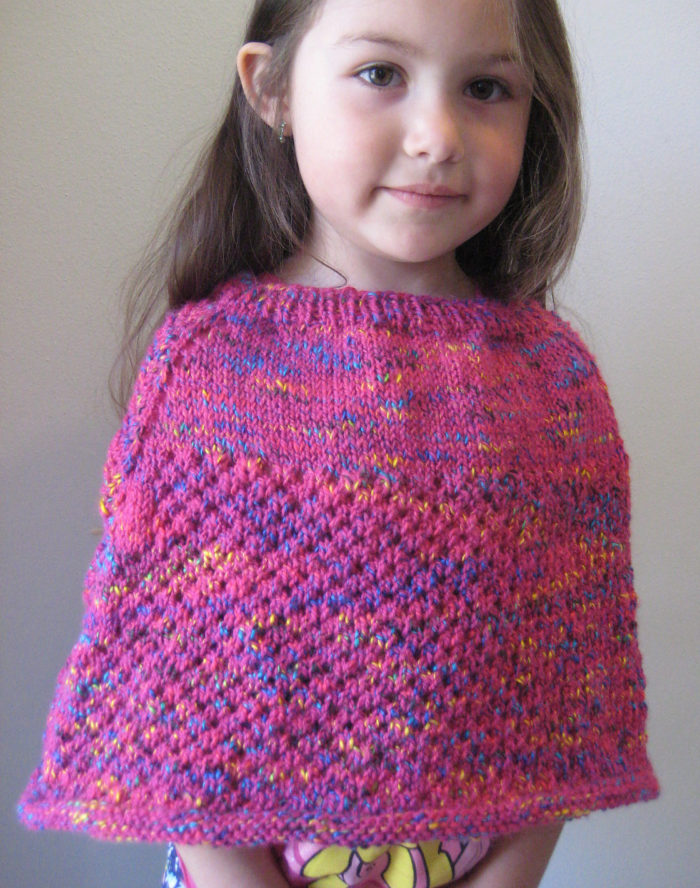 Cellular Stitch Kids' Poncho
Lace poncho in two sizes; toddler (ages 2 – 3) and child (ages 4 – 7). Great with variegated yarn. Designed by Gretchen Tracy of Balls to the Walls Knits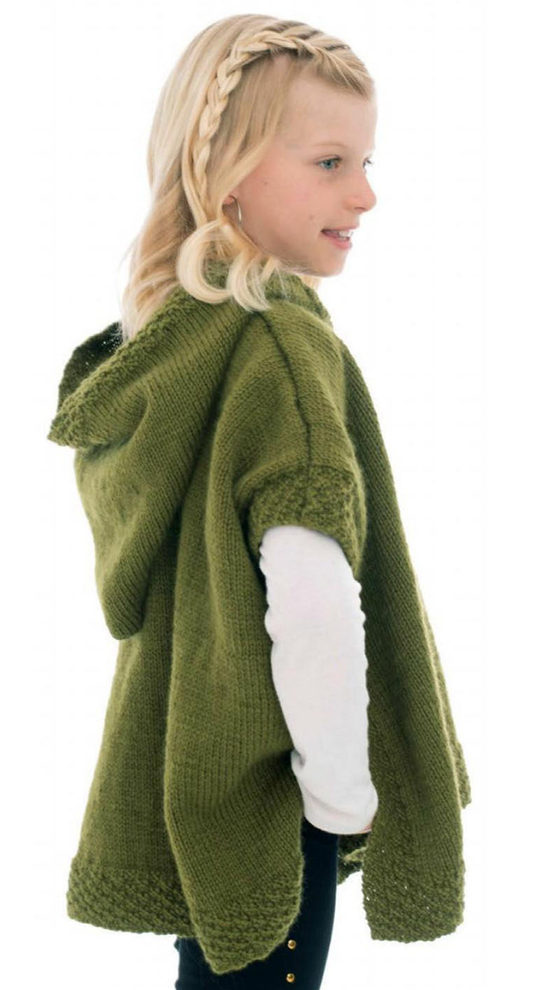 Hooded Poncho
Child sized poncho in stockinette with double seed stitch trim. Worsted weight yarn. 8, 10, 12, 14 years. Designed by Gitta Schrade who provides some video tutorials as well as the written pattern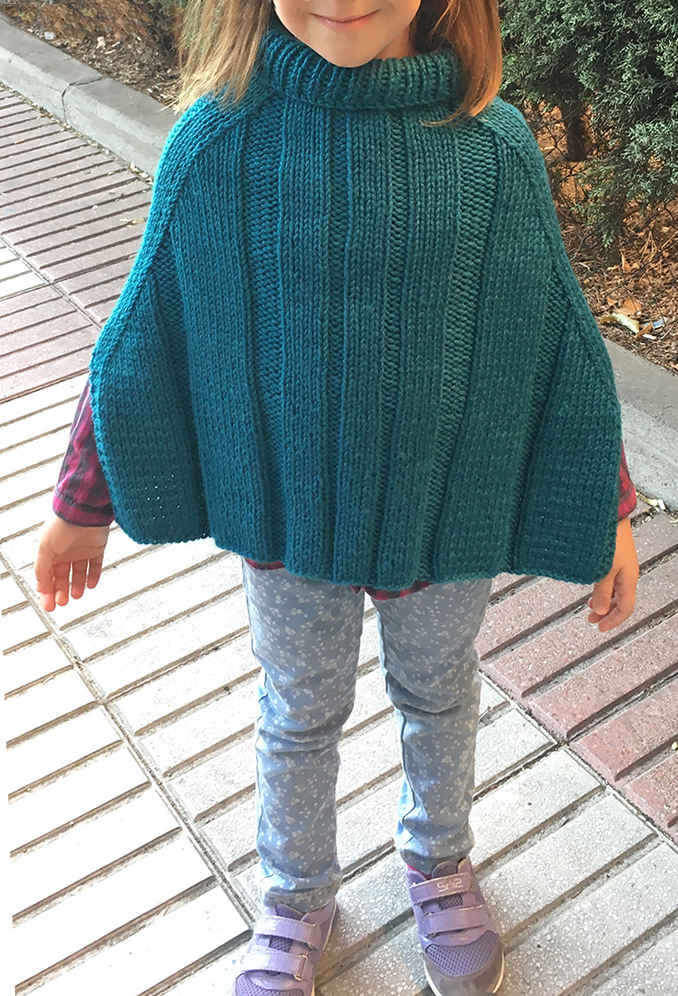 Express Poncho
Child sized poncho with easy ribbed texture. Aran weight yarn. S (2-3), M (4-5), L (6-7) years. Designed by Patricia Marzán. Available in English and Spanish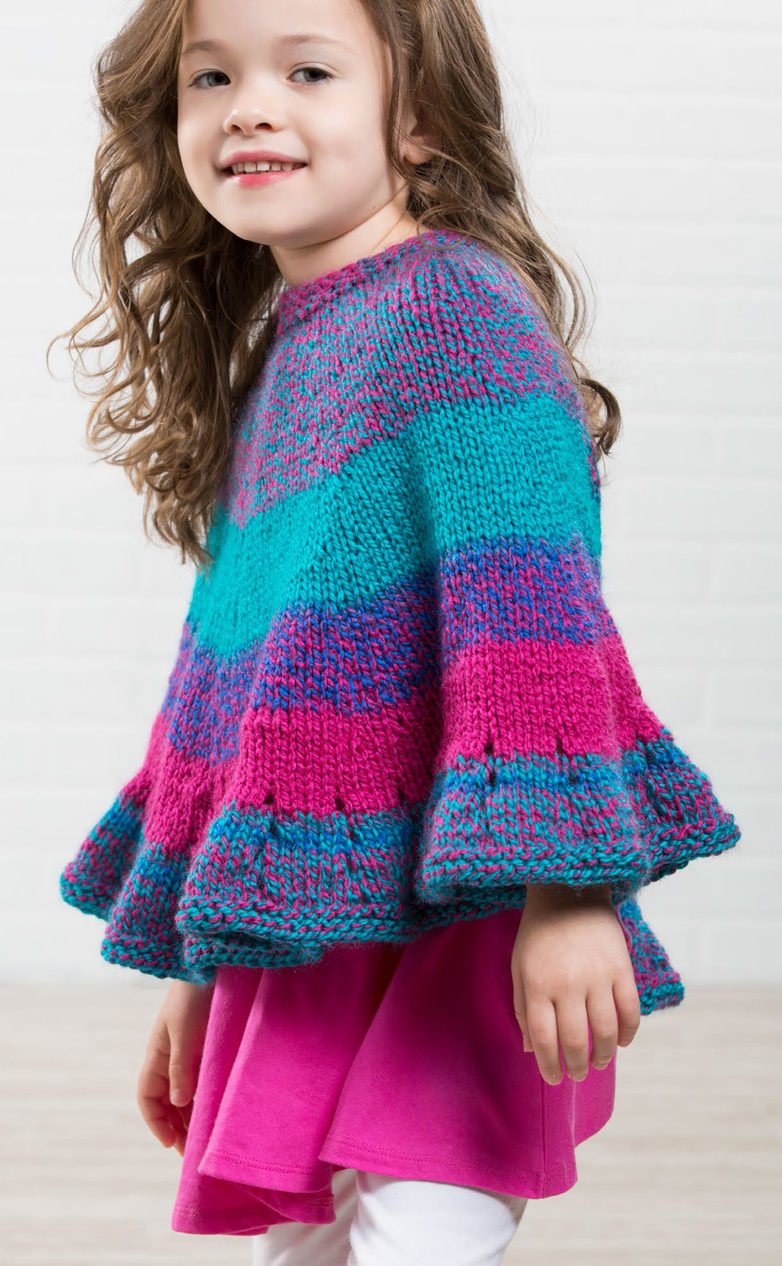 Sweet Tooth Poncho
This poncho is knit in one piece from the top down with a ruffled hem. Sizes 2-4 yrs (6-8) yrs. Designed by Premier Yarns. Perfect for gradient yarn.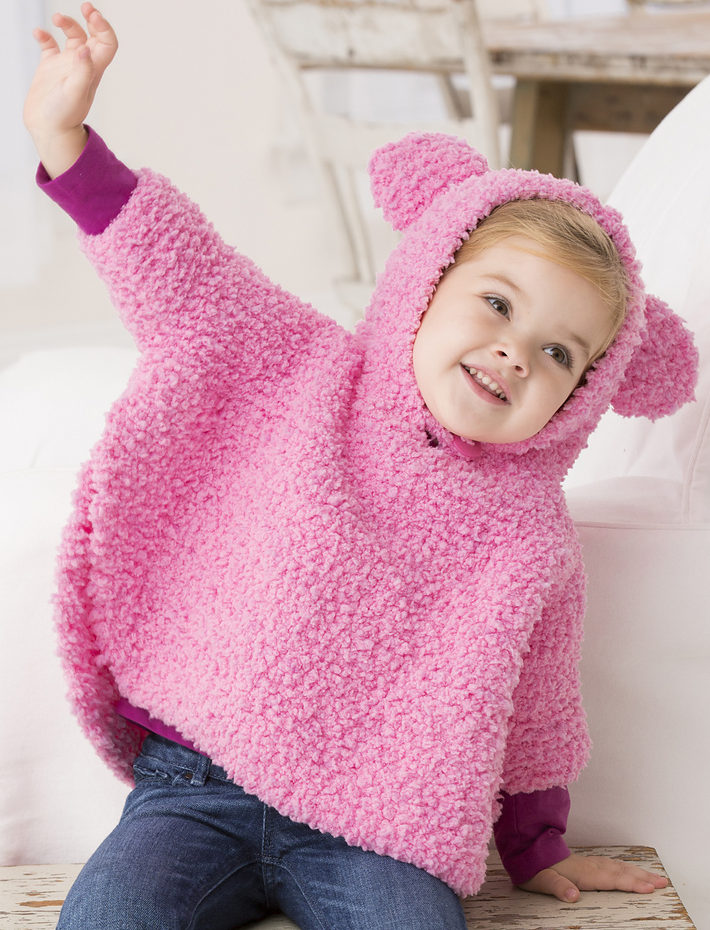 Playful Hooded Poncho
Garter stitch hoodie for babies and toddlers with cute bear ears for fun. Sizes 6 months to 24 months. Designed by Jodi Lewanda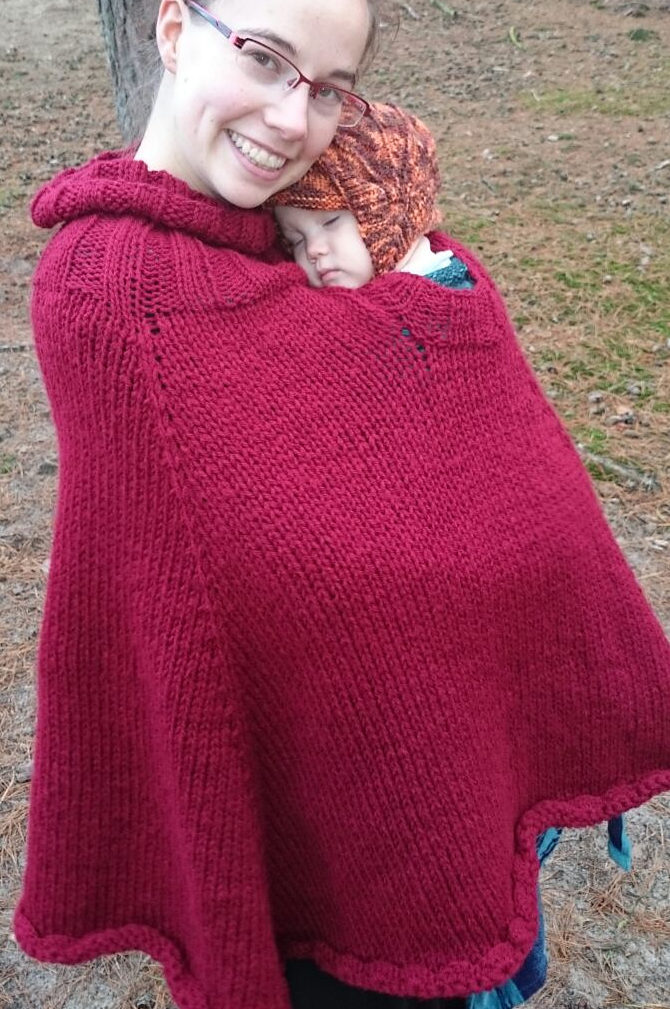 Baby-Wearing Poncho
This ingenious poncho is designed to be worn over a baby carrier with two neckholes for parent and baby to keep both of you warm. Can be worn with baby in front or back. Sizes XS, S, M, L, XL. Aran weight yarn. Designed by Marjolein Loomans. Available in English and Dutch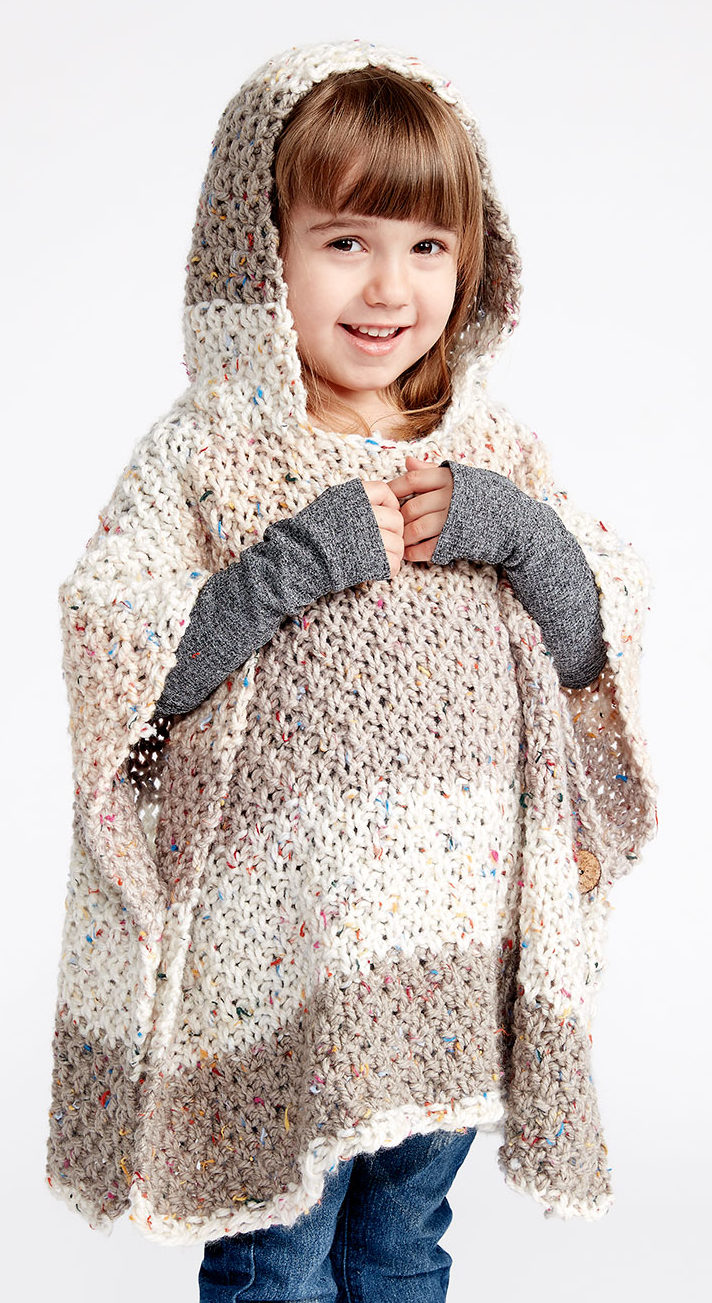 Sprinkles Hooded Child's Poncho
This easy poncho is knit with moss stitch and features a hood and buttoned sides to form armholes. Quick knit in super bulky yarn. Takes just 2 skeins for the recommended yarn. SIZES: To fit chest measurement 2-4: 21″-23″ and 6-8: 25″-26½"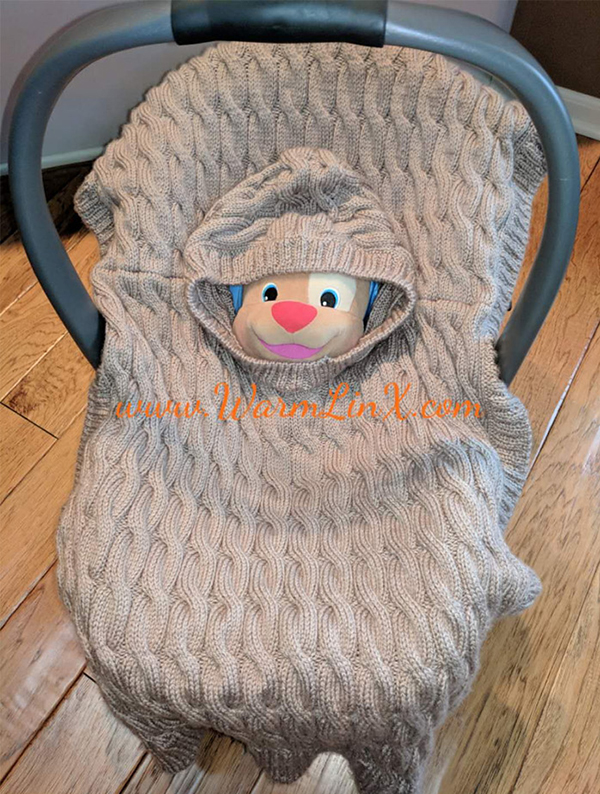 Baby Poncho Blanket
Little Mouse Carseat Poncho is a cabled baby blanket with hood that can be used as a poncho, car seat cover with or without hood, or blanket. Designed by Weiyan Huang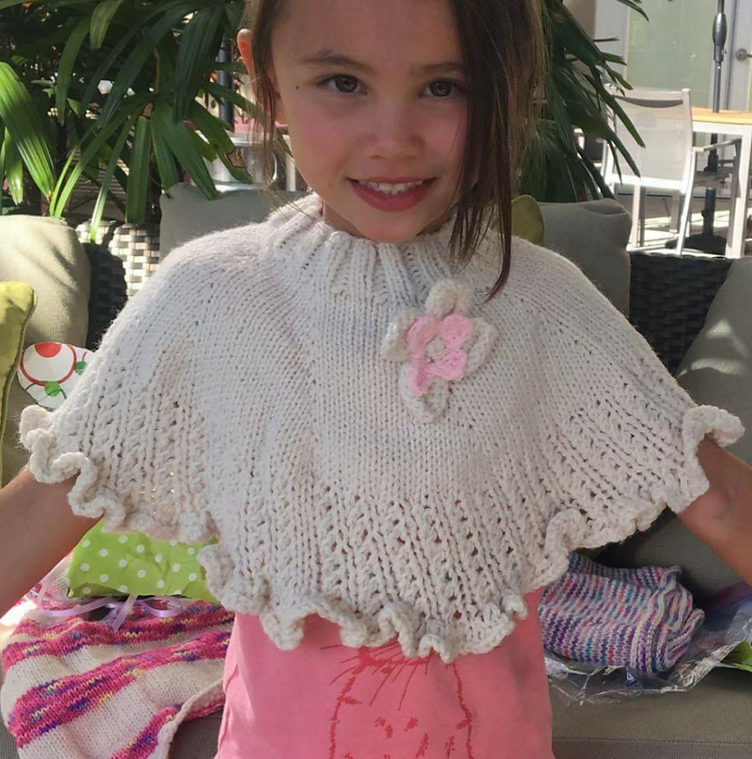 Kiddie Capelet
Child sized poncho with easy lace eyelets and ruffled edge. Aran weight yarn. Designed by Christine Buhagiar. Rated easy by Ravelrers. Pictured project by lkawakami who added a flower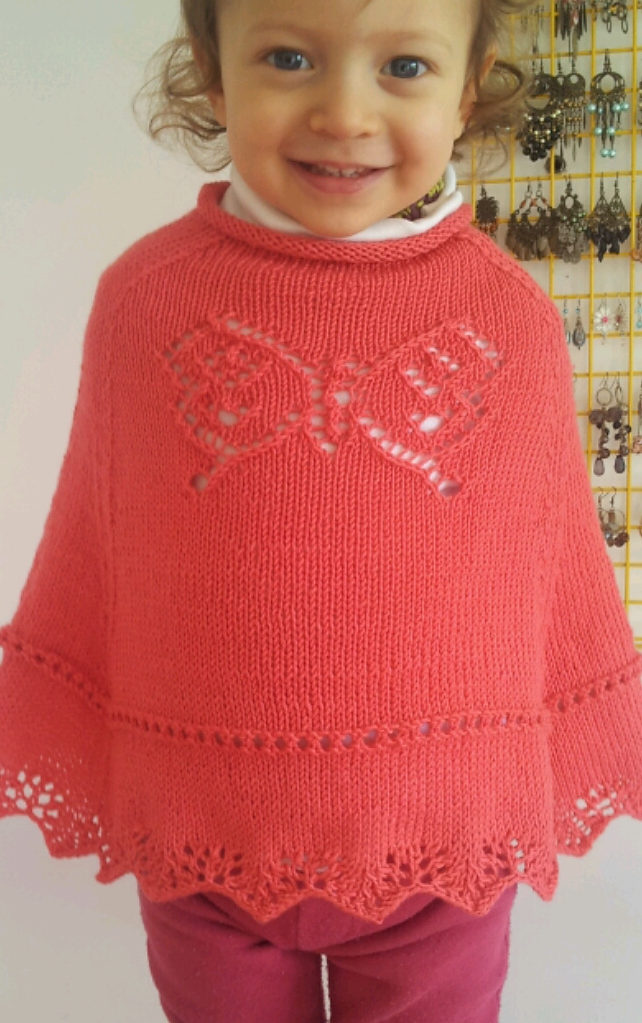 Butterfly Poncho
Poncho for children with lace butterfly motif on front and back. Sizes: 2T (4T, 6, 8, 10) . Designed by Vera Sanon. Pictured project by samisan2012. Available in English and Italian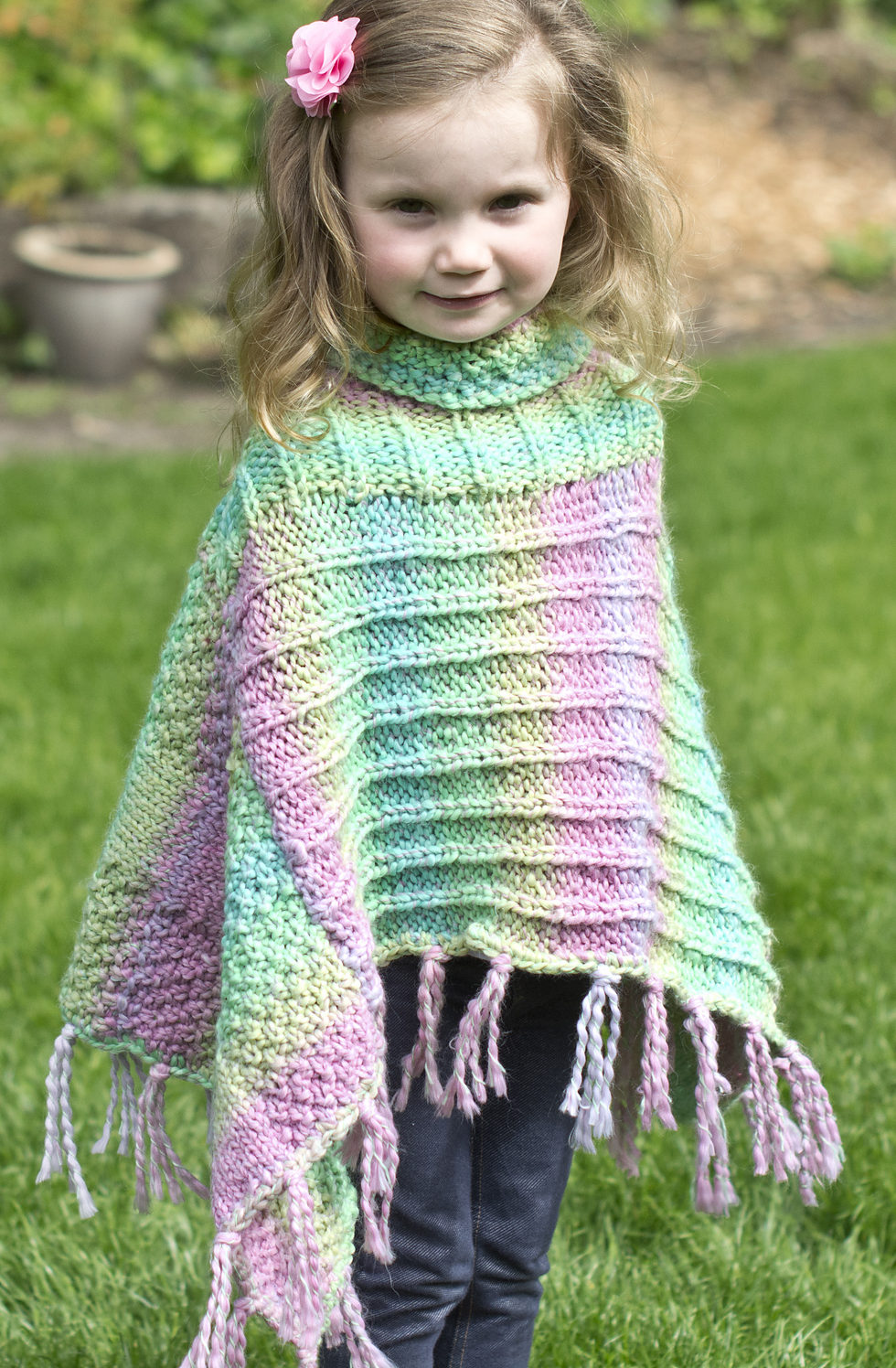 Fun Times Poncho
Poncho is made in two rectangular panels sewn together. Sizes 4-6 (7-9) . Designed by Susie Bonell for Cascade Yarns. Great with multi-colored yarn.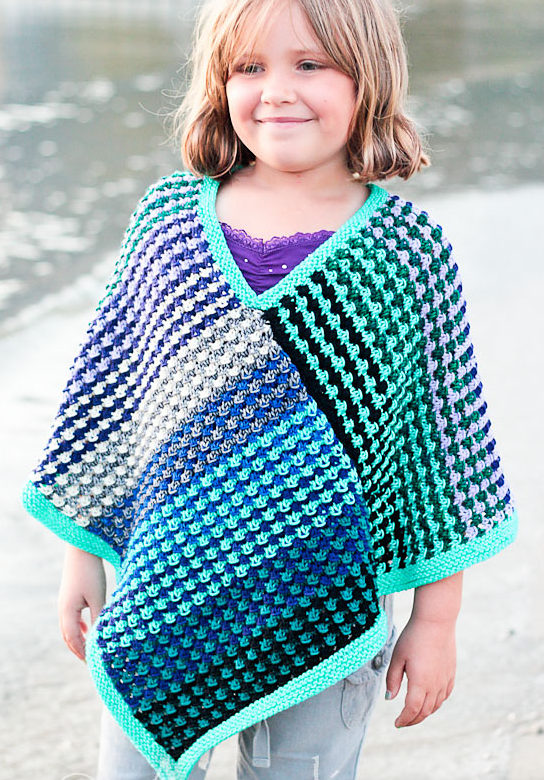 Ice Queen Poncho
This slipped stitch colorwork poncho is a great use for stash or scrap yarn. Sizes Baby through Adult. Designed by Elena Nodel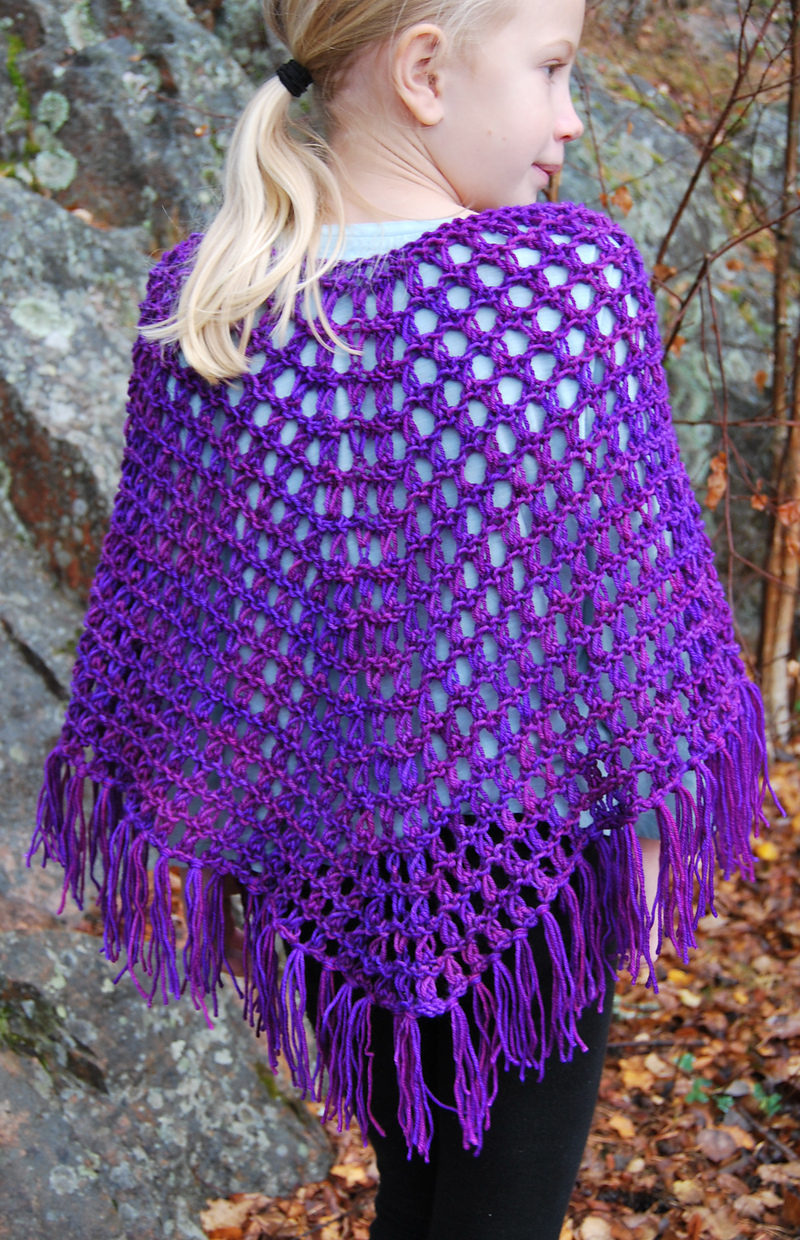 Perfect Poncho
Easy fringed poncho in three sizes from small child to adult. Knit with 4 row repeat lace. Rated very easy by Ravelrers. Quick knit in bulky yarn. Designed by Helen Wilcock. Pictured project by Kulleritova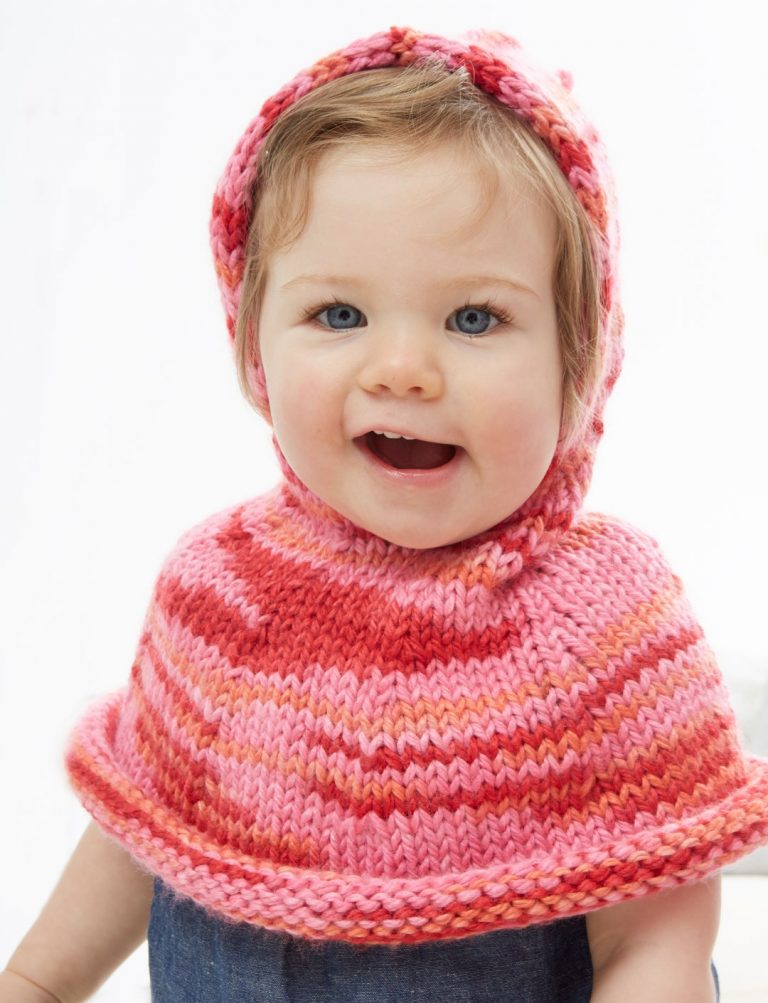 Poncho A Go-Go
This hooded cape from Bernat is knit in multi-color chunky yarn.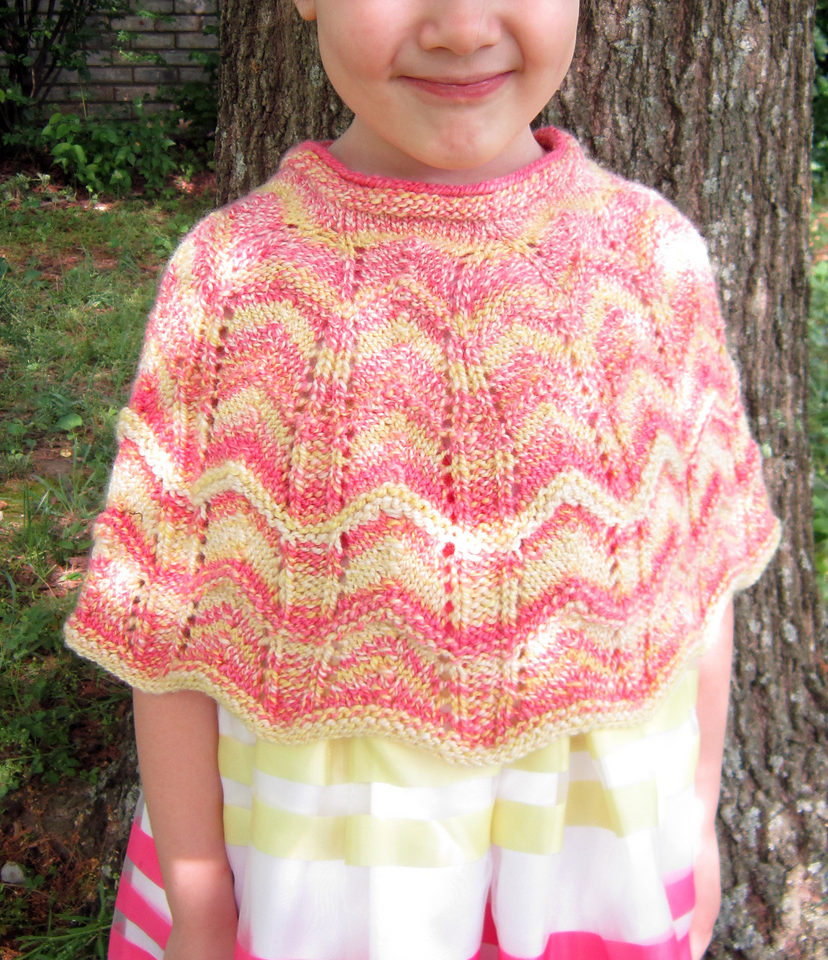 Lacy Poncho
Baby and toddler poncho in chevron lace. Designed by Barbara Kopacek. One size: 18-14 months but looks easily customized. Great with multi-color yarn. Pictured project by lmpowell1 and thingamajig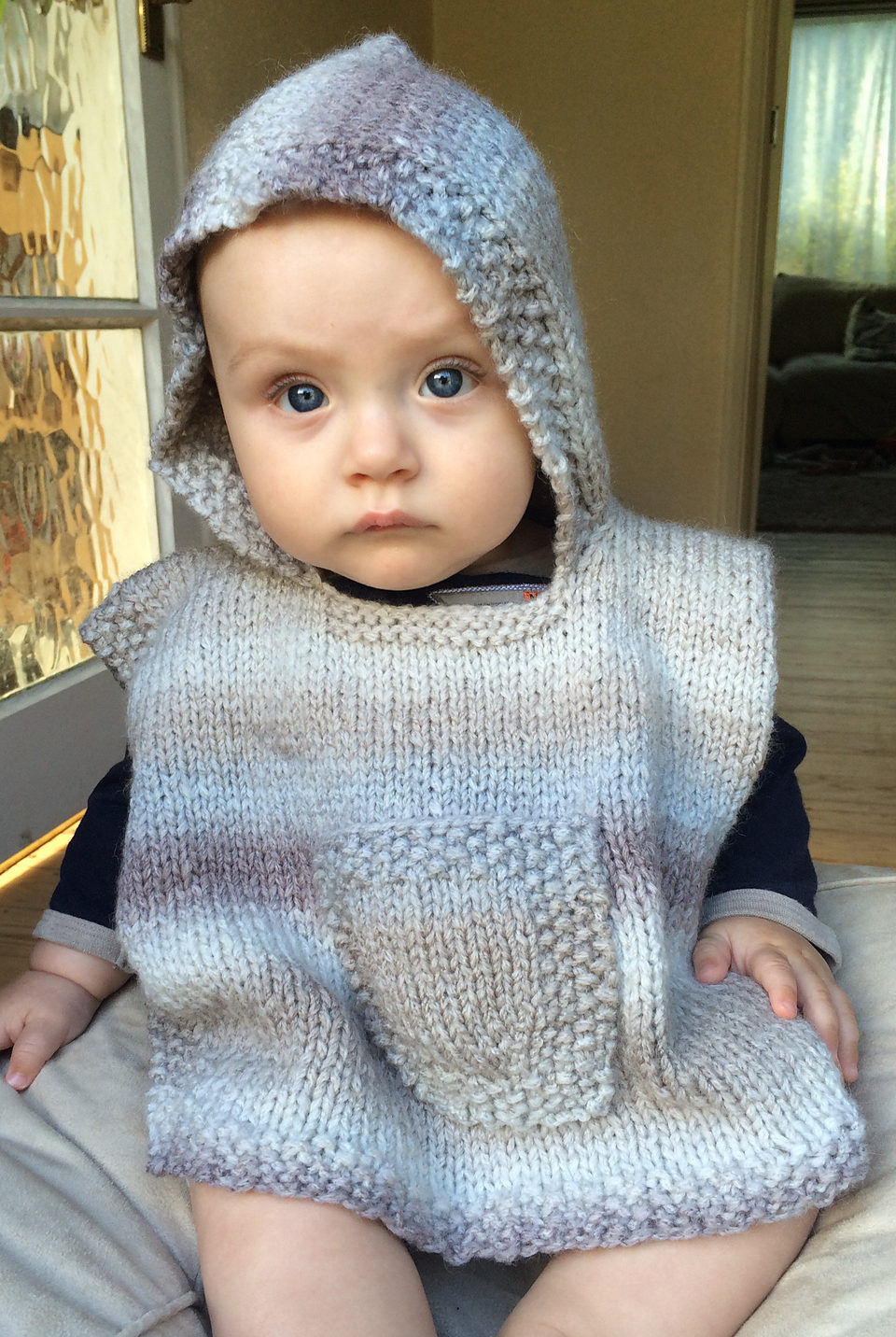 Hooded Baby Poncho
Easy poncho with hood and front pocket by Lion Brand yarn. Sizes 3-6 months (18 months, 3 years). Quick knit in bulky yarn. Pictured project by alwhite48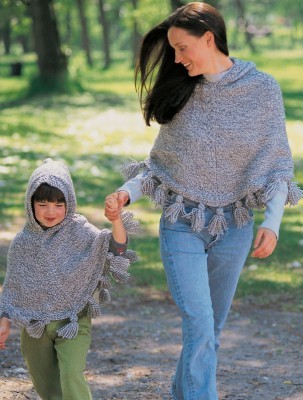 Just Me and Mom Ponchos
Yarnspirations matching ponchos feature hoods and fit child 4-8 yrs and women 32″-38″ (81-97 cm) bust.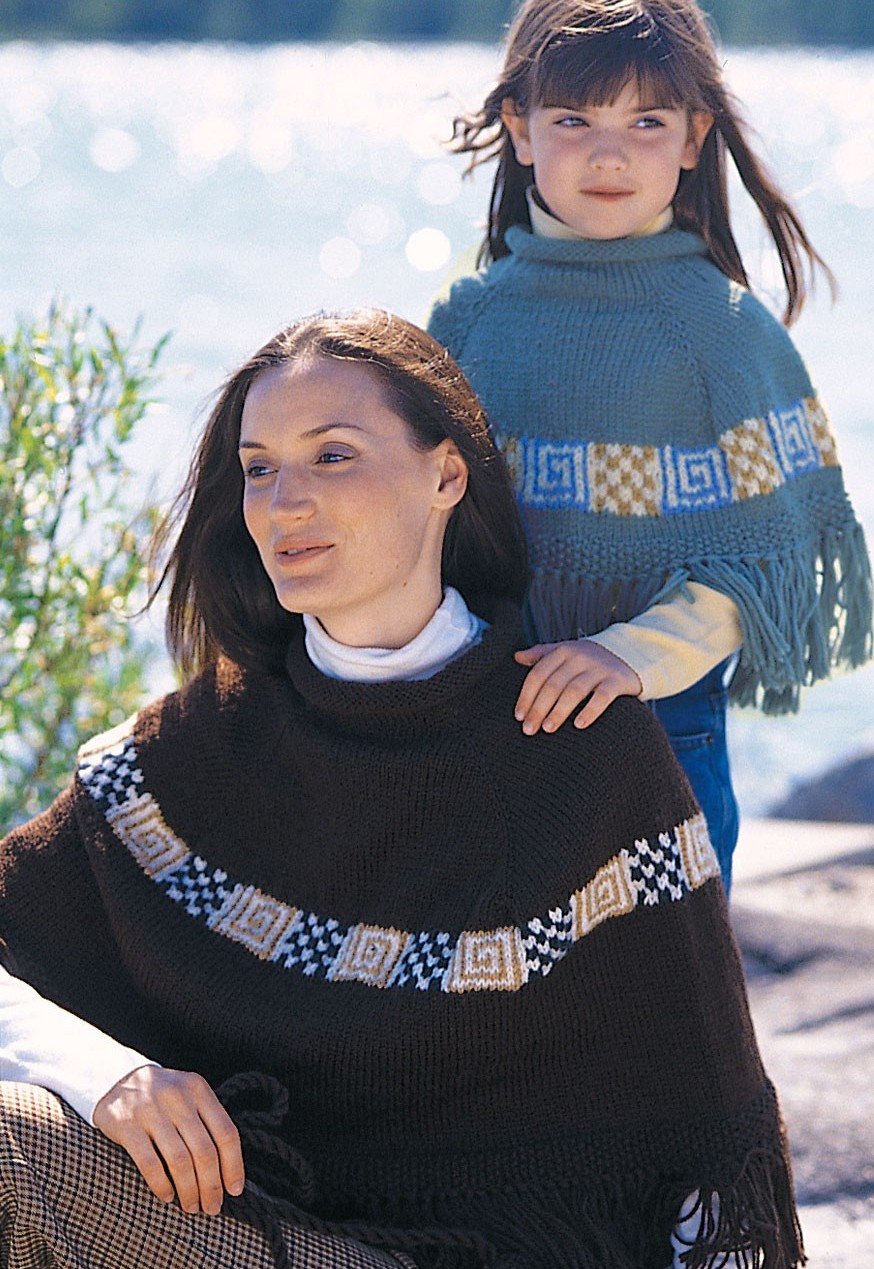 Peruvian Spirit Ponchos
Yarnspirations design features bold, simple geometric pattern. Sizes: child 4-8 yrs or women 32-38 in (81-97 cm) bust.
Patterns for Purchase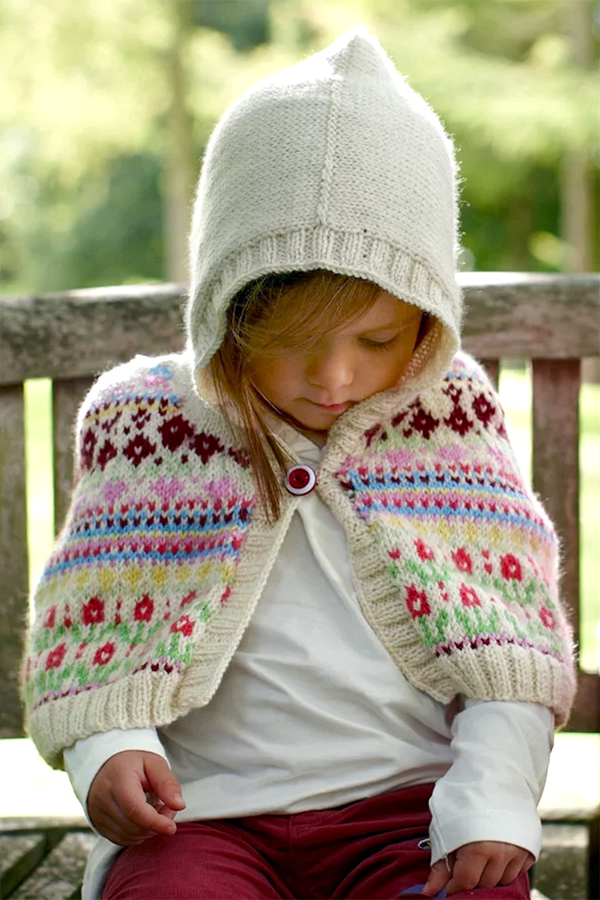 Flora Cape
Child's hooded poncho with colorful fair isle flowers, hearts, and more. To Fit Age: 2 Years to 9 Years. Designed by Willow & Lark. DK weight yarn. Matching cardigan pattern also available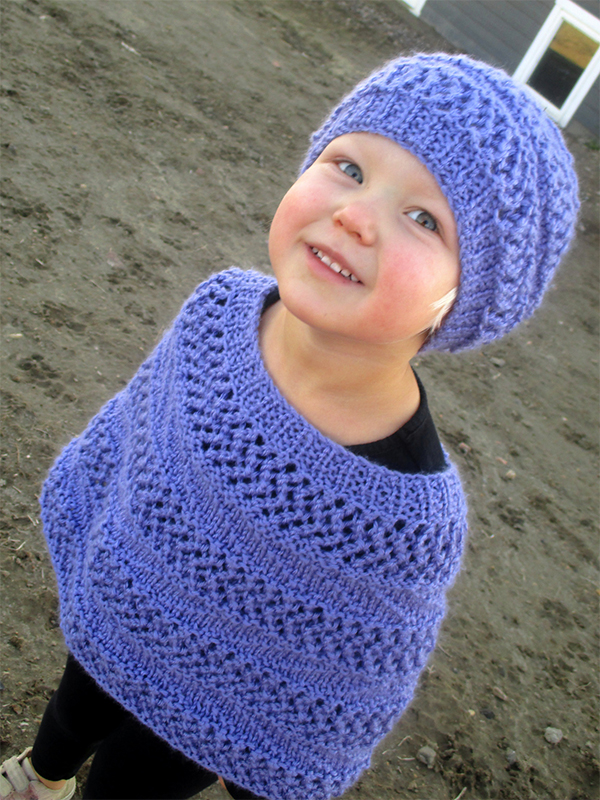 Dream Poncho
Knit in alternating sections of broken rib and chevron mesh lace. In baby and child sizes: newborn, 3 mths, 6 mths, 12 mths, 2T, 4 yrs, 6 yrs, 8 yrs, 10 yrs. Aran weight yarn. Designed by Lara Simonson. Matching hat pattern also available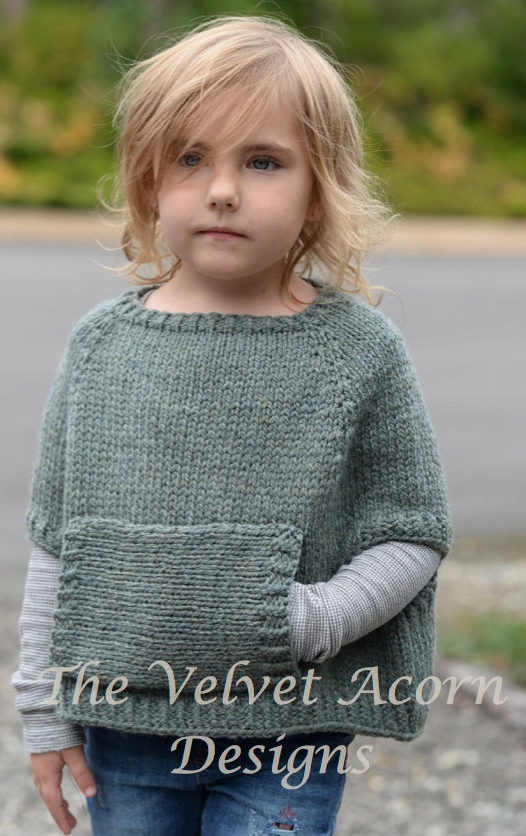 Odia Cape Pullover
Adult and child sizes: 2/3, 4/5, 6/7, 8/9, 10/11, 12/14, Small, Medium, Large sizes. Poncho with armholes and front kangaroo pocket. Quick knit in bulky yarn. Designed by The Velvet Acorn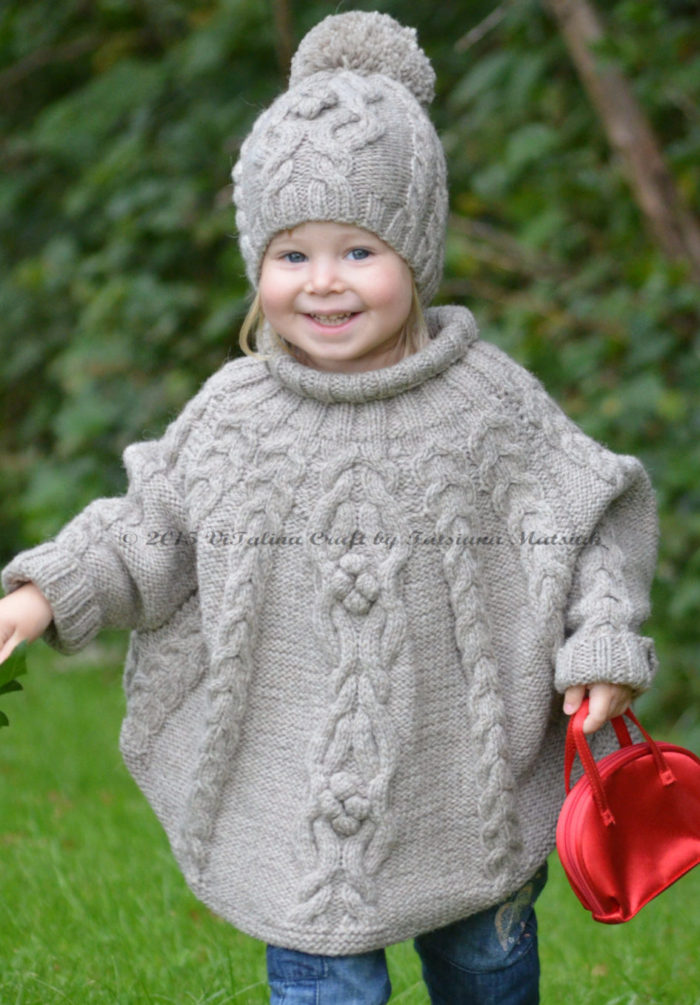 Temptation Poncho
Cabled poncho with sleeves and matching hat. Toddler and child sizes 2–3 years; 4-5 years; 6-7 years; 8-9 years; 10-12 years. Bulky weight yarn. Designed by Tatsiana Matsiuk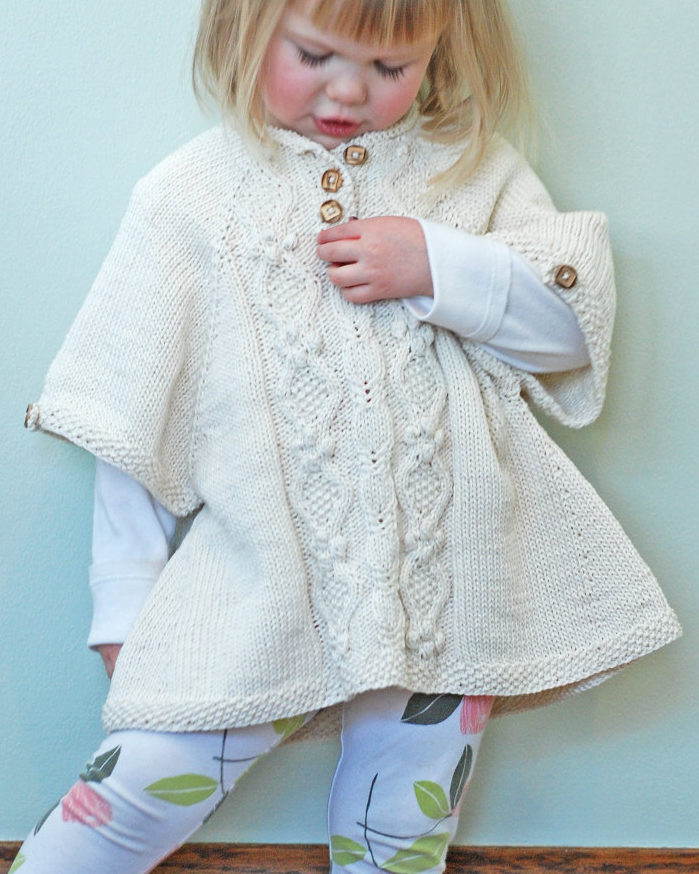 Little Tourist Poncho
Tunic length, comfy, roomy, poncho with sleeves and cable panel. Baby and child sizes from 3 months to 10 years. Designed by Jenni Lansing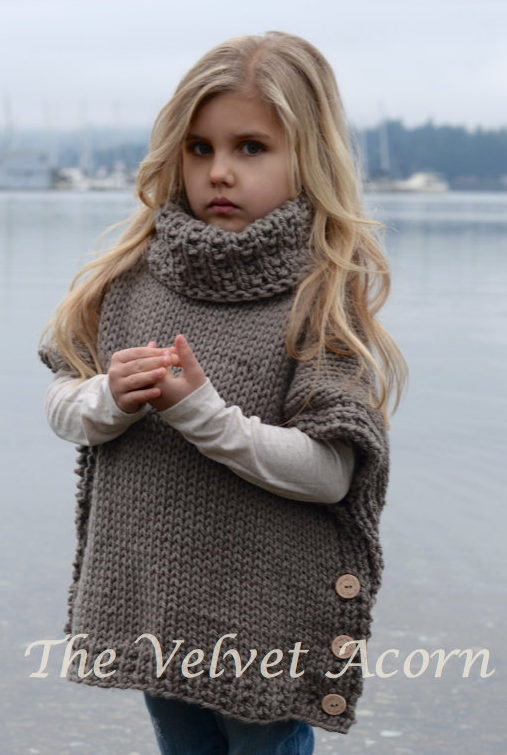 Azel Pullover
Adult and child sizes: 2, 3/4, 5/7, 8/10, 11/13, 14/16, adult S/M, adult L/XL sizes. Quick knit in super bulky yarn. Designed by The Velvet Acorn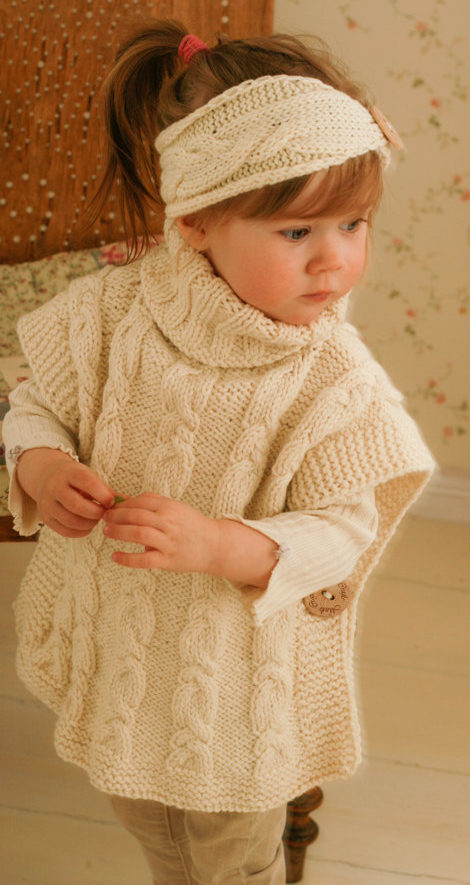 Robyn Poncho and Headband
Matching cable set. Poncho sizes: 12-18m/2-3y/4-5y/6-7y/8-10y/adult woman M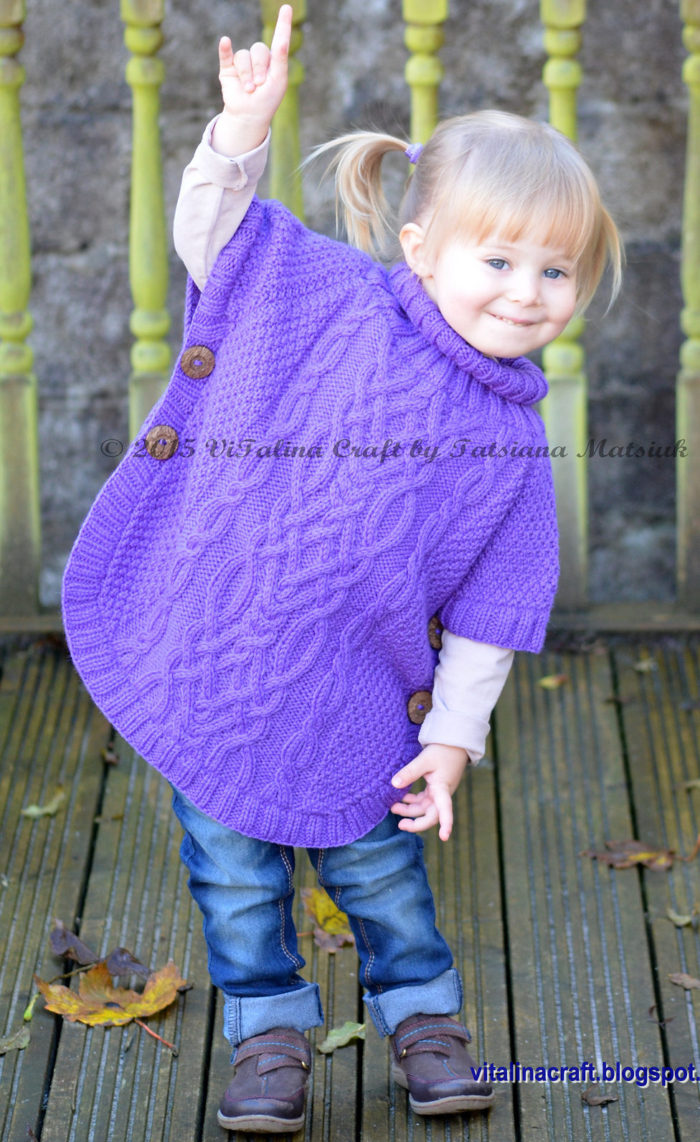 Cable Fantasy Poncho
Toddler and child sizes 2–3 years; 4-5 years; 6-7 years; 8-9 years; 10-12 years. Worsted weight yarn. Designed by Tatsiana Matsiuk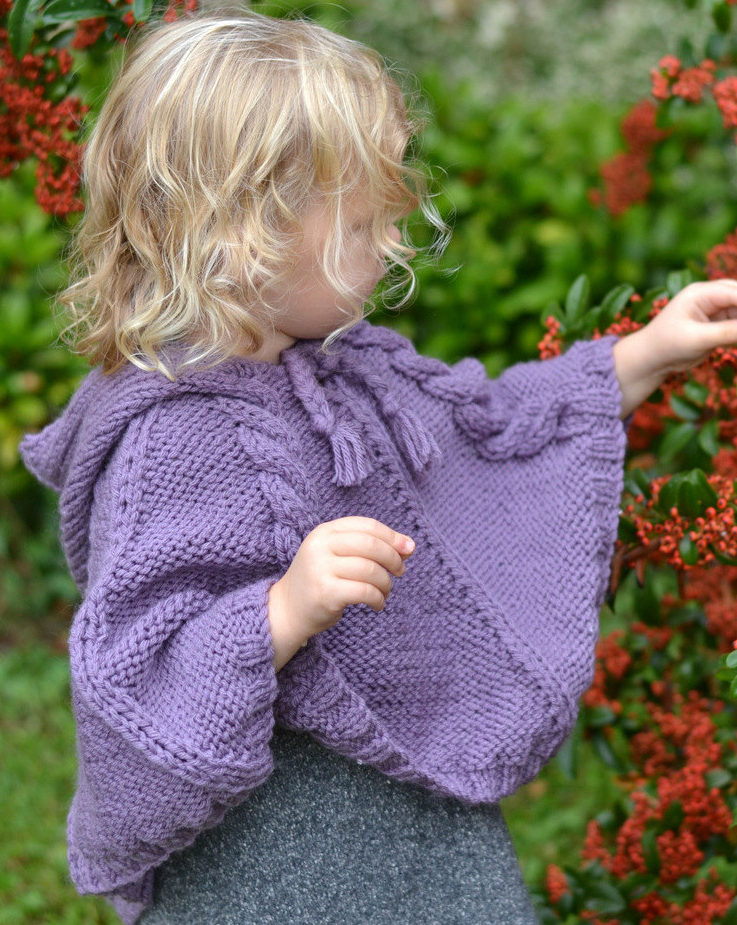 Hooded Cable Poncho for Babies and Children
Chunky knit cabled poncho with a cozy hood for sizes 0-6 months, 6-12 months, 1-2 years, 2-3 years. Designed by Jessica Rose Handknits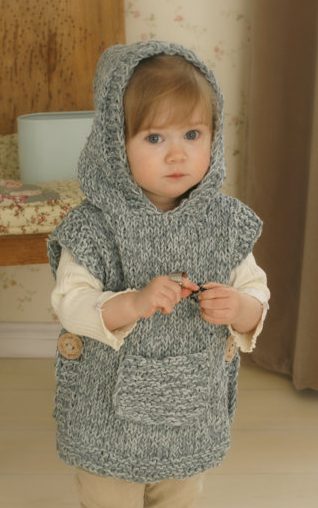 Chunky Hooded Poncho with Optional Bunny Ears
Sizes include toddler, child, adult woman sizes. Additional directions for making a version lop eared bunny poncho.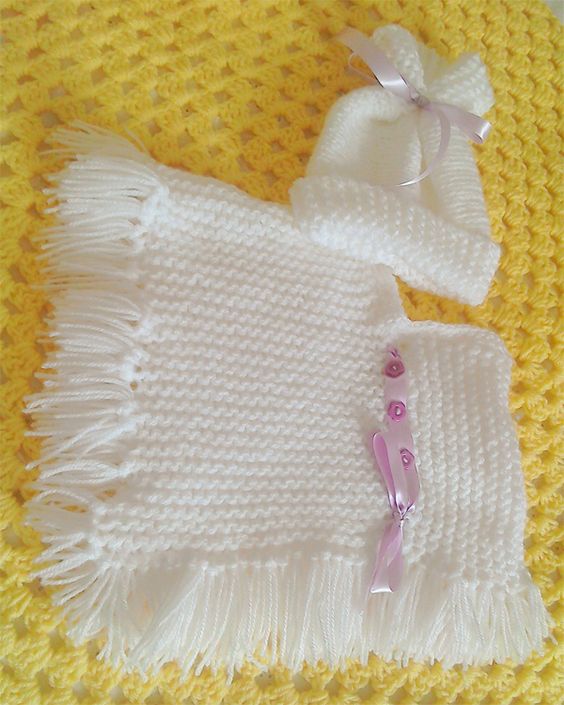 Garter Stitch Baby Poncho and Hat
Easy baby poncho using garter stitch with a matching hat. Two options for hat – envelope hat and beanie. Options for poncho with or without fringe.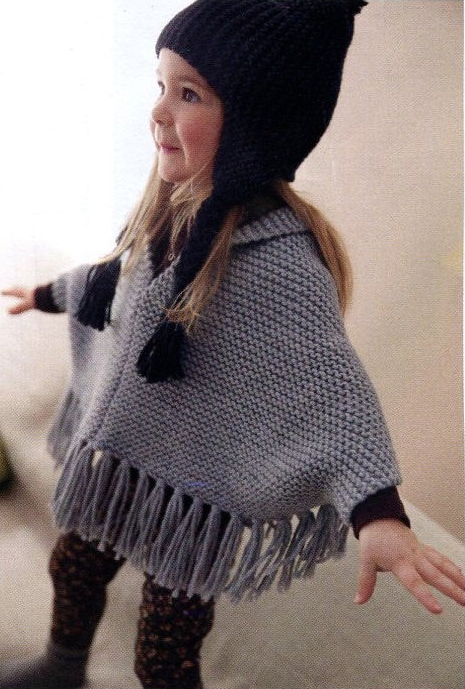 Easy Kid Poncho and Ear Flap Hat
Fringed poncho with sleeves in garter stitch with hat are quick knits in bulky yarn. Sizes 2, 4, and 6 years.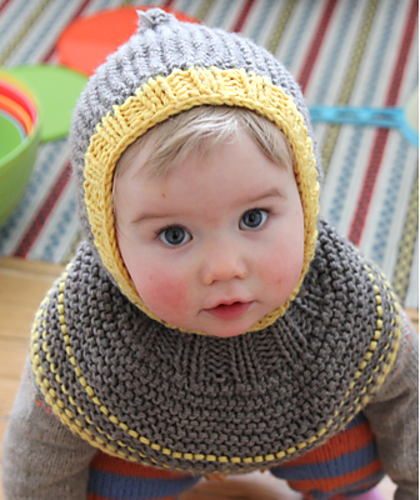 Cool Kid Hooded Cowl
This adorable hood and cowl combo is one of 27 patterns in Sweet Pickles : 27 Adorable Knits for Babies and Toddlers. Sizes 1 to 6 years.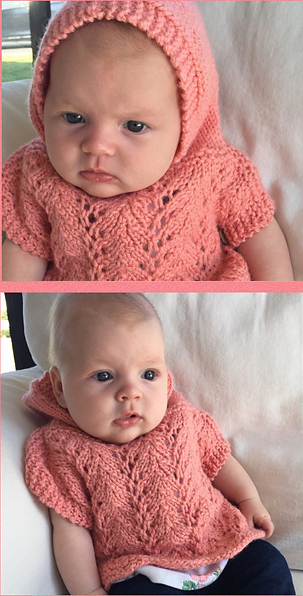 Wee Wrap
Susan Barstein's hooded lace poncho comes in baby, toddler, child sizes. Baby (0-12 months), 12-24 months, 2t-4t, 5-7 years