Butterfly Knitting Patterns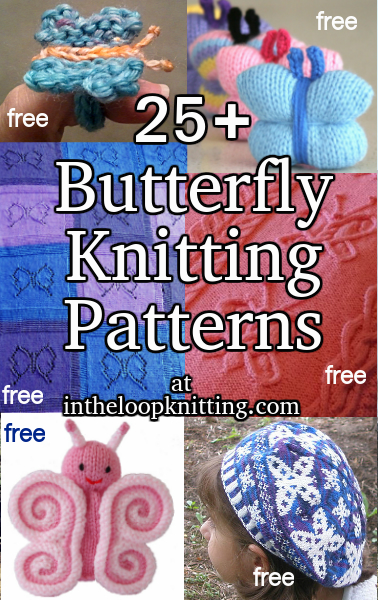 To get the knitting patterns, scroll down the page to the individual pattern you want and click on the link to that pattern.
These patterns are not my designs but links to other designers who have generously shared their patterns. If you have questions about how to knit a specific pattern, please contact the designer directly.
All links on this site are for informational purposes, but please note that some links are to affiliate sellers that pay me a small commission on purchases.

Butterfly Socks
These socks feature butterfly motifs in lace, cables, and beads. Sizes Small, Medium, Large. Fingering weight yarn. Designed by Tuulia Äijö. Pictured projects by designer and pennymoney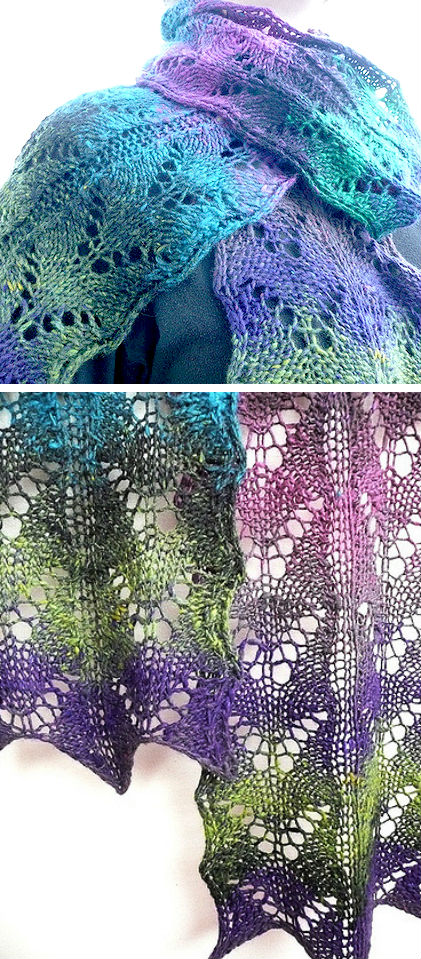 Wings of Desire Scarf
This scarf features eyelet lace butterflies and was designed to showcase multicolored yarn. Designed by Susanna IC
Butterfly Ring
A tiny butterfly about 1 inch in size adorns an i-cord ring. Designed by Susan B. Anderson. Rated easy by most Ravelrers. Pictured projects by sumaq and knittingwithwords. (The pattern page seems to be missing the photos but the pattern is there.)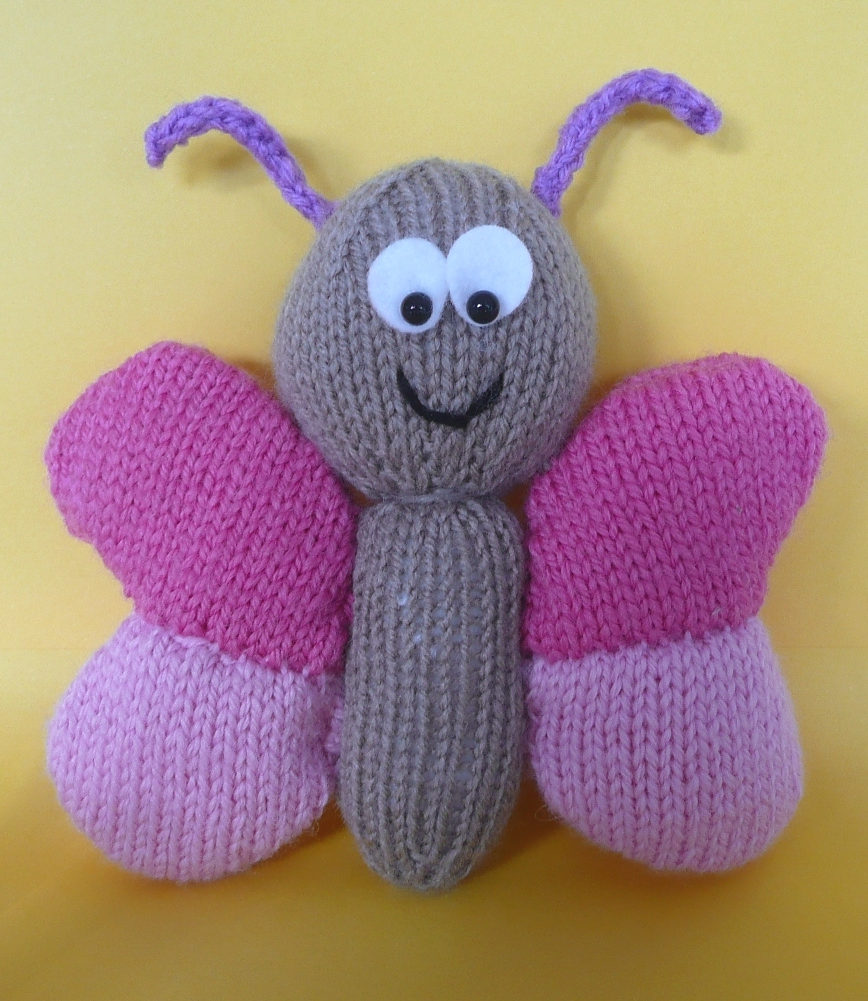 Kookla Critter – Butterfly
This butterfly toy is designed by Amalia Samios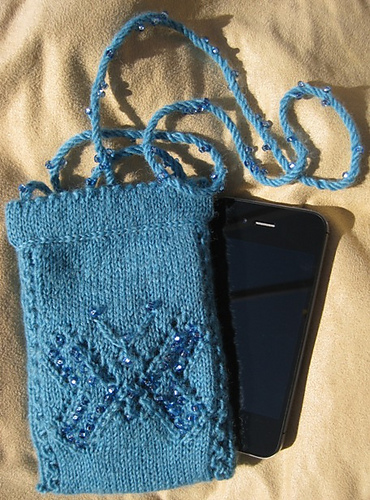 Butterfly Phone Purse
This small bag is just the right size for a phone or other small valuables. The front is adorned with a lace butterfly with optional beads and the back has a small pocket. Designed by Wendy Gaal.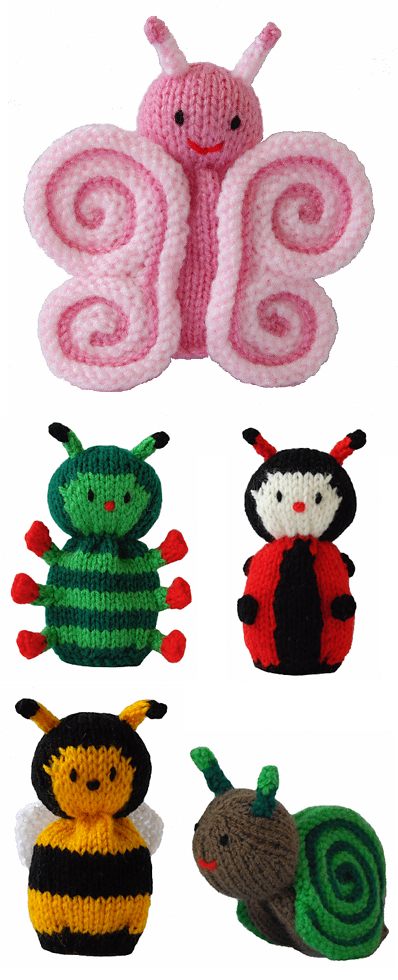 Summer Garden Butterfly and Cutie Crawlies
This set from Knitables features a butterfly, caterpillar, ladybug, bee, and snail. Finished Height Approximately 12cm. The butterfly's wings are created ingeniously by rolling knitted fabric. Great use for scrap yarn. Designed by Sarah Gasson of Knitables.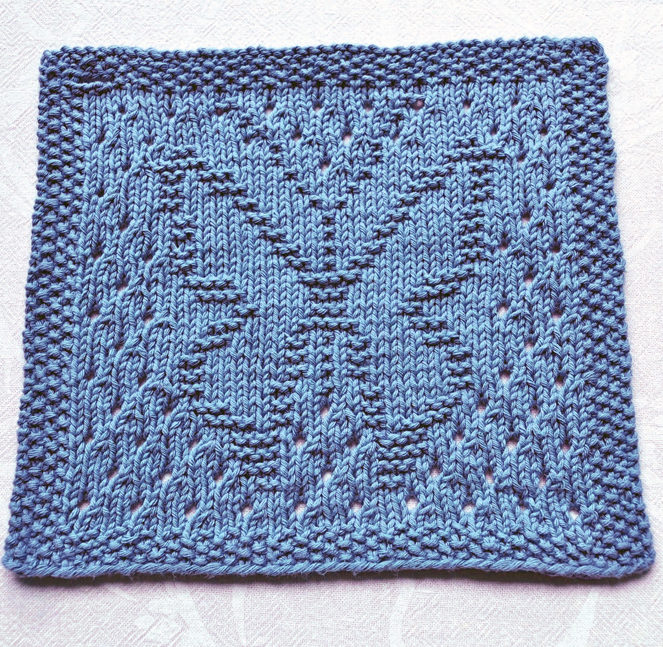 Lacy Butterfly Cloth
Dish or wash cloth with a butterfly motifi in purl stitches on a eyelet lace background. Designed by Rachel van Schie. Pictured project by Rosenresli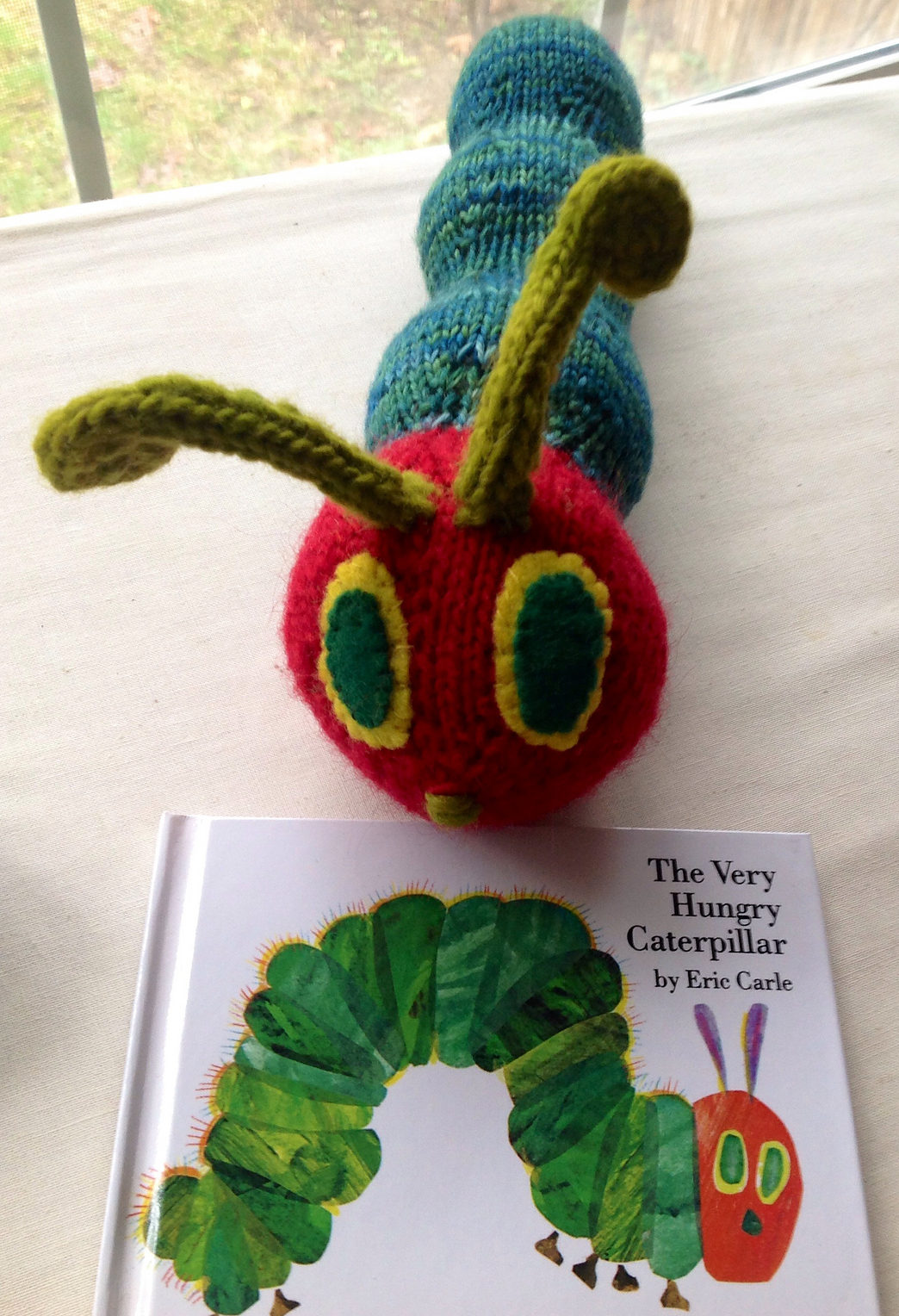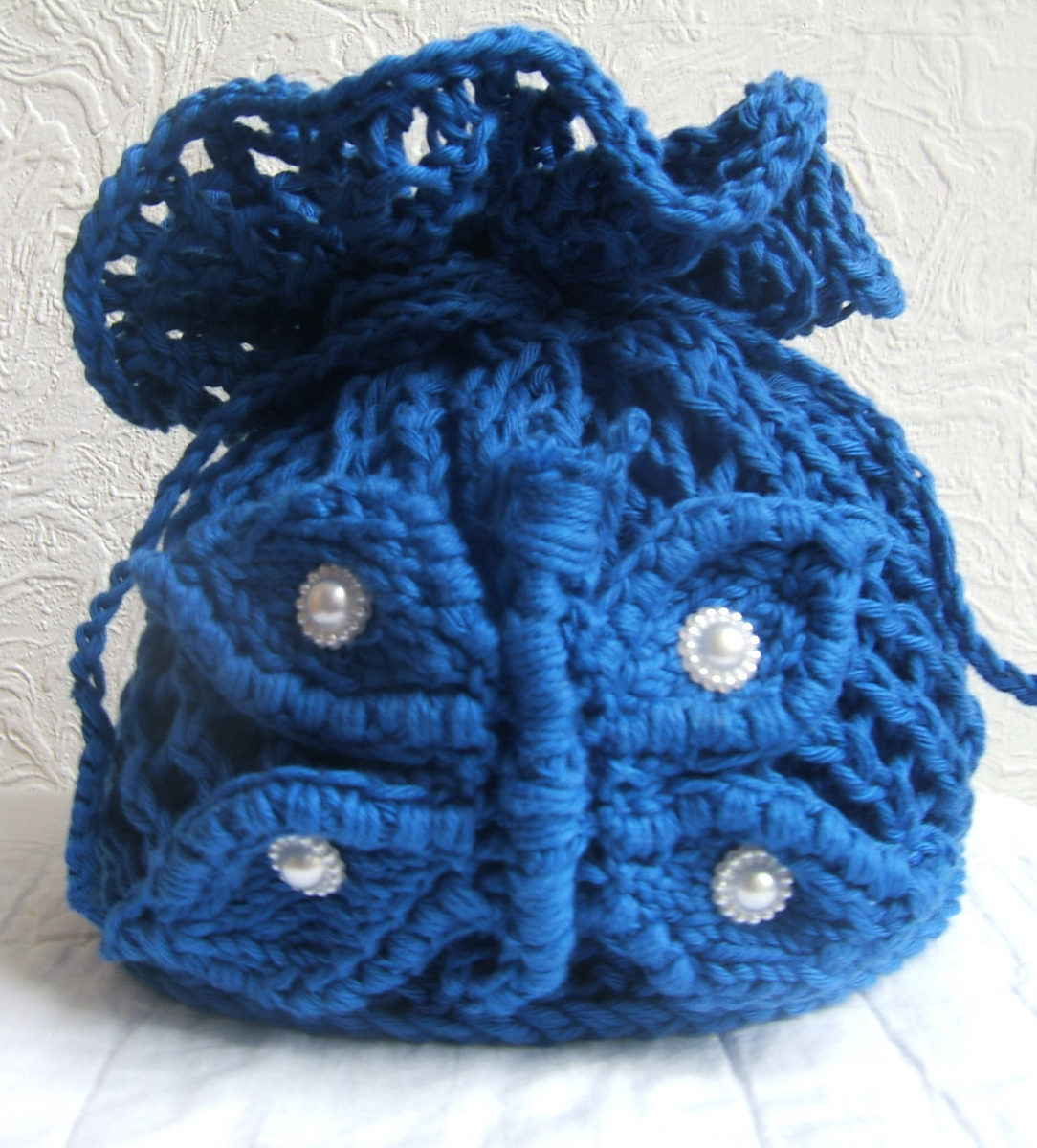 Butterfly Posy Bag
Drawstring bag with butterfly. The butterfly is knitted separately. Designed by Lorraine Hearn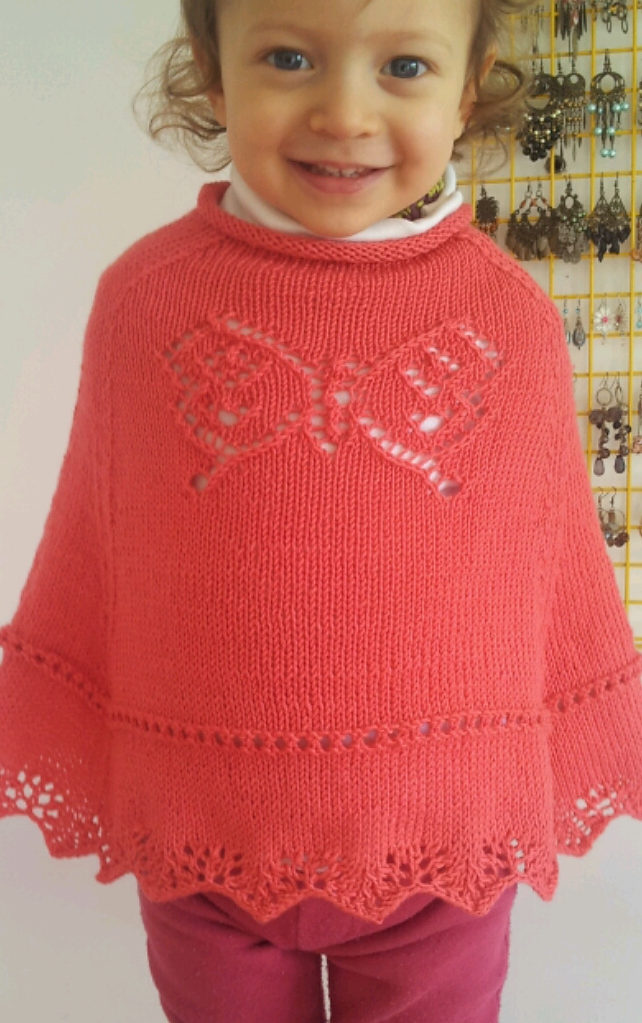 Butterfly Poncho
Poncho for children with lace butterfly motif on front and back. Sizes: 2T (4T, 6, 8, 10) . Designed by Vera Sanon. Pictured project by samisan2012. Available in English and Italian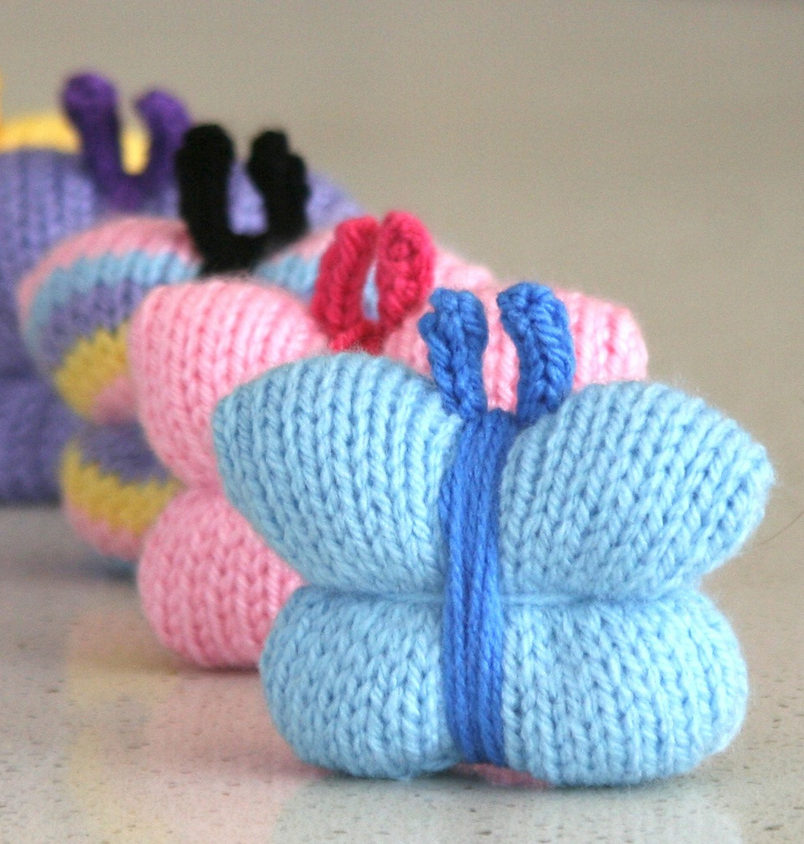 Quick and Easy Butterfly
These butterfly softies are about 8cm (3 ") wide.The designer Amalia Samios says this pattern is suitable for beginners and also allows the selling of the finished goods based on her patterns. Great use for scrap yarn.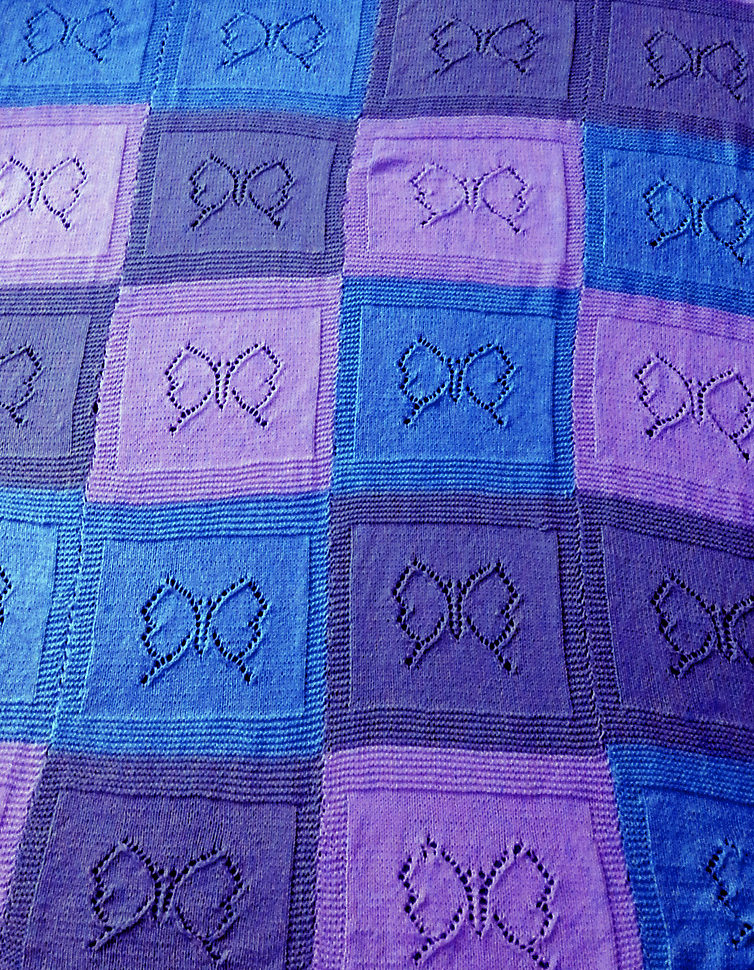 Flutterby Baby Blanket
Blanket with lace butterfly blocks. Designed by by Kerry Gauthier.

Butterfly Baby Blanket
This blanket features an extra wide rib pattern with a row of lace butterflies at each end. DK yarn. Finished size: Length: 37.5 inches/95 cm, width: 29 inches/74 cm.

Butterfly Baby Blanket
The design of this throw was inspired by the Eastern Tailed Blue Butterfly.  Width across upper left wingtip to upper right wingtip: 51″ Length of butterfly body (center): 27″


Catching Butterflies Mitts
Fingerless mitts with stitch reminiscent of flying butterflies and butterfly appliques knit separately and sewn on. Designed by Tiny Owl Knits.

Topsy-Turvy Chrysalis to Butterfly
This toy flips inside-out turning from a chrysalis into a Monarch butterfly on a leaf. One of the 12 patterns in Topsy-Turvy Inside-Out Knit Toys by Susan B. Anderson. Pictured project by Scitchr

Monarch Butterfly
The finished butterfly is approx 4 inches wide, about the size of a real monarch butterfly. This pattern comes with two versions. You can either knit a flat butterfly, to use for applique, or knit a 3-dimensional butterfly, which would make a lovely toy or mobile.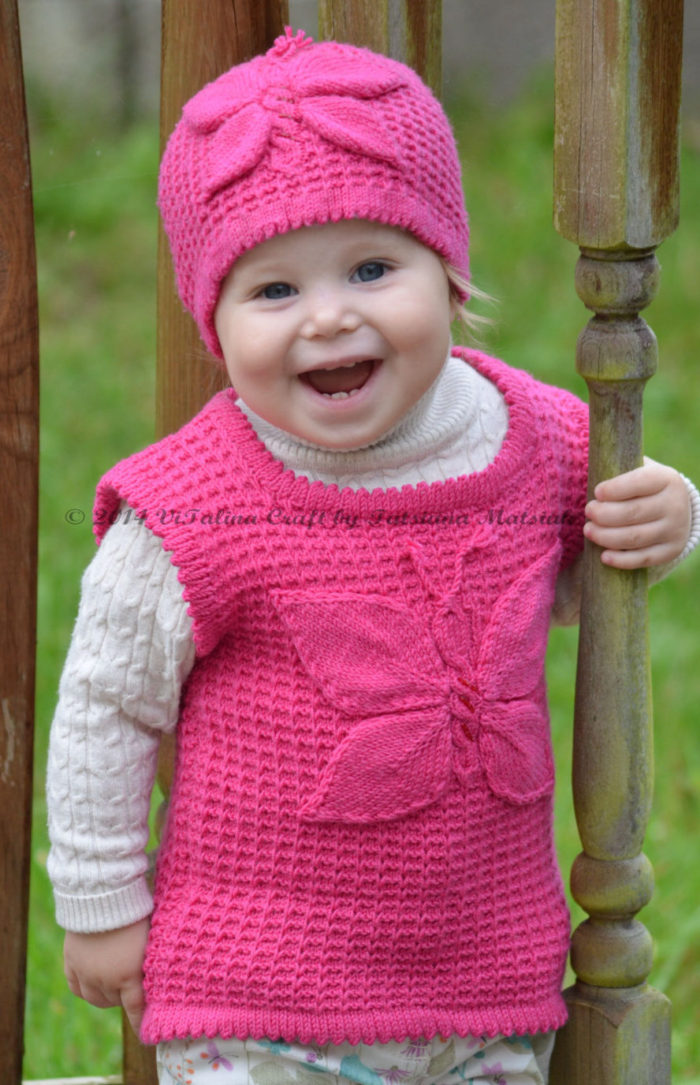 Lady Butterfly Hat and Vest for Babies and Children
The hat pattern is written for seven sizes: 0-3 months, 3-6 months, 6-9 months; 9-12 months; 18-24 months; 2-5 years and 6-10 years. The vest pattern sizes are 6-9 months; 9-12 months; 18-24 months; 3-4 years; 5 years.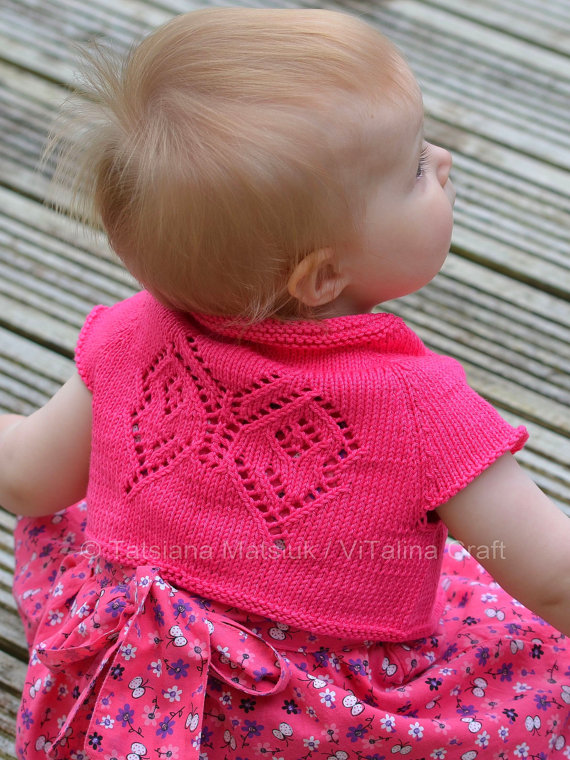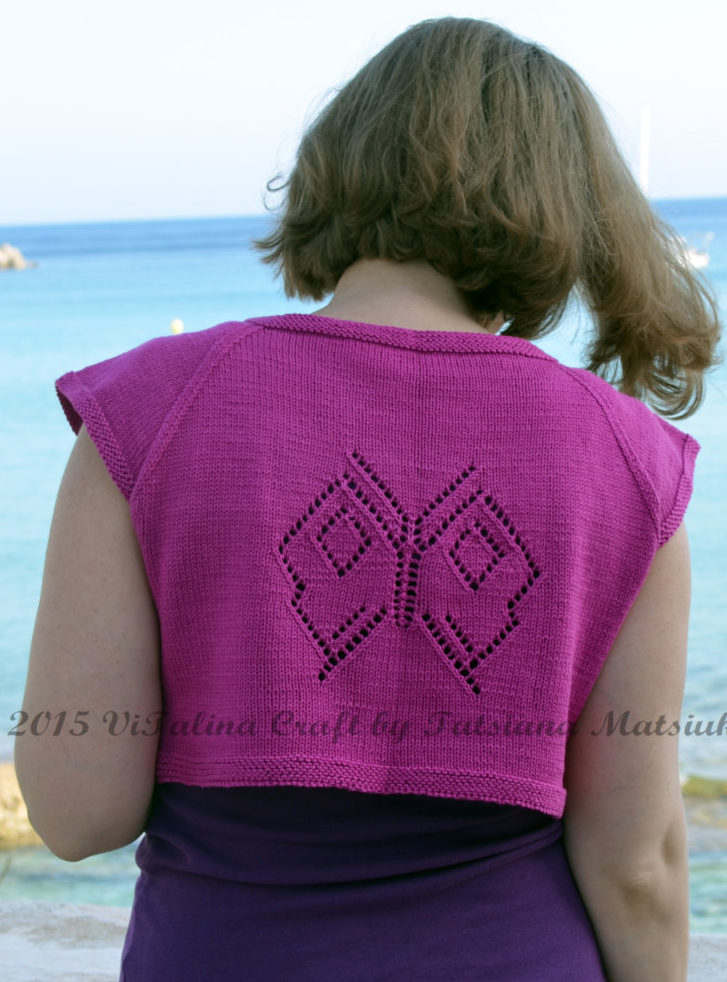 Papillon Bolero
This beautiful bolero is knitted bottom up as one piece with no seams. It has beautiful lace butterfly pattern on the back and raglan sleeves. Child pattern is written for seven sizes: 9-12 months; 12 – 18 months; 2 years, 3 – 4 years; 5 – 7 years, 8 – 10 years, 11 – 12 years. Adult sizes XS, S; M; L; XL, XXL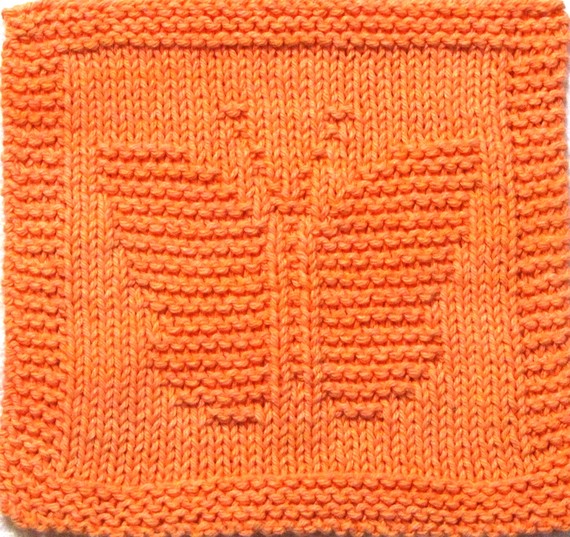 Butterfly Wash Cloth
Finished Size: 7″W X 7 1/4″ H (18cn X 18.5 cm)
Just a Butterfly Shawl
Unique lace shawl shaped like butterfly by Sharon Winsauer, Size: Approximately 47 x 36 inches. Pictured project is by bigsnakes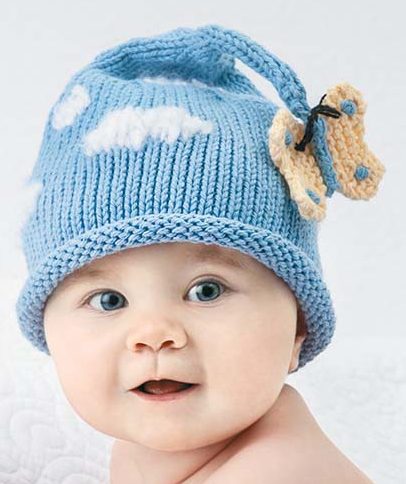 Butterfly and Clouds Baby Set
This hat is part of a set that also includes matching diaper cover and booties. One of 7 pattern sets in the ebook Diaper Cover Sets. Sizes 0-3, 3-6, and 6-12 months.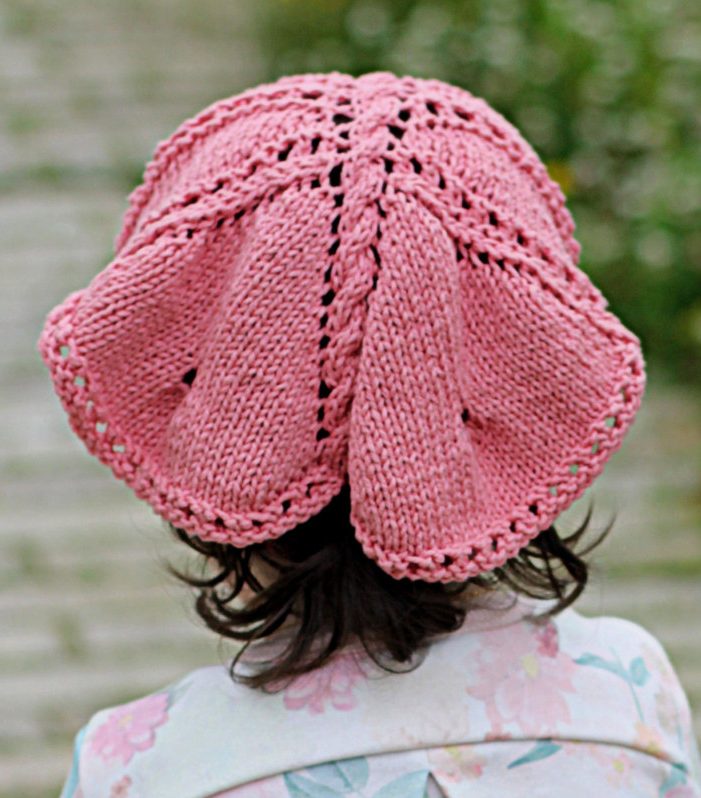 Butterfly Kerchief
This quick one skein project is knit in one piece with no seams, no button closure it's easy to make and easy to put on.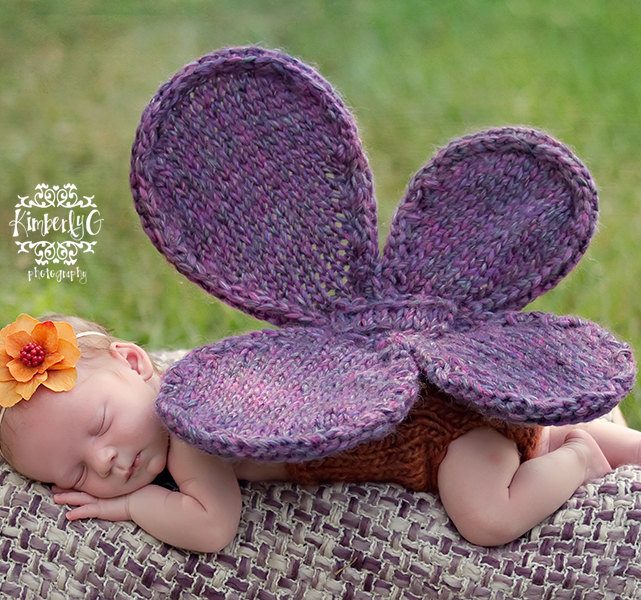 Baby Butterfly Wings
This easy pattern by Melodysmakings is perfect as a prop for baby photos. Sizes: Newborn, 0-3 Months, 3-6 Months, 6-12 Months. Melody says this is a beginner level pattern.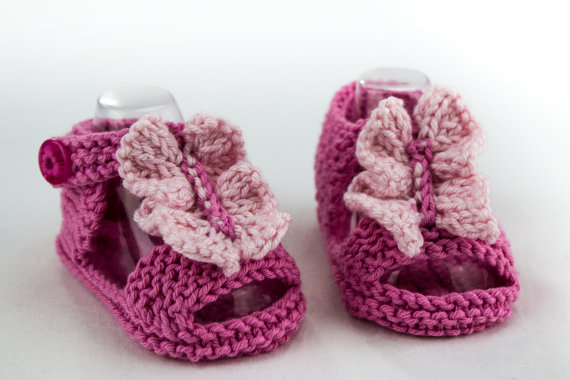 Butterfly Ruffle Sandals
Heaventoseven designed these baby sandals as a flat knit for birth to 3 months, 3 to 6 months and 6 to 12 months
Terry Matz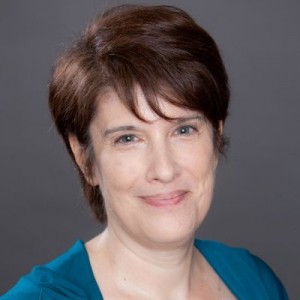 Terry is a knitting late-bloomer, learning to knit as an adult from Internet tutorials, because she wanted a craft that was useful, fun, and portable. Knitting hats for cancer patients inspired her to design her own patterns—available for free at her blog, intheloopknitting.com. Terry met her husband Ken at a science fiction convention and moved to the Kansas City area to be with him more than 30 years ago. Terry supports her yarn stash by creating websites and other digital media. Terry firmly believes in Knitting in Public—it's a great conversation starter!