Easy Fashion Scarf Knitting Patterns
To get the knitting patterns, scroll down the page to the individual pattern you want and click on the link to that pattern.
These patterns are not my designs but links to other designers who have generously shared their patterns. If you have questions about how to knit a specific pattern, please contact the designer directly.
All links on this site are for informational purposes, but please note that some links are to affiliate sellers that pay me a small commission on purchases.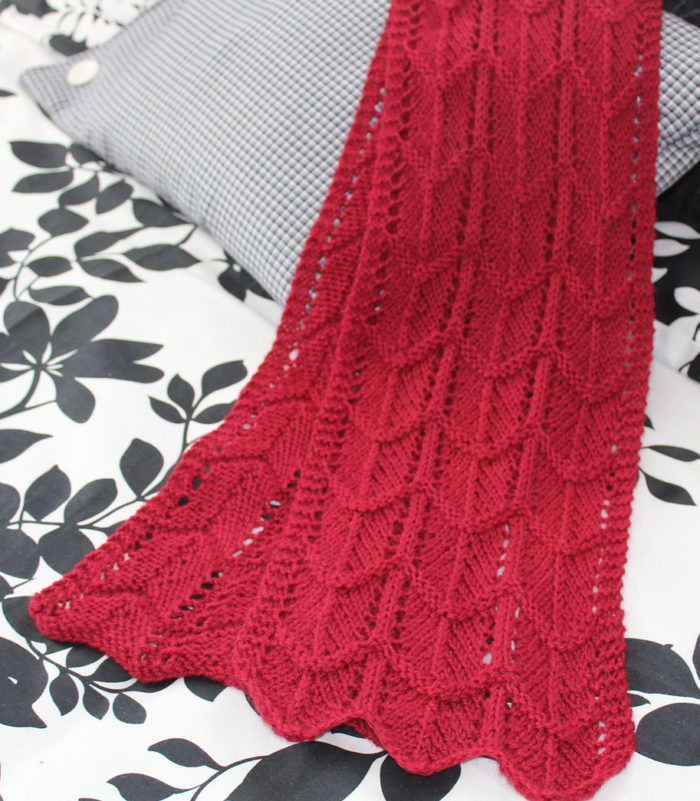 Pearl-barred Scallop Scarf
There's only one line of pattern stitches to remember in this very easy chevron lace scarf. Designed by Cheri Borden. Rated very easy by Ravelrers. Fingering weight yarn. Pictured project by beaukat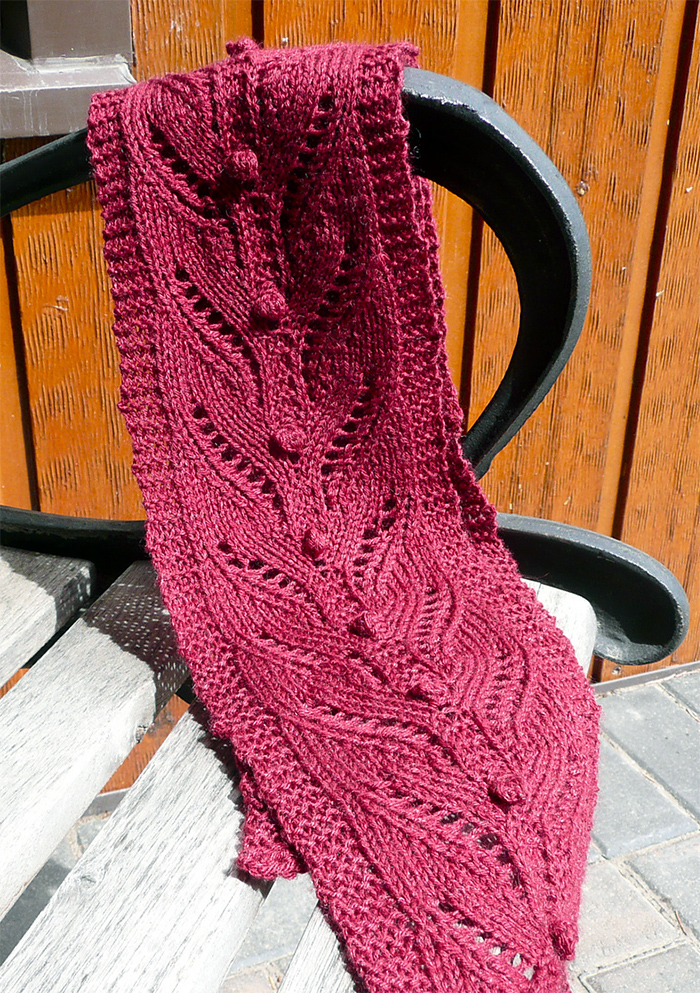 Firefly Scarf
This easy lace scarf features a 14 row stitch pattern (but the wrong side rows are all the same). Written instructions and chart. Knit in 2 pieces and grafted. Use a fingering weight for spring and summer scarf or a heavier weight for cold weather. Designed by Kristen TenDyke by Classic Elite Yarns. Pictured project by BonnieRuth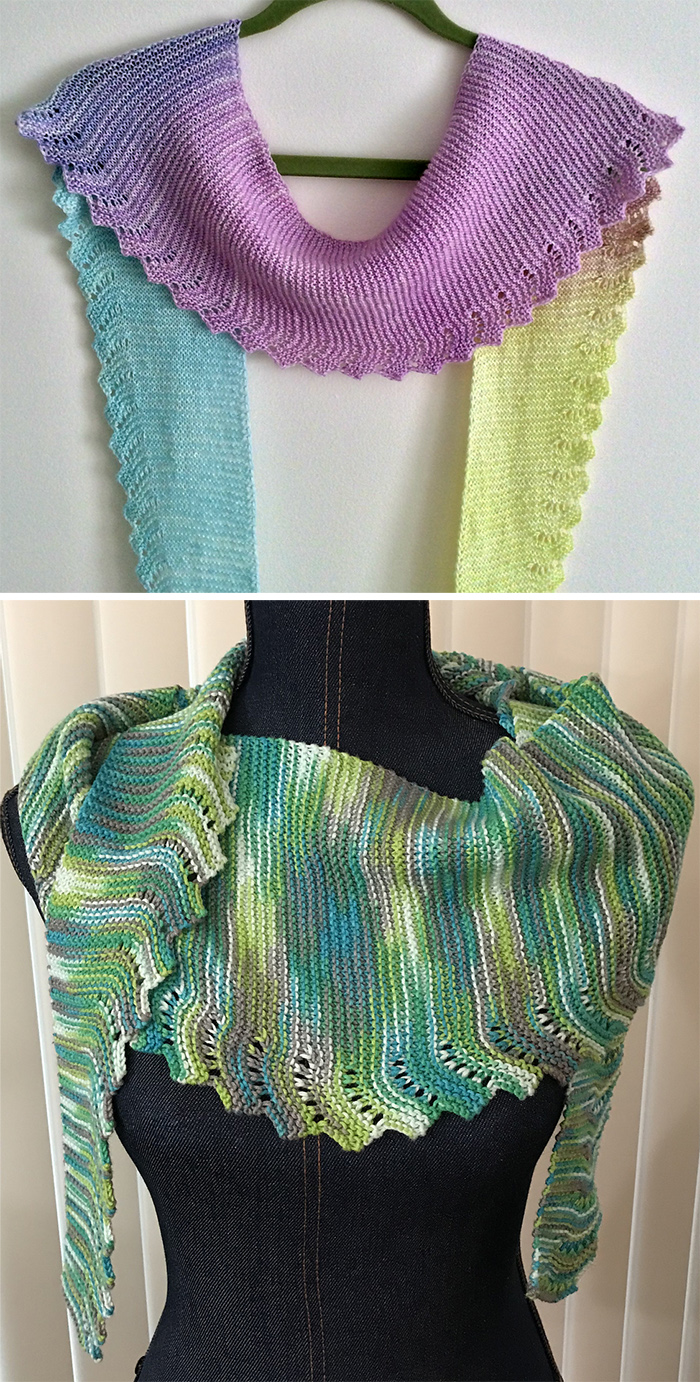 Workday Scarf
Easy scarf that consists of an 8 row repeat (7 of garter stitch and one of the lace). You do the 8 row increase repeat until the scarf is as half the length you want and then do the 8 row repeat decrease. Great for showcasing variegated, gradient, or cake yarn. Designed by Sue Flanders. Finished measurements; Length=60″, Width=1-1/2 to 8″. Pictured projects by cbass who used a gradient yarn and slwalsh
One Row Lace Scarf
Turvid designed this super simple scarf pattern. Cast on 24 sts (or any number of stiches dividable with 4). Knit 2 rows. Knit pattern row: K4, (YO, K2tog, K2) repeat between ( ) 5 times. Repeat the pattern row until your scarf is at desired length. Knit 1 row and cast off. The pictured project by jondrejka used a sport weight mohair yarn with size 9 needles, though the pattern recommends fingering weight on size 10 needles.

Summer Stream Scarf
This versatile lace scarf is perfect for warmer weather if knit in cotton or silk, or knit it in cozier yarns for cold weather. The bottom lace pattern is a 16 row repeat with all even rows purled, and then the rest of the scarf is a 2 row repeat. Charted and does require grafting. Designed by Asami Kawa. Most Ravelrers rated it very easy or easy and said the stitch pattern was easy to memorize (but it might be challenging for beginners). Pictured project by saphirsteph who added 2 repetitions of the leaf lace.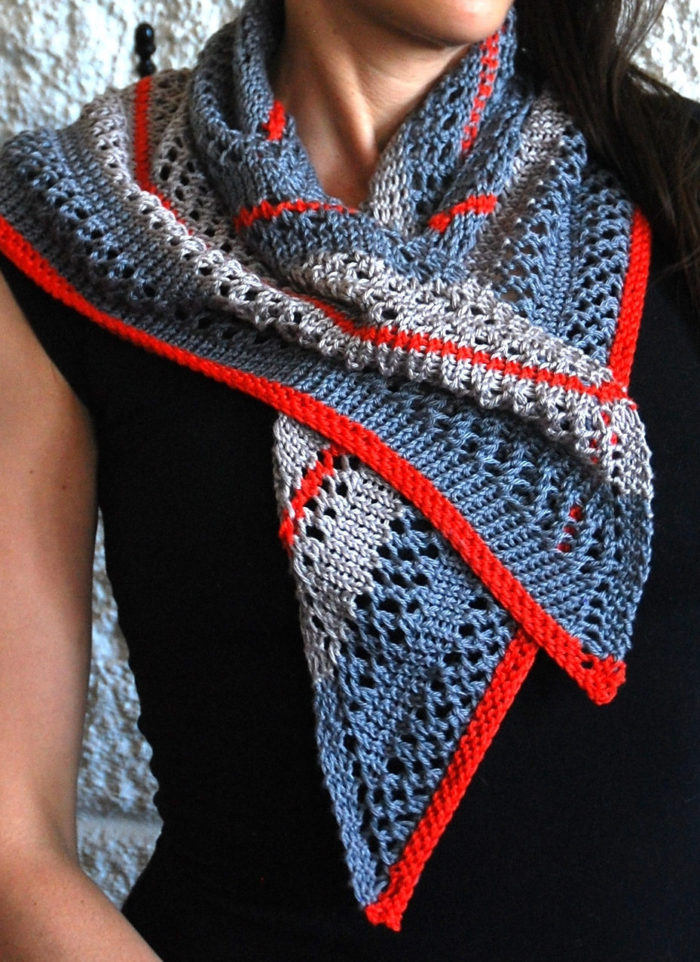 South Beach Scarf
Easy neckerchief openwork scarf can be also be worn as a cowl or shawlette. Designed by Christine Marie Chen. Pictured project by JULIECLAUDE. Sport weight yarn. Rated easy by Ravelrers and the designer.
Twirling Leaf Scarf
Wavy scarf knit with short rows (wrap & turn), worked in garter stitch. you can knit to whatever length you want. Designed by
DawnBroccoDesigns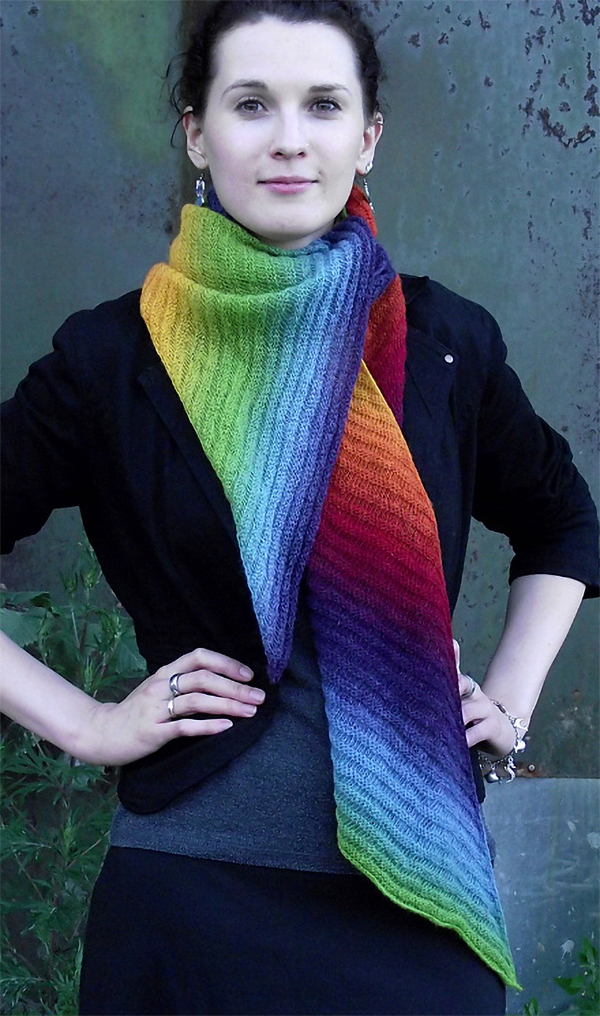 Pseudo Shibori Scarf
Ribbed and textured scarf knit on the bias, but without the felting associated with shibori. Designed by Laura Irwin. Pictured project by AryaStark. Rated very easy by Ravelrers. One of the 20 patterns in the Boutique Knits eBook
Phiaro Scarf
Katie Himmelberg designed this easy, flowing drop stitch scarf.  Stitches are dropped during the bind-off to create the dropped-stitch sections and the fringe. Pictured project by stephccng. This is on the knitting patterns selected for Best of Knitscene.
Hillflowers Scarf or Shawl
Rectangular wrap knit in with an easy to remember lace pattern in 2 pieces and grafted at the center back for symmetry. It works well with tonal variegated colorways. Can be resized by adding/subtracting repeats or worked in a different gauge by changing yarn weight and needles. Designed by Anne Hanson. Rated easy by Ravelrers and the designer.
Terry Matz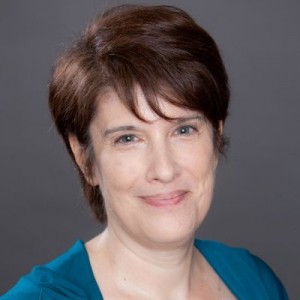 Terry is a knitting late-bloomer, learning to knit as an adult from Internet tutorials, because she wanted a craft that was useful, fun, and portable. Knitting hats for cancer patients inspired her to design her own patterns—available for free at her blog, intheloopknitting.com. Terry met her husband Ken at a science fiction convention and moved to the Kansas City area to be with him more than 30 years ago. Terry supports her yarn stash by creating websites and other digital media. Terry firmly believes in Knitting in Public—it's a great conversation starter!