Baby Onesie and Romper Knitting Patterns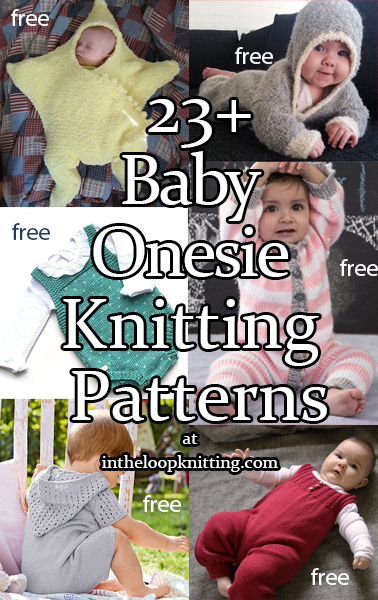 To get the knitting patterns, scroll down the page to the individual pattern you want and click on the link to that pattern.
These patterns are not my designs but links to other designers who have generously shared their patterns. If you have questions about how to knit a specific pattern, please contact the designer directly.
All links on this site are for informational purposes, but please note that some links are to affiliate sellers that pay me a small commission on purchases.

Pelele Baby Onesie
Garter stitch onesie with buttoned fastenings on front and pant flap. Sizes Newborn/ 0-1 months. Designed by Marta Porcel. DK weight. Available in English and Spanish.
NOTE: Ravelrers have said that there is a typo in the English pattern – cast on 46 stitches instead of 45.

Marianna's All-in-One Romper Suit
Seamless onesie with circular yoke knit from the top down. Pattern size is for newborn but can be adapted to larger sizes. Designed by marianna mel and Lisa King Maclean. DK weight. Pictured project by wooly-mittens. Rated easy by Ravelrers

Hannah's Onesie
Sleeveless baby onesie that keeps baby warm but gives free range of movement. Sizes 6 month-12 month. Designed by Amy Clarke Moore. Sport weight.

Onesie with Hood
Romper with lace sleeves and hood. Sizes 1 month to 1 year. Designed by Bergère de France. Fingering weight. Available in English, French, and Dutch

Sofia Baby Onesie
Sleeveless romper with mock cable details on the yoke and and ankles and buttons on the straps. Sizes 3 (6-9) 12-18 months. Designed by Sanne Bjerregaard for Filcolana. Fingering weight. Available in English, Danish, and German

Jiffy Baby Onesie
Hooded baby onesie with opening across front and leg with velcro for easy dressing. Quick knit in bulky yarn. To Fit Age: 3 Months to 18 Months. Designed byLion Brand Yarn. Pictured project by Ciandrin who added buttons instead of velcro.

Dancing Star Baby Bunting
Star shaped hooded onesie that reminds me of Maggie Simpson. Designed by Lion Brand Yarn. Bulky weight. Pictured project by thunderbean who said it was so cozy the recipient fell asleep as soon as she was put in the bunting. One size fits Infant – 3 months.
Spring Into Summer Romper and Jacket Set
Both pieces are knit in garter stitch and are suitable for a beginner according to the designer, OGE Designs. Sizes 0-3 Months — 6-9 Months — 9-12 Months. DK weight. The designer allows you to sell the finished items.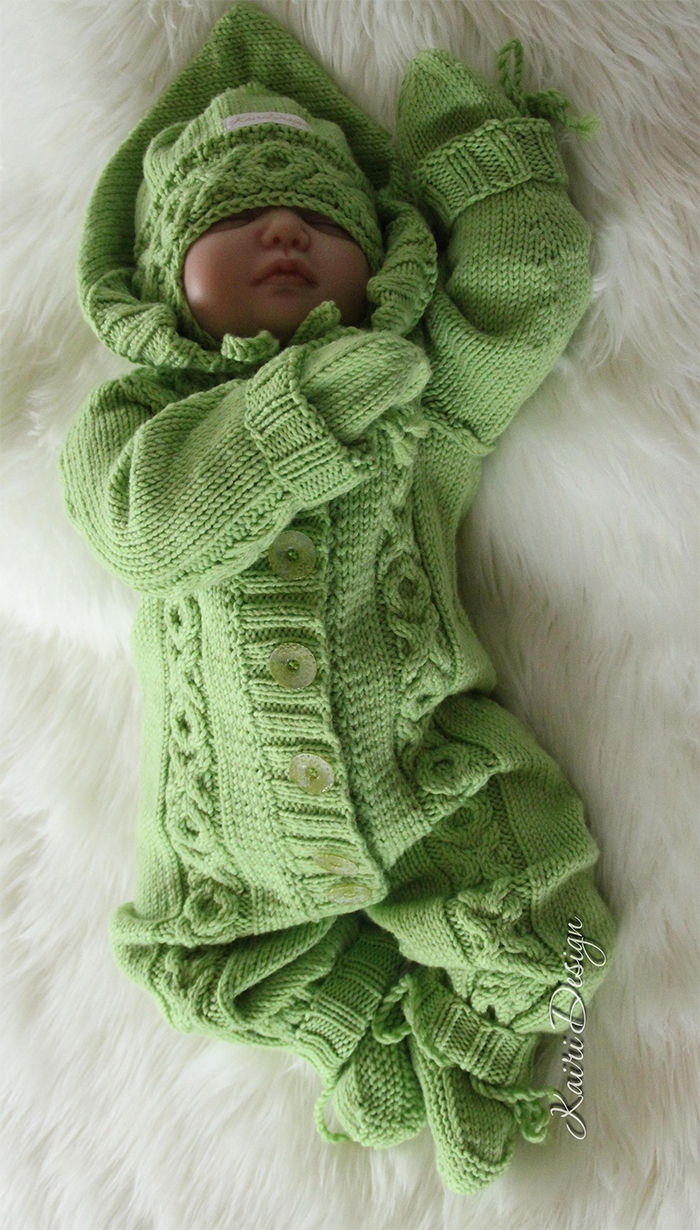 Hugs and Kisses Baby Onesie
This all-in-one hooded romper features an xoxo cable pattern to wrap your little one in love. Sizes0 – 3 months ; 3 – 6 months ; 6 – 9 months ; 9-12 months. Aran weight. Designed by Kairi Design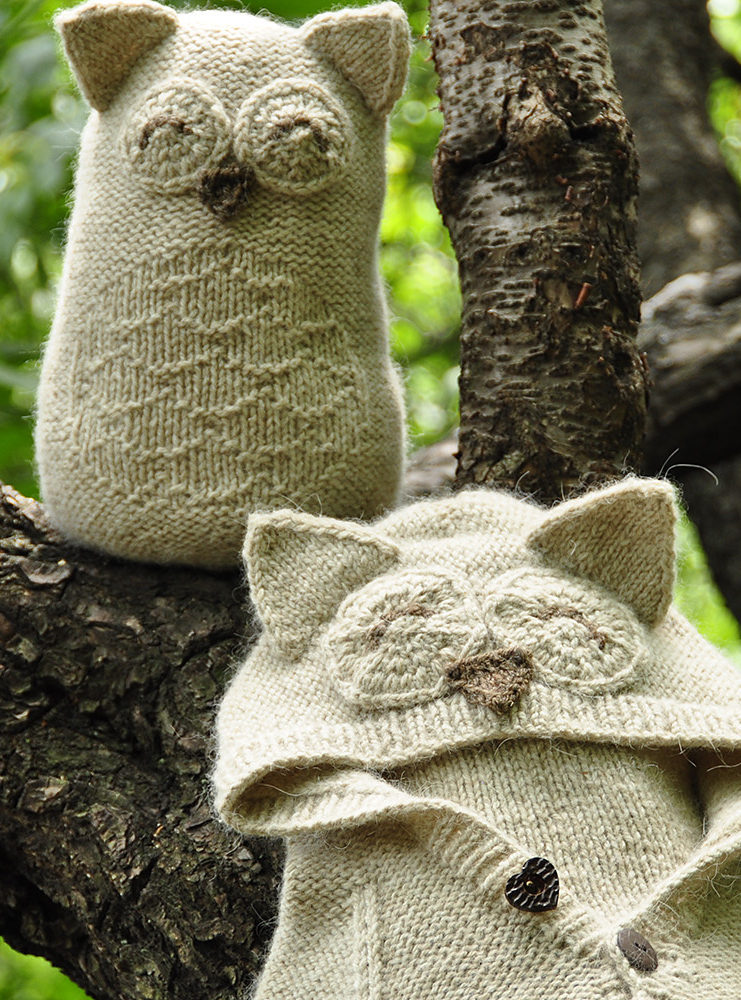 Owl Baby Onesie and Owl Toy
With sweet little details like the ruffled tail feathers, a knit and purl textured belly, and an owl face hood, this romper is sure to keep baby warm and Mom smiling! If that wasn't enough, this onesie comes with a precious matching stuffed Owl toy for baby to cuddle with too! Designed by Lauren Riker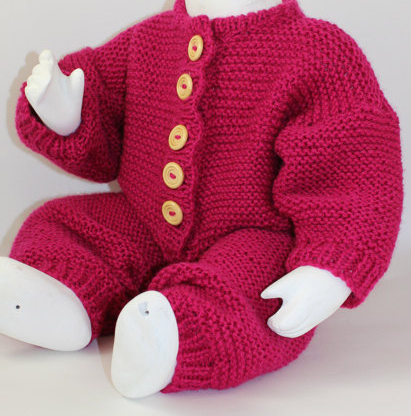 Baby Onesie
This garter stitch onesie is worked flat on straight needles in aran weight yarn. 5 sizes XS( 0-3 months), S (3-6 months), M (6-9 months), L (9-12 months) and XL (12-18 months). Designed by Christine Grant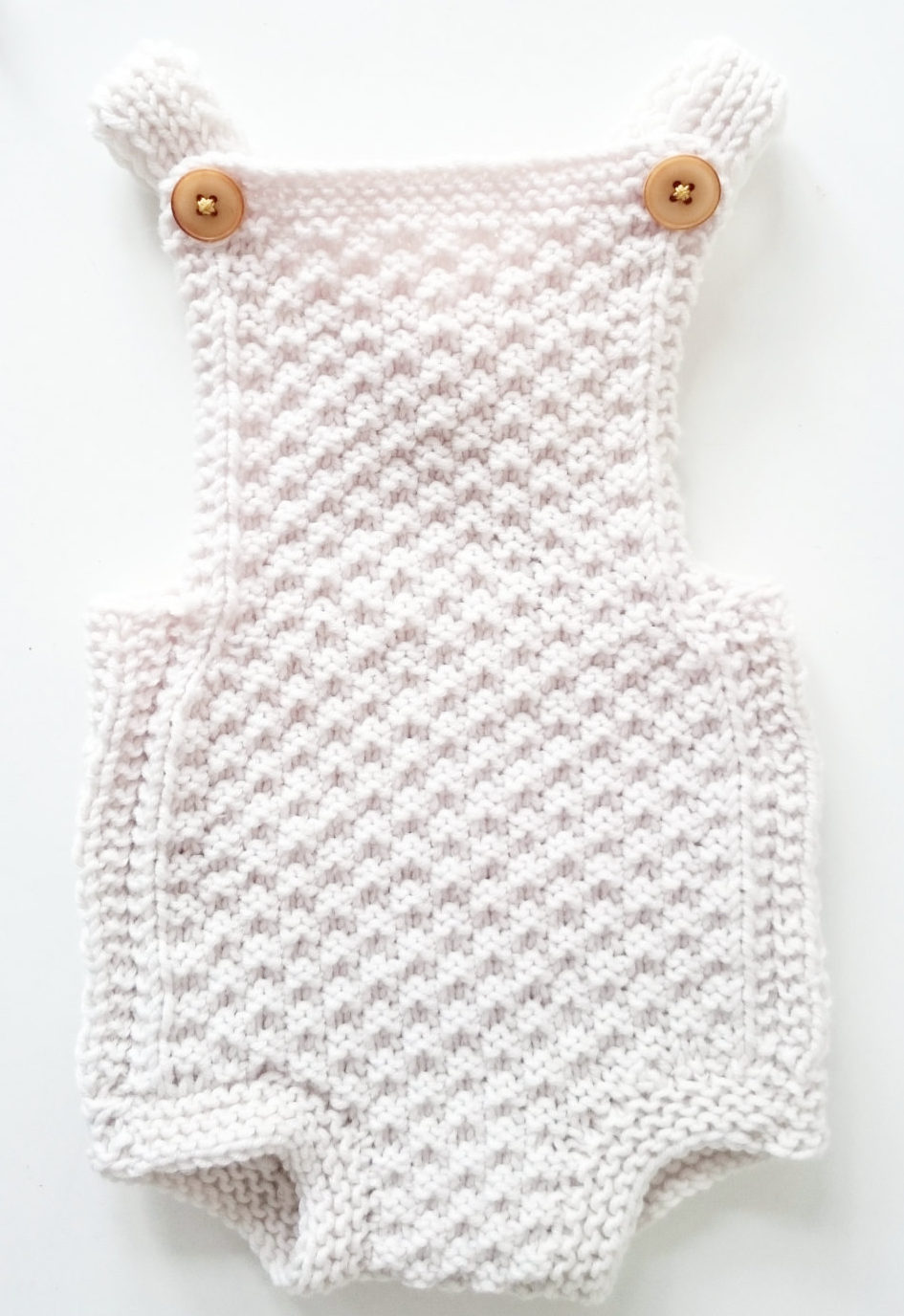 Mia Baby Romper
Romper knit in a box stitch in sizes 0-24 months. Available in English and Norwegian. Designed by Dreamiknit.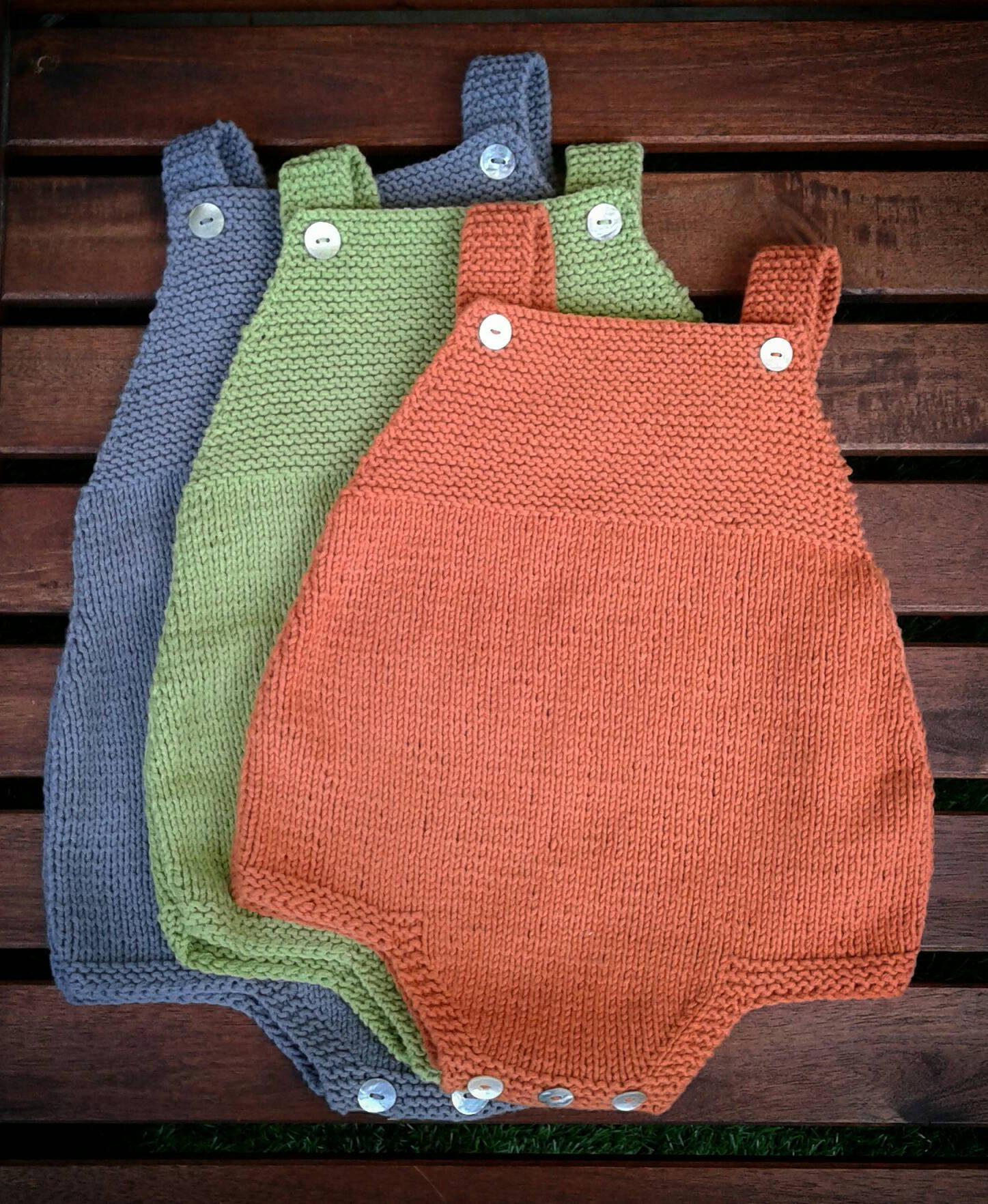 Duoro Baby Romper
Comfortable romper that's perfect for warmer weather. The designer says that this is an easy pattern suitable for beginners. Sizes: 0-3 / 3-6 / 6-12 months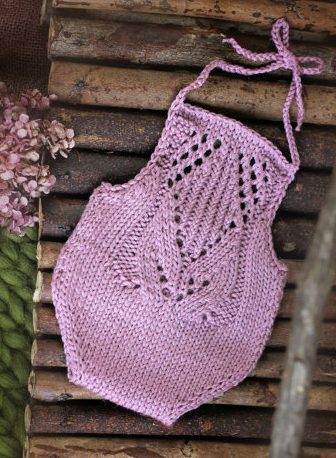 Tulip Romper
BriannaK's design works up quickly in around 2 hours. There's a matching bonnet pattern. Size: Newborn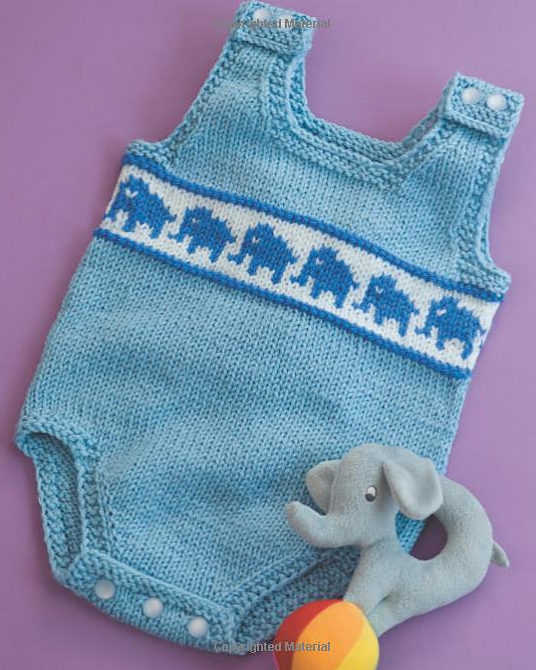 Elephant Baby Onesie
This romper features a band of fair isle elephants. You can replace with other fair isle designs. Sizes 3 months and 6 months. Designed by Daniela Nii. One of the knitting patterns in 60 More Quick Baby Knits
Terry Matz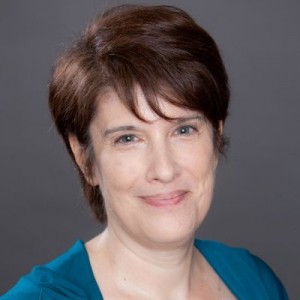 Terry is a knitting late-bloomer, learning to knit as an adult from Internet tutorials, because she wanted a craft that was useful, fun, and portable. Knitting hats for cancer patients inspired her to design her own patterns—available for free at her blog, intheloopknitting.com. Terry met her husband Ken at a science fiction convention and moved to the Kansas City area to be with him more than 30 years ago. Terry supports her yarn stash by creating websites and other digital media. Terry firmly believes in Knitting in Public—it's a great conversation starter!