Afghan in the Round Knitting Patterns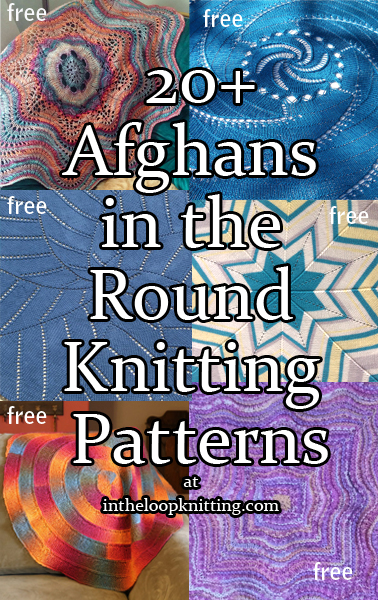 These knitting patterns feature afghans, throws and blankets that are either round in shape or knit in the round with repeating concentric patterns to form other shapes such as squares and stars.
To get the knitting patterns, scroll down the page to the individual pattern you want and click on the link to that pattern.
These patterns are not my designs but links to other designers who have generously shared their patterns. If you have questions about how to knit a specific pattern, please contact the designer directly.
All links on this site are for informational purposes, but please note that some links are to affiliate sellers that pay me a small commission on purchases.
 
Sampler Flower Baby Blanket
Circular baby blanket knit with different textured stitches. Sport weight yarn. Approx. 36" Diameter. Designed by Grid Mammal Crafts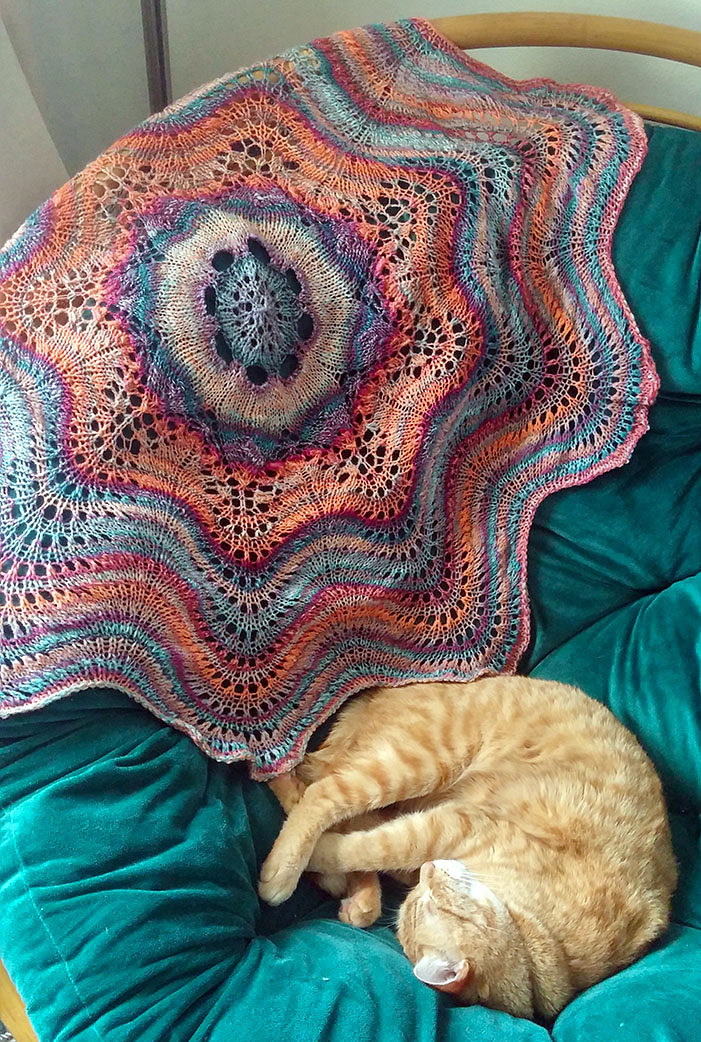 Hemlock Ring Blanket
This circular lace blanket was inspired by a vintage doily and is easily modified for any size from doily to afghan. Designed as a quick knit in bulky yarn, it's adaptable for other yarn weights. Designed by Jared Flood. Pictured projects by CharleneGrayson and Finuin
[widget id="black-studio-tinymce-8″]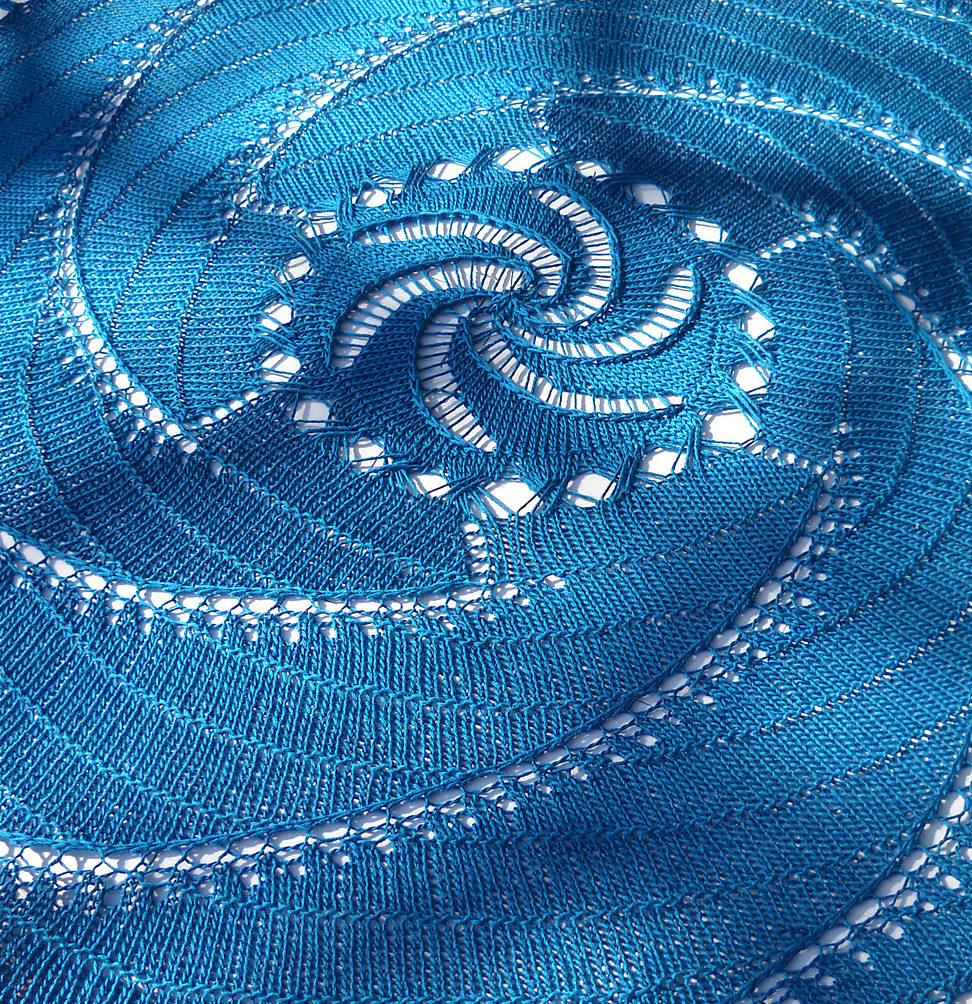 Antimony Blanket
This circular blanket features ahexagon swirl center that reverses itself into a spiraling vortex. Designed by Brigitte Eaton Pictured project by scarygirl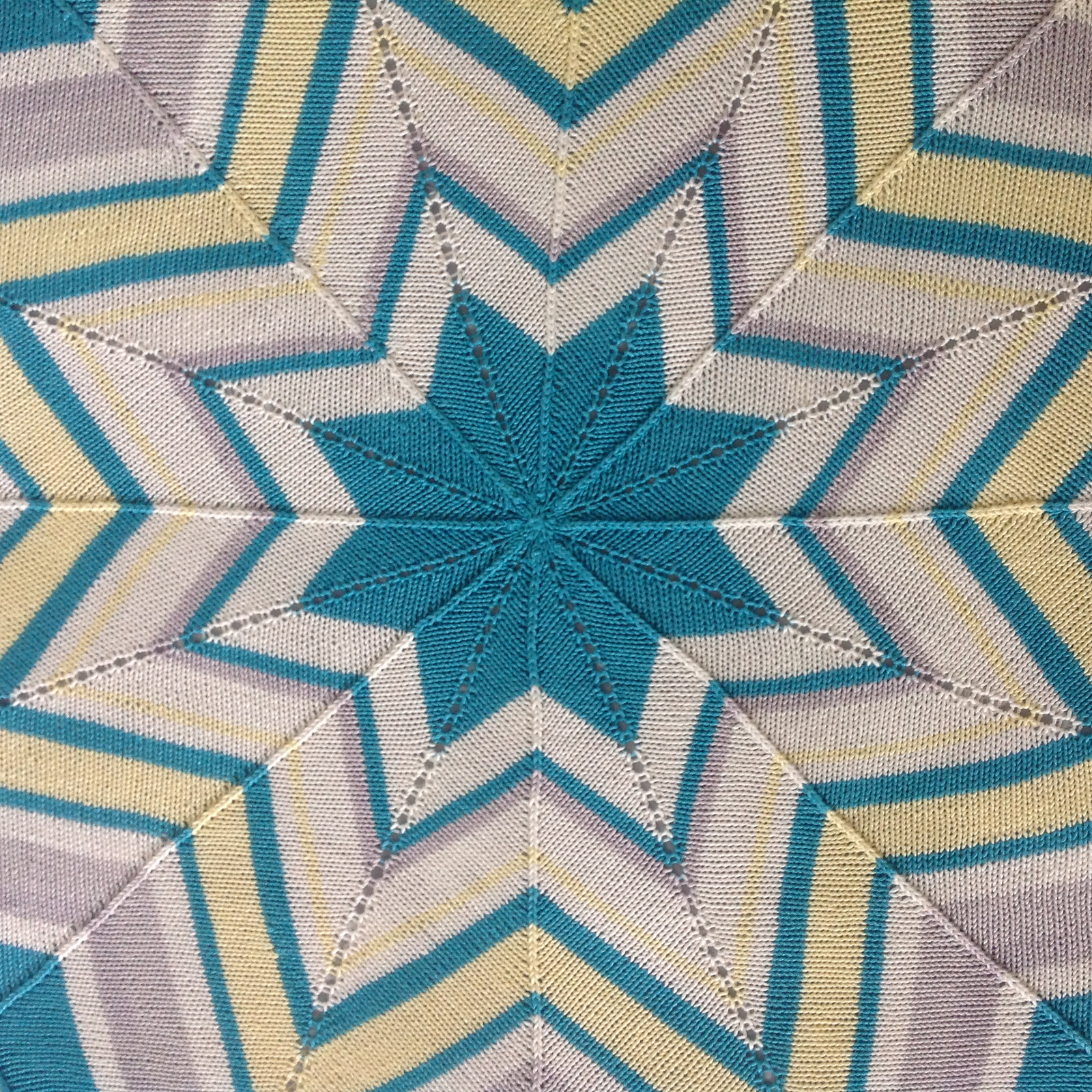 Star Afghan
Easy star-shaped striped throw knit in the round. Designed by Bernat Design Studio Pictured project by PandyMamabear
Bubbles Circular Blanket or Shawl
Updated version based on a vintage Patons design of lace blanket with a spiral eyelet center. Pictured project by Judith2143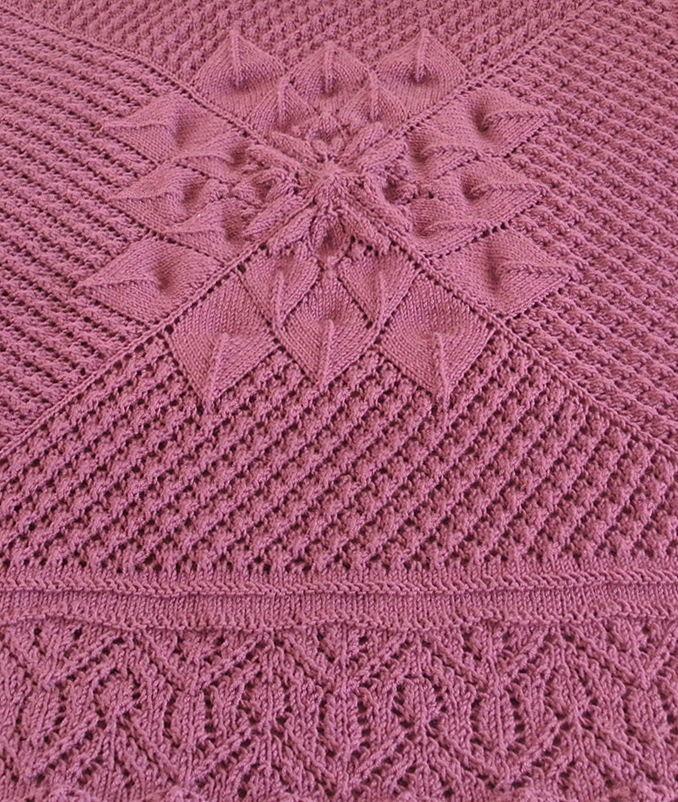 Floralized Throw
Lace square afghan knit in the round with floral motif in the center. Two sizes available, large and extra large. Designed by Cheri McEwen Pictured project by Andicka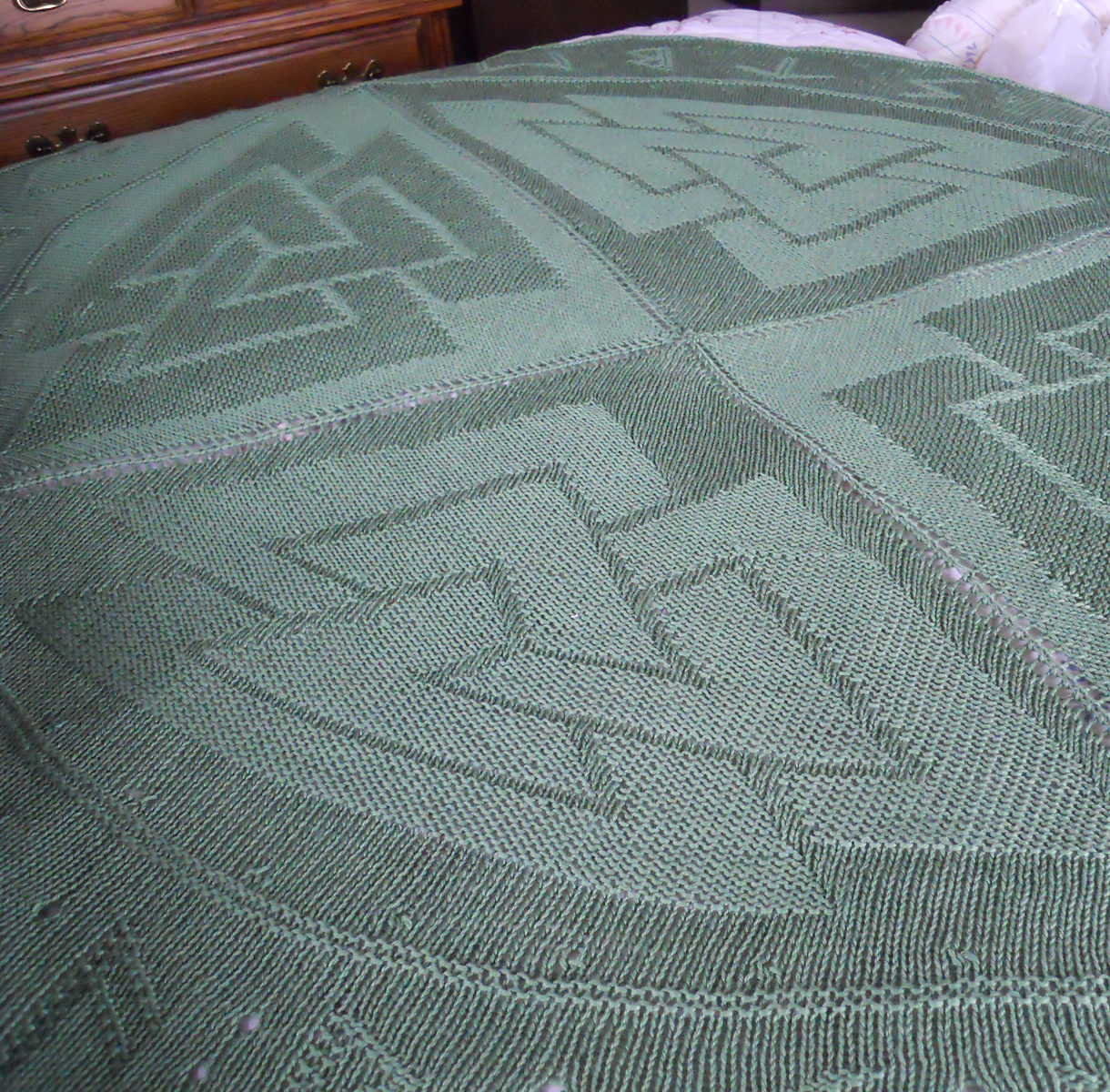 Valknut Blanket
Inspired by Norse mythology, the geometric designs represent symbols on Odin's shield and the border of the blanket contains runes. I love the design as a geometric abstract. Designed by Rachel Warnock.
 
Rippled Baby Blanket
A variation of the feather and fan stitch knit in the round. Designed by MoreThanOneWay. Pictured project by naief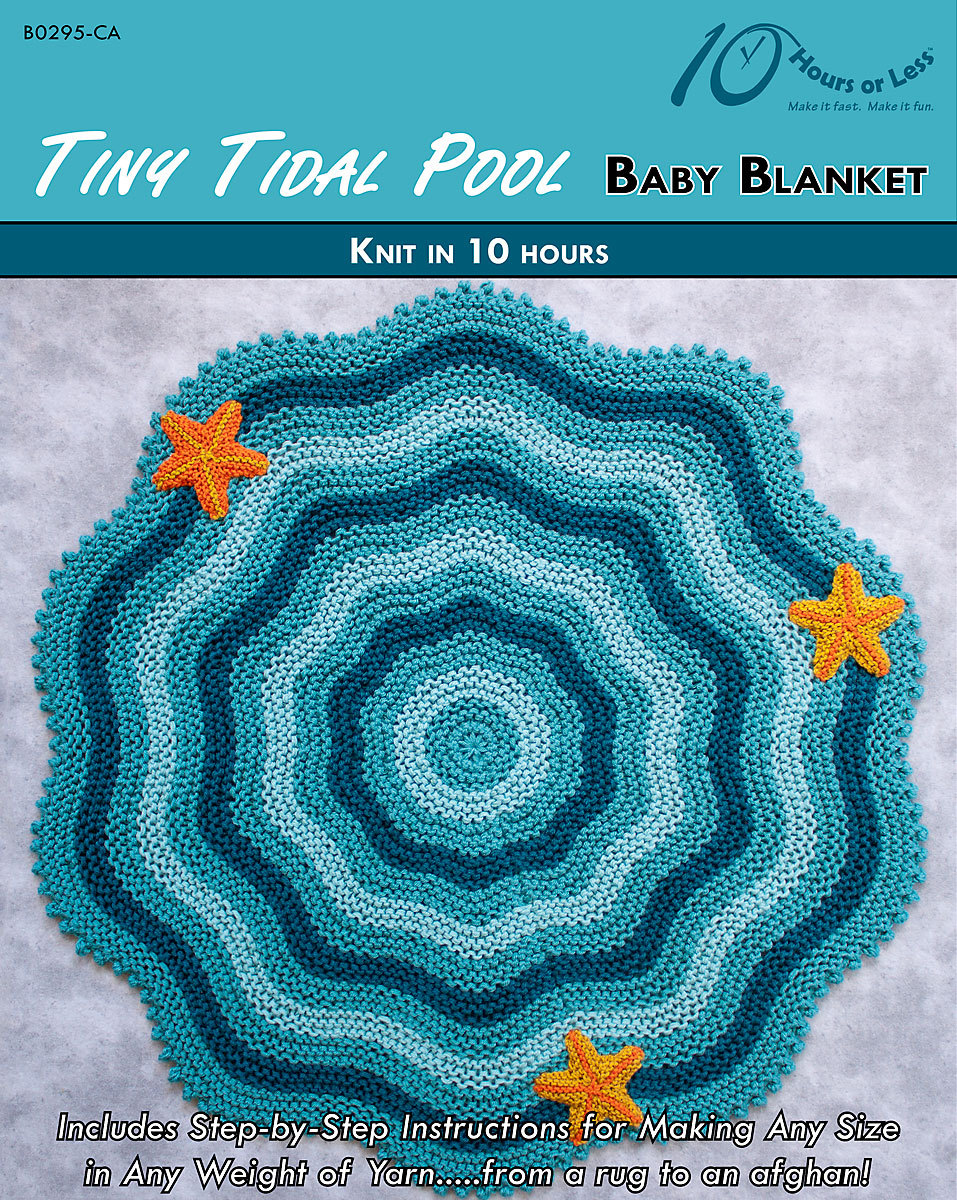 Tiny Tidal Pool Baby Blanket
This easy and quick striped circular blanket is knit to resemble ripples in a pool. Knit in garter stitch with a picot edge and decorated with 3 knit starfish. The designer says it can be knit in 10 hours which makes it a perfect quick baby shower gift.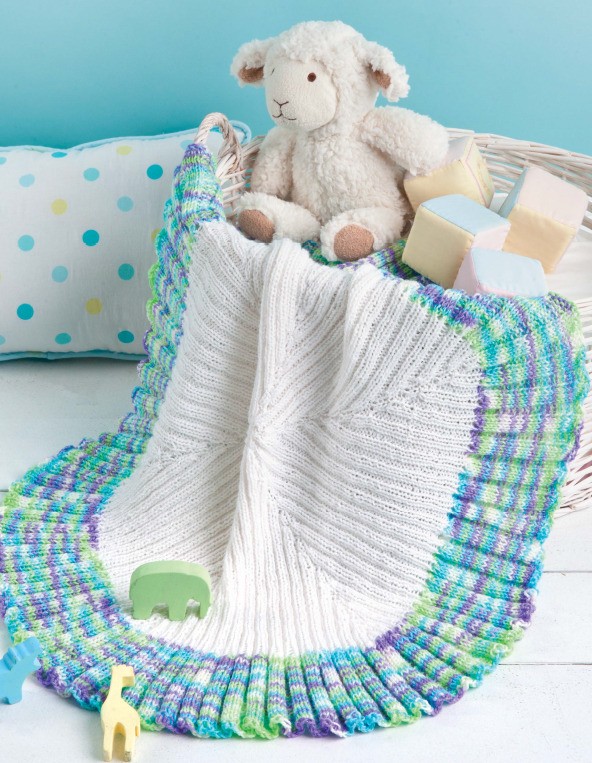 Ruffled Circle Baby Blanket
This baby blanket knit in the round is one of the 8 patterns in the ebook Beginner's Guide to Knitting in the Round available exclusively from Leisure Arts.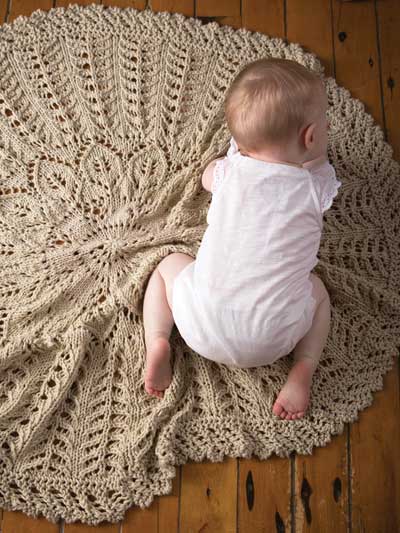 Cecelia Baby Blanket
The circular shape gives a unique shape to this 5-star reviewed baby blanket. It's also knit with chunky-weight yarn and larger needles for a faster project.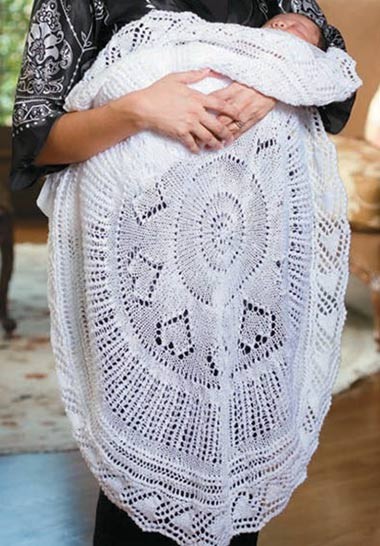 Circular Lace Christening Blanket
This gorgeous baby blanket knit in the round is one of the 8 patterns in the book I Can't Believe I'm Lace Knitting. This pattern can also be used as a shawl. Available in paperback or digital download.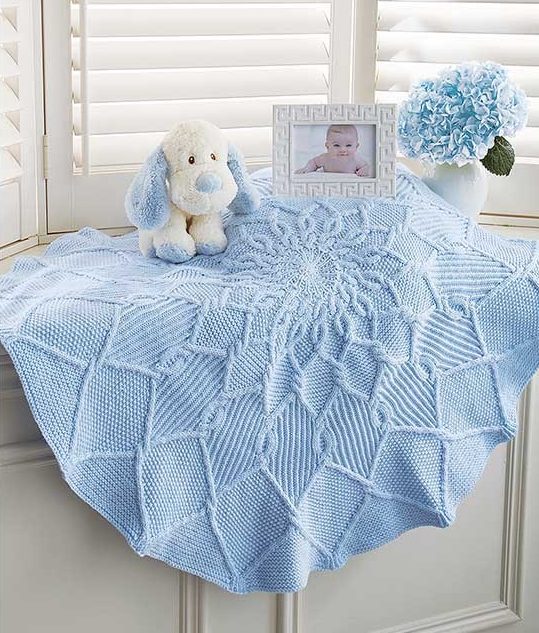 Cables Go Round Baby Blanket
This baby blanket knit in the round is one of the 9 patterns in the ebook Dreamy Baby Wraps from Leisure Arts.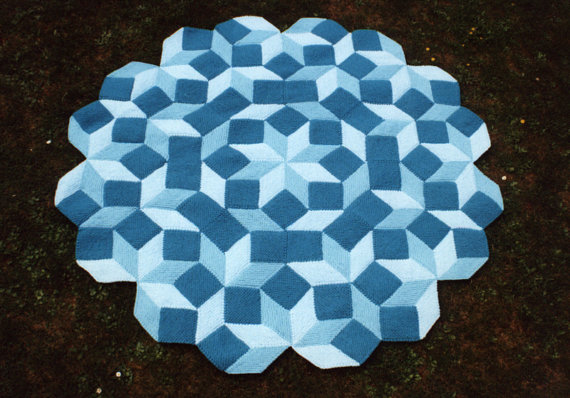 Penrose Afghan
This afghan is based on a design sent to woollythoughts by the famous Oxford mathematican Sir Roger Penrose and is named in his honor.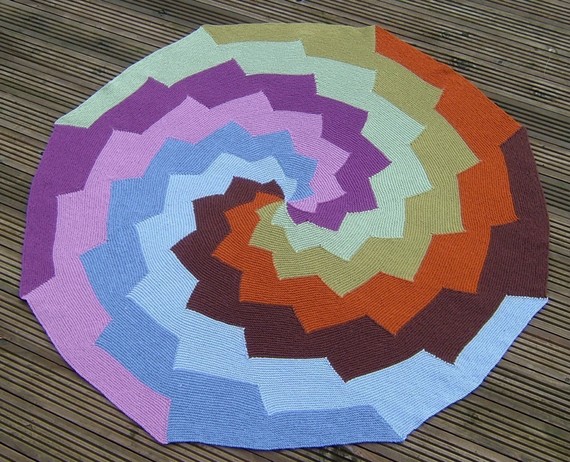 Revolution Blanket
This is design is much easier than it looks. It is worked in one piece, using one colour at a time and with a maximum of around one hundred stitches on the needles. There is a tiny amount of stitching to be done.
Terry Matz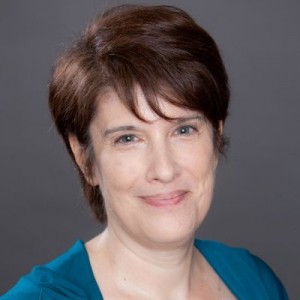 Terry is a knitting late-bloomer, learning to knit as an adult from Internet tutorials, because she wanted a craft that was useful, fun, and portable. Knitting hats for cancer patients inspired her to design her own patterns—available for free at her blog, intheloopknitting.com. Terry met her husband Ken at a science fiction convention and moved to the Kansas City area to be with him more than 30 years ago. Terry supports her yarn stash by creating websites and other digital media. Terry firmly believes in Knitting in Public—it's a great conversation starter!