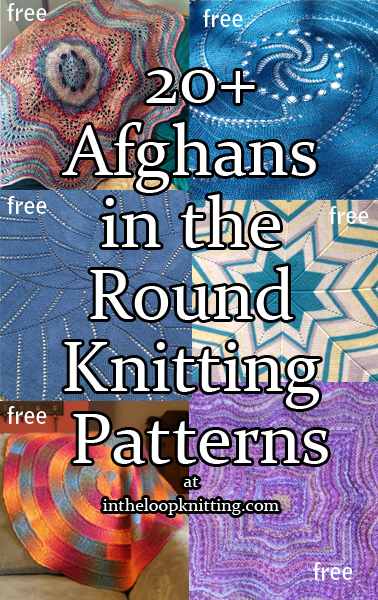 These knitting patterns feature afghans, throws and blankets that are either circular or knit in the round with repeating concentric patterns to form other shapes such as squares and stars. Many of the patterns are free.
To get the knitting patterns, scroll down the page to the individual pattern you want and click on the link to that pattern.
These patterns are not my designs but links to other designers who have generously shared their patterns. If you have questions about how to knit a specific pattern, please contact the designer directly.
All links on this site are for informational purposes, but please note that some links are to affiliate sellers that pay me a small commission on purchases.
Free Patterns

Sampler Flower Baby Blanket
Circular baby blanket knit with different textured stitches. Sport weight yarn. Approx. 36" Diameter. Designed by Grid Mammal Crafts

Sunburst Baby Blanket
Circular baby blanket with a bold sunburst pattern on the blanket formed using short rows. The blanket is worked sideways, using 2 colors. Aran weight yarn. Designed by Elaine Phillips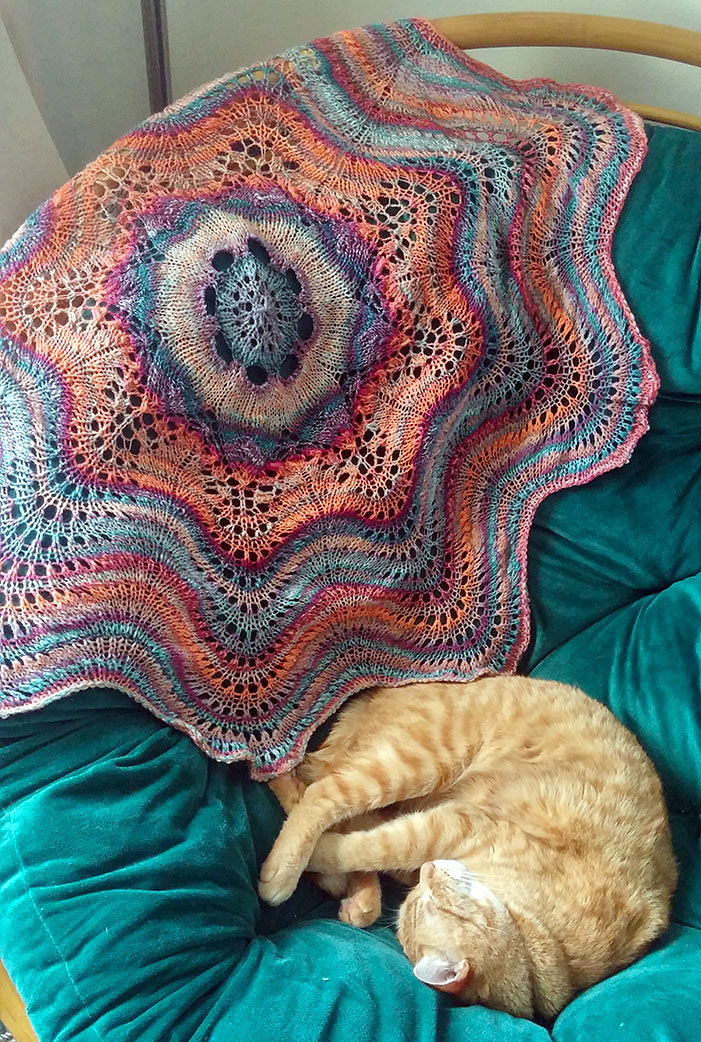 Hemlock Ring Blanket
This circular lace blanket was inspired by a vintage doily and is easily modified for any size from doily to afghan. Designed as a quick knit in bulky yarn, it's adaptable for other yarn weights. Designed by Jared Flood. Pictured projects by CharleneGrayson and Finuin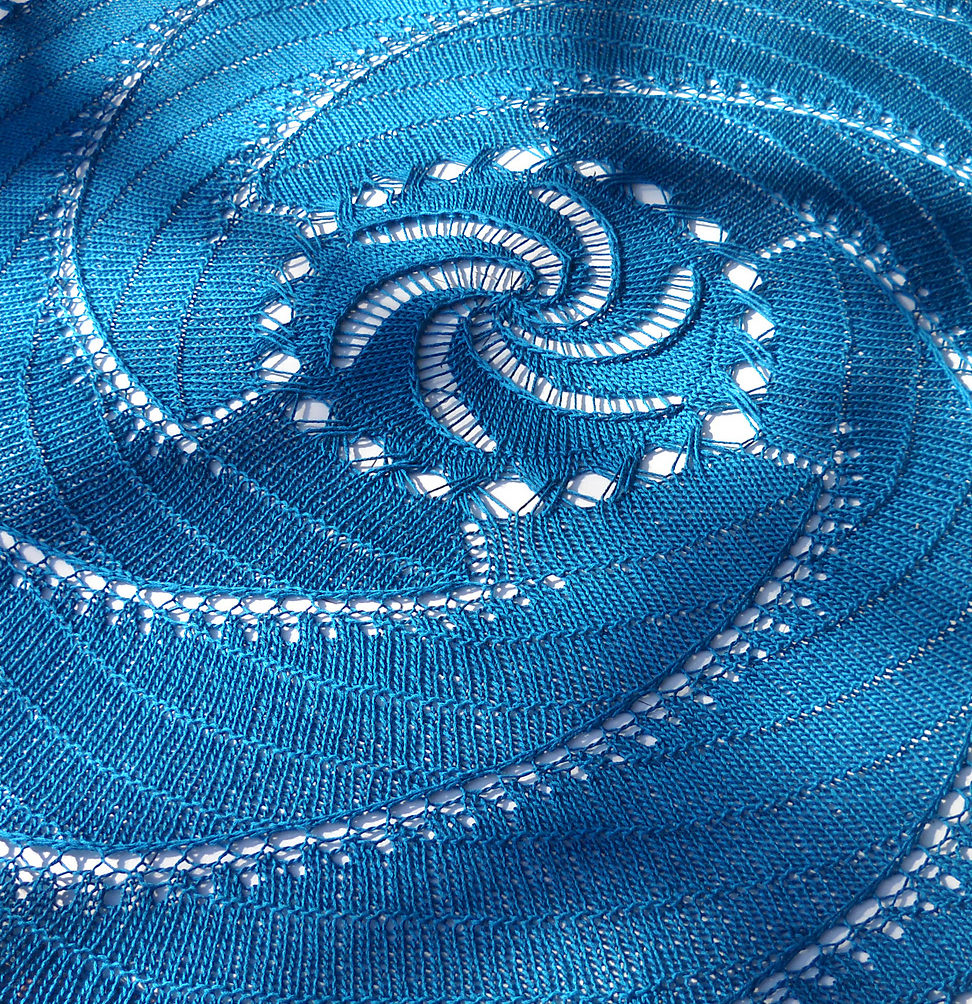 Antimony Blanket
This circular blanket features ahexagon swirl center that reverses itself into a spiraling vortex. Designed by Brigitte Eaton Pictured project by scarygirl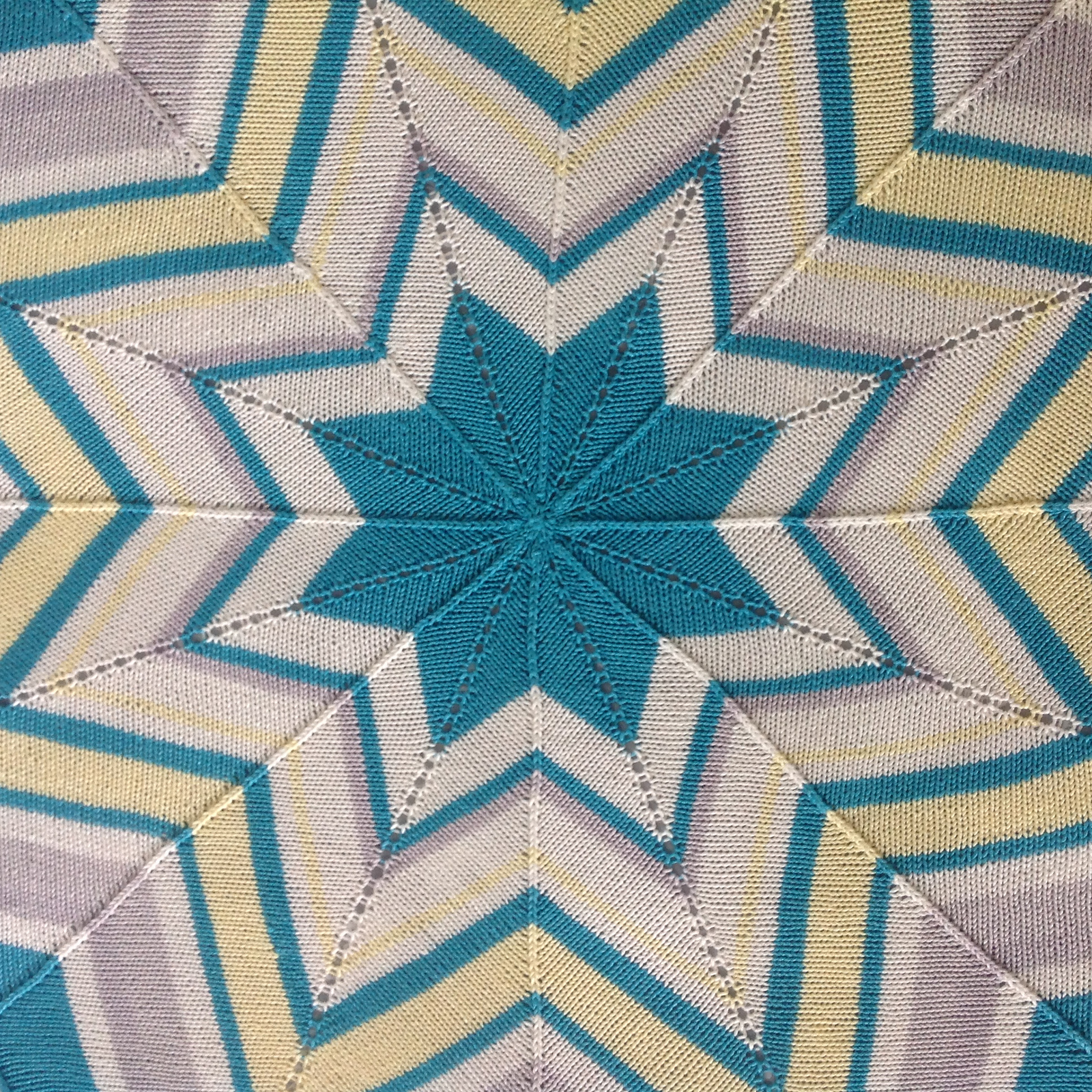 Star Afghan
Easy star-shaped striped throw knit in the round. Designed by Bernat Design Studio Pictured project by PandyMamabear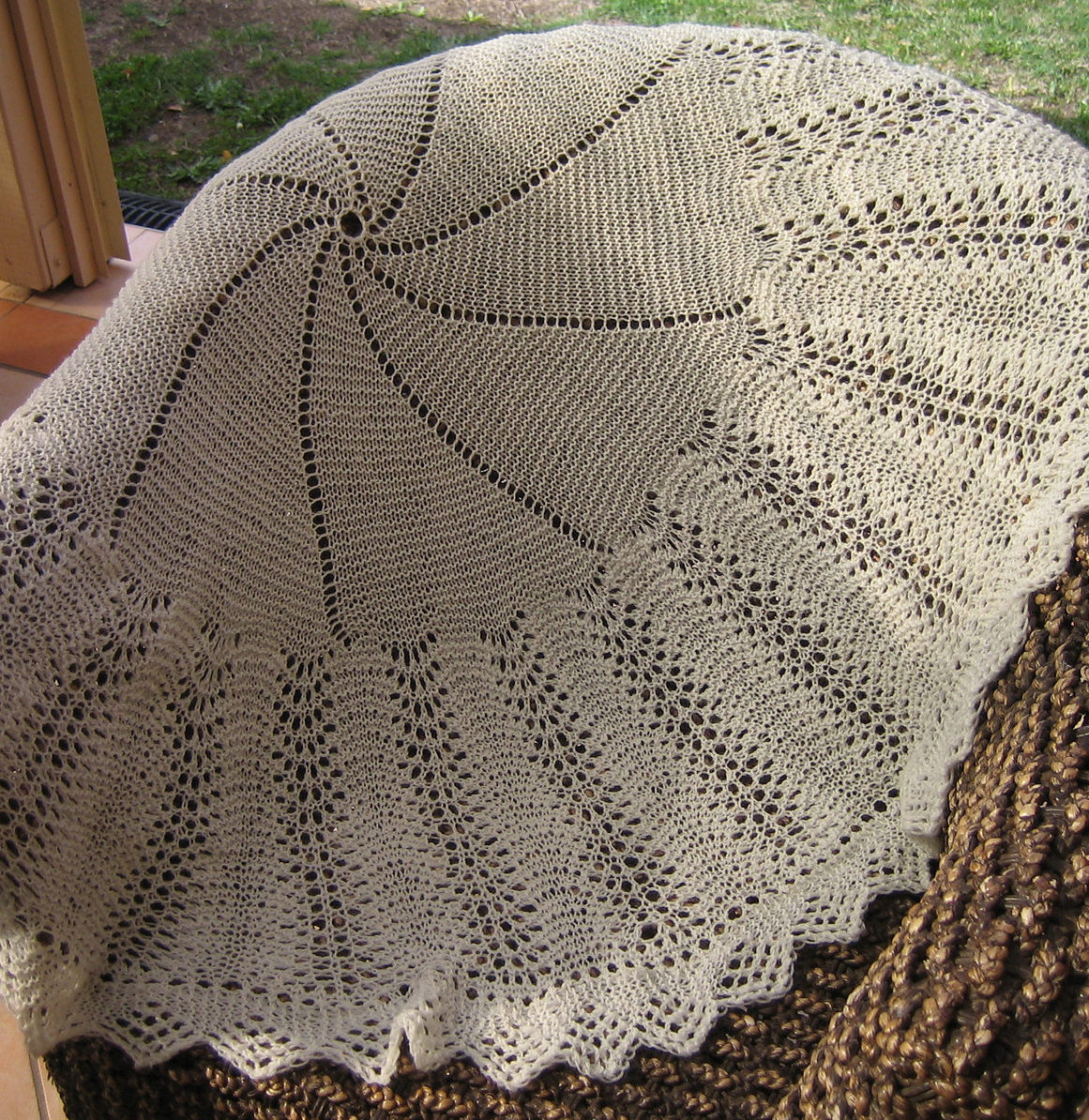 Bubbles Circular Blanket or Shawl
Updated version based on a vintage Patons design of lace blanket with a spiral eyelet center. Pictured project by Judith2143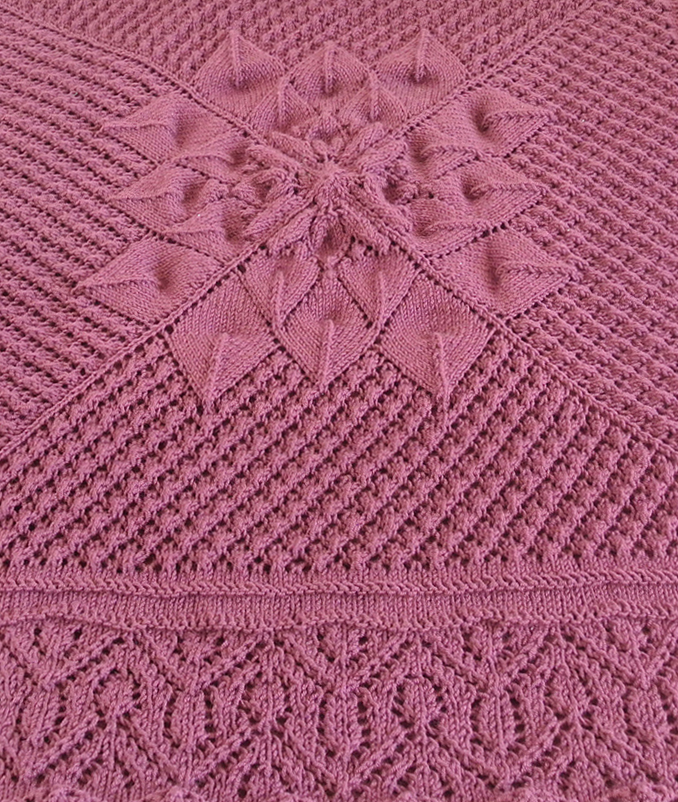 Floralized Throw
Lace square afghan knit in the round with floral motif in the center. Two sizes available, large and extra large. Designed by Cheri McEwen Pictured project by Andicka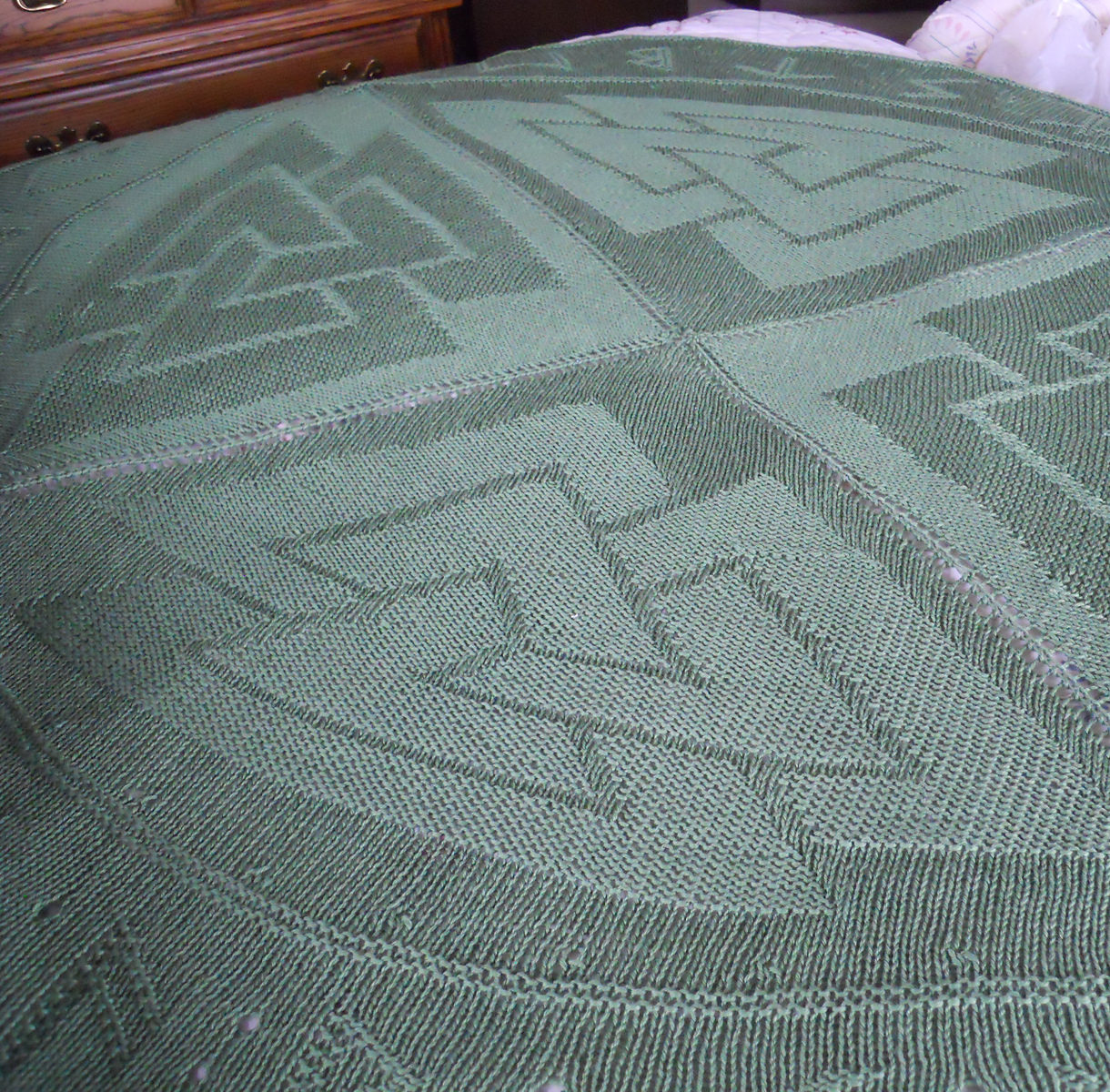 Valknut Blanket
Inspired by Norse mythology, the geometric designs represent symbols on Odin's shield and the border of the blanket contains runes. I love the design as a geometric abstract. Designed by Rachel Warnock.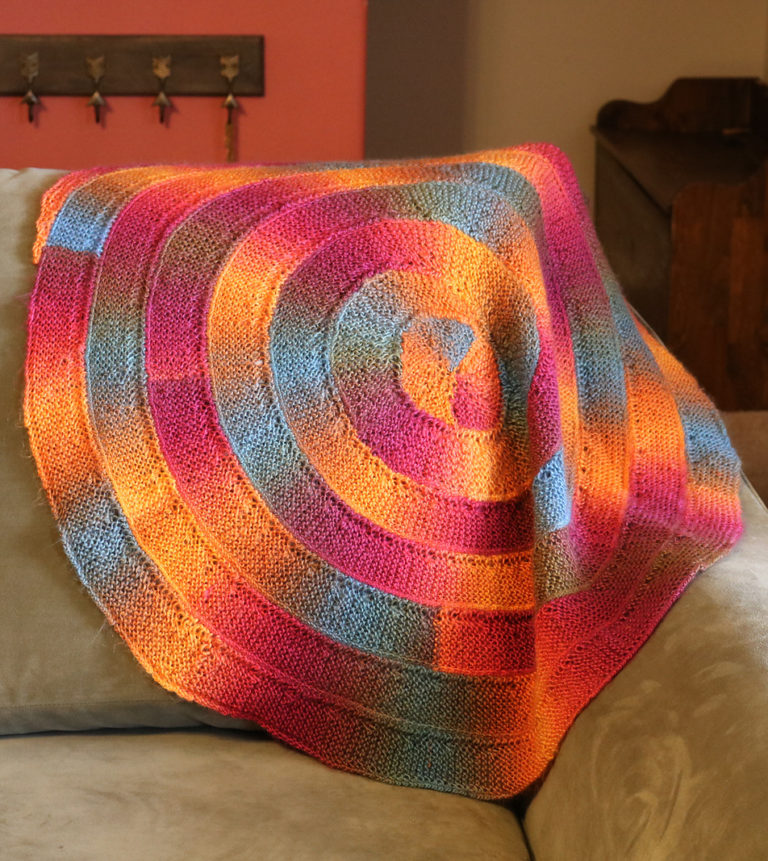 Ten Stitch Twist
This circular version of Frankie Brown's Ten Stitch Blanket is knit in a garter stitch spiral with only ten stitches and virtually no sewing up. Any yarn and needles can be used though it's great for multi-color yarn or stashbusting! Pictured project by bugsknitty

Rippled Baby Blanket
A variation of the feather and fan stitch knit in the round. Designed by MoreThanOneWay. Pictured project by naief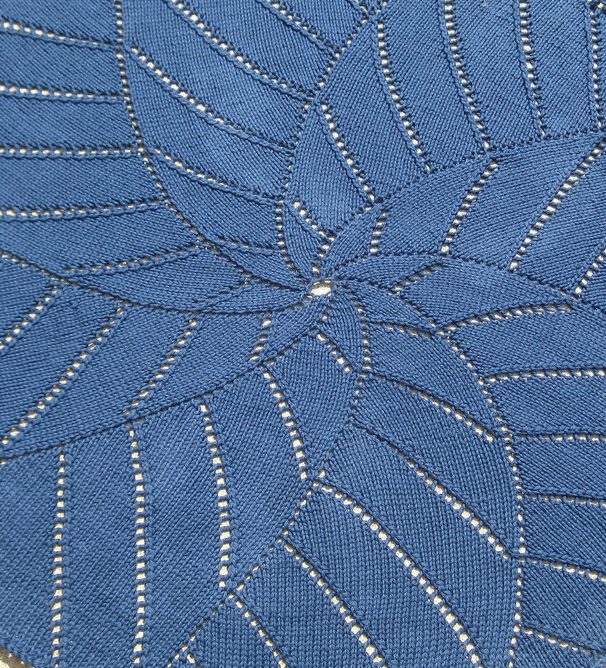 Radiating Star Baby Blanket
Alexis Layton's blanket is 42 inches in diameter and rated as fairly easy. Pictured project by stuckinillinois

Spiral Light Baby Blanket
Pentagonal baby blanket knit in the round with increasingly wider bands of 3 colors create an illusion of spiraling pentagons. Perfect for 2 multi-color skeins with colors in the same color family with a complementary semi-solid. Designed by Lorla Luden.

Undercover Baby Blanket
Easy lacy blanket, knitted in the round, all in one piece starting from the centre. Designed by Beata Jezek. Pictured project by Litchfield

Serenity Blanket
Laura Wilson-Martos designed this a beautiful square baby blanket knit in the round from the center out featuring ambling cables that resemble leaves with touches of lace and a scalloped leaf-lace edging. Size can be adapted. The pictured project is from AlexandriteX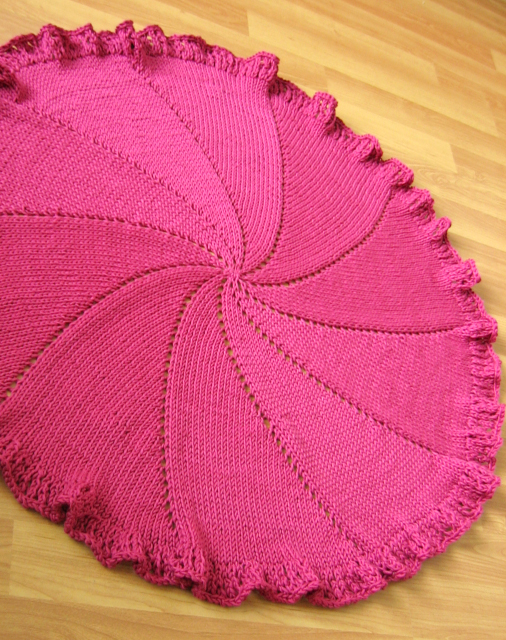 Pinwheel Baby Blanket
Genia Planck created a simple round baby blanket that is knit in the round (so no purl rows!) with simple eyelet lines. It looks hard but it isn't. It is easily customizable. The pictured project by elsteffo added a ruffle border.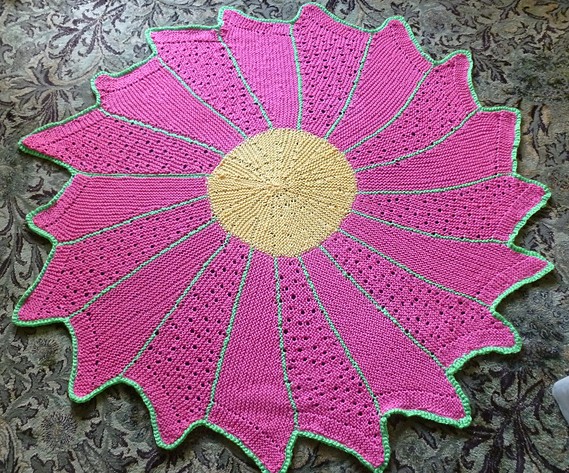 Flower Petal Blanket
Anne Haas designed this versatile blanket that can be adapted to look like a pinwheel or stained glass. Knitters report that this is a large blanket.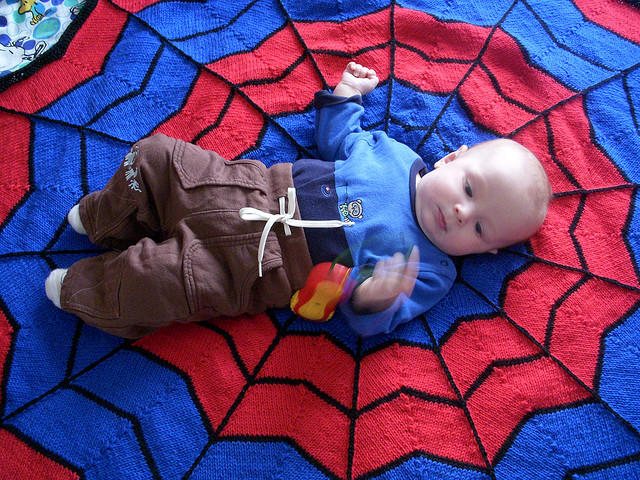 Spiderman Blanket
Annen Blogi designed this colorful design.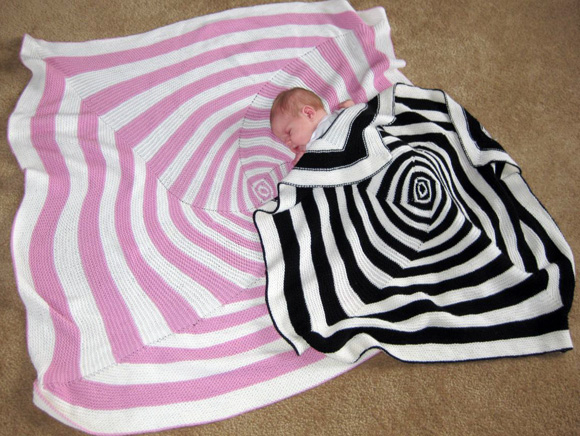 OpArt Blanket
This high contrast, op art blanket is designed by Melissa Dominguez to appeal to a baby's developing vision, but we adults love it too! Two sizes.
Patterns for Purchase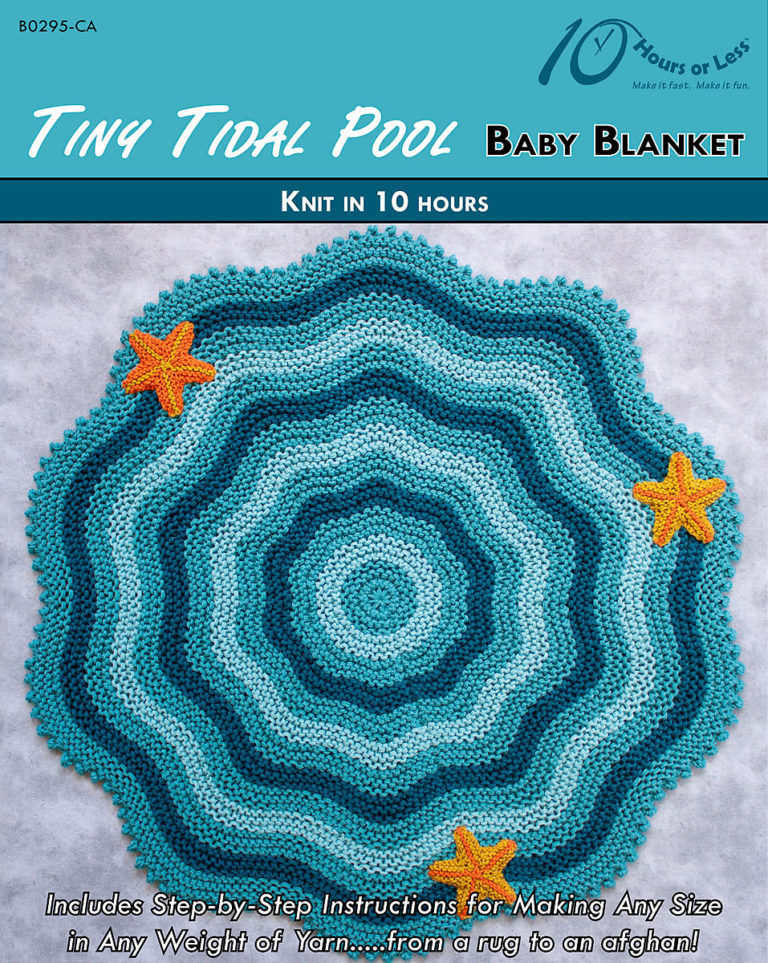 Tiny Tidal Pool Baby Blanket
This easy and quick striped circular blanket is knit to resemble ripples in a pool. Knit in garter stitch with a picot edge and decorated with 3 knit starfish. The designer says it can be knit in 10 hours which makes it a perfect quick baby shower gift.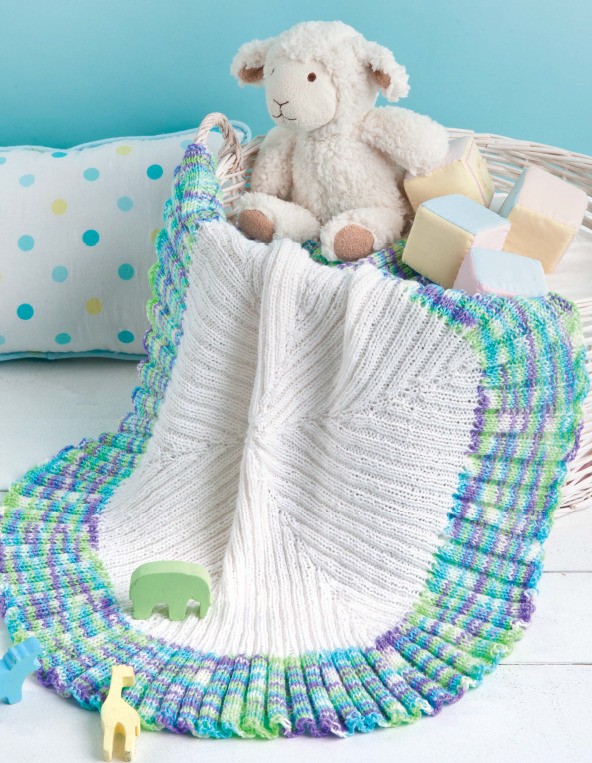 Ruffled Circle Baby Blanket
This baby blanket knit in the round is one of the 8 patterns in the ebook Beginner's Guide to Knitting in the Round available exclusively from Leisure Arts.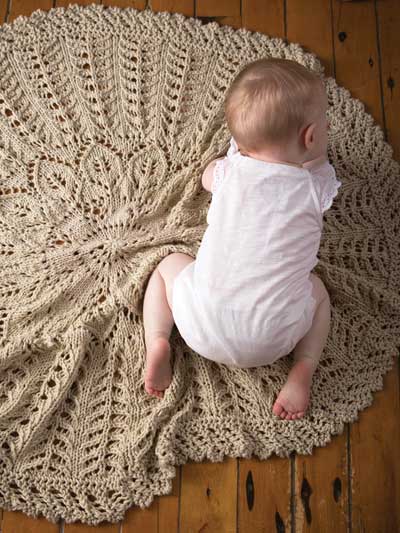 Cecelia Baby Blanket
The circular shape gives a unique shape to this 5-star reviewed baby blanket. It's also knit with chunky-weight yarn and larger needles for a faster project.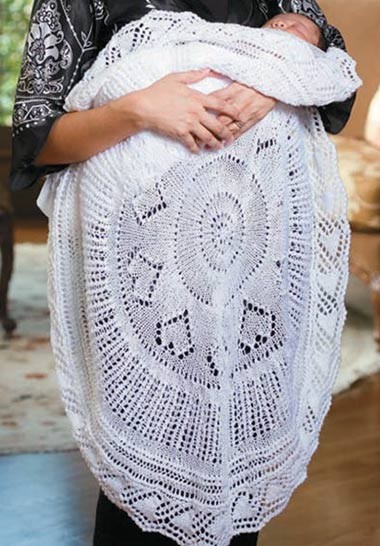 Circular Lace Christening Blanket
This gorgeous baby blanket knit in the round is one of the 8 patterns in the book I Can't Believe I'm Lace Knitting. This pattern can also be used as a shawl. Available in paperback or digital download.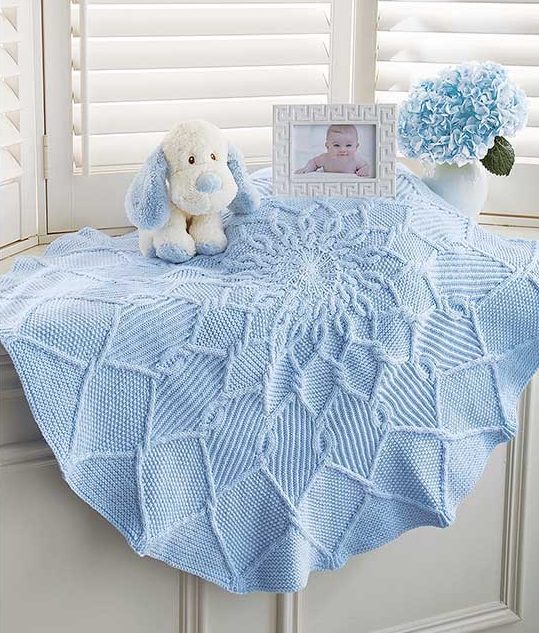 Cables Go Round Baby Blanket
This baby blanket knit in the round is one of the 9 patterns in the ebook Dreamy Baby Wraps from Leisure Arts.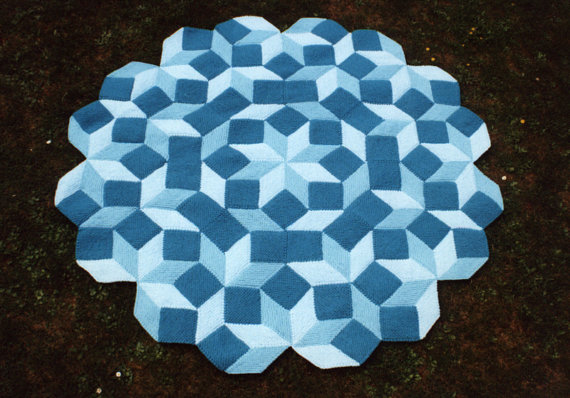 Penrose Afghan
This afghan is based on a design sent to woollythoughts by the famous Oxford mathematican Sir Roger Penrose and is named in his honor.
Get the knitting pattern on Etsy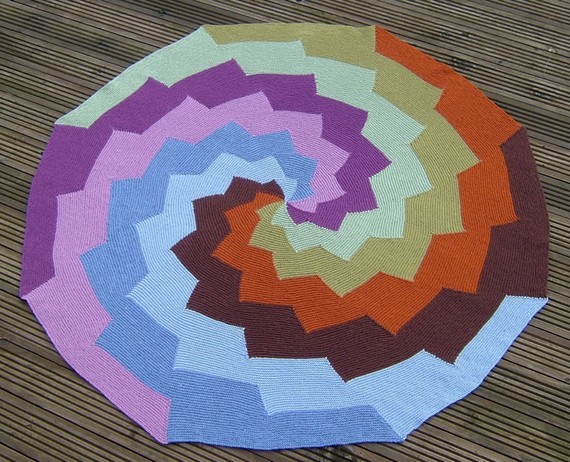 Revolution Blanket
This is design is much easier than it looks. It is worked in one piece, using one colour at a time and with a maximum of around one hundred stitches on the needles. There is a tiny amount of stitching to be done.