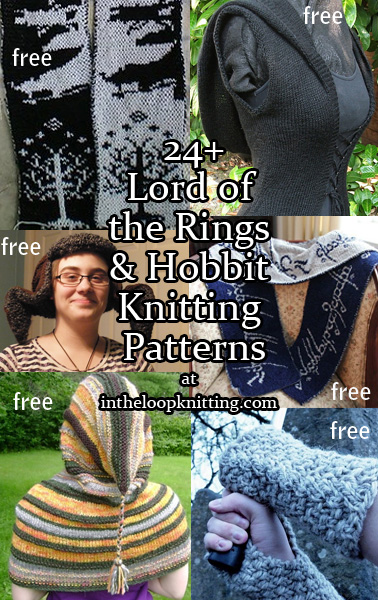 Projects inspired by Lord of the Rings and Hobbit characters, books, and movies. Updated 12/5/21.
To get the knitting patterns, scroll down the page to the individual pattern you want and click on the link to that pattern.
These patterns are not my designs but links to other designers who have generously shared their patterns. If you have questions about how to knit a specific pattern, please contact the designer directly.
All links on this site are for informational purposes, but please note that some links are to affiliate sellers that pay me a small commission on purchases.
Free Patterns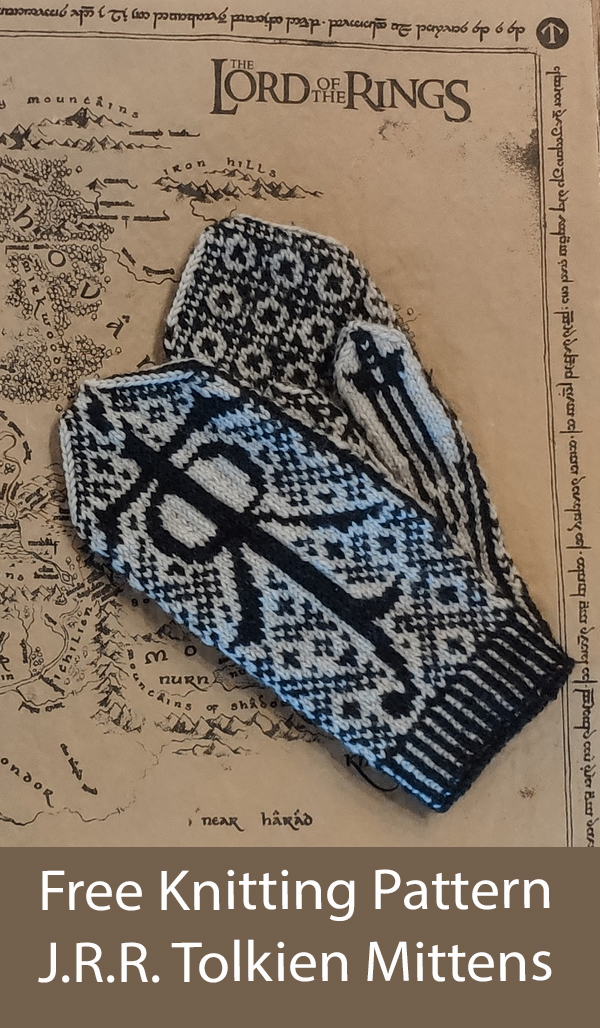 J.R.R. Tolkien Mittens
These Lord of the Rings inspired mittens features the symbol that Tolkien created from his initials. On the palm is a simple recurring Ring-like pattern. Knit in time for J.R.R. Tolkien's birthday (January 3). Designed by Tami Lin. DK weight yarn.

LOTR Tree of Gondor Wash Cloth
Lord of the Rings inspired Aragorn wash/dish cloth that could also be used as an afghan block or as a motif in another project. Designed by Fang Bu who also includes a pattern for an Elven leaf called Arwen. Pictured project by Rundstricken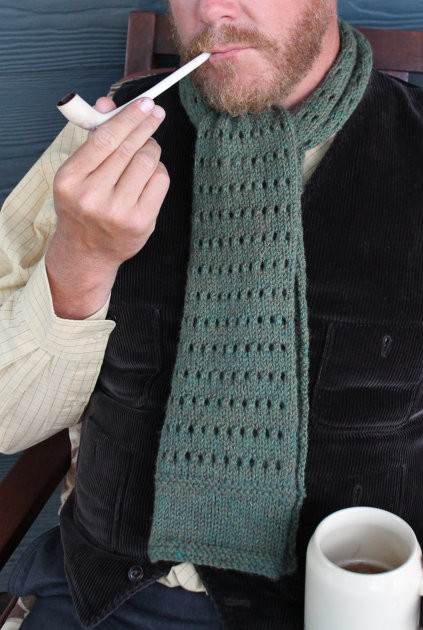 Shire Scarf
Inspired by the character Pippin. Designed by Abigail Turner.

Hobbit Inspired Line of Durin Hat
The Line of Durin, inspired by The Battle of the Five Armies, depicts three symbols The Hobbit's designers used for Fili, Kili, and Thorin in stranded colorwork. The green and gold colors were inspired by the color scheme in the films' depiction of Erabor. Designed by Alena Ruman



Bilbo and Frodo Baggins
Hobbit toy softies by The Knit Guru. Size 20cm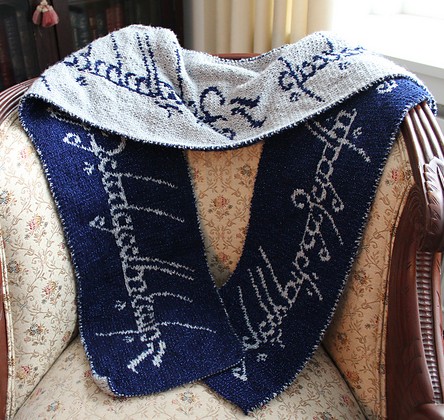 >
One Ring Scarf
Lyle Stafford's reversible double knit scarf. Pictured project by knit4boys5dogs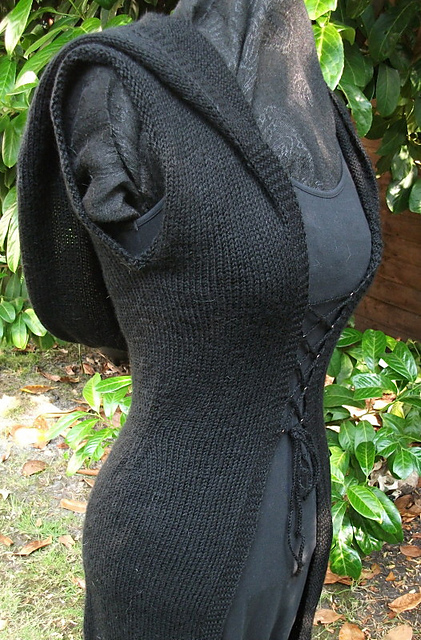 Hobbit Dress
Agnese Vajevska designed this hooded vest knitted in one piece from the bottom up. Lacing can be replaced by buttons. Pictured project by GothKnitty

Fellowship of the Ring Chart
sofia pm's chart was inspired by this image of the Fellowship.

Rohan Banner Scarf
IrishElinor's reversible double knit scarf is based on the White Horse upon green banner of Rohan, or as the Rohirrim call their country, the Mark of the Riders. There are Celtic knot motifs on the middle and the ends of the scarf, with two horse profiles facing each other between. See Appendix A, II: The House of Eorl; LOTR.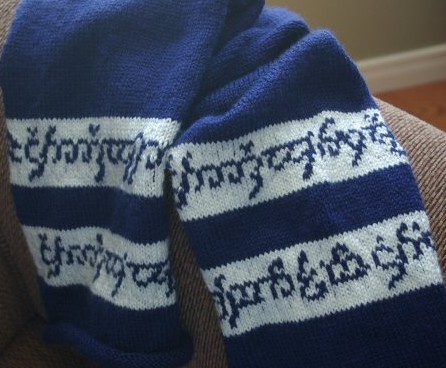 Lord of the Rings Scarf
Tina Yeung designed this tube scarf with four rings (2 on each end). Together, the elvish writing on the rings read "One Ring to Rule them All, One Ring to find them, One Ring to Bring them All and in the Darkness bind them." You'll have to save the image of the chart to your computer and then print it. Pictured project by Hobbesmom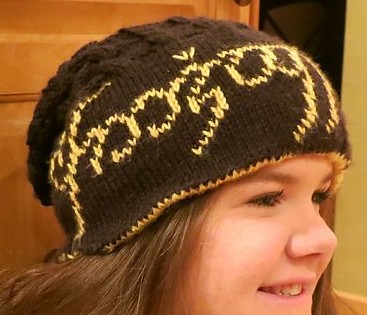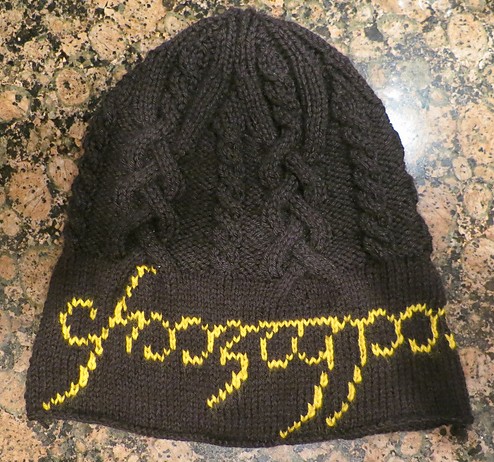 One Ring Cable Hat
Kristin Tefft's slouchy hat features the first line of the one ring's inscription, "One ring to rule them all" in a double knit brim. The top of the hat is a cable pattern.
More Free Patterns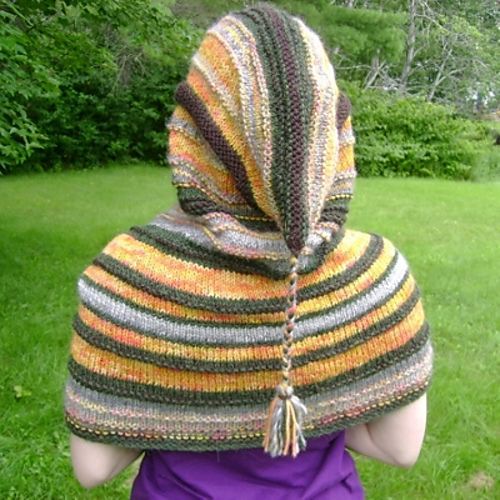 Thorin's Hooded Cowl / Middle Earth Hood
Summer Star designed this versatile hooded cowl that can be adapted to many Middle Earth purposes – from cosplay to fashion.Pictured project by Ephiphonora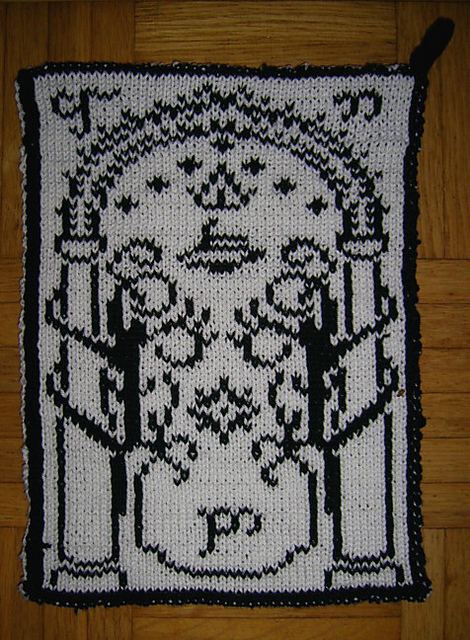 Doors of Durin – Moria Gate Chart
Andrea Krüß-Anders designed this chart that can be used for many crafts and projects. Click the project gallery on the pattern page to see it used on scarves, bags, sweaters, and more. Pictured project by PiggyKnits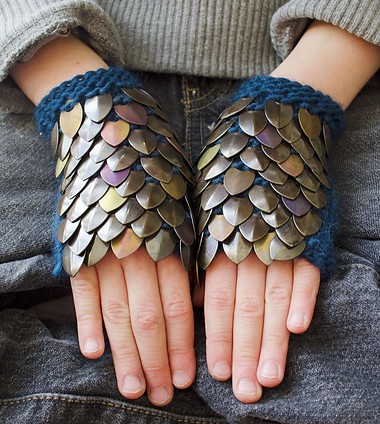 Gimli Son of Gloin Gauntlets
Sheila Toy Stromberg designed these mitts inspired by the dwarf warrior. She provides a tutorial for knitting with scalemail, which is a lot like knitting with beads. Small (Medium, Large, Extra Large, Extra-Extra Large)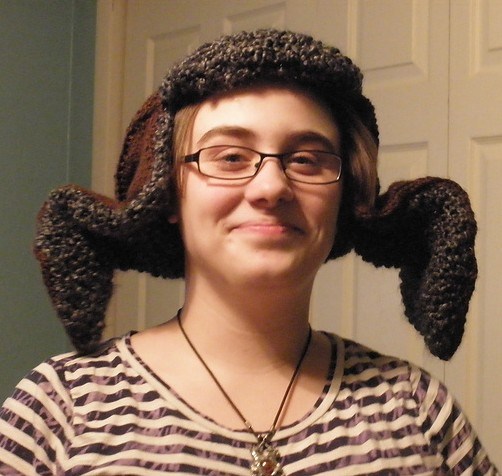 Bofur's Hat
A trapper hat inspired by your favorite dwarf! Pictured project by Emily-H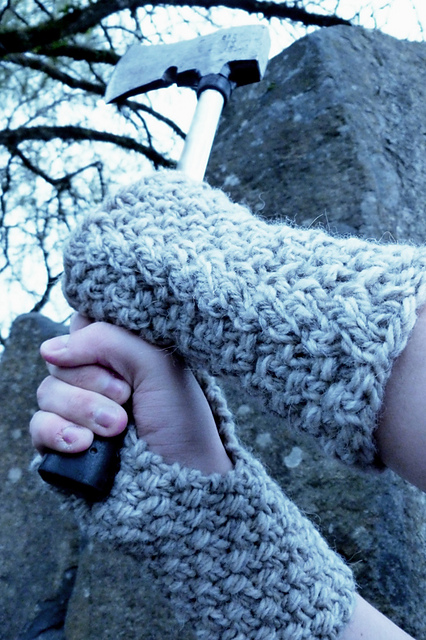 Dwarven Mitts Bofur
Alice B Hyde designed these fingerless gloves inspired by the chunky gloves worn by Thorin's company of dwarves in The Hobbit.

Wizard Warmers
Maire Martin designed these cuffed fingerless mitts after Gandalf's fingerless gloves from The Hobbit: An Unexpected Journey. They can be worn with the cuffs unrolled over the fingers to keep them warm, with the cuff folded back to keep your manual dexterity (as shown in the film), or you can pull in your thumb and pull them up to your elbow as handy forearm-warmers/half-sleeves.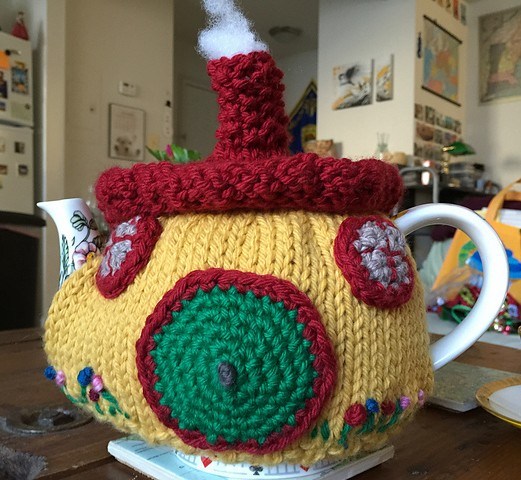 Hobbit Cottage Tea Cozy
Heather Tunnah's pattern instructs you how to knit the body, roof and chimney of this cozy. Embellishments are added with duplicate stitch, embroidery, or crochet. The pictured project by jesbelle varies from the original pattern by using crocheted circular doors and windows.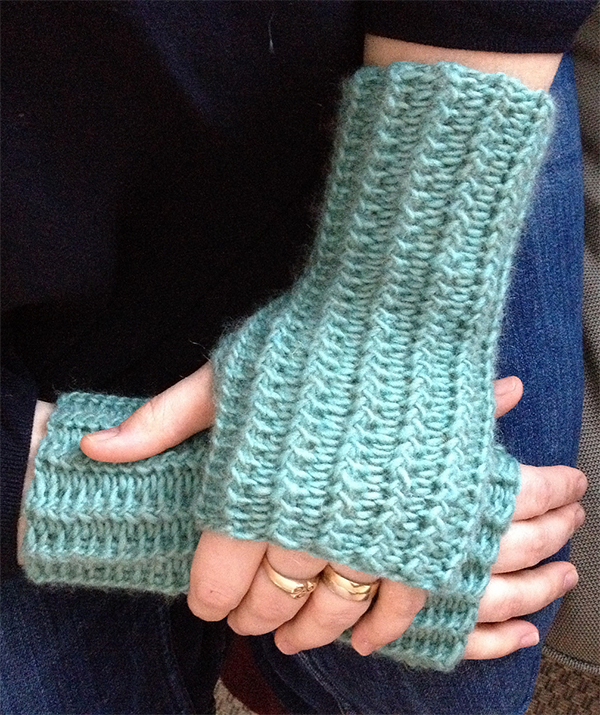 Dwarven Mitts - Ori
Inspired by the Hobbit movies and the the mitts worn by Ori. Designed by Heatherly Walker. DK weight yarn. Pictured project by Aldera501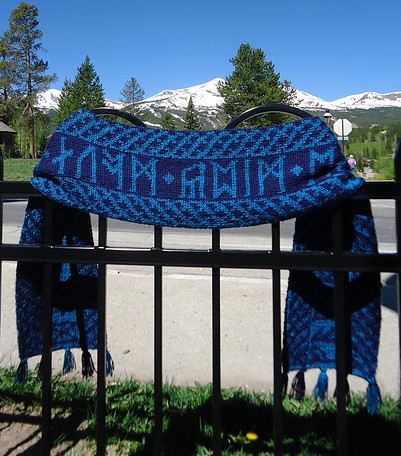 Misty Mountains Cold (Song of the Lonely Mountain) Chart
emilyonthewall created this chart depicting the first line from the song in Lord of the Rings. A chart for the second line is also available. Pictured project by robinhoodlafille

Runic Baby Chart
The runes in this chart spell out BABY (stacked in two lines) in the Angerthas, Tolkien's dwarven alphabet, as shown in Appendix E of The Return of the King. Surrounded with cables, it creates a great pane for blankets or other projects.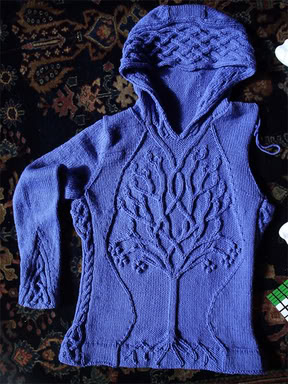 Tree of Gondor Sweater
Here is the Tree of Gondor blanket using the tree chart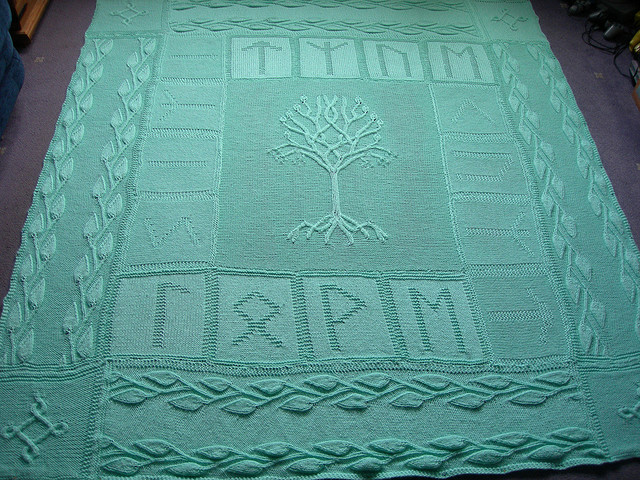 Oakenshield Armoured Hat
Rebecca Marsh's beanie hat features a stranded colourwork pattern based on the plated armour worn by Thorin Oakenshield in the Hobbit films.
Patterns for Purchase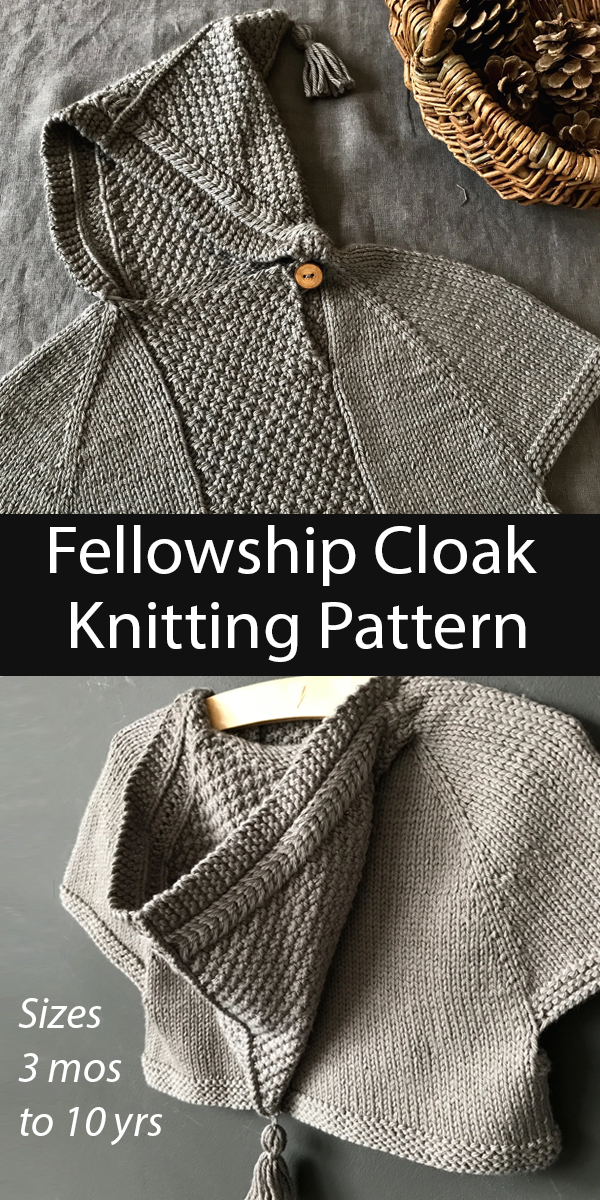 Fellowship Cloak
Lord of the Rings inspired baby and child sized hooded poncho. Galadriel gives the hobbits and the other members of the Fellowship of the Ring magic elven cloaks inspired the designer to create this cozy poncho to throw on before going on any adventure! Sizes 3mo (6mo, 12mo, 18mo // 2yo, 4yo, 6yo, 8yo, 10yo). Worsted weight yarn. Designed by FrogginettePatterns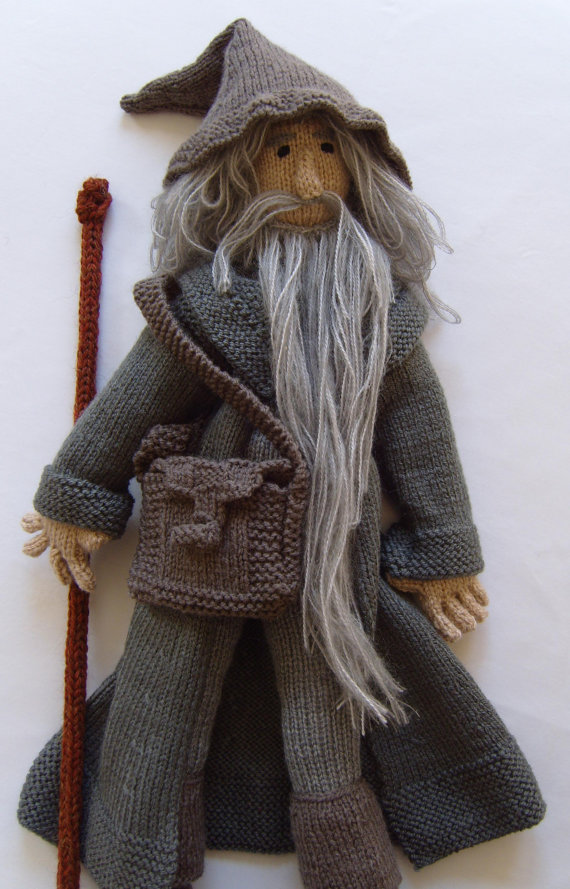 Gandalf the Grey with Backpack and Staff
Woolythoughts designed this pattern to make the wizard, his separate long robe, a satchel with a knitted button closure and a tall staff. Approx 19.5ins(49.5cms) from the top of his head (not including hat) to the soles of his feet and approx 15ins from left middle finger tip to right middle finger tip.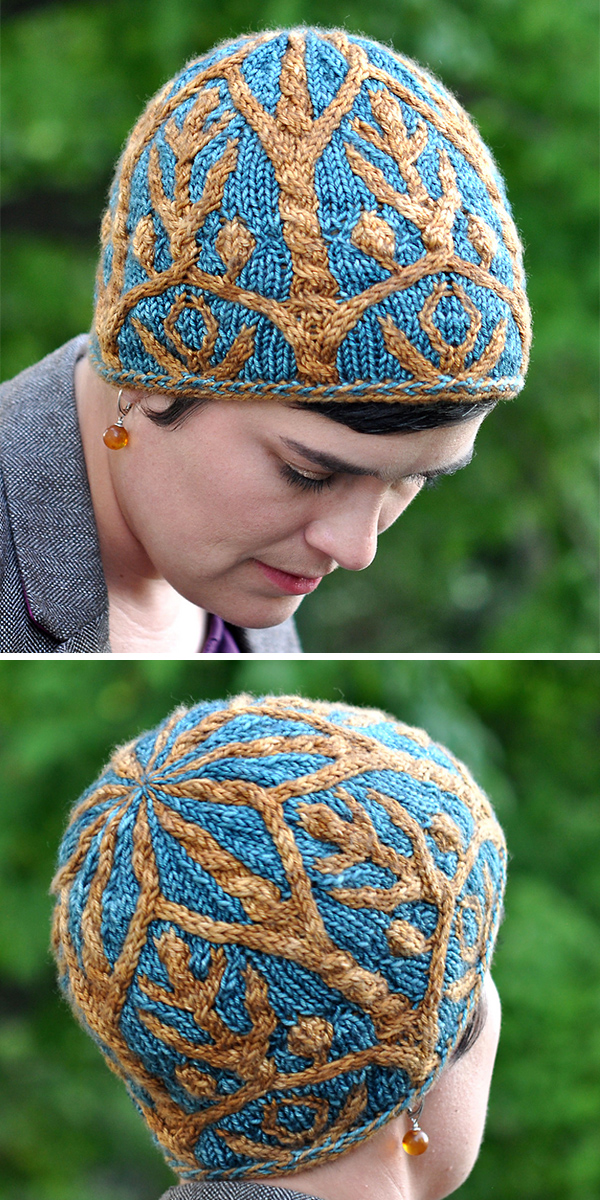 Lothlorien Hat
The twisted trees and golden leaves of the Bois D'Or hat are inspired both by the golden woods of Tolkien's Lothlorien forest and the floral motifs of the Art Nouveau movement at the turn of the 20th century. This hat makes use of cables and stranded colorwork at the same time to bring out the twining trunks and branches, and leaves are shaped using increases and decreases to give them smooth lines. Designed by Sara Burch. Worsted weight yarn.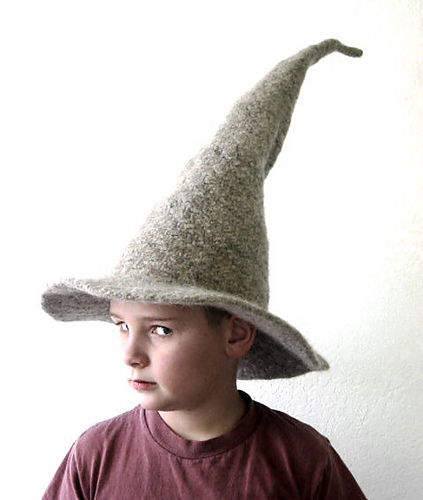 Felted Gandalf Wizard Hat
Oregon Trail Yarns designed this hat with a spiral detail. Be sure to use 100% wool yarn that can be felted.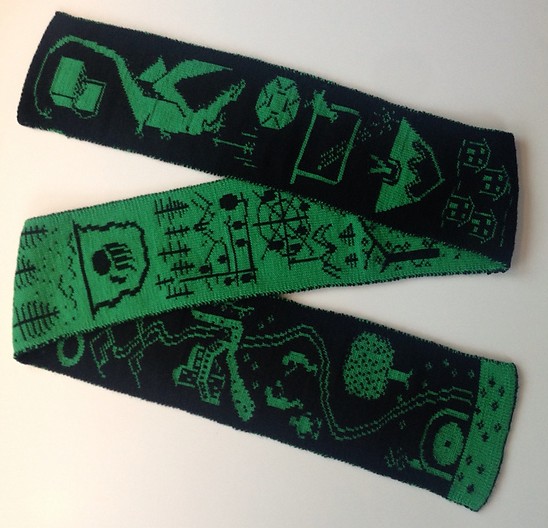 There and Back Story Scarf
Designed by Frivolite Handicrafts, based on Bilbo's adventures. Pictured project by TheShining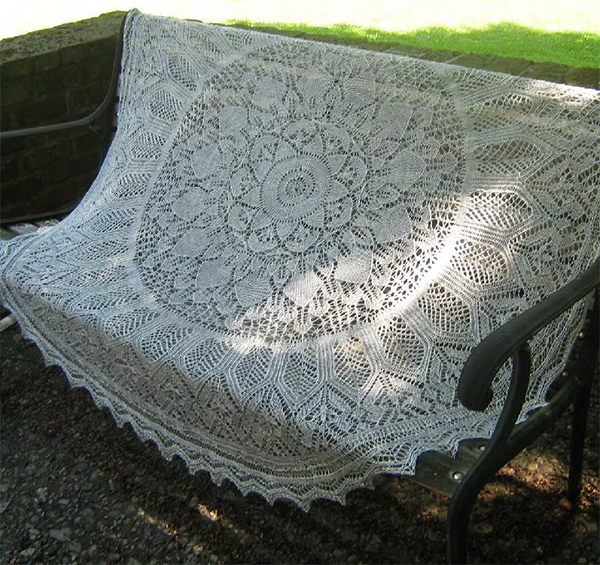 Evenstar Shawl
This design by Susan Pandorf is a full sized round shawl inspired by Arwen's Evenstar from Lord of the Rings.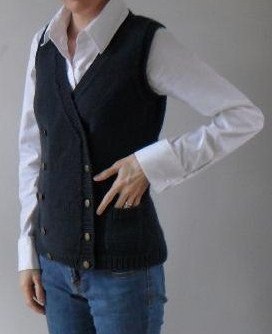 Pocketses Vest
This vest is inspired by a Hobbit's waistcoat, with a double breast to display plenty of nice brass buttons, as well as two small pockets, just large enough for concealing a magical ring. Sizes finished bust measurements of 29.5 (33, 37.5, 41, 45.5, 49)".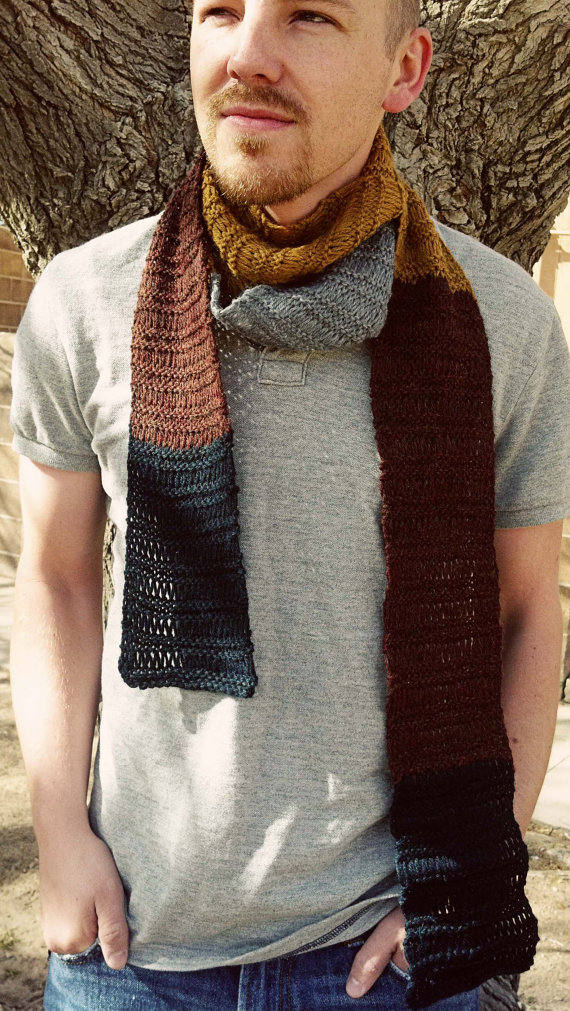 Dwarven Scarf
Inspired by Bofur's scarf.