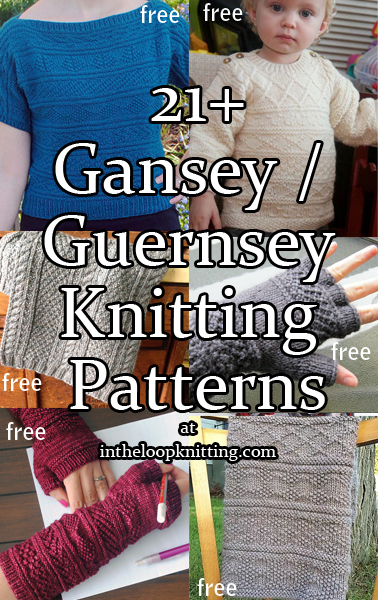 Gansey patterns are inspired by the sweaters worn by fishermen around the coasts of the UK which were called ganseys or guernseys. They feature combinations of stitch patterns using just knit and purl stitches.
To get the knitting patterns, scroll down the page to the individual pattern you want and click on the link to that pattern.
These patterns are not my designs but links to other designers who have generously shared their patterns. If you have questions about how to knit a specific pattern, please contact the designer directly.
All links on this site are for informational purposes, but please note that some links are to affiliate sellers that pay me a small commission on purchases.
Free Patterns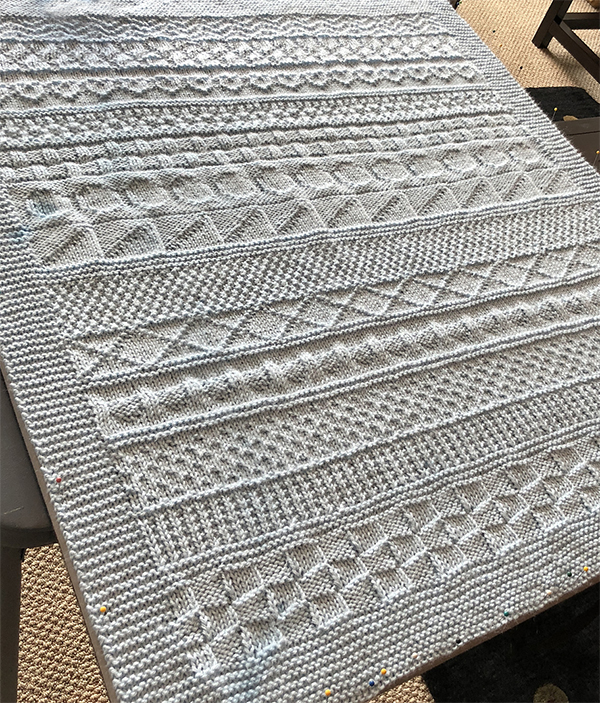 Easy Knit and Purl Baby Blanket
Easy baby blanket in a gansey sampler style in sections of stitches made just by knit and purl combinations. Suitable for beginners according to the designer Tina van den Berg. Rated easy by Ravelrers. 80cm x 80cm - instructions included for blankets of 100cm/120cm width. Pictured project by pamcama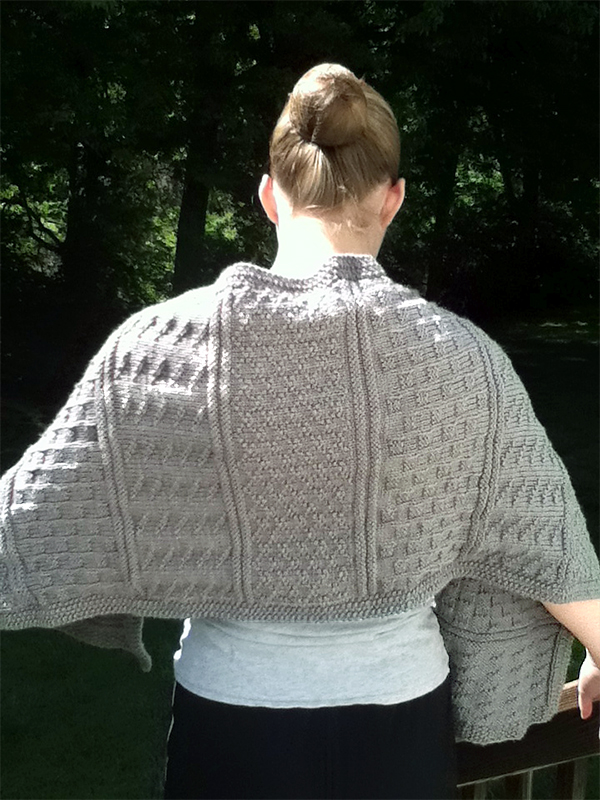 Textured Stitch Wrap
Easy rectangular shawl pattern by Patons that features 3 stitch patterns repeated to the desired length. Approx 16½" x 65″ [42 x 165 cm]. Pictured project by frankmomof3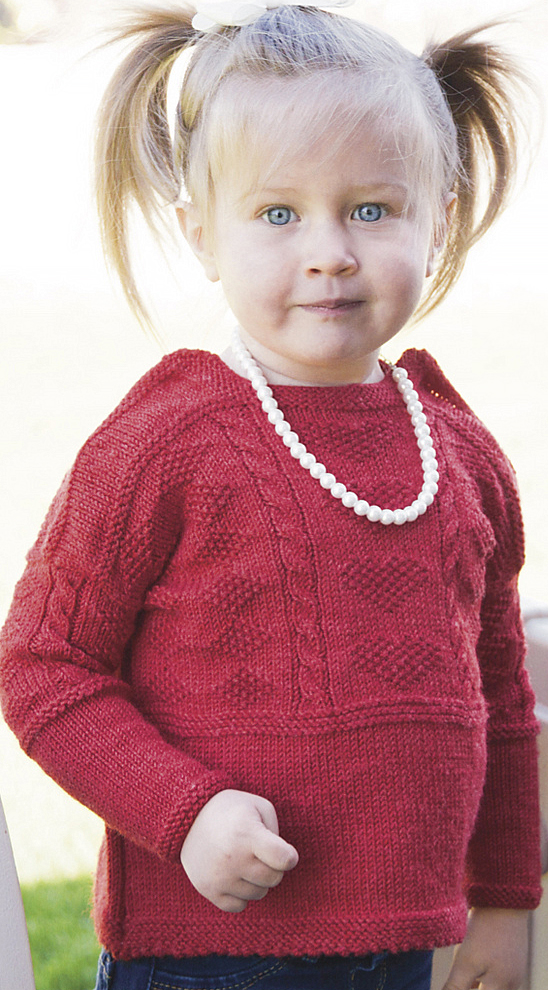 Wee Gansey Sweater
This baby pullover features hearts and diamond motifs with cables in the gansey fishermen sweater style. Sizes 3-12 months, 12-24 months. Sport weight yarn. Designed by John Crane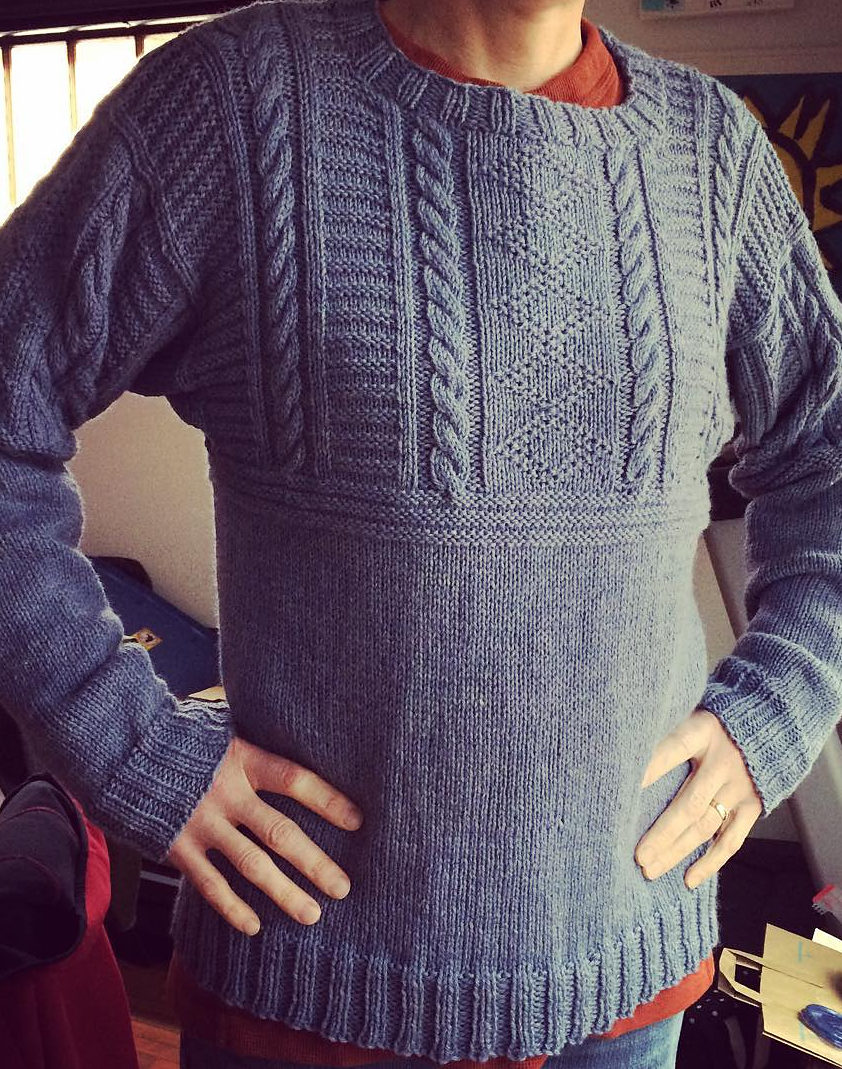 Old Way Gansey
Classic long-sleeved pullover designed by Ann Budd. Originally designed to be felted so if you don't felt, knit to the after felting measurements. One of the free patterns in the free ebook 7 FREE Knitting Patterns for Men from Interweave. Pictured project by alissahead.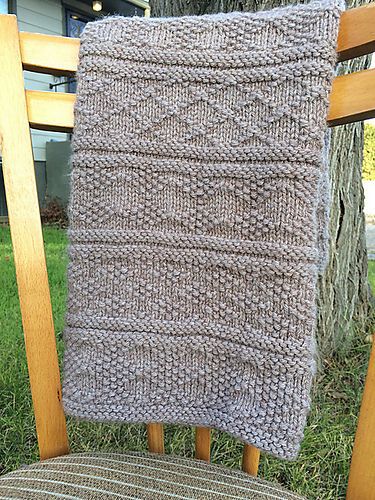 Guernsey Style Baby Blanket
Kate McDaid was inspired by the textures of classic Guernsey, or Gansey, patterns to create this easy blanket that knits up quickly in bulky weight yarn.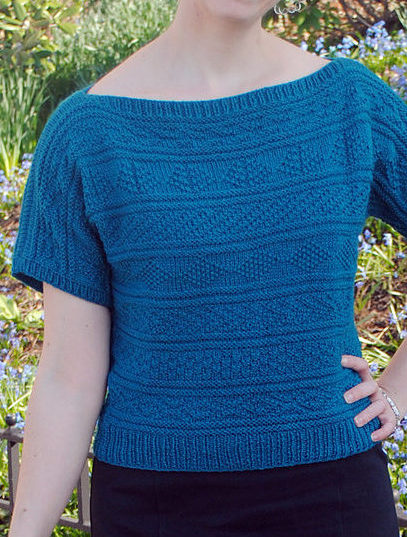 The Great Gansey Top
This pullover tee features a Gansey pattern that's just a 12-stitch repeat with welts as resting rows. Designed by Kalliopi Aronis. Women's XS, S, M, L, 1X, 2X, 3X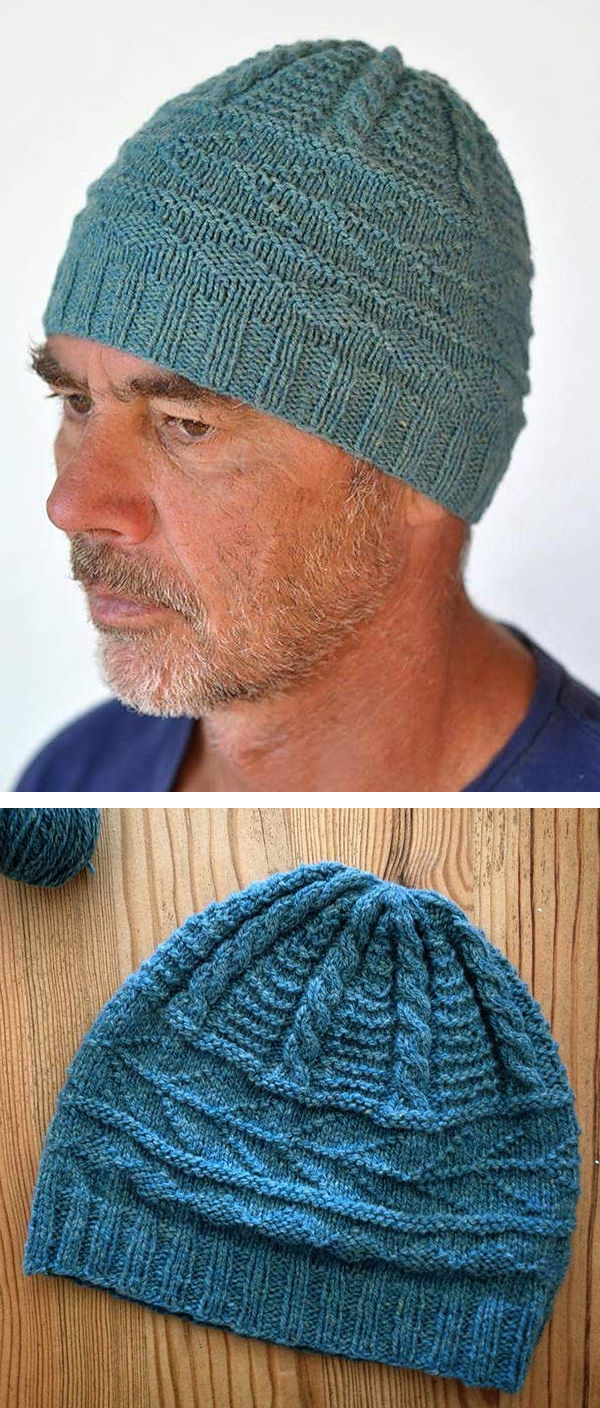 Murrayfield Hat
Beanie with textured stitches and cables in gansey motifs. DK yarn. Designed by LES BONNETS NÊ. Available in English and French.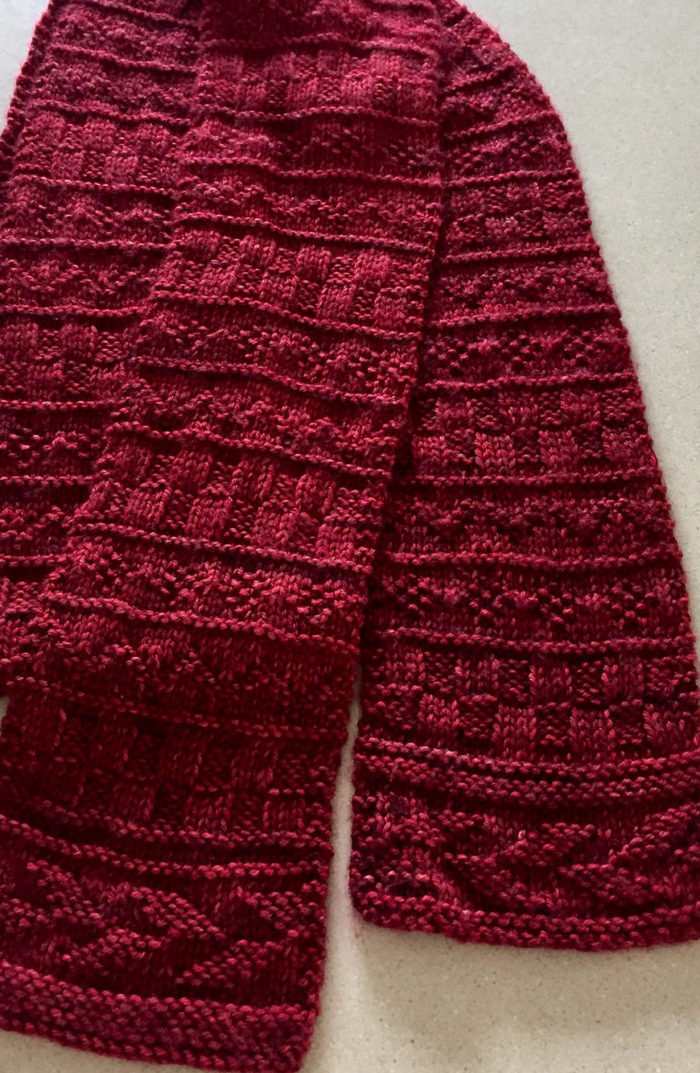 Gansey Sampler Scarf
Scarf with sections of textured stitches. Bulky yarn. Designed by Shannon Dunbabin. Pictured project by patknitsocks.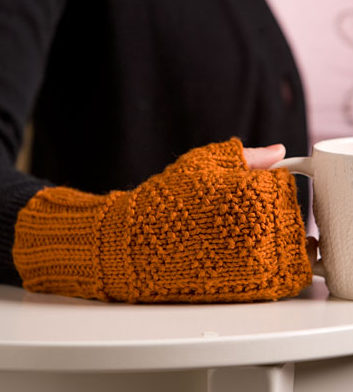 Gansey Diamond Mitts
Fingerless mitts feature a Gansey inspired stitch pattern of purl stitches on a stockinette field. Designed by Kerin Dimeler-Laurence. Pictured project by Chimona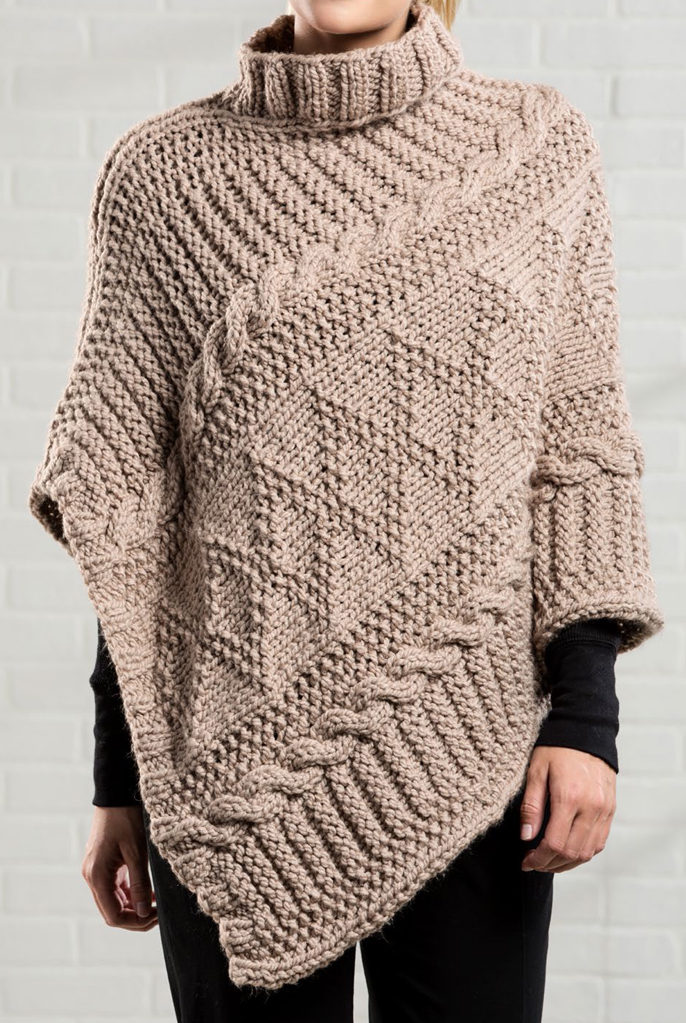 Gansey Poncho
The poncho is knit in a single long panel that is folded in half and sewn together along one side, with an opening left for the neck. The sideways construction made this look crocheted to me but it's knit! Designed by Premier Yarns.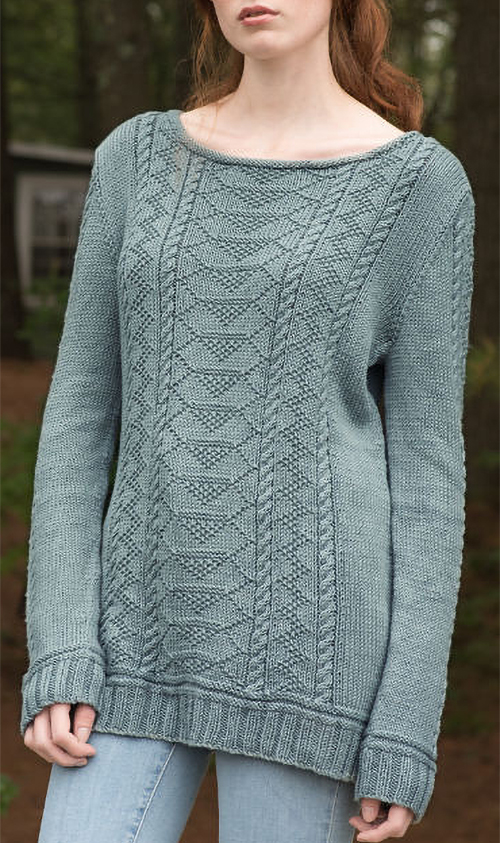 Carra Sweater
This gansey-inspired pullover is knit in pieces with simple knit-and-purl charted stitch patterns. Sizes Bust—33 (36, 39, 42, 45, 48, 51, 54)". Worsted weight yarn. Designed by Alison Green for Berroco for one of my favorite yarns Berroco Modern Cotton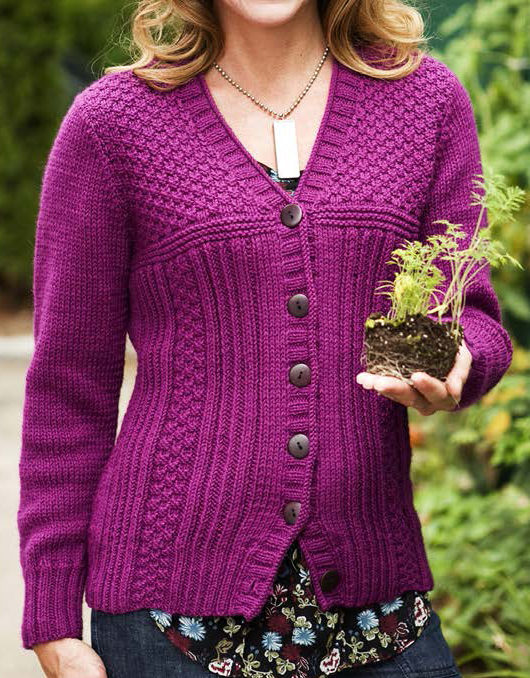 Drift Cardigan
Classic long-sleeved cardigan by Norah Gaughan features the gansey stitch patterns in flattering lines. Sizes XS-2X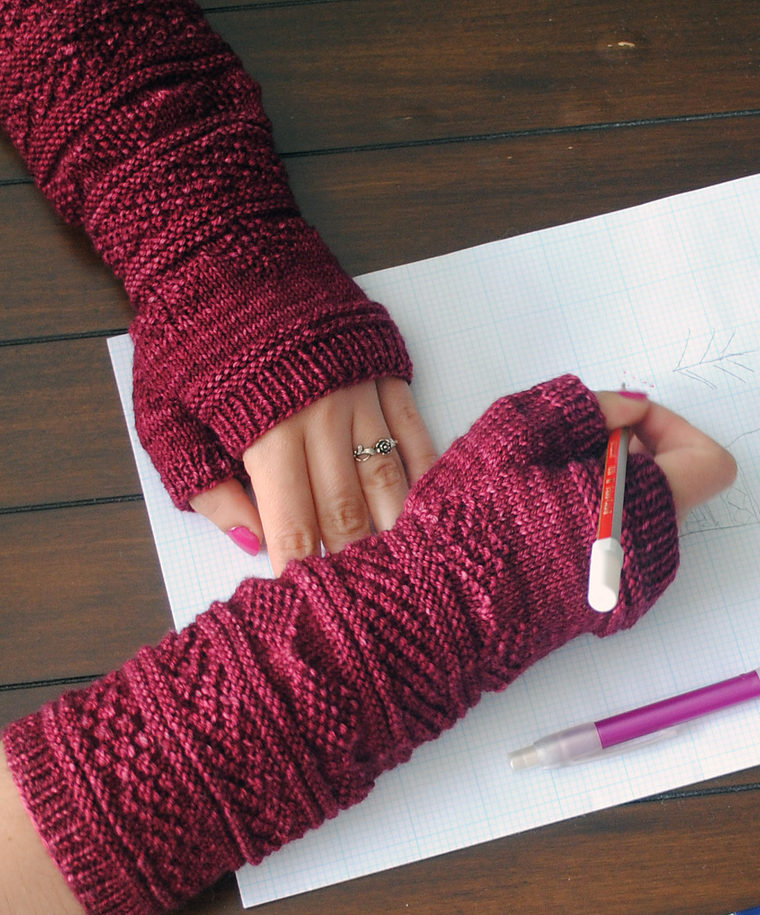 Gansey Wristers
Fingerless mitts with textured stitch sections. Designed by Kalliopi Aronis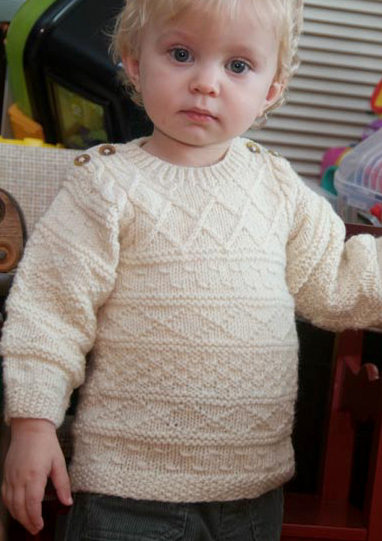 Baby Gansey Sweater
This Easy Baby Aran pullover features gansey texture stitch patterns and buttons at the shoulders for easy dressing. Designed by Sarah Hoffman. Size 12 to 28 months / 20 inch chest finished size. Pattern is on the Internet Archive.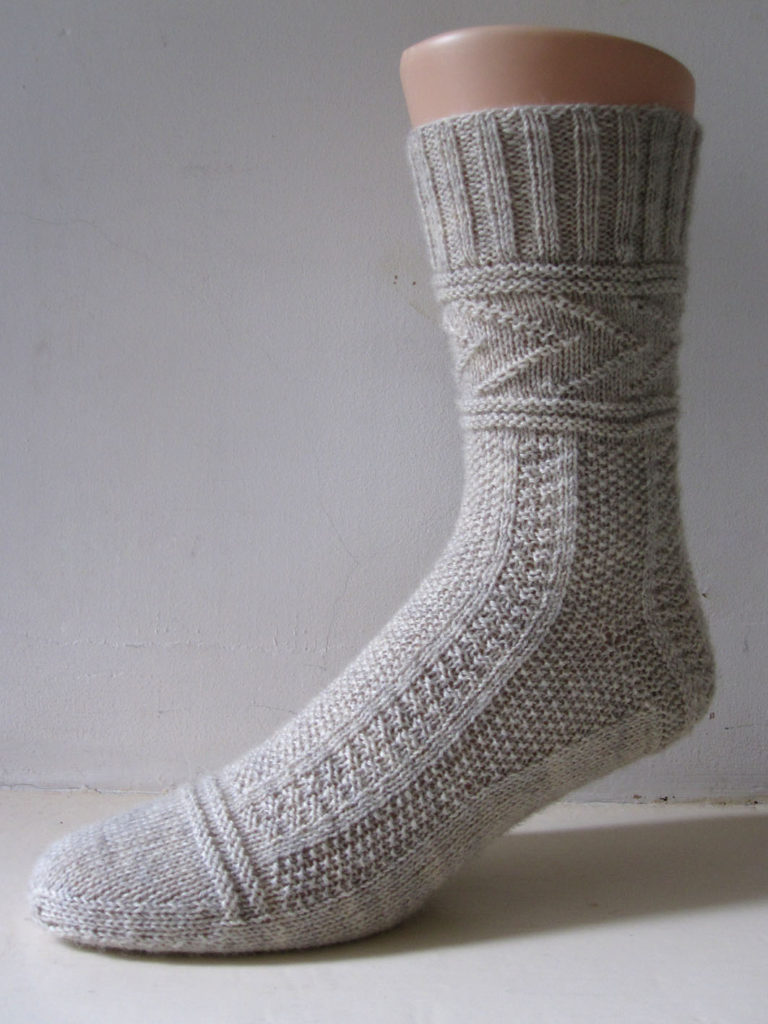 Gladys Gansey Socks
This sock features textured stitches like those in traditional Guersey / Gansey fishermen's sweaters. Designed by General Hogbuffer who named this after Gladys Thompson who wrote the book Patterns for Guernseys, Jerseys & Arans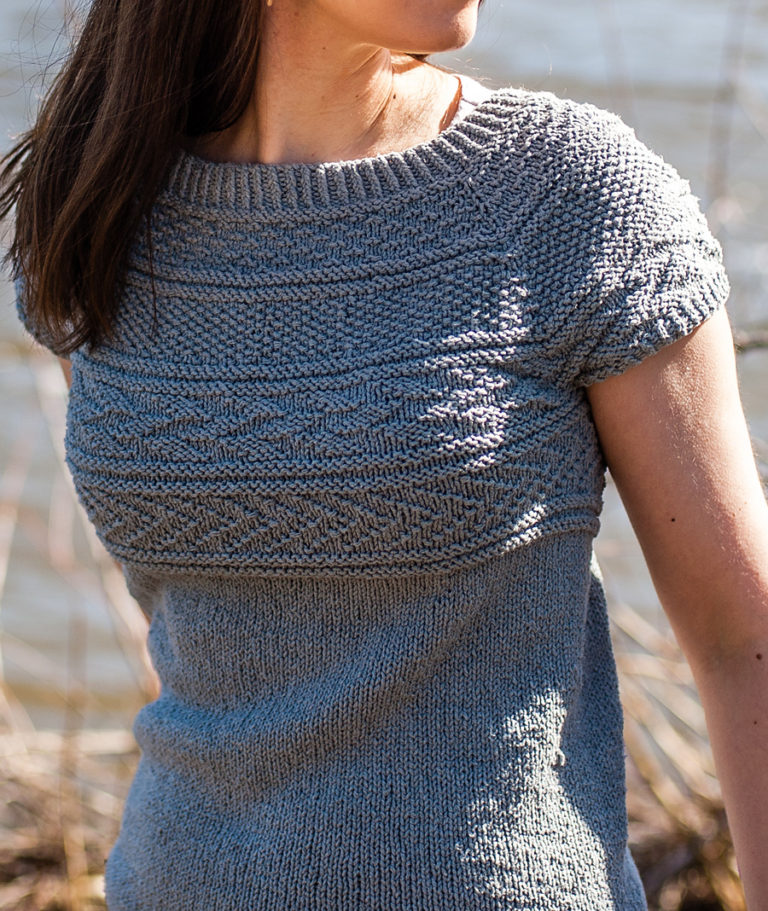 Battersea Top
Short-sleeved pullover features a curved hemline, boat-neck neckline and traditional fisherman gansey motifs on the yoke. Designed by Valérie Miller. Sizes 34 (35.5, 37, 39, 41, 42.5).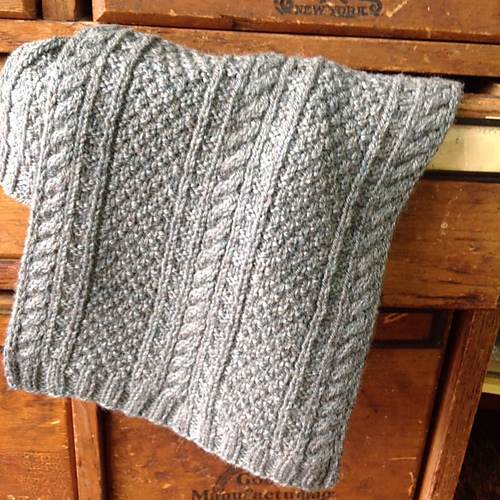 4-Row Gansey Scarf
This textured scarf is knit with a 4 row repeat — even including the cables. Designed y Marji LaFreniere

Arguyle Pullover Sweater
Long-sleeved pullover with stitches inspired by fishermen's gansey sweaters. Sizes S[M, L, 1X, 2X]. Designed by Kathleen Sperling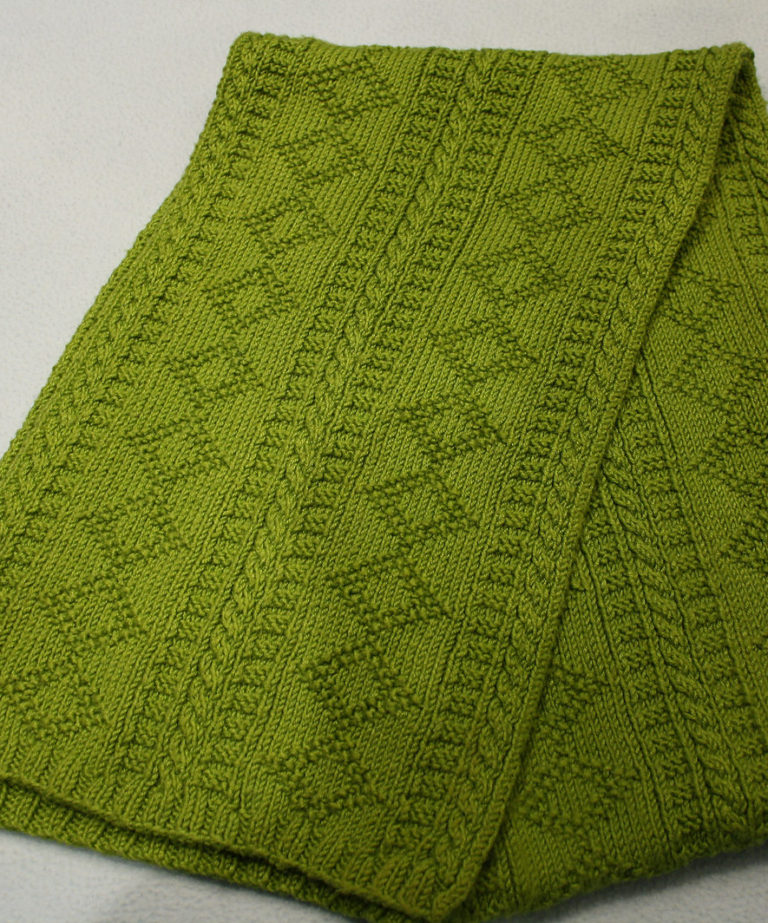 Karin's Gansey Scarf
This scarf features diamond motifs and other textured stitches. Designed by Tina Hees. Pictured project by jeffmeister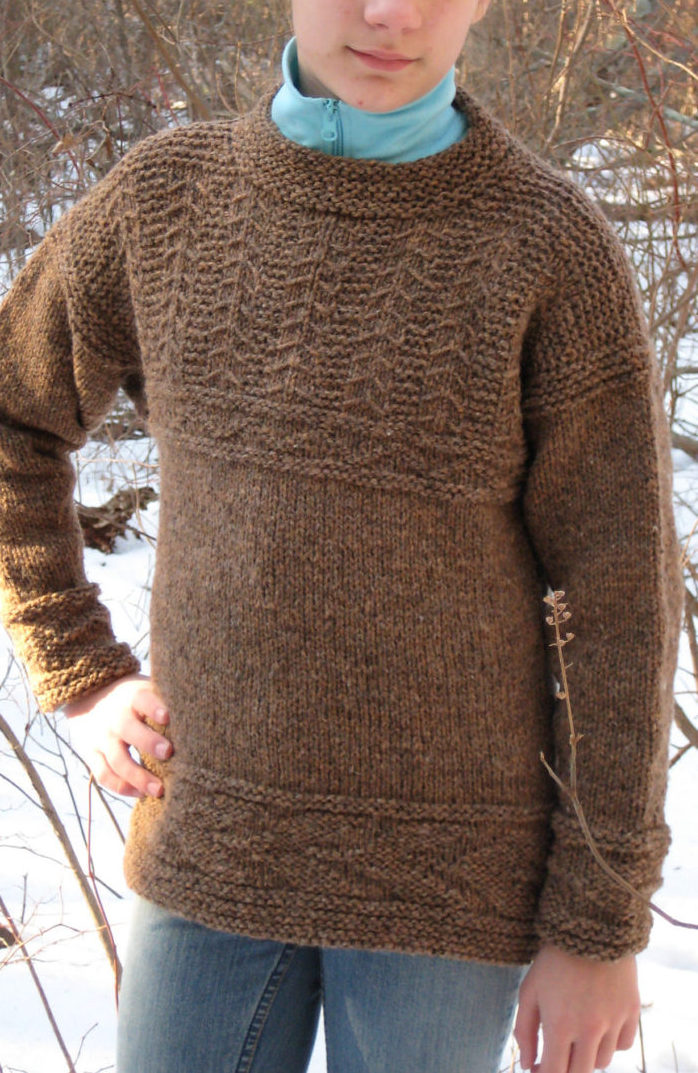 Guernsey Sweater
Long-sleeved pullover with gansey textures. Sizes child 10, adult S, M, L. Bulky yarn. Designed by Christiane Burkhard.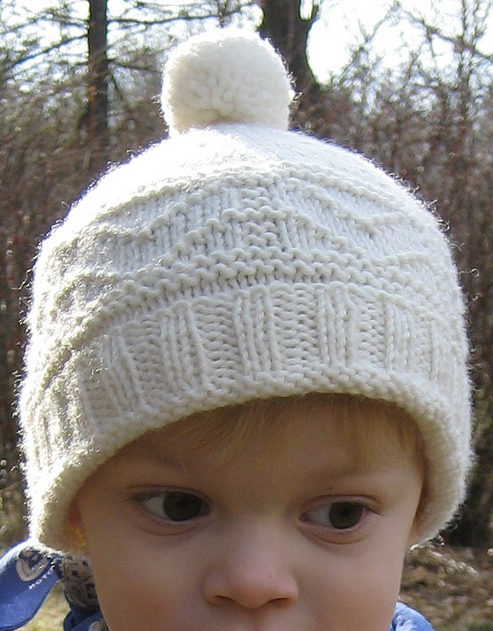 Gansey Hat
This easy pompom beanie hat is sized for children but some knitters have adapted for adults by adding repeats. Designed by Christiane Burkhard of LISMI Knits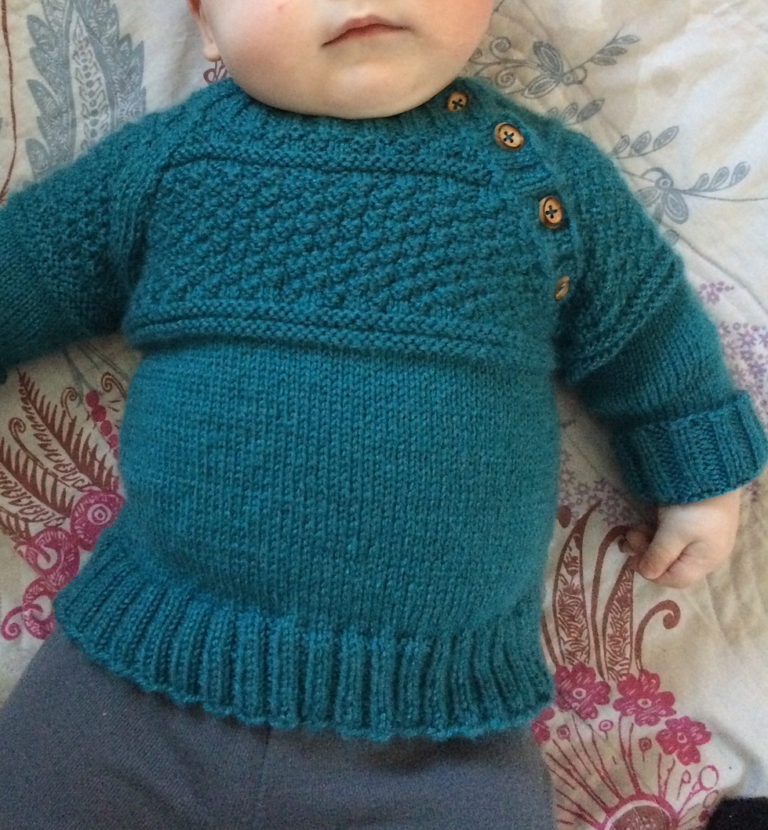 McDreamy Jumper
This pullover has a textured Gansey-style yoke and buttons along the edge of the raglan sleeve for easy dressing. Sizes 1/3 – 6/9 – 12/18 months (2 – 3/4) years. Designed by DROPS Design. Available in many languages. Pictured project by Fraugee728.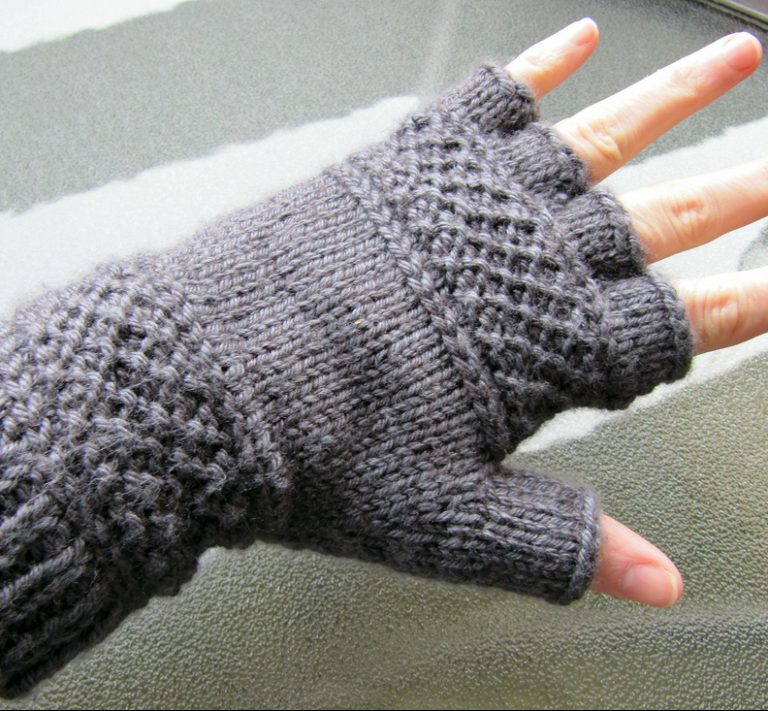 Treads Tipless Gloves
Victoria Anne Baker's Gansey-inspired unisex gloves feature the linen ridge stitch that inspired the name of the pattern that can easily be modified to make full-fingered gloves, fingerless mitts, or even mittens.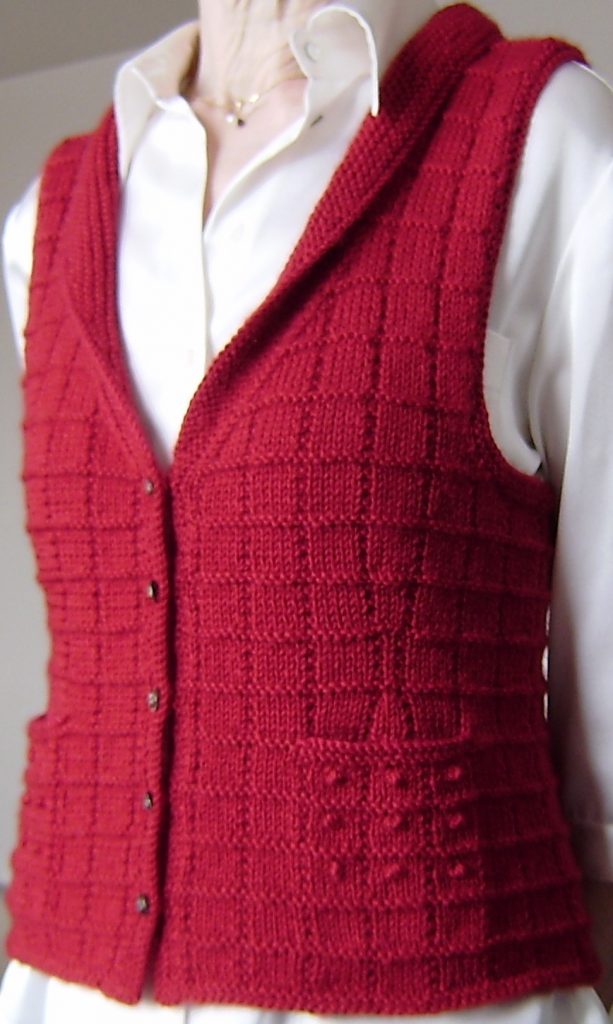 Buttonbox Vest
Elizabeth McCarten's vest features a modified gansey pattern with french knots and pockets. Knitters have customized this pattern for other stitch textures, without the pockets, or deeper shawl collar. Great range of sizes XS/S-3X. Pictured project by Tricodentelle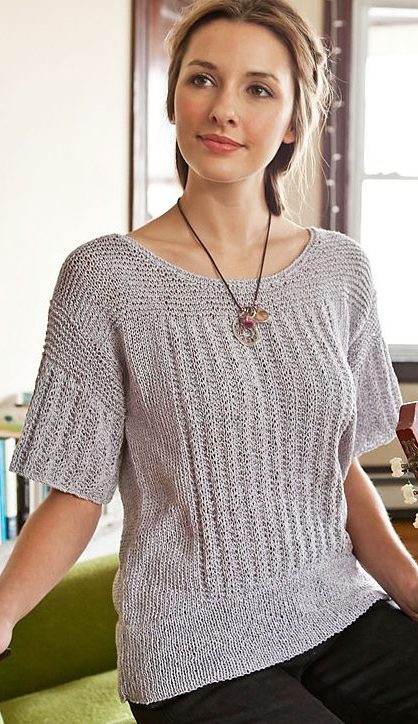 Pern
Norah Gaughan's easy tee top re-interprets the traditional fisherman's gansey with easy slipped stitch rib, garter details, and a generous hem. XS, S, M, L, 1X, 2X
Patterns for Purchase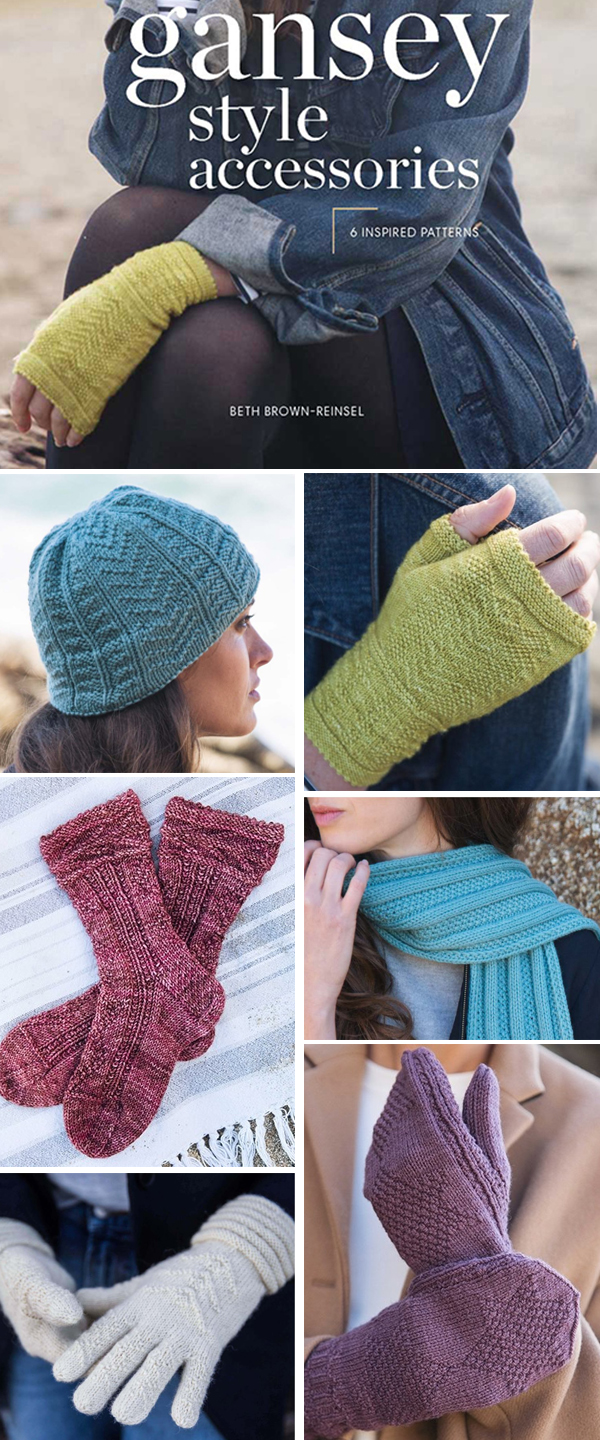 Gansey Style Accessories eBook: 6 Inspired Knitting Patterns
Enjoy six patterns that use traditional gansey motifs to create stunning accessories. Beth Brown-Reinsel takes you on a journey to explore gansey motifs from different regions while you create projects including mitts, gloves, socks, a hat and a scarf. With special attention to design, these six patterns are full of texture and detail. Designed by Beth Brown-Reinsel.
Knitting Ganseys, Revised and Updated: Techniques and Patterns for Traditional Sweaters
In this newly revised and updated edition, you'll find even more information on the gansey tradition as well as new, modern sweater knitting patterns.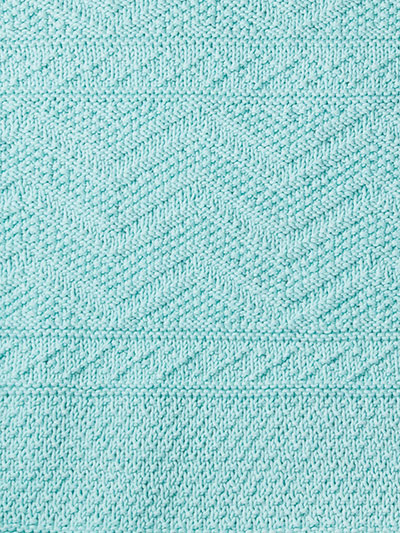 Blankie for Baby
Easy baby blanket is created with just knit and purl stitches. Quick knit in chunky yarn.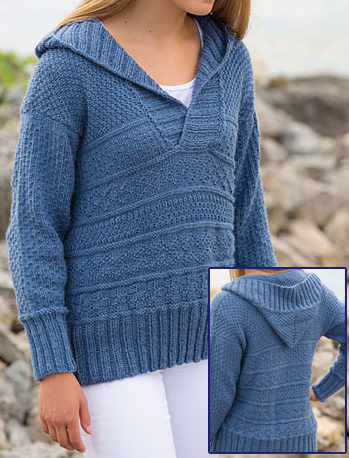 Nordkapp Hoodie
Long-sleeved hooded pullover sweater features textured patterns reminiscent of Gansey stitches. Sizes Woman's S through 2XL.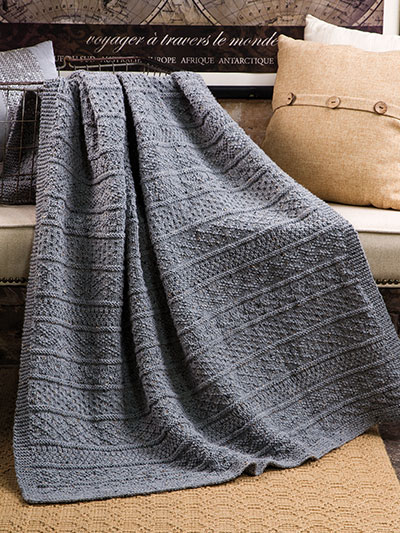 Gansey Afghan
Five different stitch patterns are repeated in row sections in this fishermen's sweater style afghan. Finished size is approximately 44″ x 50″.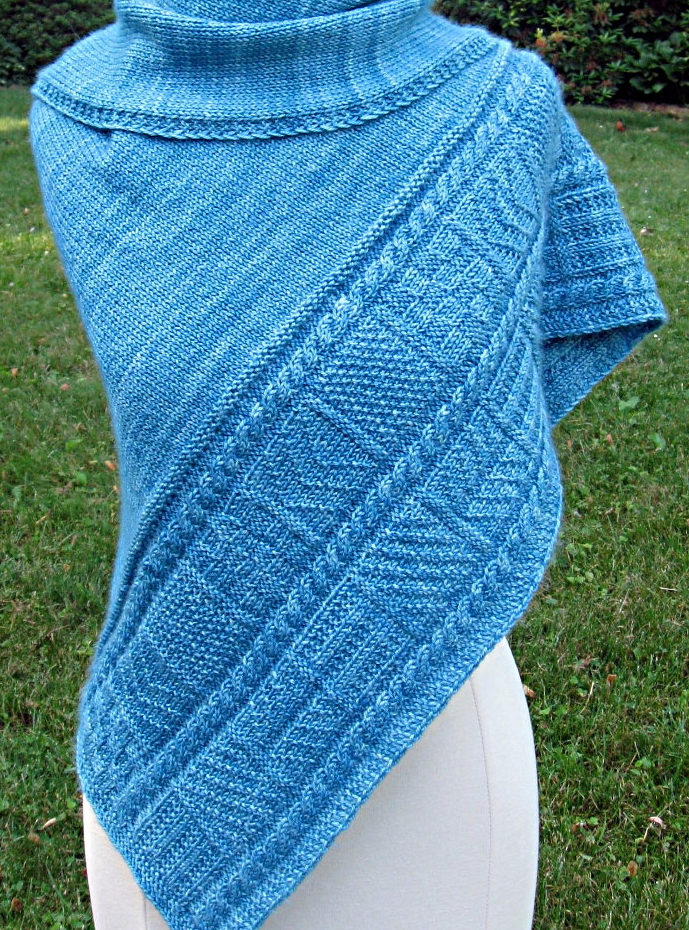 Ganz Shawl
Ganz is a slightly asymmetrical triangular shawl that begins with a cable and gansey panel. Stitches are picked up on the long side of the panel to work the stockinette stitch body.

River Forest Gansey Sweater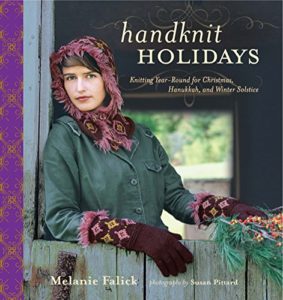 This long-sleeved pullover features Tree of Life and basketweave gansey stitches. Sized to fit child to adult. Chest 25, 29, 33, 37, 39, 43, 47, 51, 55 inchesOne of the more than 50 patterns in Handknit Holidays by Melanie Falick (Author) and Susan Pittard (Photographer). Pictured project by eileenwh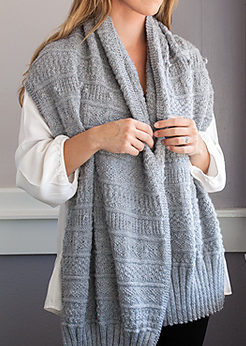 Gansey Stole
Cozy scarf or shawl features a variety of stitch patterns. Finished size is 19″ x 70″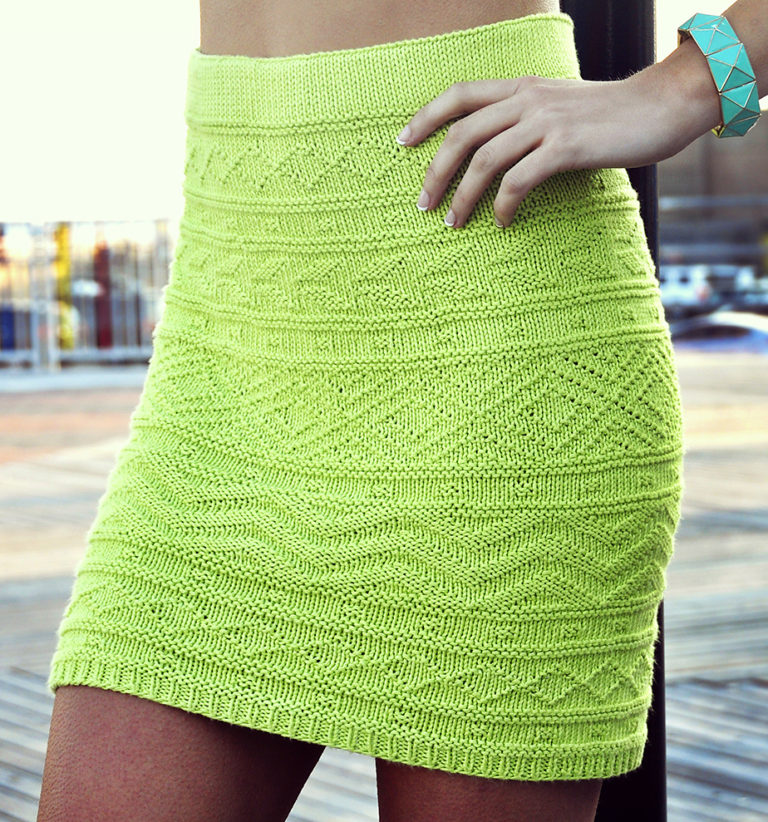 She's Electric Skirt
This Aztec Pattern Bodycon Skirt takes the gansey textured designs and adapts them to Aztec design to create a skirt that can be adapted for all times of the year. Sizes XS-1X to fit 31-49″ Hips

Gorgeous Gansey Textures Collection
This collection includes 6 knitting patterns for pullover sweaters featuring gansey motifs. At least 5 are downloadable. Detailed information on each pattern at the link below.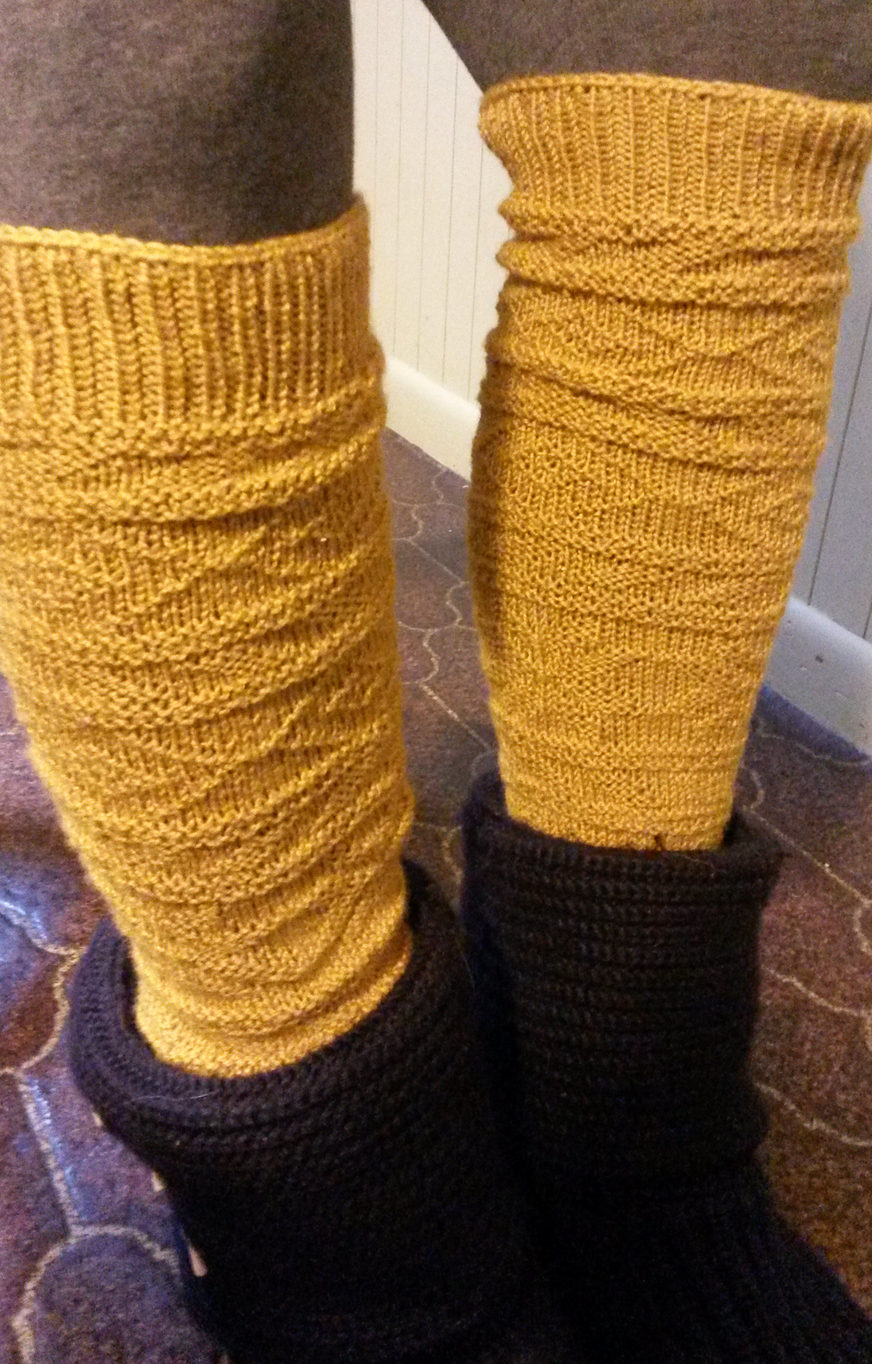 Gansey Leg Warmers
With gansey inspired diamond and star motifs. Sport weight yarn. Designed by Courtney Kelley. Pictured project by gnomie71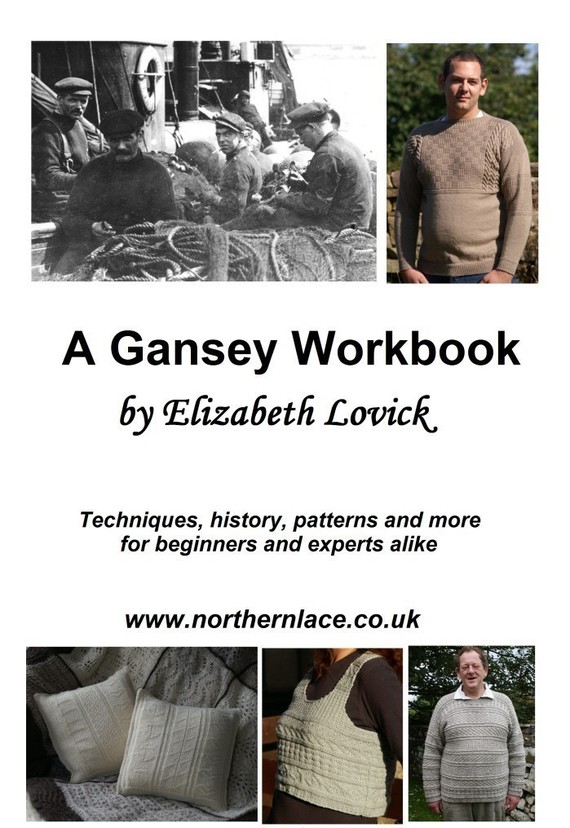 Gansey Workbook
Elizabeth Lovick provides instruction and at least 6 patterns in this workbook.