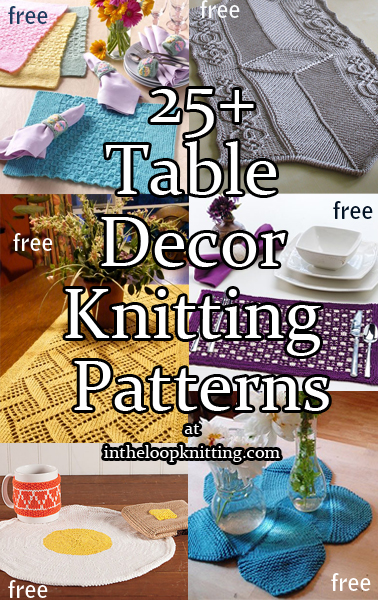 Table decoration knitting patterns including placemats, table runners, napkin rings, coasters and more. Great for gifts or for that special event! Most patterns are free.
To get the knitting patterns, scroll down the page to the individual pattern you want and click on the link to that pattern.
These patterns are not my designs but links to other designers who have generously shared their patterns. If you have questions about how to knit a specific pattern, please contact the designer directly.
All links on this site are for informational purposes, but please note that some links are to affiliate sellers that pay me a small commission on purchases.
Free Patterns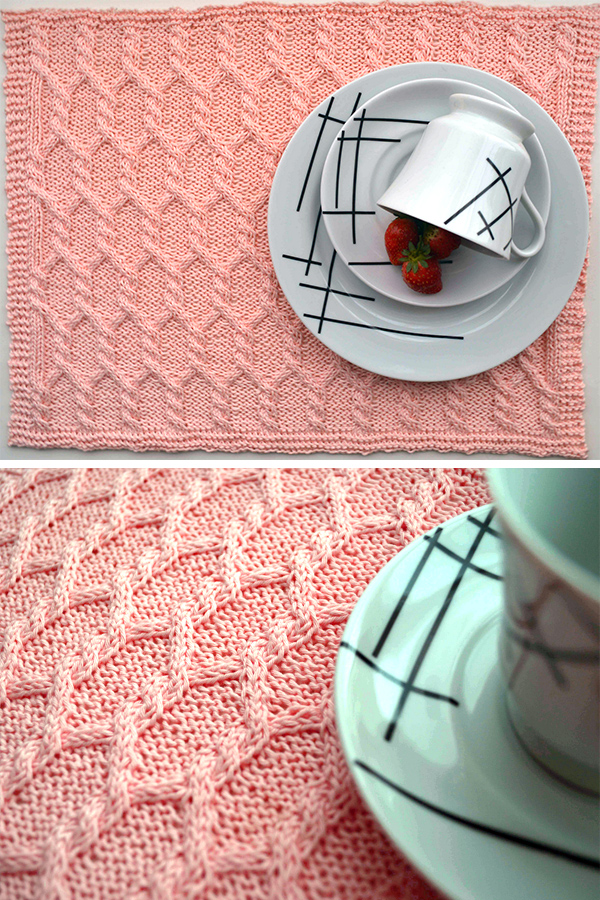 Tretyakov Placemat
Cabled placemat inspired by a Russian art gallery. Designed by Iris Alessi. Fingering weight yarn. Available in English and Portuguese.

Mosaic Placemats
Mosaic knitting is a slip-stitch pattern that allows you to work interesting and complex-looking geometric designs using only one color per row. In this video class, Edie Eckman will teach how to read mosaic-knitting charts, demonstrating four different stitch patterns: Little Squares, Fretted Band, Lattice, and Jerusalem Cross. Patterns and instructional video class available for free with a free trial at Creativebug OR purchase pattern and class individually.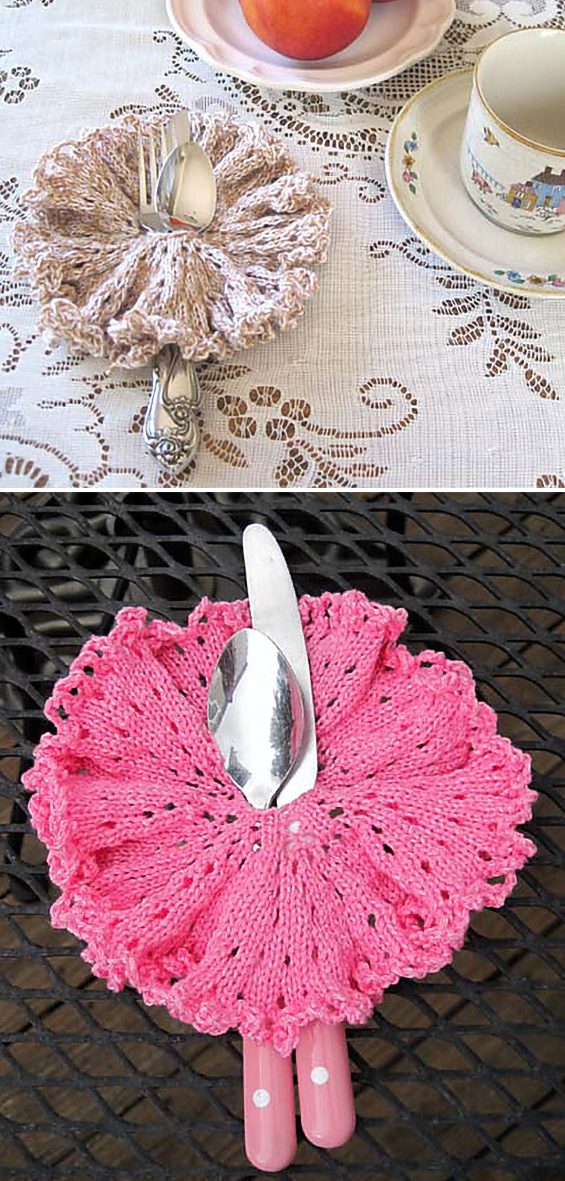 Lace Silverware Cuff
Easy quick way to dress up a table for special events or weddings. 6.5″ diameter (center opening 3/4″ diameter). Designed by Kathy North.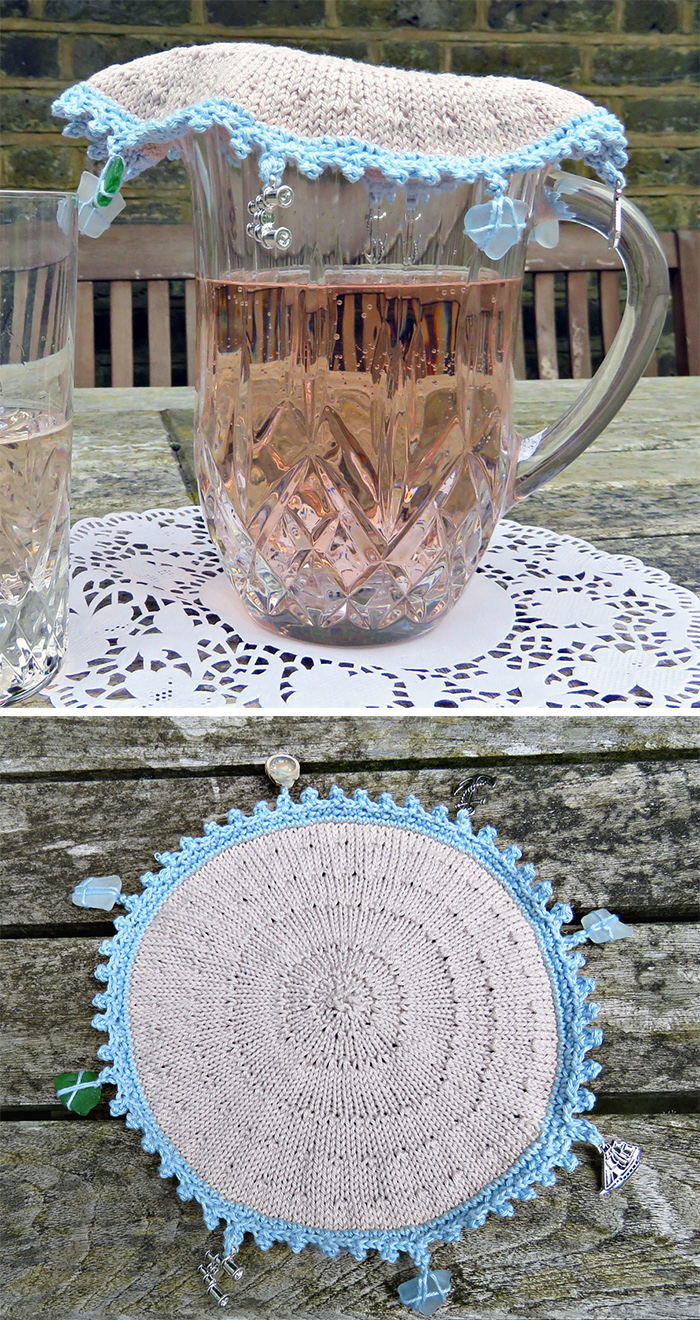 Seaside Jug Cover
This easy cover designed to protect your pitcher is knit in the round using 5 needles, finished with a simple tricot edging, and embellished with beads or some beach-combed sea glass or sea shells to weight it down and keep it in place on breezy days. Fingering yarn. Designed by Bonny Bonafilla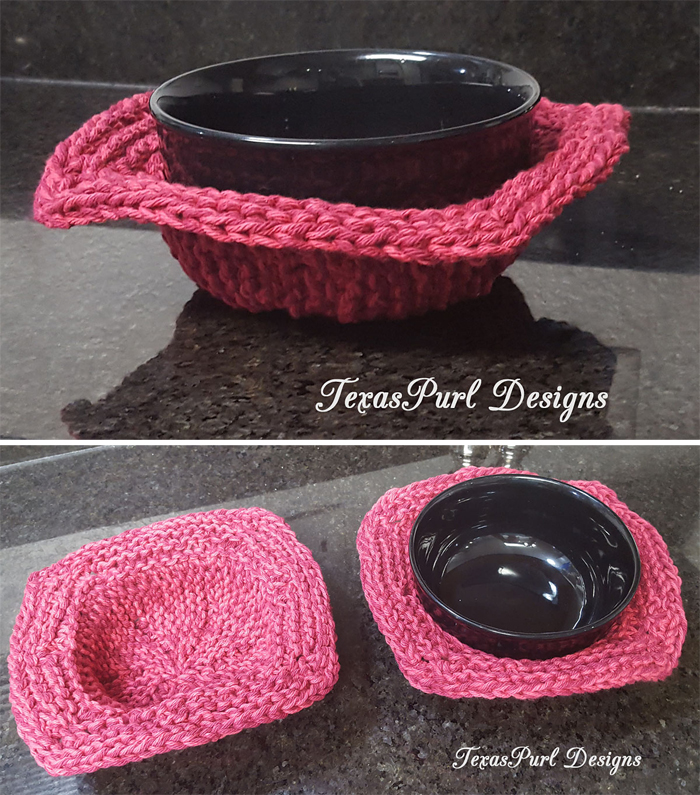 Soup Cozy
These versatile Soup Day bowl cozies can go from microwave to table. They are designed to go in the microwave with your bowl so you can safely lift it out by the corners without burning yourself on the bowl. I think they would also help keep soup hot and look cute on the table. If you're not having soup, they make cute little baskets. Fits most 6" bowls. Knit with double strands of cotton worsted. Designed by Debbie Caldwell of Texas Purl Designs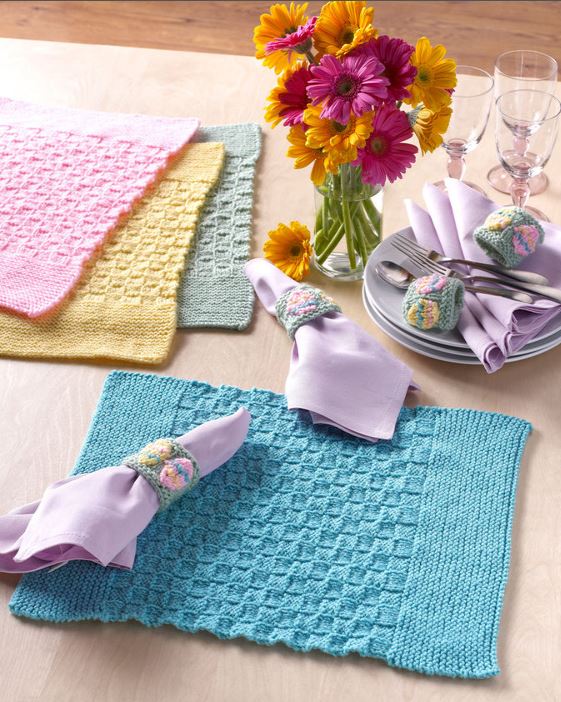 Basketweave Placemats with Easter Egg Napkin Rings
Rebecca J. Venton designed these easy festive placemats and napkin rings for Easter but you could use the colorful placemats all year round.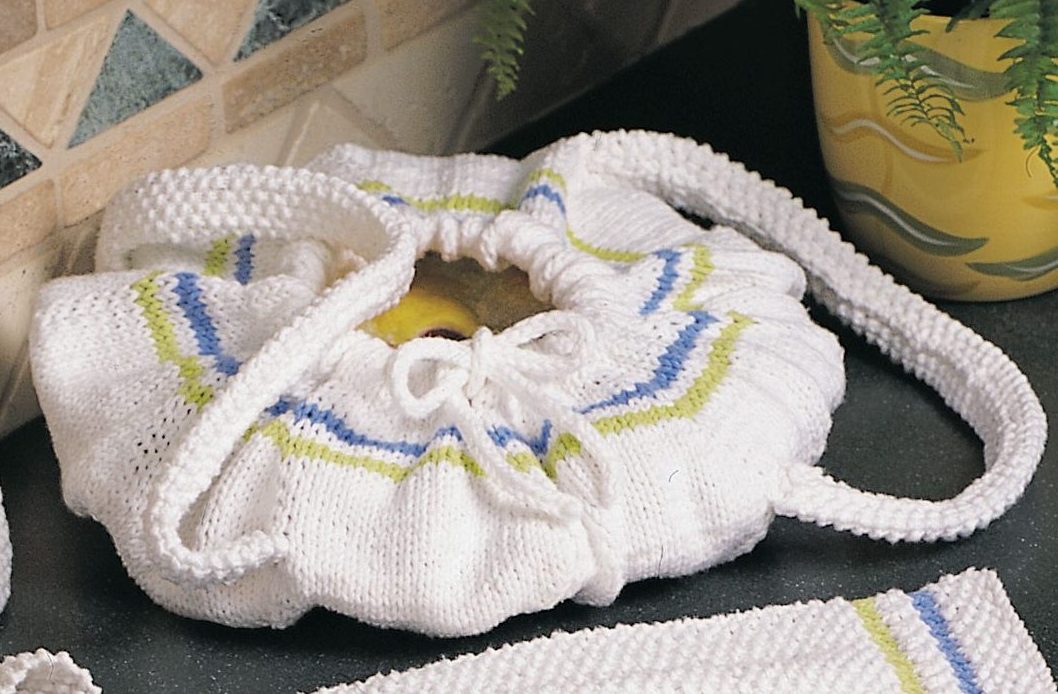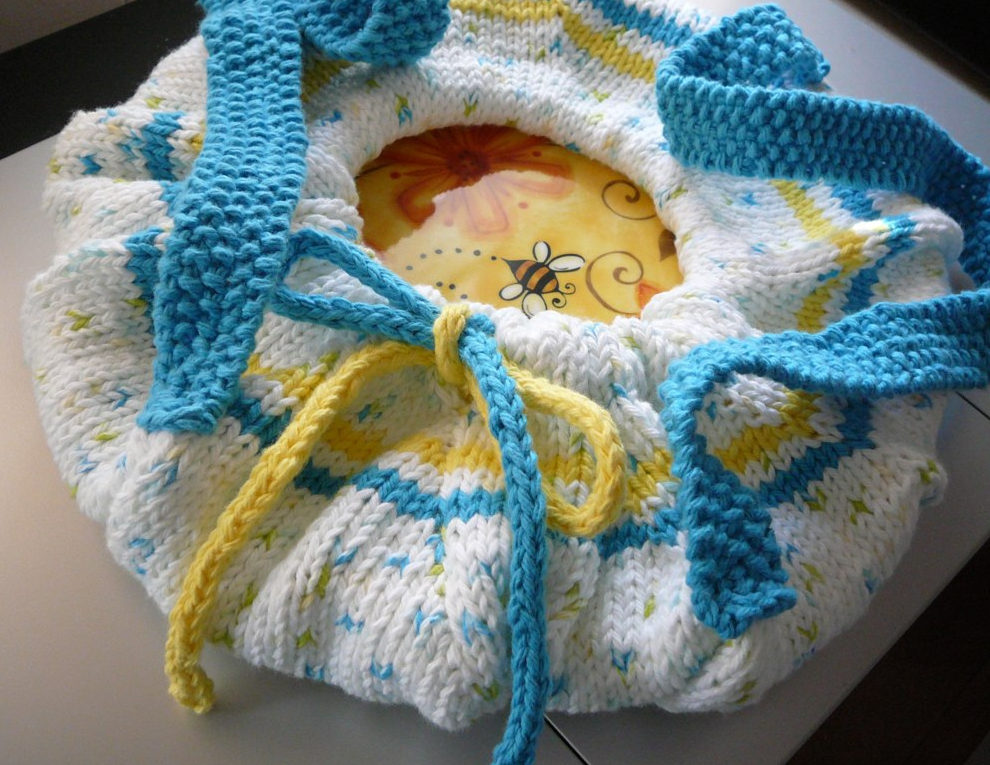 Pie or Casserole Carrier
Easy circular tote holds pies or casseroles. Great for potlucks and gifts. Designed by Lily Sugar 'n Cream. Pictured project by keppig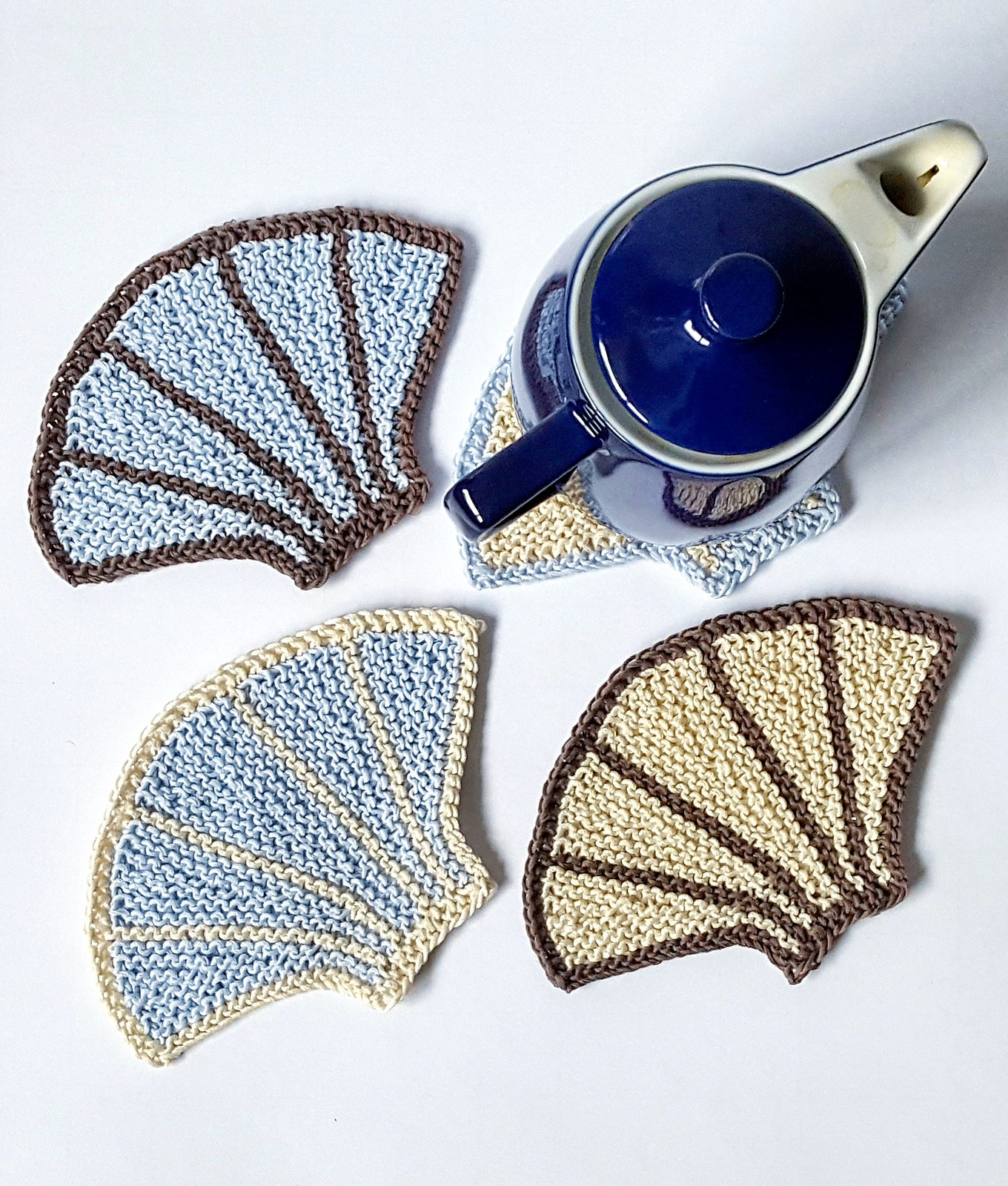 Seashell Coasters
These coasters are knitted flat and all in garter stitch, shaped with short rows and intarsia. They use about 20 yards of DK cotton so they are great for scrap yarn. Designed by Sybil R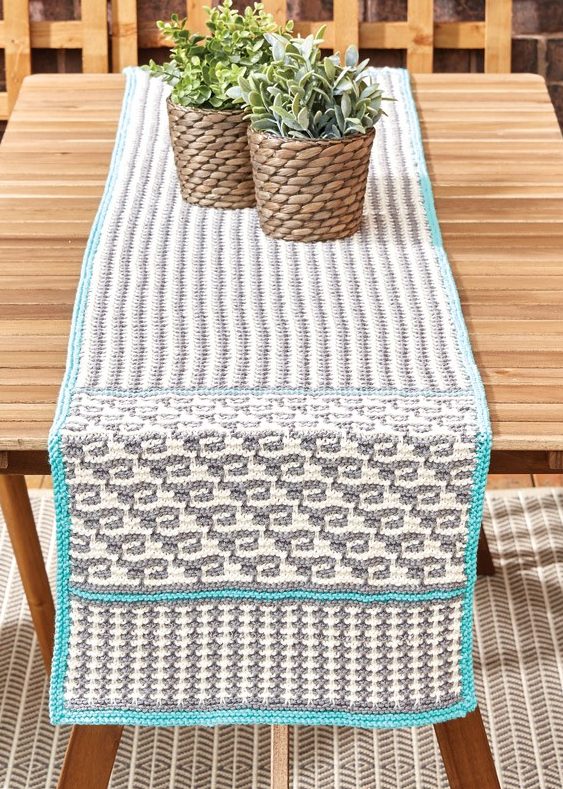 Mosaic Table Runner
Mosaic colorwork knitting creates this graphic print design from Yarnspirations.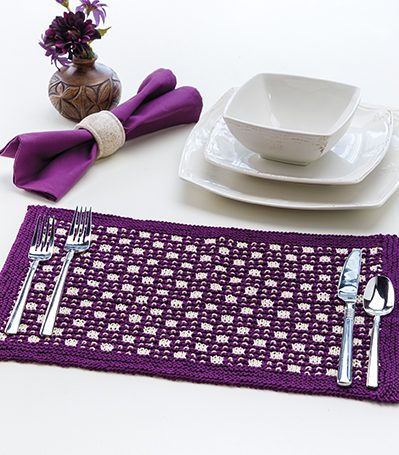 Checkerboard Place Mat
Free pattern using slip stitch colorwork from Knit and Crochet Now.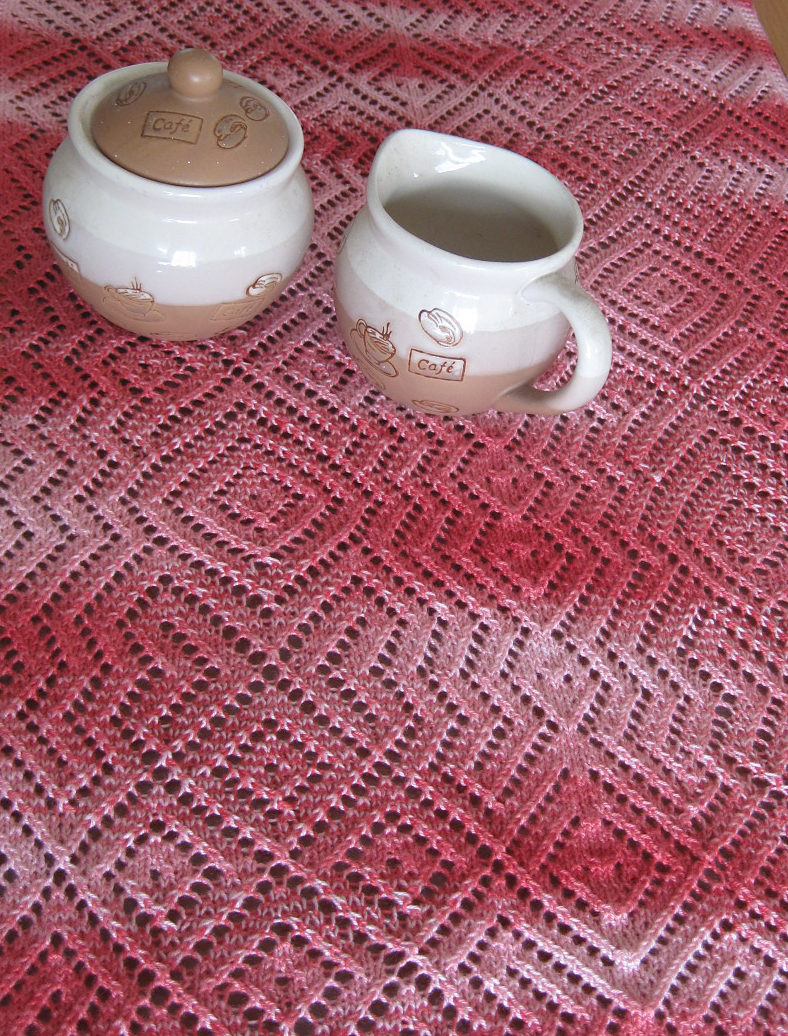 Lace Poinsettia Table Runner or Scarf
Susann Hajjaroriginally designed this lace strip to be completed in 24 days (for Advent). It can be used as a table runner or scarf and she also provides instructions for matching placemats. Available in English and German. Pictured project by ebookwyrm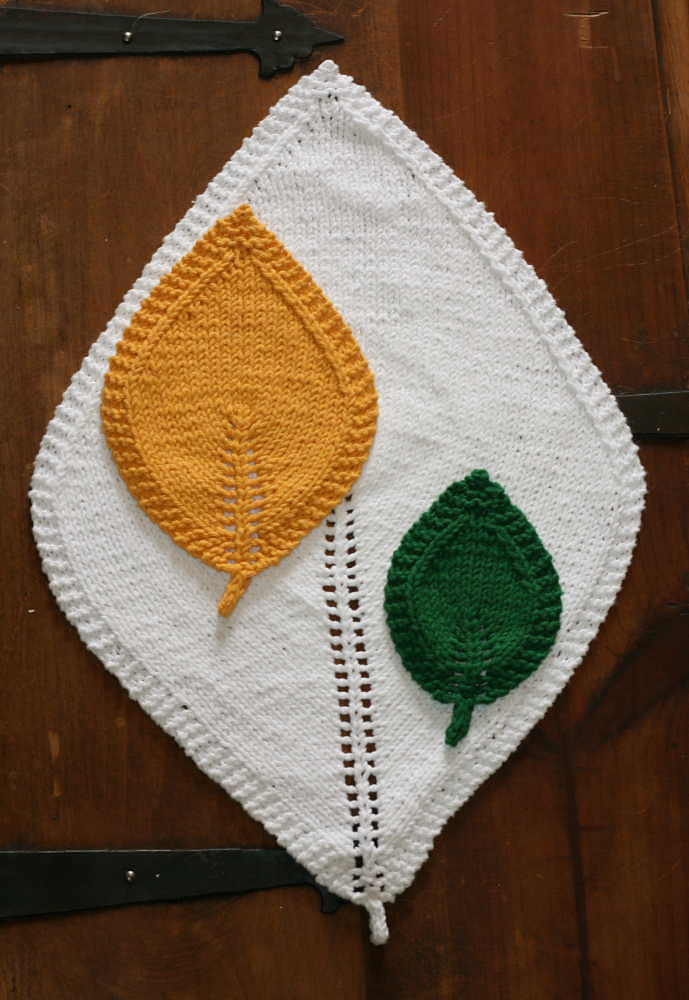 Leaf in 3 Sizes
Easy knitting pattern for leaf-shaped placemat, coaster and washcloth or trivet by Jen Zeyen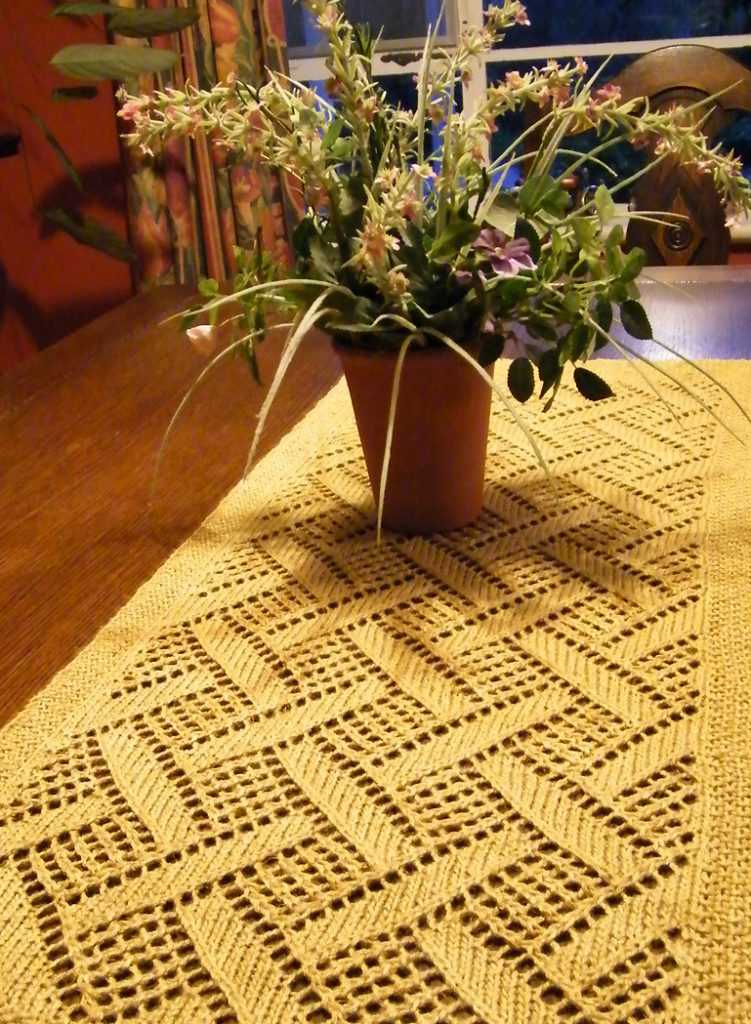 Montague Table Runner
This piece features a diamond lace pattern that also could be used as a scarf or a shawl. Approximately 22" wide x 62" long Designer: Berroco Design Team. Pictured project by Equuleus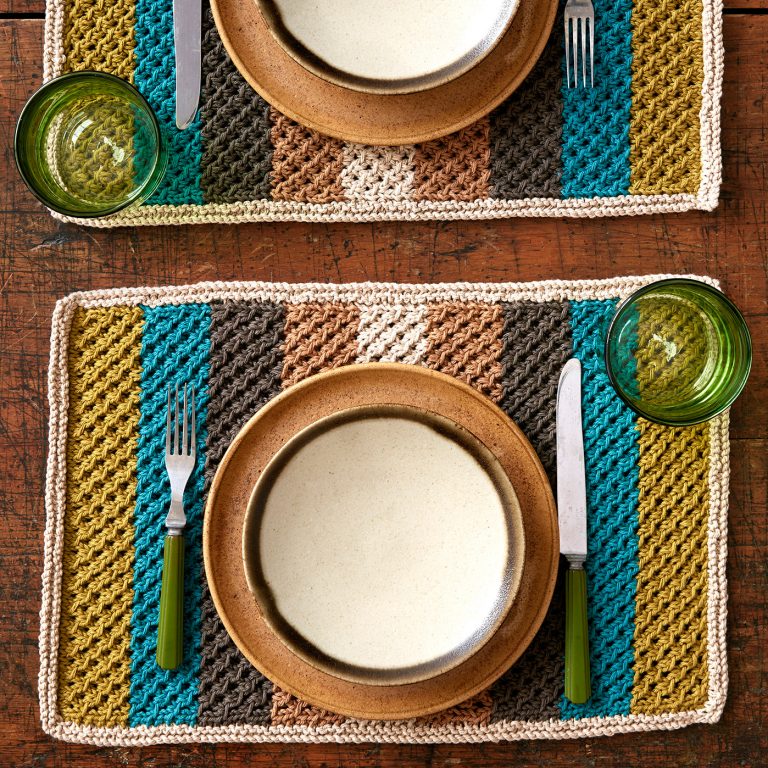 Retro Stripes Placemat
This beginner pattern features an easy diagonal lace texture counterpoint to the colorful stripes.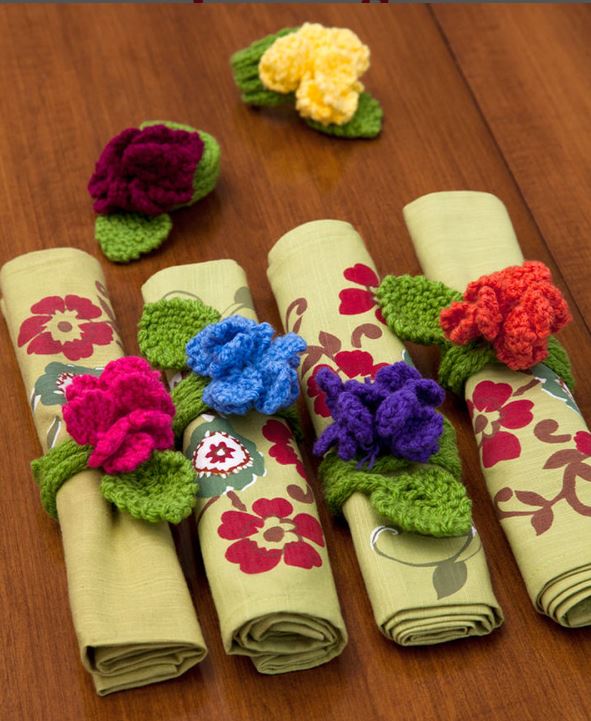 Fantasy Flower Napkin Rings
Easy knitting pattern by Scarlet Taylor from Red Heart. Each flower is knit in 3 sets of 4 petals. Great stash buster!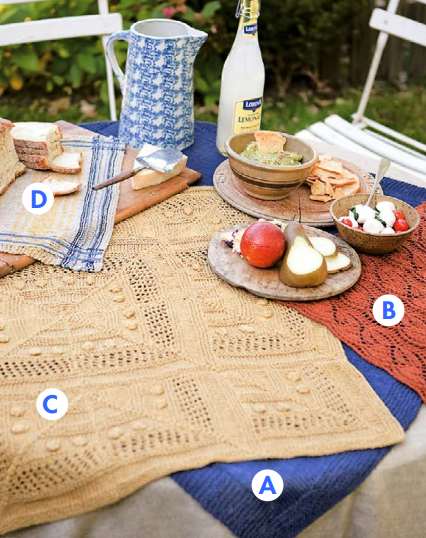 Tambleta Table Linens
4 different designs for square throws that can be used as table accents, tea towels, liners for bread baskets, and more from Berroco.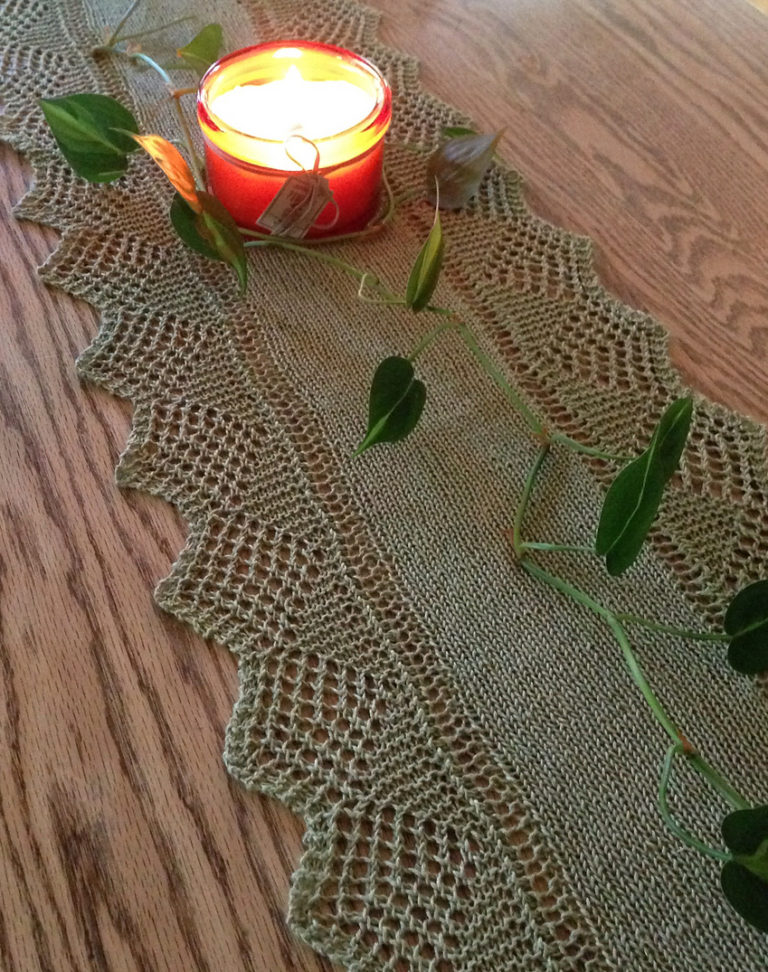 Scalloped Table Runner
Lace table runner or topper 74 inches x 12 inches. Designer: Amy Stender. Pictured project by Knapknits. Also would make a nice scarf.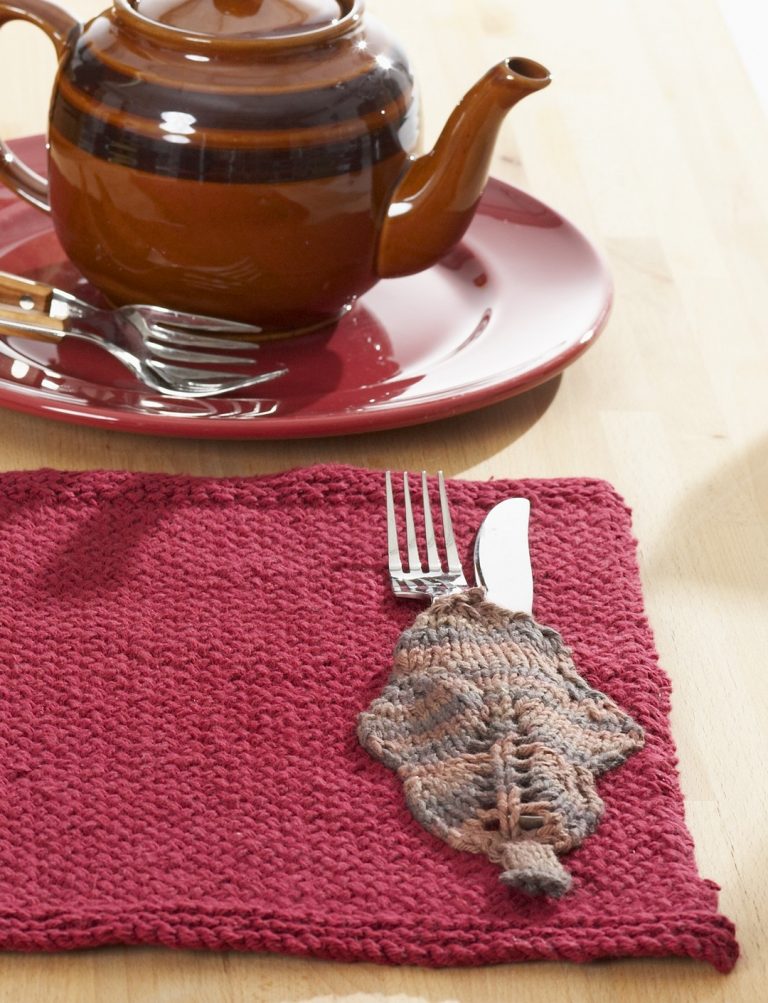 Leaf Placemat
Lily Sugar 'n Cream Autumn Leaves Placemats are an easy knitting pattern that features a leaf-shaped pocket for silverware.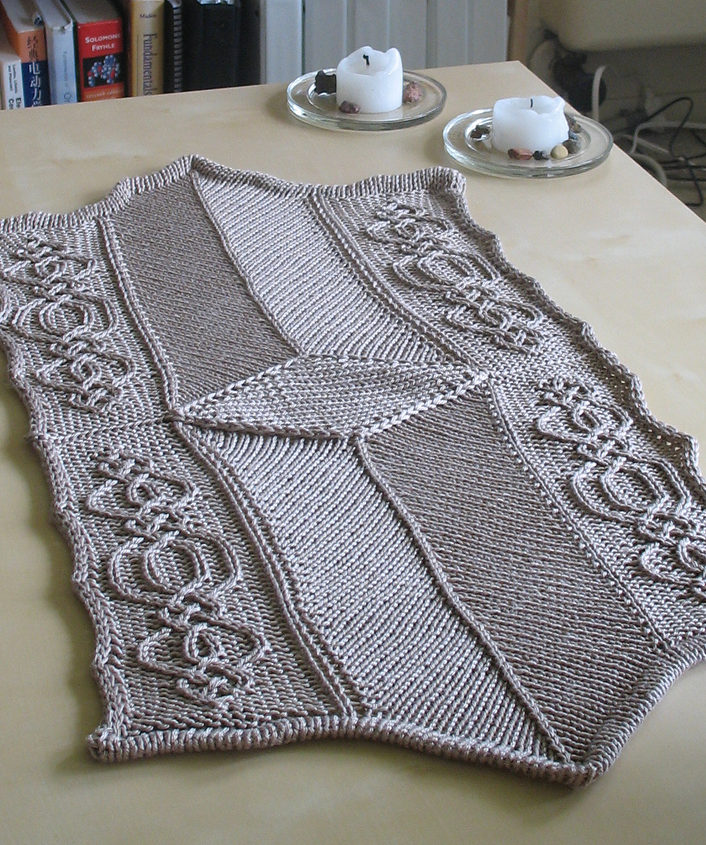 Art Deco Table Runner
Cabled table runner designed to be 11x54 inches or 28x137 centimeters. Designed by Dawn Martin. Pictured project by Collienchen who knit a shortened version with one skein of yarn.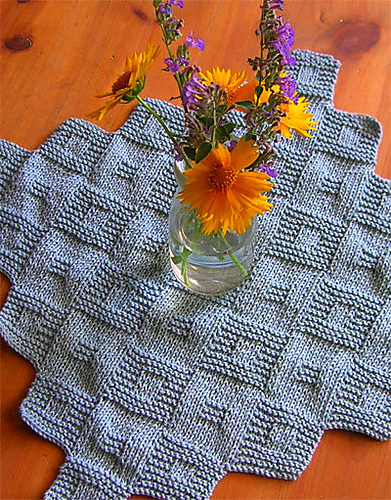 Allegoro Table Square
Constructed by casting on and binding off as you knit. Approx 20 1⁄2" wide x 23 1⁄4" long. Designer: Susan Mills.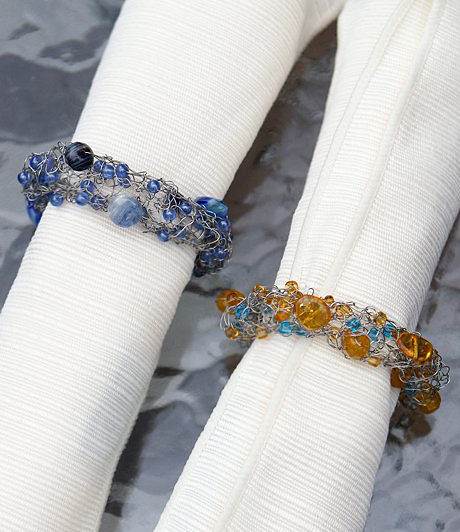 Venezia Beaded Napkin Rings
Knit with wire and beads, these napkin rings make stunning gifts as well as table decorations. Some knitters have adapted the pattern as a bracelet. Designed by Rosemary (Romi) Hill. Pictured project byclsmiller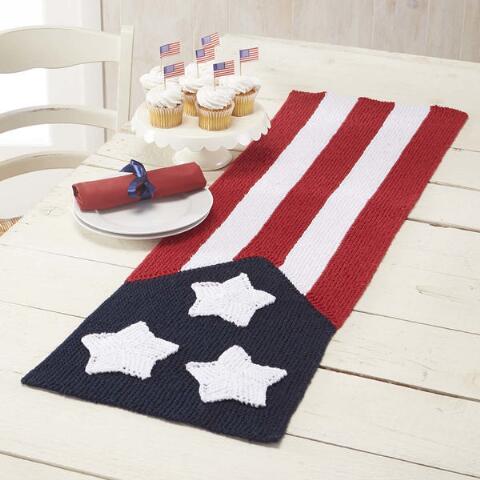 Flag Table Runner
This decorative design is by Willow Yarns. Finished Measurements: 12½" x 40″ (32cm x 102cm)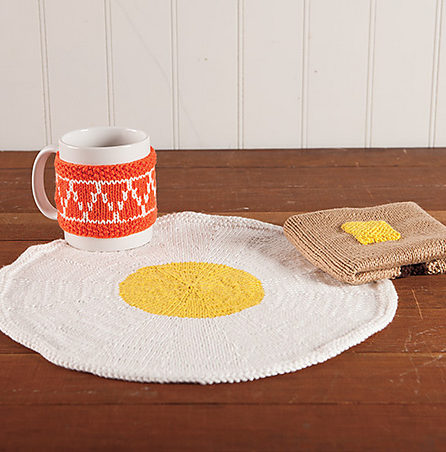 Breakfast of Champions Table Set
Knitting pattern for Sunny Side Up Egg Placemat, Butter Toast Napkin, and Orange Slices cup cozy. Designed by Joyce Fassbender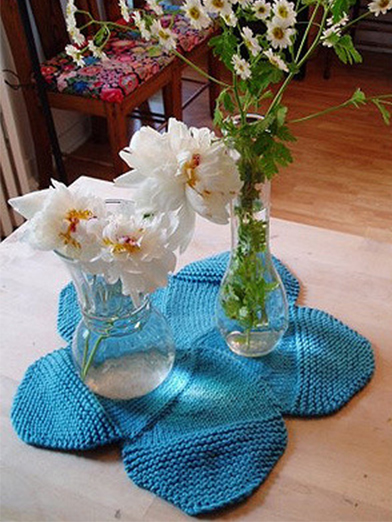 Flower Power Place Mat or Towel
Blossom shaped cloth with 3 variations. 15.5 inches across .Designer: Rebecca Mercier. Pictured project by cocolos.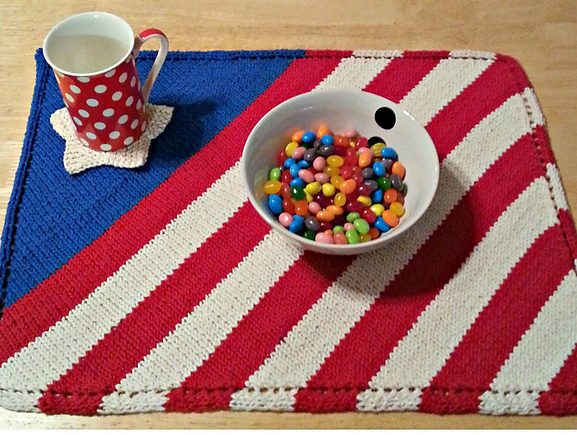 Patriotic Placemat
Jessie Rayot of JessieAtHome.com created this simple but dramatic placemat that's at home on at a dinner or a picnic. Video tutorial included in pattern. Two sizes Large 15.5 x 19.5" (samples in pictures are this size) and Medium 13.5 x 17.5"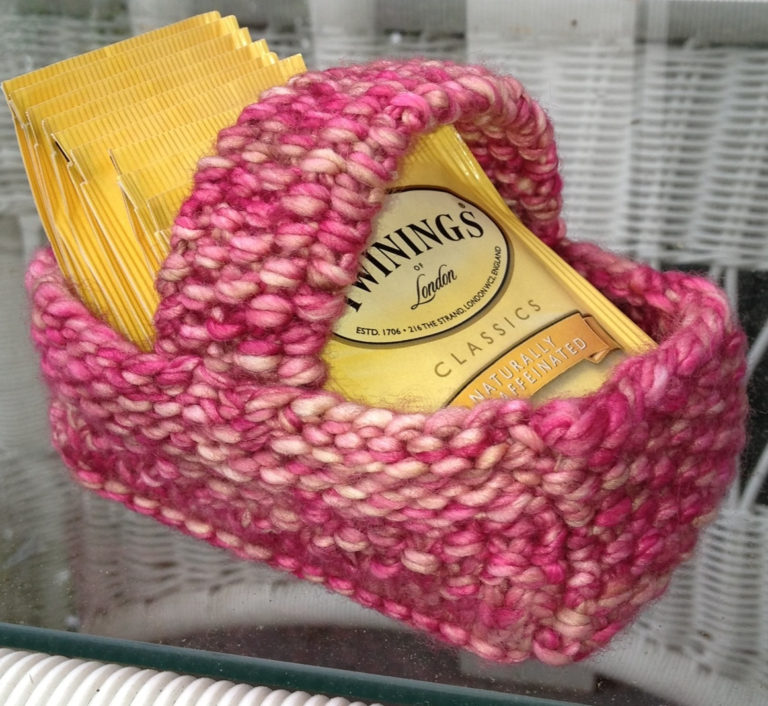 Tea Bag Basket
Easy basket by Knitvana that is great for scrap yarn and quick gifts. . Pictured project by Lauriebo who put the handle across the middle. Also a great Easter treat basket!
Patterns for Purchase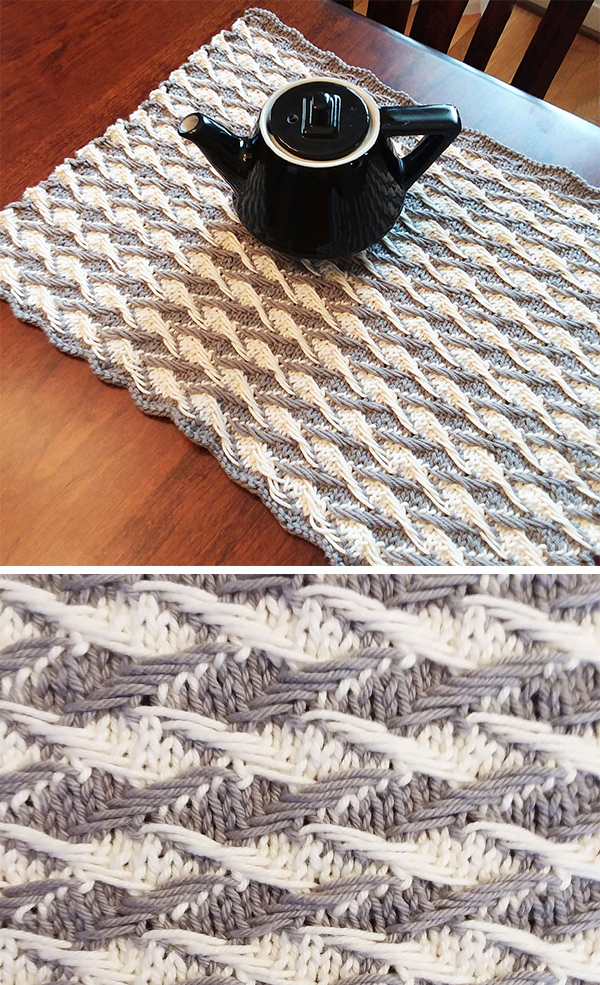 Jacquard Placemat
Two color textured mat is easy to knit. The woven appearance, which is created by holding the working yarn to the front (on the right side) or on the back (on the wrong side) as stitches are slipped, gives extra weight and body to your finished placemat. With only one active yarn color per row, this design is very easy to work, but looks impressive on your table! Designed by DesignerKnitsStudio who also has patterns for a hat, basket, and boot cuffs using this stitch. Worsted weight yarn.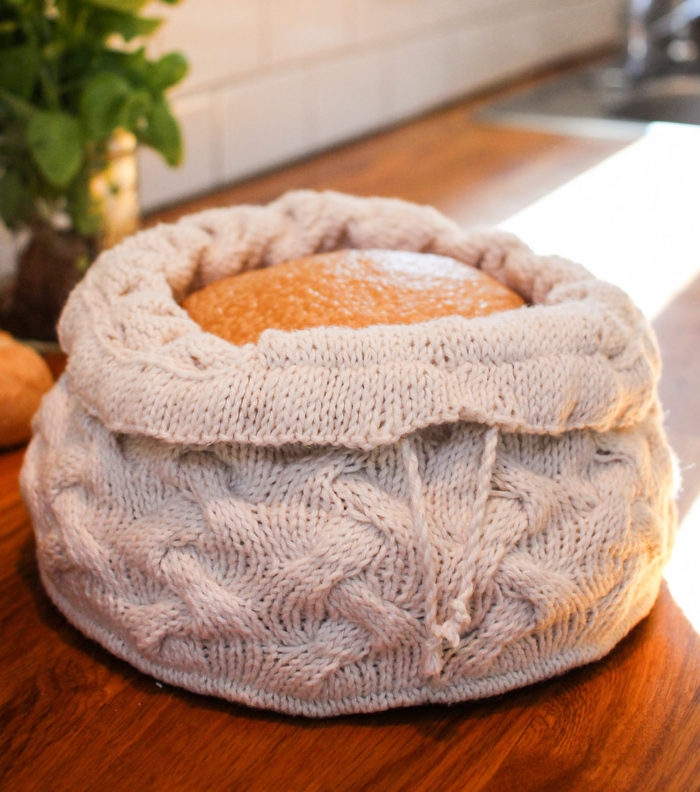 Cabled Braid Bread Warmer
A cute and useful warmer to keep bread tasting fresh-out-of-the-oven good! Fill it a little or a lot — the cables squish down or stretch out to comfortably hold bread, rolls, muffins and more! Fits a dozen rolls or 1 round loaf. Finished size is 8″T all x 8 1/2″ base diameter. Designed by Bekah Knits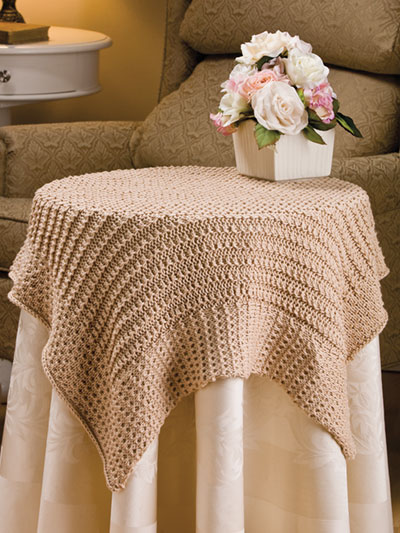 Cluster Rib Tablecloth
Easy tablecloth pattern. Finished size is 34″ square. Knit in worsted weight yarn.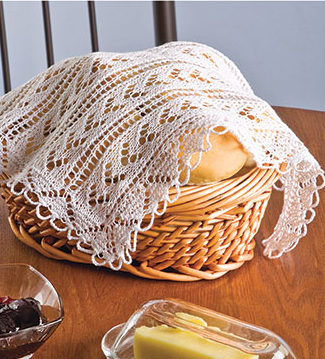 Lacy Bread Basket Cover
Beautiful lace cloth to give as a gift or add an elegant touch to your own table. Finished size is 16″ square. Knit in worsted weight yarn.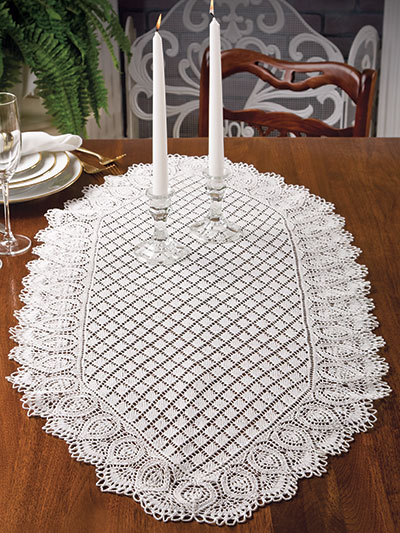 Pineapple and Diamonds Table Runner
Stunning lace design by by Nazanin S. Fard. Runner center panel is worked flat and then stitches are picked up so the pineapple lace is worked in the round. Finished with a crocheted bind-off edge. About 22″ wide x 42″ long, after blocking.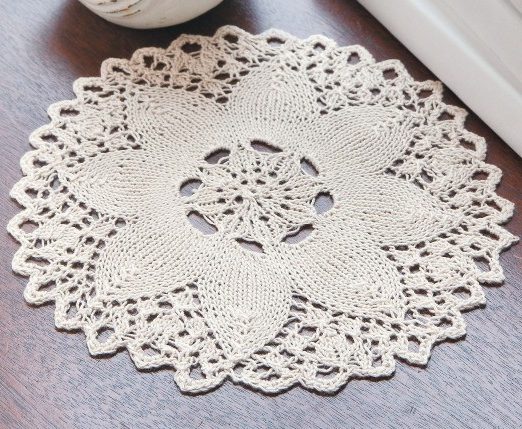 Lace Flower Doily
This doily is one of 14 knitting patterns in the Beginner's Guide to Lace Knitting ebook by Rita Weiss. Other patterns include Lace Scarf, Crescent Shawl, Coaster, Heirloom Flower Doily, Scarf of Many Colors, Lacy Hat, Lovely Lace Scarf, Delightful Doily, Lovely Lace Collar Two Ways, Fir Cone Lace, Easy Edging, Lacy Market Bag, Elegant Edging, and Winter Lace Afghan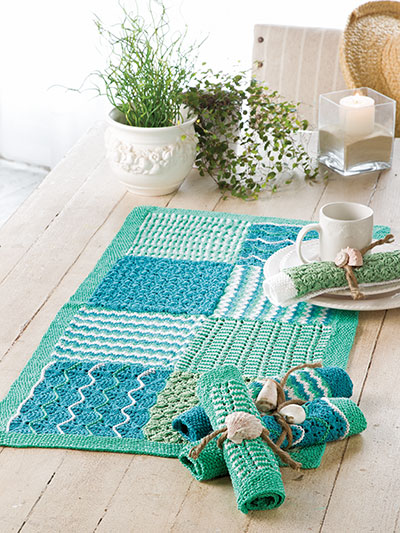 Soft Shells Runner & Stitch Blocks Knit Patterns
Mix and match these shells and wave stitch blocks to create fun dishcloths and a table runner. I think you could use these blocks for place mats and napkins too. Runner: Approx 18 1/2 inches wide x 34 1/2 inches long (including edging)
Dishcloth: Approx 10 1/2 inches square (including edging)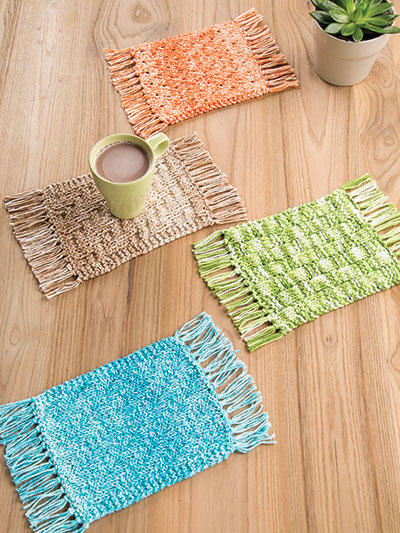 Mug Rugs
Easy knitting patterns for 4 styles of mug rugs that make perfect home decor or quick gifts. Each uses less than one skein of yarn.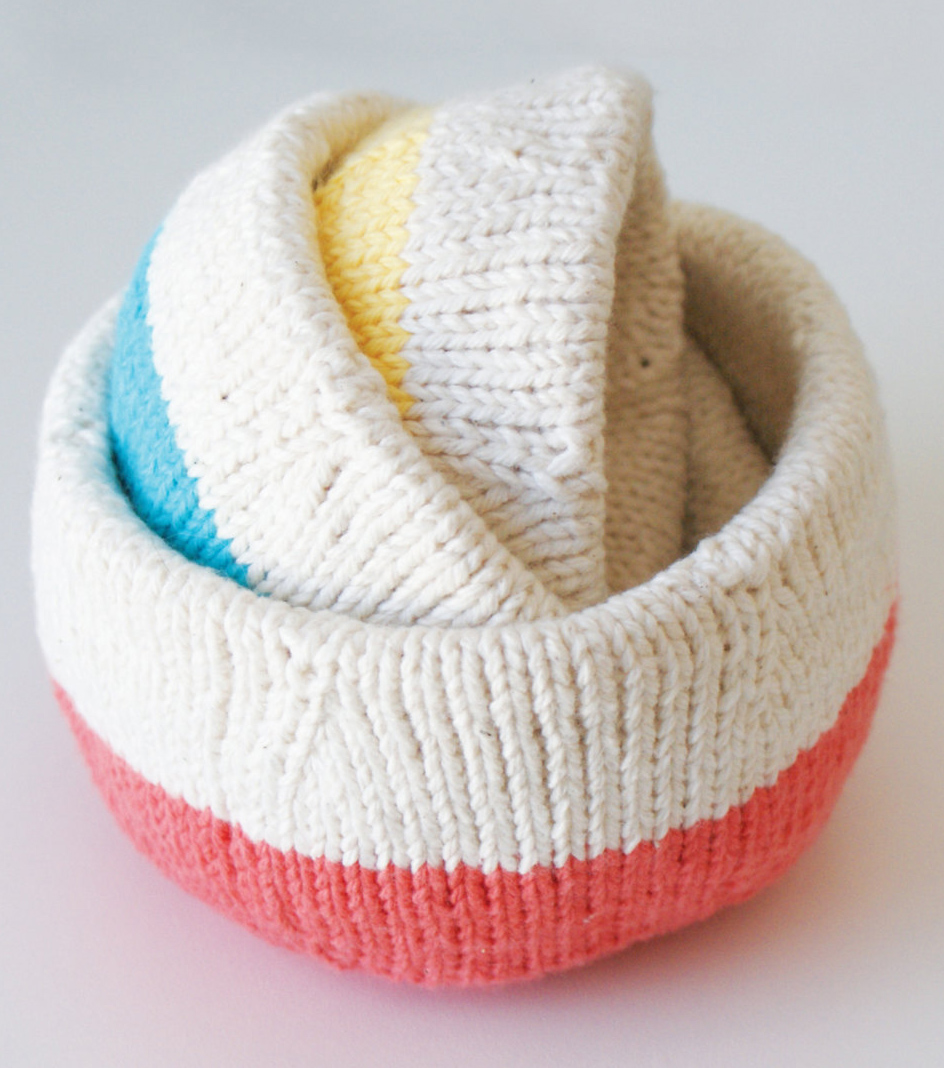 Nesting Bowls
Multifunctional color blocked nesting bowl set include three sizes 6″, 5″, 4″ diameter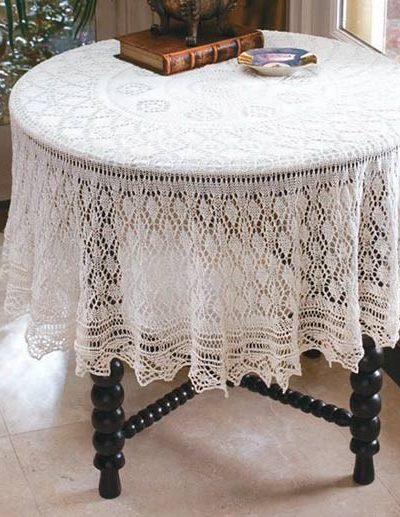 Diamond Lace Table Topper or Shawl
This lace table cloth or covering is one of the patterns in the ebook I Can't Believe I'm Lace Knitting that includes shawls, scarves and more. This round lace can also be used as a shawl or baby blanket.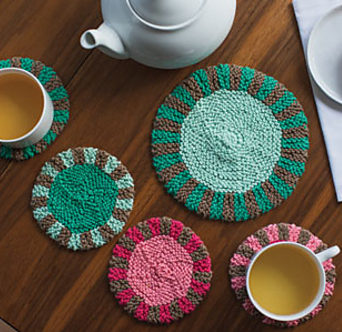 Promenade Coaster & Trivet Set
Inspired by Depression-era patchwork quilts, these coasters and trivets are worked back and forth in rows and seamed, with short-rows used to created the striped edging. Coasters: 5" diameter. Trivet: 7½" diameter.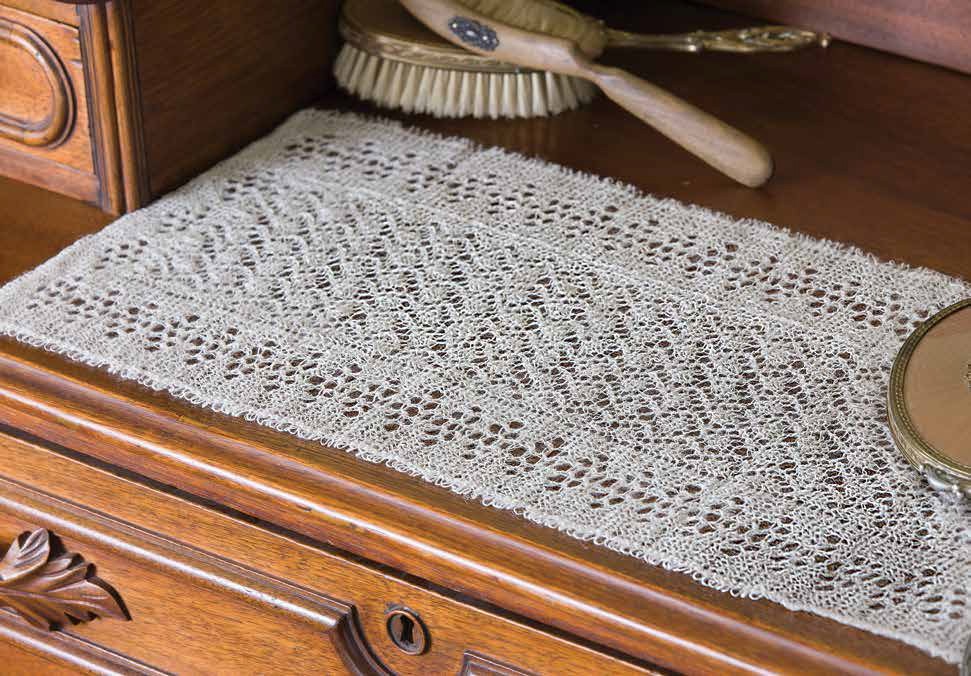 Uyeasound Table Runner Knitting Pattern
Lovick's design is based on a late-nineteenth-century piece of knitted lace found in the back of the Uyeasound shop in Unst, Shetland.