There's still time to make these gifts for Easter. They are great for stash and remnant yarn!
To get the knitting patterns, scroll down to the individual pattern you want and click on the link to that pattern.
For more Easter themed knitting patterns, visit
Easter Treat Holders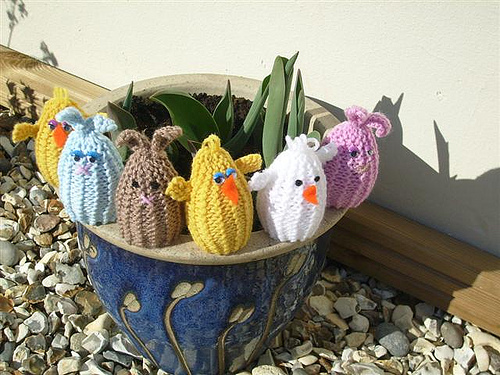 Easter Egg Treat Holders
Great for holding candy eggs! These little characters designed by Jean Greenhowe are all based on a garter stitch tube, with one half pushed inside the other half. This double knitted thickness and the stretchiness of garter stitch holds a chocolate egg securely in place, until it is squeezed out.
Get the free knitting pattern – scroll down the page to find the correct pattern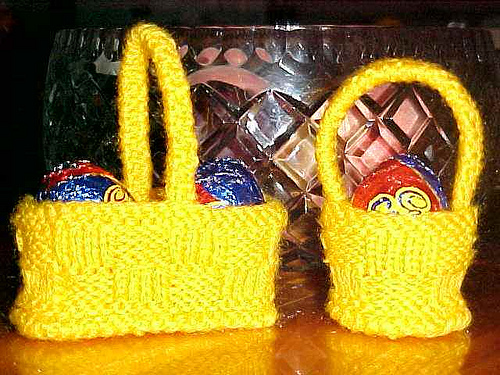 Small Easter Baskets
These basketweave basket treat holders designed by Jean Woods come in round or oblong.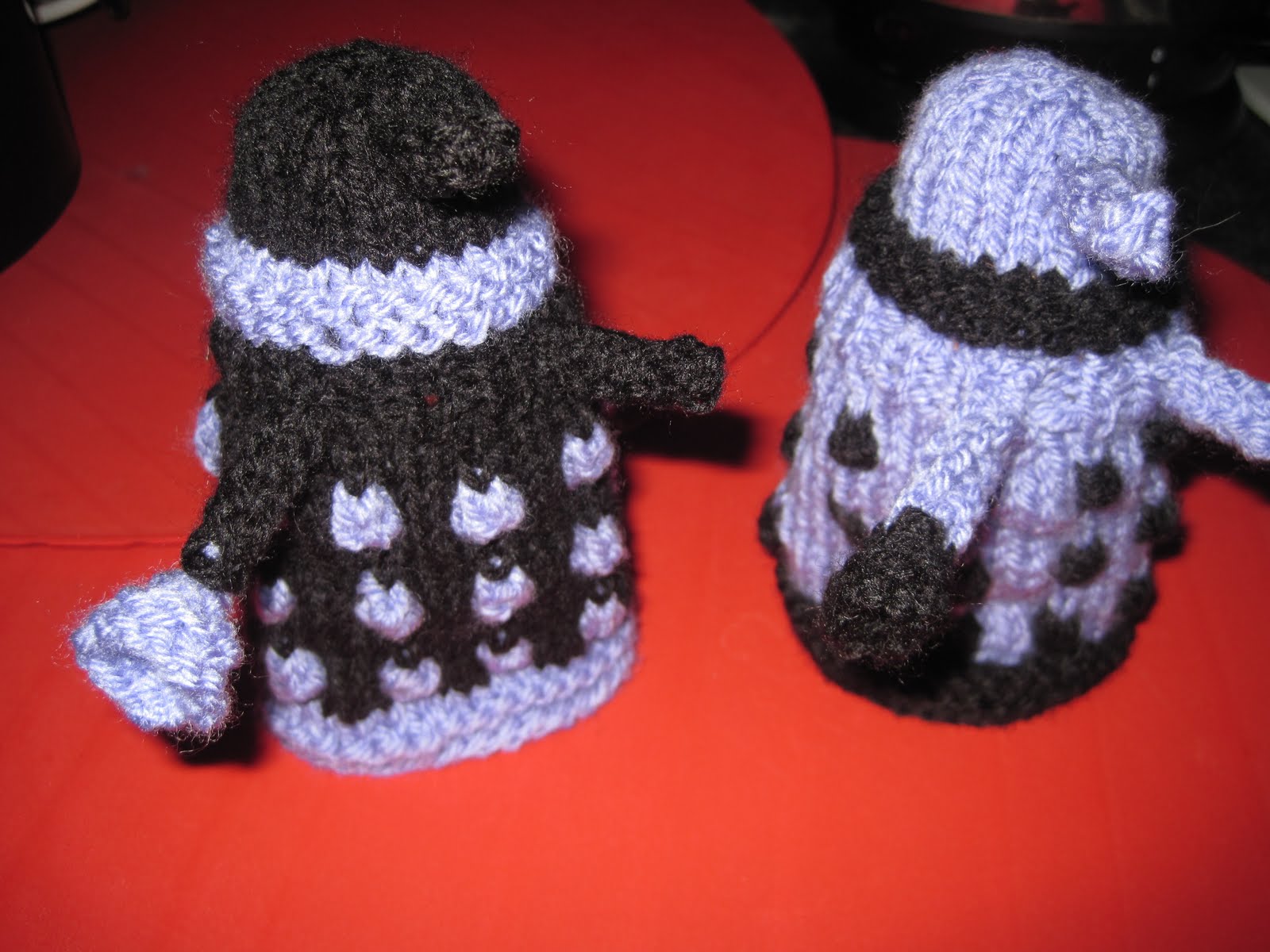 Dalek Egg Cozies
This Doctor Who inspired designs by Lyles' Knit are great for hiding chocolate eggs or Easter eggs. Easterminate!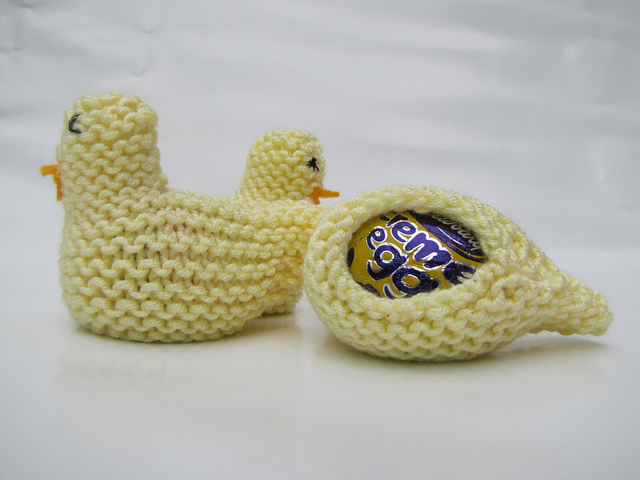 Easter Chick Treat Holder
Designed by Chloe Blunn, these chicks can hide a candy egg surprise or be stuffed as a toy.
One Egg Easter Basket
This tiny Easter basket designed by Vivian Keys is the perfect size for one Easter egg or several small chocolate eggs.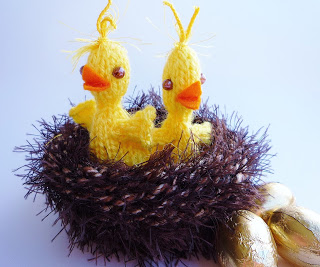 Chicks in Nest Candy Egg Holder
These baby birds are sitting pretty on chocolate eggs hidden in the nest!
Get the free patterns designed by Allison Hogg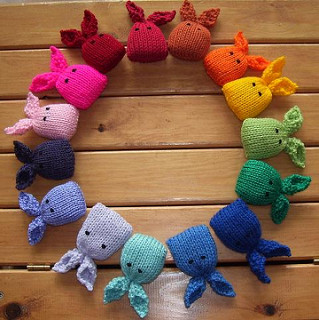 Catnip Bunnies
Great for leftover yarn, these bunnies designed by Selina Kyle are easy to make and practically seamless. Though designed to be filled with catnip they could also be used as sachets, bean bags, or tiny toys.
Download the free pattern at Ravelry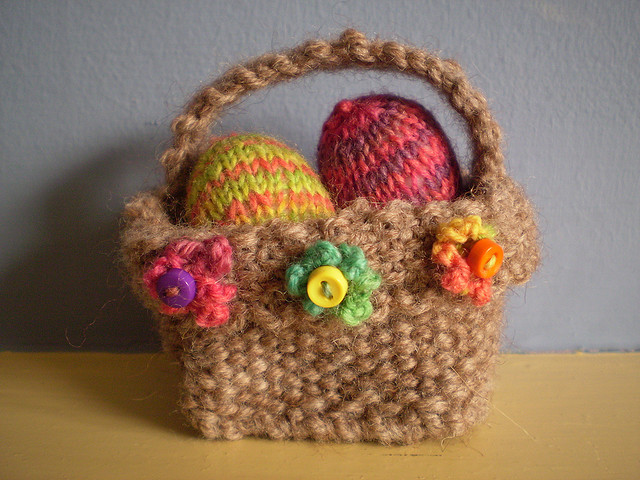 Mini Eggs in Basket
Frankie Brown brings us knitted mini eggs with their own knitted basket decorated with tiny knitted flowers.
Download the free pattern at Ravelry
Easter Decorations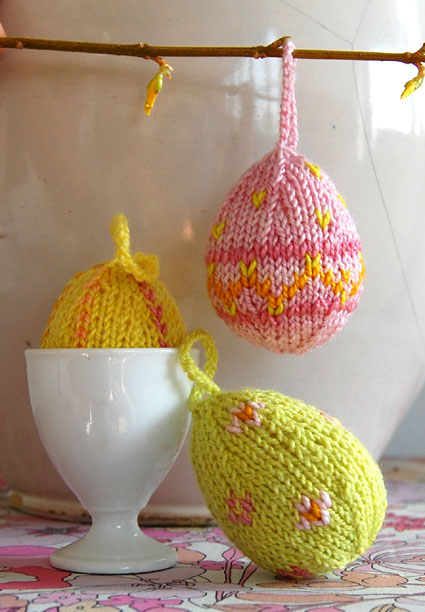 Easter Egg Ornaments
Easter eggs that last forever from Purl Soho.About 2 1/2 inches tall and 5 1/2 inches in diameter and stuffed with fiberfill, they are perfect for hanging from a tree or placing in a basket.
Easter Basket Washcloth
This pattern was originally part of a Knit Along and can be used as a motif for other projects.
Get the free knitting pattern at Ravelry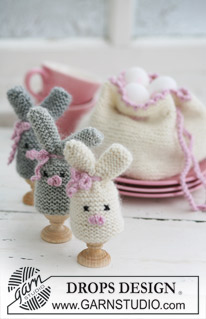 Bunny Egg Warmer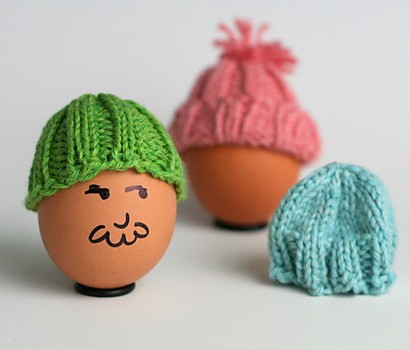 Egghead Hats
Knit tiny hats for your Easter eggs with these patterns from Emily Ivey
Cross Motif Knitting Patterns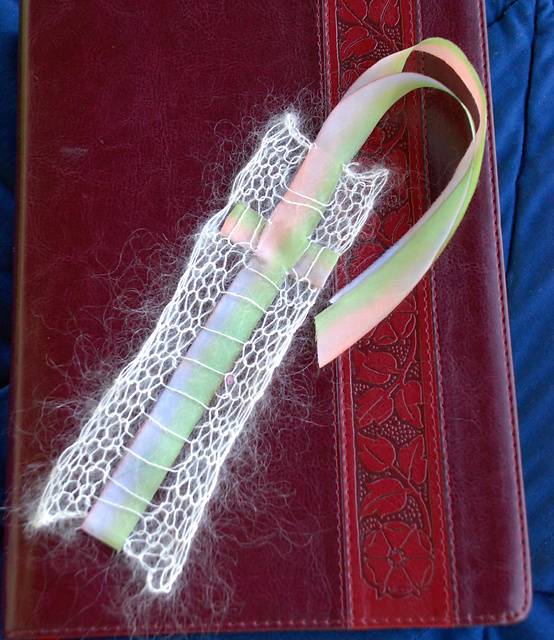 Simple Cross Bookmarks
Designed by Lori Klahn, this lace bookmark features a ribbon cross or a cross made of contrasting yarn.
Download the free knitting pattern at Ravelry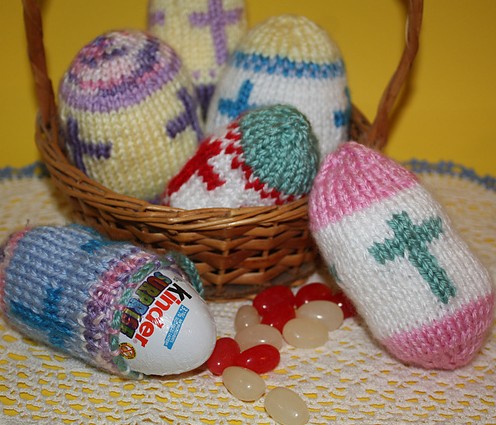 Cross Motif Easter Egg Treat Holders
Designed by Tat'sgrans Treasures, this pattern comes in two sizes and is knit flat seamed up the back.
Download the free pattern at Ravelry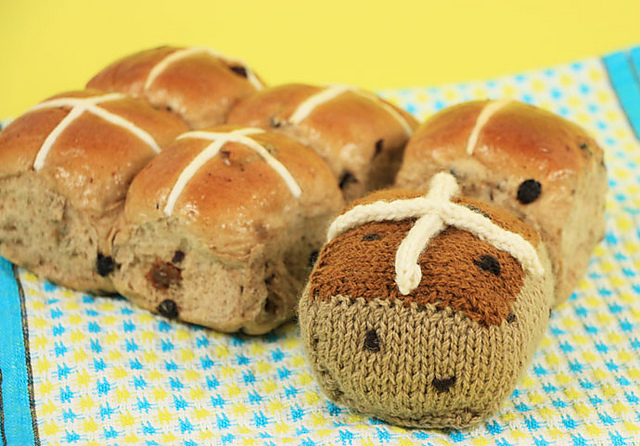 Knitted Hot Cross Bun
Cintia Gonzalez' pattern is knitted flat in stockinette stitch then sewn together for assembly and stuffing. Icord is used with an instructional video included.
Shelley's Heart and Cross
This cross motif by Kathleen Brundige was created for a washcloth but can be used for other projects.
Baby's First Easter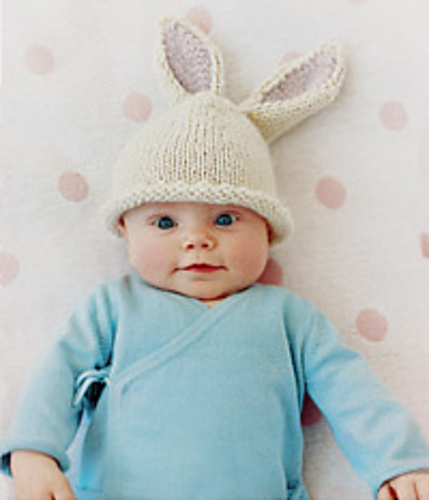 Bunny Beanie
This cute hat by Noe Knits fits babies age 3 to 6 months.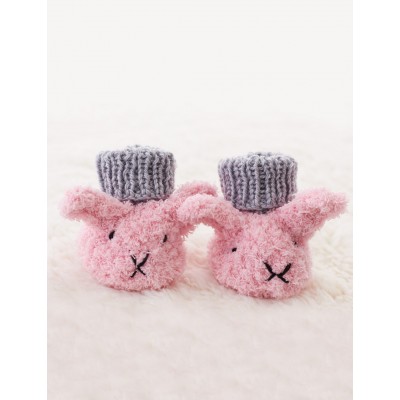 Itty Bitty Fuzzy Wuzzy Bunny Booties
This pattern for super soft booties from Yarnspirations is sized for 3, 6, and 12 months.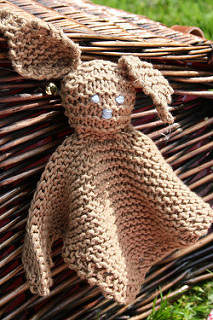 Cuddly Bunny Lovey
This baby blankie is based on a Norwegian pattern with English translation.
Quick Basket and Egg Stuffers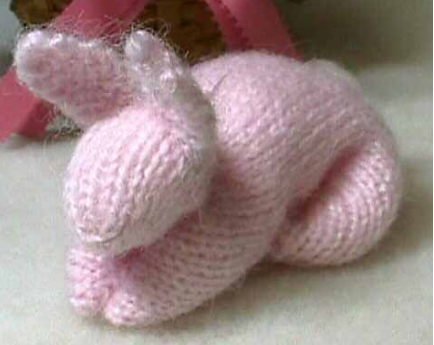 Knitted Square Bunny
Heartstrings Fiber Arts created this clever pattern to make a bunny out of a square piece of knitting.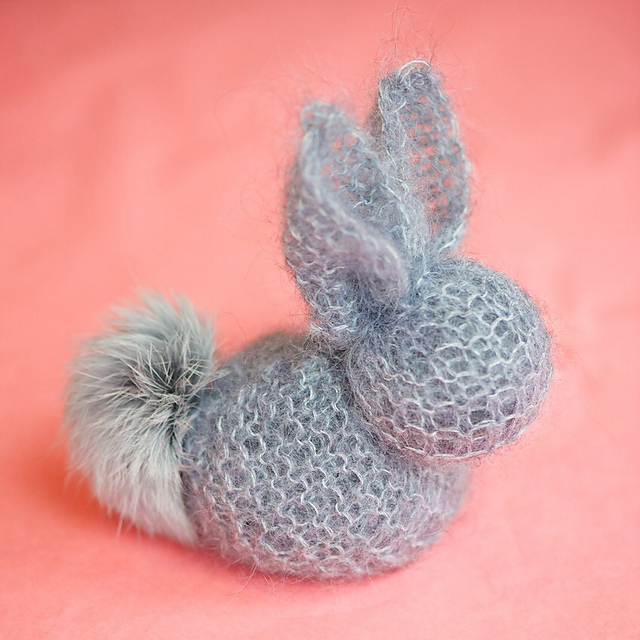 Another Knit Square Bunny
Here is another version of a bunny created by knitting a single square, designed by Annette of Lebenslustiger.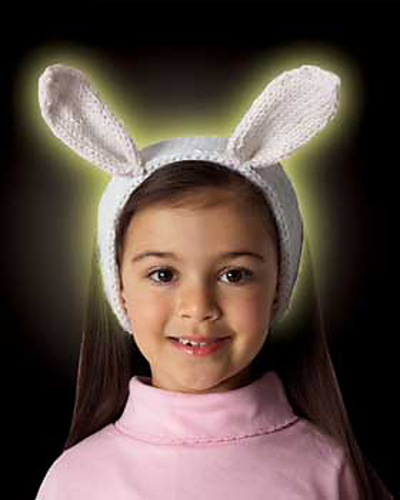 Bunny Ears Headband
Cute bunny ears headband pattern has sizes 2/4 & 6/10 yrs.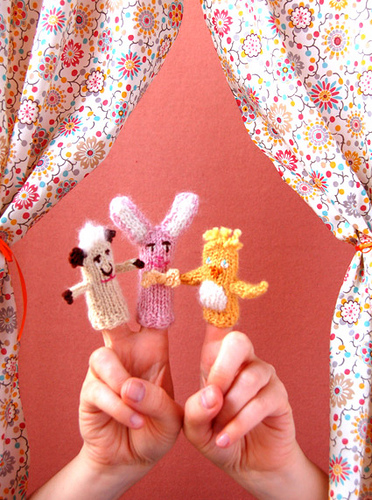 Easter Finger Puppets
Download the free knitting pattern by Purl Soho at Ravelry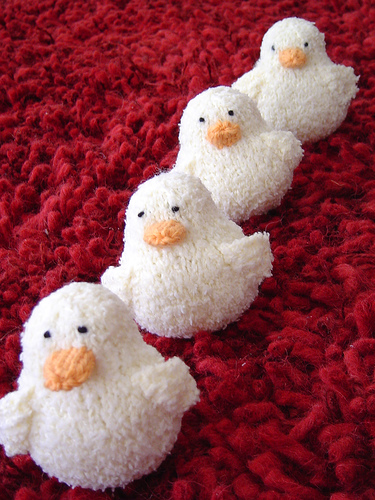 Easter Peeps
This pattern by Kat Lewinski includes modification for a bunny.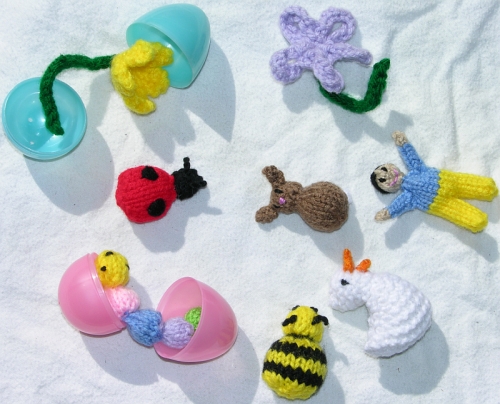 Mini Easter Egg Toys
This bee, ladybug, caterpillar, and bunny are just the right size to fit into a plastic egg.
Get the free knitting patterns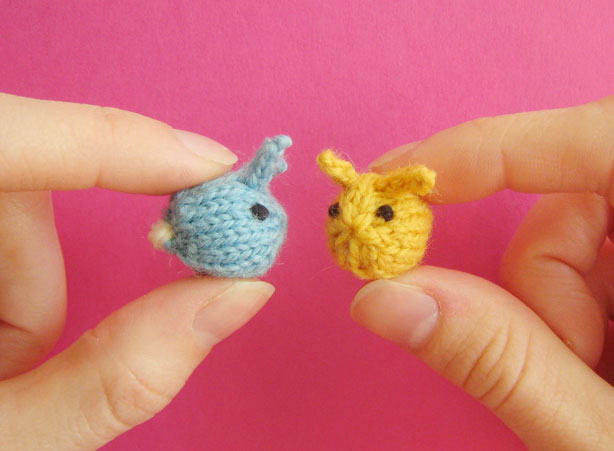 Tiny Baby Bunnies
These mini-marshmallow bunnies designed by Mochimochi Land make great egg stuffers and are a good way to use leftover yarn.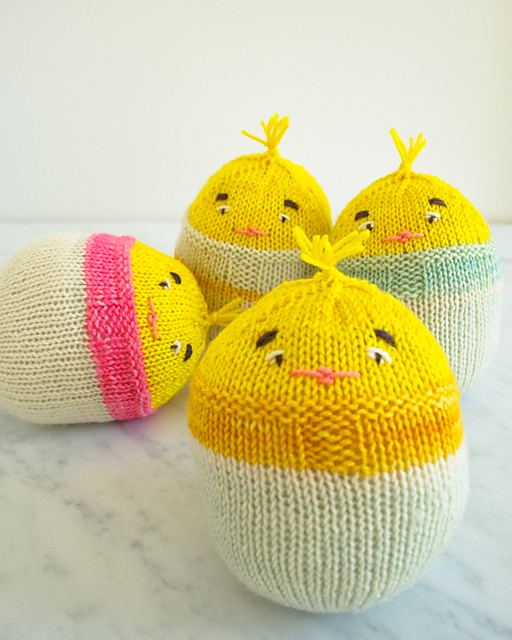 Chick in an Egg
Get the free pattern designed by Purl Soho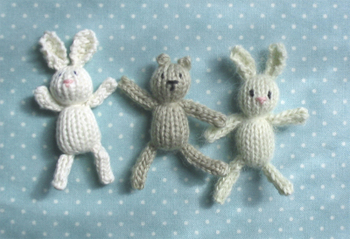 Teeny Tiny Knitted Animals
These tiny toys by Julie at Little Cotton Rabbits are just under 2.5 inches (6 cms) tall.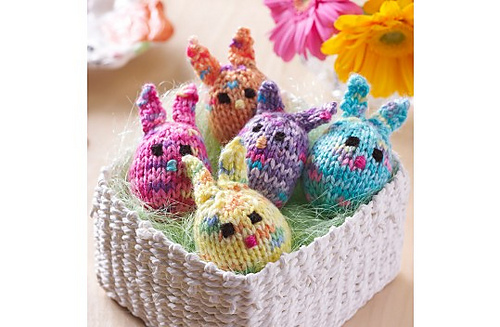 Gumdrop Bunnies
Get the free pattern designed by Laura Bain
Patterns for Purchase

Easter Knits
Arne and Carlos provide a delightful collection of knit eggs, bunnies, and chicks, staying true to their taste for designs based on traditional Scandinavian knitwear, but giving them a fun, quirky twist by scaling them down into quick, small projects.