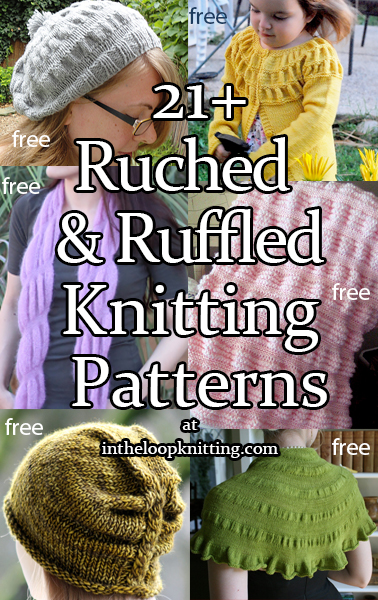 Knit accessories, sweaters, baby projects, and more featuring a ruched or gathered effect, often created simply with increases and decreases, or different weight of yarn.
To get the knitting patterns, scroll down the page to the individual pattern you want and click on the link to that pattern.
These patterns are not my designs but links to other designers who have generously shared their patterns. If you have questions about how to knit a specific pattern, please contact the designer directly.
All links on this site are for informational purposes, but please note that some links are to affiliate sellers that pay me a small commission on purchases.
Free Patterns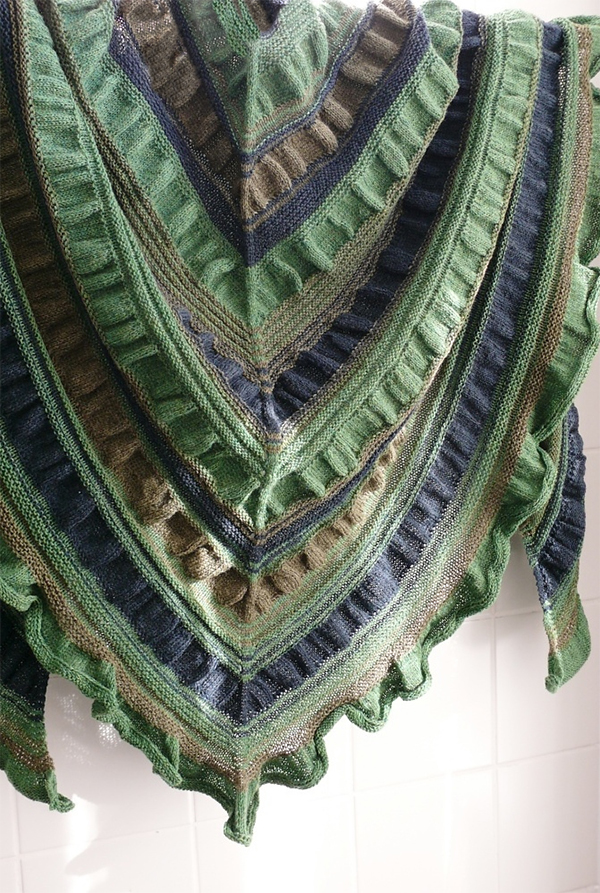 Gathered Triangle Shawl
Easy shawl featuring multicoloured welted stripes followed by solid stockinette stitch ruffles. This pattern is appropriate for adventurous beginners. Great stashbuster. Designed by liZKnits. Available in English and German.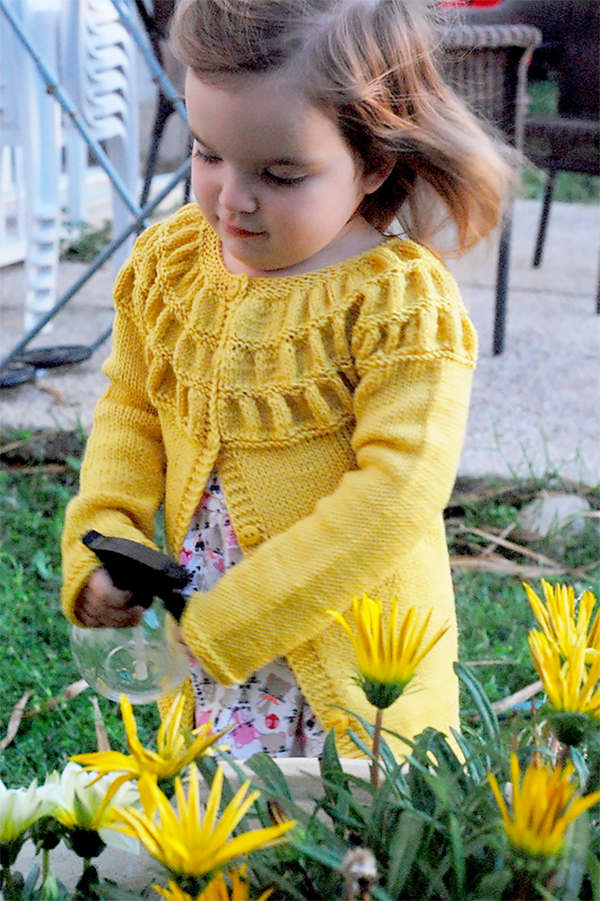 Tempest Child's Cardigan
Long-sleeved sweater with a ruched yoke. Sizes3/4 - 5/6 - 7/8 - 9/10 - 11/12 years. Designed by DROPS design. Sport weight yarn. Pictured project by Kochavit. Available in English, Danish, French, German, Italian, Spanish, and other languages.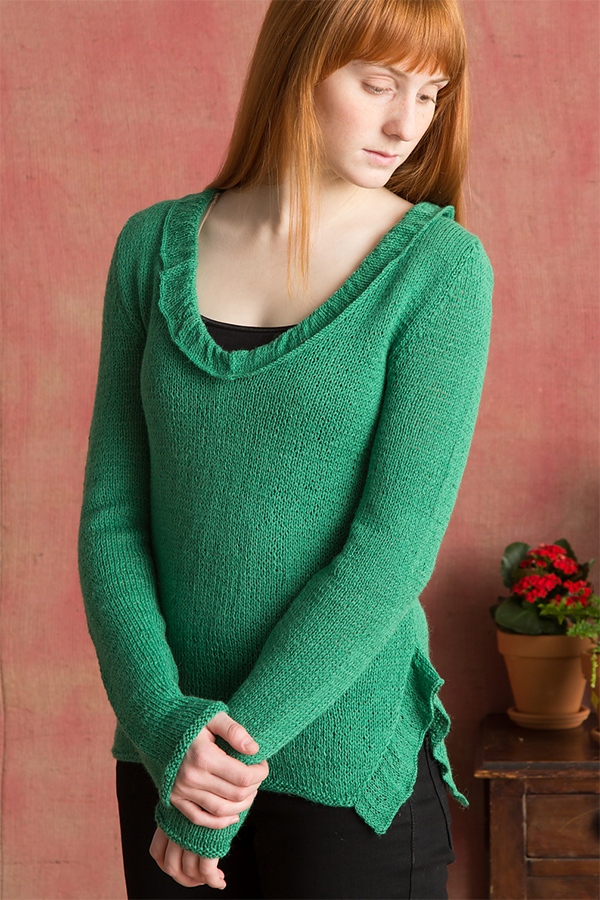 Ruffle Pullover
Long-sleeved sweater with a shirred collar and ruffled side vents. Sizes XS (S, M, L, XL, 2XL). Designed by Tonia Barry for Classic Elite Yarns.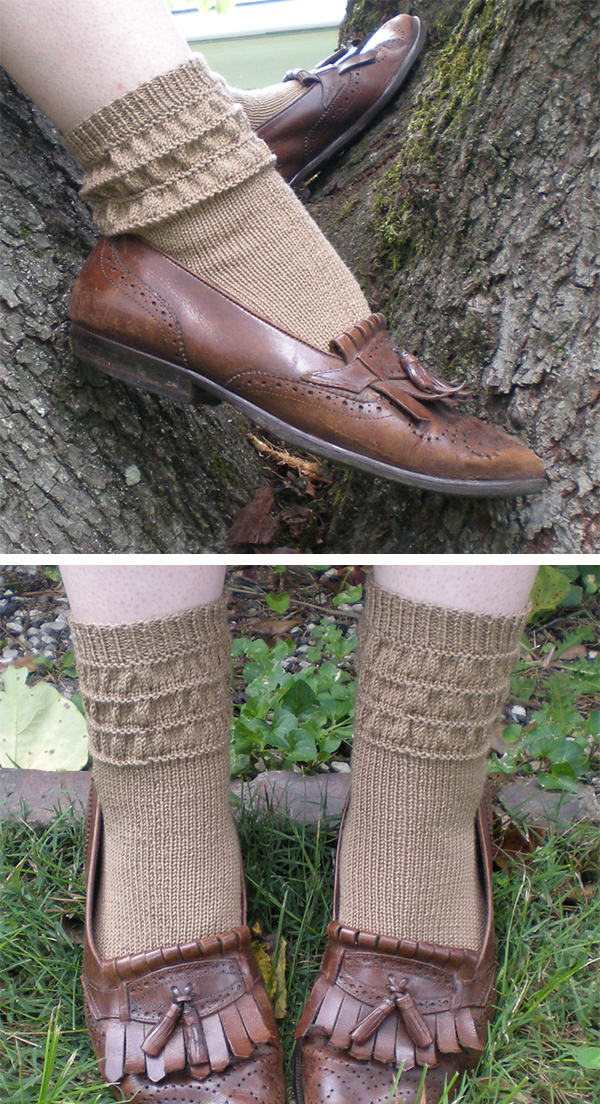 Chiffon Socks
Sock knit from cuff down, with a short-row heel, in smooth stockinette with an ankle embellished with three bands of ruffled ruching. Designed by Julia Sull. Fingering weight yarn.
Vauxhall Park Beret
Hat knit with 8 row repeat ruched pattern that is mainly stockinette. Rated easy by Ravelrers. Designed by Alyssa Heath. DK weight yarn.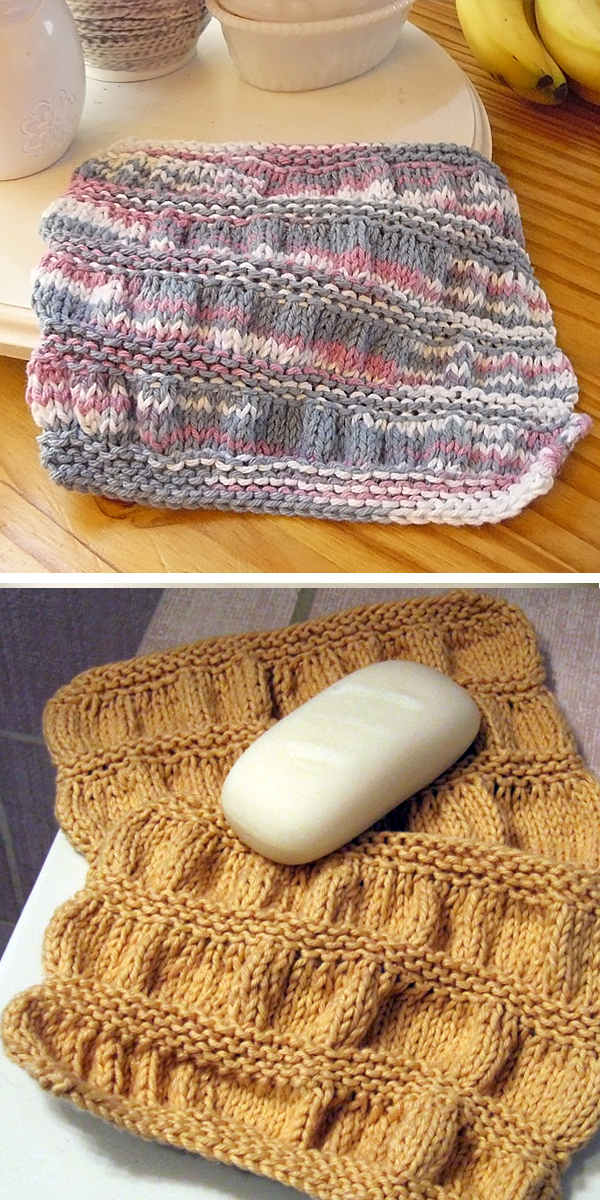 Gathered Washcloth
Easily customizable dish or wash cloth with shirring that looks pretty, gives a soft scrubbing texture, and is created by increasing and decreasing stitches between sections. Designed by Angela Perry. Aran weight yarn. Pictured projects by ElieKnits and jessyz.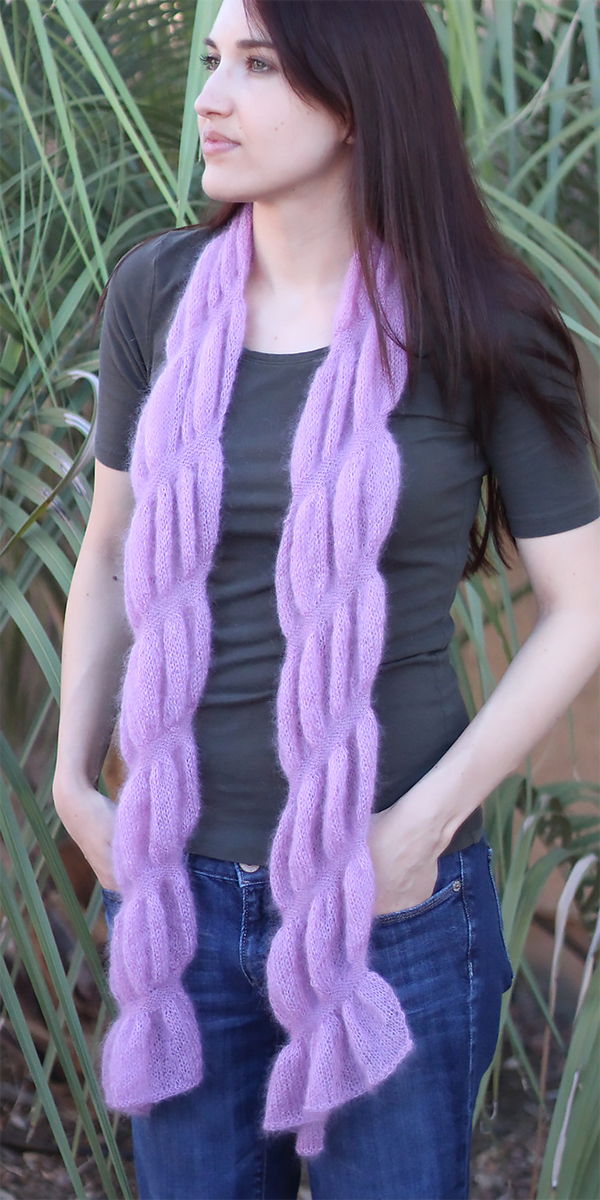 Easy Ruched Scarf
Scarf knit with gathers on the bias. Rated easy by Ravelrers. Designed by Skacel Collection, Inc. Pictured project by QueenBusyBee. Lace weight yarn.
More Free Patterns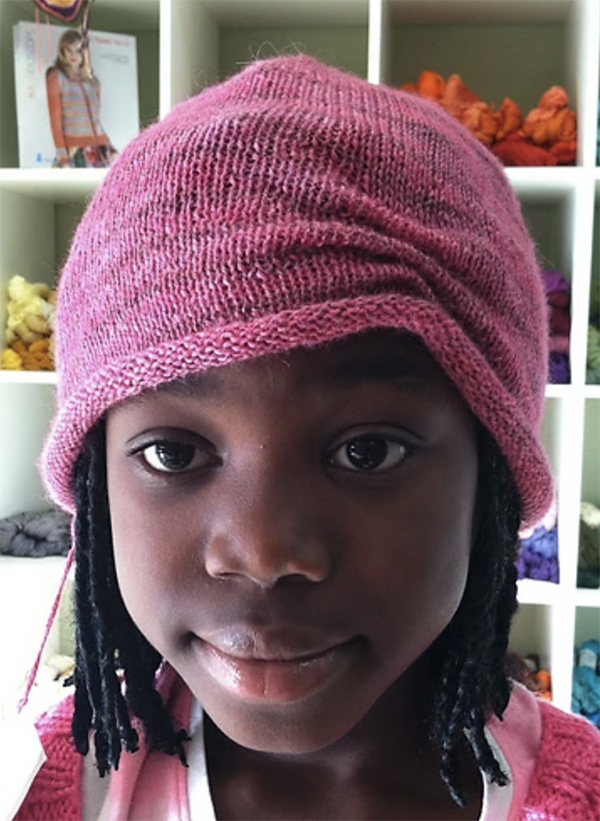 Cheryl's Hat
Easy beanie with a rolled brim and a ruched detail. Designed by Vera Sanon. Fingering weight yarn.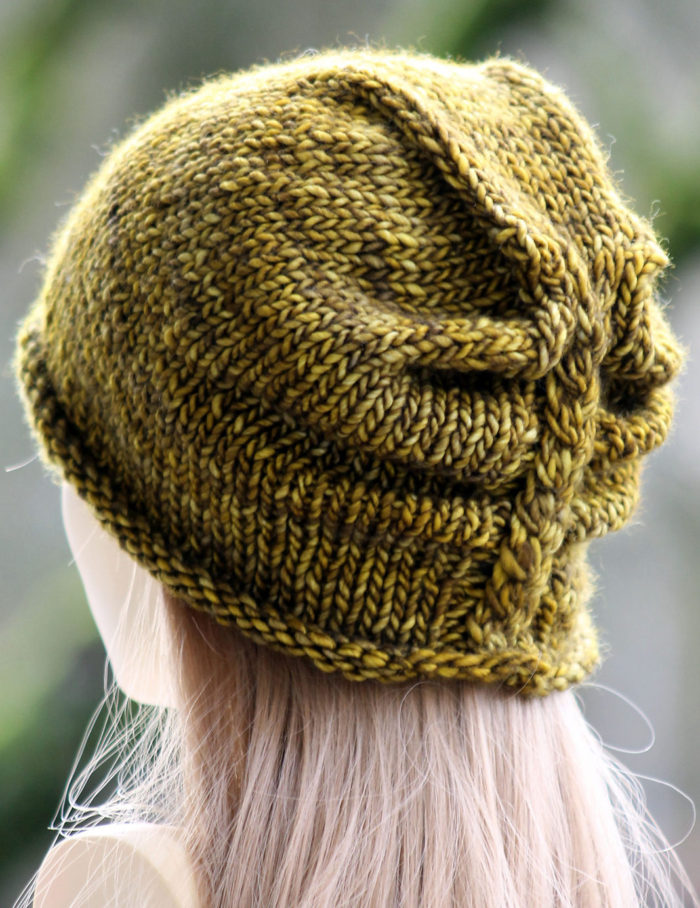 Ruched Cable Hat
The I'm Lichen This Hat is a slouchy beanie with a ruched back with a cabled braid. Designed by Gretchen Tracy of Balls to the Walls Knits.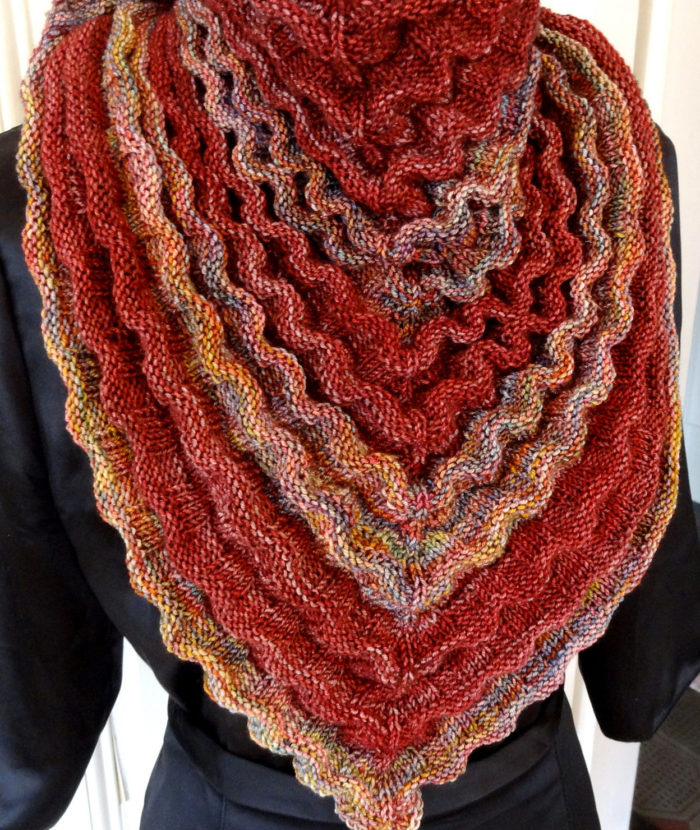 Cereza Shawl
This unique triangular shawl features alternating stripes of ribbing and reverse stockinette, that create natural ruching and 3 dimensional ruffles. Designed by Sue Berg. Available in English and German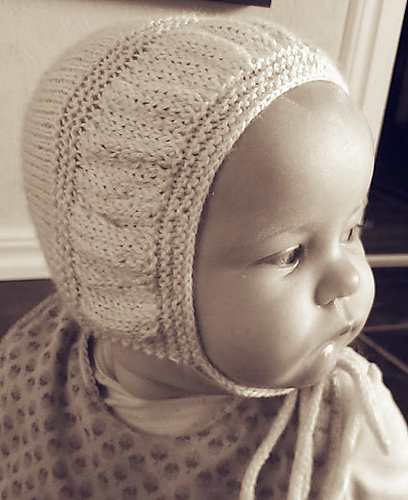 I-Cord Bonnet
This bonnet features a band gathered with increases and decreases. Designed by Lotta Arnlund. Size 0-12 month or any size you want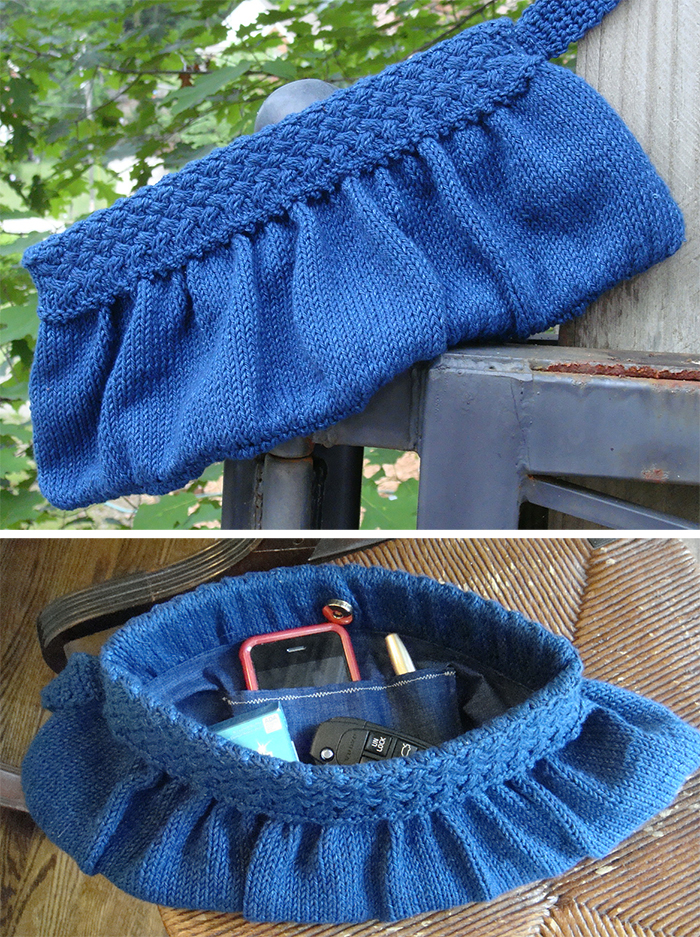 Downtown Clutch
This bag features woven basketweave cable trim, deeply ruched body, and wrist strap. Size 10″x 5″. Designed by Cirilia Rose. DK yarn. Pictured project by lolamama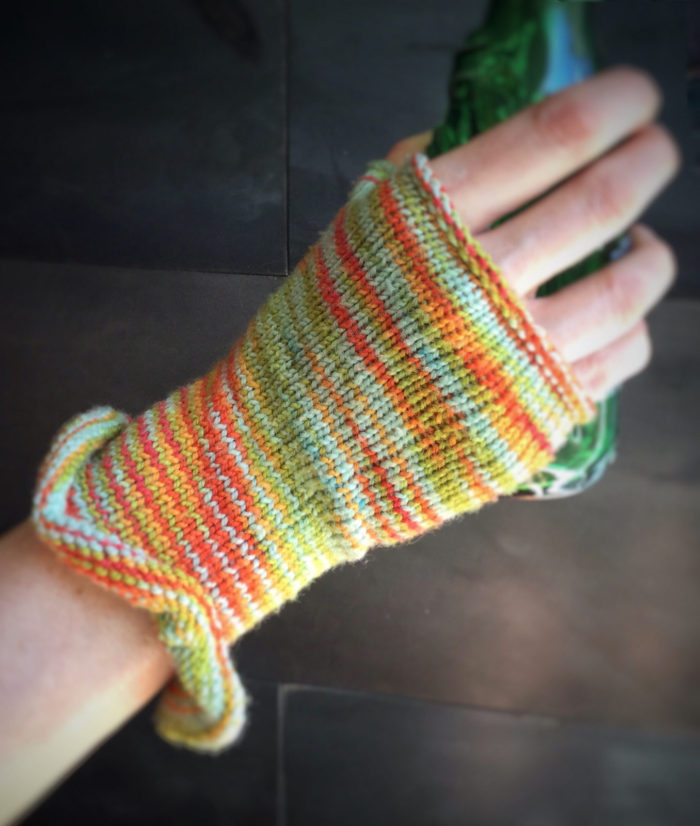 Pagliaccio Fingerless Gloves
These fingerless mitts feature a jaunty wrist flounce. Designed by Johanna Di Stefano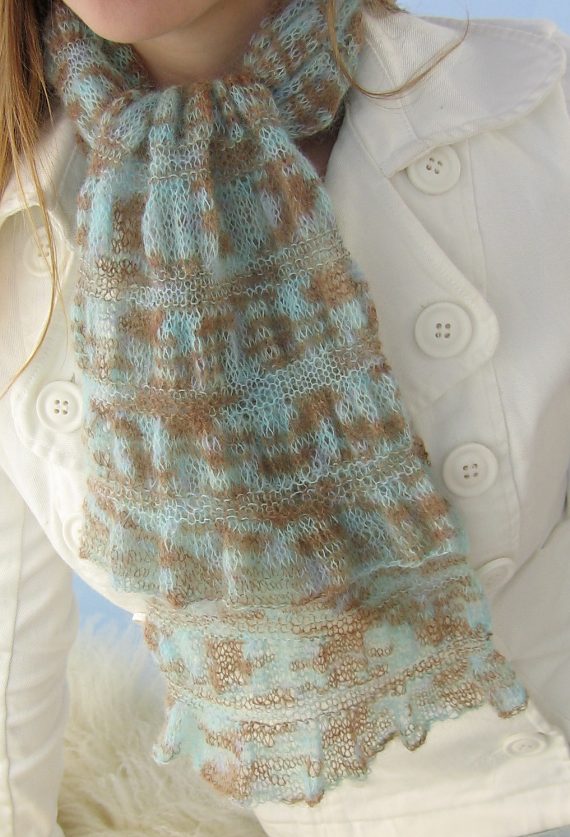 Gathered Scarf
Maryse Roudier's easy scarf creates ruching by using increases to add fabric and decreases to "gather" between garter stitch rows. Warning: this is a yarn eater because you use twice as many stitches for the gathered sections. Pictured project by elsteffo.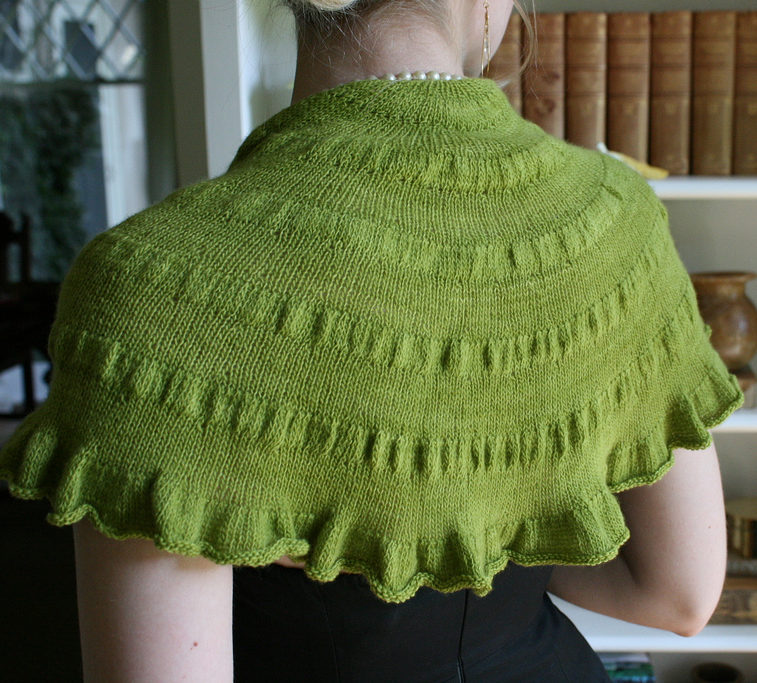 Citron Shawl
Hilary Smith Callis's easy shawlette features ruffles and ruching to add dressy details and uses just one skein of the recommended yarn.

Garter Stitch Ruffles Baby Blanket
This easy reversible blanket is knit completely in garter stitch with two strands of yarn held together. It gets its ruffled look by switching to large needles for a puffier section and then make to smaller needles for a tighter gauge. Consider two yarns or different texture or color to add interest. Designed by Diane Starke. Pictured projectby KathInOC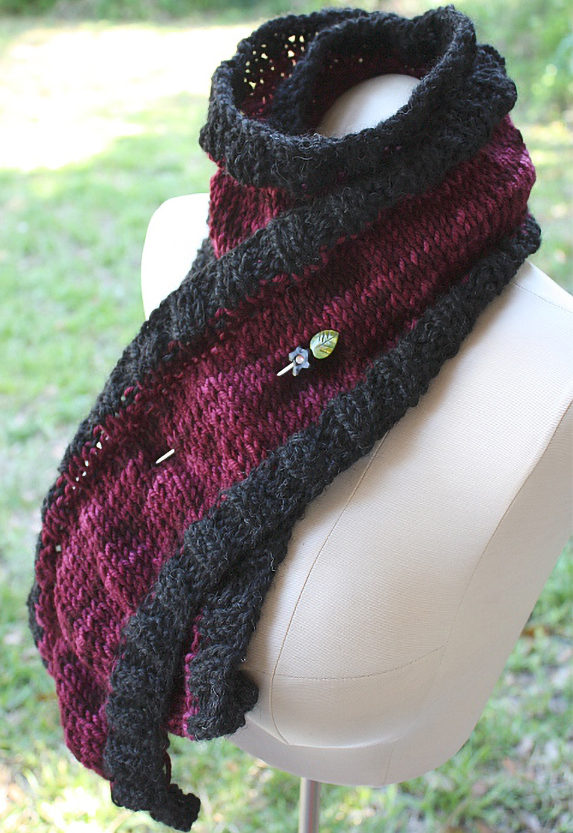 Betty & Veronica Scarf
Ruched scarf knit lengthwise with 2 edge options – ribs and ruffles. Designed by Sarah Core. Pictured project by aromine78. Rated very easy by Ravelrers
Patterns for Purchase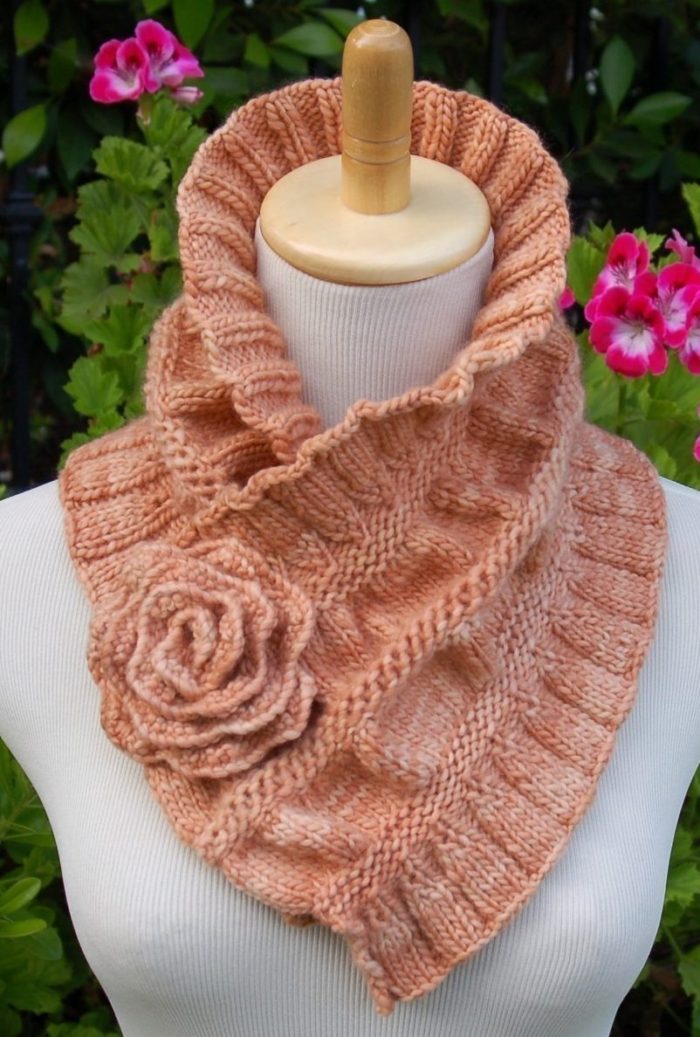 Ruffled and Ruched Scarf
Neckwarmer with optional rose pin for fastening. Designed by PamPowersKnits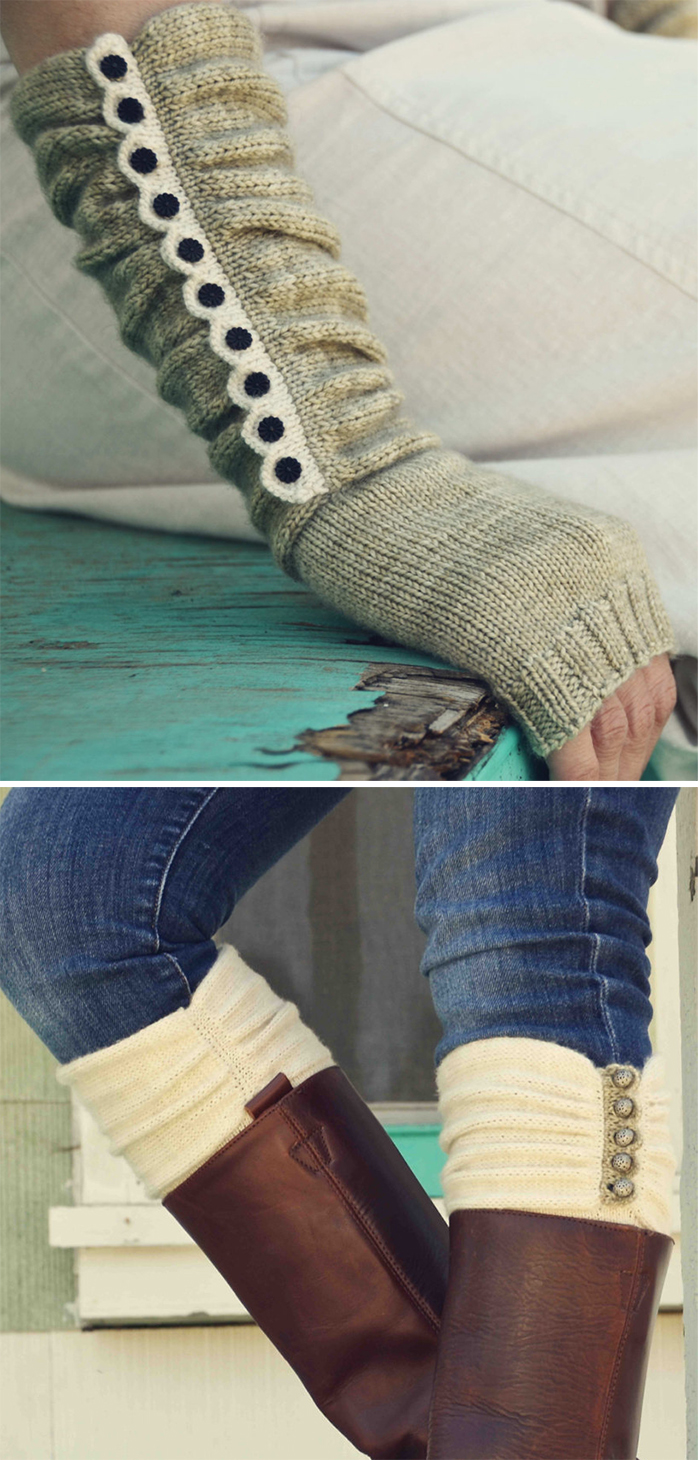 Austin Boot Liners & Mitts
Fingerless mitts and boot toppers with ruching and buttons. Designed by PamPowersKnits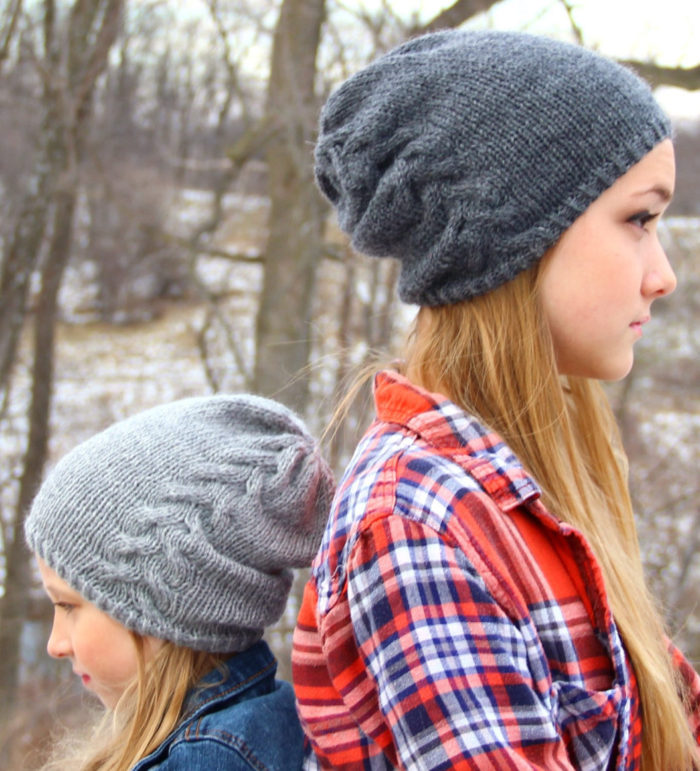 Cabled Ruched Beanie
This slouchy hat features a braided cable on each side that creates a ruched effect. Adult and child sizes. Designed by Deborah O'Leary

Vail Baby Blanket
Easy baby blanket with ruching made from increasing and decreasing stitches. Crochet edge is optional. Beginner level according to the designer. DK or worsted weight yarn. Designed by Deborah O'Leary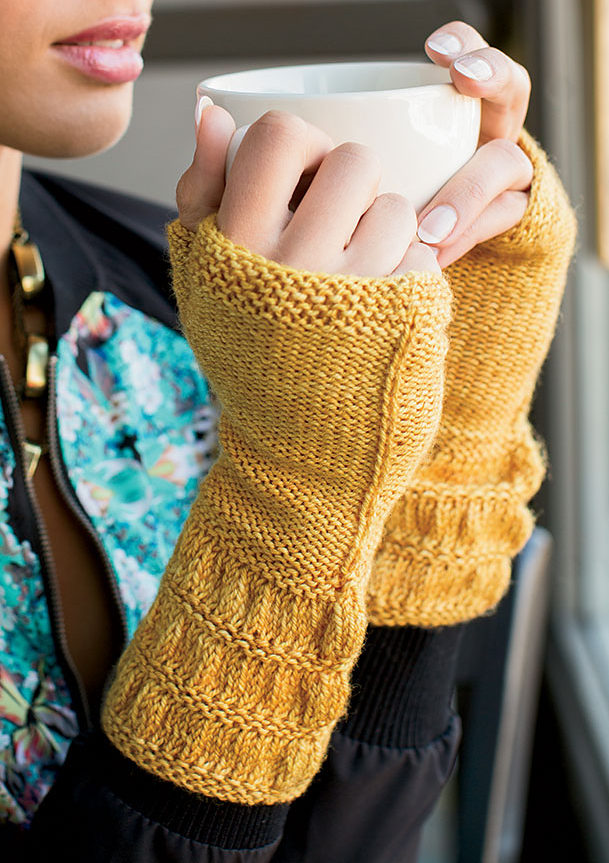 Gefn Mitts
Fingerless mitts with ruched cuffs inspired by Freyja. Designed by Kristen Ashbaugh-Helmreich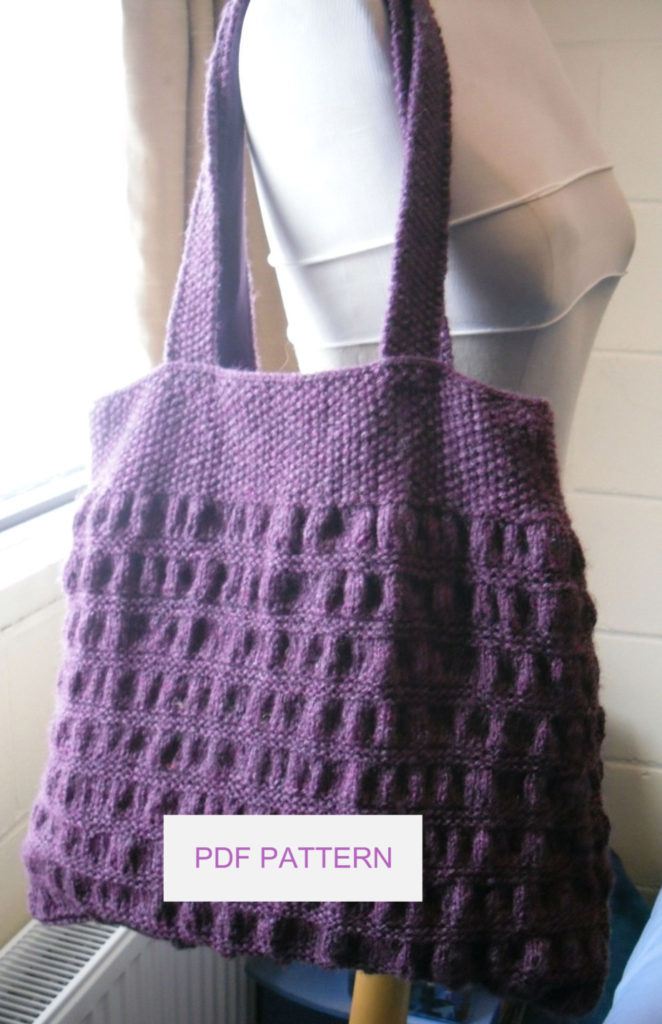 Gathered Tote Bag
Creates a Bag sized approx W42cm x H30cm plus a 60cm Handle. Easy enough for novice knitters.