Beginner Knitting Patterns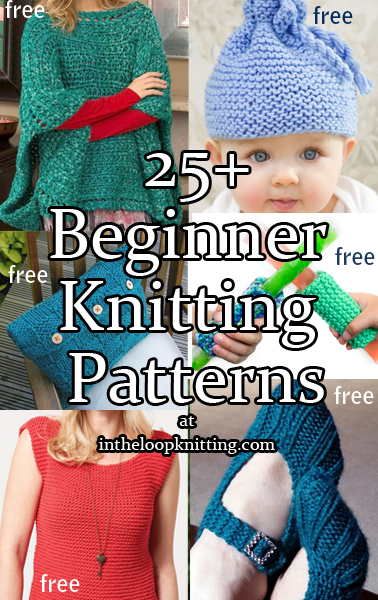 You don't have to knit scarves when you're just starting out. Here are some patterns that are easy enough for beginners and give you something to use or wear right away.
To get the knitting patterns, scroll down the page to the individual pattern you want and click on the link to that pattern.
These patterns are not my designs but links to other designers who have generously shared their patterns. If you have questions about how to knit a specific pattern, please contact the designer directly.
All links on this site are for informational purposes, but please note that some links are to affiliate sellers that pay me a small commission on purchases.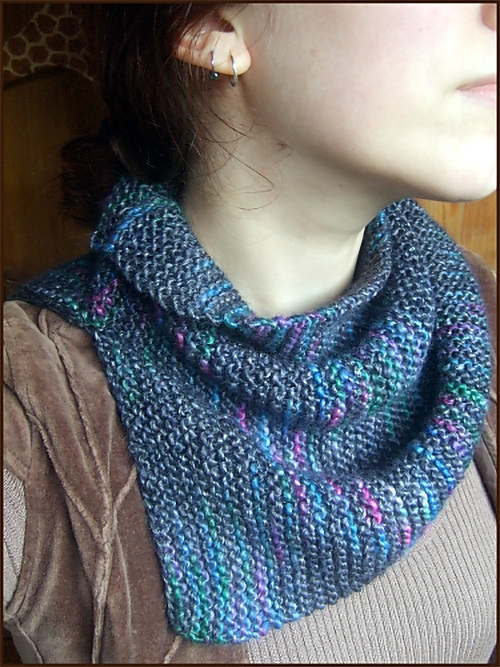 Garter Stitch Cowl
The Rainbow Cowl is knit flat in a garter stitch rectangle and then twisted and seamed to make the cowl. Rated very easy by Ravelrers and suitable for beginners. Designed for multi-colored yarn but also works with solid colors. One of the free patterns in the free ebook 7 Free Knitted Cowl Patterns. Designed by Lisa Shroyer. Pictured project by woodlandwild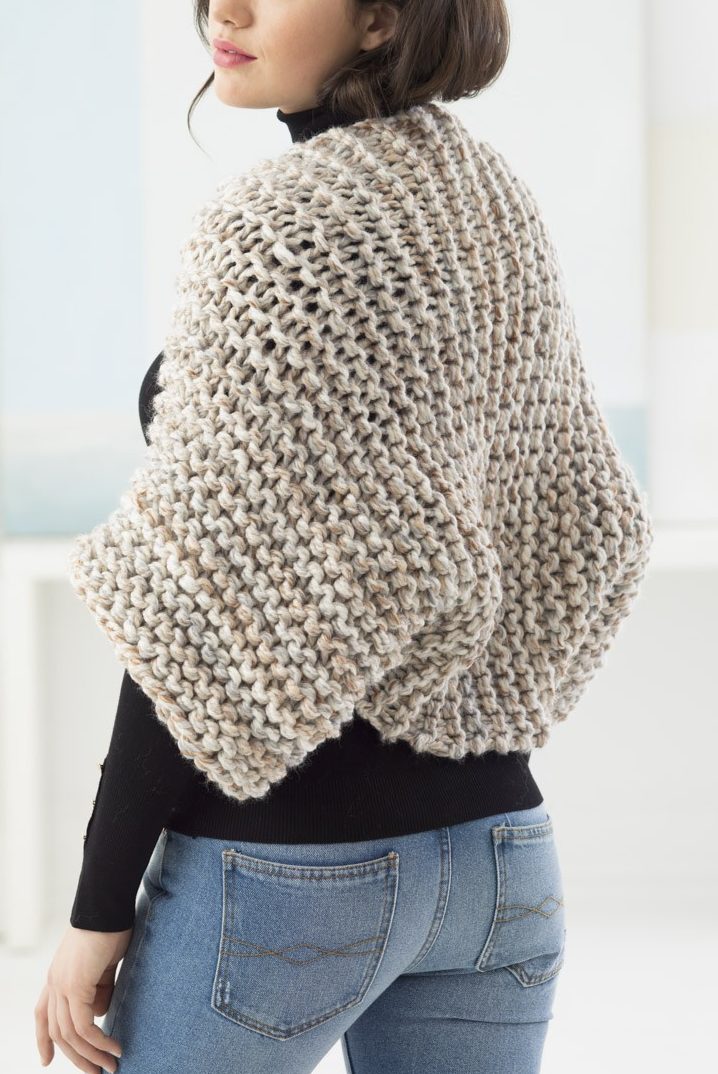 Garter Stitch Shrug
This easy shrug is knit as a garter stitch rectangle and seamed. Quick knit in bulky yarn. Designed by Lorna Miser for Red Heart.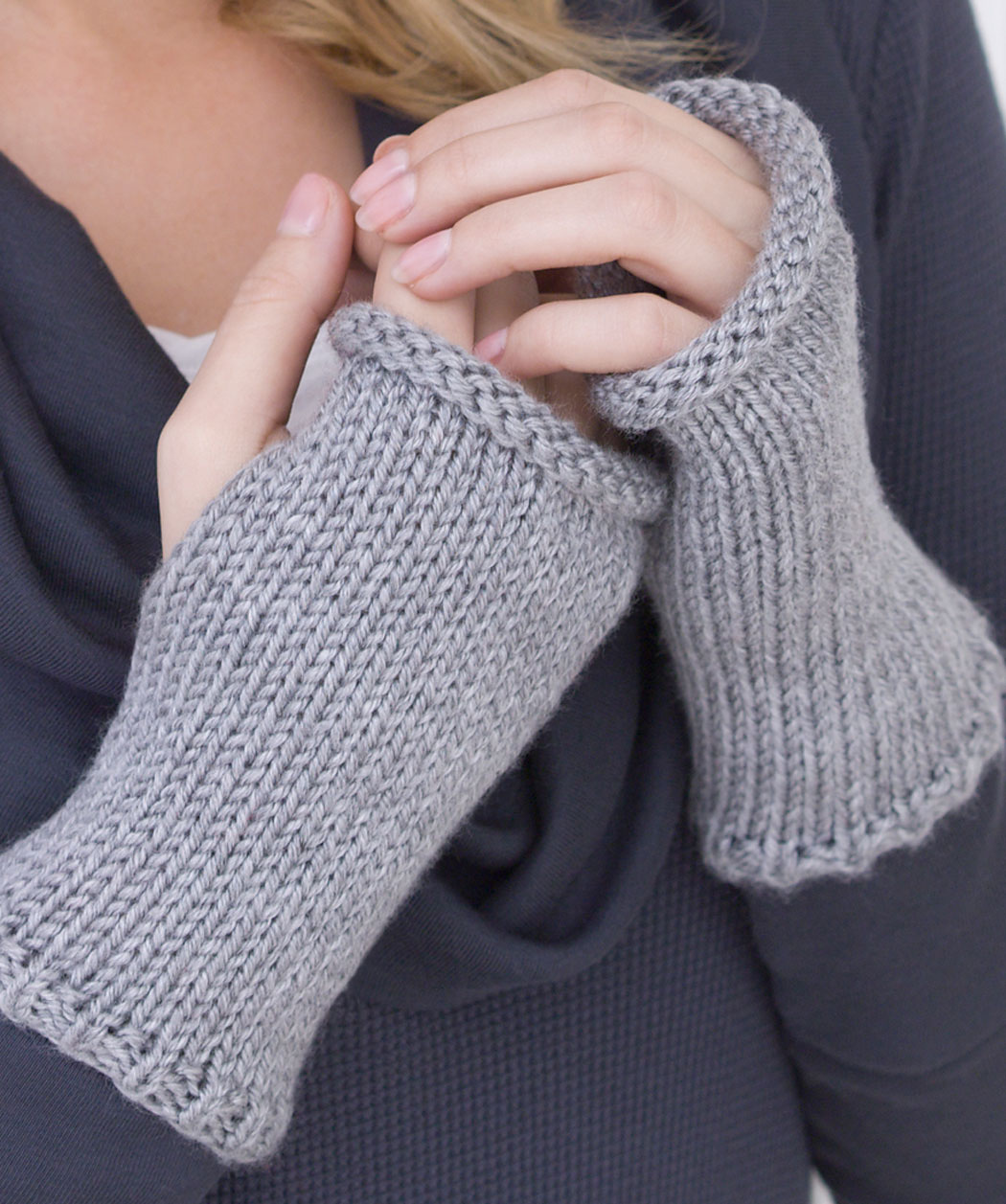 Really Easy Wristers
Just knit a square piece of stockinette with a bit of ribbing then sew up the side leaving a hole for your thumb. Rated very easy by Ravelrers and beginner level by the designer. Designed by Lorna Miser for Red Heart.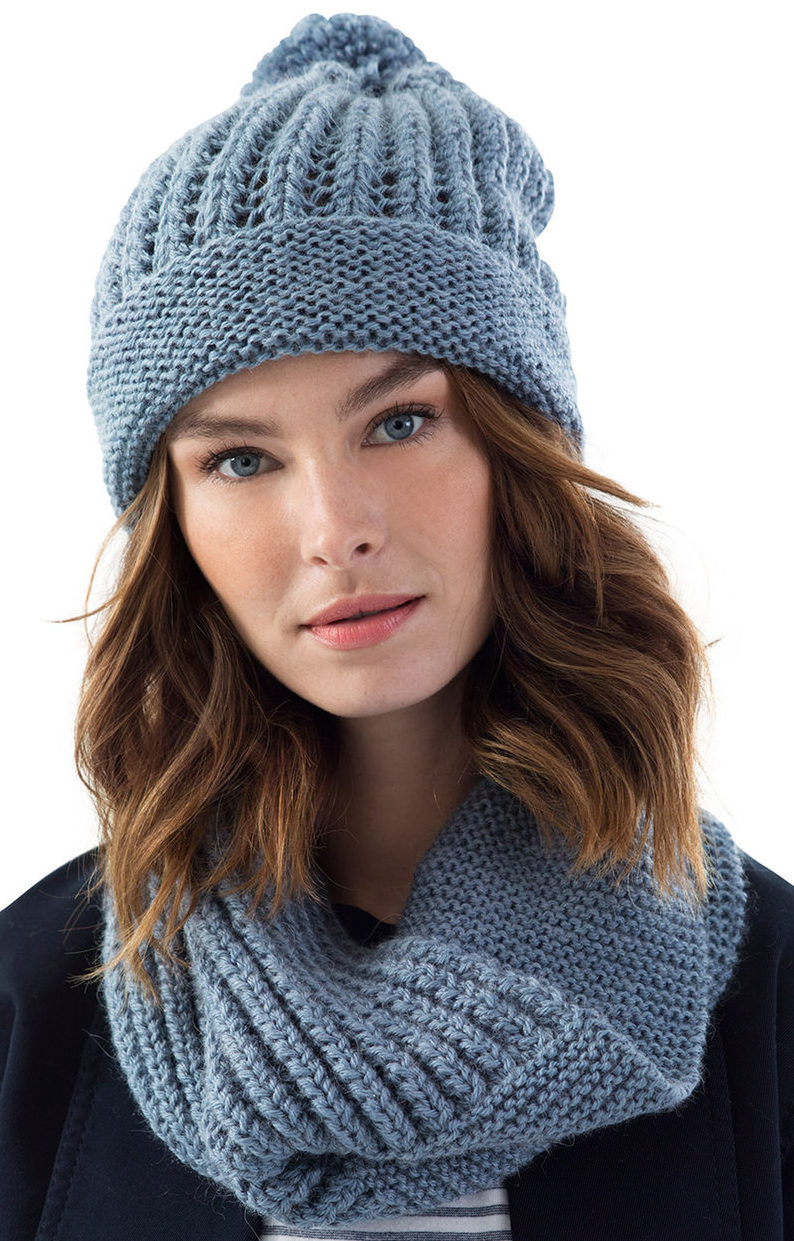 Greenpoint Hat and Cowl
Hat and cowl are knit flat and seamed in garter stitch and a 2 row repeat easy eyelet stitch. You need to do yarnovers, increases and decreases (described in the patterns). Rated beginner level by the designer.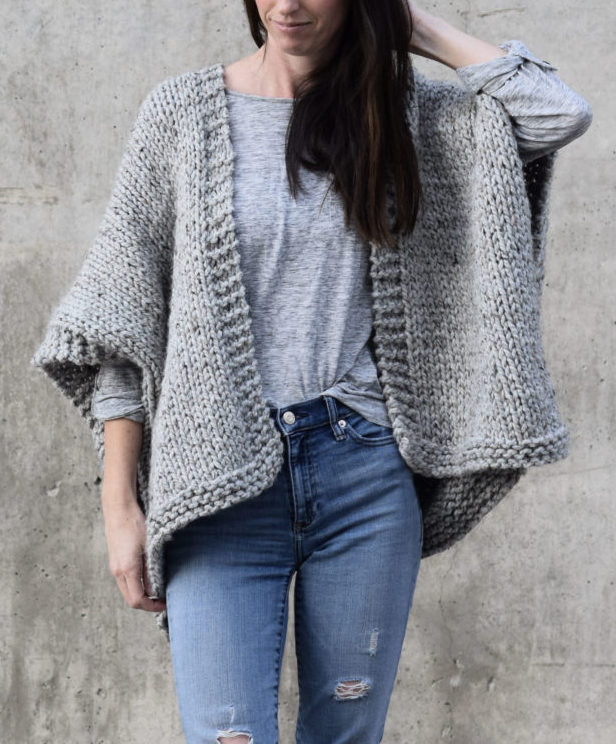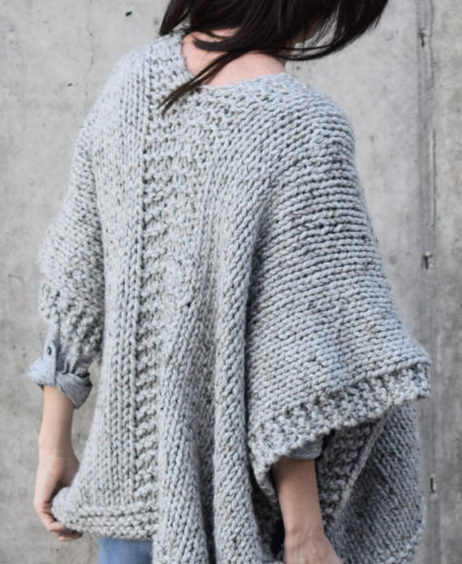 Easy Telluride Kimono
This cardigan is knit as two rectangles of knit and purl stitches that is then seamed together. Designed by Jessica Reeves Potasz of Mama in a Stitch who says this is perfect for beginners. Sizes S/M, X/L. The web version is free and the printable pdf is available on Etsy. Quick knit in super bulky yarn.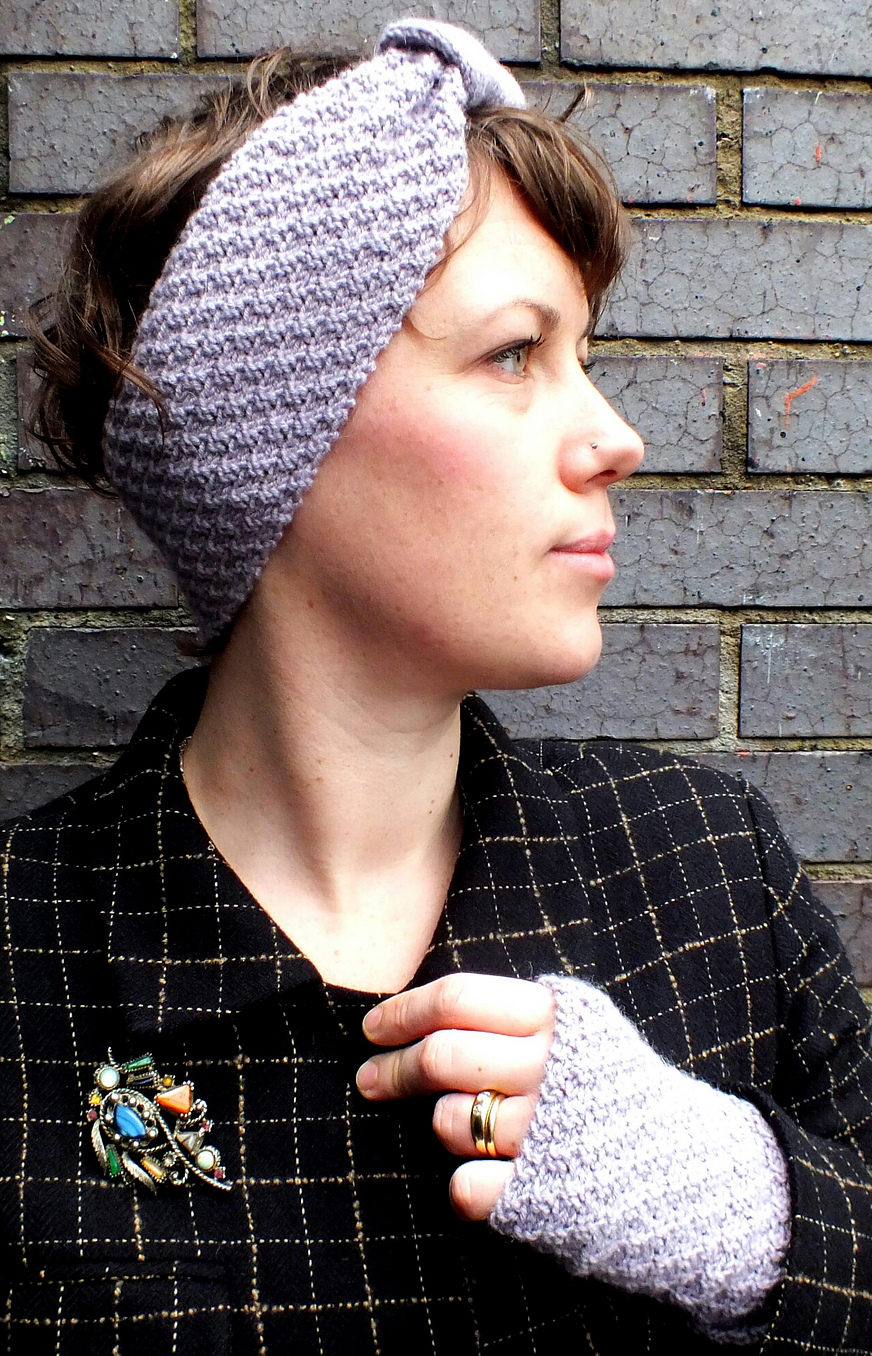 Hopscotch Headband and Mitts
This retro styled headband is knitted flat, seamed, and finished with an additional piece for the tie. The mitts are also knit flat and seamed. The textured fabric is created using only knit and purl stitches, and it's ideal for a beginner knitter according to the designer Jo Hazell-Watkins. These are 2 of the patterns included in a free ebook, 6 one ball projects from Rooster Yarns.
  
Easy Heirloom Blanket
This beginner friendly blanket is knit in knit and purl stitches with alternating sections of a 2 row repeat Seed Stitch and 4 row repeat Andalusian Stitch in different colors. Quick knit in super bulky yarn. She does assume you know how to knit seed stitch so she doesn't recommend it for a first project. Two sizes. Designed by Jessica Reeves Potasz. The web version is free and the printable pdf is available on Etsy.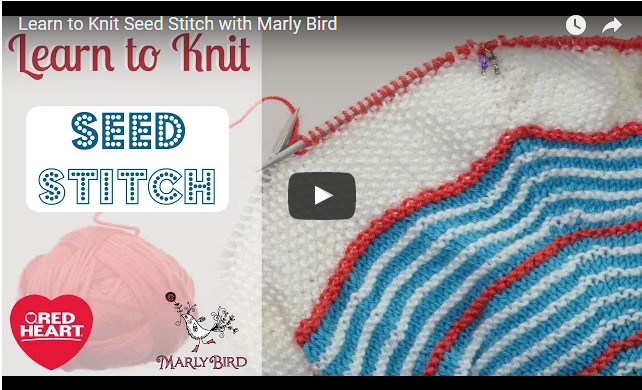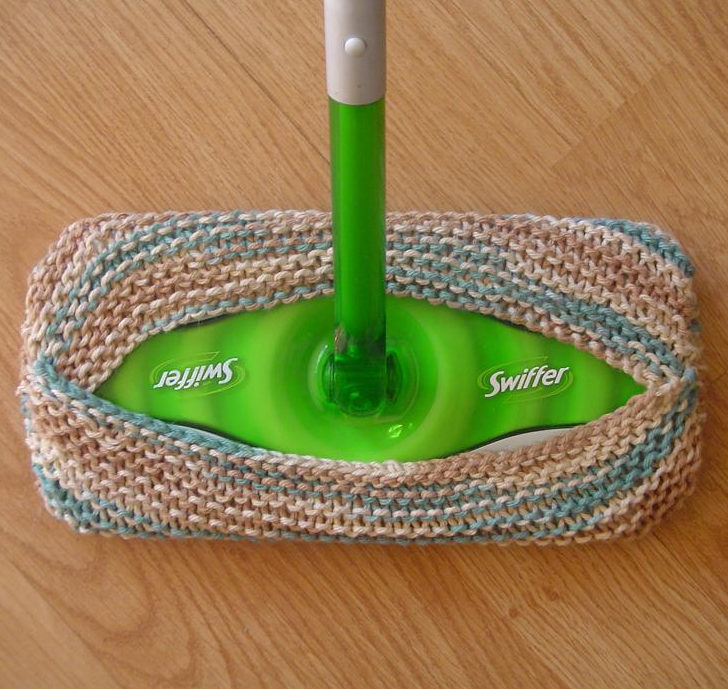 Re-usable Swiffer Cover
Very easy quick knit sweeper cover is a great alternative to the disposable cloths and pads. It can be used dry for dust and pet hair or wet for mopping. Knit in garter stitch with cotton yarn, it's a great practical pattern for someone just learning to knit. Also a great stash buster for cotton yarn. Designed by Mindy Vasil. Pictured projects by endofthepier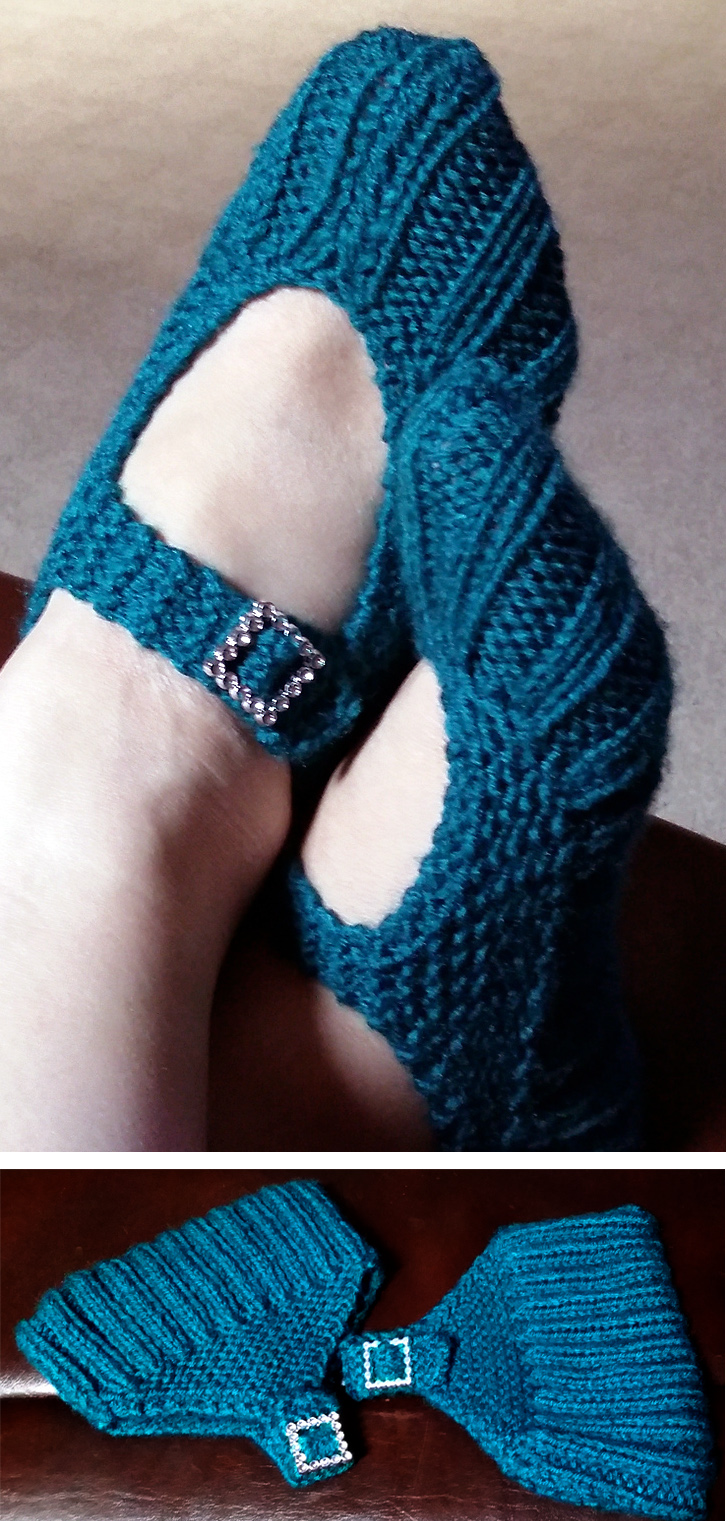 Pocketbook Slippers
These very easy slippers are knit flat and seamed and get their name because they fold into a portable pocketbook shape. You just need to know how to knit, purl, increase, and decrease. Rated very easy by Ravelrers. Designed by Lisa Vienneau & Allison Barrett. Pictured project by Namma119
 
Freezer Pop Cozy
This easy and quick ice pop sleeve will keep little fingers from getting cold. Beginner level pattern and a great project to teach kids to knit with the incentive that they can use it with a treat after they're done! Crochet version also available.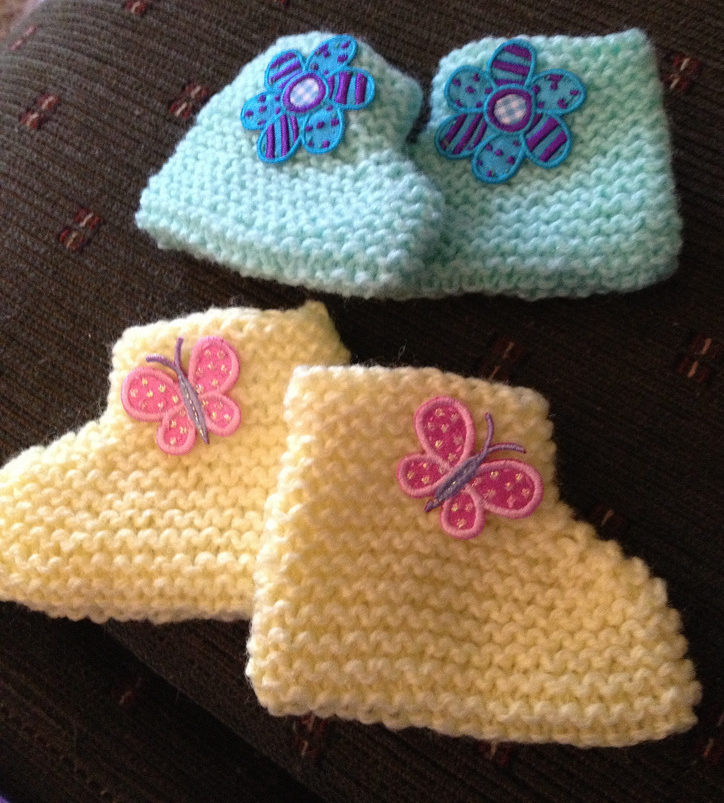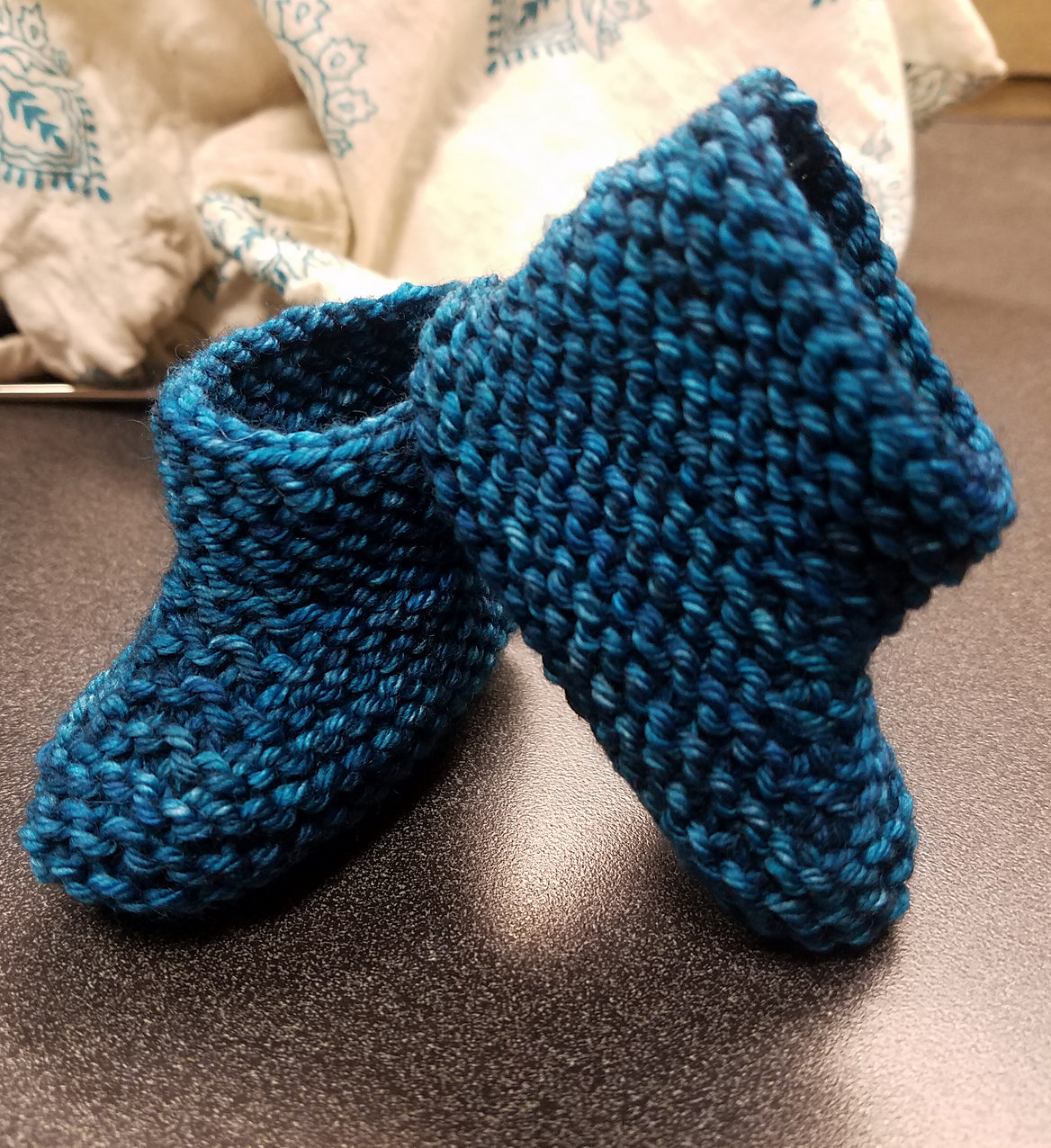 Baby Booties
These easy booties are knit flat with the shape created through decreases and seaming. Designed for beginners, this pattern is rated very easy by Ravelrers, many of whom said it was their first or second knitting project. Excerpted from Knitty Gritty: Knitting for the Absolute Beginner by Aneeta Patel. Pictured projects by mama79hi and MrsJonnaC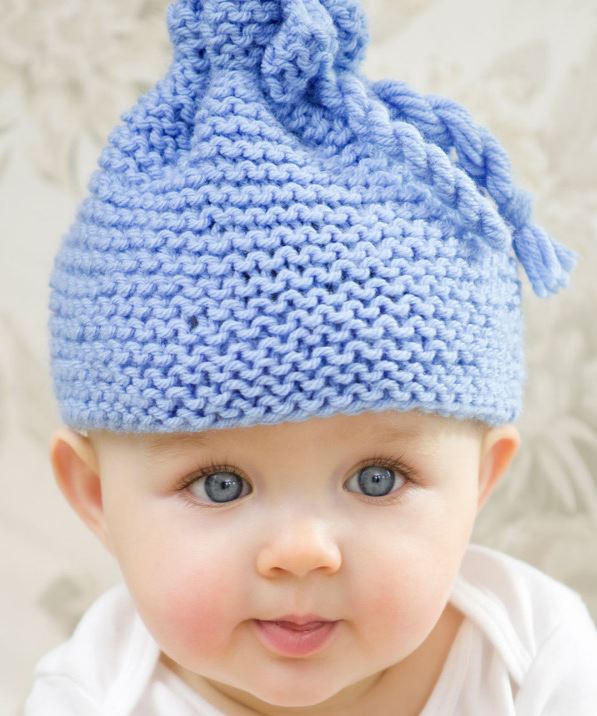 Garter Stitch Baby Hat
Kathleen Sams designed this easy baby hat that's perfect for beginners. Knit in a square with instructions on how to create the twisted cord.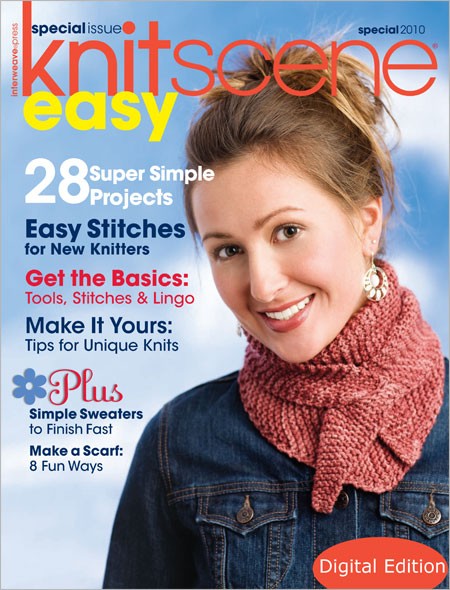 Knitscene Easy
28 atterns that are perfect for beginners, but will excite even advance knitters, Handy stitch reference guides are sprinkled throughout the issue, so newcomers can easily refresh their memories.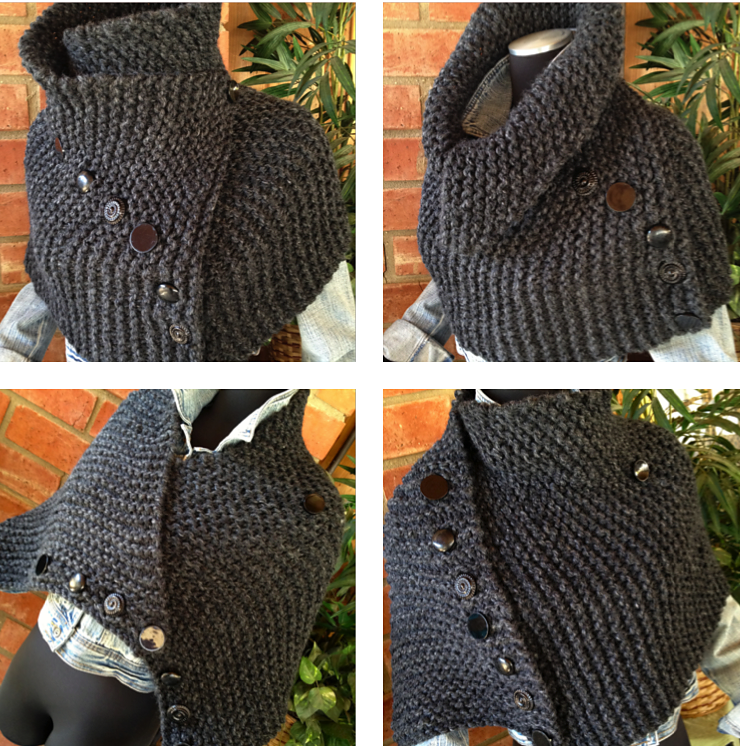 Ribbed Hugger Cowl
Easy versatile wrap that can be worn many ways knit in garter stitch and suitable for a beginner according to the designer. Quick knit in bulky weight yarn  Designed by CharmedFibers

Knitting For Beginners: The A-Z Guide to Have You Knitting in 3 Days
This book provides pictures and step by step instructions for help both beginners and experienced knitters learn new stitches and techniques. Includes 15 knitting patterns

Knit Fix
Knit Fix ebook will teach you to cast on and bind off, decipher charts, choose fibers and calculate yardage, tackle holes, join yarns, work with multicolor knitting, alter a finished piece, and customize a pattern to suit you perfectly.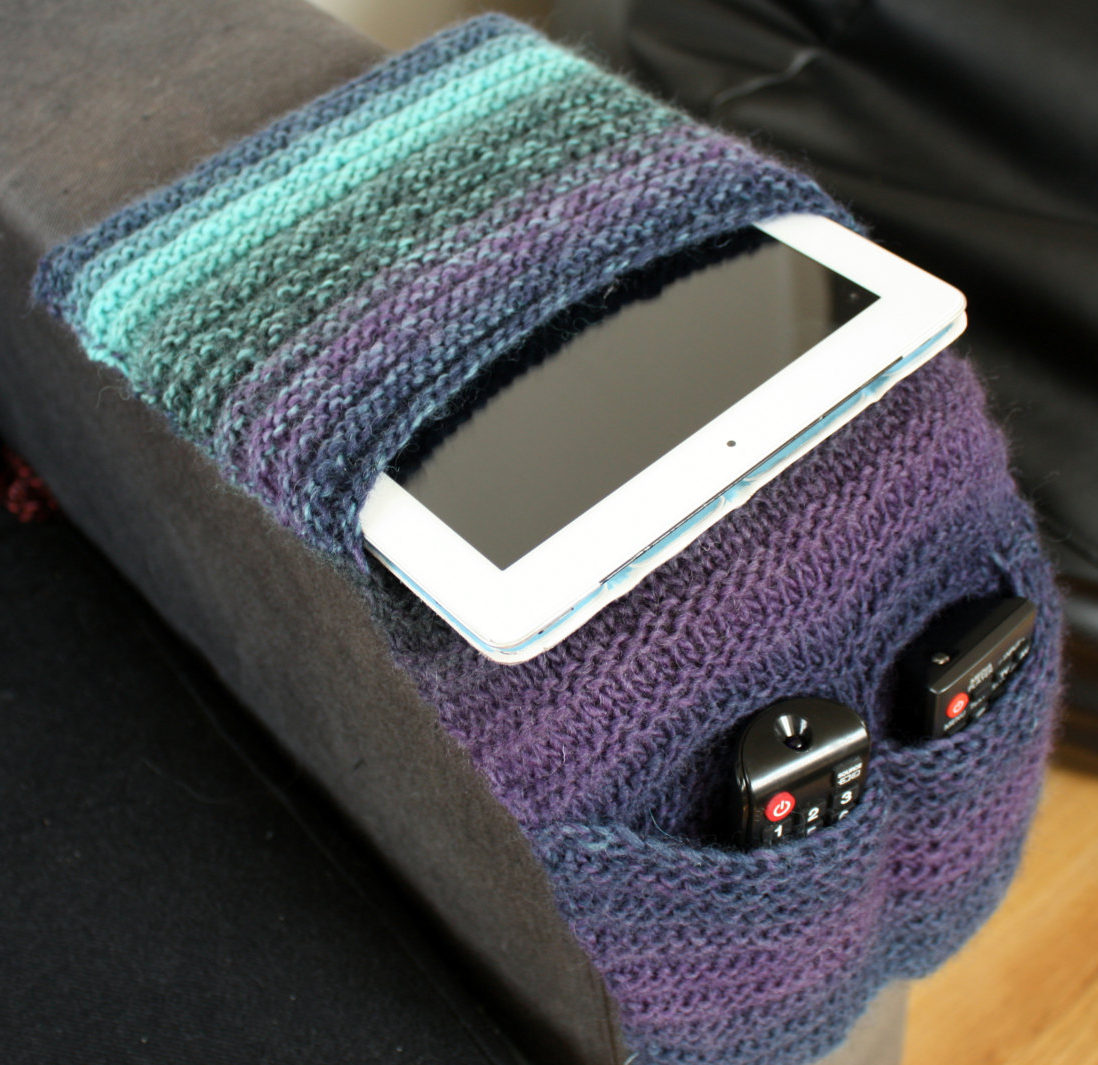 Armchair Remote Control Caddy
This organizer is very easy and suitable for beginners according to the designer.
Baby Layette for Beginners
Very easy pattern for baby set including wrap jacket, hat, booties, and mitts. Knit flat in garter stitch and shaped with increases and decreases. Sizes 0-3 months and 3-6 months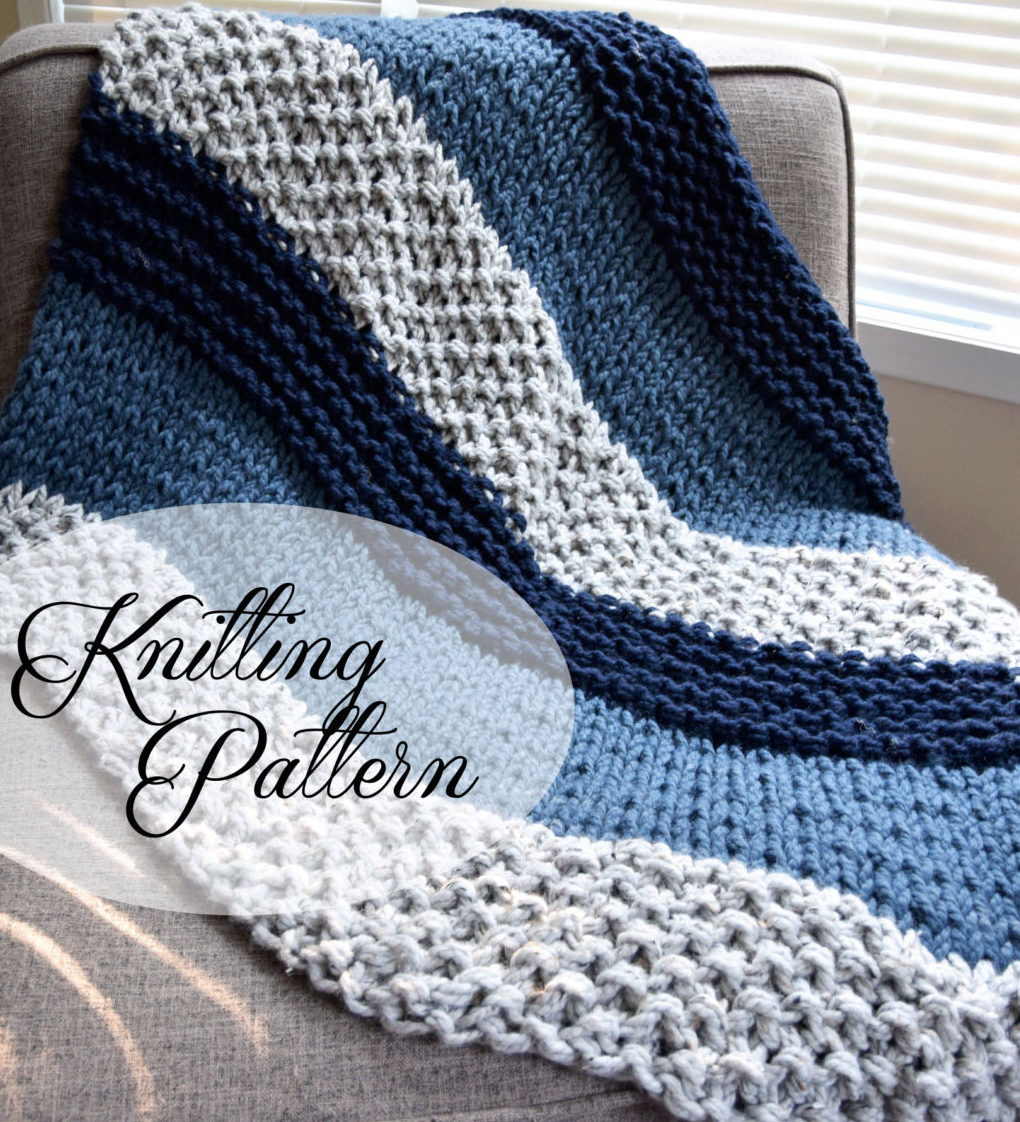 Beginner Chunky Blanket
This throw knit in sections of garter stitch, stockinette, and seed stitch is perfect for beginners and advanced knitters according to the designer. Includes "how to" videos for basic techniques used. It does use jumbo US50 size needles.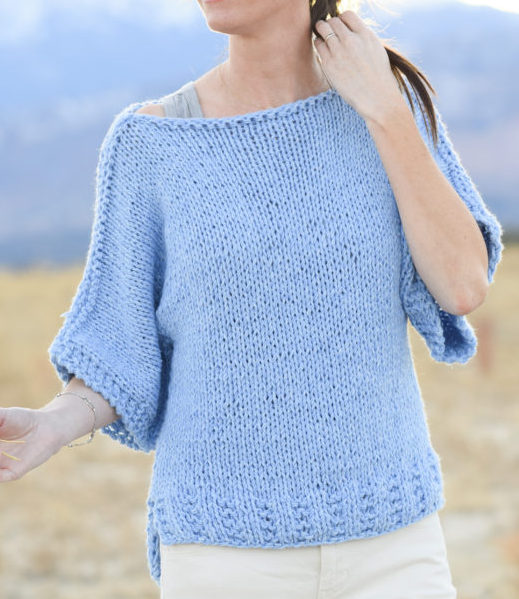 T Shirt Pullover
The designer Mama in a Stitch says that this short sleeved sweater is as simple as it gets and great for beginners. No shaping, just knit and purl. Knit two pieces of stockinette with a pretty rib hem and seam. Quick knit holding two strands of worsted yarn together. S, M, L, XL.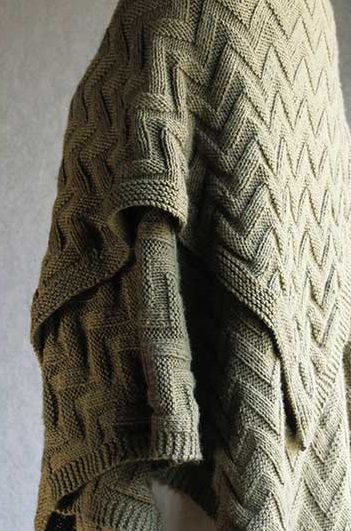 Library Afghan
Throw with a zigzag chevron pattern knit just in knit and purl stitches. Rated easy enough for beginners by Annie's. 3 Sizes: Small: 37″ x 41″, Medium: 45 1/2″ x 50″, Large: 54″ x 60″. Recommended yarn available on pattern page.

Passionista Vest
Lena Skvagerson's simple-to-stitch vest is a versatile accessory and easy enough for beginners looking to branch out.

Claire's Captivating Castle Leoch Shrug Kit
From the official Outlander kits from Lion Brand.  Inspired by the shrug that Claire wears, the kit includes all the yarn you need for the project, as well as a copy of the pattern Skill level: beginner; size: one size. About 13 x 31 in. (33 x 78.5 cm), before folding and seaming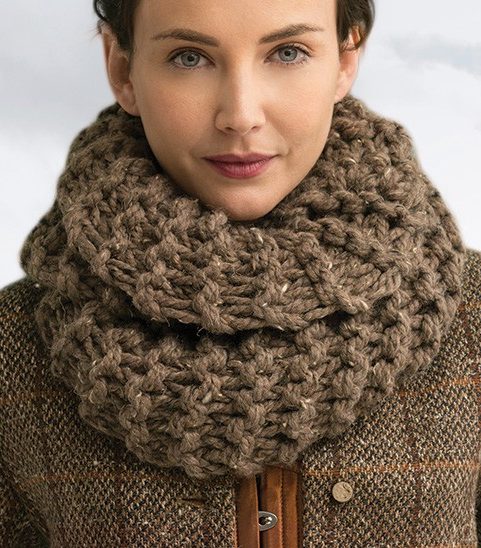 Return to Inverness Cowl Kit
From the official Outlander kits from Lion Brand. Inspired by Claire's cowl, this kit includes all the yarn you need for the project, as well as a copy of the pattern. Quick knit in super bulky yarn. Skill level:beginner
Terry Matz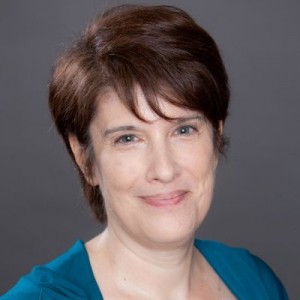 Terry is a knitting late-bloomer, learning to knit as an adult from Internet tutorials, because she wanted a craft that was useful, fun, and portable. Knitting hats for cancer patients inspired her to design her own patterns—available for free at her blog, intheloopknitting.com. Terry met her husband Ken at a science fiction convention and moved to the Kansas City area to be with him more than 30 years ago. Terry supports her yarn stash by creating websites and other digital media. Terry firmly believes in Knitting in Public—it's a great conversation starter!