Easy Cardigan Knitting Patterns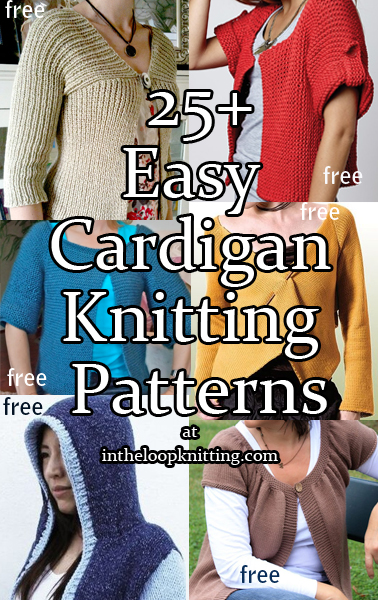 Knitting patterns for cardigan sweaters that are rated easy by the designers and/or the Ravelrers that have knit them.
To get the knitting patterns, scroll down the page to the individual pattern you want and click on the link to that pattern.
These patterns are not my designs but links to other designers who have generously shared their patterns. If you have questions about how to knit a specific pattern, please contact the designer directly.
All links on this site are for informational purposes, but please note that some links are to affiliate sellers that pay me a small commission on purchases.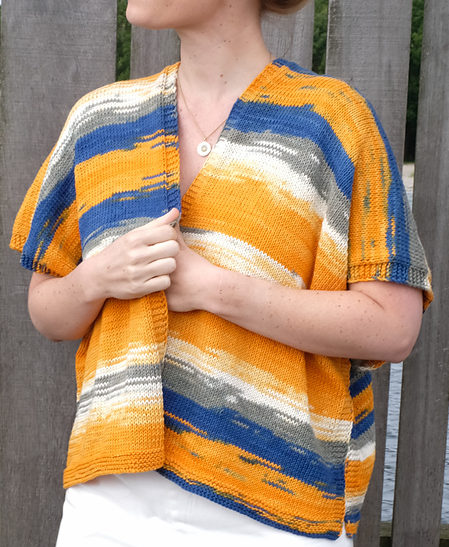 Liz Cardi
Short sleeve cardigan sweater knit in one piece, starting from the back, separate for the 2 front panels, then seam up the side and you're done. No picking up stitches. Rated easy bye the designer Jesse Mozlan. Sizes S/L. Worsted weight yarn.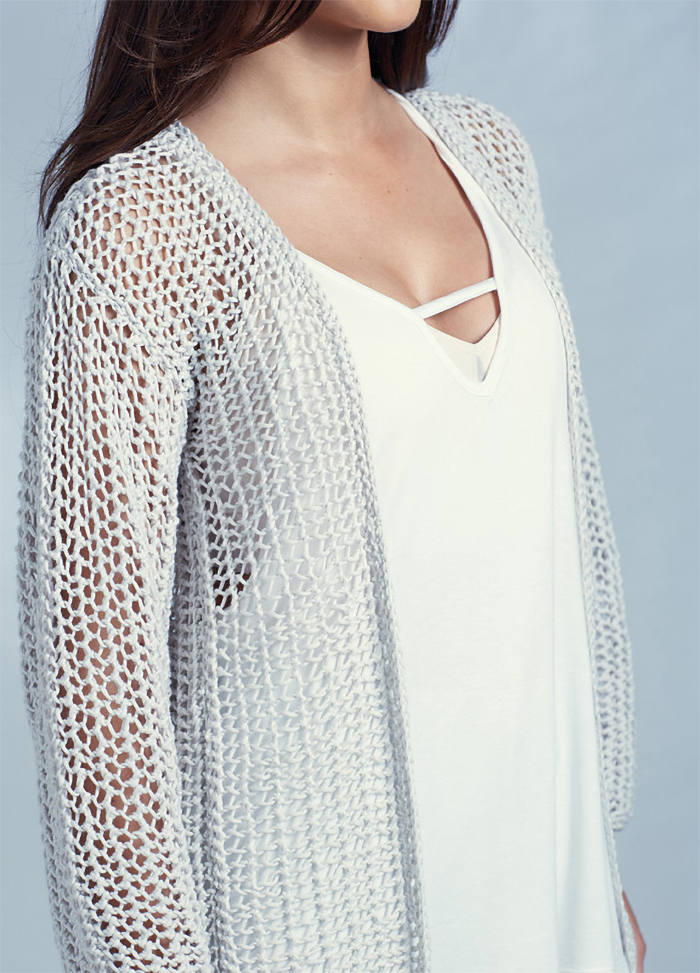 One Row Repeat Longline Cardigan
This easy sweater is knit with a one row repeat mesh stitch and minimal shaping. Worsted weight yarn. Sizes XS(S,M,L,XL, XXL). Designed by Quail Studio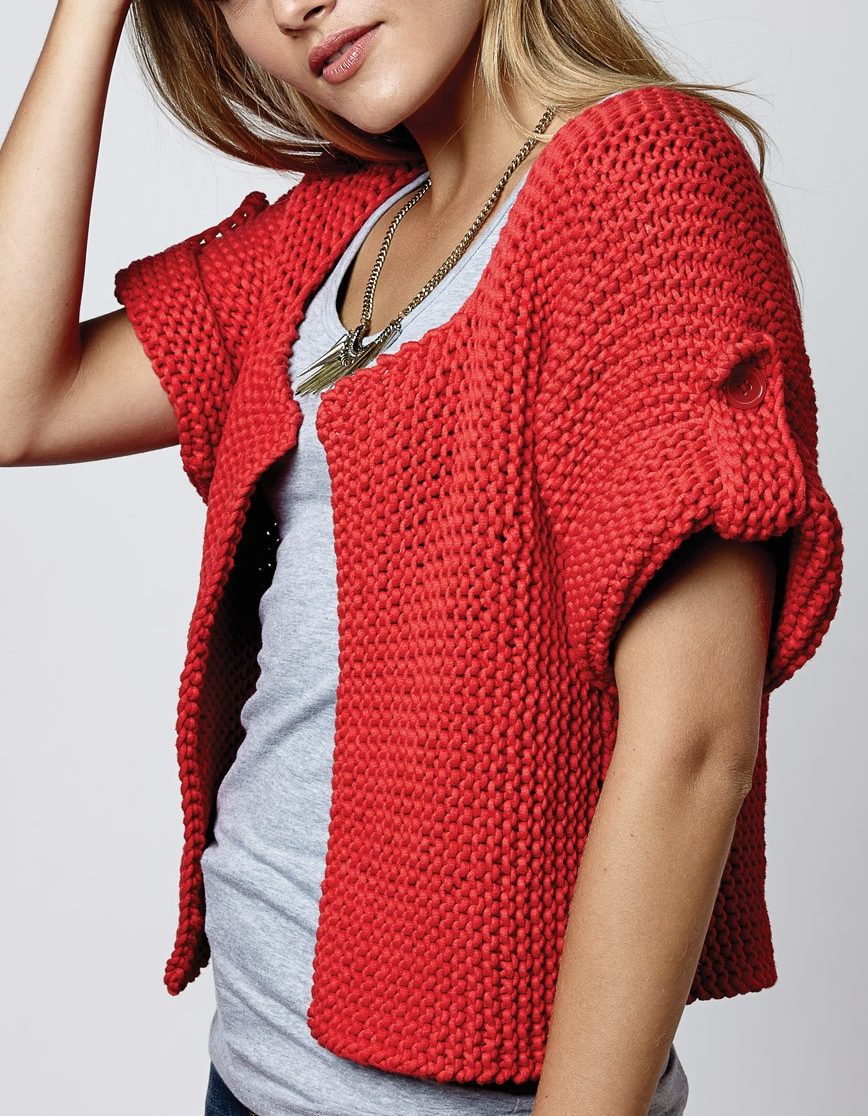 Side Street Cardigan
This short sleeved cardigan is knit in one piece from side to side in garter stitch. Sizes XS to 5X. Quick knit in bulky yarn. Rated beginner level by Yarnspirations

Evening Allure Cardigan
Easy short-sleeved cardigan knit in 3 pieces with a 2 row repeat Garter Rib stitch. No picking up stitches but there is shaping. Designed  by Heather Lodinsky for Red Heart. Small (Medium, Large, 1X, 2X).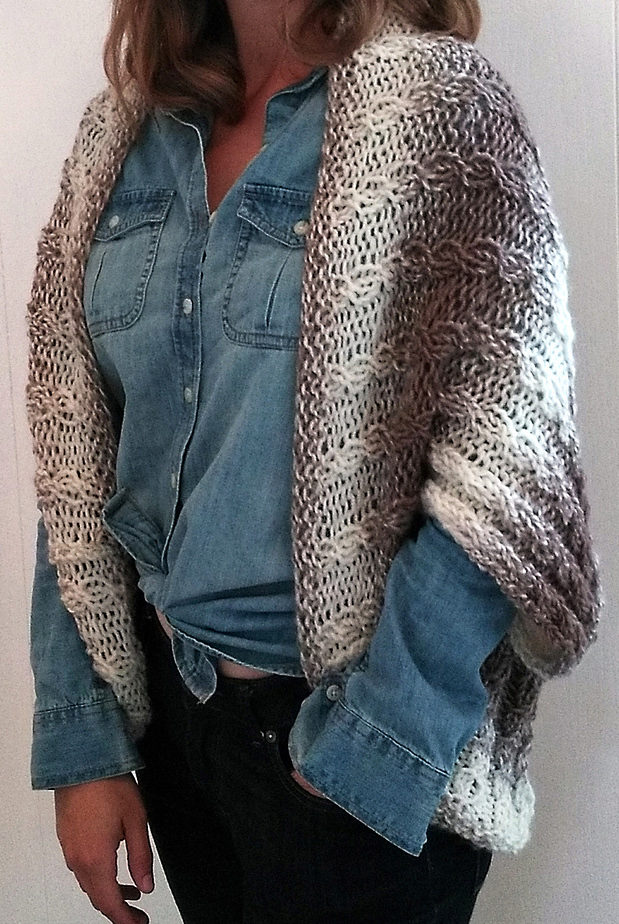 Island Wrap
This cocoon cardigan features all over cables is knit as a rectangle and then seamed to form the armholes. Sizes S/M, L/XL. Quick knit in bulky yarn. Rated easy by the designer Bo Peep's Bonnets
Lady Kina Cardigan
Cap sleeved cardigan with pretty gathering at the neckline. Rated very easy or easy by most Ravelrers. Designed by Muriel Agator. Availabled in English and French. Sizes 36, 38/40, 40/42, 46
High Line Cardigan
Short sleeved cropped cardigan knit in K1, p1 rib and rated easy by Ravelrers. Sizes s, m, l, xl. Quick knit in bulky yarn. Designed by Rosemary Drysdale for Tahki Stacy Charles. Pictured project by drsmak
Varsity Hoodie
This long-sleeved hooded sweater with pocket is knit primarily in stockinette. The designer Two of Wands and Lion Brand Yarn rate this a Level 2 Easy (beginner +) pattern. It does require picking up stitches and grafting. Sizes M/L, XL/2XL, XS/S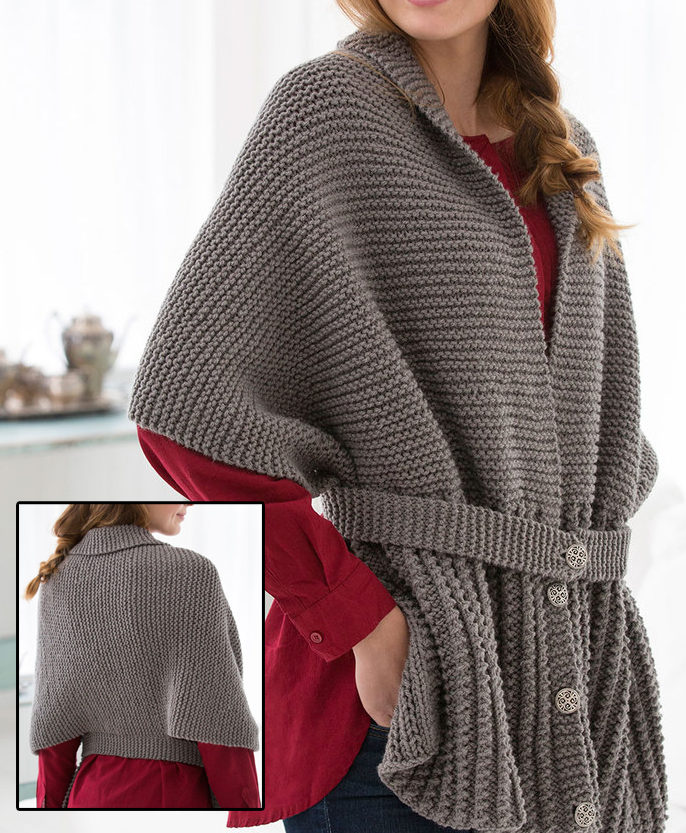 Sweater Scarf
This easy cardigan wrap was inspired by a "sweater-scarf" from 1917, in the early years that women worked with the Red Cross. It is made from a knit rectangle and belt. Designed by Julie Farmer for Red Heart.
High Plains Cardigan
This long-sleeved sweater with pockets is knit in a 4 row repeat moss stitch. 5 pieces (back, 2 fronts, and 2 sleeves) and then seamed. The designer Heather Lodinsky and Lion Brand Yarn rate this a Level 2 Easy (beginner +) pattern. Sizes 1X, 2X, L, M, S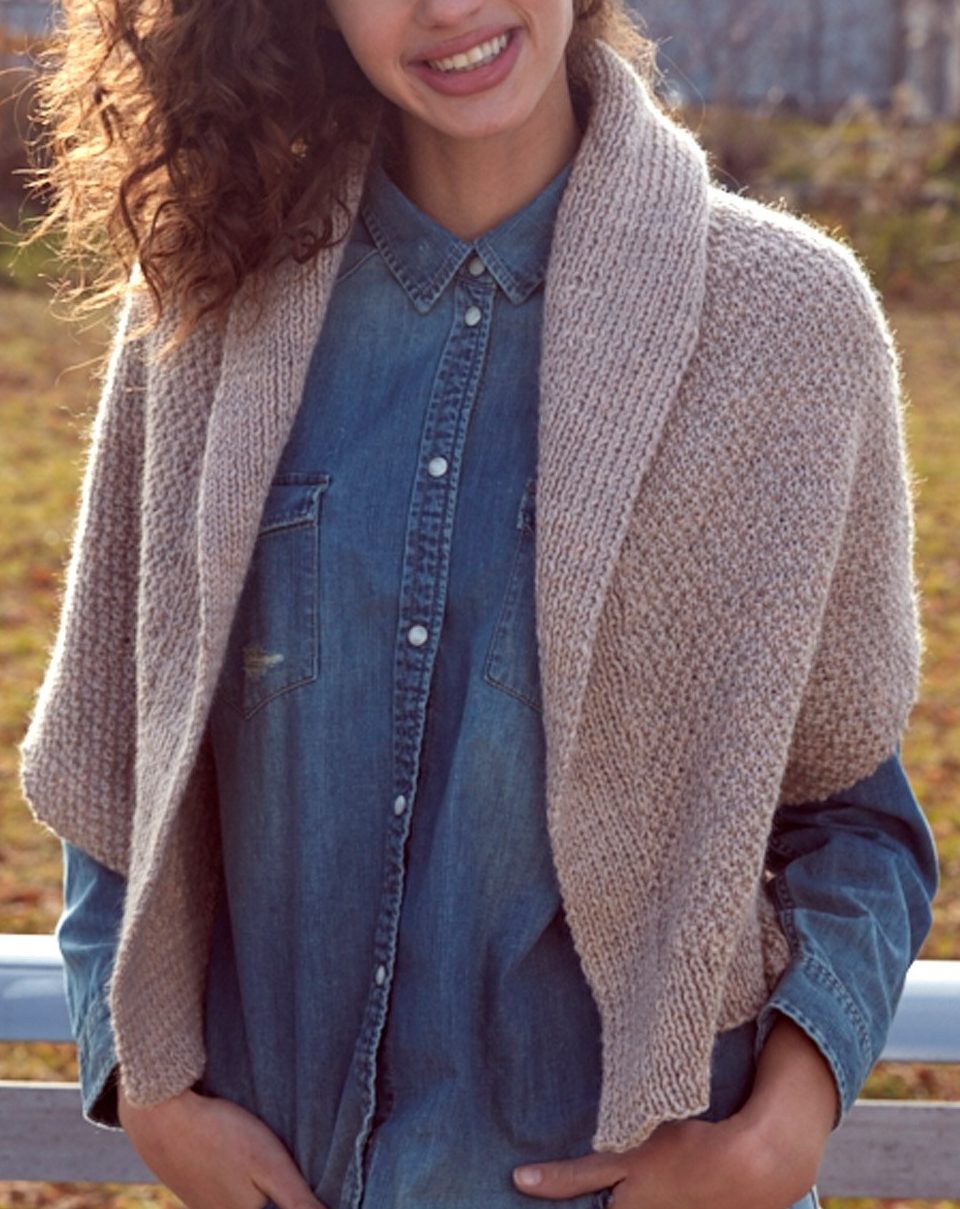 Envelope Cardigan
Easy sweater pattern features the Irish Moss Stitch and shawl collar. Knit in two pieces with the only shaping in the collar. From Patons Yarn. Sizes from XS to 5XL.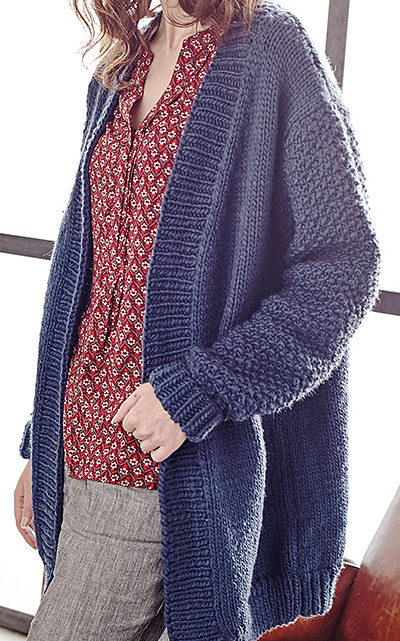 Tyburn Cardigan
This cozy long-sleeved sweater by Sarah Hatton features mostly stockinette with ribbed sloped front and seed stitch set-in sleeves. Quick knit in bulky yarn. Rated easy by Ravelrers and skill level 2 by Rowan.

Simple Spring Swing Cardigan
Easy short-sleeved cardigan with garter stitch yoke by Jodi Snyder for Red Heart. Free video knit-along tutorials. Small (Medium, Large, 1X, 2X). Pictured project by catcouch
Carie Cropped Flare-Sleeve Cardigan
Dramatic cropped cardigan with long flared-sleeves with lace detail is rated easy by most Ravelrers. Quick knit in super bulky yarn. Designed by Stefanie Japel. Sizes 33 (36, 38.5, 41, 44)" / 84 (91, 104, 112)cm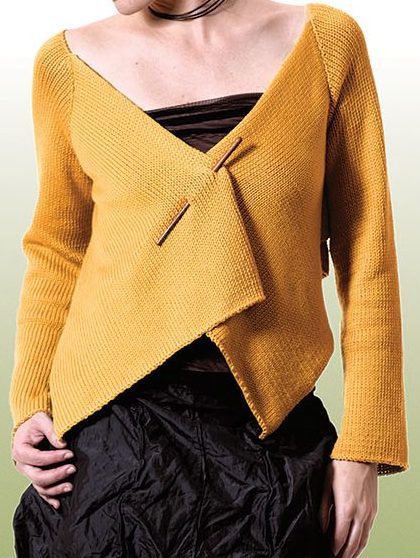 Sanpoku
The brilliant Norah Gaughan was inspired by Japanese style to create this wrapped cardigan for Berroco. Rated very easy and easy by the majority of Ravelrers. The recommended yarn is my current favorite Berroco Modern Cotton which has lovely drape and stitch definition and is so comfortable.
Folded Squares Cardigan
Purl Soho's ingenious design is three garter stitch pieces assembled to form a soft drape in six sizes available: 34 (38, 42, 46, 50, 54)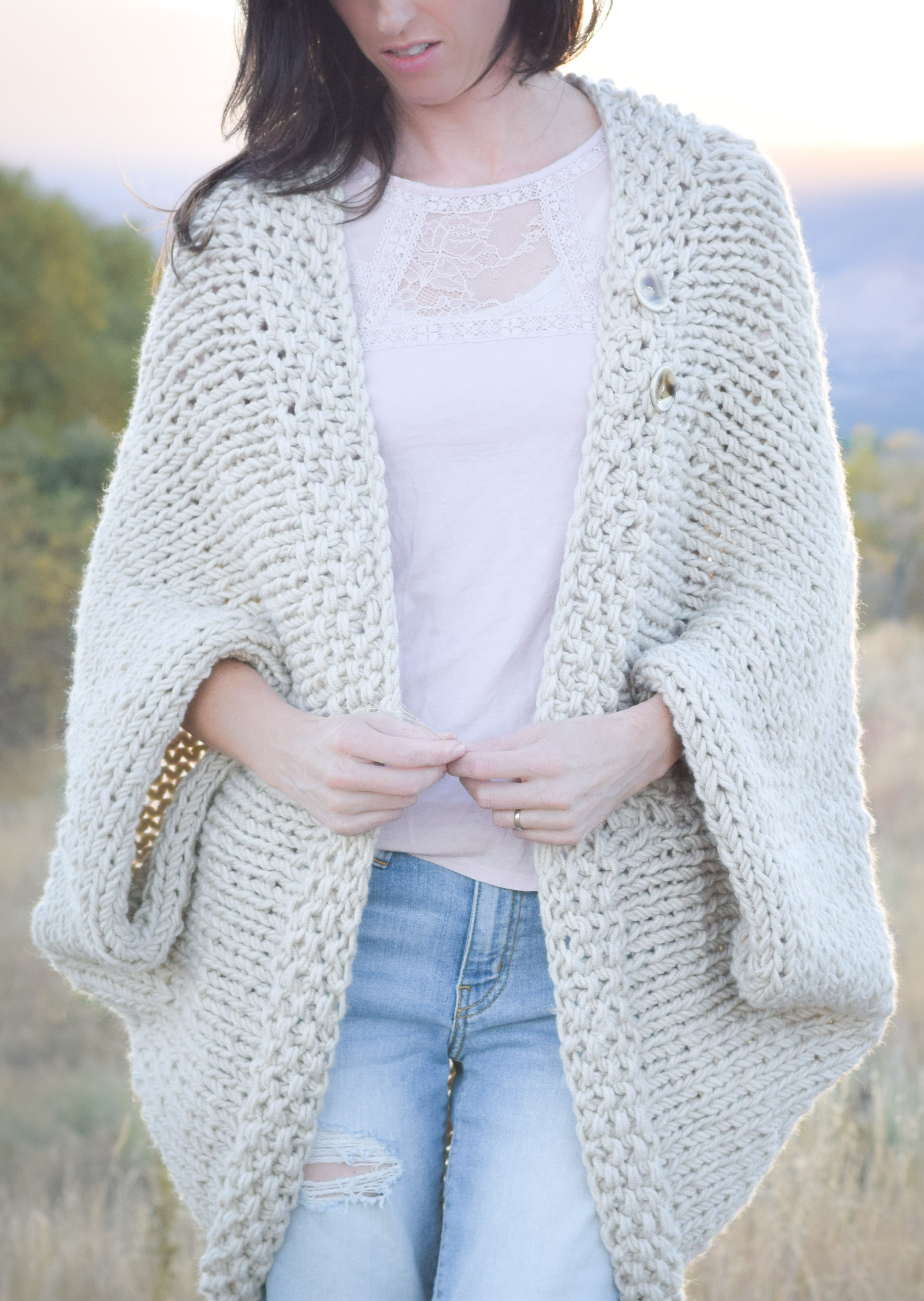 Easy Blanket Sweater
Jessica from Mama in a Stitch created this cocoon cardigan that she calls a wearable blanket. Quick knit with two strands of chunky yarn held together.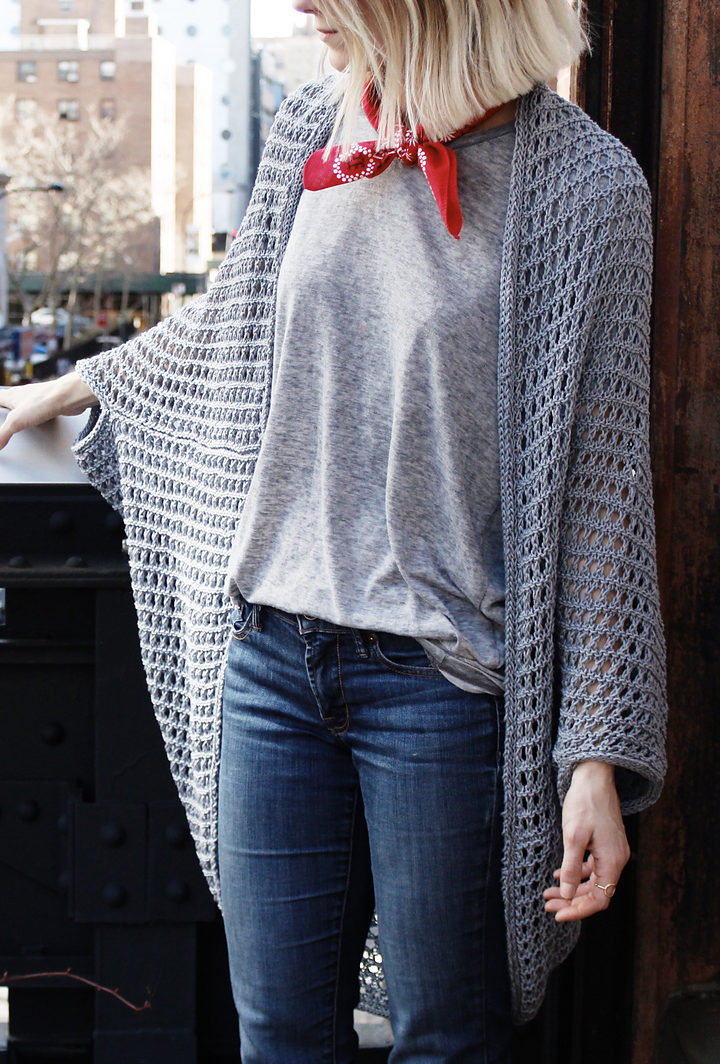 Chelsea Cape
This easy cocoon cardigan is knit in a lace net that drapes beautifully. Designed by Alexandra Tavel for Two of Wands.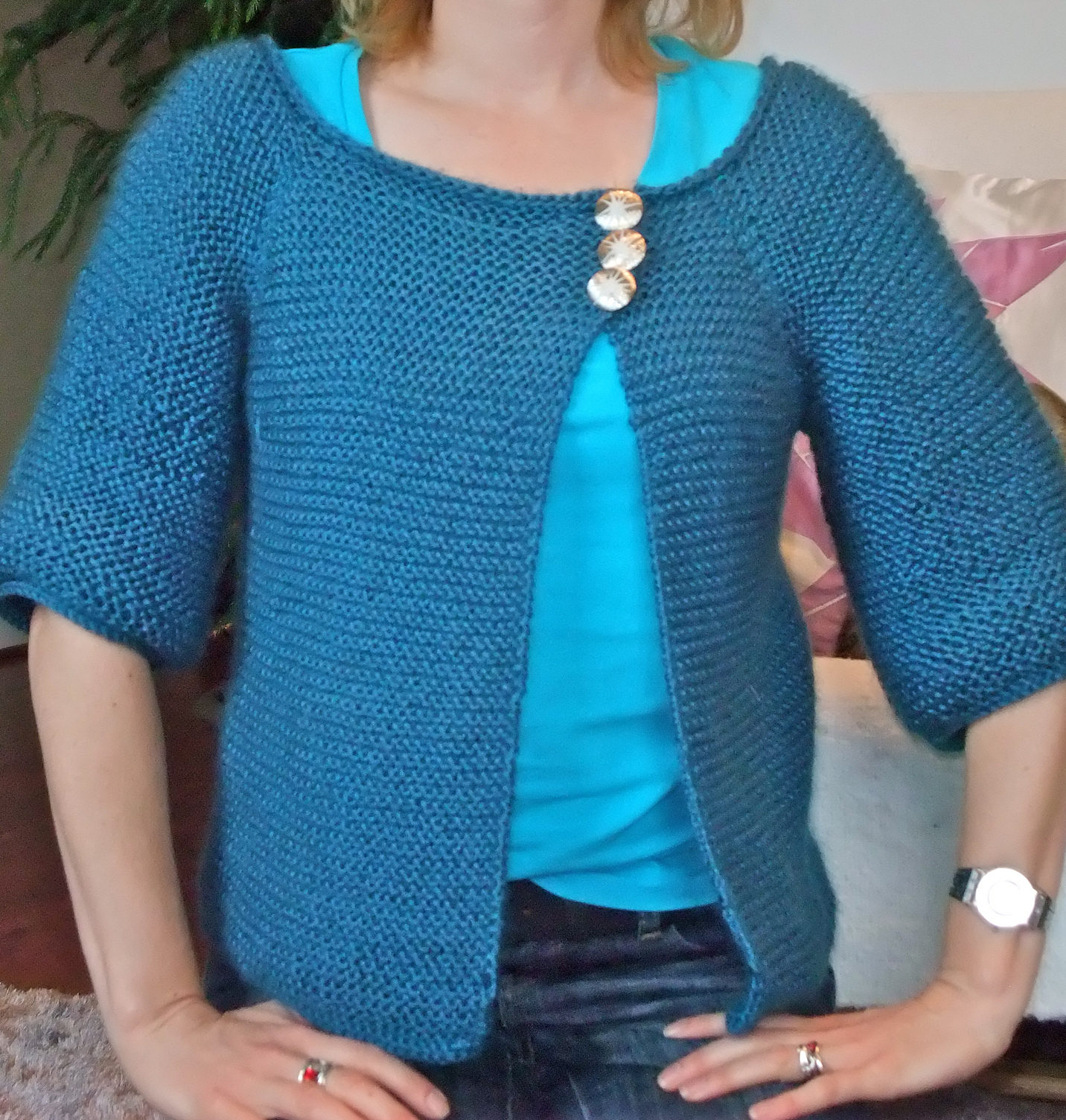 Garter Stitch Swingy Sweater
Jenn Pellerin's simple asymmetrical top-down raglan cardigan is worked in all knit stitches. Rated as easy by more than 100 Raverlrers. Pictured project by lbeckste

Banff Cardigan
Oversized long sweater knit in seed stitch with worsted weight yarn on large needles. The designer The Blue Mouse says this is an easy pattern that requires basic knowledge of stitches and seaming. Length is customizable.

Bomber Cardi
Bomber style cardigan jacket in size small to medium size or large to XL.The designer Wool Couture says this is an easy pattern suitable for novice knitters.

Cocoon Cardigan
Easy pattern knit in super bulky yarn. The designer Bo Peep's Bonnets says this is suitable for beginners.

Mezzo Cardigan
This cocoon style cardigan features offset stripe motif and marled color scheme created by holding two strands together. Knit flat in two pieces and seamed. 4 sizes. Designed by Alexis Winslow

Sweater Coat
Knit in stockinette with textured cuffs and lapels, this coat sweater is a quick knit in super bulky yarn and rated easy by the designer.

Montreal Cardigan
The designer says this draped front shrug is a super simple pattern, a great first garment for an advanced beginner looking to move beyond scarves and baby blankets. And a quick knit in super bulky yarn that the designer says can be finished in a weekend.

Passionista Vest
Lena Skvagerson's simple-to-stitch vest is a versatile accessory and easy enough for beginners looking to branch out.

Mont Blanc Cardigan
This easy sweater is a quick knit in super bulky yarn. Does involve picking up stitches.

Dolman Sleeved Cardigan
Easy sweater pattern knit in garter stitch as one piece in just 500 grams of Aran weight yarn. Just two side seams. Designed by Audrey Wilson.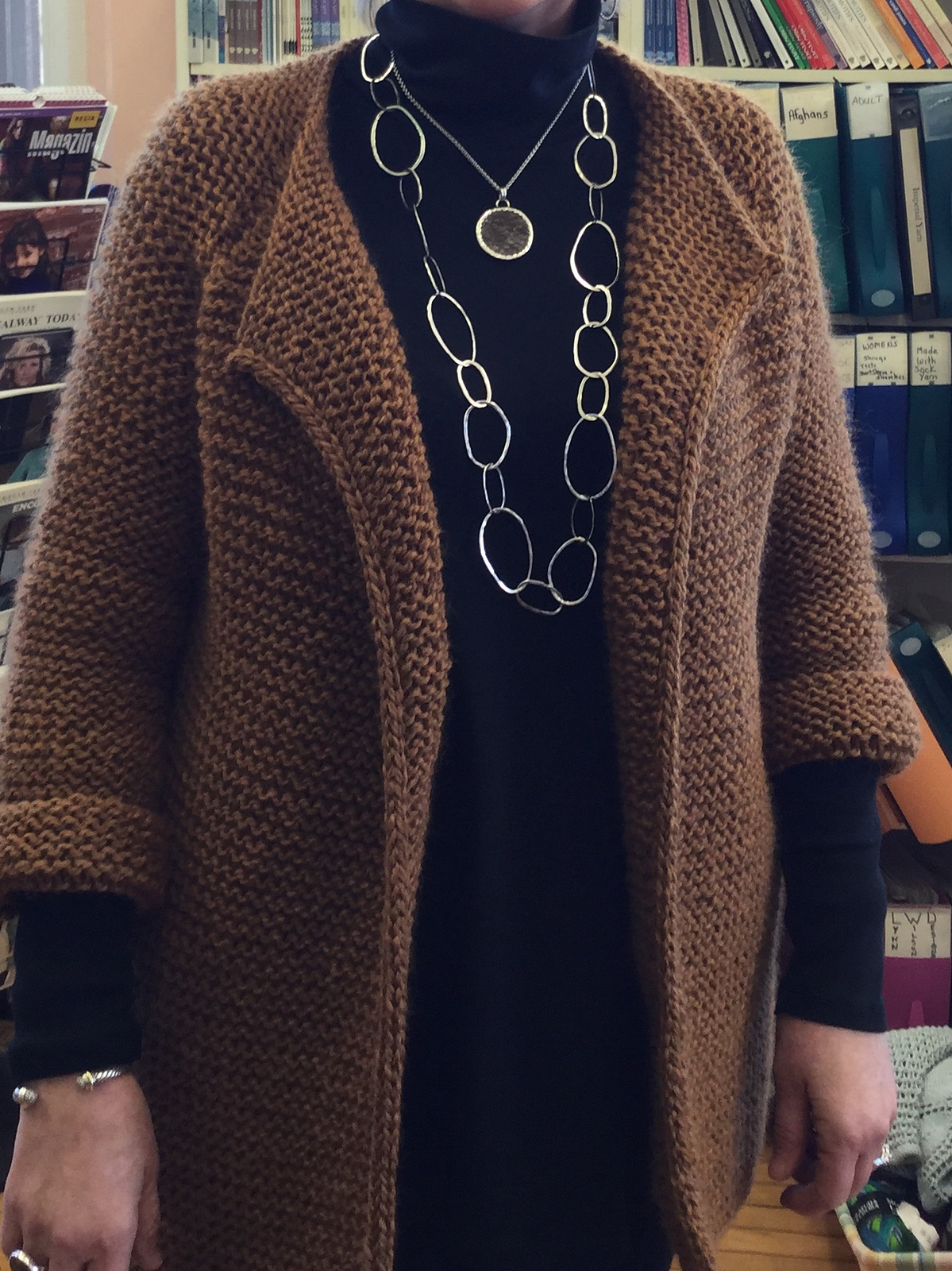 Jong
NO LONGER FREE! Easy one-size-fits-all cardigan jacket in garter stitch designed by by Julie Tootill. Quick knit in super bulky yarn. Ravelrers have rated it very easy and easy. Pictured project by devaknits
Terry Matz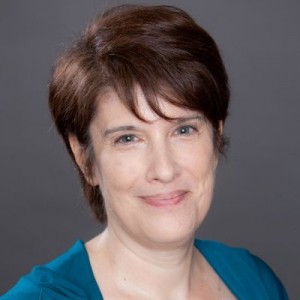 Terry is a knitting late-bloomer, learning to knit as an adult from Internet tutorials, because she wanted a craft that was useful, fun, and portable. Knitting hats for cancer patients inspired her to design her own patterns—available for free at her blog, intheloopknitting.com. Terry met her husband Ken at a science fiction convention and moved to the Kansas City area to be with him more than 30 years ago. Terry supports her yarn stash by creating websites and other digital media. Terry firmly believes in Knitting in Public—it's a great conversation starter!