Pirate, Punk, and Other Skull Motif Knitting Patterns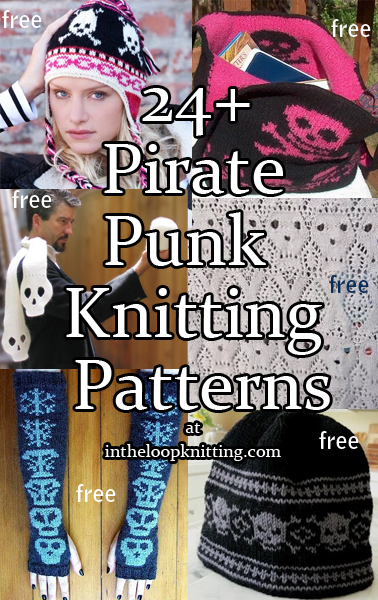 Want a versatile fashion choice? Try a skull and crossbones! This fun, expressive motif can mean pirate or punk or poison, Halloween or Dia de los Muertos or everyday goth accessory. I've also included a few other pirate patterns…
To get the knitting patterns, scroll down the page to the individual pattern you want and click on the link to that pattern.
These patterns are not my designs but links to other designers who have generously shared their patterns. If you have questions about how to knit a specific pattern, please contact the designer directly.
All links on this site are for informational purposes, but please note that some links are to affiliate sellers that pay me a small commission on purchases.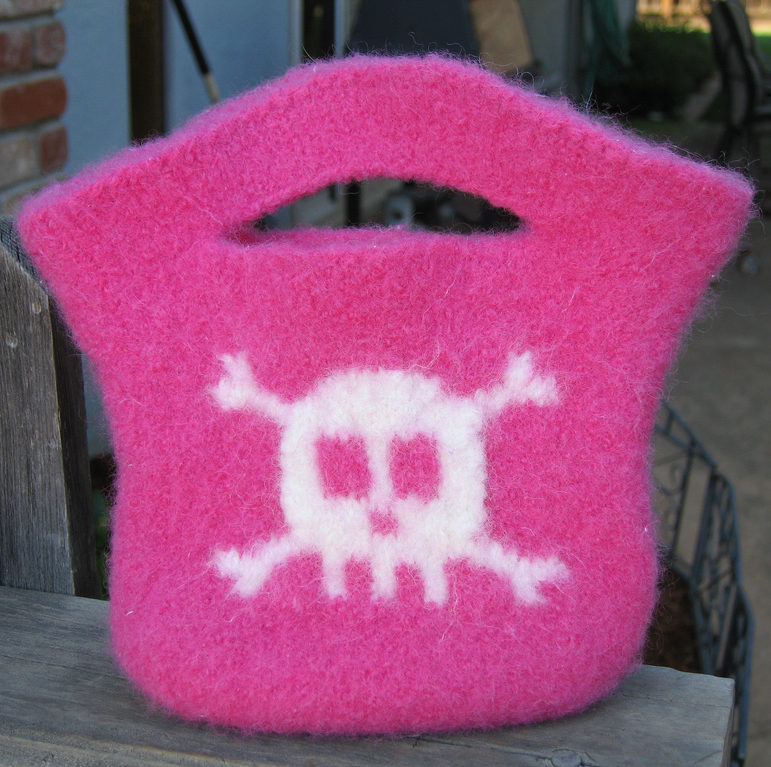 Mini Skull and Crossbones Tote
Felted clutch bag with handle and intarsia motif. Designed by Adrian Bizilia. Pictured project by jaknit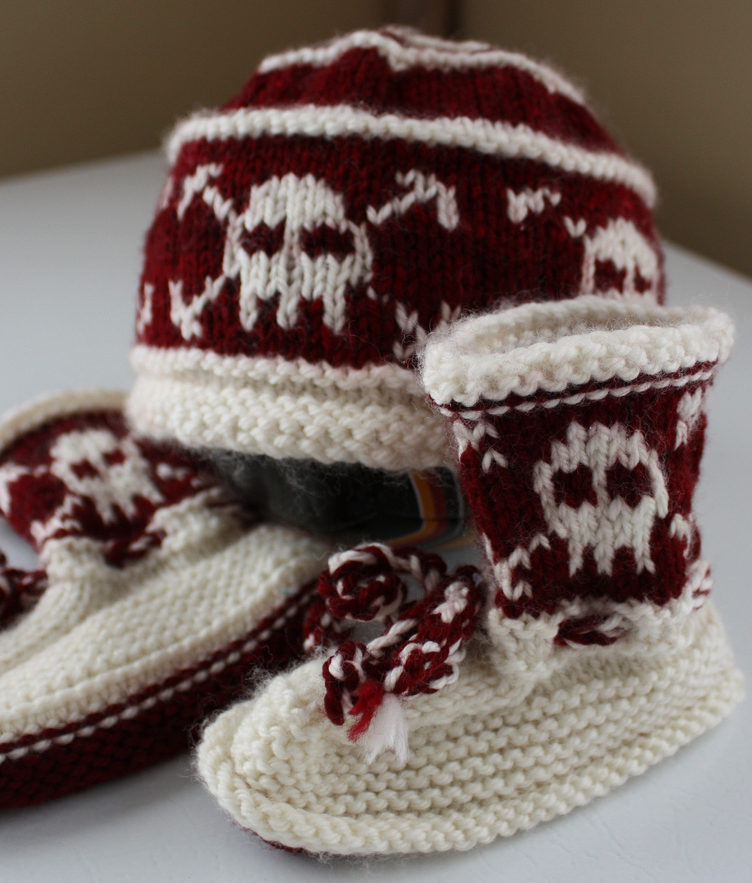 Pirate Bootie Baby Set
This matching set of baby hat and booties feature a skull motif that can be worked in intarsia, fair isle, or duplicate stitch. Designed by Patricia Lillie. Pictured project by bluenail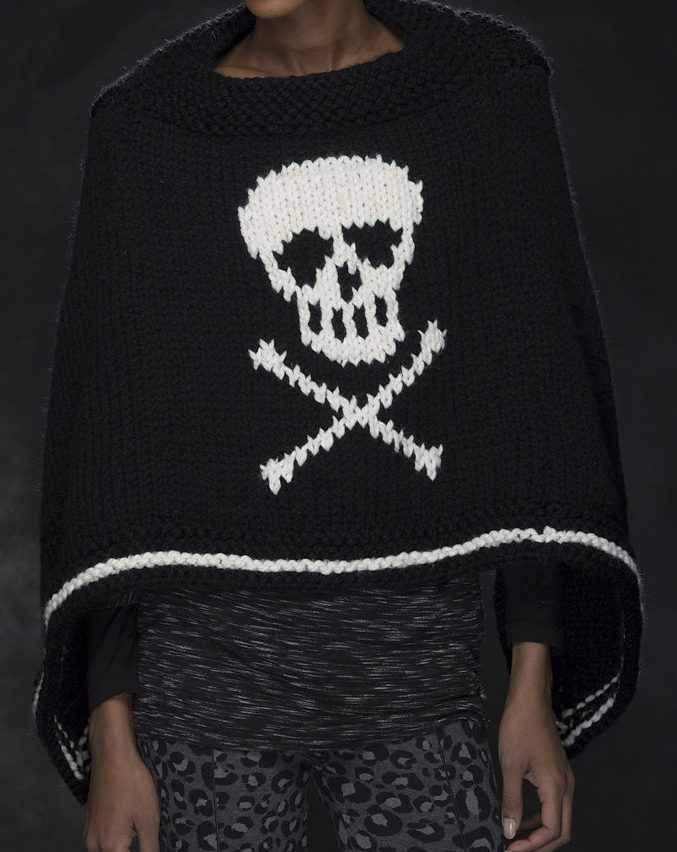 Jolly Roger Poncho
This poncho features a skull and crossbones motif in intarsia. Designed by Nicky Epstein. Quick knit in super bulky yarn.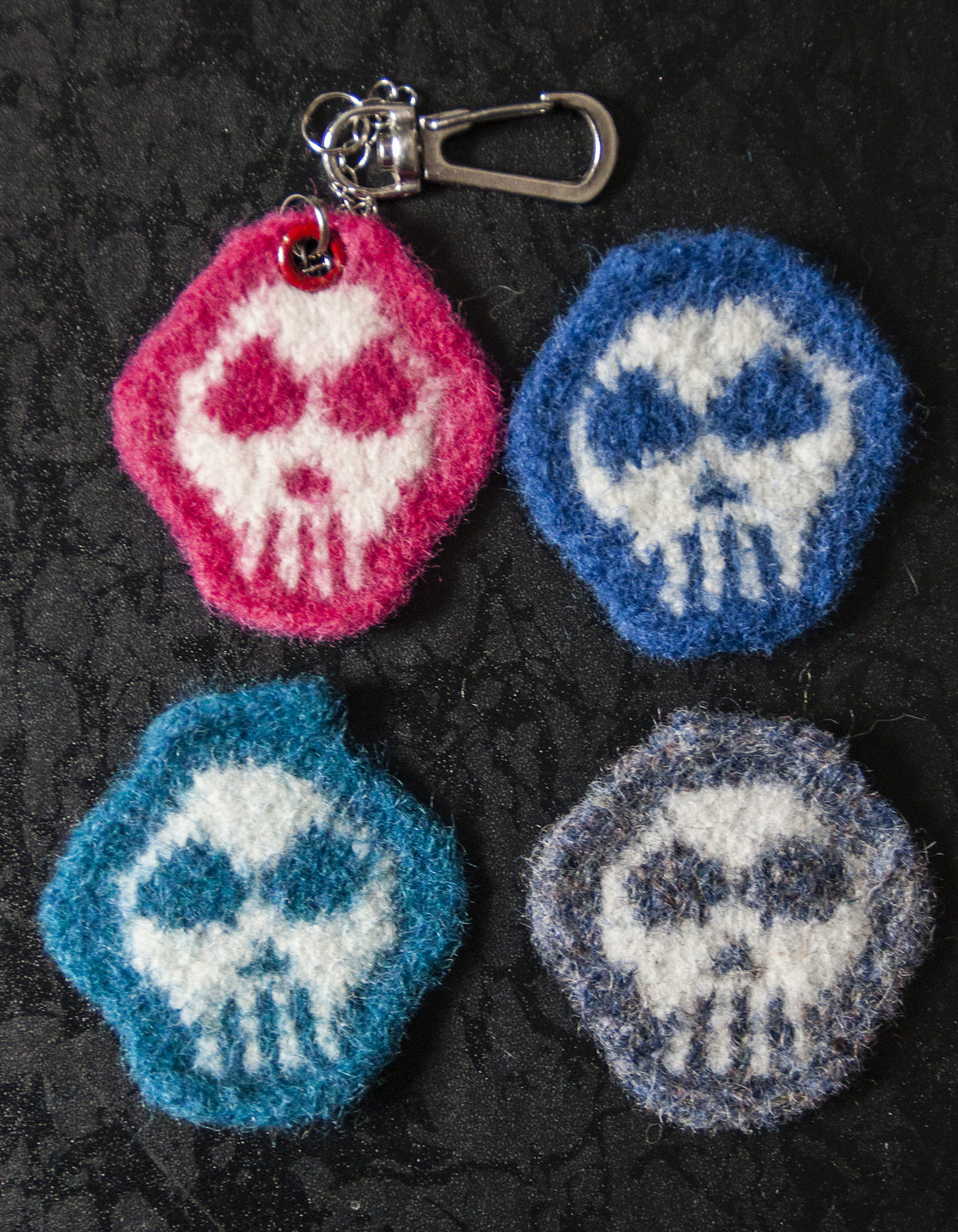 Skull Keychain
Quick project for a felted skull motif that can be made key chains used for patches on hats, bags, or scarves.. Designed by Teresa Murphy of Knituition who said it took her about 20 minutes to knit one. Great for scrap yarn! Pictured project by surfinsandy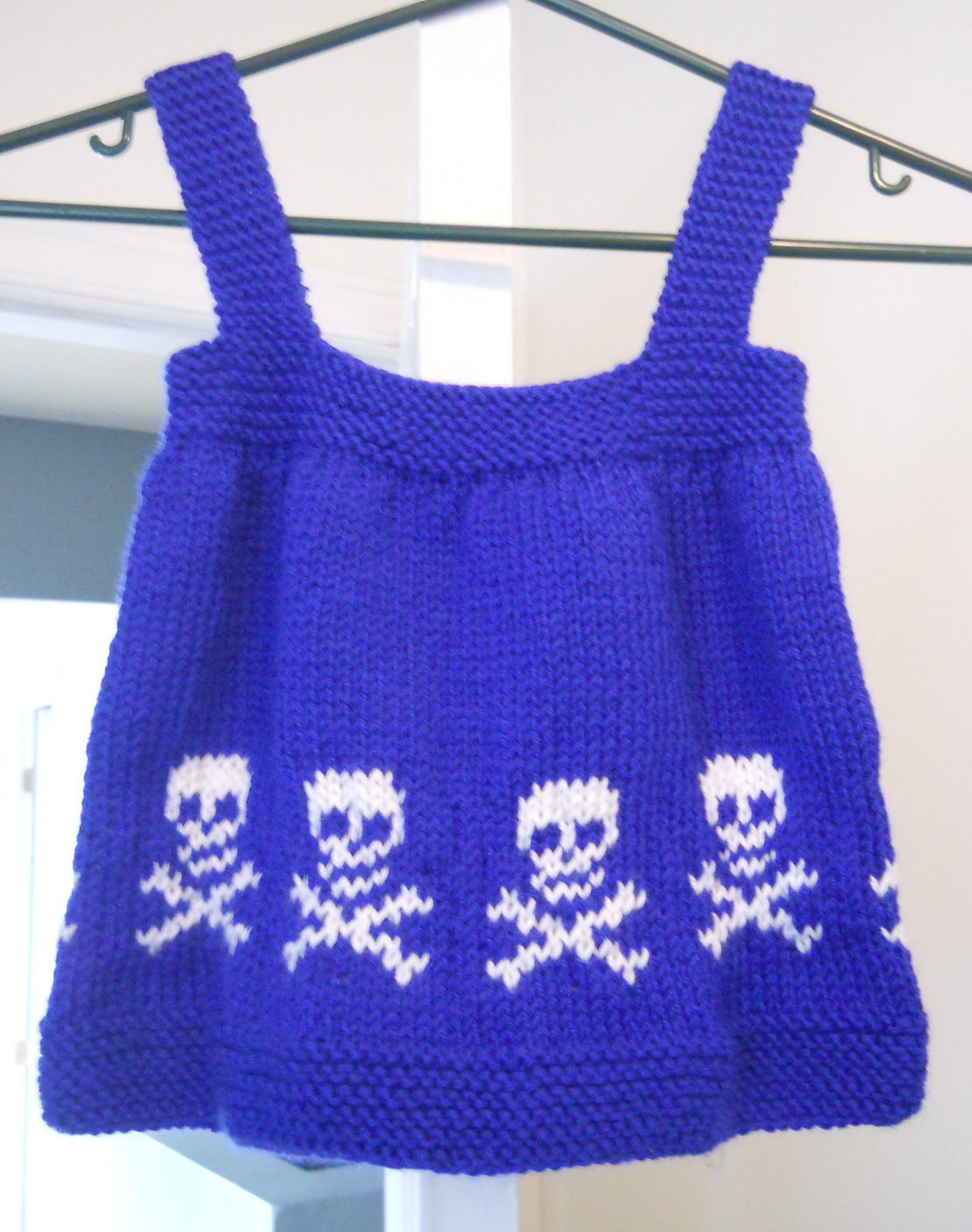 Skull Baby Jumper Dress
A cute baby jumper with a skull motif knit from the bottom up. Designed by Malia Mae for 6 months to 1 yr.. Pictured project by dubeau-papillon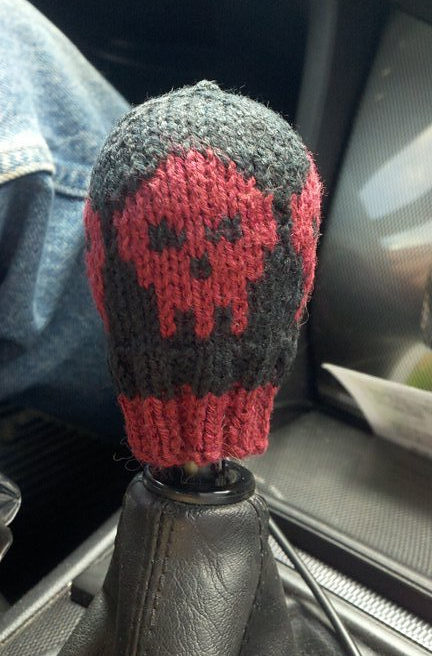 Highway to Hell Shifter Cozy
This skull motif shift stick cover was designed by Cindy Murdock Ames
Skullkerchief
Knitty or Nice designed this tricky little kerchief that looks like an abstract design until you pull it over your face.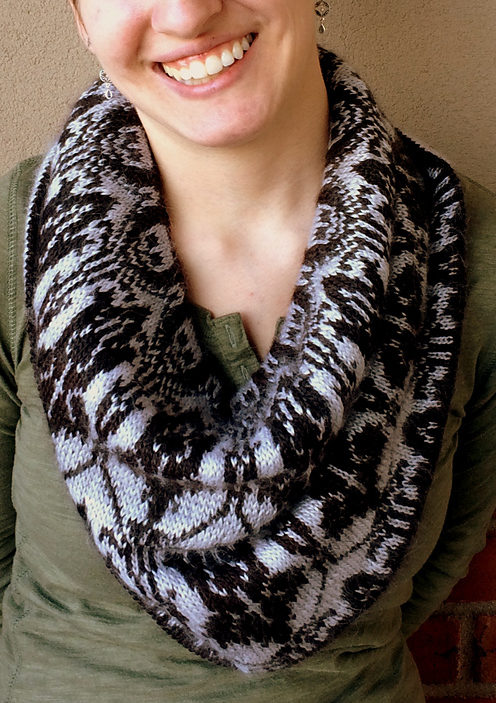 High Functioning Cowl
This cowl inspired by the BBC Sherlock series features a skull motif and the Baker Street wallpaper design. Designed by Professor Fonz. Pictued project by stephisanerd
Snowball's Chance in Hell Mitts
A snowflake transforms to a skull in Renée Rigdon and Zabet Stewart's design  of fingerless armwarmers. Length: 17". Design is done with duplicate stitch but I think you could adapt for double knitting or other colorwork.
The Pirate Queen's Booty Bag
Webwench's reversible, double-knit, felted bag features a skull and crossbones.

Skull Hoodie with Hat
Bernat pattern for children's sweater and chullo style hat sized for 2, 4, 6, 8, 10, and 12 years.
Pirate Skull Pouch
Put your treasures in majapi's bag with skull and crossbones duplicate stitch. (Note: I'm a blogger for Craftsy but they did not ask me or pay me to promote this pattern.)
Hoochie Cozies
What's your poison? Diana Troldahl designed this skull and crossbones bottle cozy and several others including xXx, Rat Bile, Rot Gut, and more.

Day of the Dead Cowl
Available as a pattern or a kit. Stranded colorwork forms the sugar skulls on this bright cowl for Día de los Muertos. Instead of changing colors every few rows, let a self-striping yarn do the work! Designed by Tanis Gray. Pictured project by edmoejewel
[widget id="black-studio-tinymce-8″]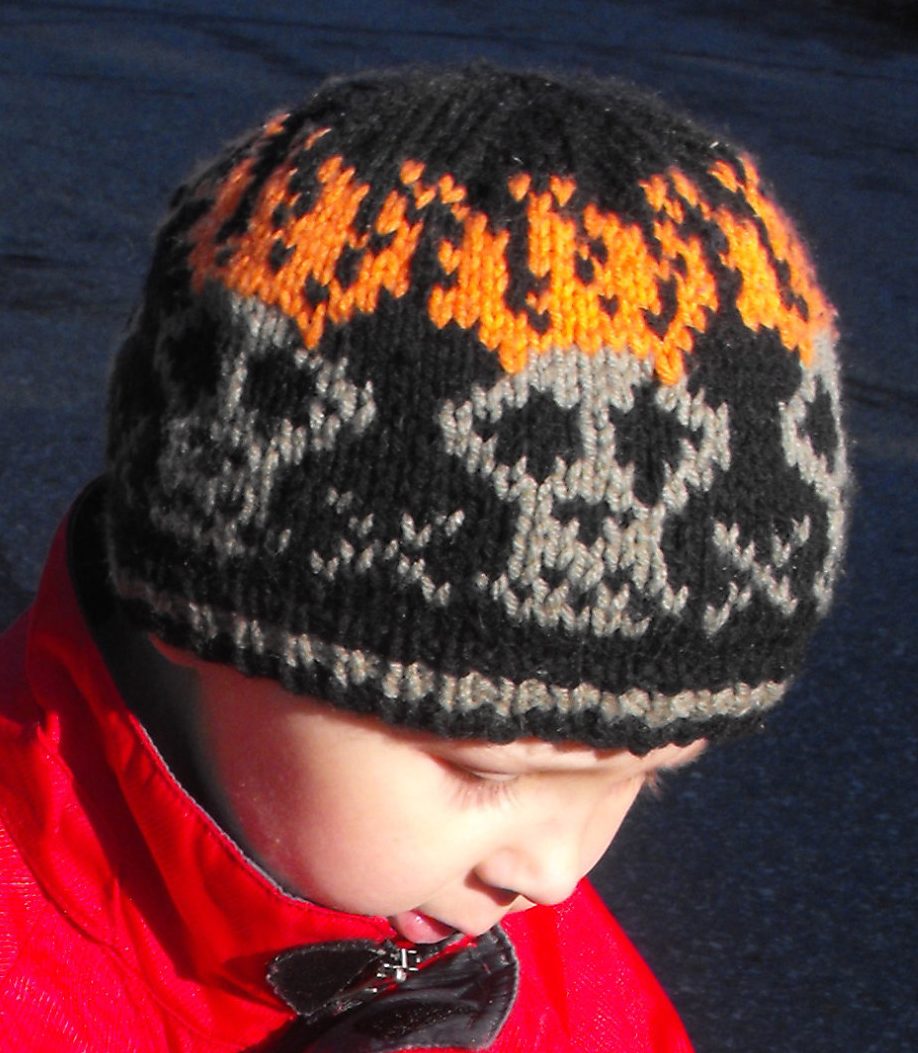 Ghost Rider Beanie
Hat with flaming skulls in sizes from toddler to adult.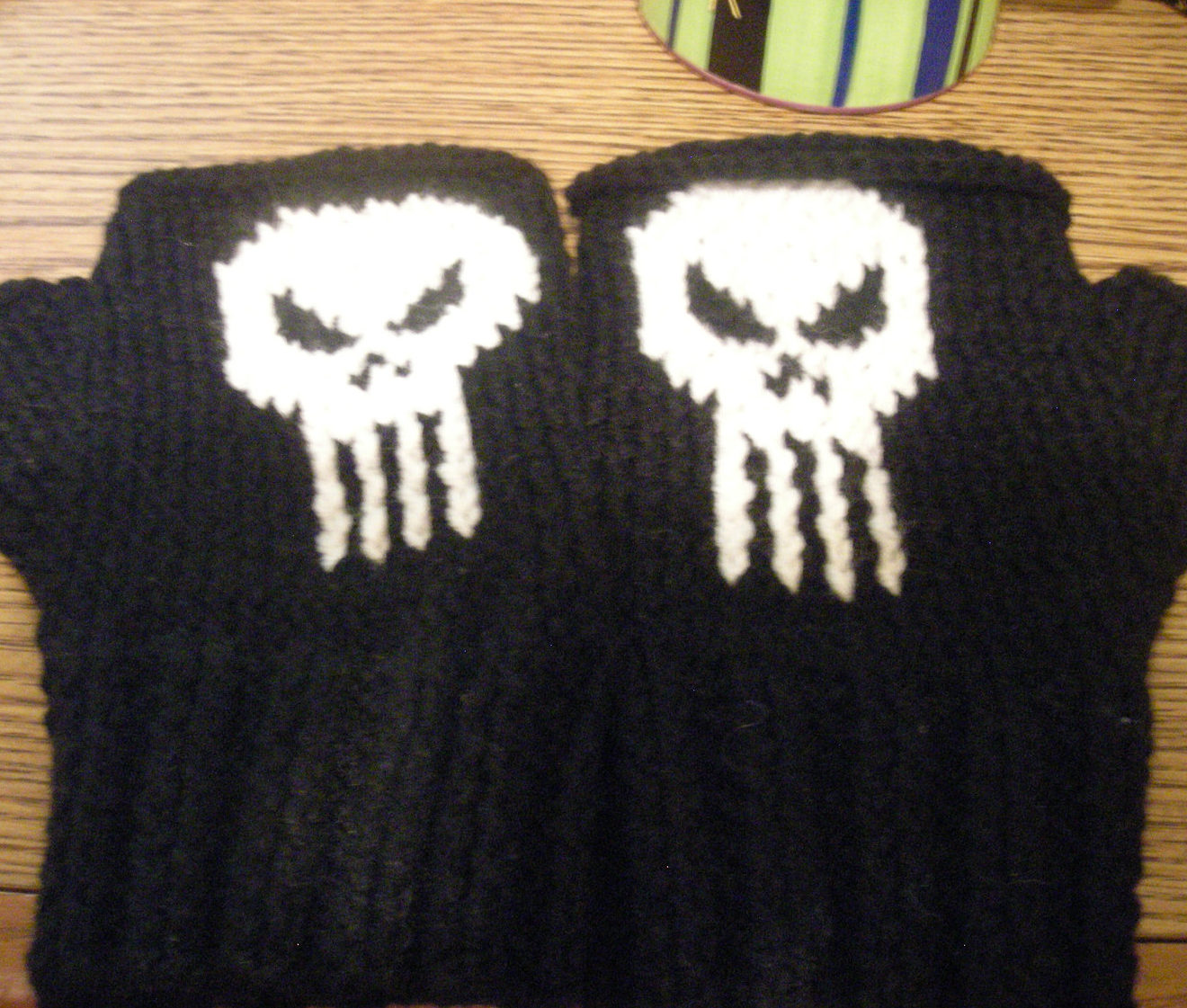 The Punisher Fingerless Mitts
Skull emblem of The Punisher.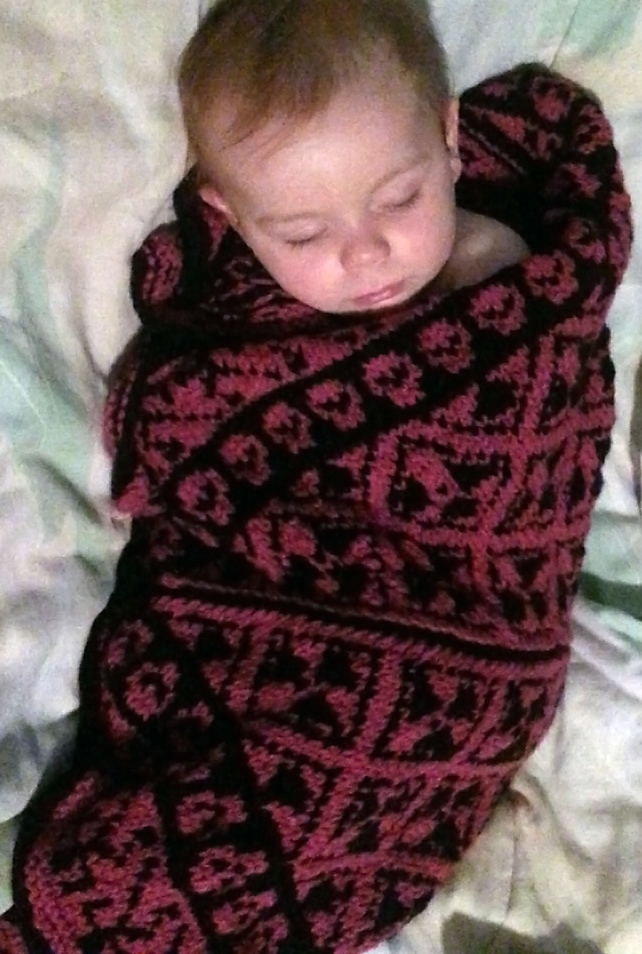 First Principles Baby Blanket
This is the perfect blanket for a post-apocalyptic or punk baby with warning symbols including an all over pattern of radiation hazard symbols surrounded by a border of skulls and another border of running figures. One of the patterns in Doomsday Knits. Pictured project by canaandogknits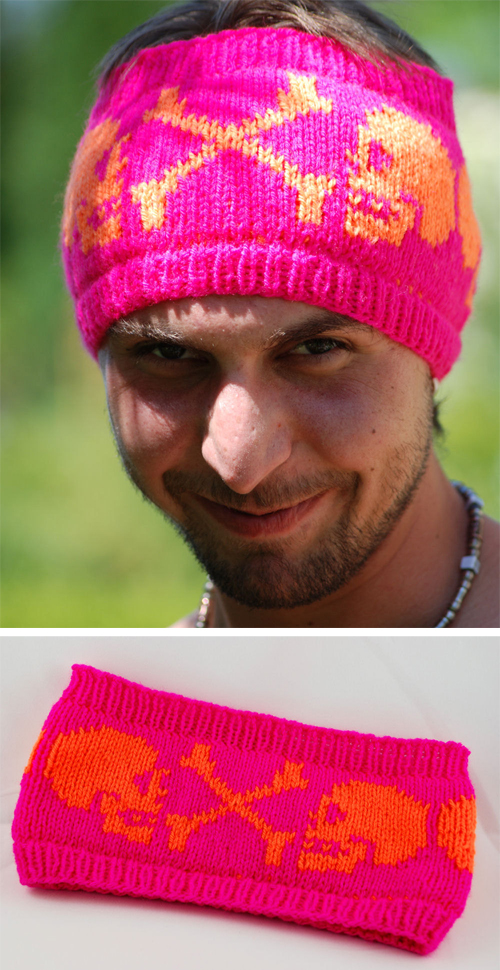 Skulls Headband
Double knitted headwrap by Butzeria.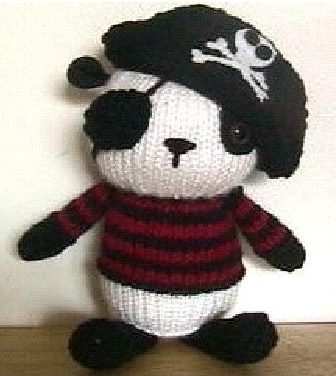 Pirate Panda Amigurmi
Amy Gaines designed this plush toy bear 9 inches long.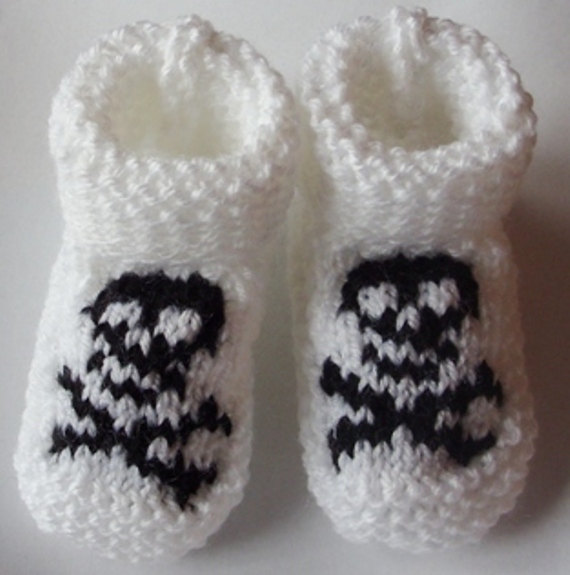 Pirate Baby Booties
Booties featuring skull and crossbones in sizes from Newborn to 24 months.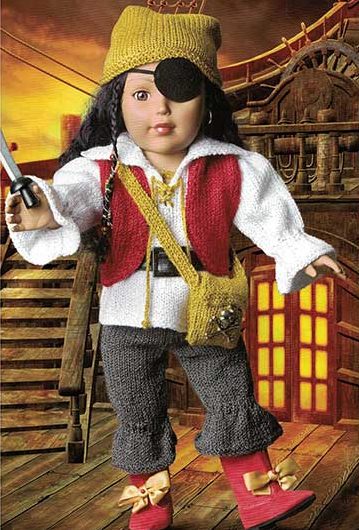 Pirate Doll Costume
One of 25 costumes for 18 inch dolls in Enchanted Knits for Dolls by Nicky Epstein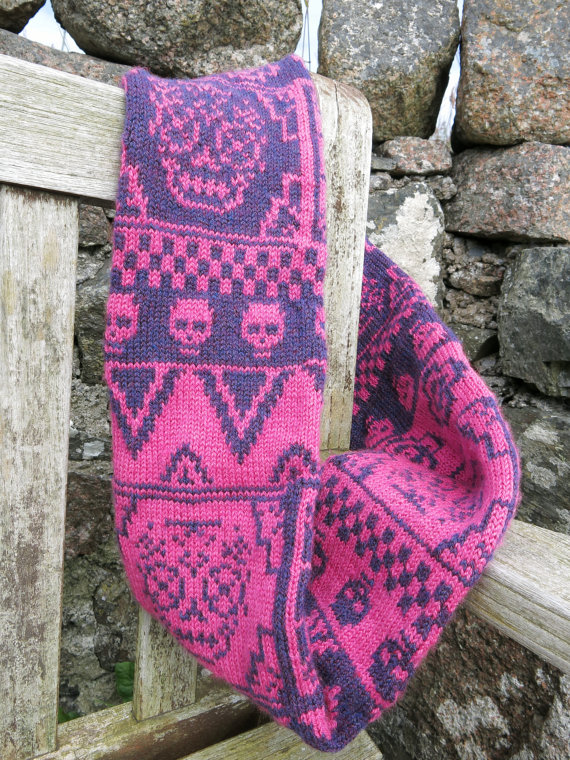 Dia de Los Muertos Infinity Scarf
This stylish infinity scarf or cowl is double knit, fully reversible, and customizable to the length you want.
Dia de Los Muertos Tea Cozy
Sugar skull inspired tea pot cozy pattern to celebrate the Day of the Dead.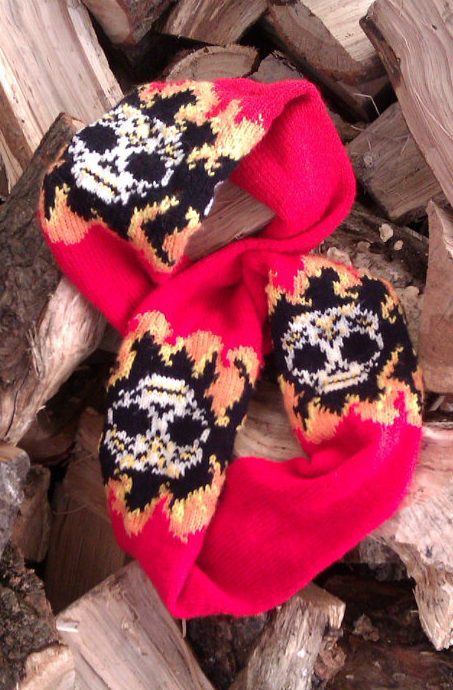 Flaming Skulls Infinity Scarf or Cowl
Designed to be knit to your desired length, this flamin' hot infinity scarf or cowl pattern is double knit and fully reversible.
Terry Matz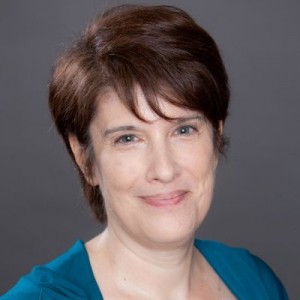 Terry is a knitting late-bloomer, learning to knit as an adult from Internet tutorials, because she wanted a craft that was useful, fun, and portable. Knitting hats for cancer patients inspired her to design her own patterns—available for free at her blog, intheloopknitting.com. Terry met her husband Ken at a science fiction convention and moved to the Kansas City area to be with him more than 30 years ago. Terry supports her yarn stash by creating websites and other digital media. Terry firmly believes in Knitting in Public—it's a great conversation starter!