Knitting Patterns inspired by Mathematical Concepts including Pi, the Fibonacci sequence, Symmetry, fractals, topology, and more.
To get the knitting patterns, scroll down the page to the individual pattern you want and click on the link to that pattern.
These patterns are not my designs but links to other designers who have generously shared their patterns. If you have questions about how to knit a specific pattern, please contact the designer directly.
All links on this site are for informational purposes, but please note that some links are to affiliate sellers that pay me a small commission on purchases.
Free Patterns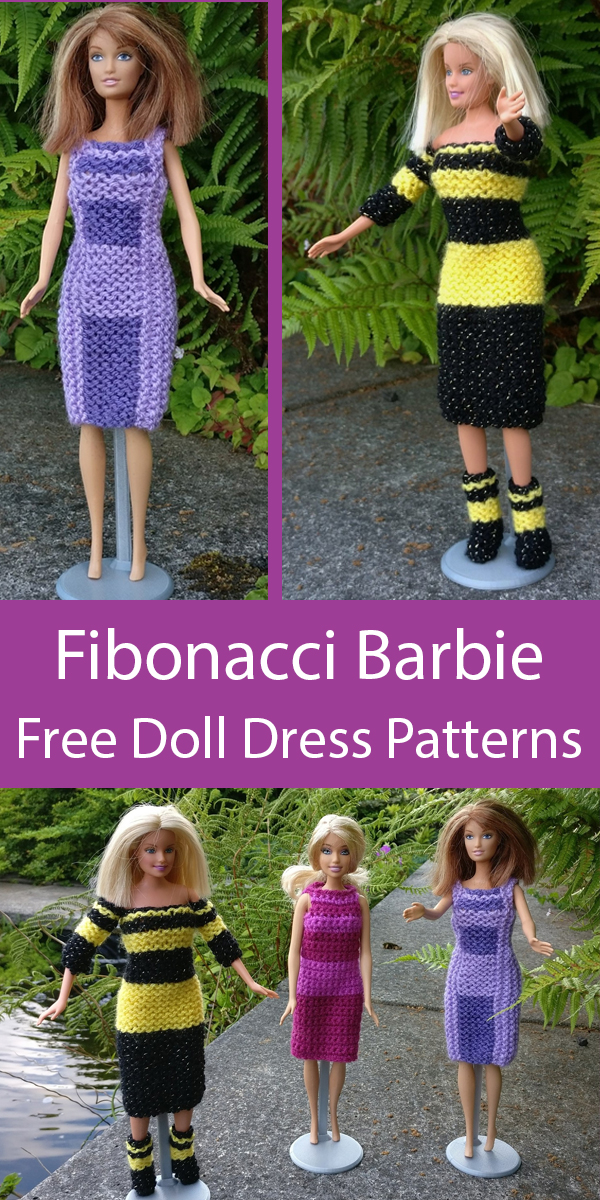 Fibonacci Barbie
These fashion doll dresses are more than pretty outfits. They are designed using the mathematical Fibonacci sequence and are great for inspiring interest in mathematics in doll-lover and knitters alike. (A Fibonacci sequence is "a series of numbers in which each number is the sum of the two preceding numbers. The simplest is the series 1, 1, 2, 3, 5, 8, etc."). Designed by Woolly Thoughts. DK weight yarn.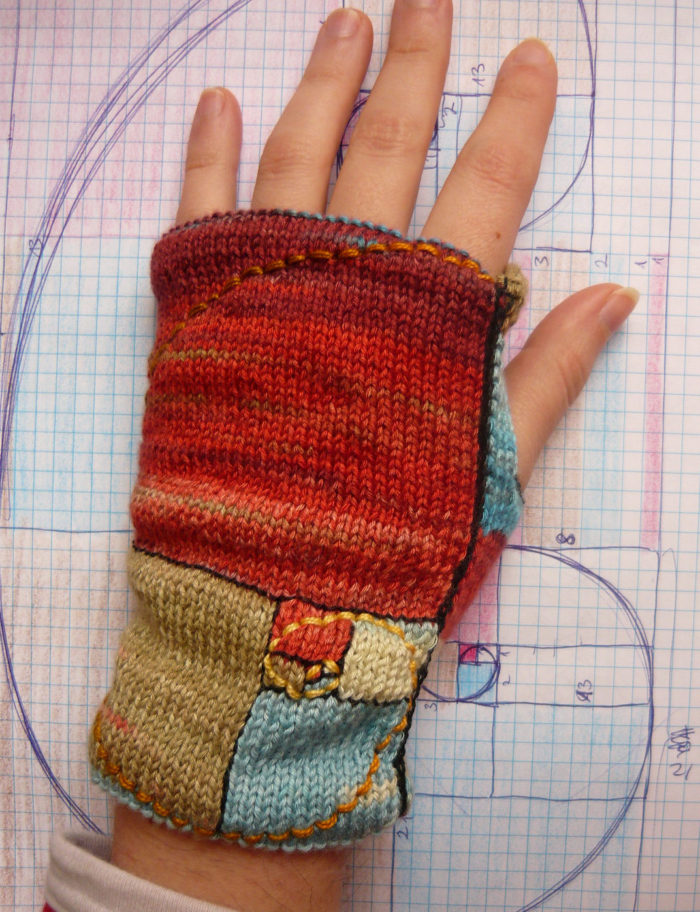 Golden Mean Mitts
These fingerless mitts feature the golden mean with spiral on the top and on Fibonacci numbered stripes on the palm. These mitts depict the classic geometric representation of the golden ratio. From Wikipedia: Two quantities are in the golden ratio if their ratio is the same as the ratio of their sum to the larger of the two quantities. Designed by Buús-Zsohár Anna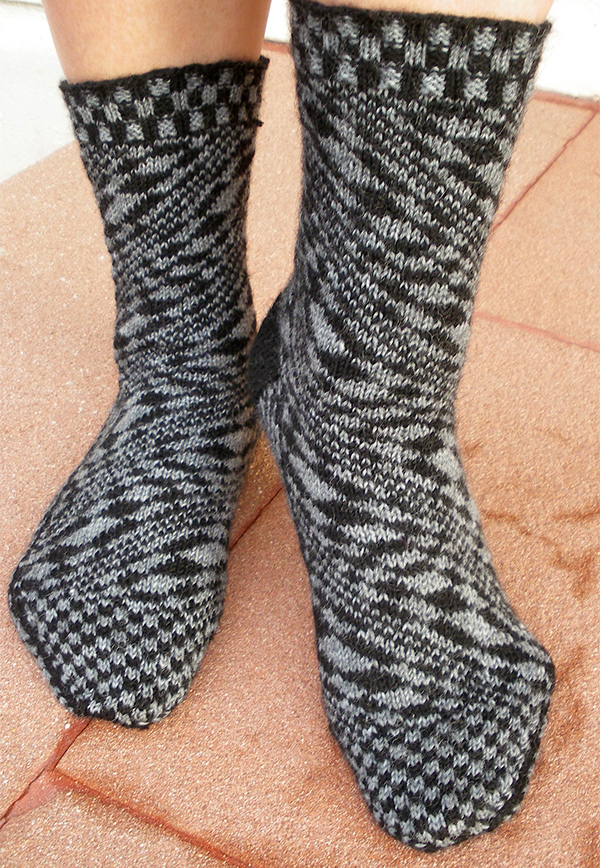 Anamorphic Fibonacci Socks
Stranded socks with a design using a Fibonacci sequence in a trick perspective. (A Fibonacci sequence is "a series of numbers in which each number is the sum of the two preceding numbers. The simplest is the series 1, 1, 2, 3, 5, 8, etc."). 3 sizes. Designed by imawale imawale. Fingering weight yarn.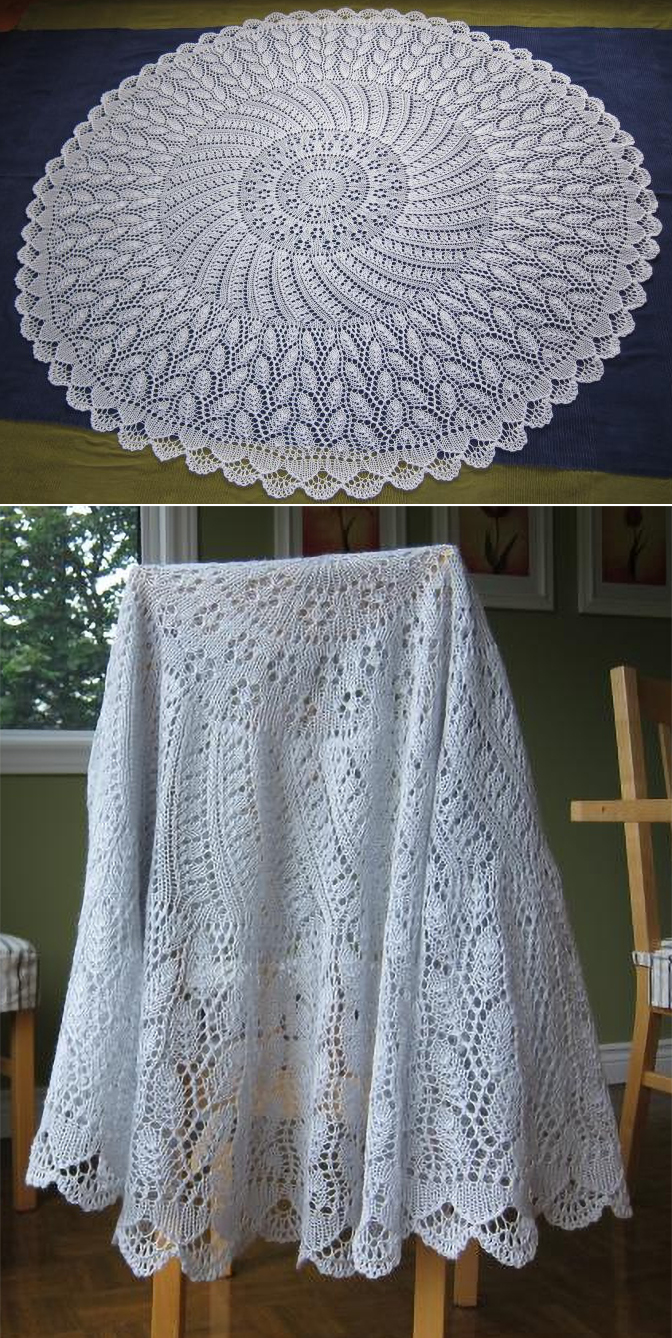 EZ 100th Anniversary PI Shawl: Camping
This shawl by Mwaa Knits is a tribute to Elizabeth Zimmermann who developed an easy, versatile, and innovative idea for creating circular shawls using the geometry of Pi–the relationship between a circle's circumference and its radius– with just 6 shaping rounds. This tribute design was published in 2010 in honor of the 100th anniversary of her birth on August 9th, 1910 (8/9/10). Modifications to Elizabeth's original design have been applied so that the lace design stitch repeats and the number of rounds are multiples of 8, 9, and 10 (the numbers in her birthday). The camping theme to the lace patterns is in honor of Elizabeth's love of camping.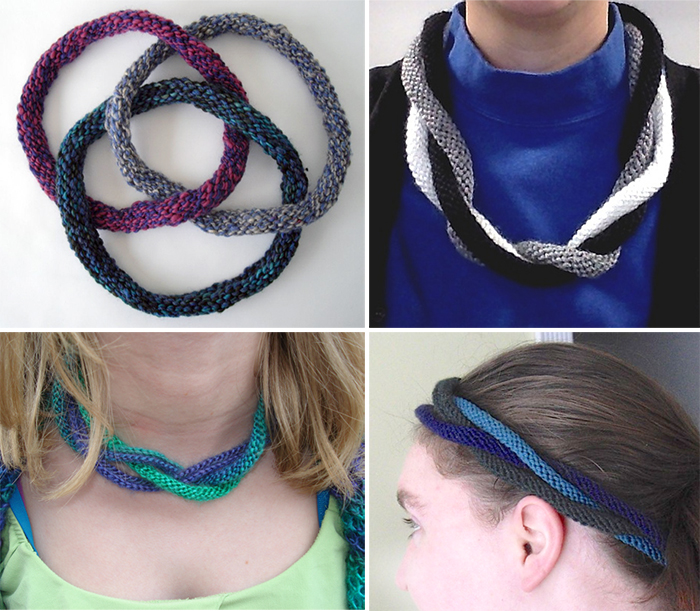 Borromean Rings
These entwined rings, inspired by mathematical concepts, can be worn as a cowl, necklace, or headband. If knit flat and small, they even make a baby toy. Borromean rings consist of three circles in which no two of the three rings are linked with each other, but nonetheless all three are linked. Designed by sarah-marie belcastro and Madison Stuart. Pictured projects by smbelcas, dmwoodman, Animae424, and smbelcas again.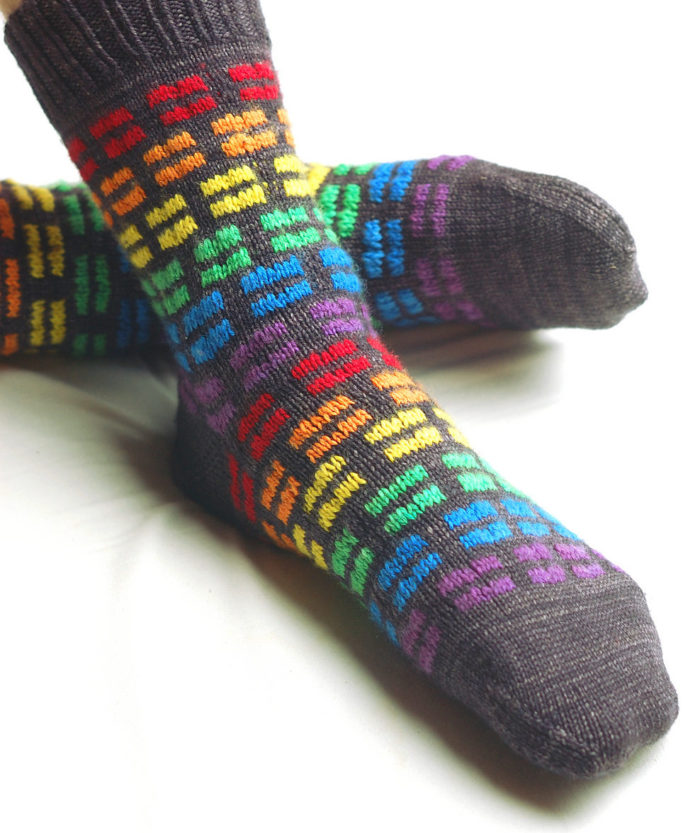 Equal Socks
These socks feature colorful equal signs in stranded colorwork, symbolizing mathematical concepts or equality or just a striking pattern. Great use for scrap yarn. 3 sizes. Designed by jewelandarlin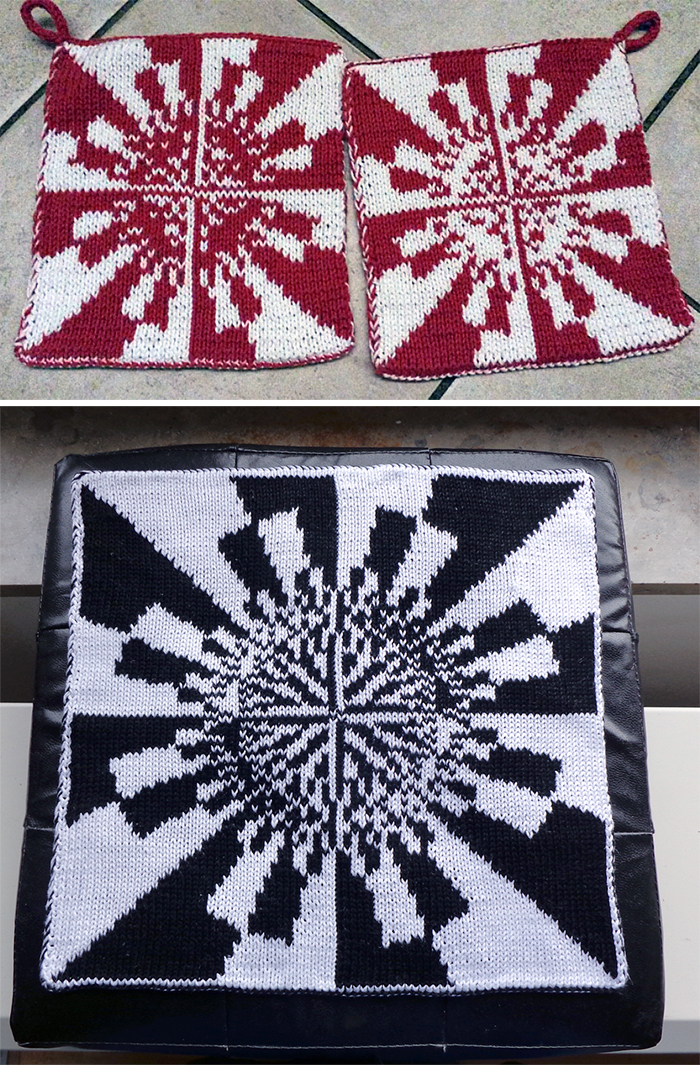 Julia Fatou Fractal Potholder or Pillow Cover
This double knitting pattern was inspired by the fractal Julia0bb by Adam majewski, a combination of a Fatou set and a Julia set calculated with a computer program. Two versions: a small and a larger one, 45 cm x 45 cm for 40 cm pillow. Designed by Lina Wolf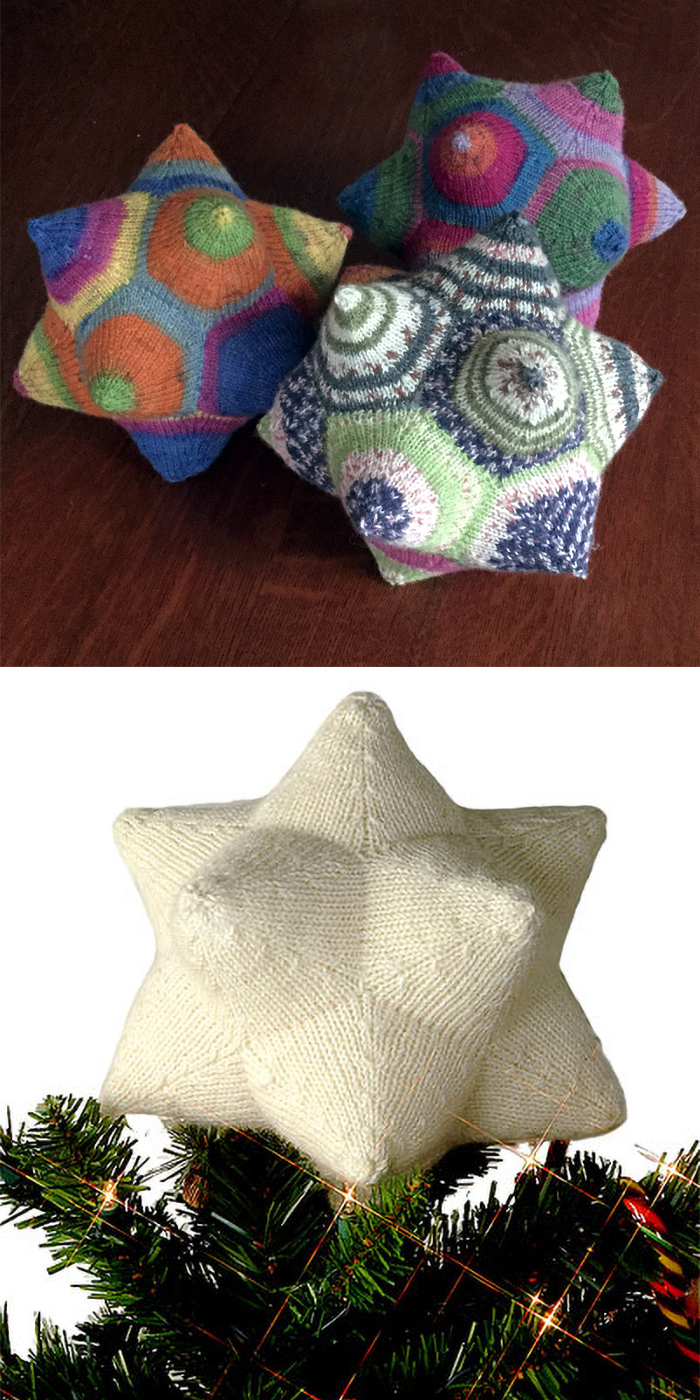 Celestine Dodecahedron
A dodecahedron that can be used as a unique stuffed toy or holiday treetopper. Great stashbuster.Designed by Norah Gaughan. Versions for sport weight and fingering / sock weight. Pictured project by allincaps who had some notes There is also a video at Interweave.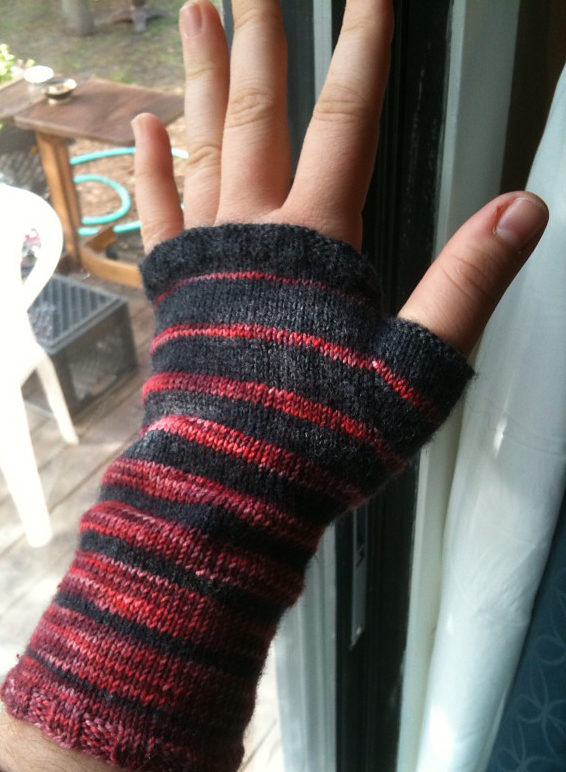 Summation of i Mitts
These fingerless arm-warmers have stripes that conform to the formula for the summation of i (between 1 and 9) – the formula used to compute the summation of the integers between 1 and 9. This formula is n(n+1) /2. So the summation of 1 through 9 would be 9 (9+1)/2 = 90/2 = 45. The mitts have 9 blocks of 10 for each of the integers and each block divided in 2 stripes with increasing by 1 row in one color and decreasing in the other color to represent the integer. Adding the rows of each color will give you the summation.2 sizes. Designed by Tasia Block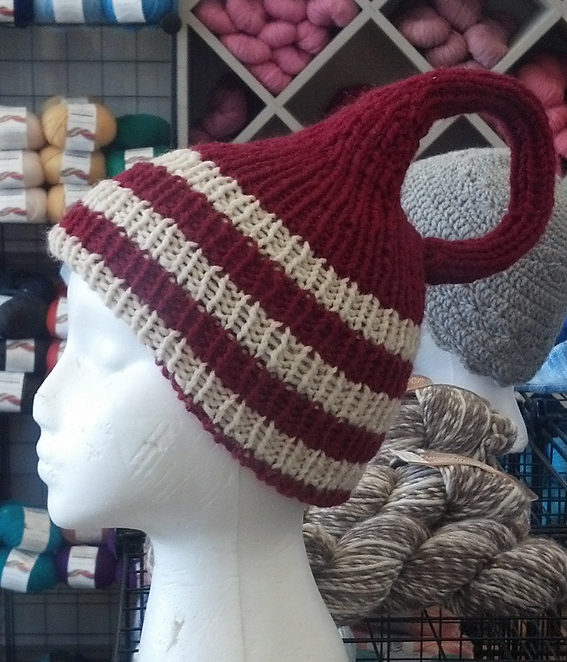 Klein Bottle Hat
This hat is a folded representation of the Klein bottle that's a atwisted torus (donut) in the same way that a Möbius Strip is a twisted loop so it has just one surface. Designed by Marie-Christine Mahe for Knitty. Pictured project by TheresaMarie1972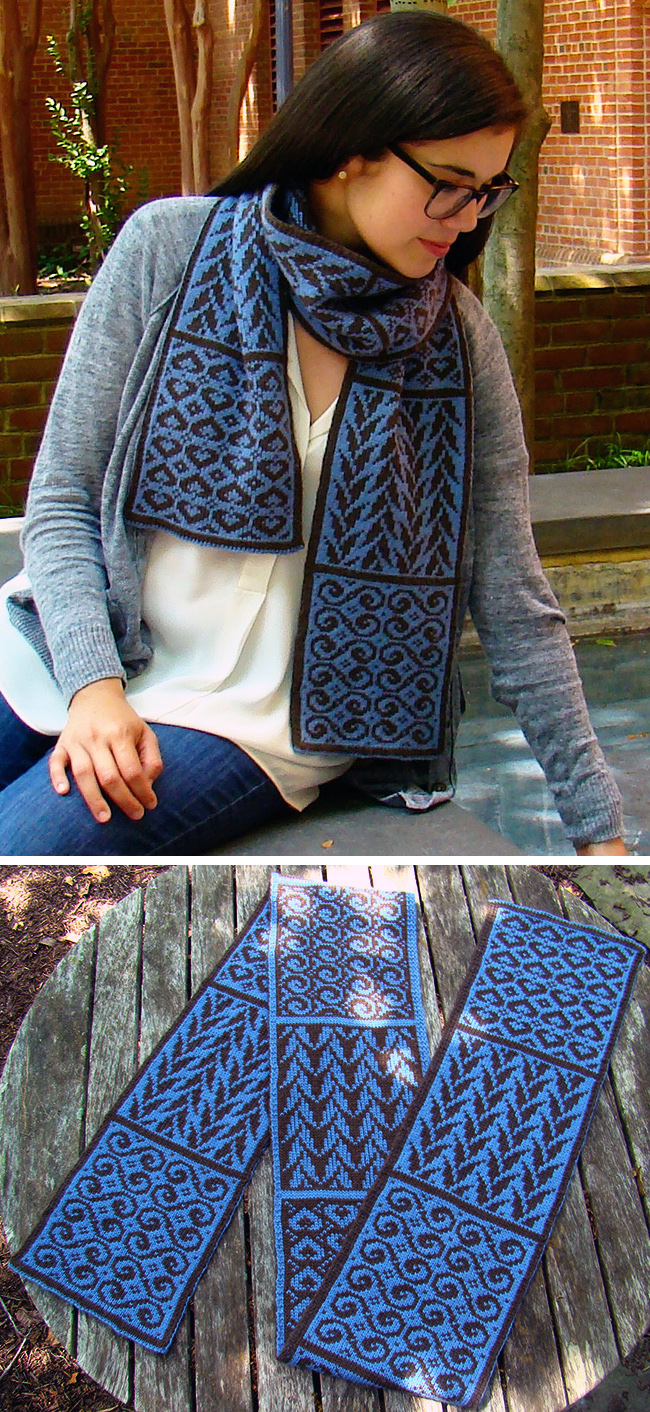 Crystalline Symmetry Sampler Scarf
This double-knit scarf designed by a mathematician knitter Susan Goldstine to demonstrate 9 of the twelve possible plane symmetry structures described by mathematical artist Mary D. Shepherd in her book Making Mathematics with Needlework: Ten Papers and Ten Projects . (A more detailed explanation is available on the pattern page at Knitty.)

Fibonacci Cables Hat
This clever beanie features cable in heights that change following the Fibonacci sequence (going backwards from 21 since the hat is knit from the bottom up). Child and Adult sizes. Designed by Maghouin Beg

Pi Beanie Hat
Pictured project by bleusheep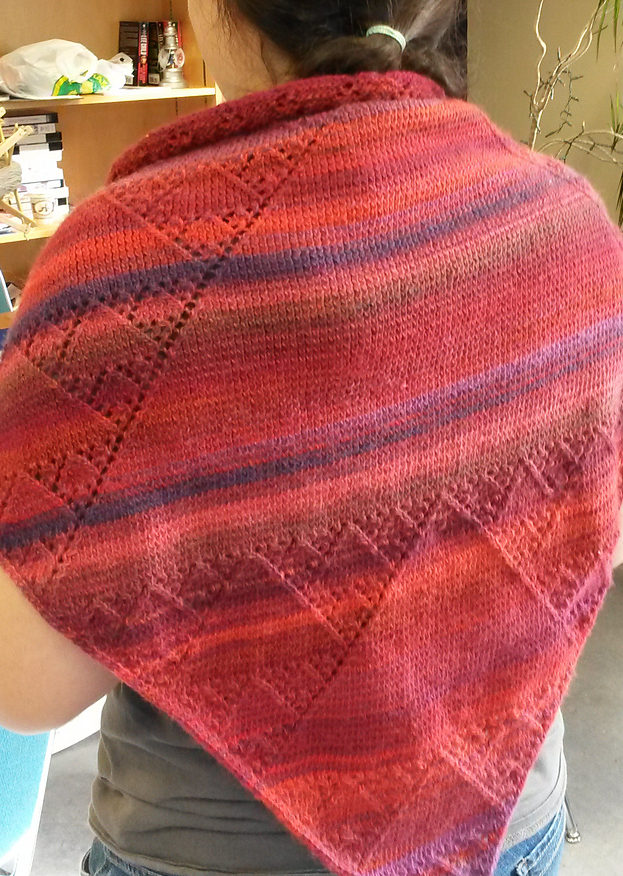 Sierpinski Fractal Shawl
The Negative Space Sierpinski Kerchief is a triangular shawl in the shape of the Sierpinski triangle fractal. Any weight yarn can be used. Designed by Mara K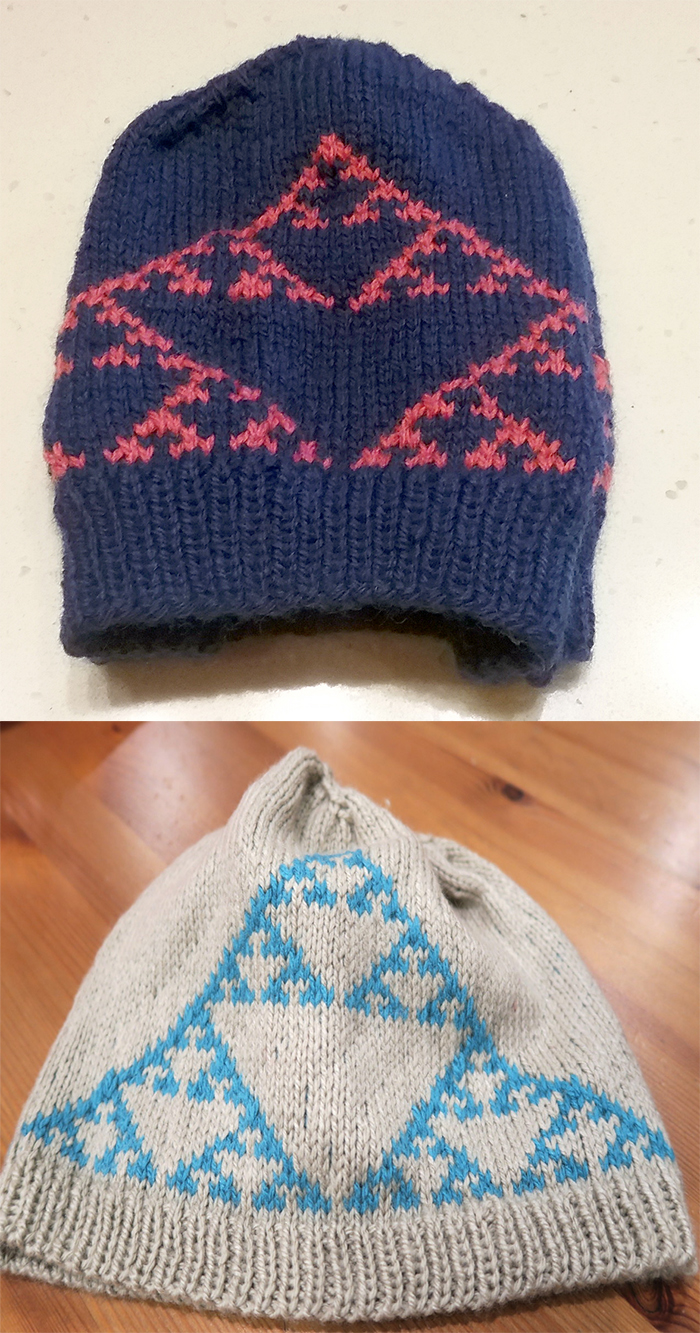 Sierpinski Fractal Beanie
This hat features colorwork based on the Sierpinski triangle fractal. Options are included for 2 types of crown. DK weight yarn. Designed by Catherinemaths and Mathskath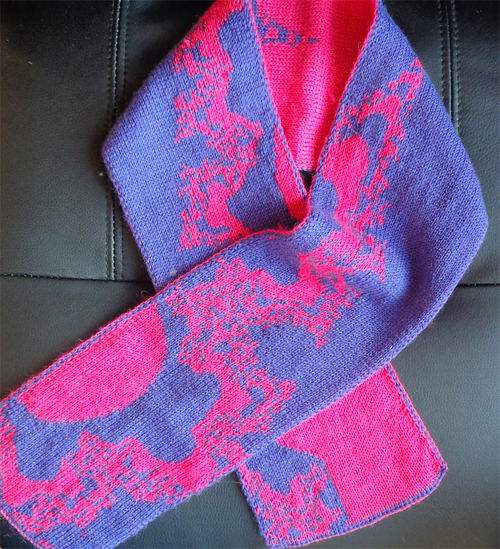 Fractal-Shawl Mandelbrot
Lina Wolf's fractal wrap / shawl / scarf was designed to honor Benoît B. Mandelbrot who developed fractal geometry and the Mandelbrot set that is partially pictured in this double knit shawl. Lina's original design included Mandelbrot's name. Pictured project by SINessi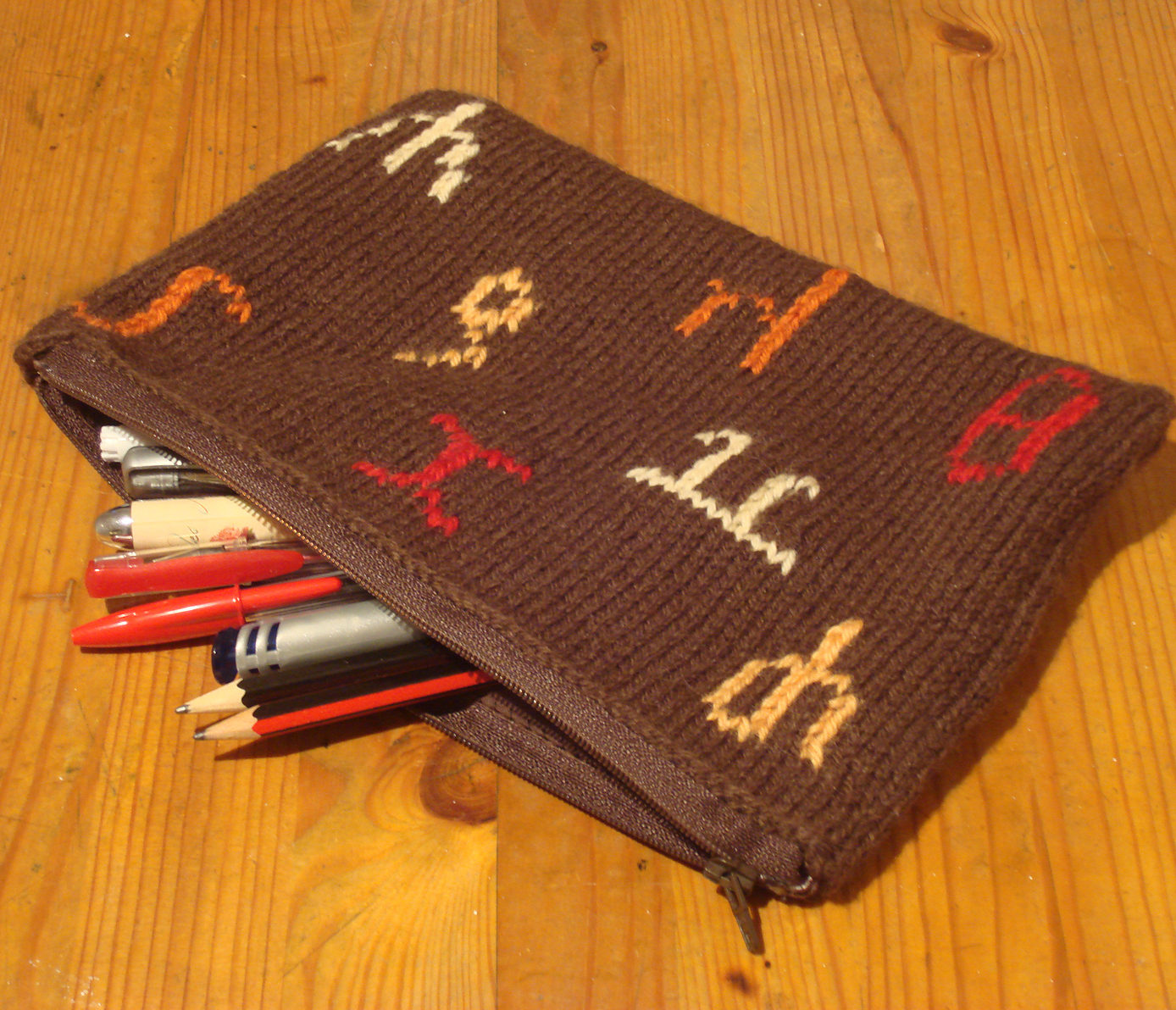 Math Pencil Case
This zippered bag is decorated with mathematical symbols including pi.
Download the free knitting pattern at Ravelry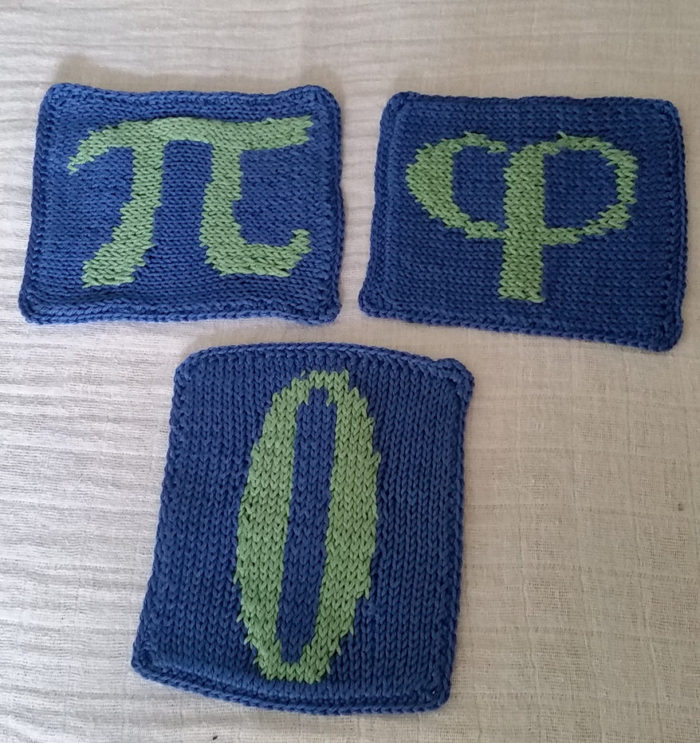 Mathematical Underdogs Coffee Coasters
6 coasters including Pi, Phi φ (golden ratio), Zero 0, and (not pictured) Epsilon ε (a positive number tending toward but never reaching Zero), e and sqrt(-1). Designed by Lina Wolf. Pictured project by helenbee21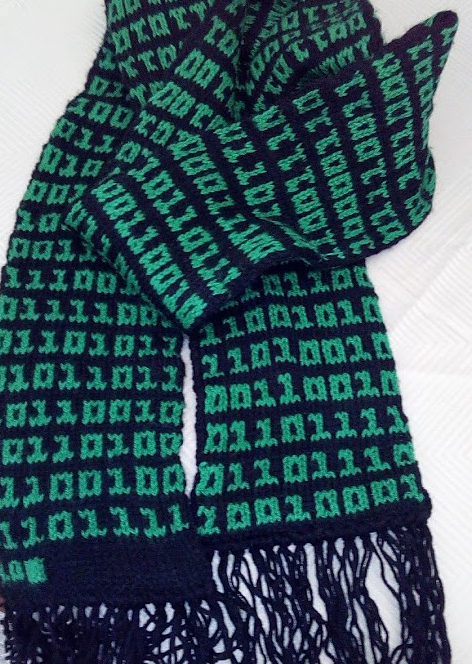 Binary Scarf
The perfect gift for the tech lover in your life, this scarf incorporates binary code into stranded colorwork knit as as a tube so the reverse is hidden. You can knit random 1s and 0s or use a binary translator to create a message for your scarf like "I love you" or the recipient's name. Ravelrers have adapted this pattern to hats, mitts, cowls, baby clothes, and more. Designed by by Christine Dumoulin for Knitty Pictured project by Neetstoo who knit the names of her family in binary in her scarf.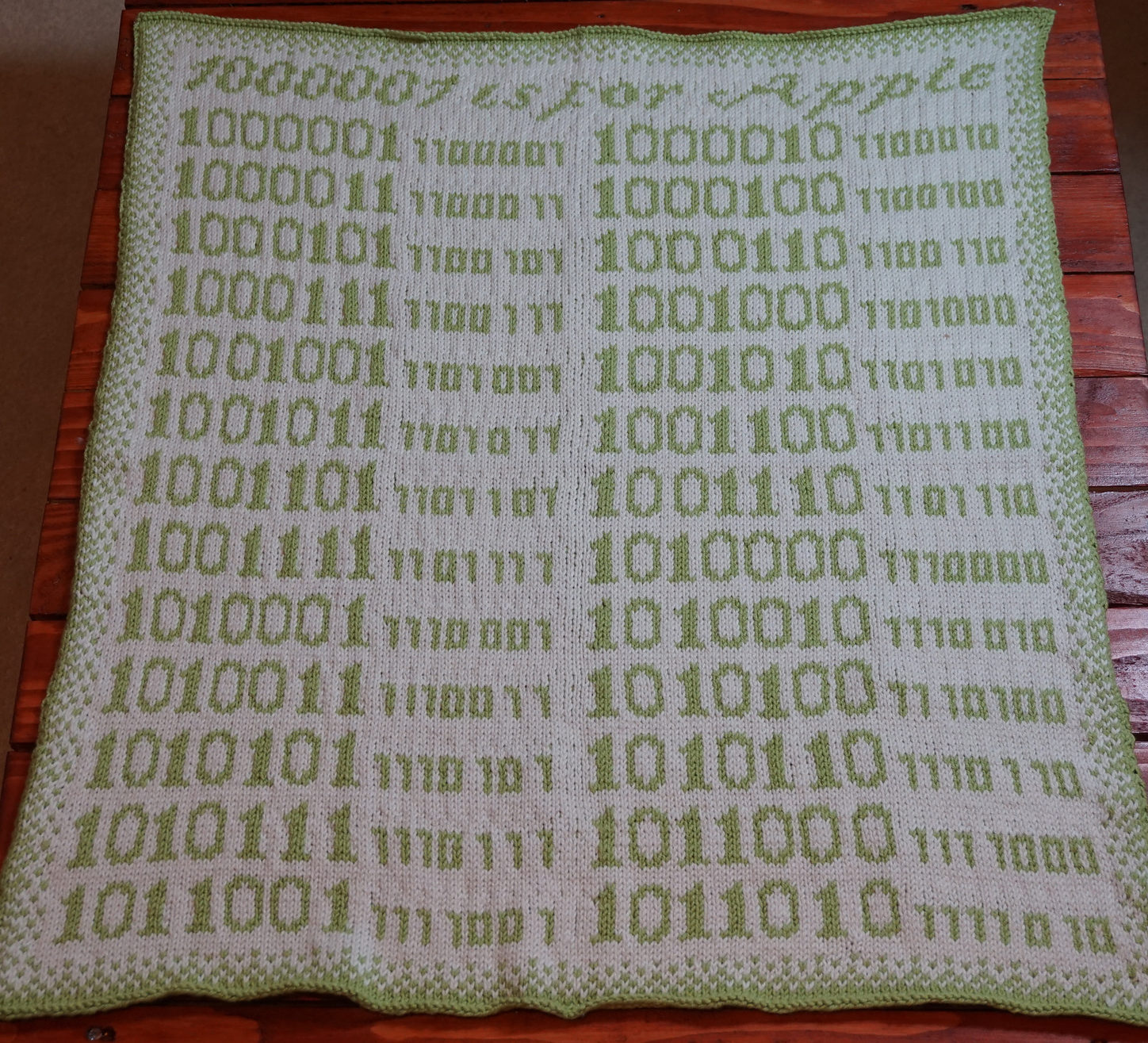 Binary Baby Blanket
Double knit baby blanket with alphabet in binary code. Designed by Miranda Humphries
Patterns for Purchase

Cushy Numbers
Ten patterns for knitted cushion covers and two crochet patterns illustrating mathematical concepts. Examples: Square to Eternity (top right) - Triangles are added to create a new square. Each new square is double the area of the previous square. Have It All Ways (row 5, right) - All the permutations of four colours. Wreck Tangled (row 3, right) - Each rectangle has the same area and the total of their areas is the same as the area of the background. Designed by Woolly Thoughts.
See more pics and get the ebook on Etsy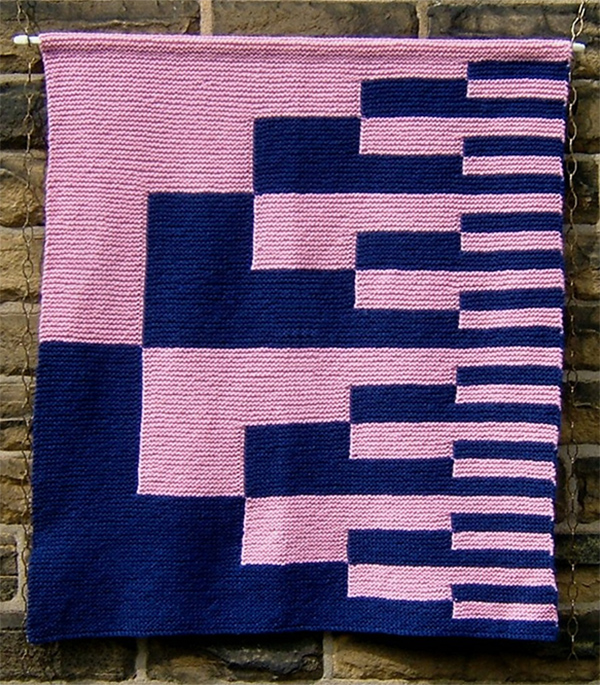 Double Base Blanket
This geometric design is a representation of binary numbers using simple garter stitch, using any yarn and needles. Make it any size from baby blanket to king-size bed. It can be made in two or six colours in any weight yarn. The design is by mathekniticians Pat Ashforth and Steve Plummer who include an explanation of the binary numbers represented.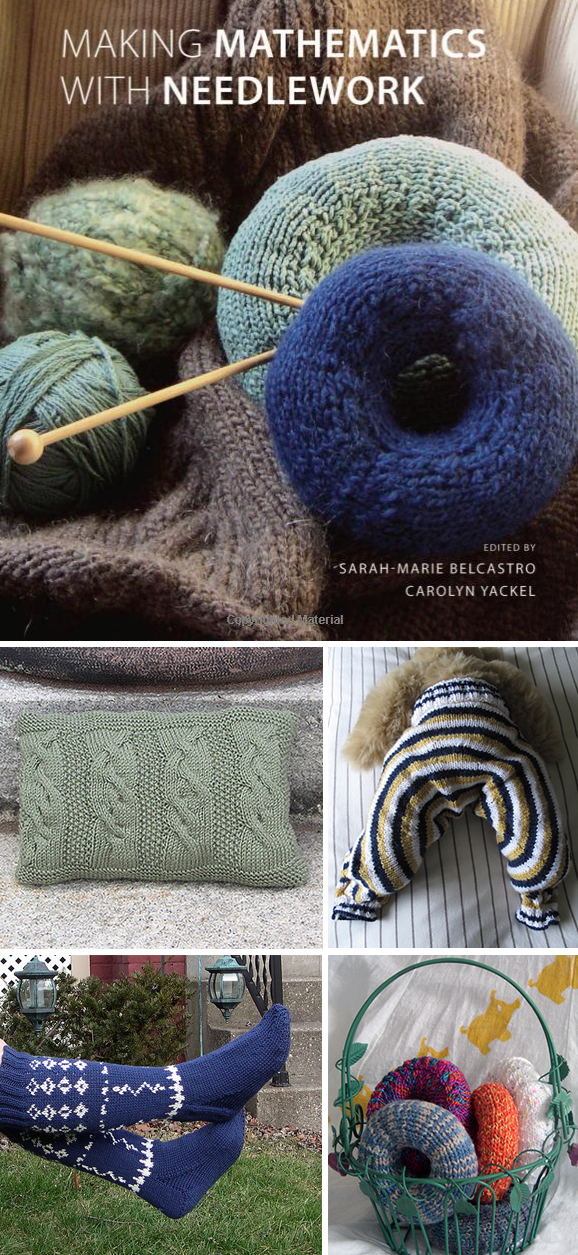 Making Mathematics with Needlework
This book by Sarah-Marie Belcastro and Carolyn Yackel explores the relationship between mathematics and the fiber arts (including knitting, crocheting, cross-stitch, and quilting). Includes patterns and projects including knitting instructions for Pillow of Braid Equivalence, Hyperbolic Baby Pants, Algebraic Socks, Torus, and Bi-Directional Hat.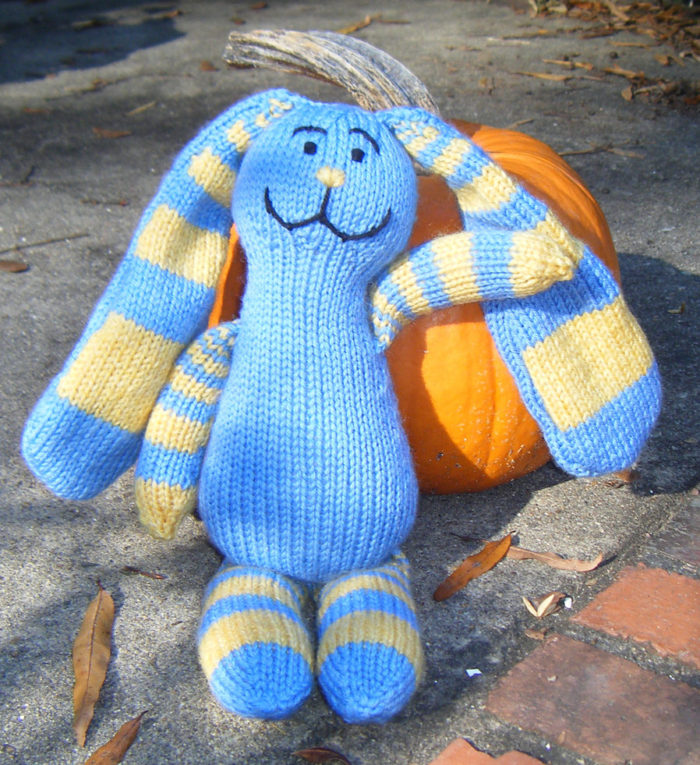 Fibonacci Bunny
Fibonacci Bunny is a cute whimsical toy that makes use of the Fibonacci Sequence for the stripes.Fibonacci Bunny is 14 inches tall. Designed by Julie L. Anderson. Pictured project by giraffadae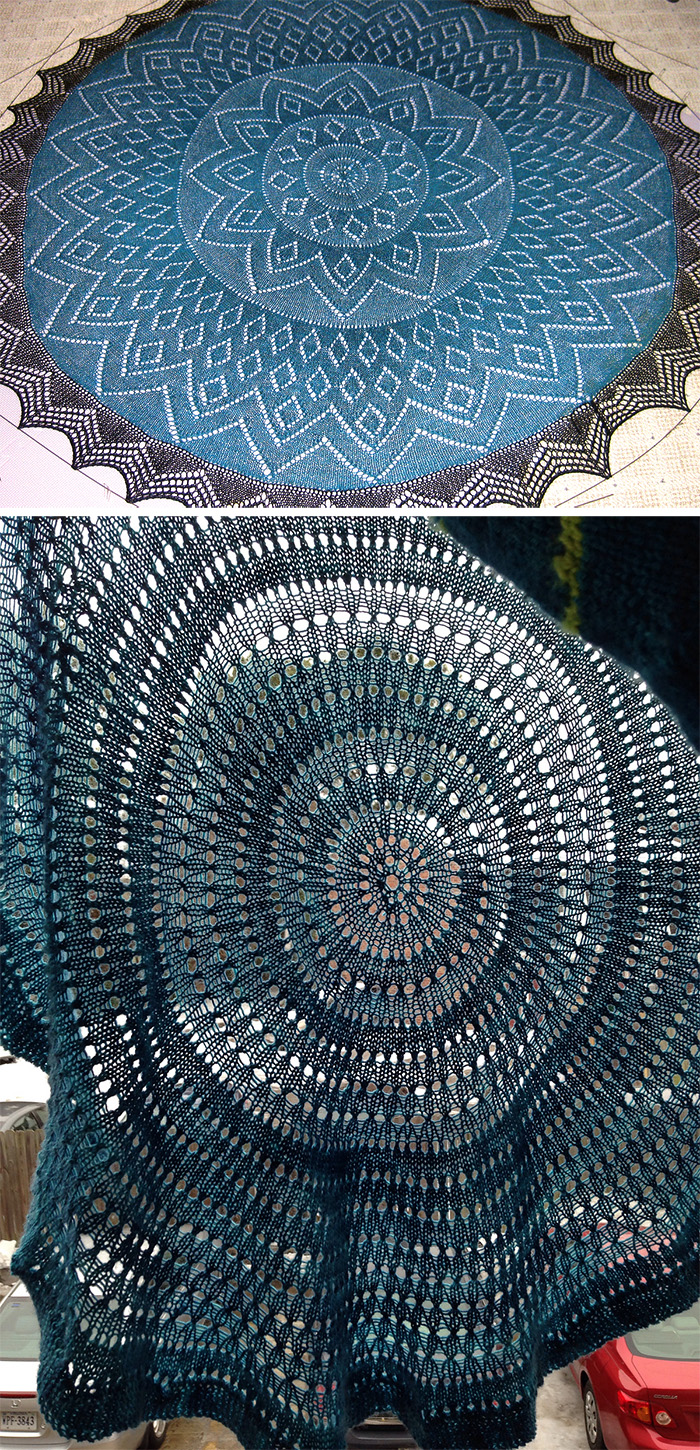 Original Pi Shawls or Blankets
Elizabeth Zimmerman first published her easy, versatile, and innovative idea for creating circular shawls in 1987. Her recipe used the geometry of Pi–the relationship between a circle's circumference and its radius — to create circular shawls containing only six shaping rounds that makes it easy to add incorporate many lace designs, as many knitters have done. Her original design included 2 patterns – a basic design and one with floral and diamond lade motifs. Pictured projects by rubycat who added extra repeat of 48 row section and a different lace border, and yarnstormer. Included in Elizabeth's book, The Knitter's Almanac.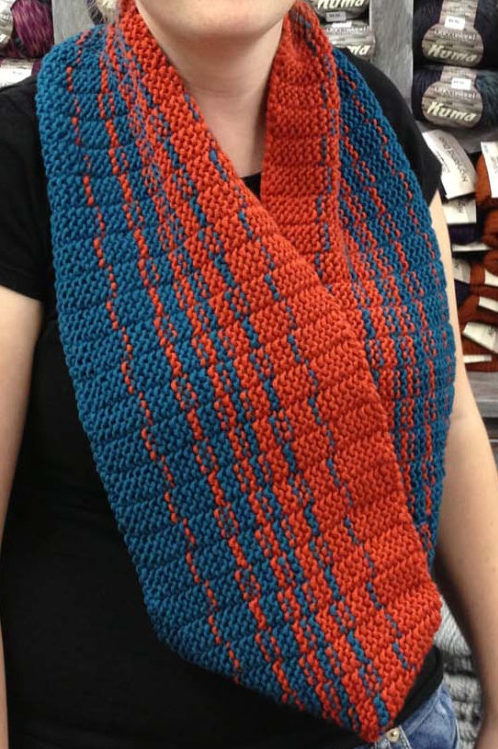 Fibonacci Cowl
The Fibonacci Cowl Class is a 2-color, reversible cowl that can be worn as a loop, doubled as a cowl and also pulled up to be a hooded scarf. The pattern harmoniously blends two colors using the Fibonacci numbering sequence in the row count. 8" wide x 60" in circumference. Designed by yarnhappybeadhappy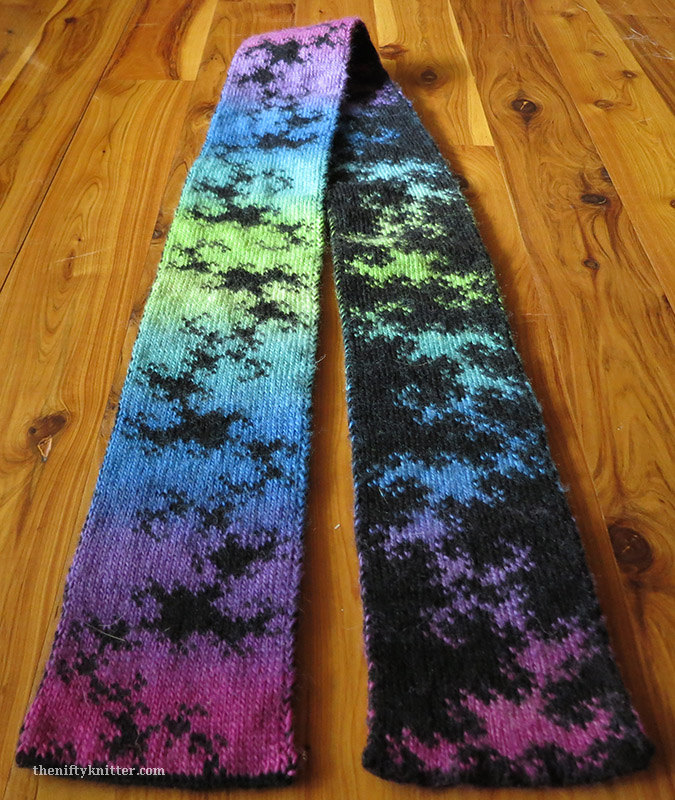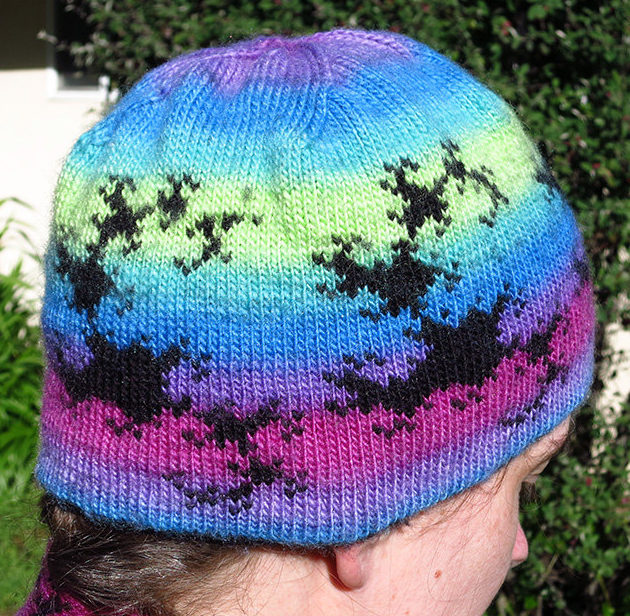 Dragon Curve Fractal Scarf and Hat
The Dragon Curve Fractal is the fractal featured in the chapter headings for Jurassic Park by Michael Crichton and is repeated in this doubleknit scarf and hat. Designed by the Nifty Knitter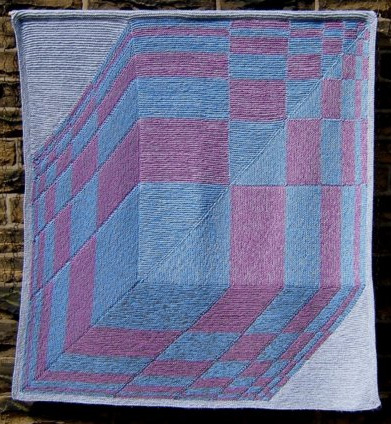 Fibo-optic Afghan / Wall Hanging
Fibo-optic uses the Fibonacci Sequence in two directions, in each of the three dimensions, to give the illusion of a large flying cube.
This design by woollythoughts is nowhere near as complicated to make as you may think. If you can knit garter stitch, you can do it.
Get the knitting pattern for $6.50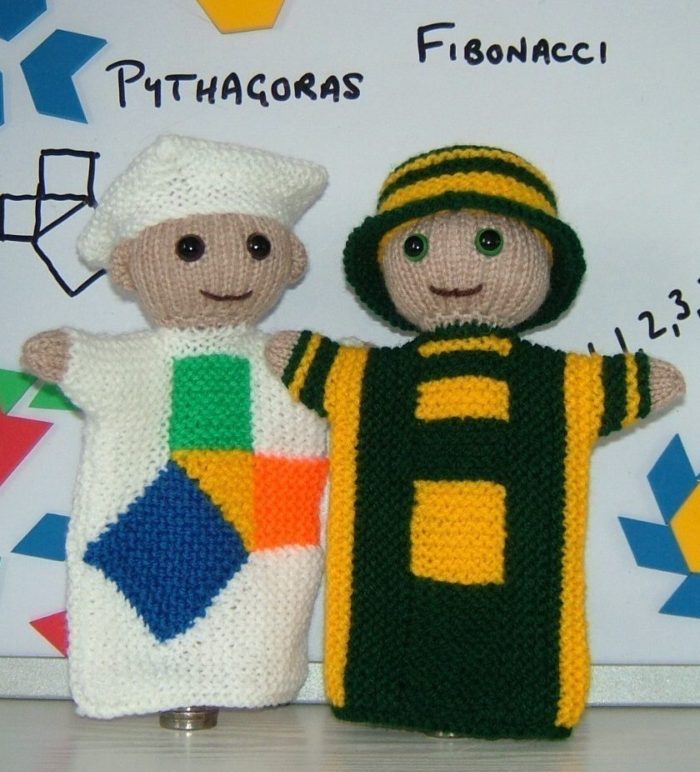 Mr Pythagoras and Mr Fibonacci Puppets
Mr Fibonacci wears a robe designed to show his well-known sequence, in two directions. He also wears a hat showing the same pattern of numbers. Mr Pythagoras wears an example of his theorem on his front. These were designed with adults in mind but are small enough to also be used by a child. Designed by Woolly Thoughts