<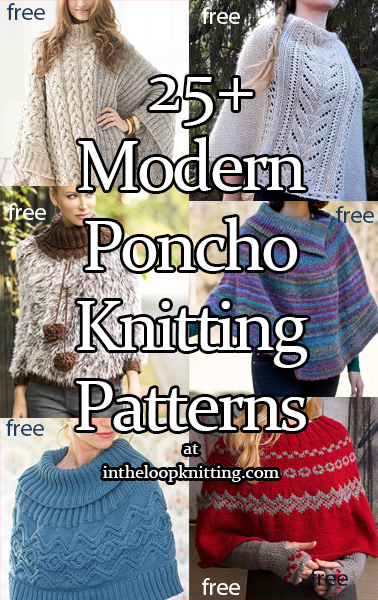 These stylish modern ponchos are quicker and easier ways to add a warm layer to your wardrobe for use year-round. Many are just one or two knit pieces seamed together.
To get the knitting patterns, scroll down the page to the individual pattern you want and click on the link to that pattern.
These patterns are not my designs but links to other designers who have generously shared their patterns. If you have questions about how to knit a specific pattern, please contact the designer directly.
All links on this site are for informational purposes, but please note that some links are to affiliate sellers that pay me a small commission on purchases.
Free Patterns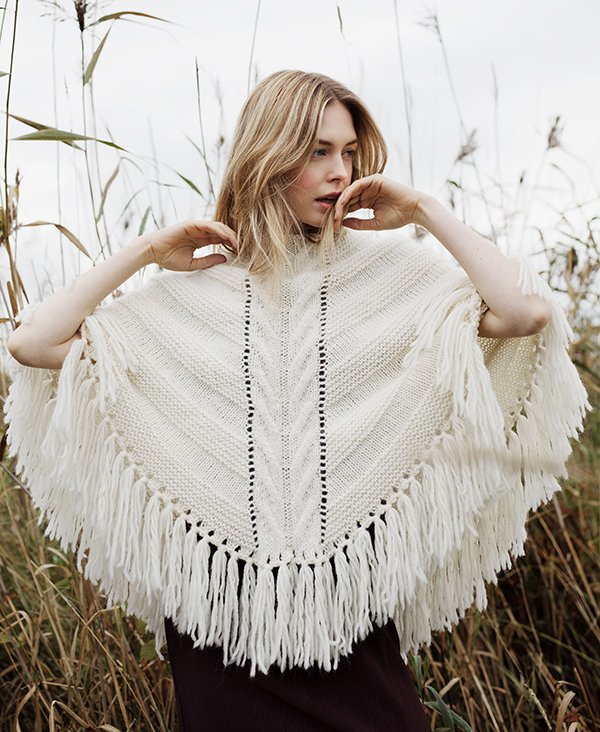 Cable Poncho With Tassels
Pullover poncho knit in the round with a 10 row cable and finished with luxurious fringe. The pattern looks easy to me. Designed by Lea Petäjä for Novita. Aran weight yarn.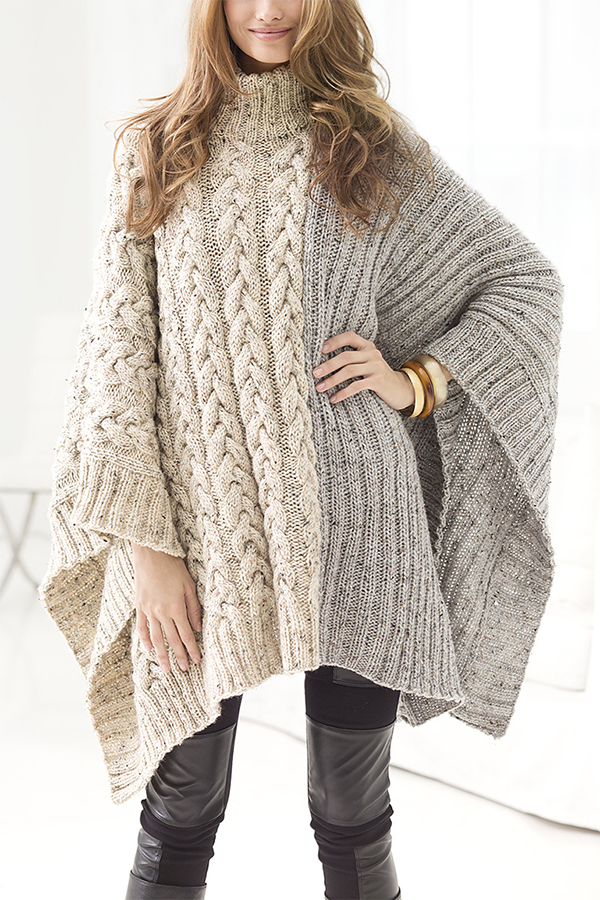 Chatsworth Cable Poncho
Pullover poncho with an 8 row cable on one half and ribbing on the other half, finished with ribbed turtleneck. Designed by Vladimir Teriokhin for Lion Brand. Aran weight yarn.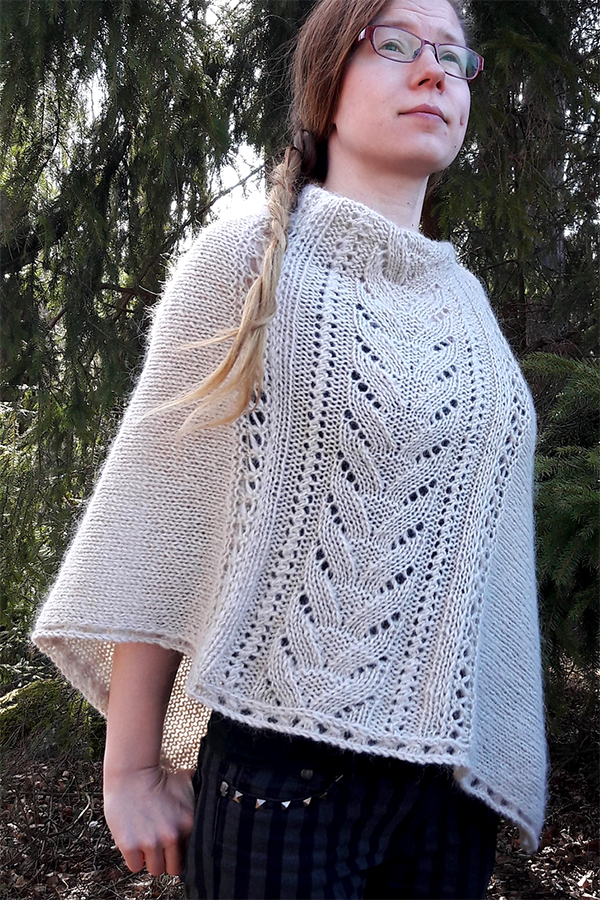 Denizen Poncho
Lynne Vogel's Denizen is an asymmetrical poncho with a lace panel flanked by sideways knitted stockinette panels and finished with crochet. She provides instructions for "crocheting" with knitting needles. Pictured project by Kerppa.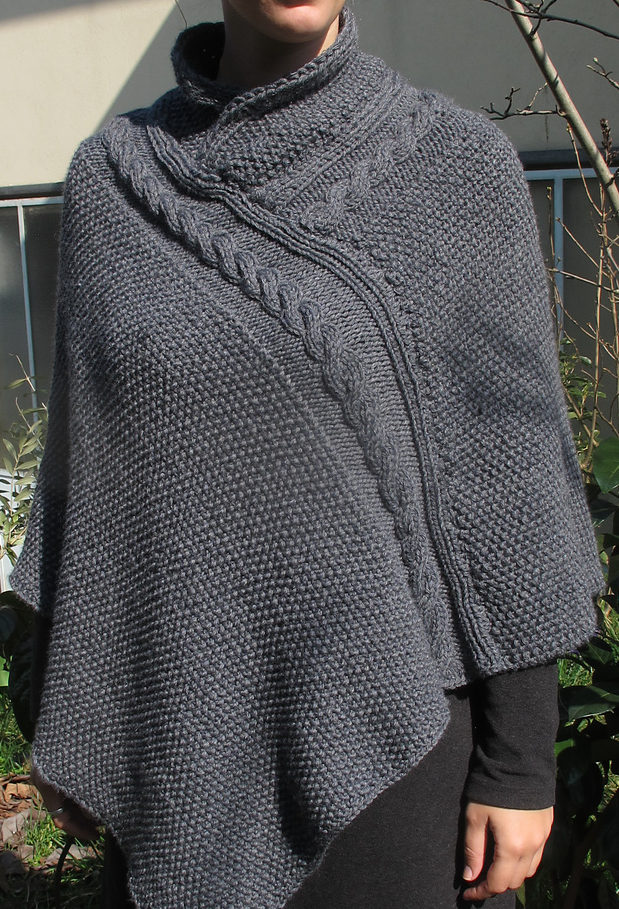 Alexis Poncho
Quick poncho knit in 2 rectangles knit in seed stitch, cable, and ribbing. Collar is knit separately and sewn on. Worsted weight yarn. Designed by Sisters in Wool. Available in English and French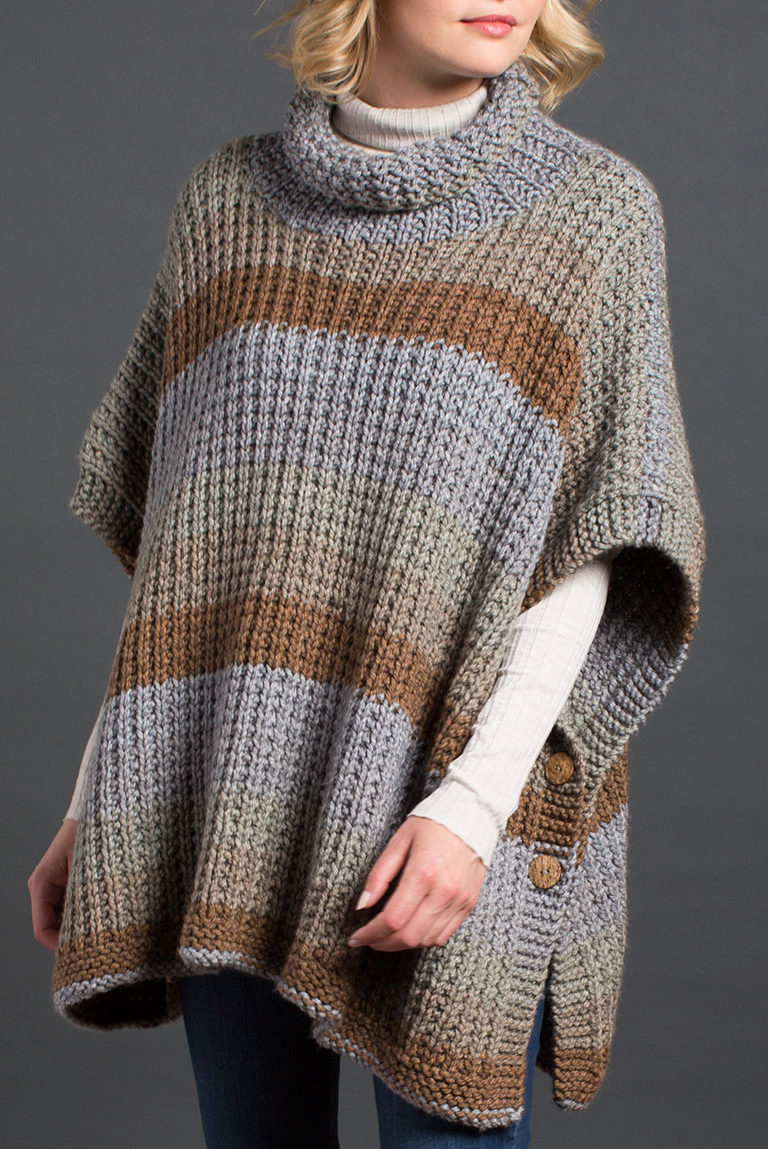 Cozy Up Poncho
Rectangular poncho with buttoned sides is knit in a 2 row repeat broken rib stitch. Quick knit in super bulky yarn.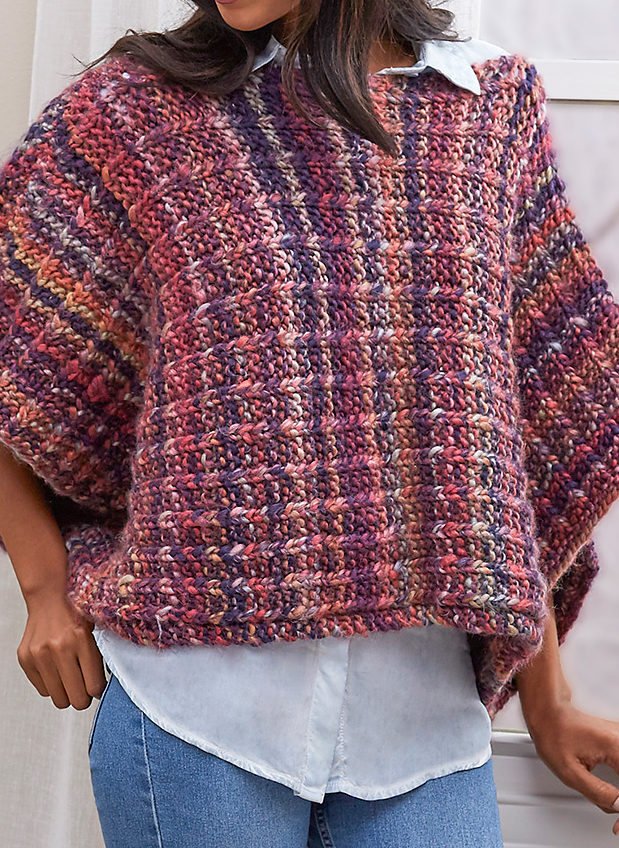 Easy Boat Neck Poncho
Easy poncho pattern is knit sideways in a 2-row 4-stitch repeat that looks great in multi-color yarn. Quick knit in super bulky yarn. 5 sizes from small to xx-large. Designed by Michele Maks for Red Heart.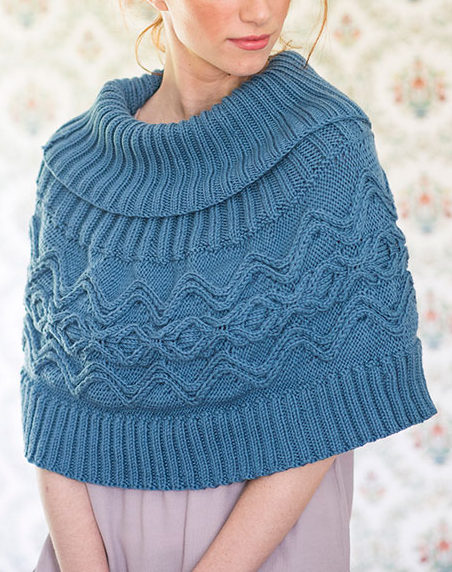 River Poncho
Cabled capelet with ribbed cowl neck. Designed by Berroco Design Team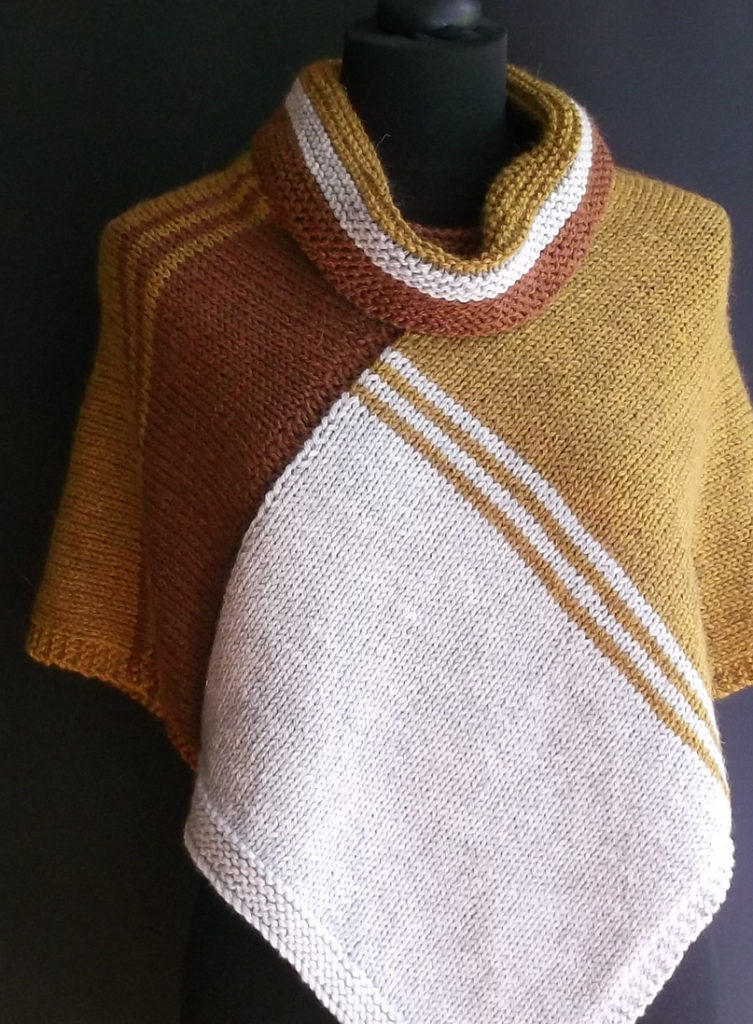 Cascade Topper Poncho
Love the color blocking in this poncho that is knit as two rectangles that are sewn together with stitches picked up for the color. Designed by Brian Smith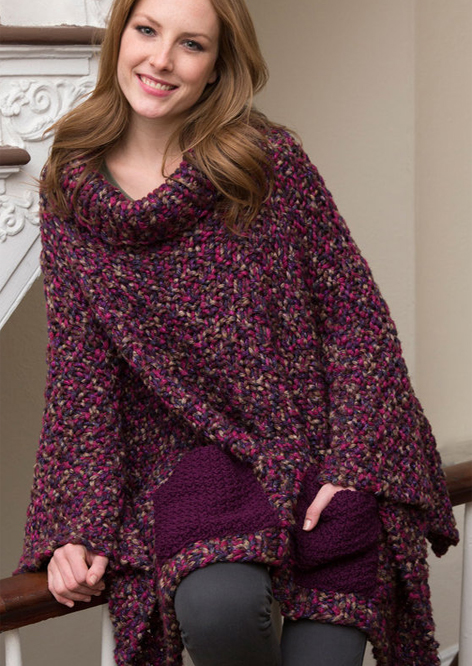 Pocket Poncho
Lorna Miser's easy poncho features double moss stitch, a ribbed cowl collar, and two pockets. Quick knit in Super Bulky Yarn.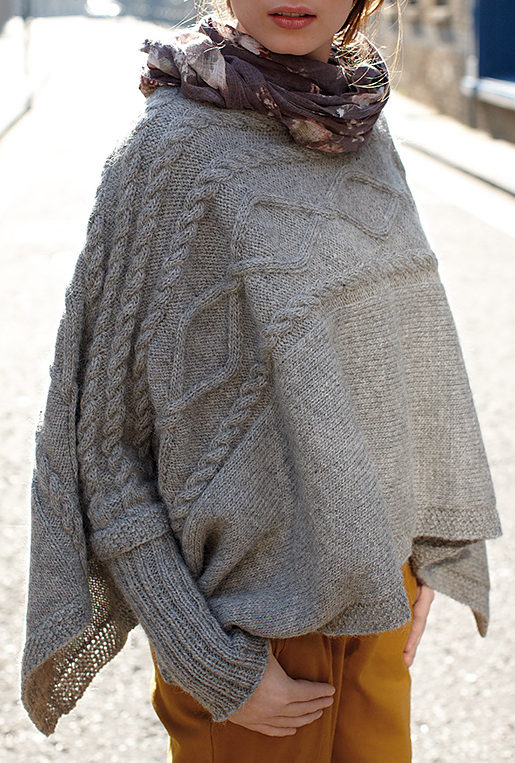 Madison Poncho
This cuffed poncho design by Martin Storey is knit sideways and features elegant cable patterns.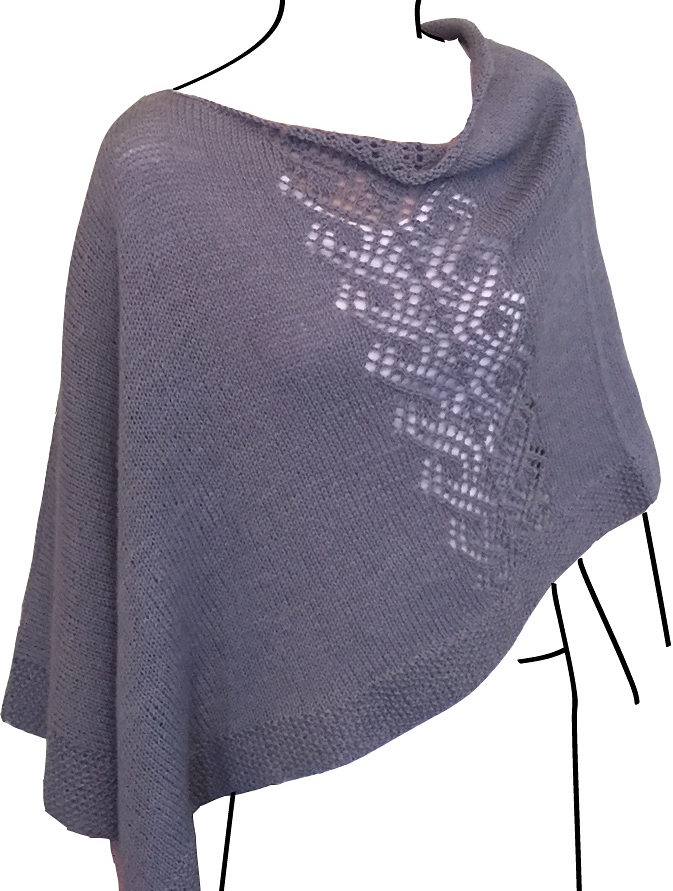 Voyager Poncho
Julie Farmer's lightweight poncho with lace panel is knit in just one piece and then joined at one shoulder while binding off. Pictured project by the designer. The project on the pattern page is in variegated yarn but I thought the solid showed off the lace better.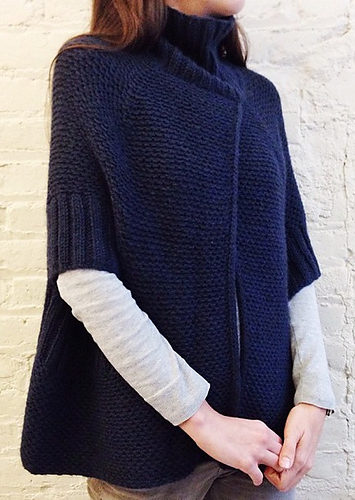 City Cape
This poncho from Purl Soho features a woven slip stitch texture with overlapping front, turtleneck and arm holes.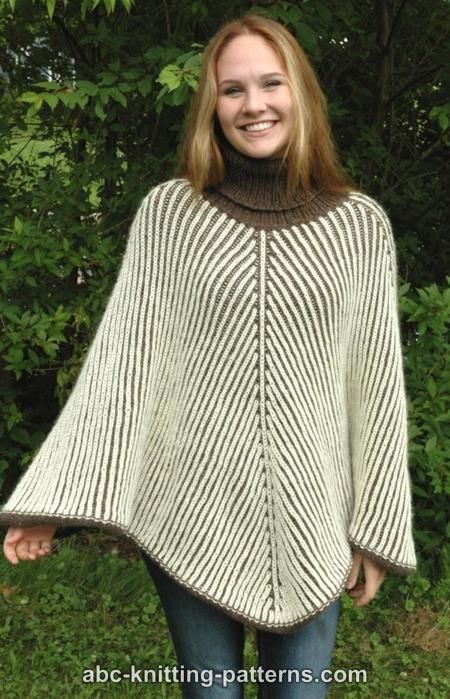 Reversible Brioche Poncho
Stunning turtleneck poncho by ABC Knitting Patterns. SIZE: S/M, L/XL, 2X/3X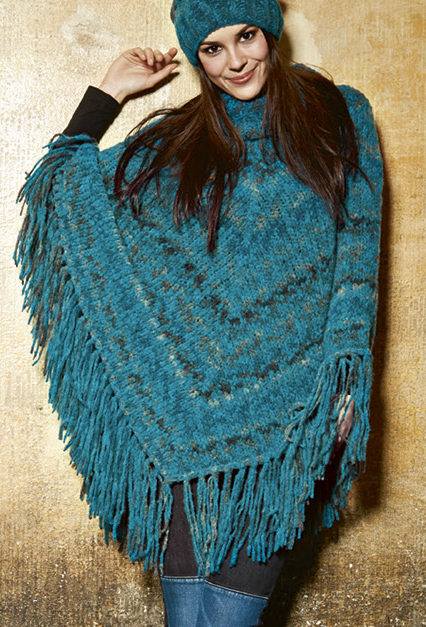 Nordico Poncho
This easy fringed poncho from Lana Grossa features a mitered pattern formed by 2 decrease stitches in the center.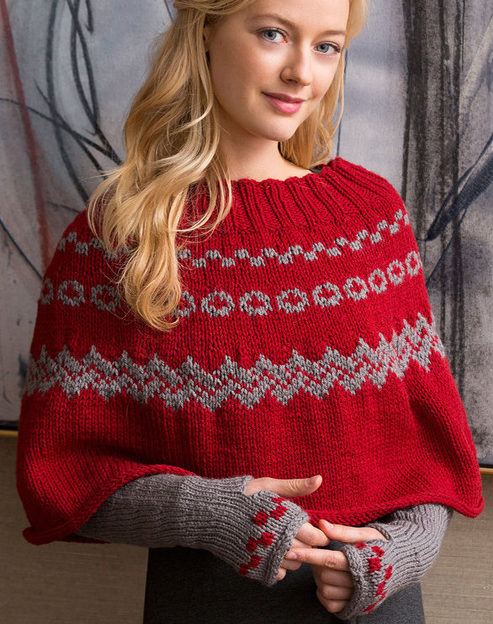 Fair Isle Poncho & Arm Warmers
Matching set of poncho and mitts by Diane Moyer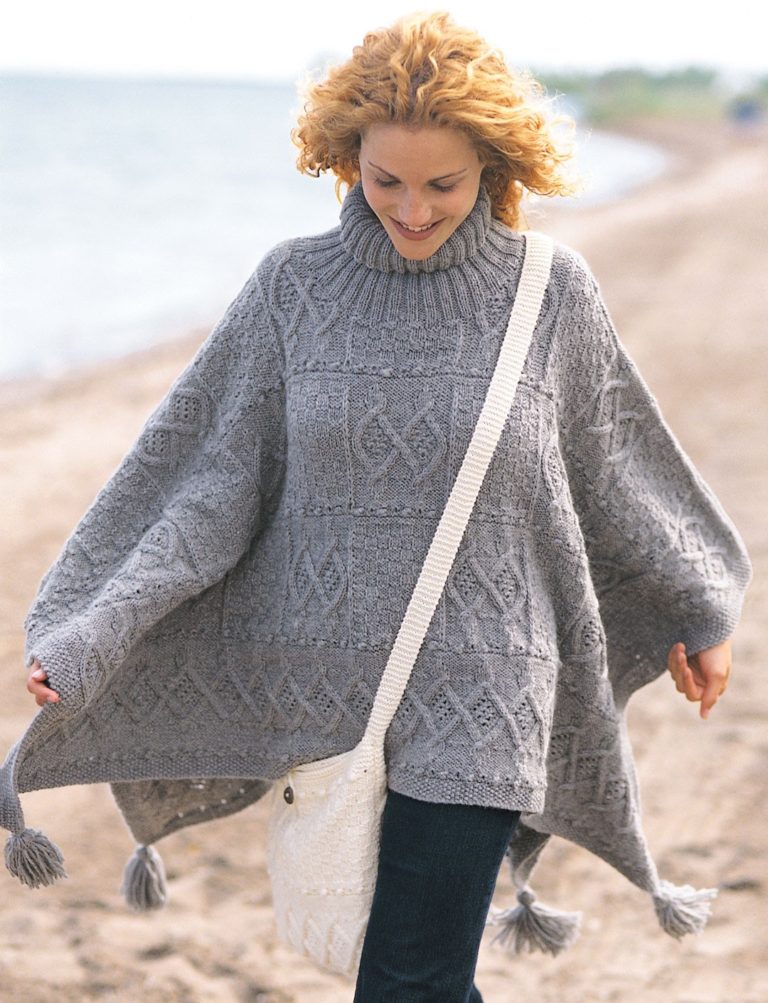 Blanket Poncho and Bag
This poncho from Patons features cables and turtleneck, and comes with a matching pattern for a purse.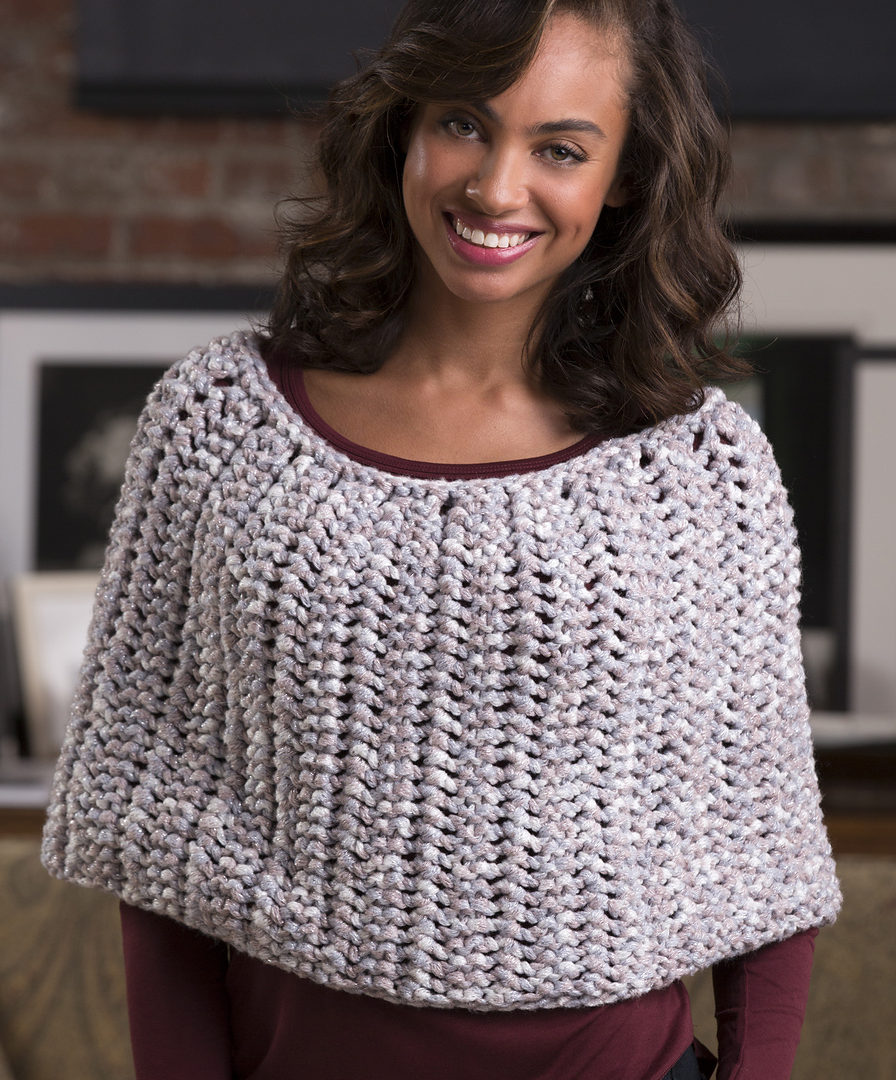 Honeycomb Poncho
Easy and fast poncho knits up quickly in jumbo yarn on size 15 needles. The garter lace pattern is a simple 4 stitch 1 row repeat in Cathy Payson's design.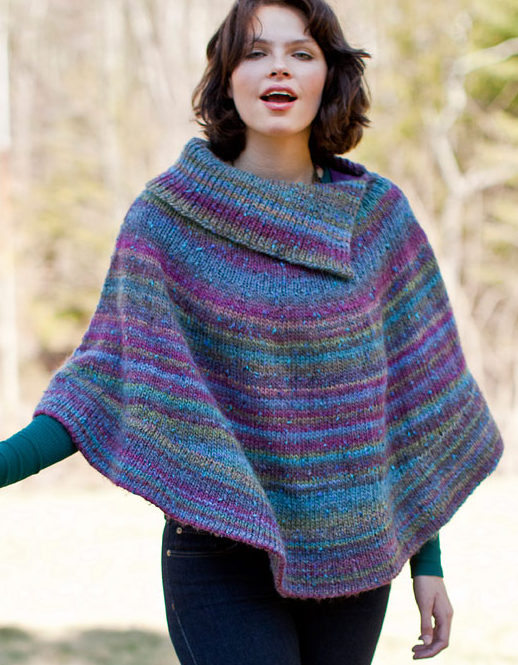 Flutterwheel Poncho
Berroco designed this split cowl neck poncho that is knit in two pieces.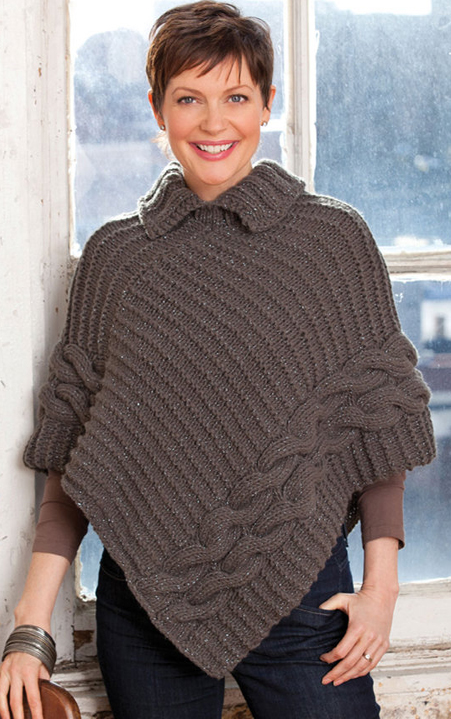 Cabled and Collared Poncho
A quick project knit with two strands of yarn together on big needles. Some knitters at Ravelry changed the collar to a turtleneck or left the collar off completely.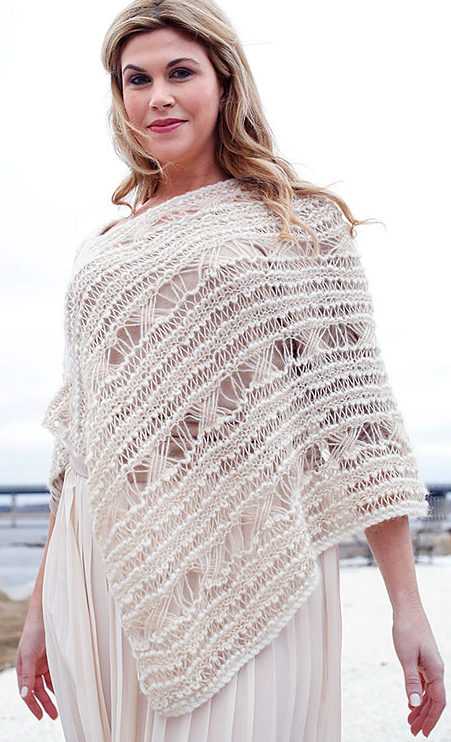 Malemute Poncho
This ethereal poncho by Emily Nora O'Neil for Berroco uses three alternating yarns to create a soft and beautiful, lace fabric.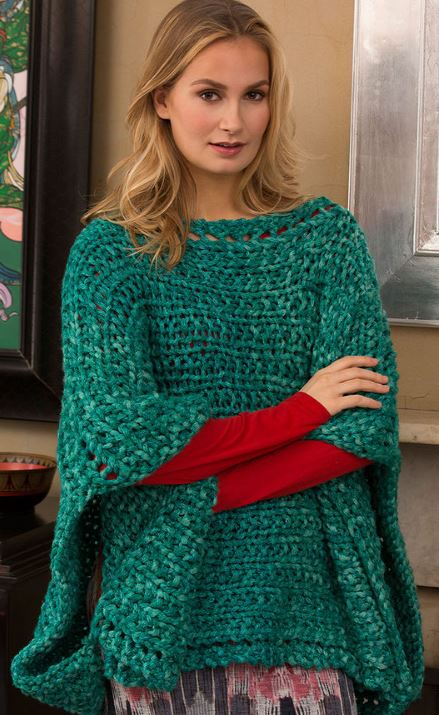 Boat Neck Poncho
This easy beginner pattern by Cathy Payson for Red Heart features super bulky yarn, a simple shape and easy stitch pattern to make a quick fashion statement.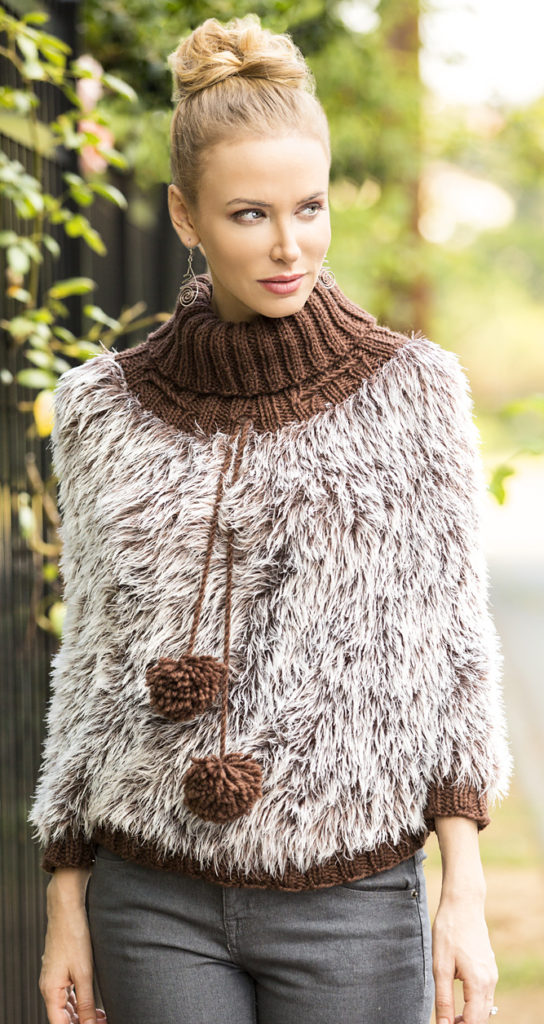 On the Prowl Poncho
This fun fur poncho from Universal Yarn features a ribbed collar. Small (Medium, Large, 1X, 2X, 3X)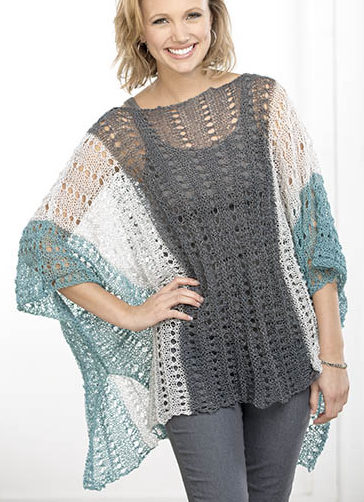 Tri-Color Lace Poncho
The Summer Poncho is designed by Susan Whitmore
Patterns for Purchase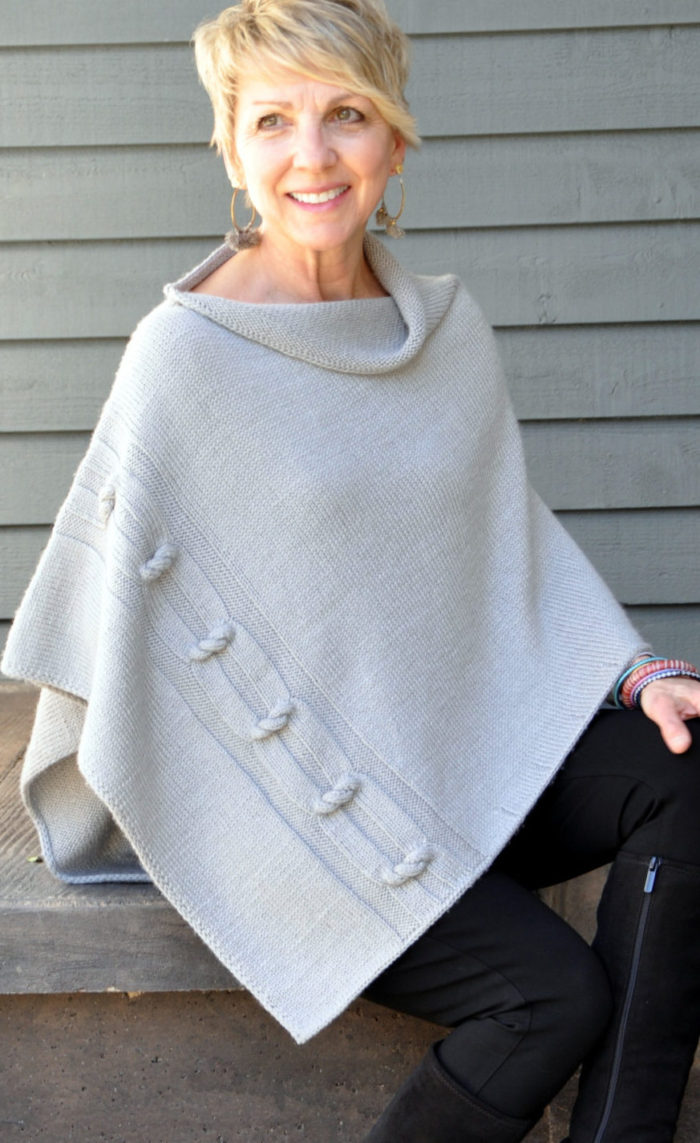 Knotted Chain Poncho
This classic poncho with innovate 3-D detail is knit bottom-up in a single rectangular piece with no provisional cast-on, no cable needle, no grafting and no sewing. DK weight. Designed by Ronnie Eldridge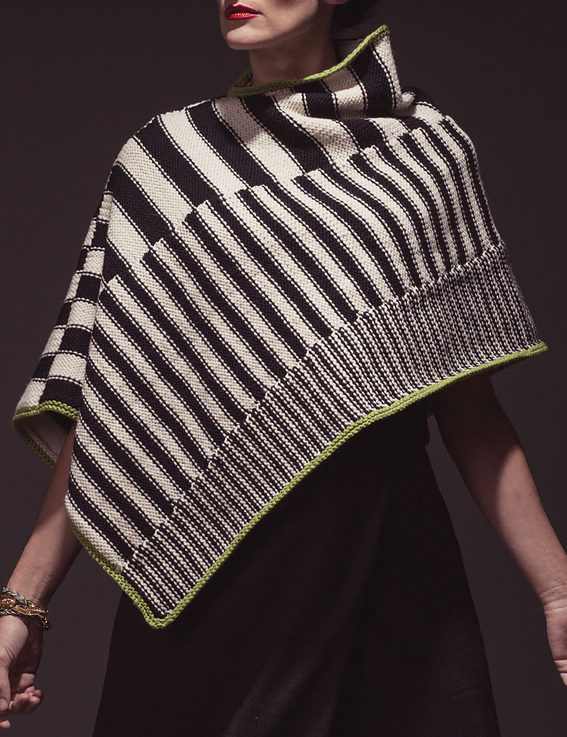 Escher Poncho
Love, love the geometric striped sections in this pullover wrap. The poncho is made in three separate striped and biased strips that are seamed together. A contrasting garter stitch border is added. Designed by Shaina Bilow
Boho Poncho
Versatile poncho is a quick knit in super bulky yarn.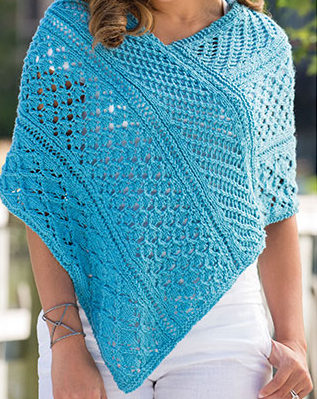 Lace Sampler Poncho
Customizable sampler stitch poncho.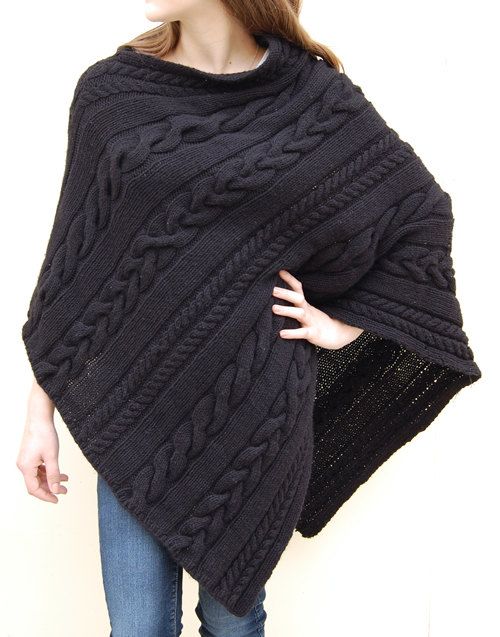 Dianne Cabled Poncho
Easy cable poncho with a slight cowl neck by jenniferwenger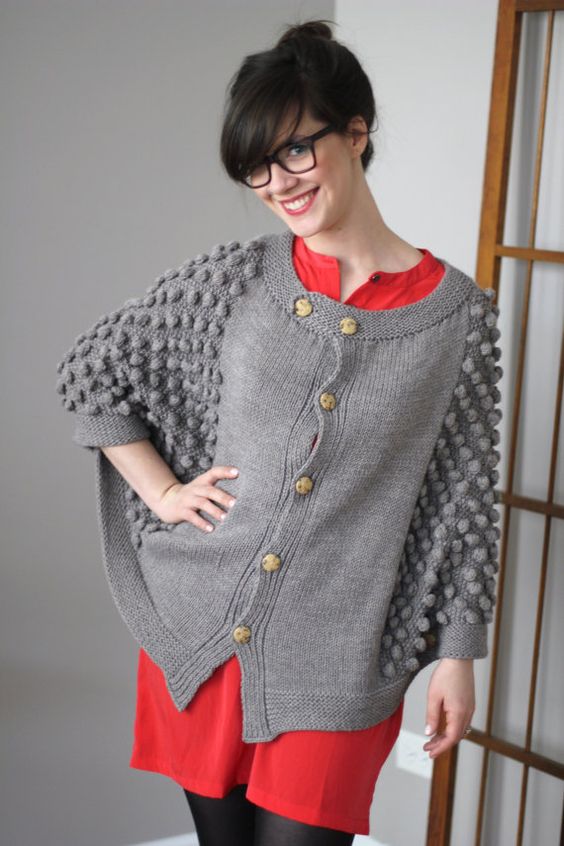 El Matador Cape
Can be worn loose like a poncho but also has buttons to create sleeves.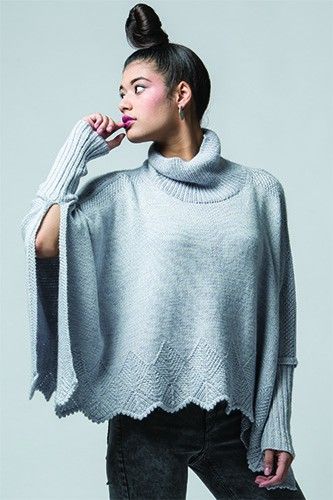 Mofu Poncho
Love the unusual look of this sleeved poncho with the mitered diamonds, picot edge and the ribbed cuffs.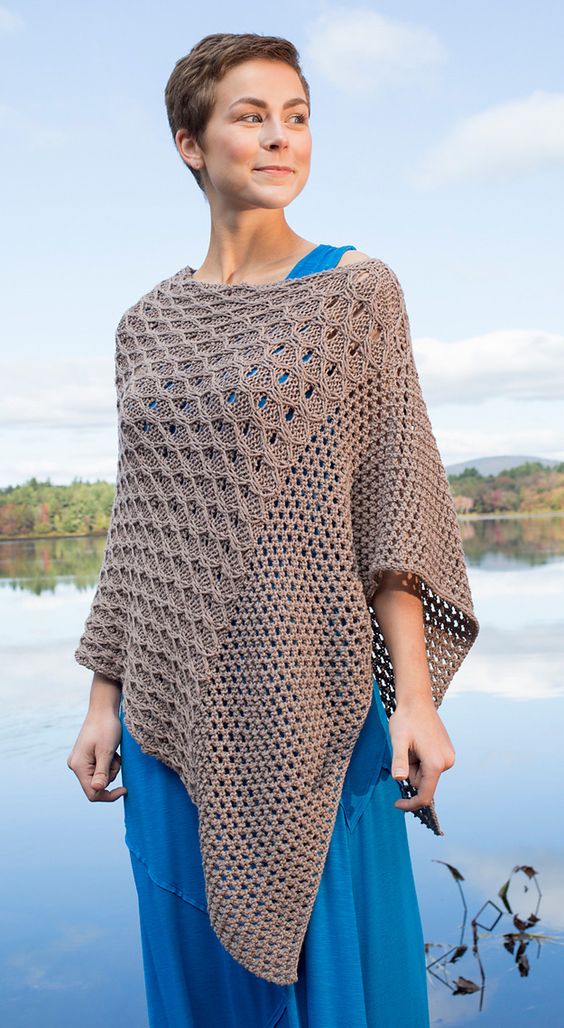 Scarlet Sage Poncho
With its slipped stitches and lace work, this poncho is made simply by knitting a rectangle and seaming a portion of one side.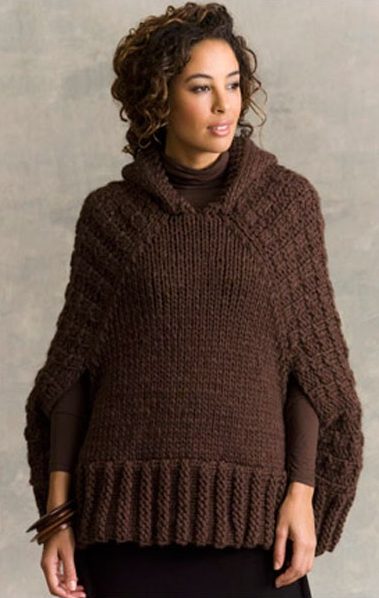 Hawthorne Hooded Poncho
This poncho featueres textured welt stitch, a hood, and armholes. Quick knit in super bulky yarn.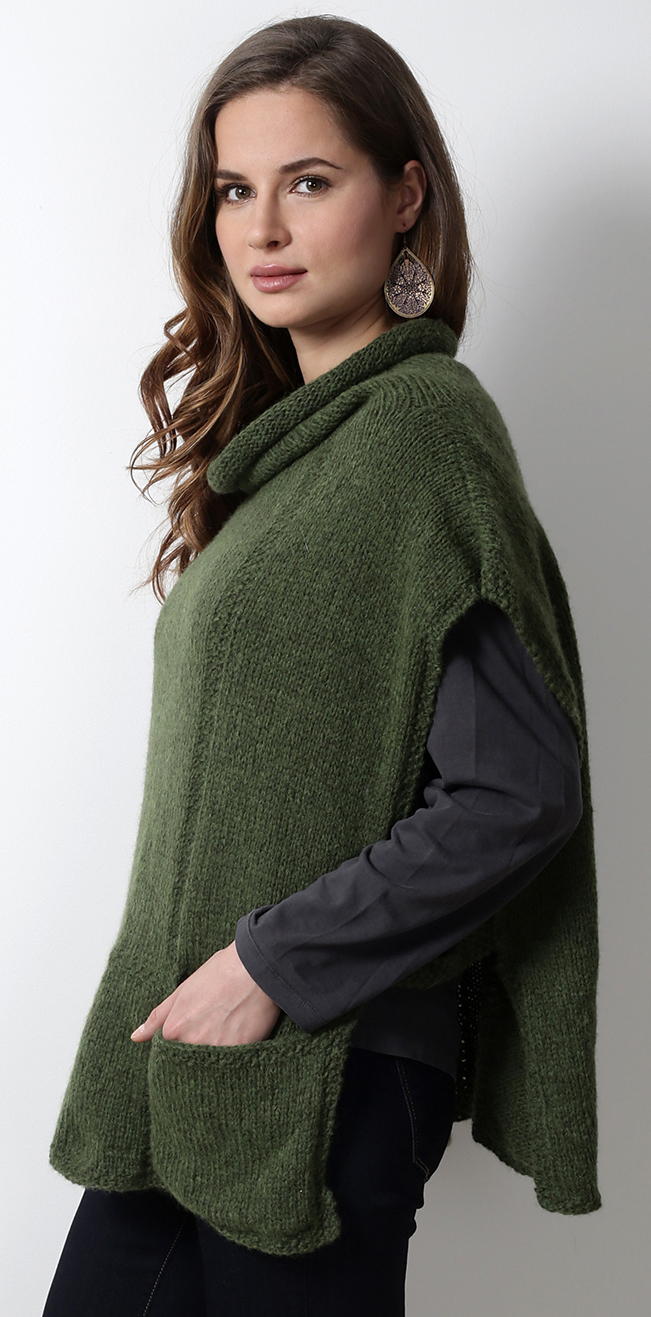 Mirna Poncho
Easy beginner level poncho pattern with cowl neck and two front pockets. To fit: S (M, L). Recommended yarn on pattern page.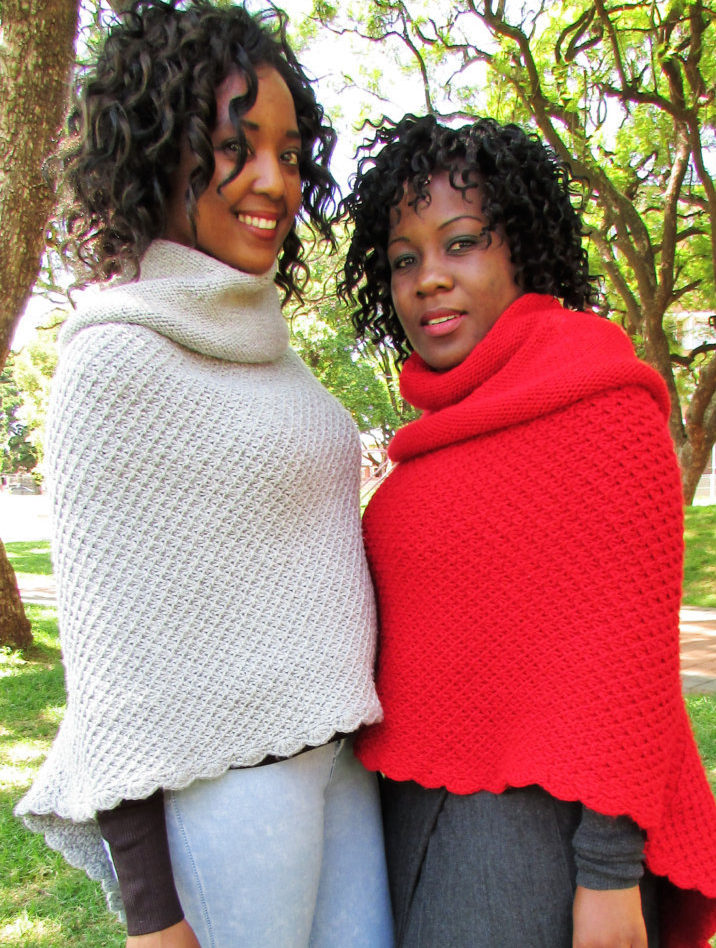 Toasty Asymmetrical Knitted Poncho With Cowl Collar
This poncho features a firm, dense and luxuriously deep texture stitch that never sags out of shape. There is a crocheted edge but you could probably replace it with a knit edge.