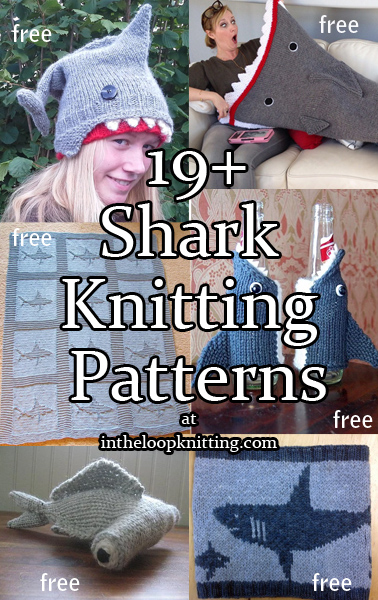 Celebrate sharks all year long with these projects inspired by this powerful, intelligent ocean predator that inspires such fascination and fear in us.
To get the knitting patterns, scroll down the page to the individual pattern you want and click on the link to that pattern.
These patterns are not my designs but links to other designers who have generously shared their patterns. If you have questions about how to knit a specific pattern, please contact the designer directly.
All links on this site are for informational purposes, but please note that some links are to affiliate sellers that pay me a small commission on purchases.
Free Patterns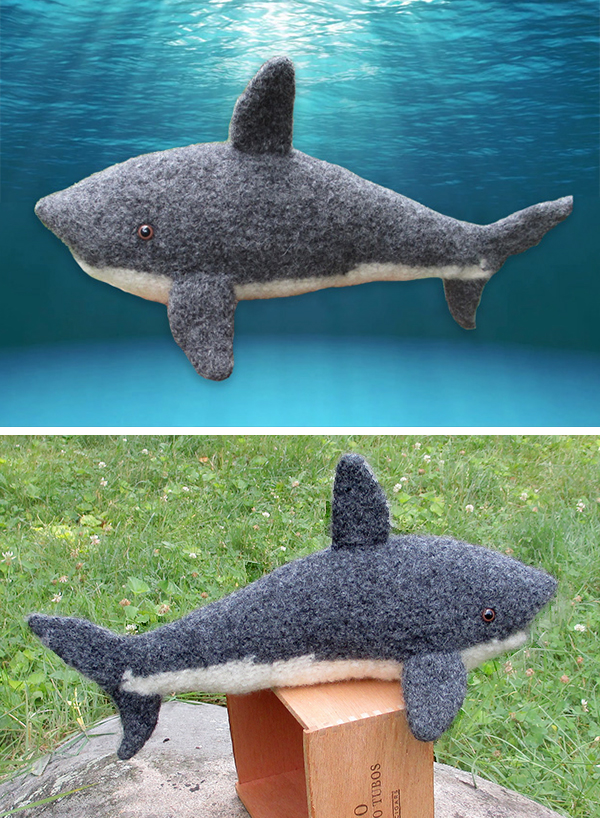 Bruce The Great White Shark
Toy softie shark knit in the round and felted. 12 inches/30.5 cm long. Designed by Frances Gillespie for Knitty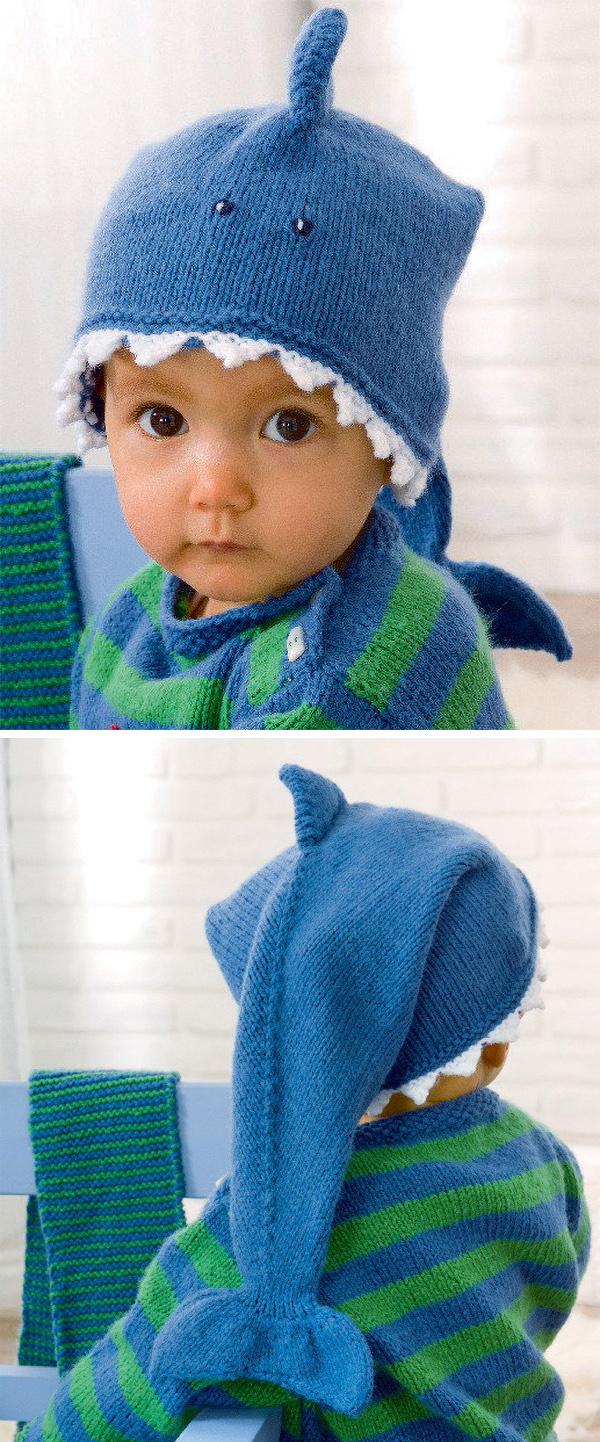 Baby Shark Hat
Sized to fit 38cm to 42cm head. Designed by Schachenmayr. DK weight yarn.

Shark Pencil Case
Zippered cozy shaped like a shark. Designed by Nicola Valiji. Click the link below to go to the Let's Knit website and register there to download. DK weight yarn.

Shark Attack Blanket
Kari Provencher designed this version of a shark blanket in adult sizes. Fast knit in super bulky yarn. Pictured project and great photos are by jennipoo.
Welcome Shark Sweater
Long-sleeved pullover with intarsia shark jaws on a striped background. Sizes XS,S, M, L, 1X, 2X, 3X. Designed by Teresa Yoon for Knitty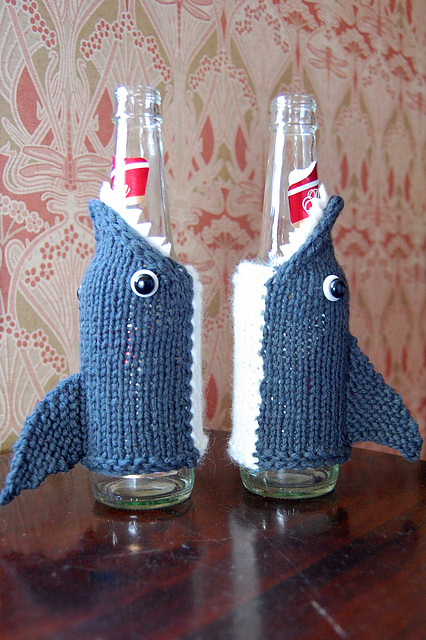 Shark Bottle Cozy
Jenny Sparrow designed this bottle shark that is knit flat and seamed with felt teeth and eyes to give it personality. Great stash buster! Pictured project by lynnike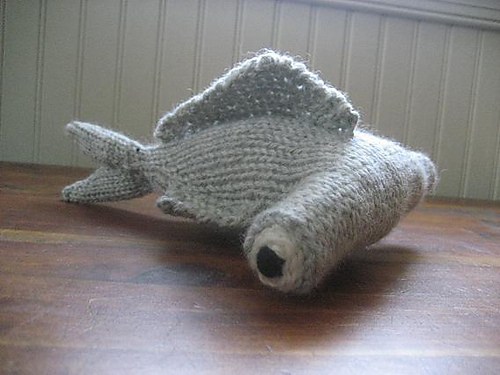 Hammerhead Shark
Toy softie shark designed by Mary Kate Long.

Great White Christmas
Kris Mimulus designed this shark tree ornament. Pictured project by floofle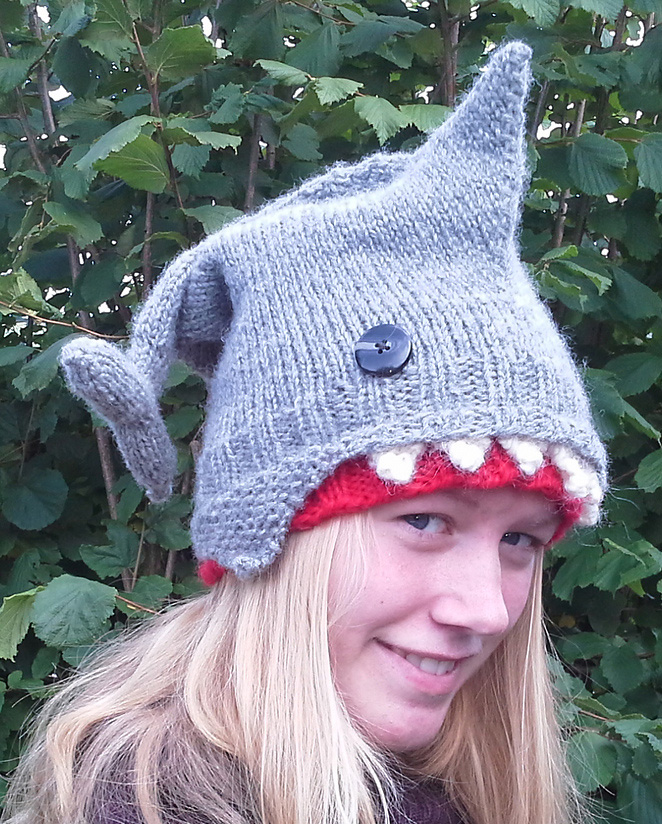 Shark Hat
Adult and child sizes are available for this fierce hat designed by Allison Mcalister. Pictured project by Brsus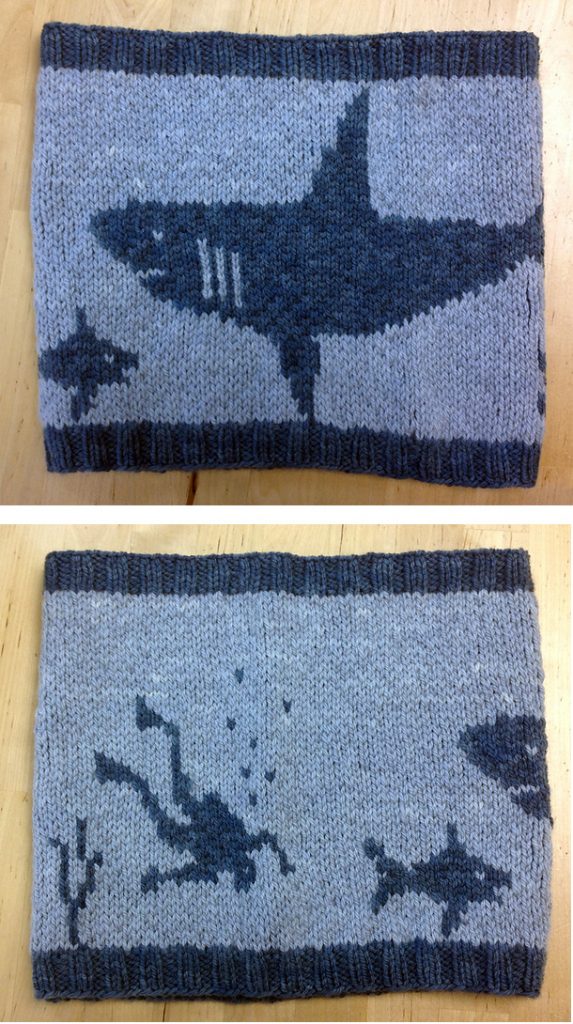 Shark Cowl
Sharon E Mooney designed this cowl that tells a story! As the designer says "The scuba diver is happily following a little fish…daa daa daa daa da da da da…SHARK!"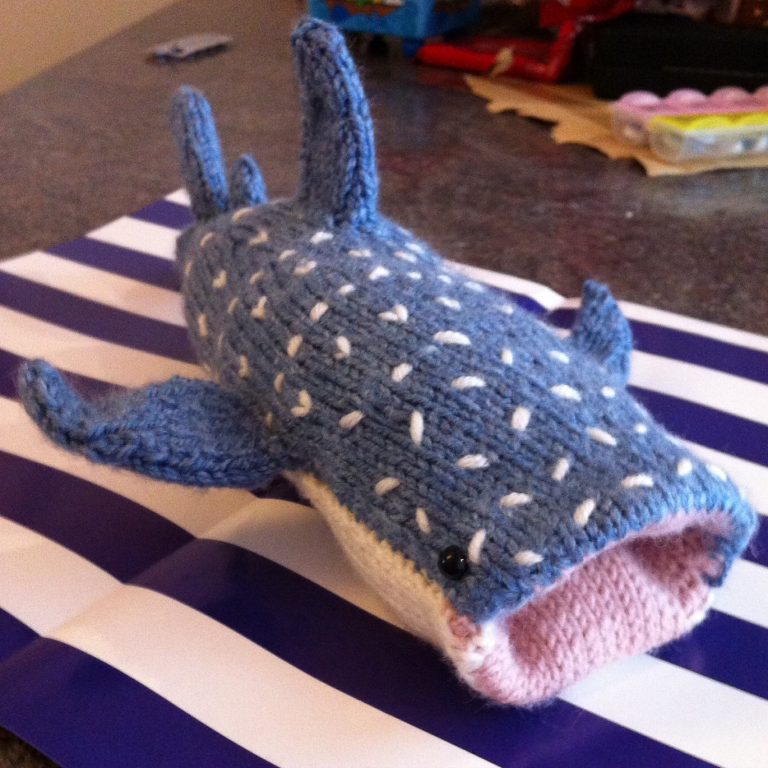 Whale Shark Phone Cozy
Reuben Briskie's iPhone cover could also be knit as a toy. Pictured project by sossidge


Shark Hat 2
These shark hats are modifications of the Fish Hat Dead or Alive knitting pattern. Pictured project by DJdee and yarnosaurus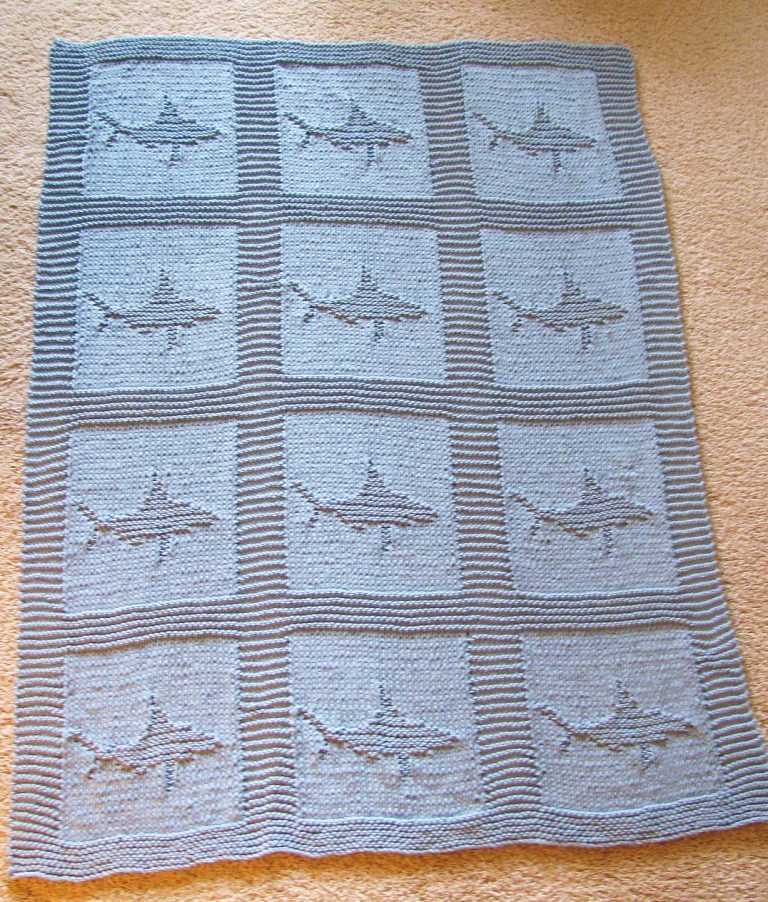 Shark Motif
Marilyn Wallace created a shark motif for wash cloths that lv2flea interpreted into a "Sharkghan" blanket. Pictured project by lv2flea

Shark Fin Socks
These Selachimorpha socks (named for the scientific name for sharks) feature a shark fin shaped lace pattern and a shark skin texture on the heel. Designed by Wei S. Leong. Sizes S, M and L Pictured project by Pepperboy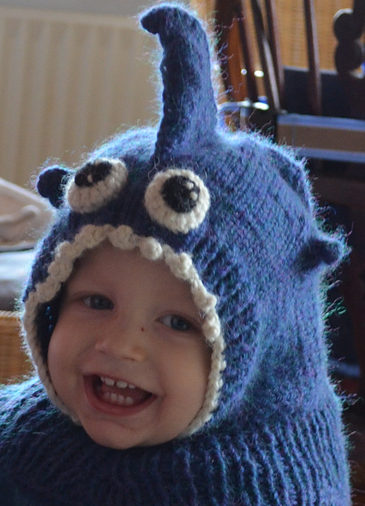 Shark Hat
Nuriya Khegay designed this set for 6-12 mos, 18-24 mos, 2-3 yrs. One of the 20 patterns in Adorable Animal Knits for Little People: 20 Supercute Animal-themed Hat, Mitten and Bootee Sets to Knit . Pictured project by Darecek. There are apparently some errors in the pattern so you might want to check out Ravelry project notes.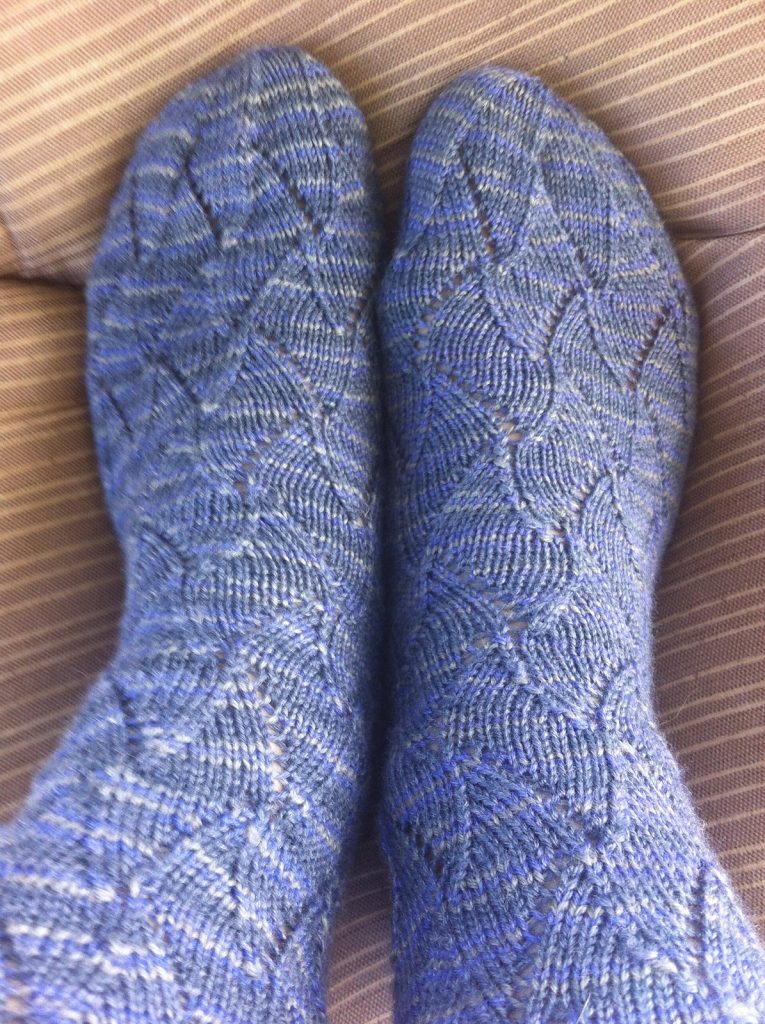 Shark Infested Waters Socks
Shark fin lace socks designed by Nancy Degener. Pictured project by LorraineF

Megalodon Shark Tooth Pillow
Vicki Brower designed this unique tooth fairy pillow after the extinct giant shark. Two sizes.
Patterns for Purchase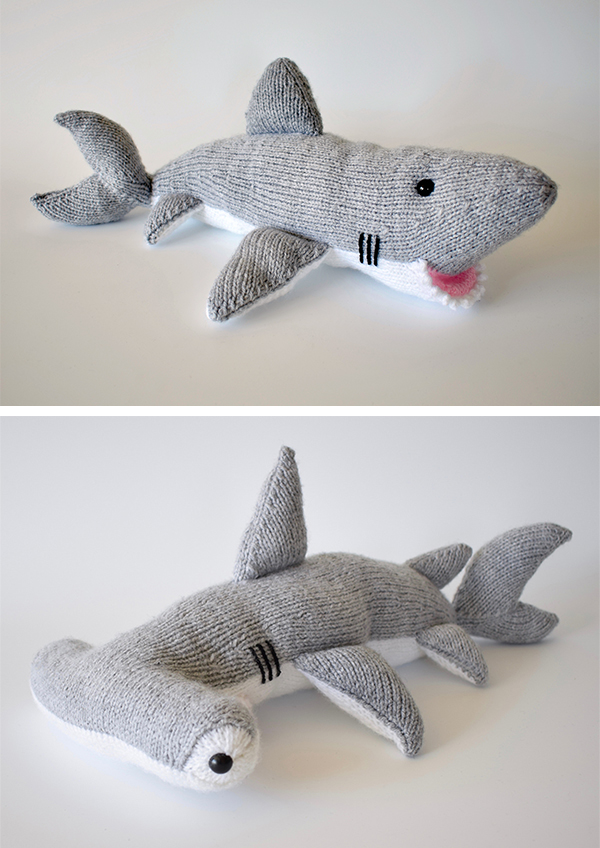 Great White Shark or Hammerhead Shark by Amanda Berry
These shark amigurumi soties are 43-44cm long. All pieces are knitted flat (back and forth) on a pair of straight knitting needles. Designed by Amanda Berry. DK weight yarn.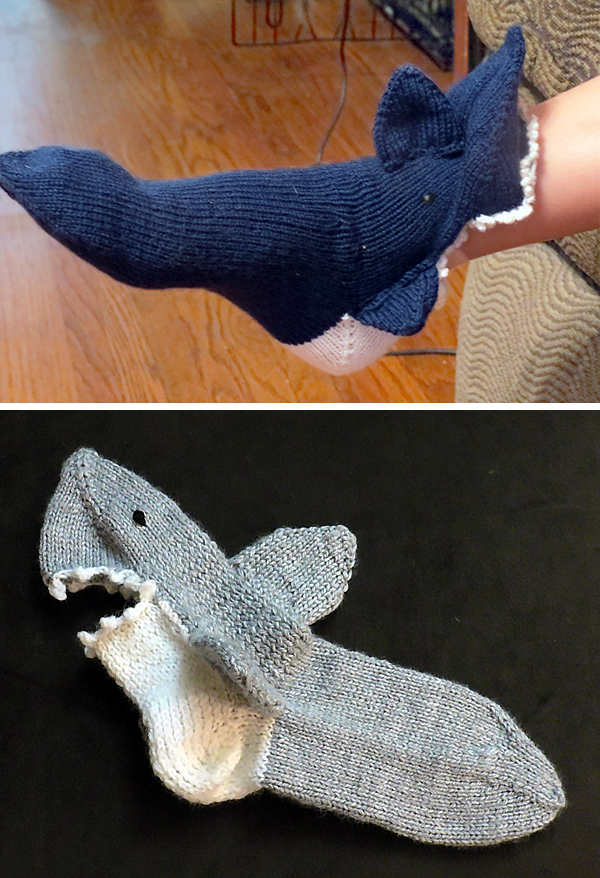 Shark Socks
Shark socks look as if the shark has eaten the foot and is working its way up the rest of the leg. A wide range of sizes available to fit the whole family. Fits shoe sizes Preteen boys size 4-5 or Women's size 5-7. Designed by Rhonda Westeen. Fingering weight yarn. Pictured project by designer and Mommabear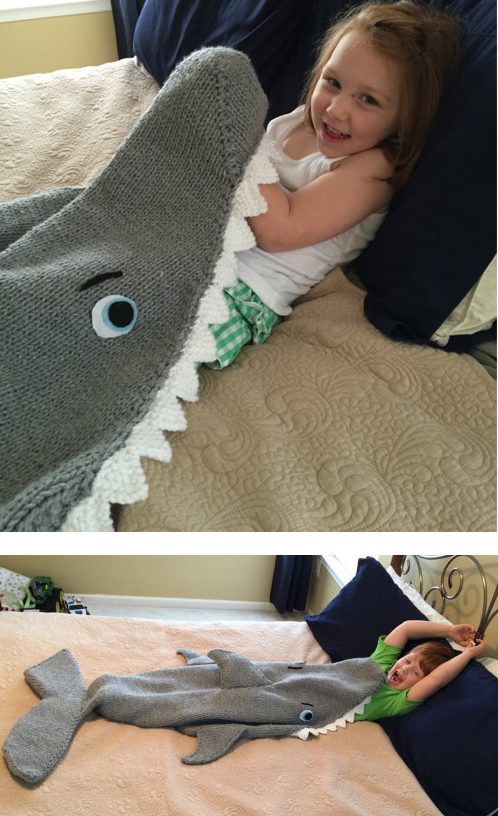 Shark Attack Lap Blanket
Two versions included — one for knitting in the round and one for knitting flat. Small (2 to 6 years) Medium (6 to 10 years) Large (10 to 14 years)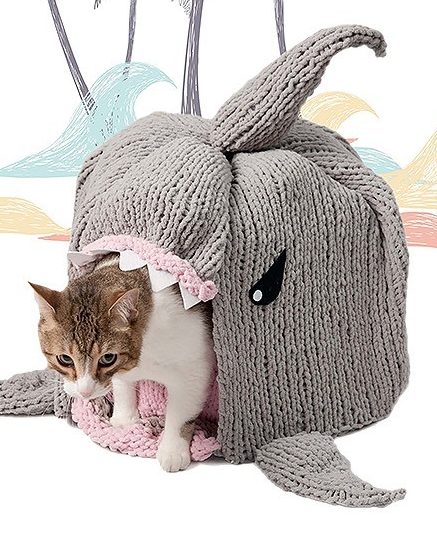 Shark Cat Cave
Perfect for your ferocious feline! Includes 15-inch high Shark with 18-inch diameter cushion. One of the 12 patterns in the Knits for Pets book designed by Sarah J. Green and Shelle Hendrix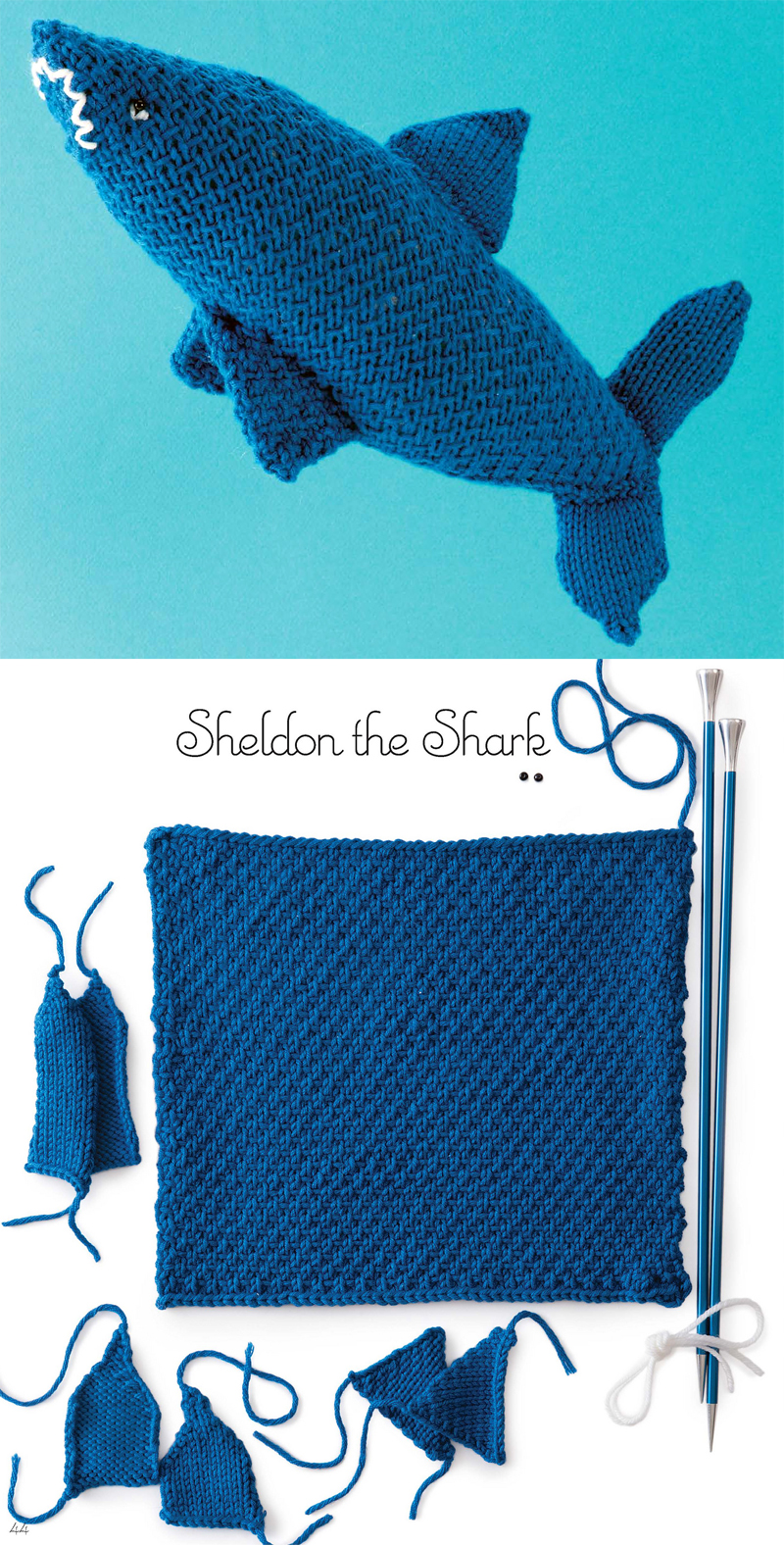 Shark Knit From a Square
Sheldon the Shark is constructed from a stockinette square and seamed into a shark toy shape. The fins are knit separately and sewn on. Sheldon can be knit to different sizes by using different yarn weights and gauges. One of the 25 animal patterns in Nicky Epstein's Knit a Square, Create a Cuddly Creature: From Flat to Fabulous – A Step-by-Step Guide.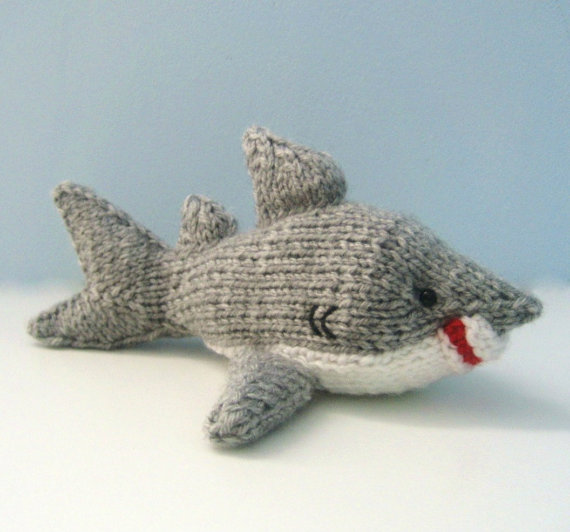 Amigurumi Shark
The Shark toy softie measures 9 inches long, and 4 inches tall.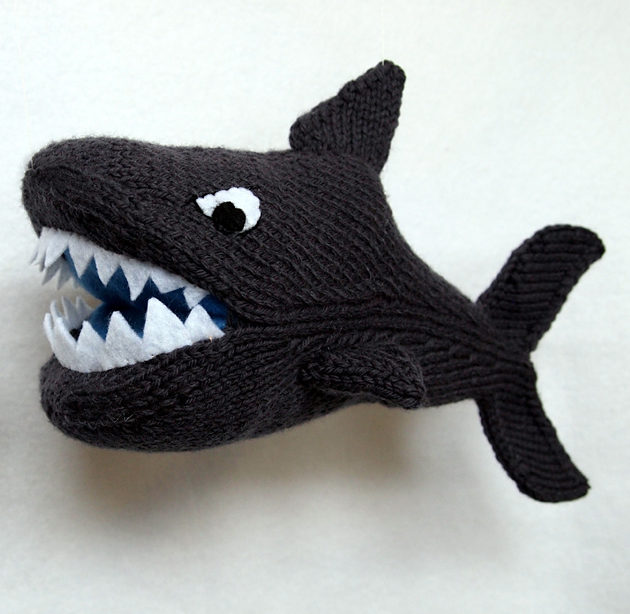 Shark Toy
Joe the Shark is one of the 20 toy patterns in the More Knitwits book by Katie Boyette.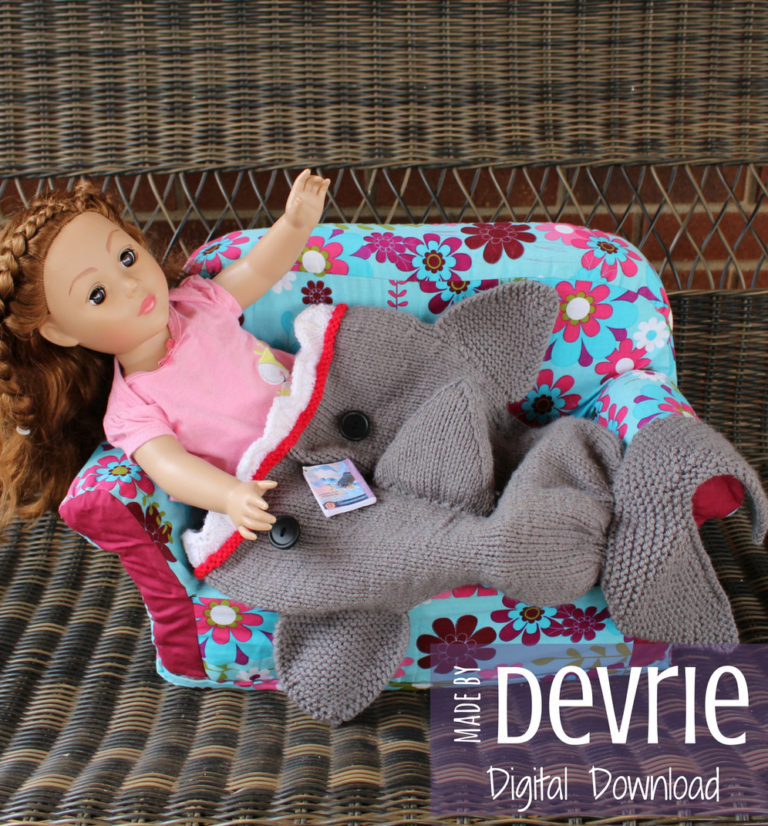 Doll Sized Shark Blanket
This tiny shark lapghan fits any 18 inch doll, but will also work well with any 18-20 inch stuffed animal. She also has a human sized pattern and a doll mermaid tail pattern available.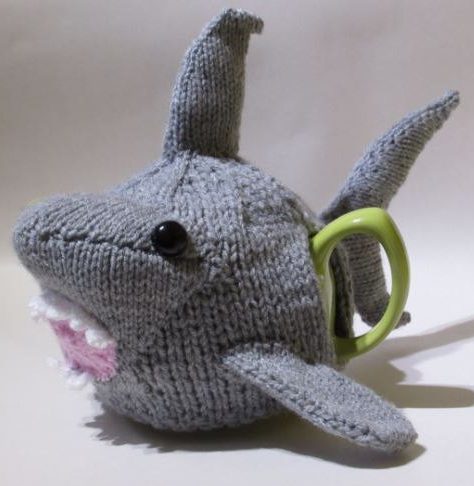 Shark Teapot Cosy