Household Knitting Patterns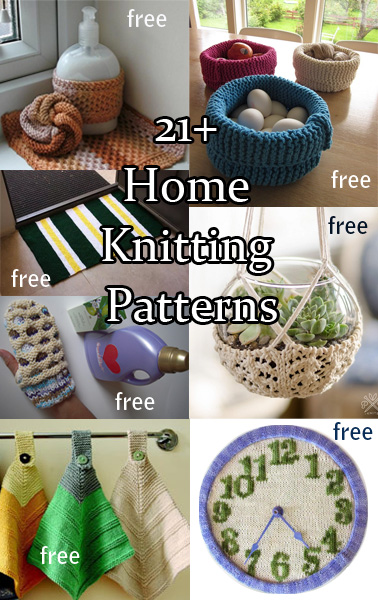 Knitting patterns for every room in the house. These patterns make thoughtful and quick housewarming gifts, last minute holiday gifts, or more. Many of these patterns will help you use up your leftover yarn.
To get the knitting patterns, scroll down the page to the individual pattern you want and click on the link to that pattern.
These patterns are not my designs but links to other designers who have generously shared their patterns. If you have questions about how to knit a specific pattern, please contact the designer directly.
All links on this site are for informational purposes, but please note that some links are to affiliate sellers that pay me a small commission on purchases.

Slow Cooker
This traditional Hay Box is an insulated covering for your favorite pot that will allow you to slow cook your favorite soups, grains, and stews to perfection, just as our pioneer ancestors did. Just knit and felt a super-insulated hay box for your pot with leftover yarn in your stash, 100% wool (feltable) and superwash. It works to either slow cook food or keep it warm for hours, so it's great for potlucks as well. Designed by Brigitte Chase. Comes with a bonus recipe!

Eraser
Make your own chalkboard or whiteboard eraser by knitting a cover over a sponge. Great stash buster and quick knit – designer says it takes much less than skein of cotton yarn. Designed by Amanda M. Williams. Pictured project by dustyrose1973

Fair Isle Tissue Box Cover
Great stash buster and quick knit – designer says you can knit in an evening. Chunky yarn. Designed by Clair Thorley. The original pattern provides one chart pictured in the upper left. The pictured projects are by alterbridge who shares the charts used for those projects.


Curtain Tiebacks
These drapery tiebacks are knit in a 3 color slip stitch pattern and lined with fabric. 3 sizes. Designed by Frankie Brown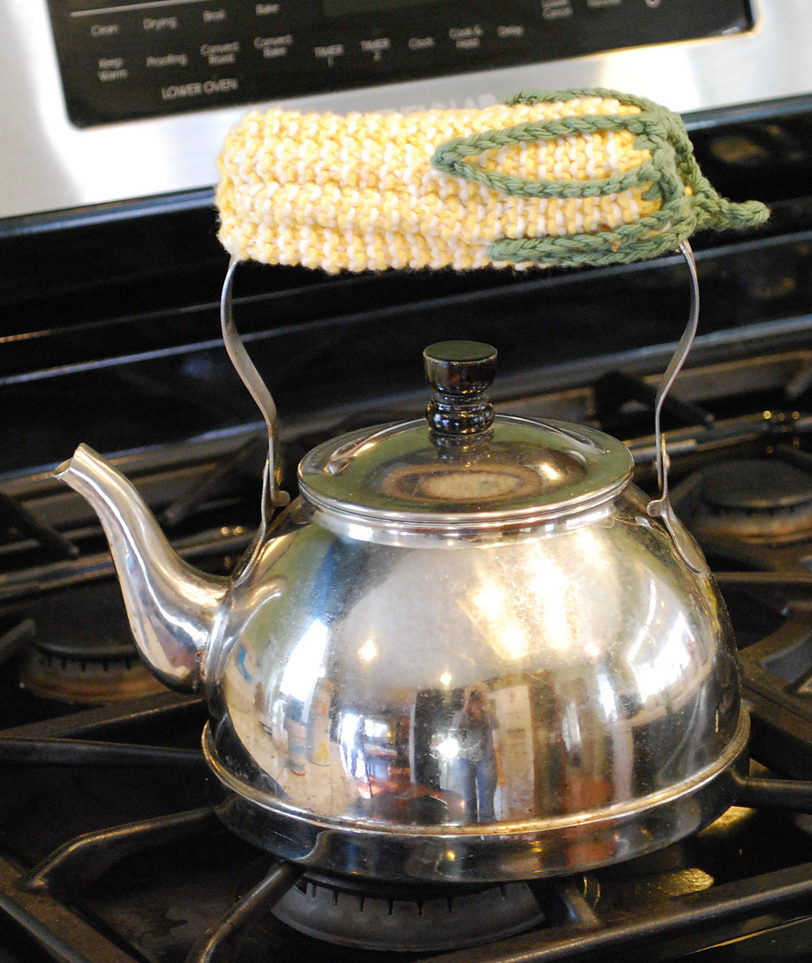 Corn Skillet Handle Cover
Corn shaped cover fits over pan handles and kettle handles to protect your hands. Designed by Marj Barkley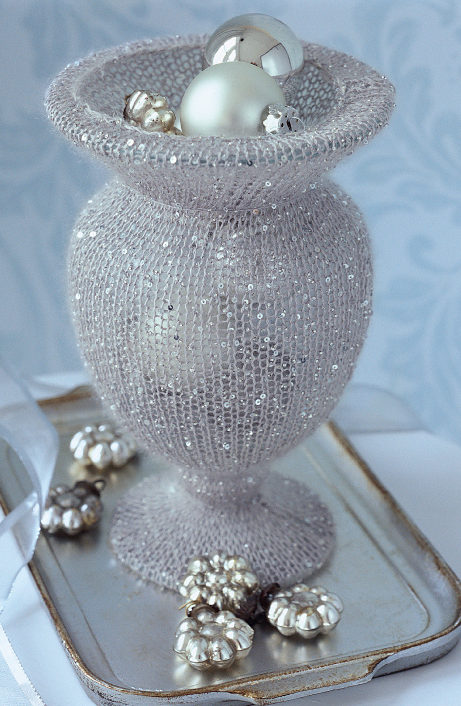 Vase of Grace
Very easy creative pattern for dressing up any vase in any shape that will leave people wondering how you did it. Designed by Nicky Epstein, it's simply a stockinette tube knit with a beautiful yarn that you slip over a base. Then you stitch thread or yarn at every curve in the vase and gather the stitches so the tube hugs the vase. Great for gifts or decorations!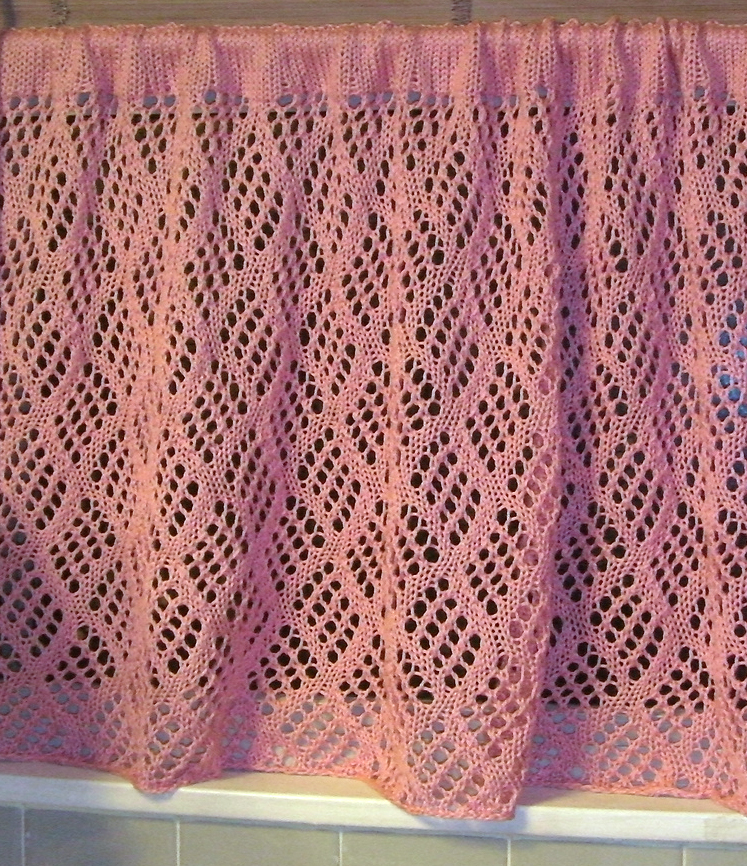 Dappled Lace Café Curtain
Lace curtains knit in Checkerboard Mesh. Designed by Knit Picks Design Team. Pictured project by VickiWithNoE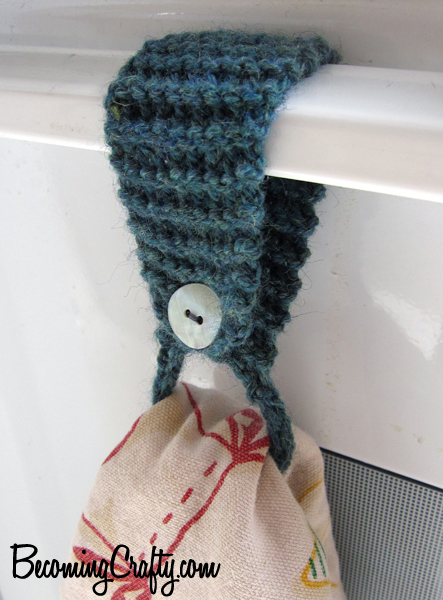 Knit Topper for Tea Towel
This towel holder designed by Becoming Crafty is perfect for hanging a towel on an oven handled or other type of rod. Perfect use for leftover yarn, the designer said she only used about a yard — but make sure it is heat resistant if you are using this for an oven towel!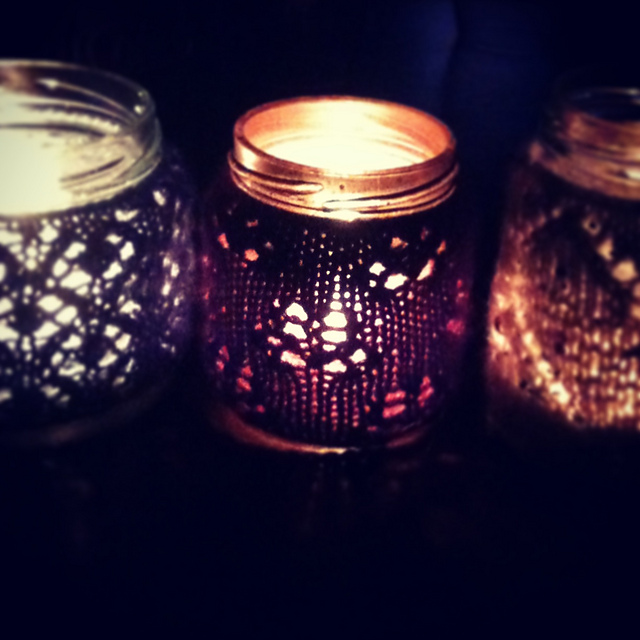 A Burst Of Light Tealight Cosy
Emma Percy designed three lace patterns that create a lovely light pattern when wrapped around mason jars with tea lights. They can be knit in the round or flat and seamed. A great use for leftover yarn. And they make great gifts!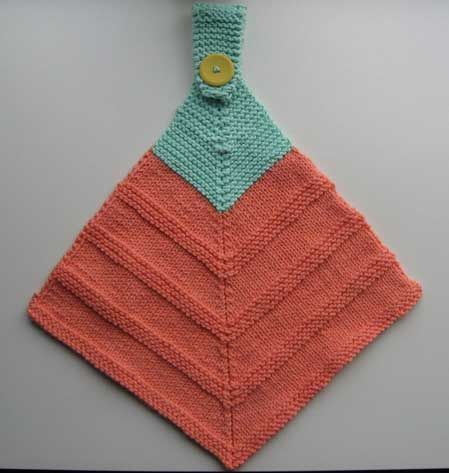 Mitered Hanging Towel
Cristina Bernardi Shiffman's towel with a loop to hang over a rod is a great use for leftover yarn and a wonderful housewarming gift. Approximately 18″ x 15″ (45.5cm x 38cm), measured at widest point with hanging loop buttoned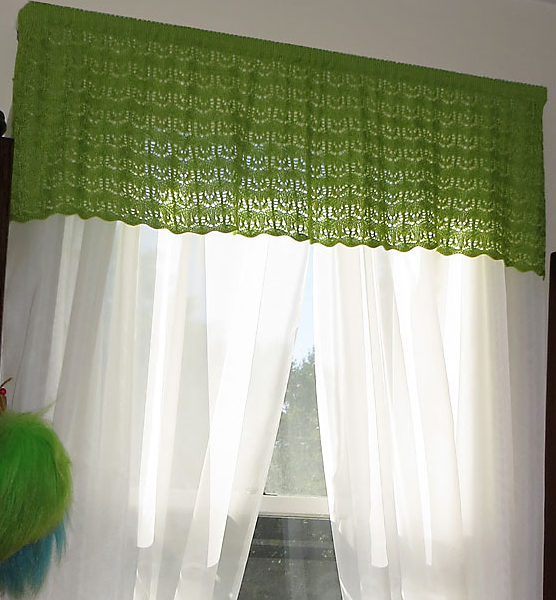 Lotus Lace Valance
Lace curtain designed by Maureen Egan Emlet for DK weight yarn. Pictured project by shellic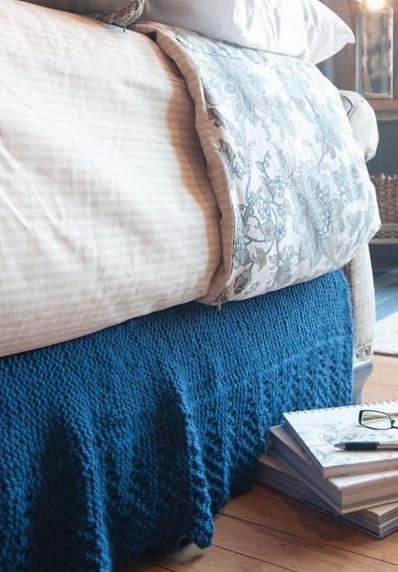 Grande Lace Bed Skirt
Finished Size: Bed skirt: Twin (Full, Queen, King) 190 (200, 220, 235)" long, stretched and blocked, with either a 9½"or 14" width. Bed skirt shown in full, with a 14" width.
[widget id="black-studio-tinymce-8″]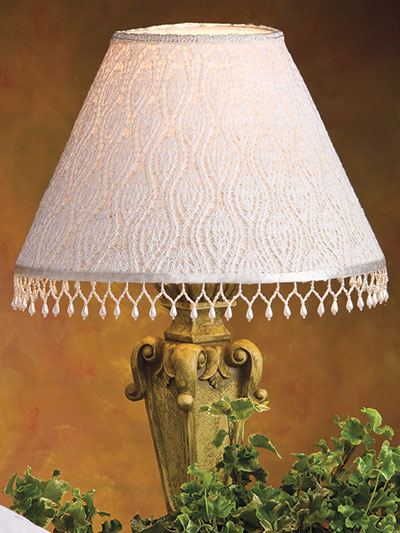 Beaded Lace Lampshade
Finished size fits lampshade about 5 1/2″ across the top x 13″ across bottom x 8 3/4″ high. Recommended yarn available on pattern page.
[widget id="black-studio-tinymce-13″]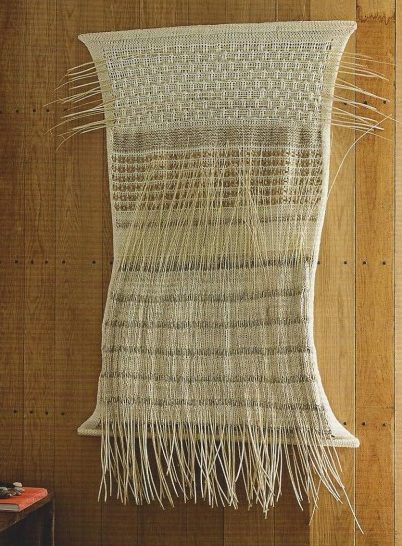 Wall Hanging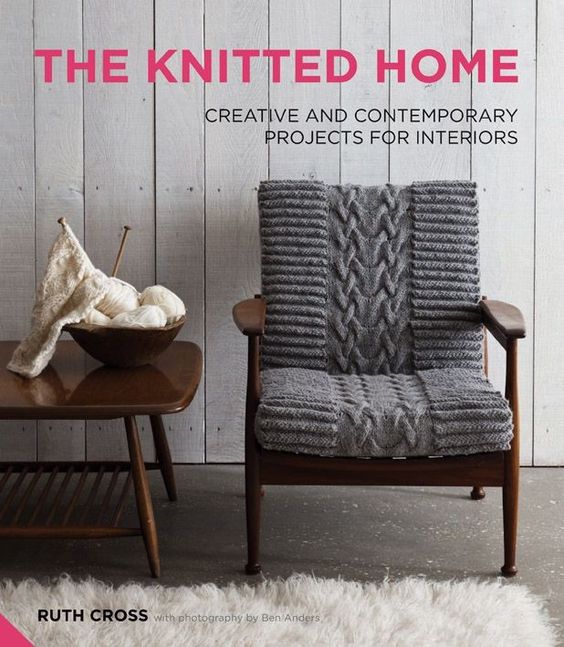 This hanging by Ruth Cross is one of the 20 patterns in The Knitted Home: Creative and Contemporary Projects for Interiors  to create stunning home decor including throws, cushions, hangings, and more.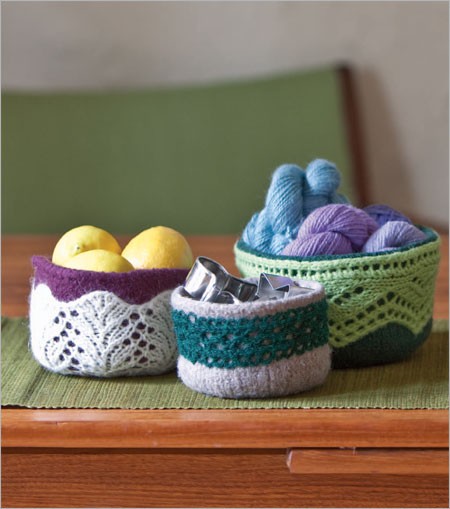 Soft Porcelain Bowls
Make small felted ornamental bowls with fun lace edgings. Sizes  14 (17, 21)" circumference and 3″ (3, 4 )" high after felting.
[widget id="black-studio-tinymce-8″]
Nineteen Hundred House Dishcloth
Approximately 7″ by 10″, this house also makes a great potholder, hot pad, and housewarming gift!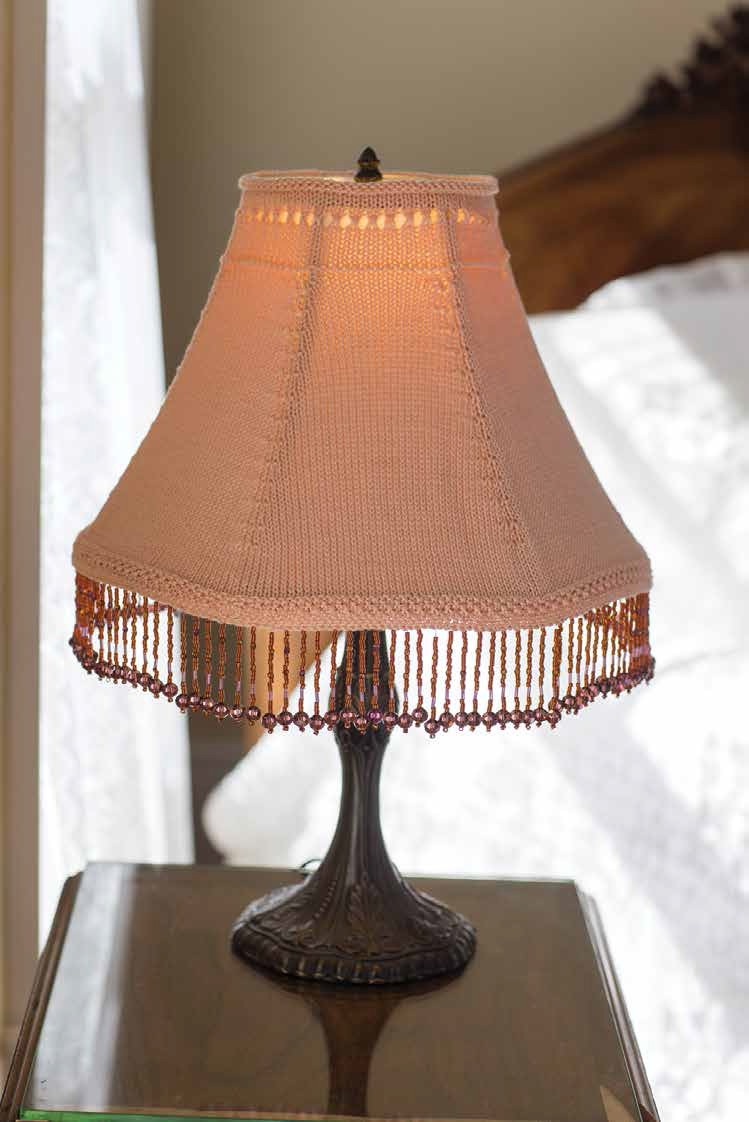 Lampshade for the Grand House
This lampshade is knitted in the round, beginning at the top and increasing gradually to the bottom. The yarn used is a medium weight cotton available in many colors. Beaded fringe adds a dramatic touch.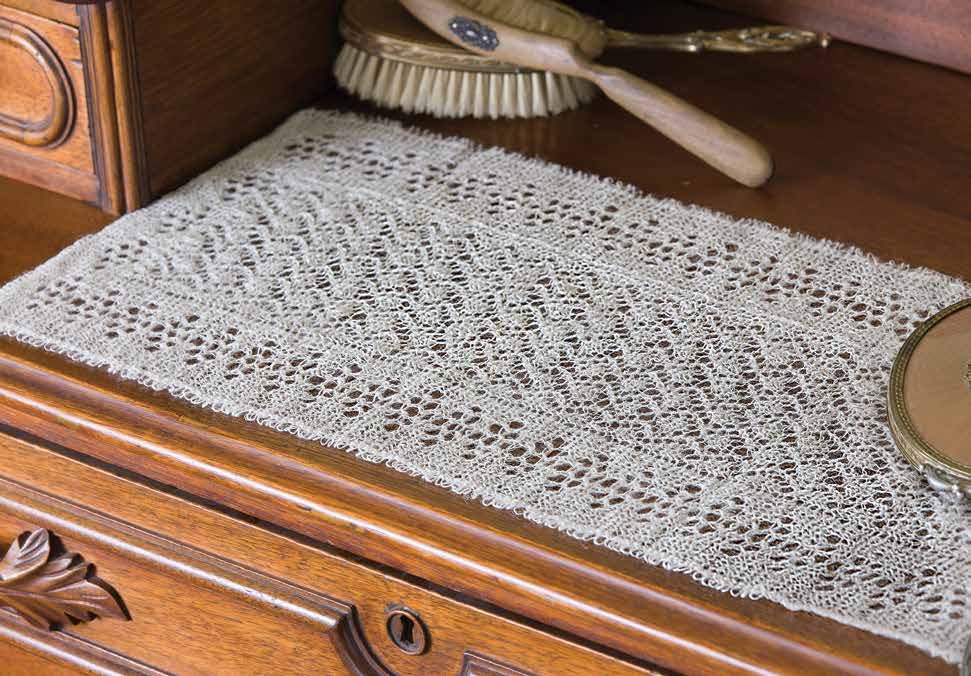 Uyeasound Table Runner Knitting Pattern
Lovick's design is based on a late-nineteenth-century piece of knitted lace found in the back of the Uyeasound shop in Unst, Shetland.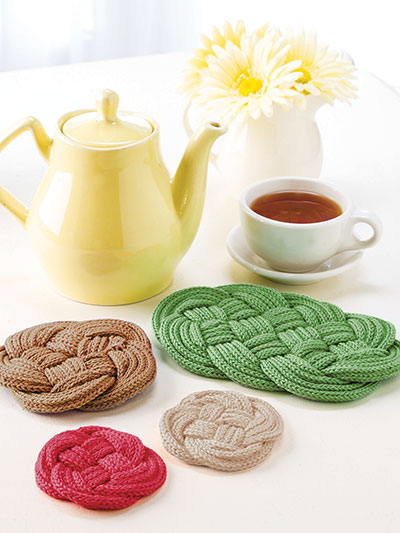 Knotted Trivets and Coasters
Knitting patterns for oval trivet, circular trivet, and coasters.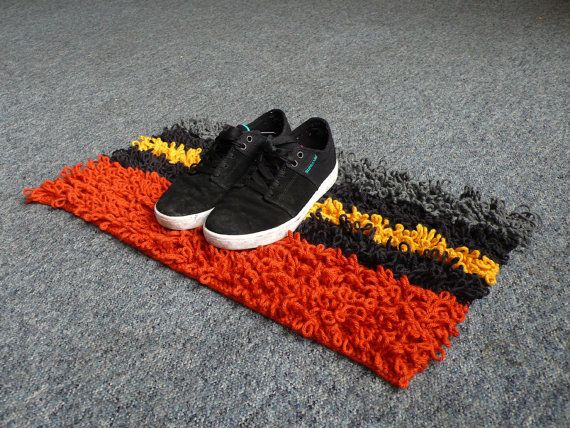 Loopy Rug
This beautifully textured rug is the perfect accessory for the home and a great project for using up left over yarns.