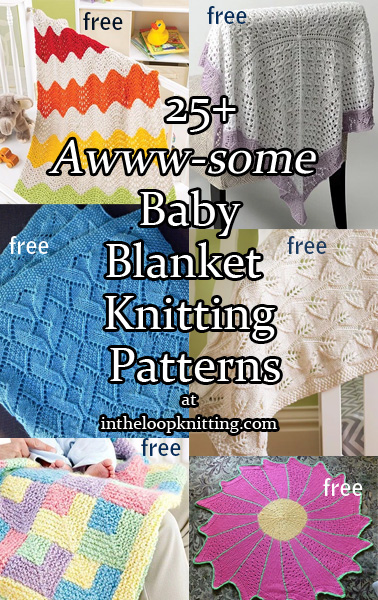 These adorable baby blankets will get almost as many "Awwwws" as the blanket's new owner! I've included easy quick patterns, lacy blankets, striped blankets with ripples and chevrons, and more.
To get the knitting patterns, scroll down the page to the individual pattern you want and click on the link to that pattern.
These patterns are not my designs but links to other designers who have generously shared their patterns. If you have questions about how to knit a specific pattern, please contact the designer directly.
All links on this site are for informational purposes, but please note that some links are to affiliate sellers that pay me a small commission on purchases.
Free Patterns

Lace Chevrons Baby Blanket
Zigzag lace blanket is knit with an 11 stitch 20 row repeat BUT all wrong side rows are purled so there are only 10 stitch rows, and 4 of those are repeats of other rows. Designed by Julie Hines. Aran weight yarn. Pictured projects by designer and SoShoresKnitter.

Tree of Life Baby Blanket
Miniature version of Nicky Epstein's classic Tree of Life Afghan designed for babies. Pictured project by peoplelover who modified the flower pattern.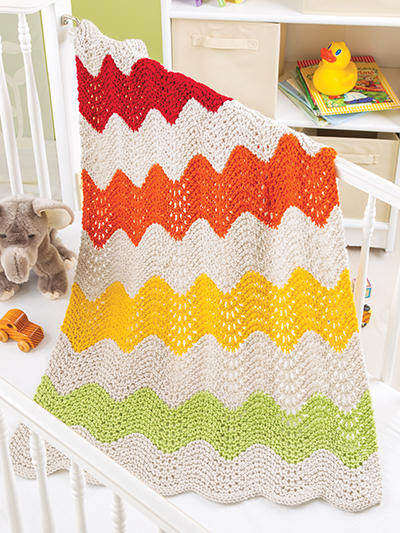 Ripple Stripe Blanket
Knit and Crochet Now designed this worsted weight baby blanket in a classic easy lace pattern. Recommended yarn available on the pattern page.

Turtle Cove Baby Blanket
Baby blanket knit in a 6 row repeat of alternating ripple, cable, and bobbles sections. The cable and bobble stitch patterns are reverse sides of the same pattern making this blanket reversible. 30 x 34″ Designed by Kelly Klem. Pictured project by stennas who knit on larger needles for a lacier effect.

Thine Receiving Blanket
Beautiful baby blanket with diamond lace and bobbles in sport weight yarn. 41″ x 42″ Designed by Lynn Christensen

Palm Tree Puff Baby Blanket
This blanket features a puffy stitch inspired by tropical forests that gives a gentle but durable texture for a developing child to explore. Designed by Golden Heart Knitting

Cabled Eyelet Baby Blanket
Love this pattern with alternating cables and eyelet sections. Designed by Nancy Hearne Pictured project by KathyL

Snuggle Bunny Baby Blanket
Hooded blanket with bunny ears to keep baby warm all over. Knit in garter stitch, the bunny hood is shaped with short rows. Quick knit in bulky yarn. Designed by Premier Yarns.

Pine Forest Baby Blanket
This baby blanket features a 4 row repeat gull lace stitch. Designed by Ingrid Aartun Bøe Pictured project by rvespinosa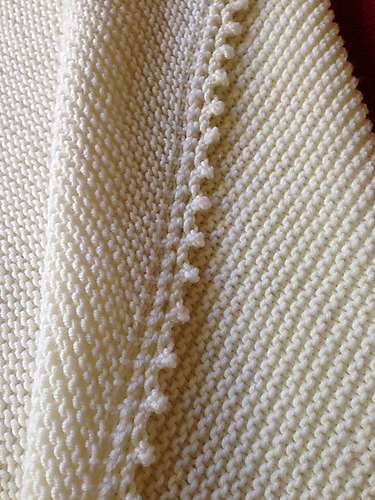 Cambria Blanket
Pam Mausar's blanket is garter stitch that makes a diagonal pattern because of increases at the beginning of the rows for the first half of the blanket and decreases in the last half. The picot border does require picking up stitches. Ravelry knitters have rated this as easy. Pam says that you can use any weight yarn.

Finlay Baby Blanket
Frederica Patmore designed this baby blanket with an all over pattern with a 6 stitch, 12 row repeat with a lot of repeated rows.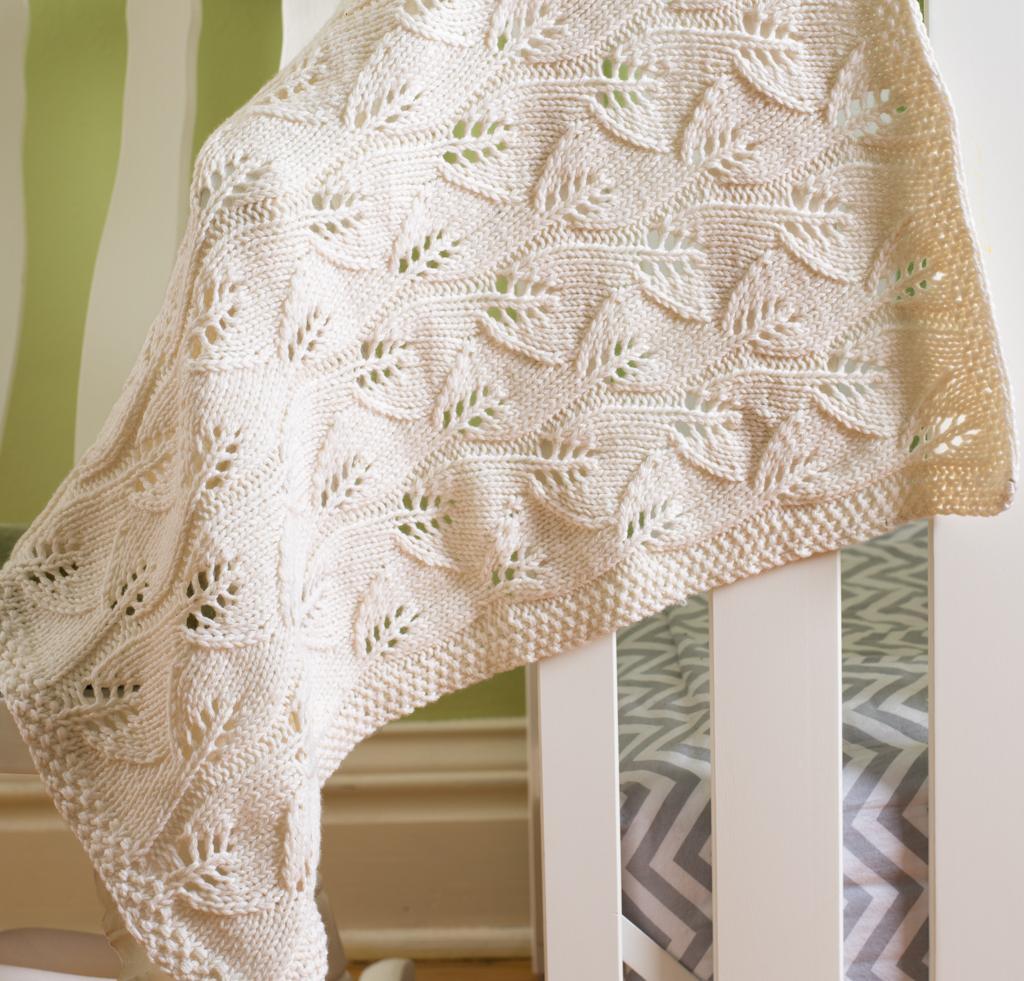 Leafy Baby Blanket
Leyla Alieva's lace baby blanket is knit with two strands of DK yarn on larger needles.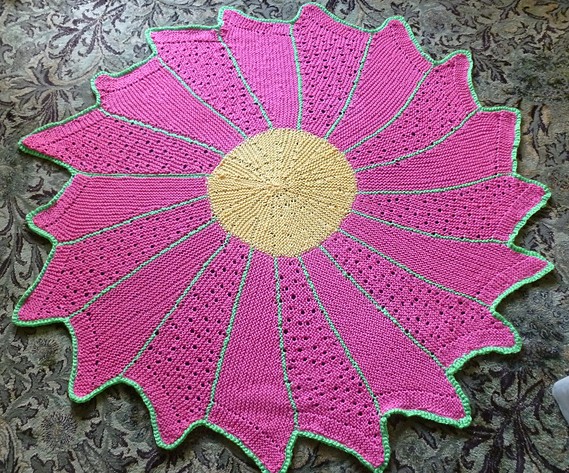 Flower Petal Blanket
Anne Haas designed this versatile blanket that can be adapted to look like a pinwheel or stained glass. Knitters report that this is a large blanket. Pictured project by puzzler2.

Lace Sampler Baby Blanket
Designed by Amy Gunderson for Universal Yarns. 34" x 34"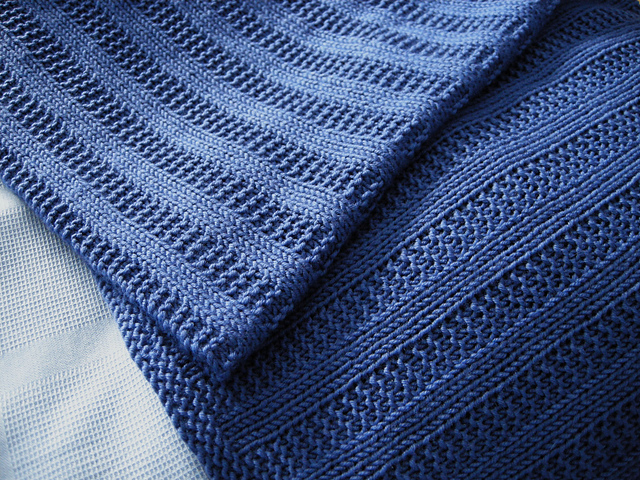 Garter Rib Blanket
Orange Flower Yarns' design is an easy pattern. Gauge doesn't matter so you can use any worsted or dk yarn you want. Pictured project by buffoo.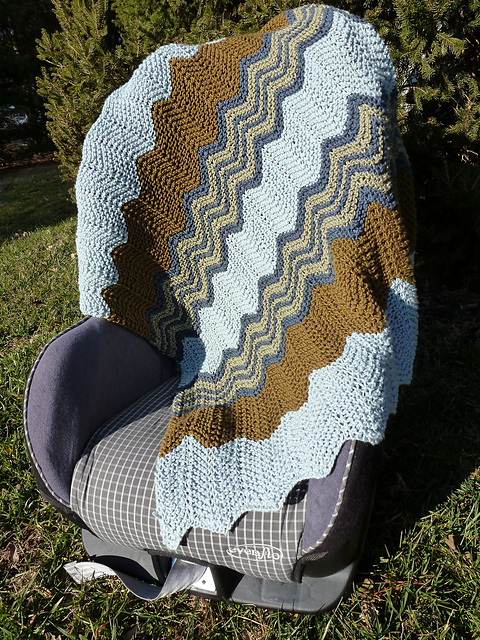 Beach Stripe Baby Blanket
Robin Nickerson's chevron striped blanket is an easy knit in garter stitch and DK on larger needles. I've made this type of pattern before and it's easier than it looks!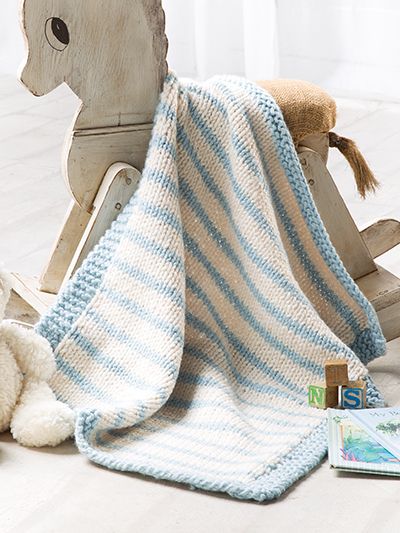 Blue Striped Blanket
Baby blanket in chunky yarn designed by Candi Jensen, from Knit in a Day for Baby: 20 Quick & Easy Projects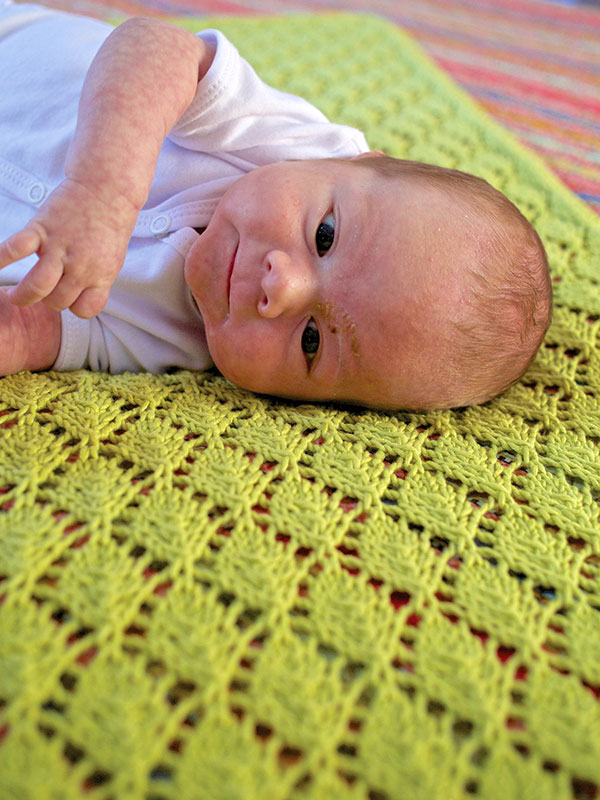 Saurey Baby Blanket
I love the yarn used for this blanket, Berroco Modern Cotton. Berroco designed this leaf lace blanket. There's also a link to a video tutorial for lace bind off.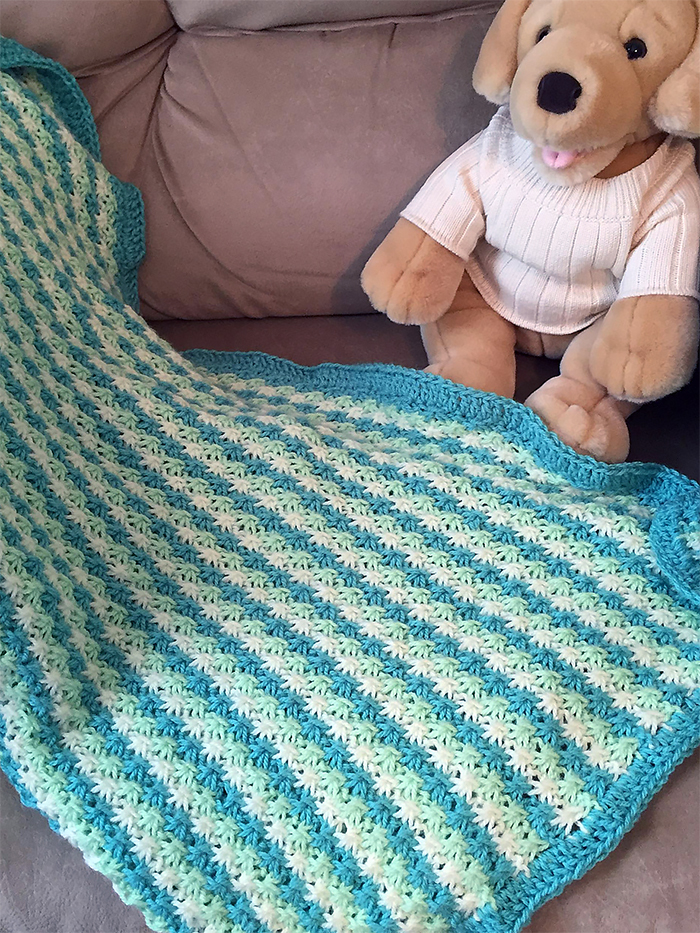 Daisy Stitch Baby Blanket
Marie-Louise Hauge designed this sweet all-over pattern.

Sand Dunes Baby Blanket
Inna Tychinina's blanket is knit in moss stitch and diamond heart lace pattern. Follow the link to Ravelry and scroll all the way down the page to get to the English version of the pattern. Ignore the missing photos.

Lacy Baby Blanket
Yarnspirations designed this heirloom look blanket with lace border. Approx 38 x 42 ins [96.5 x 106.5 cm]. Great with multi-color yarn.

Cable and Lace Baby Blanket
Designed by Yarnspirations. Approx 36″ [91.5 cm] square.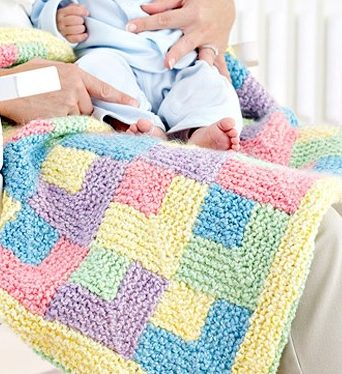 Knitted Baby Rainbow Quilt
Better Homes and Garden's easy baby blanket pattern is made of garter stitch mitred squares that are pieced in a knit quilt by picking up stitches.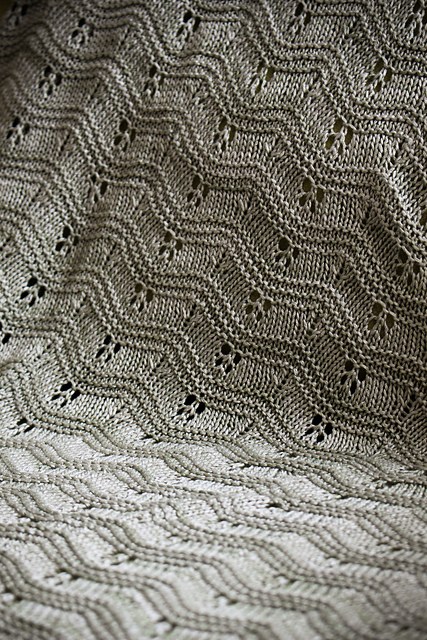 Lars and the Real Girl Blanket
Tanis Gray & Louisa Demmitt designed this baby blanket inspired by the movie.
Patterns for Purchase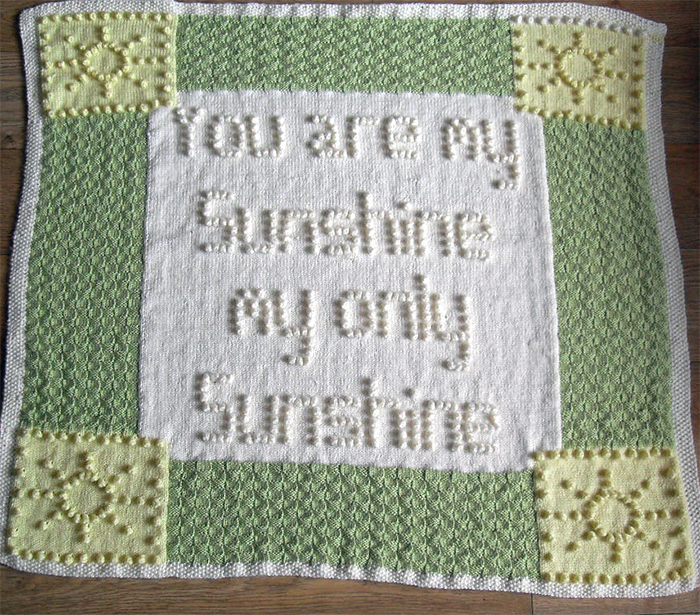 You Are My Sunshine Bobble Baby Blanket
Baby blanket knit in one piece with bobble/popcorn suns and sunshine quote. Suitable for an advanced beginner according to the designer Peach.Unicorn. Size 34 in x 38 in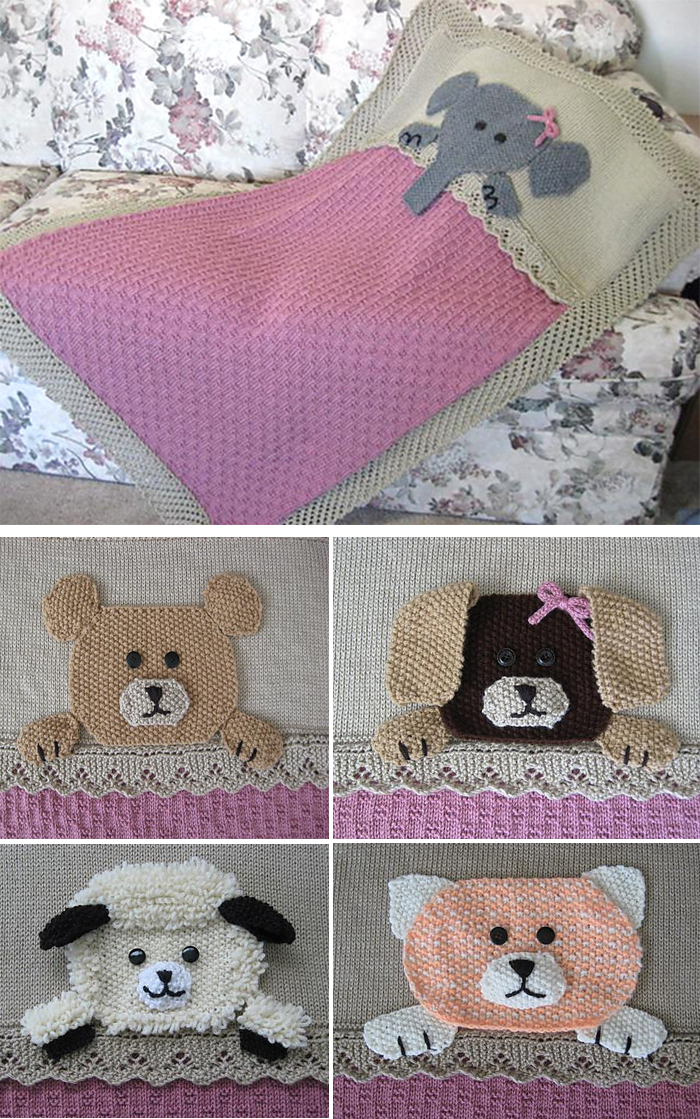 Who's Sleeping in My Bed Crib Blanket
Adorable baby blanket features a cuddly animal friend sleeping in their own lace edged "bed". Choose from an elephant, bear, dog, cat, lamb, or monkey (not pictured) – all included in pattern. Worsted-weight yarn. Finished size is 32″ x 45″.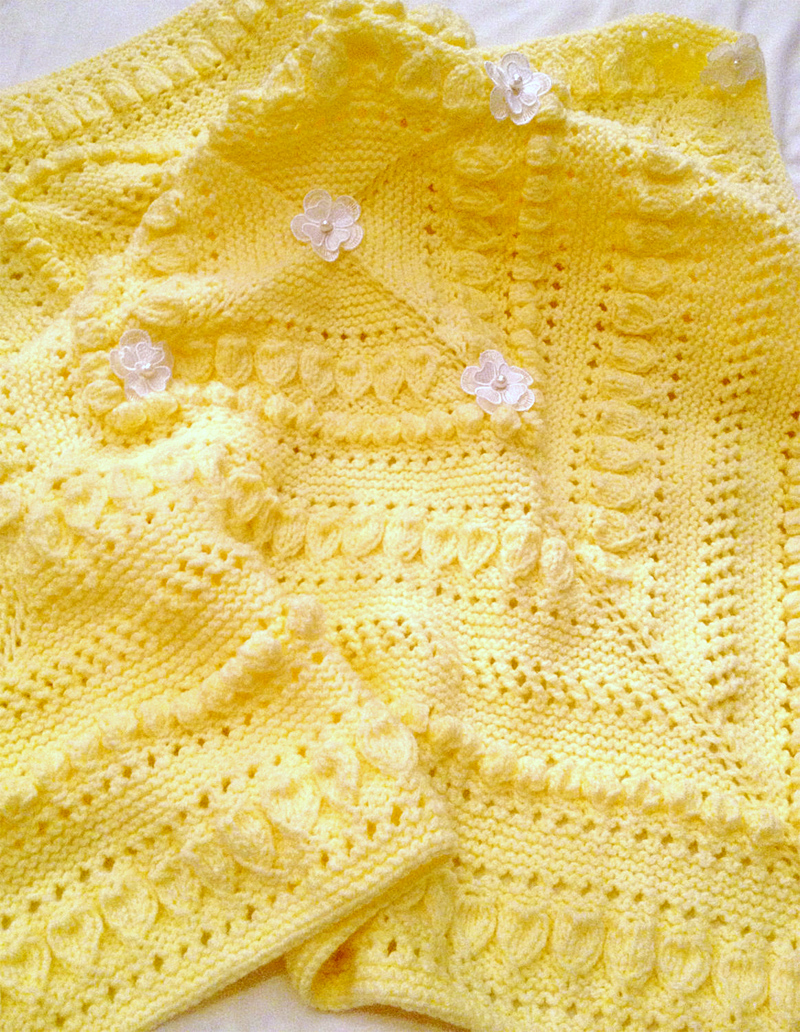 Buttercup Baby Blanket
The designer says the pretty textured patterns are easier than they look and easy to memorize.The finished size is approx. 36x36ins/92x92cms, It is knit in 4 triangles and sewn together.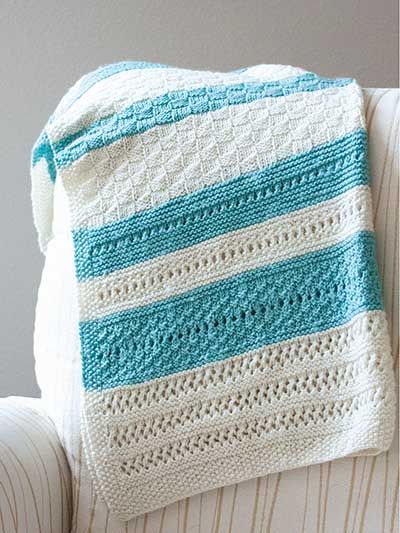 Peek-a-Blue Baby Blanket
This darling and super cuddly blanket features an easy-to-remember stitch pattern. Finished size is 30″ x 42″. Recommended yarn is available on pattern page.

Weekend Basketweave Baby Blanket
The designer says that you can easily finish this beautifully textured baby blanket in a weekend. True basketweave pattern, not a checkerboard. Finished Size: 30 x 36″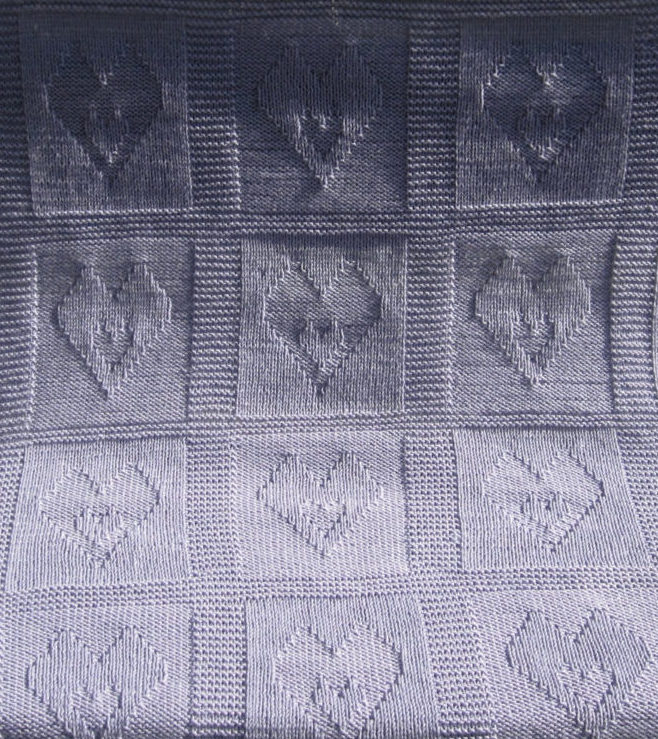 Heart in Heart Baby Blanket
Designer says that this is suitable for a beginner with detailed instructions. Size 41 x 29 in. but easily customizable to other sizes.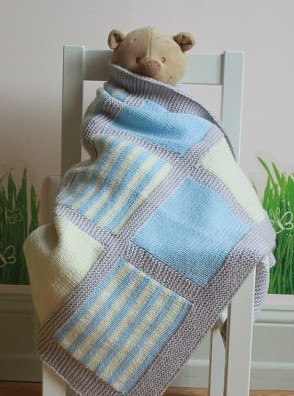 Noah Stripes and Solids Baby Blanket
Can be knit in any yarn.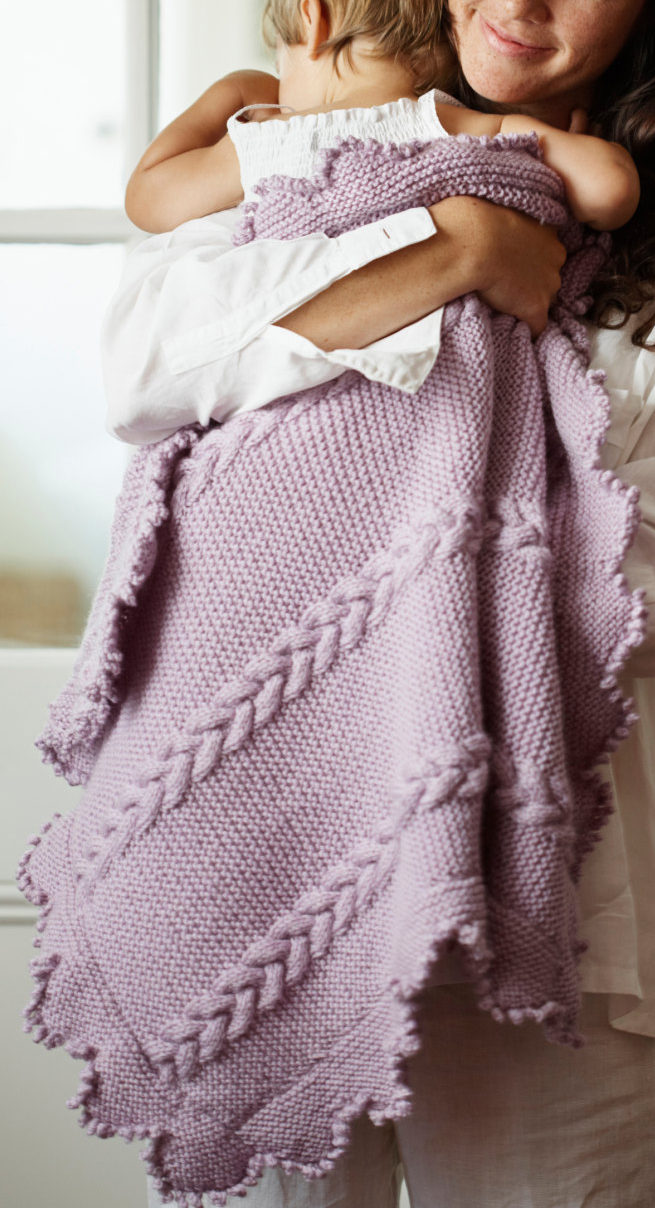 Lyla Baby Blanket
Lyla features garter stitch with panels of cable,a border of garter stitch points and a picot edge Blanket size is approx. 65cm(25.5in) in width and approx. 78cm(30.75in) in height.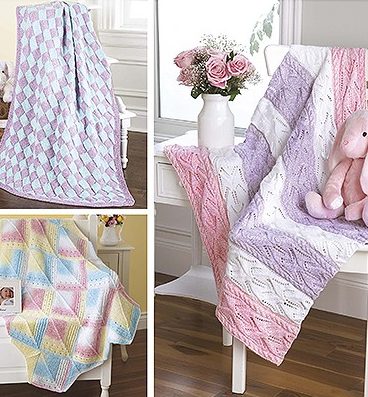 Timeless Baby Blankets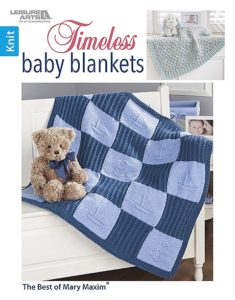 This ebook includes 6 baby afghan patterns including Cozy Mariner's Blanket, Mitered Eyelet Blanket, Honeycomb Blanket, Cable Patches Blanket, Baby Entrelac Blanket, and Lace and Cables Blanket.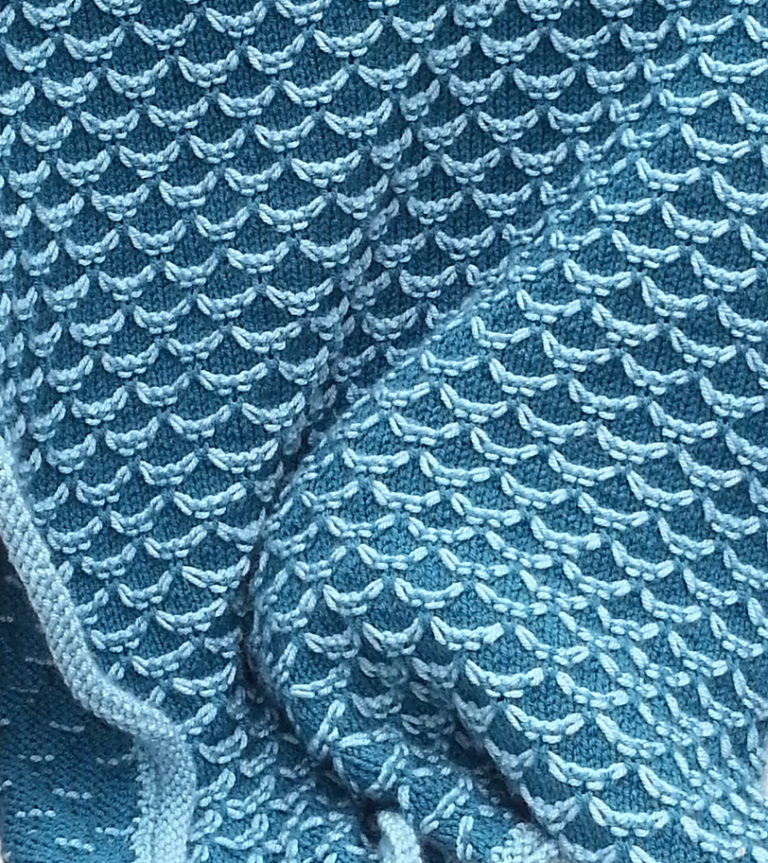 Merbaby Baby Blanket
Baby blanket worked in a striking pattern reminiscent of a mermaid's scales. Photo tutorials showing how to work the special stitch are included, for both right and left-handed knitting. Designed by Ellen Kapusniak. 27 x 36 inches – pram/stroller size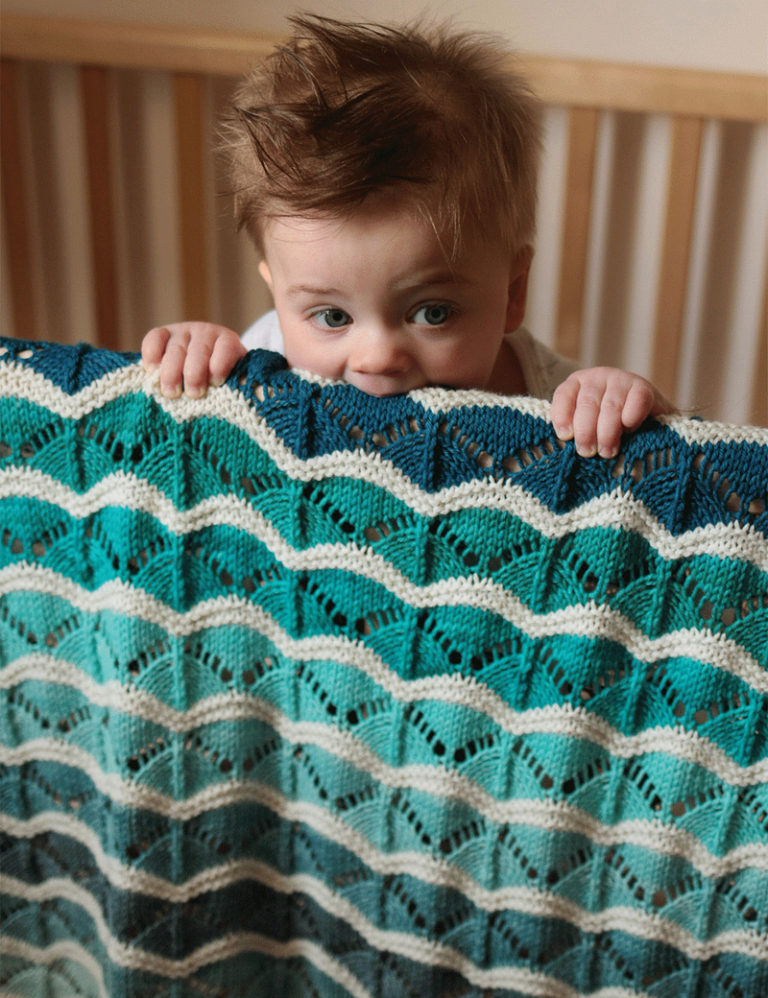 Bounce Baby Blanket
Colorful combination of stripes and lace in two sizes: 27 (32)"W x 33 (43)"L.

Owl Blanket
Snuggly easy to make blanket with cute cabled owl detail.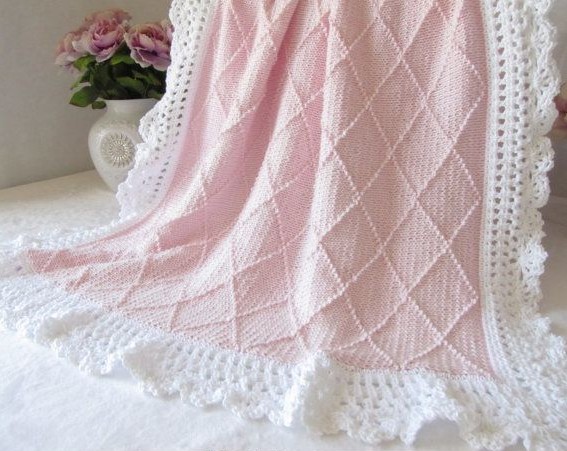 Paris Baby Blanket
This pattern features a diamond stitch and a crocheted edging. I think you could substitute a knit lace if you wanted though it's not part of the pattern. 35 x 34.5 inches