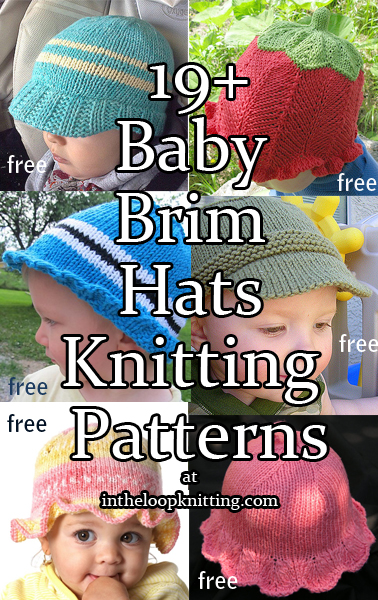 Adorable baby hats with bills and brims to protect baby's face from sun or weather. Great for the beach and warm weather activities. Most patterns are free. Updated 3/27/2022
To get the knitting patterns, scroll down the page to the individual pattern you want and click on the link to that pattern.
These patterns are not my designs but links to other designers who have generously shared their patterns. If you have questions about how to knit a specific pattern, please contact the designer directly.
All links on this site are for informational purposes, but please note that some links are to affiliate sellers that pay me a small commission on purchases.
Free Patterns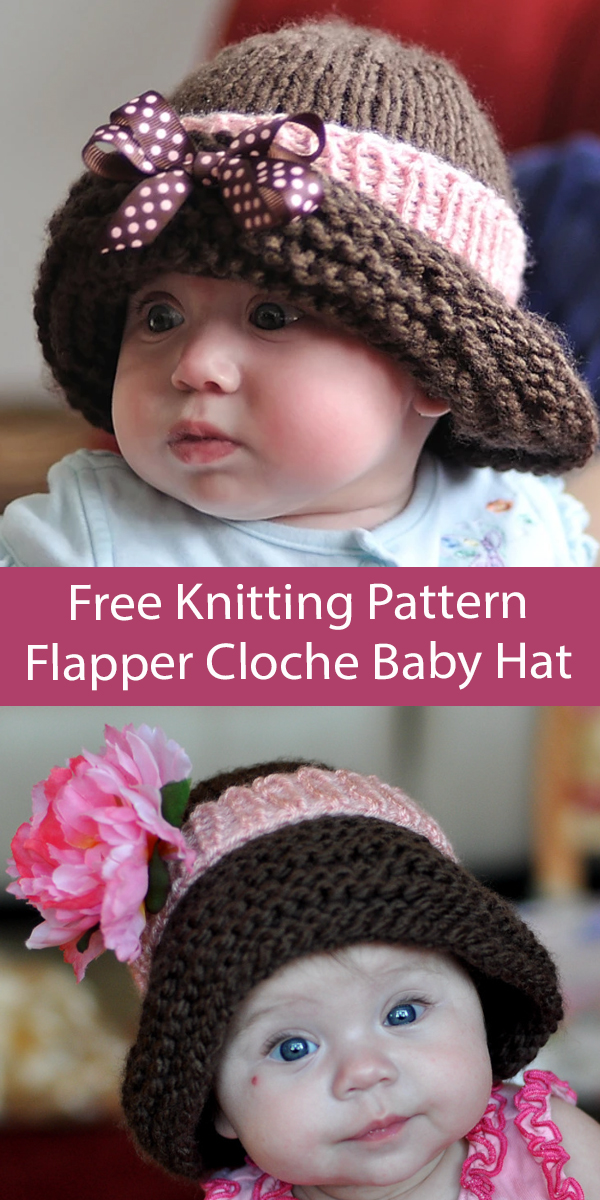 Flapper Cloche
Stretchy little vintage-style cloche baby hat features a wide brim and a removable hatband that doubles as a headband. Size 6-12 months. Super Bulky weight yarn. Designed by Wendy Goeckner.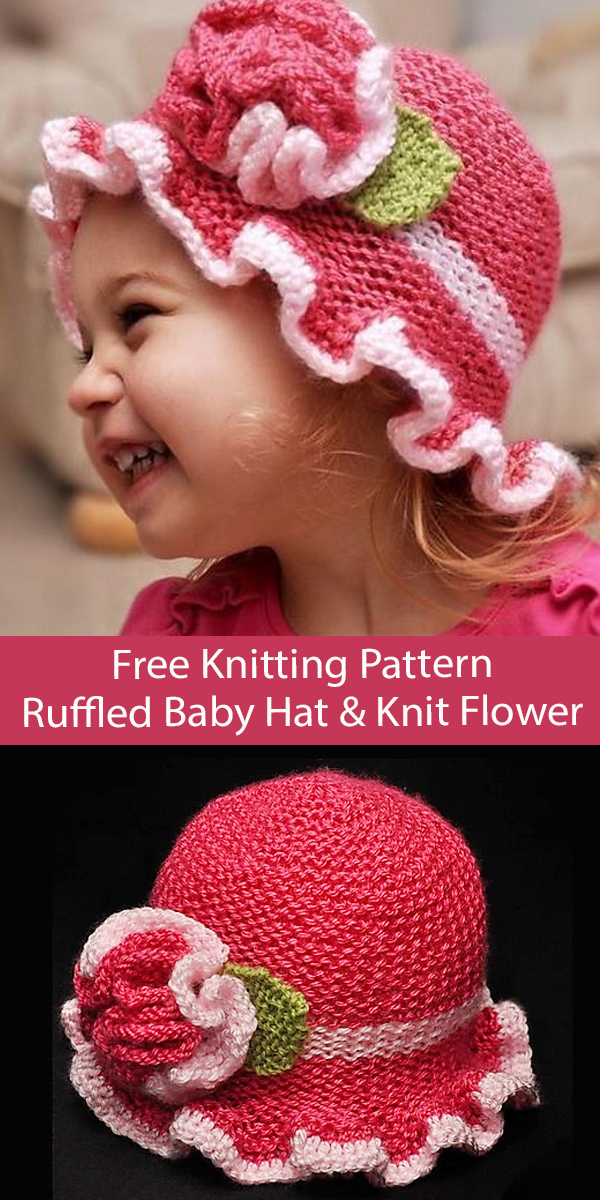 Ruffled Sunhat with Knitted Flower
Baby hat with ruffled brim to shade baby's face knit in garter stitch with garter stitch flower. Designed by Wendy Goeckner.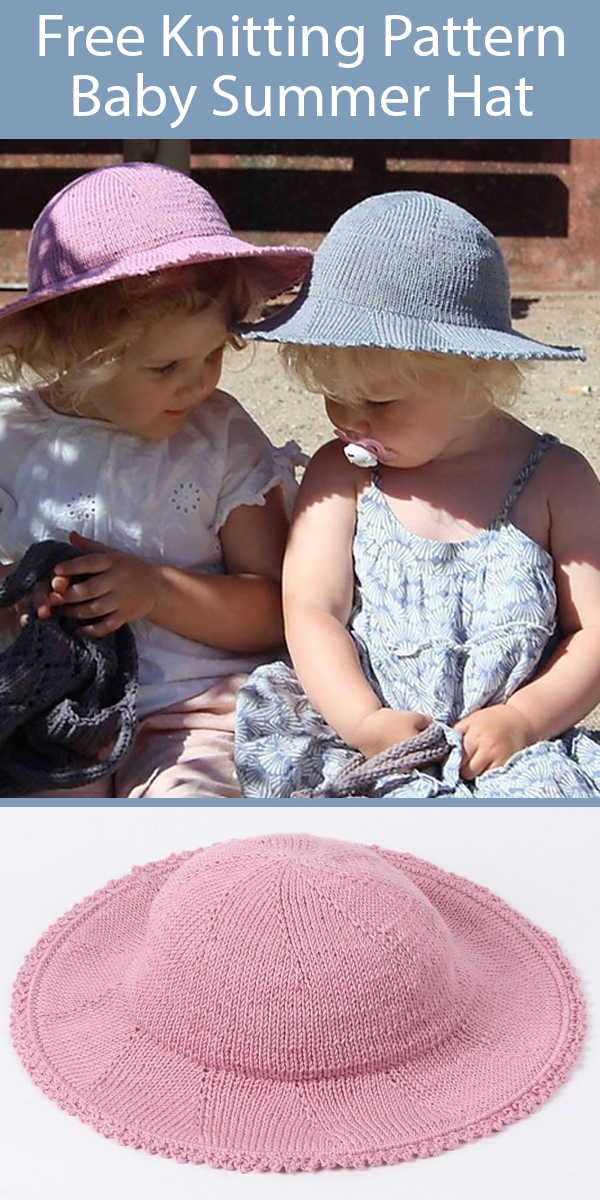 Baby Summer Hat
Sun hat with brim to shade baby's face. The brim is stiffened by a plastic wire that you crochet into the edge while working the knit hat. Sizes 6-9 (12) 18-24 months. Uses less than one skein of fingering weight yarn. Designed by Hobbii Design. Note that Hobbii requires email address before providing pattern.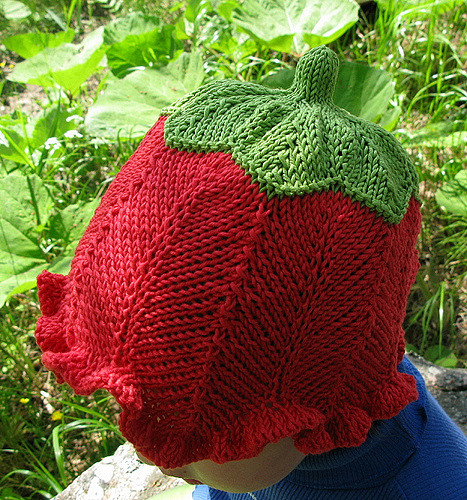 Rose Baby Hat
The Bluebell ja Rose baby hat can be knit with or without ruffled brim and customized to the color of your favorite flower – or knit in orange as a pumpkin hat. Designed by Pia Tuononen. Available in English, Finnish, and German. Pictured project by Katja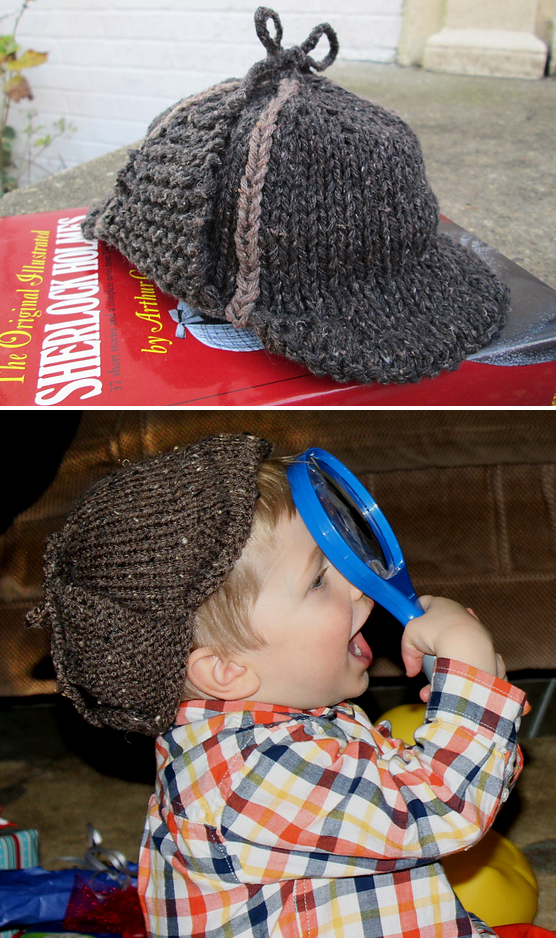 Sherlock in Training: Baby's First Deerstalker
Great photo prop or costume hat! This baby hat features earflaps that tie up to the crown and bills in front and back. Uses less than a skein of the recommended yarn Designed by elizabeyth knits. Pictured project by payknit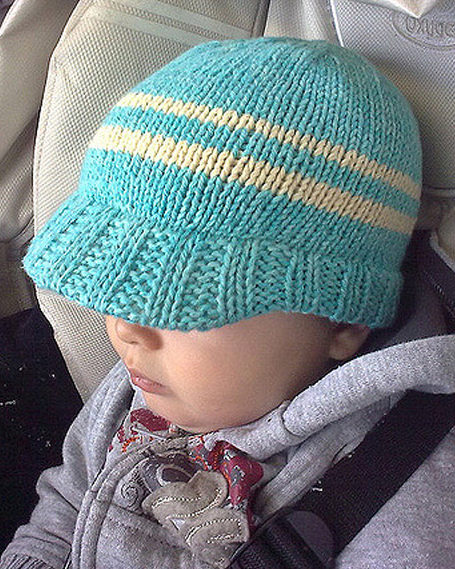 Skater Baby Hat
This baby hat with brim is knit in the round. Size 6-12 month. Designed by Emily Vanek. Pictured project by amandaindie and coffeebra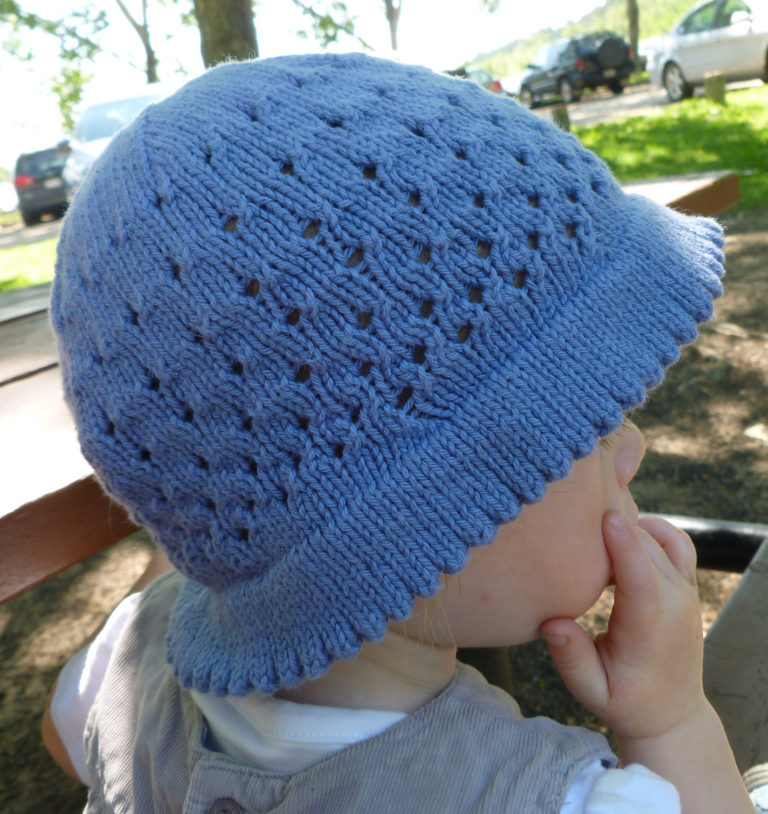 Dear Liza Baby Sun Hat
This cute baby hat features a picot brim to keep the sun off baby's face and eyelets to keep head protected but cool. Designed by Annie Watts. Pictured project by nursenikkiknits
More Free Patterns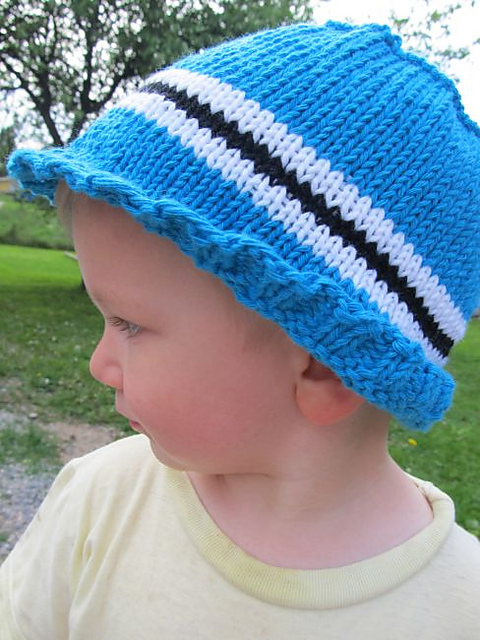 Stature Hat
A sophisticated bucket hat with ribbed brim for the baby hipster in your life. Designed by talitha kuomi. Sizes 6 month (12-18 months, 2T-3T, 4T-6+). Pictured project by sanzun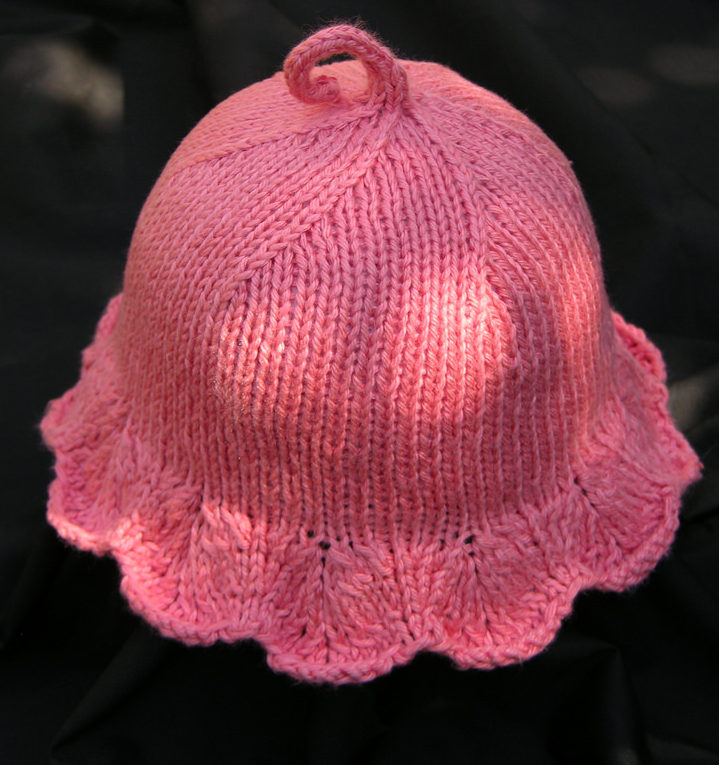 On the Sunny Side Baby Sun Hat
Lace brimmed baby hat with scalloped edges formed by lace. Sizes 3 month – 2/4T. Designed by Melanie Hoffman. Pictured project by solaris
A Sun Hat
This cute bucket hat is designed by Kristi Pyatt.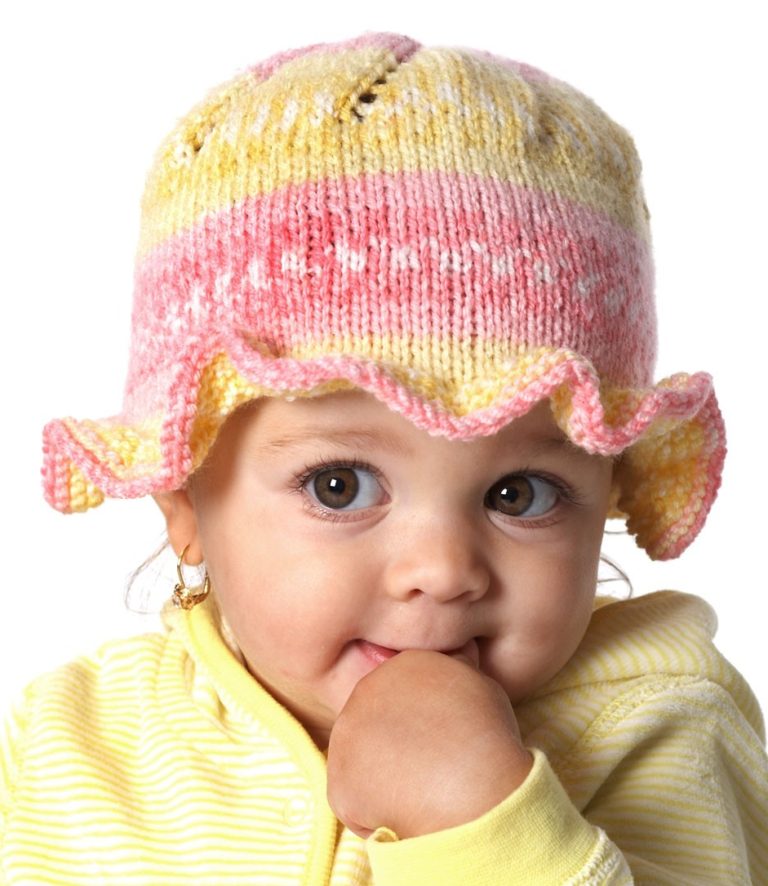 Ruffle Sun Hat
Sweet knit cap features a pretty ruffle around the brim. To fit child sizes 6-24 mos. Great with self-striping or self-patterning yarn. Available in English, Spanish, and French.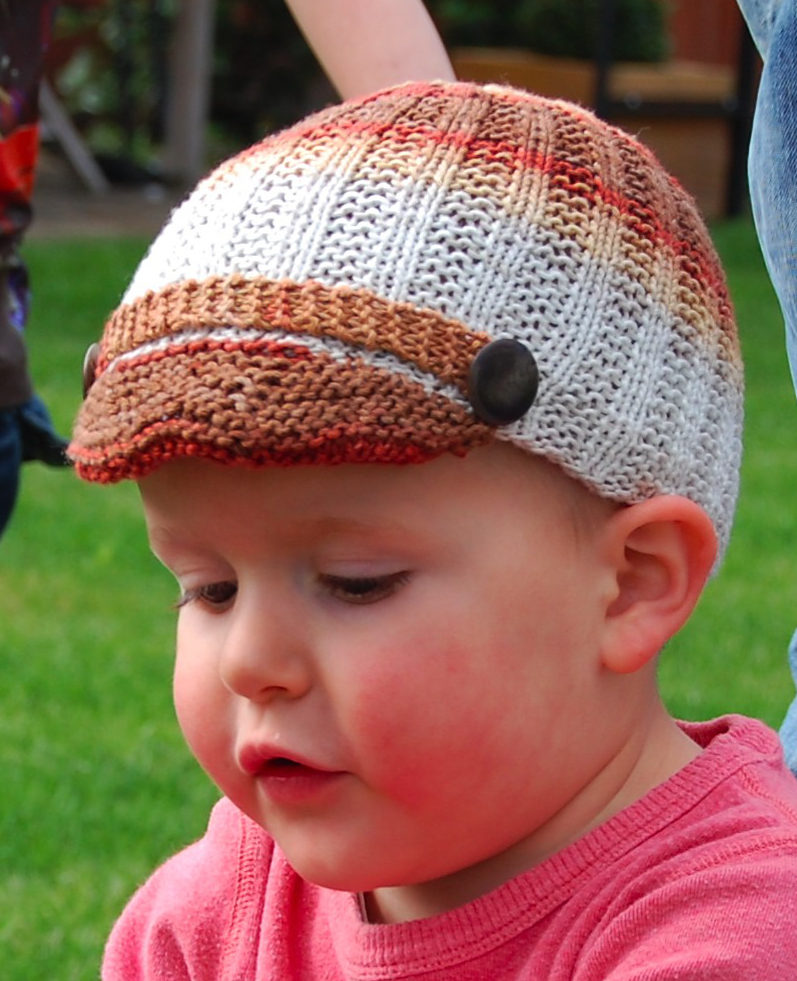 Baby Beanie with Bill
The Spring Has Sprung hat comes in two styles with and without peak in front and in two sizes: 2-5 years, 5+ years. Designed by Corinne Fourcade. Great with multi-color yarn! Rated easy by Ravelrers.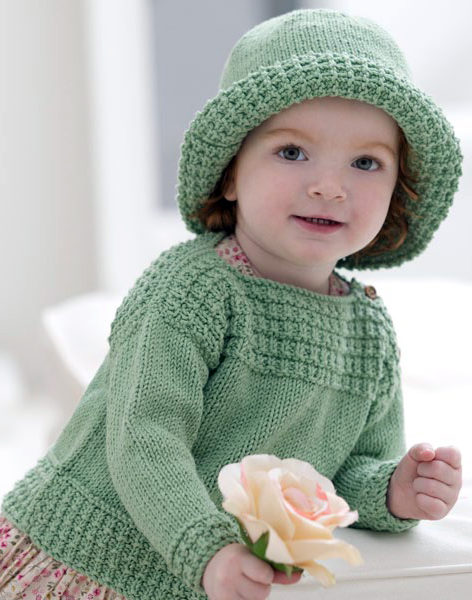 Baby Boat Neck Sweater and Sun Hat
Matching hat and pullover features an each ridge texture stitch and buttons at the shoulder for easy dressing. Sizes 6 months (12 months, 18 months, 24 months). Designed by Grace Alexander.

Kiddie Cadet
Alice Schnebly's cadet hat is knit from the bottom up in the round, and the bill is added later with a short row technique. Sizes to fit Baby (Toddler, Child): 14″ (16″, 18″) in circumference.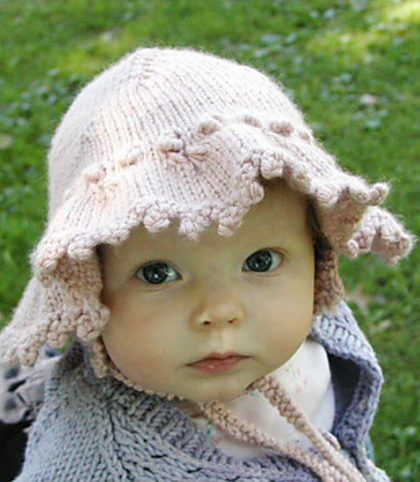 Miss Dashwood
Floppy brimmed hat with picot edge. This versatile hat also features earflaps that can be buttoned up inside the hat on warm days or worn down over the ears. Sizes 0-3 months [3-6months, 6-12 months, 1-2 years, 2-3 years]. Designed by Heather Ramsay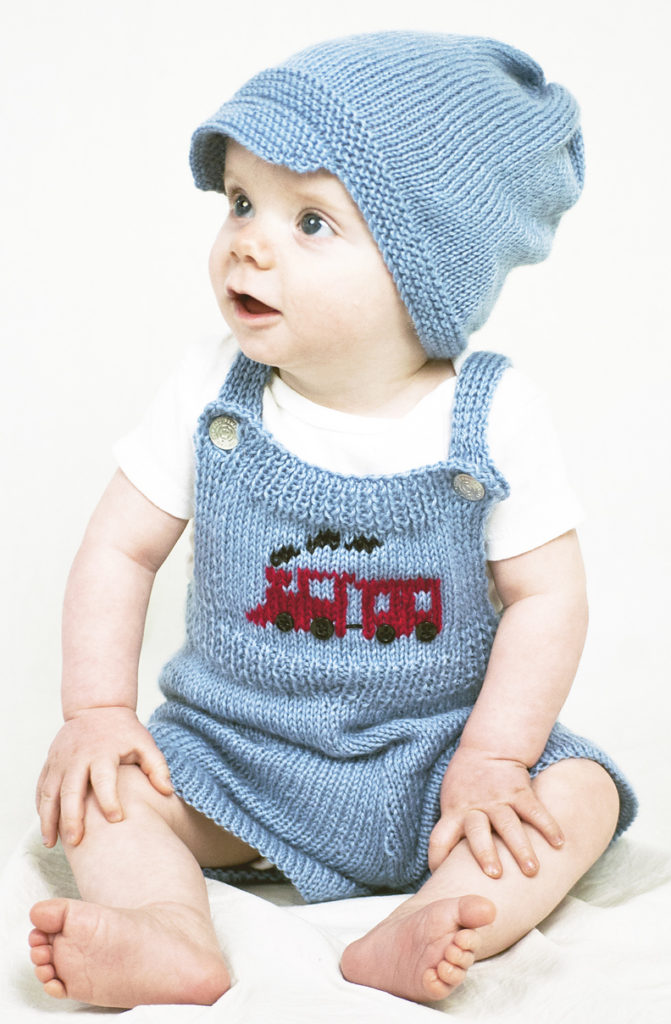 Train Conductor Baby Overalls and Hat
Adorable train inspired baby set with train motif. Sizes 3 mo, 6 mo, 12 mo Designed by Susie Bonell for Cascade Yarns
Patterns for Purchase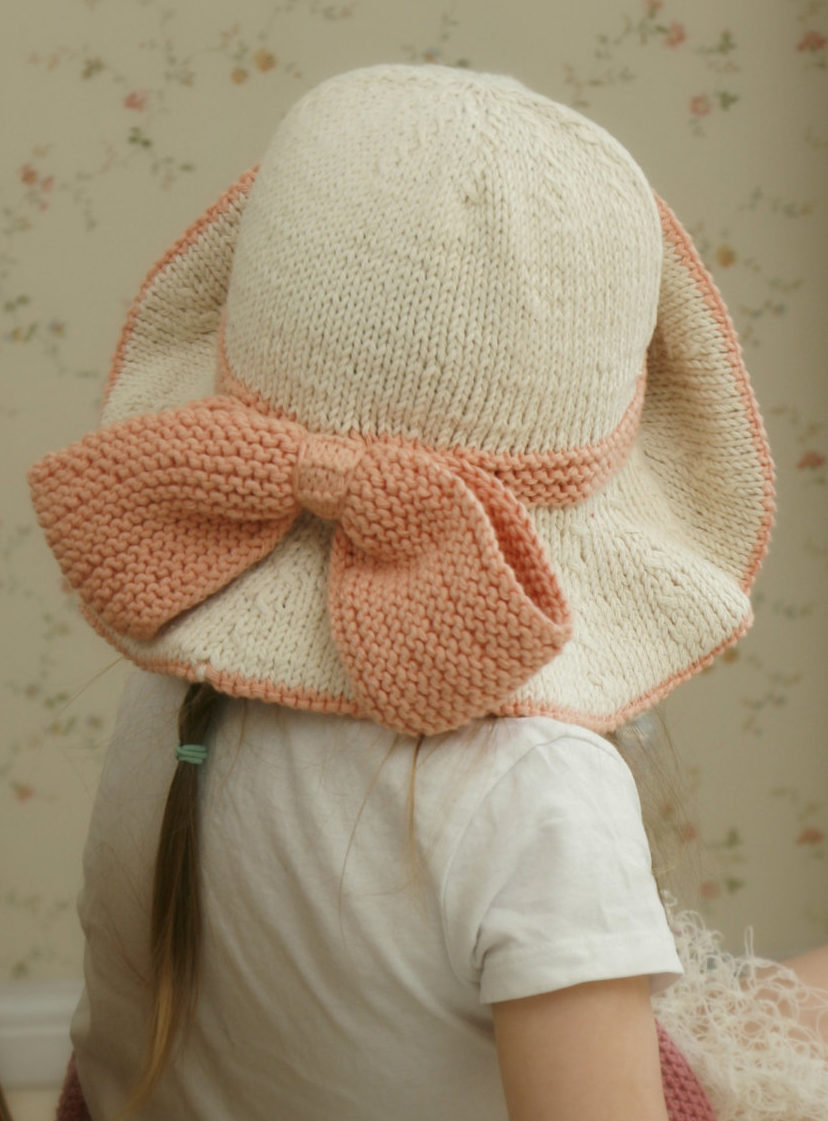 Solei Floppy Brim Hat
This baby hat with a bow also comes with toddler, child, and adult sizes.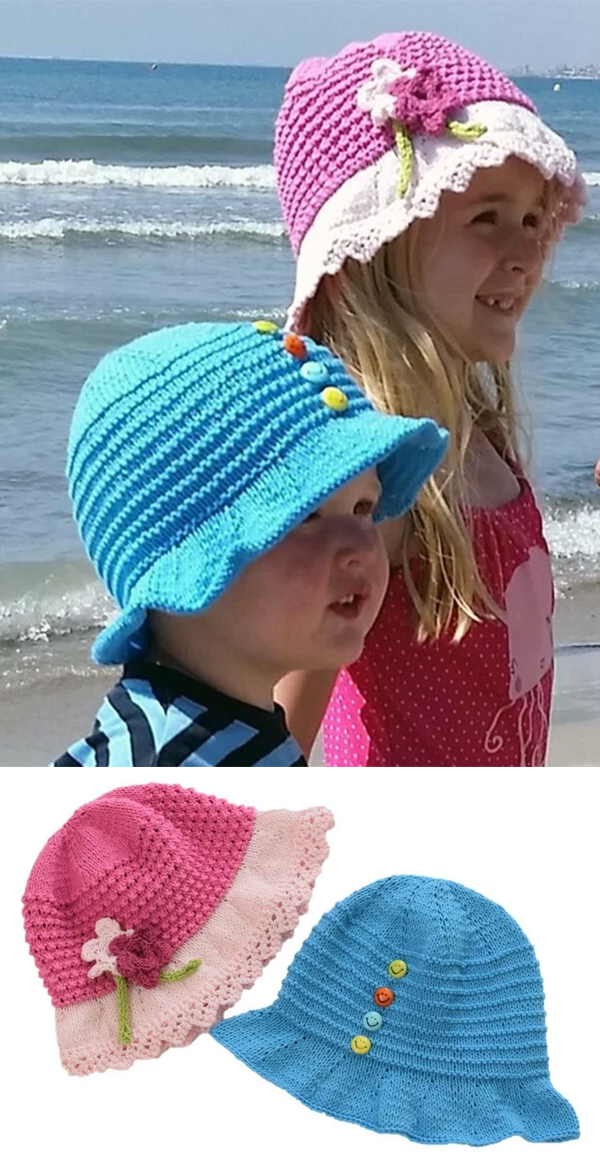 Summer Sun Hats
Two styles of wide brimmed baby and child hats. Sizes from birth to 7 years. One style incorporates coral knot stitch which gives a lacy affect and is decorated with 2 flowers. The other hat has a simple ridged pattern and can be decorated with some fun buttons.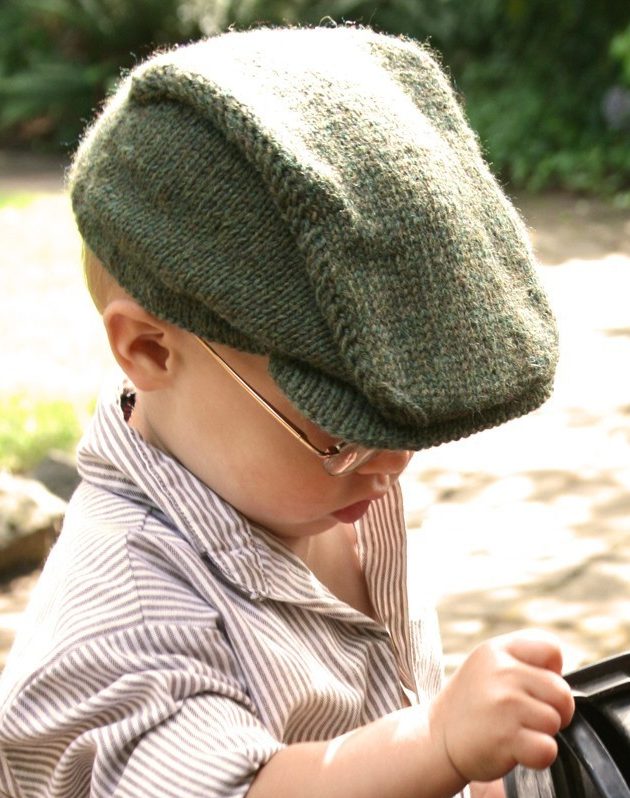 Baby Newsie Cap
This baby version of an English driving cap is sized for 3-6 mo. (6-12 mo., 12-24 mo.)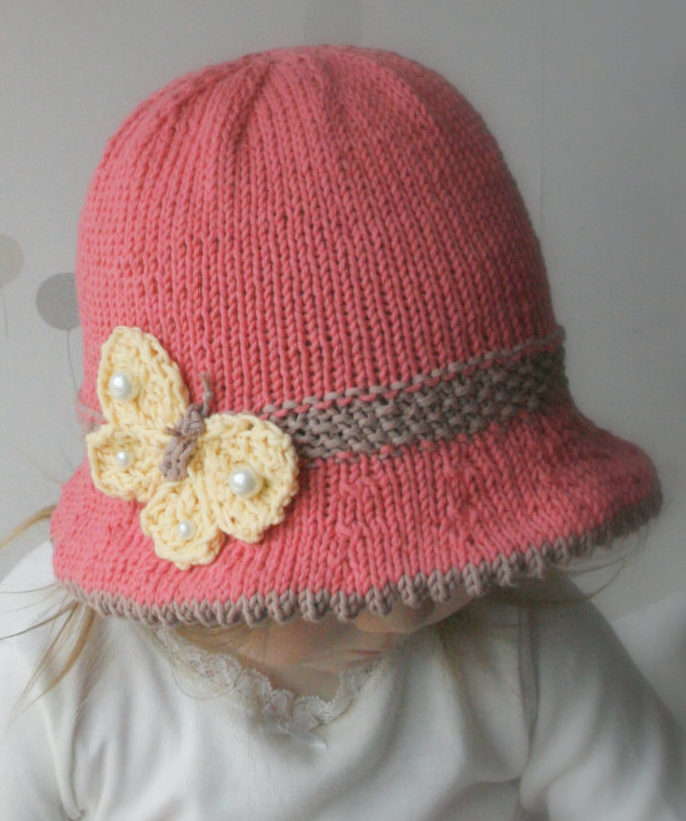 Butterfly Bucket Baby Hat
Even the butterfly is knit on this sun hat. Sizes: 6m/1y/3y/child/woman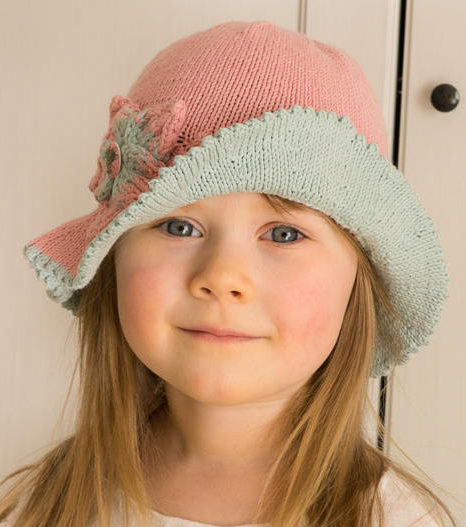 Elis Baby Hat
The hat has a cable braid which prevents the hat stretching out. Sizes: 1-2-year-old/3-5-year-old/6-10-year-old/woman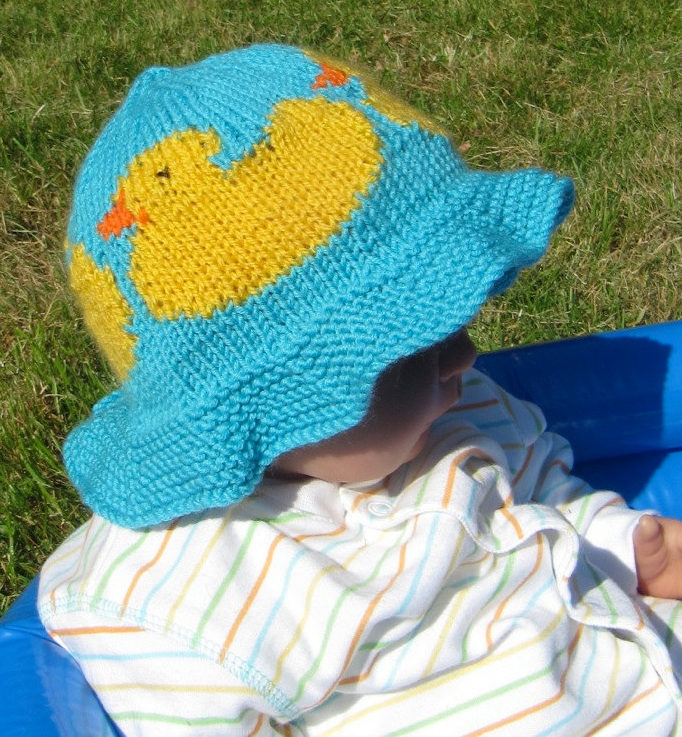 Rubber Duck Baby Sun Hat
The knitting pattern provides full instructions for 3 sizes S (0-3 months), M (3-12 months ) and L (12 months and over).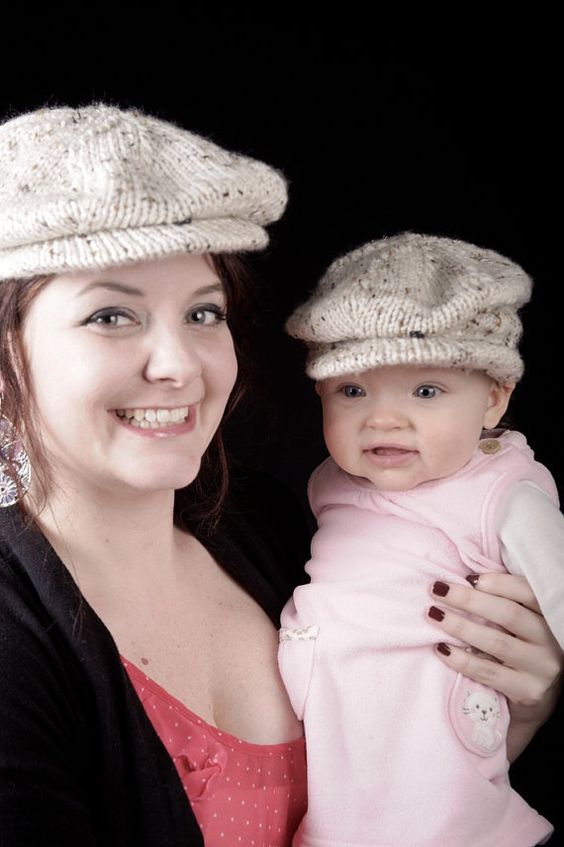 Scally Driver's Cap
This driving or newsboy style cap comes in baby, child, and adult sizes.