Baby Set Knitting Patterns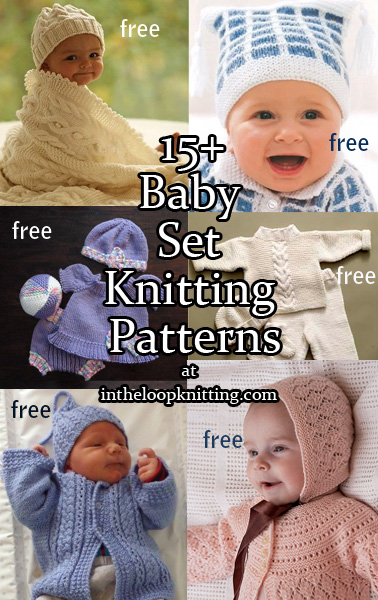 Knitting patterns for matching baby sets including layettes, newborn photo props, hats, blankets, booties, sweaters.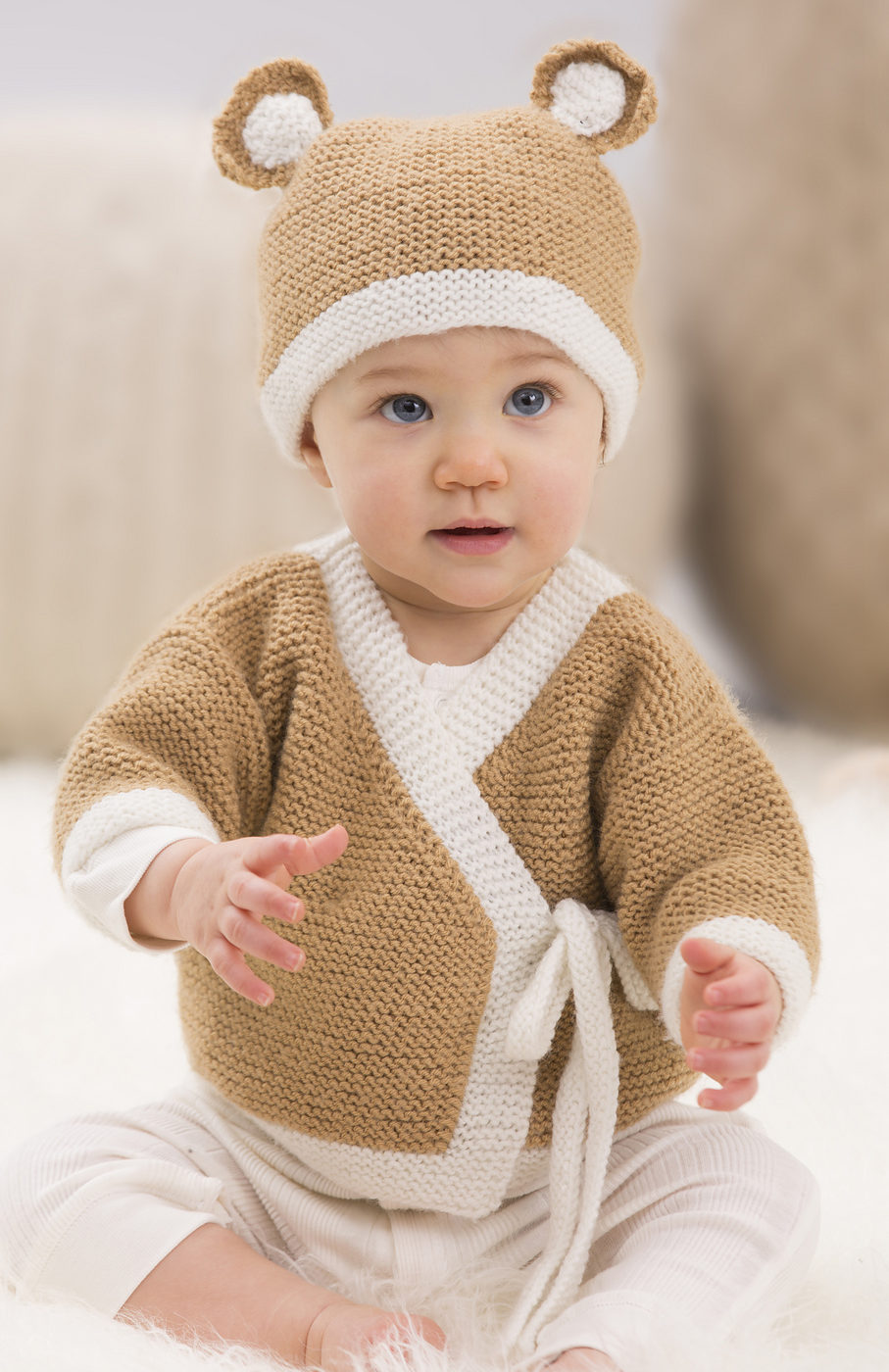 Teddy Sweater and Hat
Jodi Lewanda designed this versatile, wrap baby sweater and teddy bear hat knit in garter stitch for Red Heart. Sized for 0-3 months, 6-9 months, and 12 months.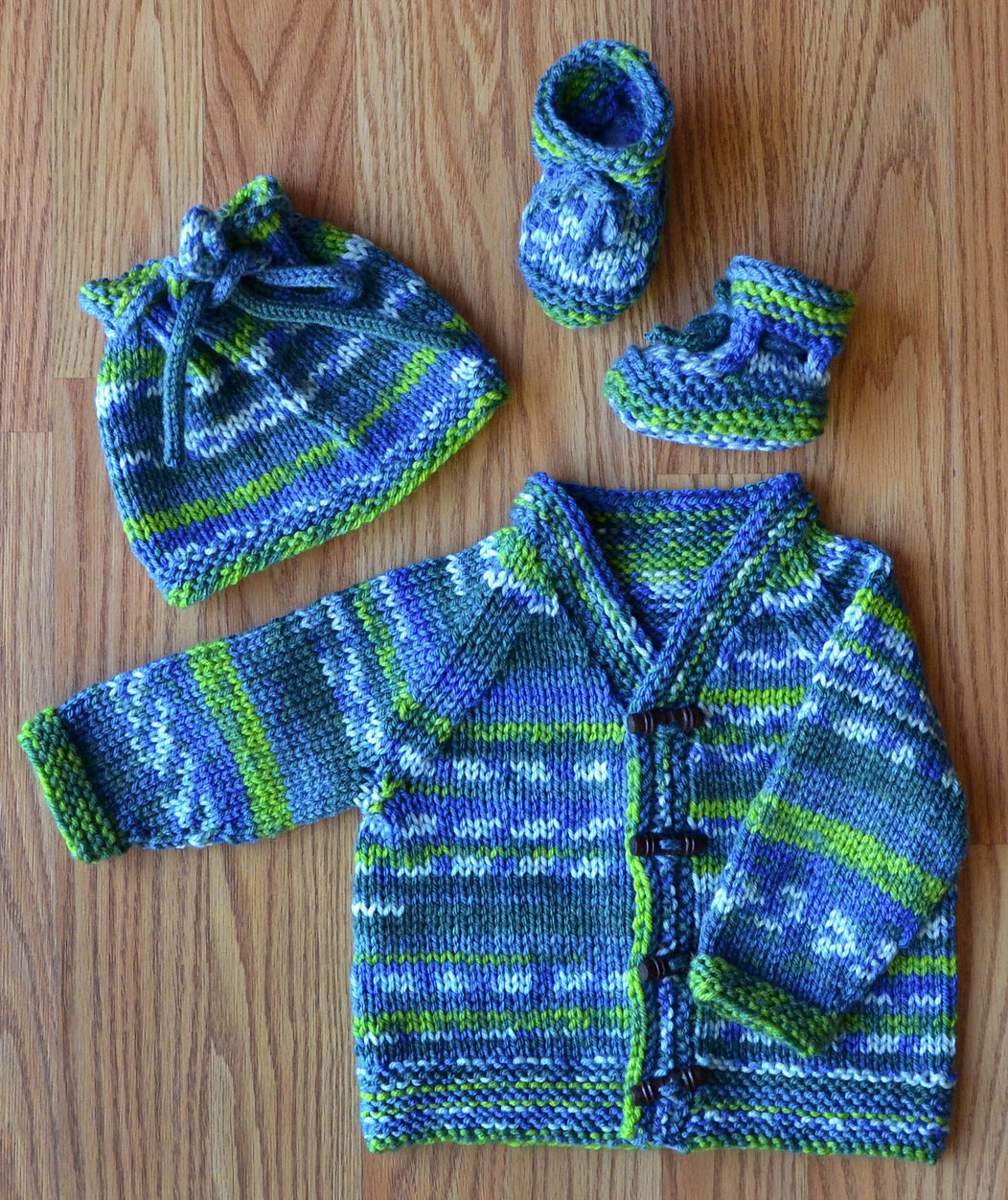 Munchkin Baby Set
Self-striping yarn creates the color patterns in this set of baby cardigan, hat, and booties. Fits Newborn-12 months. Designed by Universal Yarn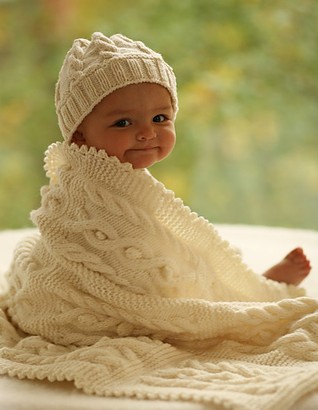 Cable Baby Hat and Blanket
From DROPS Design. HAT: Size: 1/3 – 6/9 – 12/18 months (2 –3/4) years. BLANKET: Measurements: approx 56 x 92 cm [22" x 36¼"]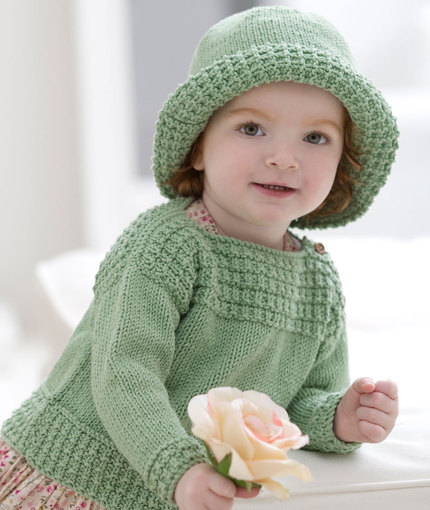 Baby Boat Neck Sweater and Sun Hat
Grace Alexander designed this adorable comfortable pullover with matching hat for Red Heart. Sized for 6 months to 24 months.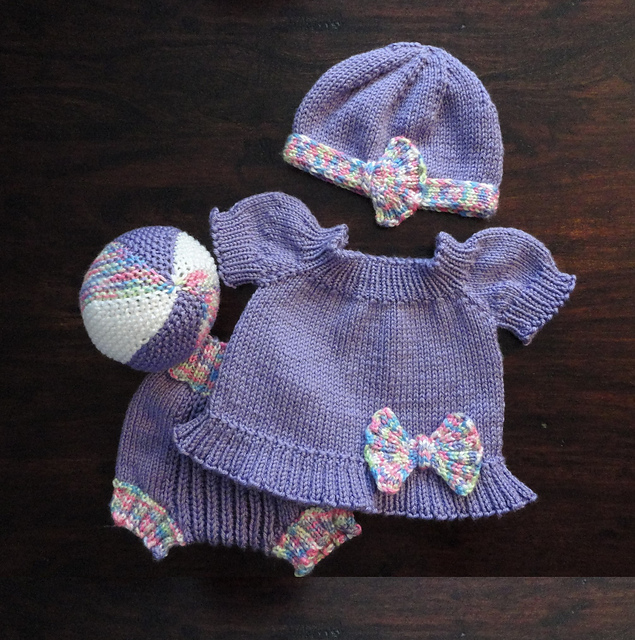 Loopysue's Baby Set Project
Loopysue created this matching set from four different patterns for baby dress, diaper cover, hat, and ball. She has links to all four projects and patterns in the notes of this Ravelry project.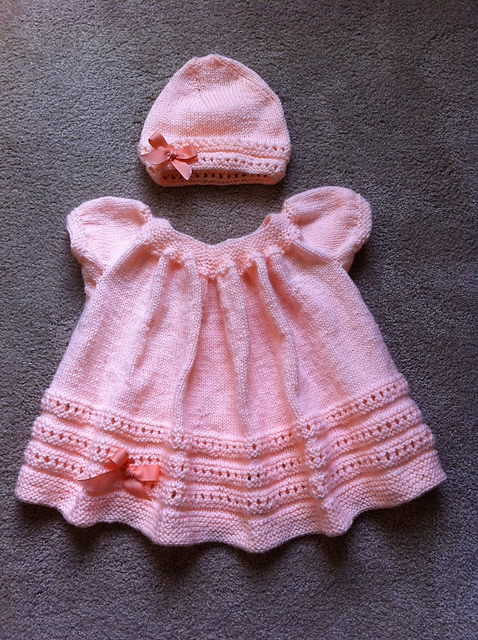 Peachy Baby Dress and Hat
Geetanjali Doshi's top down dress and hat features cute lace eyelets.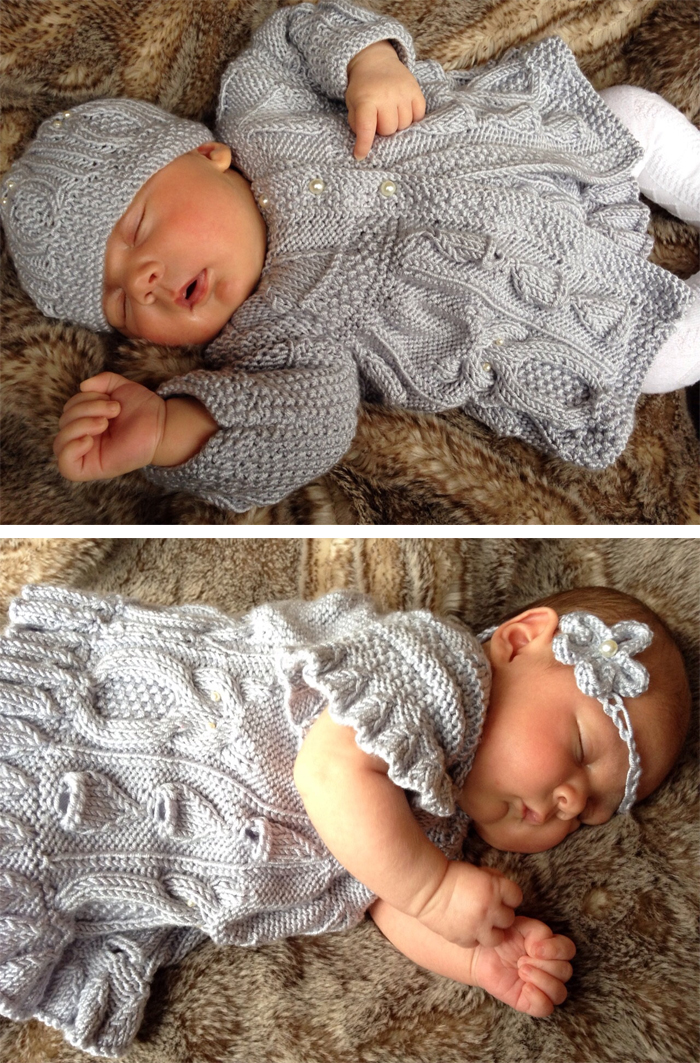 Little Owl Matinee Set
Instructions to knit matching Baby Jacket, Dress, Bonnet, Beanie Hat and Headband in 5 sizes.  This set features a pretty bell stitch and owl cable motifs. To fit. 0-3 (3-6, 6-9, 9-12, 12-24) months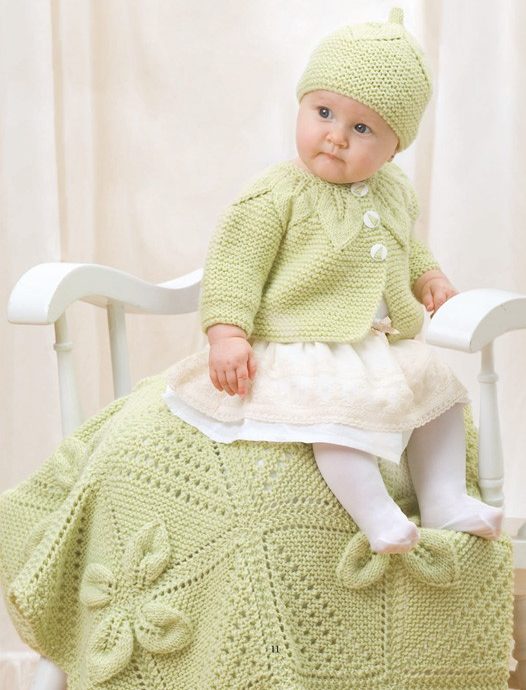 Lace and Leaves Baby Layette Sets (ebook or paperback)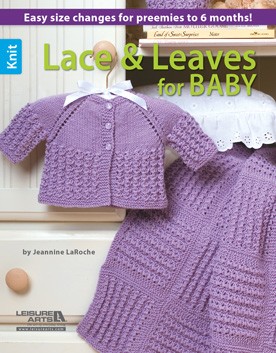 This book includes 2 layette sets,  the Leaf Pattern Set (pictured above) and Lace Pattern Set.  Each includes a sweater, cap, bonnet, and blanket. Sizes: preemie, newborn, or 3-6 month. Designed by Jeannine LaRoche. Available in digital download or print.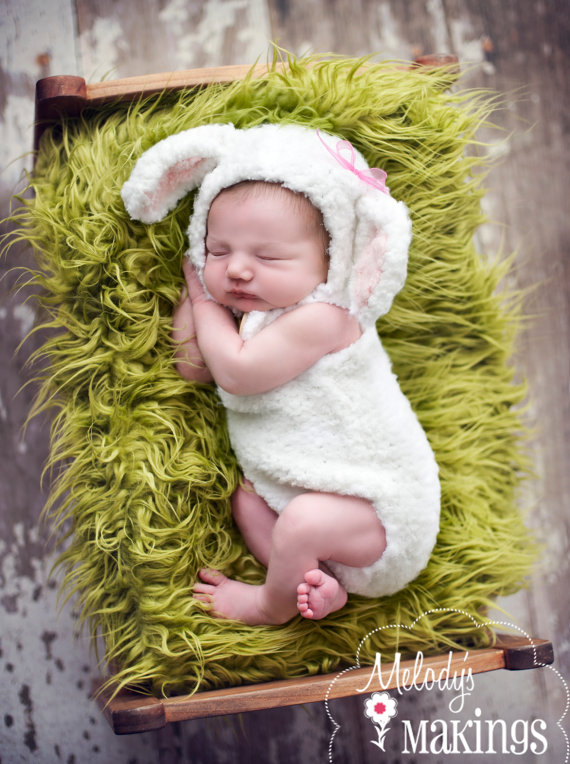 Little Lamb Overalls and Hat Set
A beginner pattern sized for Newborn, 0-3 Months, 3-6 Months, 6-12 Months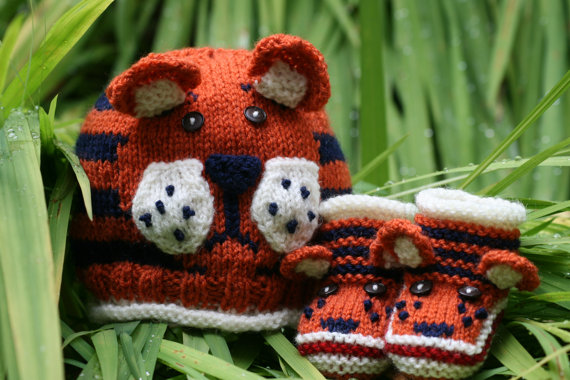 Tiger Paws Baby Hat and Booties
Sizes: 0-3(3-6: 6-12) months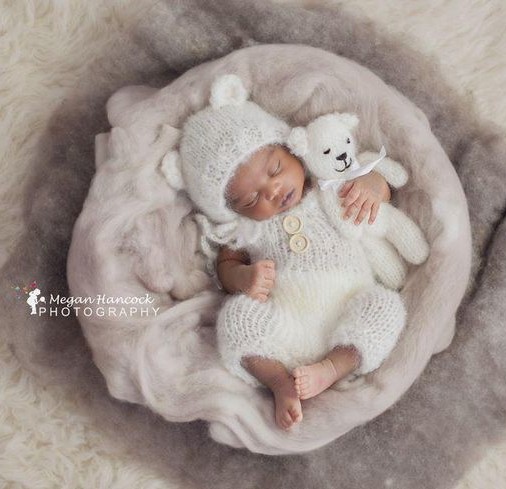 Teddy Bear Baby Set
Set includes teddy bear bonnet hat, romper, and teddy bear softie toy – great for newborn photo props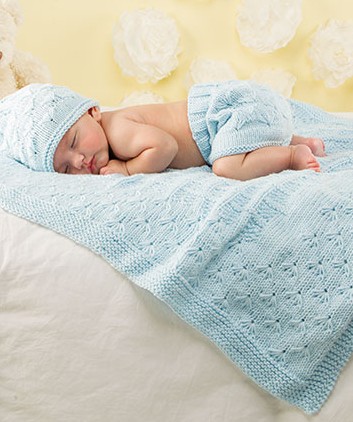 Florious Baby Set
 Set includes hat, soaker, and blanket.

Terry Matz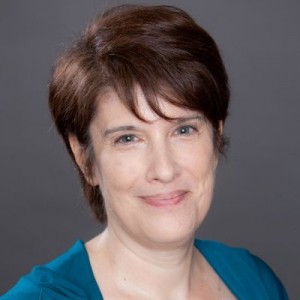 Terry is a knitting late-bloomer, learning to knit as an adult from Internet tutorials, because she wanted a craft that was useful, fun, and portable. Knitting hats for cancer patients inspired her to design her own patterns—available for free at her blog, intheloopknitting.com. Terry met her husband Ken at a science fiction convention and moved to the Kansas City area to be with him more than 30 years ago. Terry supports her yarn stash by creating websites and other digital media. Terry firmly believes in Knitting in Public—it's a great conversation starter!