Self-Fastening Scarves and Shawls Knitting Patterns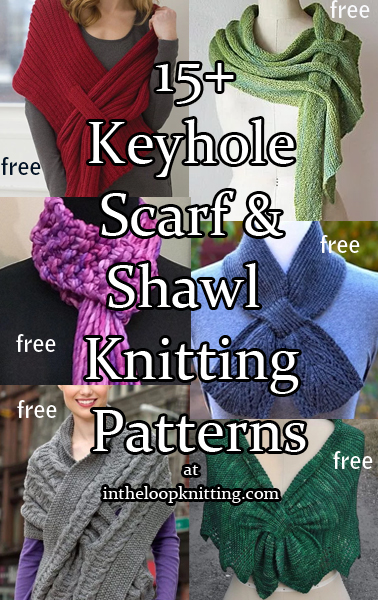 I'm fascinated by the clever and beautiful ways designers find to fasten shawls and scarves using keyholes, pull-throughs and openings. Hope you are, too!
To get the knitting patterns, scroll down the page to the individual pattern you want and click on the link to that pattern.
These patterns are not my designs but links to other designers who have generously shared their patterns. If you have questions about how to knit a specific pattern, please contact the designer directly.
All links on this site are for informational purposes, but please note that some links are to affiliate sellers that pay me a small commission on purchases.

Easy Honeycomb Scarf
Keyhole scarf knit in a 16 row repeat with 3 colors of worsted weight and a loop end to pull the end of the scarf through to keep in place. Designed by Vanessa Ewing for Plymouth Yarn Company

Keyhole Neckwarmer
Scarf in worsted yarn was designed by LeslieAnn Molnar-Grabowski.

Brioche Keyhole Scarf
Reversible Rodekool keyhole scarf was designed by Nancy Marchant. Pictured project by LilyLilyLily

Farmer's Market Scarf
Knit all in one piece with a decorative counterpane edge on one end and a loop on the other, this scarf is a quick knit in bulky yarn. Designed by Rebecca Shepler
The Neck's Big Thing
Shelley L Brander's clever scarf is a quick easy pattern that takes advantage of the texture of chunky or handspun yarn. You just knit the loop and let the yarn strands loop through. Amazingly beautiful effect for very little effort! You have to have great yarn for the best look.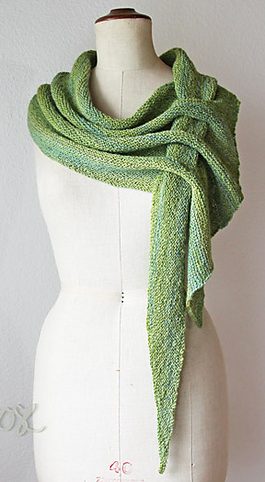 Pfeilraupe
Alpi Alpenrose's ingenious shawl pattern is designed with holes to thread the end of the wrap through. Available in 8 different languages including English.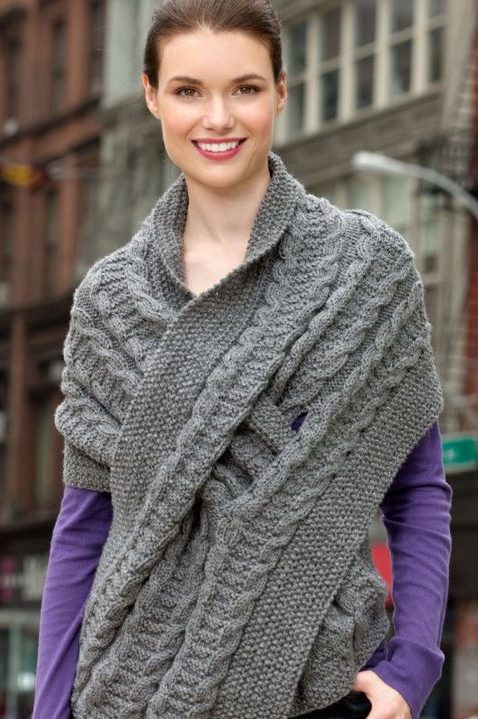 Pull Through Cable Wrap
Cynthia Yanok Wise designed this wrap that features cables, seed stitch borders, and a slit for wrapping the shawl. (Note: Red Heart sometimes sends me free yarn but did not ask me or pay me to promote this pattern.)
Chloe Stole
Flame lace stitch shawl that fastens by slipping a ribbed tab through a loop in front. Designed by Shaina Bilow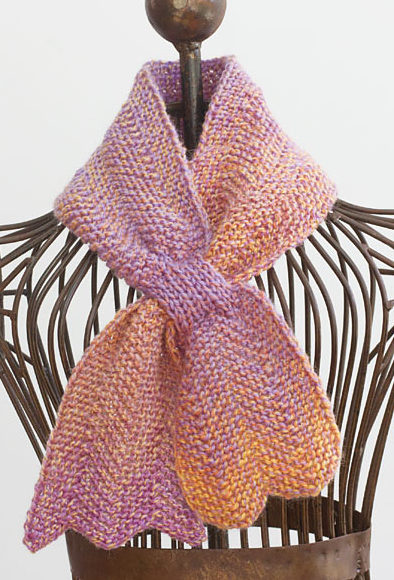 Chevron Keyhole Scarf
The chevron stitch looks great in a self striping yarn.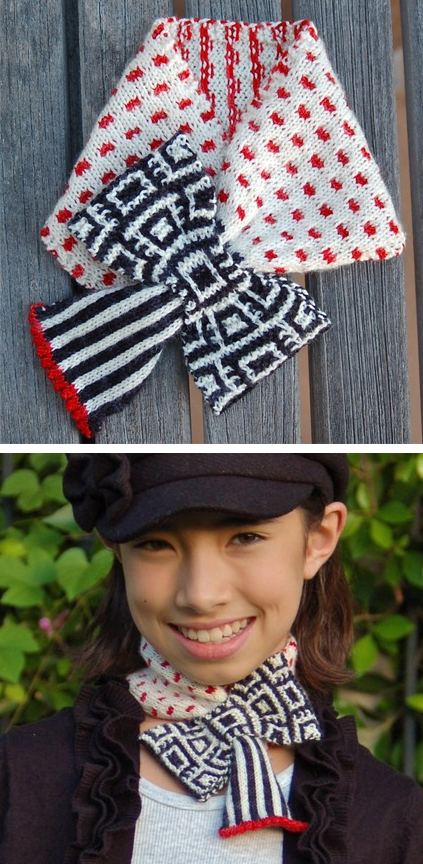 Sprinkle and Squares Scarf
Cute neckwarmer knitted in one piece and self-fastens by pulling through the bow. The color is worked in a mosaic stitch pattern where one color is used at a time, eliminating fussy stranding as in fair isle technique. FINISHED SIZE 4" wide and 18" long.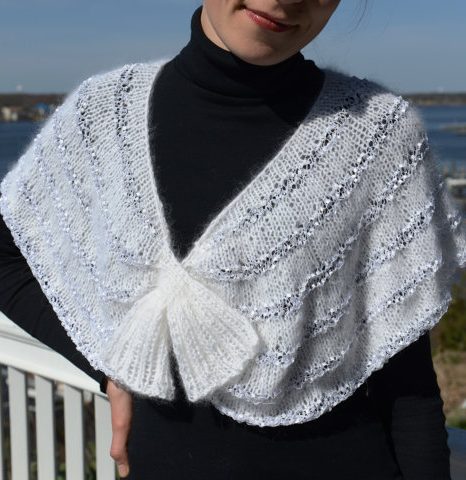 Angora Shawl
This lacy shawl gently drapes over the shoulders and neatly closes in the front by pulling one end through the other.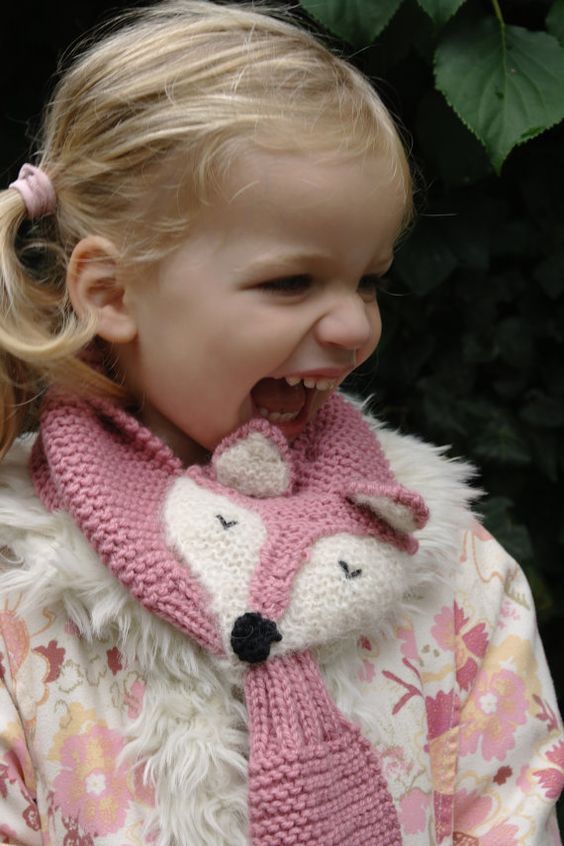 Fox Keyhole Scarf
This cute fox by StitchEScrochet is a keyhole scarf. Just pull the tail through the head loop to fasten.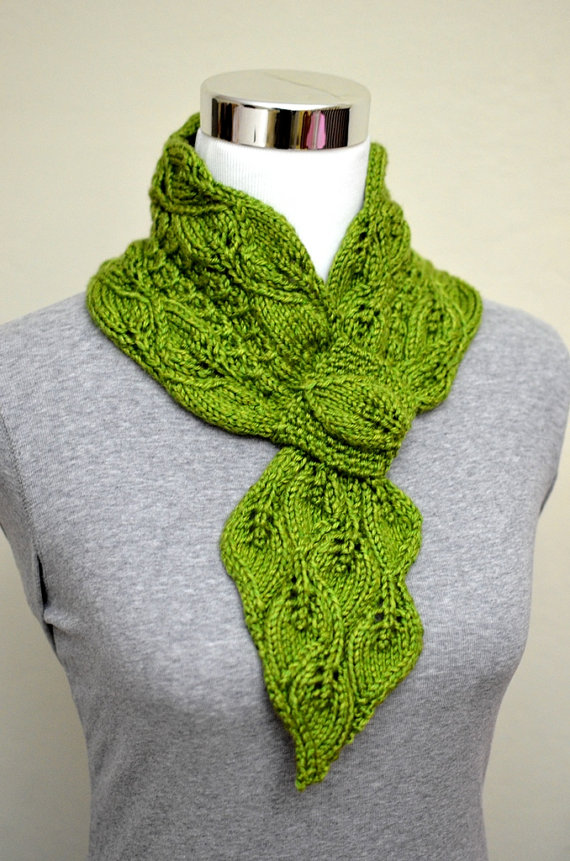 Leaves and Mock Cable Keyhole Scarf
This lace pattern includes links to video tutorials.