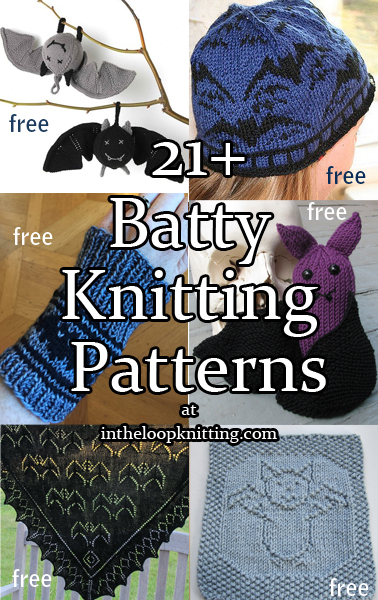 To get the knitting patterns, scroll down the page to the individual pattern you want and click on the link to that pattern.
These patterns are not my designs but links to other designers who have generously shared their patterns. If you have questions about how to knit a specific pattern, please contact the designer directly.
All links on this site are for informational purposes, but please note that some links are to affiliate sellers that pay me a small commission on purchases.

Dancing Batty Shawl
This version of a bat lace shawl includes options for the lace edging, number of bats, and adding nupp ears and bead eyes to the bats. Available in English and German. Designed by Meta Libenter. Pictured projects by bethanyh and 2bev
   
Easy Bats
Small, easy bats you can use for a mobile, decorations, costumes, and more. Designed by Linda Dawkins. Rated very easy by Ravelrers. Pictured projects by StrawberryDarling, ekellyo, and helen-a78

Bitty Bat Hat
Adorable baby hat is transformed with a few extra pieces to a bat. Web pattern for size 12 months is free. More sizes and a printable pdf are available on Etsy. Designed by Cassie at Little Red Window.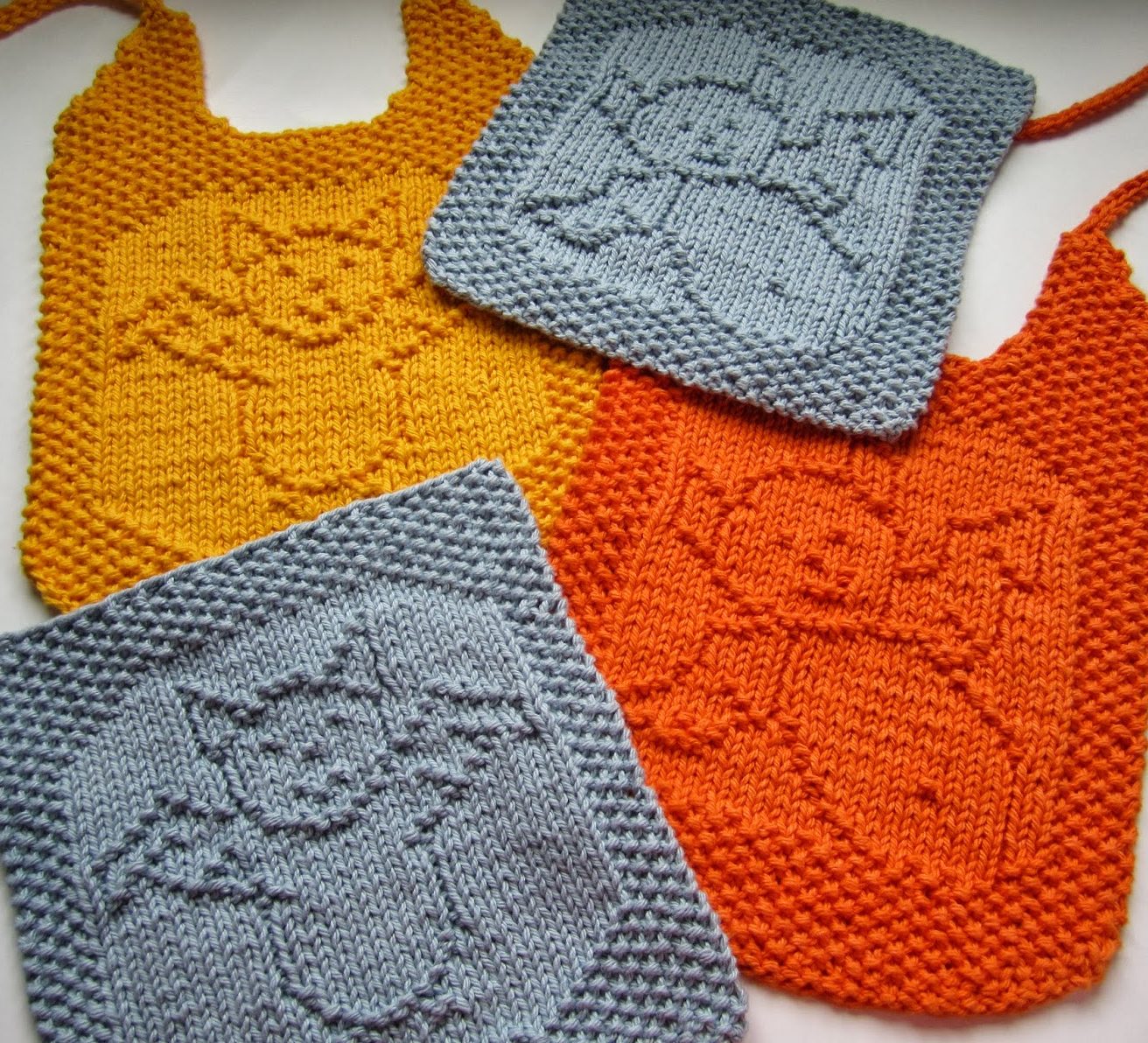 Bat Cloth or Bib
Easy cloth or bib comes in two designs with cute bat in knit and purl. Designed by Elaine Fitzpatrick. Click on the link below and the links to the patterns are on the right side of the page.
 
Violet the Bat
This small bat softie can be used as a toy or decoration. Designed by Lynn Finsterwalde. Available in English and German. Pictured project by Isis

Bat Mask
Masquerade style mask easily creates a bat shape with wing shaped eyes and bat face at the top. Designed by Lorraine Hearn
Bat Cape
Hooded cape shaped like bat wings for gothic or vampire inspired costumes. Worked in a lacy chevron pattern with ribbon tie at neck.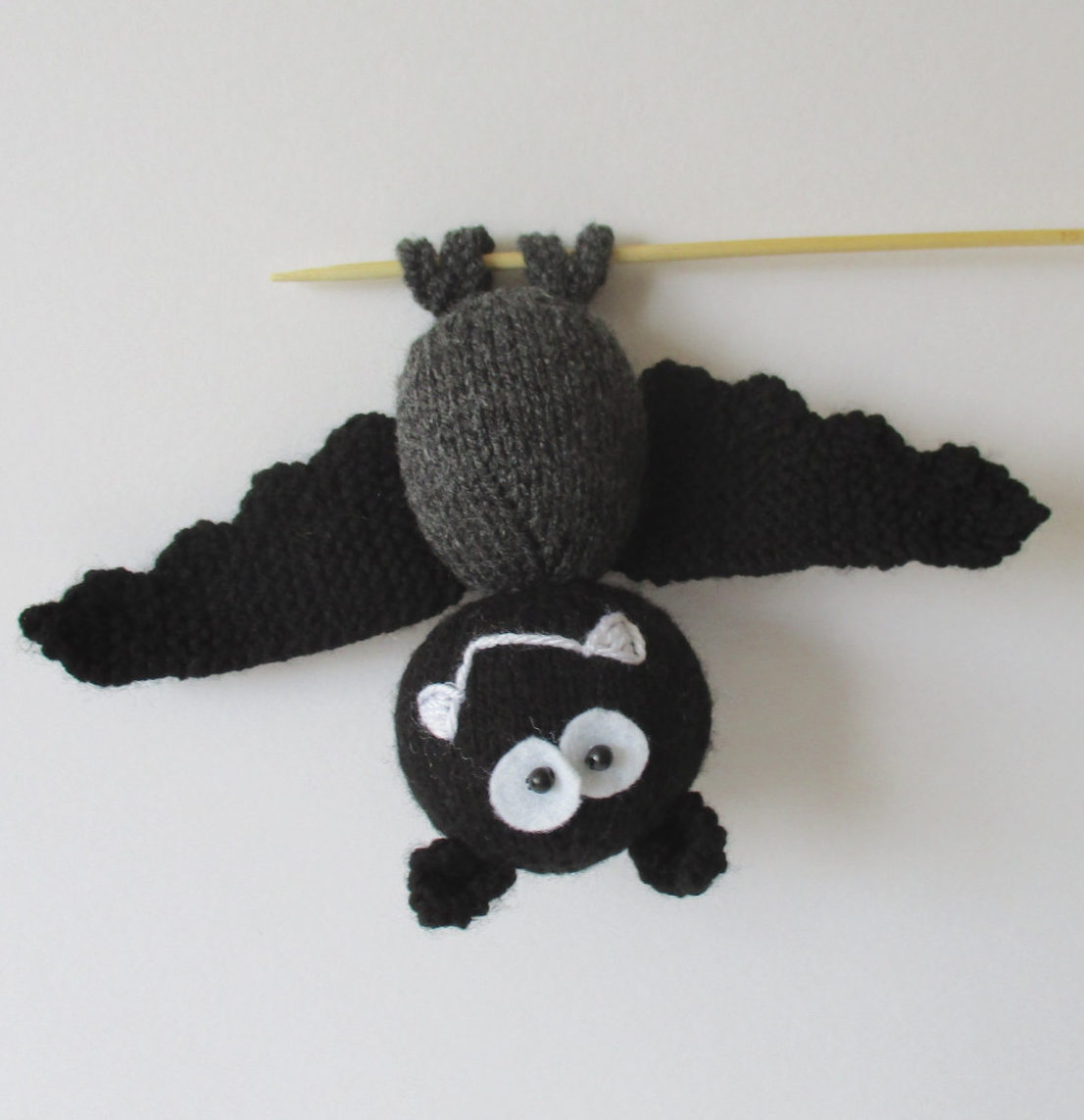 Billy the Bat
This little bat can stand upright but also has loops on his toes so you can hang him on a length of ribbon or cord to make a Halloween decoration. Designed by Amanda Berry. FINISHED SIZE: The finished bat is approximately 13cm tall, and the wingspan is 22cm.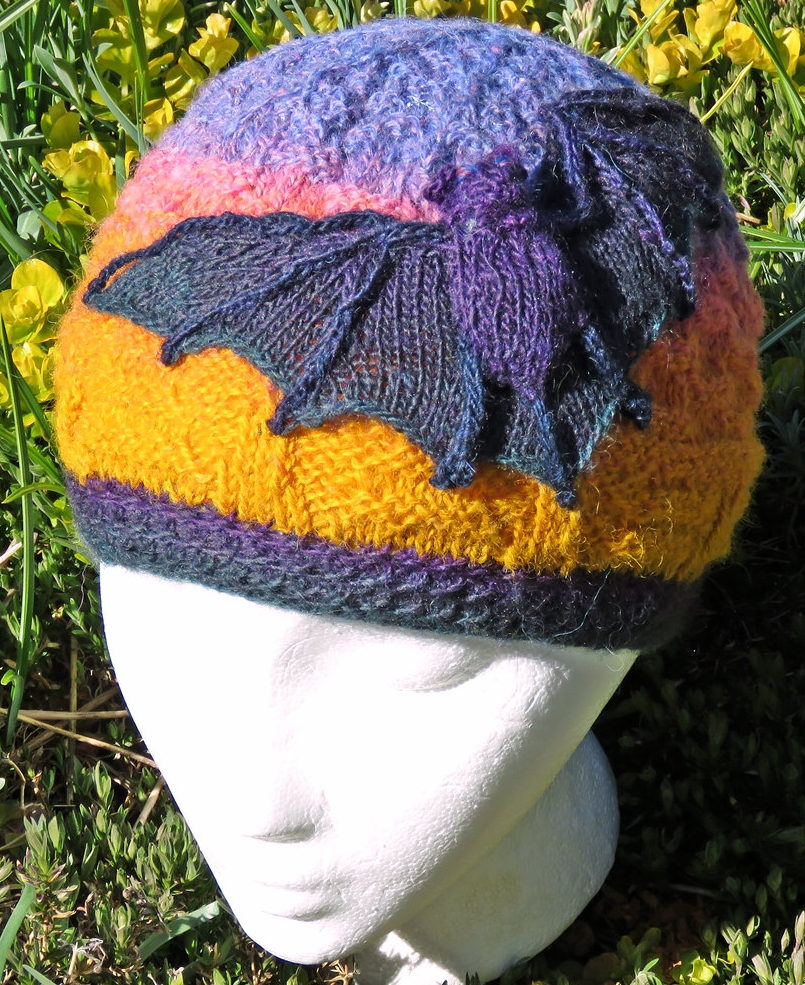 Bats in the Night Sky Beanie
Hat features a knit bat applique.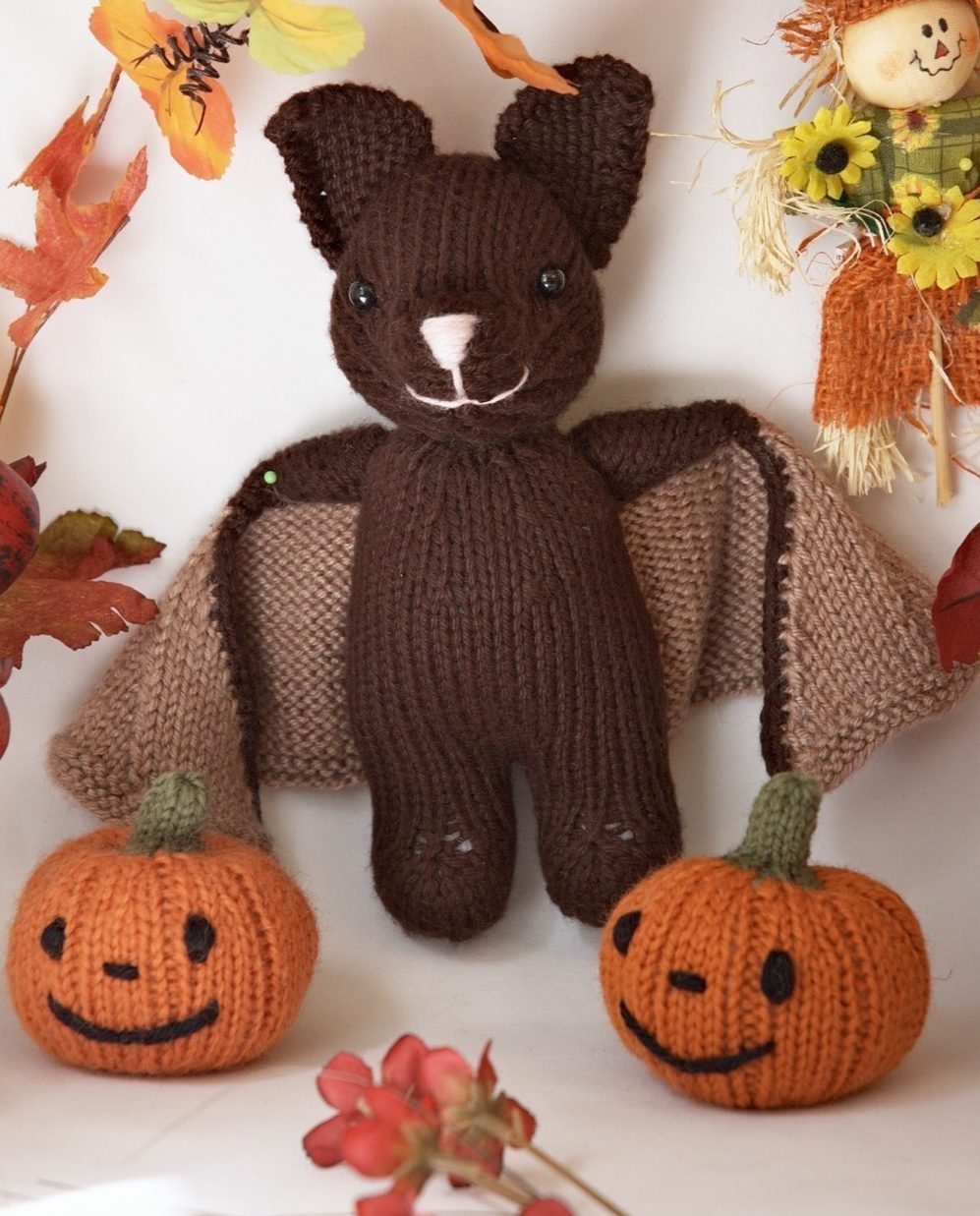 Bat and Jack O' Lantern
Bat: 20cm (8″) tall, 35cm (14″) wingspan. Jack O' Lantern: 7-10cm (3-4″) tall, 22cm (9″) around
Bat and Spider Hats
Beanie hat in 4 sizes (2 yrs old to adult), plus instructions to make it into either a spider hat or a bat hat.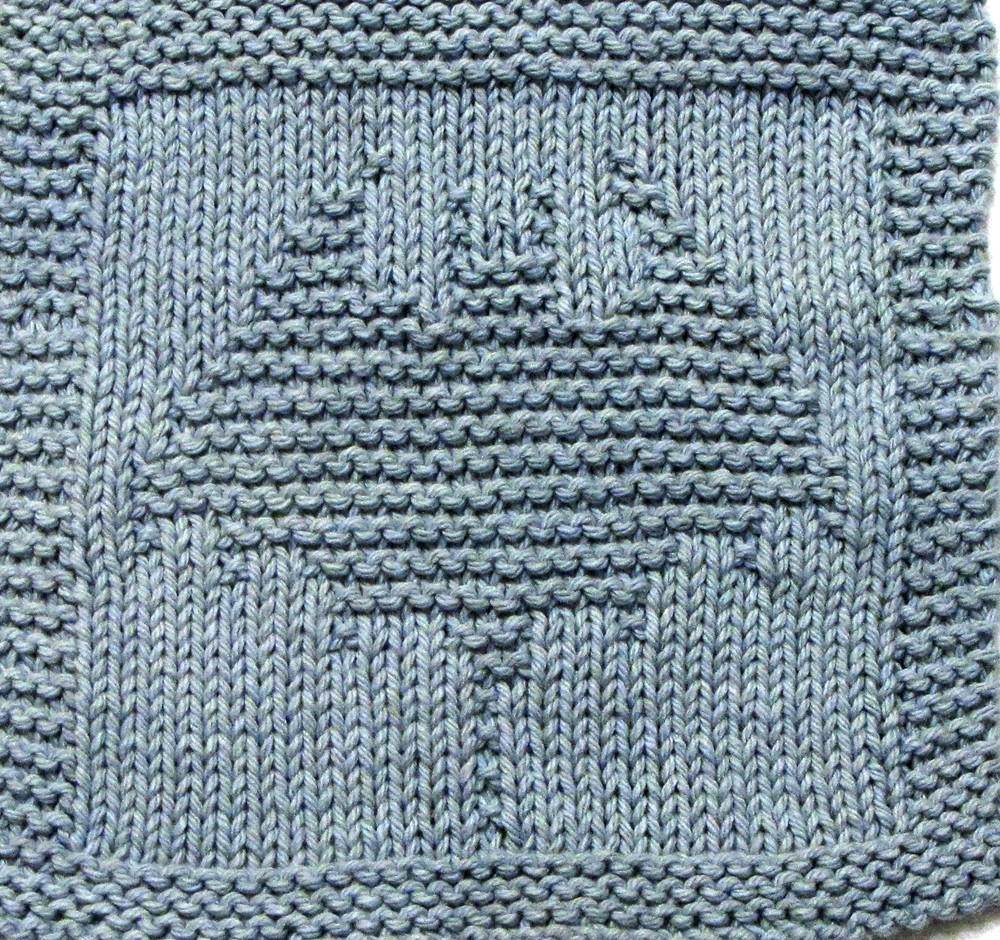 Bat Cloth
Easy bat motif for use in wash or dish cloths, as an afghan block, or in other knitting projects.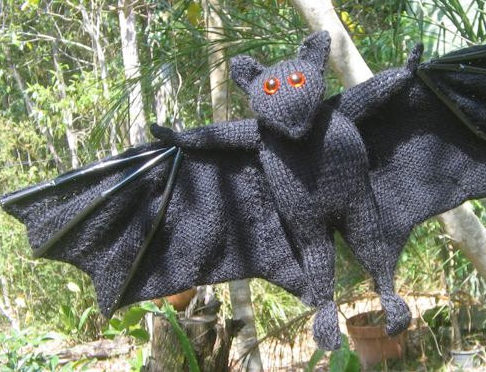 Toy Bat
Friendly fruit bag softie that can be posed with wings outstretched or wrapped around body. About 50 cms wingspan and 23 cms head to toe.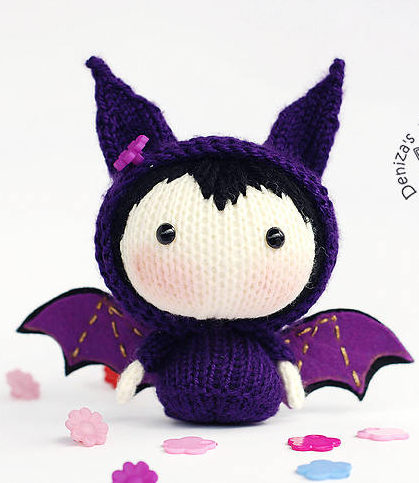 Bat Doll
The finished doll is approximately 4,5 inches (12 cm) tall. You can also purchase the finished toy from the designer, Deniza.
Terry Matz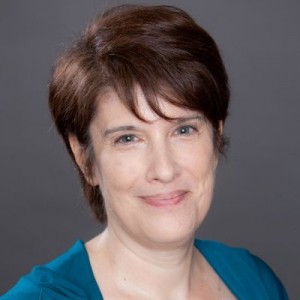 Terry is a knitting late-bloomer, learning to knit as an adult from Internet tutorials, because she wanted a craft that was useful, fun, and portable. Knitting hats for cancer patients inspired her to design her own patterns—available for free at her blog, intheloopknitting.com. Terry met her husband Ken at a science fiction convention and moved to the Kansas City area to be with him more than 30 years ago. Terry supports her yarn stash by creating websites and other digital media. Terry firmly believes in Knitting in Public—it's a great conversation starter!