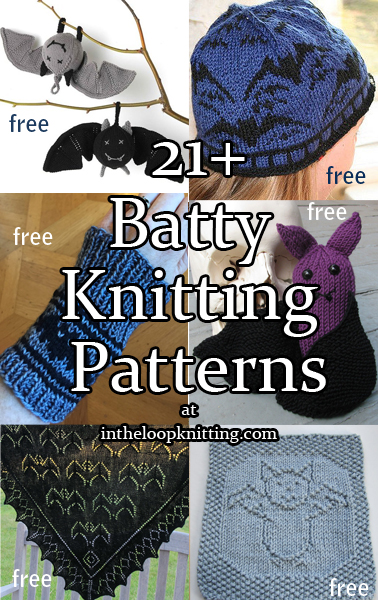 Bat knitting projects for toys, shawls, hats, decor, and more featuring a bat motif. Most Patterns are free.
To get the knitting patterns, scroll down the page to the individual pattern you want and click on the link to that pattern.
These patterns are not my designs but links to other designers who have generously shared their patterns. If you have questions about how to knit a specific pattern, please contact the designer directly.
All links on this site are for informational purposes, but please note that some links are to affiliate sellers that pay me a small commission on purchases.
Free Patterns

Cloudy the Bat
Toy bat softie with a name inspired the the fact that a group of bats in flight is called a cloud. Designed by Esmerelda Peabody Jones. Approximately 6".

Dancing Batty Shawl
This version of a bat lace shawl includes options for the lace edging, number of bats, and adding nupp ears and bead eyes to the bats. Available in English and German. Designed by Meta Libenter. Pictured projects by bethanyh and 2bev

Easy Bats
Small, easy bats you can use for a mobile, decorations, costumes, and more. Designed by Linda Dawkins. Rated very easy by Ravelrers. Pictured projects by StrawberryDarling, ekellyo, and helen-a78

Bitty Bat Hat
Adorable baby hat is transformed with a few extra pieces to a bat. Web pattern for size 12 months is free. More sizes and a printable pdf are available on Etsy. Designed by Cassie at Little Red Window.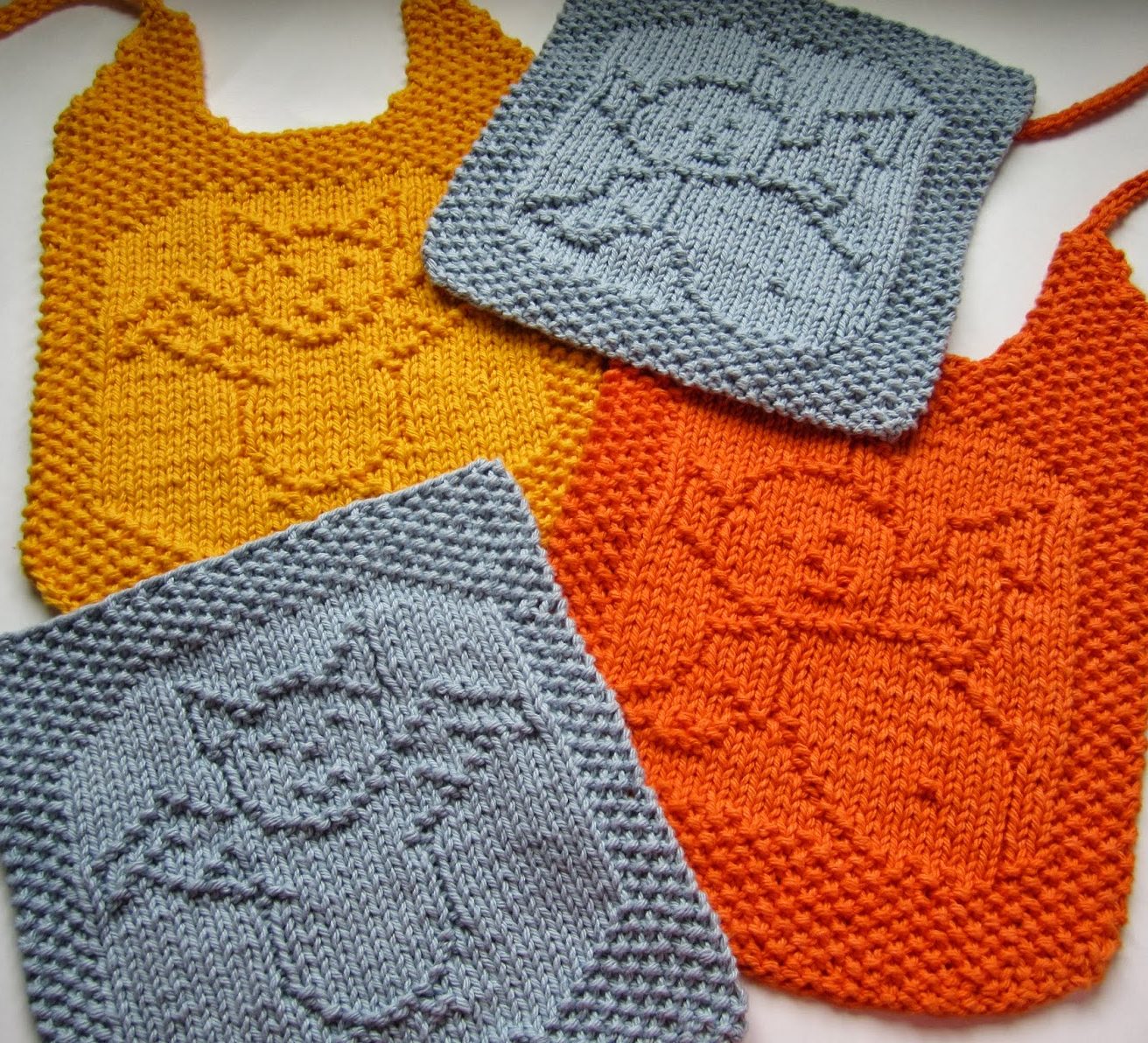 Bat Cloth or Bib
Easy cloth or bib comes in two designs with cute bat in knit and purl. Designed by Elaine Fitzpatrick. Click on the link below and the links to the patterns are on the right side of the page.

Violet the Bat
This small bat softie can be used as a toy or decoration. Designed by Lynn Finsterwalde. Available in English and German. Pictured project by Isis

Bat Mask
Masquerade style mask easily creates a bat shape with wing shaped eyes and bat face at the top. Designed by Lorraine Hearn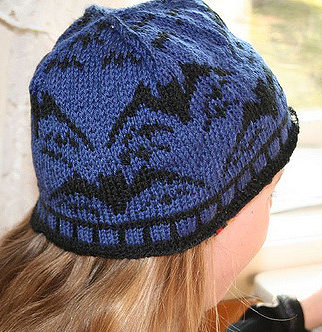 Bat Hat
You'll go bats for this colorwork beanie from Monica Gausen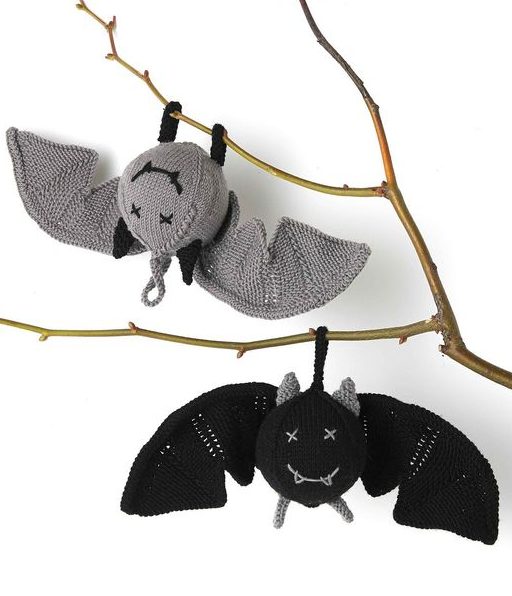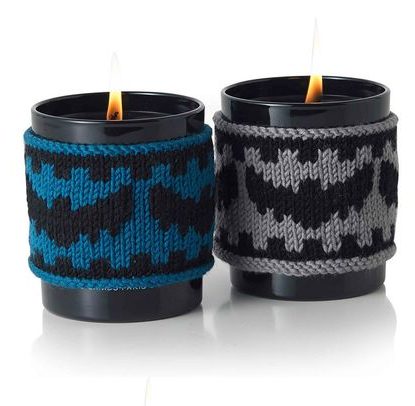 Bat Toy and Candle Cozies
MillaMia's bat decoration / softie uses a tennis or polystyrene ball for the body and a pipecleaner to provide a bit of structure to the wings. Candle cozies feature bat, spider, or black cat motifs. Though the page is titled for the Bat Toy, all patterns are included in the download.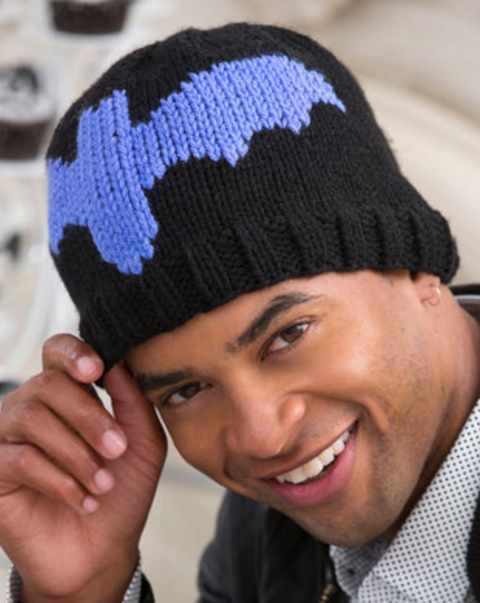 Bat on a Hat
Beanie with duplicate stitch bat motif by Laura Bain. Two sizes.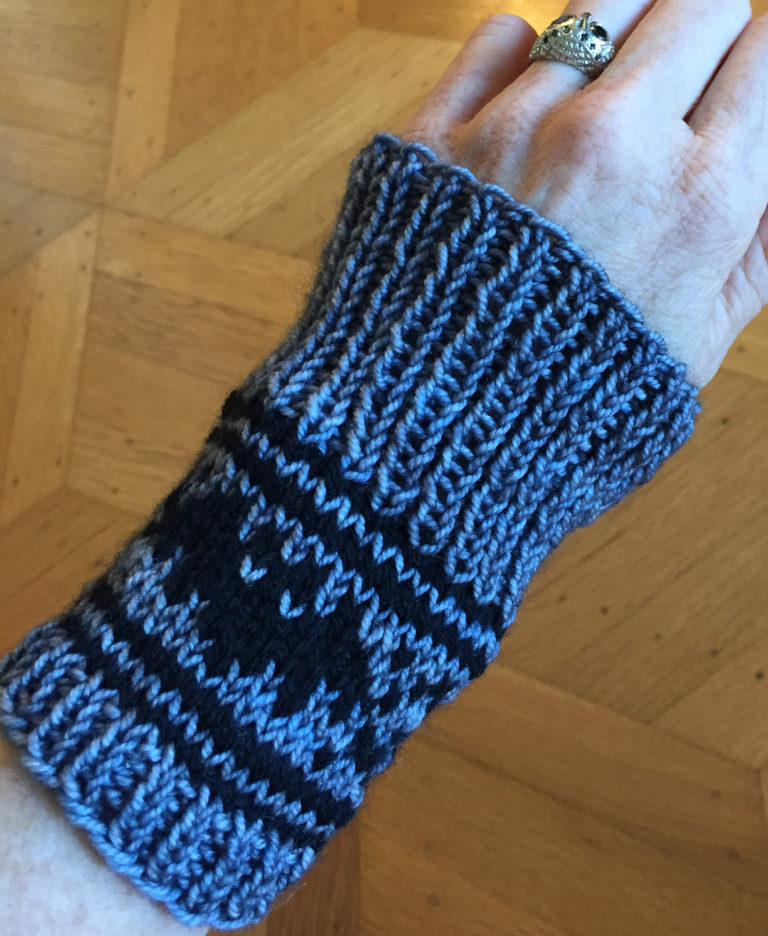 Bat Fingerless Mitts
Gone Batty: Simple Fair Isle Wristwarmers feature bat motif. Designed by Art Fiend. Pictured project by Lixivia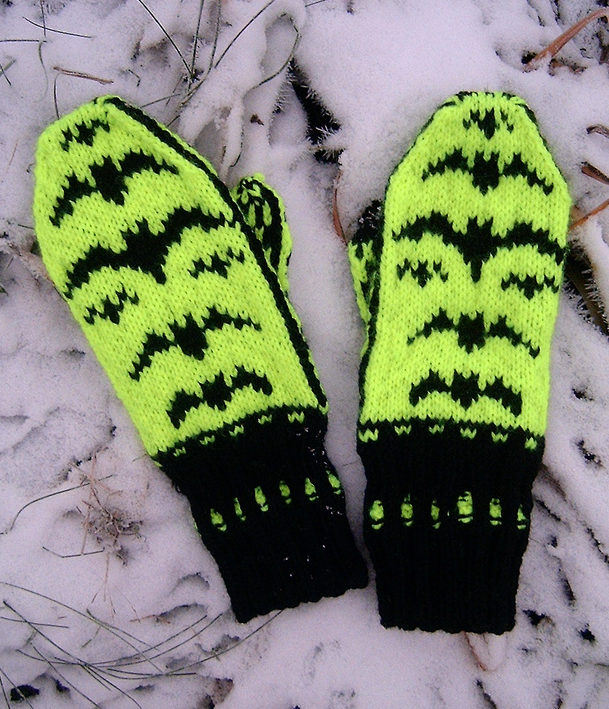 Batsy Mittens
Fun mittens with flying bats in stranded colorwork. Designed by Ziina. Available in English and Finnish.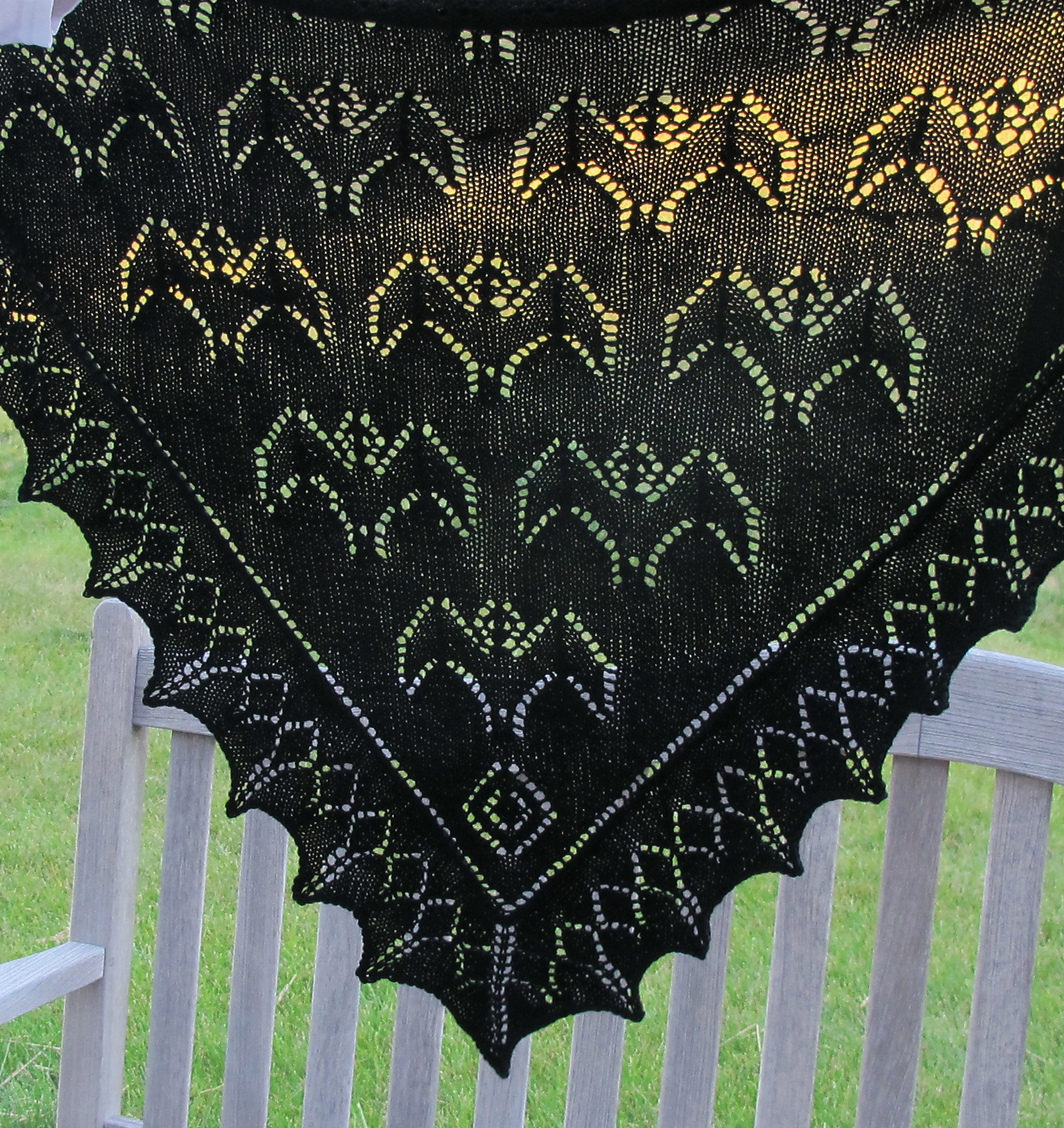 Bat Shawl
Lace triangle shawl featuring lace bat motifs designed by Emilee Mooney. Pictured project by mer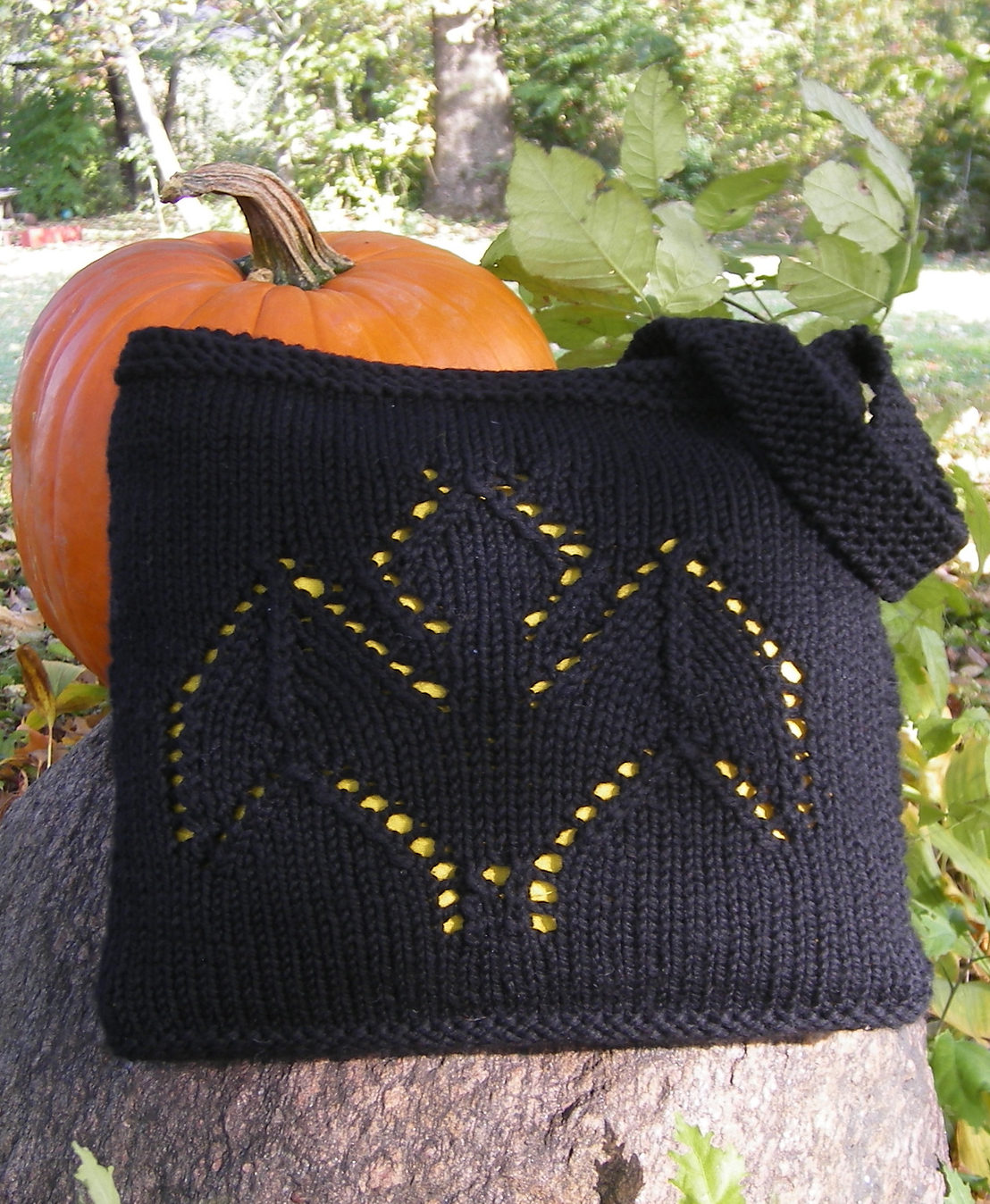 Going Batty Bag
Tote or treat bag with bat motif. Designed by Alison Stewart-Guinee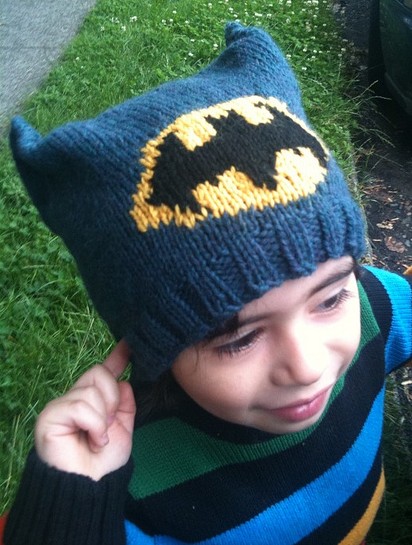 Batman Hat
Ann Donovan's design features a special design to the crown to create the bat ears.
Patterns for Purchase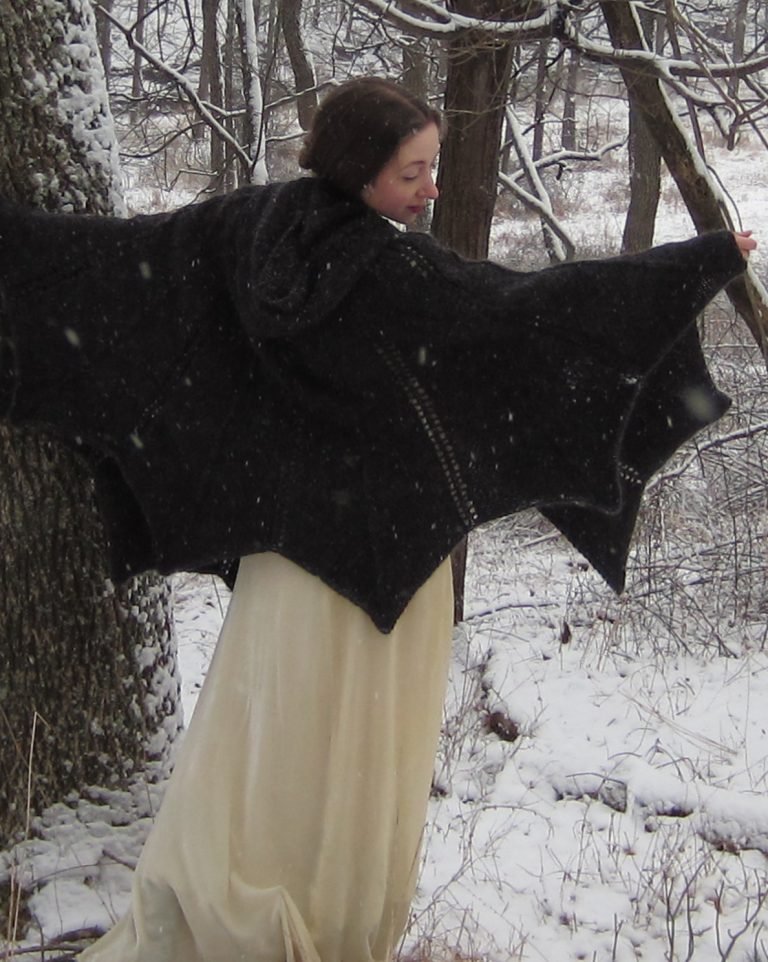 Bat Cape
Hooded cape shaped like bat wings for gothic or vampire inspired costumes. Worked in a lacy chevron pattern with ribbon tie at neck.
See more pics and get the knitting pattern on Etsy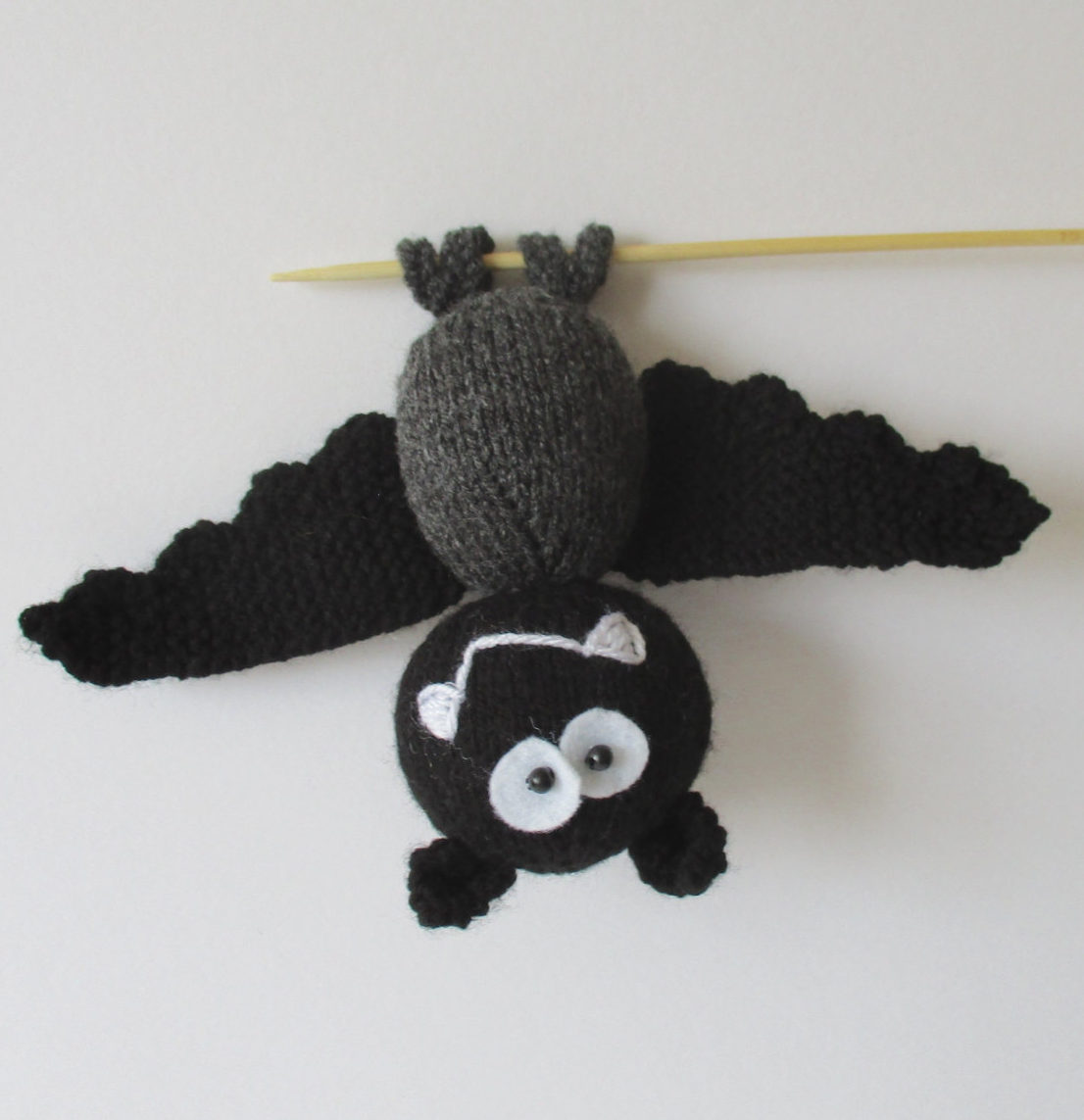 Billy the Bat
This little bat can stand upright but also has loops on his toes so you can hang him on a length of ribbon or cord to make a Halloween decoration. Designed by Amanda Berry. FINISHED SIZE: The finished bat is approximately 13cm tall, and the wingspan is 22cm.
See more pics and get the knitting pattern on Etsy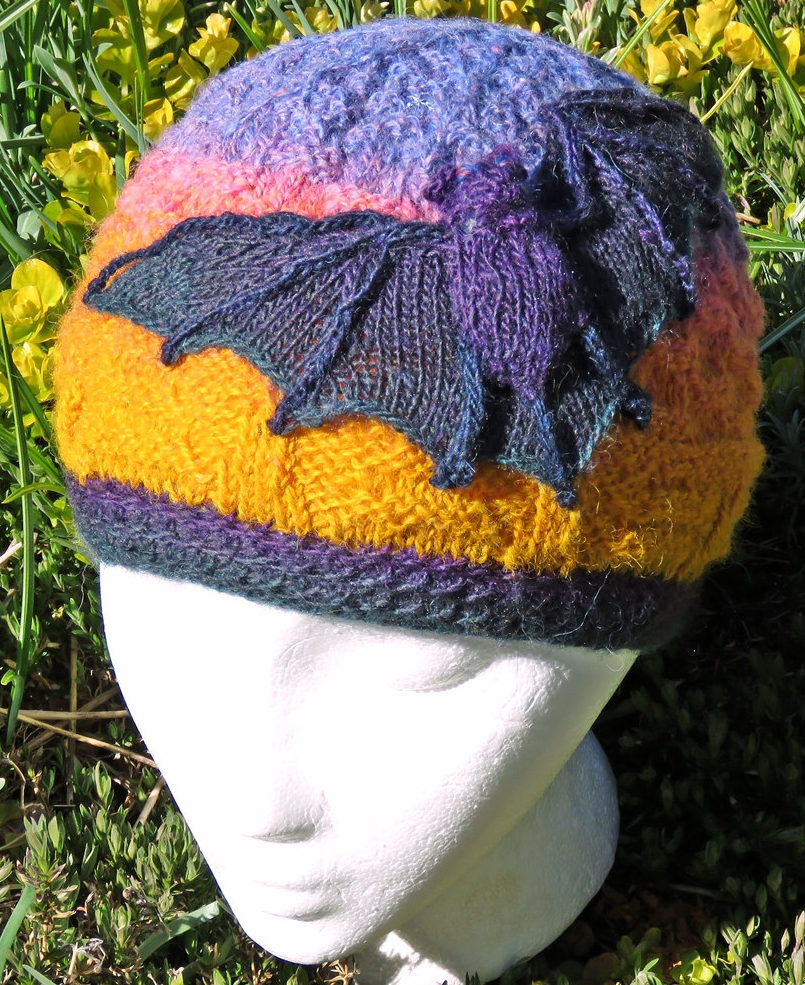 Bats in the Night Sky Beanie
Hat features a knit bat applique.
See more pics and get the knitting pattern on Etsy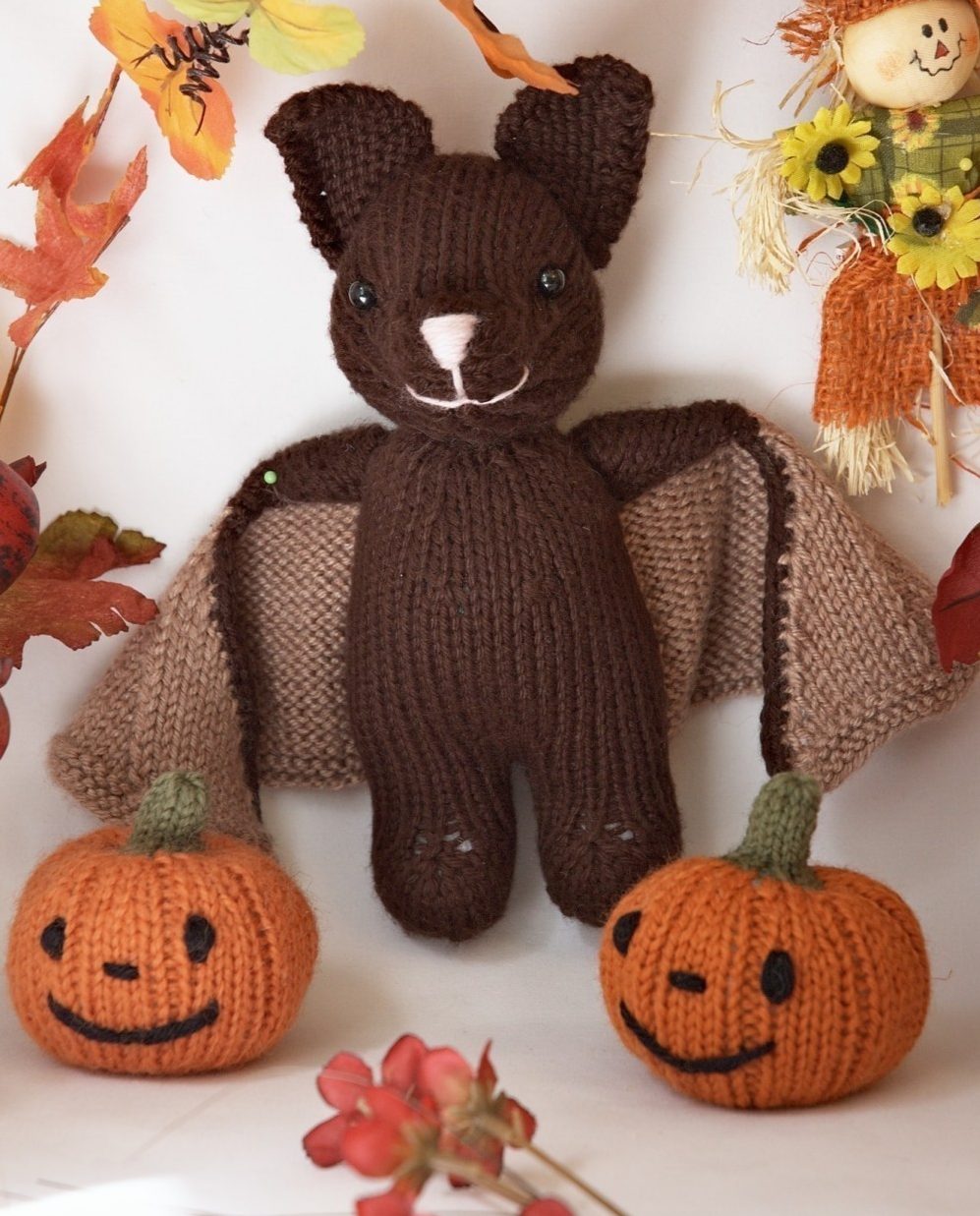 Bat and Jack O' Lantern
Bat: 20cm (8″) tall, 35cm (14″) wingspan. Jack O' Lantern: 7-10cm (3-4″) tall, 22cm (9″) around
See more pics and get the knitting pattern on Etsy
\
Bat and Spider Hats
Beanie hat in 4 sizes (2 yrs old to adult), plus instructions to make it into either a spider hat or a bat hat.
See more pics and get the knitting pattern on Etsy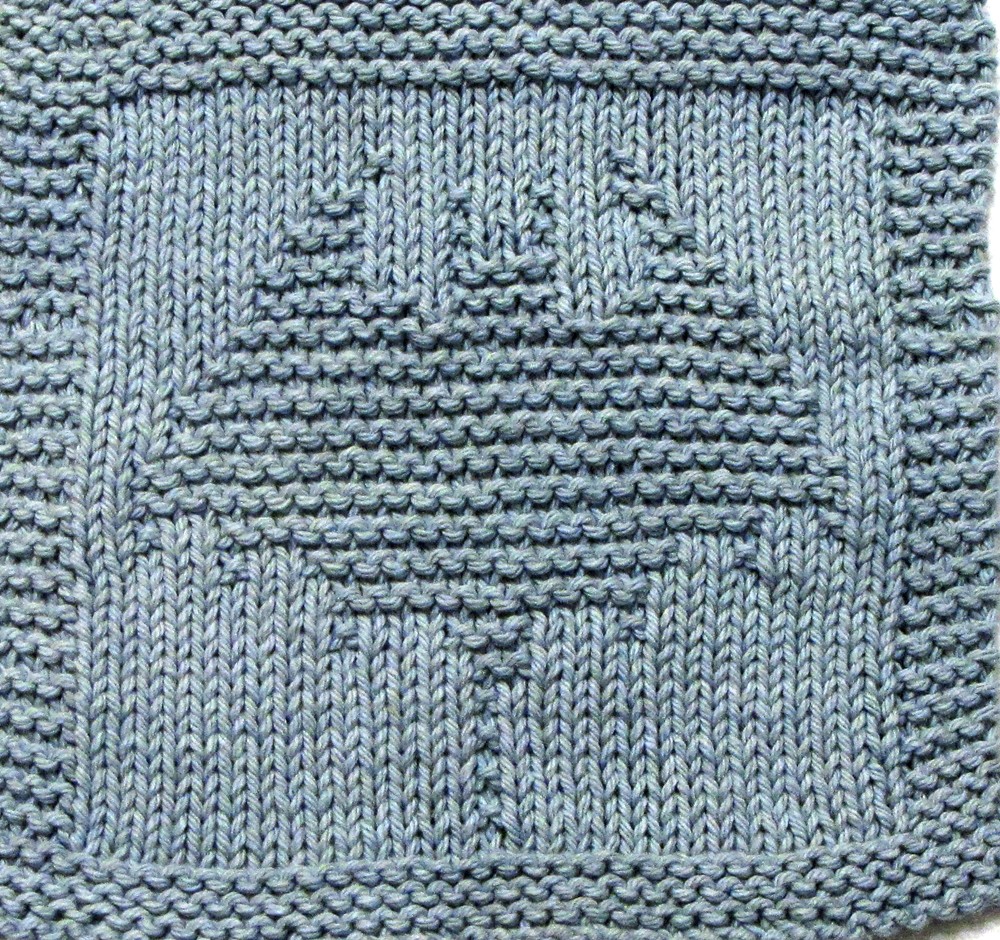 Bat Cloth
Easy bat motif for use in wash or dish cloths, as an afghan block, or in other knitting projects.
See more pics and get the knitting pattern on Etsy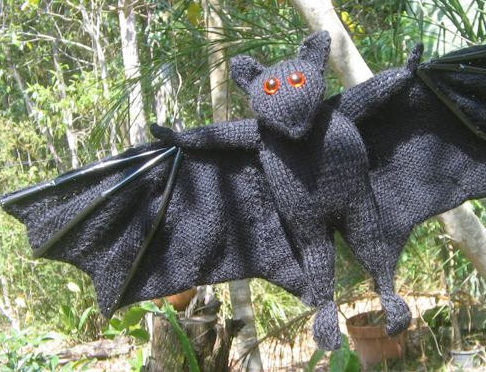 Toy Bat
Friendly fruit bag softie that can be posed with wings outstretched or wrapped around body. About 50 cms wingspan and 23 cms head to toe.
See more pics and get the knitting pattern on Etsy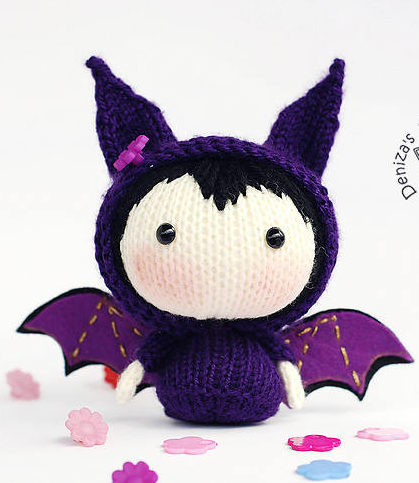 Bat Doll
The finished doll is approximately 4,5 inches (12 cm) tall. You can also purchase the finished toy from the designer, Deniza.