Elephant Knitting Patterns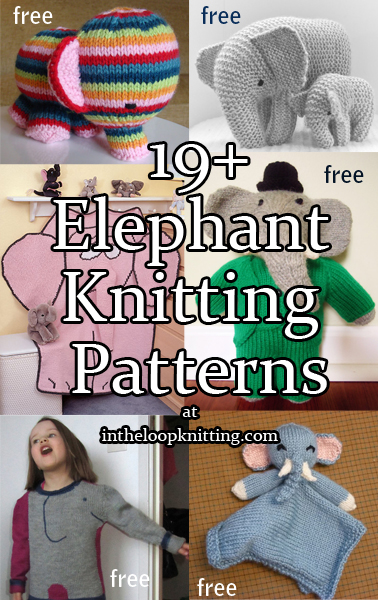 To get the knitting patterns, scroll down the page to the individual pattern you want and click on the link to that pattern.
These patterns are not my designs but links to other designers who have generously shared their patterns. If you have questions about how to knit a specific pattern, please contact the designer directly.
All links on this site are for informational purposes, but please note that some links are to affiliate sellers that pay me a small commission on purchases.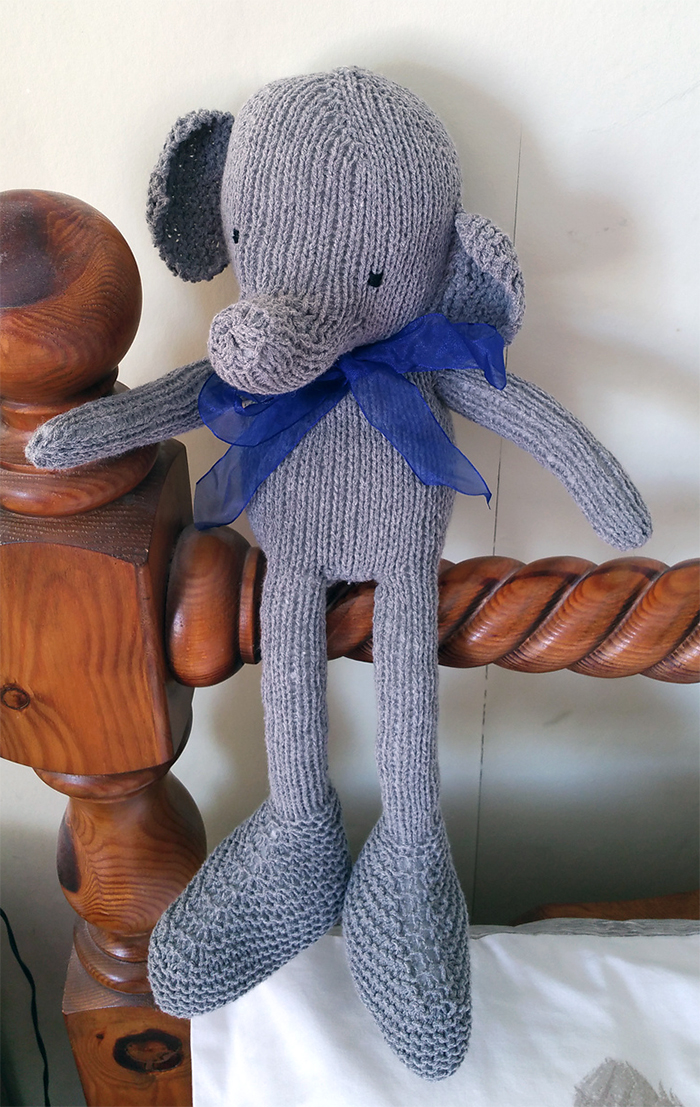 Hap the Elephant
Elephant toy designed by Nancy Anderson as one of her Big Footed Critters. Approximately 15 1/2″ tall in Aran weight yarn. Pictured project by sarahsh123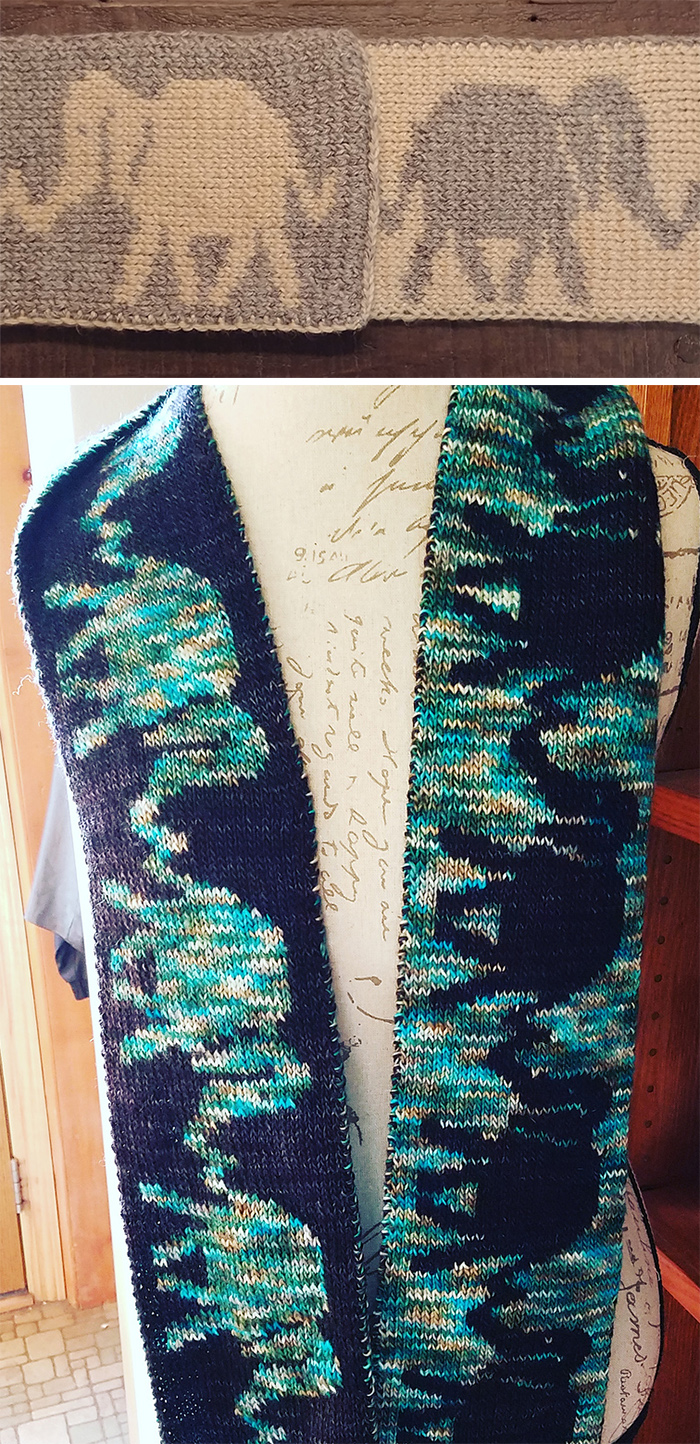 Elephants on Parade Scarf
Double knit reversible scarf featuring elephants. Designed by Carrie Pinkerton. Pictured project (top) by trailerparkmedic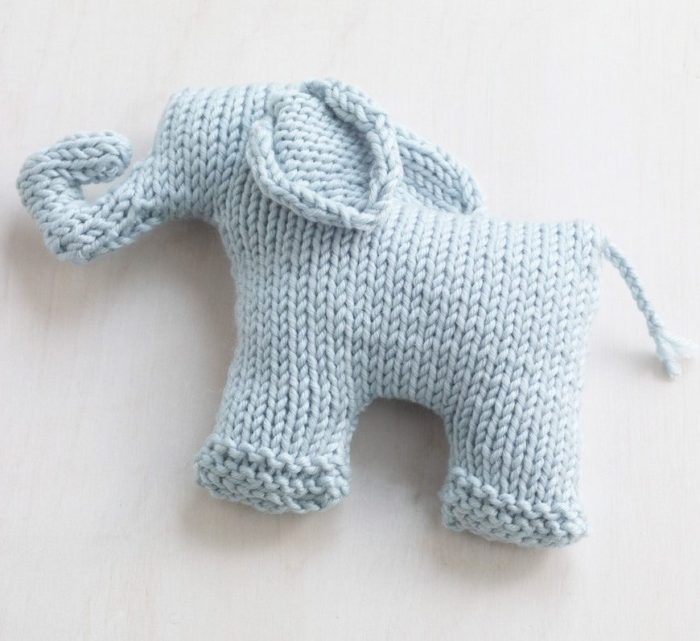 Sweet Mini Elephant
Toy knit flat and seamed. 5 in. (12.5 cm) tall. Designed by Lion Brand Yarn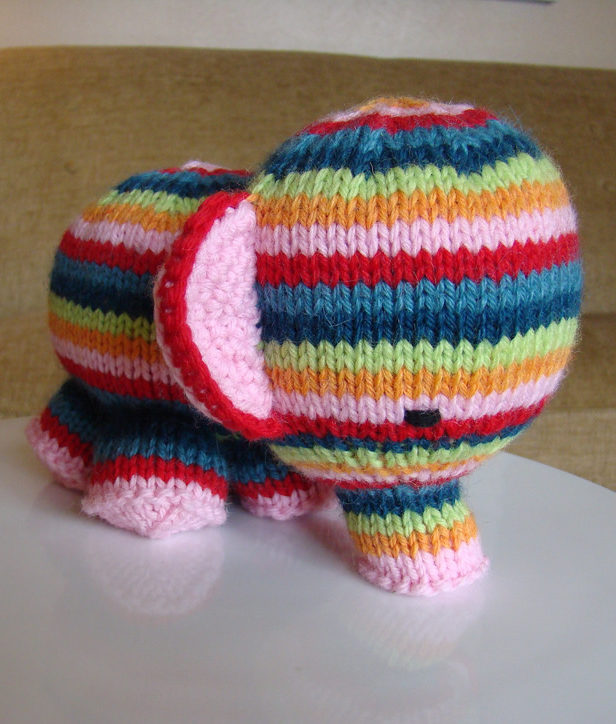 Elefante
Adorable striped toy elephant is a great stash buster. Finished size: 5 inches tall by 6 inches in length Designed by Susan B. Anderson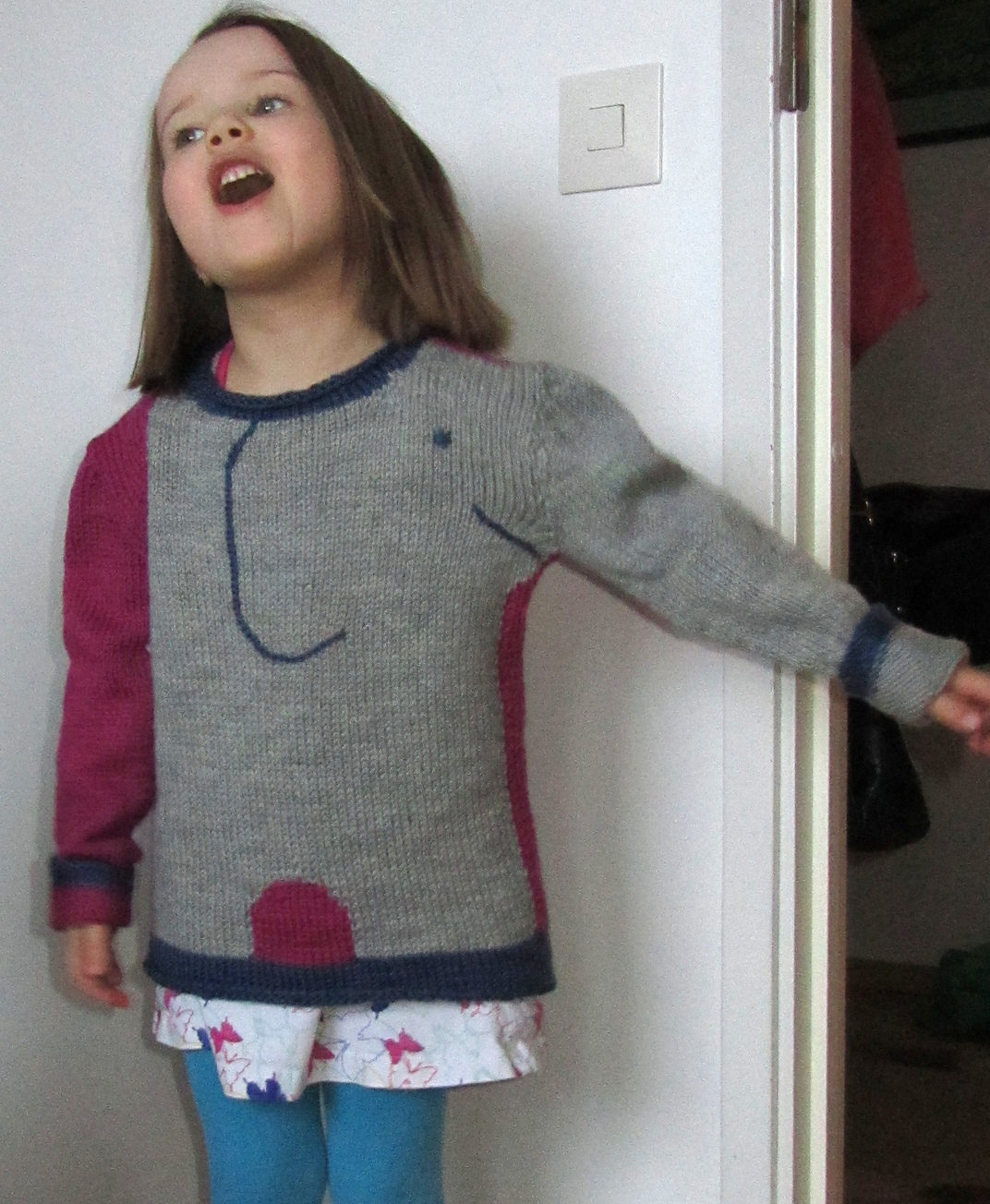 Elephant Sweater
The Snuffle Pullover features an elephant motif with a trunk formed by the sweater arm. Sizes 2, 4, 6, 8 years. Designed by Lorna Miser by Red Heart. Pictured project by laurau
[widget id="black-studio-tinymce-17″]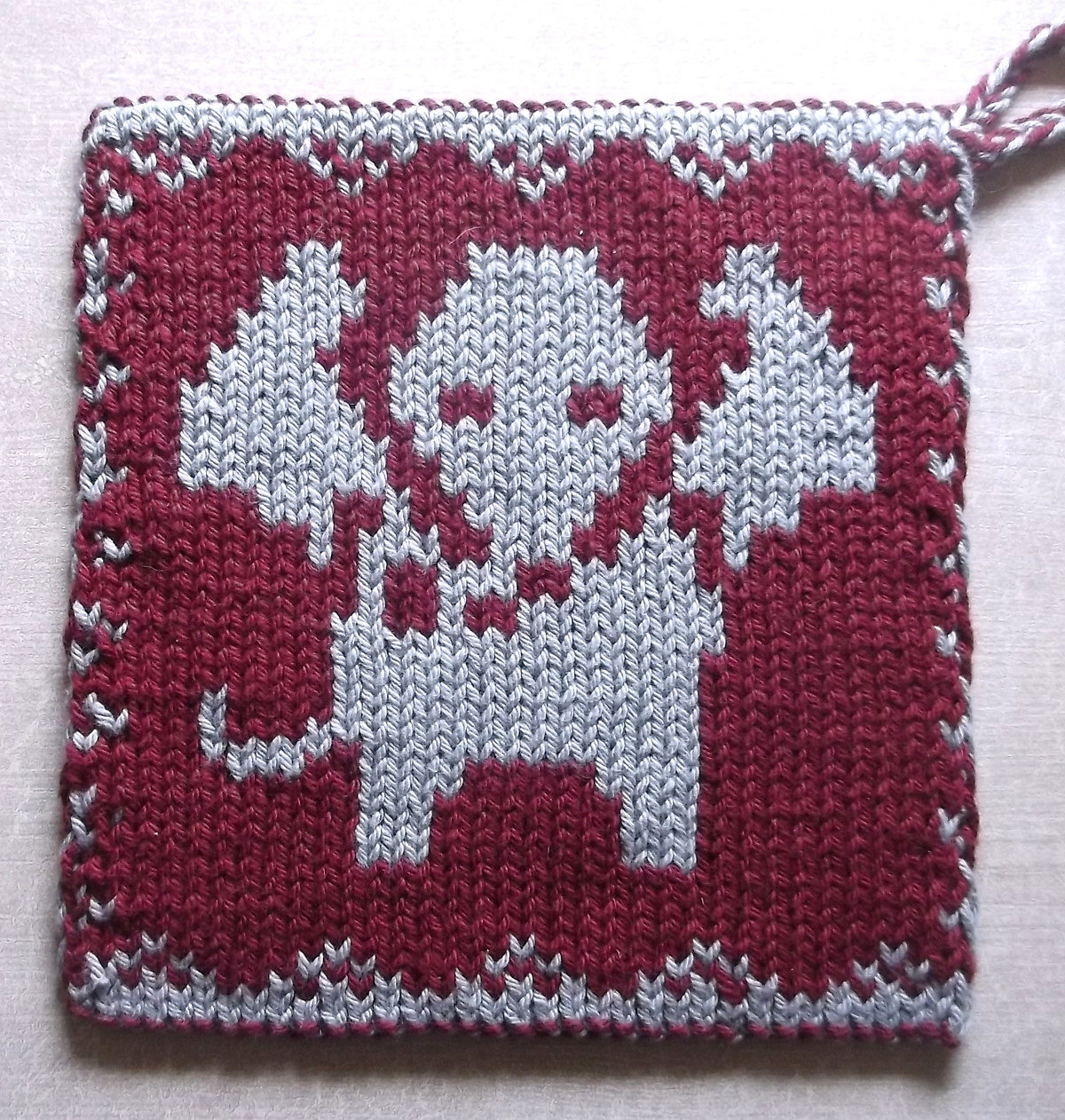 Elephant Pot Holder
Double knit reversible design with elephant motif that can be adapted for use with different techniques intarsia, knit-purl relief, duplicate stitch, etc. You can also use it for afghan blocks, baby clothes, wash cloths, and more. Designed by Susi Sunshine. Pictured project by tanja39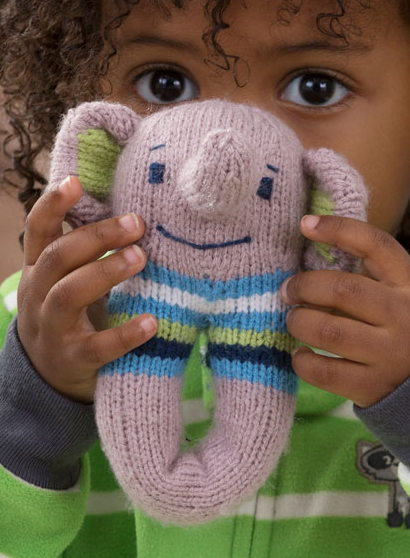 Elephant Baby Rattle
This soft knit elephant rattle is contains a cat toy in the head to make the sounds. Rattle measures 14 cm [5½"] tall and head is 16.5 cm [6½"] around at widest point. Designed by Nancy Anderson.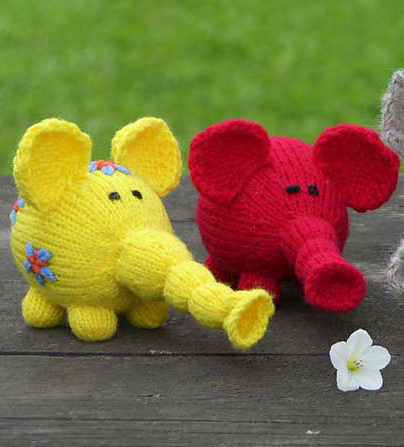 Flower Power Elephants
Toy elephants designed the the Twins Ala and Ela.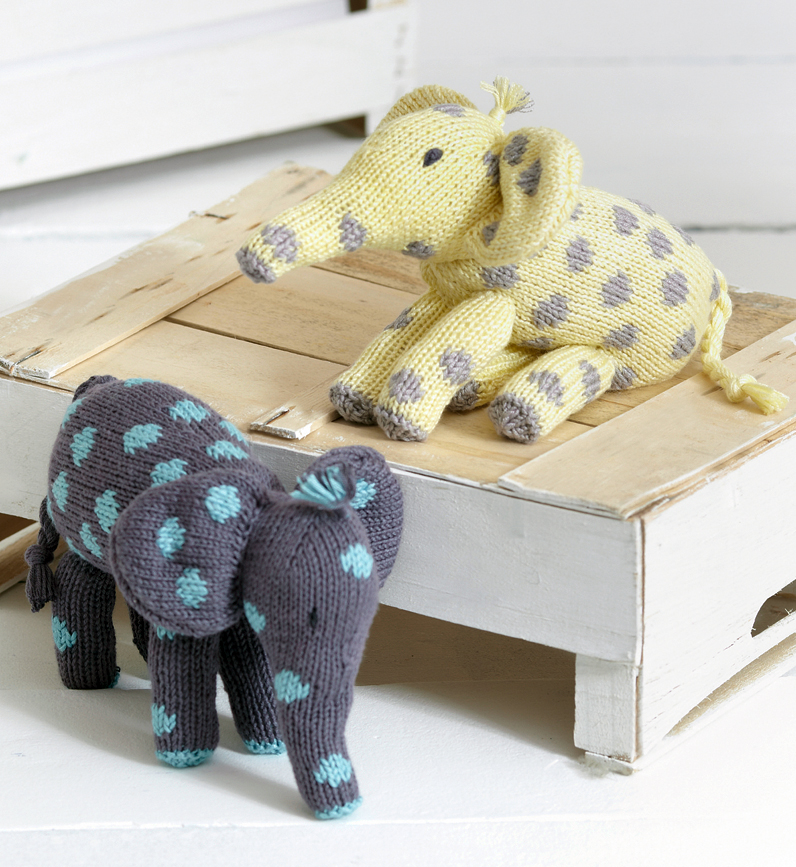 Noah's Ark – Elephants
Elephant toy softie designed by Sue Jobson for Sirdar. 17cm (6¾in) tall.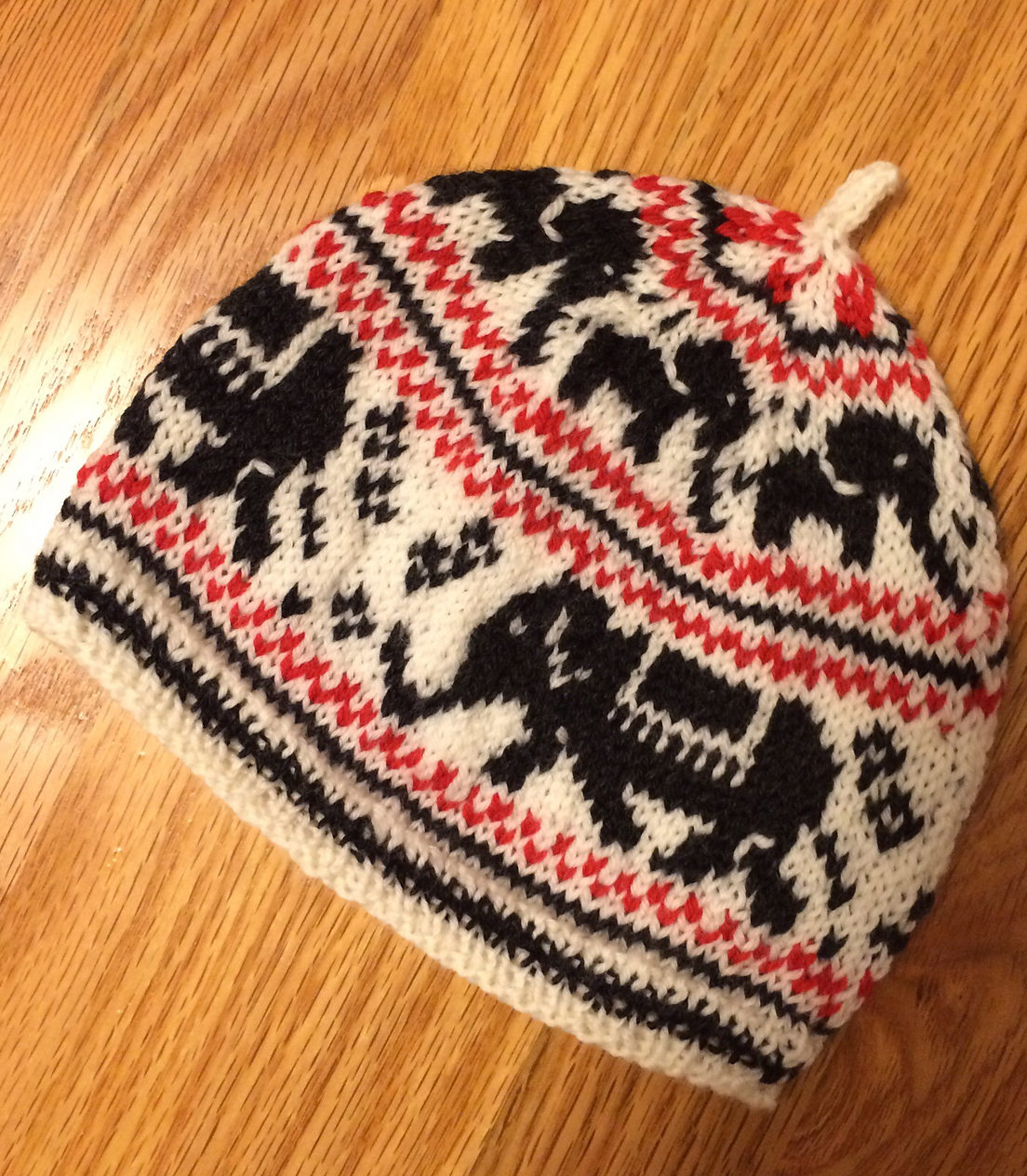 Elephant Hat
Child sized colorwork beanie with elephant motifs. Designed by Kathleen Taylor. Pictured project by harpknit
[widget id="black-studio-tinymce-17″]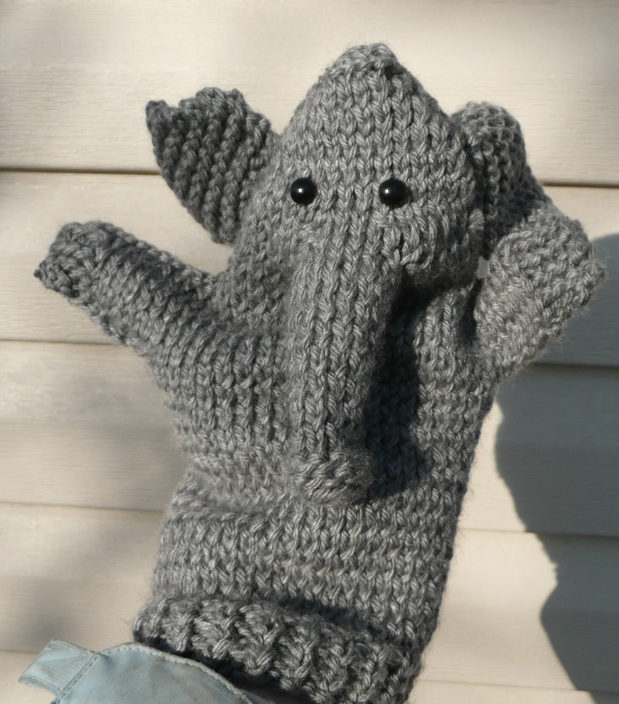 Elephant Puppet
Designed originally by Operation Christmas Child International. Pictured project by needleclicker
Peanut the Elephant Wash Cloth
Easy cloth designed by Elaine Fitzpatrick.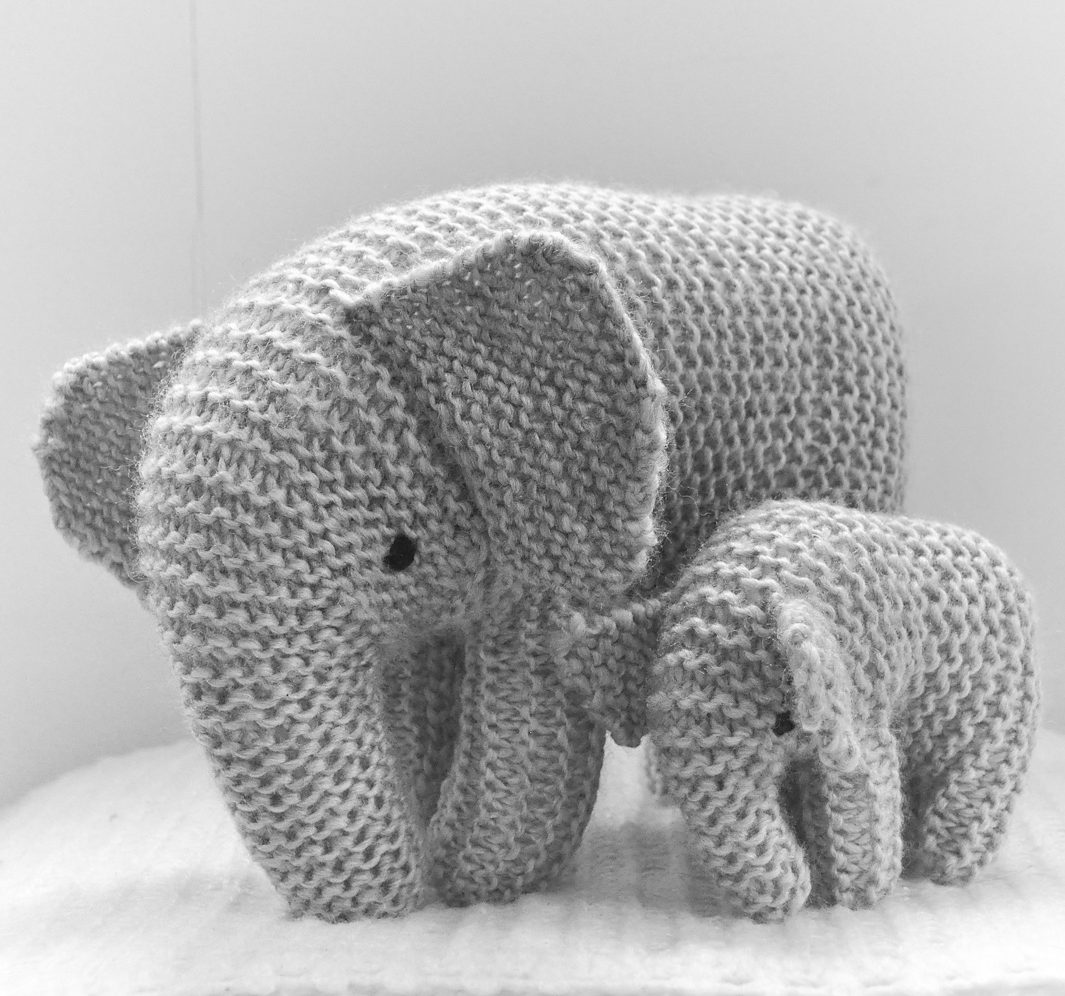 Oliphaunt Elephant Toy
This elephant toy is knit in one piece from the rear legs forward to the trunk, shaped with short rows, and then sewn. Size depends on yarn weight and needles used. Designed by Cristina Bernardi Shiffman Pictured project by mariflori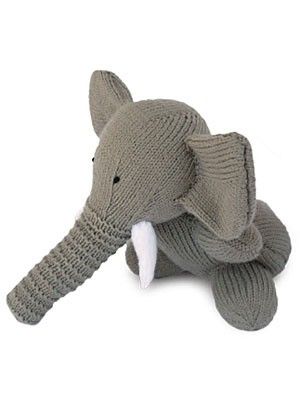 Elephant
Elephant measures 9 1⁄2in (24cm) in height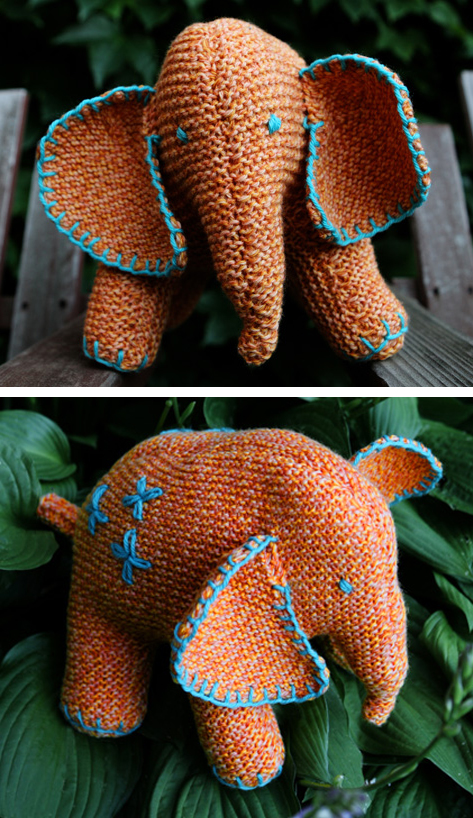 Flo the Elephant
Franklin Habit designed this elephant toy softie by updating a truly vintage pattern pre-1950. As designed, Flo is approx. 8.5 inches tall.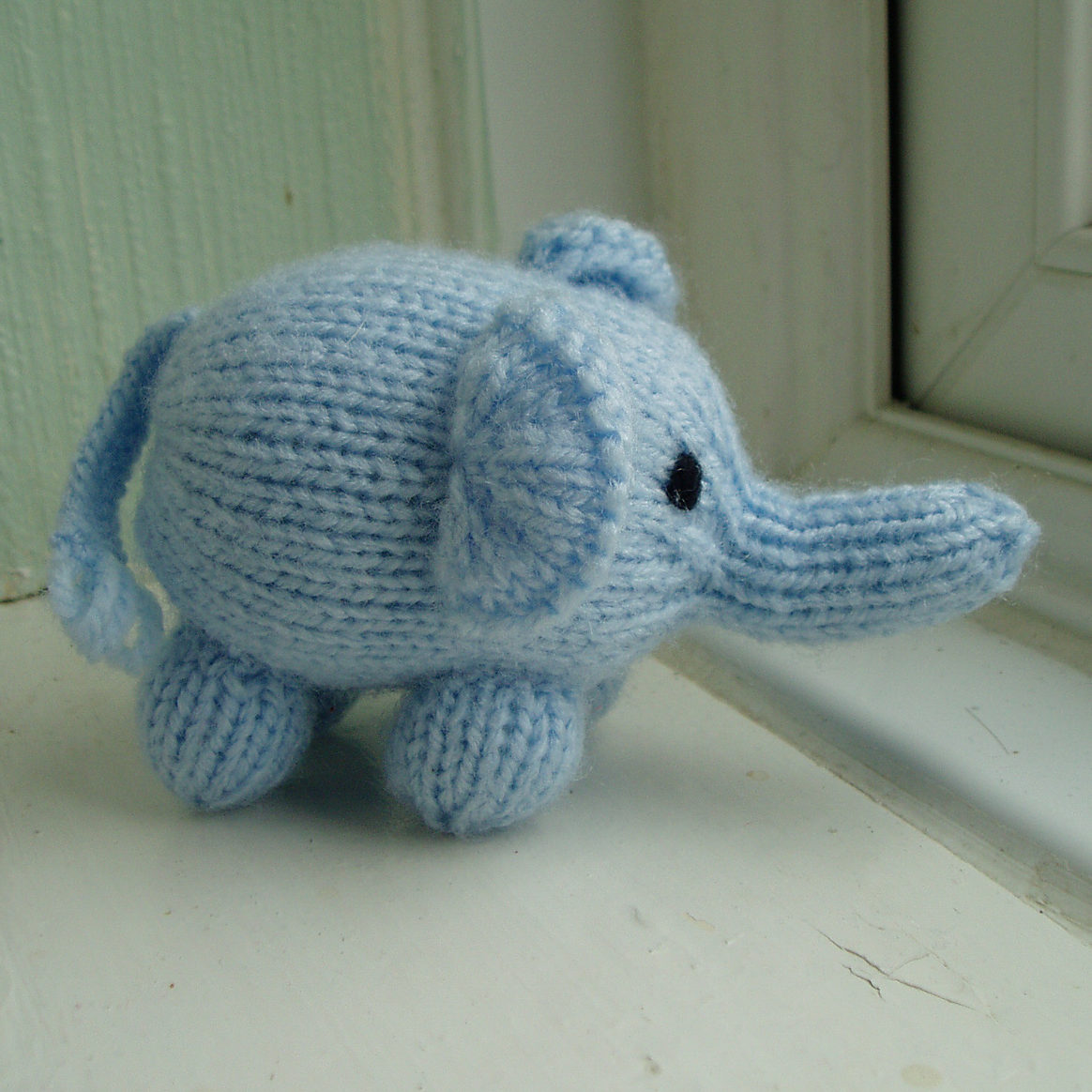 Mini Elephant
Aine Marriott designed this elephant toy that is about 2 inches long

Menagerie Puppets
Five dressed-up animal finger puppets including elephant, lion, bear, bunny and reindeer. Designed by Monica Rodriguez Fuertes. Pattern  available for free with a free trial at Creativebug. Click link and scroll down to the bottom of pattern list to see the download link. You'll have to sign up for a free trial.
Two options to get the pattern
[widget id="black-studio-tinymce-31″]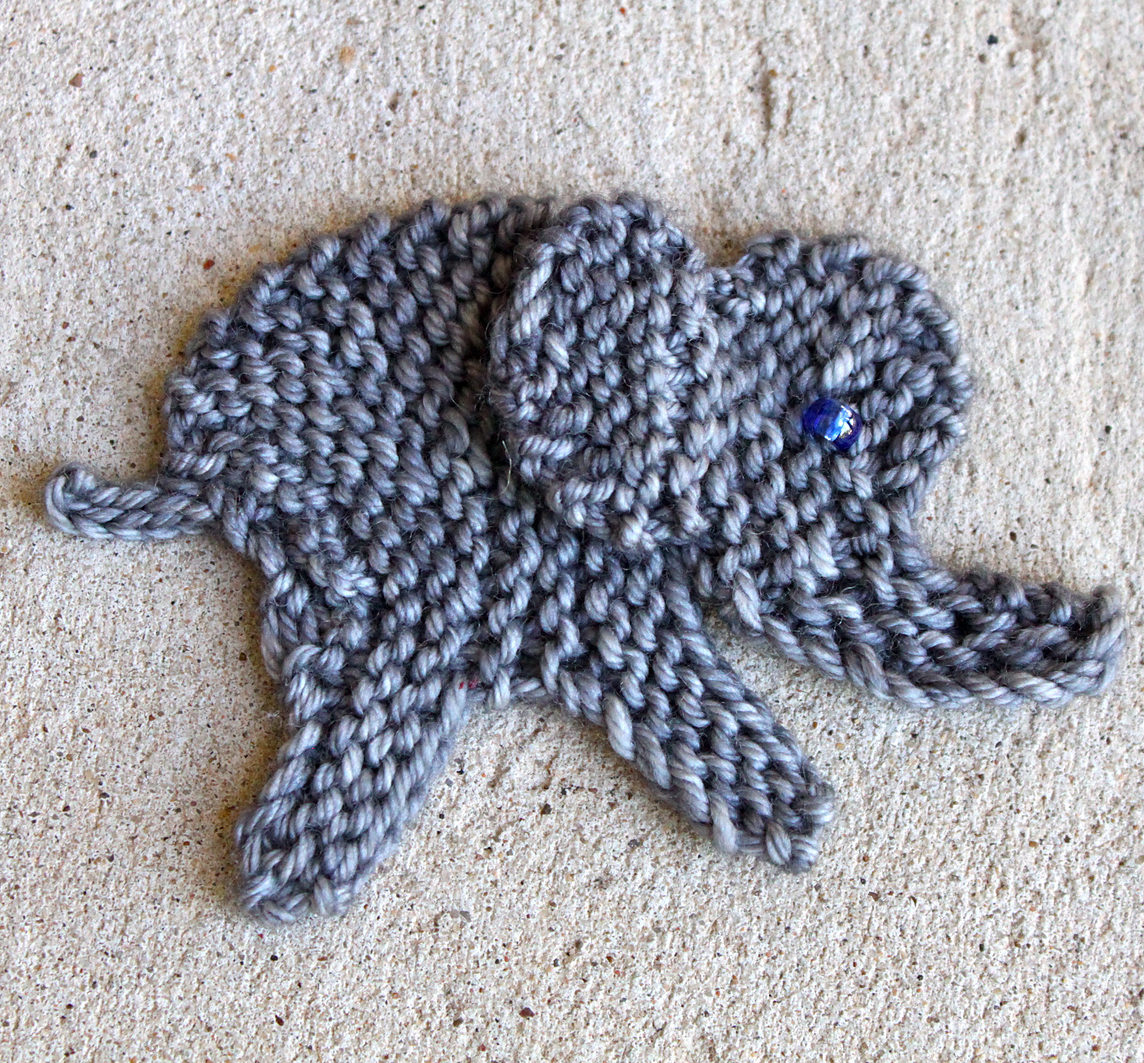 Woollyphant
This flat elephant can be used as an appliqué, decor, or jewelry. Aneta Gasiorowska designed this appliqué to be made in one piece using garter stitch and short rows.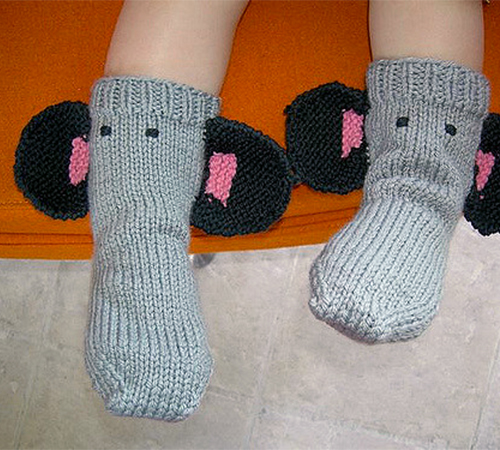 Elephant Socks
Fun socks for children with elephant ears and a foot-shaped trunk. SIZE: 24 months (2 yrs), Child 3, Child 5-6. Pictured project by Meghan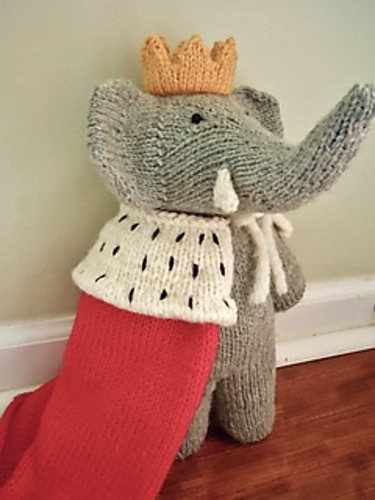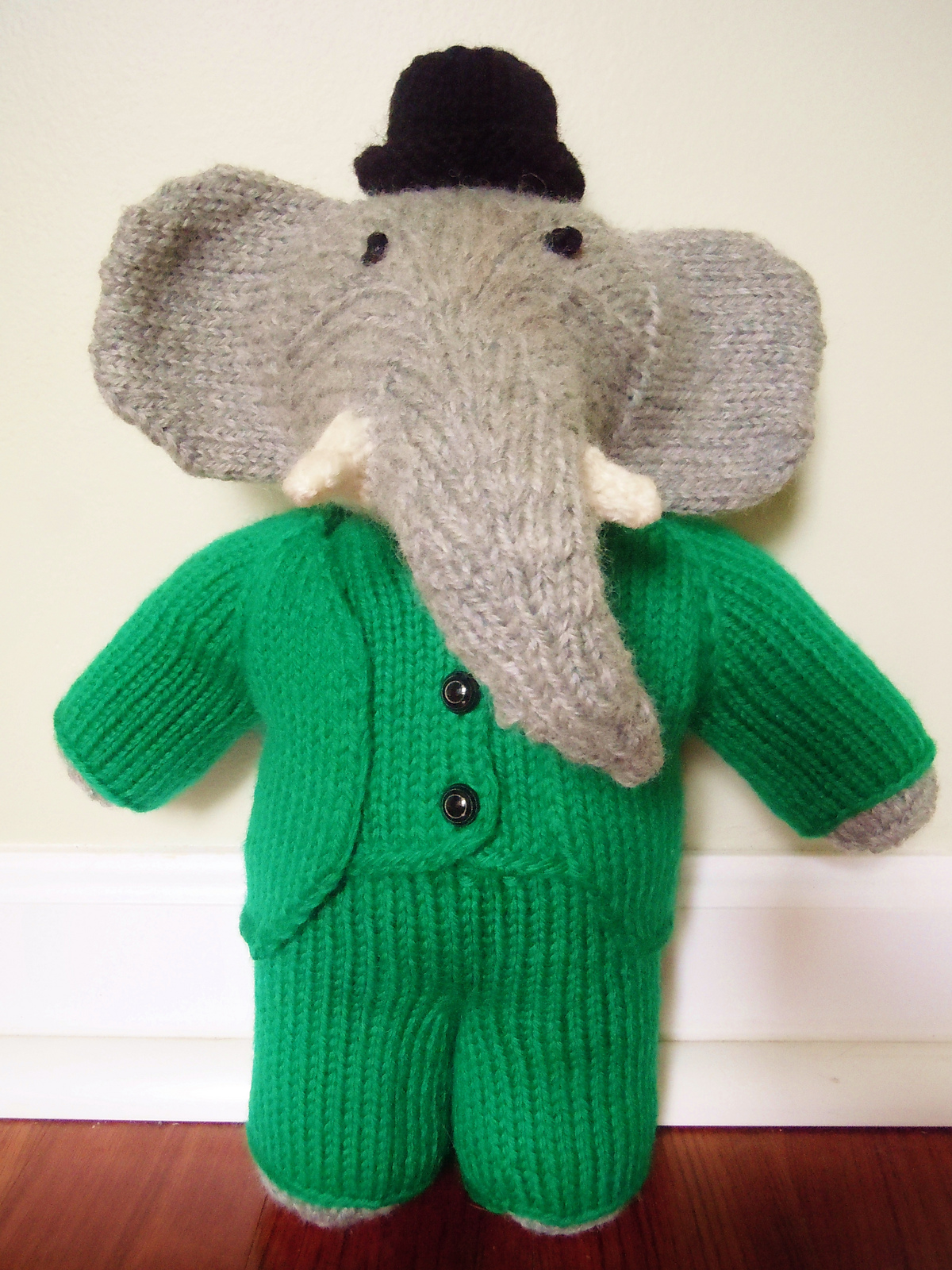 Babar
The beloved elephant comes to life in Sara Elizabeth Kellner's 11 inch toy. Instructions for Babar, his green suit, a bowler hat, king's cape, and crown are all included.

Elephant Teapot Cozy
Trampled by Geese took advantage of the teapot spout for this cute cozy.
Elephant Lovie
Thora Bey designed this blanket buddy. The body is knit flat and then the head and legs are sewn on at the center.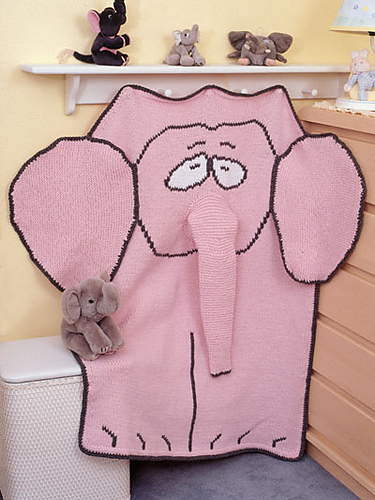 Spencer the Elephant Baby
Designed by Kathy Sasser for the book Quick Knitted Afghans, the blanket is worked in stockinette and garter with the features in duplicate stitch. 33 X 45″
Terry Matz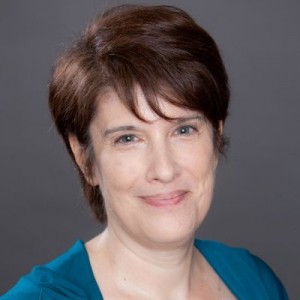 Terry is a knitting late-bloomer, learning to knit as an adult from Internet tutorials, because she wanted a craft that was useful, fun, and portable. Knitting hats for cancer patients inspired her to design her own patterns—available for free at her blog, intheloopknitting.com. Terry met her husband Ken at a science fiction convention and moved to the Kansas City area to be with him more than 30 years ago. Terry supports her yarn stash by creating websites and other digital media. Terry firmly believes in Knitting in Public—it's a great conversation starter!