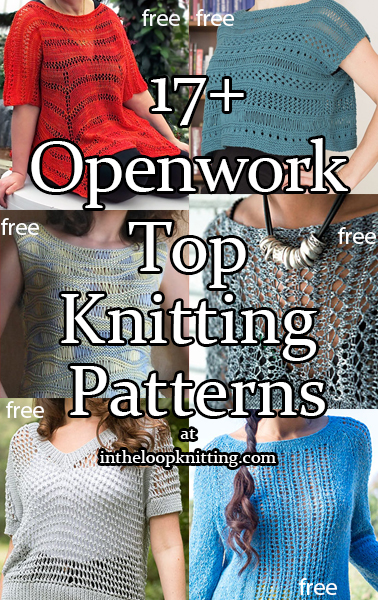 These pullovers are perfect for layering to keep you stylish and comfortable for those ocean breezes, cool summer nights, or those overly air conditioned restaurants! Or you can use any of them to dress up a swimsuit or tank when you go from the beach to dinner.
To get the knitting patterns, scroll down the page to the individual pattern you want and click on the link to that pattern.
These patterns are not my designs but links to other designers who have generously shared their patterns. If you have questions about how to knit a specific pattern, please contact the designer directly.
All links on this site are for informational purposes, but please note that some links are to affiliate sellers that pay me a small commission on purchases.
Free Patterns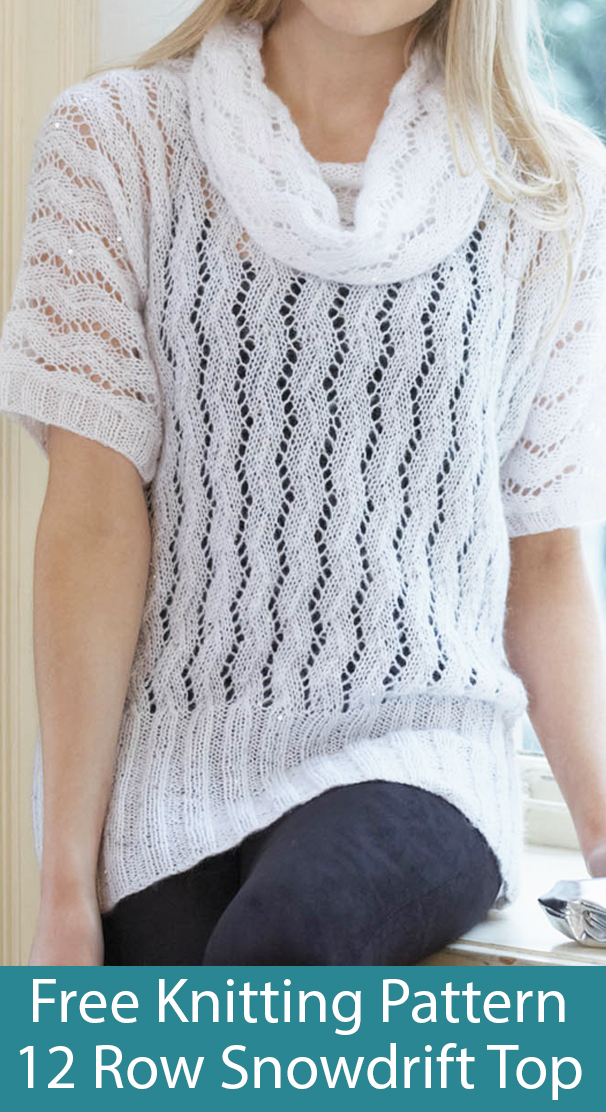 Snowdrift Pullover
Cowl neck short-sleeved lace top knit with a 12 row repeat lace stitch. Knit in 3 pieces - front, back, and cowl. Sleeves knit as part of front and back. Sizes from XS to 5XL. Sport weight yarn. Designed by Patons.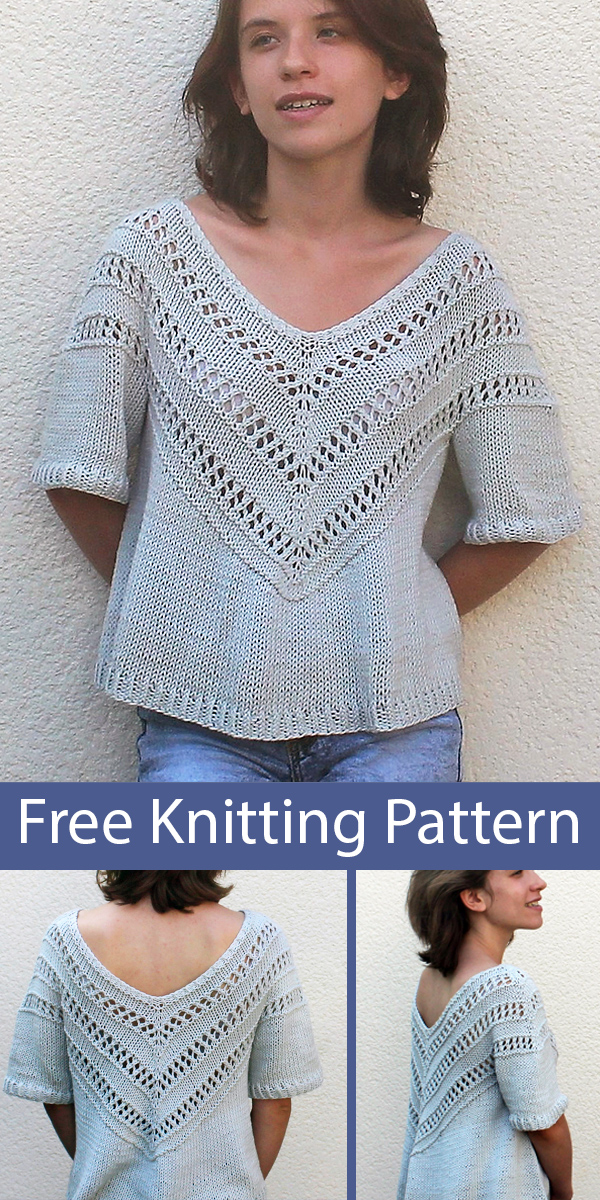 Boré Top
Boré is a large tee shirt worked from a openwork lace v-shaped yoke traveling around front, back, and sleeves. Worked the top down, with increases and short rows, which shape the body. Sizes XS (S-M1-M2-L-XL-XXL). DK weight yarn. Designed by Marine Madine. Available in English and French.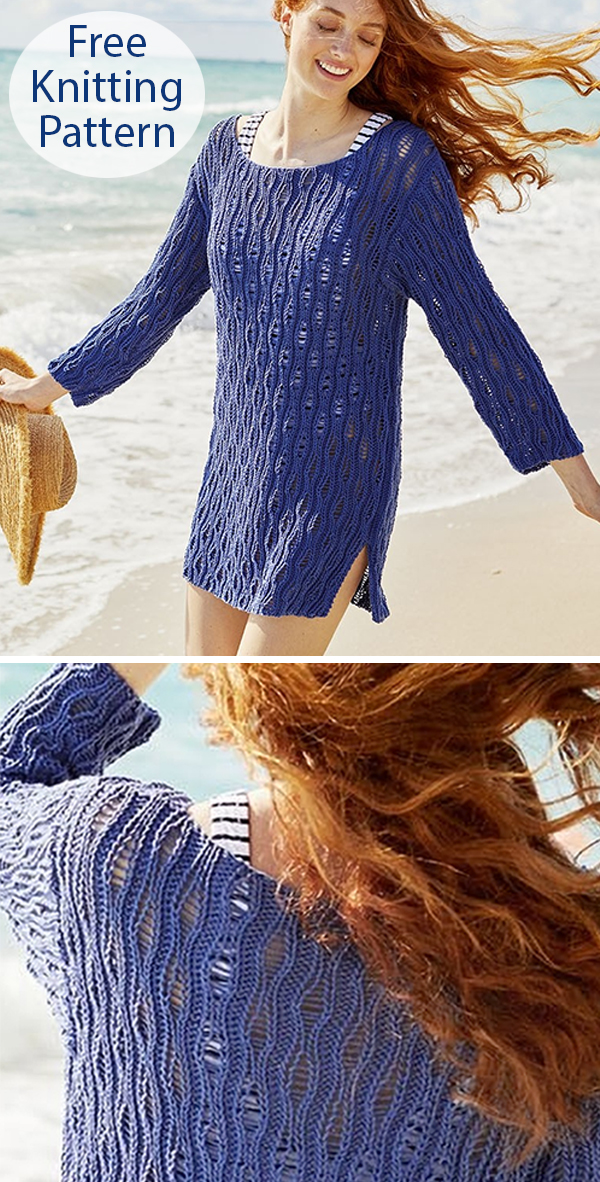 Drop-Stitch Pullover
This openwork sweater uses a 12 row repeat Vertical Seafoam Stitch. Knit flat in 4 pieces with minimal shaping and no picking up of stitches. Designed by Heather Lodinsky. Sizes 2X, 1X, L, M, S. A kit is also available. Worsted weight yarn. A kit is also available.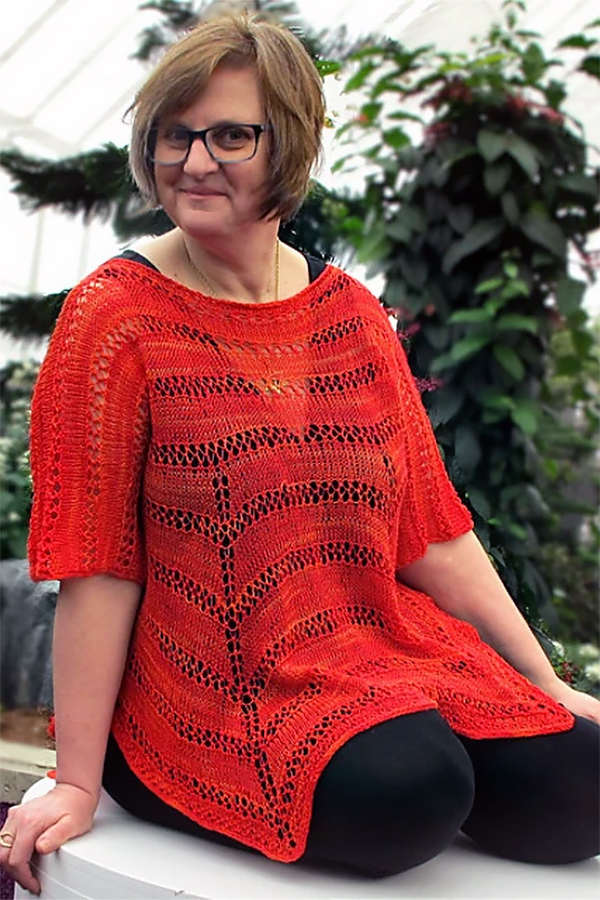 Myliu Top
Boat neck pullover knit in one piece with lace sections. Designed by Donna Druchunas for Knitty. Sizes Chest: 32 (36, 40, 45, 49, 54, 58) inches. Sport weight yarn.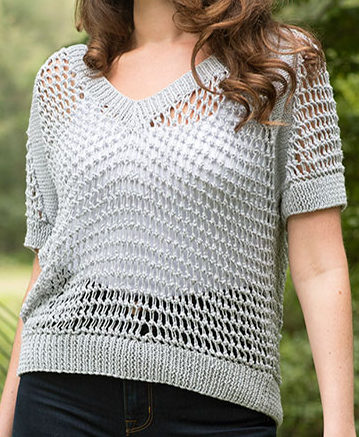 Cibber Top
This openwork tee is knit with a 2 row repeat eyelet stitch. Designed by Berroco Design Team. Sizes Bust – 38(42-46-50-54-58)"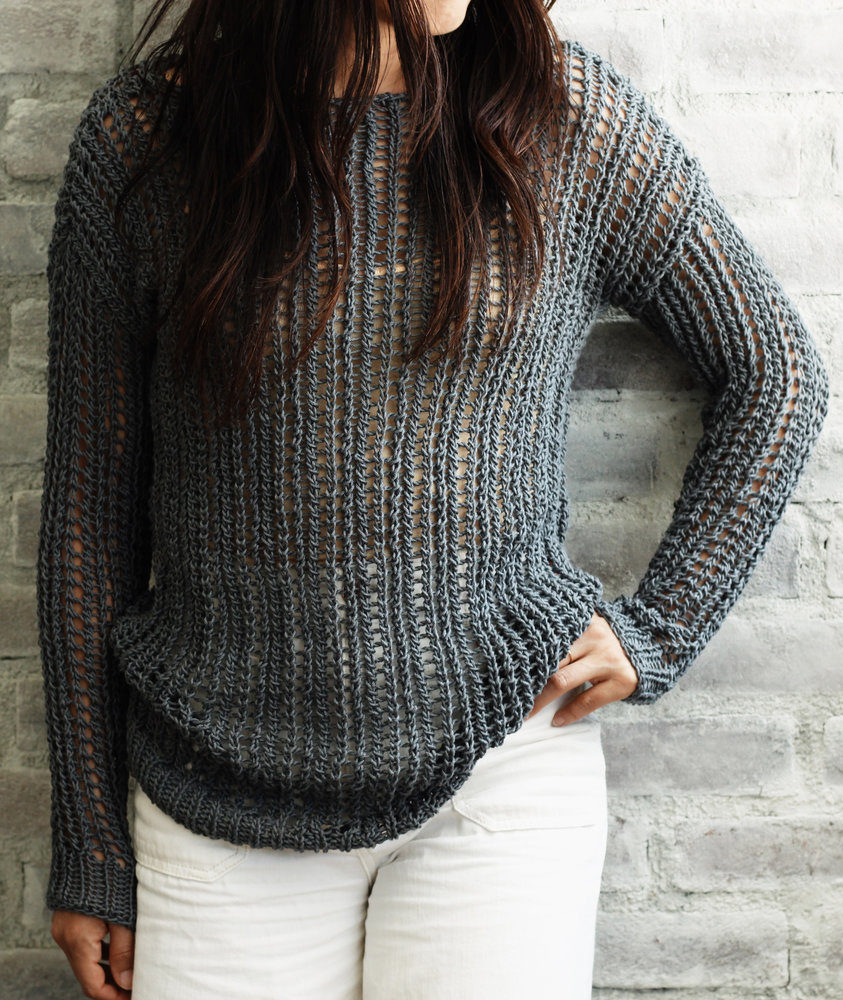 Bay Street Pullover
This openwork sweater features a two row repeat lace pattern, side vents and a boat neck. Designed by Alexandra Tavel for Two of Wands. Sizes XS/S, M/L, XL/XXL. A kit is also available.
More Free Patterns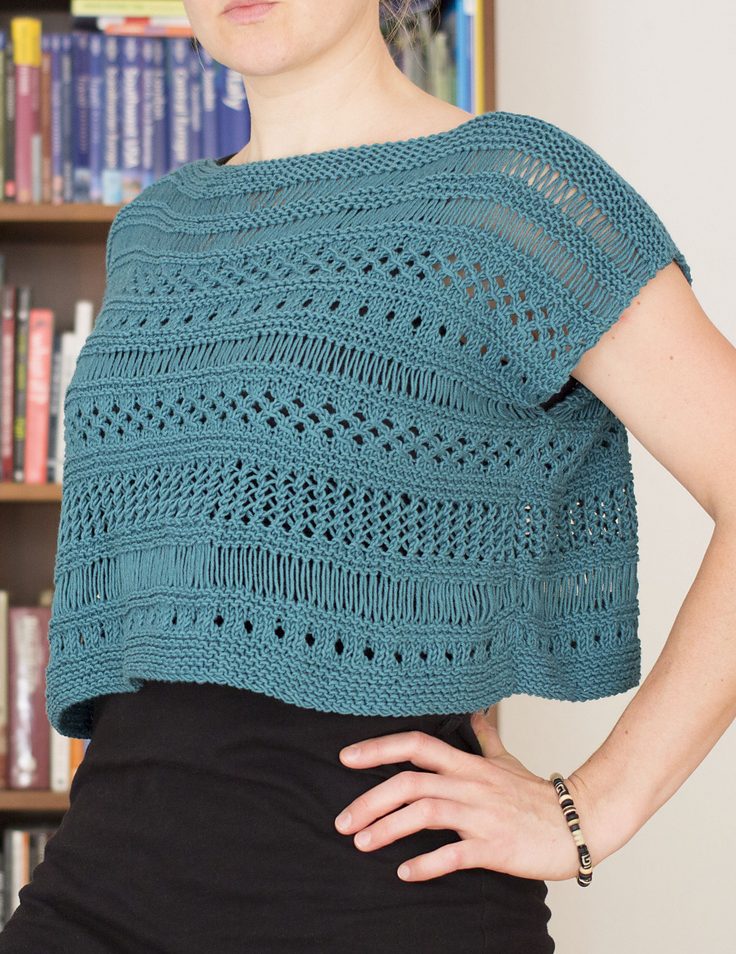 Cancun Boxy Lace Top
Erin Kate Archer's lace-sampler top is knit in two simple rectangles from the bottom up and seamed. The designer says it is very suitable for beginners and it has an easy rating from knitters. Pictured project by miss-power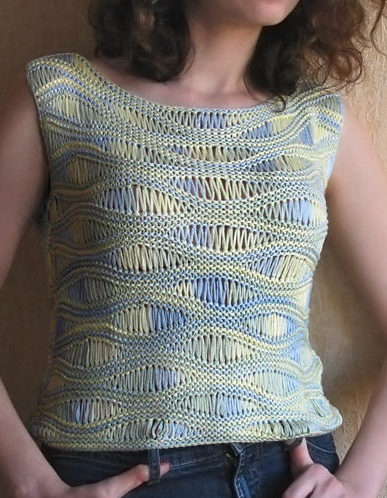 Ribbon Top
Sleeveless top is knit with drop stitch wave pattern. The original pattern is for a crop top but the knitter of the pictured project just added additional repeats of the pattern for length. Pictured projectby julysnow. Great with multi-color yarn!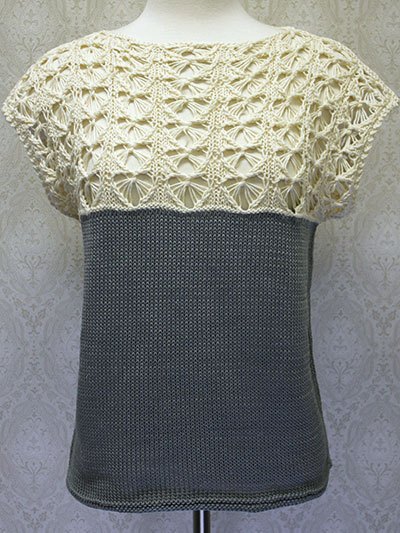 Butterfly Tee
This unique top has a butterfly lace yoke.
Get the free knitting pattern for free registration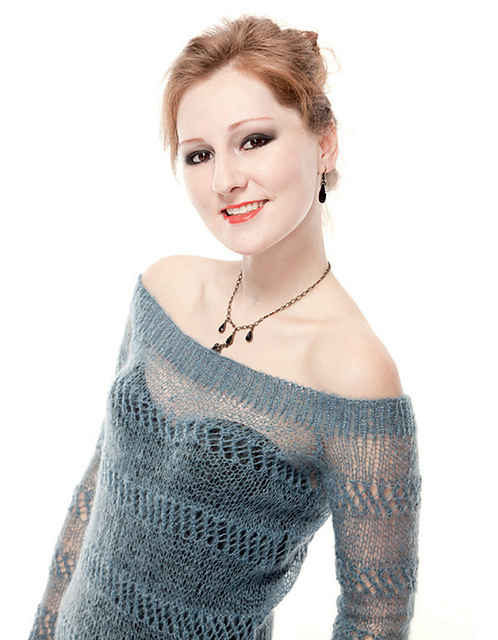 Precious Sweater
Designed by Laura Zukaite, this lace pullover is a great piece for layering over dresses or camisoles, the wide neckline is flattering and feminine.
Sizes: XS (S, M, L, XL, 2XL). Shown in size S.
The recommended yarn has been discontinued. However, yarnsub.com suggests Rowan Kidsilk Haze as a good substitute. Get the Kidsilk Haze yarn at Etsy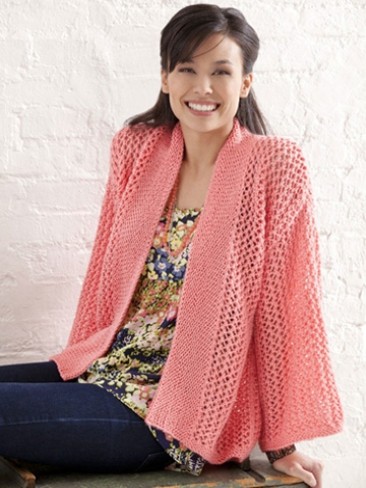 Bright and Breezy Kimono
Caron's easy cardigan pattern features a lacy openwork design. Sizes from S to XL.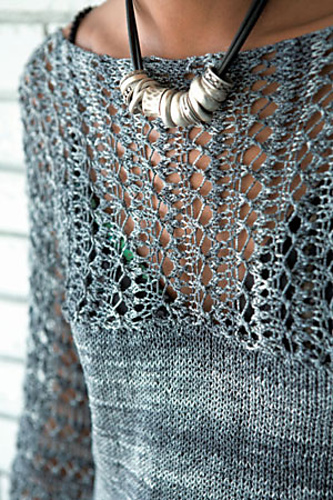 Avery Lace Pullover
Designed by Nora Gaughan, the bodice and sleeves are knit in one piece in an easy lace stitch from cuff to cuff. The bottom is finished in stockinette.
Though this was knit in Berroco Latitude, Berroco recommends Maya as a substitute. Get the recommended yarn at Annie's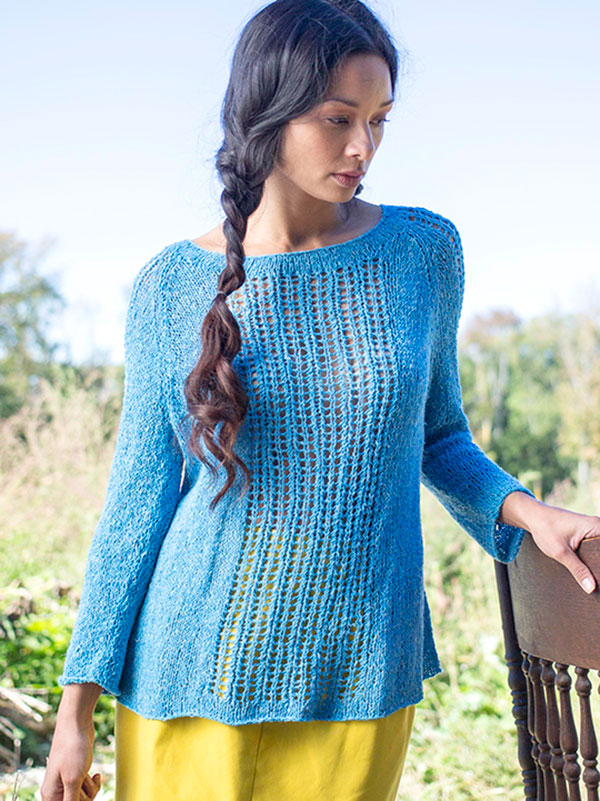 Passiflora Lace Pullover
Designed by the Berroco design team, Passiflora is a lightweight sweater with lace panels along the sleeves and body. Sizes for Bust – 36(40-44-48-52-56-60)˝.
Get the recommended yarn at Annie's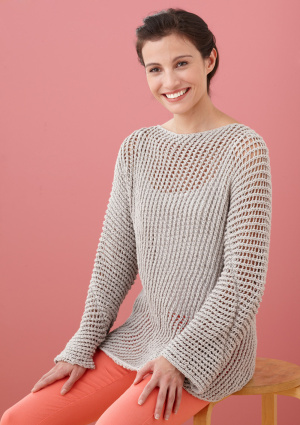 Diagonal Mesh Pullover
S (M/L, 1X/2X)
Patterns for Purchase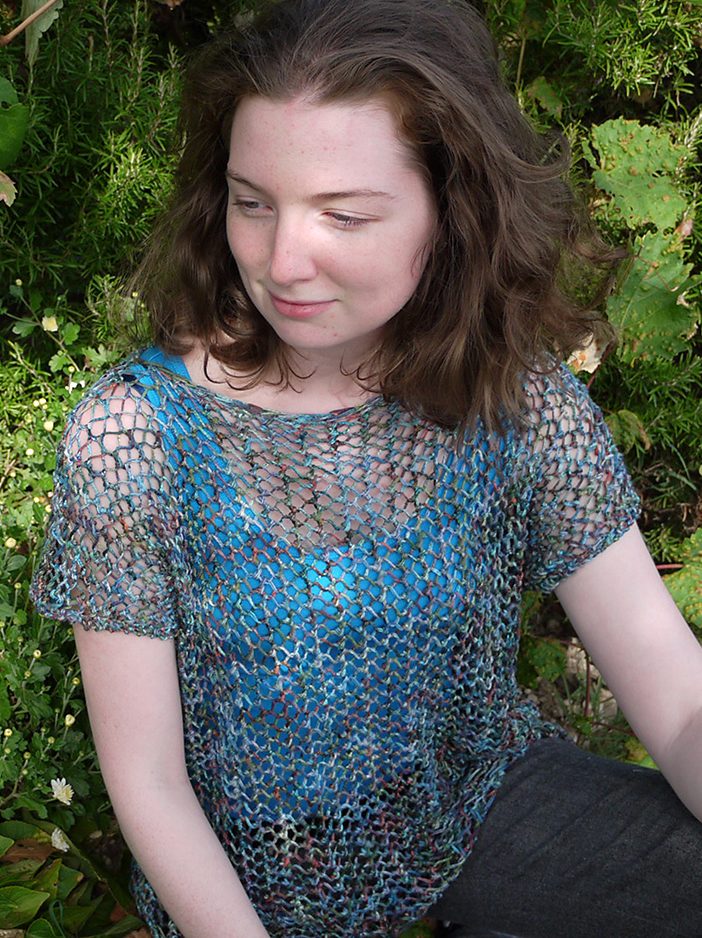 Lucente
This openwork top by Kennita Tully looks great in multi-color yarn. Quick knit great for layering or could even work as a cover up. S (M, L, XL, 2XL, 3XL)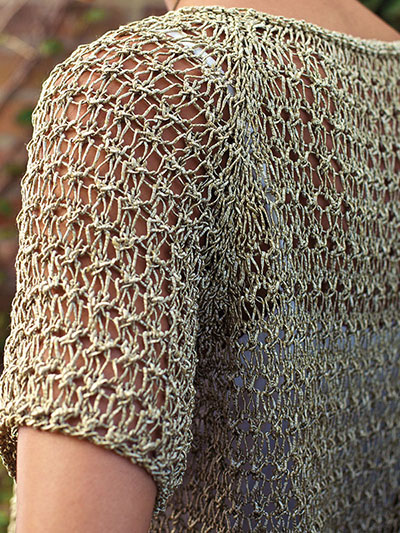 Void Pullover
Openwork lace top is worked in an easy 4-row lace pattern with a larger gauge. To fit bust: 30 (34, 38, 42, 46, 50, 54)"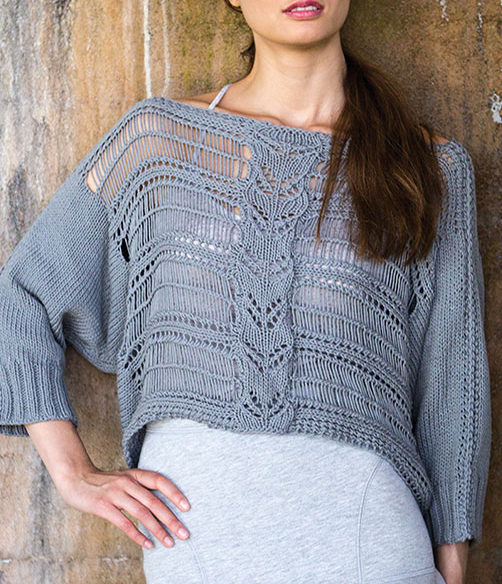 Burkina
Exquisite pullover top designed by Norah Gaughan featuring a central lace panel on a background of dropped stitches. To fit bust sizes 30(34-38-42-46-50-54)". One of the patterns in Berroco: Norah Gaughan Vol 16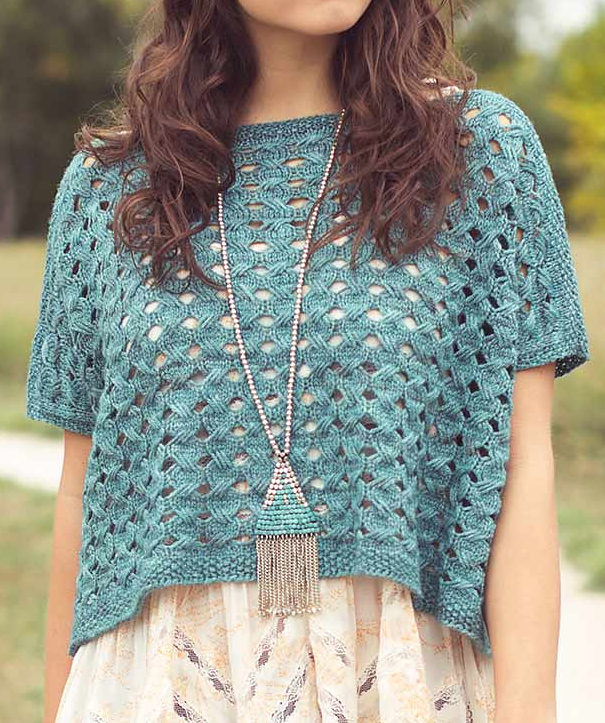 Kricka Top
This openwork pullover is knit in Indian cross stitch in two identical pieces, then the shoulder and side seams are sewn. Sizes of finished piece: 29.75 (31, 32.25)" wide and 15.5 (16.25, 18.75)" tall. Designed by Sherrie Kibler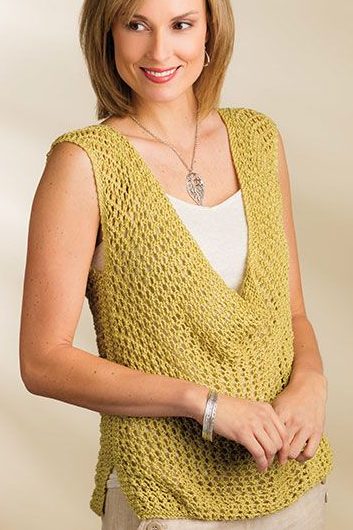 Indus
I love the drape neckline of this lace sleeveless top / shell. Woman's S (M, L, XL, 2XL)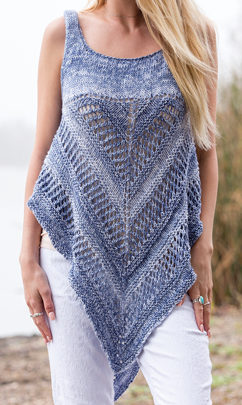 Indigo Dream Top
Sleeveless lace top with handkerchief hem.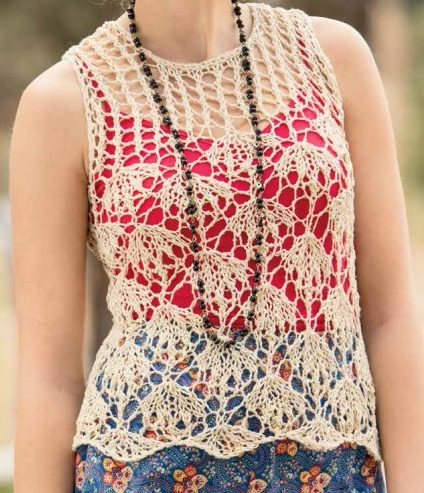 Bethel Tank
Women's trendy racerbank lace tank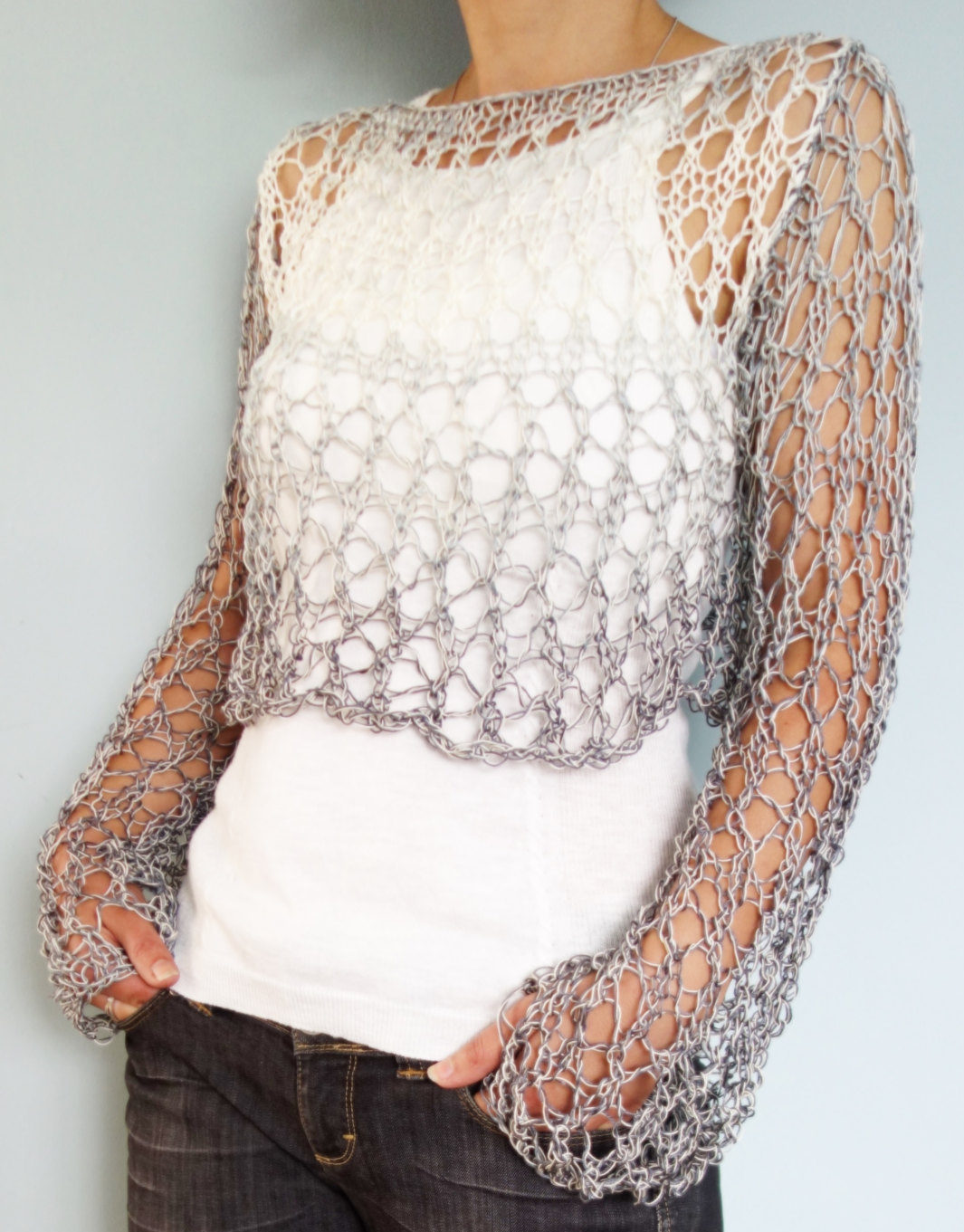 Shades of Grey Crop Top
Easy lace pullover sweater features long thumb hole sleeves. Size: S, M, L, XL. The designer says that this is a beginner level pattern. Great with ombre yarn.