<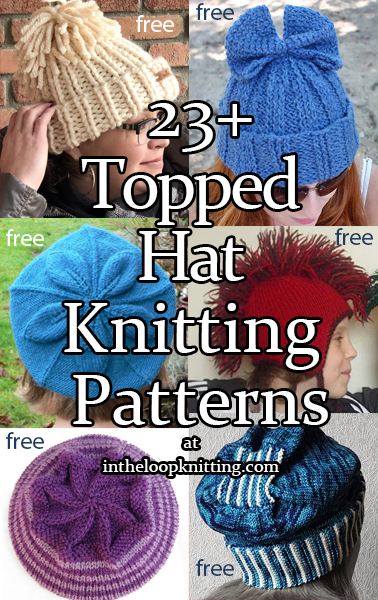 Knitting patterns for Hats with a special touch at the crown.
To get the knitting patterns, scroll down the page to the individual pattern you want and click on the link to that pattern.
These patterns are not my designs but links to other designers who have generously shared their patterns. If you have questions about how to knit a specific pattern, please contact the designer directly.
All links on this site are for informational purposes, but please note that some links are to affiliate sellers that pay me a small commission on purchases.
Free Patterns

Honey Hat
This beanie is knit with slip stitches and no crown decreases, but a finishing construction that forms the unique shape and "pockets" on top. This hat was designed to match the Honey Cowl by Antonia Shankland (also pictured with link below). Designed by Kelly McClure. DK weight yarn.

Flower Power Hat
A knit flower sprouts from the top of this colorful beanie, sized for babies but many Ravelrers have adapted for adults and children. Great for stashbuster for scrap yarn! Sizes: To fit: 0-3 months 3-6 months, 6-12 months, 12-36 months. Designed by Ann Squire for Knitty.

Snowboarder Chunky Hat
Inspired by the hat worn by Chloe Kim, this ribbed beanie topped by floppy Pom Pom can be knit in under 2 hours, according to the designer, Marly Bird. Rated easy by Ravelrers,

Starry Noggin Hat
A simple wide rib beanie with a broken rib seed stitch bottom and a star burst top. Designer Amy Duncan says it is suitable for beginners. Rated very easy by Ravelrers. Worsted weight yarn. Pictured projects by whengaiasmiles and HapticTraveler

Twist Hat
In this innovative class, knitting expert Lynne Barr shares the technique she invented for making a hat with a unique twisted top design. From brim to crown, the hat is worked in a 1x1 rib in the classic in-the-round fashion, but is finished off with Lynne's signature traveling pleats technique. Pattern and instructional video class available for free with a free trial at Creativebug

Starburst Hat
Decreases create a star shape at the crown of this hat. Sizes Preschool, Child, Adult. Variegated or different colors of yarn create great star effects. Designed by Elizabeth A. Cote who says it is suitable for beginners. Rated very easy by Ravelrers. Pictured projects by wrenknits who modified the decrease to start with K8, K2tog (Row 1), tinpins, and kraalqueen who started decrease with K9, K2tog (Row 1).

Reversible Pleat Hat
Pleats form the crown of this beanie and showcase different looks inside and out! Sizes Baby (Toddler, Kid, Adult Small, Adult Large). Designed by Purl Soho

Snowflake Baby Hat
The Avalanche beanie features a snowflake design centered at the top of the crown and spreading down the sides created with slipped stitches and decreases. Designed by Alegria DaSilva
More Free Patterns

Crumpet Beret
A dimensional 5-point leaf pattern pops out on a reverse stockinette ground on the crown of this hat creating an eye-catching motif. 2 sizes. Designed by Maura Kirk for Fairmount Fibers. Pictured projects by SuzyTeacup and Buendia

Bow Hat
Gina Michele designed this easy wide ribbed beanie topped with a bow instead of a pompom. Sport yarn. Designed by Sybil R

Knit-Only Slouch Hat
Stylish hat with an interesting crown construction worked only in knit stitch. Sport yarn. Designed by Sybil R

Cyclone Hat
Beanie with twisted crown and no increasing or decreasing. Double layered so it's reversible. Easily customizable to any weight yarn or stitch pattern. Designed by Cinnamon Purl / MyGurumi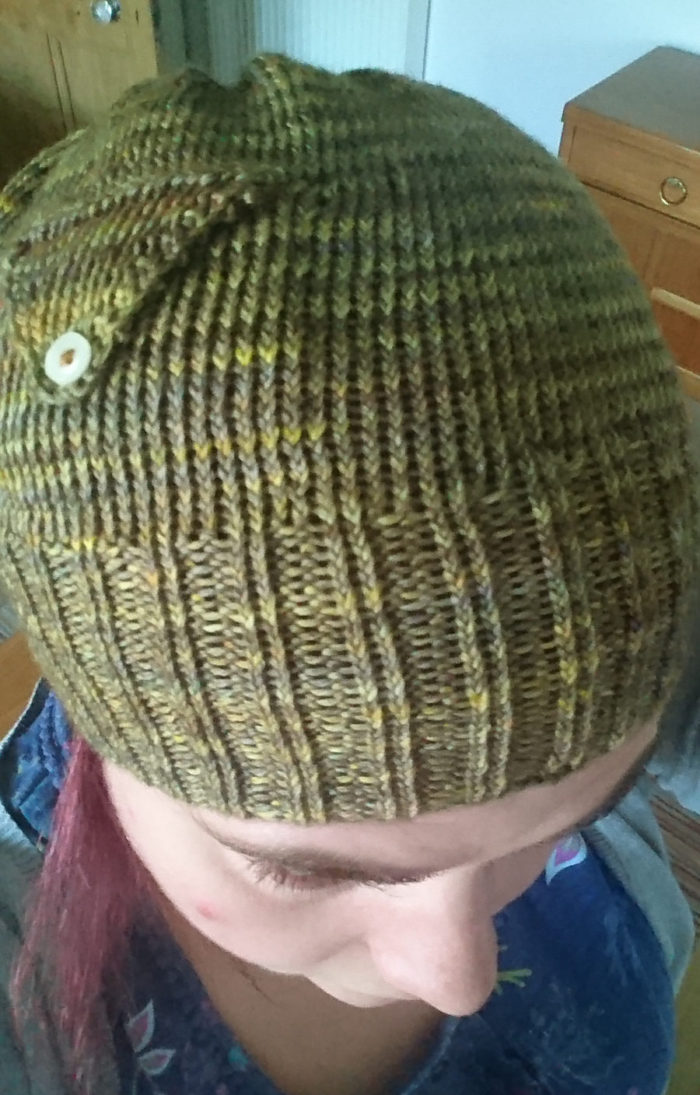 Hat with Pocket
The Eggplant beanie is a rib and stockinette hat with a pocket and flap knit separately and joined into hat. Fingering yarn. Sizes Child to Adult Designed by Kayla Latimer. Pictured project by shepherberry

Tassel Hat
Cabled hat topped with a tassel made from i-cords. Takes one skein of the recommended self-striping yarn. Designed by Premier Yarns Design Team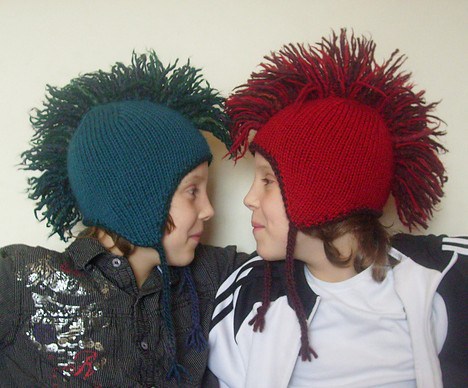 My Mohawk Hat
Jackie Jaquette designed this novel variation on the earflap hat with a mohawk made from unraveled strands of bulky yarn.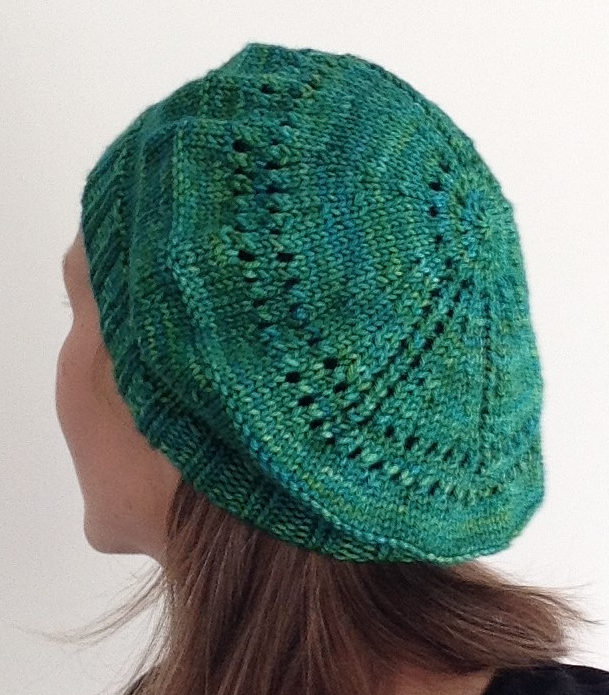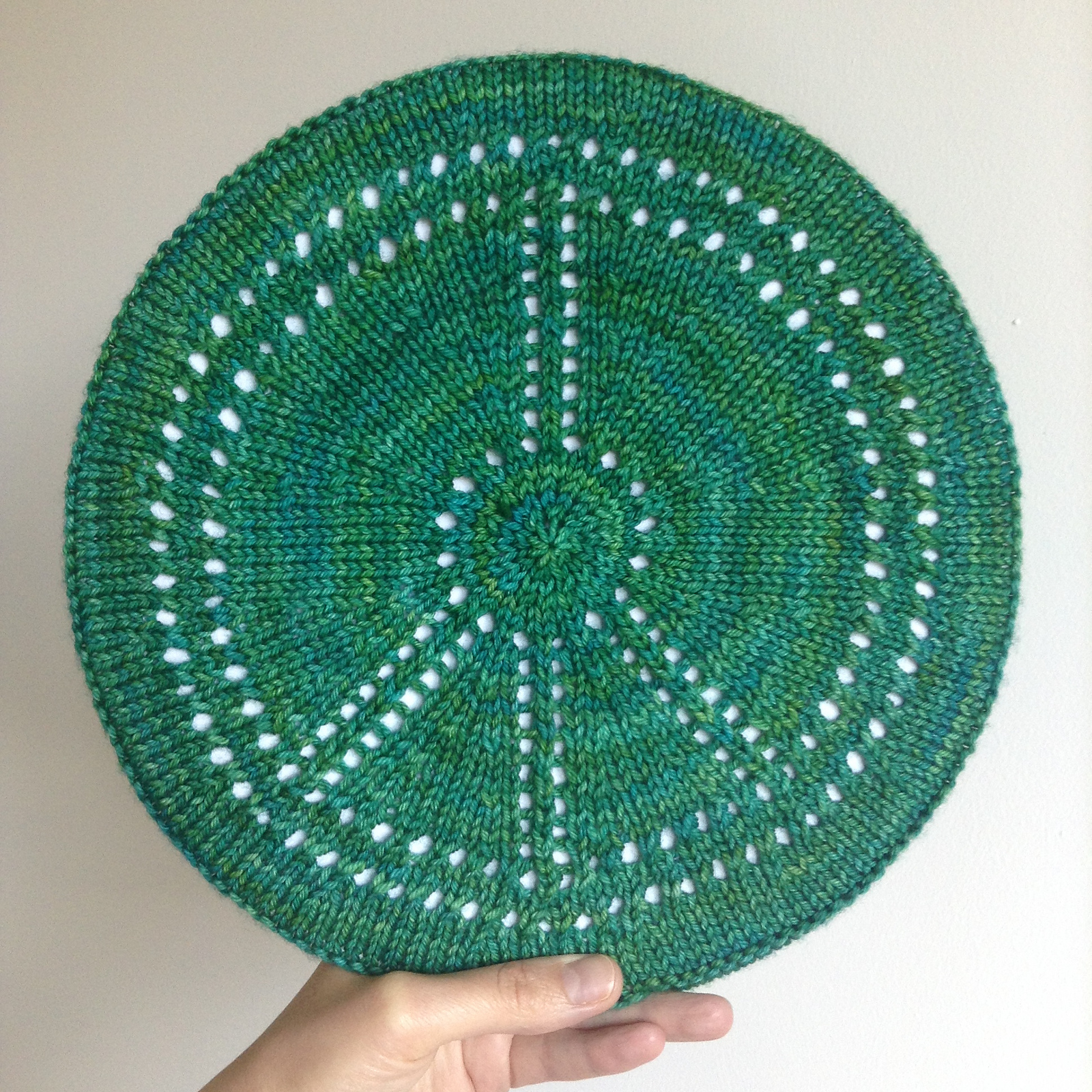 Peace Beret
The top of this tam is a peace symbol worked in eyelets and decreases. 4 sizes: XS, S, M, L. Designed by Christin Kimsey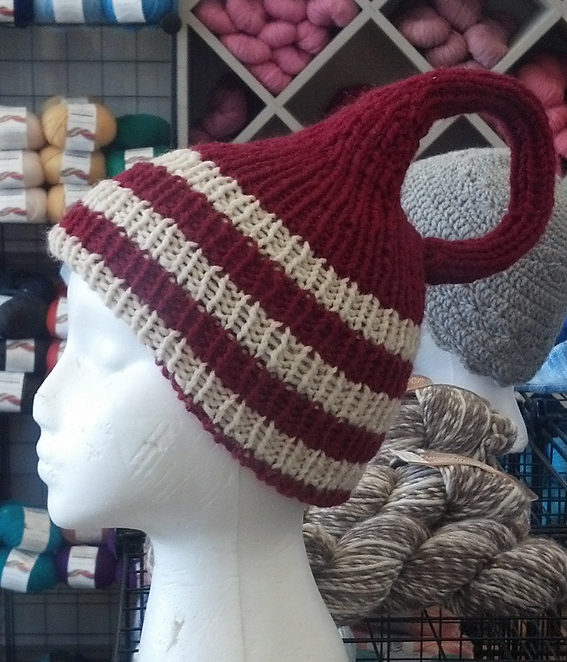 Klein Bottle Hat
This hat is a folded representation of the Klein bottle that's a atwisted torus (donut) in the same way that a Möbius Strip is a twisted loop so it has just one surface. Designed by Marie-Christine Mahe for Knitty. Pictured project by TheresaMarie1972
Patterns for Purchase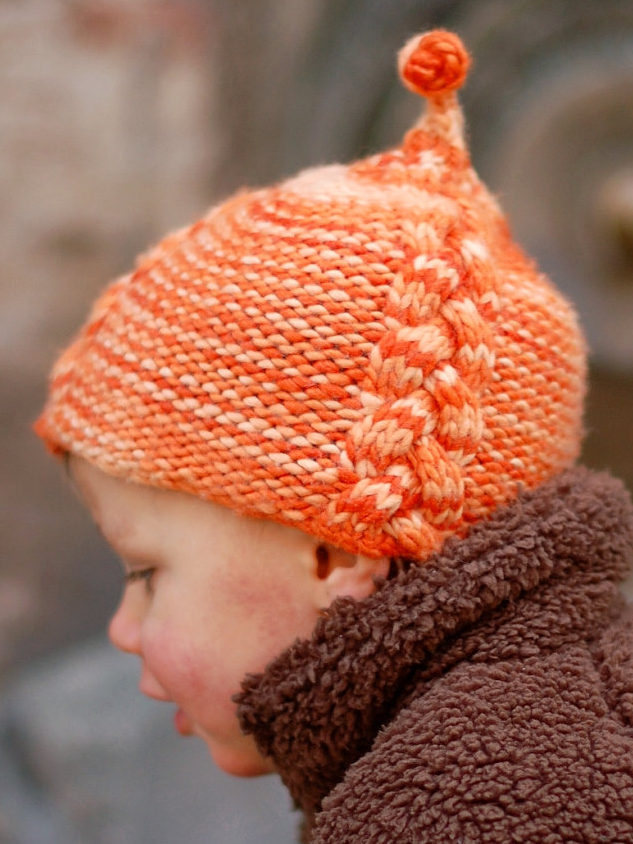 Lollie Cabled Pixie Hat
4 sizes from baby to adult. Worked in a bulky yarn, this Hat is quick to knit. Designed by Woolly Wormhead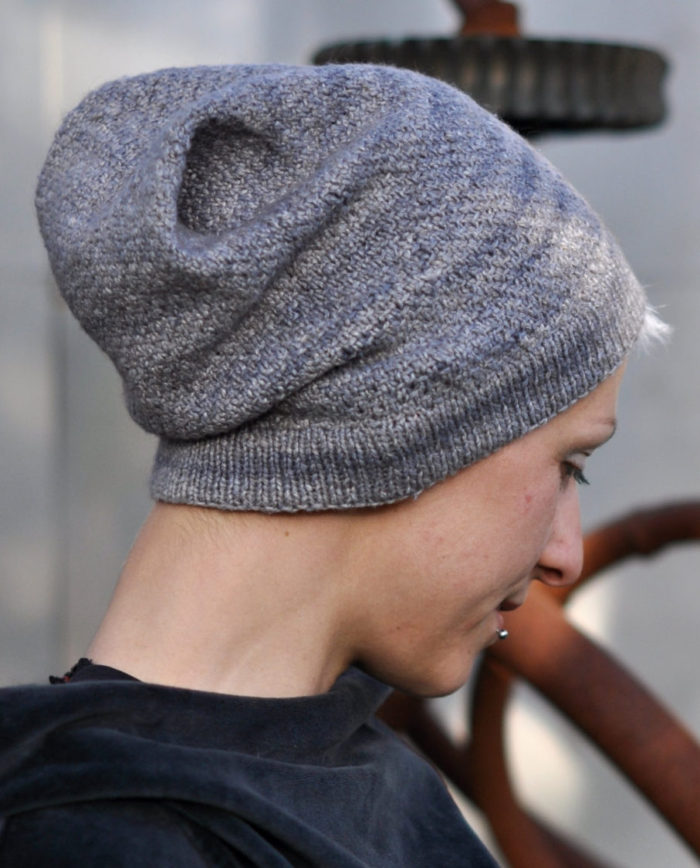 North Lyme Slouchy Hat
Hat pattern with two variations: slouchy version with a folded brim and envelope finish at the crown and a beanie version with an extra deep folded brim and and structured, detailed crown shaping. Sport weight yarn. 5 sizes. Designed by Woolly Wormhead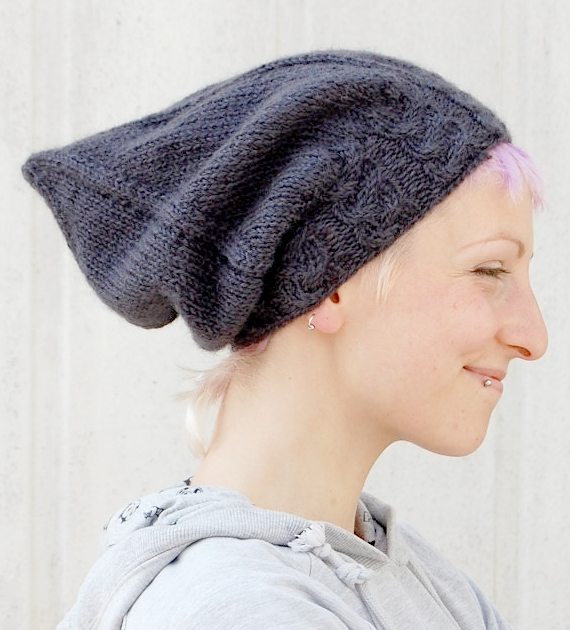 Sloochie Slouchy Pixie Hat
This unique hat combines comfortable slouchiness with a pointed pixie crown and cable detail along the edge. 3 sizes. Designed by Woolly Wormhead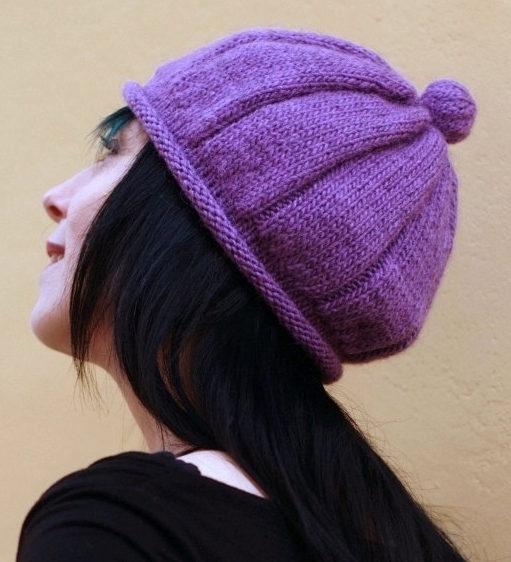 Bobba Hat
Worked from the brim up, Bobba features a rolled brim and an oversize bobble that is knit as part of the hat – not a pompom! 4 sizes. Designed by Woolly Wormhead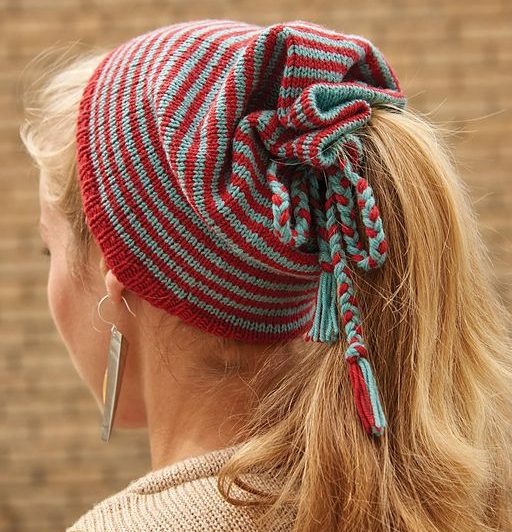 Frolic Paper Bag Hat
One of the 20+ patterns in The Knitted Hat Book.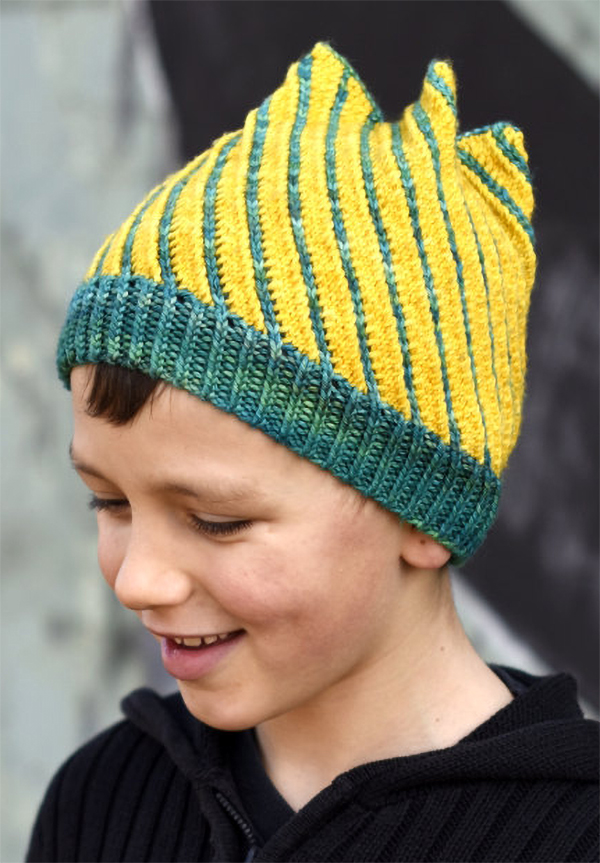 Torsione Spiral Hat
Torsione is a stranded colorwork Hat, knitted on the bias. 5 sizes, covering newborns through to adults. Designed by Woolly Wormhead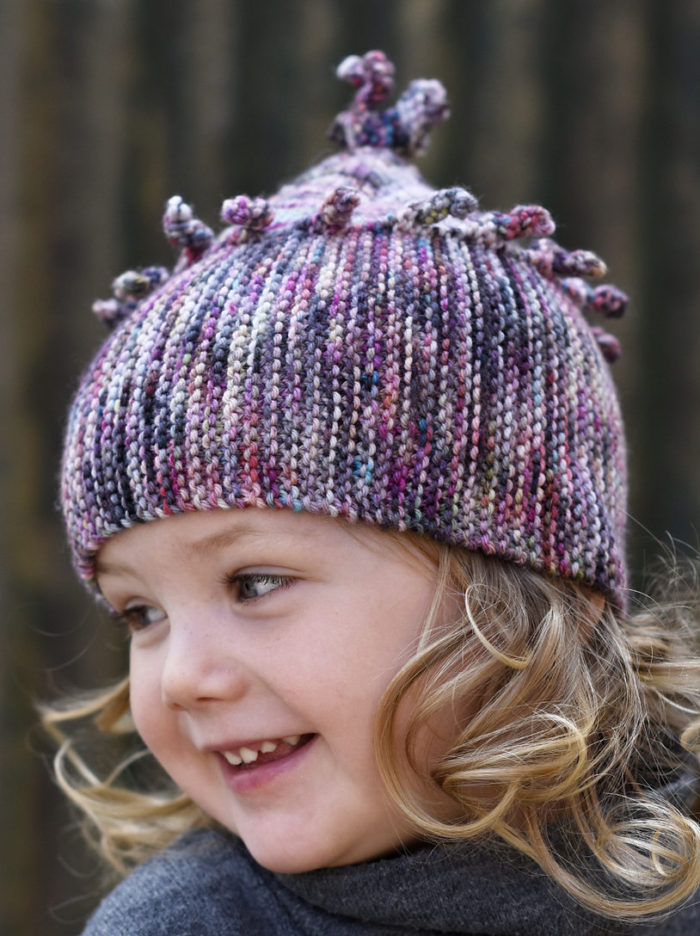 Chesser Hat
7 sizes from adult to baby. Chesser is a playful Hat featuring a sideways knit brim+body and a vertically knit crown. Designed by Woolly Wormhead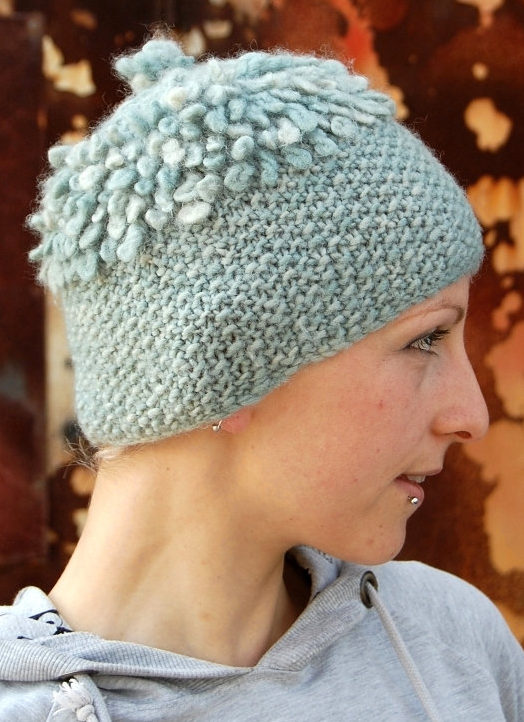 Loopy Hat
Worked in Moss (Seed) stitch with a Loop stitch trim, this beanie is a quick knit. 3 sizes. Designed by Woolly Wormhead