<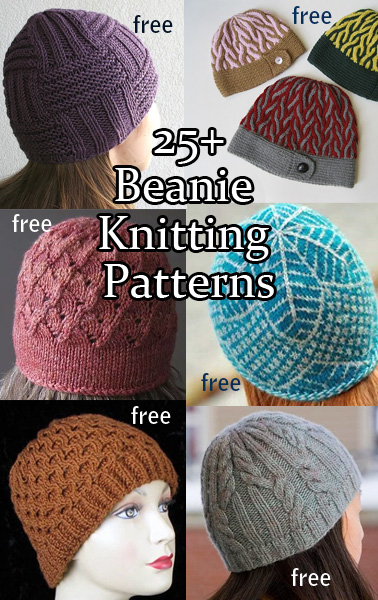 A variety of beanie hat knitting patterns with cables, texture, colorwork. Many will work for men or women.
To get the knitting patterns, scroll down the page to the individual pattern you want and click on the link to that pattern.
These patterns are not my designs but links to other designers who have generously shared their patterns. If you have questions about how to knit a specific pattern, please contact the designer directly.
All links on this site are for informational purposes, but please note that some links are to affiliate sellers that pay me a small commission on purchases.
Free Patterns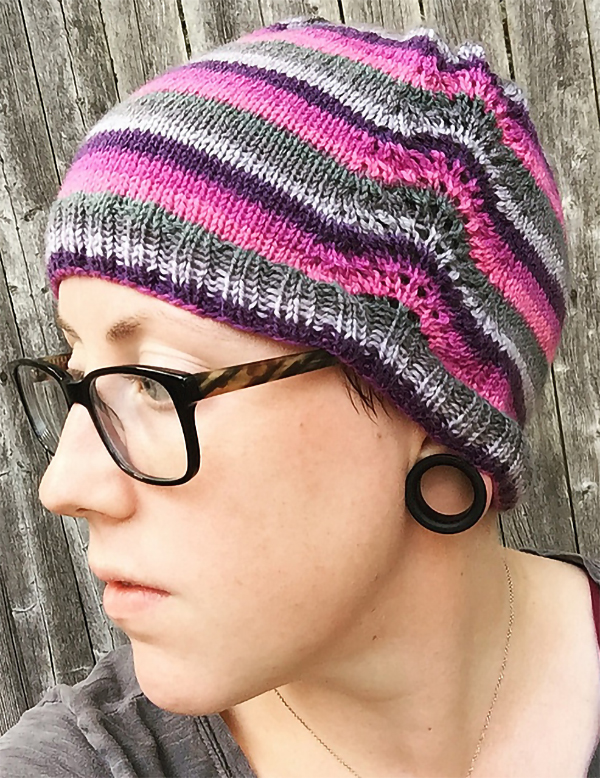 Touch of Lace Hat
This beanie features a side lace detail. Great for that half skein of sock yarn in your stash. Fingering weight yarn. Designed by Sandra Marie Dooley.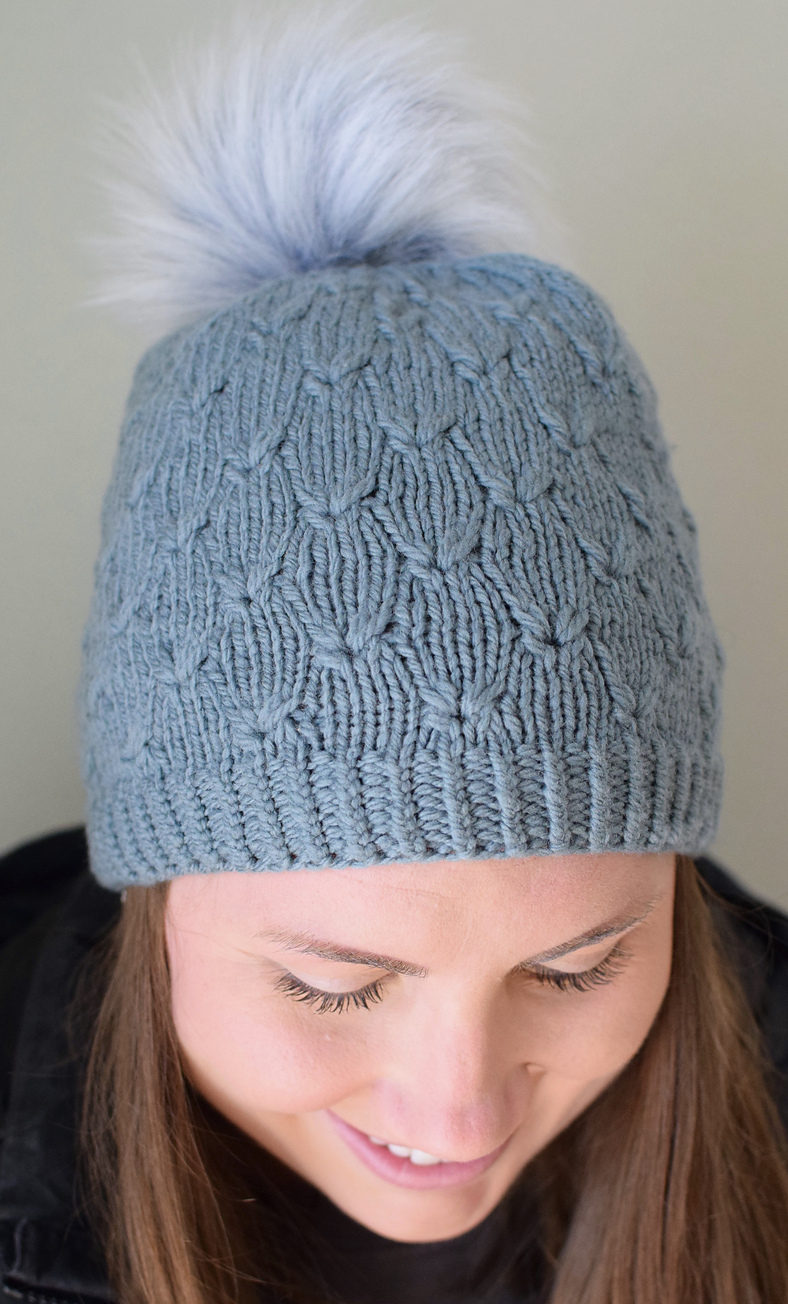 Clover Hat
This beanie with pom pom features an interesting stitch pattern that uses a technique of lifting lower stitches to create the little leaves. In baby and adult sizes. Designed by Susan B. Anderson
Undergrowth
Designed by Mandy Powers, this hat with leaf colorwork has a braided rim.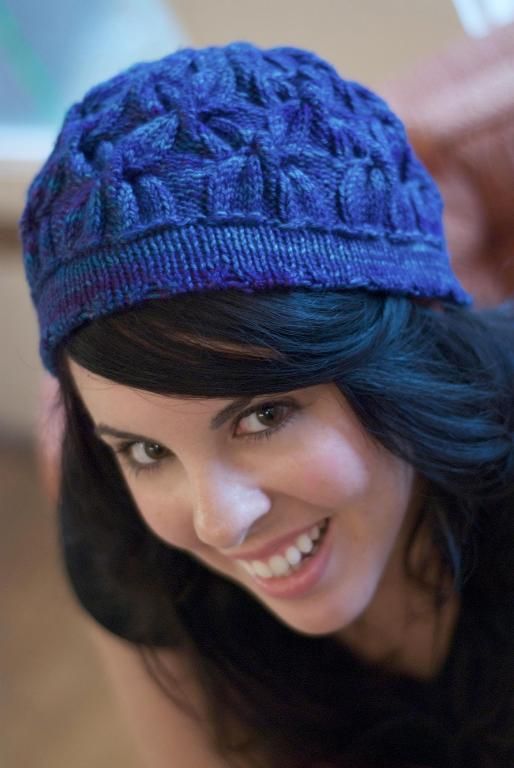 Cable Crossings Hat
Designed by Sara McDonald, this beanie features an all over cable pattern.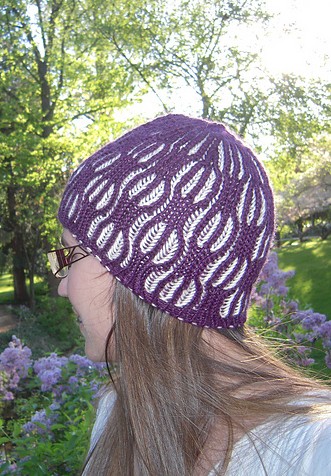 Thesis
Designed by Hadley Jolley, this reversible hat combines double-knitting and two-color brioche stitch,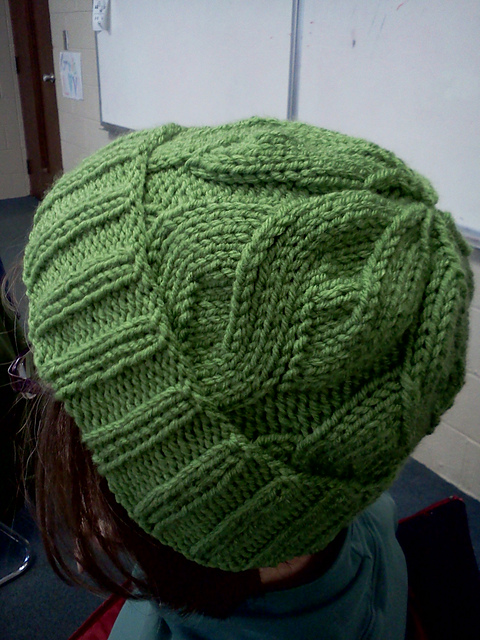 The Able Cable Hat
Designed by Kari Steinetz.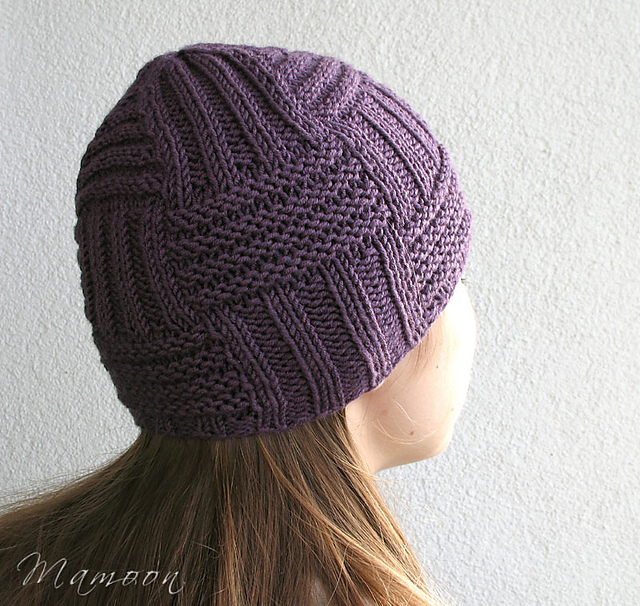 Circuitry
Designed by Agata Smektala, this unisex hat is knit in the round.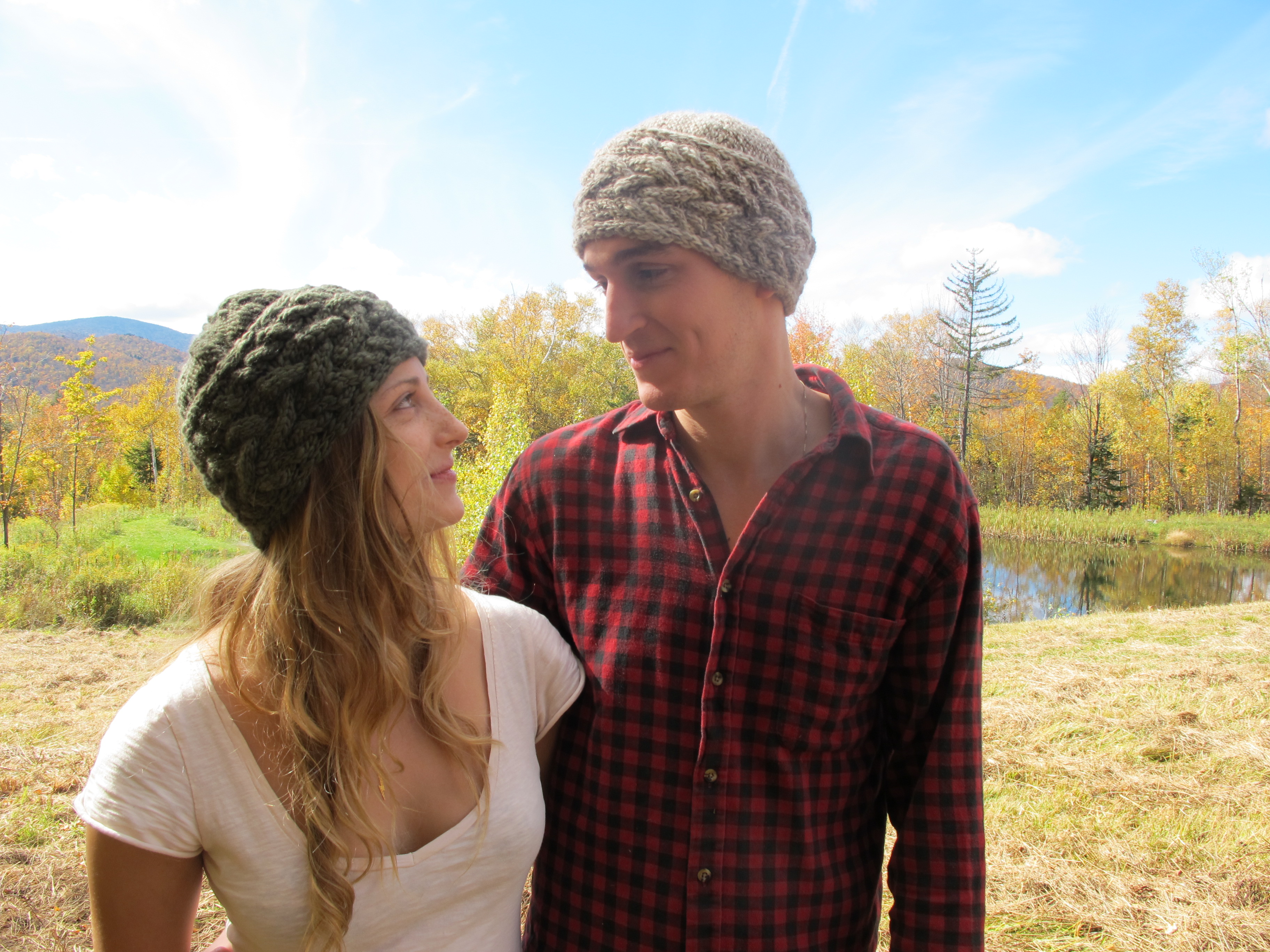 Sideways Cable Hat
Designed by Lisa R. Myers, the chunky cable band is knit sideways, then stitches are picked up to top the unisex hat off.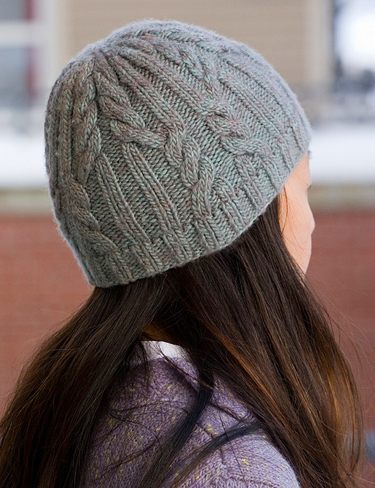 Utopia Cabled Hat
Designed by Smariek, this cable hat features a cable in the decrease. The designer offers two options for the cable decrease, one with an extra twist.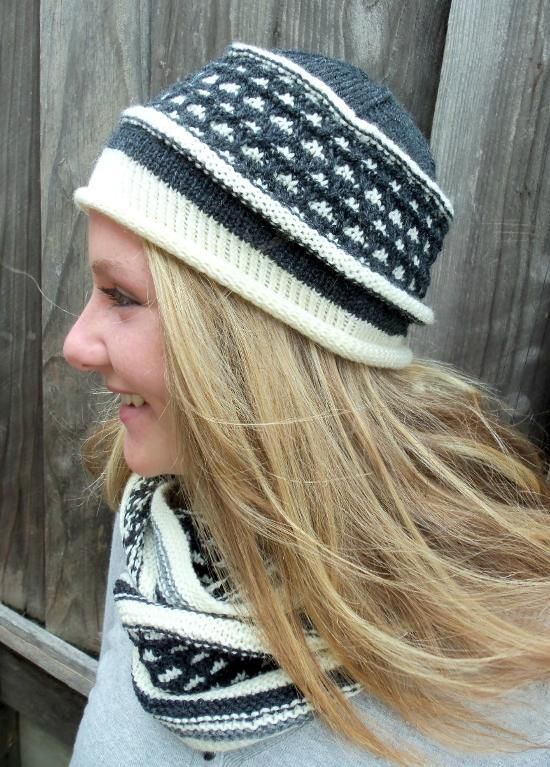 Bea
Susan Ann's beanie is knit from the bottom up in the round, and the colorwork is done with an easy slip-stitch pattern using only one color at a time per row. Three sizes.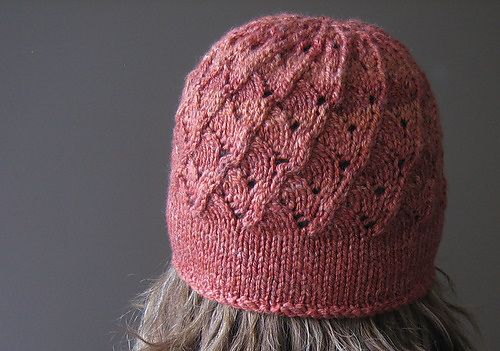 Milanese Lace Topper
Designed by tante ehm, this beanie features a spiraling lace pattern.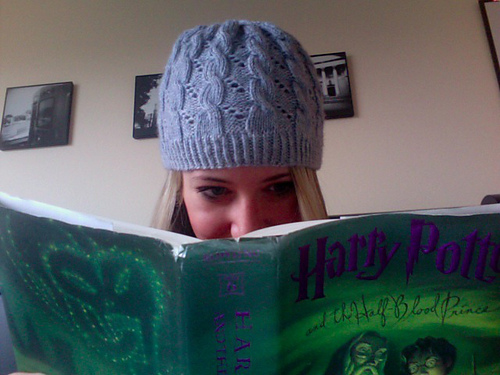 Hermione Hearts Ron Hat
Designed by Christy Aylesworth after the hat Hermione wears in the movie Harry Potter and the Half Blood Prince with the scarf above.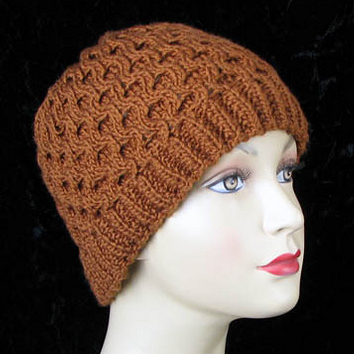 Honeycomb Hat
This is one of my own designs. It's a super easy cable hat and a great pattern for your first cable project. It was my first cable project! Video tutorial for the stitch is included in the pattern.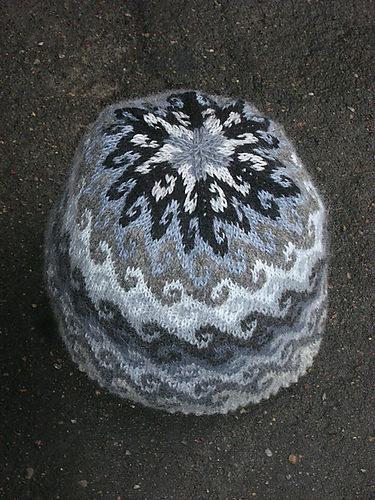 Breaking the Waves
gustavs designed this charted wave pattern on an oval hat. Can be used with any gauge.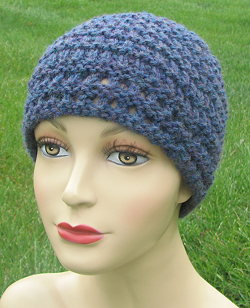 Ridged Rib Hat
Another of my own designs! The ridged rib pattern is simple and great if you're watching tv or multi-tasking.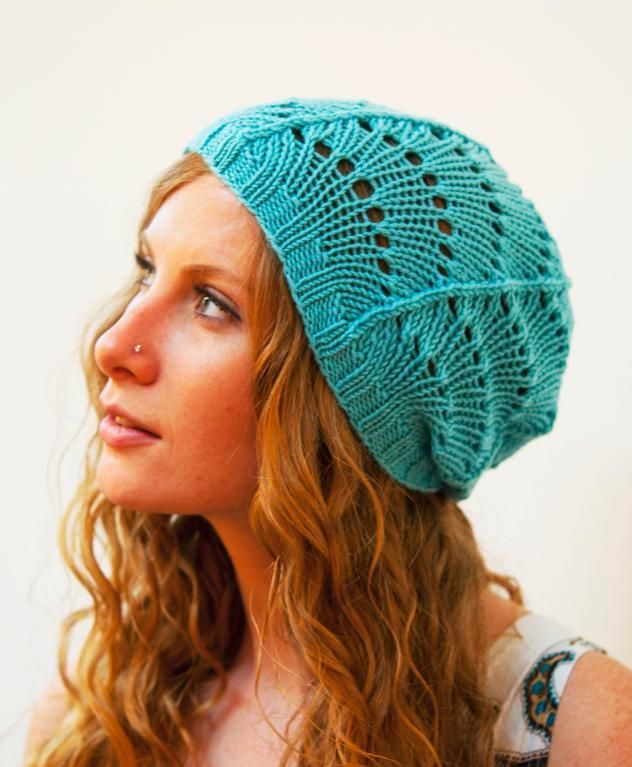 Scallop Lace Hat
Designed by Leah Coccari-Swift, the lacy open look comes from knitting dk yarn on larger needles.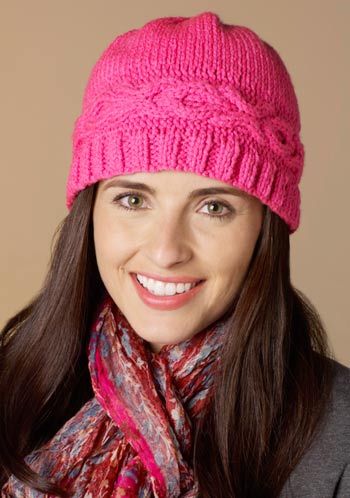 Hugs and Kisses Hat
Heather Lodinsky designed this beanie for Crafty Yarn Council with a cable detail of XOXO.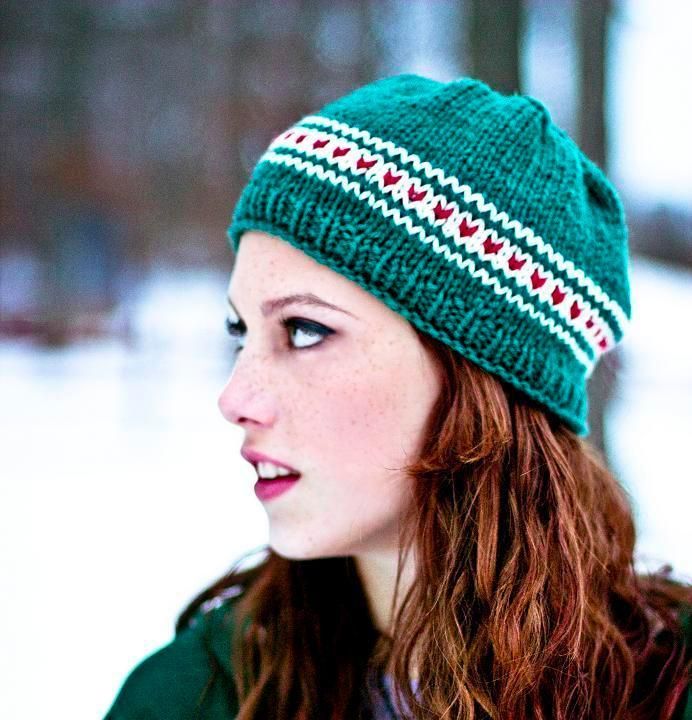 Secret Crush
Designed by Michele DuNaier, this hat is sized for Adult/Teen, Child, Baby.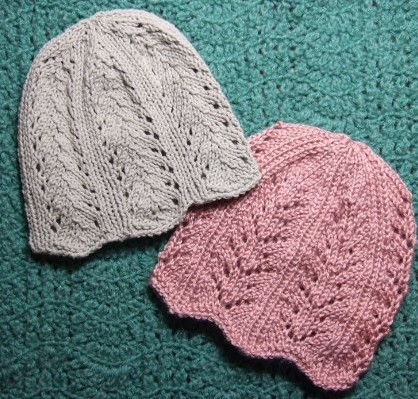 Ribbing and Lace Hats
Designed by Mama's Stitchery, these caps come in two versions, feather lace and and diamond lace.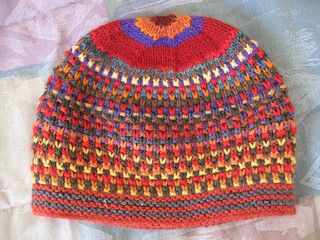 Slip Stitch Stash Hat
Designed by Renee Rico, this hat is a great stashbuster and introduction to color work since you only use only one color per row and use slip stitches for the color pattern. Sizes for toddler to adult.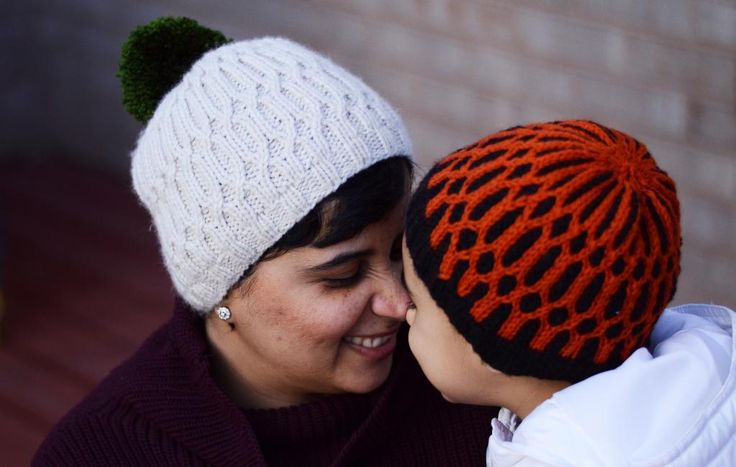 Uljhan Beanie
Designed by DesiLoop, this unisex hat uses 2x2 rib and 1x1 cable to form the pattterns. Sizes Preemie (Newborn, Baby, Toddler, Child/Teen, Small Adult, Large Adult)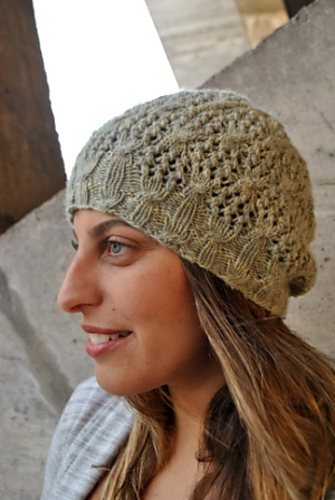 Tashi
Paula Pereira's beanie is is worked circular and from the bottom-up. Children & Adult Small: 19" / 20" head circumference Adult Medium: 21" / 22" head circumference Adult Large: 23" head circumference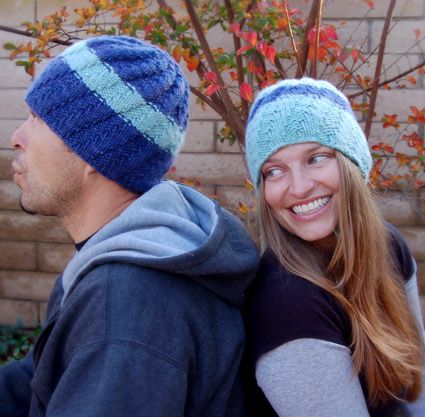 His and Her Spiral Hats
Designed by Jen at Purlbee, these hats feature a spiral pattern with stripe.
Patterns for Purchase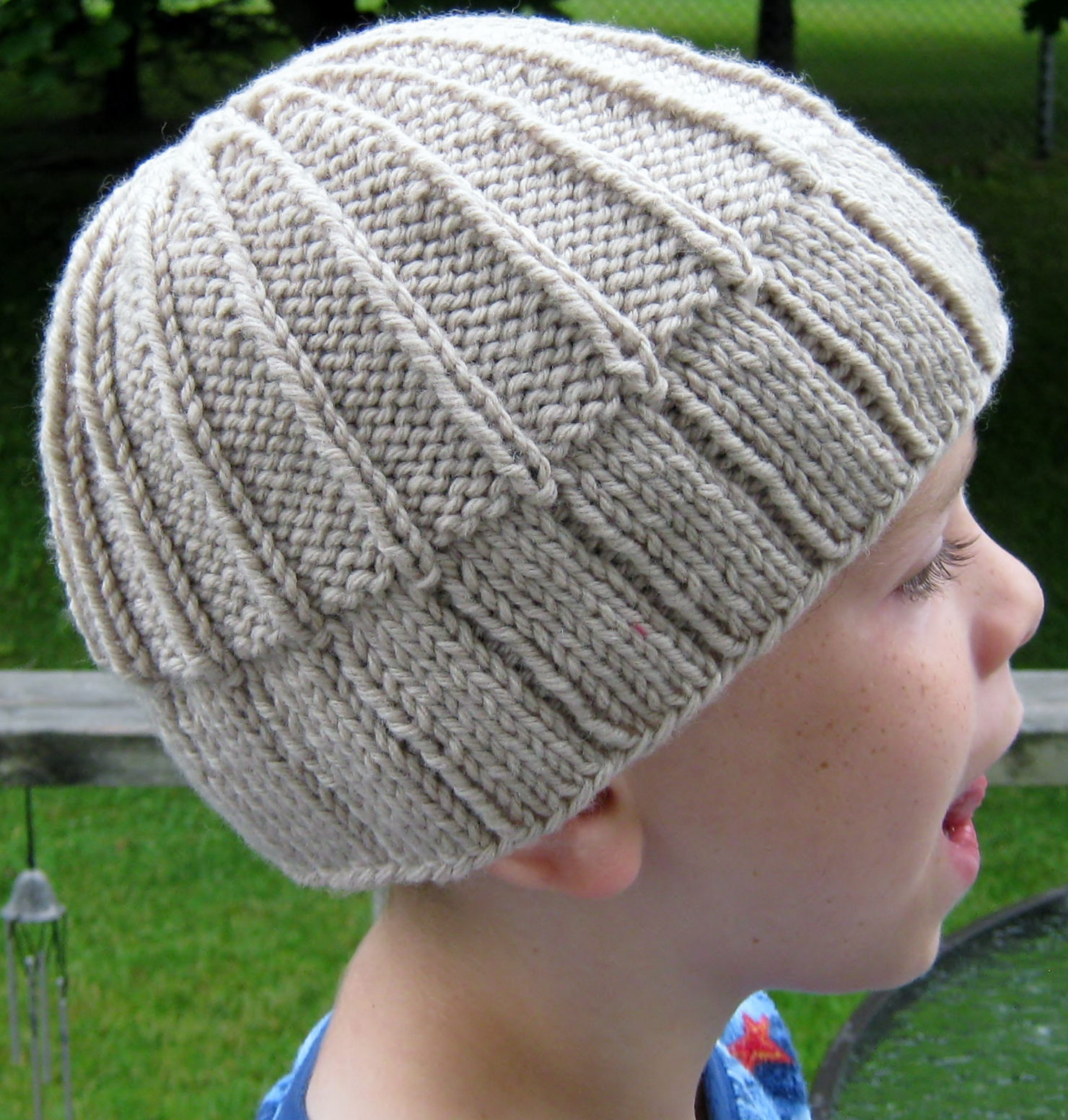 Ribby Toque
Reversing the ribbing used in the brim for the body creates a simple but interesting design in this unisex beanie hat that works for all ages. Rated very easy by Ravelrers. Designed by Carol J. Sulcoski. Pictured project by nannapei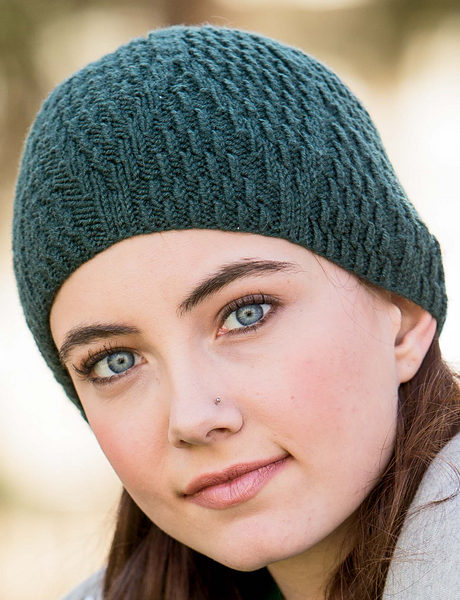 Voussior Hat
This beanie combination of knits, purls, and twisted stitches to create an architecture-inspired geometric design that is easier than it looks. Designed by Robin Allen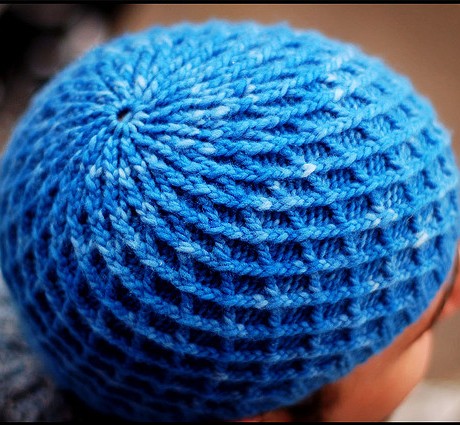 Koolhaas
Jared Flood was inspired by the architecture of Rem Koolhaas to create the strong geometric structure and deeply sculptural quality of the twisted stitch pattern.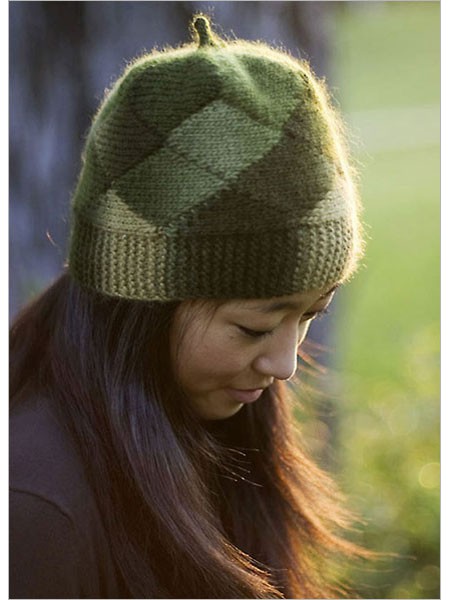 Short Row Hat
Veronik Avery designed this beanie that creates a checkerboard pattern with short rows. Great for multi-color yarn.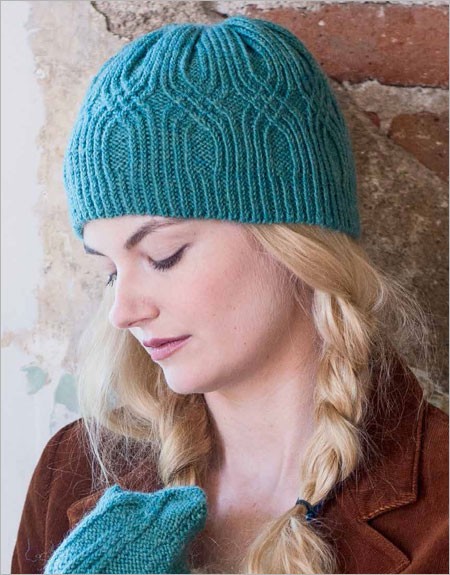 Hallgrim Hat and Mittens
The gothic architecture of Reykjavik, Iceland's Hallgrim Church inspires the twisted stitch lines of this hat and mitten set.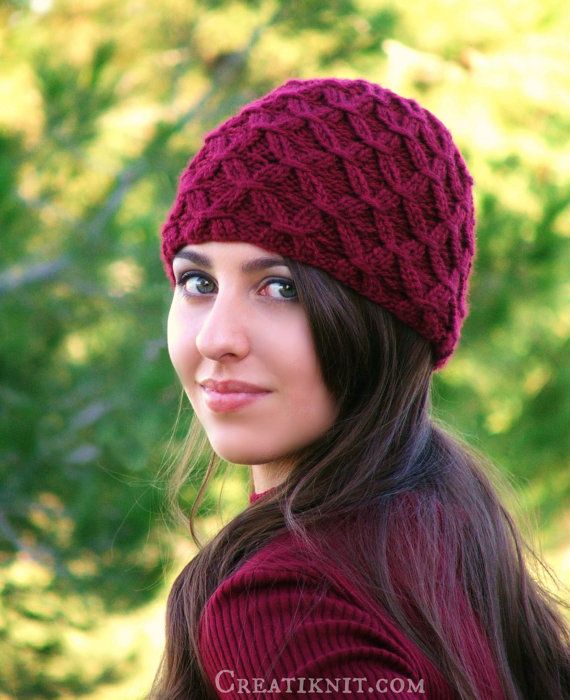 Diamond Weave Hat
Clear & simple instructions along with picture tutorials make this a beautiful & fun project. Sized for teens and adults.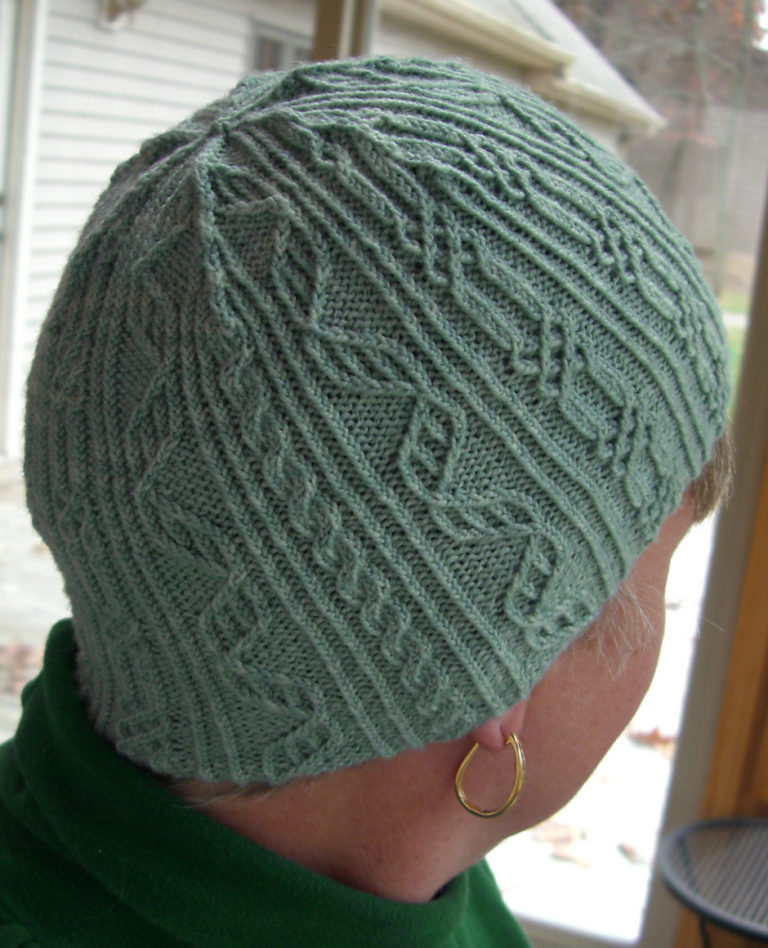 Proverbial Cap
Meg Swansen's beanie is actually a sampler of twisted stitch knitting with simple twisted rib, twisted cables, double helix-like motifs, and elaborate lattice braids! Pictured project by catonmylap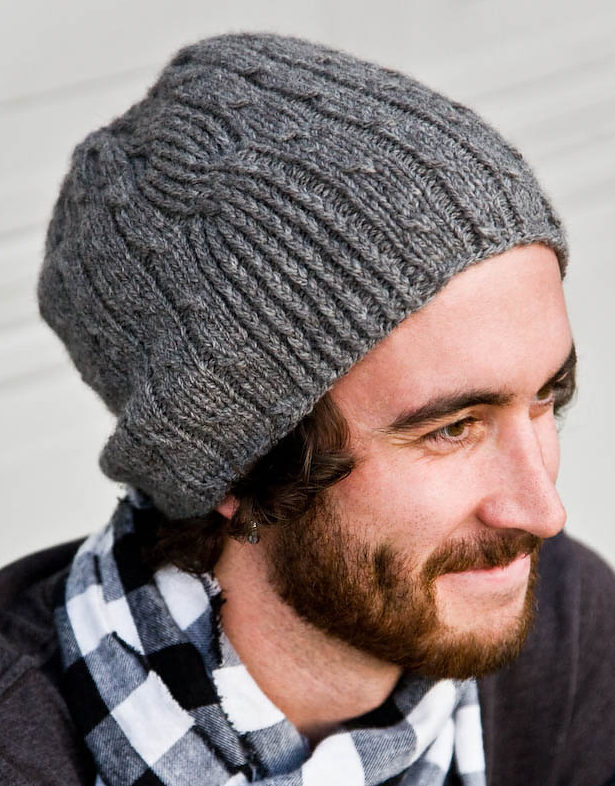 Bartek Hat
The unisex Bartek features multiple cable bands in varied width and one large cable twist that runs vertically up the side.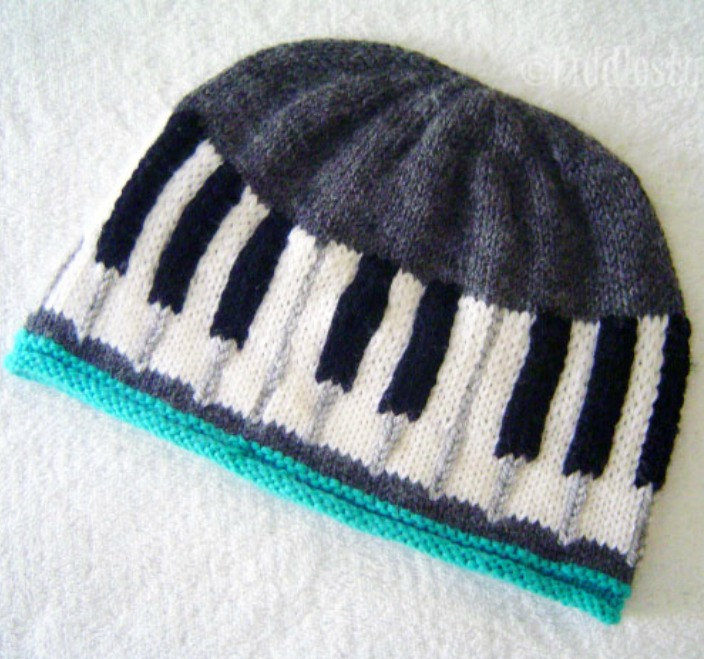 Keyboard Hat
Pattern for the Beethoven Hat includes baby and adult sizes.