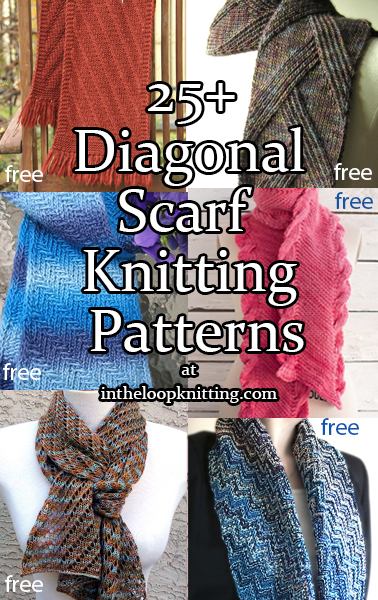 Knitting patterns for scarves knit on the bias or with a diagonal pattern. Most rated as easy.
To get the knitting patterns, scroll down the page to the individual pattern you want and click on the link to that pattern.
These patterns are not my designs but links to other designers who have generously shared their patterns. If you have questions about how to knit a specific pattern, please contact the designer directly.
All links on this site are for informational purposes, but please note that some links are to affiliate sellers that pay me a small commission on purchases.
Free Patterns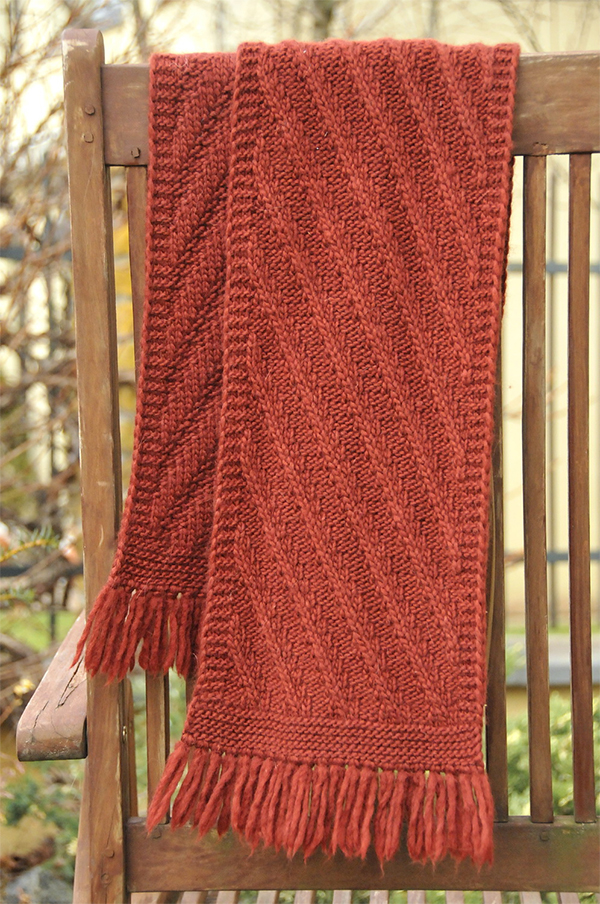 Free Spirit Scarf
Diagonal lines of twisted stitches are designed look great on both sides of this scarf. Aran weight yarn. Designed by Aistė Butkevičienė. Available in English and Russian.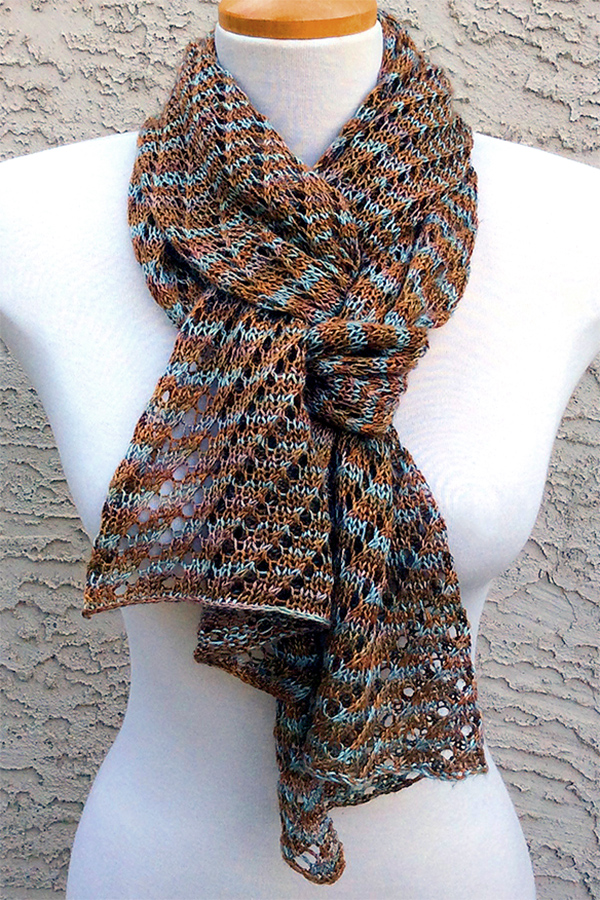 Diagonal Lace Scarf
Scarf knit with eyelets in an 8 row 4 stitch repeat. Uses one skein of fingering weight yarn. Designed by Mouton Rouge. Available in English and Serbian.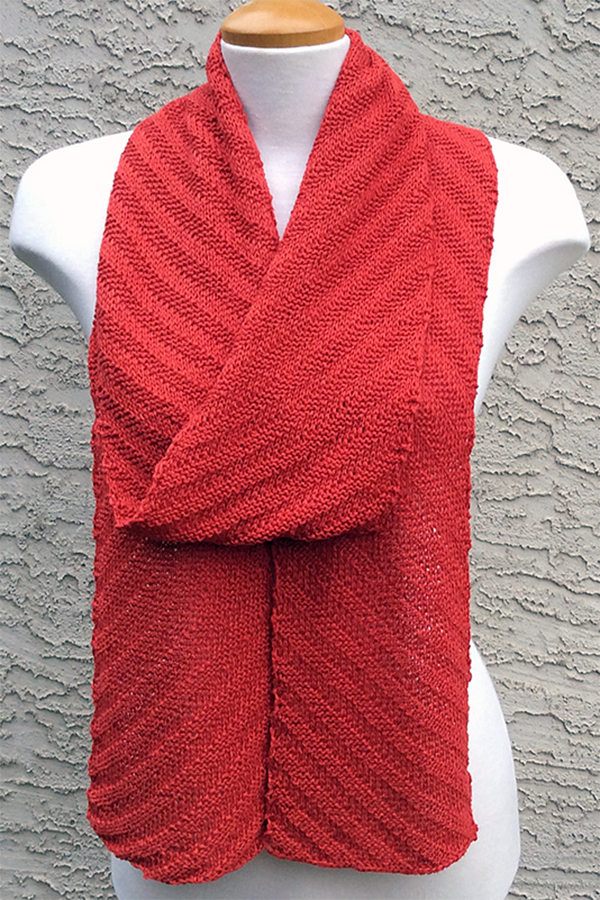 Diagonal Line Scarf
Scarf with textured diagonal stripes. Designer says it's ideal for beginners and knitters have rated it as easy. Any weight yarn. Designed by Mouton Rouge. Available in English and Serbian.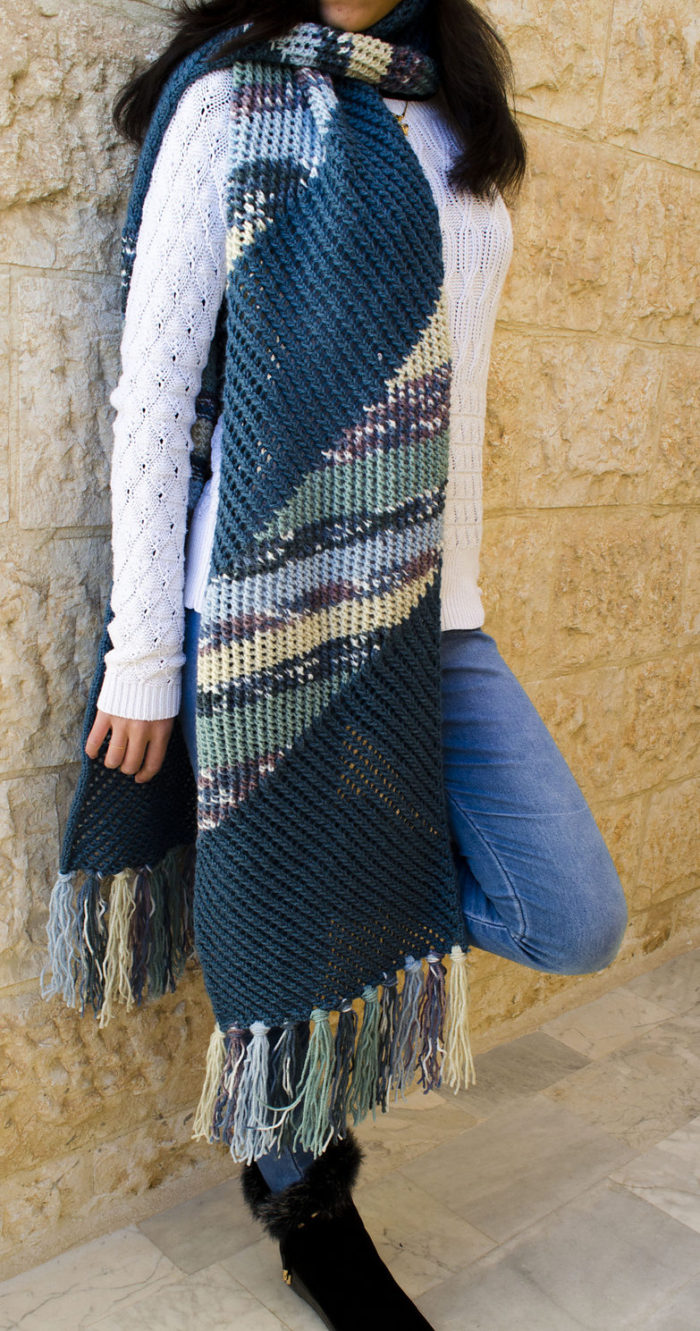 Diagonal Stripe Super Scarf
This Cozy Scarf features alternating sections of 6 row repeat diagonal stitch in solid yarn with sections in self-striping or variegated yarn. Matching hat pattern included. 13" x 90"(227 cm x 33 cm). Worsted weight yarn. Designed by Wiam's Crafts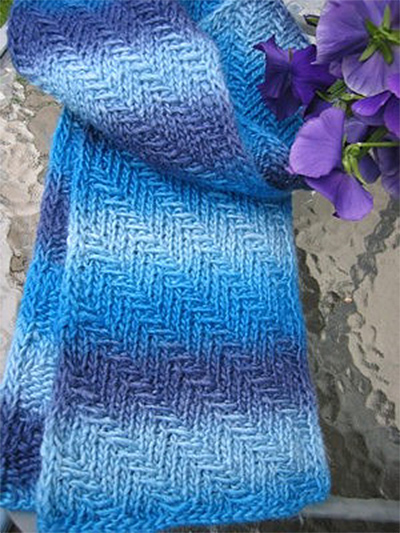 Prismatic Scarf
Huan-Hua Chye's easy scarf uses a diagonal slipped-stitch herringbone rib pattern that creates slanting rays of color especially designed to show off variegated yarn, though the texture looks great in solid colors too. Pictured project by Maj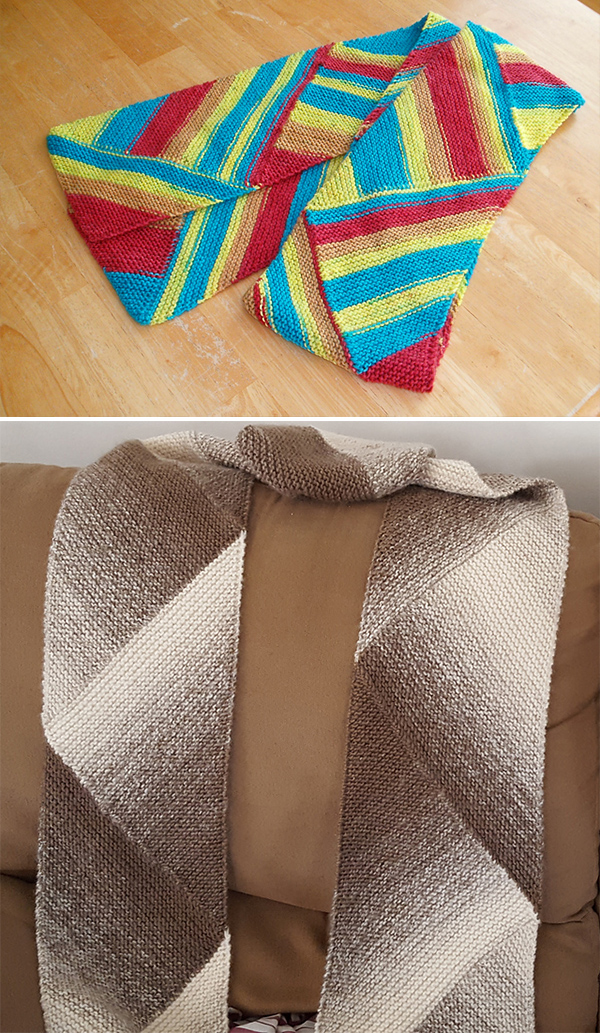 On the Bias Scarf
Designed by Knit and Crochet Now, multi-colored yarn combines with short row sections to create a stunning scarf. This is a pattern that really cries out for multi-colored, self-striping, or variegated yarn. Recommended yarn available on pattern page. Pictured projects by mcclan and LeighT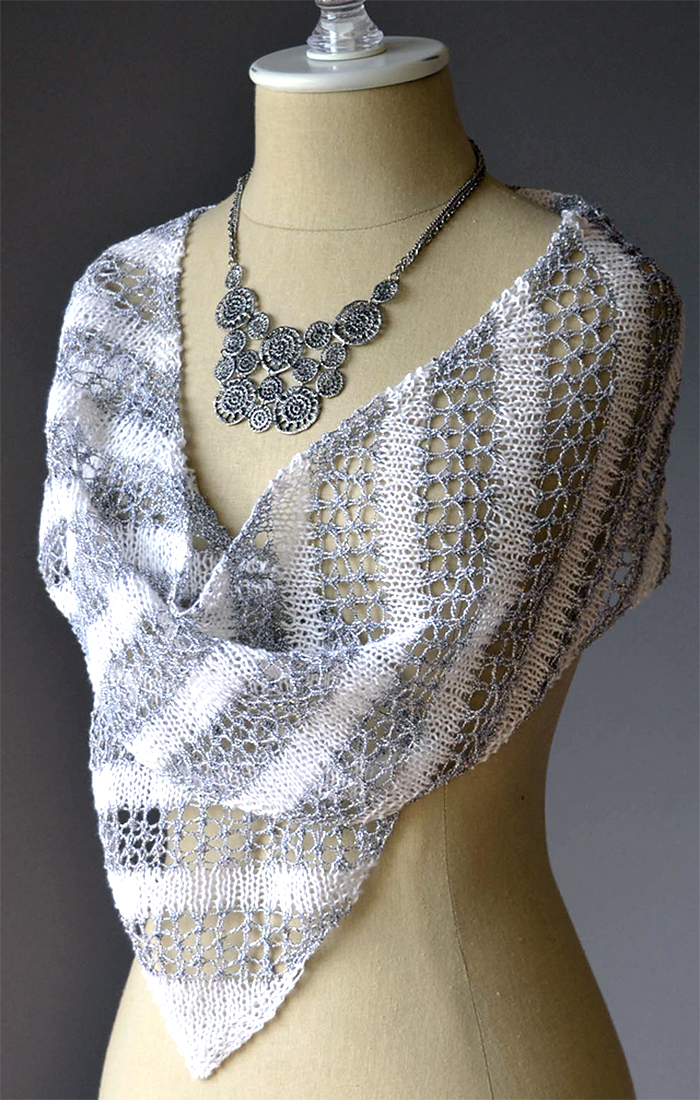 Bias Stripe Scarf
An 8 row lace pattern (with wrong side rows just knit) alternates with stockinette in this elegant scarf. The only challenges might be that the bias requires decreasing and increasing on most rows and lace is charted. Use contrasting yarns for the best effect. Designed by Amy Gunderson for Universal Yarns.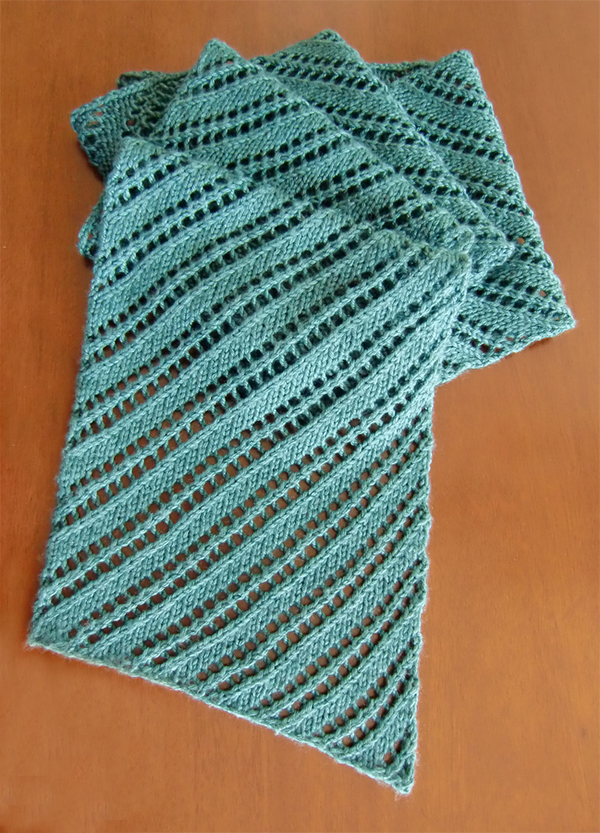 Wakefield Scarf
Easy diagonal lace scarf knit with an easy to memorize 12 row repeat with all wrong side rows just purl. DK weight yarn, Can easily customize into a shawl. Designed by Melissa LaBarre. Rated easy by Ravelrers. A note from the designer: "Although the written directions on the Knitting Daily blog do not match the chart, they really are the same. They appear to just start the pattern at different points, but if either are followed, the end result will be the same." Pictured project by katew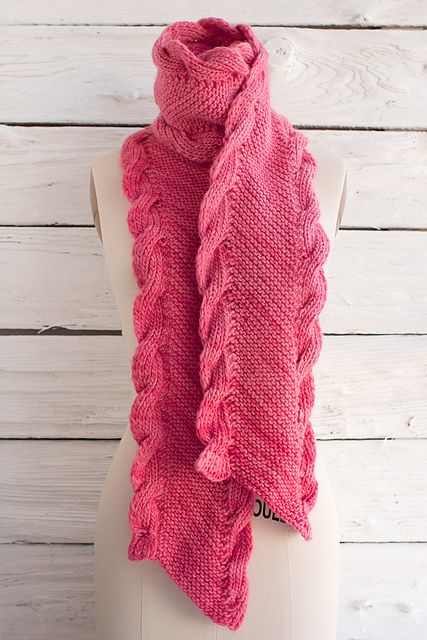 Bias Scarf with Ribbed Cables
Lisa R. Myers designed this scarf that's knit diagonally with cable edging.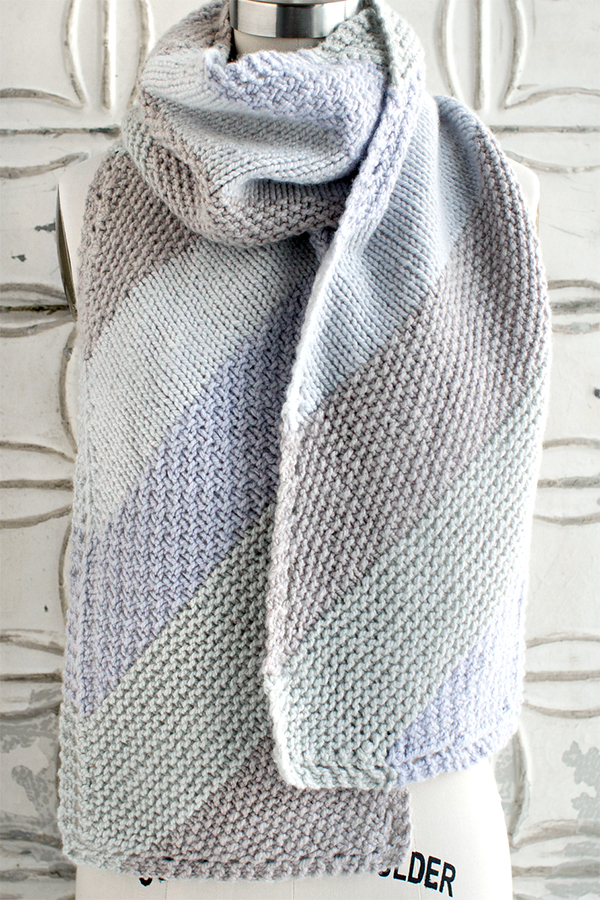 Cedars House Scarf
Scarf knit on the bias with diagonal stripes not just of different colors, but also different stitch textures. Bulky weight yarn. Designed by Jocelyn Tunney for O-Wool. Size 69" long, 9.5" wide.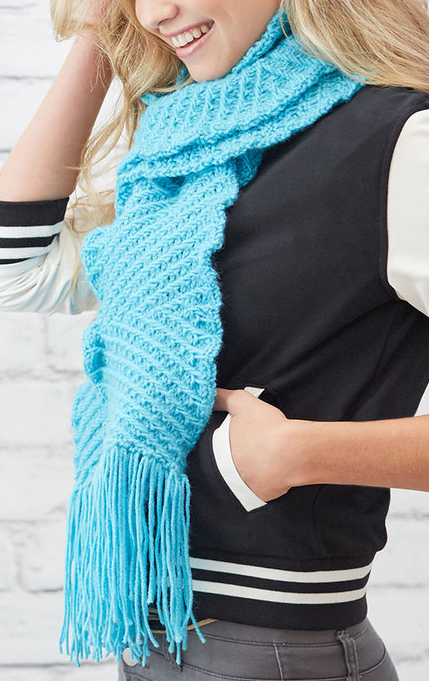 Zigzaggy Scarf
The diagonal texture of this scarf is created with slipped stitches and just knit and purl stitches. Alternating sections of left diagonal and right diagonal create a zigzag and a natural ruffle edge. Designed by Kia Love for Red Heart who rated the pattern easy.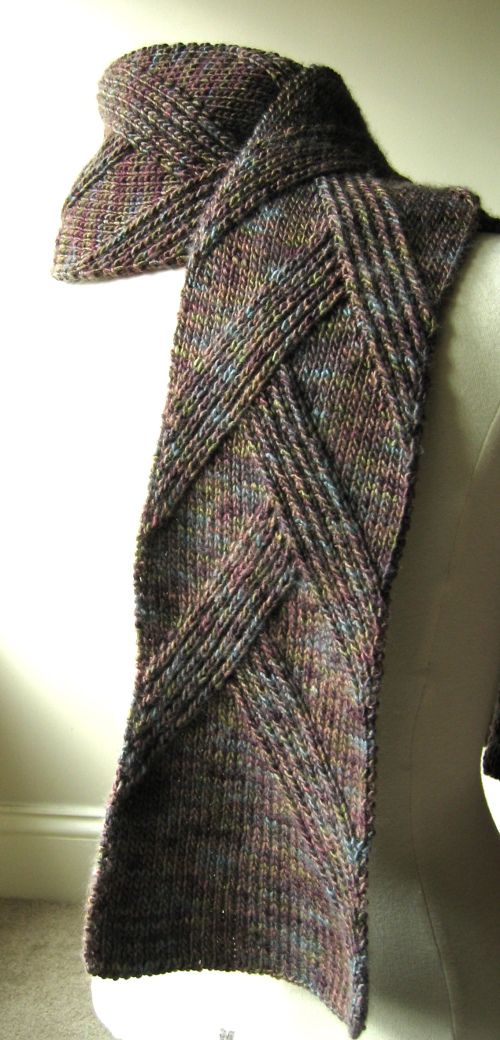 Rippenschal Ribbed Scarf
Margarete Dolff's unisex scarf features a ribbed cabled pattern that forms a criss cross effect.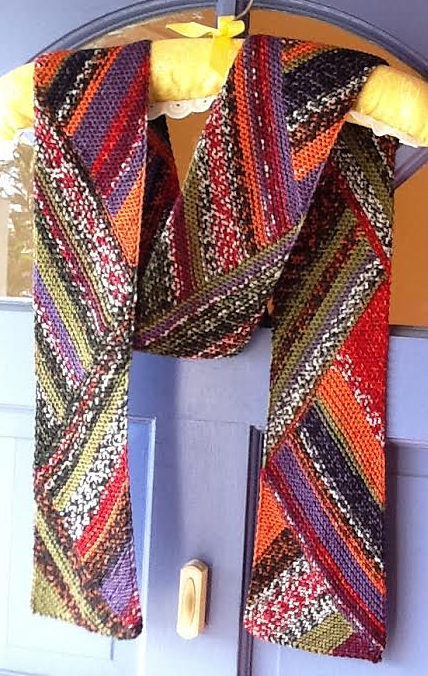 Reversible Multidirectional Diagonal Scarf
Knit in garter stitch and short rows that shape the triangles this is perfect for showcasing variegated or sock yarns. Designed by Karen Baumer. Pictured projects by Godzilla and iknit4joy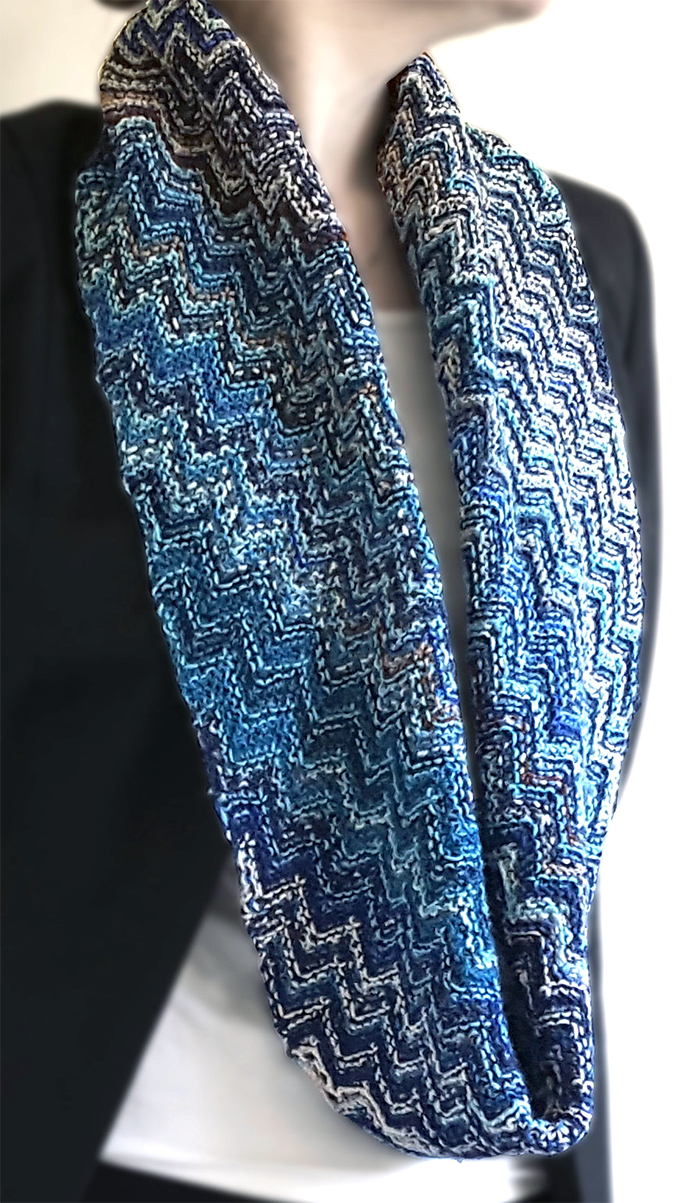 Skein Hash Cowl
Infinity scarf designed to be knit with leftover stash and scrap yarn. Knit flat in a garter stitch chevron on the bias. Designed for fingering weight yarn but adaptable to other weights. Designed by Sybil R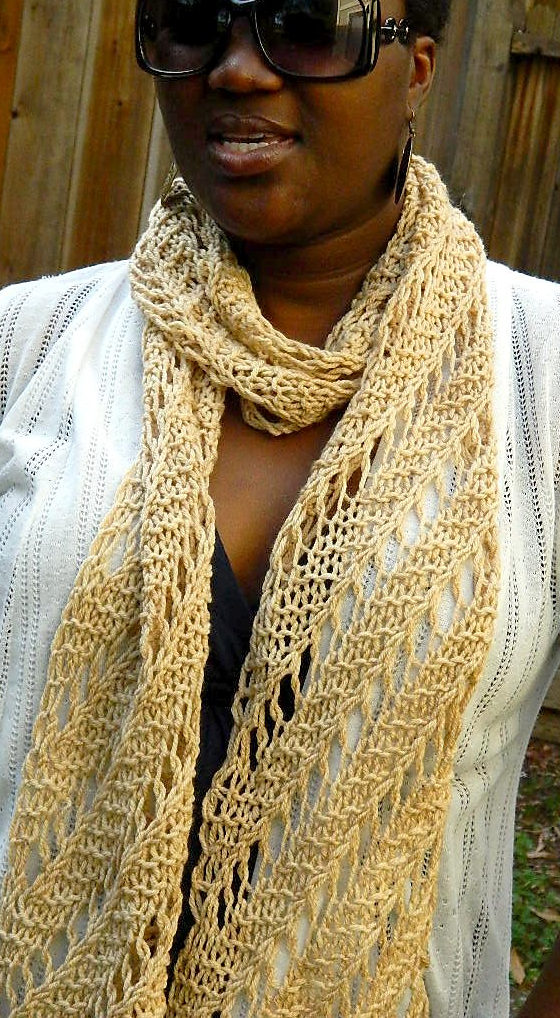 Colliding Stars Scarf
Scarf knit with a diagonal lace stitch in a 10 row repeat inspired by The Harmony Guides: Lace & Eyelets. Optional crochet edging. Use any weight of yarn. Designed by Denise Twum of Niseyknits. Rated easy by Ravelrers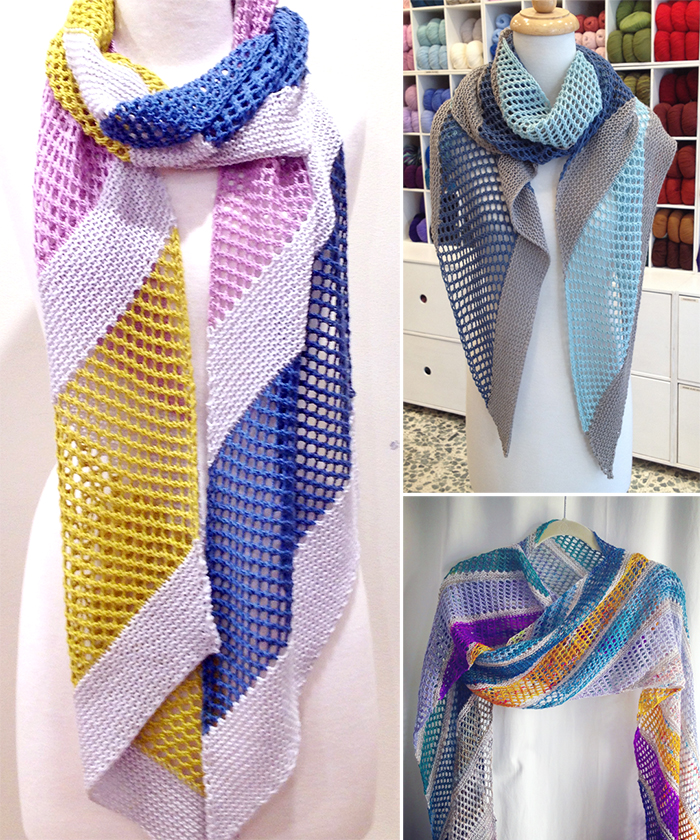 Naname Scarf
Bias stripe scarf knit with alternating stripes of 2 row eyelet lace and garter stitch. Naname (say "nah-nah-may") means diagonal in Japanese. 4 sizes: Short Scarf (Long scarf, Short Wrap, Long Wrap). Fingering weight yarn on larger needles for lacier look. Designed by Emily Bolduan. Pictured projects by the designer, llomakermaker, and jfsincali. Rated very easy by Ravelrers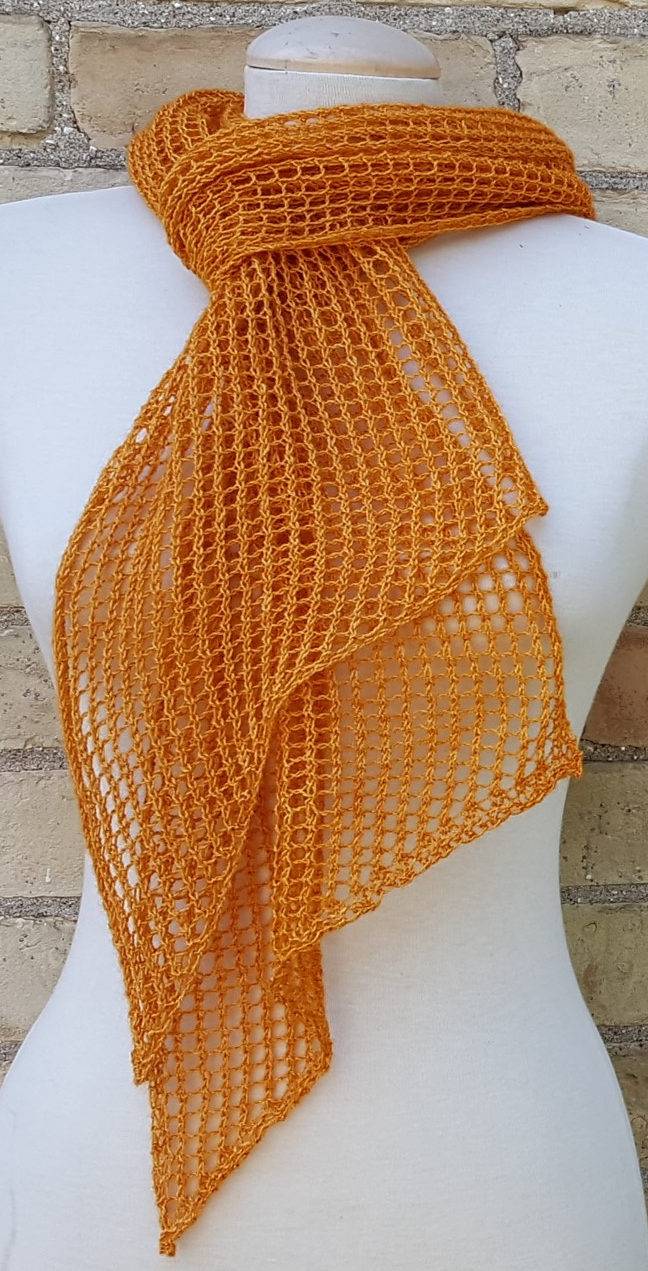 Delta Scarf
A simple but elegant lace scarf worked on the bias in a 2 row repeat. 2 sizes: Small (S) (13" x 72") and Large (L) (18" x 86"), requiring 50g and 100g of lace weight yarn, respectively. Designed by Galt House of Yarn.

Flying Fringe Scarf
This colorful scarf is knit in garter stitch on the bias with 2 strands of different color yarn held together to create a marled effect. Designed for mini skeins, you could easily used stash and scrap yarn instead. And no weaving in ends – they become part of the fringe! Designed by Beata Jezek for Hedgehog Fibres. Rated very easy by Ravelrers.
Patterns for Purchase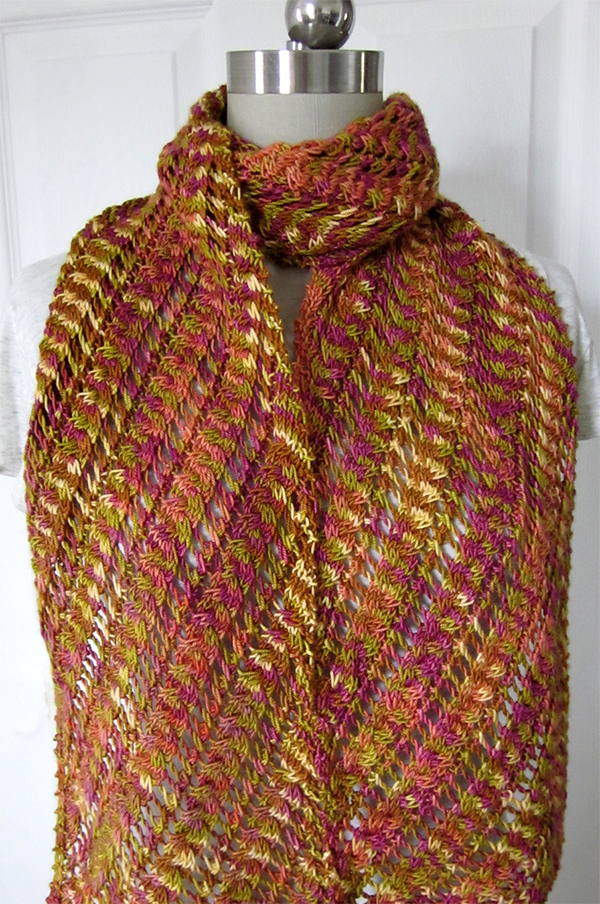 Lilka Scarf
Knit braided cables on the bias in this two-skein scarf. Great showcase for multi-colored yarn. Designed by Cassie Castillo. Sport weight yarn. Pictured project by Azalea820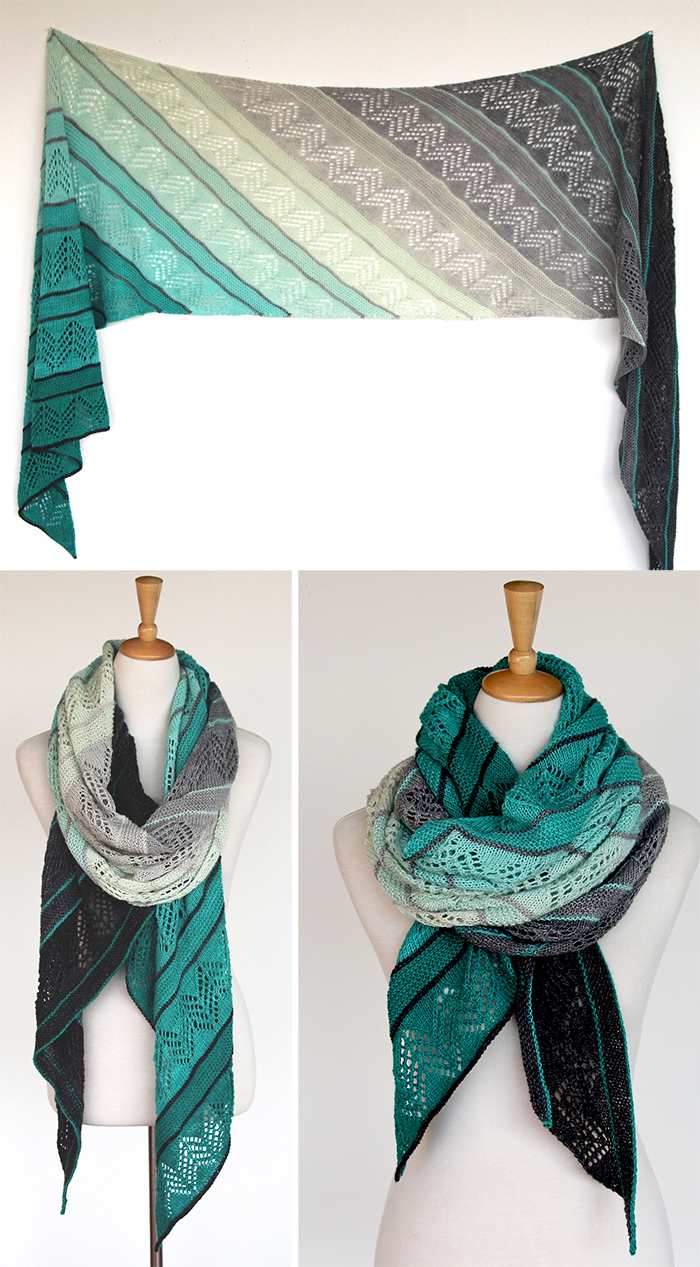 Inara Wrap
Diagonal columns of alternating lace and garter stitch make a strong statement in this long wrap that looks lovely in gradient yarn. 3 lengths. Designed by Ambah. Fingering weight yarn.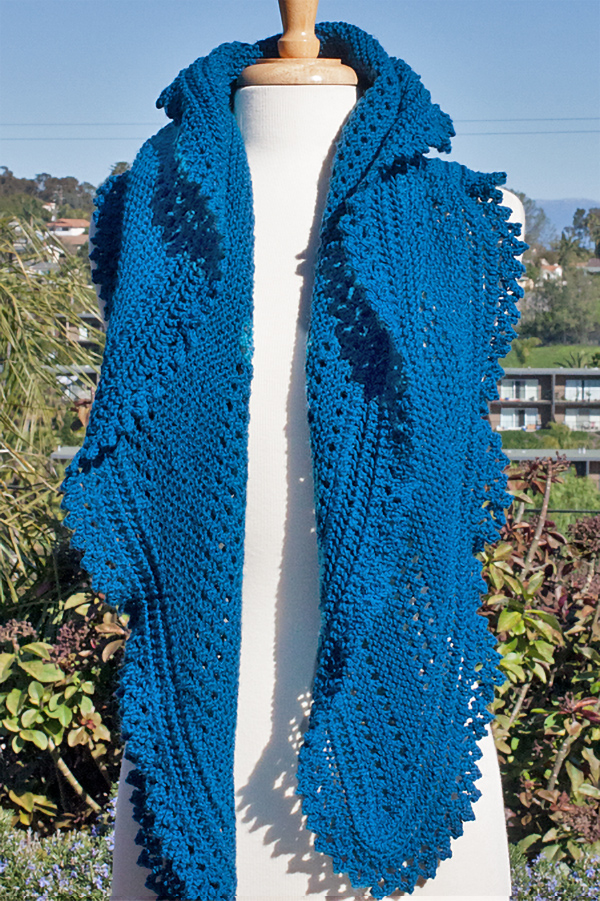 Seabreeze Scarf
The Seabreeze Scarf starts with a simple bias knit panel for the center and a lace border is knit separately and sewn on to the center panel. Designed by Pauline Walpole. Sport weight yarn.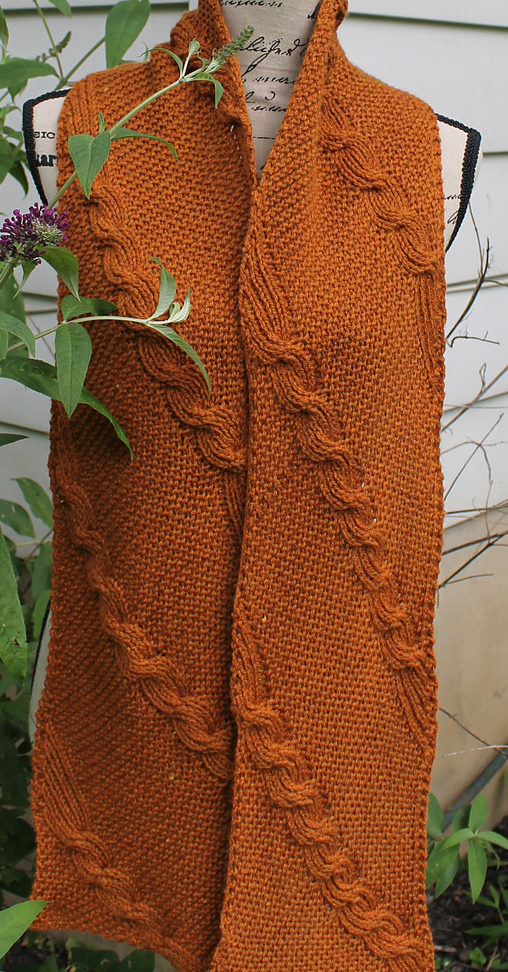 Quixote Scarf
Garter stitch and cables knit on the diagonal formed by increasing on one side and decreasing on the other. Completely reversible. Designed by Brenda Castiel. Pictured project by golfgirl417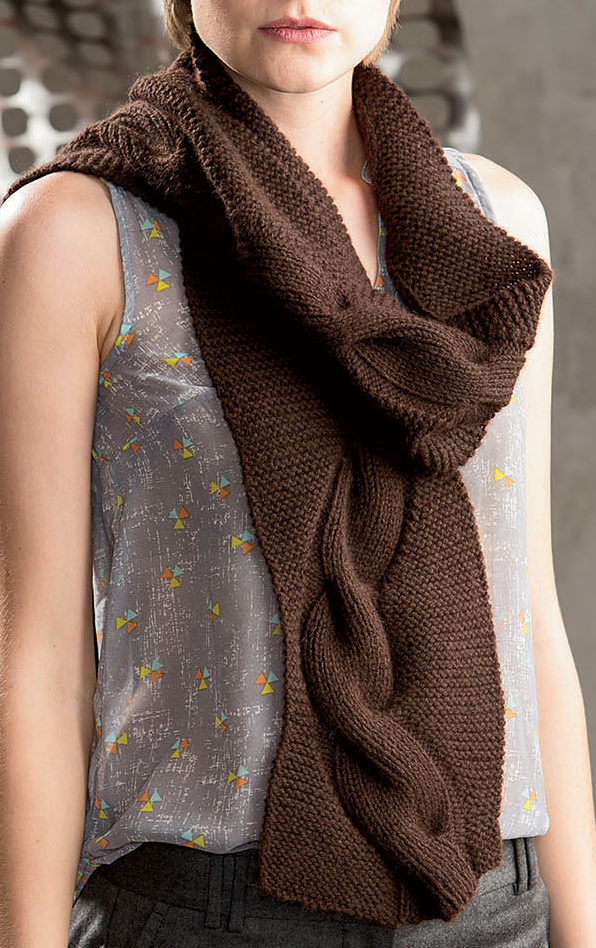 Swaying Cables Scarf
A wide cable is set on the bias in a garter-stitch in this reversible scarf that looks the same on both sides according to Ravelrers. Designed by talitha kuomi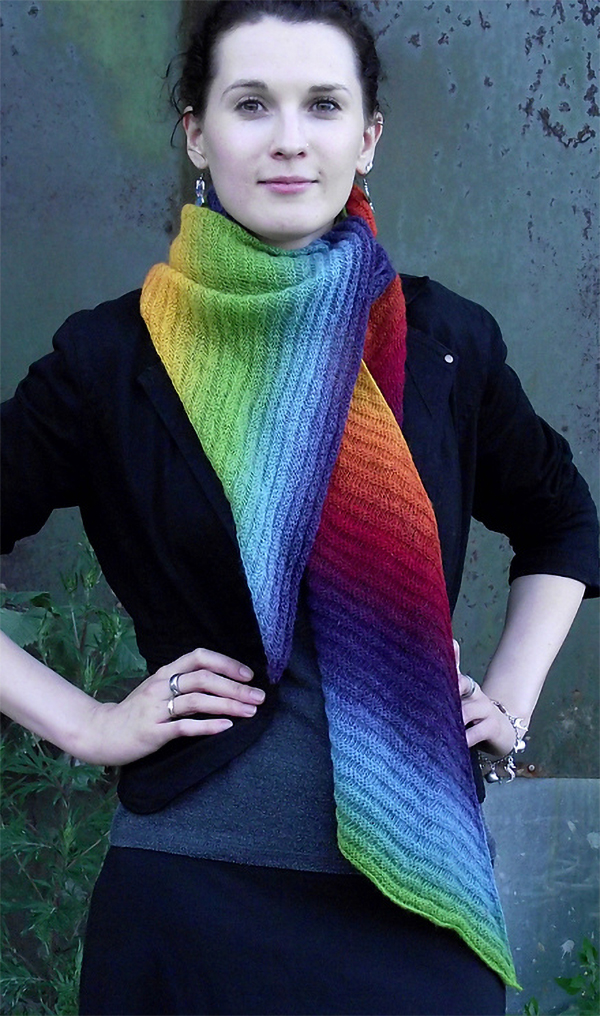 Pseudo Shibori Scarf
Ribbed and textured scarf knit on the bias, but without the felting associated with shibori. Designed by Laura Irwin. Pictured project by AryaStark. Rated very easy by Ravelrers. One of the 20 patterns in the Boutique Knits eBook

Slanted Gansey Cowl
This reversible infinity scarf cowl worked flat on the bias then seamed. Knit with sport-, DK- or worsted-weight yarn. Designed by Carol Sunday

Eyelet Infinity Scarf
An eyelet and garter ridge pattern slants diagonally across the fabric of this long loop that is wrapped twice as a cowl. Designed by Sarah Radow for multi-color yarn. One of patterns in Noro Silk Garden: The 20th Anniversary Collection