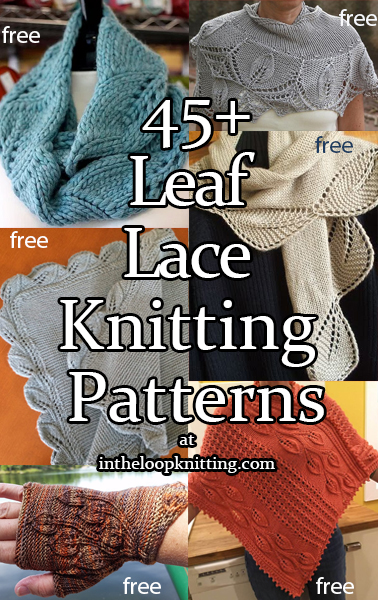 These knitting patterns feature leaf motifs in lace, cables, and texture on shawls, blankets, cowls, scarves, sweaters, baby clothes, and more.
To get the knitting patterns, scroll down the page to the individual pattern you want and click on the link to that pattern.
These patterns are not my designs but links to other designers who have generously shared their patterns. If you have questions about how to knit a specific pattern, please contact the designer directly.
All links on this site are for informational purposes, but please note that some links are to affiliate sellers that pay me a small commission on purchases.
Free Patterns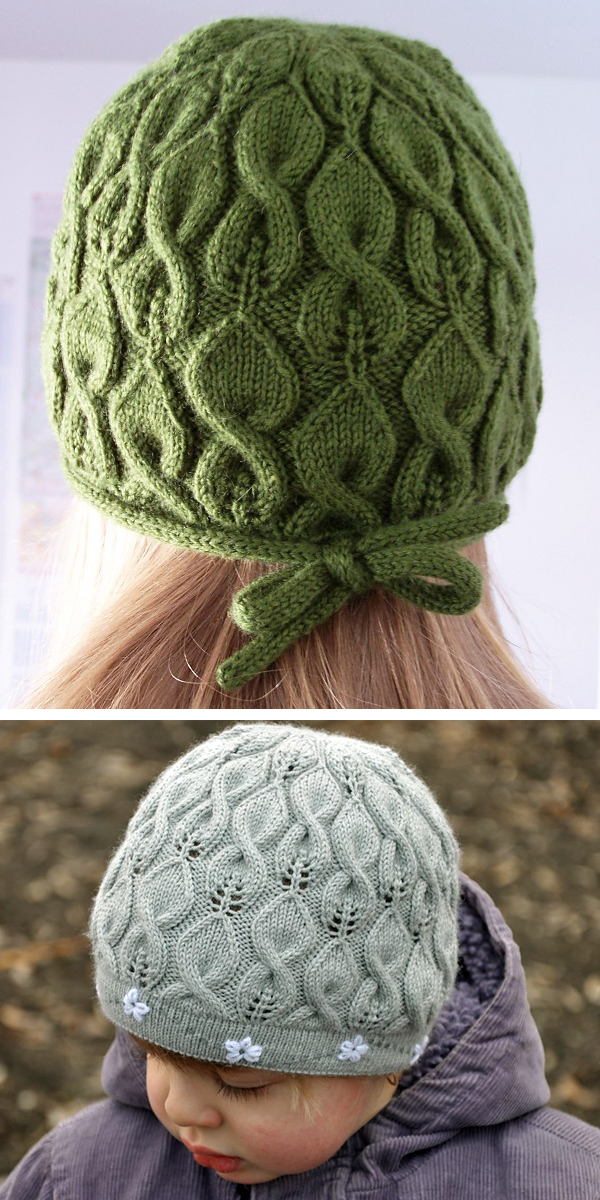 Liffey Hat
Beanie hat with all over leaf design in lace and cable. Designed by Iryna Klionava. Pictured projects by the designer and KnitterAmateur who made mods for a smaller size. Fingering weight yarn. Available in English and French.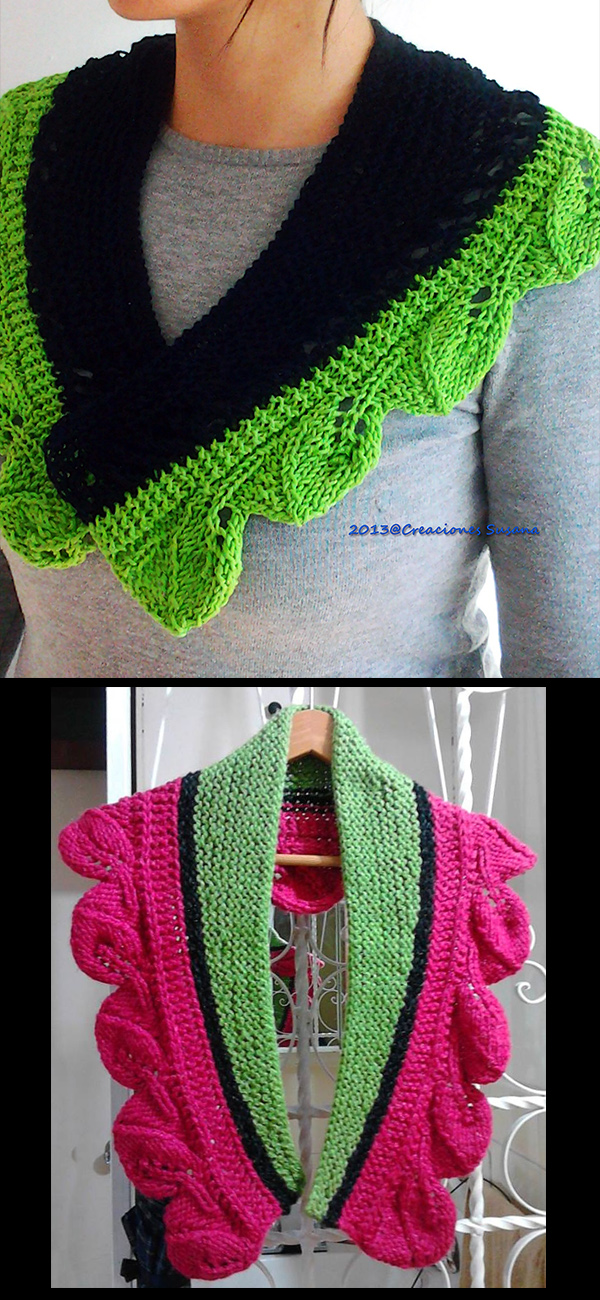 Leaf Border Shawlette
Crescent shaped shawl with a leaf lace border. Rated easy by Ravelrers. Written and charted instructions. Cuello Hojas de Primavera designed by Susana Lobos desiGns. Pictured projects by the designer and HilosyLanas. Worsted weight yarn. Available in English and Spanish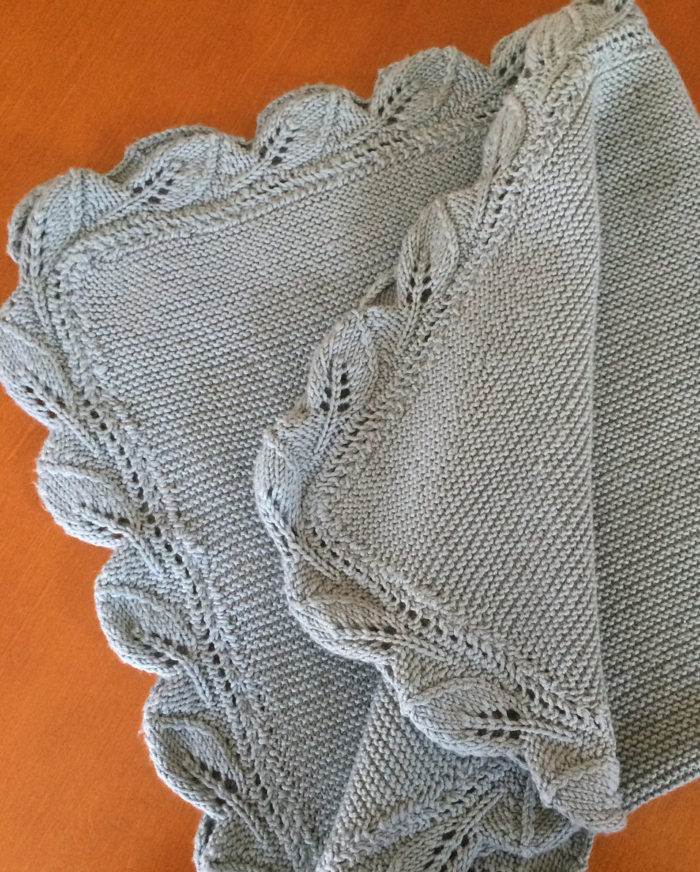 Sproutling Baby Blanket
Garter stitch baby blanket with a leaf lace edge knit separately and sewn on. Sport weight yarn. Designed by Judy Kaethler. Pictured project by rgescheider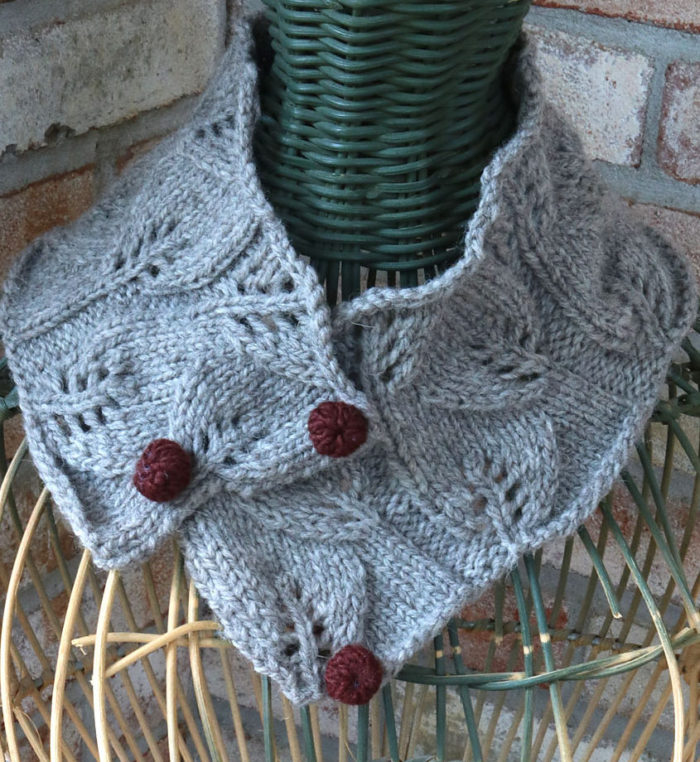 Equinox Cowl
Neckwarmer knit with leaf lace with berry buttons. Aran weight yarn. Designed by Chris de Longpre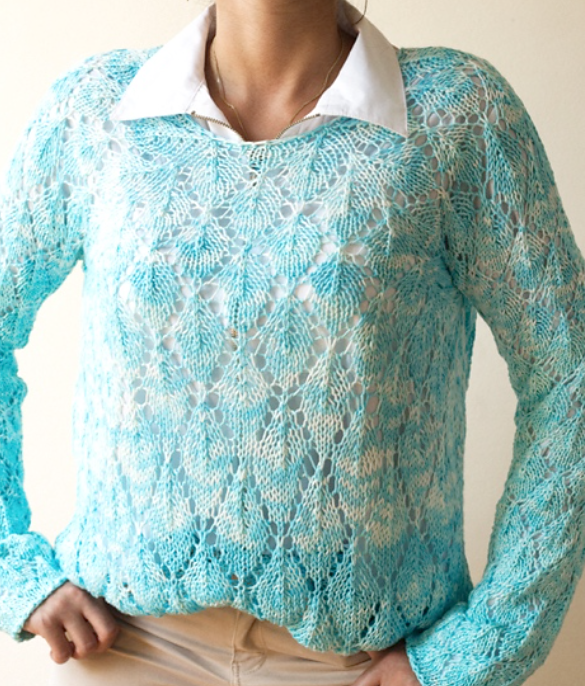 Falling Leaves Pullover
Long-sleeved sweater with leaf lace. DK weight yarn. Designed by Feza Yarns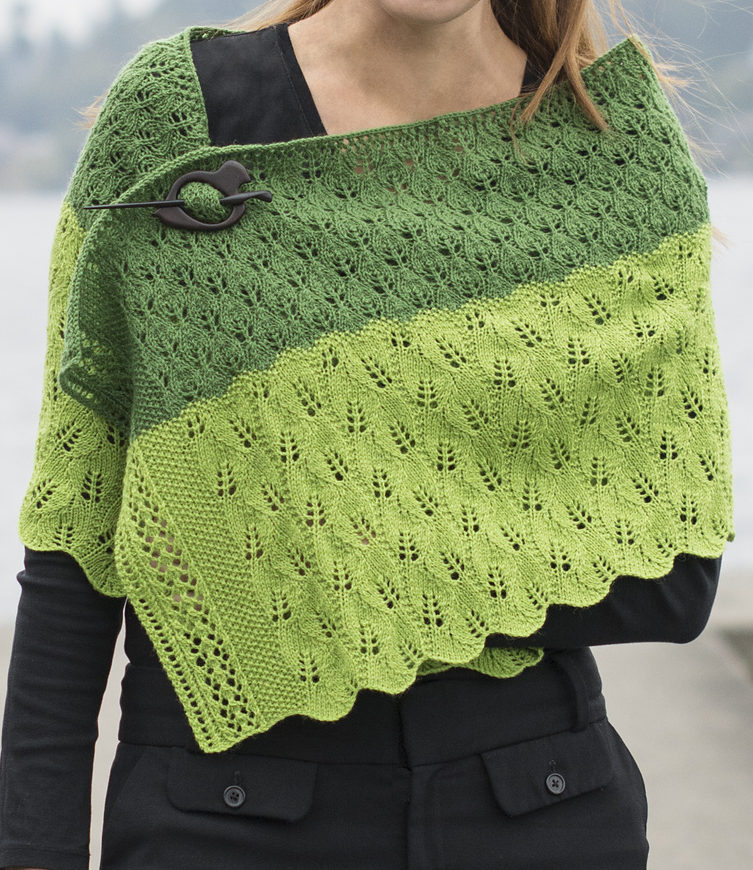 Leafy Transitions Wrap
Rectangular shawl with 2 different all over leaf lace patterns. Lace instructions are both written and charted. Light Fingering weight yarn. Designed by Michael Harrigan for Cascade Yarns.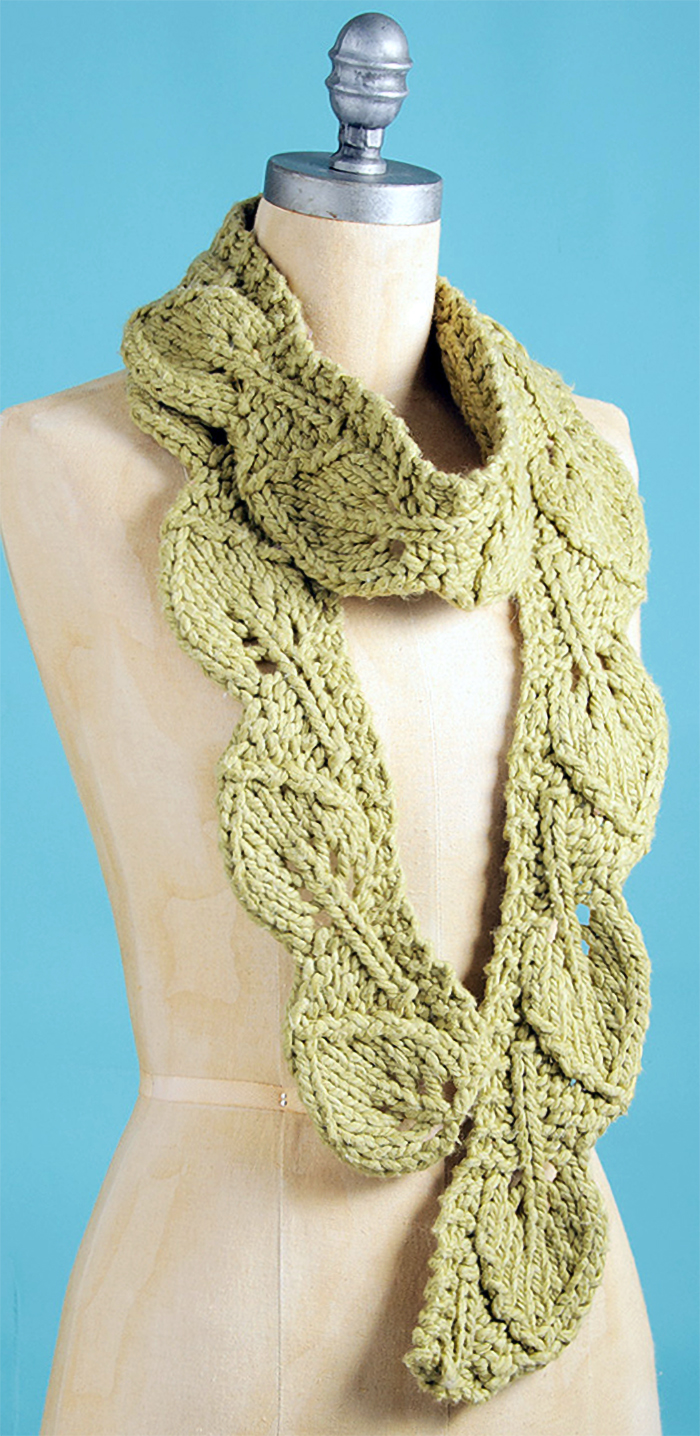 Leaf Scarf
Lace scarf of knit leaves. Can also be used to knit a leaf bookmark with fine yarn. Super bulky weight yarn. Designed by Susan B. Anderson for Spud & Chloë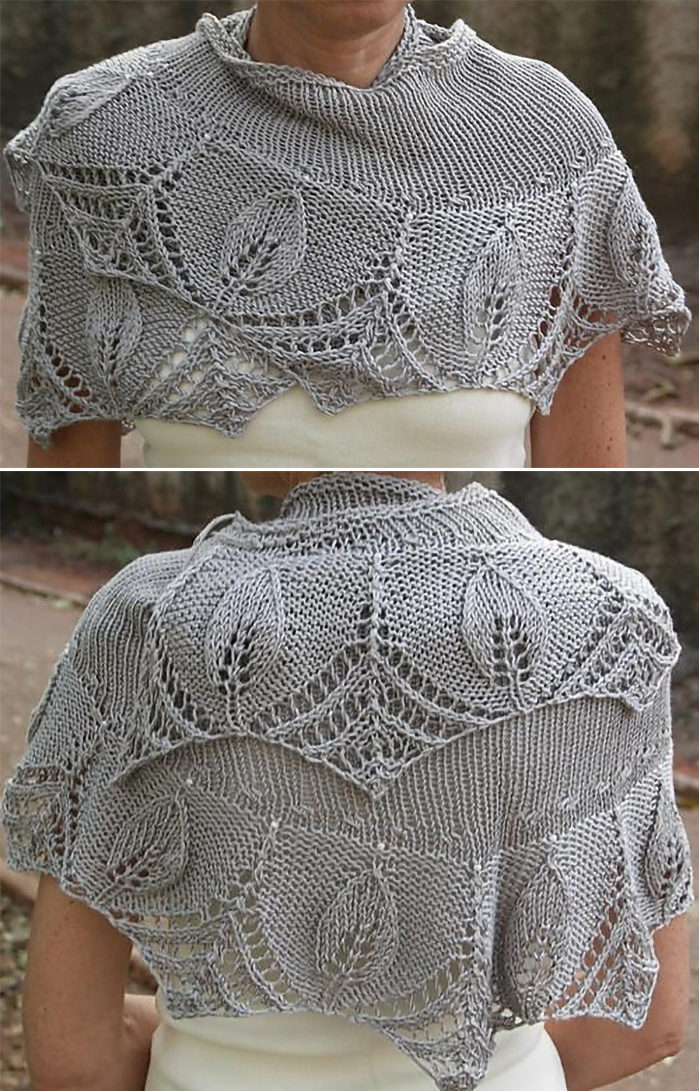 Silver Leaves Shawlette
Lace edged shawl with leaf motifs knit bottom up with a stockinette body. Sport weight yarn. Designed by Grace Karen Burns. Available in English and Portuguese.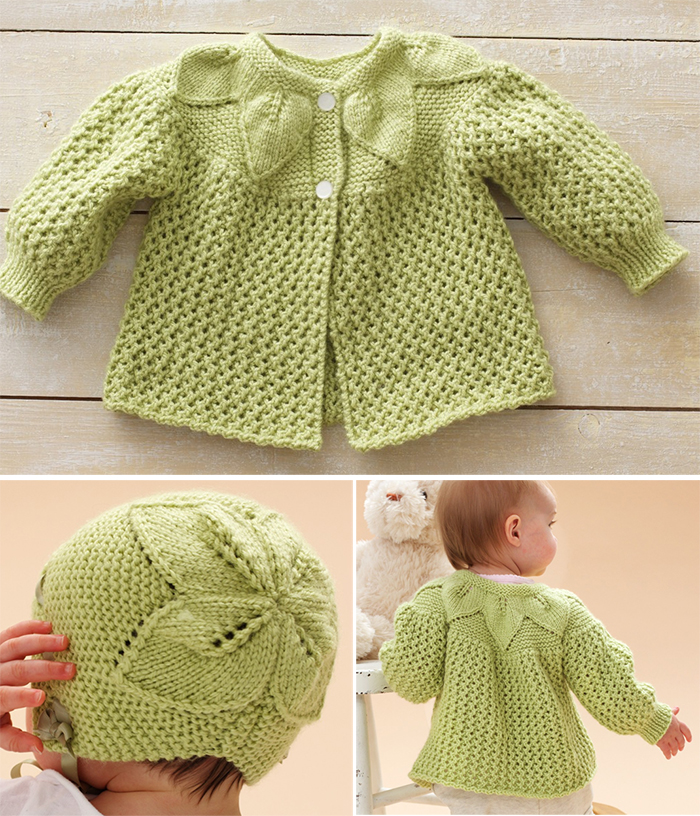 Leaf and Lace Baby Set
Baby layette with matching hat, jacket and booties featuring leaf lace motifs. Sizes Preemie, Newborn, 0/3, 6/12 months. Designed by Patons

Starsky Cardigan
Shawl collar wrapped front sweater with leaf lace on front and back with belt. Bulky weight yarn. Chest: 40.5 (44.5, 47.5, 52.5, 57.5) inches. Designed by Jordana Paige for Knitty. Pictured project by jettshin who has some notes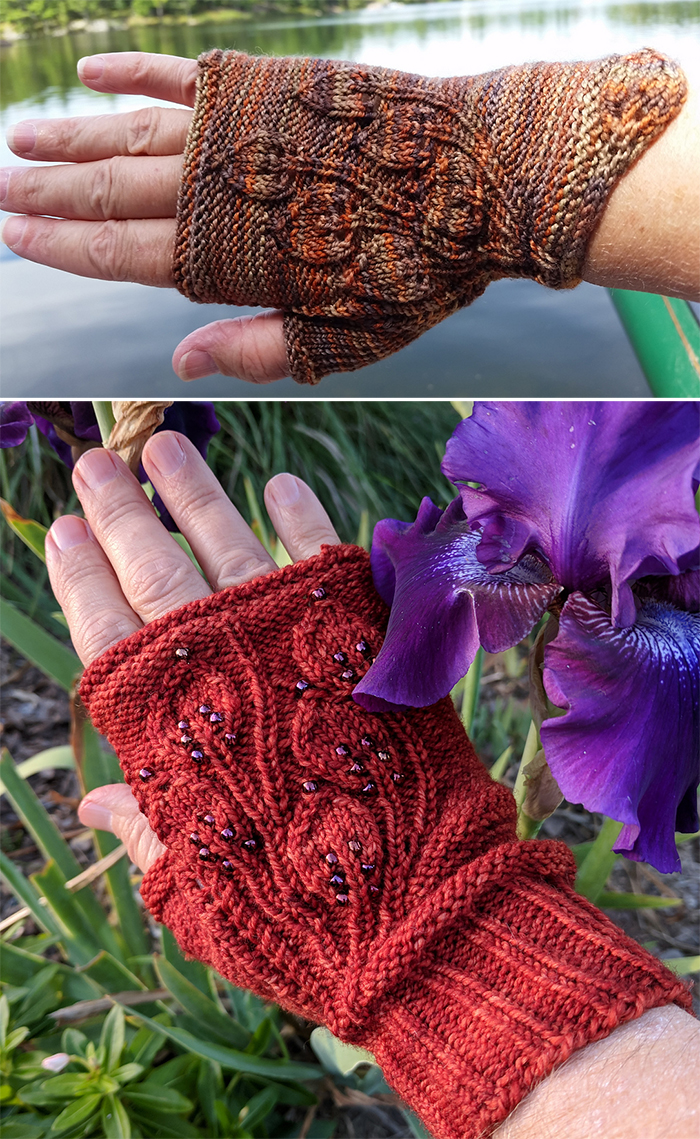 Grandifolia Fingerless Mitts
Handwarmers featuring leaf lace on the top and at the cuff. 3 sizes. Fingering weight yarn. Designed by Vickie Hartog. Pictured projects by the designer and DKlee who added beads and changed the cuff to ribbing.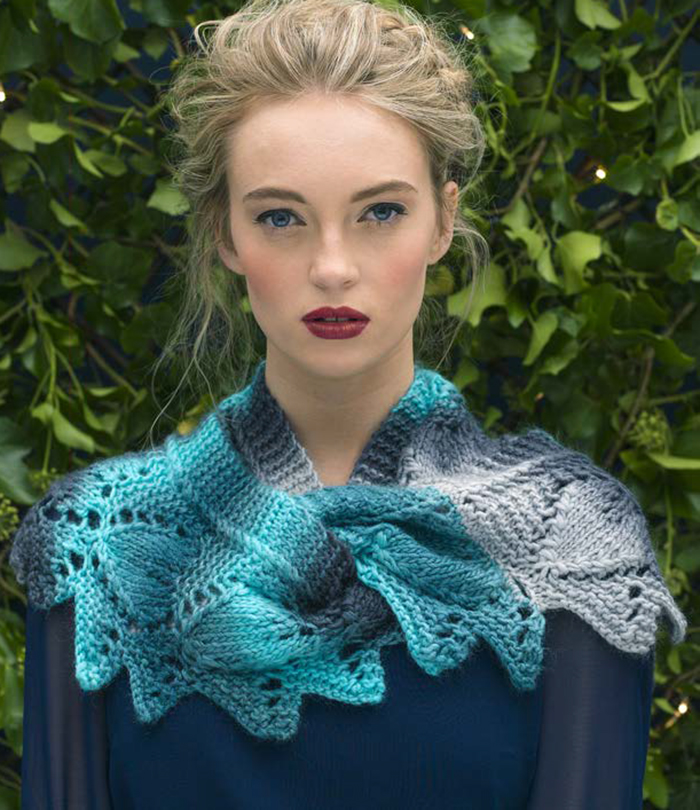 Frosted Leaves Cowl
Shoulder cozy knit with leaf lace. Knit flat and seamed. Aran weight yarn. Designed by Louisa Harding for Knitting Fever.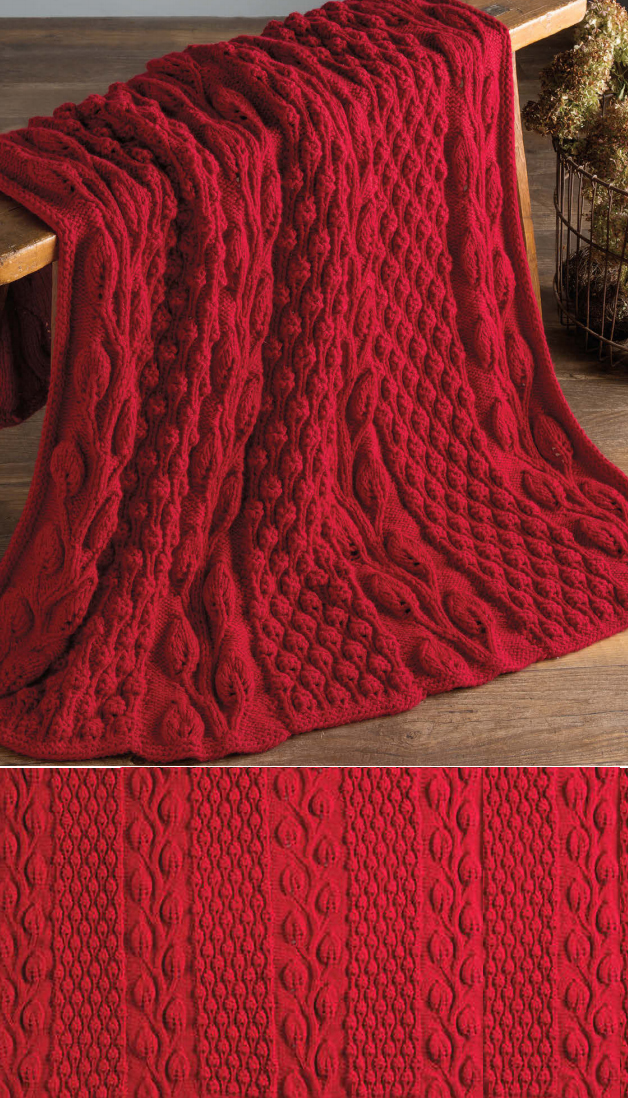 Autumn Blaze Afghan
This throw knit in panels and seamed features leaf lace and berry stitch texture. Designed by Nazanin S. Fard. Worsted yarn. This pattern was featured in Season 8 of Knit and Crochet Now! and is free with registration at Annie's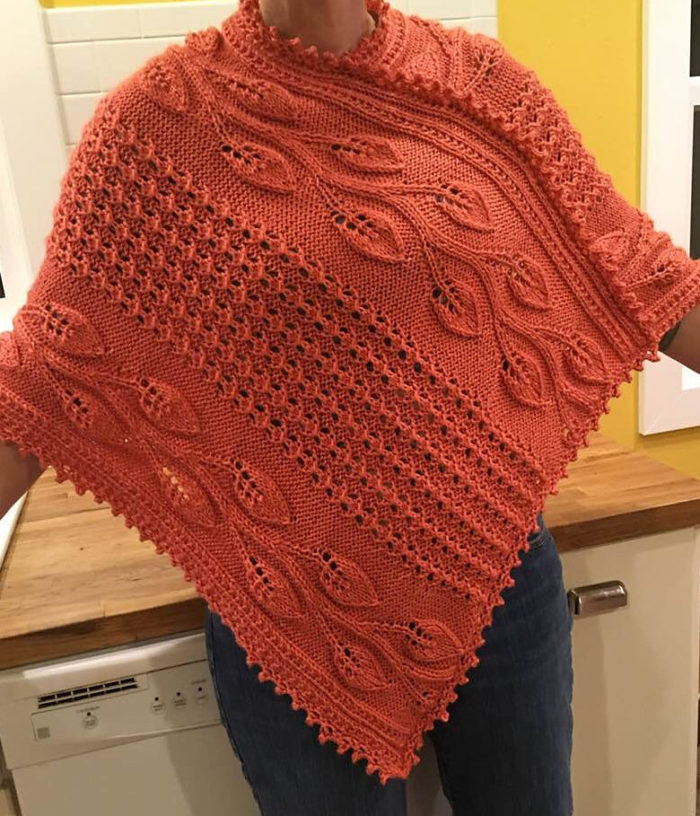 Big River Vines Poncho
Poncho featuring leaf lace vines and lace rib is knit flat in two panels and seamed. Aran weight yarn. Designed by Knittingsworth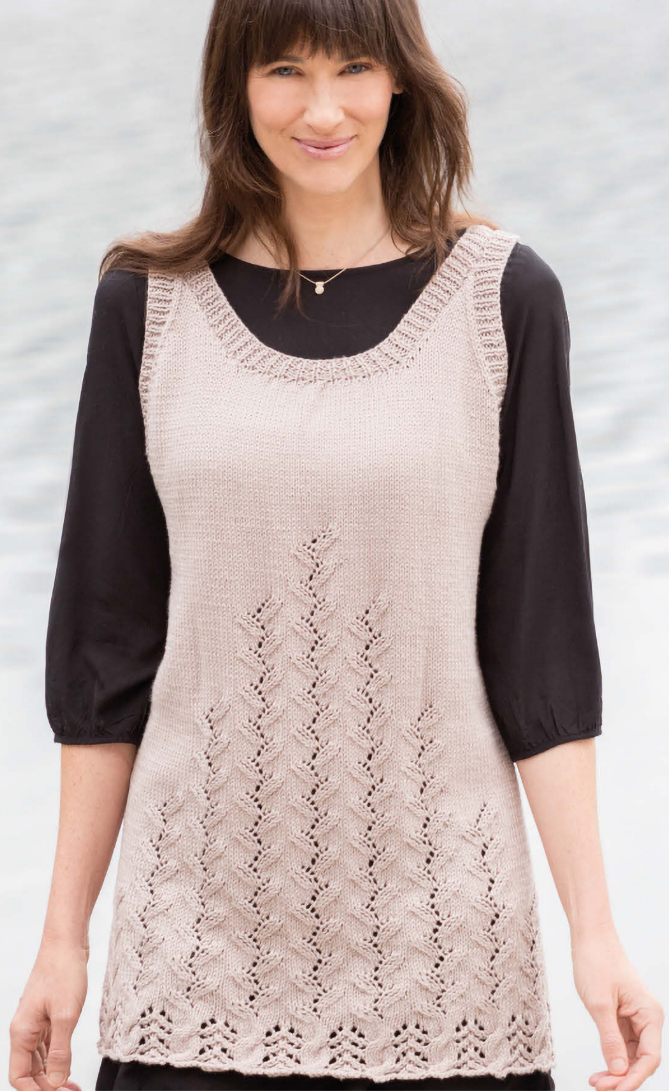 Leaf Lace Tunic
This sleeveless pullover features an 8 row repeat twining leaf stitch with another 8 row repeat lace hem on front and back. Designed by King Cole. DK yarn. This pattern was featured in Season 8 of Knit and Crochet Now! and is free with registration at Annie's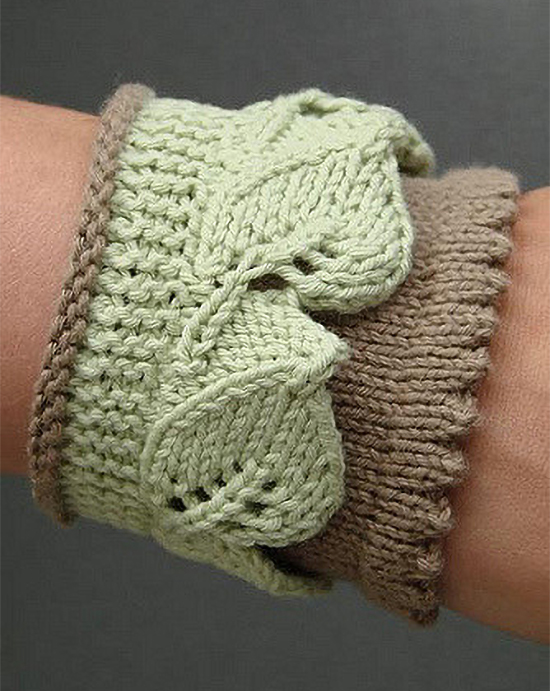 Leaf Lace Cuff
This cuff with lace can also be adapted to trim socks, fingerless mitts, etc. Designed by Monique Boonstra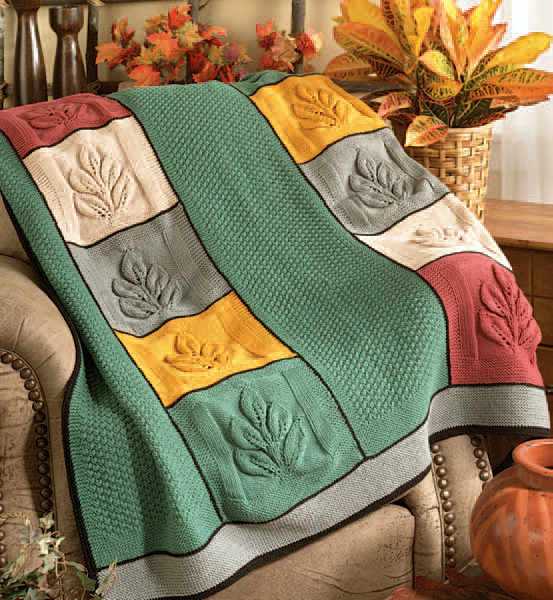 Shoots and Ladders Afghan
This award-winning afghan knitting pattern designed by Susan Kerin is knit in strips of leaf motifs and seed stitch. Winner in Herrschners Knit Afghans 2006 National Afghan Contest.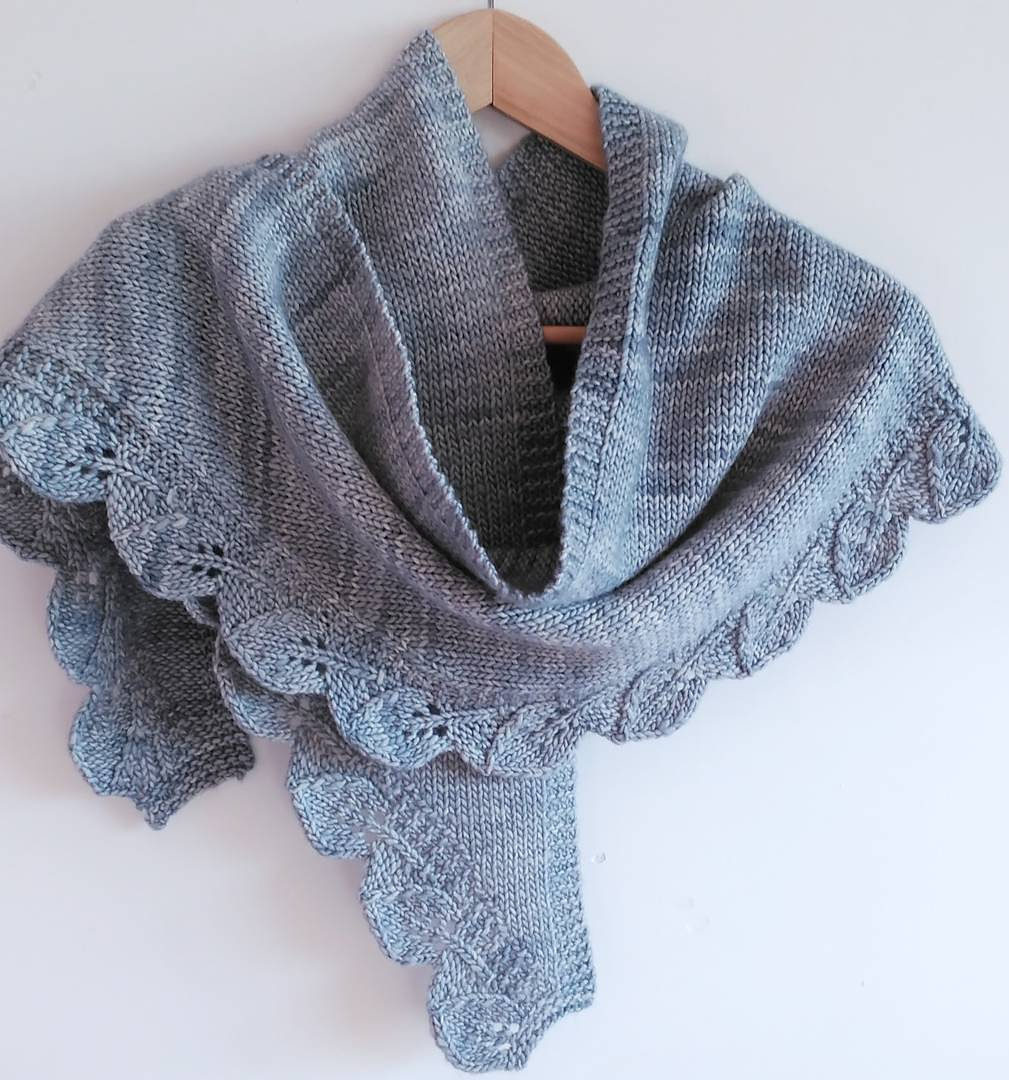 Saroyan
Inspired by the character of Dr. Camille Saroyan in the tv show Bones, this graceful scarf features a stockinette body with a leaf lace shaped edge. Designed by Liz Abinante. Pictured project by by pilarsalamanca, Available in English, French, Turkish, Portuguese, German, and Italian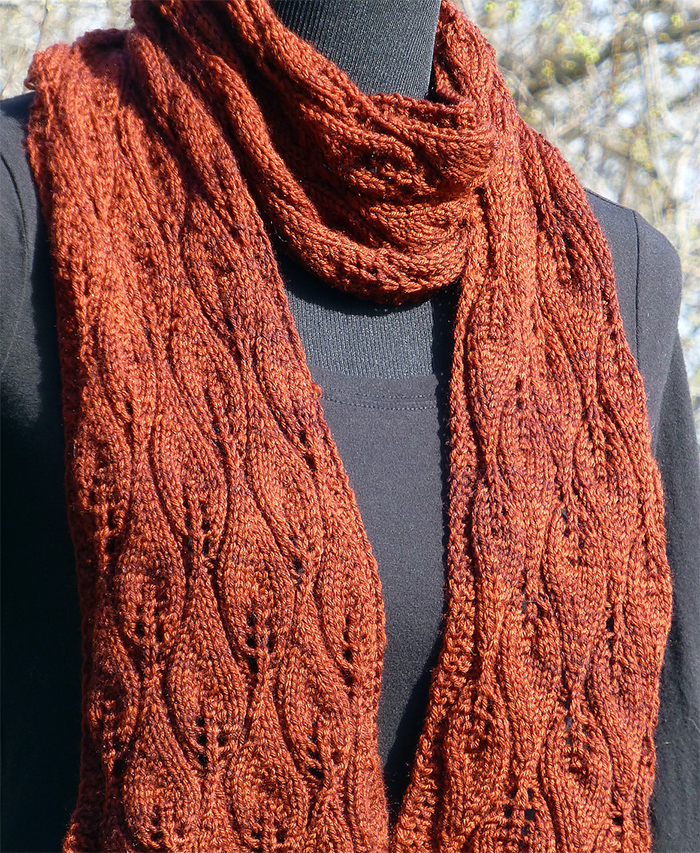 Amy Pond Scarf
This leaf lace scarf was inspired by the long red lace scarf Amy Pond wears in season 5 of Dr. Who ("The Vampires of Venice" and "Vincent and the Doctor") and uses a stitch from Barbara Walker's Treasury of Knitting Patterns. Fingering weight yarn. Designed by Tamara Moots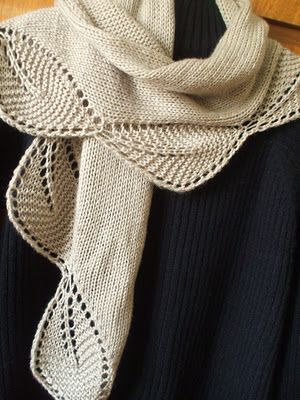 Garden View Shawlette
Tracy Withanee designed this wrap with a leaf lace border.

Lovely Leaf Lace Scarf
Purl Soho designed this cozy lace scarf for Aran weight yarn.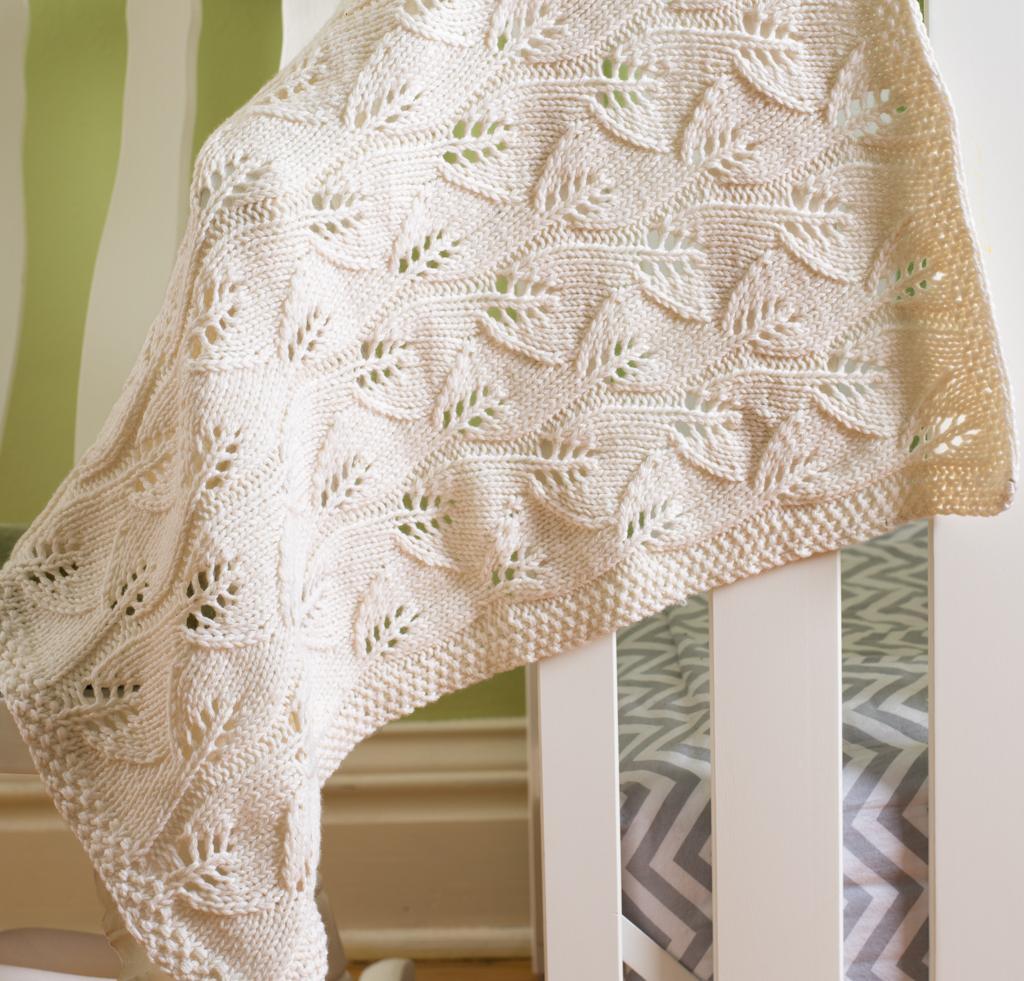 Leafy Baby Blanket
Leyla Alieva's lace baby blanket is knit with two strands of DK yarn on larger needles.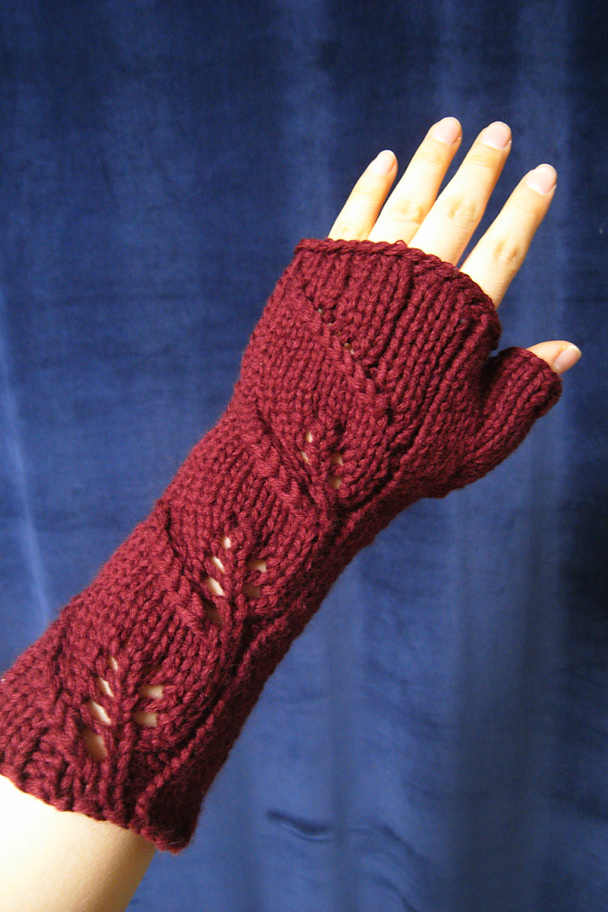 Three Leaf Mitts
Brenda K. B. Anderson's fingerless mitts feature a leaf motif in lace. Pictured project by jacquain who said the project took 4 hours.

Vite Cowl
Designed by Kristi Johnson, this is a one-skein project knit in super bulky yarn. The leaf lacy motif reflects the name Vite (grapevine in Italian).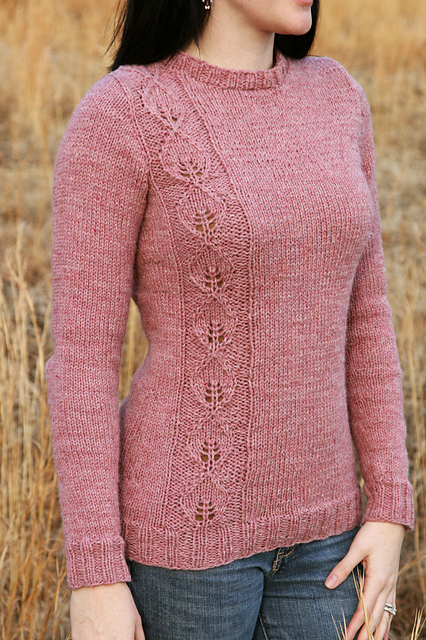 Waiting for Spring Pullover
Susan Dempster's sweater features a leaf lace motif and is constructed in the round from the bottom up with set-in sleeves knit separately in the round. Sizes 30, 34, 38, 42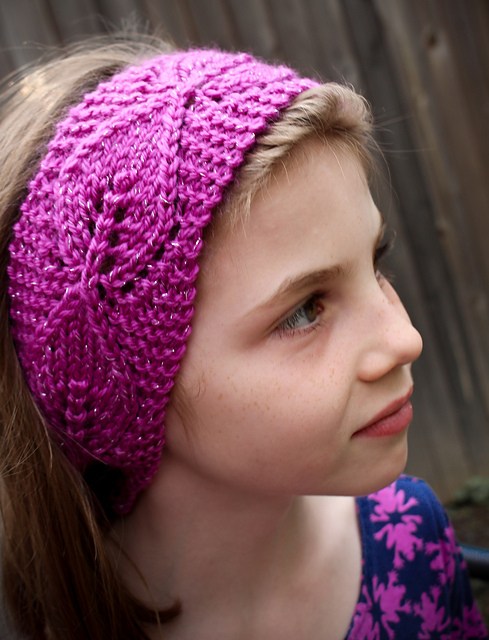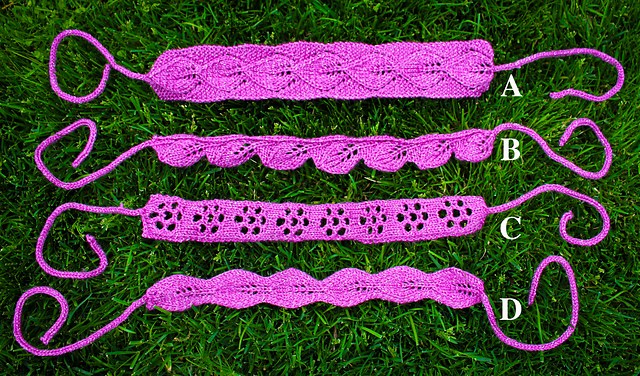 Bouquet of Headbands
Tanis Gray's collection of 4 headband patterns feature leaf motifs and flower lace and are tied in the back.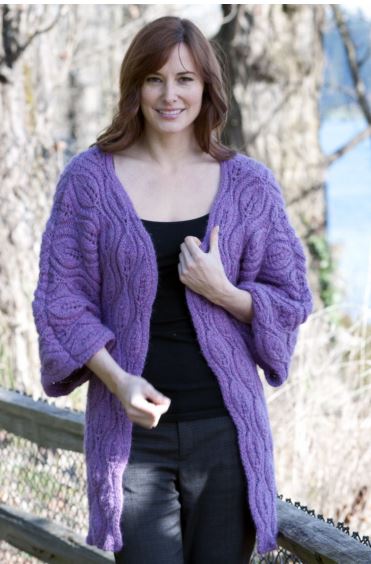 Luscious Leaves Coat
Susan Bonell designed this leaf lace motif coat for Cascade Yarns.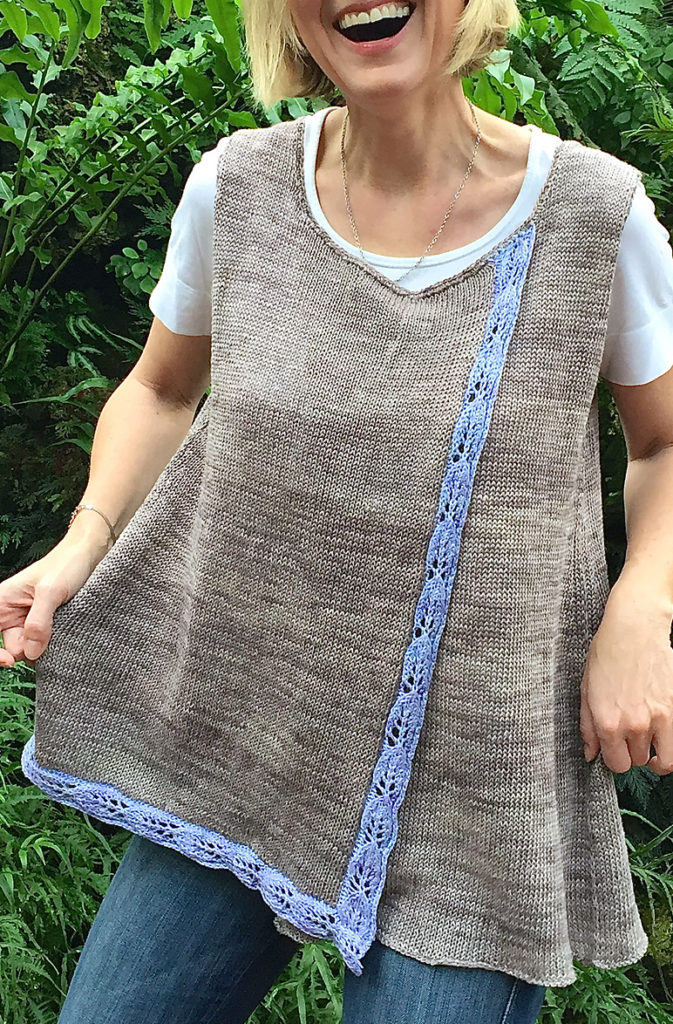 Bay Laurel Tunic
This flattering sleeveless tank top is knit flat in two pieces and features overlapping construction and a leaf lace border. Great for layering. Designed by Julie Turjoman. XS [S, M, L, 1X, 2X, 3X]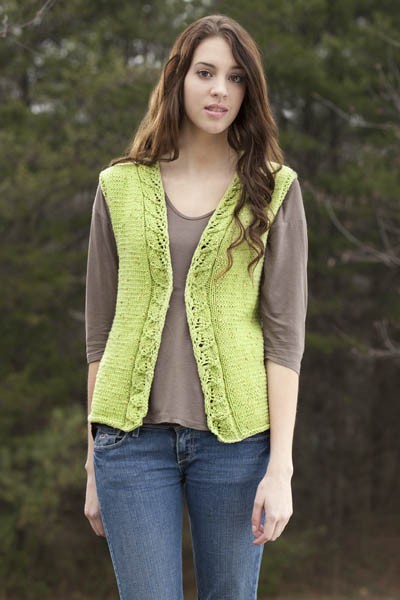 Spring Leaves Vest
Designed by Michael del Vecchio for Universal Yarns, this vest features a leaf lace border. Vest is sized to fit Women's Small (Medium, Large, 1X, 2X, 3X)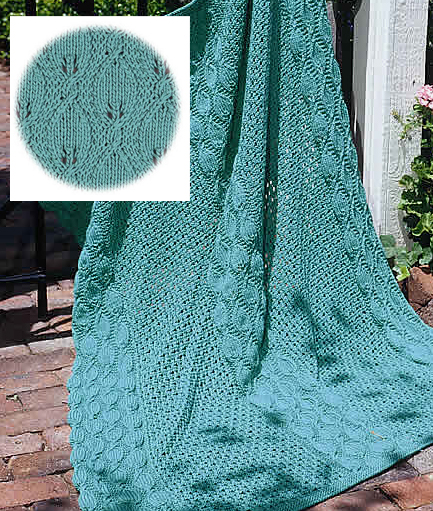 Summer Garden Throw
Designed by Kathleen Power Johnson for the book Quick Knitted Afghans, this throw is knit with 3 panels of Cable & Leaf Lace and 2 Panels of Fence Post Lace and then seamed. Knit with 2 strands of DK yarn held together. Approx 48 x 60 inches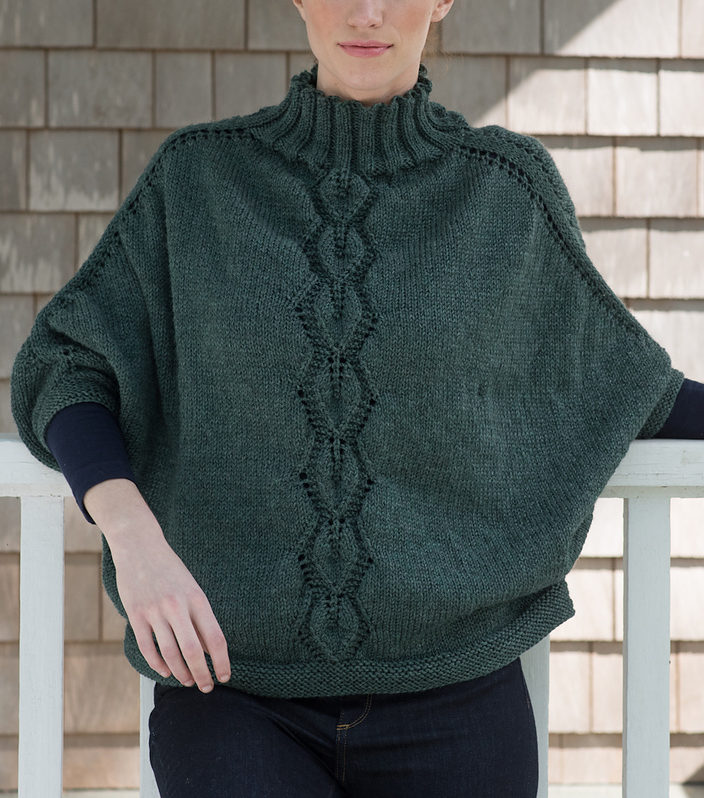 Kombu Poncho
Pullover poncho with easy dolman-style sleeves, funnel neck, and leaf lace panel. Sizes 40 (44, 48, 52, 56, 60)" at lower edge. Worsted weight yarn. Designed by Berroco Design Team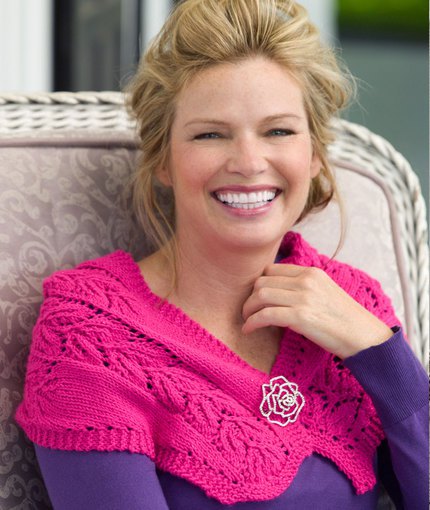 One Ball Shawl
Make this elegant leaf lace shawl with just one ball of Shimmer yarn!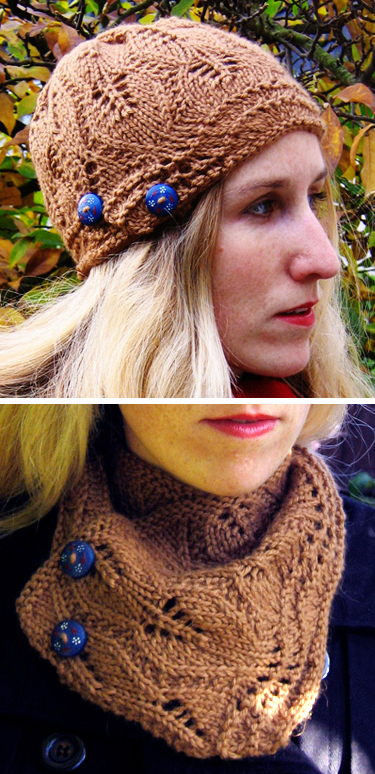 Duet Hat / Cowl
This beautiful leaf lace scarf by Linda Wilgus morphs into hat by fastening the buttons and tightening a ribbon threaded through the top edge.
Patterns for Purchase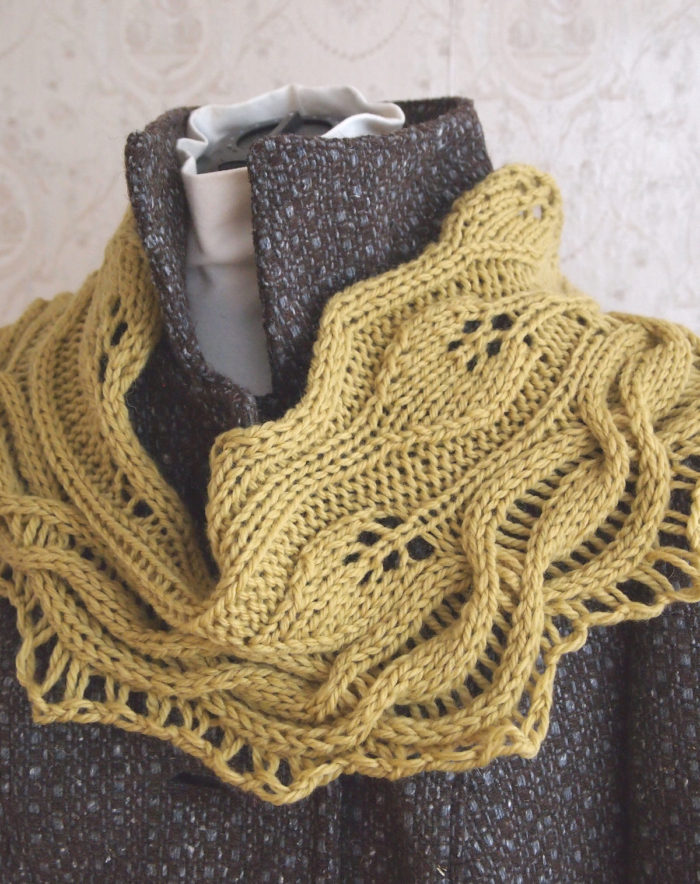 Green Leaves Cowl
This shoulder cozy is a quick knit and features leaf motifs and dropped stitch cables. Knit flat and seamed. Any weight yarn. Pictured cowl knit with one skein of worsted weight yarn. Designed by Grace McEwen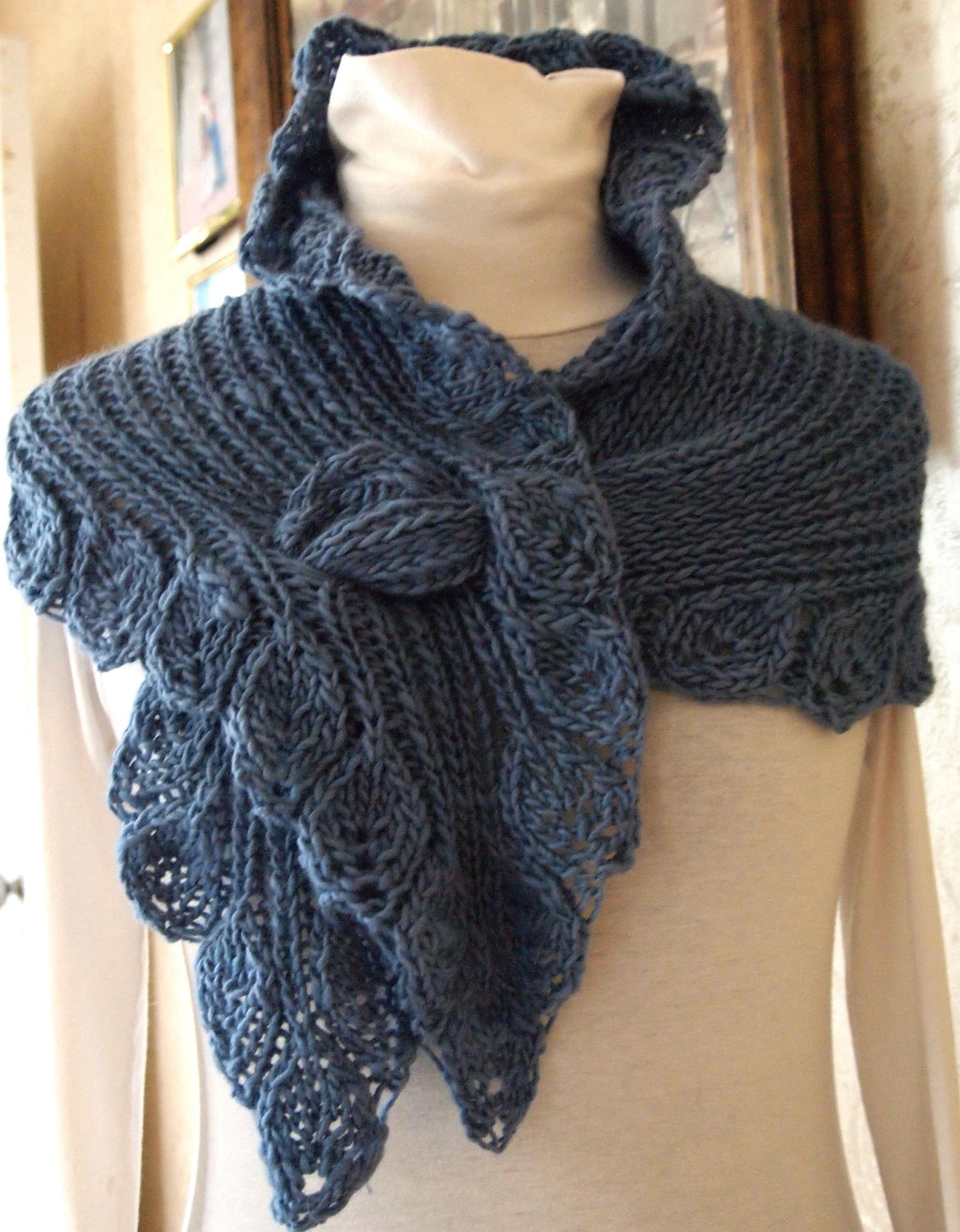 Self-Fastening Leaf Lace Wrap
The versatile Ruffle pattern can be knit as a scarf, shawl, and cowl. Edged with lace leaves, the wrap also features a leaf that fits through a slit in the wrap to hold it in place. Any weight yarn. Designed by KnitChicGrace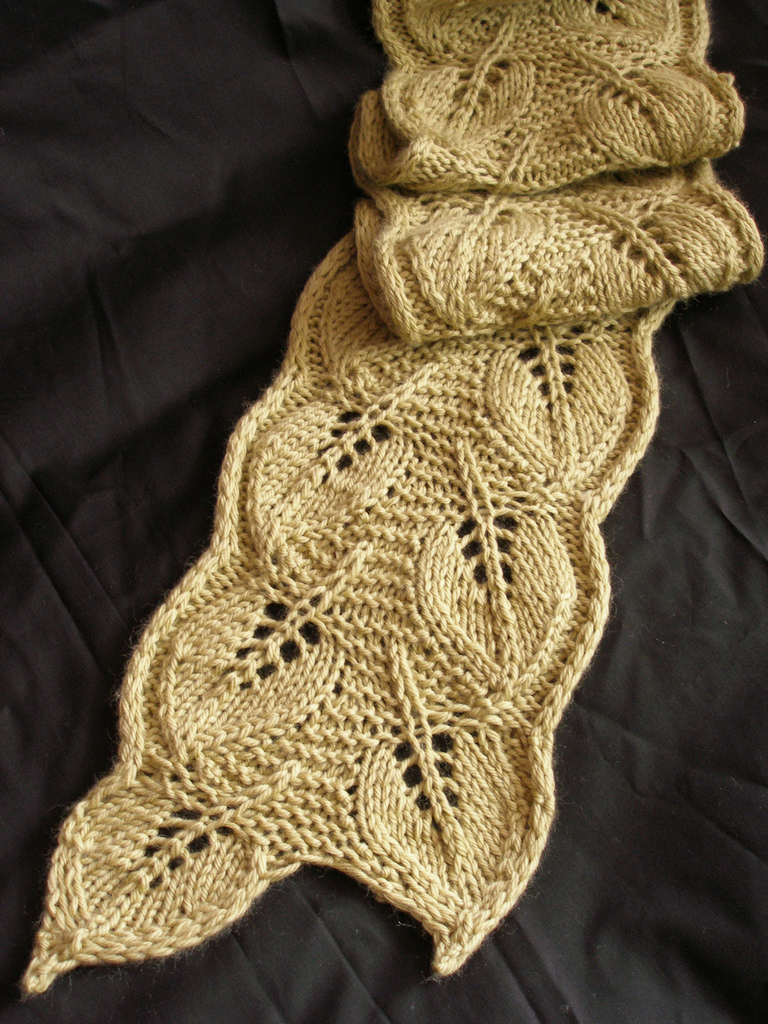 Backyard Leaves Scarf
A double leaf lace border frames garter stitch in this elegant scarf. Aran weight yarn. Designed by Annie Modesitt. Pictured project by solaris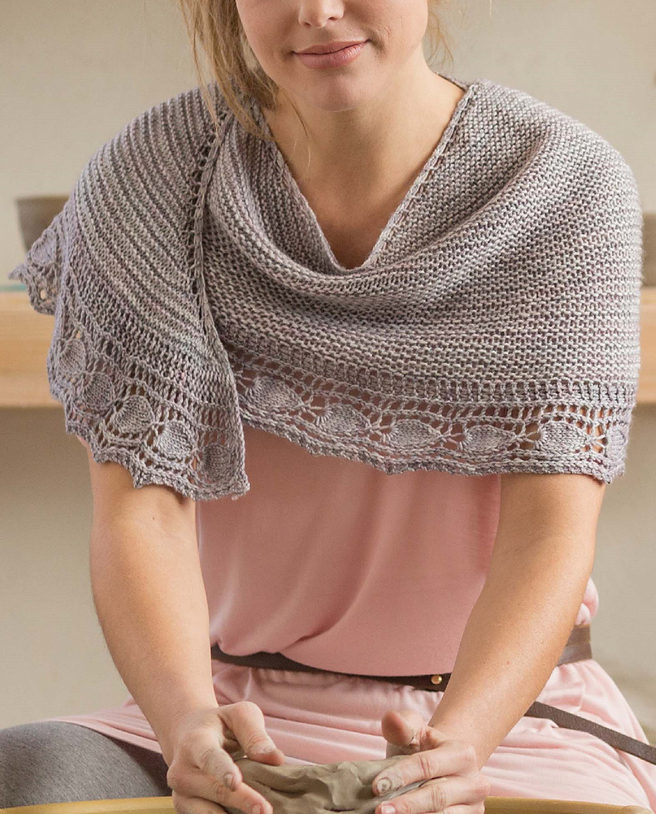 Potter's Shawl
Top down shawl with garter stitch body with a leaf stitch lace border. 56″ wide and 15″ deep. Fingering weight yarn. Designed by Jen Lucas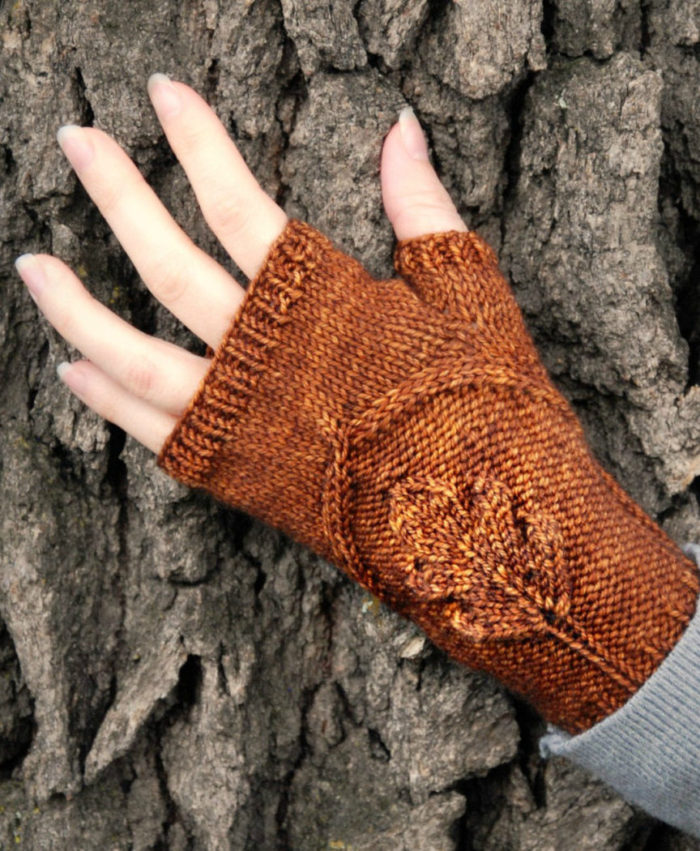 Oak Grove Mitts
Cozy little mitts with a beautiful embossed oak leaf. Instructions are included for both a fingerless glove and fingerless mitten version. Sport yarn. Designed by NeverNotKnitting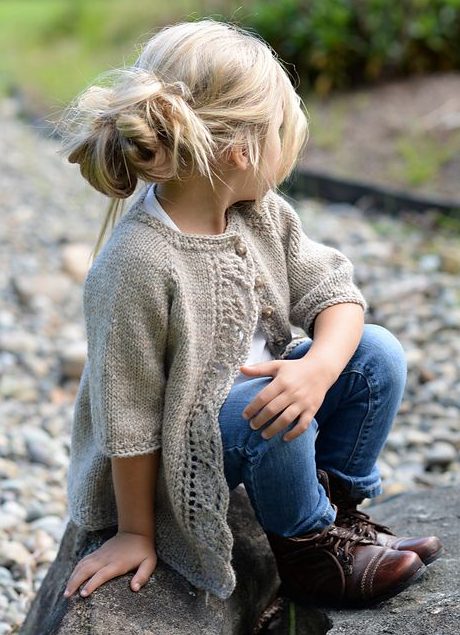 Cove Cardigan
This children's sweater by Velvet Acorn features a leaf lace front. Sizes 2/3, 4/5, 6/7, 8/9, 10/11 years

Spring Flora Scarf
This lace scarf features floral and leaf shapes.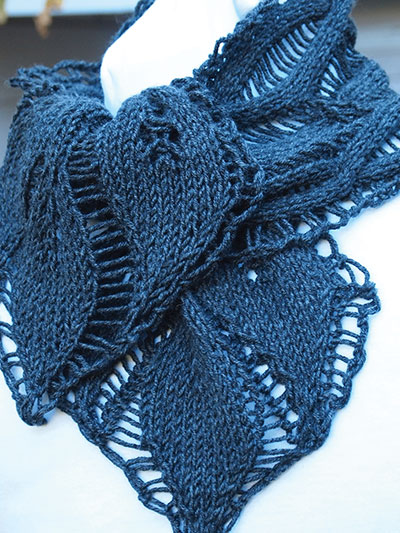 Drop Leaf Scarf
Drop stitches and a lace make this a uniquely exquisite scarf. You can knit in any weight of yarn.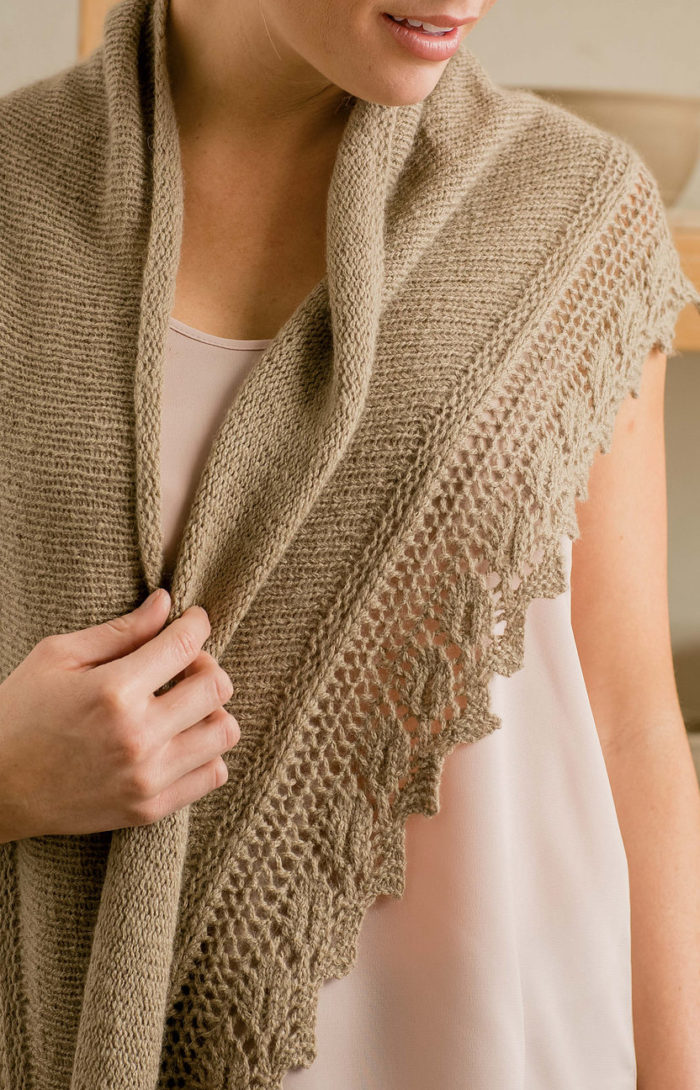 Beech Leaf Shawl
Worked top down in stockinette shaped with short-rows, the Beech Leaf Shawl features a wide, scarflike shape and a leaf-inspired lace edging. 3 sizes. DK weight. Designed by Joan Forgione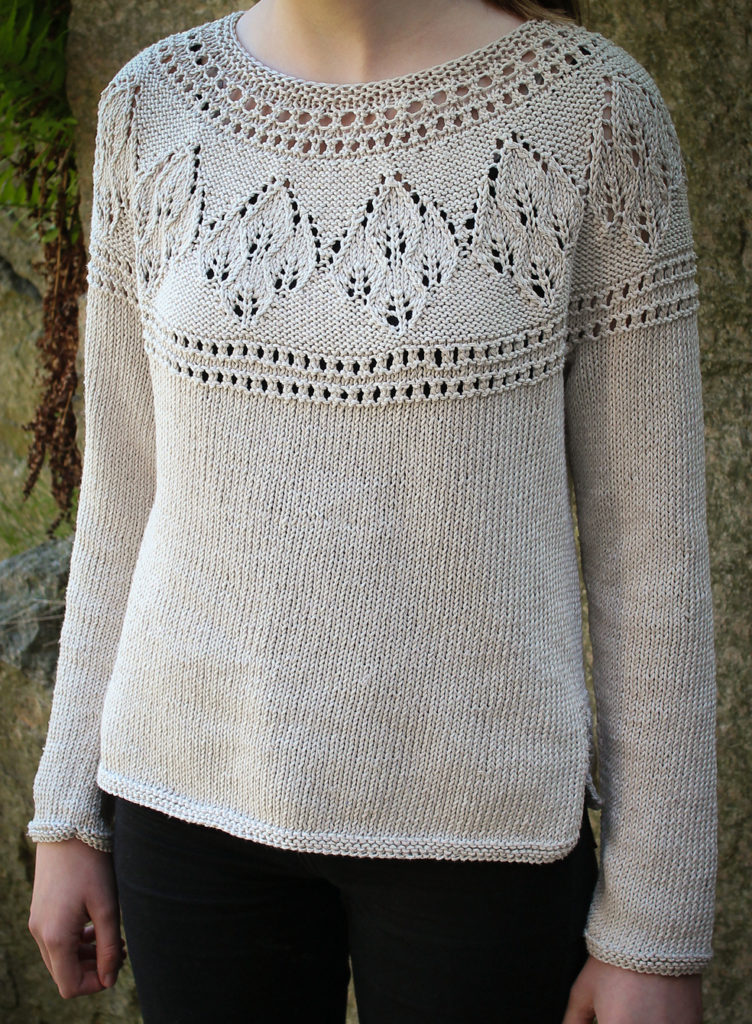 Agnes Round Yoke Sweater
This long sleeved pullover features leaf lace on the yoke. And it's seamless! Sizes S (M, L, XL, 2XL, 3XL)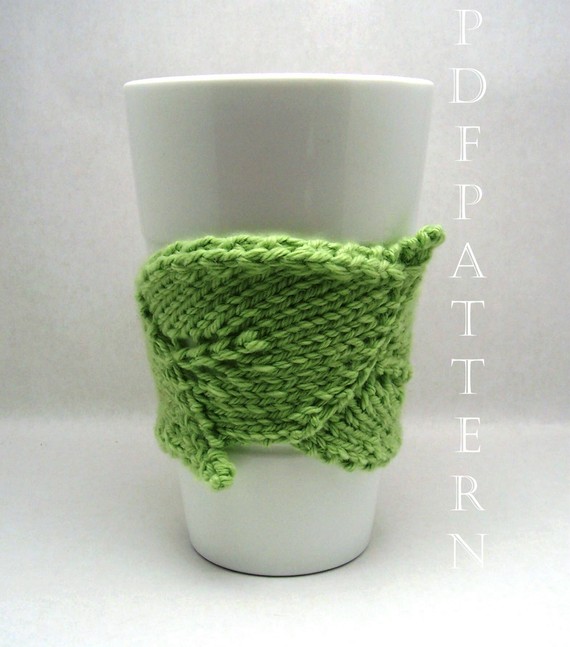 Leaf Cuddler
This quick knit "Cup Cuddler" cup cozy is a series of connected meandering leaves.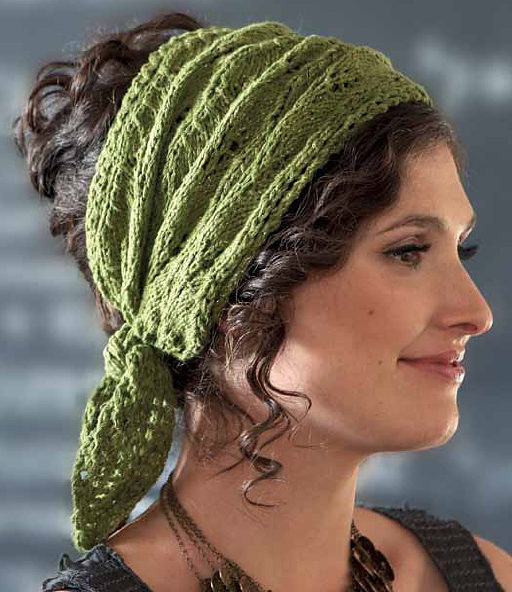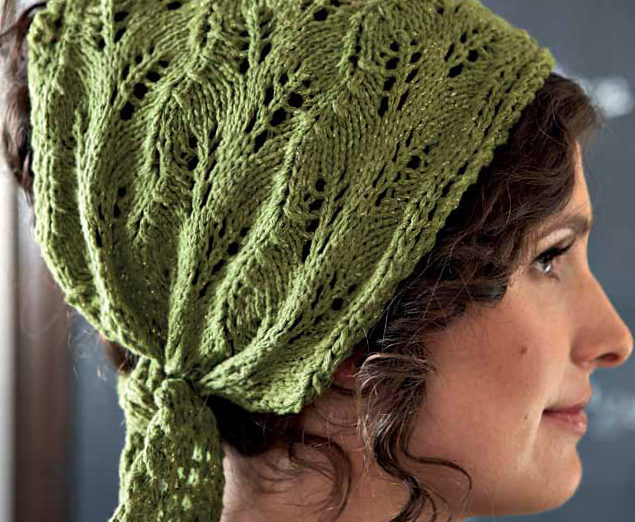 Jasmin Headwrap
This kerchief with ties features a leaf lace pattern. Designed by Kristeen Griffin-Grimes. One of the 15 patterns in French Girl Knits Accessories from Interweave.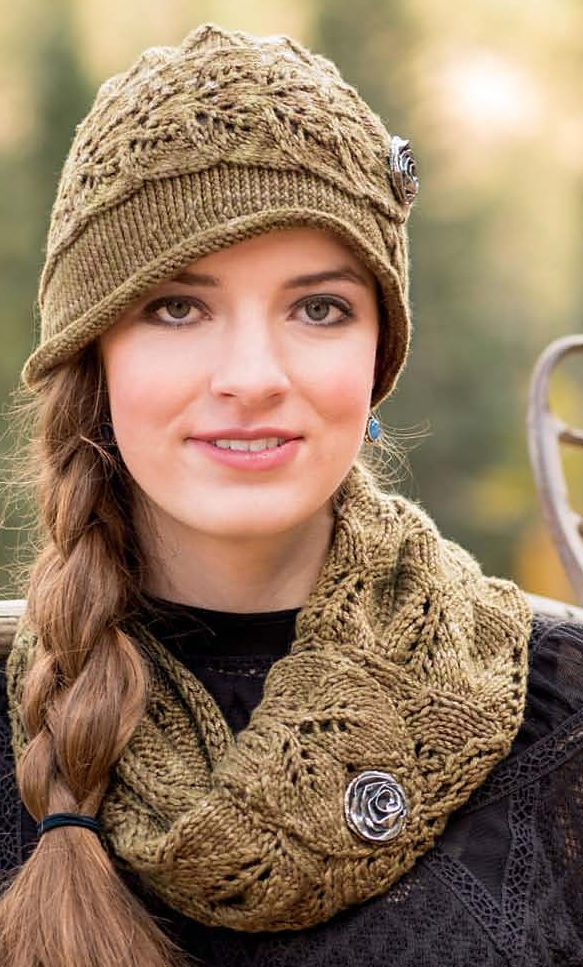 Virginia City Cloche and Cowl Set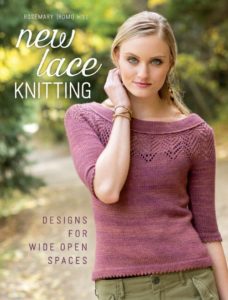 This matching hat and neckwarmer feature a twin leaf lace pattern. Designed by Rosemary (Romi) Hill. One of the 19 patterns in New Lace Knitting.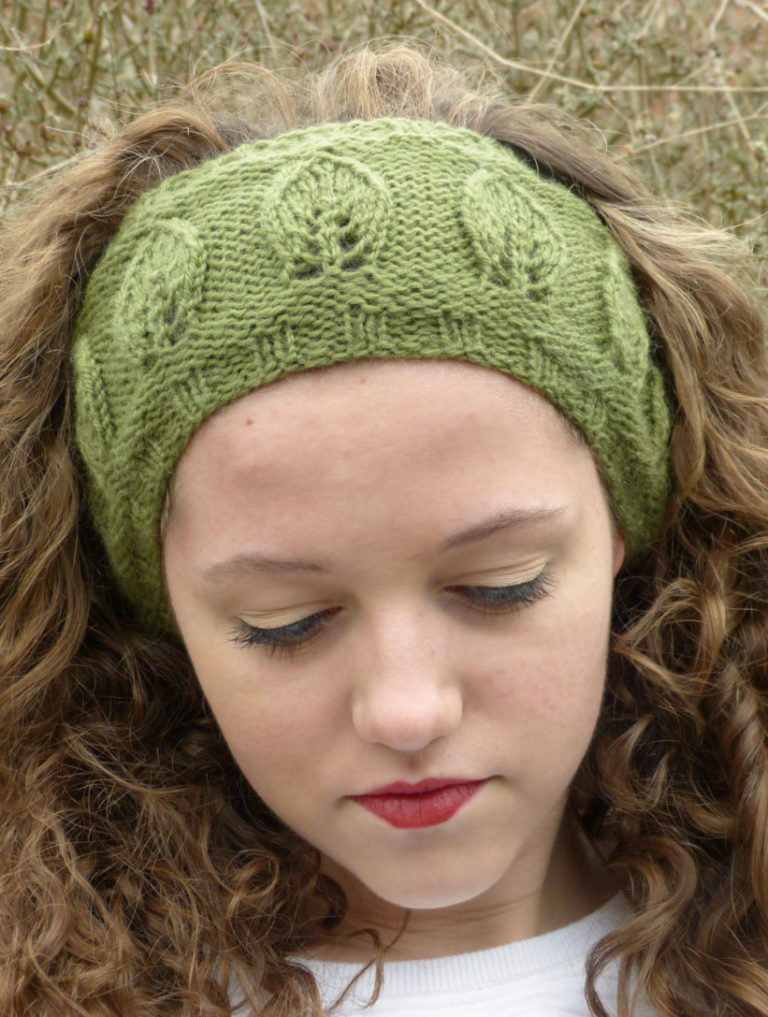 Leaf Motif Headband
This earwarmer features a leaf lace pattern knit in the round.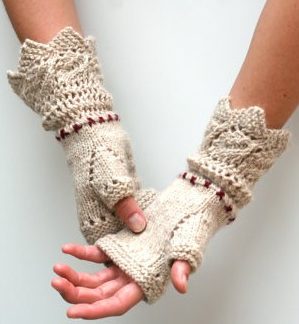 Prairie Fingerless Gloves
These dainty hand warmers boast gorgeous lacy cuffs in a delicate leaf pattern.
Get the knitting pattern at Etsy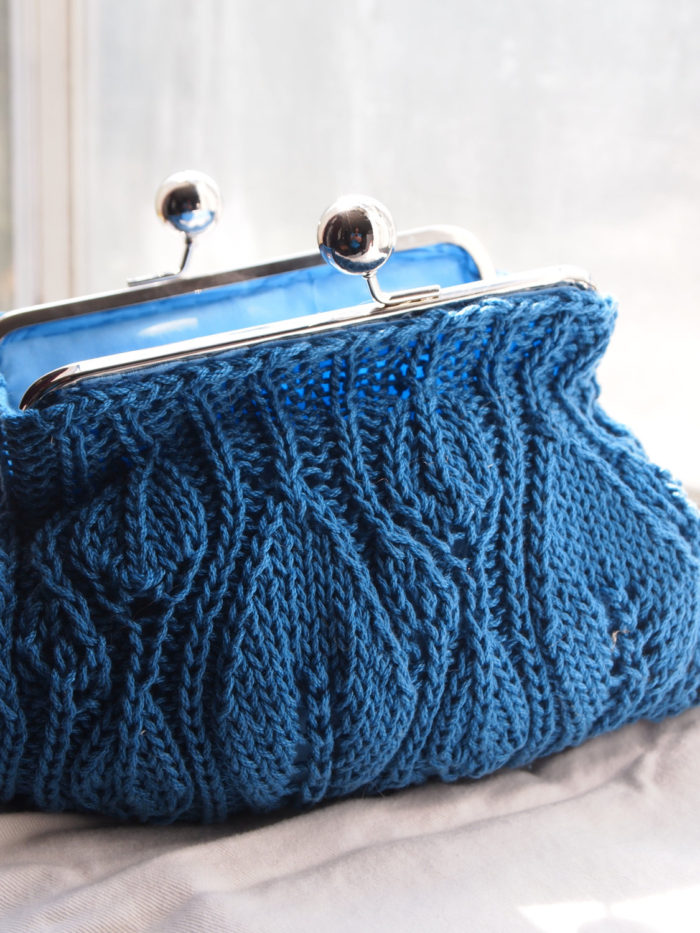 Leafy Clutch
Leaf clutch created by knitting two panels and sewing them together. Add a purse frame and lining to give your clutch a finished
look.