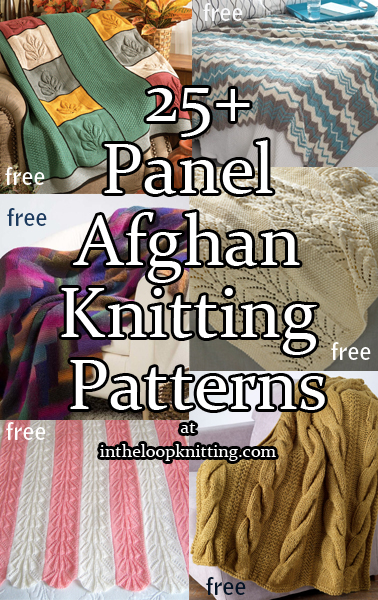 Blankets and throws knit in panels and then seamed, to make the knitting easier to handle and more portable. Many of the patterns are free.
To get the knitting patterns, scroll down the page to the individual pattern you want and click on the link to that pattern.
These patterns are not my designs but links to other designers who have generously shared their patterns. If you have questions about how to knit a specific pattern, please contact the designer directly.
All links on this site are for informational purposes, but please note that some links are to affiliate sellers that pay me a small commission on purchases.
Free Patterns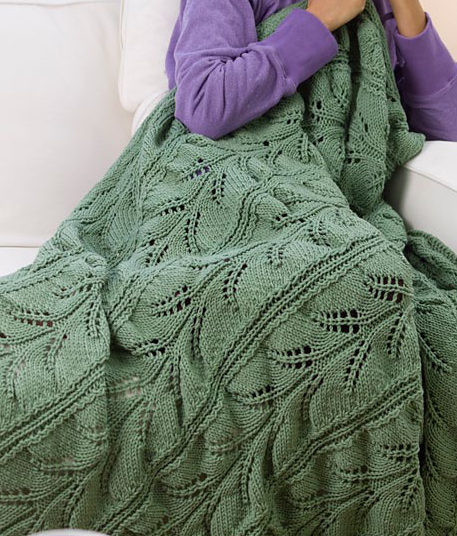 Hawaiian Lacy Fern Throw
Lace afghan worked in 3 panels that are seamed together. 52″ x 64″ (132cm x 162.5cm). Designed by Joyce Nordstrom for Red Heart.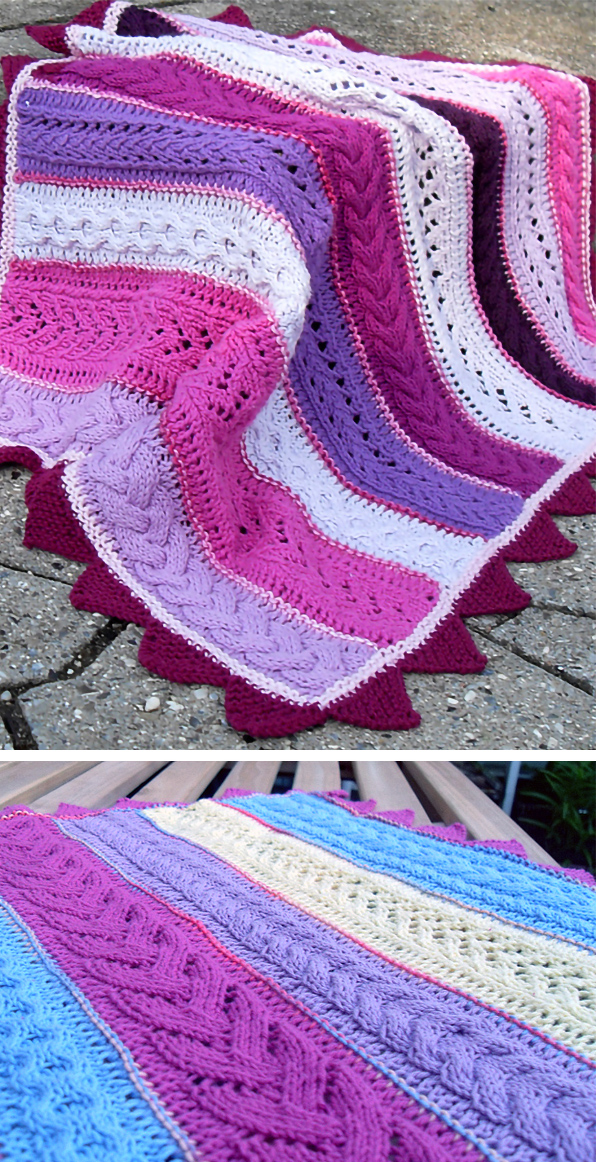 Cabled Baby Blanket
Blanket knit in strips of cables and lace. Designed by Pernille Skau Nørgaard. Available in English and Norwegian. Pictured projects by the designer and skauogco.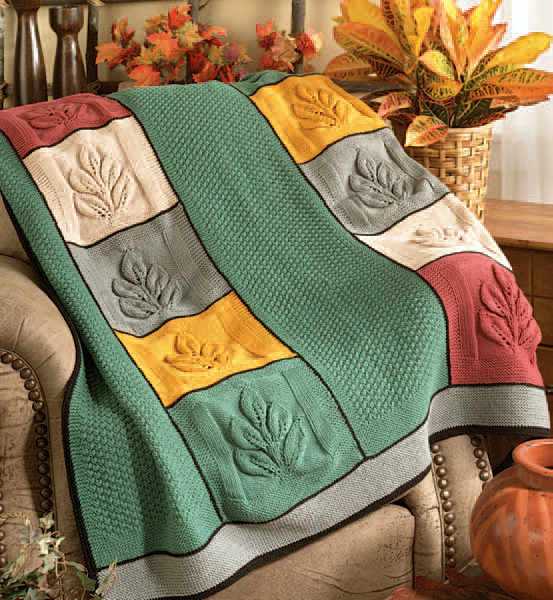 Shoots and Ladders Afghan
This award-winning afghan knitting pattern designed by Susan Kerin is knit in strips of leaf motifs and seed stitch. Winner in Herrschners Knit Afghans 2006 National Afghan Contest.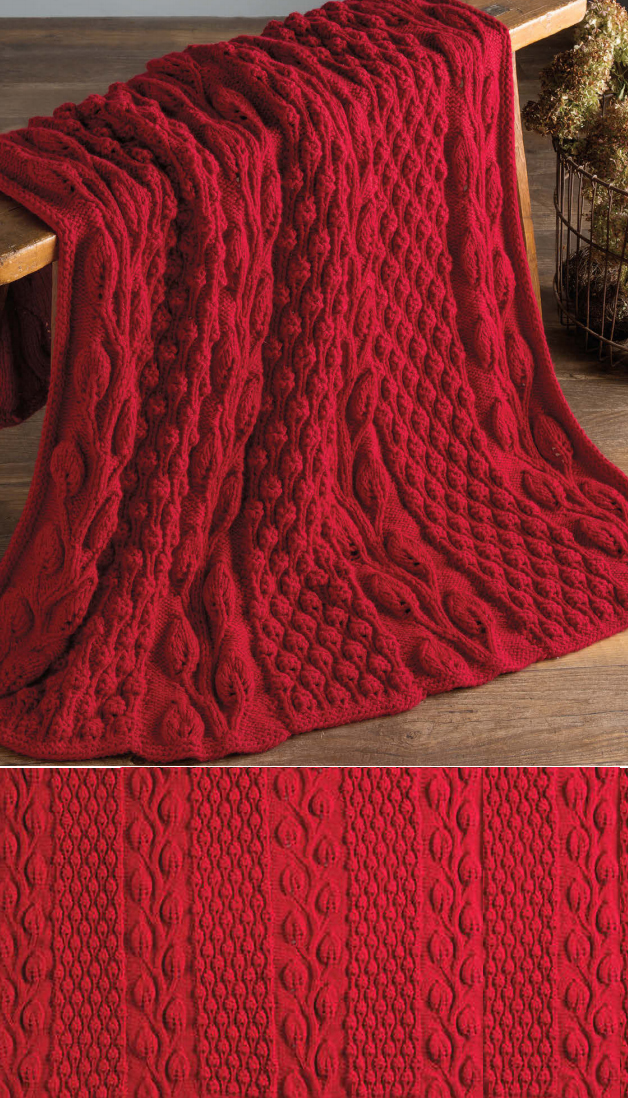 Autumn Blaze Afghan
This throw knit in panels and seamed features leaf lace and berry stitch texture. Designed by Nazanin S. Fard. Worsted yarn. This pattern was featured in Season 8 of Knit and Crochet Now! and is free with registration at Annie's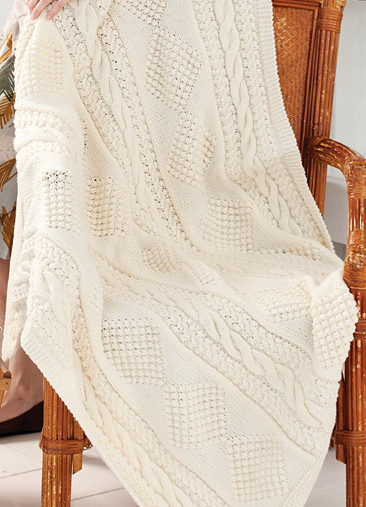 Treasure Chest Throw
Aran afghan knit in strips of cables and diamond motifs and seamed. Size 47″ x 54″. Designed by Red Heart.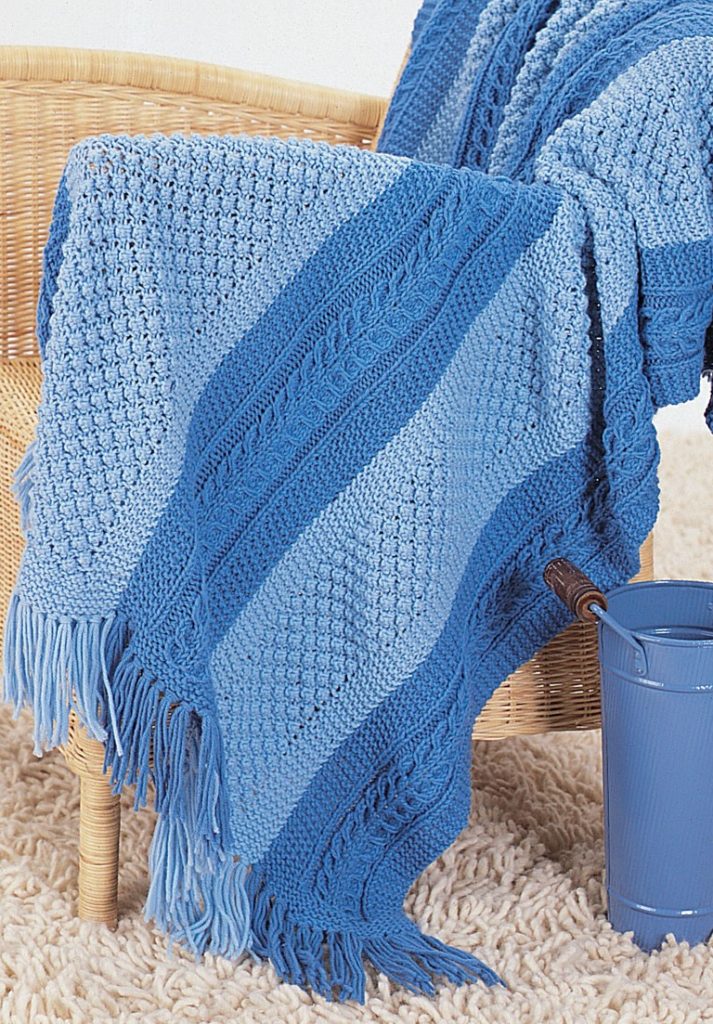 Shades of Blue Blanket
Knit in 3 panels of trinity stitch and 4 panels of traveling vine stitch bordered with garter stitch and seamed. 44 x 51 inches (112 x 129.5 cm). Designed by Bernat.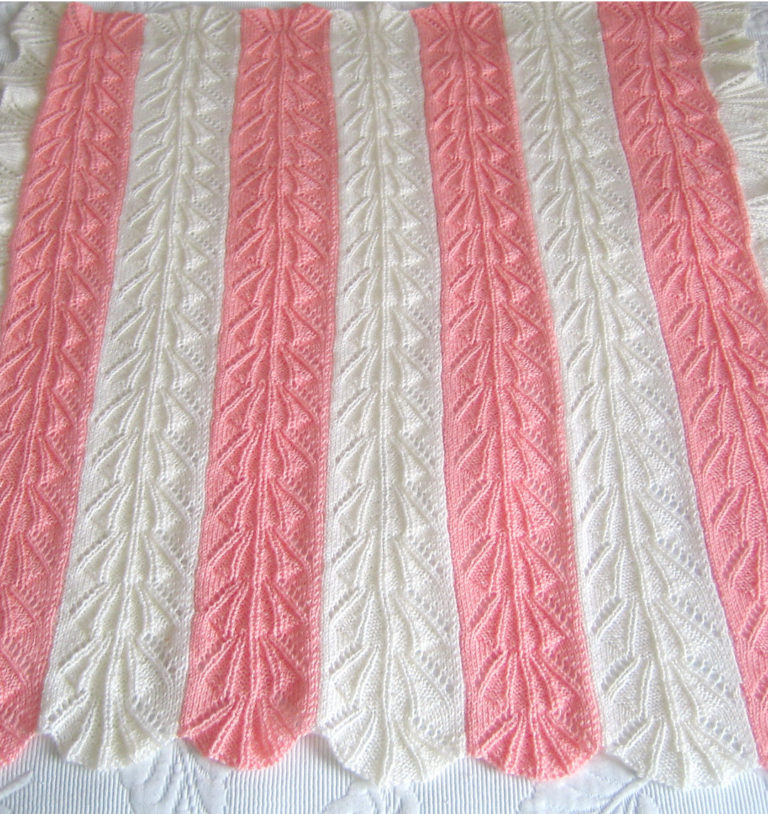 Shell Baby Blanket
The Heirloom Knit Baby Blanket in knit in panels, seamed, and then the lace border is added. Approximately 35″ by 42″. Posted by Craft Yarn Council. Pictured project by filis who modified the border.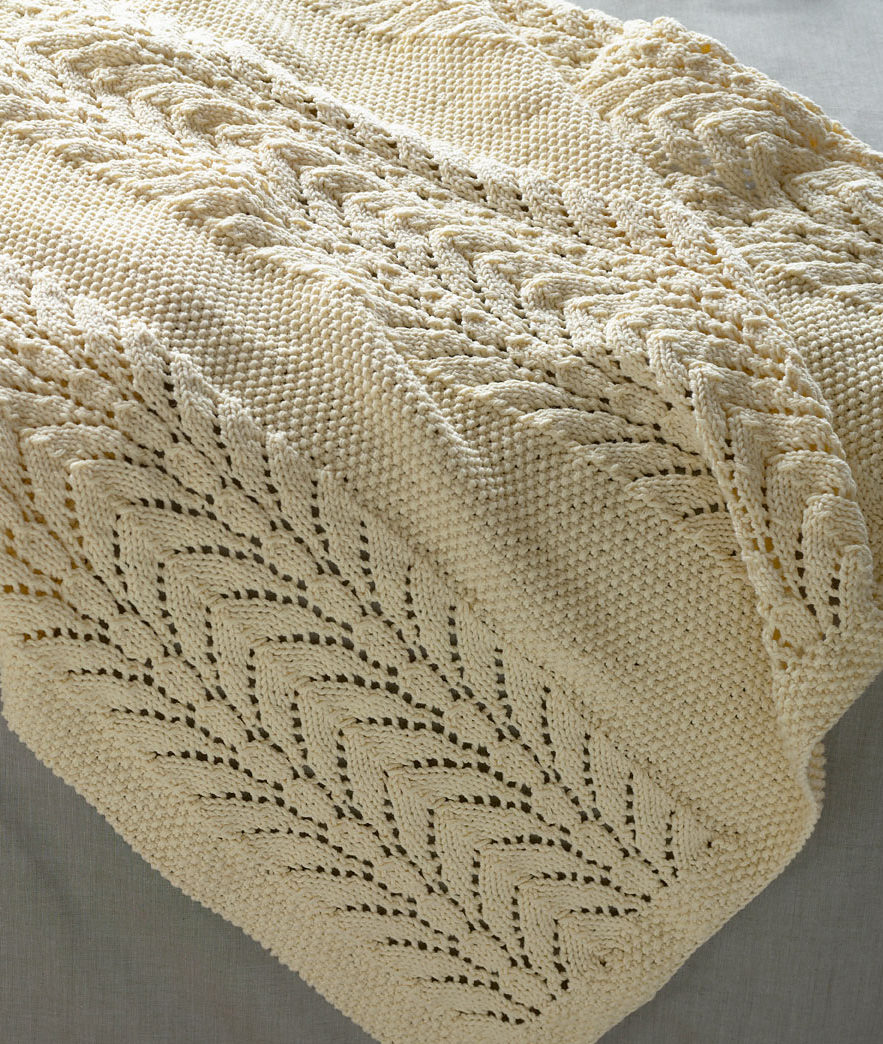 Classic Lace Baby Throw
This baby blanket by Lion Brand Yarn is knit in 3 panels of lace and 2 panels of seed stitch and then seamed. 32 x 35 in. (81.5 x 89 cm)
Chevron Panels Afghan
This easy pattern is worked in chevron lace panels and then seamed. Available in English and French. Approx 54 x 62″ [137 x 157.5 cm].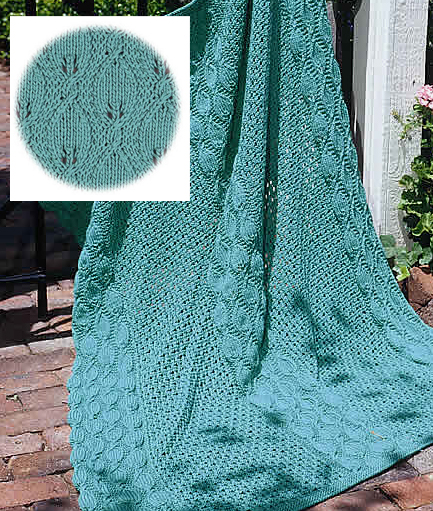 Summer Garden Throw
Designed by Kathleen Power Johnson for the book Quick Knitted Afghans, this throw is knit with 3 panels of Cable & Leaf Lace and 2 Panels of Fence Post Lace and then seamed. Knit with 2 strands of DK yarn held together. Approx 48 x 60 inches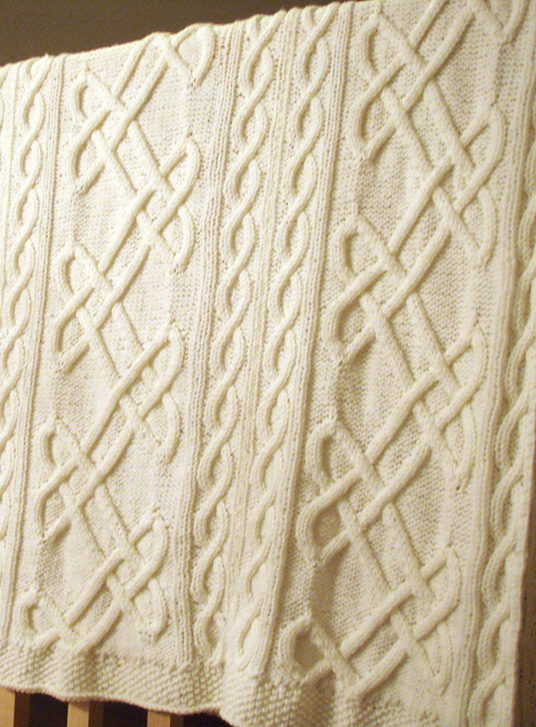 Celtic Knot Afghan
Designed by Nicky Epstein, this afghan combines braided and knot cable patterns. Knit in 3 panels and seamed. Pictured project by knitwisewhite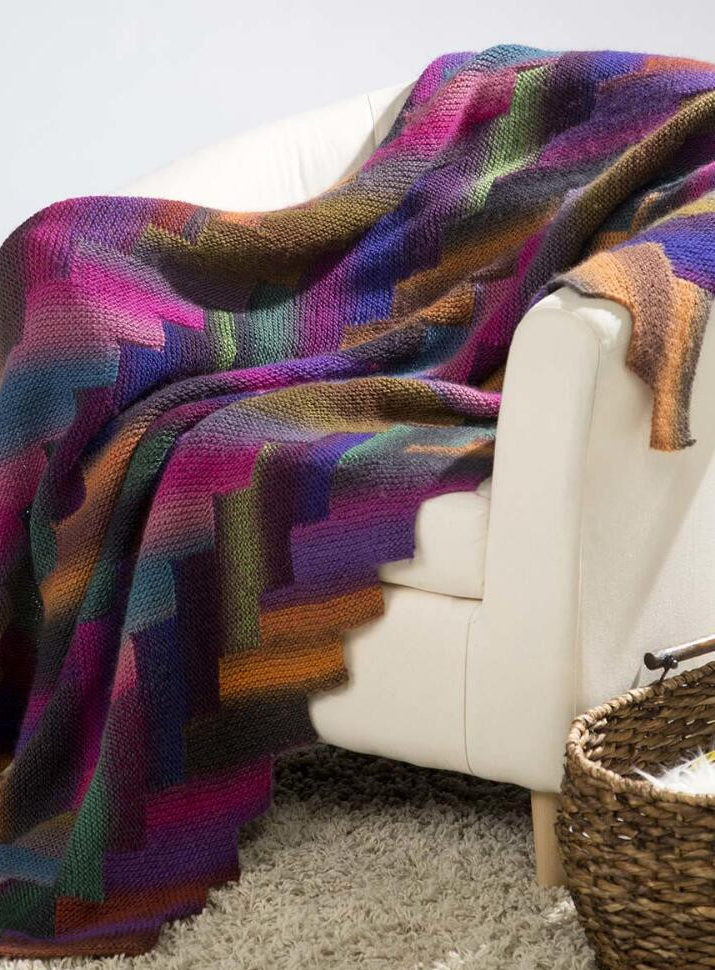 Auralite Afghan
This afghan is knit in 4 sections of zigzag edged strips. Great with multi-color yarn! Designed by Premier Yarns.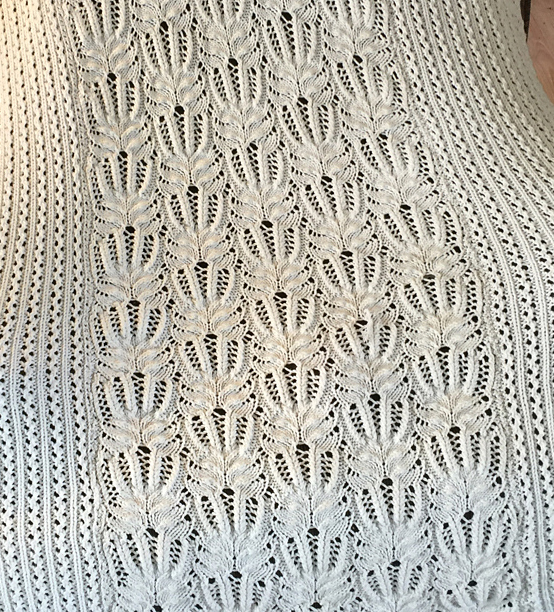 Frost Flower Lace Afghan
This exquisite lace blanket is knit in 3 panels and seamed. One of 4 knitting patterns in Cozy Knitted Blanket Patterns ebook by Interweave Knits. 3 Sizes: 48″ × 60″ (56″ × 70″, 64″ × 80″) (122 × 152.5 (142 × 178, 162.5 × 203) cm) Pictured project by smokinnw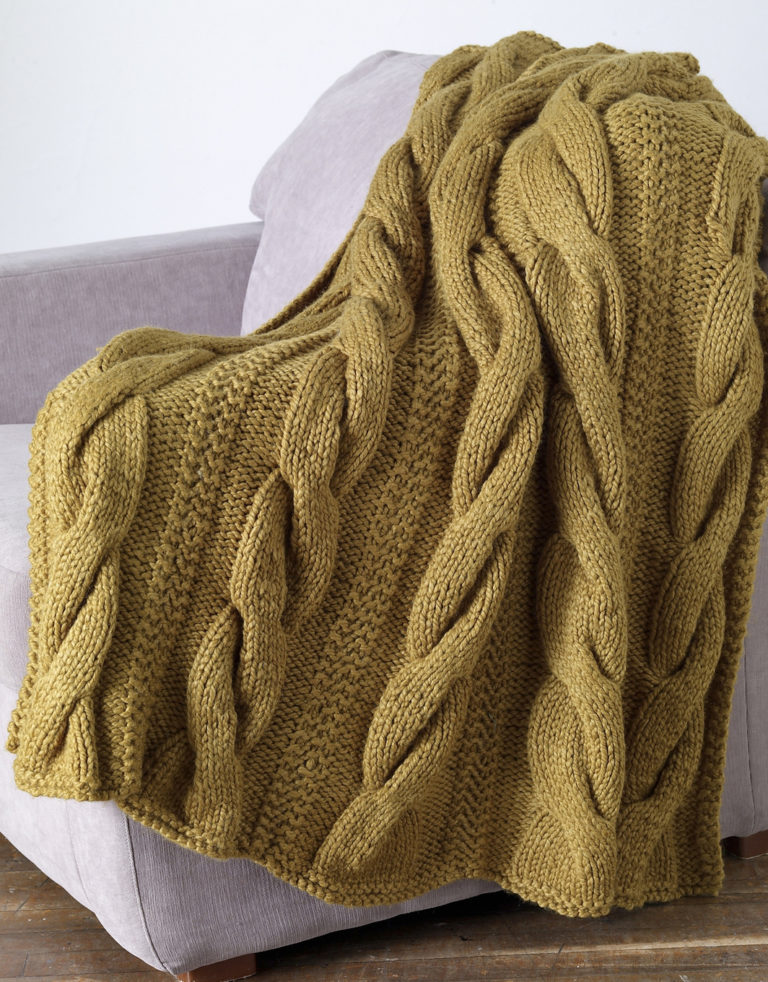 Sutter's Mill Throw
Easy afghan pattern with large cables is knit in five panels and seamed. Quick knit in super bulky yarn.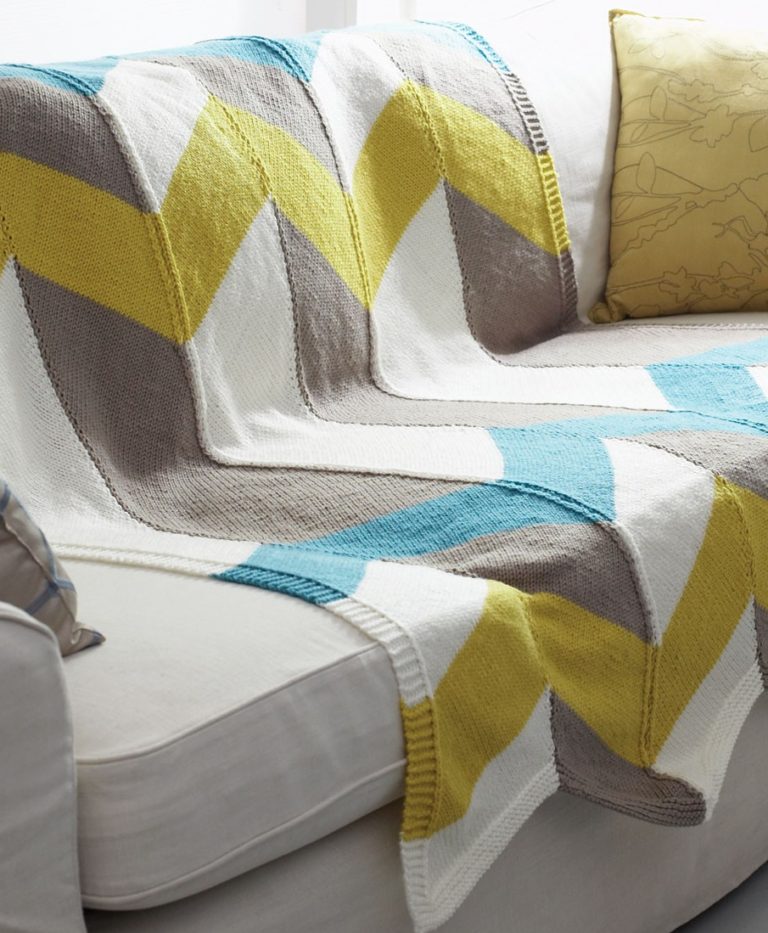 Color Pop Chevron Afghan
This easy throw by Bernat features zigzag stripes formed by knitting long striped strips and seaming them together.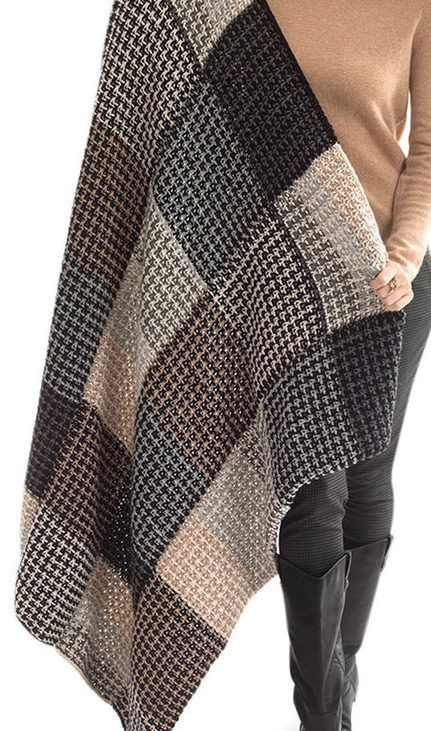 Slip Stitch Checks Afghan
This easy throw is worked in 5 strips that are then sewn together. The checks are knit in slip stitch colorwork so you are only knitting with one color per row in a 4 row repeat.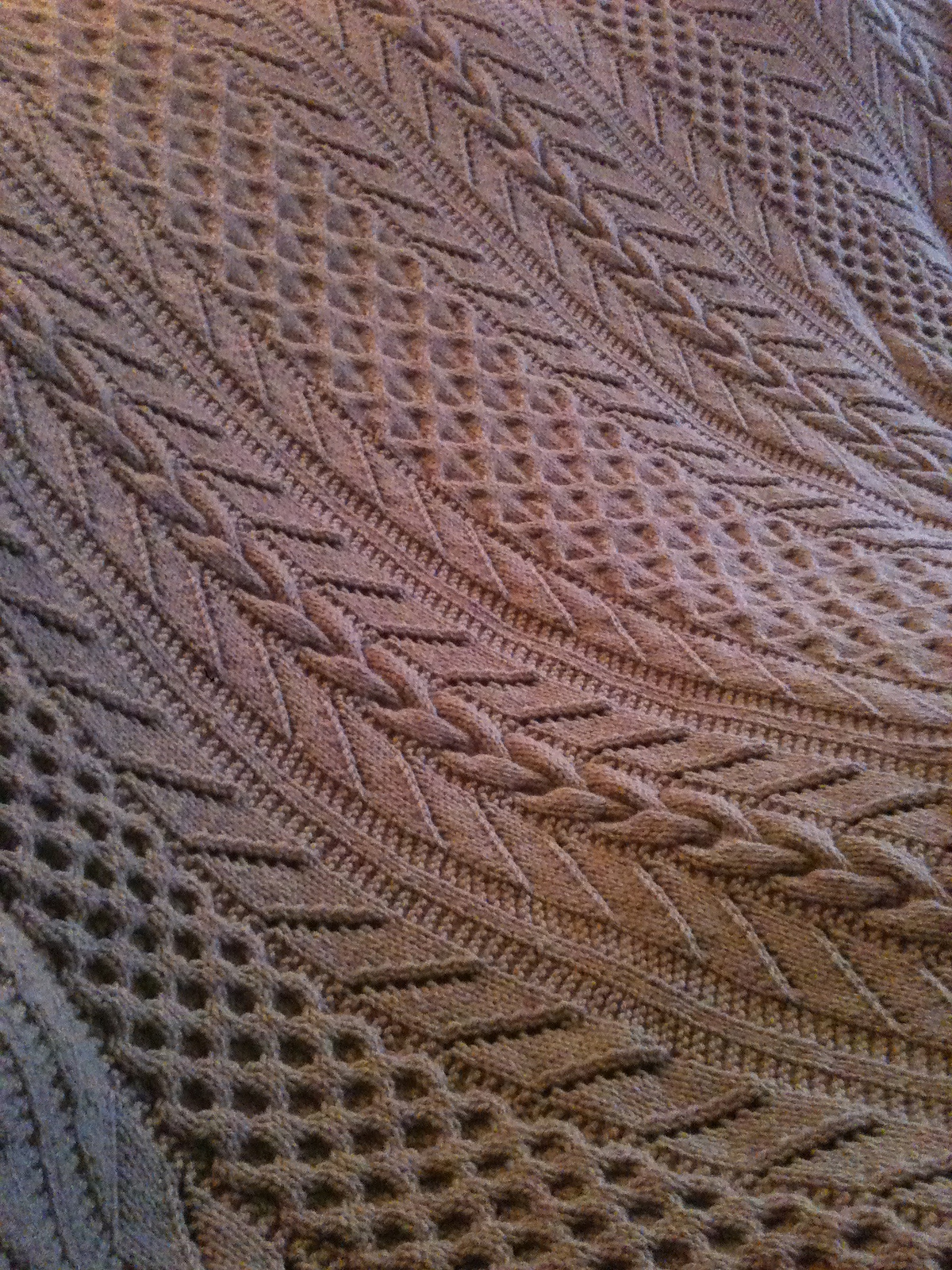 Cable Lace Afghan
Ann V. Gallentine's Boys Afghan is knit in 7 strips and seamed. Pictured project by melanise83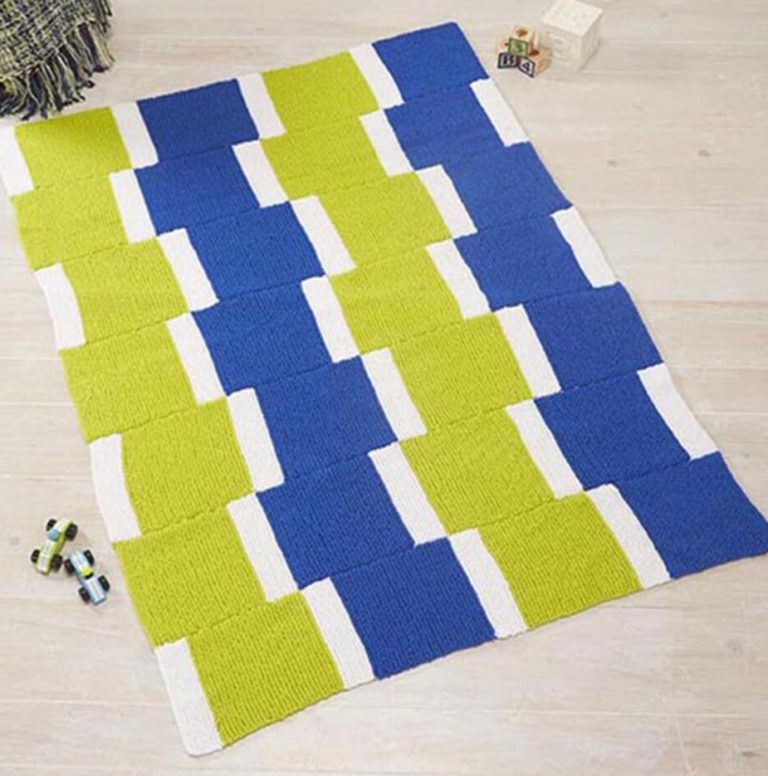 Stacked Square Throw
This bright modern take on the striped afghan from Willow Yarns is knit entirely in garter stitch strips that are seamed together, making it a great choice for a beginner or portable project.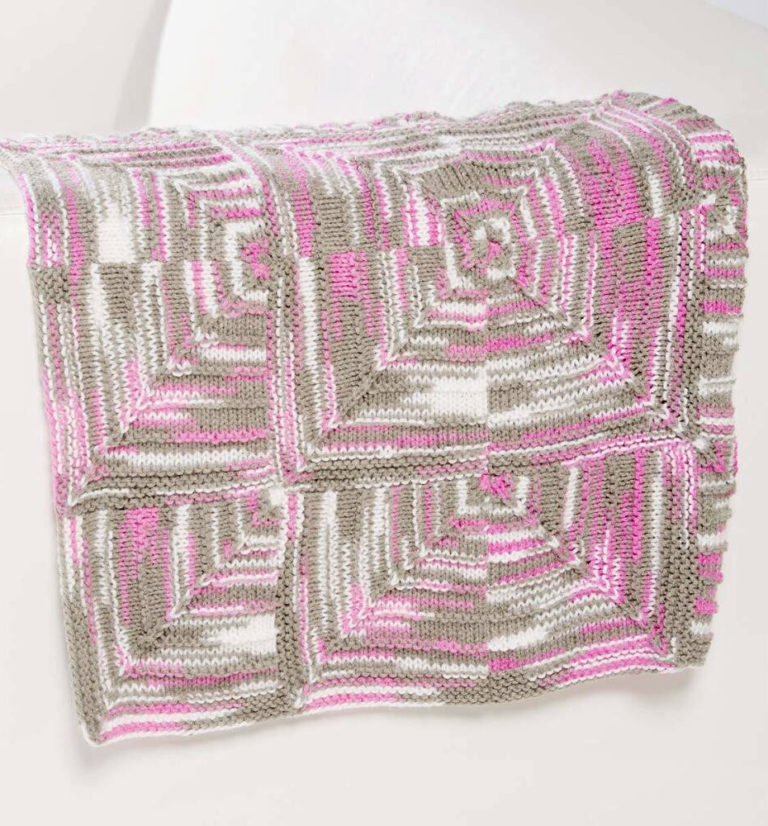 Nested Boxes Baby Blanket
This throw is knit in 4 sections of 4 mitered blocks and then stitched together. Designed to showcase multi-color or self-striping yarn by Premier Yarns.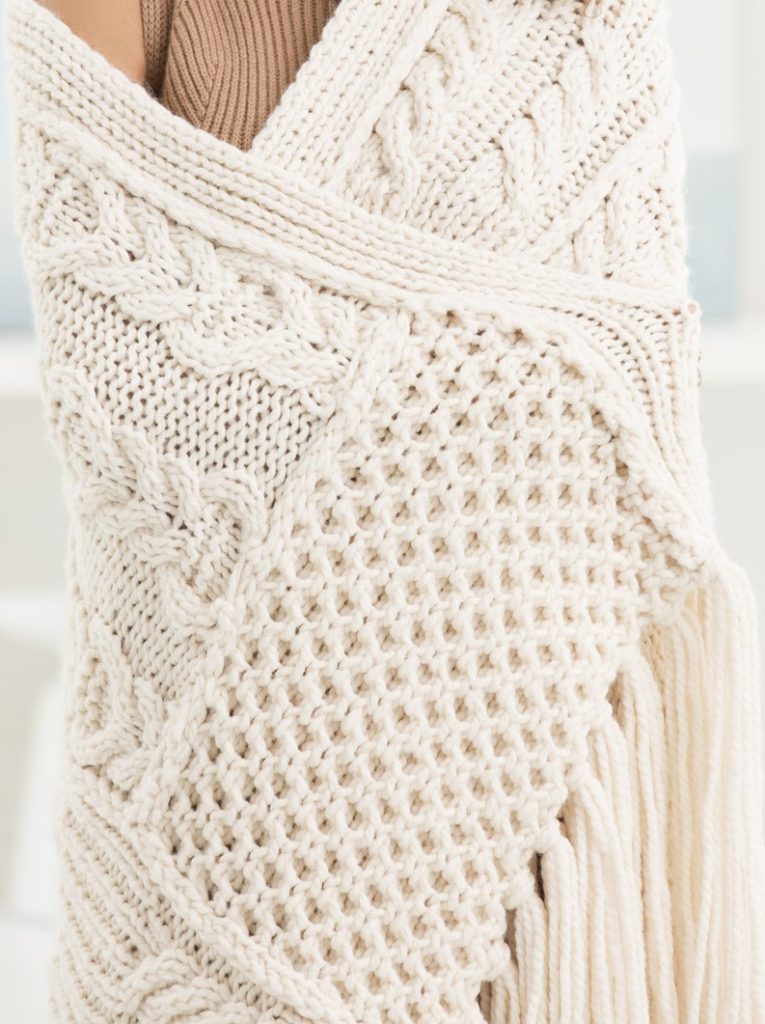 Brittas Bay Afghan
Modular afghan is knit in pieces with 3 separate cable patterns so it's a great portable project. Quick knit in super bulky yarn. Designed by Lion Brand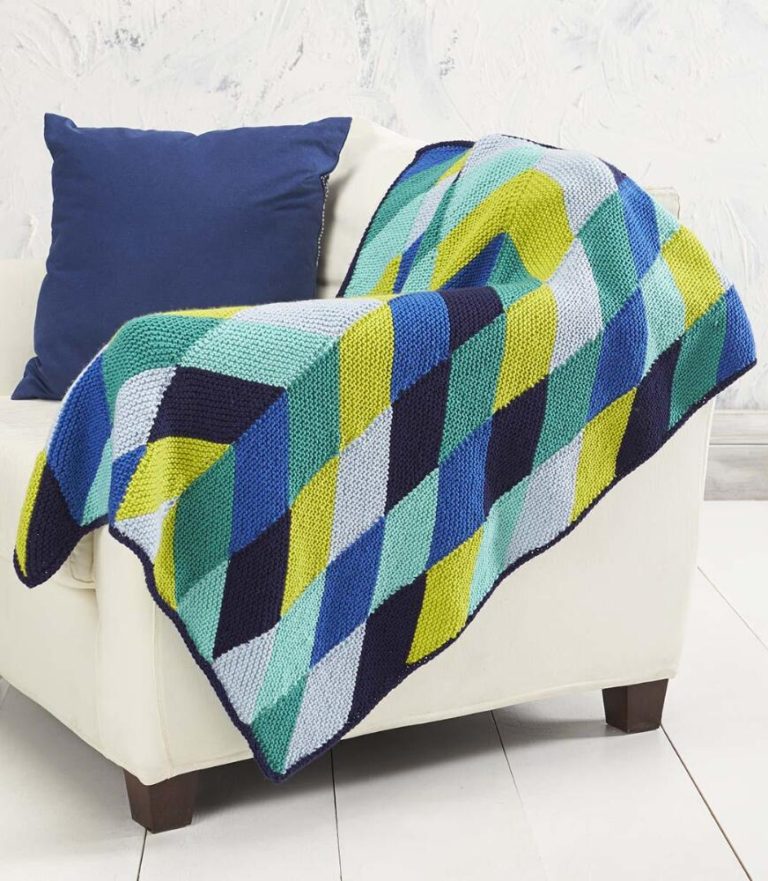 Dappled Skies Throw
This easy afghan from Willow Yarns is constructed of 8 long strips knit in on the bias and then sewn together. That makes it a great portable afghan project! Might also make a good stash buster.
Patterns for Purchase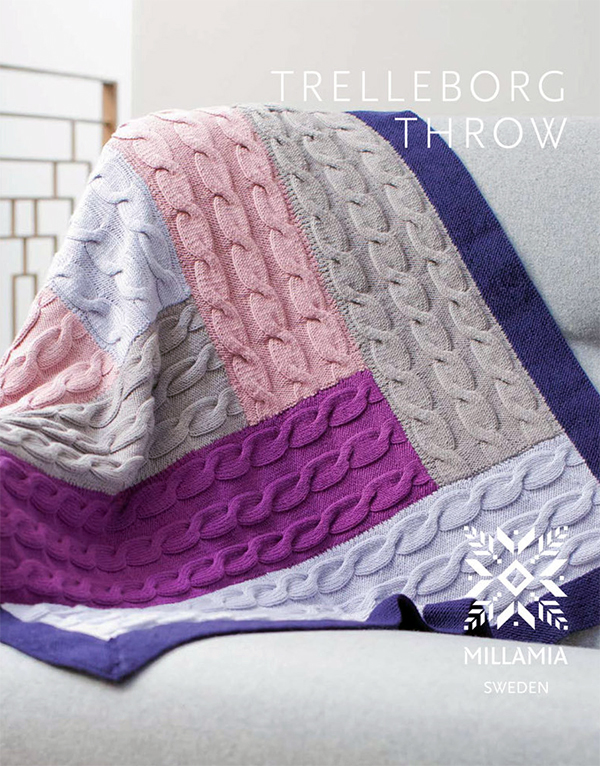 Trelleborg Throw
Afghan knit in cable strips assembled in a log cabin style. Designed by MillaMia.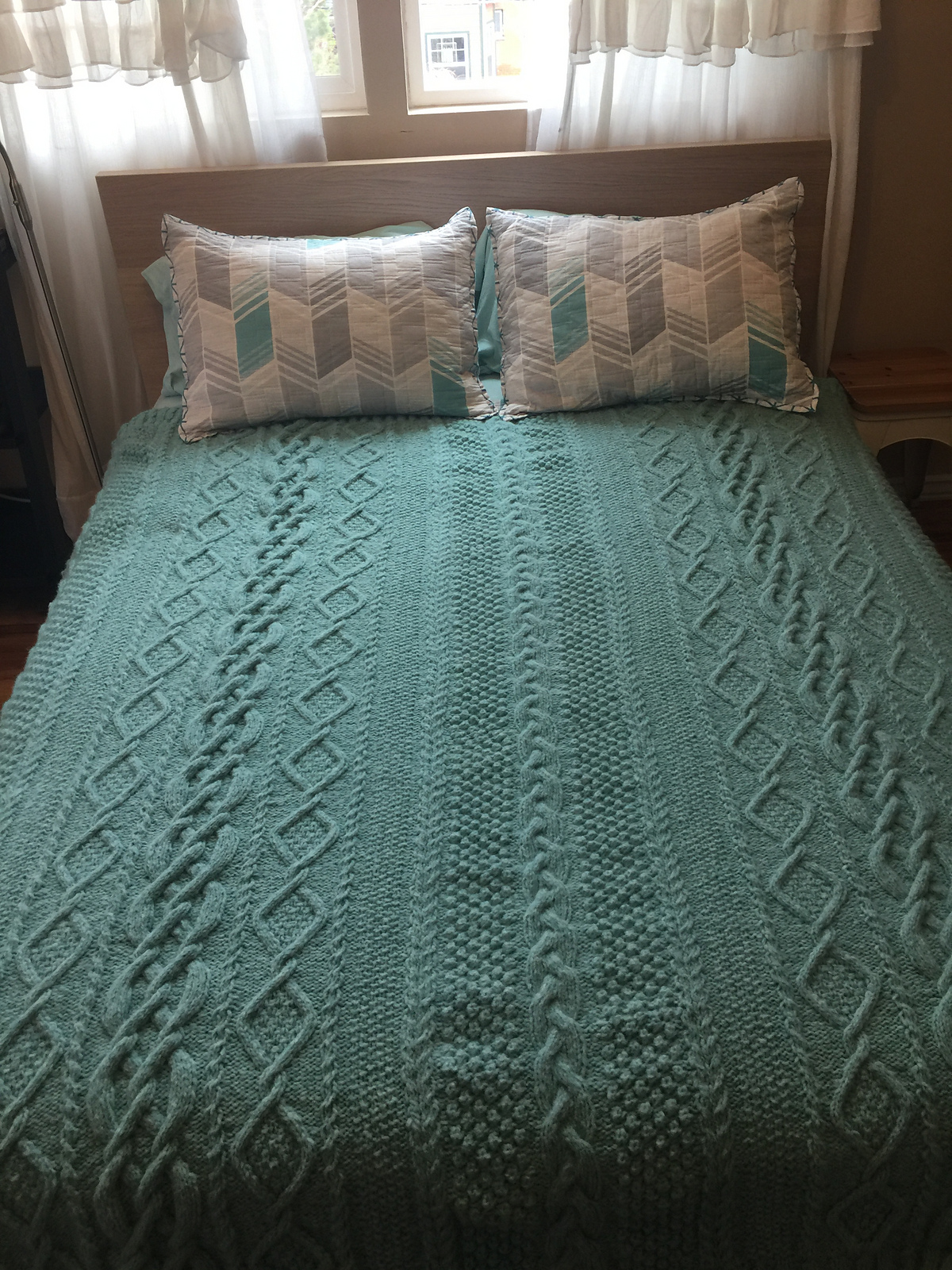 Aran Heirloom Blanket
Cable afghan knit 5 sections and seamed. Finished Size: About 64″ (162.5 cm) wide and 68″ (173 cm) long. Designed by Deborah Newton. Pictured project by BSR123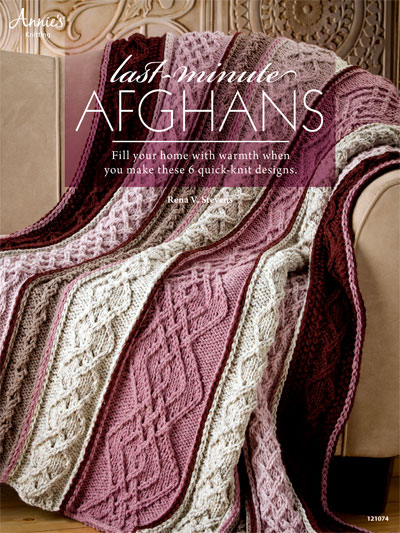 Last Minute Afghans
Made as smaller separate pieces that are joined together later, the knit patterns in Last-Minute Afghans are fun, fast and great for on-the-go knitting. Knit with bulky yarn or two strands of yarn knit together. On sale for only $3.49 at Annie's. That's about 58 cents per pattern!
See the other patterns in the book at Annie's (Click on "More images" under the book cover)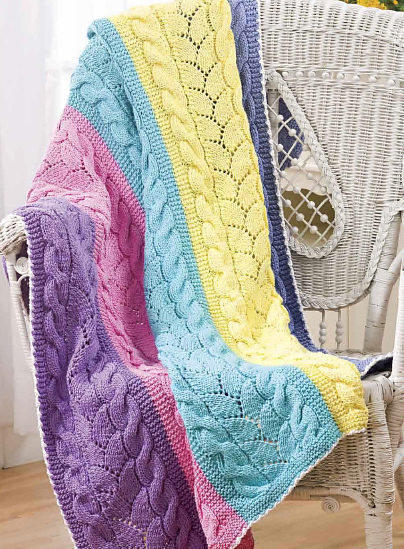 Paneled Cable and Lace Afghan
This throw is knit in 5 strips and seamed. Designed by JoAnne Turcotte, this pattern is one of the 53 patterns in the book Easy as 1-2-3 Skeins.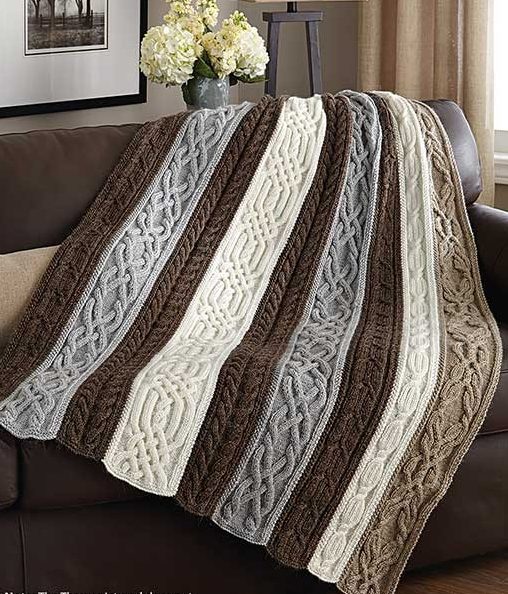 Cable and Twists Throw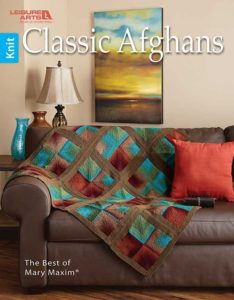 Panels of beautiful, rich cables are knit separately, then sewn together to create this stunning throw. One of the patterns in Classic Afghans, available as an ebook or paperback.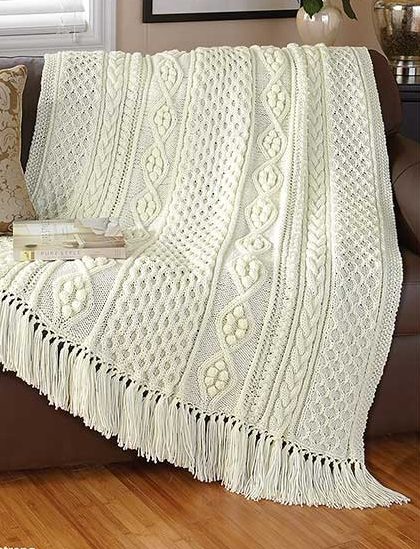 Dreams of Ireland Afghan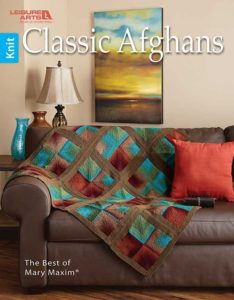 Prize-winning afghan pattern features panels of honeycomb cables and diamond cables that are sewn together. One of the patterns in Classic Afghans, available as an ebook or paperback.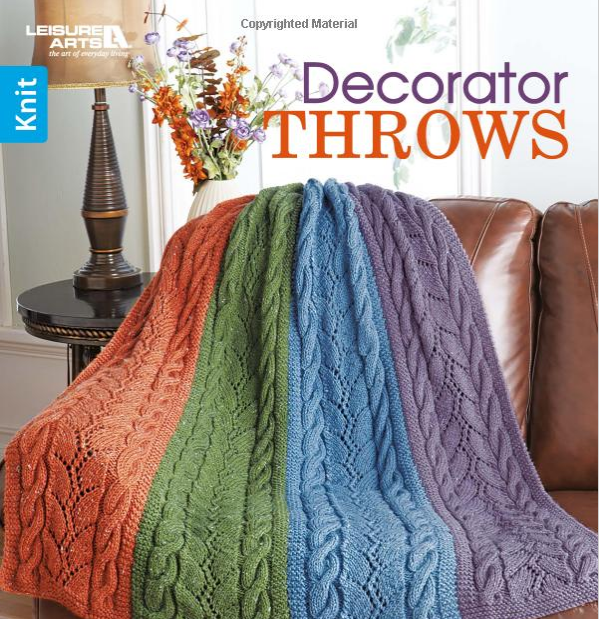 Decorator Throws
This book contains six afghans and a pillow including Aran Textures and Cables Afghan and Pillow, Log Cabin Throw, Zig Zag Throw, Cable Panels Throw, Lighthouses Afghan, and Fall Foliage Afghan. Several are knit in panels and seamed.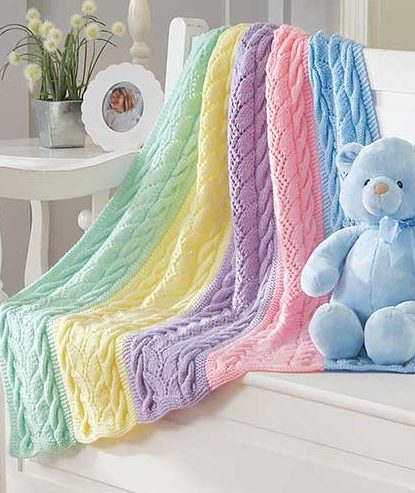 Striped Cables Baby Blanket
This baby blanket knit in panels is one of the 9 knitting patterns in the ebook Dreamy Baby Wraps available exclusively from Leisure Arts.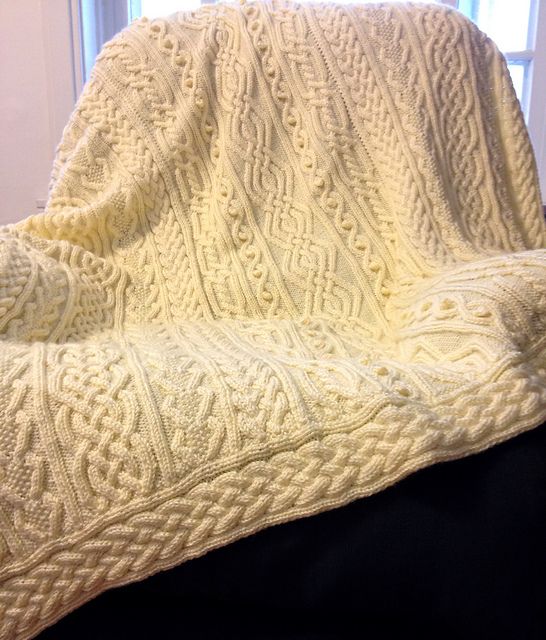 Twisty Celtic Aran Afghan
The pattern contains several traditional Irish knitting motifs – fancy twisted cables, nested hearts, bobbles, and braids. This project is knit in 5 pieces and seamed together at the end for a beautiful bedspread or large throw. Finished dimensions: approximately 50in x 64in