Easy Afghan Knitting Patterns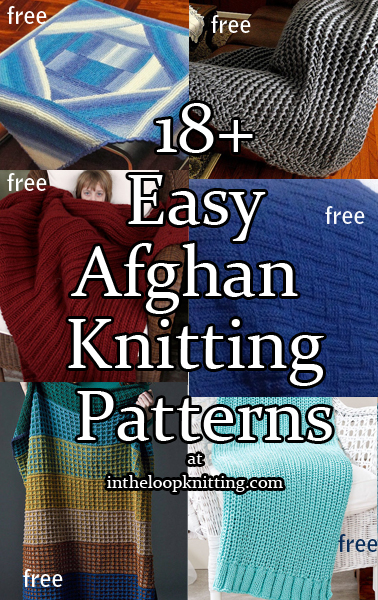 To get the knitting patterns, scroll down the page to the individual pattern you want and click on the link to that pattern.
These patterns are not my designs but links to other designers who have generously shared their patterns. If you have questions about how to knit a specific pattern, please contact the designer directly.
All links on this site are for informational purposes, but please note that some links are to affiliate sellers that pay me a small commission on purchases.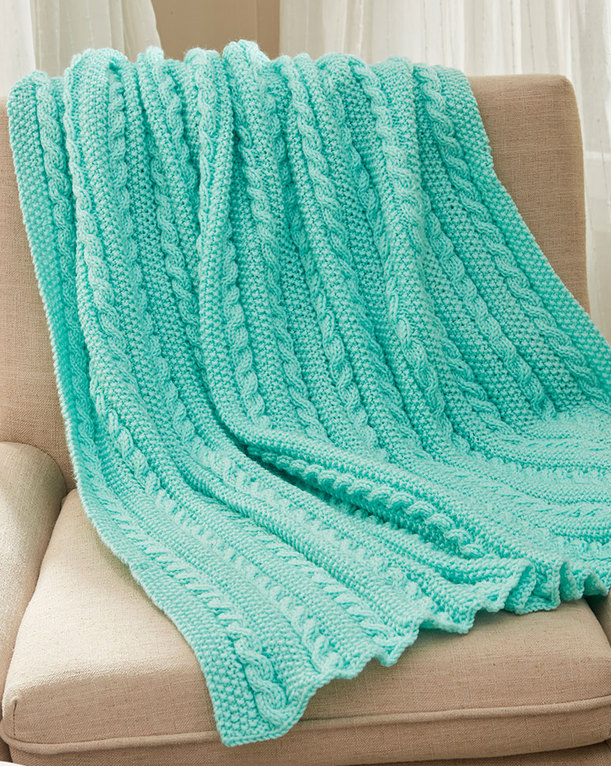 Easy Cables & Texture Throw
This easy afghan features a 6 row 13 stitch repeat of seed stitch and cables. Approx. 50 x 54″ / 127 x 137 cm. Worsted weight yarn. Designed by Cathy Payson. Rated easy by Red Heart.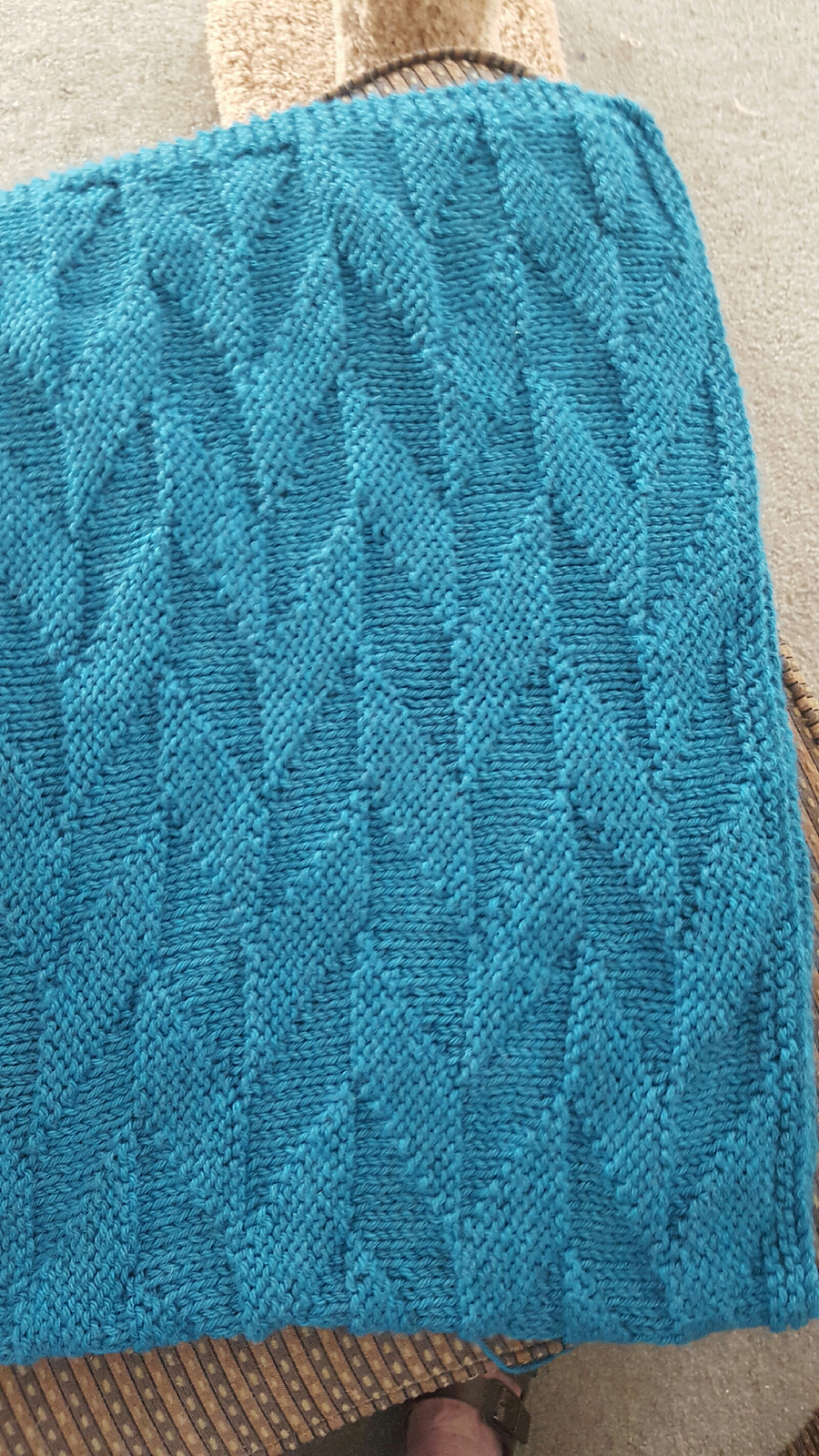 Graphic Afghan
A simple repetitive chevron stitch pattern in bulky yarn makes a quick throw. Rated very easy or easy by most Ravelrers. Designed by Sarah Fama. Pictured project by Divagranny. One of 7 knitting patterns in Cozy Knitted Blanket Patterns ebook by Interweave Knits.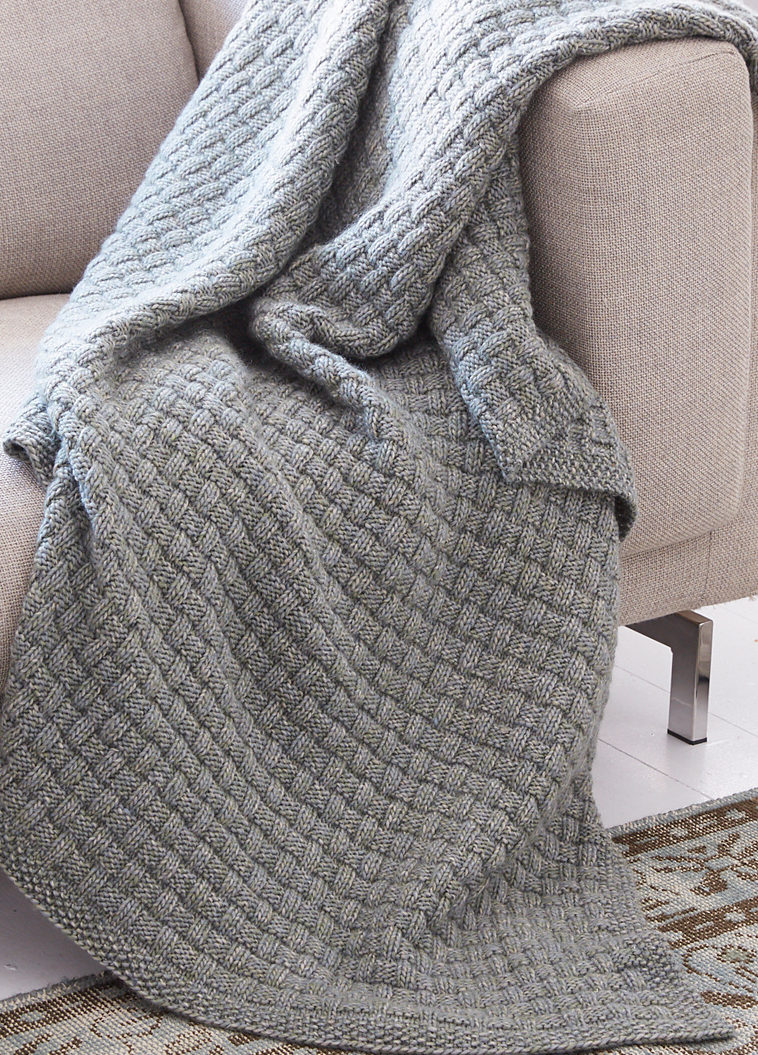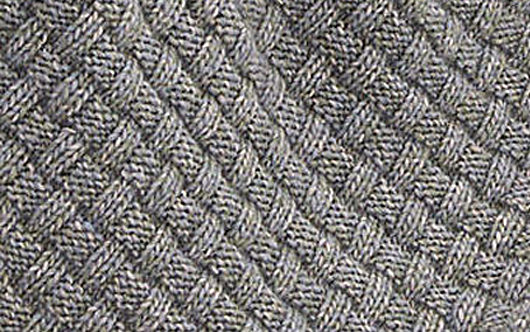 Easy Tweed Blanket
Easy afghan texture in just knit and purl stitches. Designed by Patons UK
Exquisite Cabled Throw
This easy cabled afghan is just garter stitch and stockinette with cables every 8th row. Designed by Linda S. Smith for Red Heart.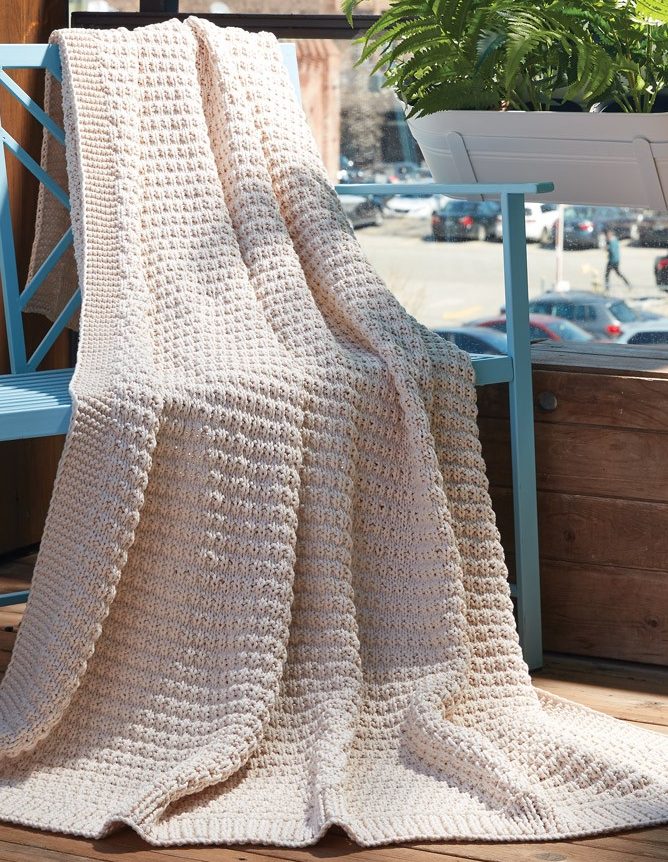 Easy Textured Throw
Easy afghan in with an 8-row stitch pattern of knit and purl stitches. Quick knit in chunky yarn. Perfect warm weather throw in cotton yarn. Rated easy by Bernat. I love knitting with the recommended Bernat Maker Home Dec cotton yarn.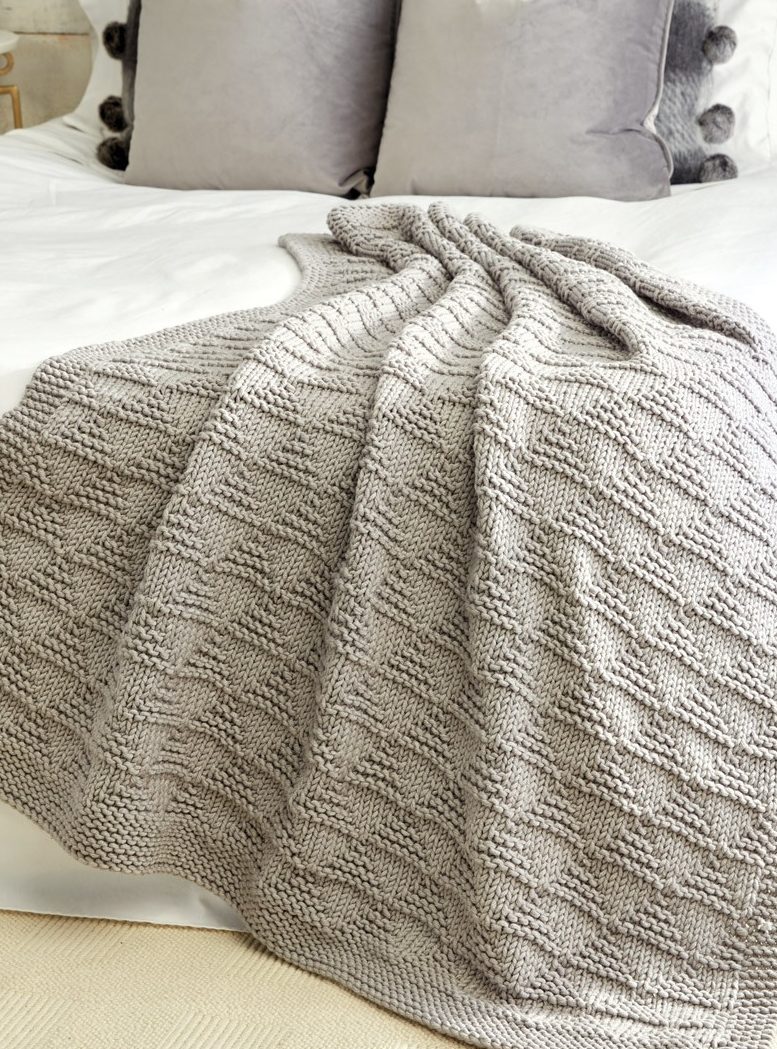 Cozy Triangle Throw
This easy afghan features triangle texture in knit and purl stitches with a 16 row repeat – though the 8 wrong side rows are just purl. Quick knit in super bulky yarn. Rated easy by Bernat.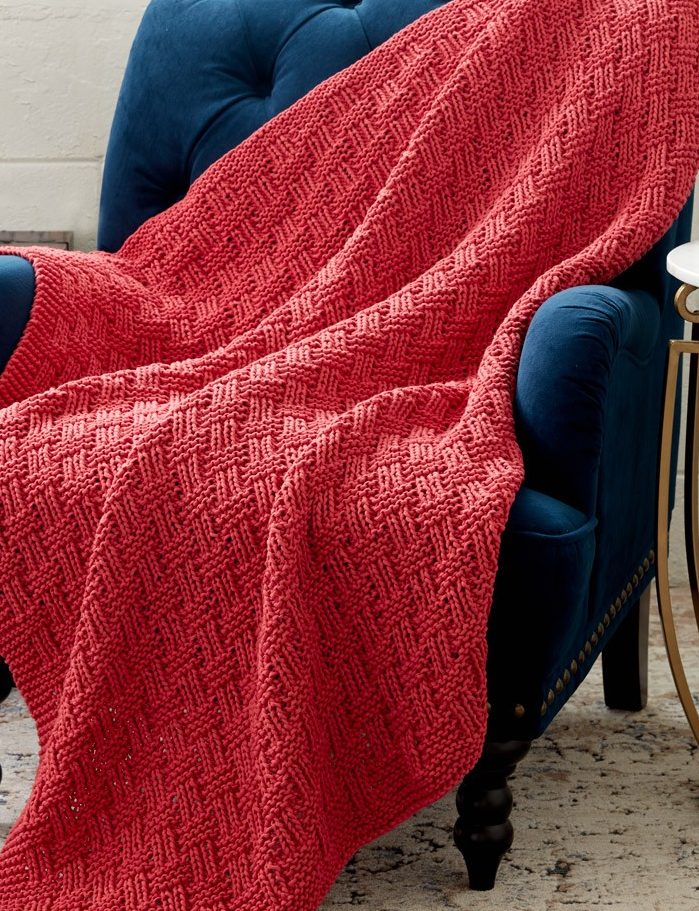 Parquet Blanket
Easy basketweave afghan from Bernat is a quick knit in bulky yarn.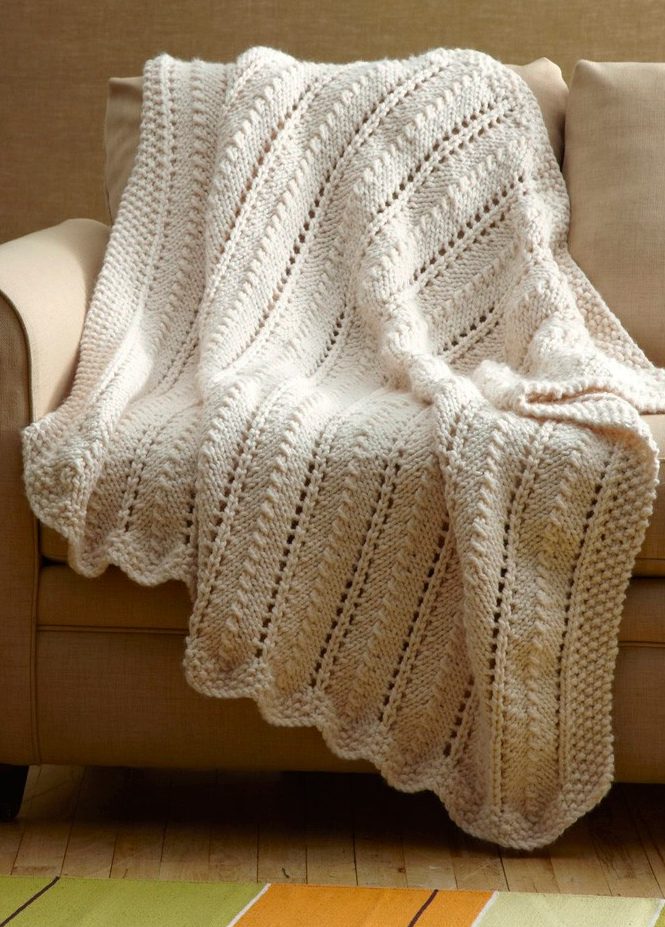 Lacy Throw
This easy lace afghan is a two-row repeat with one of the rows being purl stitches. As a bonus it's a quick knit in super bulky yarn!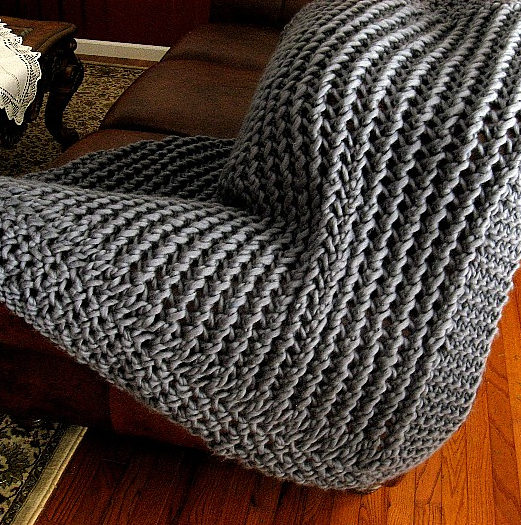 Lacy Chunky Throw
Wenlan Chia's quick easy afghan for Classic Elite Yarns makes use of a very open lace pattern to keep down the weight (and yardage). Quick Knit in super bulky yarn. Pictured project by weedwacker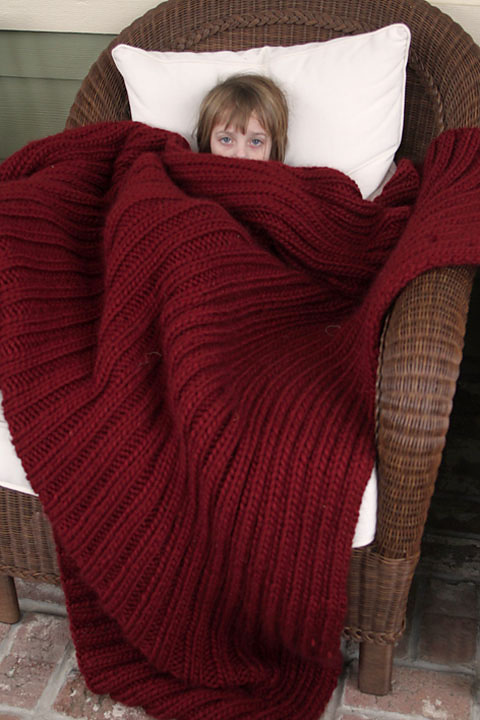 A Blanket For Seriously Cold People
This easy afghan from Softsweater Knits features a stretch cushy ribbing pattern. It's a fast knit in super bulky yarn. Pictured project by acunningplan
 
Easy Cable Blanket
This pattern from Matilda's Meadow features easy braided cables alternating with a ridge stitch section. Three sizes from small baby blanket to large afghan. Rated easy by the designer.

Tempting Texture Throw
Easy afghan featuring braided cables in worsted weight yarn

Rib Afghan and Bolster
Easy pattern for textured blanket and matching cushion. Quick knit in bulky yarn. Afghan: 44″ x 66″ Bolster: 20″L x 19″ in circumference

Beautiful in Green Squared
Easy quick lace afghan is one of 10 fast easy blanket and throw designs by Rita Weiss in the ebook Make in a Weekend Afghans to Knit.

Patchwork Trio Afghan
Easy afghan with a checkerboard of stockinette, seed and cable blocks. Pictured project by knitsinNC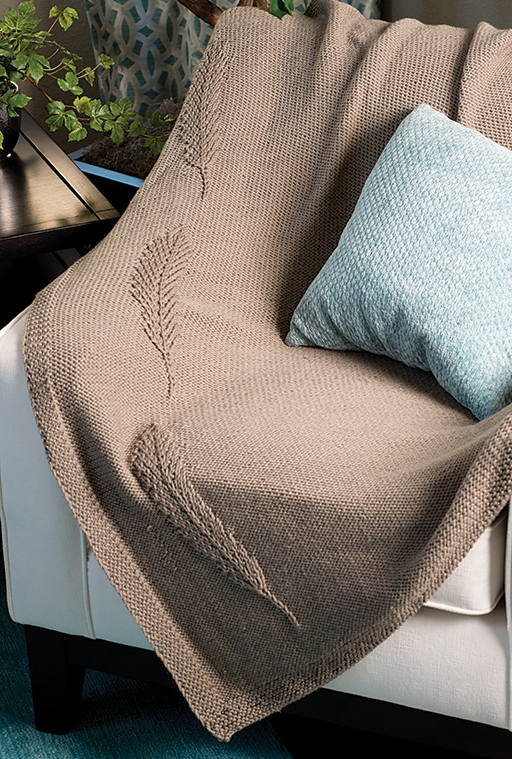 Feather Throw
This easy afghan features an elegant eagle feather motif down the side. Quick knit in bulky yarn.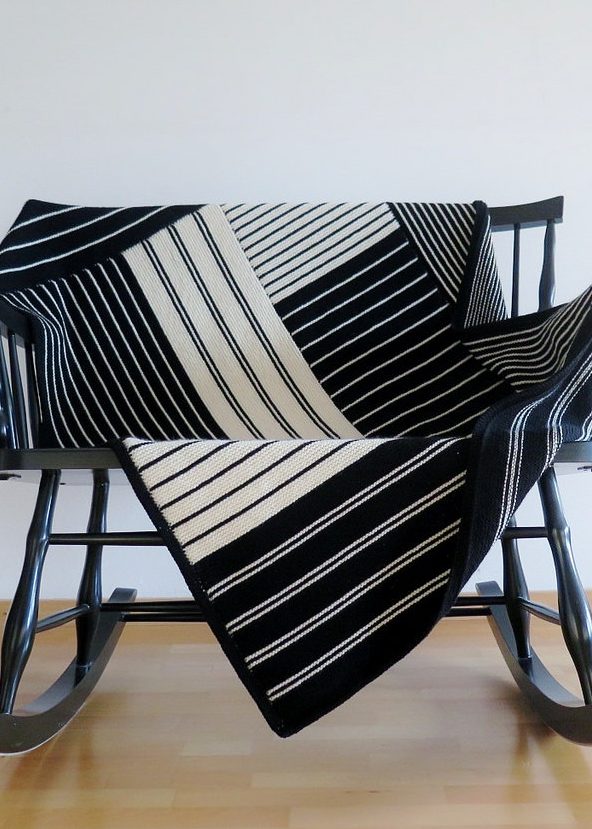 Moderne Log Cabin Blanket
Easy knitting pattern for a modern update of the classic log cabin afghan from Kay Gardiner and Ann Shayne's classic Mason Dixon Knitting. Pictured project by mustaavillaa used striped blocks for the afghan.

Reversible Afghans
Suitable for beginners who can knit and purl. Worked in one piece — no seams or stitches to pick up – and no wrong side. Three different designs with an easy-to-follow chart for each: Square-In-Square, Zig-Zag, and Basket Weave.

Third Street Blanket
How could I resist posting this throw inspired by the River Market area of my home Kansas City!
Terry Matz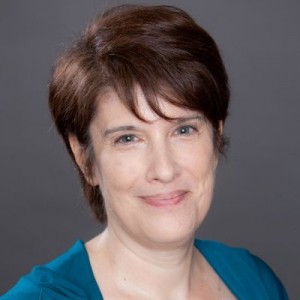 Terry is a knitting late-bloomer, learning to knit as an adult from Internet tutorials, because she wanted a craft that was useful, fun, and portable. Knitting hats for cancer patients inspired her to design her own patterns—available for free at her blog, intheloopknitting.com. Terry met her husband Ken at a science fiction convention and moved to the Kansas City area to be with him more than 30 years ago. Terry supports her yarn stash by creating websites and other digital media. Terry firmly believes in Knitting in Public—it's a great conversation starter!