We knitters hate to throw away yarn so our stash is full of leftover oddballs and scraps of yarn too small for most projects. Here are some clever stash busting ideas to de-stash those yarn remnants. These make great quick gifts, too!
To get the knitting patterns, scroll down the page to the individual pattern you want and click on the link to that pattern.
These patterns are not my designs but links to other designers who have generously shared their patterns. If you have questions about how to knit a specific pattern, please contact the designer directly.
All links on this site are for informational purposes, but please note that some links are to affiliate sellers that pay me a small commission on purchases.
Free Patterns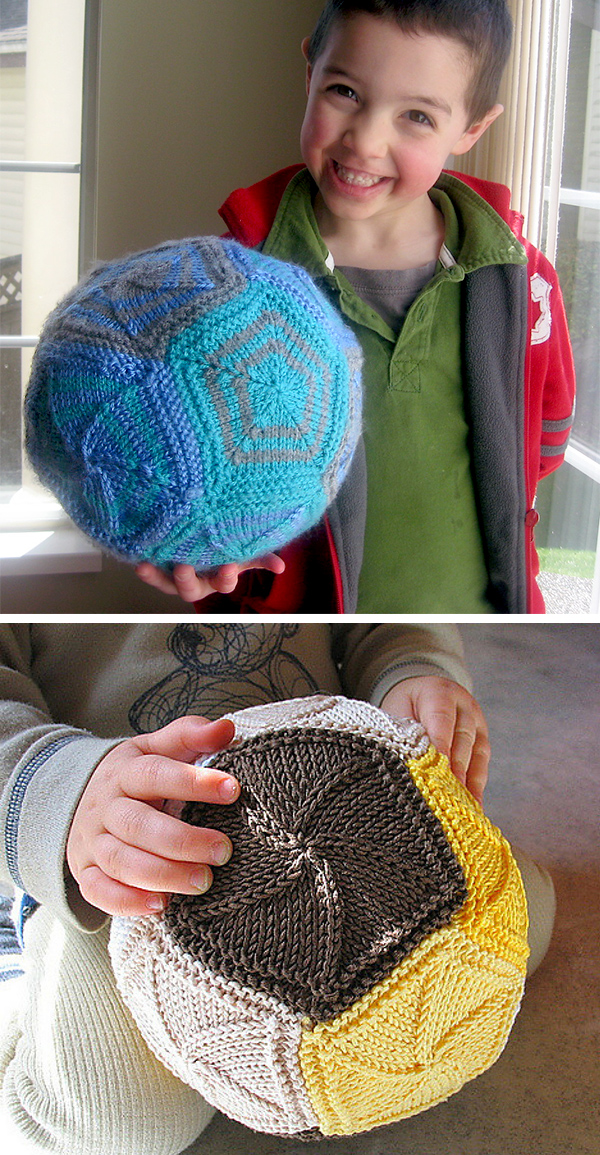 Doddy
Soft ball created from pentagons that are joined as you knit to form a dodecahedron. Perfect toy for babies and children and a great stashbuster! Options for creating different increase/decrease effects. Designed by Carol Feller for Knitty. Worsted weight yarn. Pictured projects by wbotelho and Majtessa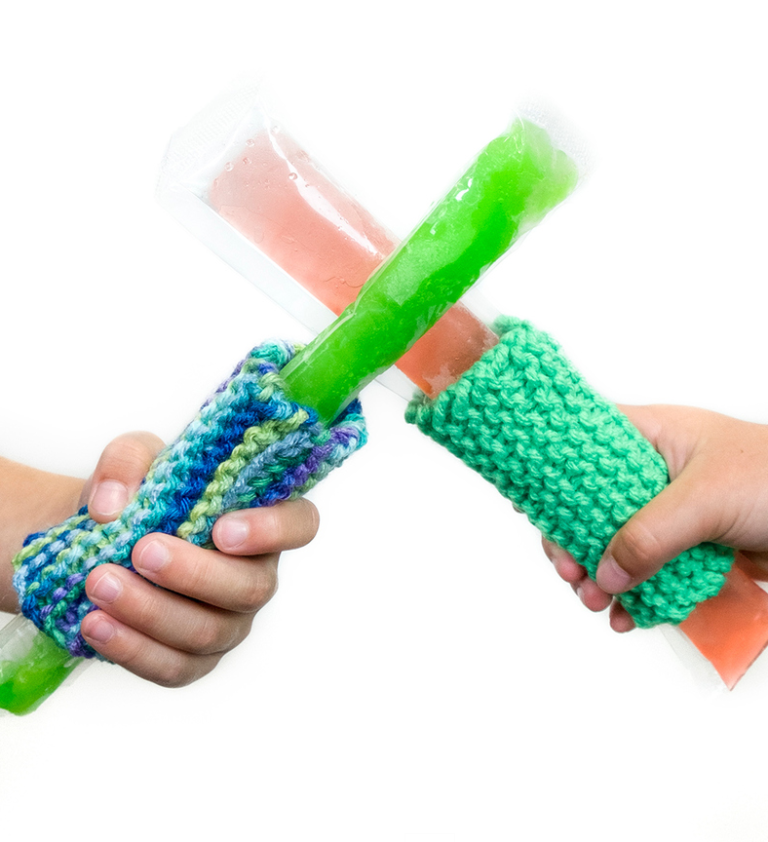 Freezer Pop Cozy
This easy and quick ice pop sleeve will keep little fingers from getting cold. Beginner level pattern and a great project to teach kids to knit with the incentive that they can use it with a treat after they're done! Crochet version also available.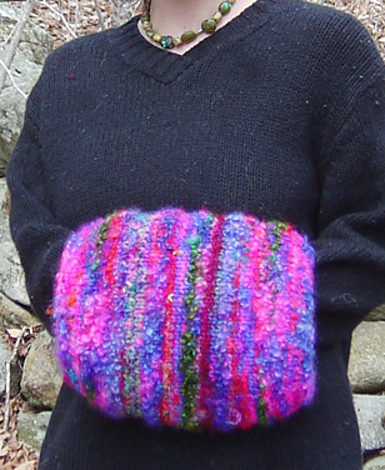 Muff
This cozy convenient alternative to mittens and gloves is made with scraps and oddballs of yarn. The muff keeps you nice and toasty, yet you can take your hands in and out quickly. Great for car rides and strolls. Designed by Stephanie Shiman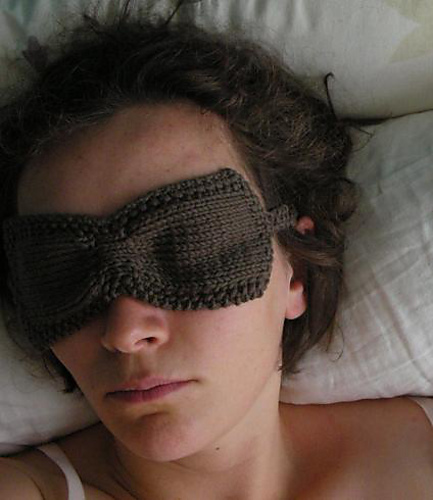 Ruched Sleep Eye Mask
Designed by Sarah Core, this sleep mask covers the eyes without laying heavy on the face. The pattern also provides instructions for turning your mask into a eye sachet, with a detailed pattern included for making a mask backing. Pictured project by martyporteous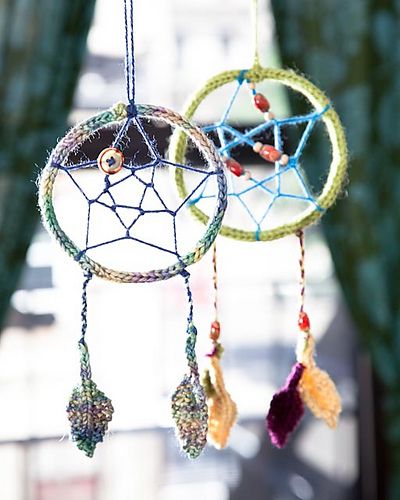 Dream a Little Dream
Katie Mack designed this easily customizable dream catcher that's a great use for scrap yarn.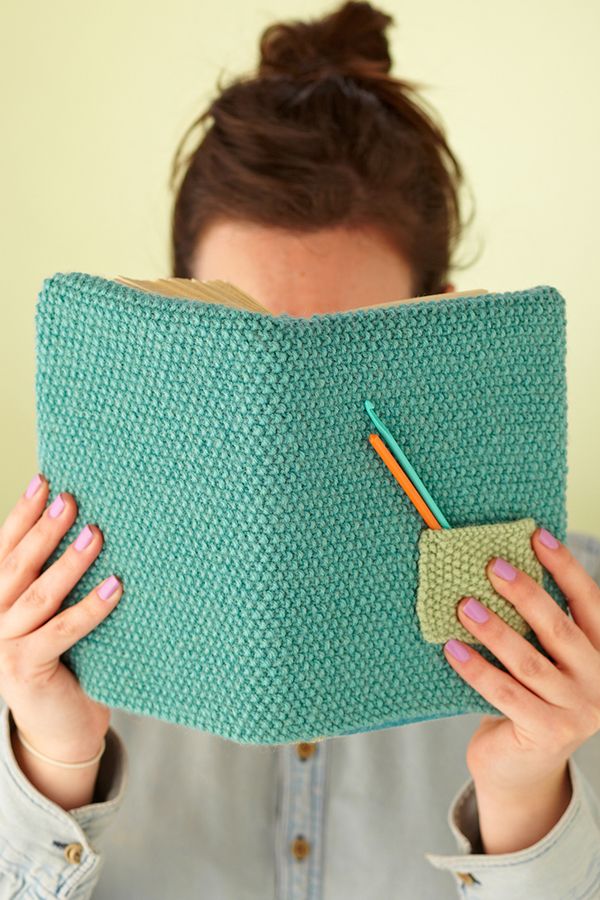 Book Cover
Designed by Julie Picard for Mollie Makes, this two stitch cover for good reads or notebooks come with a handy pocket for highlighter, pen, or other tools.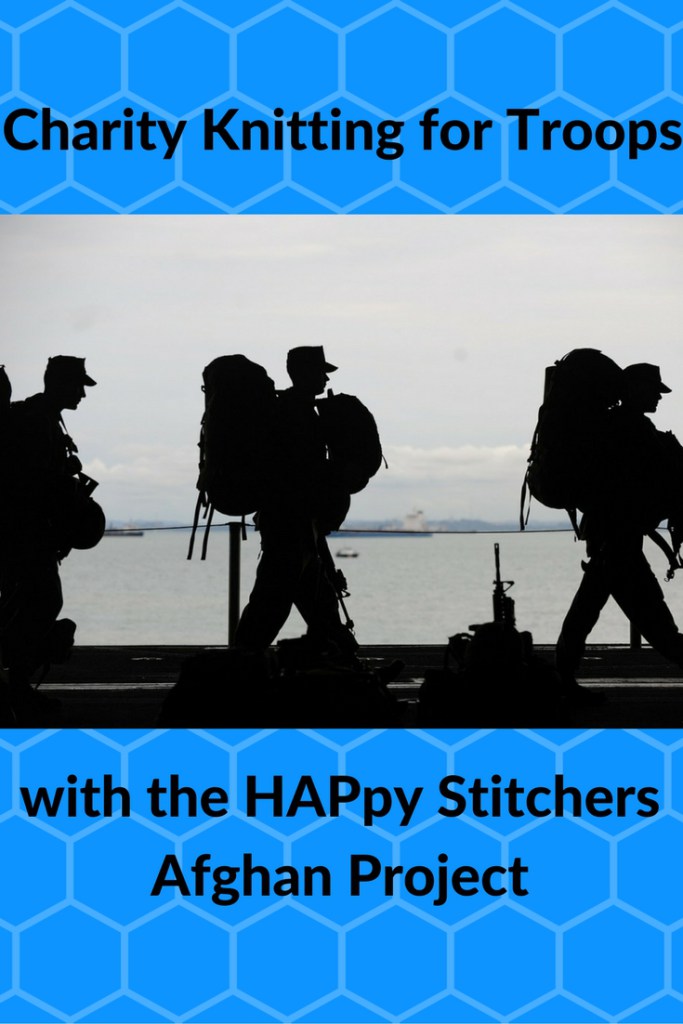 HAPpy Stitchers Afghan Project
A stashbuster with heart! Knit 6 x 9 rectangle blocks with your stash and the HAPpy Stitchers will assemble all the blocks they get into afghans for injured servicepersons, homeless veterans and vets in veterans homes.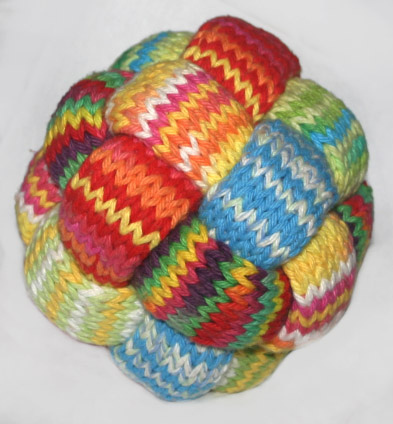 Braided Ball
Marleen Hartog's toy ball can be knit in a few hours in any size you want with any scraps of yarn you have.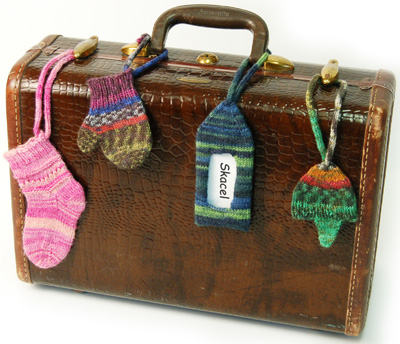 Luggage Finders
You'll always be able to find your suitcase when you give it the personal touch of knitted tags designed by Kathy Sasser for Skacel.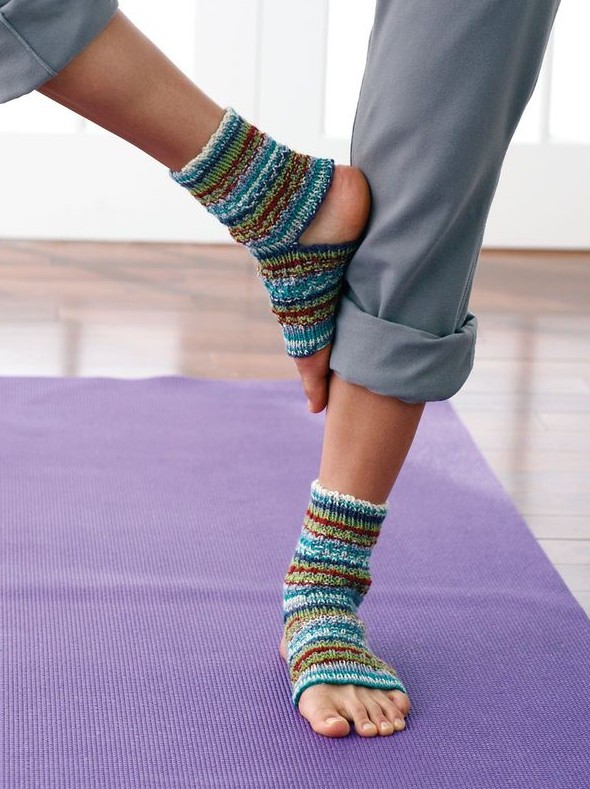 Yoga Socks
Designed by Yarnspirations, these socks give you warmth and comfort while still leaving your heal and toes free to grip and stabilize.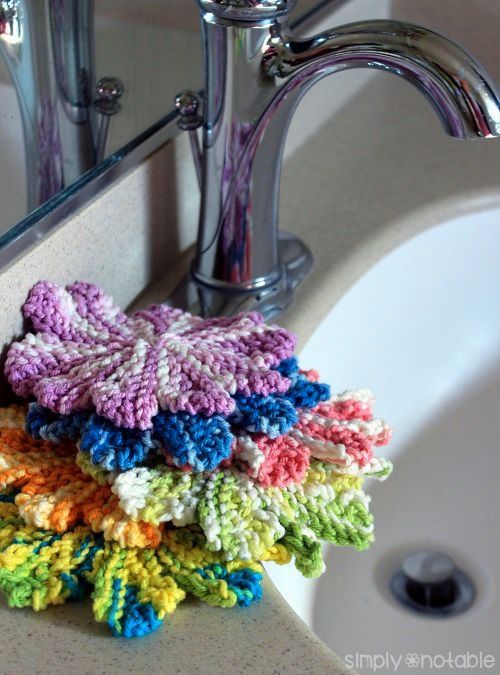 Mini Almost Lost Washcloths
This is a knitting pattern for small flower shaped wash cloths by Simply Notable that are great for removing makeup. There is also a link to larger versions. Great for leftover cotton yarn and stocking stuffers!
More Free Patterns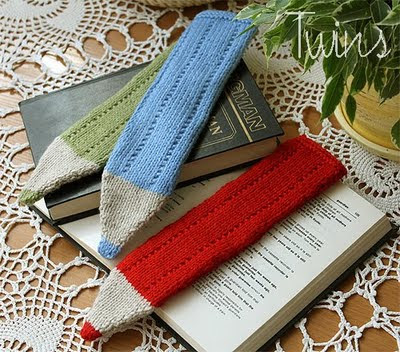 Crayon Bookmarks
Designed by Twins Knitting, these easy bookmarks are knitting flat and seamed.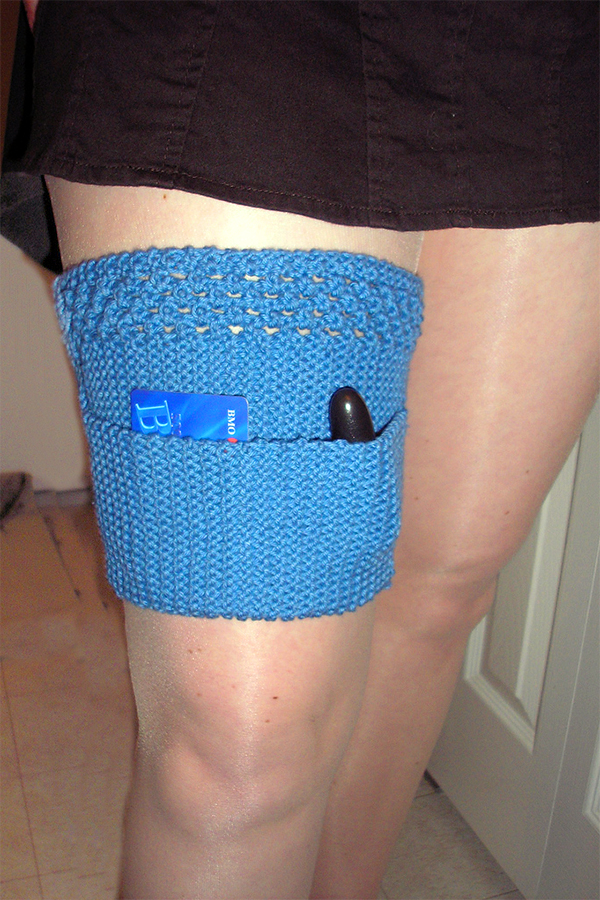 Pocket Garter
This easy pattern is an ingenious way to carry essential items hidden underneath a tunic or dress.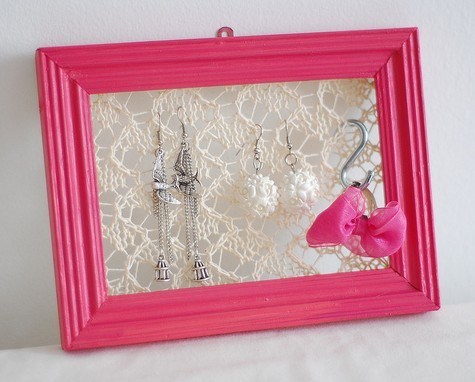 Lace Jewelry Holder
Laylock designed this quick project that only requires a small frame, some thumbtacks, and some lace in the pattern she provides or your own. Then hang your earrings on the lace or use s-hooks to hang other jewelry. Great quick gift! Also great for leftover swatches!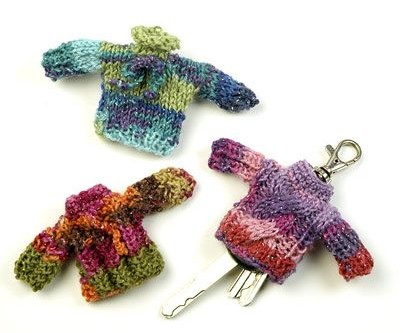 Sweater Key Chain Covers
This set of miniature sweaters will keep your keys from scratching up your purse contents, designed by Berroco. Although it's a great use of scrap yarn, these were knit in Berroco Sox which is a variegated sock yarn works up into faux Fair Isle and self-striping patterns.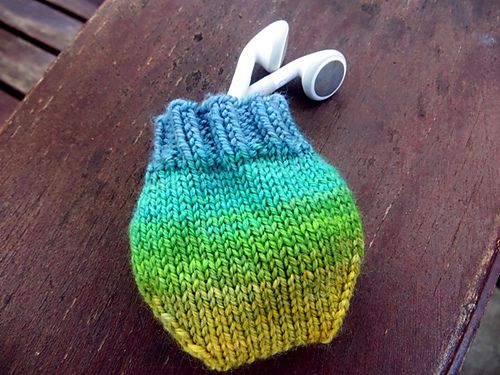 Earbud Pouch
Mary Keenan designed this pouch that keeps earbuds safe and untangled and looks great too! Knit in the round, you can make this in the time it takes to watch a movie. Great use for leftover yarn and multi-color yarn!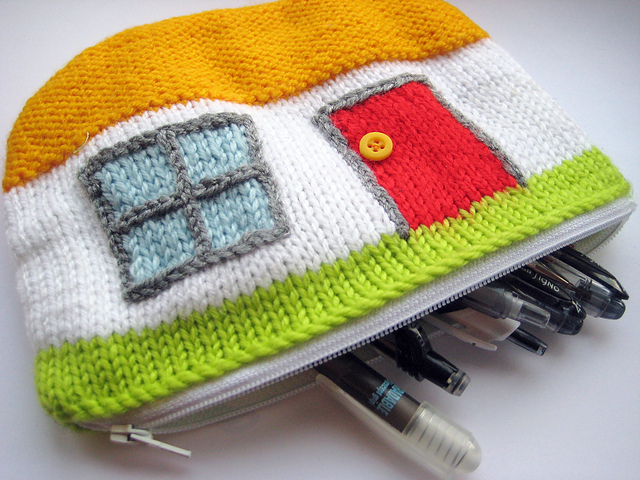 Cottage Case
Amanda Berry designed this cute zippered case that can be used to hold pens and pencils, cosmetics, and more. Approximately 18.5cm wide and 14cm high. Great quick gift!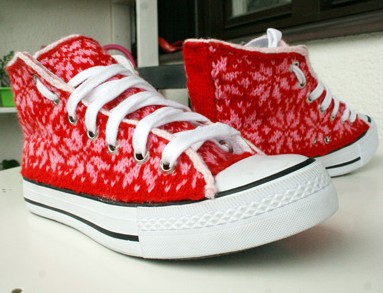 How to Knit a Shoe
Want your shoes to really say "you"? Knit your shoes with this tutorial by Kamilla who shows you how to measure and create knitted covers for existing shoes.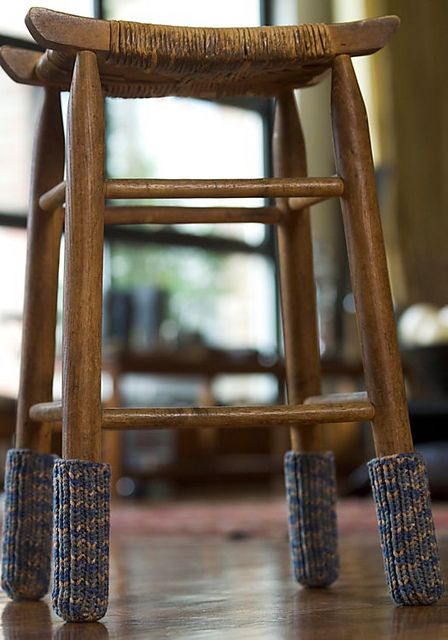 Protect-Your-Floor Socks
Jodi Lewanda came up with these clever furniture leg socks for Red Heart. Cute, practical, and a great use for scrap yarn!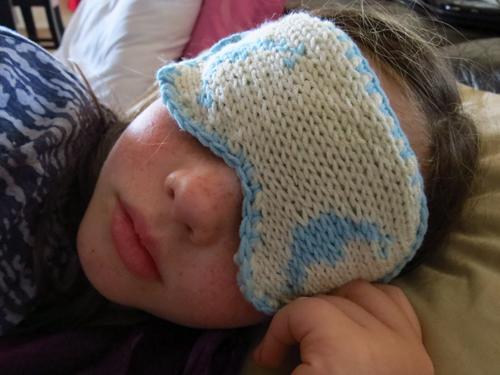 Pongola Sleep Mask
Designed by Bobbin Hobnobbint, this sleep mask is from side-to-side and front and back pieces crocheted together. Two designs — the one pictured and one with "eyes". Make sure to knit with soft cotton, cashmere or other comfortable yarn!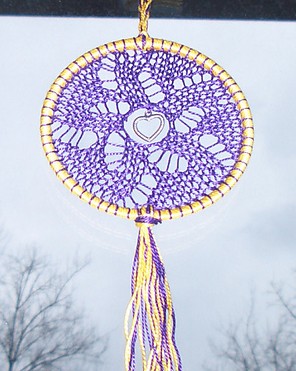 Dream Catcher for Leah
Erica Harbin created this great use for leftover thread, lace, or even fingering weight yarn. The frame is the rim of plastic cup. Three styles to chose from. Pictured project by Disneyette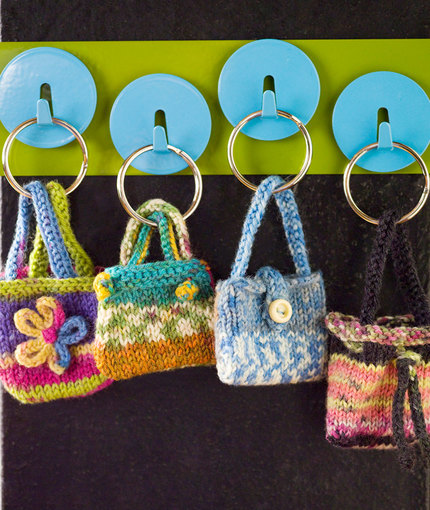 Mini Key Ring Purses
Kathy Sasser designed these cute key ring fobs for Red Heart. Perfect for scrap yarn and multi-color yarn!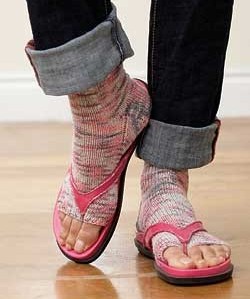 Pedicure Socks
Yarnspirations created these toeless socks to wear for a spa day or to show off your new pedicure. Three sizes from shoe size 5 to 10.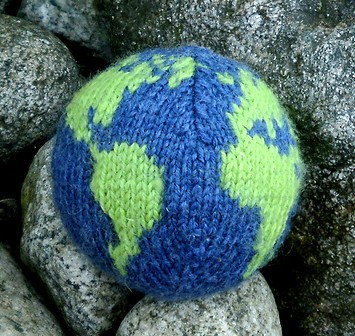 Planeetta Maa
Got some blue and green yarn of any weight? Use them to create Solie Soile Peltokangas's planet earth globe ball. Great for Earth Day too!
Patterns for Purchase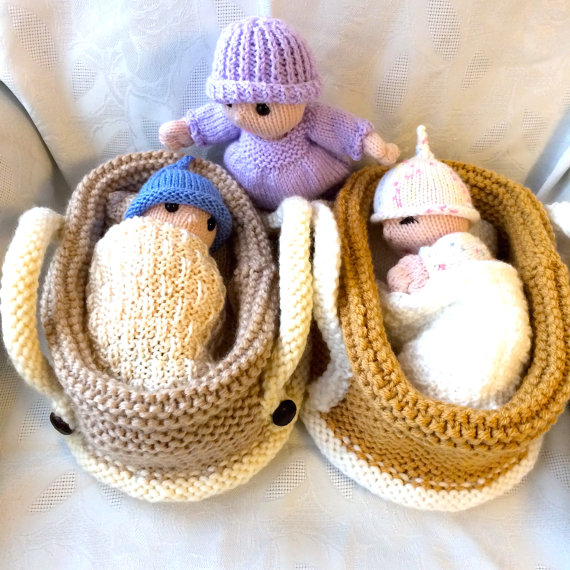 Baby Doll in Crib
This cute Baby Doll measures 9 inches/23 cms from head to toe. Perfect for stash busting because you use different yarns for different pieces. Pattern includes instructions for Crib, Baby Doll, Hat, Sleepsuit, Nappy/Diaper, Pillow and Blanket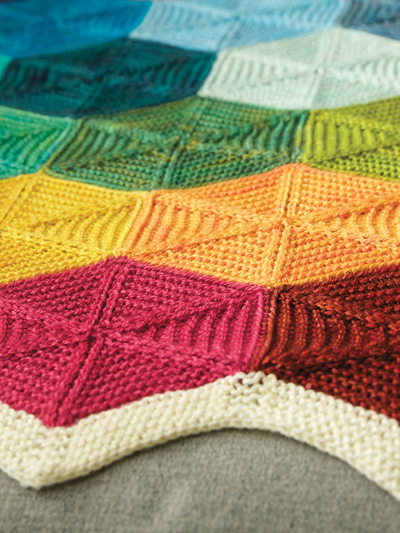 Polygon Blanket
This afghan is made of individual garter stitch hexagons that are knit individually and assembled. Great stash buster and portable project! Blanket as shown: 29 1/2″W x 37 1/2″L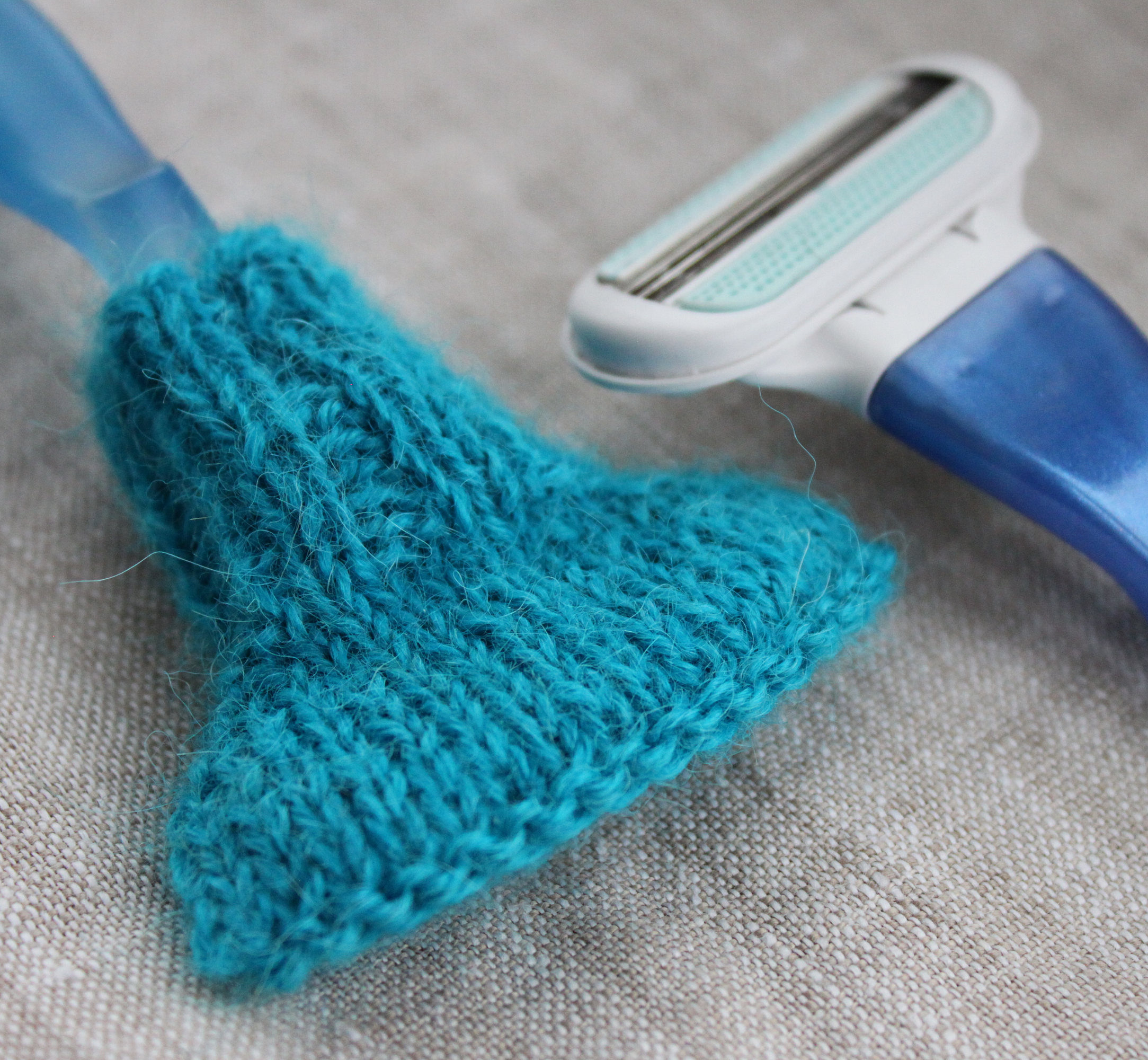 Razor Cover
This razor cover is designed to protect from razor cuts when your razor is packed in your luggage, gym bag, or purse. It easily slips on and off your razor head. And slipping it on when the razor is wet serves to block the cover to the razor shape. This knitting pattern is seamless and works up very quickly. Great for scrap yarn and last minute gifts.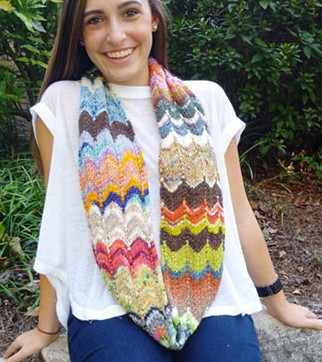 Kaleidescope Tube Cowl
This lacy zigzag scarf is knit in a tube, making it so simple to finish in no time with selected colors or scraps!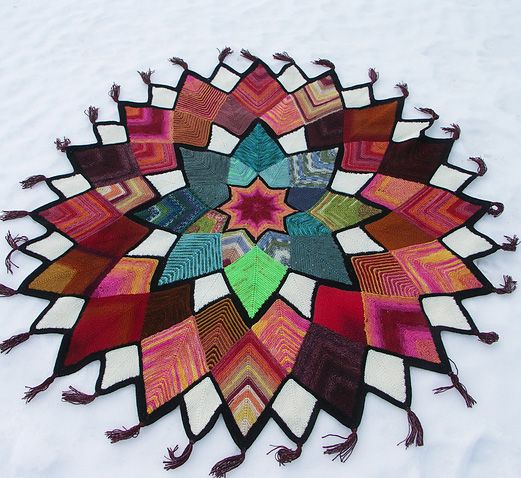 Domino Star Stashbuster Afghan
The center star is knitted in stockinette, and all the rest of the blanket is in garter stitch. The motifs consist of mitered squares, which are slightly modified to accommodate for the growing periphery of the circle.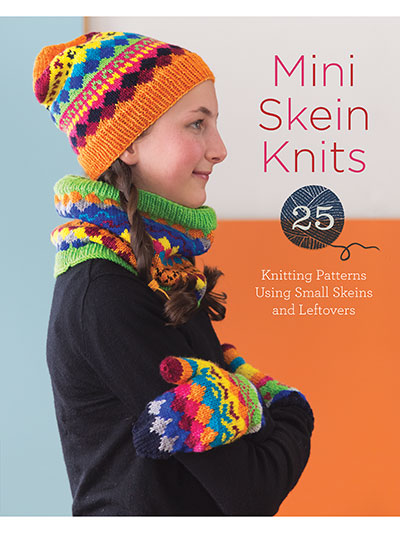 Mini Skein Knits
25 patterns to use up leftover yarn and scraps a woman's pullover, cardigan, slouchy beanie, shawl, mitts, boot cuff, scarf, pillow, clutch, and more.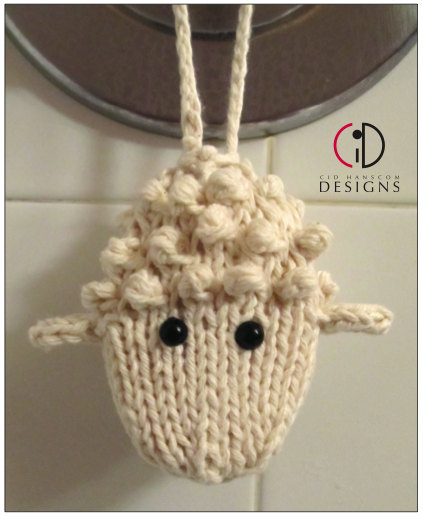 Woolly Soap on a Rope
Quick knit and great stash buster for cotton yarn! Holds a bar of oval shaped soap (ie. Dove) or stuff with Potpourri.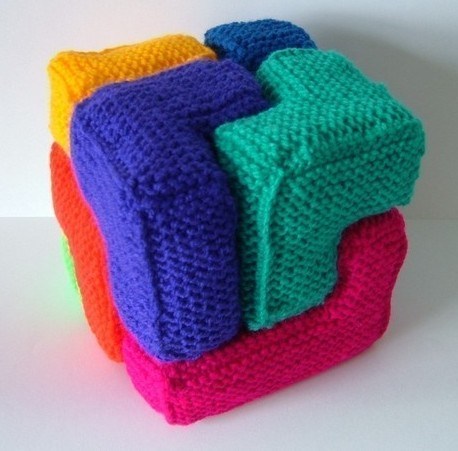 Soma Cube
The Soma Cube is a puzzle toy of seven different pieces that can be assembled to form a 3 x 3 x 3 cube. There are 240 possible solutions. The pieces are all different and are made with the minimum of sewing (One corner in most shapes).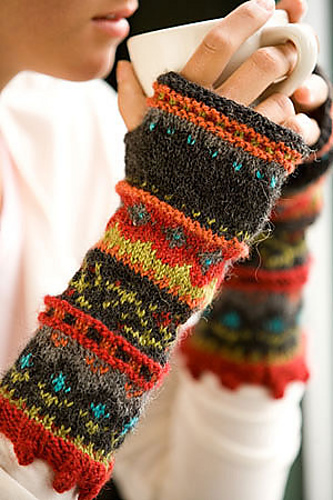 Composed Mitts
Knit in six colors in varying stranded colorwork patterns in stockinette, with bobbles, ribbing, and garter stitch rows thrown in.
Stacking Toy
Make soft stackers for your baby! This toy can also be used as mathematical game or puzzle, as explained in the instructions. The pattern includes knit and crochet versions. The pattern suggests ways to make the posts using easily available items.