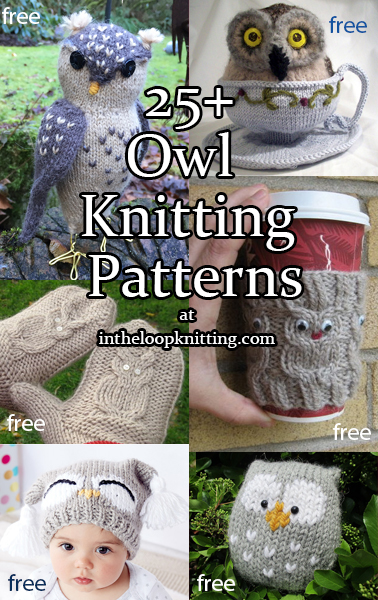 Knitting patterns for owl themed toys, hats, mittens, and more.
To get the knitting patterns, scroll down the page to the individual pattern you want and click on the link to that pattern.
These patterns are not my designs but links to other designers who have generously shared their patterns. If you have questions about how to knit a specific pattern, please contact the designer directly.
All links on this site are for informational purposes, but please note that some links are to affiliate sellers that pay me a small commission on purchases.
Free Patterns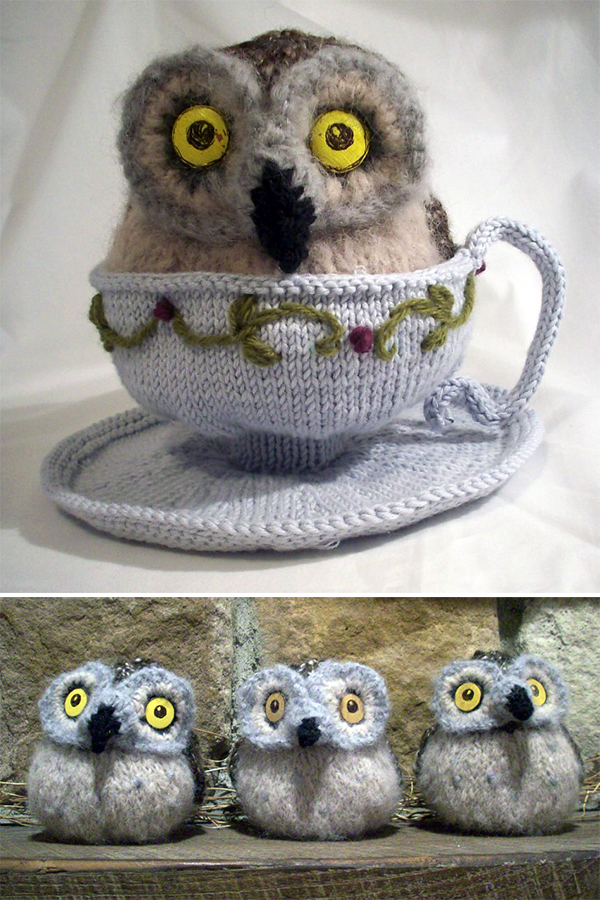 Owl in a Teacup
Whimsical owl softie sitting in separate knit cup is inspired by na illustration by artist and children's book author, Timothy Bush. You could knit just the owl or just the teacup and saucer if you like. Designed by Joyce Brose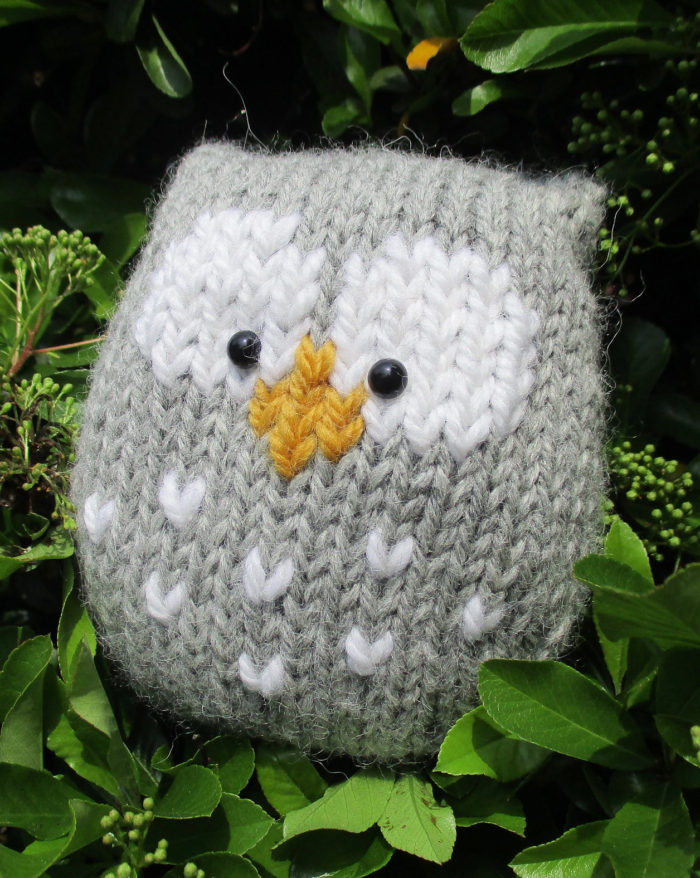 Stuffy Owl by Amanda Berry
This simple owl is knitted in one piece, with eyes and beak are added after knitting using duplicate stitch (though I imagine you could adapt for stranded colorwork). Approximately 10cm tall and 9cm wide. Designed by Amanda Berry

Owl Hand Puppet
Can be knitted in the round or flat. Designed by Janet McGregor

Ollie O'Owl
This adorable owl toy softie stands 10.5 to 11 inches tall. Designed by bjfromnv

I'm a Hoot Hat
This pattern for an owl baby hat comes with a free video tutorial. Sizes: 6-12 months and 18-24 months. Designed by Bernat.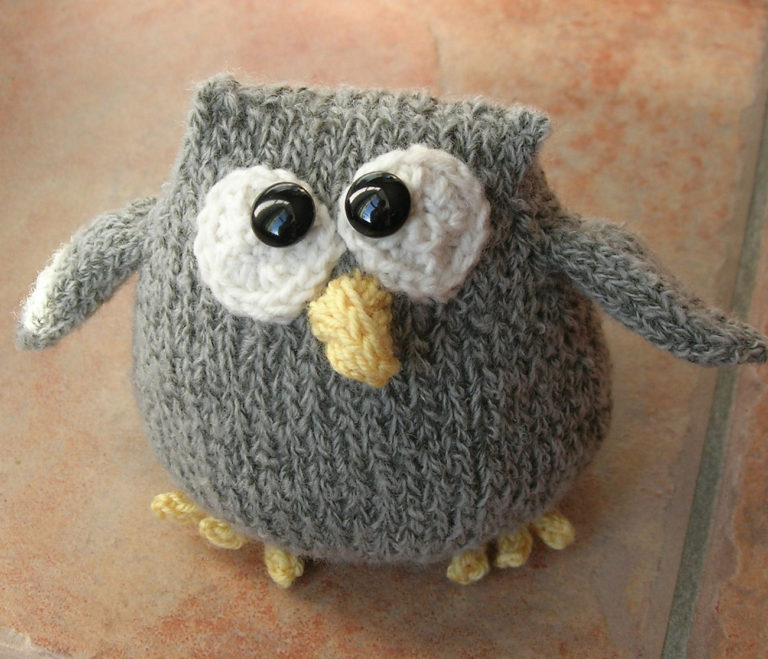 Cordell the Owl
Knit-a-Zoo's easy cute owl toy is about 11 cm high,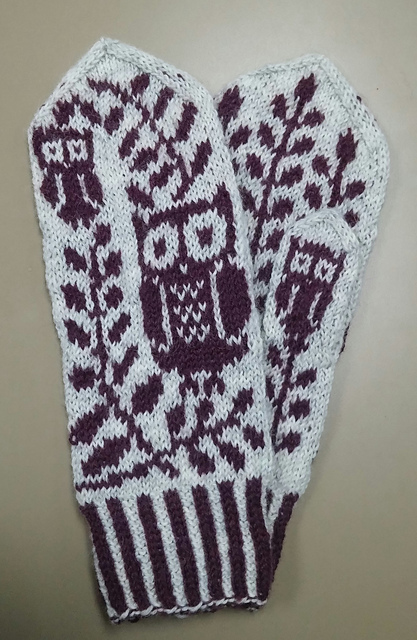 Grey Eyed Owl Mittens
Rebecca Tsai's mittens feature owls and olive branches, symbols of Athena, in stranded colorwork. Pictured project by emkovar

Big Snowy Owl Softie
This huggable stuffed owl is a foot and a half tall and a yard around, perfect for cuddling!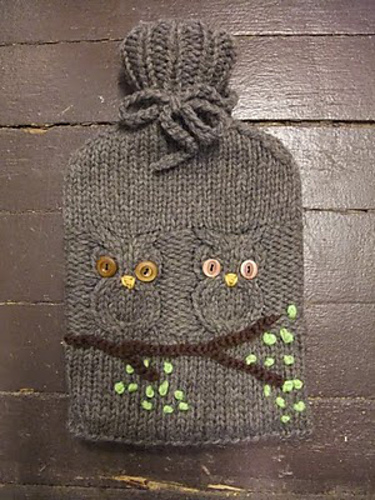 Hoot Water Bottle Cozy
Robyn Wade designed a hot water bottle cover with owl cable motifs that you can embellish with embroidery, buttons, and more to make it your own. Pictured project by bumblebeas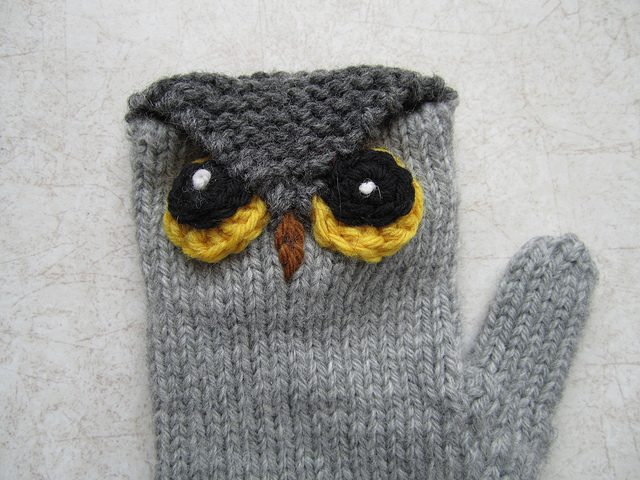 Who Gives a Hoot? Owl Mittens
Designed by Elaine Fitzpatrick, this is not an actual pattern, rather it's meant to be a guide to take your favorite pattern for worsted weight mittens and turn them into owls.

Owl Cup Cozie
Wide awake owls keep your cup warm and your hands cool. This cable pattern could easily be adapted to decorate blankets, cardigans, and pillows.

Owl Tablet Sleeve
Originally created as a netbook sleeve (remember those?), this wise owl can get with the times and find new use for your tablet, Kindle or other device.
Get the free knitting pattern on Ravelry

Seamus the Owl Small Softee
Seamus is one of the most popular pins on my Pinterest boards and you can see why with his cute little body and face.
More Free Patterns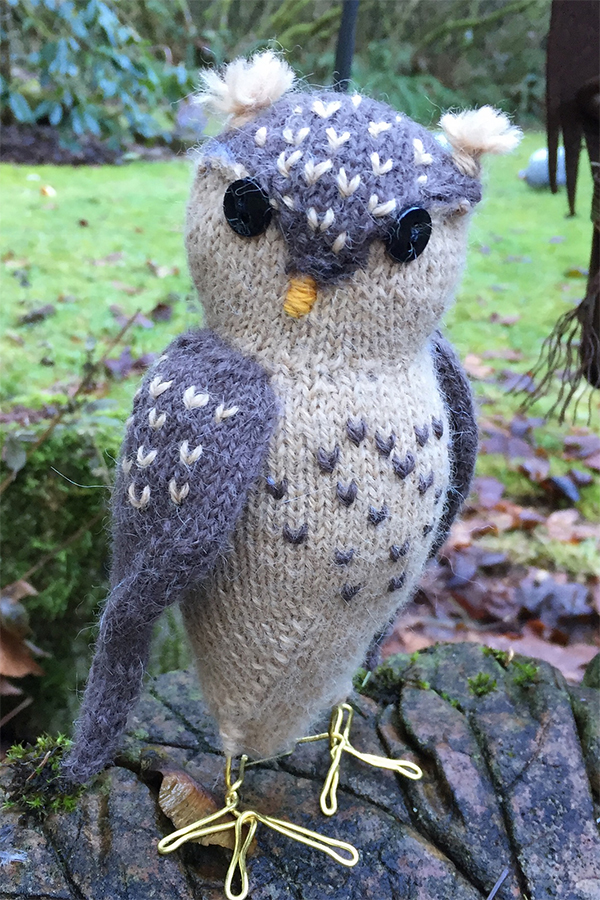 Obligatory Owl
This toy owl is knit in the round and stands ten inches tall. Options for a forward or side facing head. The wings (with optional embroidery) are also knit in the round and seamed to body. Designed by Sara Elizabeth Kellner. Pictured project by Hip4Knits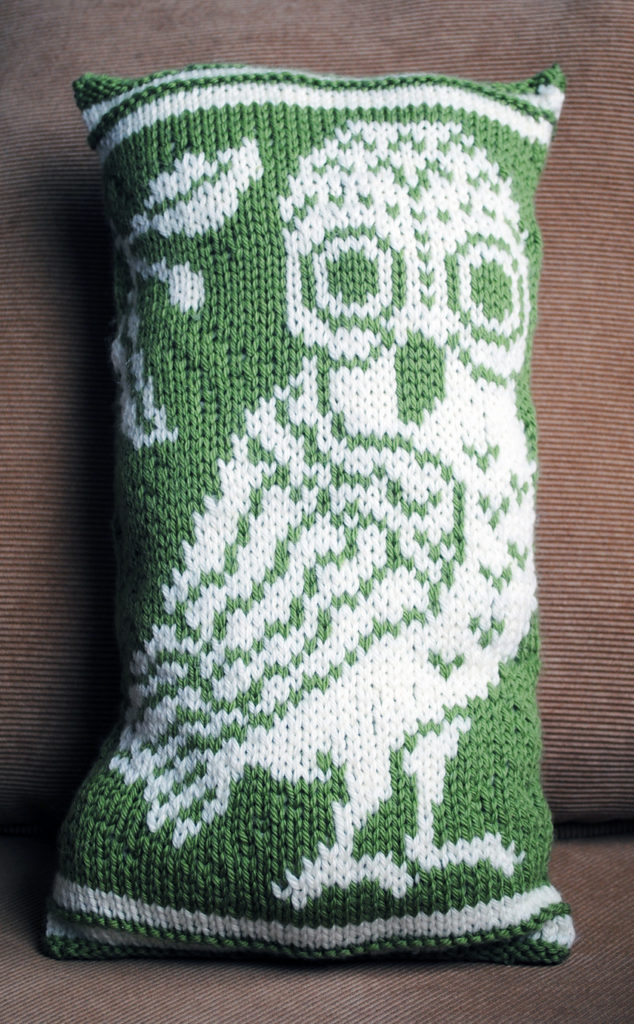 Athena's Pillow
Designed by Kalliopi Aronis after ancient Greek designs of the symbol of the goddess of Wisdom.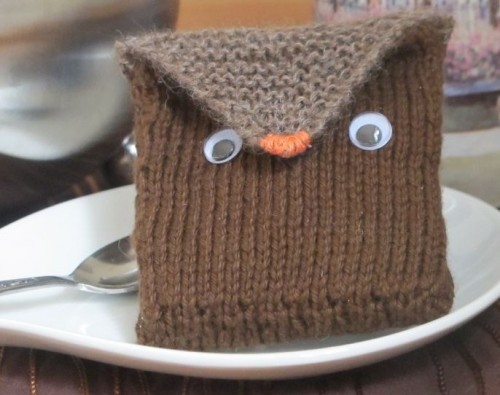 Tea Toting Owl Tea Wallet
Tea toting owl free knitting pattern – this cute owl holds your tea bags when you travel. Great for stash and remnant yarn!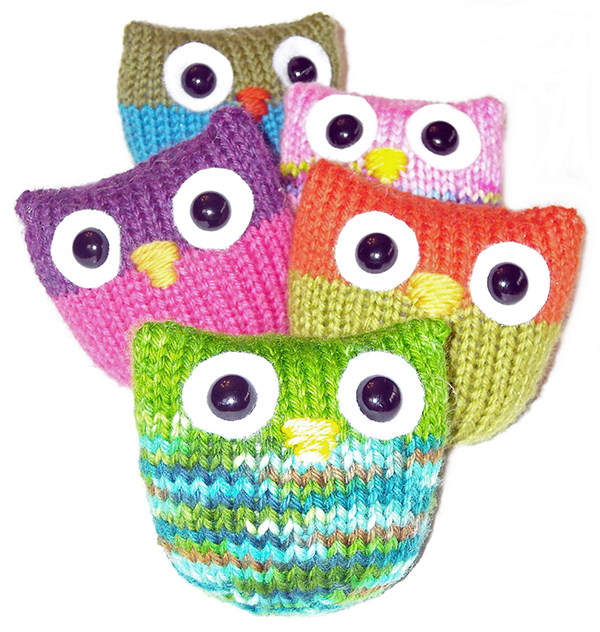 Owl Puffs
Jenna Kruger designed these cute owl softies that can be adapted to whatever design or colors you want. A link to the pattern is in the project.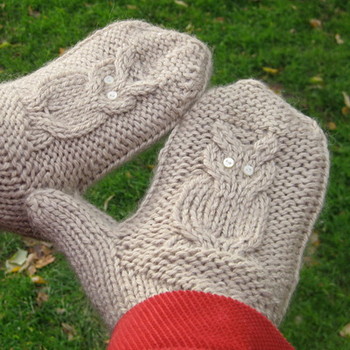 Give a Hoot Mittens
These mittens designed by the Fibre Company feature a unique thumb gusset and a cable owl pattern.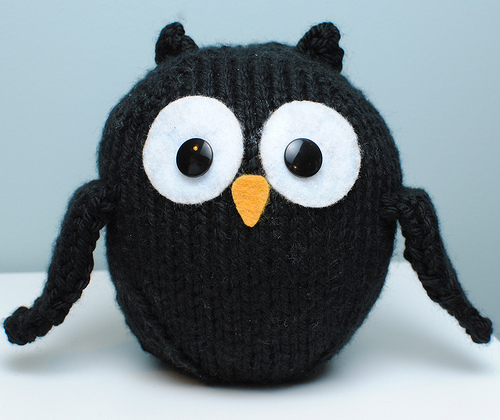 Little Black Owl
Designed by Kat at Just Crafty Enough, this pattern takes one ball of chunky yarn to make an owl that is 5″ tall (including the ears) and 4 1/2″ wide (not including the wingspan if you leave the wings free).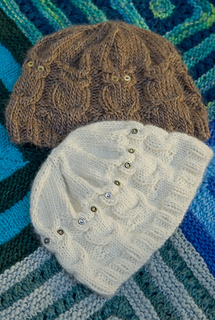 Wise Owl Hat
Get the yarn recommended by the designer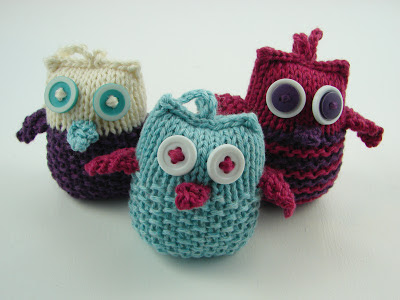 Owl Ornaments
Auntie Em designed these ornaments with plenty of options. The body can be knit in seed stitch, plain garter stitch or garter stitch with stripes. Also the head of the owl can be knit in a different color. There are seed stitch wings or garter stitch wings.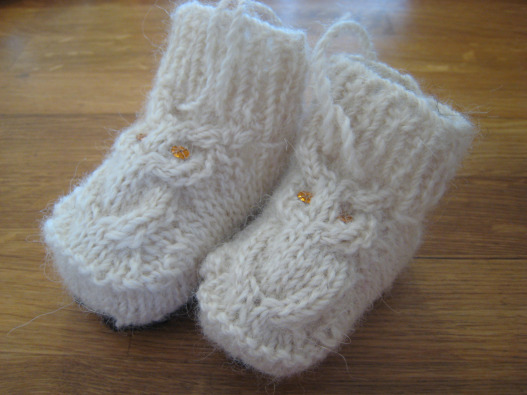 Hooties Owl Booties
Designed by Kedi Simpson for newborns.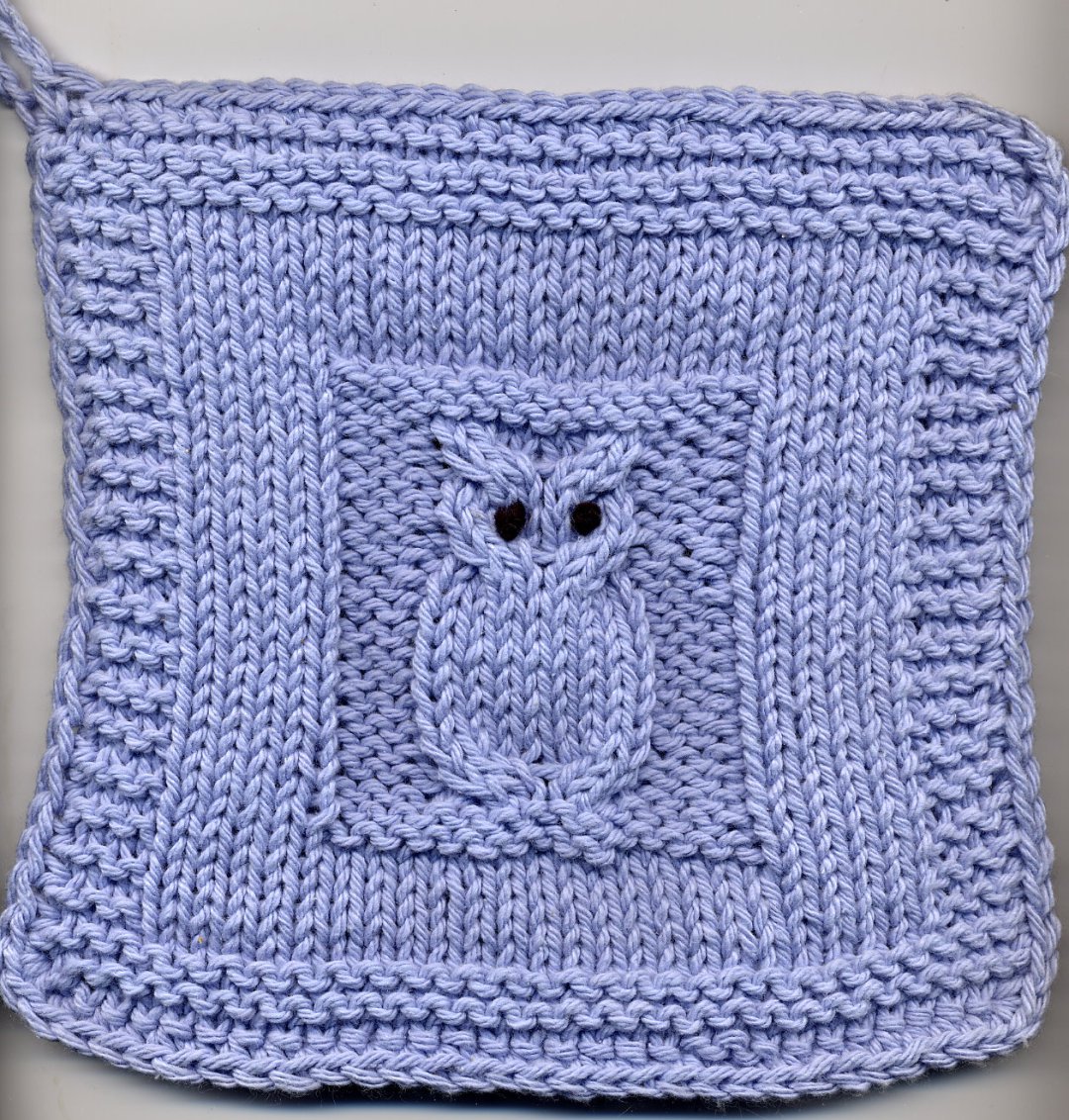 Owl Pot Holder
This owl motif block designed by Joan Hamer could also be used for a dish cloth or afghan block.

Owlie Socks
Sizes: Ladies S, M and L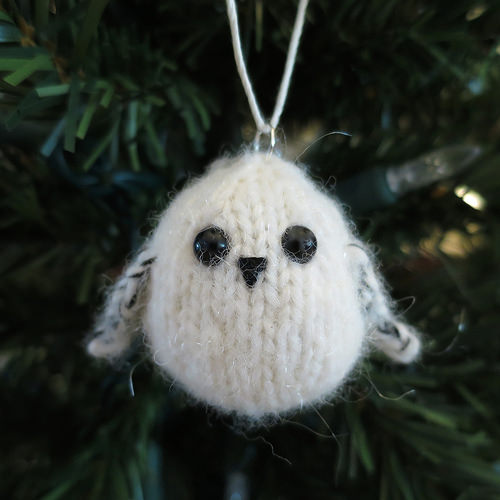 Snowy Owl Ornament
How could such a simple shape be so cute! This was part of an Advent Calendar Project at Just Crafty Enough. Great use for oddball stash yarn!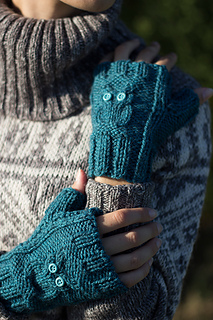 Owl Fingerless Gloves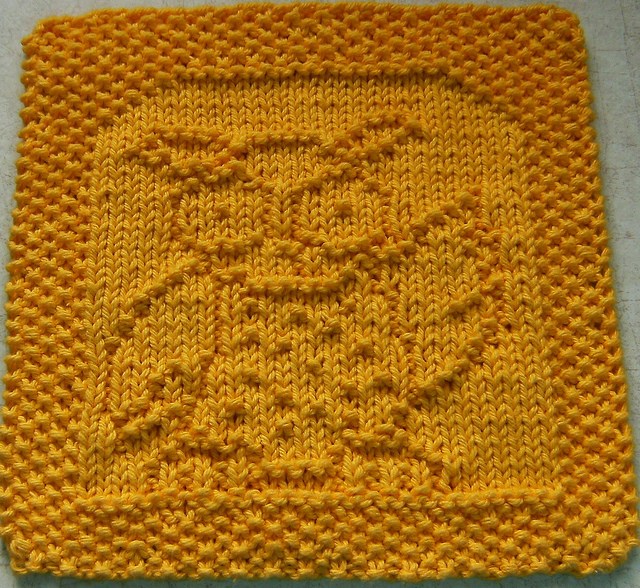 Whooo Loves Ya, Baby? Cloth
This waving owl motif designed by Elaine Fitzpatrickis perfect for dish cloth, afghan blanket square, and more.

It's a Hoot Owl Hat
This colorful knit hat with ear flaps also includes crocheted eyes, beak, and edging.

Cable Owl Blanket Square Free Pattern
This owl forms a six inch square that can be added into your blanket project. Although, I'm not fond of how it was used in the example with the dark cable squares, I think it is a really cute and ingenious cable pattern.
Patterns for Purchase

Hedwig Owl Shawl
Wrap designed like an owl in flight with intarsia face on the back and feathered wings. Feathers and fringe alternate along the bottom edge. Designed by tiny owl knits. Worsted weight yarn.

Snowy Owl
Owl softie toy knitted flat but joined as you go measures approx. 26cm/ 10in tall Designed by Claire Garland.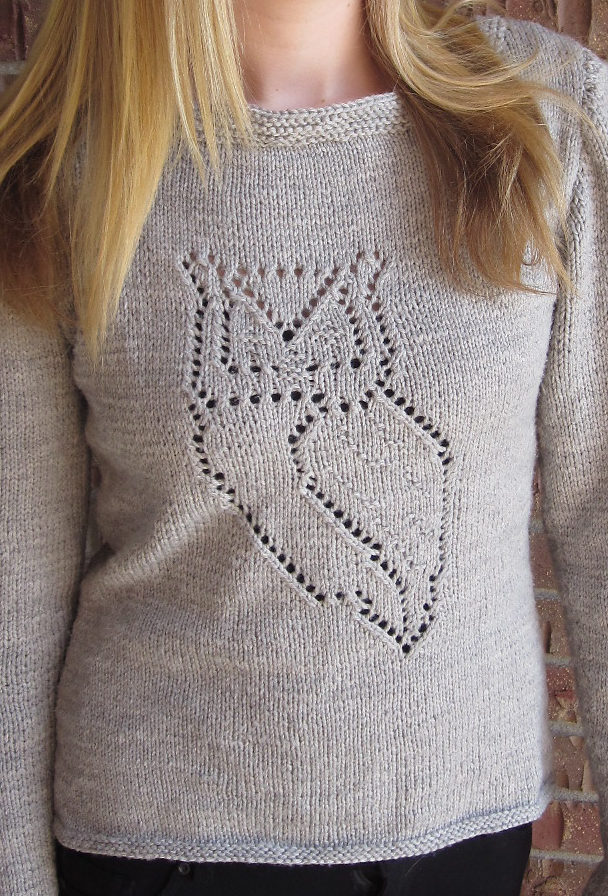 Nocturnal Pullover
This boat neck long sleeved sweater features a lace owl motif. Sizes 35 (39, 43, 46½, 50½)" bust circumference. Designed by Cassie Castillo. Pictured project by frightmolt

Winter White Owl
This pattern is no longer free. Barn owl toy knit in one piece measures approx. 23cm/ 9in tall Designed by Claire Garland.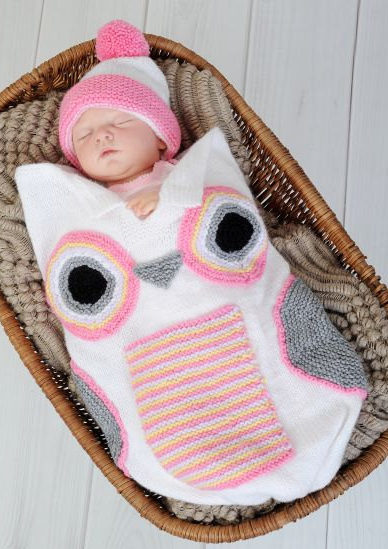 Owl Baby Cocoon
3 Sizes: Preemie, 0-3, 3-6 months. Crochet pattern also available. Designed by ShiFio

Owl Baby Onesie and Owl Toy
With sweet little details like the ruffled tail feathers, a knit and purl textured belly, and an owl face hood, this romper is sure to keep baby warm and Mom smiling! If that wasn't enough, this onesie comes with a precious matching stuffed Owl toy for baby to cuddle with too! Designed by Lauren Riker

Owl Family Toys
These owl softies quick and very easy to knit. 3 Sizes: Father Owl – 12cm (5in), Mother Owl – 10.5cm (4.5in)
Baby Owl – 8.5cm (3.5in).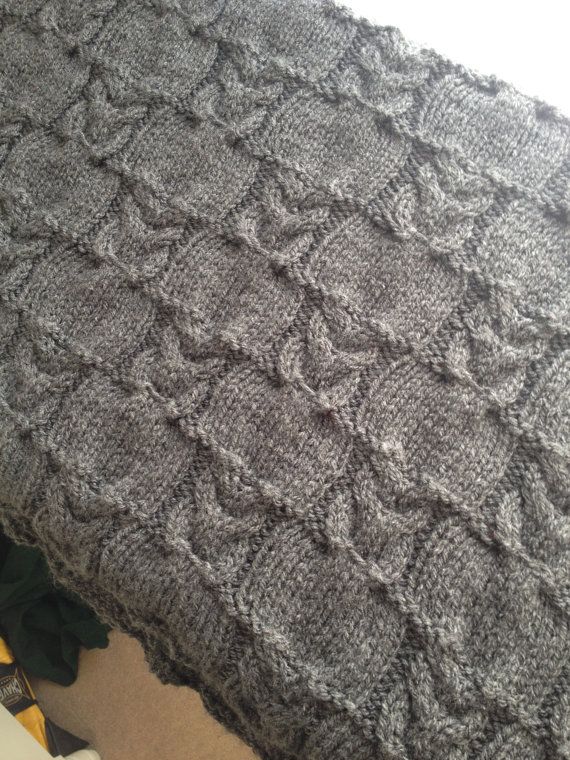 Owl Blanket
Snuggly easy to make blanket with cute cabled owl detail.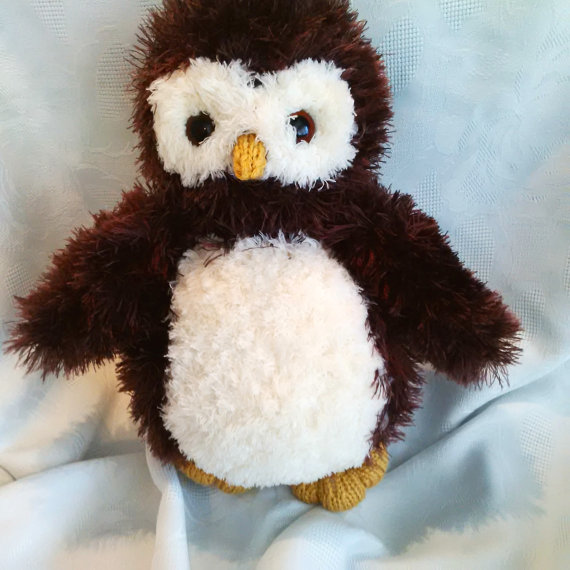 Oakley the Owl
This baby owl stands at 11 inches/28cms and step by step instructions are included.

Love Owls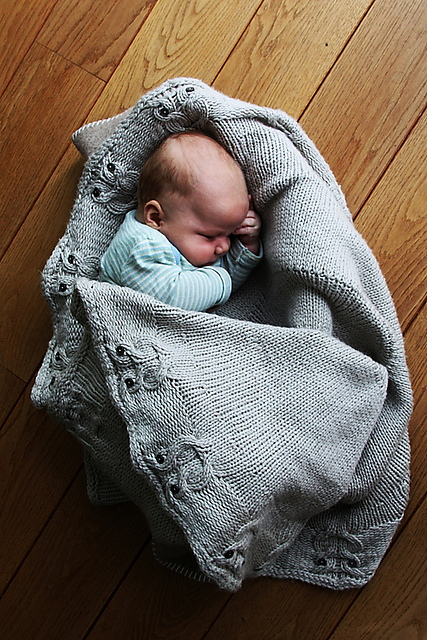 Into the Magic Forest Baby Blanket
Owl-bordered blanket designed by Melanie Berg.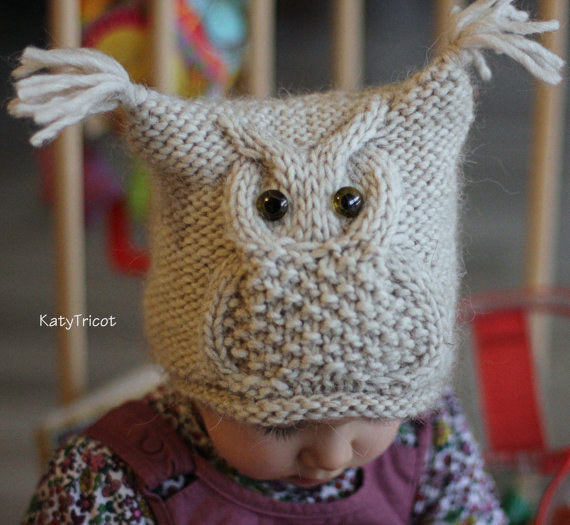 Chouette Hat
"Chouette" in French has a double meaning: an owl and something cool. Toddler, child and adult sizes.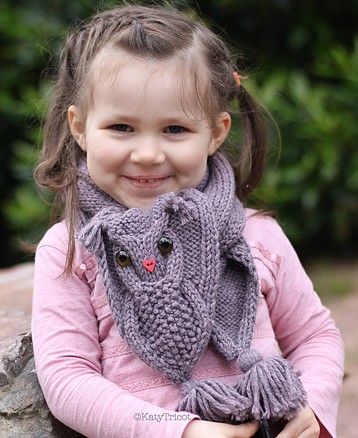 Owl Ways Scarf
Finished Dimensions 7" (18 cm) wide, 48½" (123 cm) long excluding tassels, blocked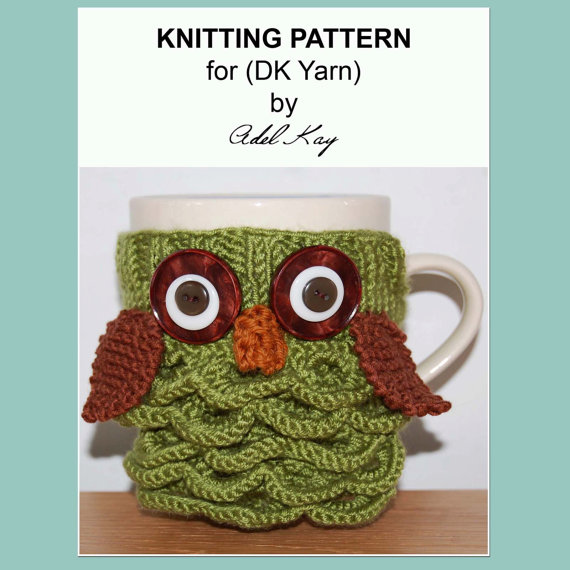 Archie Owl Mug Cozy
To fit mug size: 25cm Circumference, 11cm Height.

Night Owl Mitts
Fingerless mittens in DK yarn with separately knitted owl motif. 4 sizes ages 3 years to adult.