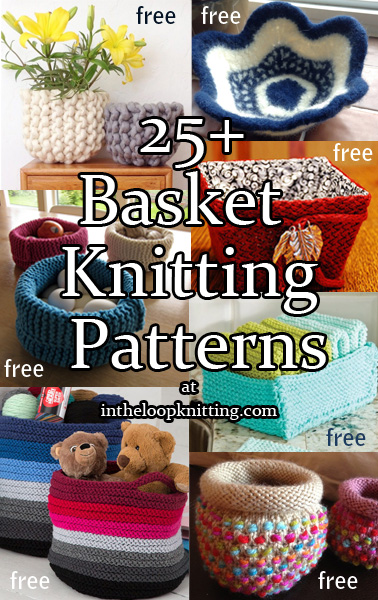 To get the knitting patterns, scroll down the page to the individual pattern you want and click on the link to that pattern.
These patterns are not my designs but links to other designers who have generously shared their patterns. If you have questions about how to knit a specific pattern, please contact the designer directly.
All links on this site are for informational purposes, but please note that some links are to affiliate sellers that pay me a small commission on purchases.
Free Patterns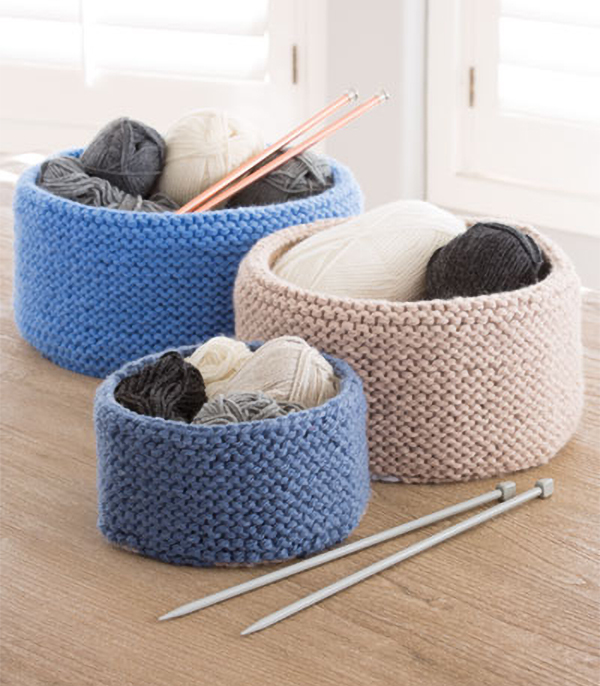 Garter Stitched Baskets
Easy baskets in 3 sizes. Quick knit in chunky yarn. Finished sizes: Small: 6 3/4" x 6" Medium: 10" x 7" Large: 13 1/2" x 7". This pattern was featured in Season 9 of Knit and Crochet Now! and is free with registration at Annie's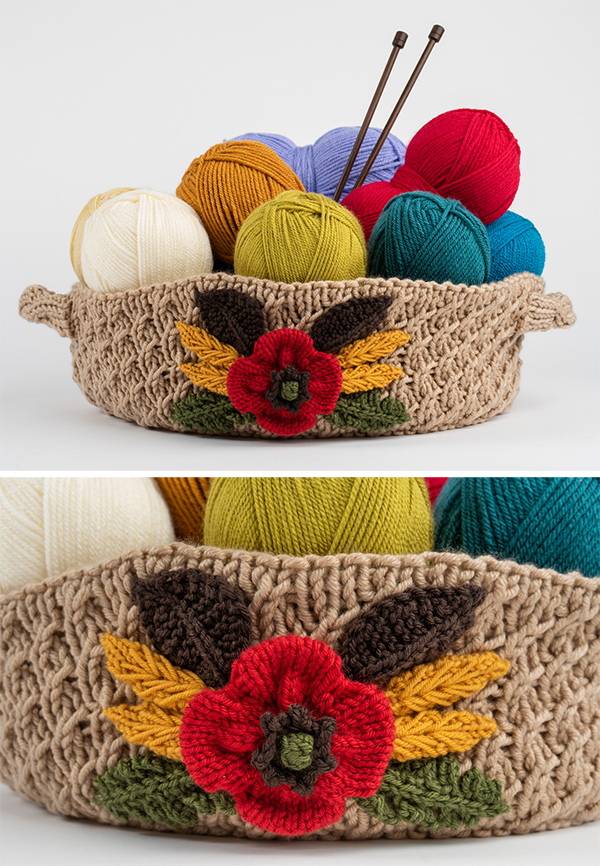 Ceres Decorated Basket
This basket with handles features a 4 row repeat textured stitch on the sides and knit flower and leaves for embellishment. Designed by Charmaine Fletcher for Deramores. A kit is also available. At Deramores, select digital pattern, add to cart, and check out with no payment to get pattern.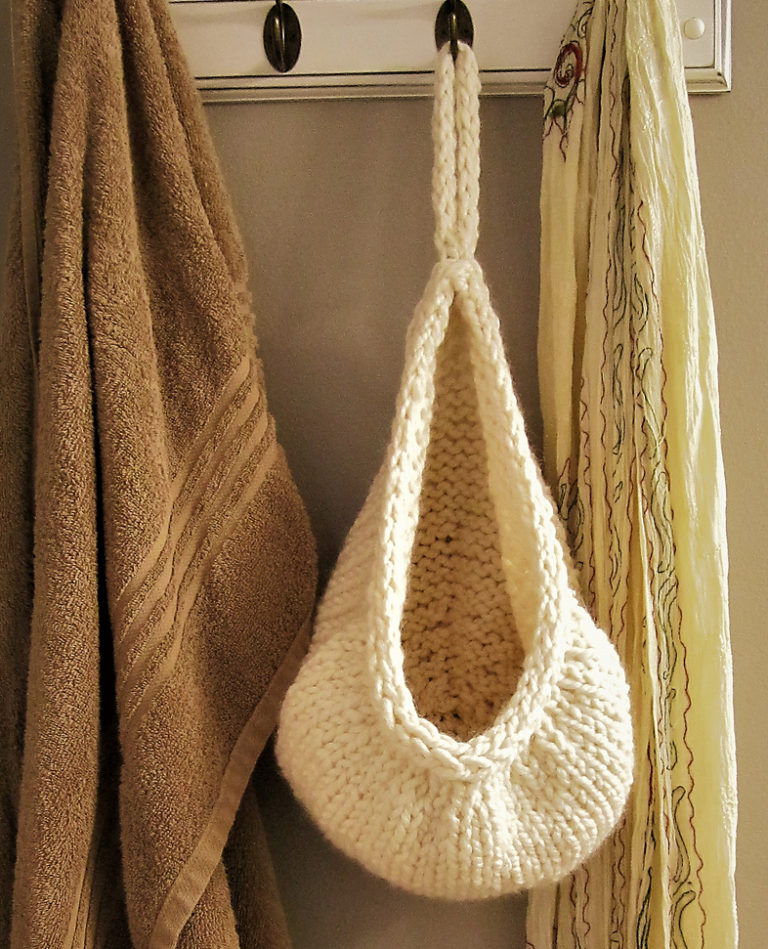 Hanging Basket
This hanging basket is great for small towels or toiletries in the bathroom or mittens and hats in the closet. Only took one skein of super bulky yarn according to the designer Ashley Collings.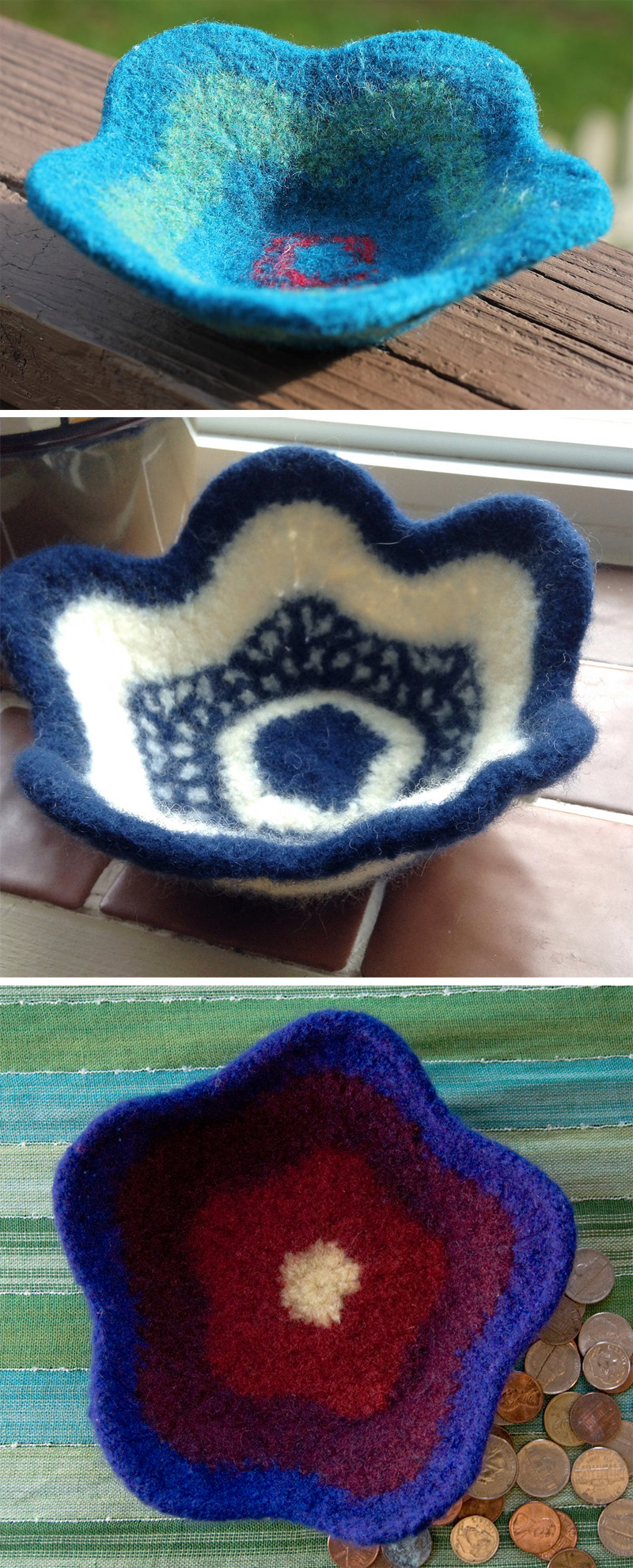 Felted Flower Bowl
Easy and fun project faccording to Ravelrers. Great first felting project and perfect for stash busting or self-striping wool yarn. You are only limited by your imagination. Designed by Meg Kealey (Myers). Pictured projects from top by sarahsthreads, daydreams, and the designer.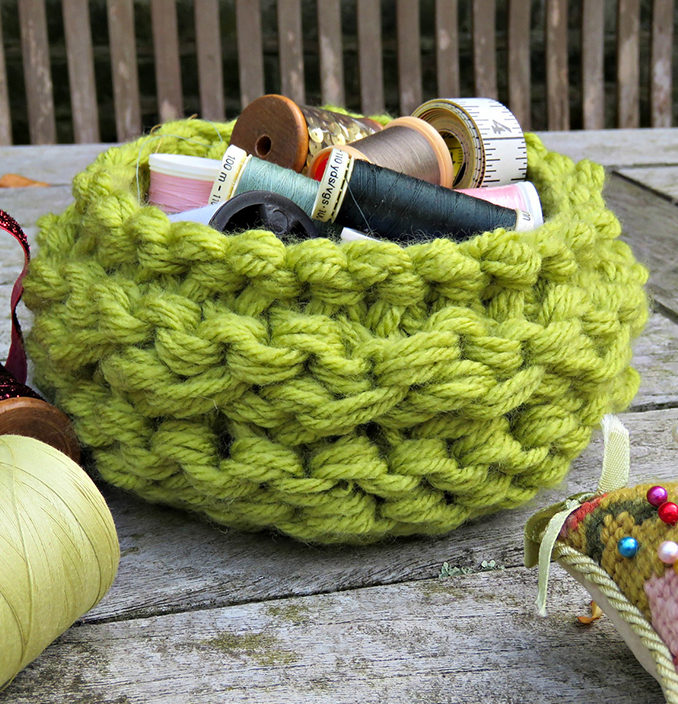 Chunky Basket
Knit with 4 strands of bulky yarn held together this is a fast stash-busting project. 18 cm/ 7″ diameter across the base. Designed by Bonny Bonafilla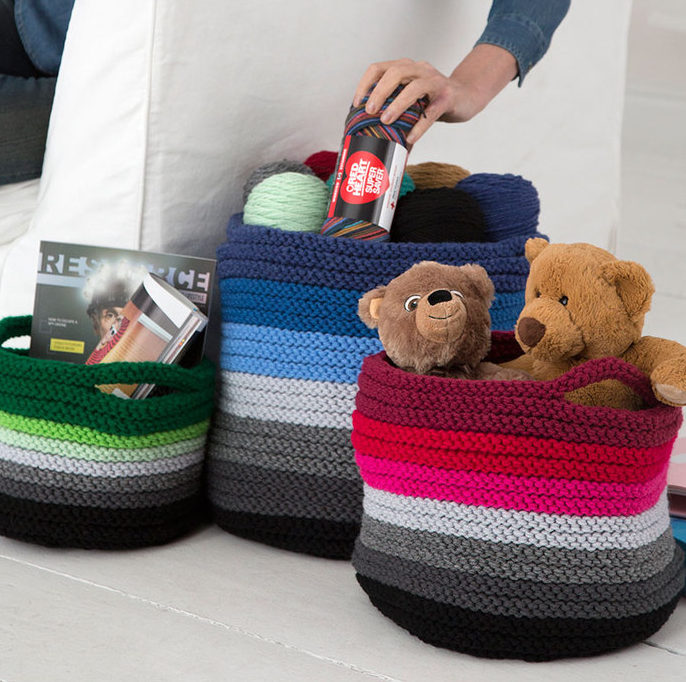 Ombre Baskets
Three sizes of striped baskets with optional handles. Large basket measures about 14" [35.5 cm] tall, Medium about 10½" [26.5 cm] tall, and Small about 7½" [19 cm] tall. Designed by Heather Lodinsky for Red Heart.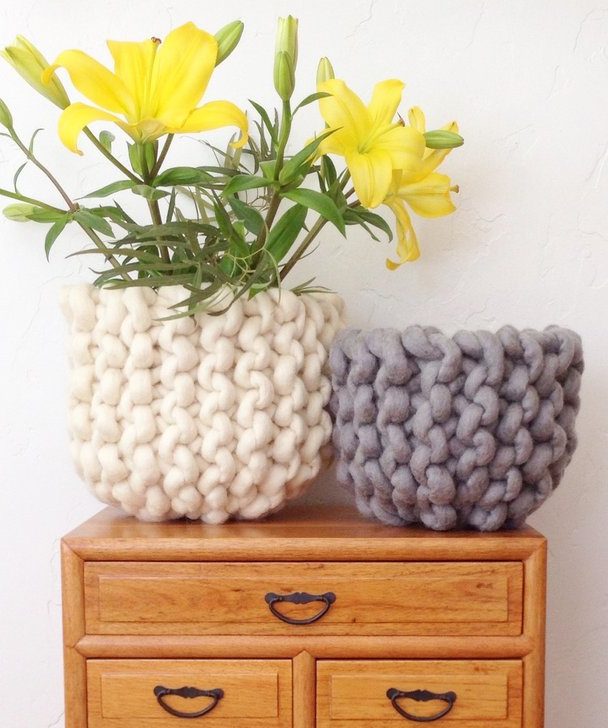 Ridge Basket
Simple garter stitch in jumbo yarn is seamed and cinched to create a modern basket that's a beautiful accent to a planter or vase with flowers. Designed by Love Fest Fibers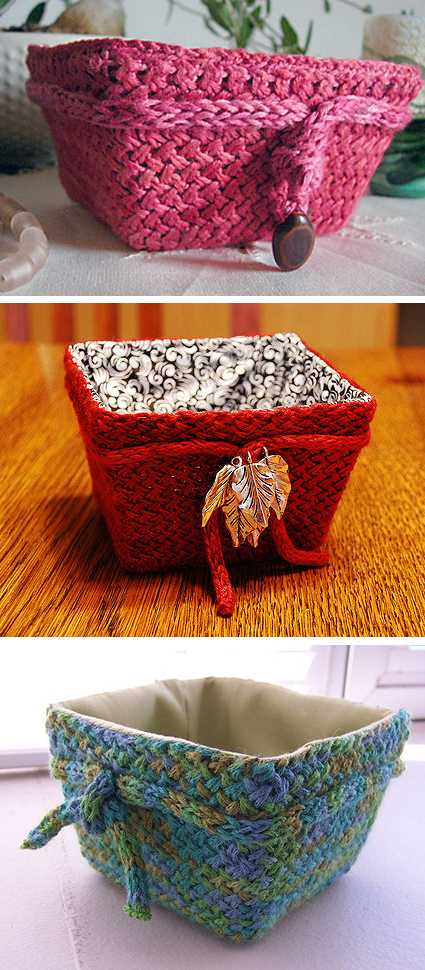 Basketweave Cable Basket
Lined Bamboozelle Basket knit with one of my favorite stitches, basketweave cable stitch worked flat and shaped by changing needle sizes. Width at top: 4 inches, Width at base: 3 inches, Height: 3 inches. Designed by Wendy Wonnacott. Pictured projects by the designer, essjay, and qdgirl. Takes about half a skein so it's a great stashbuster.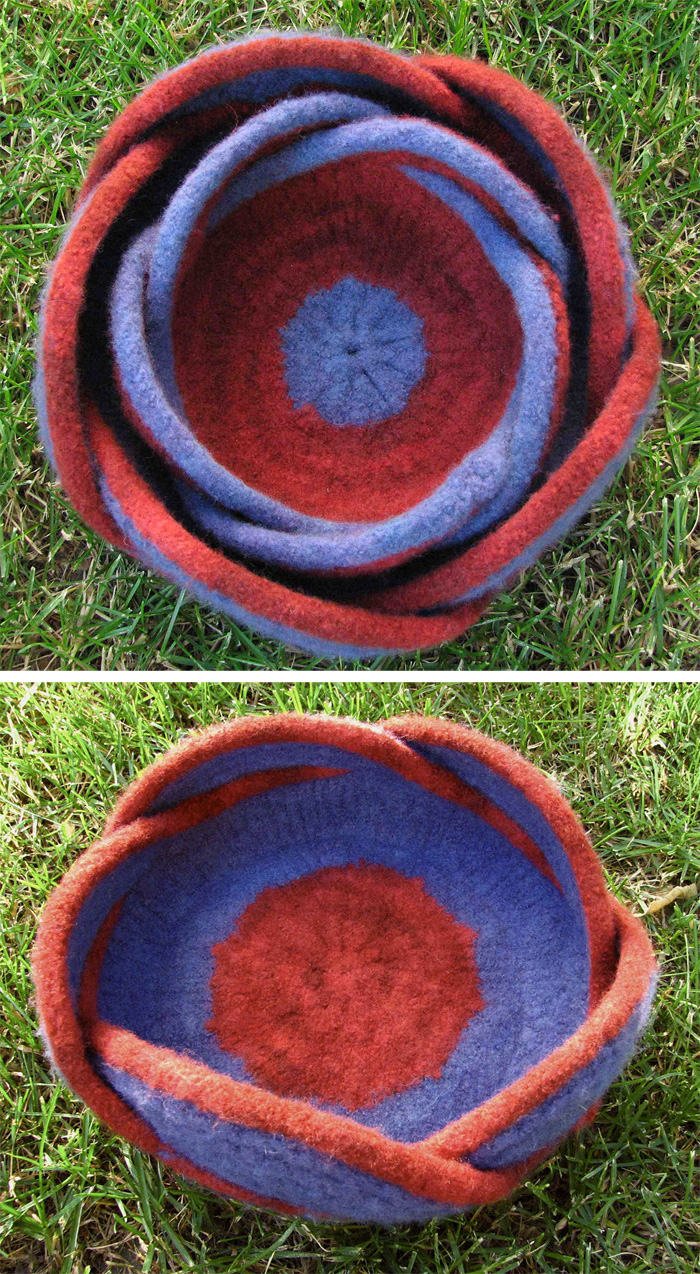 Duet Moebius Bowls
These felted moebius baskets feature five twists to get their petaled brim. Video tutorial included with the instructions. Designed by Liat Gat. Two sizes: Large: 8-9 inches across and Small: 6.5 inches across. Free for sign-up to the site's newsletter.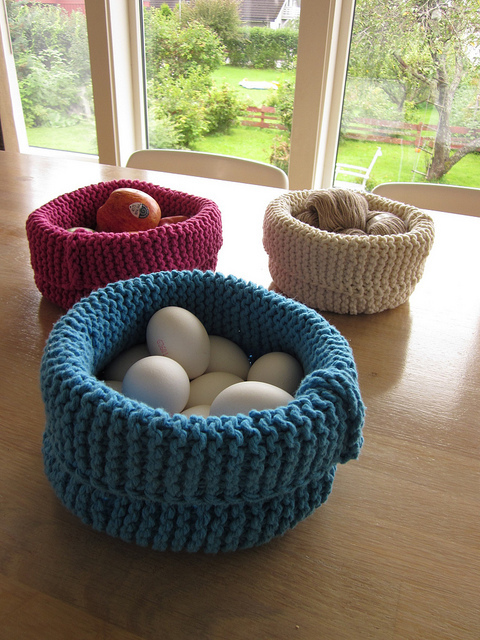 Breadbasket
Designed by DROPS these baskets make perfect gifts or house decor. Height: approx. 10 cm / 4" Diameter: approx. 20 cm / 8"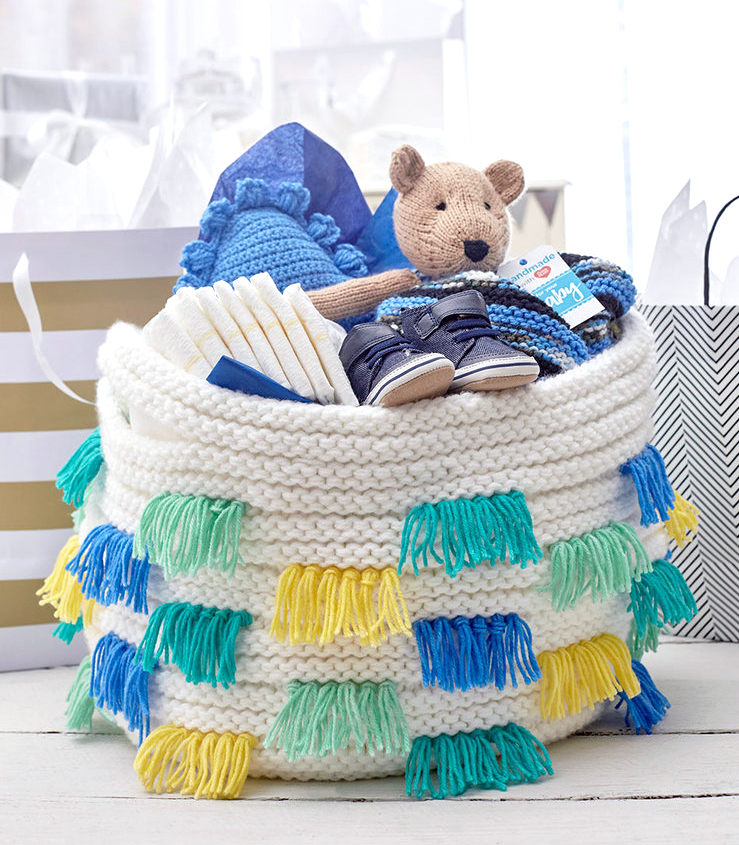 Easy Fringed Basket
Knit in the round with multiple strands held together to make it more sturdy. Great baby shower gift! Designed by Heather Lodinsky for Red Heart. Rated easy by the designer. Crochet version also available.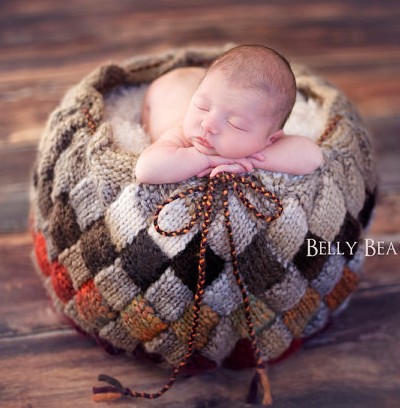 Entrelac Basket
Now free! Designed by Melody's Makings as a newborn photo prop, this colorful basket is also great for home decor. Knit in super bulky yarn, it's great for multi-color yarn. Comes with three tutorial videos as well as written instructions.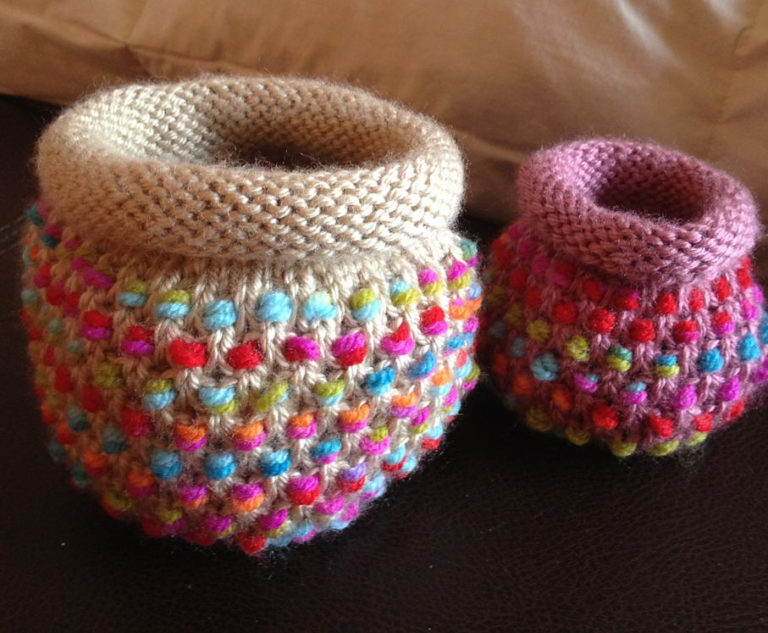 Dotty Pots
Colorful baskets that are small enough to hold in your hand but sturdy enough to stand on their own without felting (though you can felt if you want). Designed by the amazing Frankie Brown. Great stash buster! Also great yarn cake / ball holders. Pictured project by OMgirls.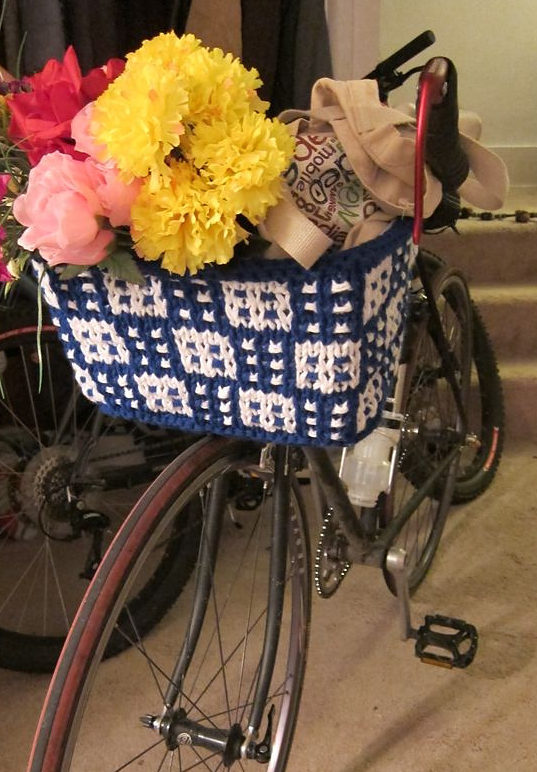 Bike Basket
The mosiac colorwork of this basket is easy to knit because you only use one color at a time and makes the basket sturdier. Line with plastic to help hold the shape. Designed by Margie Dougherty. Pictured project by elcarnes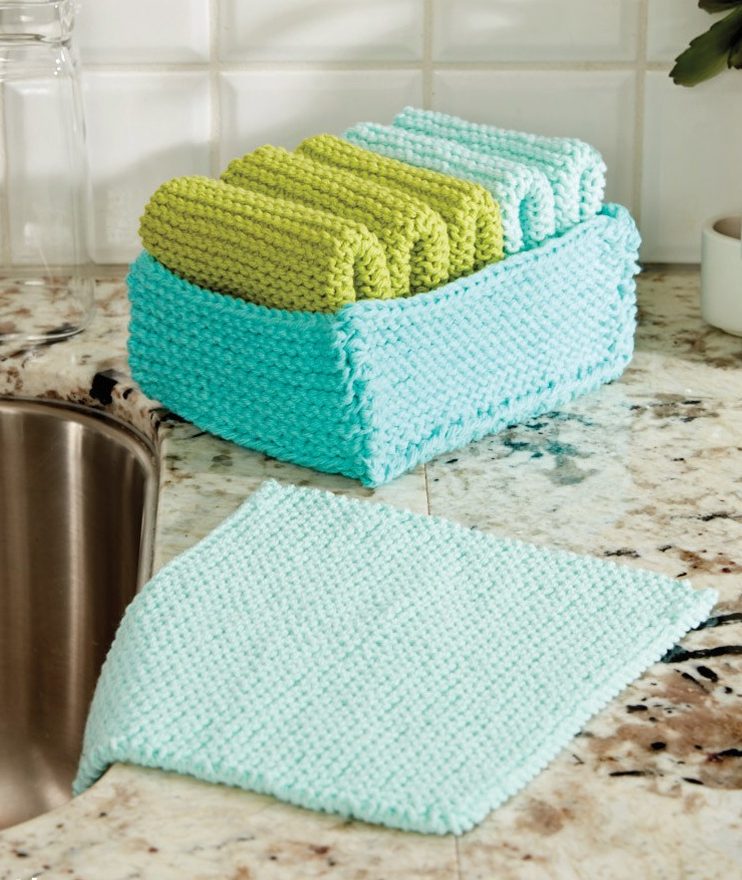 Tidy Up Basket and Dishcloths
Easy pattern suitable for beginners from Yarnspirations. Dishcloth: Approx 8″ [20.5 cm] square. Basket: Approx 5 x 7 x 3″ [12.5 x 18. 7.5 cm].

Button Up Boxes
These reversible boxes button together at the corners and are stiffened with plastic canvas. 3 sizes. Designed by the amazing Frankie Brown. Great stash buster!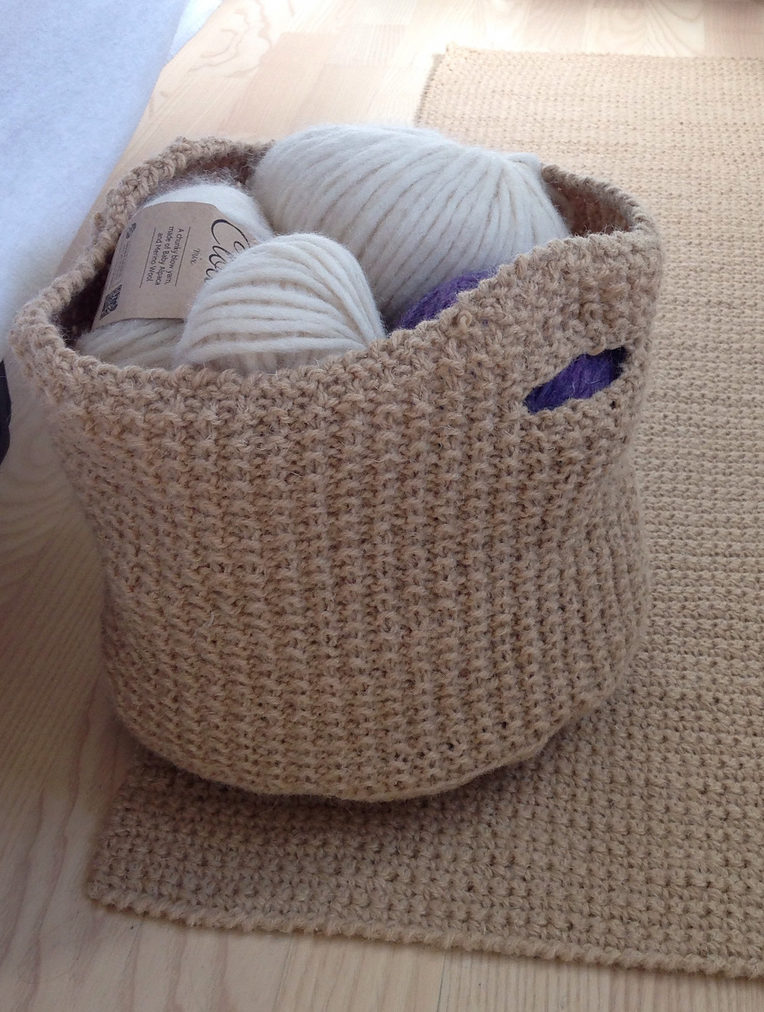 Matching Basket and Rug
Self-handled basket with rug by Tina Design. Size depends on yarn and needles. Pictured basket is about 25 cm high and 28 cm in diameter knit on US size 6. Though the pattern is in English, I think the designer's native language may be Danish.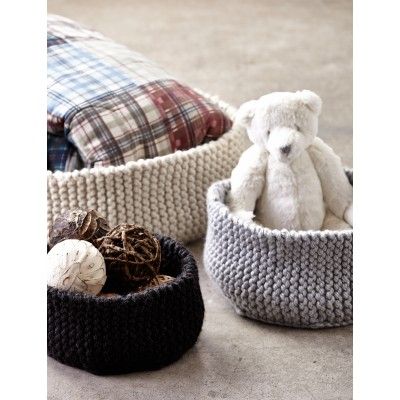 Garter Ridged Basket
Designed by Yarnspirations. Small: Approx 7″ [18 cm] diameter x 6″ [15 cm] tall. Medium: Approx 10″ [25.5 cm] diameter x 7" [18 cm] tall. Large: Approx 14″ [35.5 cm] diameter x 8″ [20.5 cm] tall.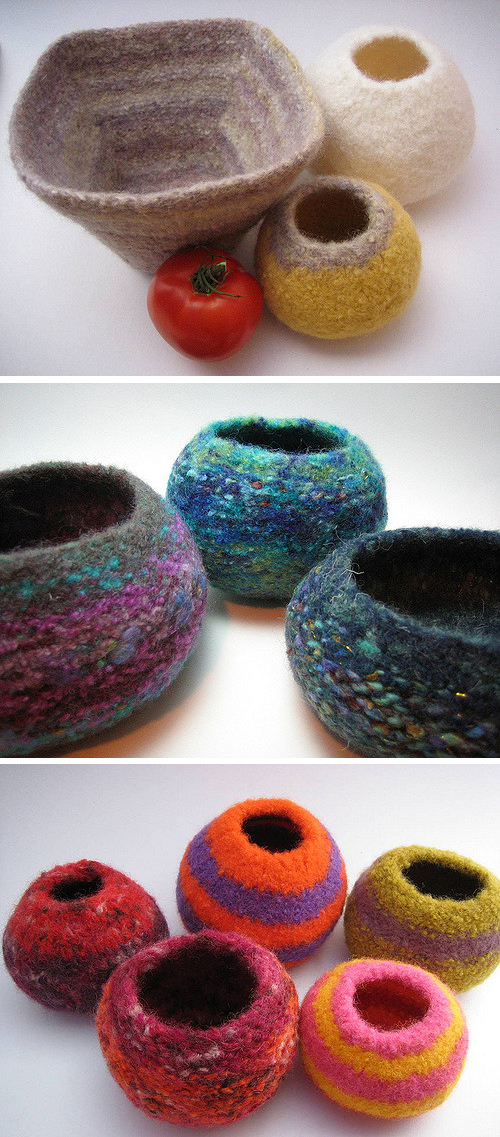 Felted Pods
Designed by Olivia Sherwood, these small containers are nnit top-down in the round, starting with a smallish opening, and increasing regularly at four points.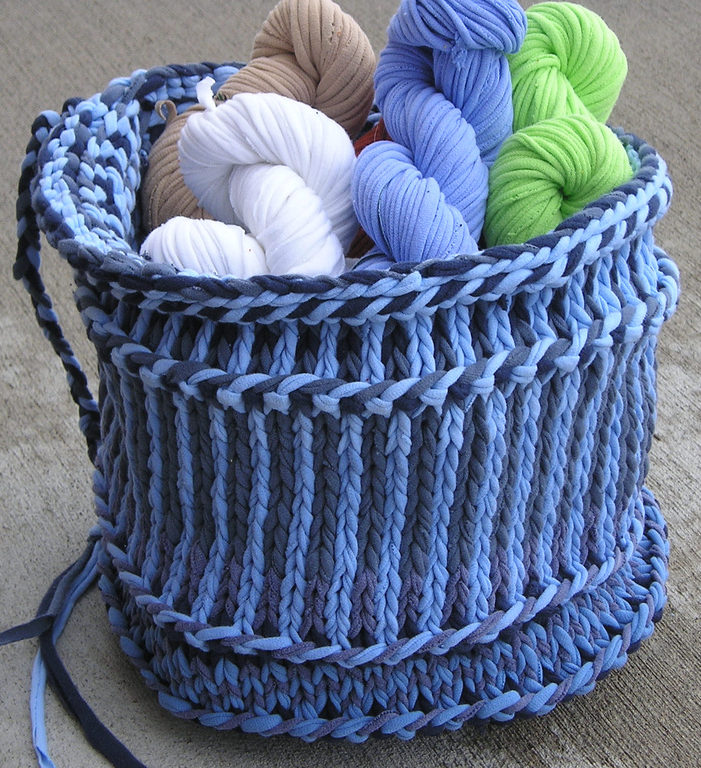 Twined Basket
This basket is knit with t-shirt yarn in twined technique that creates a sturdy fabric. Designed by Melissa Somerville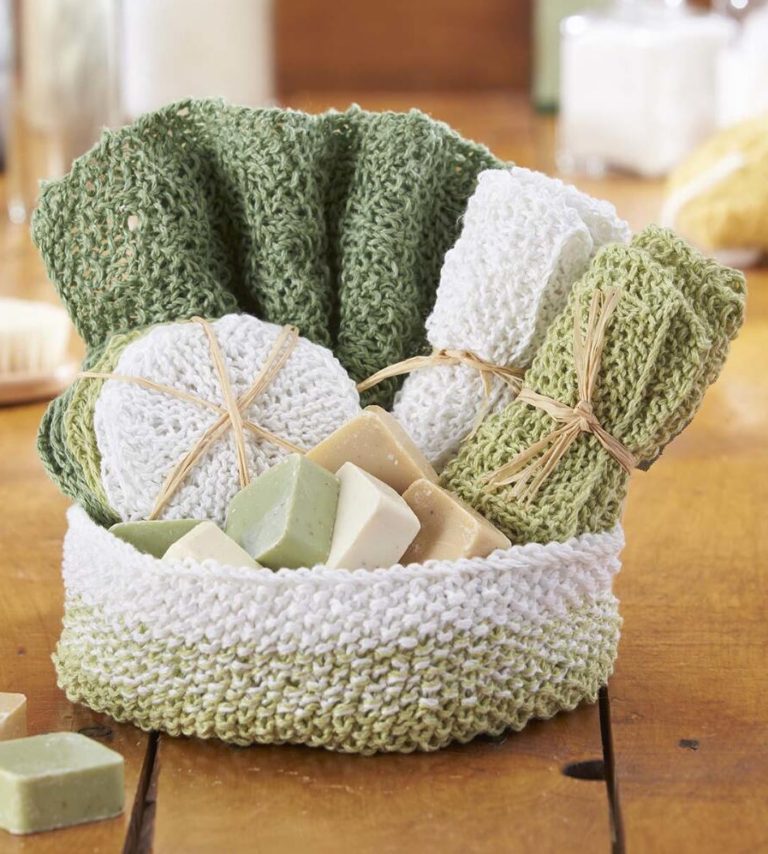 Aubrey Spa Set
Pampering spa set includes patterns for face pads, washcloths, and a matching basket. Fill it with handmade soaps and you have the perfect gift!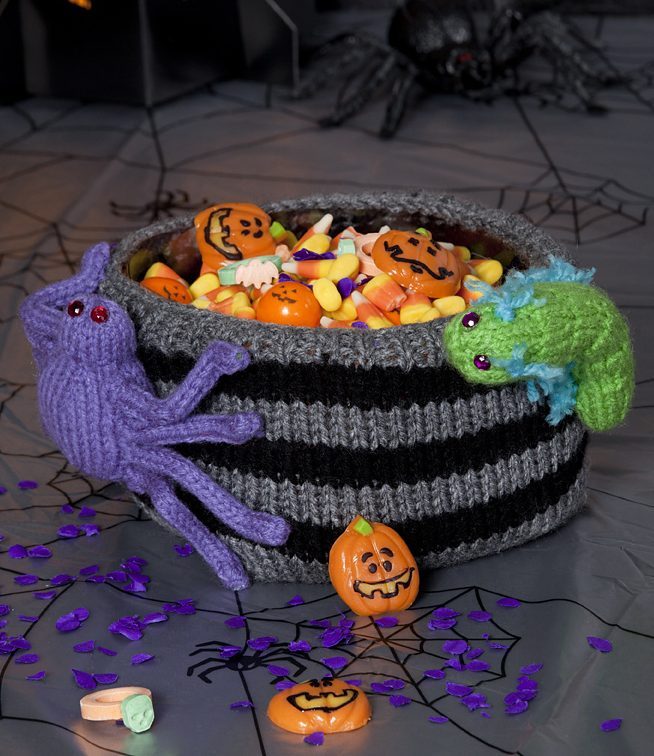 Bug Infested Bowl
Nancy Anderson designed this fun decorative treat bowl for Red Heart. easy by Red Heart and Ravelry knitters. Not just for Halloween! Bowl Finished Size: 5½"(14 cm) wide x 4″ (10 cm) tall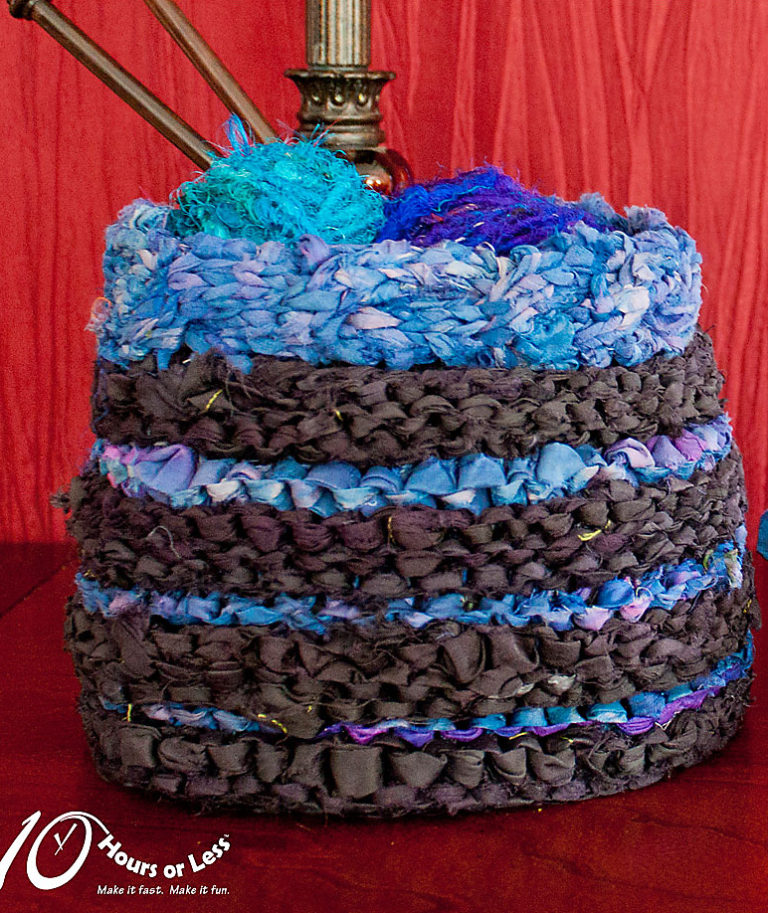 Sari Ribbon Basket or Bag
10 hours or less designed this Dusk to Dawn striped tote with a cable rim for recycled sari ribbon yarn.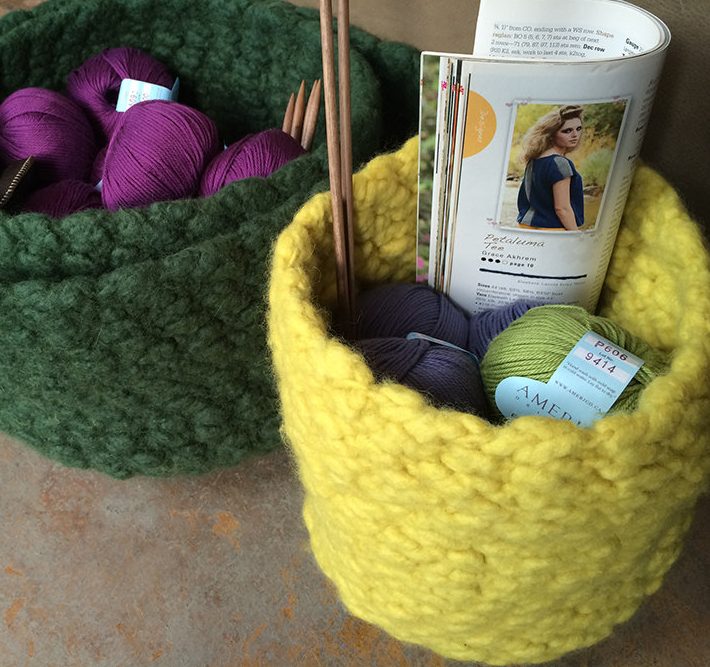 Ellenesque Felted Bowl
Easy pattern featured by Americo Originail in Canadian Living for storage baskets in any size.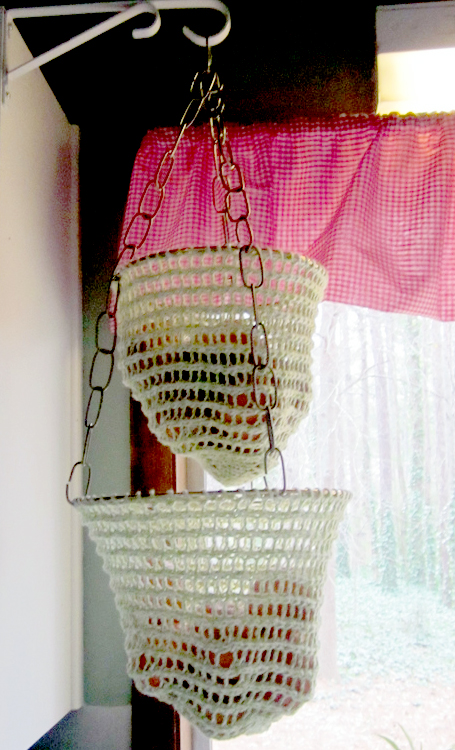 Cestino
This hanging basket was originally designed to hold produce, but can be used for other items and holds about 5 pounds per basket. Options for two different sizes and two different depths included. Designed by Jenn Skinner
Patterns for Purchase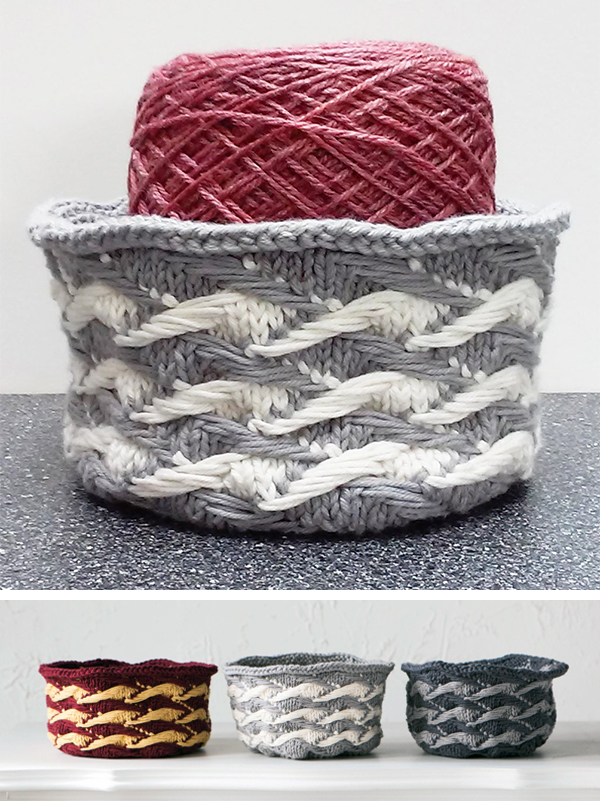 Jacquard Basket
The two-color jacquard design of this all-cotton basket is full of color and texture, but the sophisticated appearance of the design is very easy to work. Worsted weight yarn. Designed by DesignerKnitsStudio who also has other patterns using this jacquard stitch.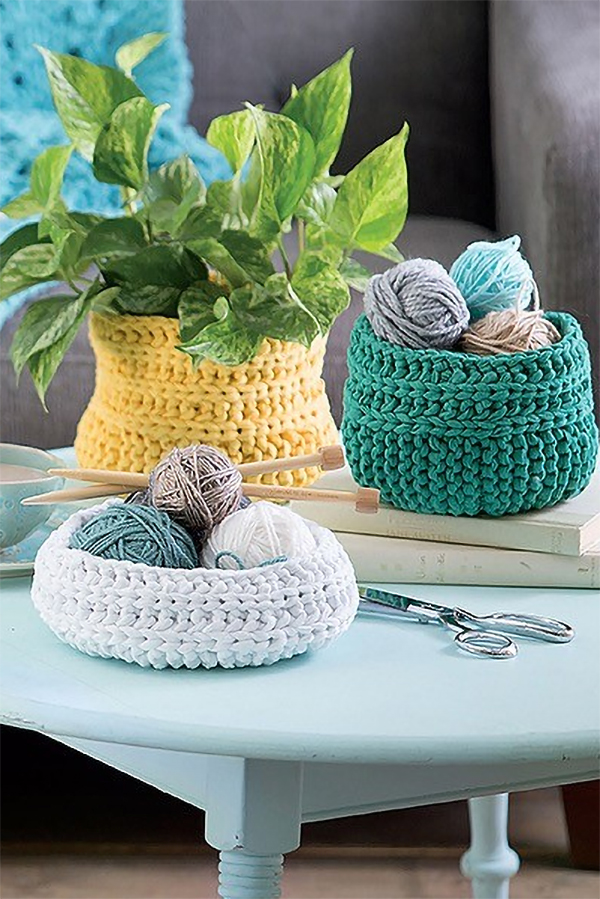 Basket Set
3 basket patterns in sizes 3 1/8' h x 7 5/8' dia., 4 1/2' h x 6' dia., and 5 1/4' h x 6 3/4' dia. Designed by Lisa Gentry. One of the patterns in Chunky Home Decor - 11 Bulky Yarn Projects from Leisure Arts.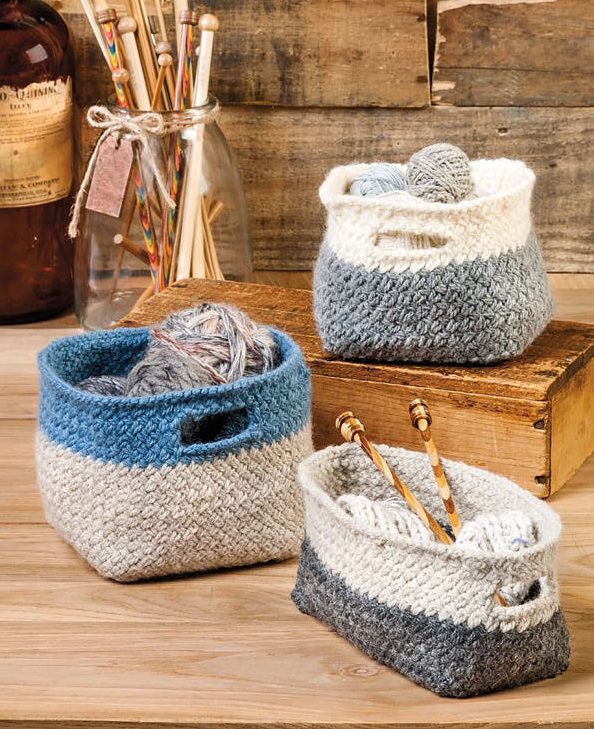 Modern Cubist Baskets
Easy basket trio is a quick knit in bulky yarn. Finished measurements: Small basket: 5″ W x 5″ L x 5″ D, Large basket: 6″ W x 6″ L x 6″ D, Rectangle basket: 4″ W x 8″ L x 4″ D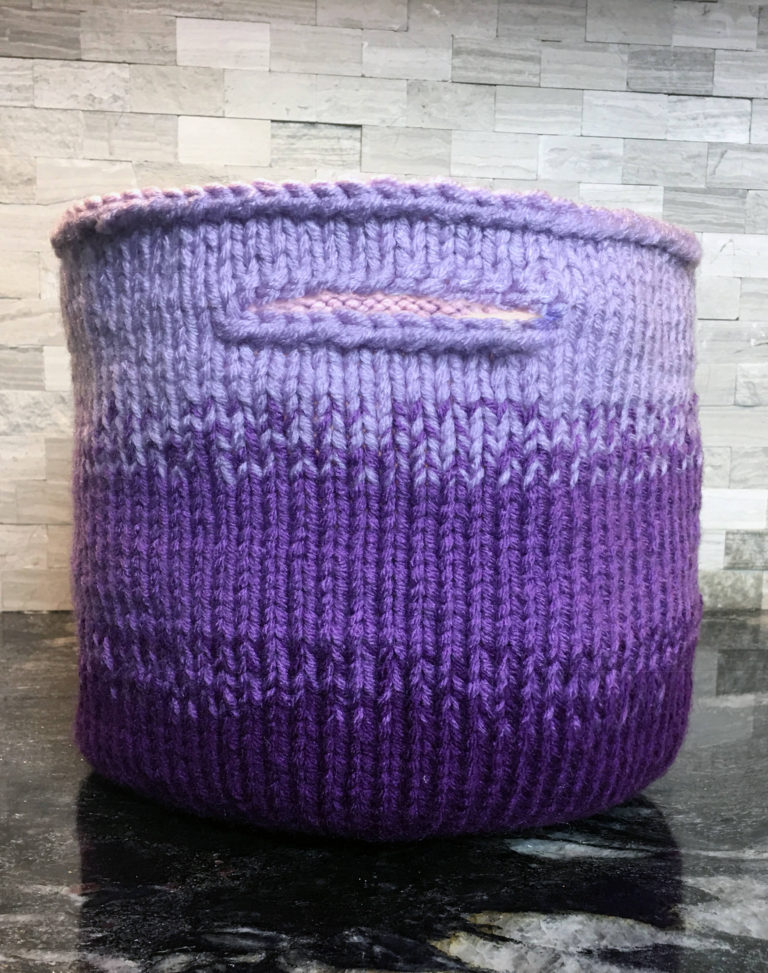 3-Color Ombre Utility Basket
This round storage basket features an ombre gradient effect in three colors of your choice and knitted in handles. 26″ circumference x 8″ high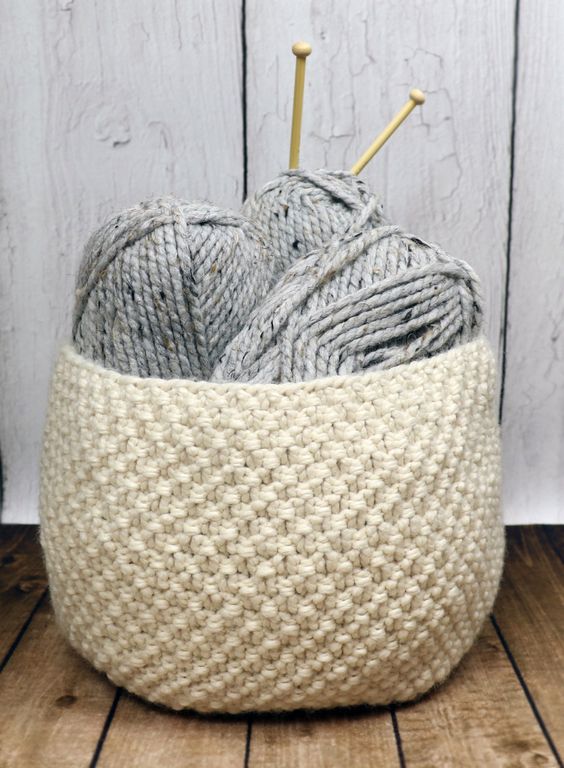 Oodles Basket
Easy pattern and quick project in super bulky yarn. 28″ around x 9″ high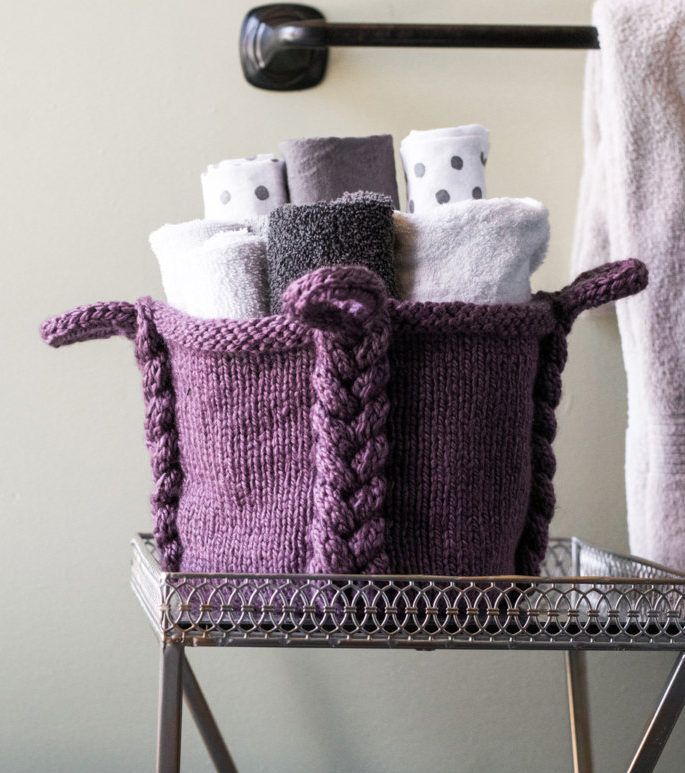 Entangle Basket
The braided detail and handles are knit as the basket is made. Quick knit in super bulky yarn. 8″ high x 26″ around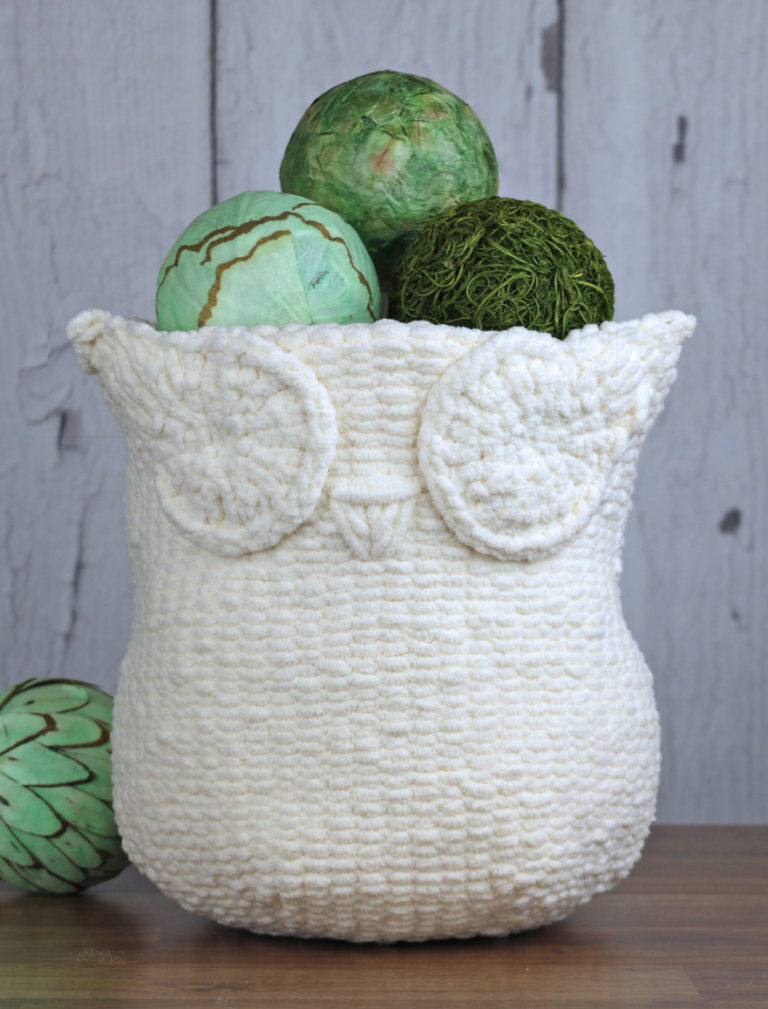 Owl Basket
Size 26 inches around by 9 inches high. Easy knit in super bulky yarn.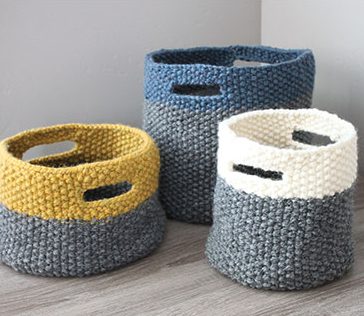 Triplet Baskets
3 sizes of oval baskets with handles. Finished measurements: Circumference: 23 (29, 34)" Height: 9 1/2 (7, 12)"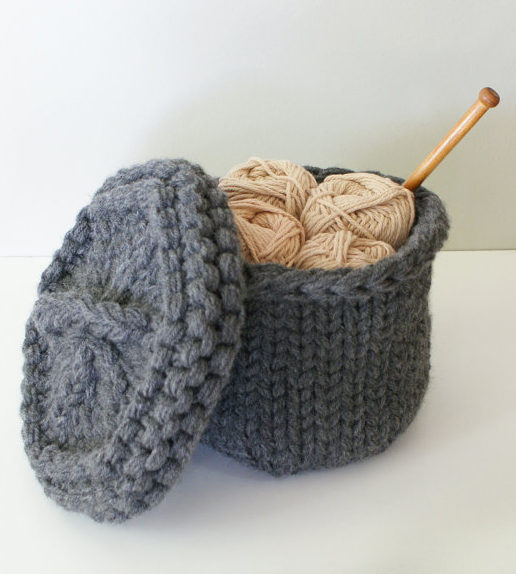 Basket With Lid
Two sizes: The small basket is approximately 5″ diameter and 4″ tall and the large basket is approximately 7″ diameter and 5″ tall.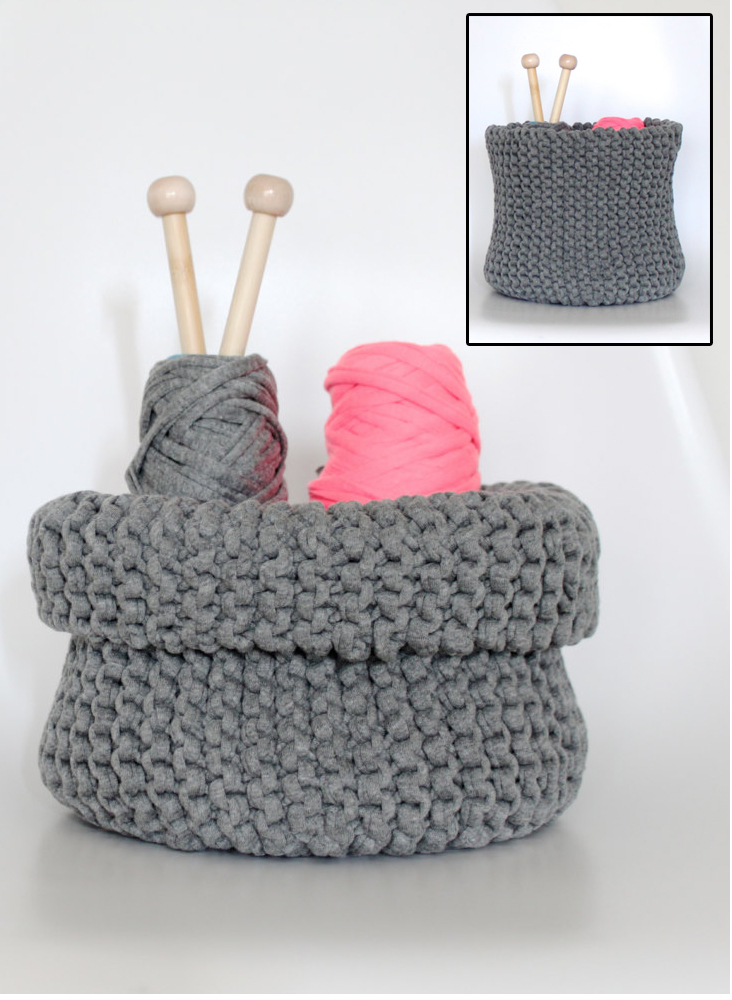 Jersey Storage Basket
This basket is seamless construction and created using short rows in garter stitch. Height x circumference: 18cm x 18cm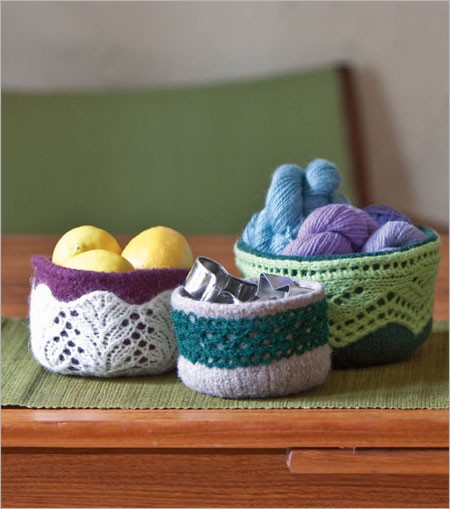 Soft Porcelain Bowls
Make small felted ornamental bowls with fun lace edgings. Sizes 14 (17, 21)" circumference and 3″ (3, 4 )" high after felting.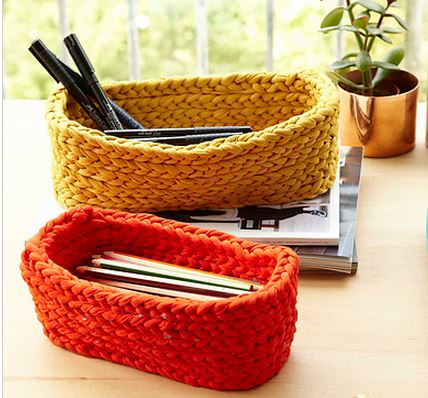 Finger Knit Handy Storage Tubs
Finger knit baskets designed by Laura Strutt for Arm & Finger Knitting 35 No Needles Knits For The Home & To Wear.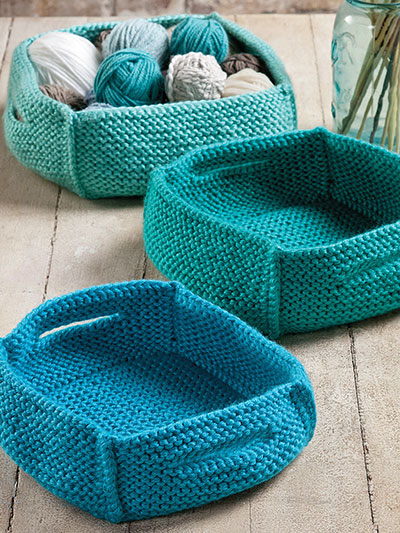 Wheatland Baskets
Quick knit baskets in 3 sizes. Finished measurements:
Small: 6″W x 6″L x 3″D
Medium: 7″W x 7″L x 3 1/2″D
Large: 8″W x 8″L x 4″D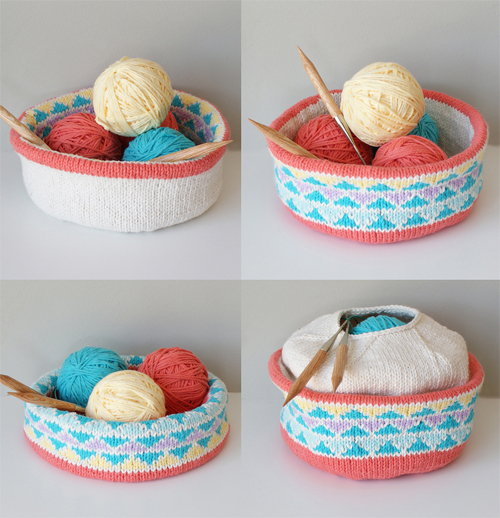 4-Way Bowl
This colorful Triangle Color-Blocked Bowl is multi-functional. It can be folded and refolded to create a reversible bowl, basket or tray. You can unfold it and refold it based on your needs and at 8 inches in diameter it is the perfect size to be used to hold knitting projects, fruit, bread, or even as a super useful catchall.