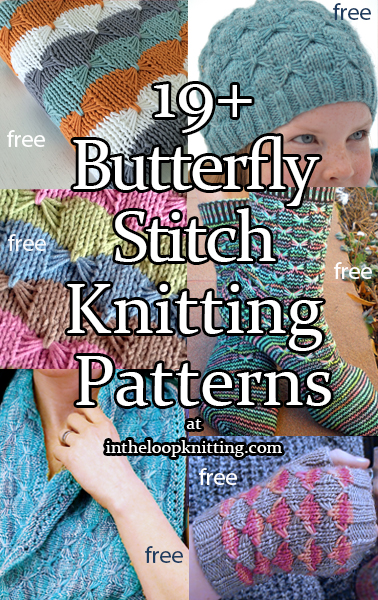 --> .
Knitting patterns using the butterfly stitch, also called the bow or bowtie stitch. This is one of my favorite stitches. It's fun to knit - just slip stitches on 3 or more rows, and then pick up the slipped stitch in another row. It's easy but the effect is charming.
To get the knitting patterns, scroll down the page to the individual pattern you want and click on the link to that pattern.
These patterns are not my designs but links to other designers who have generously shared their patterns. If you have questions about how to knit a specific pattern, please contact the designer directly.
All links on this site are for informational purposes, but please note that some links are to affiliate sellers that pay me a small commission on purchases.
Free Patterns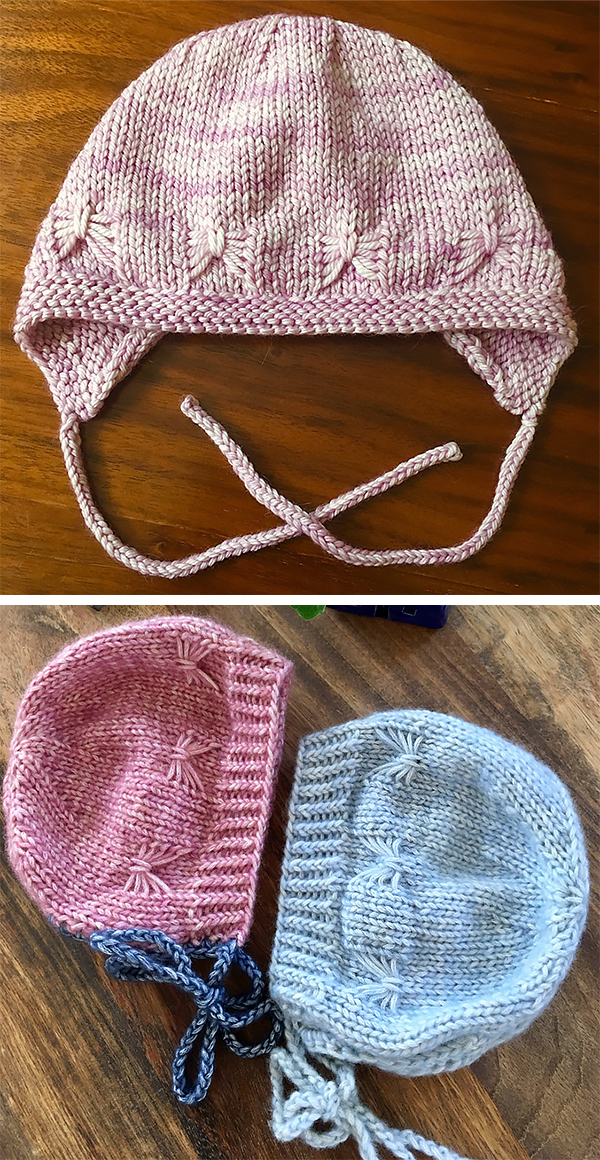 Cute as a Bug Baby Bonnet
This bonnet with butterfly stitch border comes in two versions, one with ribbed edge and stockinette crown and one with garter edge and garter crown. There are also two versions of the butterfly pattern; 'big and small butterflies' and 'just big butterflies'. 0-3 months. Designed by Cecilie Clark. DK weight yarn. Pictured projects by aswimmy and le-petite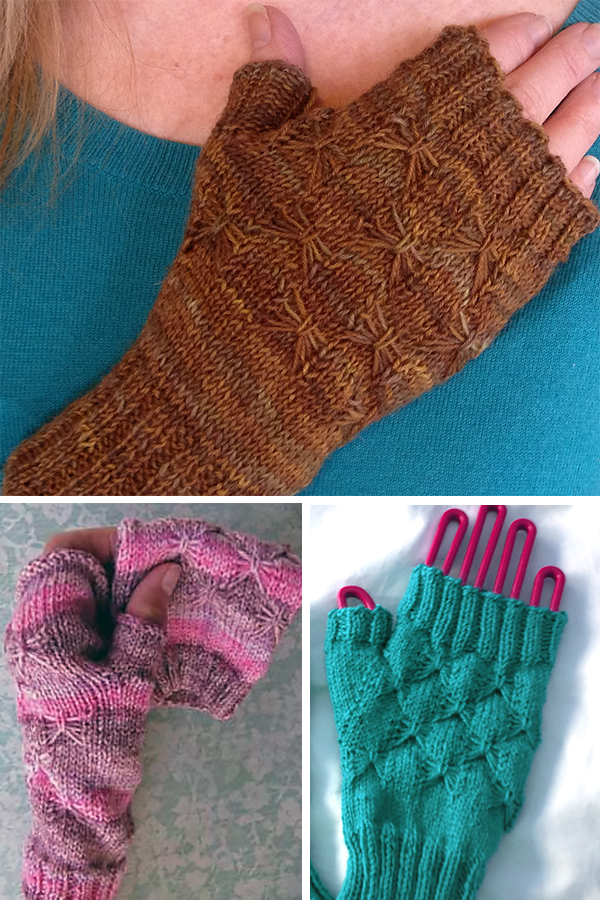 Uproar of the Butterflies Mitts
Fingerless mitts with butterfly stitch. Designed by Maria Sanderleaf. Fingering weight yarn. Pictured projects by the designer, KnitTwix, and lostgargoyle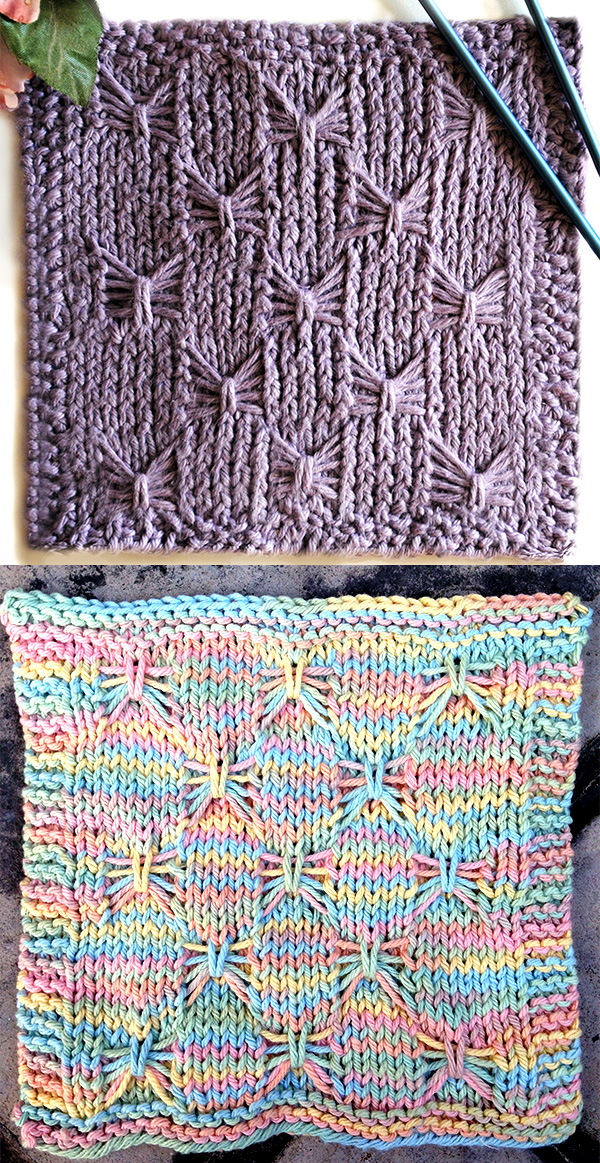 Butterfly Wash Cloth
Square for dish or wash cloth or afghan square with the butterfly stitch. Designed by Joan Barnett. Great with multi-color or solid yarn. Worsted weight yarn. Pictured projects by MamaMellie and knittenpearl.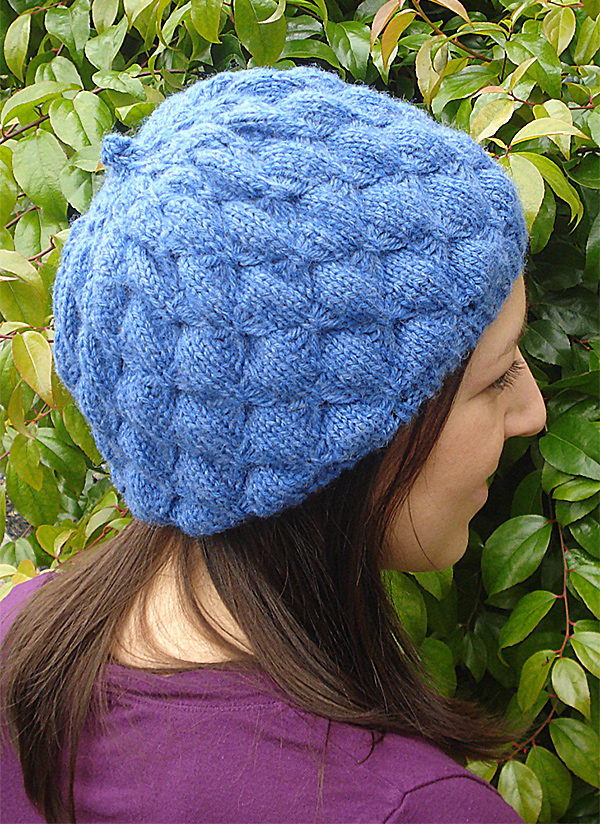 Butterfly Beret
Hat knit with a butterfly stitch crown. Medium/Large brim and Small brim. Designed by Rachel Iufer. DK weight yarn. Pictured project by E-Dogg.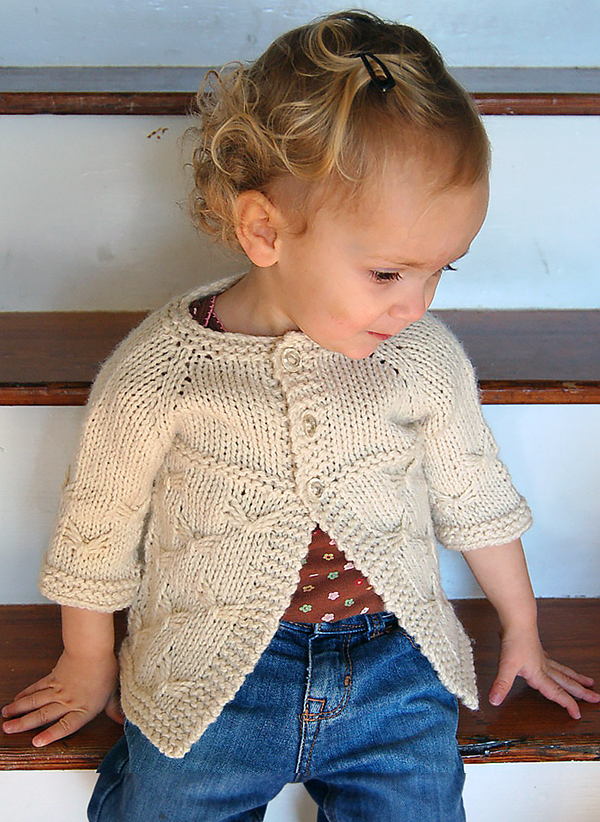 Butterfly Baby Cardigan
Seamless top down cardigan with butterfly stitches on the sleeves and lower front and back. Designed by Pyropagan Knits. Worsted weight yarn. Pictured project by mkmclearen who used bulky yarn to increase the size.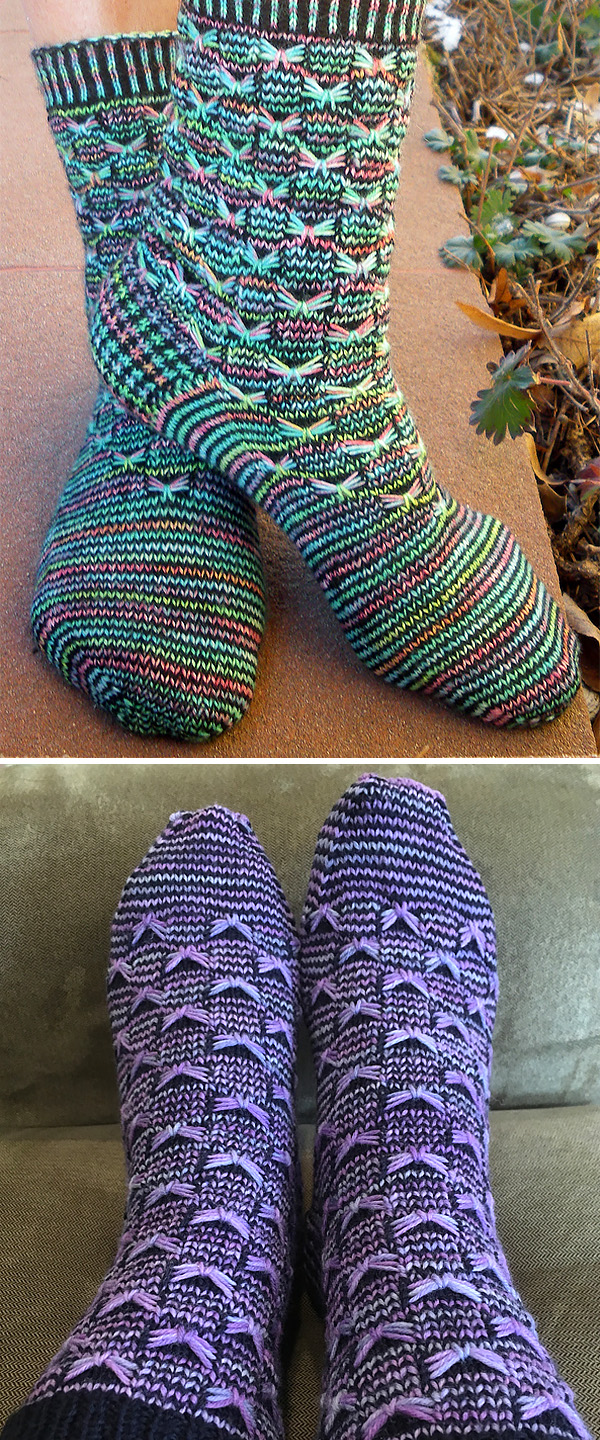 Fly My Butterfly Socks
These top-down socks feature the butterfly stitch on a slip stitch 2 color with only one color used per round. Perfect for using one variegated yarn with a contrasting solid yarn. Designed by imawale imawale. Fingering weight yarn. Pictured projects by the designer and bleusheep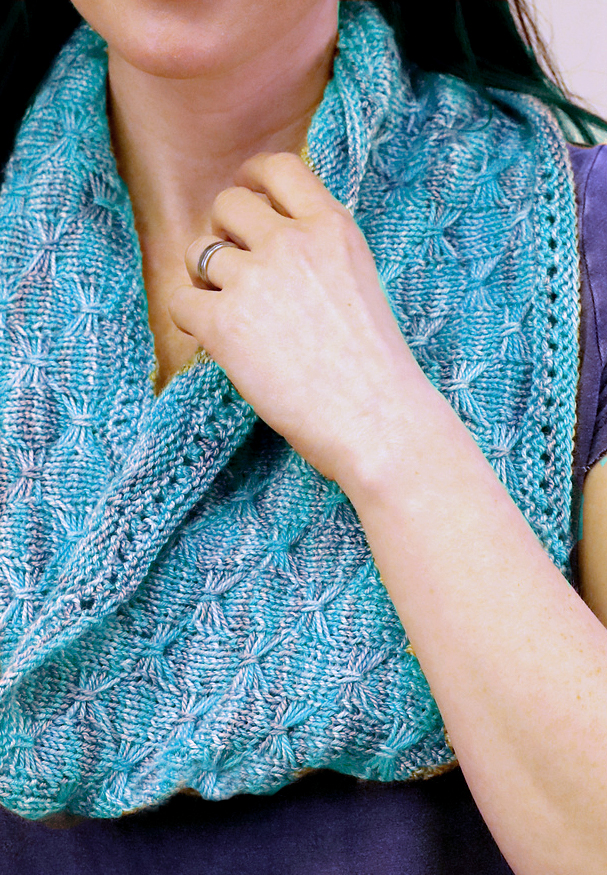 Butterfly Stitch Cowl
Approximate Finished Measurements: 9" width x 34" circumference after blocking. Designed by Vanessa Ewing for Plymouth Yarn. Sport weight yarn.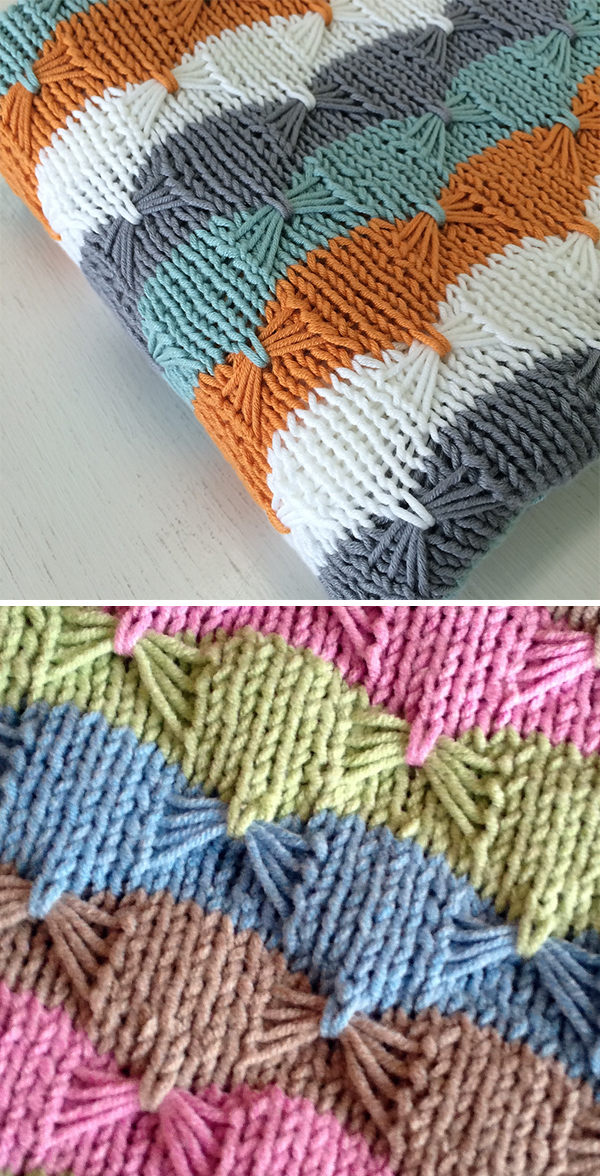 Treetops Baby Blanket
Striped baby blanket using the butterfly stitch. 31" x 35". Designed by Darlene Dale. Rated easy by most Ravelrers. Pictured projects by LYSgirl (who used one of my favorite yarns Berroco Modern Cotton) and Icyflames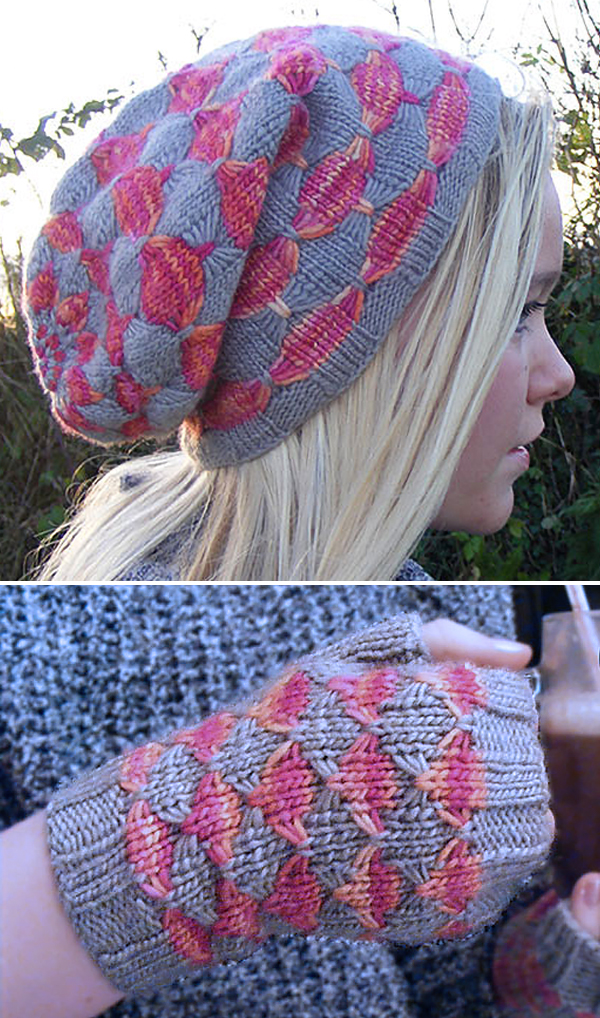 Maquereau Hat and Mitts
A two-color variation of the butterfly stitch creates a colorful pattern inspired by mackerel skies in this slouchy hat and matching fingerless mitts. 4 sizes. Designed by Thorn Maiden Designs. Great way to showcase beautiful variegated colorways against a contrasting solid. DK weight yarn.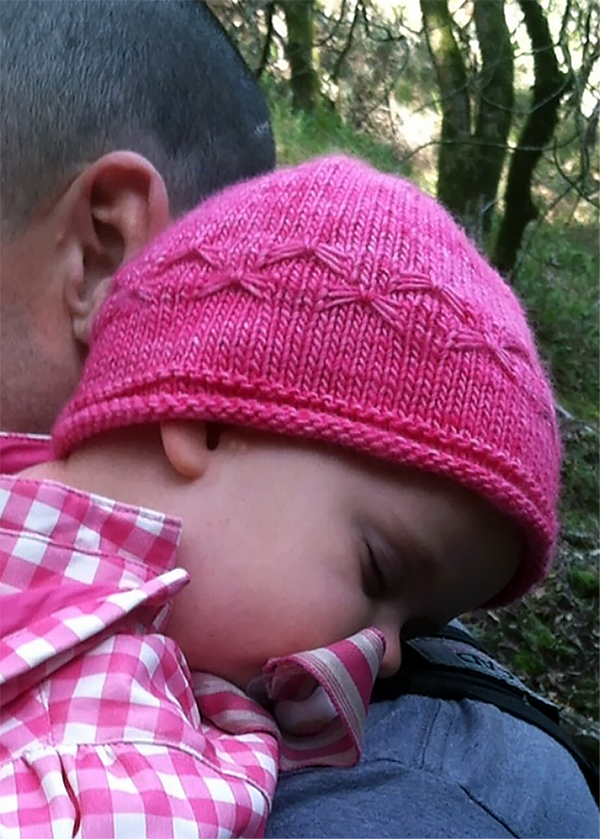 Easy Butterfly Baby Hat
A simple baby beanie featuring a band of butterfly stitches as an accent. 3 sizes, newborn/preemie, 3 – 9 months, 9 – 18 months. Rated easy by Ravelrers. Designed by Melisa Darnieder. DK weight yarn. Pictured project by DianeW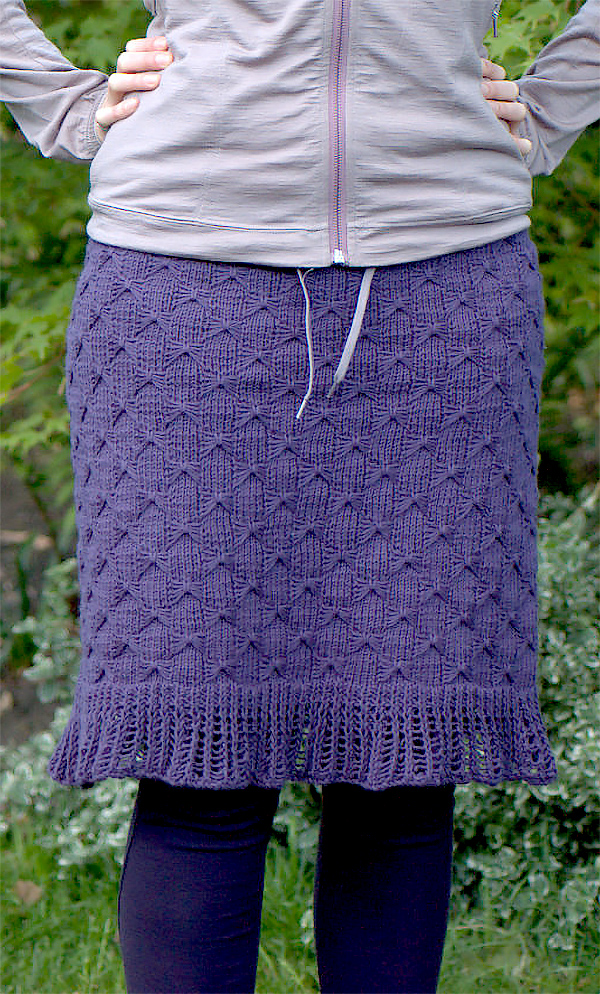 Touché Skirt
Straight skirt knit with the butterfly stitch and a ruffled lace hem. Waist is adjustable as it has elastic inserted during finishing. Skirt is straight so the length can be easily adjusted. Sizes X-Small, Small, Medium, Large, X-Large. Designed by Tina Marrin and excerpted from KnitKnit: Profiles + Projects from Knitting's New Wave. Worsted weight yarn. Pictured project by DrSocksPhD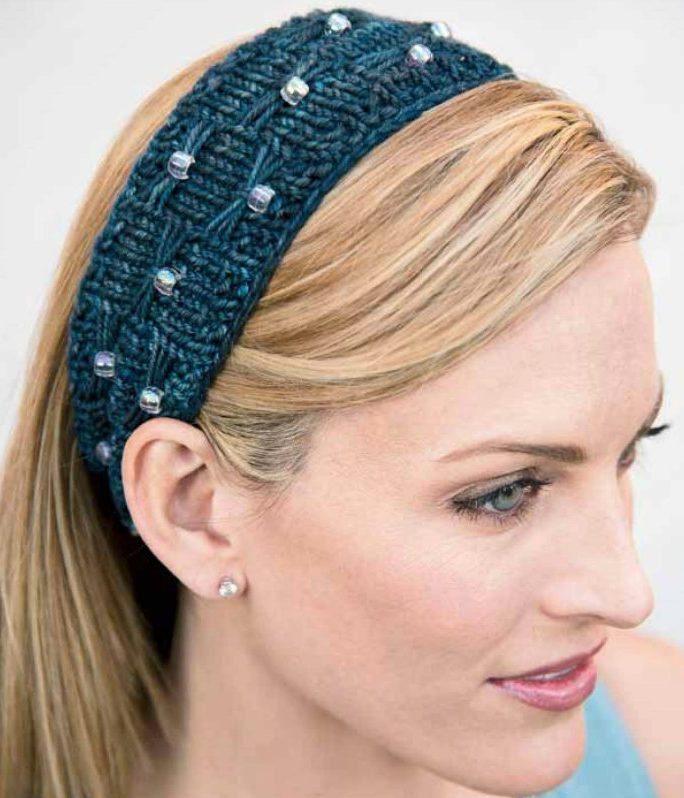 Beads and Bows Headband
This headband incorporates the bow or butterfly stitch with beads to create a stylish accessory. Designed by Christine Marie Chen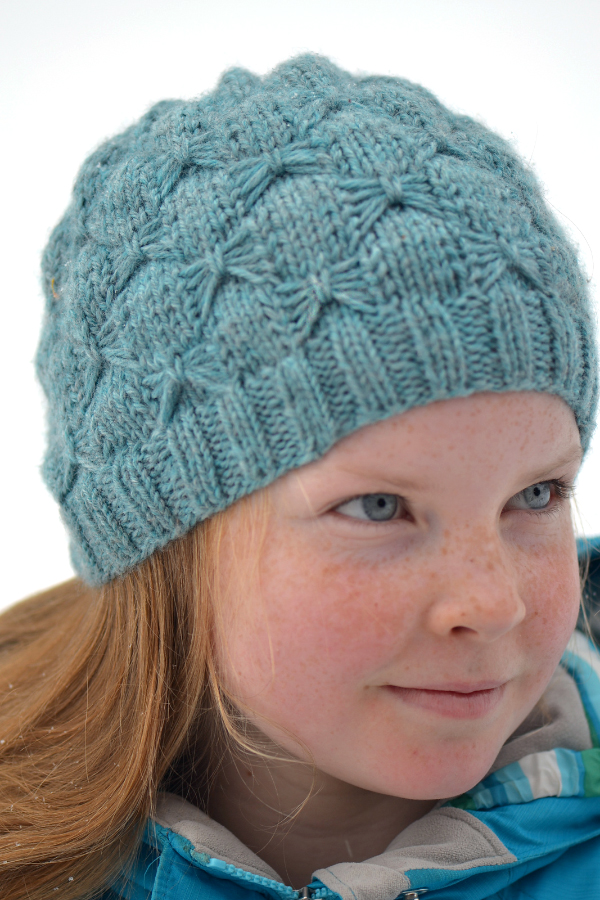 Butterfly Stitch Hat
Beanie with all over slipped stitch that is customizable for all sizes from baby to adult. Designed by Sofiya Cremin. Pictured project by alittlecraftynest
Patterns for Purchase

Nina Pullover
A simple long-sleeved sweater with a butterfly stitch pattern. Finished Size: Small (Medium, Large, XL, 2X, 3X); Bust 35 ½ (39, 43, 46 ½, 50 ½, 54)"/90 (99, 109, 118, 128.5, 137) cm. Aran weight yarn. Designed by Irina Poludnenko.

Butterfly Stitch Cowl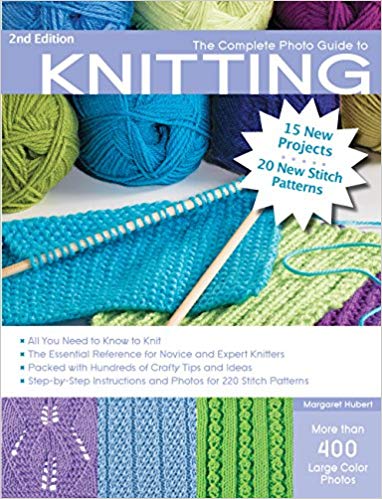 This buttoned neckwarmer is one of the patterns and 220 stitches in The Complete Photo Guide to Knitting 2nd Edition by Margaret Hubert. Sport weight yarn.

Knit Socks For Those You Love - 11 Original Knit Designs
These Butterfly Bow socks are one of Edie Eckman's 11 original knit designs for cozy hand-knitted socks. Leisure Arts has packed the 64-page Knit Socks for those you Love book with customizable designs, some of which can be adapted to fit men, women, kids, and even babies! Detailed how-to diagrams, stitching guides and yarn information are included to make a wide variety of socks from bright tweed socks to toeless yoga socks and everything in between. Designs range from easy to intermediate skill levels and yarn weights range from superfine to light weight.

Butterfly Stitch Cup Cozy
Quick coffee cup sleeve with slipped stitch pattern and ribbing to fit the cup. Designed by Kara L. Mayfield.

Baby Hat with Butterfly Stitch Trim
Sizes 6 months, 12-18 months. Fingering weight yarn. Designed by Yelena Chen.

Mermaid Skirt and Top
The Splash Mermaid Costume is a 2 piece pattern of a skirt with a long tail ending in fins and a cropped top. Both are knit in butterfly stitch to look like scales, only prettier. Sized for 5T but can easily be adapted. Designed by Tina Marrin. One of the patterns in New Knits on the Block. Worsted weight yarn. Pictured projects by charmingberry and missjenni

Sweet Butterfly Baby or Child Cardigan
This sweater features the butterfly stitch on the bodice and back and is worked seamlessly from the top-down with set-in sleeves. Two versions are available: Baby for sizes 6-12-18-24 months. Child for sizes 4-6-8-10-12 y. Designed by Christelle Nihoul.