Backpack Knitting Patterns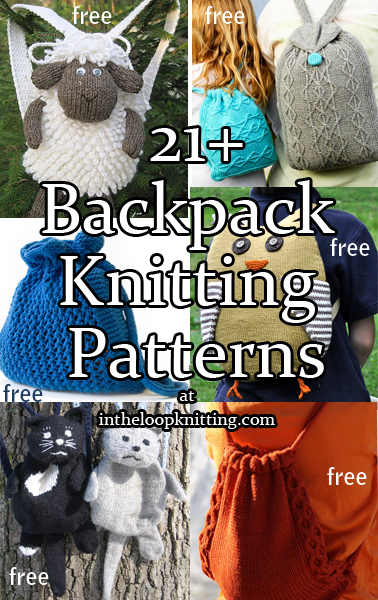 To get the knitting patterns, scroll down the page to the individual pattern you want and click on the link to that pattern.
These patterns are not my designs but links to other designers who have generously shared their patterns. If you have questions about how to knit a specific pattern, please contact the designer directly.
All links on this site are for informational purposes, but please note that some links are to affiliate sellers that pay me a small commission on purchases.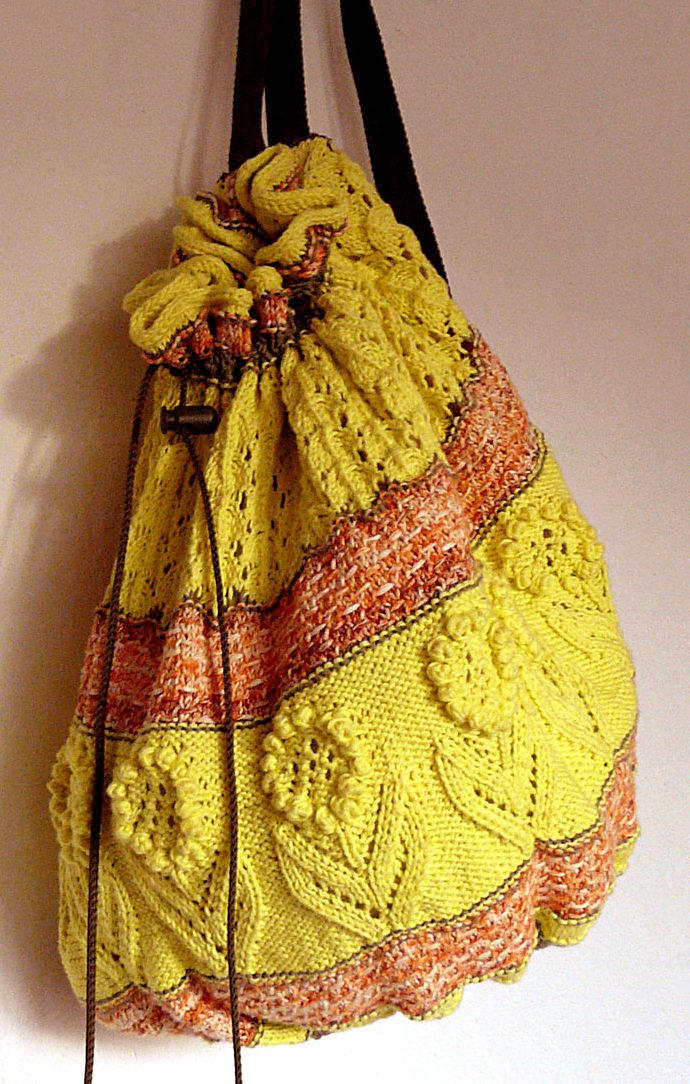 A Day in the Park Backpack
Drawstring backpack tote with bobble flowers and lace. Designed by Karen Fournier. Pictured project by Cardabelle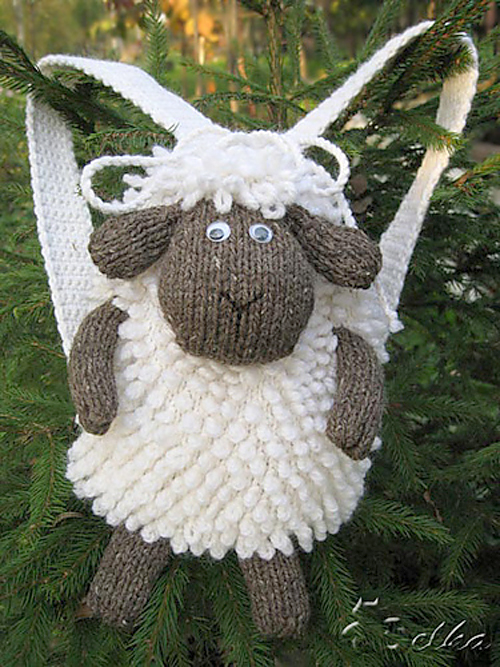 Sheep Backpack
Adorable drawstring backpack with sheep face flap and loopy stitch wool. 17 cm x 11 cm x 23 cm. Designed by Tatyana Fedorova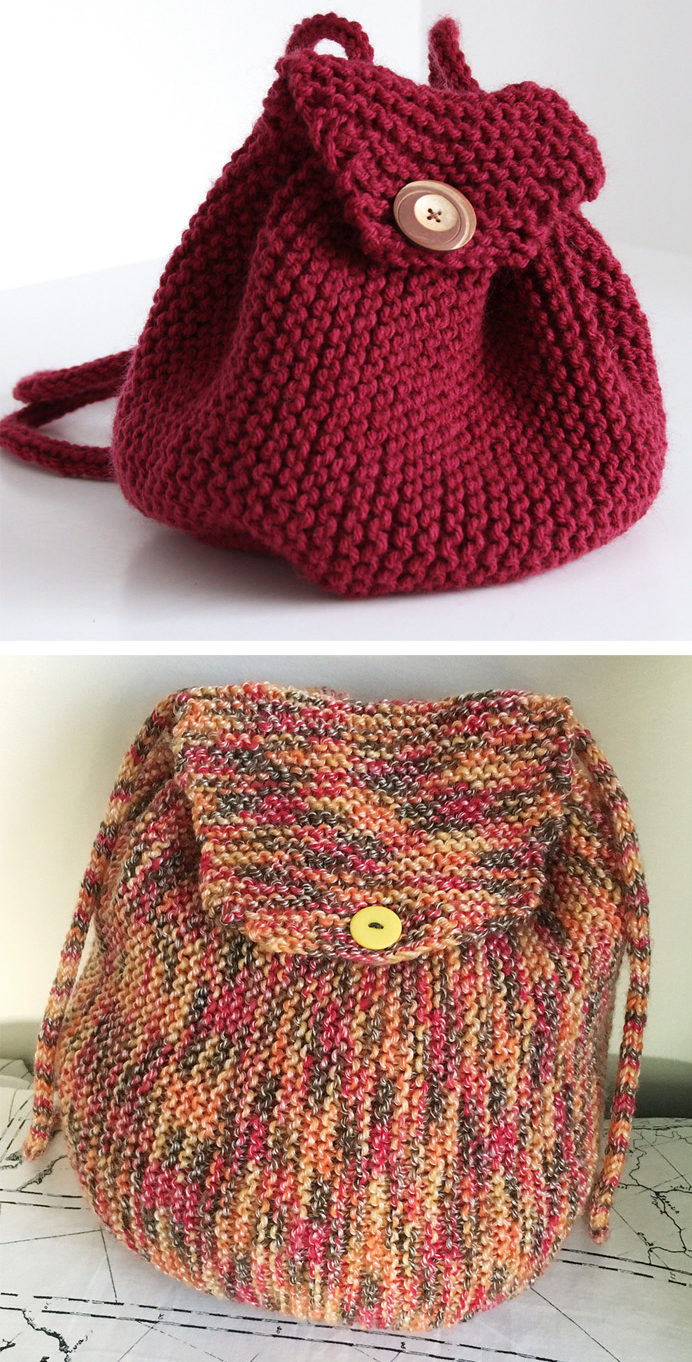 Easy Garter Stitch Backpack
Drawstring backpack with flap is rated easy by the designer and Ravelrers. 24 in. diameter x 11 in. tall (61 x 28 cm). Designed by Lion Brand Yarn. Pictured projects by snaphappee, Sara-dL, and phdaisy1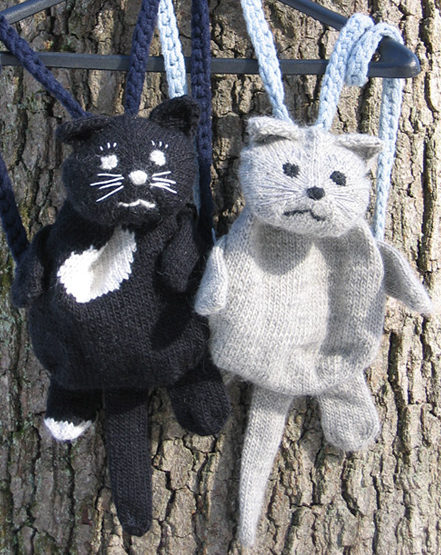 Kitty Backpack
Cat shaped tote. The bag is about 8in x 8in, with a top opening of about 12in in circumference when open. Designed by Dale Hwang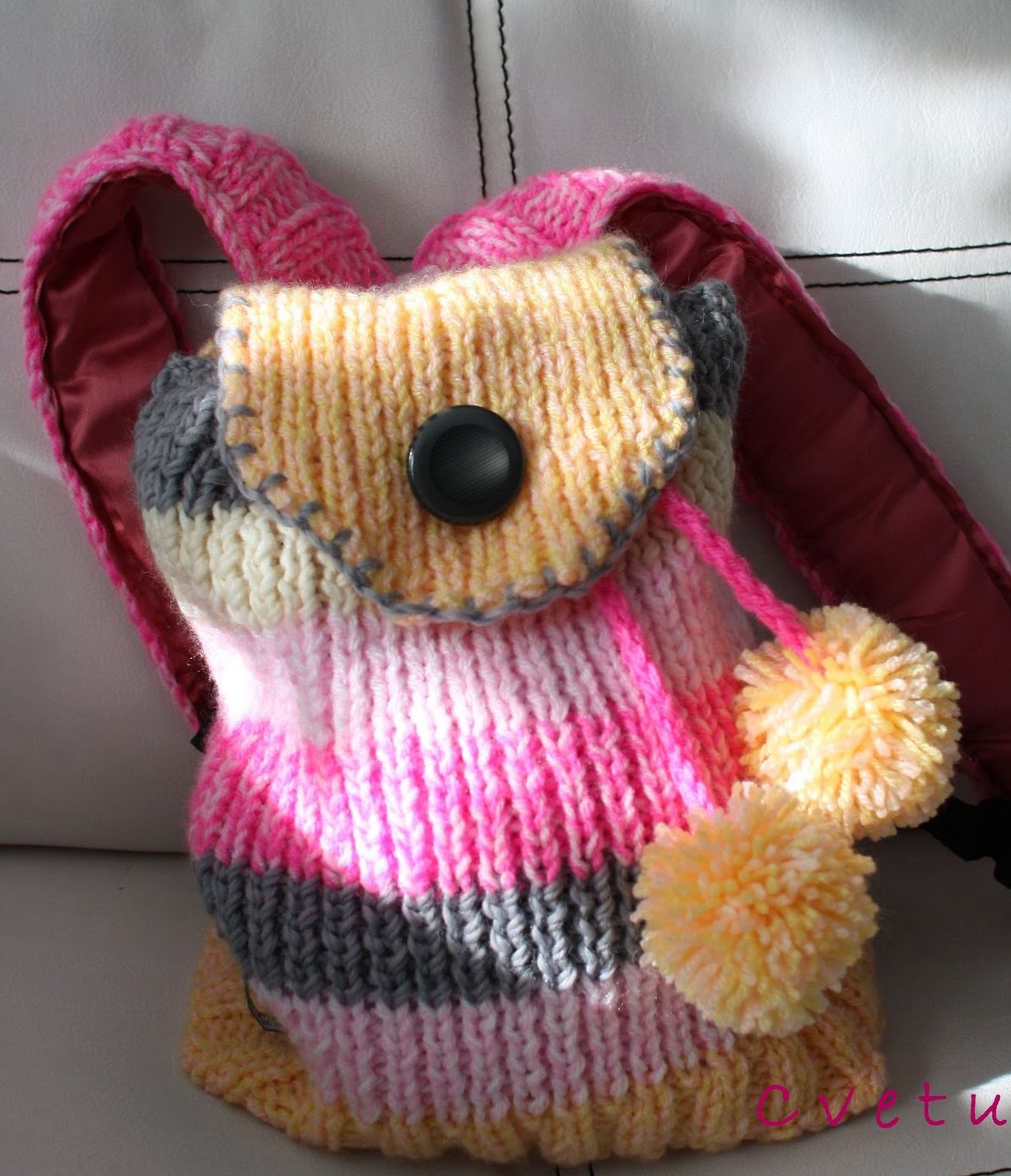 Natalie Backpack
Striped backpack with flap and knit straps. Designed by c v e t u l k a knits

Mesh Backpack
This cotton Super Summer Backpack features a 4 row repeat lace pattern that makes the backpack light and cool, an i-cord that forms the drawstring closure and the backpack strap. About 10 x 12 in. (25.5 x 30.5 cm). Designed by Lion Brand.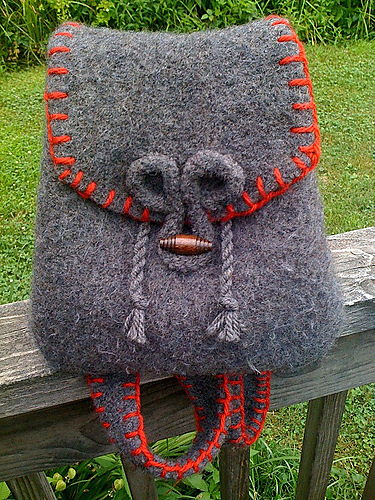 Felted Backpack
This easy backpack features a drawstring closure under the flap, i-cord decorative toggle loop and blanket stitch edging in contrast color.. Designed by Patons. Pictured project by loveswildflowers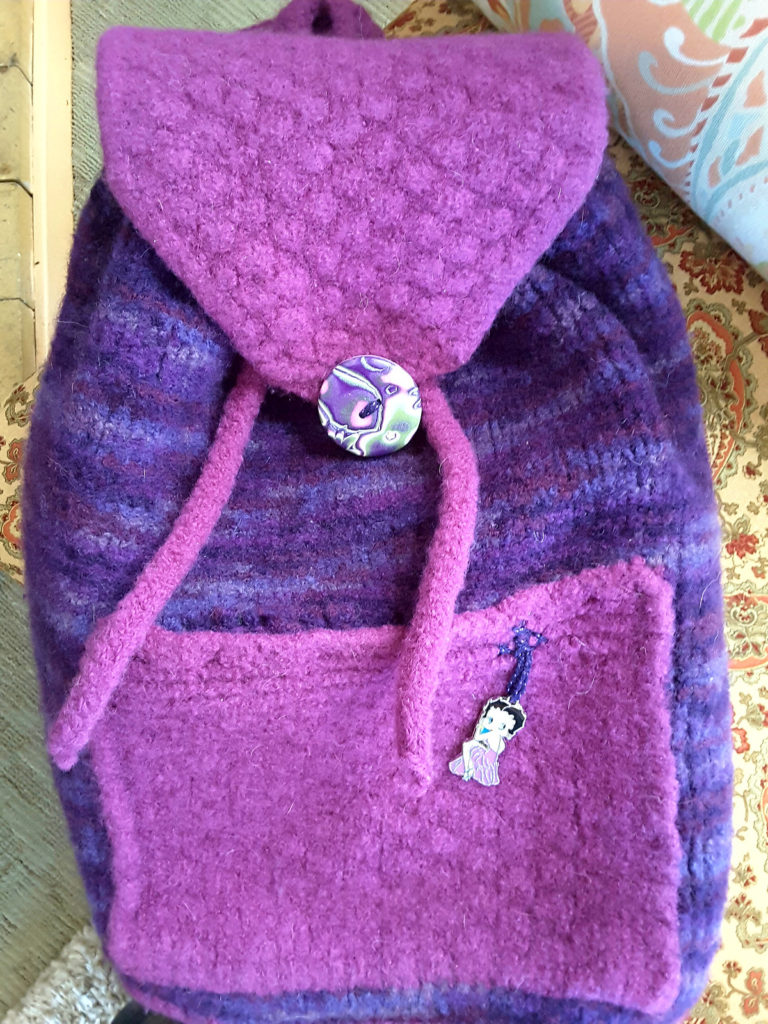 Knapsack with Pocket
This felted backpack features a front pocket and fun texture. Size: Before felting, approximately 30″ around. After felting, approximately 28″ around. Designed by Cabin Fever Sisters. Pictured projects by dhayden91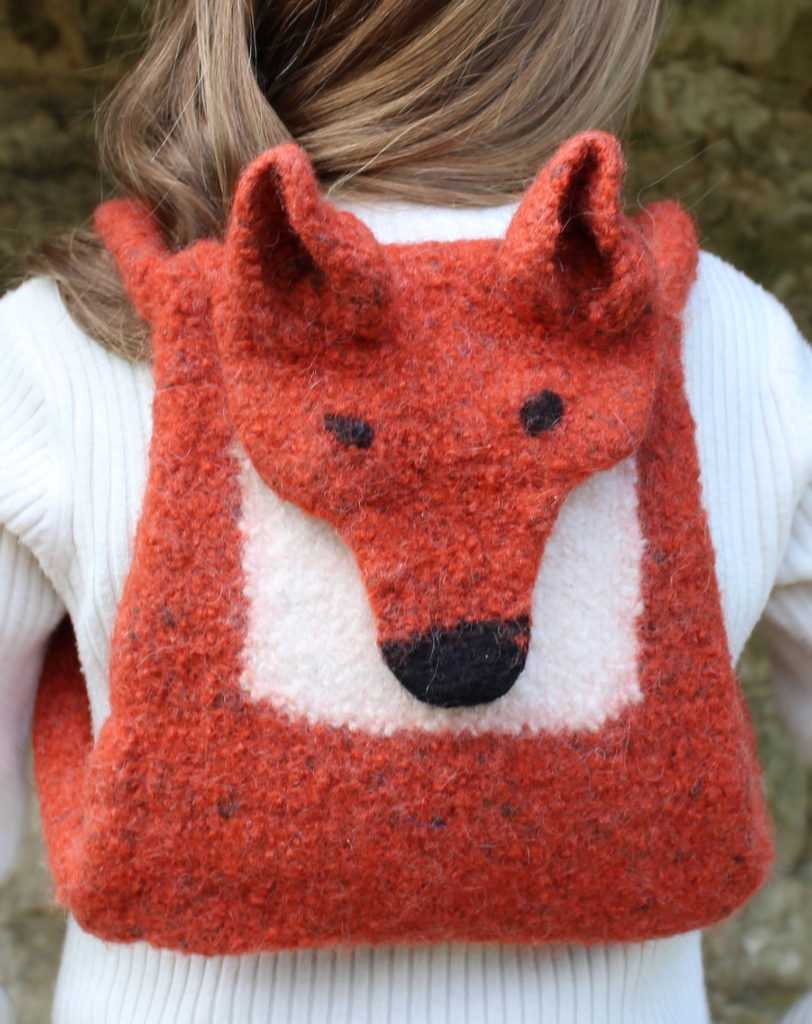 Fox Backpack or Messenger Bag
This fox tote is knit in chunky yarn and felted in the washing machine.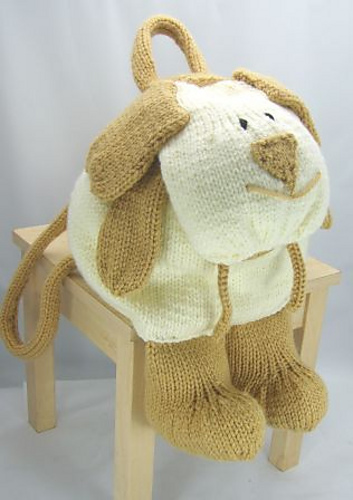 Dog Backpack
This cute dog bag rucksack has a draw string opening. His legs dangle when you walk and he sits down when you put him down.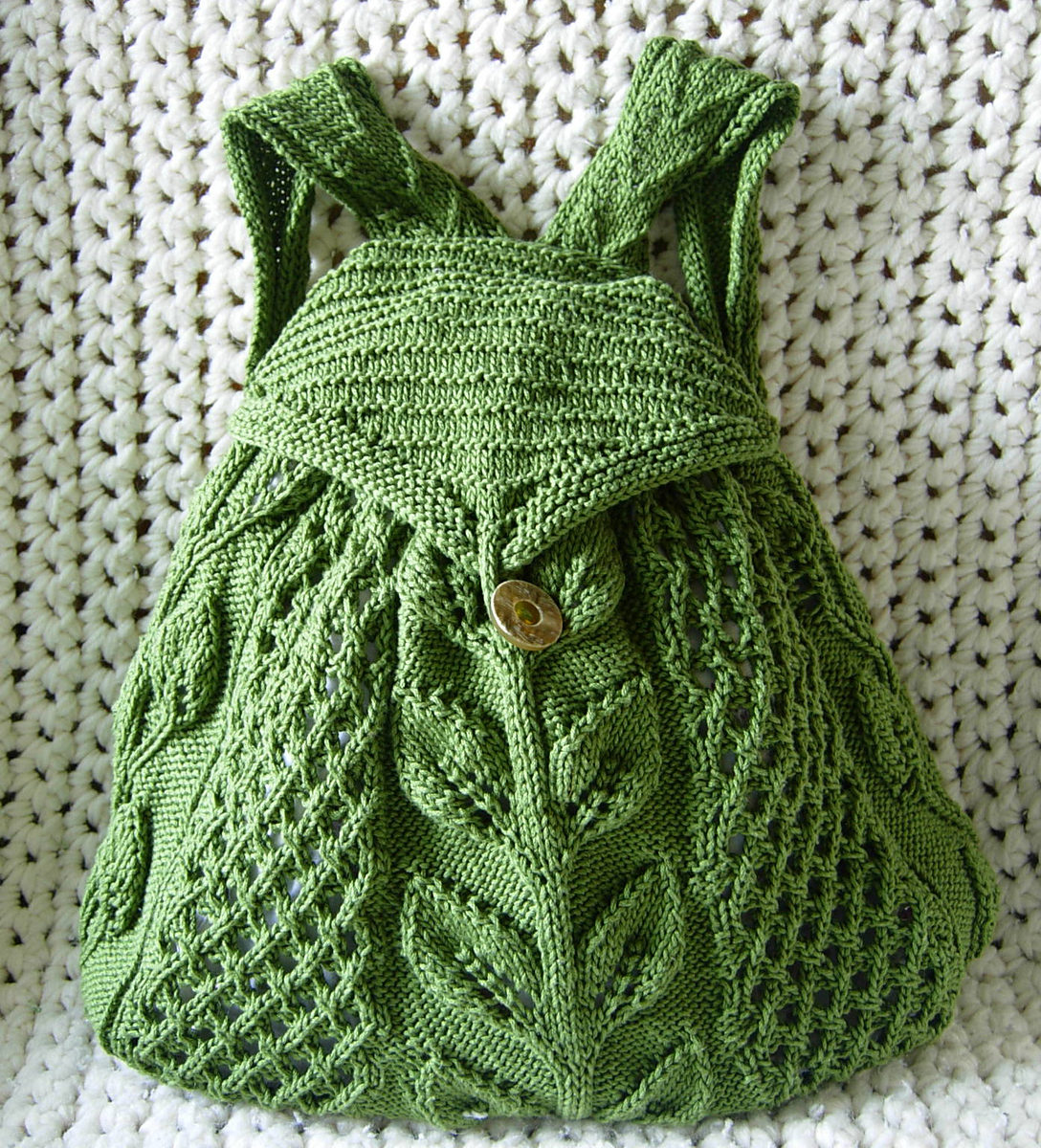 Commuter Knapsack
This lace and mesh back with leaf motifs and cable straps features a drawstring opening and a flap with a button closure. Designed by Deborah Newton, this one of the 22 patterns in Knitting Green: Conversations and Planet Friendly Projects
[widget id="black-studio-tinymce-8″]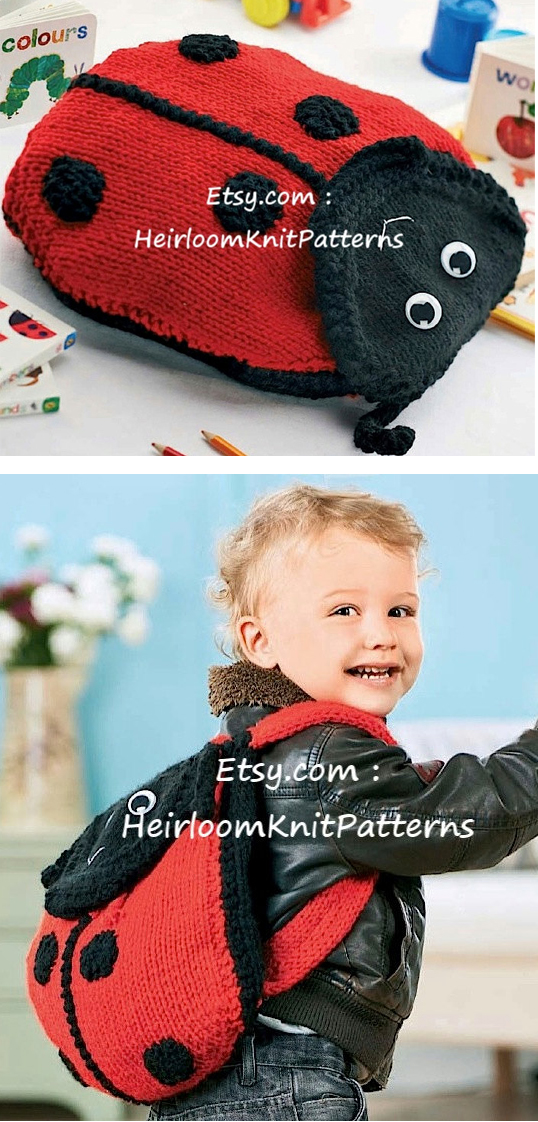 Ladybug Backpack
Also includes a pattern for Bumblebee Backpack. SIZE : 34cm (length) x 32cm (width at widest point). Quick knit inChunky weight yarn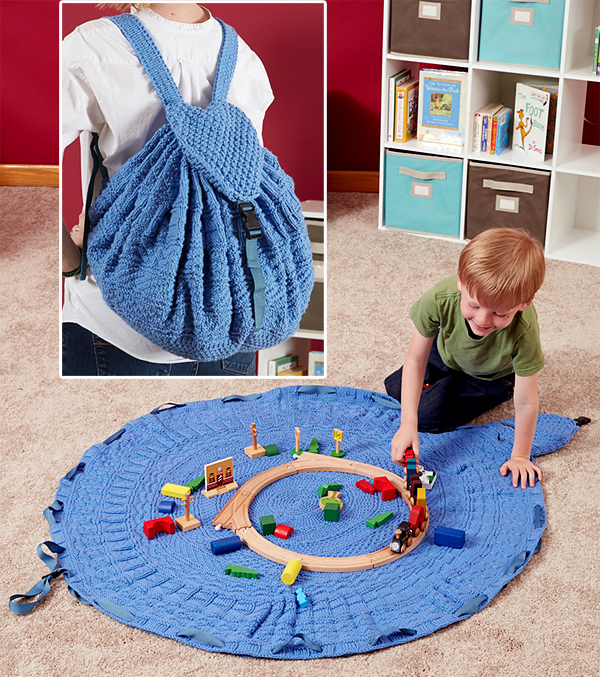 Toy Tote
Love this ingenious tote! Carry all your child's toys in this generously sized backpack. At your destination, loosen the drawstring and the toy tote flattens out into a circular play mat. Quick knit in bulky yarn!
Terry Matz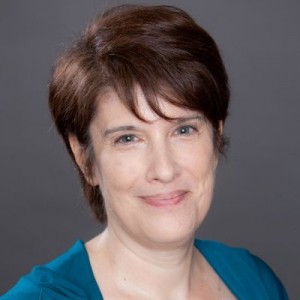 Terry is a knitting late-bloomer, learning to knit as an adult from Internet tutorials, because she wanted a craft that was useful, fun, and portable. Knitting hats for cancer patients inspired her to design her own patterns—available for free at her blog, intheloopknitting.com. Terry met her husband Ken at a science fiction convention and moved to the Kansas City area to be with him more than 30 years ago. Terry supports her yarn stash by creating websites and other digital media. Terry firmly believes in Knitting in Public—it's a great conversation starter!