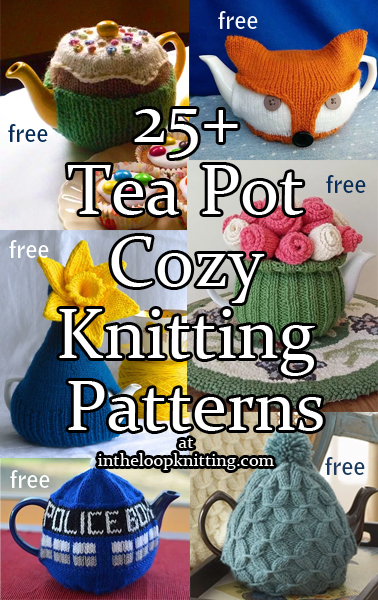 Tea pot cozies to keep your tea stylish and hot in fanciful, fashionable or traditional designs.
To get the knitting patterns, scroll down the page to the individual pattern you want and click on the link to that pattern.
These patterns are not my designs but links to other designers who have generously shared their patterns. If you have questions about how to knit a specific pattern, please contact the designer directly.
All links on this site are for informational purposes, but please note that some links are to affiliate sellers that pay me a small commission on purchases.
Free Patterns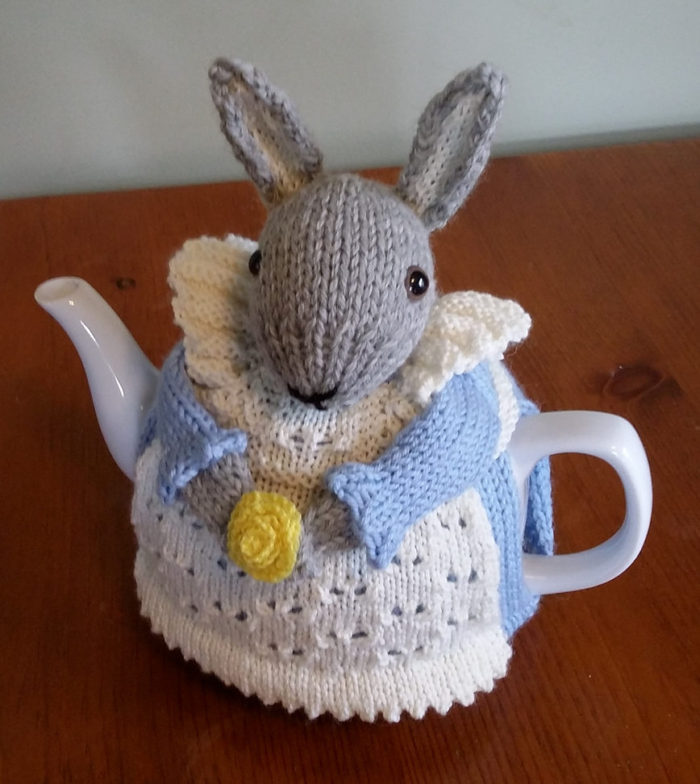 Mrs. Bunny Rabbit Tea Cozy
The tea cozy will fit a medium teapot and is knit flat in worsted yarn and seamed. Designed by J. J. Waugh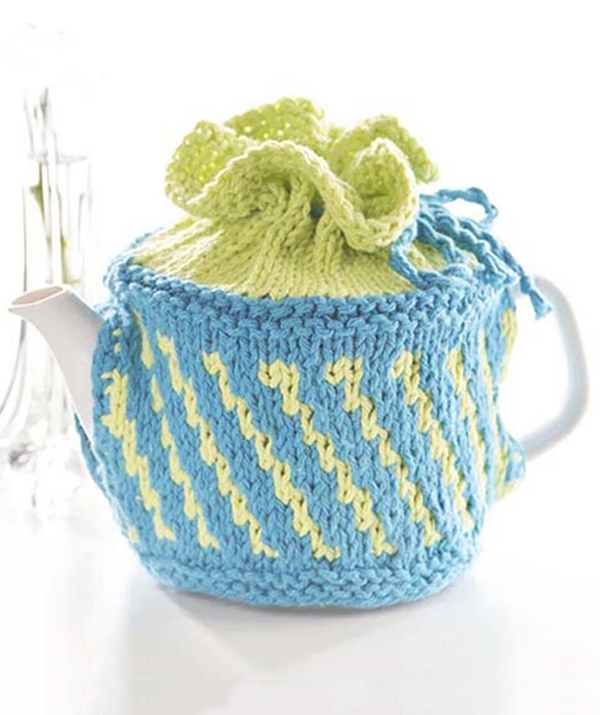 Tea Time Cozy
Diagonal striped teapot cozy in two colors. Finished Measurements: 7½ x 7½" (19 x 19cm) to fit teapot 4" (10.2cm high and 15" (38cm) circumference. Designed by Premier Yarns Design Team.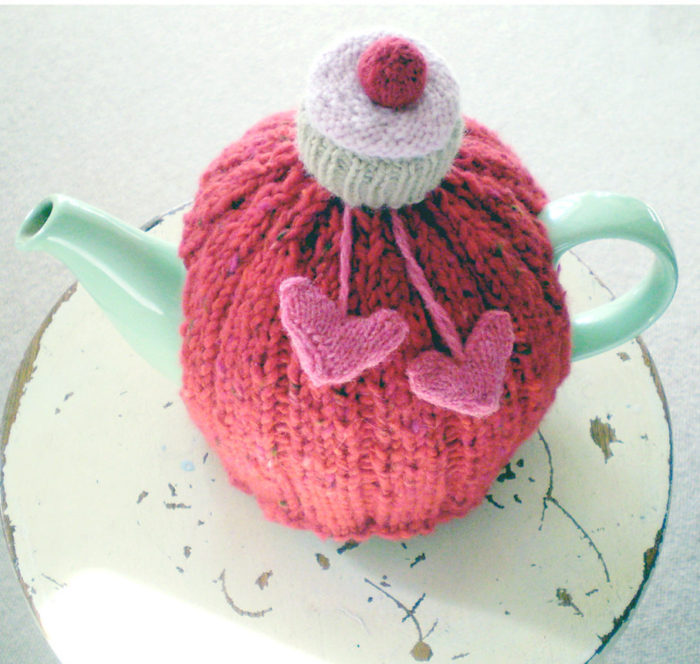 'I love you cupcake' Tea Cozy
The designer says this teapot cover takes one day to knit. Designed by Claire Garland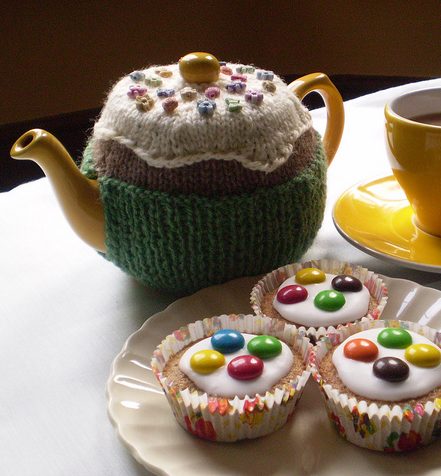 Fairy Cake Tea Cozy
Frankie Brown's whimsical imagination creates the perfect pastry-themed cozy to go with your tea. Customize with buttons for to simulate candy sprinkles!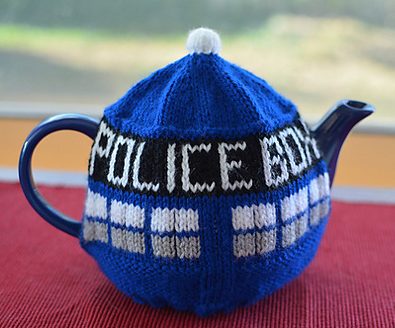 T.A.R.D.I.S Tea Cozy
Gail Hodgman's tea pot cozy for Doctor Who fans! Pictured project by HappieChappie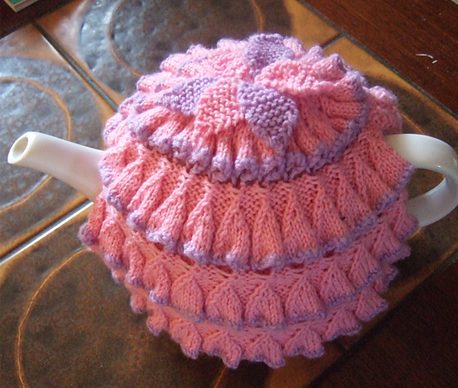 Daffodil Stitch Cozy
I love this stitch! This is a vintage 1937 pattern by Madame Weigel from Madame Weigel Series 6, Cushions & Cosies.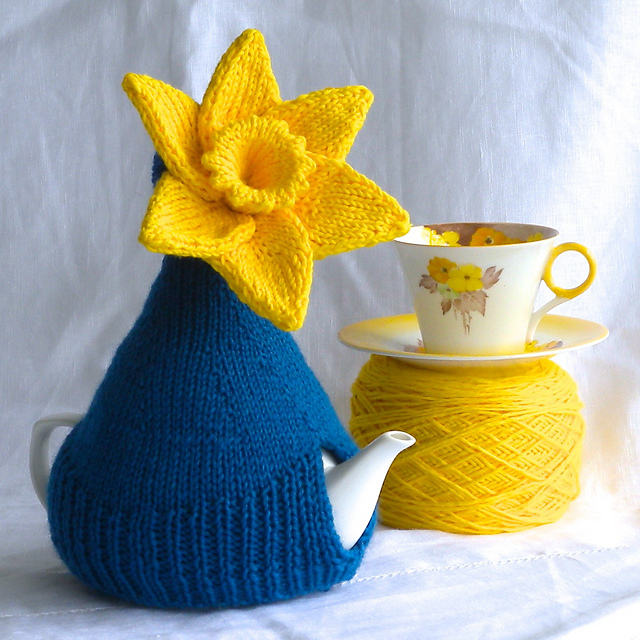 Ms Daffy Dill Teapot Cozy
Loani Prior's design was Australia's Official Biggest Morning Tea Daffodil Tea Cosy for the Cancer Council.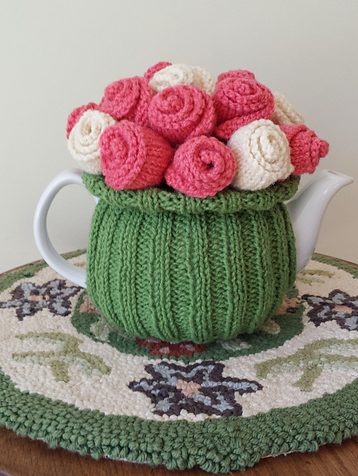 Rosy Posy Tea Cozy
Loani Prior designed this pattern with a ribbed body topped with knitted or crocheted roses. Pictured project is by Noscrubs58

Elephant Teapot Cozy
Trampled by Geese took advantage of the teapot spot for this cute cozy.
More Free Patterns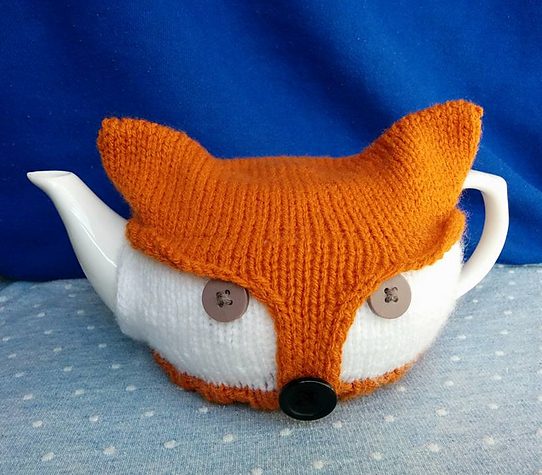 Fox Teapot Cozy
Beverley Laundry's cozy is made from a rectangular shape fastened with buttons that create a fox face when fitted around the tea pot. Note — I couldn't get to the original site so this is a link to the archive.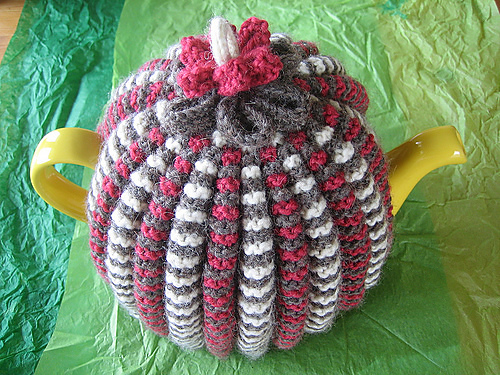 Grannie's Traditional Tea Cosy
Keren Smith's created this design to replicate vintage cozies that pull the yarn across the wrong side of the work between color patches to create the pucker, and give a double insulating layer to keep the tea warm.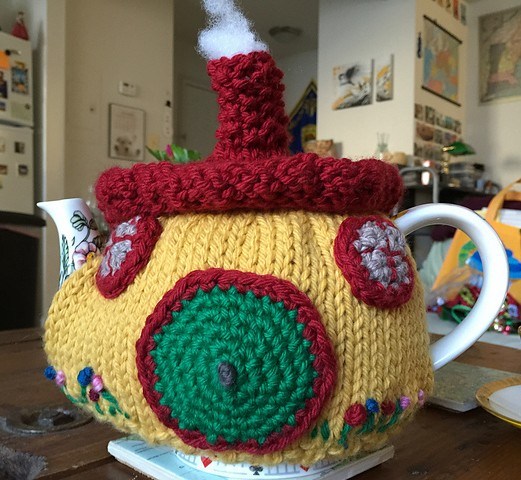 Hobbit Cottage Tea Cozy
Heather Tunnah's pattern instructs you how to knit the body, roof and chimney of this cozy. Embellishments are added with duplicate stitch, embroidery, or crochet. The pictured project by jesbelle varies from the original pattern by using crocheted circular doors and windows.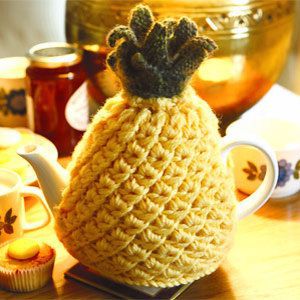 Pineapple Teapot Cosy
The link below is to the Wayback Machine because the pattern is no longer available at the redesigned Prima site. Height: 6in (15cm) excluding leaves. Lower edge circumference: 15in (38cm)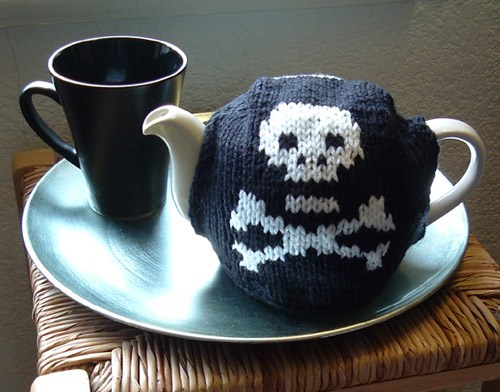 Algormortis Teapot Cozy
Vanessa Carter's skull and crossbones cozy is perfect for pirates, Halloween, or just when you want to make a statement.
Oliver Cat Teapot Cozy
Knitting pattern offered free by Craft a Cure for Cancer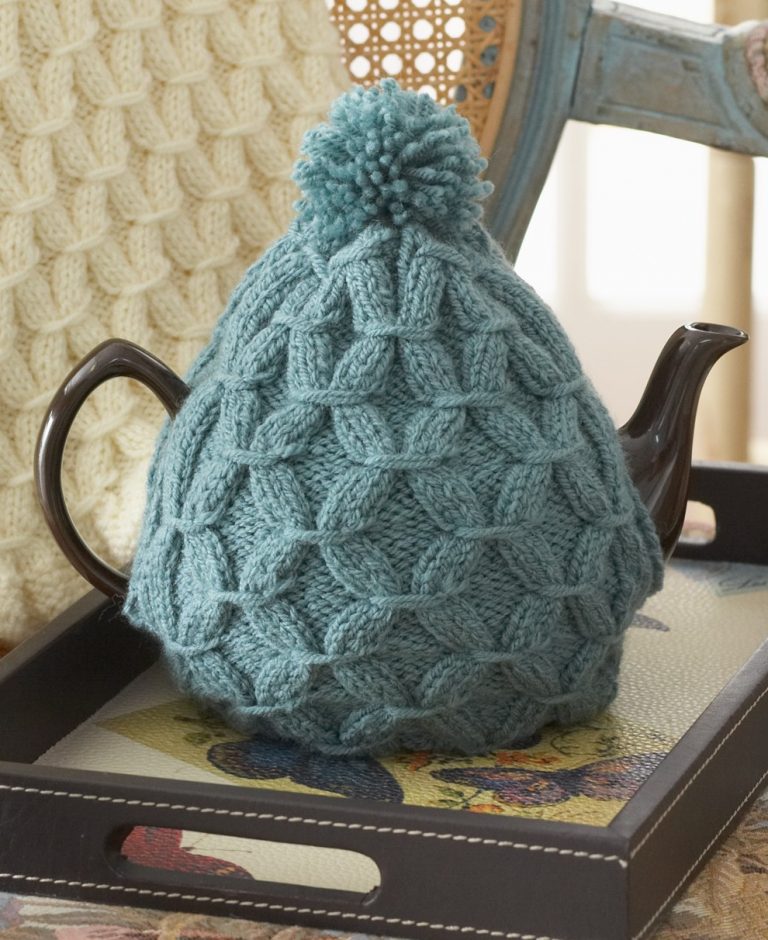 Smocked Teapot Cozy
Yarnspirations designed to cushy cozy that has a matching pattern for a smocked afghan.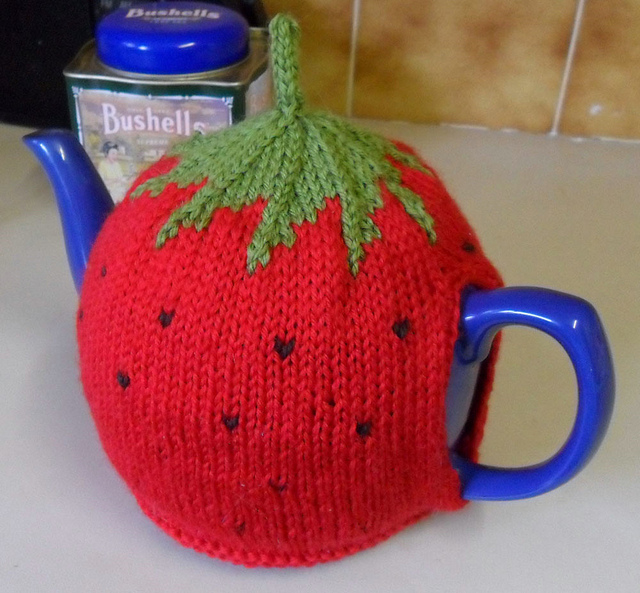 Strawberry Teapot Cozy
Designed by Katya Frankel. Pictured project by mspurrl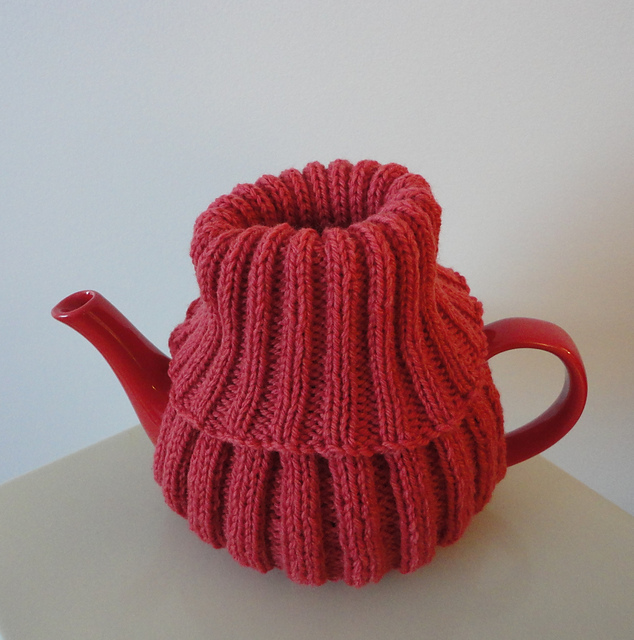 Teapot Turtleneck
Fun easy tea pot cozy by Suzanne Resaul that is as versatile as it is stylish. It can be "worn" many different ways and the opening allows you to easily add more water.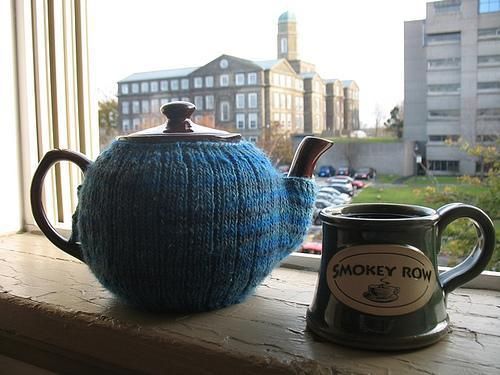 Tea Mitten
Elizabeth Kleven designed a form-fitting sweater for teapots. The ribbing holds the cozy snugly to the teapot and is secured with a button flap. The lid remains uncovered for easy access.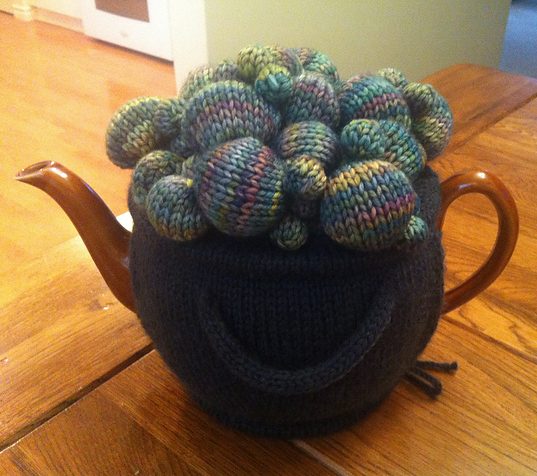 Cauldron
Keep your brew hot with this cauldron tea pot cozy from Celia Jones. Pictured project by figcottage
Patterns for Purchase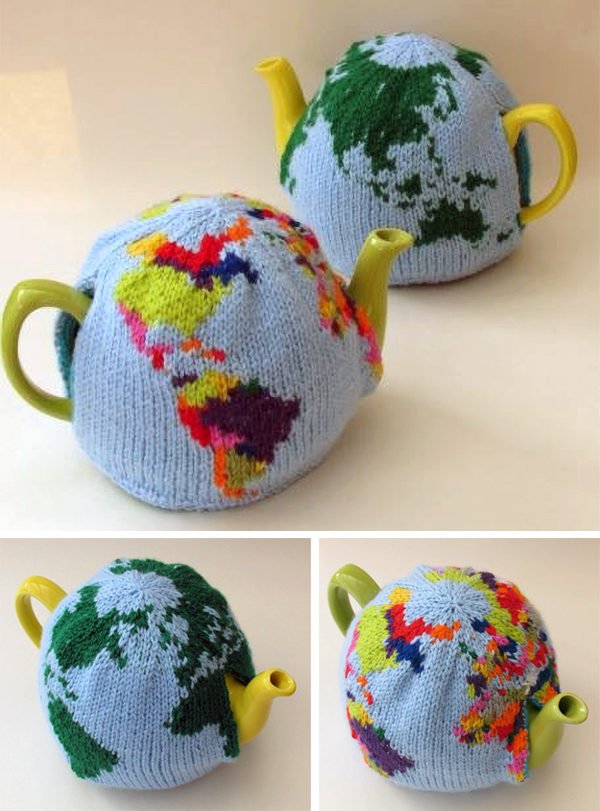 World or Globe Tea Cosy
The world tea cosy is knitted in light blue and green and depicts the world as you might see it from space. The globe tea cosy is an atlas style tea cosy with the countries picked out in different colours. Designed by TeaCosyFolk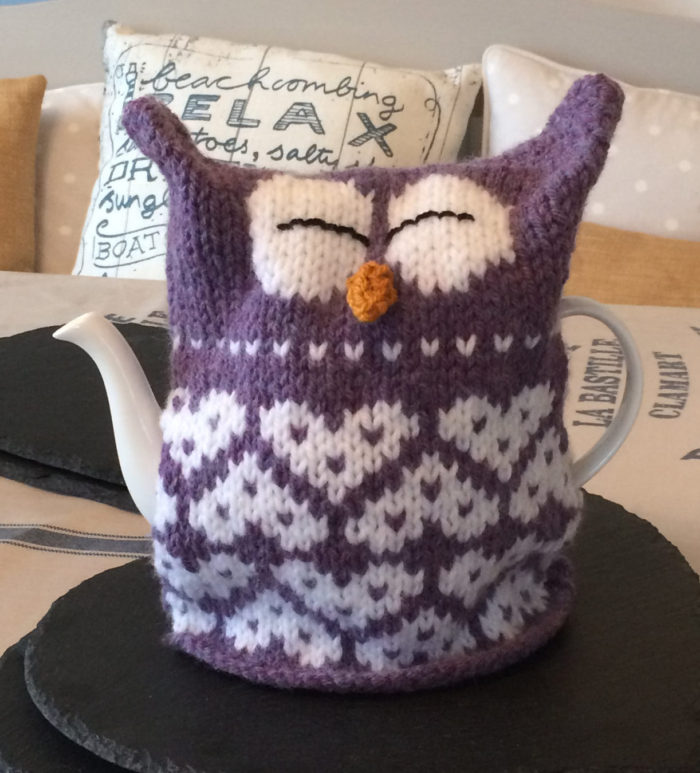 Owl Heart Tea Cosy
Written instructions and chart included for this adorable teapot cozy. Designed by YarnNeedlesandThread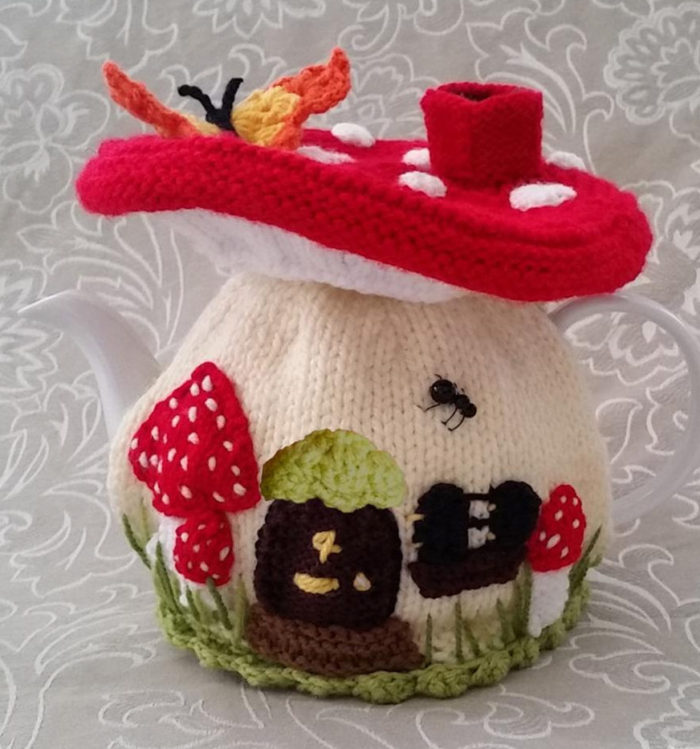 Fairy Mushroom Tea Cosy
The teapot cozy features a fairy house in a mushroom. Knitted on the flat with single pointed needles. Designed by Nowmine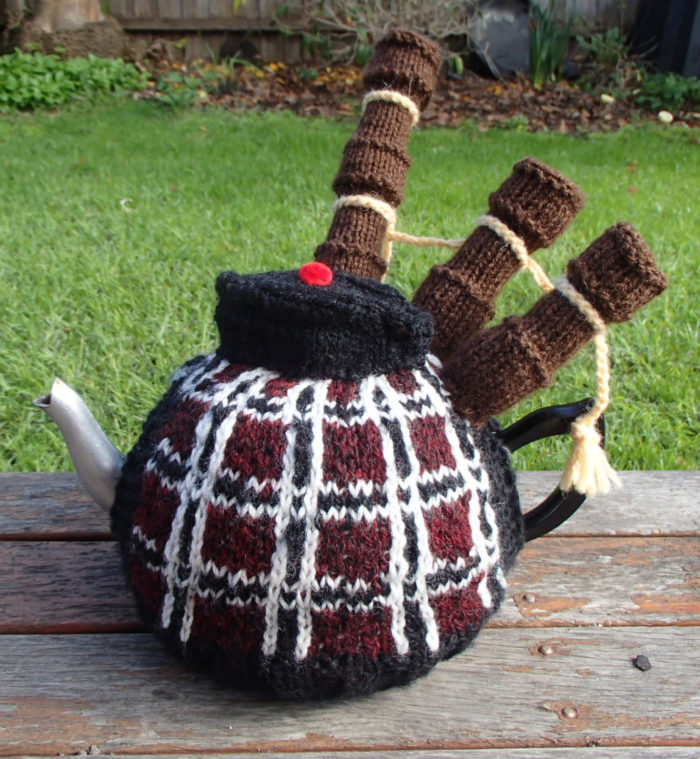 Bagpiper Tea Cosy
Scottish bagpipe player inspired cozy pattern is designed by TheKiltedKnitter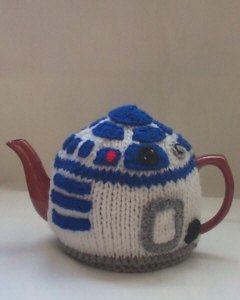 R2D2 Tea Cosy
The tea cosy fits a medium sized tea pot that covers a Teapot that holds 6 to 8 cups.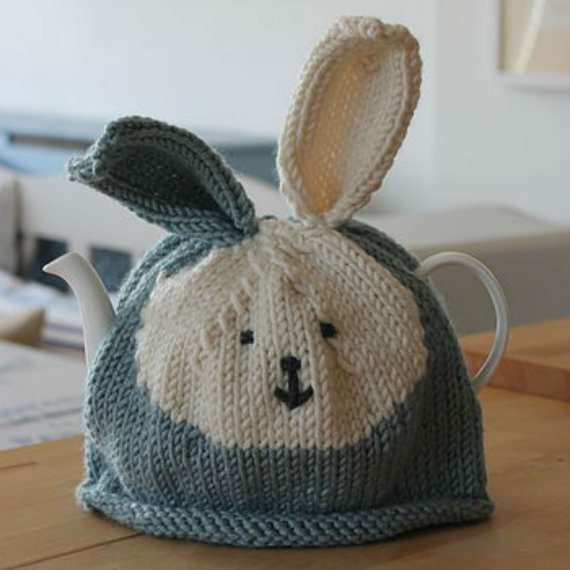 Bunny Tea Cosy
This adorable teapot cozy even has a fluffy pompom tail!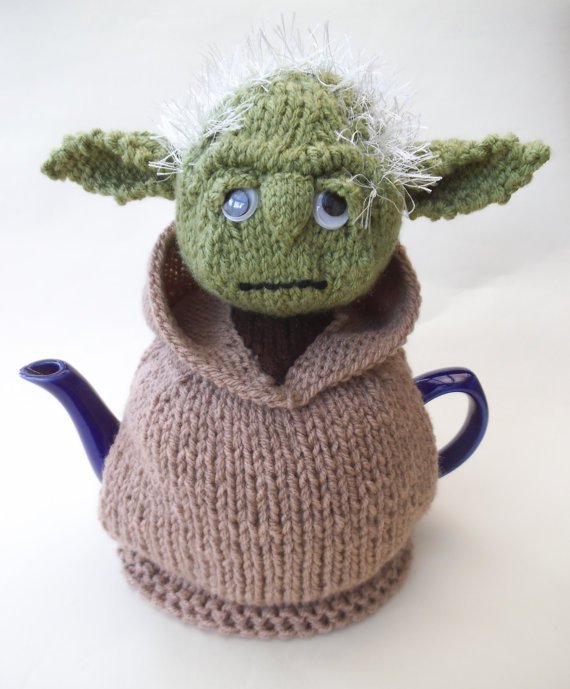 Yoda Tea Cosy
The tea cosy fits a medium sized tea pot that covers a Teapot that holds 6 to 8 cups. The hood can be up or down.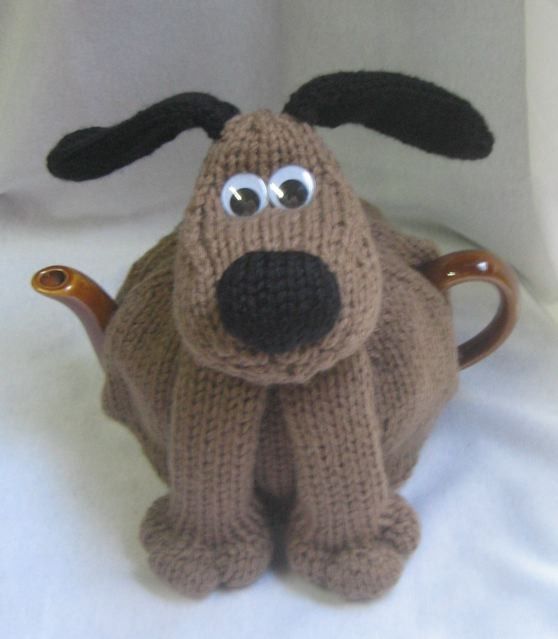 Dog Tea Cosy
This teapot cozy reminds me of Gromit!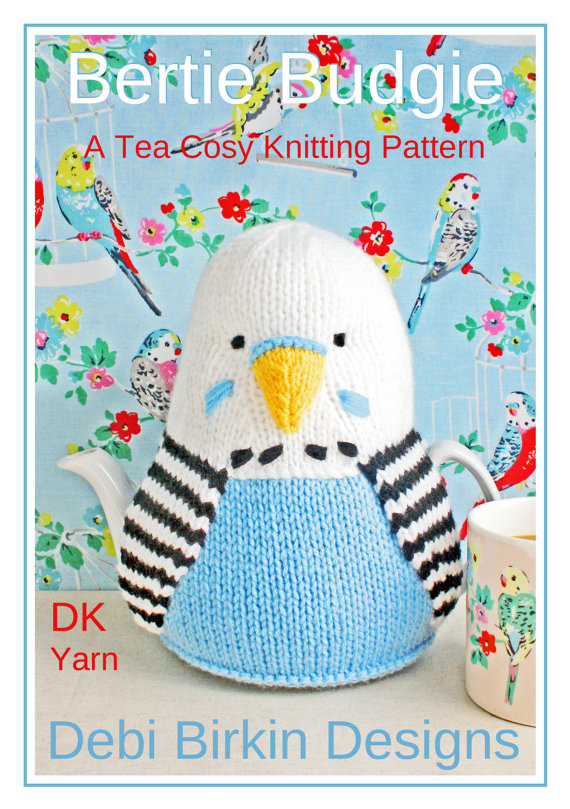 Budgie Tea Cosy
I love budgies and this tea cozy parakeet is adorable!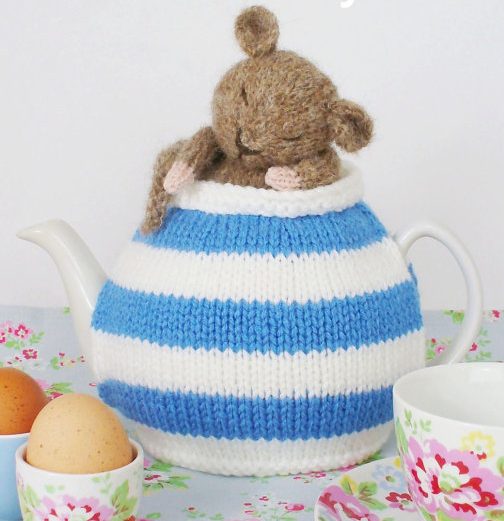 Dormouse Teapot Cozy
Designed by Debi Birkin.