Brighten up those gray winter days with colorful mittens, gloves, and mitts. From easy colorwork with multi-colored yarn or slip stitches to more detailed work with fair isle and intarsia, these patterns will warm your heart as well as your hands! Most patterns for free.
To get the knitting patterns, scroll down the page to the individual pattern you want and click on the link to that pattern.
These patterns are not my designs but links to other designers who have generously shared their patterns. If you have questions about how to knit a specific pattern, please contact the designer directly.
All links on this site are for informational purposes, but please note that some links are to affiliate sellers that pay me a small commission on purchases.
Free Patterns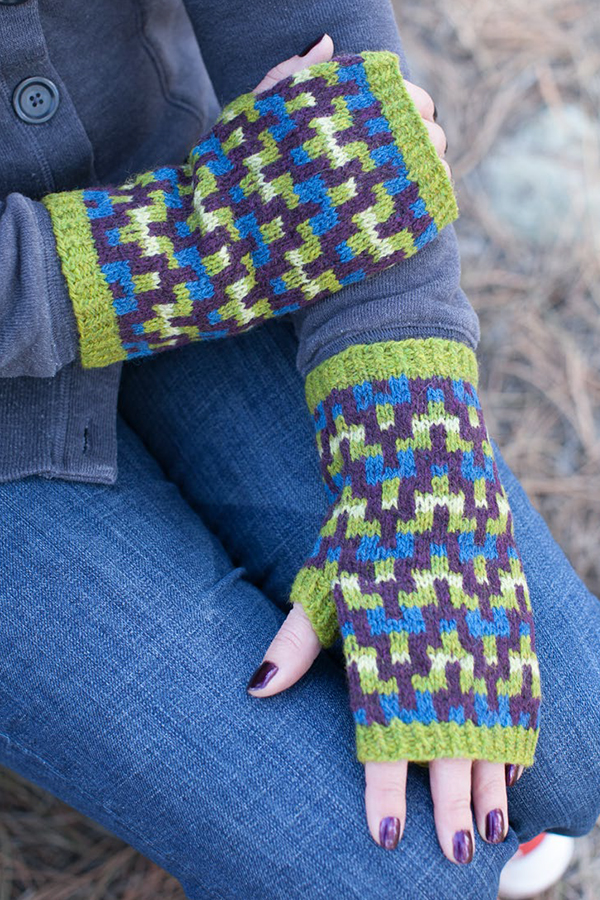 Croft Mitts
These fingerless mitts feature a chevron pattern on a striped background. Designed by Kirsten Kapur. Fingering weight yarn.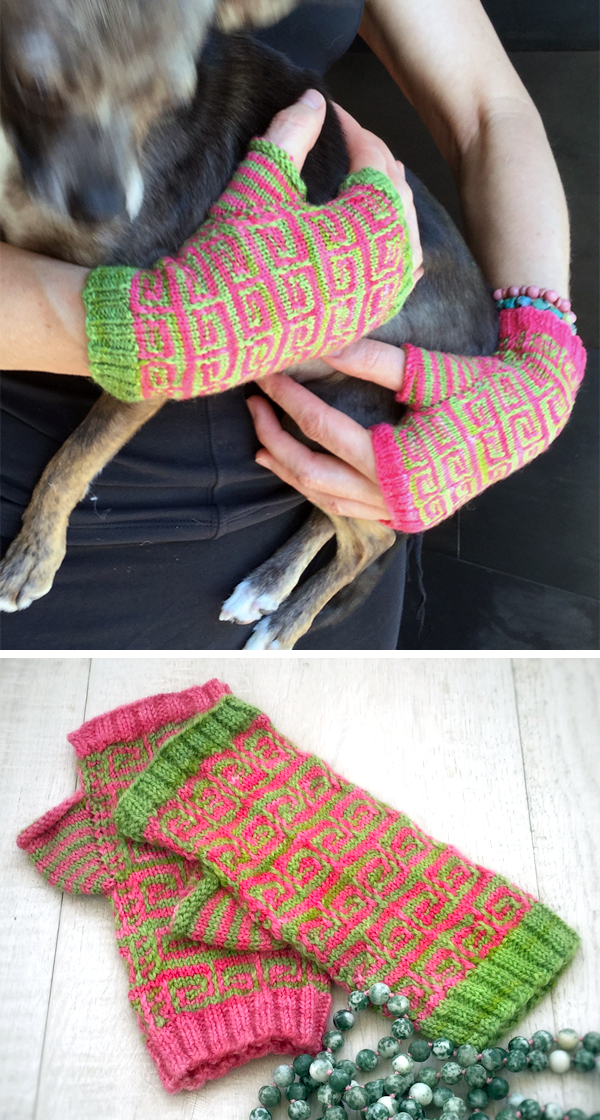 Smitten and Bitten Mitts
These fingerless mitts feature a mosaic, or slip-stitch, knitting design. With slip-stitch knitting, rows are worked in pairs with the same strand of yarn. Designed by Johanna Di Stefano. Fingering weight yarn.

Fair Isle Mitts or Mittens
Learn how to make cute and cozy Fair Isle mittens or fingerless mitts with knitting teacher extraordinaire, Edie Eckman. Pattern and instructional video class available for free with a free trial at Creativebug OR purchase pattern and class individually.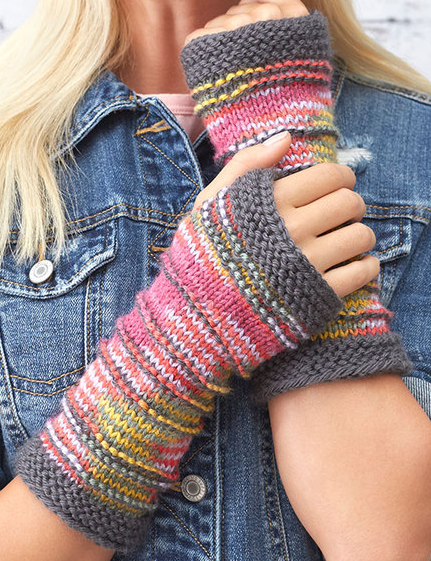 Ridge Mitts
These fingerless mitts are designed to showcase multi-color yarn with subtle texture and contrasting cuffs. Designed by Erin Kate Archer for Red Heart Yarn.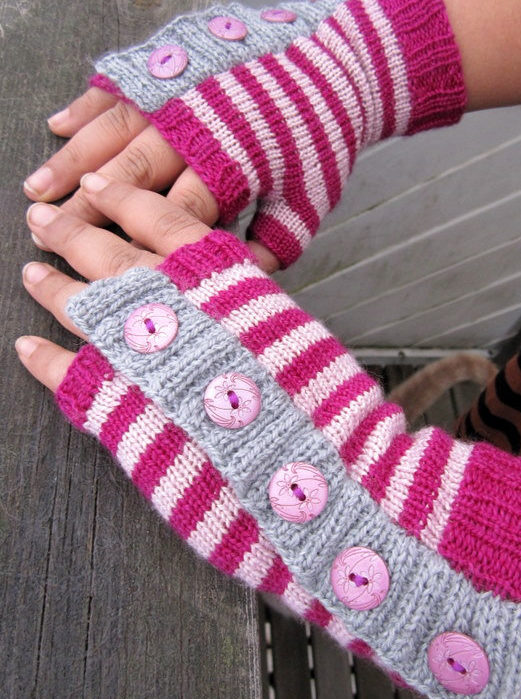 Great Weekend Mitts
Easy striped fingerless mitts are great stashbusters. Designed by Thea Eschliman. Pictured project by nobiantary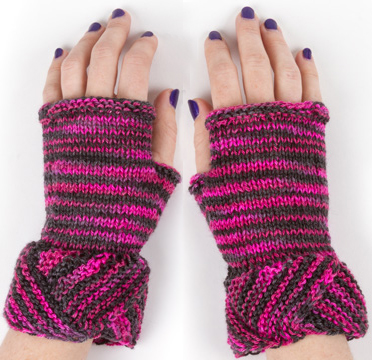 Fairyland Mitts
Fingerless mitts with dramatic cuffs with mutli-directional design in short rows. Women's S[M, L]. Perfect for self-striping or variegated yarn. Designed by Samantha Schroete for Knitty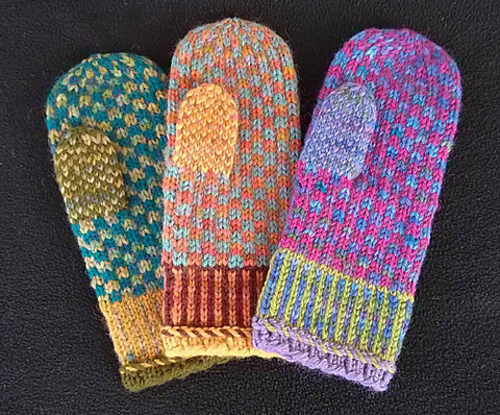 Movie Night Mittens
Betty Clay says her the stranded colorwork on these mittens is so simple that you can knit them while watching a movie.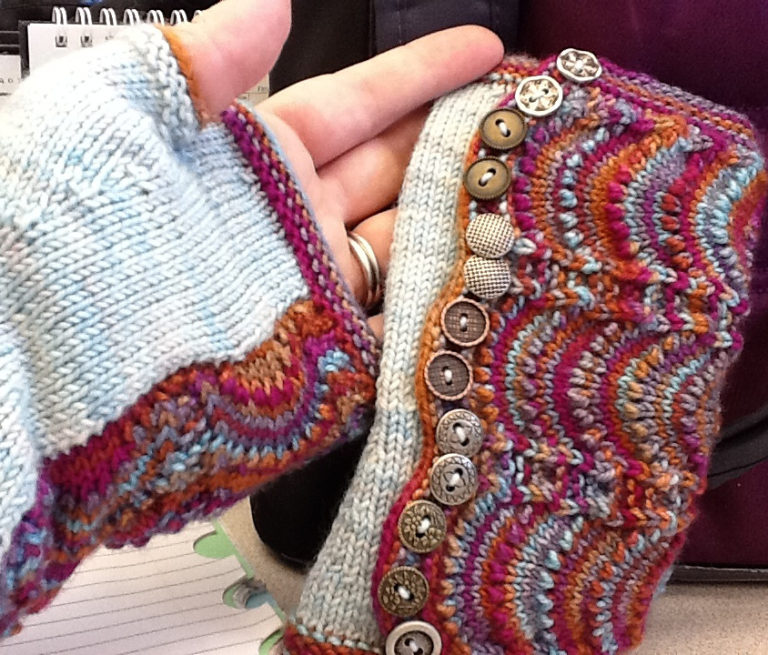 Spatterdash Wristwarmers
Designed by Dagmar Mora, these fingerless mitts are knit flat and wrapped around the hand to imitate spats. The feather and fan lace gives a lovely texture that showcases variegated yarn well, yet also works well with solid yarn. Sizes: Women's S[M, L] Pictured project by johannab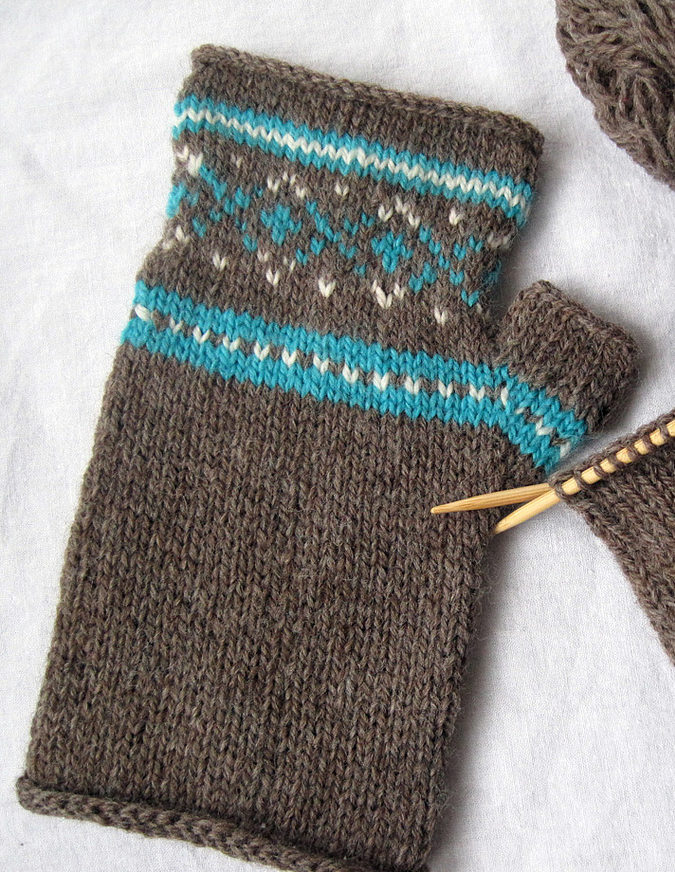 Sporty Mitts
These fair isle fingerless mitts are a great stashbuster. Designed by Colleen Powley. Pictured project by tressalee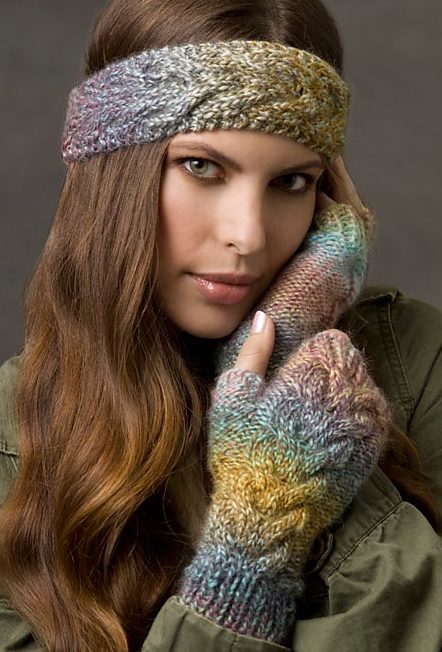 Cold Weather Cables
This matching set of headband and fingerless mitts by Edie Eckman features an easy cable and the patterns are rated easy by both Red Heart and knitters on Ravelry. However, in addition to cabling, it requires the use of double pointed needles, so those new to those skills might find it a challenge. Looks great in multi-color yarn!

Pieces of Eight Mitts
The miracle of this design by Knitting and So On is that these fingerless gloves are knitted in one piece (no yarn cutting involved) beginning at the thumb. The "Eight"-Shape is achieved by increasing in the first part of a row, and decreasing in the second part.
More Free Patterns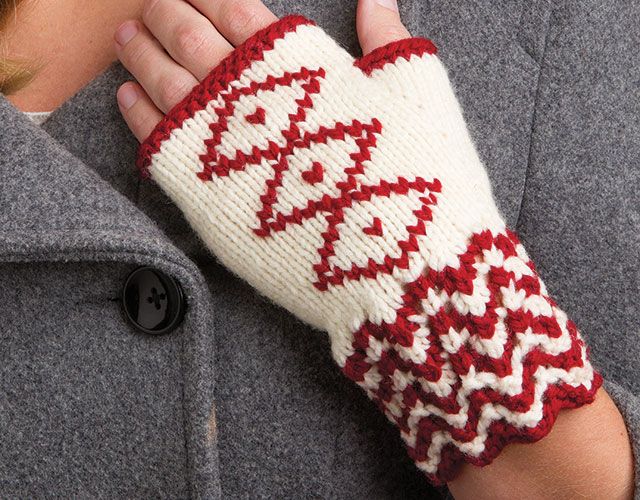 Embroidered Wrist Warmers
Knit and Crochet Now designed these two-color fingerless mitts with a diamond pattern embellishment. Yarn is also available at the pattern site.

Escalator Mitts
These fingerless mitts feature stockinette triangles made with short rows. Great stashbuster! Designed by Tiina Huhtaniemi. Pictured project by Juliemross

Isadora Mitts
Easy slip stitch colorwork and multi-color yarn make these stunning mitts by the amazing designer Cornelia Tuttle Hamilton. Quick knit in super bulky yarn.

Hexagon Mitts in Two Colors
These fingerless mitts by Knitting and So On are knit in one piece without cutting the yarn. The colorwork is achieved by changing the color every other row. Great for multi-color yarn!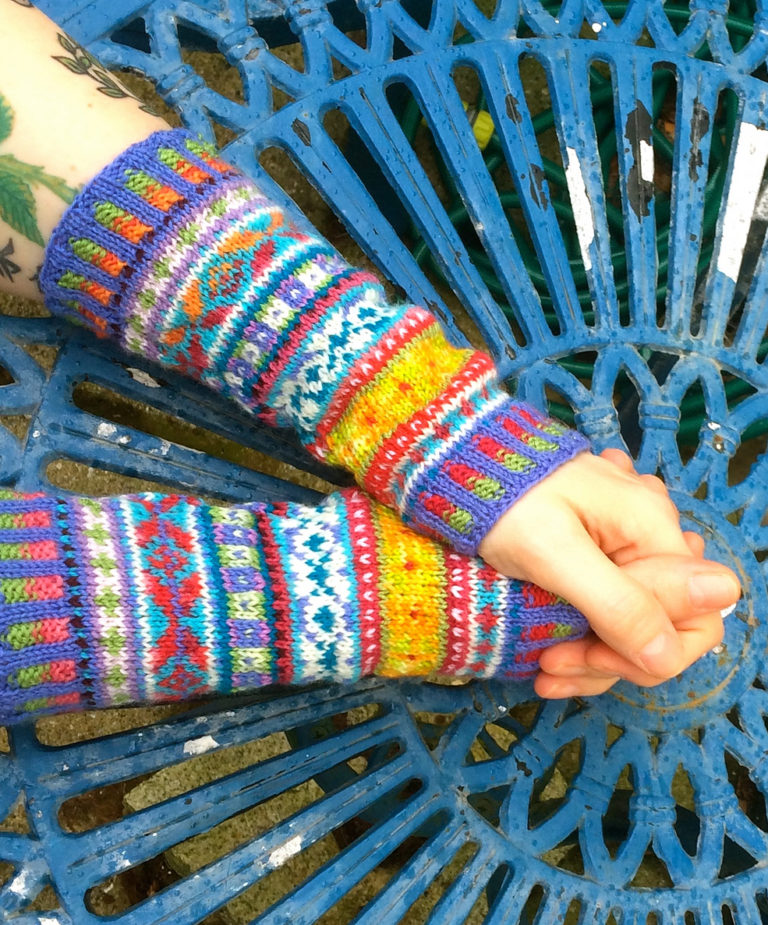 Fair Isle Cuffs
Julie Williams' fingerless mitts are knit as a straight tubular cuff worked in bands of Fair Isle color-work. Pictured project by rosyretro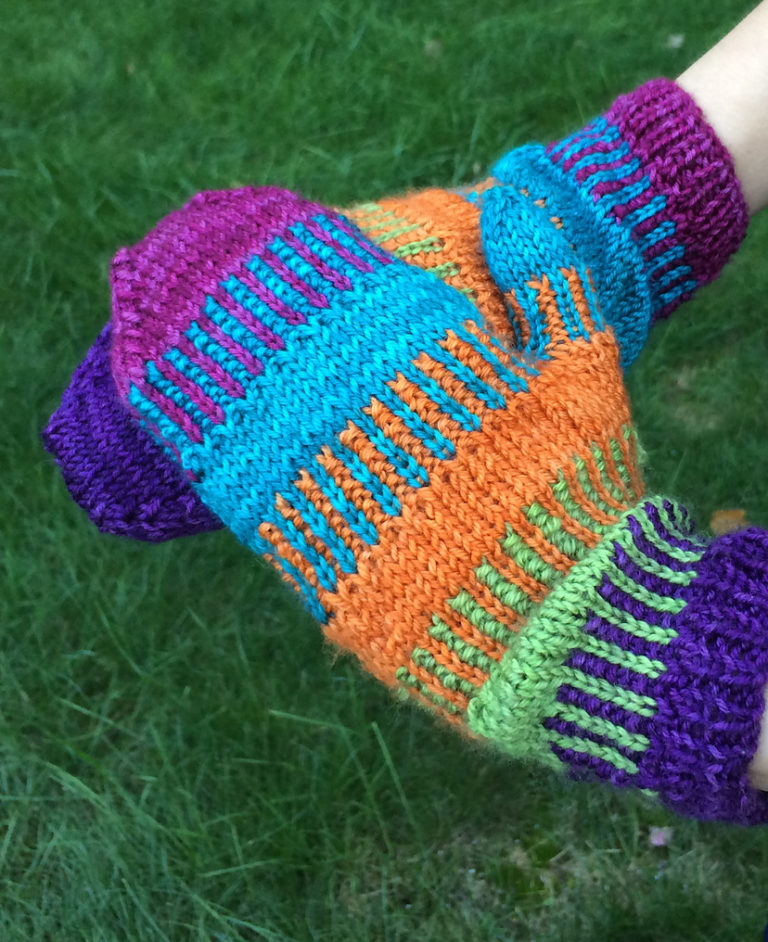 Funktastic Mittens
Minuet Knit's colorful mittens also comes with a fingerless mitts option.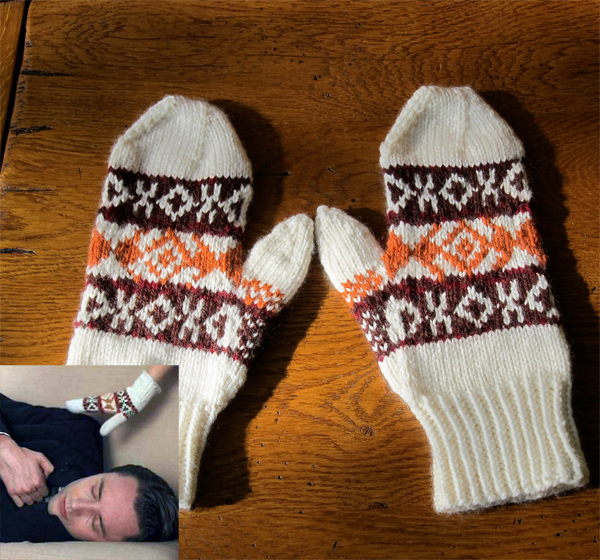 Mad Men Mittens
Staci Perry was inspired by the Mad Men episode "The Grown Ups". In the first scene, Peter Campbell is sleeping on the sofa and Lindy, his secretary, reaches a mittened hand down to wake him. Staci says the mittens are "as absolutely accurate to the originals as possible, except for a few rows of additional color on the thumb (to make for friendlier knitting and fit)." Pictured project by pebblestx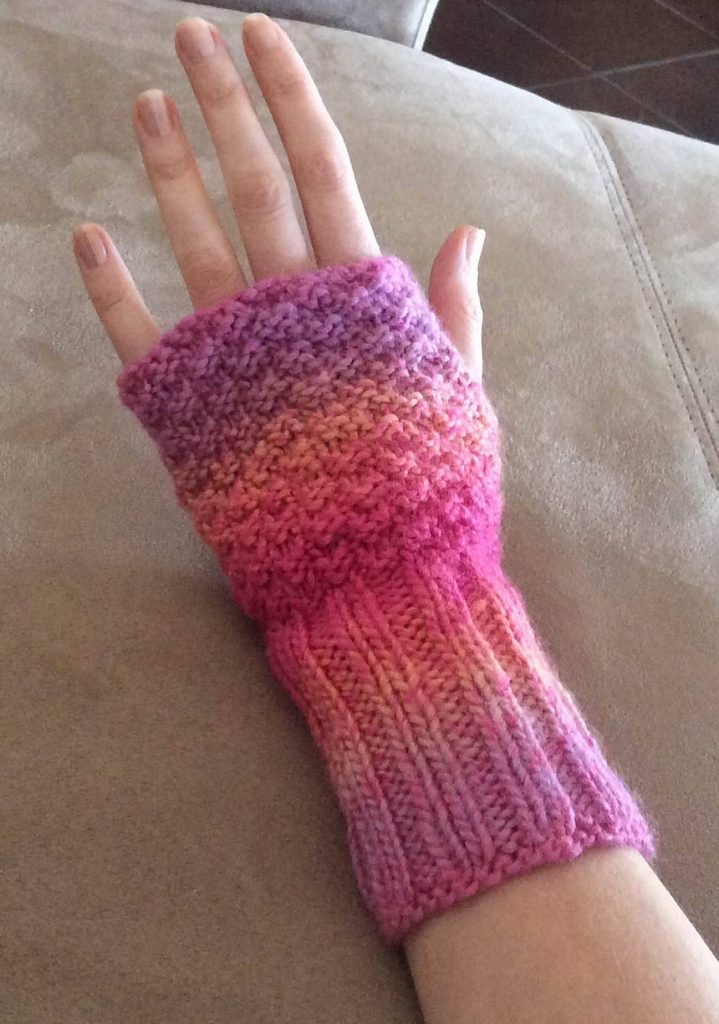 Comfy Knit Wristers
Nazanin S. Fard's hand warmers for Red Heart feature moss stitch and ribbing and are knit in the round with dpns or magic loop. Designed for multi-color yarn! Pictured project by FeatheryStigma
Magic Loop Tutorial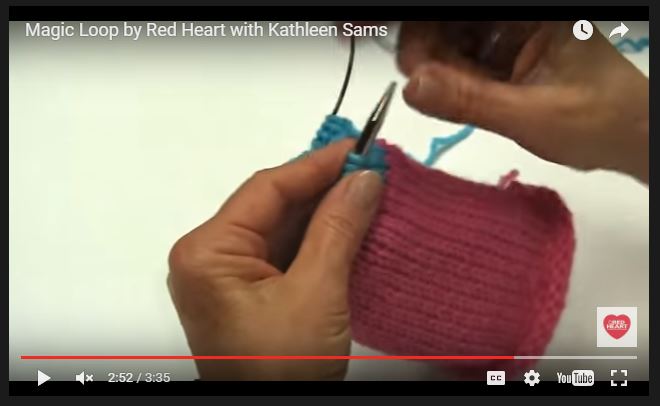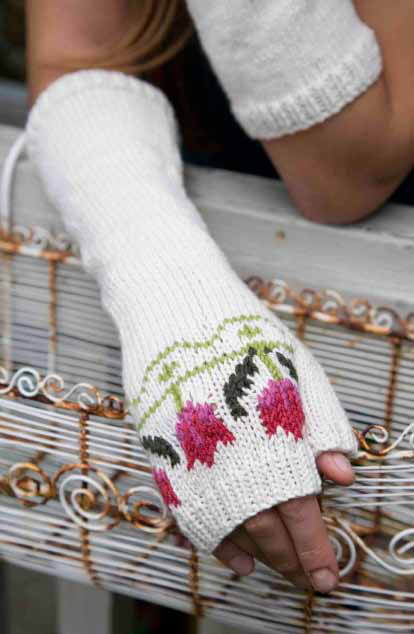 Tulip Fingerless Gloves
These gloves are from Martin Storey's book Floral Knits, 25 gorgeous knitted garments and accessories, some with applied flowers and others with floral designs knitted into them, others with the designs embroidered on top. The projects range from sweaters, boleros and shrugs to scarves, bags, and berets, cushions and throws.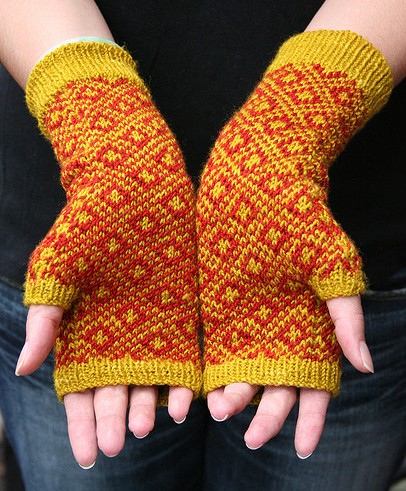 Endpaper Mitts
These reversible mitts by Eunny Jang are perfect for highly contrasting yarns and a great project for beginneers in colorwork.

Mixed Waves Fingerless Mitts
Pattern by Knitting and So On creates elegant gloves from short row sections interspersed with garter stitch rows of a different color.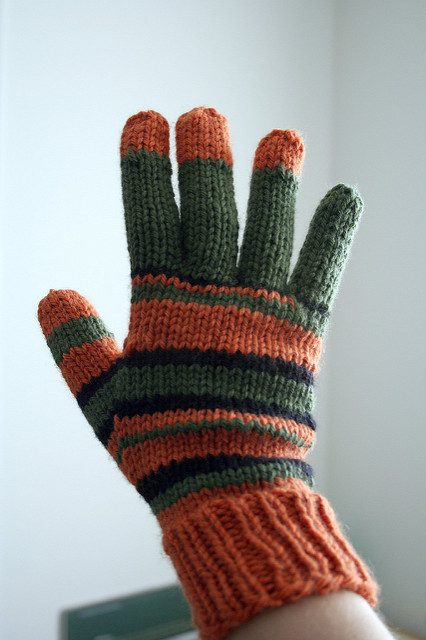 Coraline Gloves
Tika Belle created this people-sized version of the amazing gloves designed by Althea Crome for the film version of Neil Gaiman's Coraline.
Zigzag Mitts
These Dragon Mitts can be knit flat or in the round. Crossed and twisted stitches create the design and also provide ease of fit. Great with multi-color yarn.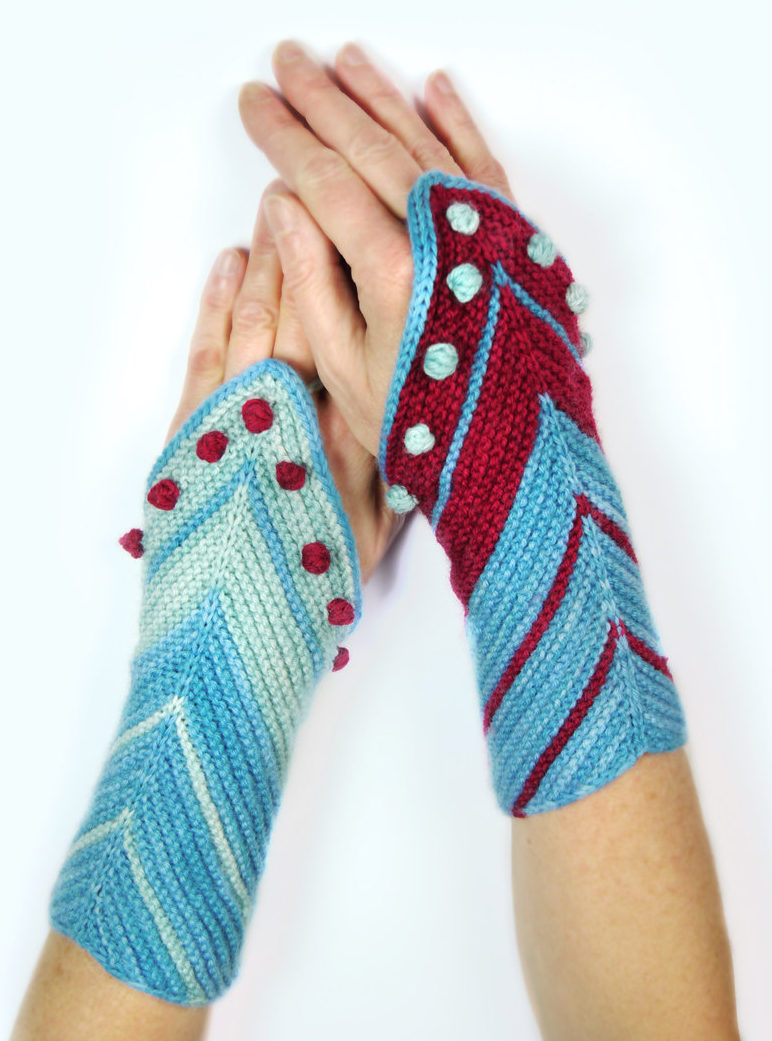 Hamburg Ahoi Mitts
These fingerless mitts are great stashbusters. Available in English and German. There is also a matching shawl pattern available.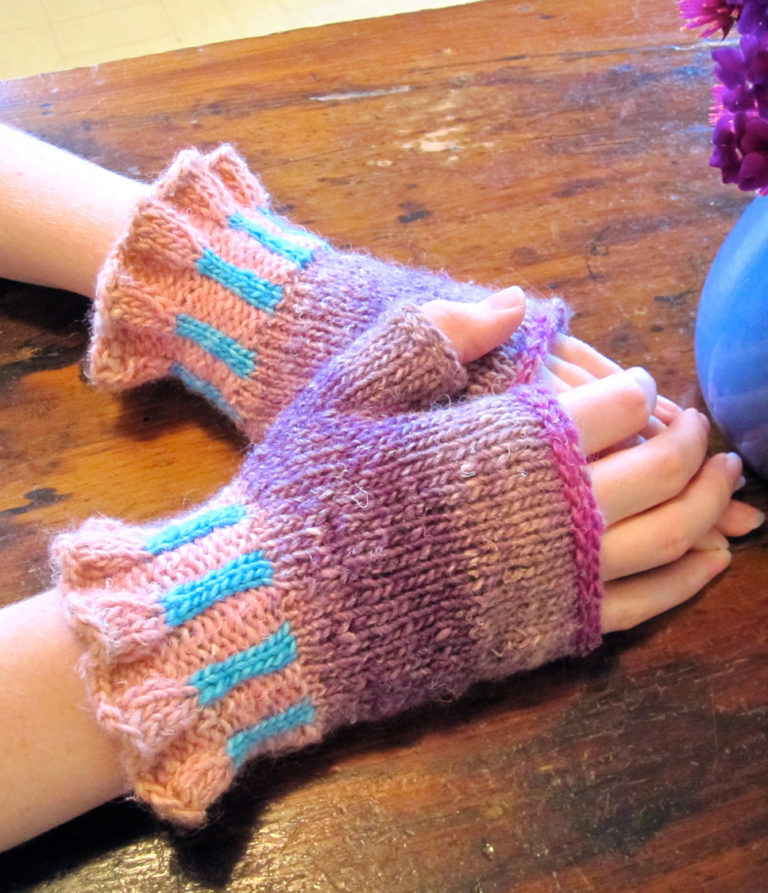 Elinor Fingerless Mitts
These lovely ruffled gloves are a quick and easy knit. They feature a ribbed ruffle edge, corrugated ribbed wristband and lateral braid bind-off edging.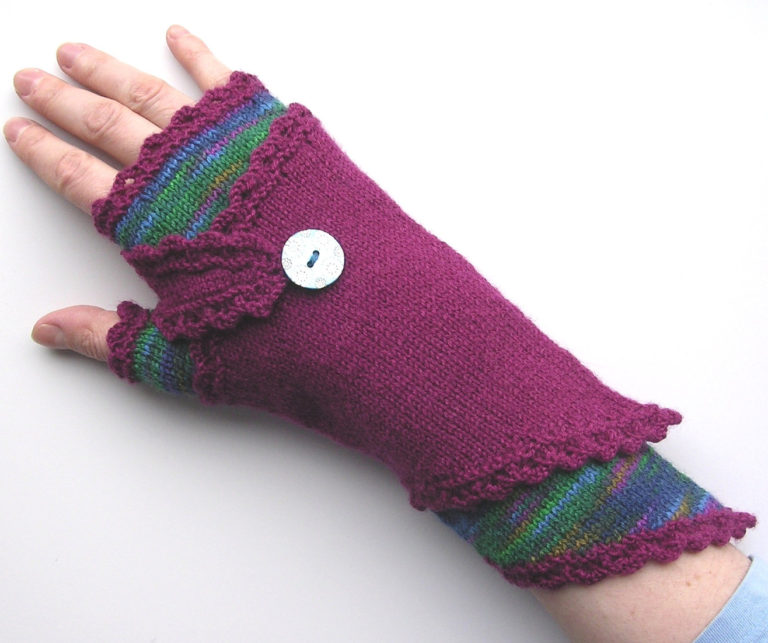 Fingerless Wraparounds
These fingerless mitts feature an an extra layer of warmth you can remove in milder weather. Knit extra wraps to match your wardrobe! 2 sizes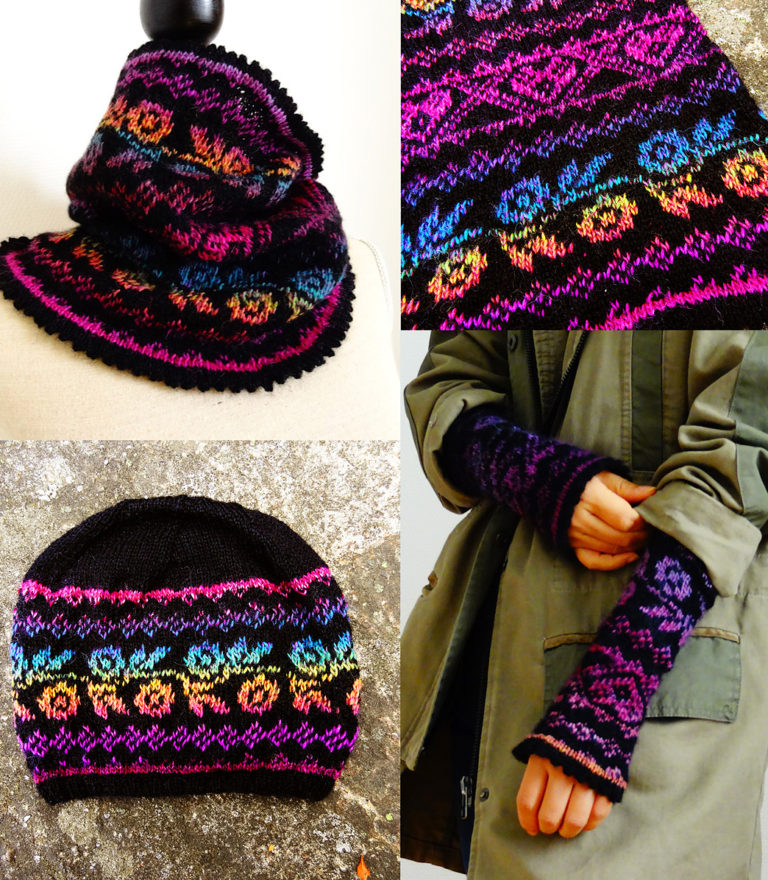 Rosie Accessory Set
Despite its appearance, this matching set with neck warmer, wristers and beanie is knitted with only 2 strands of yarn: a solid main solid color and a contrast variegated color, in a pretty rose/heart fair isle pattern, plus a simple picot edging for a feminine touch on the neck warmer and wristers.
See more pics and get the knitting pattern at Annie's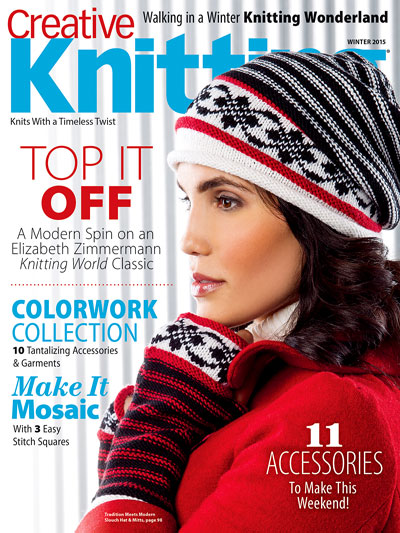 Tradition Meets Modern Slouch Hat & Mitts
Striking striped set with colorwork cuff. One of the 30+ cozy knitting projects in Creative Knitting Winter 2015 digital download.
See more pics and get the knitting pattern at Annie's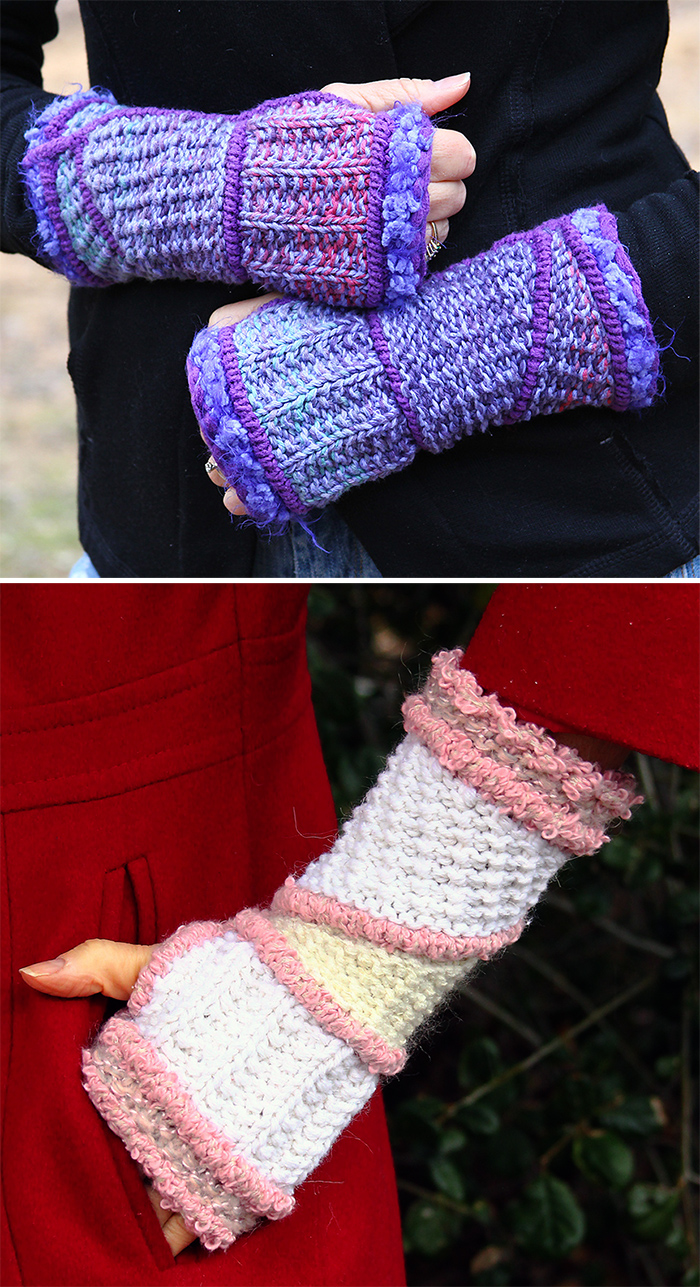 Anguloj Mitts
Fingerless Mitts designed for at least 3 yarns so it's great for stash and leftover yarn. Designed by Fiber to Fabric Magic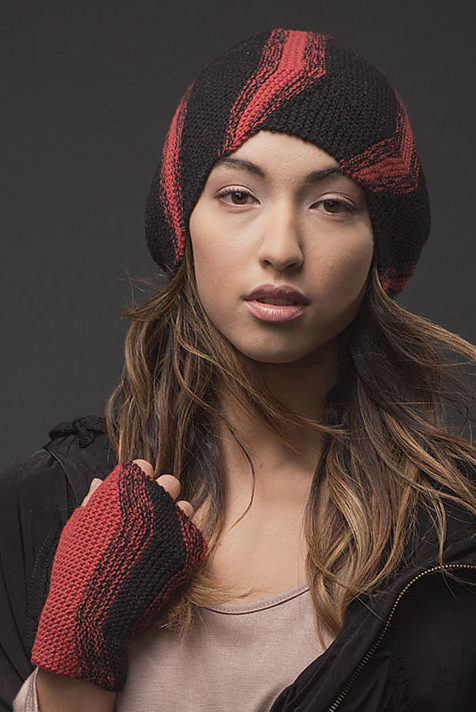 Awry Hat and Mitts
These fingerless mitts and hat feature a gradient effect created by holding two strands of yarn together. The mitts are knit flat side to side. There isn't an experience rating but they look fairly easy. Designed by Sarah Ellis. Sizes 5¾ (6½, 7½)" hand circumference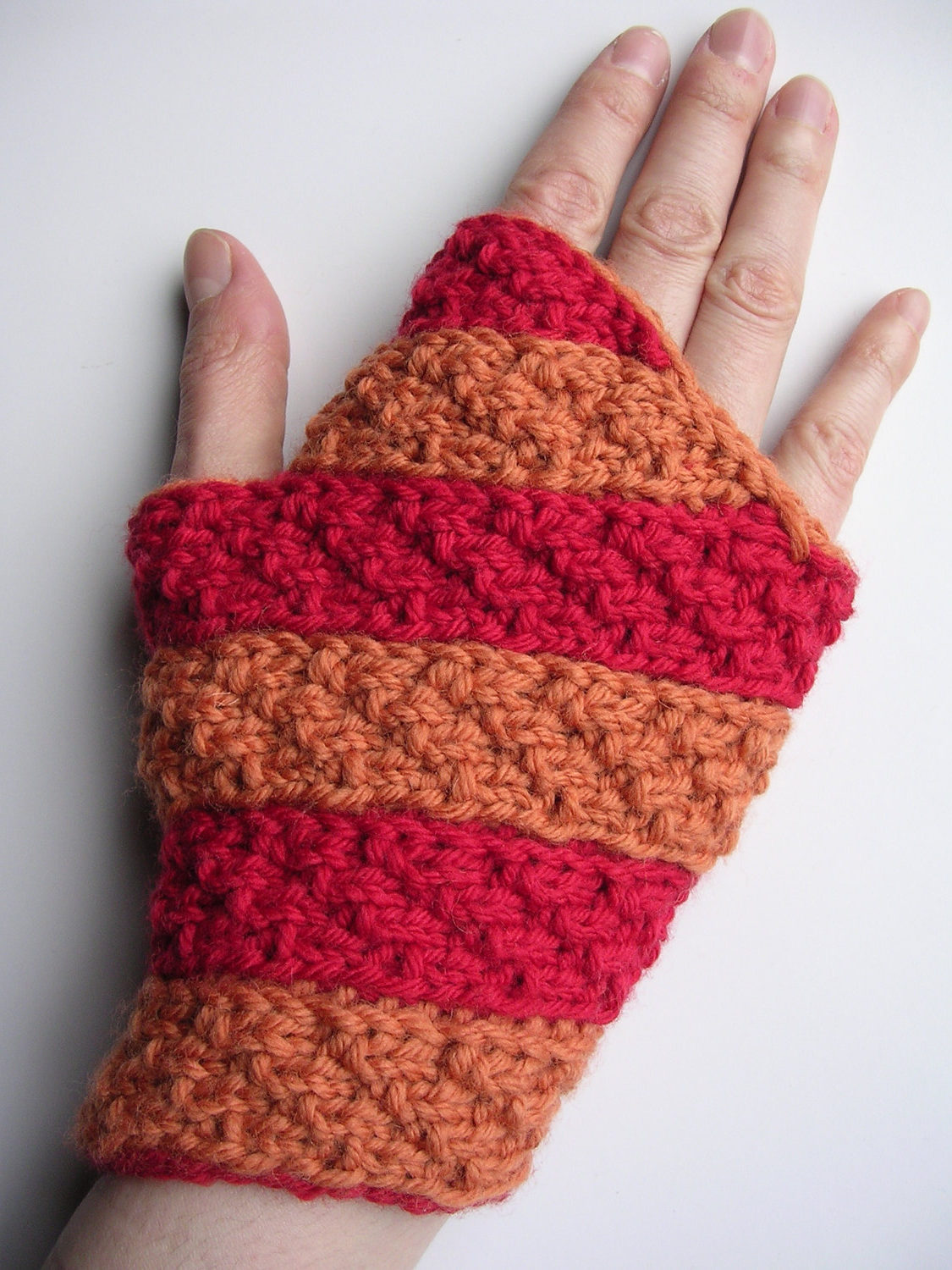 Easy Twister Mitts
Super-easy to make: knit two flat strips, and sew them together in a spiral.