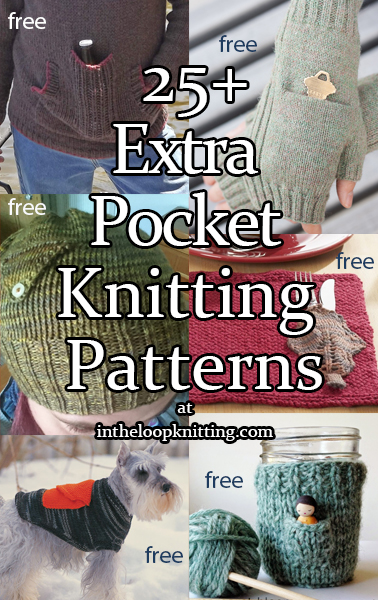 Who couldn't use an extra pocket? These accessories, home decor, and more give you extra pockets to carry or keep the necessities. Many of the patterns are free.
To get the knitting patterns, scroll down the page to the individual pattern you want and click on the link to that pattern.
These patterns are not my designs but links to other designers who have generously shared their patterns. If you have questions about how to knit a specific pattern, please contact the designer directly.
All links on this site are for informational purposes, but please note that some links are to affiliate sellers that pay me a small commission on purchases.
Free Patterns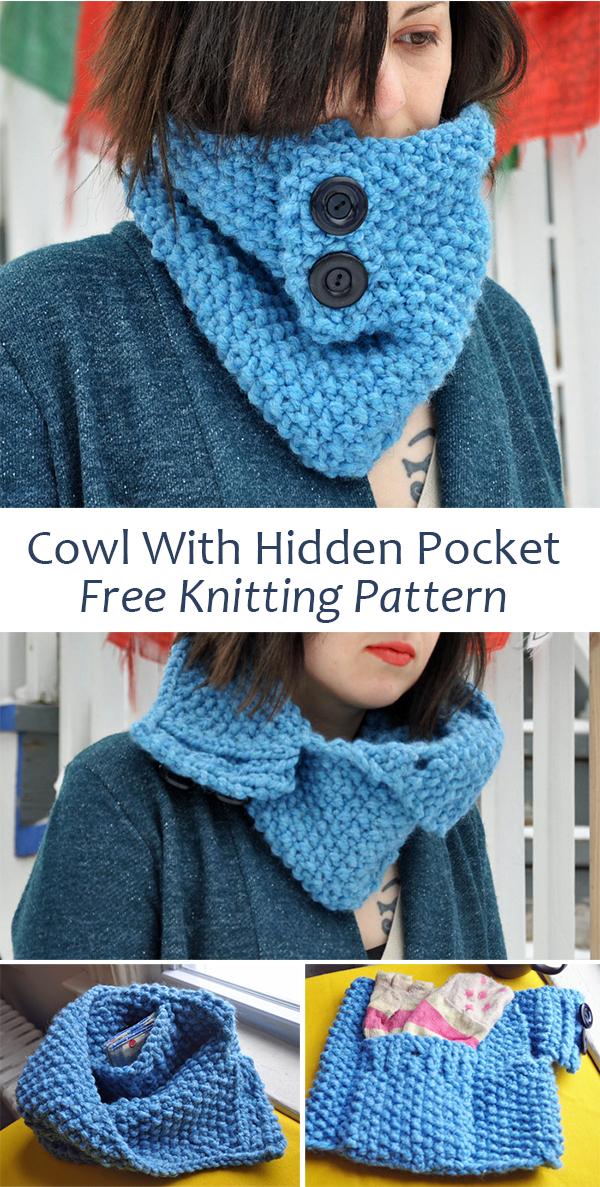 Chunky Cowl With Hidden Pocket
Versatile cowl in seed stitch features a hidden pocket and button closure. Quick knit with super bulky yarn. Designed by Leah Kyser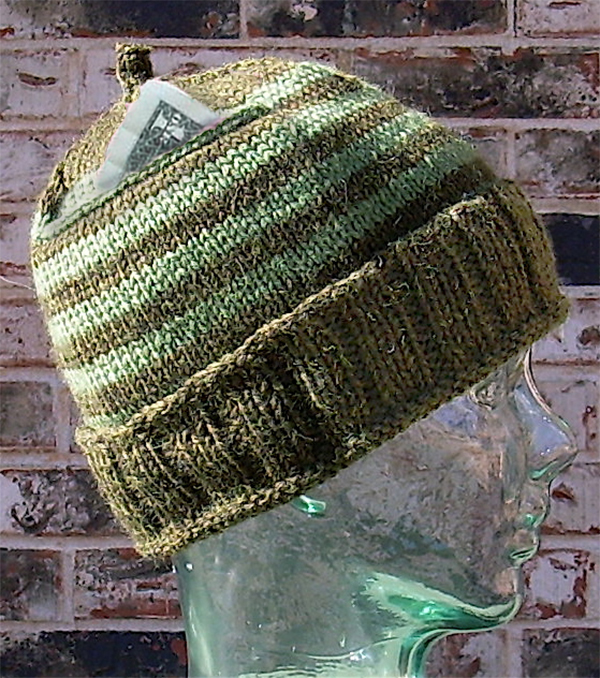 Promethean Pocket Hat
Striped beanie with a pocket for anything small you want to carry--added as you knit the hat, not afterwards! Pattern includes photo tutorial. Designed by Corrvin Smith. Worsted weight yarn.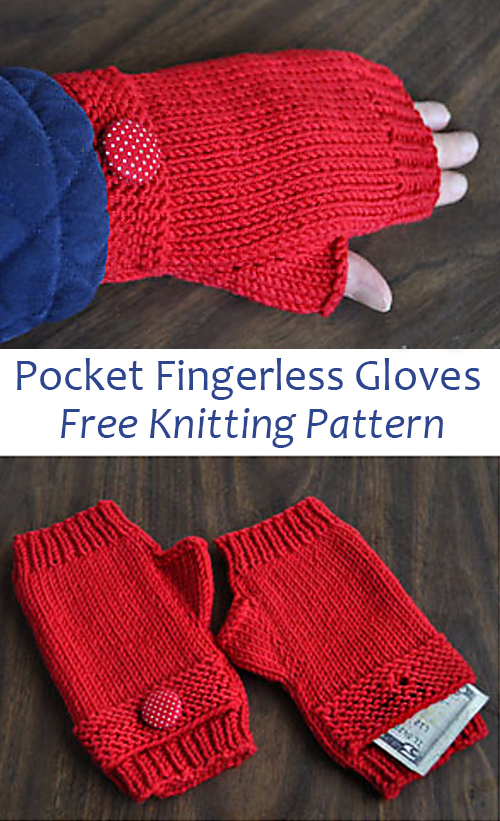 Pocket Fingerless Gloves
Fingerless mitts with a buttoned pocket to keep extra cash, metro card, etc. Worsted weight yarn. Designed by Gail Tanquary for Crystal Palace Yarns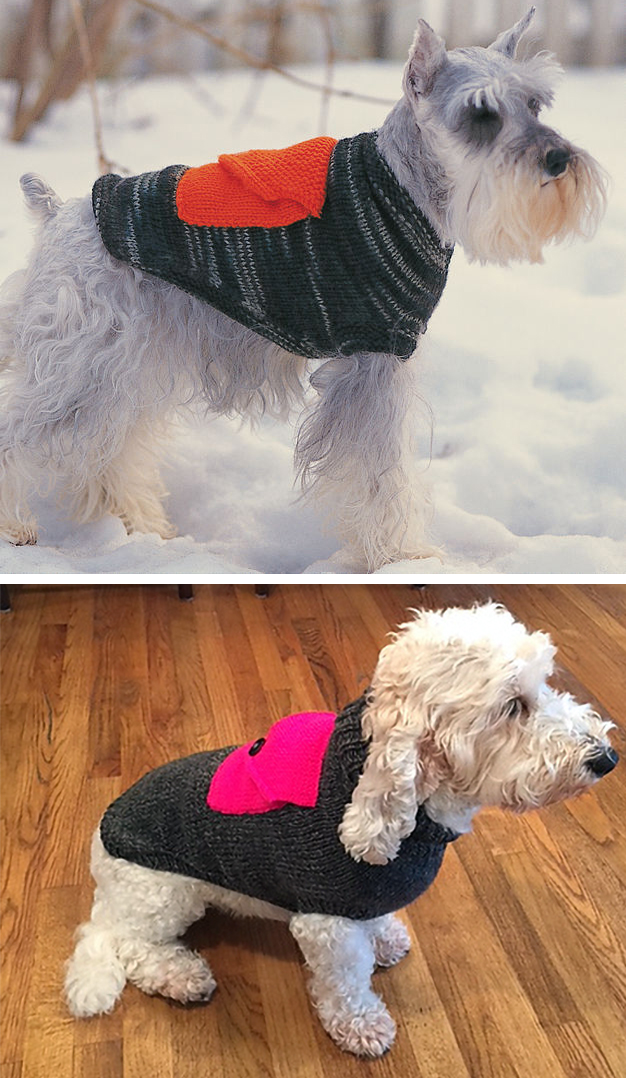 Dog Coat With Cargo Pocket
Dog sweater in sizes S, M, L, XL. Aran weight yarn. Designed by Bernat Design Studio. Pictured projects by the designer and saradenbo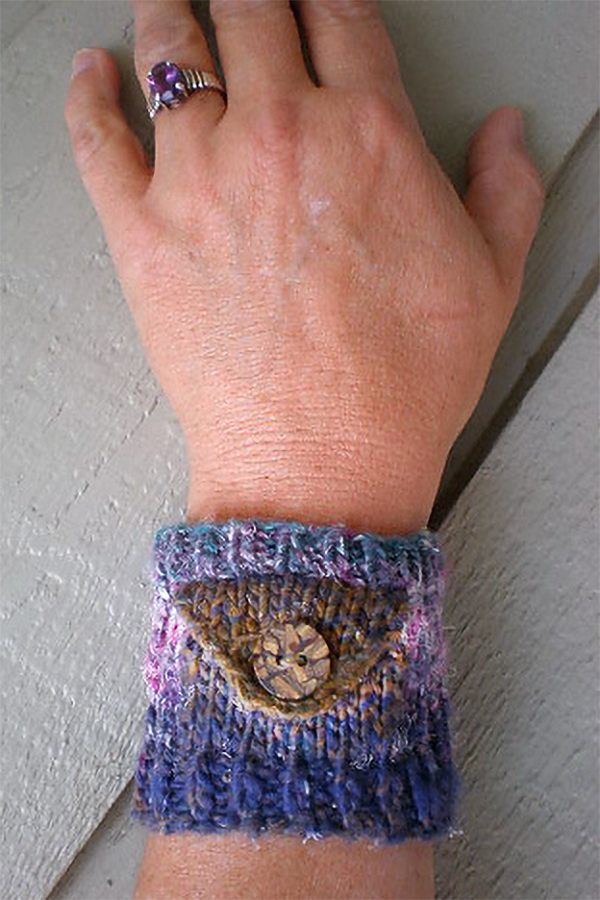 Whisp Pocket Cuff
Wrist cuff with convenient pocket for keys, coins, and other small items. 23 metres (25 yards) of DK yarn. Designed by mazzmatazz. Pictured project by JanMinahanWise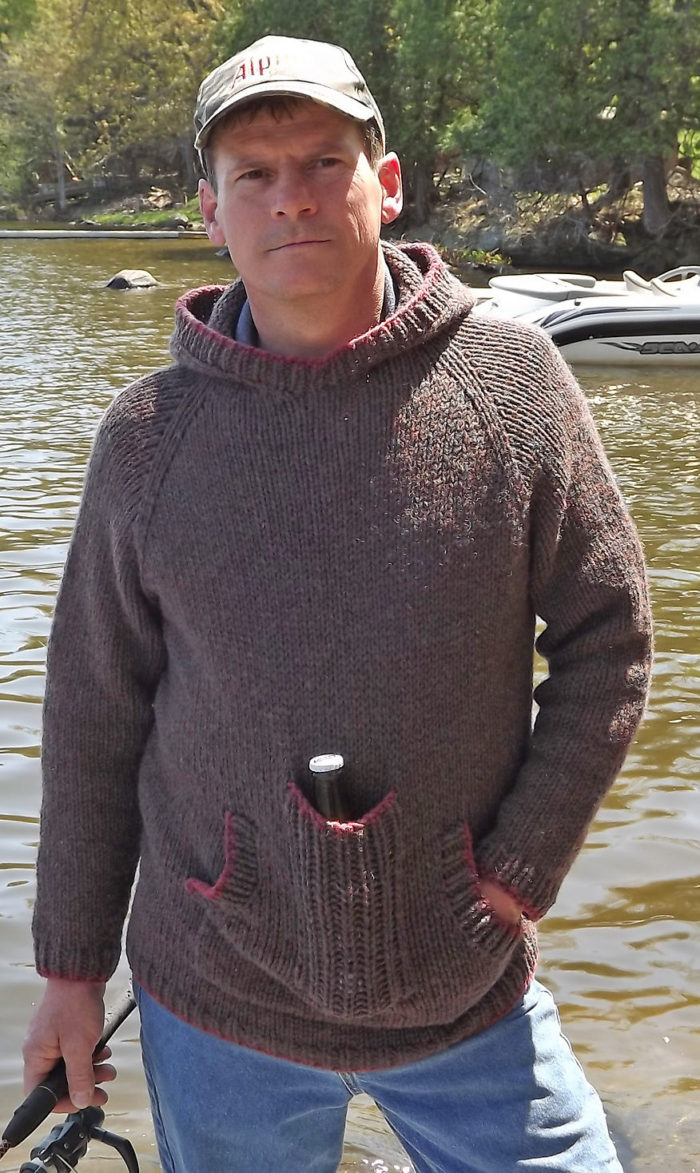 Bottle Rocket
This pullover hoodie features an extra pocket in front perfect for carrying a bottle handsfree when camping, hiking, fishing, or just relaxing. Quick knit in bulky yarn. Men's sizes S(M, L, X-L, 2X-L). Designed by Michelle Porter for Knitty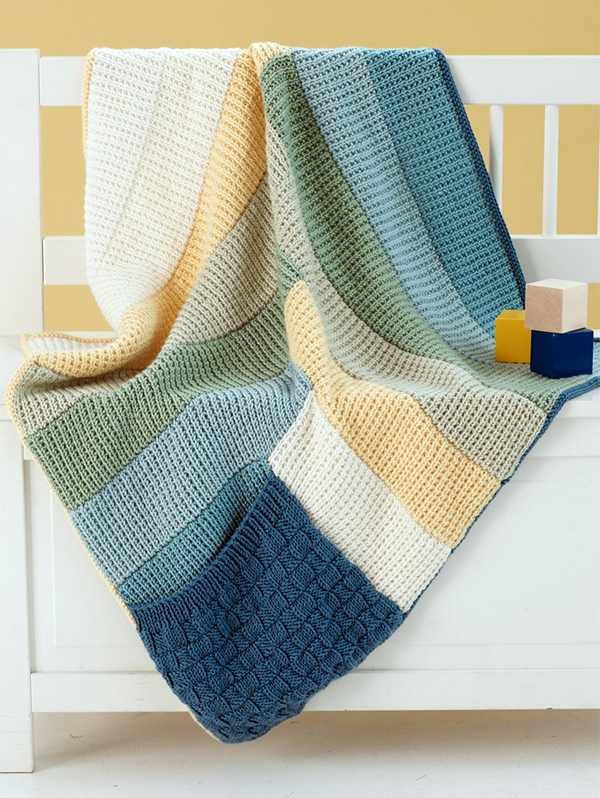 Log Cabin Pocket Blankie
This blanket is knit with log cabin construction in six different shades so it's a great stash buster. Its pocket can be used to fold up the blanket for storage or to keep favorite toys or comfort items. Designed by Lion Brand Yarn. Aran weight yarn.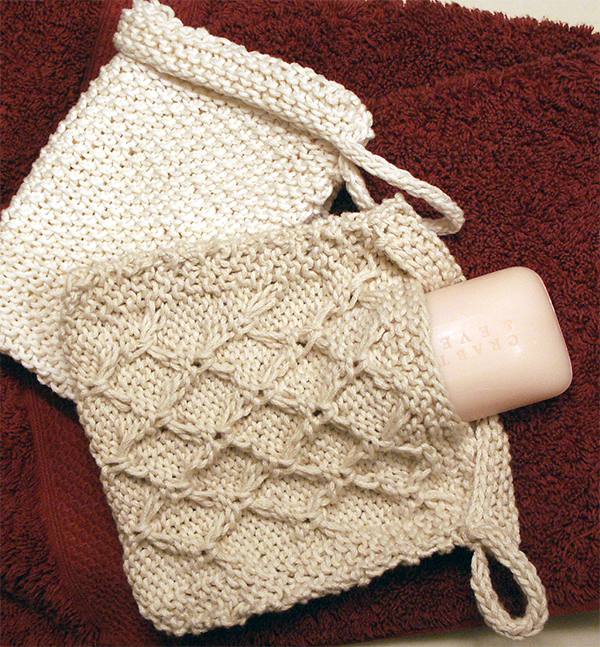 Washcloth With Soap Pocket
This wash cloth features a slipped stitch honeycomb pattern and a pocket to hold soap bars. Pair it with a fragrant soap for a quick gift. DK yarn. Designed by Mary Ann Borden-Neary.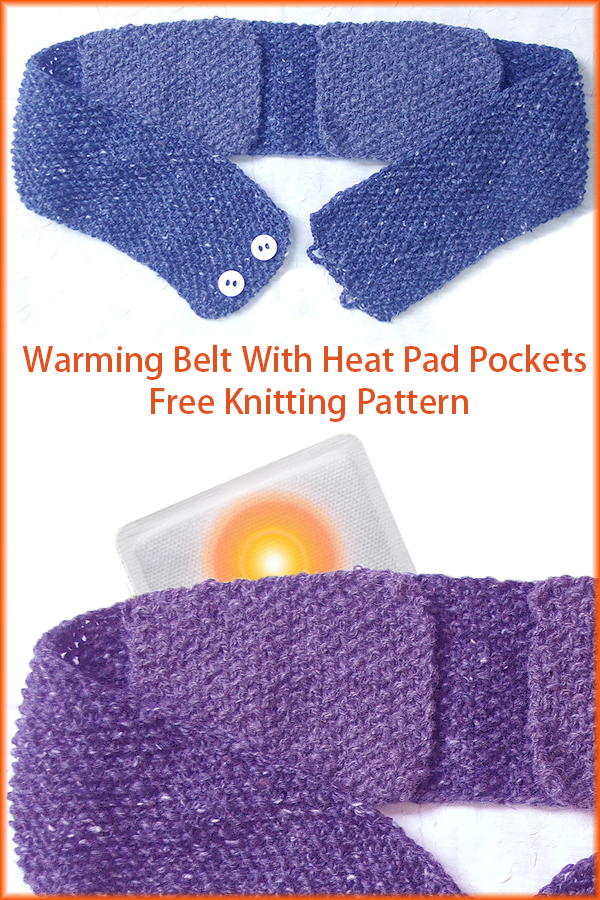 Warming Belt
Belt with pockets for heating pads or re-usable heating packs. Designed by Astrid Schramm.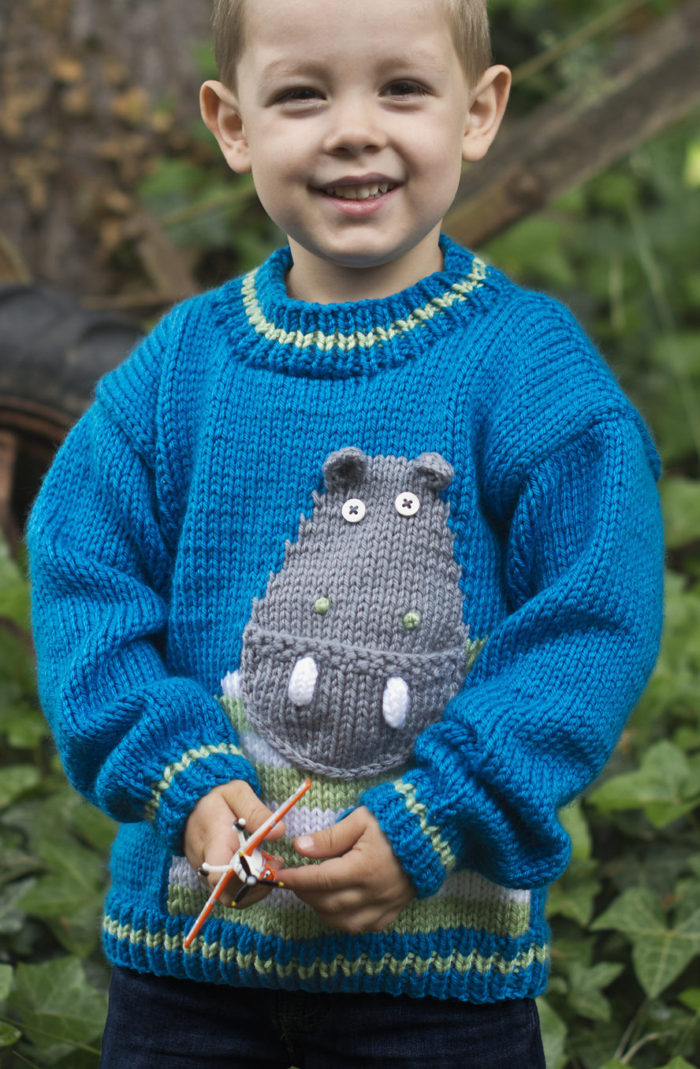 Hip Hippo-Ray! Pullover
Child's sweater has a surprise – a hidden pocket in the hippo's mouth. Hippotamus knit in intarsia. Sizes 2 (4, 6). Designed by Amy Bahrt. Bulky weight yarn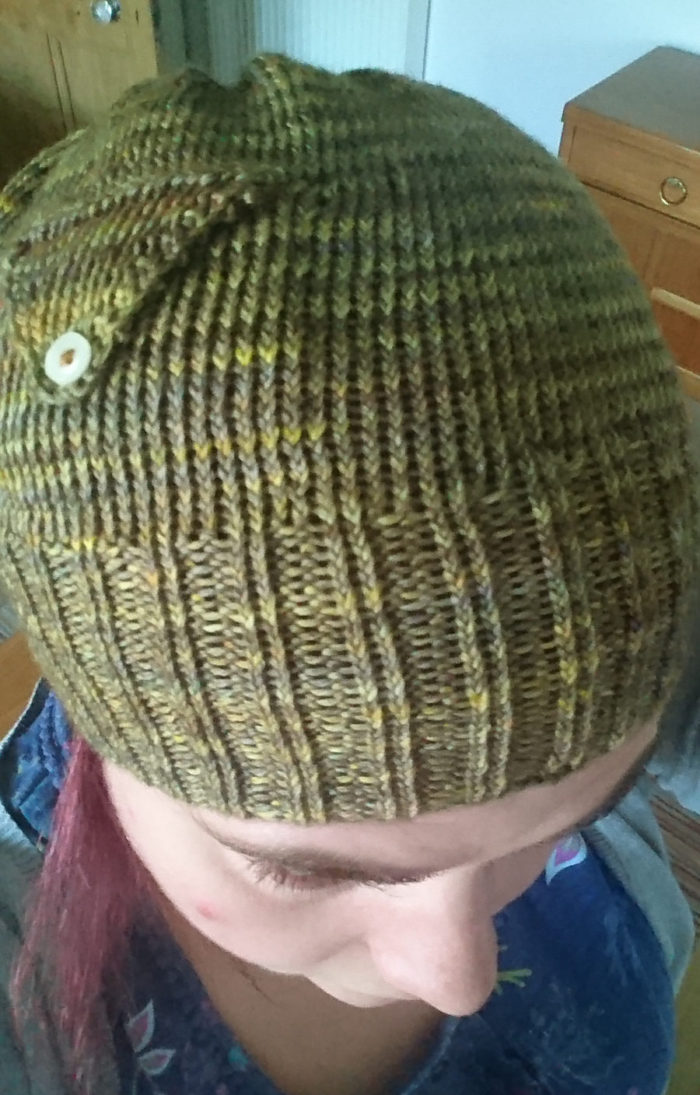 Hat with Pocket
The Eggplant beanie is a rib and stockinette hat with a pocket and flap knit separately and joined into hat. Fingering yarn. Sizes Child to Adult Designed by Kayla Latimer. Pictured project by shepherberry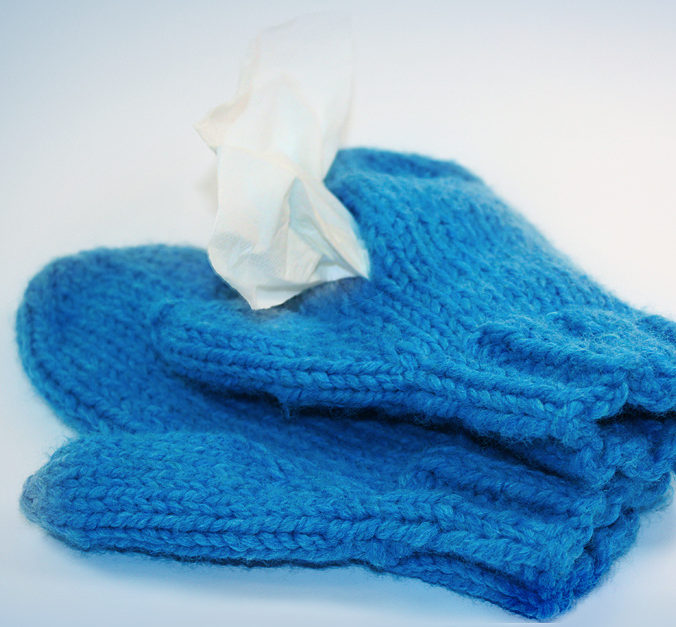 Kleenex® Mittens
These mitts will keep your hand cozy while also keeping tissues close at hand! One mitten has a slit and pouch inside the mitten to keep a small pack of tissues on top of your hand. 2 sizes. Quick knit in super bulky yarn. Designed by knittedblissJC. Available in English and French.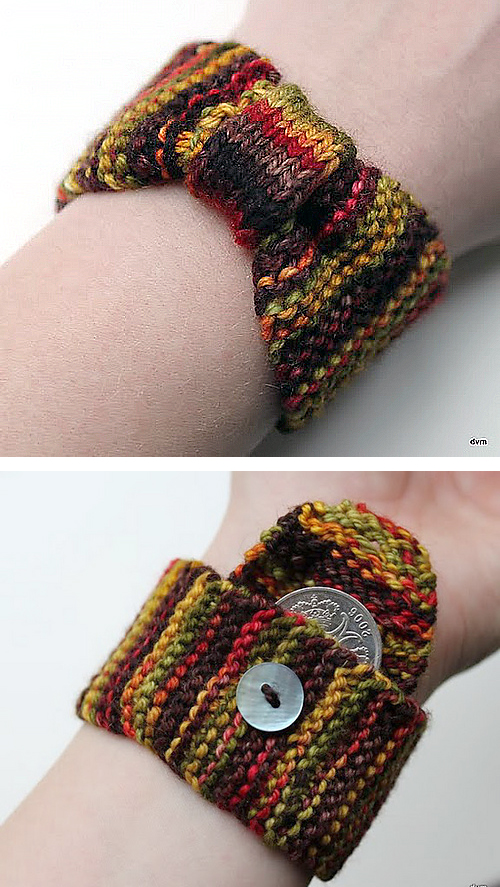 Bow Pocket Bracelet
This cute bow bracelet designed by Derya Davenport has a secret — a little pouch on the underside where you can put coins, bobby pins, etc. A great beginner project because it's made of 3 rectangles. Pictured project by dutte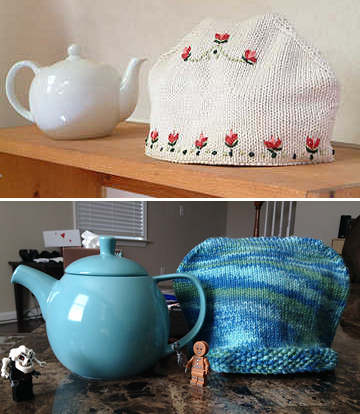 Aromatherapy Tea Cosy
This clever cozy includes four hidden interior pockets for sachets filled with scented flax seeds or aromatherapy beads. When you brew a comforting pot of tea, the moist heat from your teapot will release the healing scents. One of the patterns in Mindful Knitting by Tara Jon Manning.

Icicle Toes Lap Wrap With Toe Pocket
This afghan features a pocket at the bottom to keep your feet cozy and warm. Knit with a 4 row repeat slip stitch colorwork. Finished measurements: 40" x 50", pocket: 17" x 15". Designer's dad is knitting in the pic! Designed by Linda Taylor. There's also a heavier version using two strands of yarn held together.

Heat Relief Mittens with Pockets
These mittens feature a pocket for inserting air activated handwarmers. Michele Czekala designed these for Raynaud sufferers but anyone who suffers from cold or pain in the winter would benefit from the extra warmth.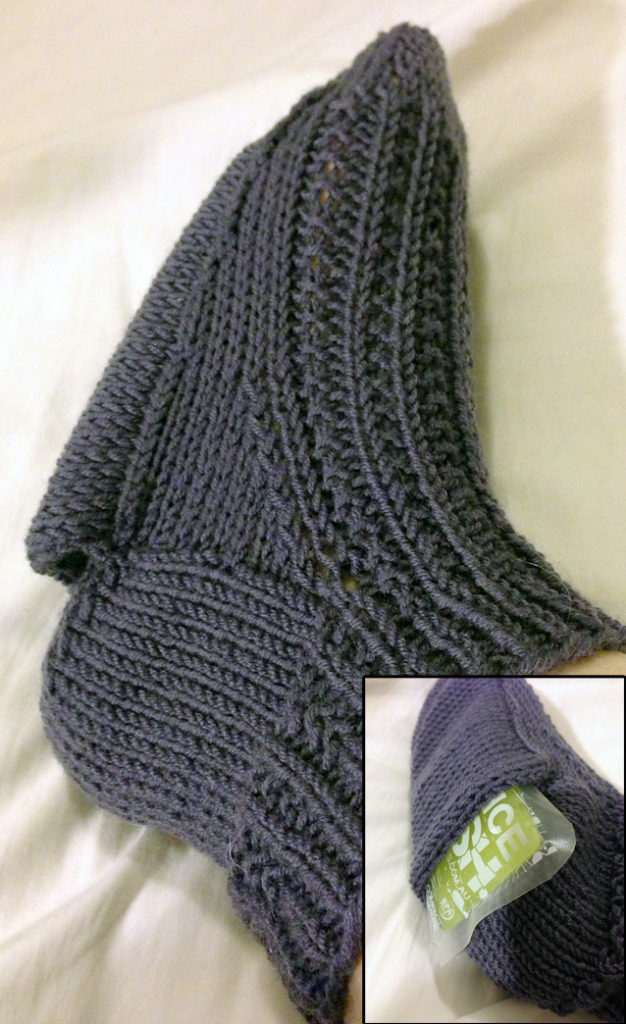 Ice Pack Socks
These slipper socks come with a pocket on the sole to slip an ice pack in to help relieve painful feet. The designer Denise Sutherland used the Sock of Doom pattern but says you can adapt it to any sock pattern.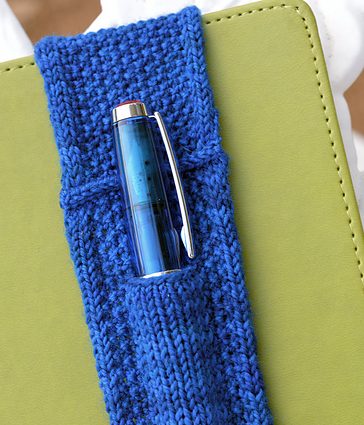 Journal Band with Pen Pocket
Laura Crowley designed this easy, quick-to-knit band with a built-in pen pocket. Great stash buster or quick gift!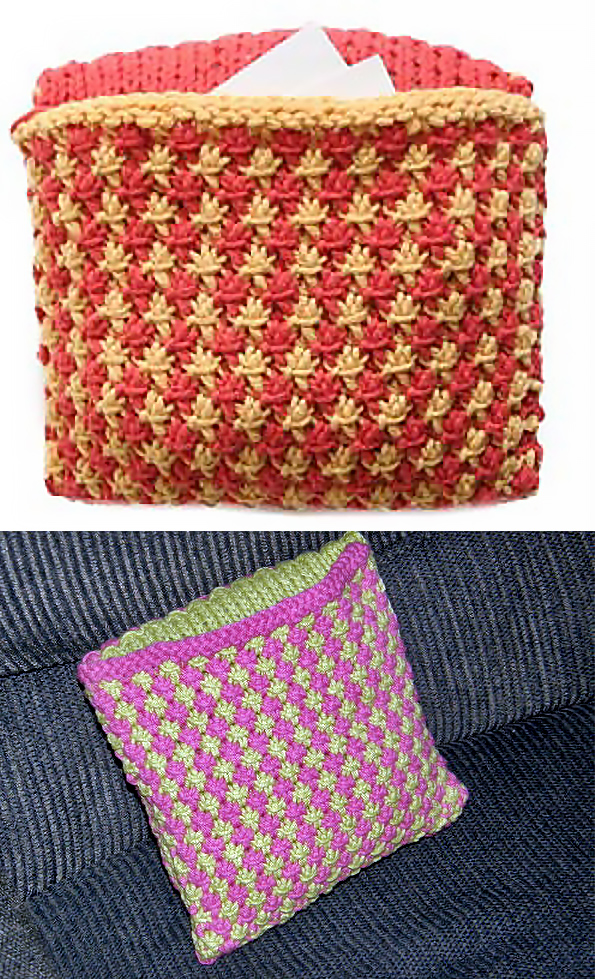 Starry Treasure Pillow
This small pillow features a pocket that's perfect for holding small items or for delivering a little note or a tiny gift. Knit with a two-color variation of the star stitch. 6½ x 6½ in. (16.5 x 16.5 cm) Worsted Weight. Pictured projects by the designer, Joanne Seiff, and grammabunny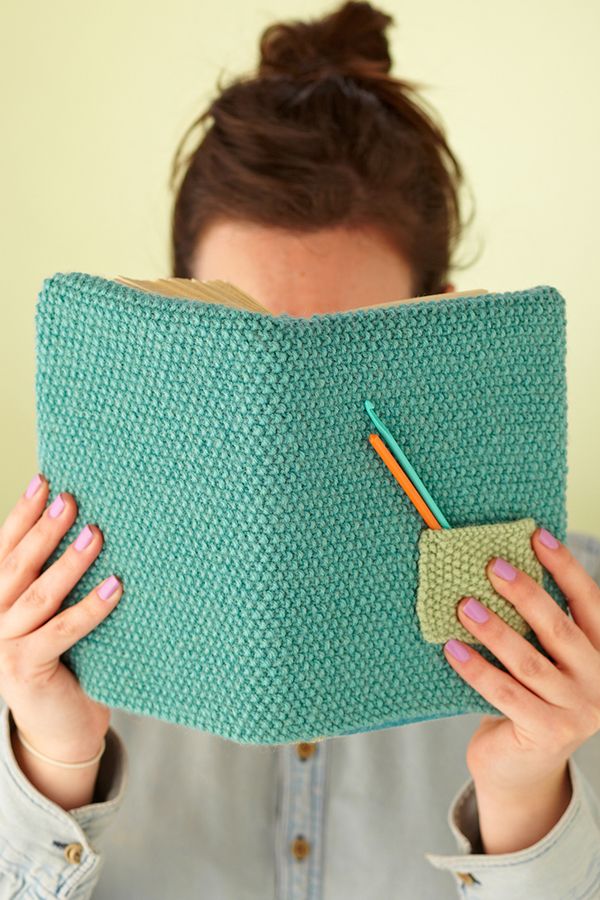 Book Cover
Designed by Julie Picard for Mollie Makes, this two stitch cover for good reads or notebooks come with a handy pocket for highlighter, pen, or other tools.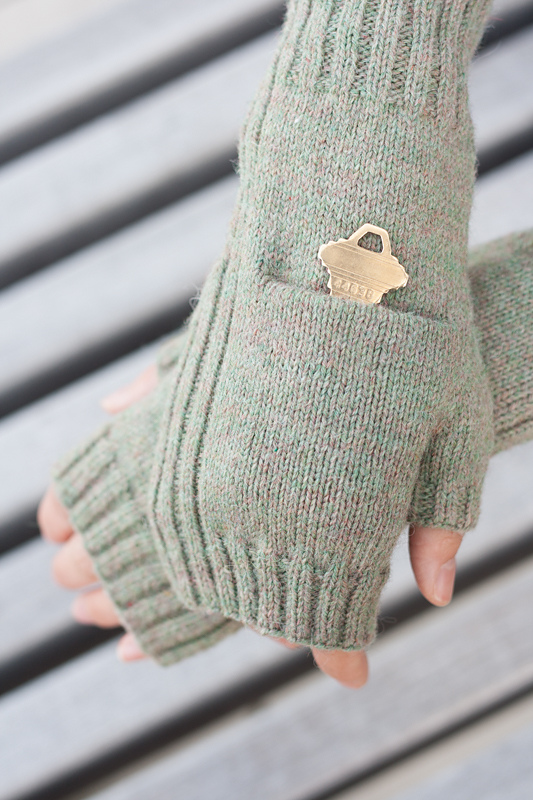 Fingerless Pocket Mitts
Mitts with handy pockets to store your subway token, tissue, or any other small items to keep your hands free! 2 sizes. Designed by Shannon Charles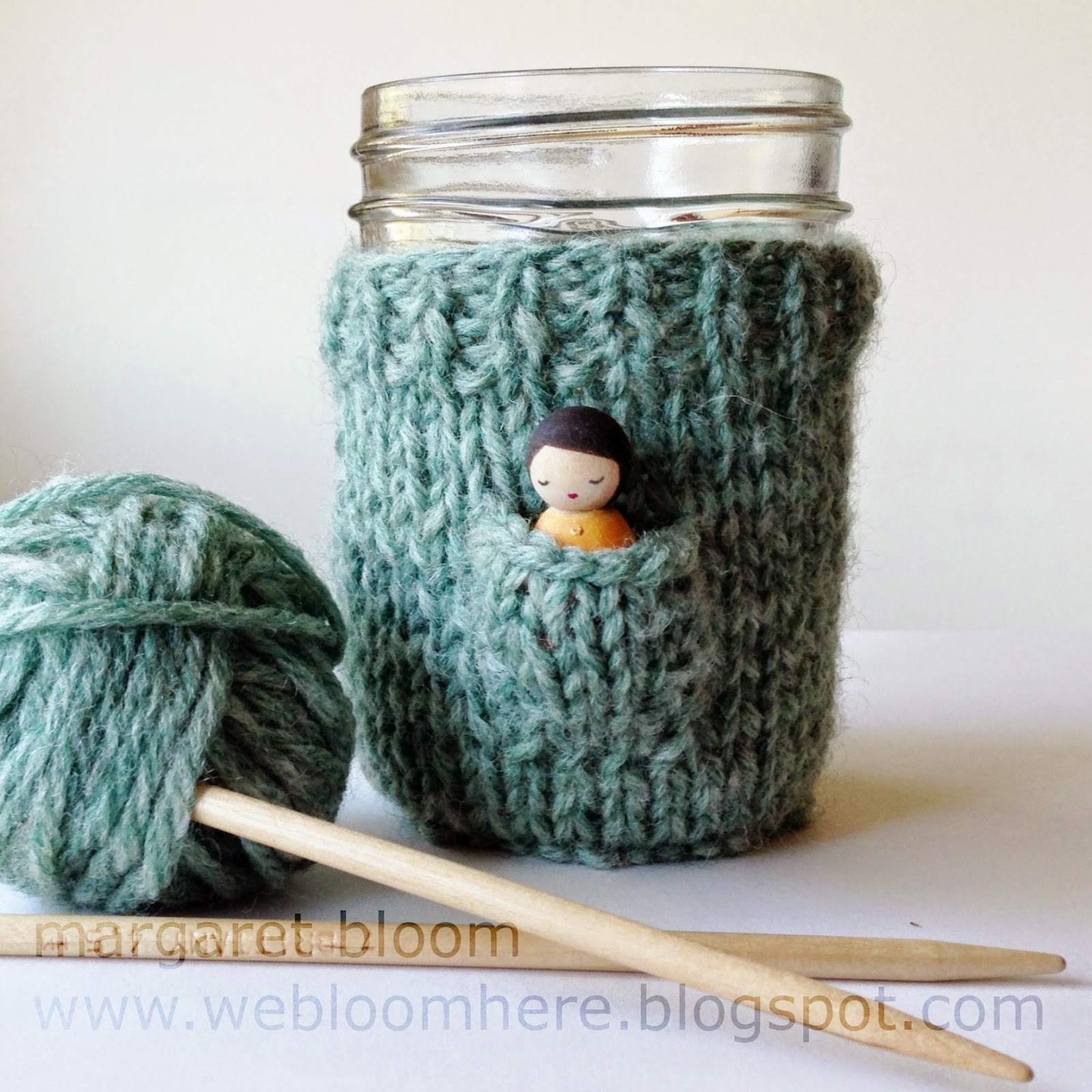 Fairy Cup Cozie
Margaret Bloom's cozie features a cute little pocket for tiny toys, treats, or anything else you can think of. Sized for 8 oz. mason jars.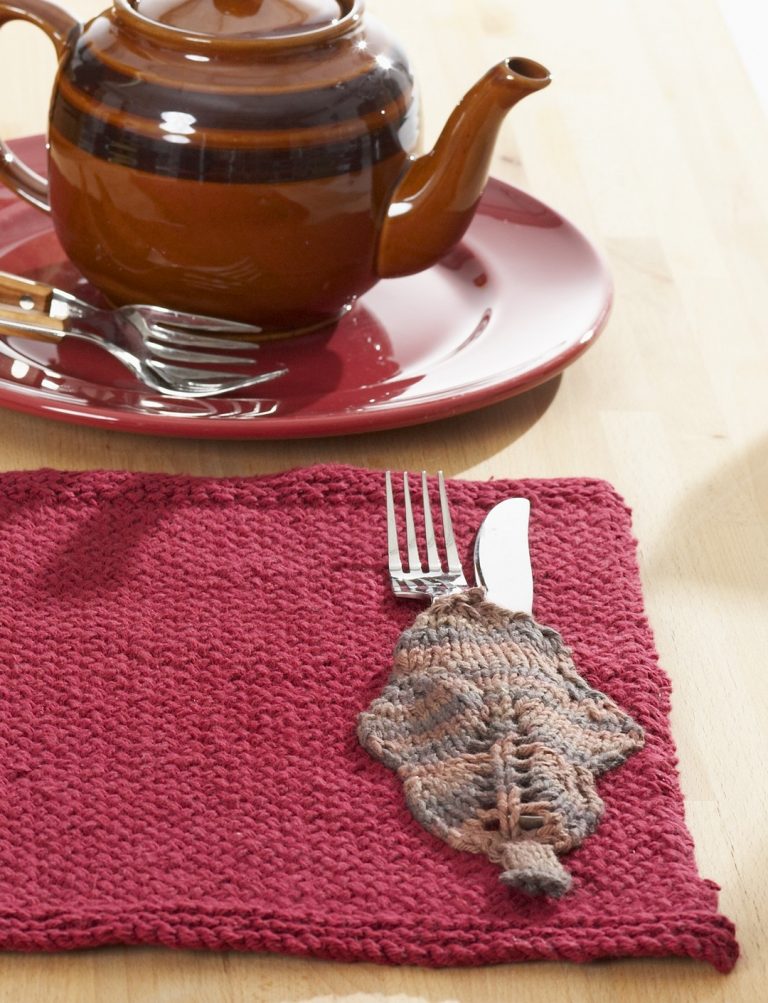 Leaf Placemat
Lily Sugar 'n Cream Autumn Leaves Placemats are an easy knitting pattern that features a leaf-shaped pocket for silverware.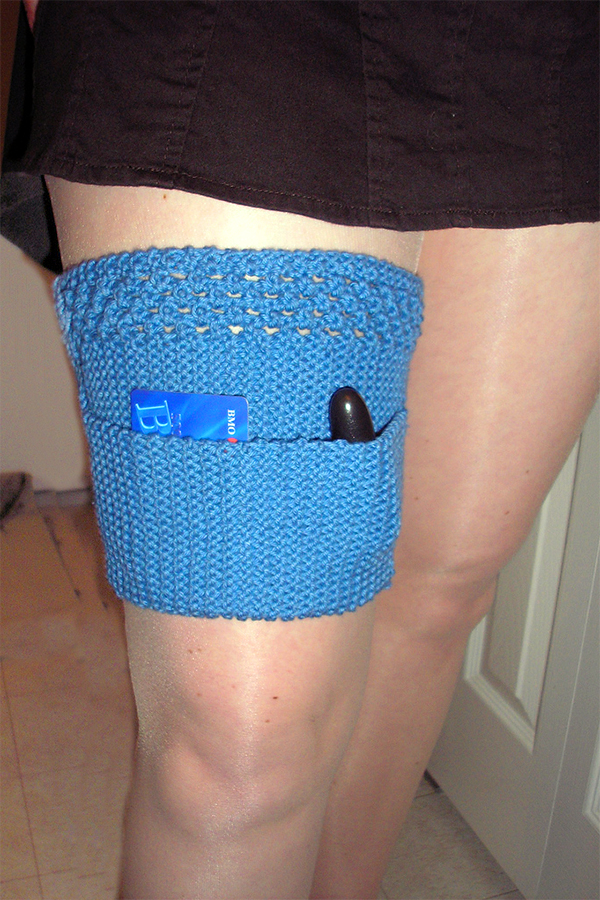 Pocket Garter
This easy pattern is an ingenious way to carry essential items hidden underneath a tunic or dress. Designed by Amy Finlay. Rated easy by Ravelrers. DK weight yarn.
Patterns for Purchase

Pocket Earflap Hat
Wabbit Season Hat features earflaps with buttoned pockets that can be tied out of the way on top when you don't need them. Sizes Women's S/M/L/XL and Men's S/M/L. Designed by Alexandra Tinsley. Aran weight yarn.

Pocket Socks
Warm and cozy socks adorned with a side pocket and button closure because who doesn't need a pocket on their sock sometimes? Quick to knit, this sock makes a great treat for yourself or gift for others. Sizes Women's S/M/L/XL and Men's S/M/L. Designed by Joleen Kraft. Worsted weight yarn.

Subway Mittens
These mittens were designed with a pocket perfectly sized for a mass-transit pass card, keys, or other small items. A twisted-rib cuff seals out the wind. Rated easy by Ravelrers. Designed by Colleen Michele Meagher. Worsted weight yarn. Pictured project by flintknits, the designer, and lorcoops

Subway Boot Socks
These knee-high socks have a graceful cable running up the sides and a surprise pocket closed by folding over the ribbing of the sock. A handy spot for a bus pass or coffee money when you're travelling light. Designed by Moira Engel. Worsted weight yarn.

Pooch Remote Control Holder
This pooch has pouches! Dog softie sits over a sofa or chair arm and has pockets for remote controls. Great gift idea! Designed by Tat'sgrans Treasures.

Thanks, It Has Pockets!
Reversible infinity scarf cowl with zippered pockets created through double knitting. Designed by Kathleen Sperling. Sport Weight yarn.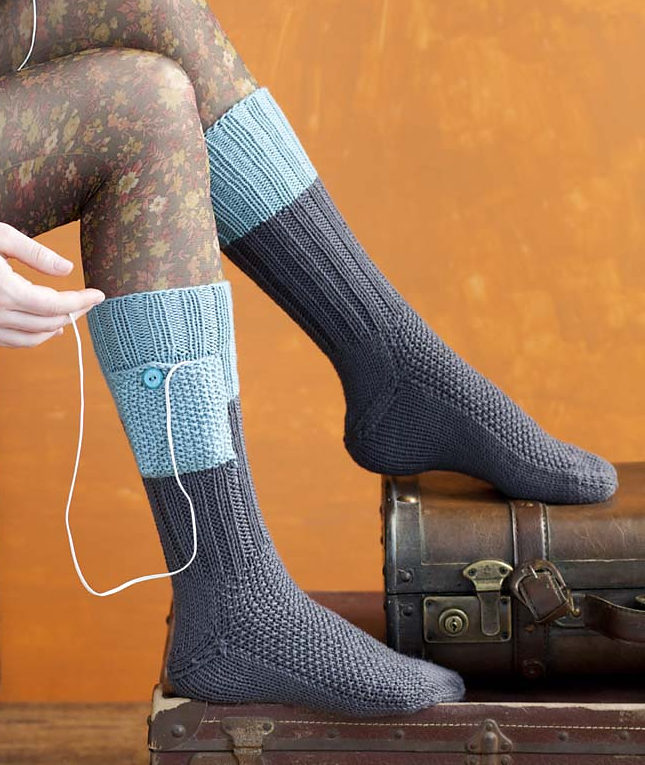 Sockets Socks with Pockets
A clever pocket at the cuff of these calf socks is the perfect size for a credit card, a key, or a tiny treasure. Size Small/Medium and Large (Woman's shoe sizes 5–10). Designed by Cathy Carron. One of the 40 patterns in Happy Feet: Unique Knits to Knock Your Socks Off

Pocket Bear
Teddy bear softie with front pocket. 13 inches tall. Designed by Amy Gaines. Worsted Weight yarn.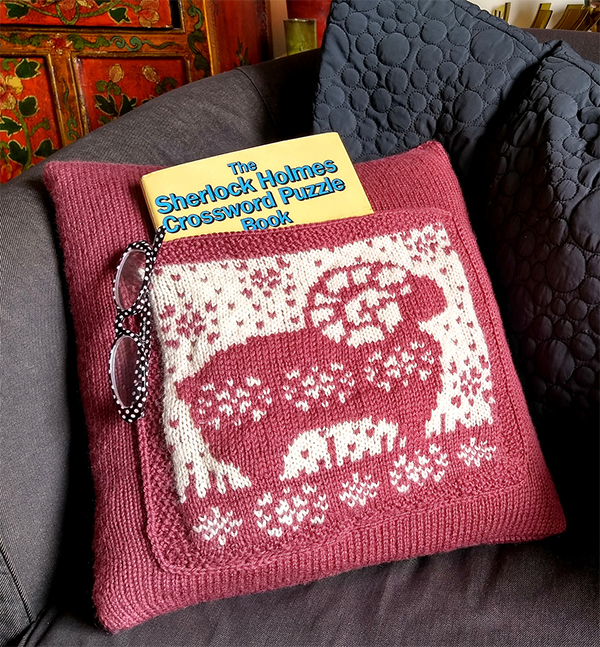 Sweet Eustace Cushion With Pocket
This cushion cover features a colorwork pocket panel with a stranded design of a horned heath sheep to hold your books, magazines, small knitting projects. Designed by Mona Zillah. DK weight yarn.

Fingerless Gloves With Pockets
These handwarmers feature an inside pocket on the top closed with two buttons that's perfect for key, change, parking passes, and other essentials.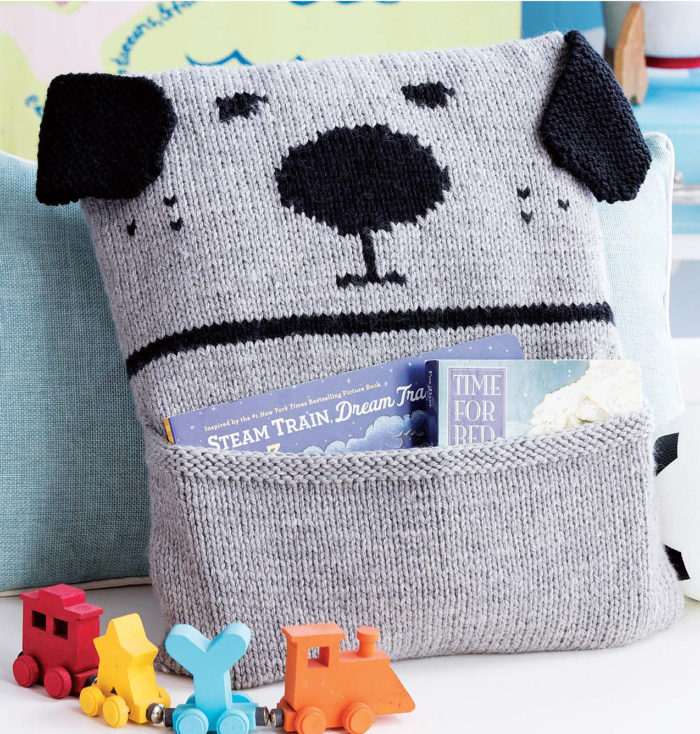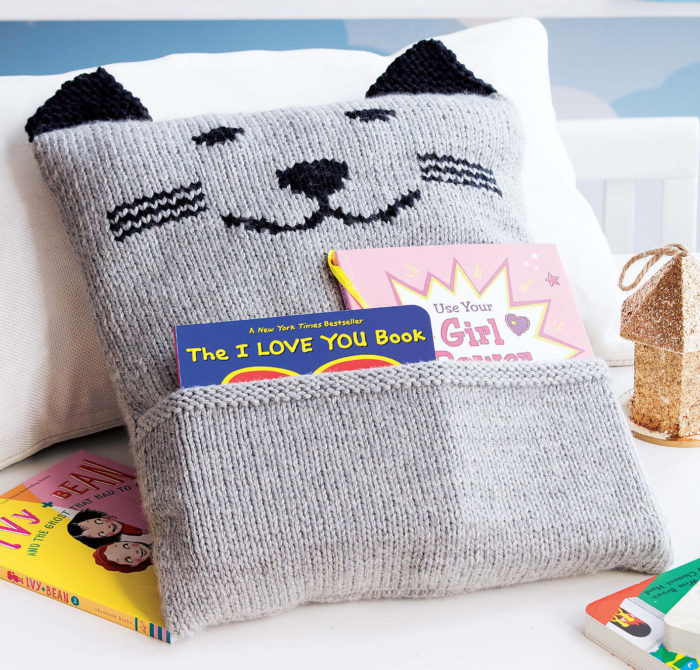 Bow-Wow and Meow-Meow Pillows
Playful pillow covers with dog or cat face and pockets for storybooks or other treasures. Approx 14 x 16"/35.5 x 40.5cm. Two of the patterns in 60 Quick Knitted Toys. Designed by Amy Bahrt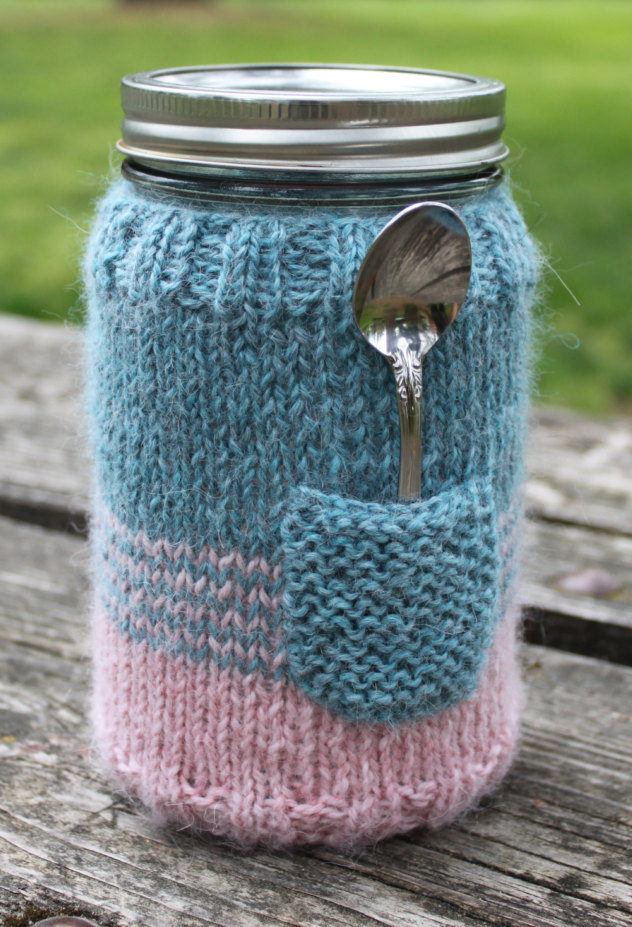 Mason Jar Sweater
Wide mouth cozy with pocket. Makes a great quick gift.