Dresses and Skirts for Children Knitting Patterns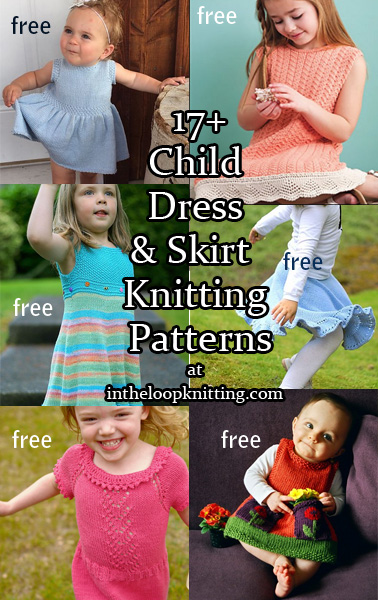 Nothing is more fun to wear or knit than a twirly whirly flouncy bouncy dress or skirt for the little ones in your life.
To get the knitting patterns, scroll down the page to the individual pattern you want and click on the link to that pattern.
These patterns are not my designs but links to other designers who have generously shared their patterns. If you have questions about how to knit a specific pattern, please contact the designer directly.
All links on this site are for informational purposes, but please note that some links are to affiliate sellers that pay me a small commission on purchases.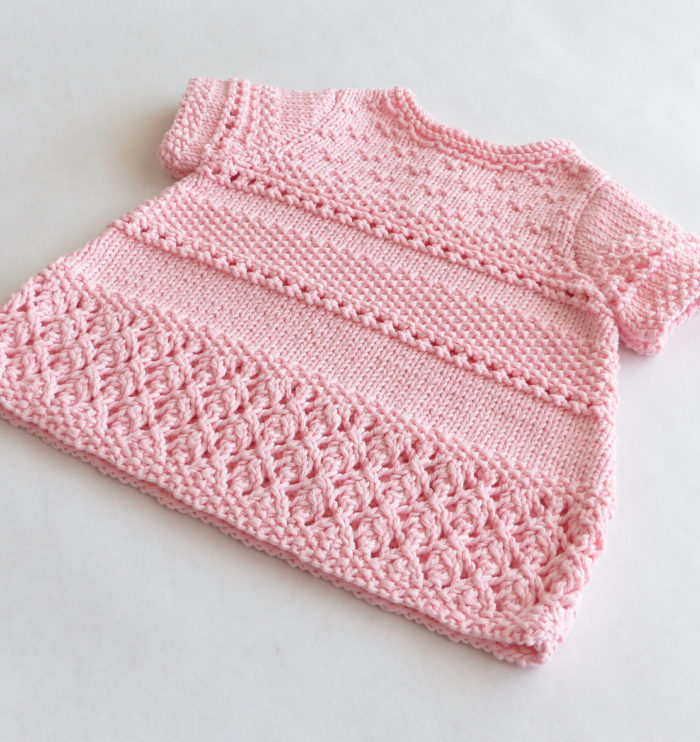 Ophelia Baby Dress
Baby dress with textured and lace stitches. Sizes 0-3 months (6 months, 9 – 12 months). Designed by Elena Canon. DK weight yarn. Available in English and French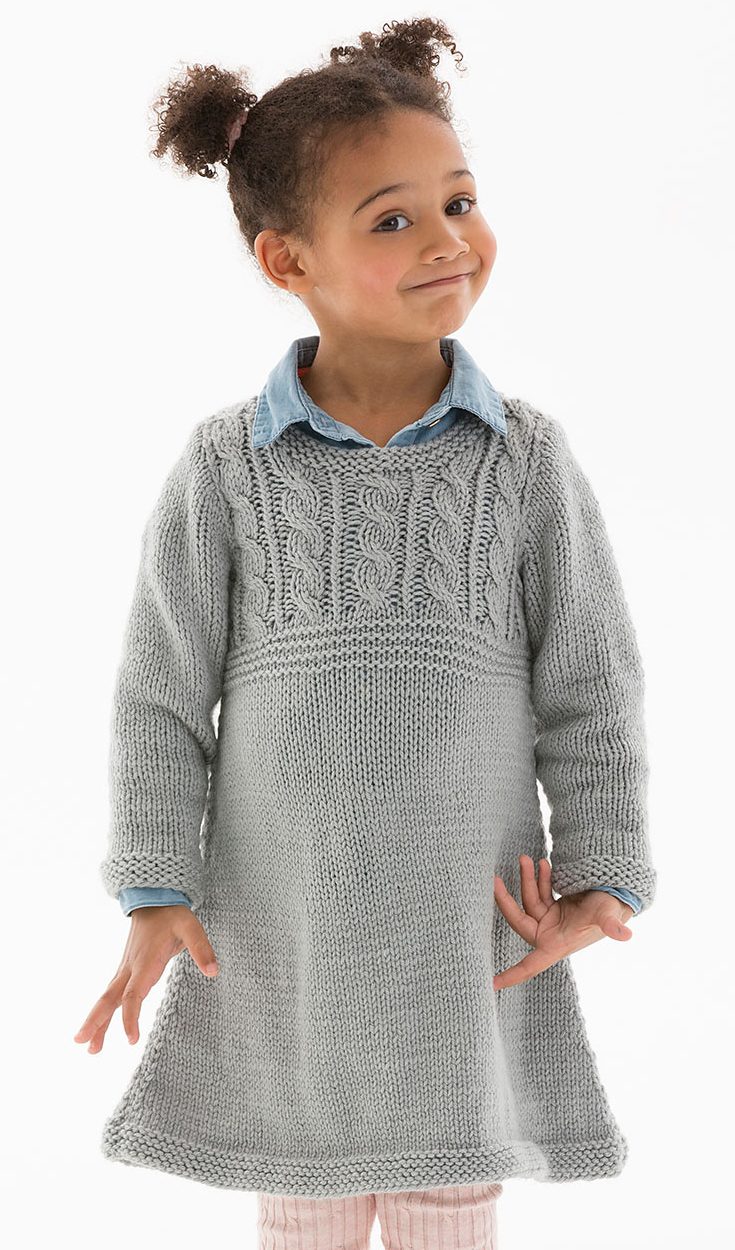 Cable Sweater Dress
Jodi Lewanda's easy dress for children in sizes 2, 4, 6, 8 years.
[widget id="black-studio-tinymce-17″]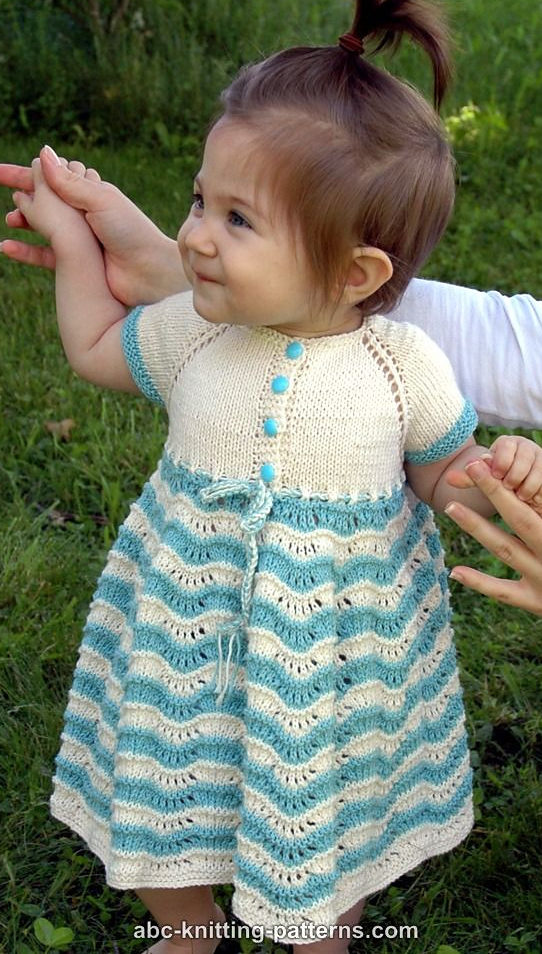 Sunday Best Baby Dress
This dress knitted seamlessly from the top down with easy lace skirt with adaptable length. Sizes 12, 18, 24 months. Designed by ABC-Knitting-Patterns.com. Sport weight yarn.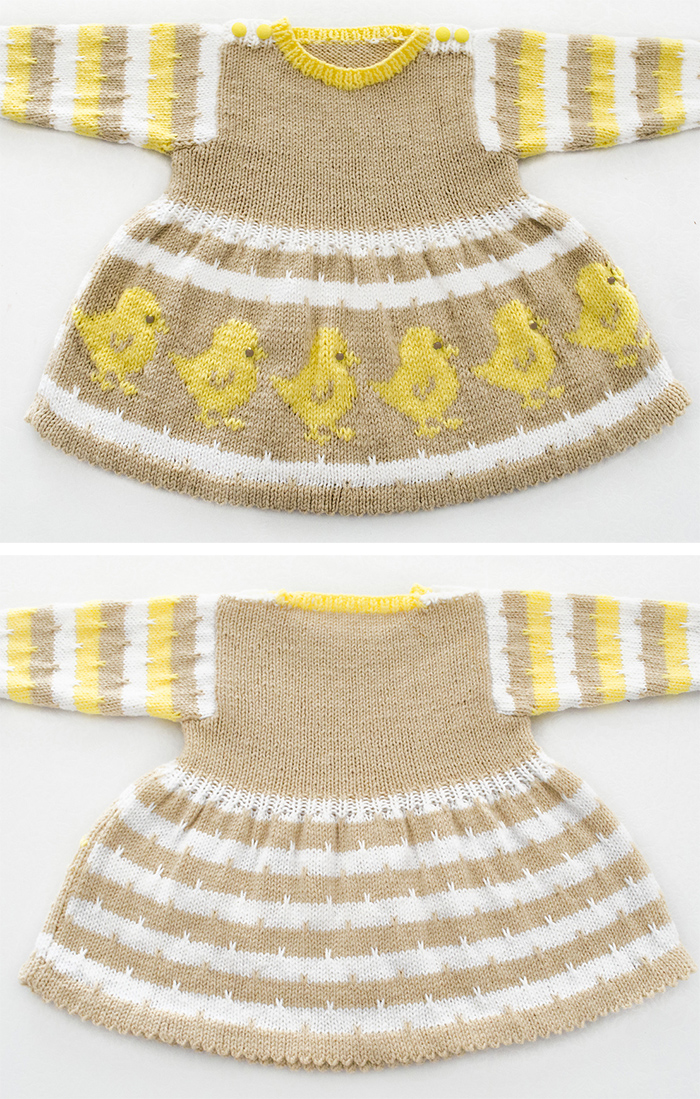 Eggy Chicky Dress
Long-sleeved baby dress with buttons at the shoulders for easy dressing, stripes with slipped stitches for interest, and chicks in colorwork. 12-18 months. Designed by Wiam's Crafts. DK yarn. Available in English and Danish.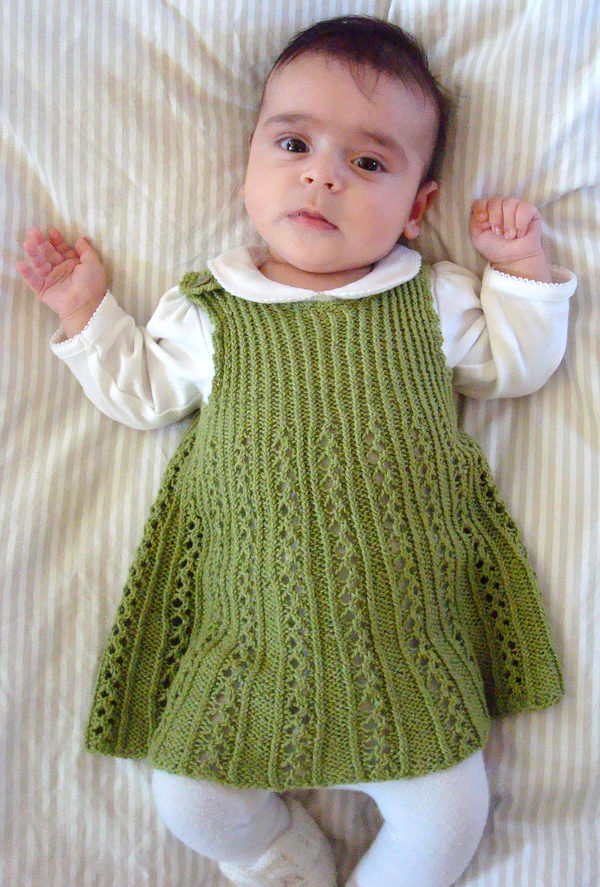 Tiny Ribbon Baby Dress
The tiny ribbon lace on the skirt transitions nicely into the twisted rib of the bodice of this adorable dress. 3-6 months. Designed by Astrid Colding Sivertsen. DK yarn. Available in English and Danish.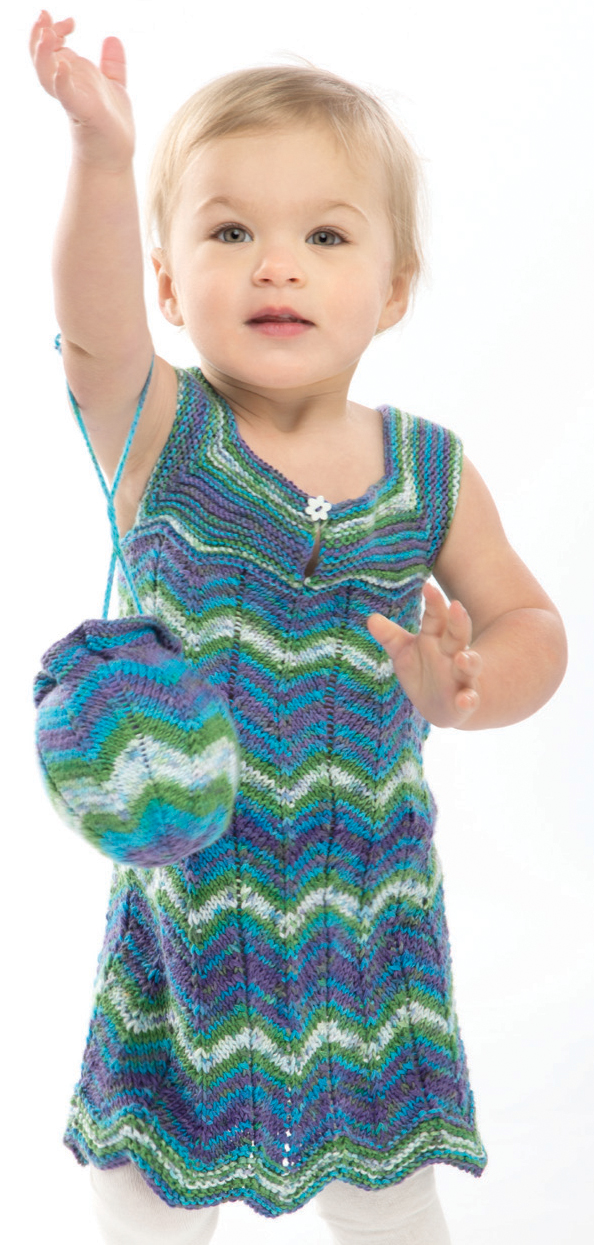 Garden Party Dress, Purse, and Headband
Matching set is knit in a 2-row repeat chevron stitch that showcases multi-colored yarn and makes a natural zigzag hem. Designed by Premier Yarns Design Team. Child 12m (2t, 4t, 6t)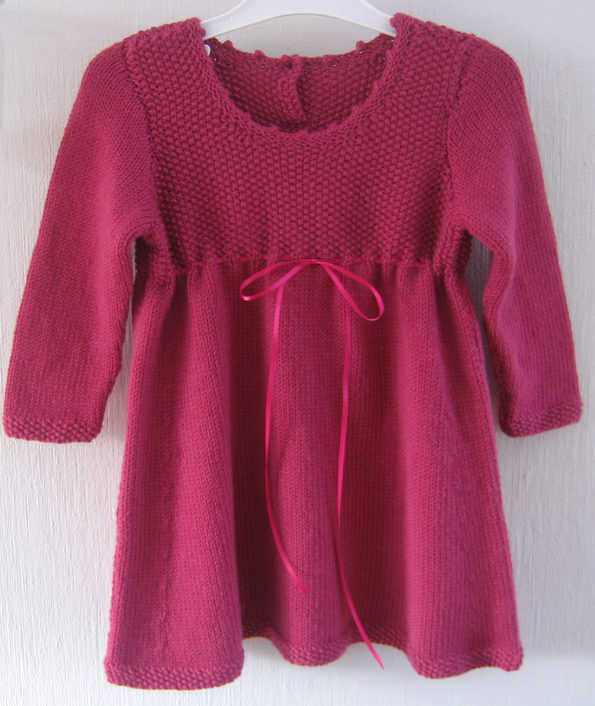 Katherine Dress
Long-sleeved baby dress in stocking stitch with moss stitch yoke by Debbie Bliss. To fit ages 3-6 months, 9-12 months, 12-18 months, 18-24 months. Pictured project by AnnaMaria at 9-12 months size.
[widget id="black-studio-tinymce-29″]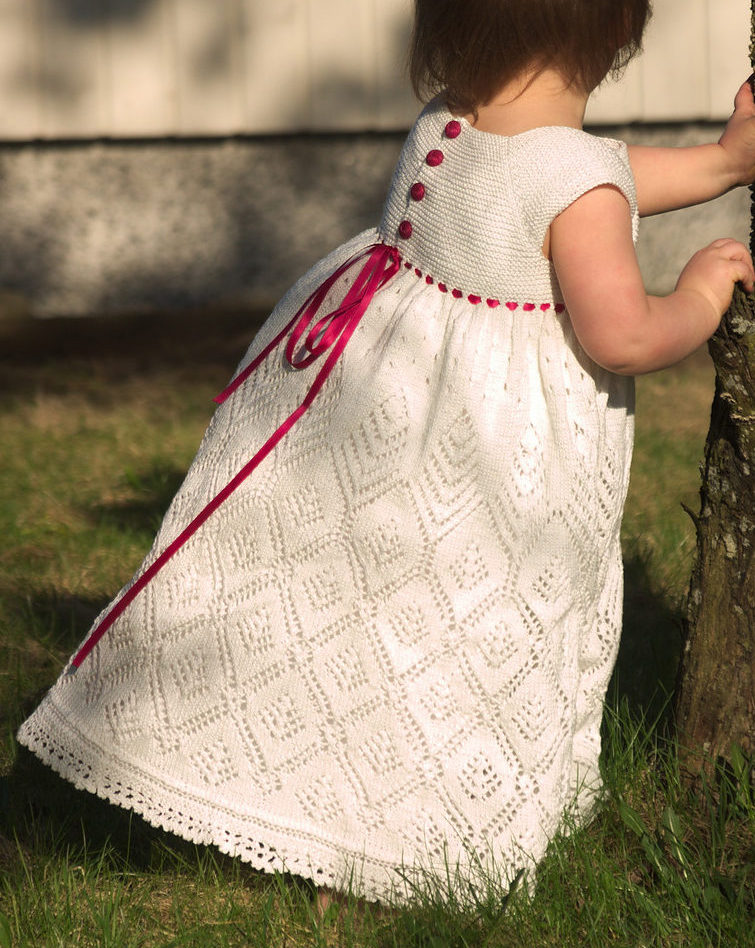 Song of the Spruce
Laulu kuusesta by Christa Becker features diamond-shaped lace motifs inspired by spruce trees. Sizes 0/3 – 6/12 – 24 – 36 months. Available in English, German, and Finnish. This would make a great christening or flower girl dress for a wedding!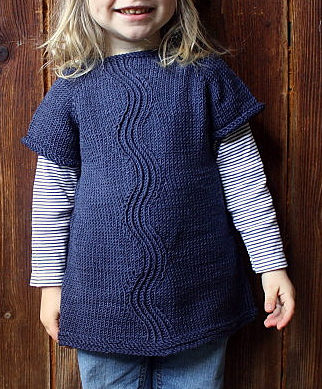 River Dress
Short-sleeved pullover dress or tunic for a child with a unique wave stitch pattern. Sizes 2-3 years. Available in English, French and Italian. Designed by Nadia Crétin-Léchenne. Pictured project by ittybitty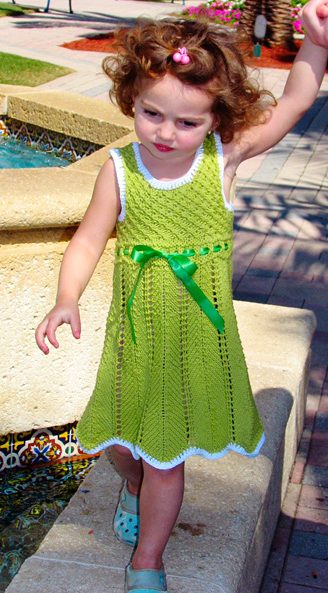 Elenka
Inna Aleksandrova's lace toddler dress features a ripple lace skirt with a daisy stitch bodice and eyelet waist for ribbon. Sizes 2T[3T, 4T, 5T] (shown in size 3T)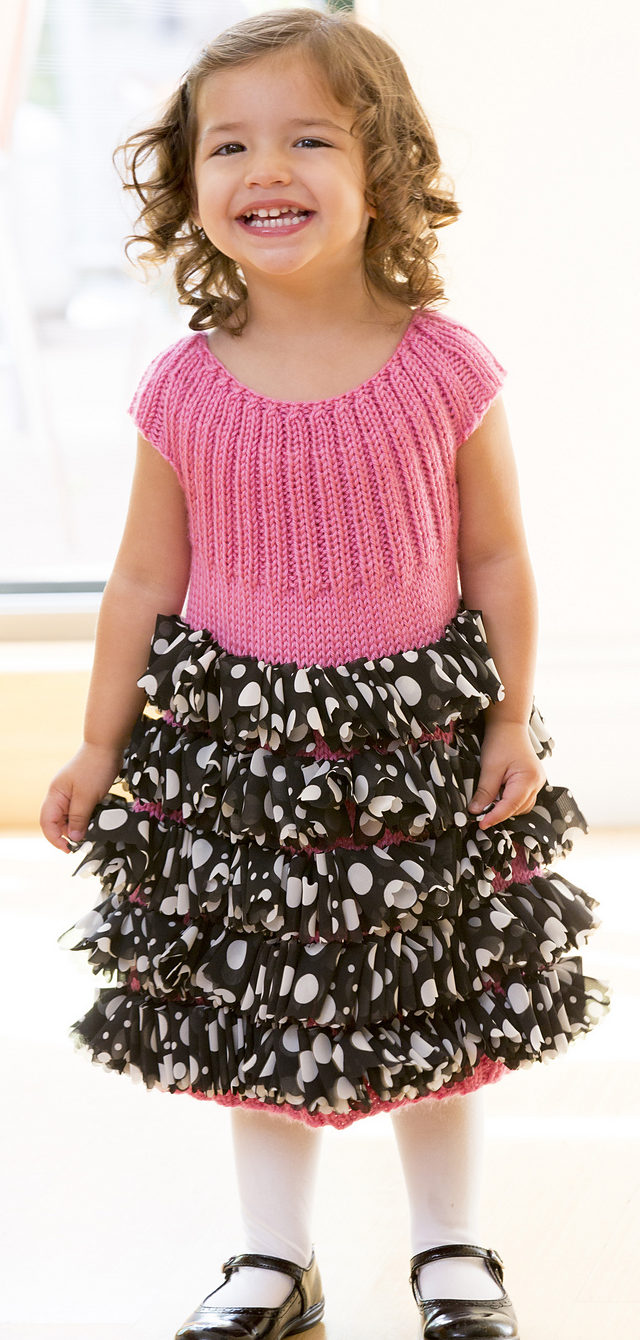 Perfect Party Dress
Cute child's dress has an easy-fit ribbed top and uses special fabric ruffle yarn to create the ruffled skirt. Sizes 2, 4, 6, 8 years. Designed by Heather Lodinsky for Red Heart.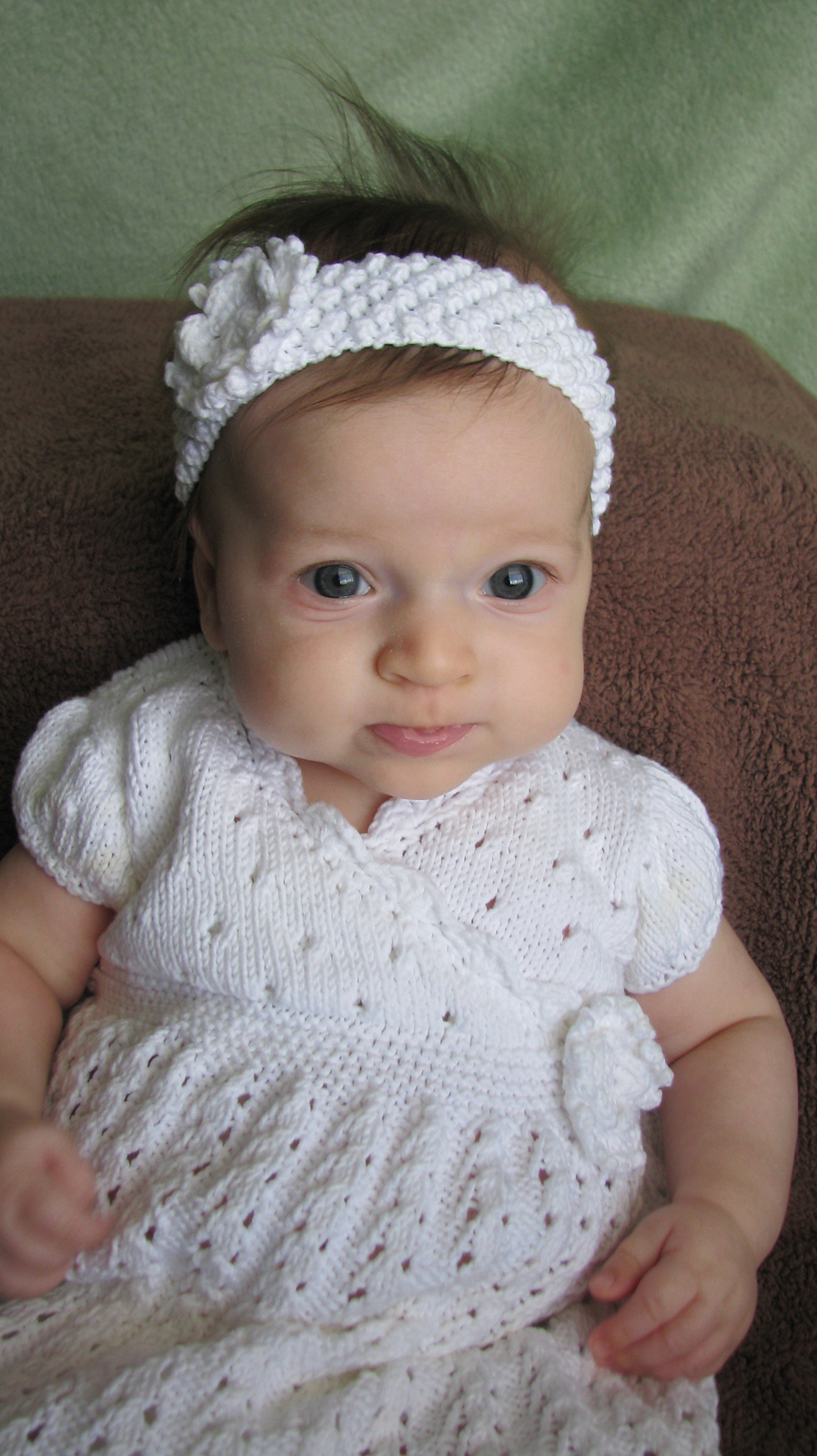 Lace Wrap Dress
This wrap-around baby dress with lace motif on skirt and bodice from DROPS Design comes includes patterns for matching bonnet and socks. Size: 1/3 – 6/9 – 12/18 months (2 – 3/4 years) Pictured project by mission316 who added a crocheted flower and edging.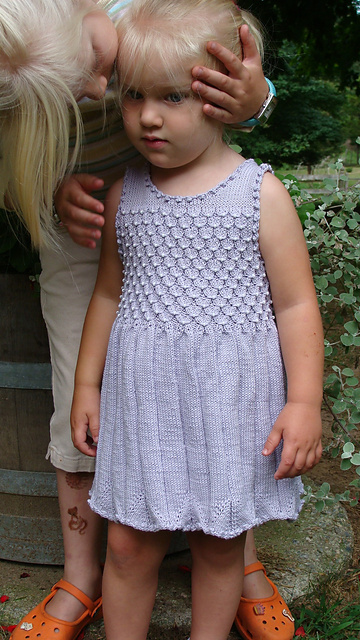 Lilah Dress
Designed by Mavis Adams

Child's Foxy Tunic
Red Heart created this fun design for a dress that can be worn by itself in warm weather or as a tunic over a shirt and leggings in cold weather. In four sizes – 2 years, 4 years, 6 years, and 8 years.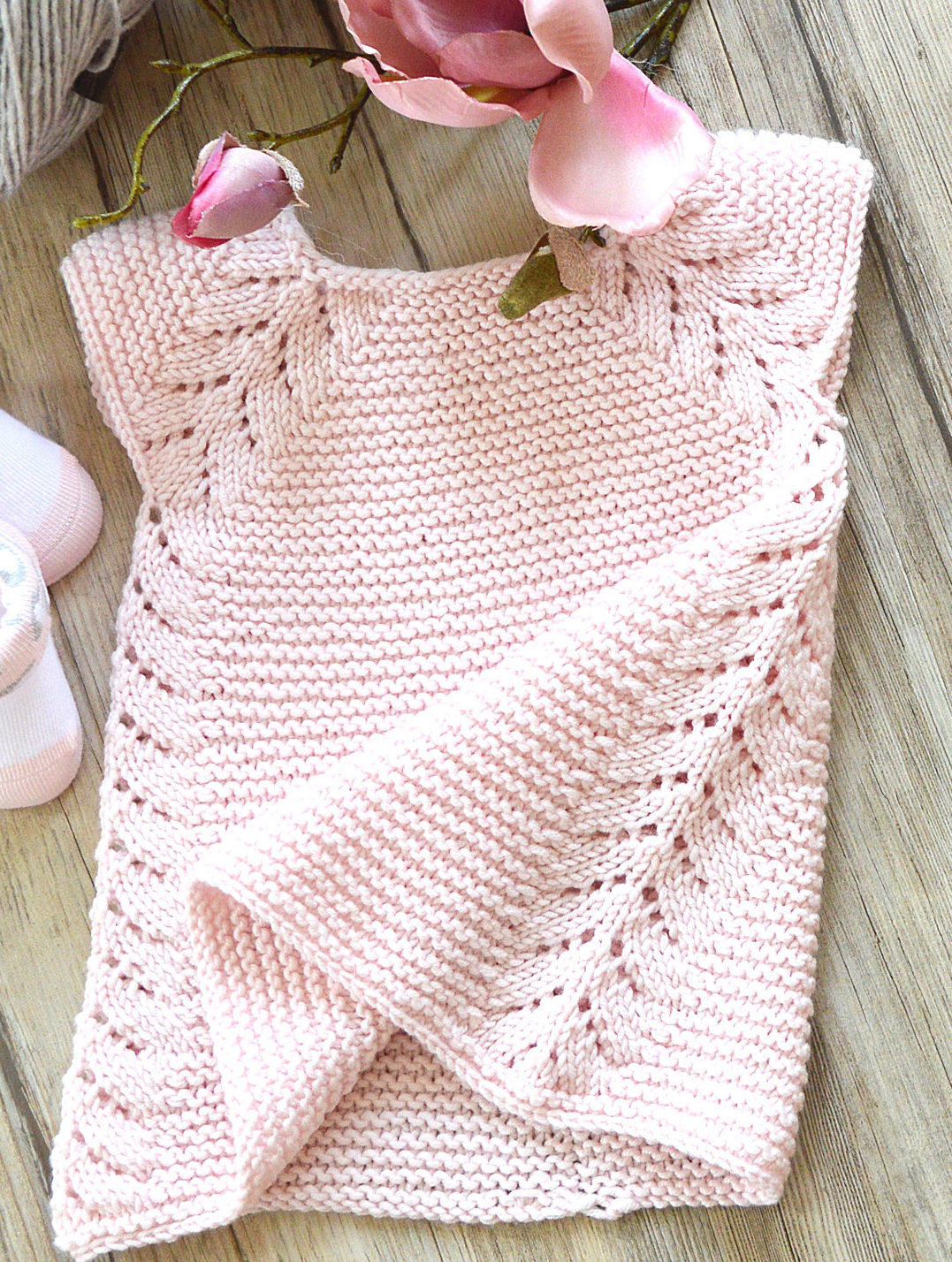 Lil Rosebud Baby Dress
This seamless little top down dress / tunic top from OGE Designs is an easy knit, worked in garter stitch with a simple leaf pattern forming the front borders, then cascading down the sides. Sizes, 3 months — 6 months — 12 months — 18 months — 2 years — 4 years — 6 years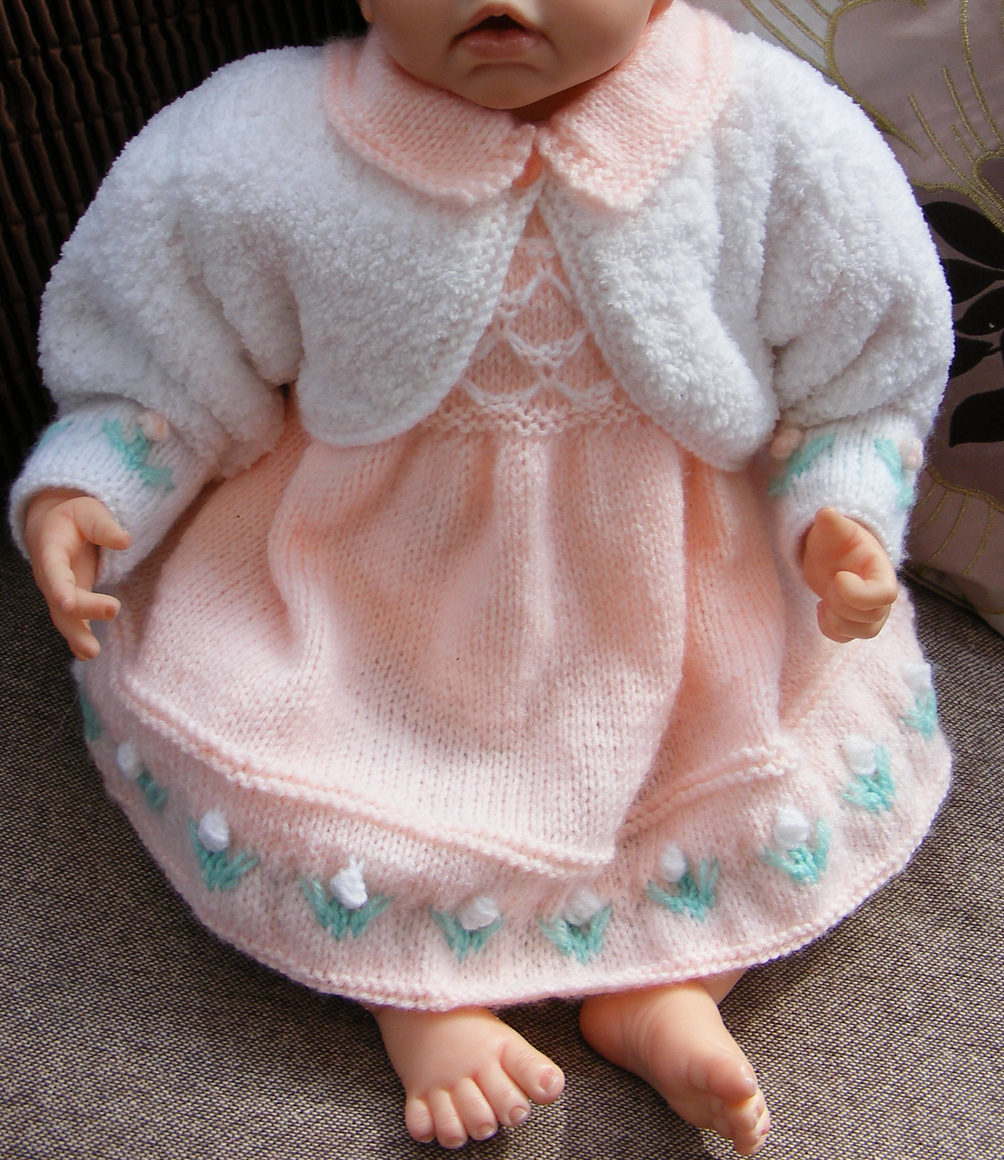 Peach Blossom Baby Dress Set
This baby set includes instructions for a flower bordered Dress, Bolero, Cardigan and matching Pram Blanket. To fit 16- 18- 20- 22 ins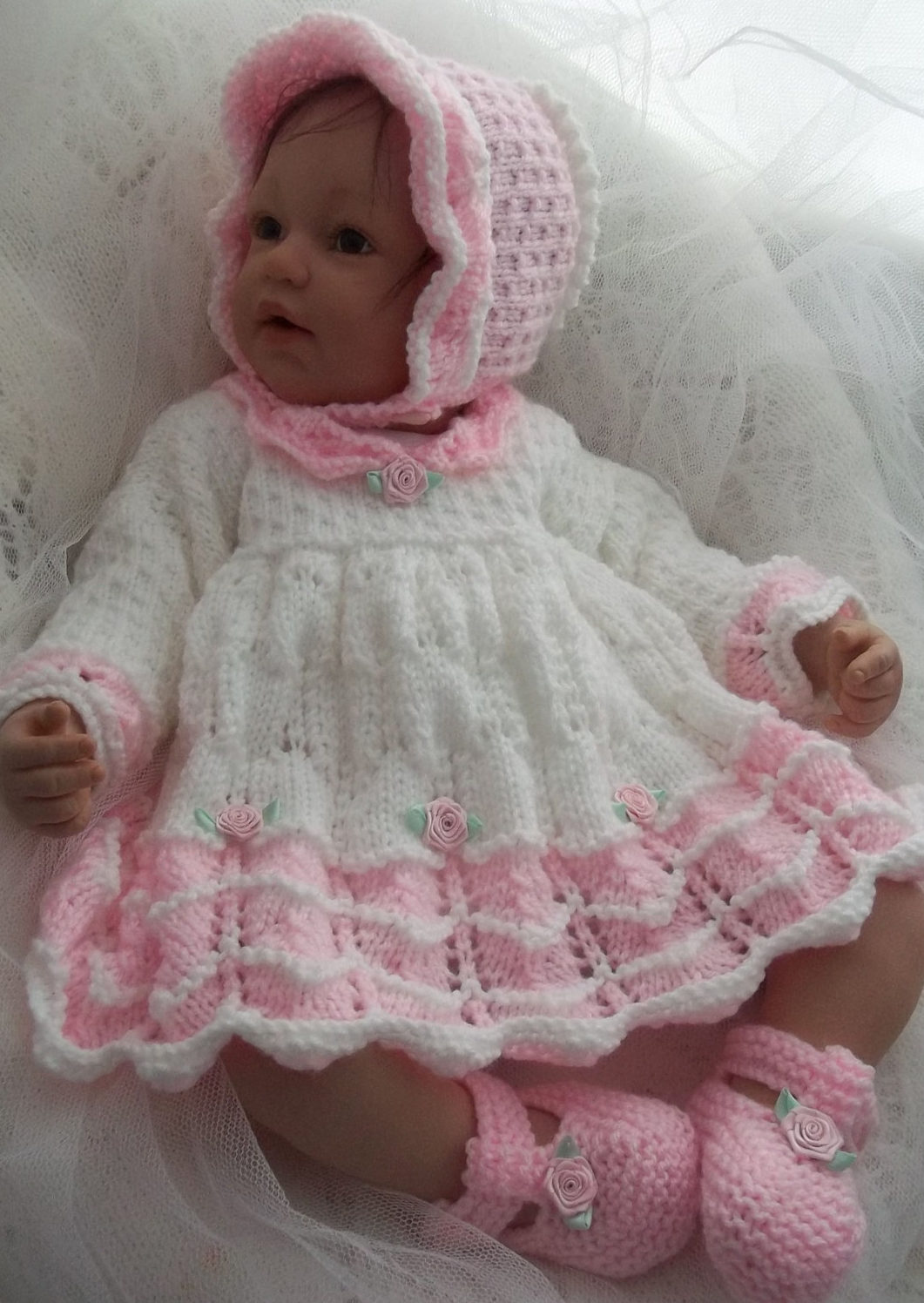 Scalloped Baby Dress, Bonnet & Booties
This lace dress set fits 0-3 Months Baby or a Lifesize Reborn Doll 20/22in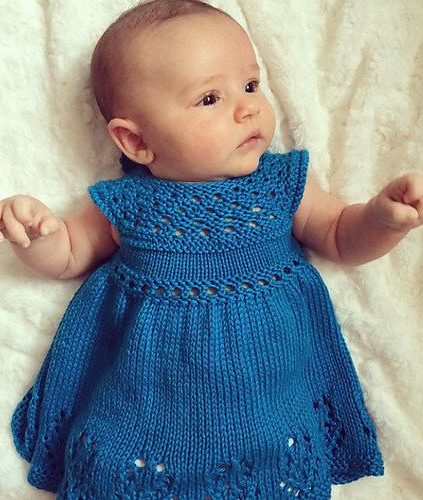 Lily Rose Dress
Lace baby / toddler dress by Taiga Hilliard. Sizes – Newborn (3 months, 6 months, 12 months, 18 months, 2T, 3T)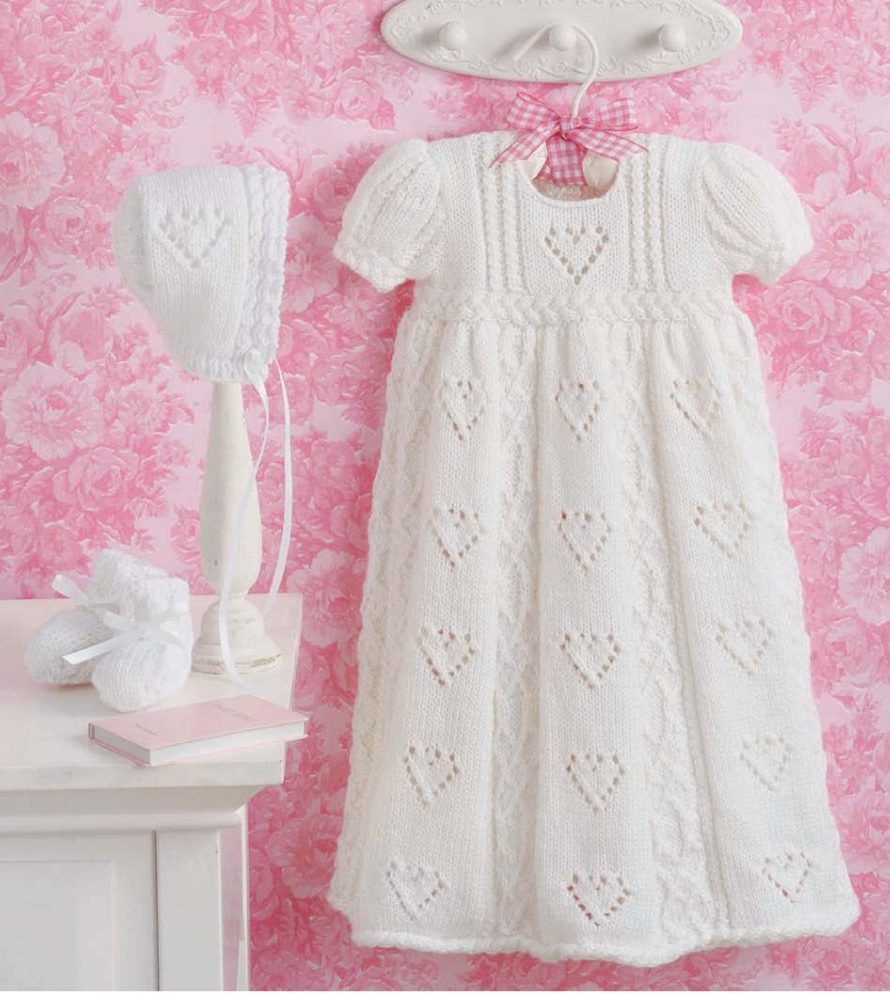 Love and Kisses Layette Set
A heart lace motif and x kiss cables decorate this christening gown, bonnet, and booties set. One of 4 sets in the Elegant Ensembles to Knit 2 ebook.
Luv U Forever Pinafore Dress
This seamless dress pattern includes two options for dress bodice. Sizes 0-3 months — 3-9 months — 9-12 months — 12 – 24 months
Muti Dress
As your baby grows, Taiga Hilliard's pattern will adapt from a dress to a tunic. Top down design with a pretty lace pattern on the yoke and skirt. Sizes – 0-3 months (6 months, 12 months, 18 months)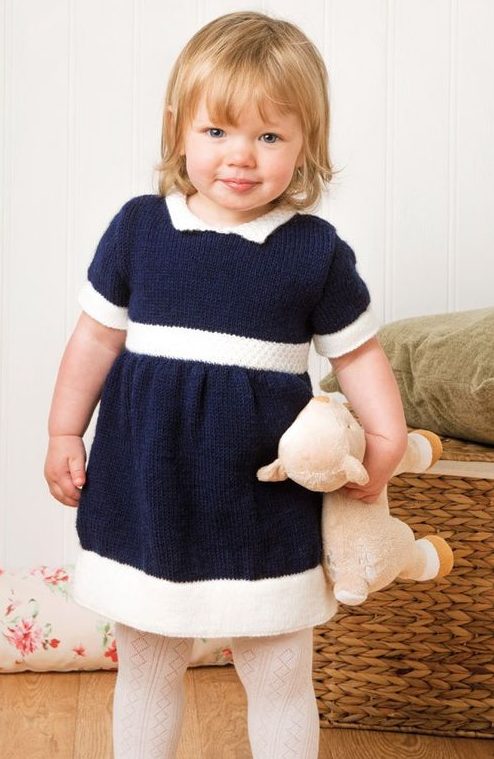 Classic Dress
Deramore's easy to wear outfit with a classic twist, this simple dress is charmingly traditional. Sizes to fit 41 – 66cm (16 – 26″), birth to 7 years.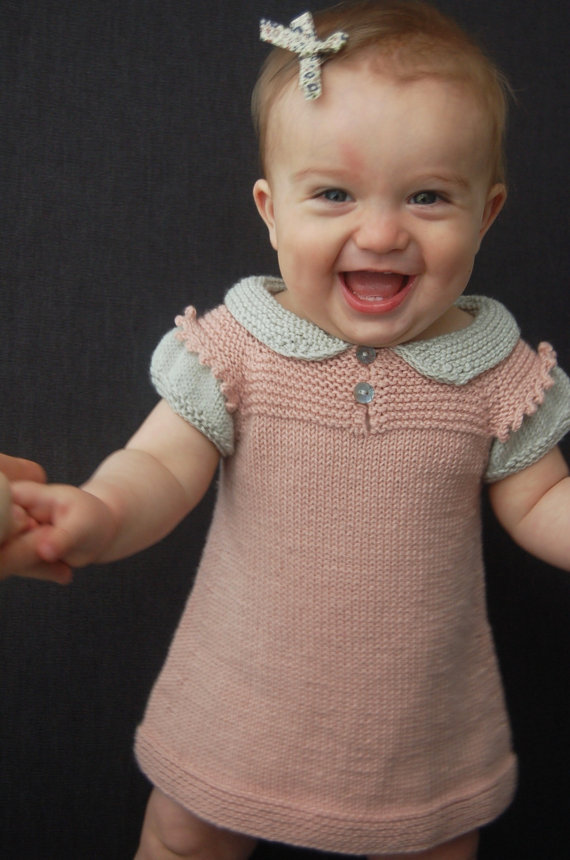 Claudine Layered Dress
A timeless dress or top with a peter pan collar and two sleeve options: puffed or three-quarters. SIZES: 3mo (6mo, 12mo, 18mo, 24mo)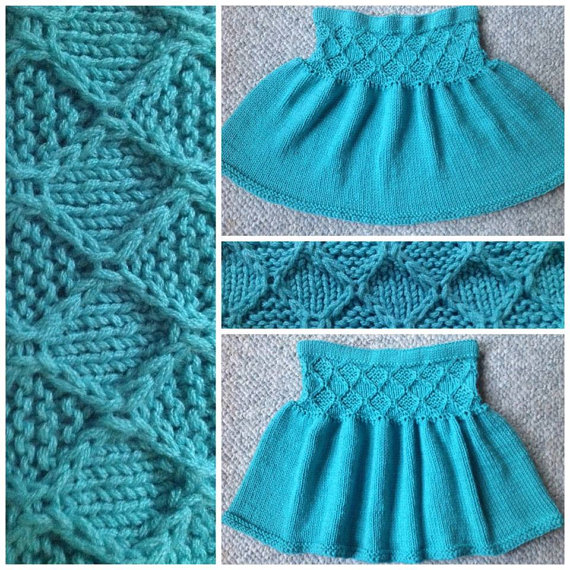 Jade Diamond Skirt
Ratchadawan Chambers designed this super cute short skirt for girls age 2-10 years-old. The upper portion of the skirt is knitted in rows in a beautiful diamond and garter stitch pattern.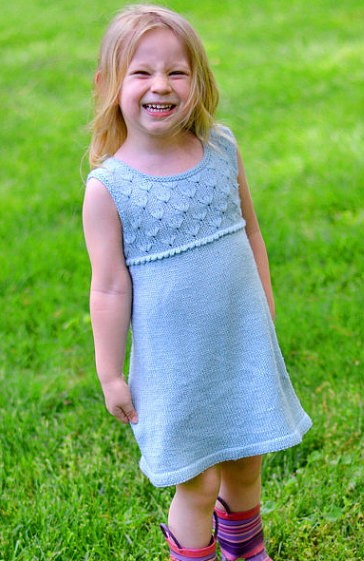 Midsummer Meadow Dress or Tunic
This design by MakeReadyPatterns has a flower detail on the side of the skirt that isn't visible in the photo — you can see it in another pic on the pattern page. The design can be knit as a dress or tunic, sleeveless or with cap sleeves. Finished Chest Measurements:17 1⁄2(19, 19, 20 1⁄2, 21 3⁄4, 21 3⁄4, 23 1⁄4, 26 1⁄4, 27 1⁄2, 29) inches; 44.5(48.5, 48.5, 52, 55, 55, 59, 66.5, 70, 73.5) cm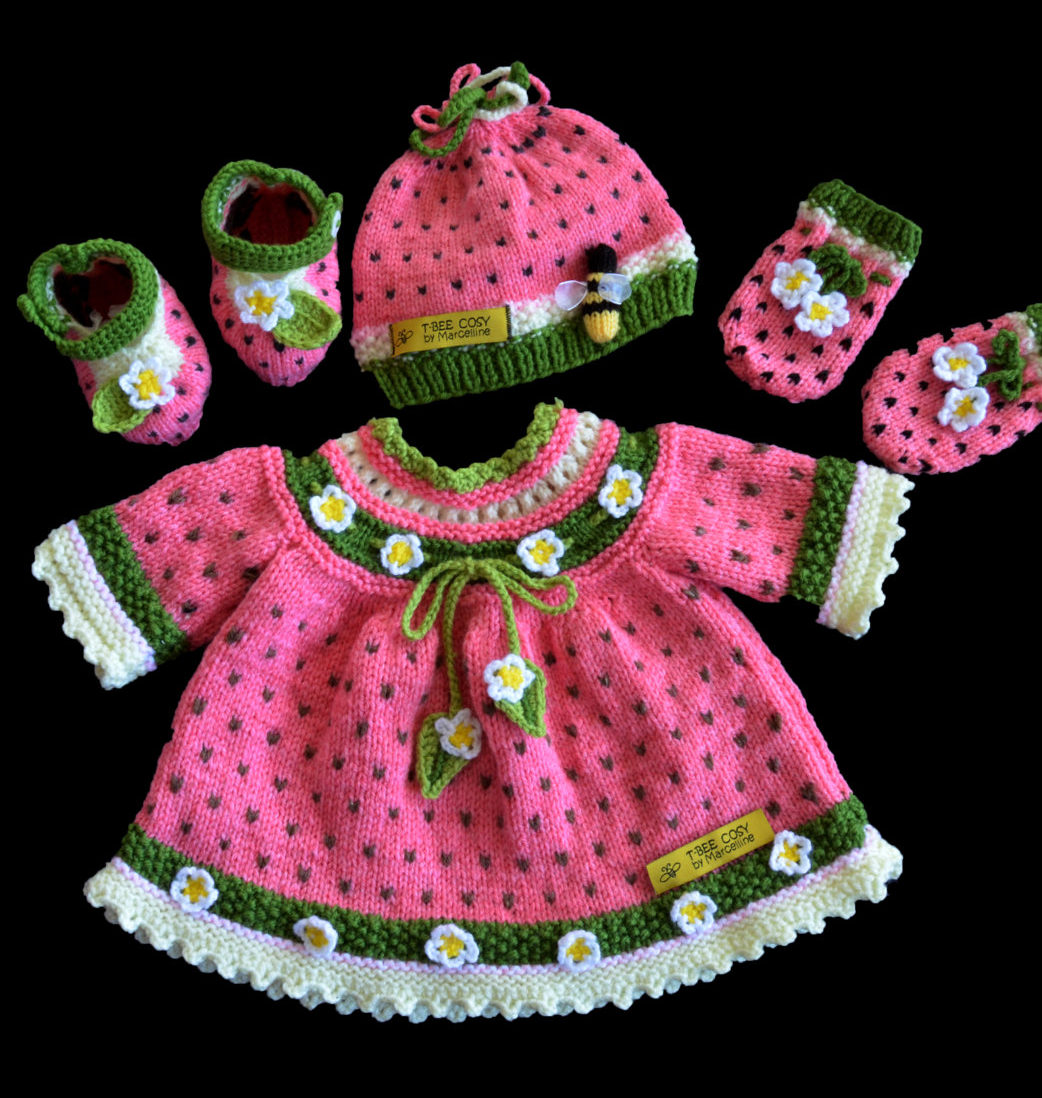 Watermelon Baby Set
Watermelon inspired baby layette set with instructions for Dress, Hat, Mittens, and Shoes. Knit flat. Some crochet details. Sizes Newborn – 6 months
Rainbow Tiered Skirt
Arwen is a drawstring skirt knit from the top down, to fit ages approximately 2 – 10 years.The length of the skirt is adjustable by adding more or fewer frills. Add more frills as the child grows taller.
Little Owl Matinee Set
Instructions to knit matching Baby Jacket, Dress, Bonnet, Beanie Hat and Headband in 5 sizes.  This set features a pretty bell stitch and owl cable motifs. To fit. 0-3 (3-6, 6-9, 9-12, 12-24) months