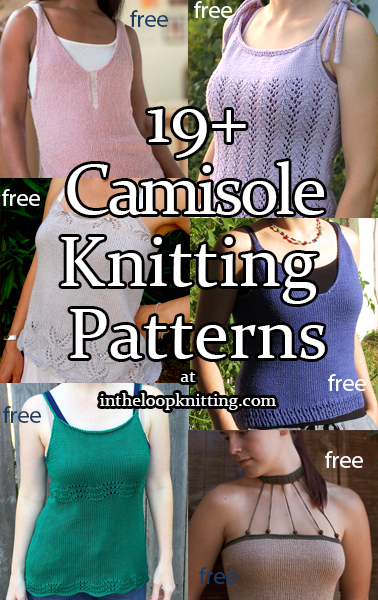 These sleeveless camisole and tank tops include casual and lacy styles, and are perfect for layering or wearing alone when you're feeling daring.
To get the knitting patterns, scroll down the page to the individual pattern you want and click on the link to that pattern.
These patterns are not my designs but links to other designers who have generously shared their patterns. If you have questions about how to knit a specific pattern, please contact the designer directly.
All links on this site are for informational purposes, but please note that some links are to affiliate sellers that pay me a small commission on purchases.
Free Patterns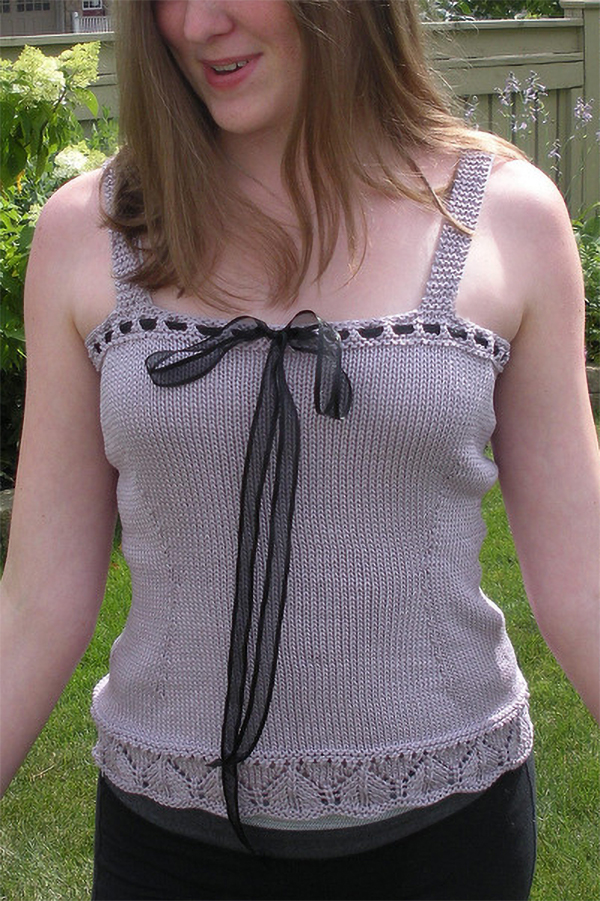 Mayfaire Camisole
Strapped sleeveless top with scalloped lace along the bottom edge and eyelets across the bodice. Sizes XS (S, M, L, XL, 2XL). Worsted weight yarn. Designed by Corrina Ferguson for Classic Elite Yarns. Pictured project by knittingchicklet who wove a ribbon through the eyelets.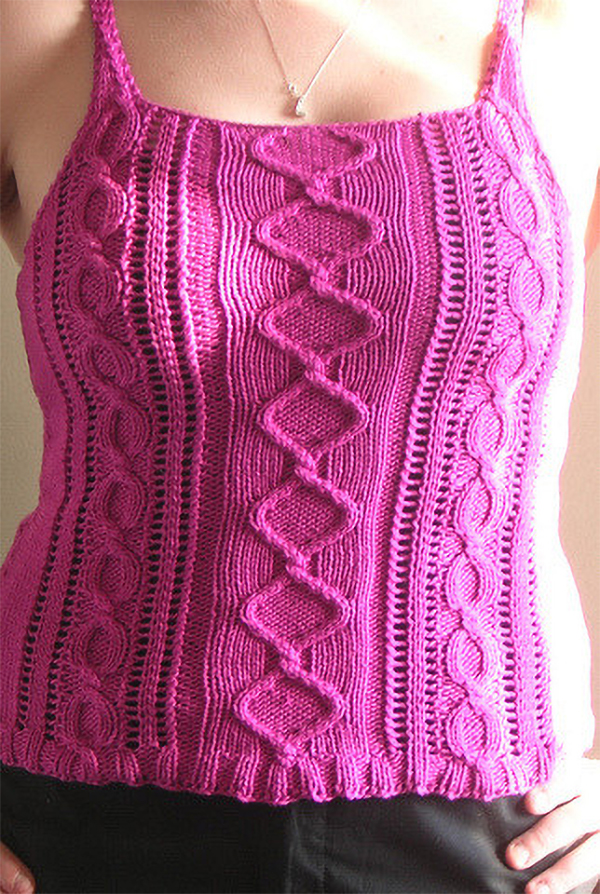 Calla Tank
Cabled sleeveless top. Sizes: XS [S, M, L, 1X, 2X] Finished Bust: 31[33,34, 36,38.5, 44] DK weight yarn. Designed by Sauniell N. Connally. Pictured project by eawilson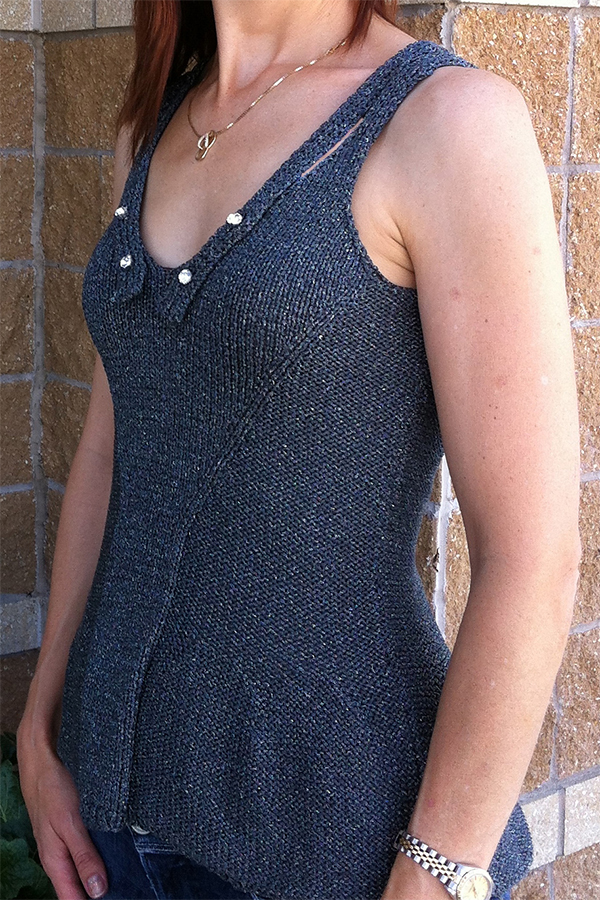 Serena Tank
Figure flattering double strapped sleeveless top that's fitted in the bodice and flares out at the hips. Sizes Bust 29 1/2 (33 1/2, 38, 42)". Worsted weight yarn. Designed by Vladimir Teriokhin for Tahki Stacy Charles. Pictured project by MadStasher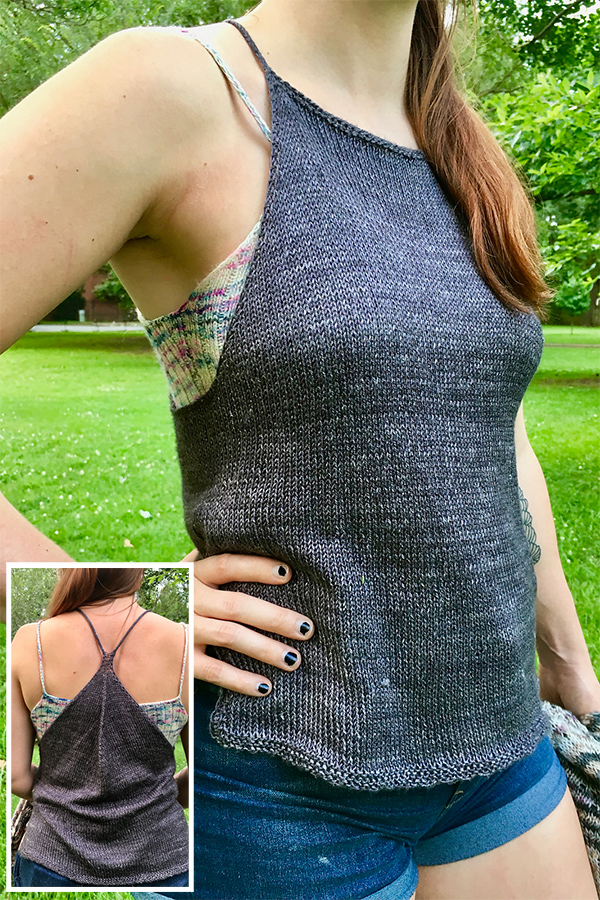 Vilonia Camisole
Vilonia is a racerback camisole top with icord straps and side vents. Fingering weight yarn. Designed by Samantha Stadter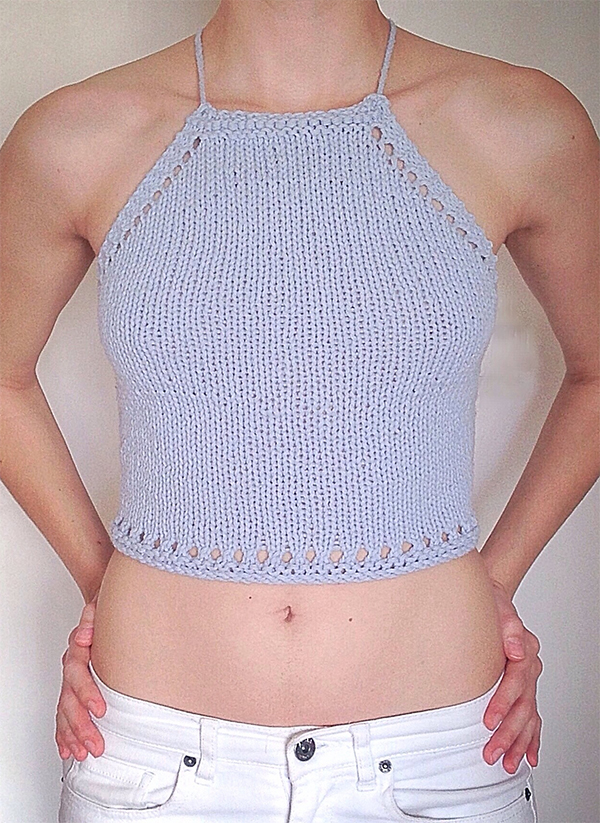 Festival Top
This sleeveless top laces up the back. Worsted weight yarn. Small, Medium, Large. Designed by Leneta Groshong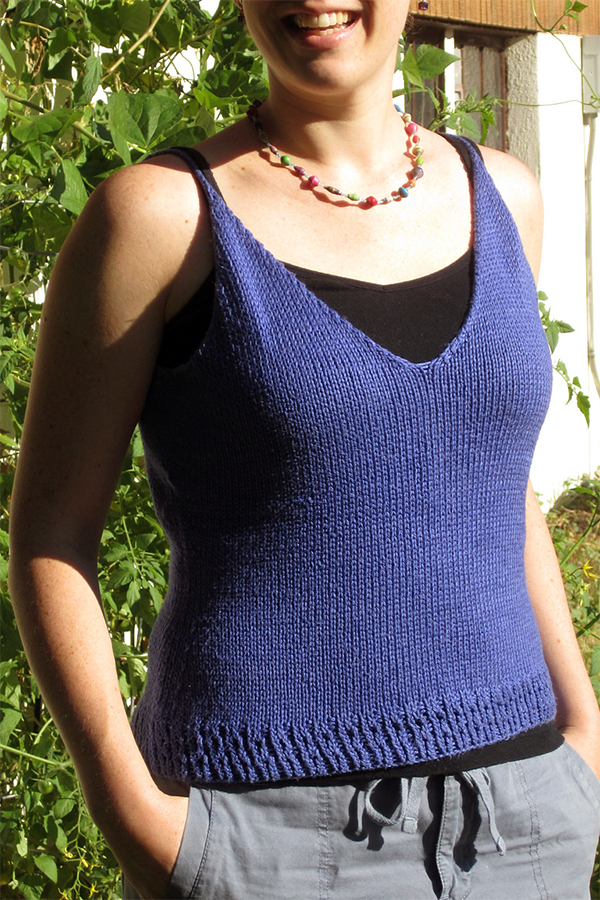 Honeymoon Cami
This camisole top is knit with a stockinette body trimmed with a Twisted Rib Eyelet Border. DK weight yarn. To fit bust size 32[34, 36, 38, 40, 42, 44] inches. Designed by Julia Trice for Knitty. Pictured project by Jeannette81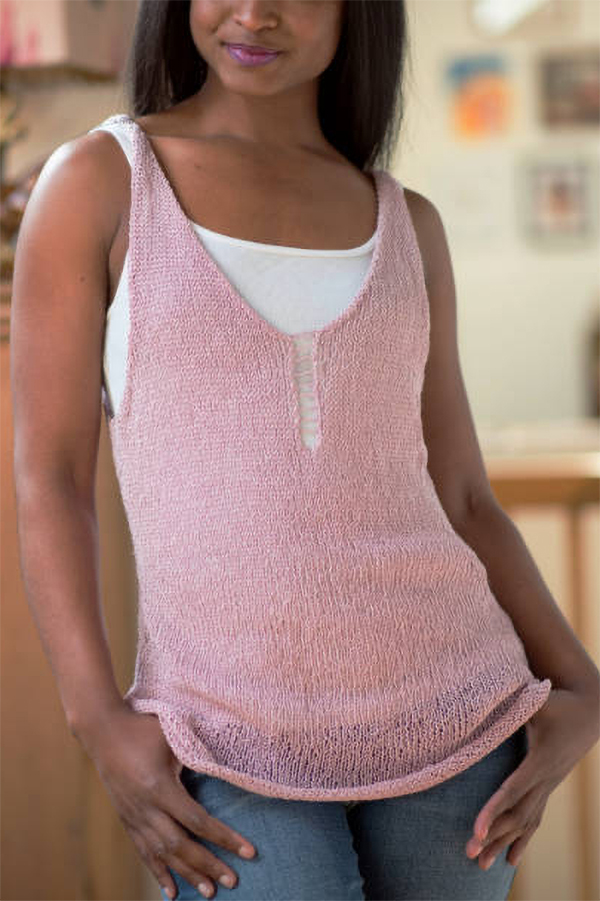 Ledis
This sleeveless top features drop stitch detail at the neck and eyelets on the side hem that make it perfect for layering. The tank is knit in two pieces with shaping. Rated easy by the designer Berroco Design Team. DK weight yarn. Bust – 32 (36, 41, 44, 49, 52)"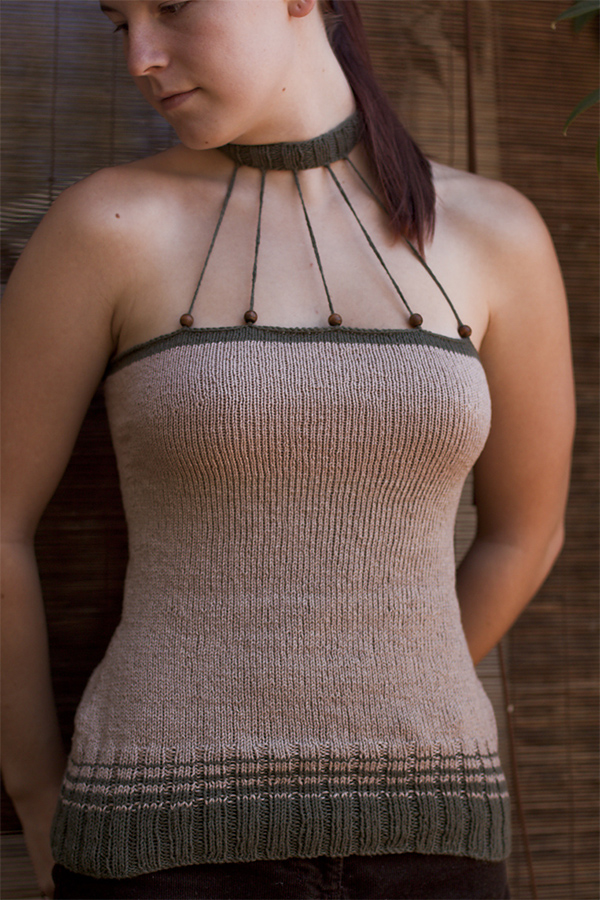 The Knitting Bohemian
Strapless fitted top with choker attached with beaded strings. Size: XS, S, M, L. Designed by Alisha Bright. DK weight yarn.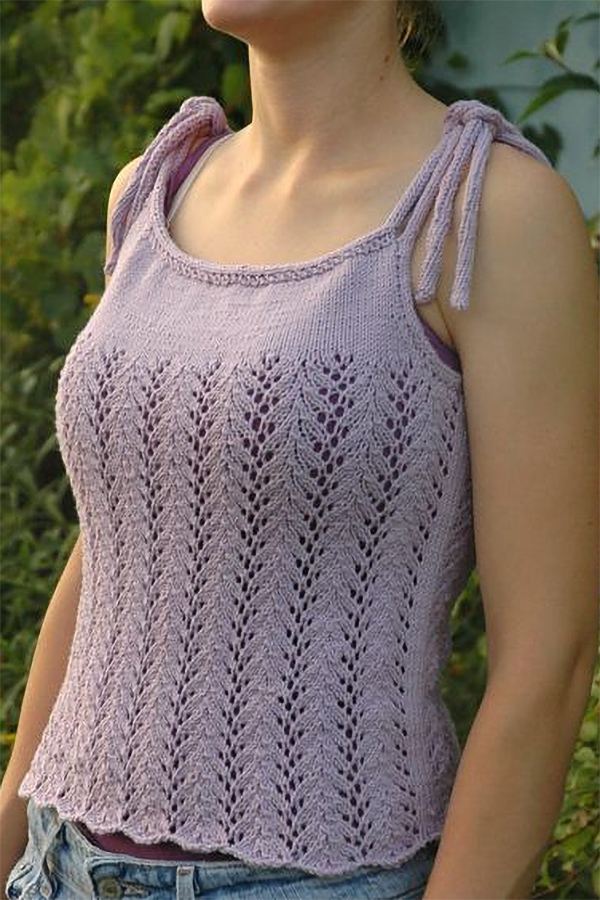 4 Row Repeat Vine Lace Top
Sleeveless top with I-cord shoulder straps and body knit seamlessly body in the round in a 4 row repeat Vine Lace and stockinette. Size: XS (S, M, L, XL). Designed by Elaine Phillips. DK weight yarn.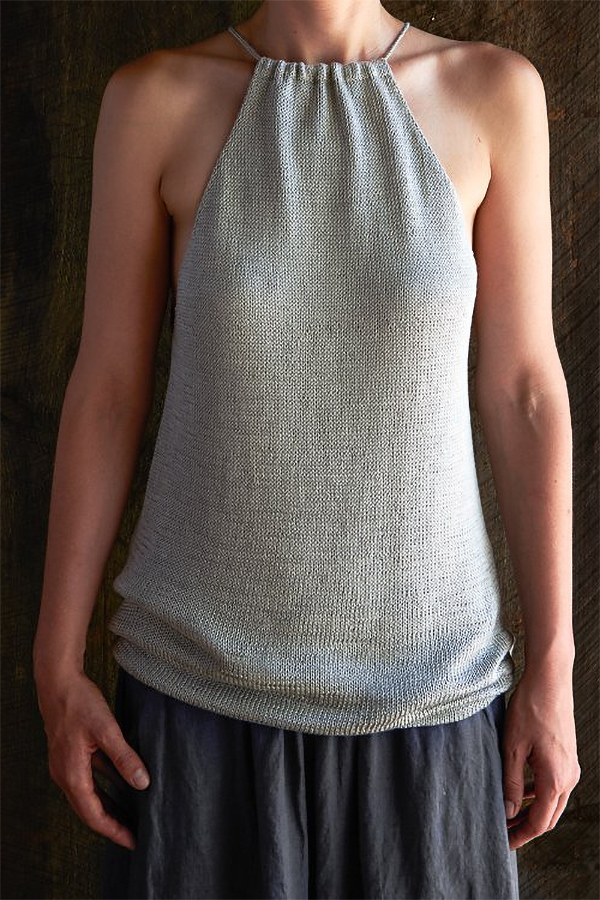 Drawstring Camisole
Sleeveless top with front and back yokes knit separately and then joined to knit body in the round. Sizes 33¼ (37¼, 41¼, 45¼, 49 ¼).Designed by Purl Soho. Sport weight yarn.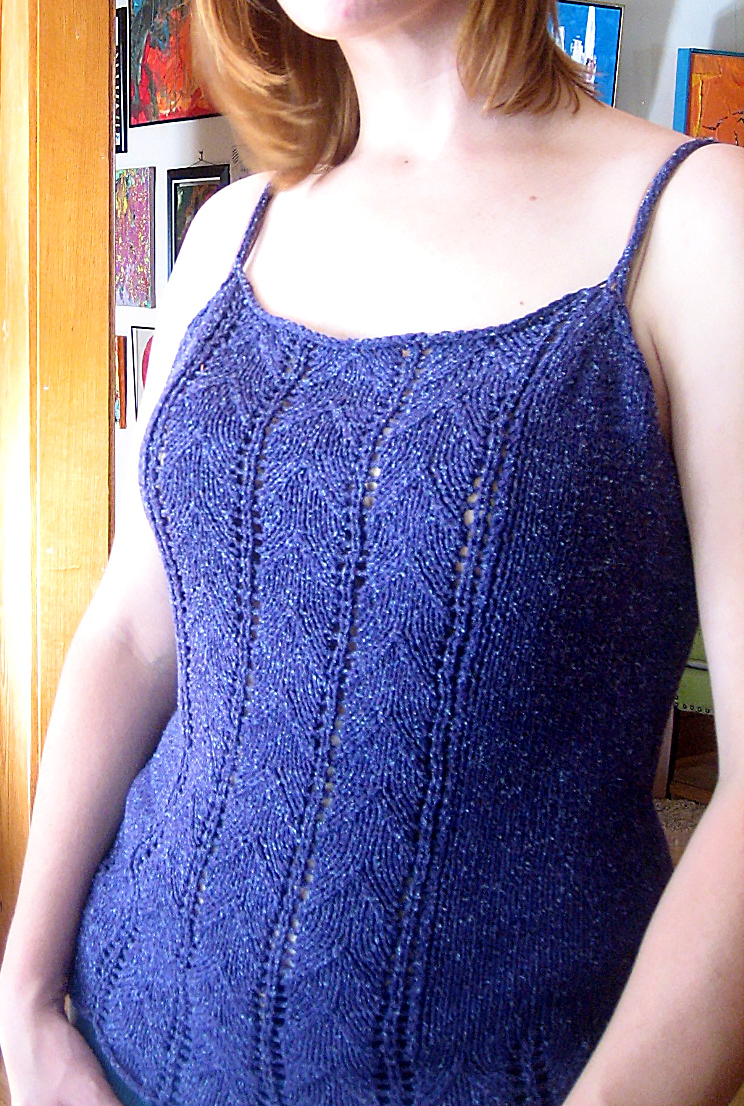 Lace Camisole
Lace Nightie pattern is one of the free patterns in the free ebook 5 Free Knitting Patterns for Women. Designed by Carrie Bostick Hoge. Pictured project by carinknits. Sizes Small – 29″ bust (M – 37″, L – 45″). Sport weight yarn.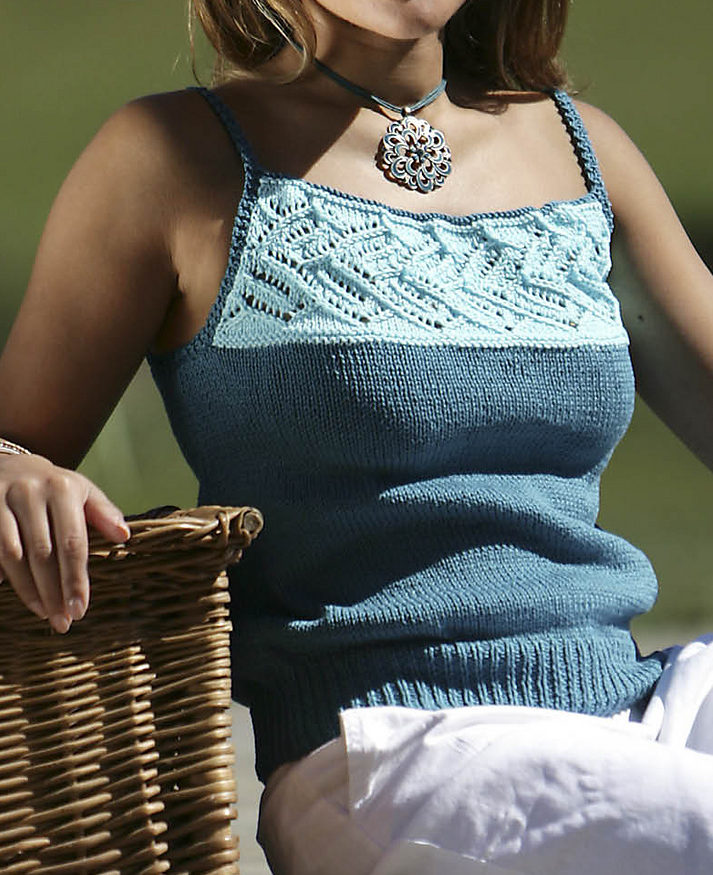 Wendy Lace Camisole
Sleeveless top with contrasting lace bodice over a stockinette body and ribbed hem. Sizes 81-102cm (32-40ins). DK weight. Designed by Thomas B. Ramsden & Co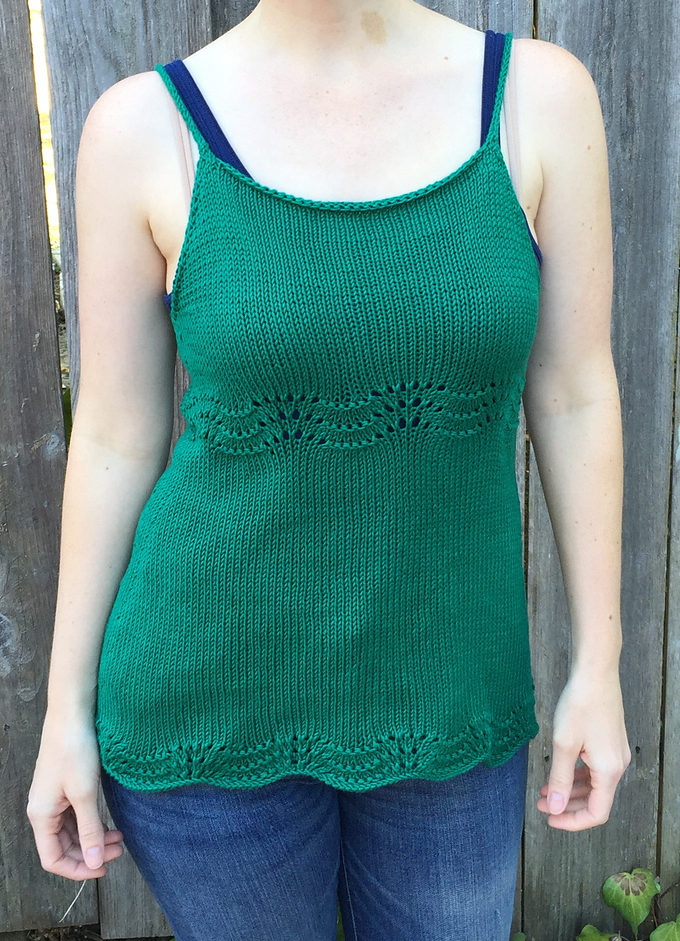 Sarah Tank Top
Cute camisole style top features lace under the bodice and lace at the hem. Designed by Christine Buhagiar. Pictured project by mbirnie who made some mods.

Reef Knot Tank Top
Simple stockinette stitch in cool cotton gets a twist on plain when you tie the back straps into a reef knot and an unusual picot hem. Sizes XS (S, M, L, XL). Designed by Sarah Wilson. Pattern is available for free with a free trial at Creativebug OR purchase pattern at Etsy. Pictured project by oliveknit
Two options to get the pattern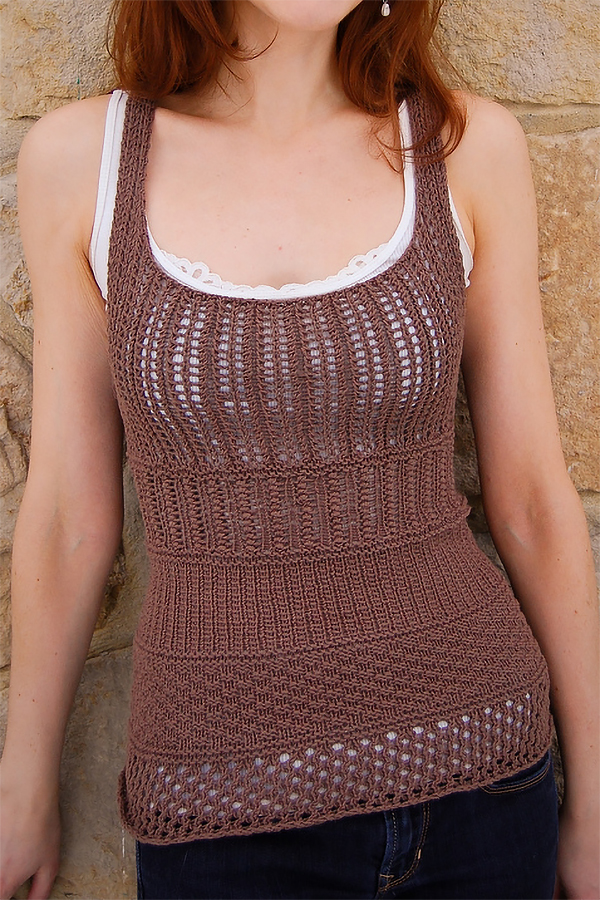 Make Up Your Mind
Five bands of different texture and lace add interest to this raceback tank designed for layering. Designed by by knittedblissJC for Knitty. Sizes XS (S, M, L, XL, 2XL).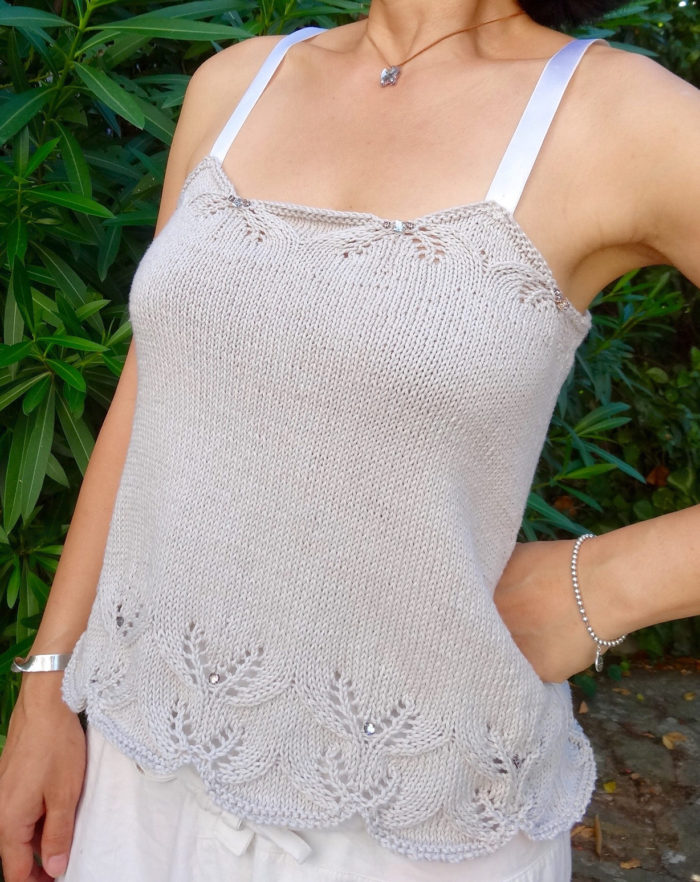 Beaded Cami
The delicate lace border of this camisole is embellished with beads. Designed by Black Dog Designs. Pictured project by Ciji who used ribbon instead of knitting straps.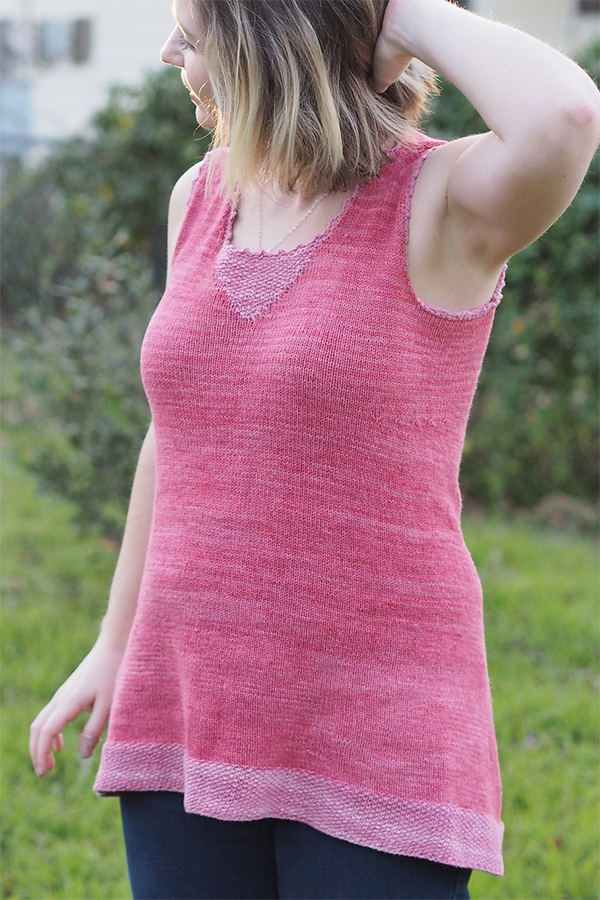 Mia
Sleeveless a-line top with a flowing skirt. Chest: 30.5 [33, 36, 39, 42.25, 45.25, 48.25, 51.5, 54.5, 56.25] inches. DK weight yarn. Designed by Jennifer Wood for Knitty. Pictured project by oharethey
Patterns for Purchase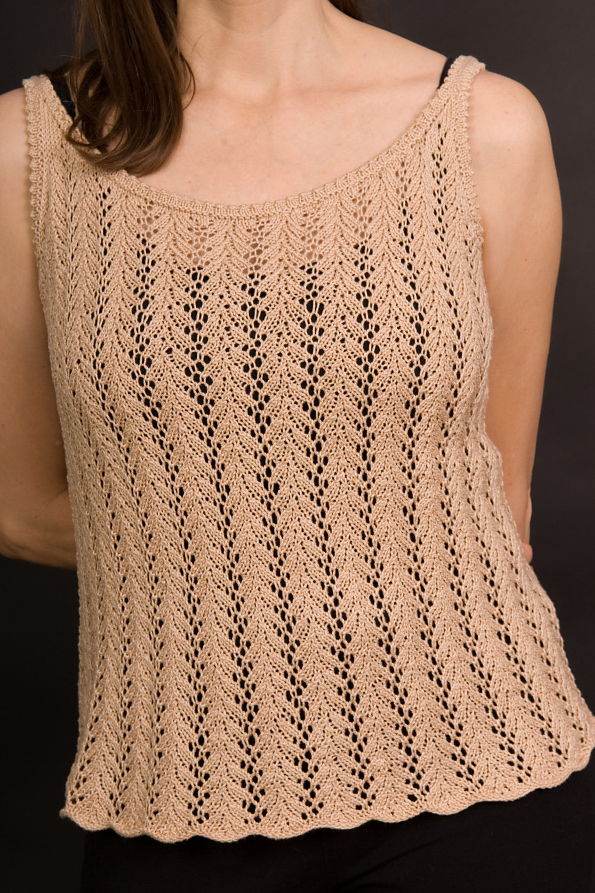 Victoria Tank
Camisole knit in the round with a simple vine lace stitch that repeats over nine stitches and four rows. Finished Size: Finished Size: 32 ½ (34 ½, 37, 39 ½, 42, 44 ½, 47, 49 ½, 52, 54 ½)" (82.5 [87.5, 94, 100.5, 106.5, 113, 119.5, 125.5, 132, 138.5] cm) chest/bust circumference. Designed by Veronik Avery. Pictured project by AmyA who mentions that the lace is stretchy. Fingering weight.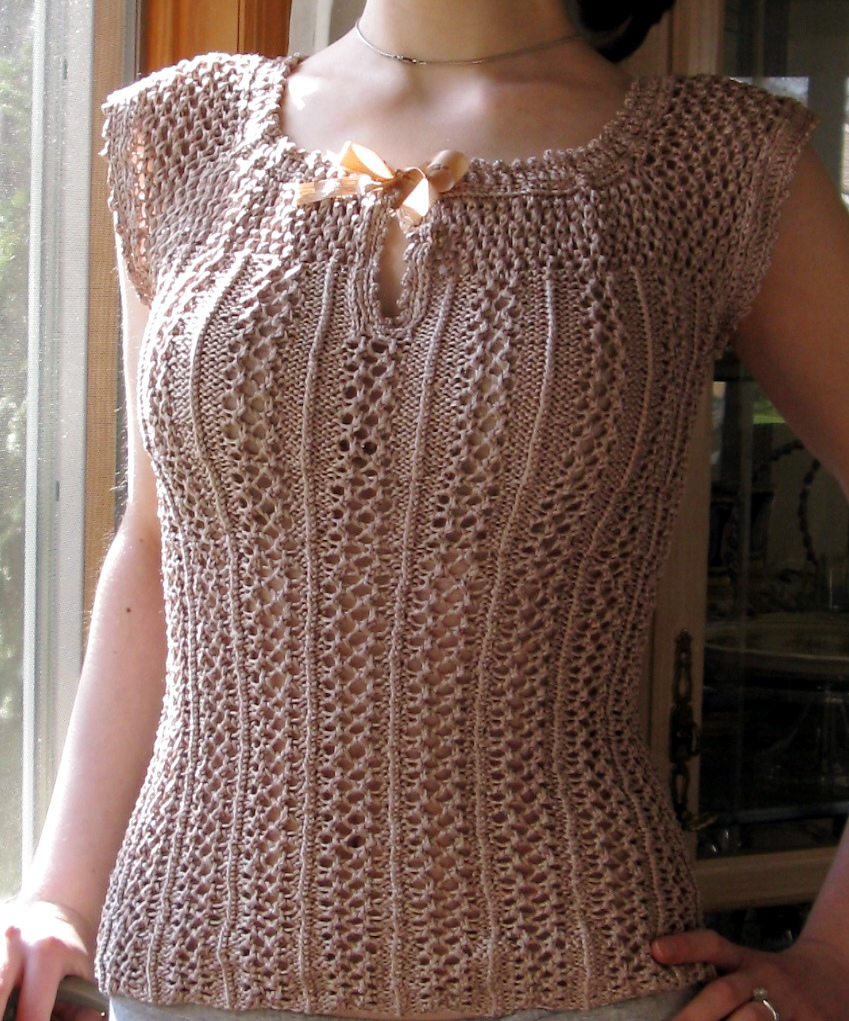 Delphine Lacy Cap-Sleeve Top
Love the romantic look of this eyelet lace camisole top with ribbon closed keyhole. Finished Size: 27.5 (35.25, 43) bust circumference. Designed by Kristeen Griffin-Grimes. Pictured project by ElaineBennis who added some crochet trim. One of the 18 patterns in French Girl Knits eBook: Innovative Techniques, Romantic Details, and Feminine Designs. DK weight yarn.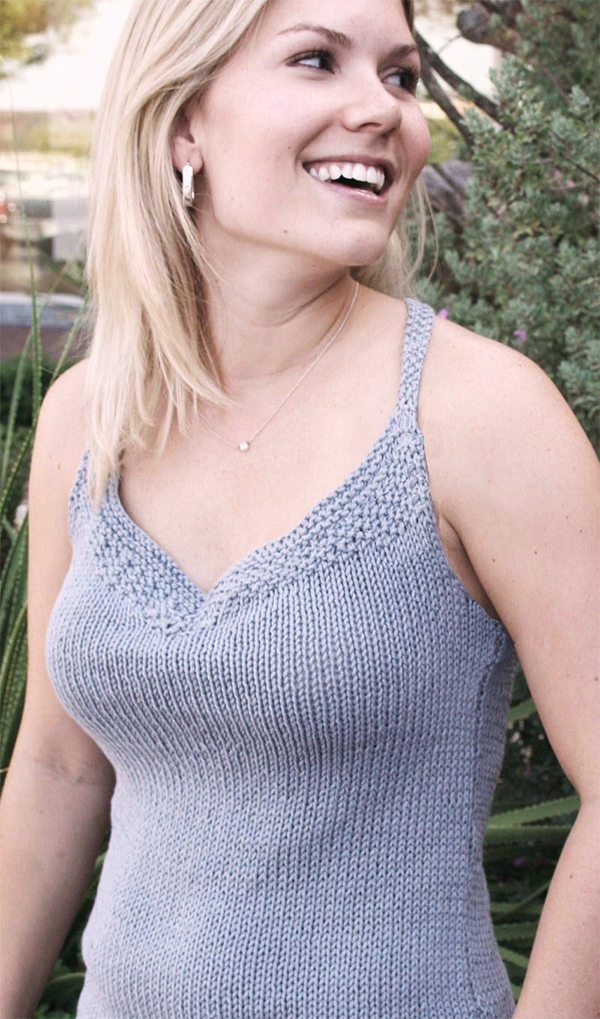 Harlow Camisole
The designer says this tank is suitable for an advanced beginner. Sizes: XS, S, M, L. Designed Cardiff Bay Handknits. DK weight yarn.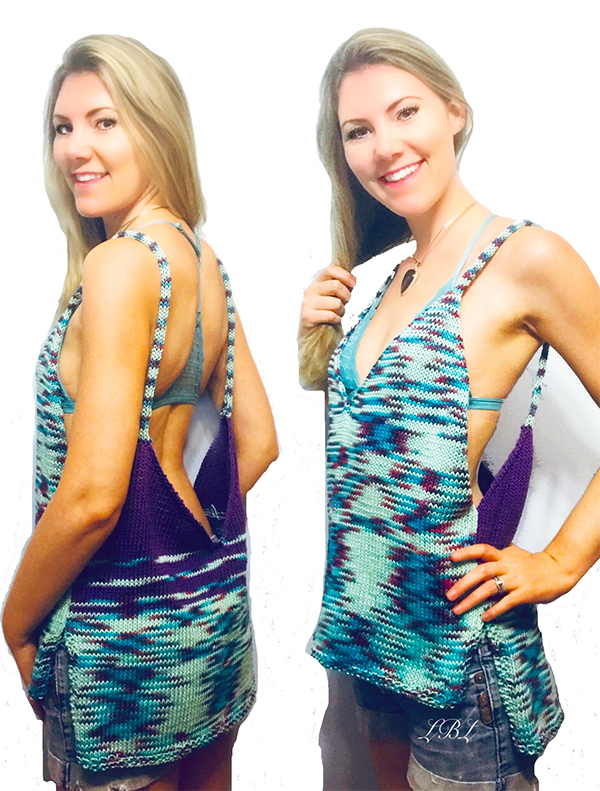 Lake Mermaid Tank Top
This oversize fit tank top features a high-low split hem, an open "V" back and a deep cut triangle top bust design. This top is ideal to wear over a bikini or bralette, as it is breezy and shows off a lot of skin. Sizes: XS, S, M, L, XL, 2XL, 3XL, 4/5XL. Designed Lovely by Lee. Worsted weight yarn.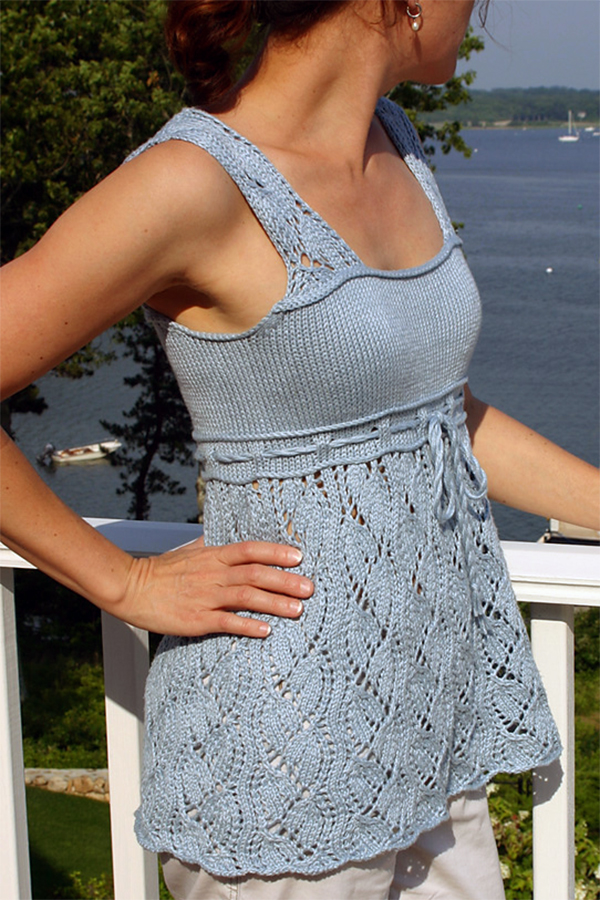 Dayflower Camisole or Dress
This empire-waisted camisole, almost entirely worked in the round, is easily lengthened to a dress. It showcases the "Dayflower" lace pattern from Barbara Walker's 2nd Treasury of Knitting Patterns. The bust is fitted, with a twisted cord tie accent, and the Dayflower lace straps provide the finishing touch. Sizes Small - 3X. Designed by Angela Hahn. DK weight yarn.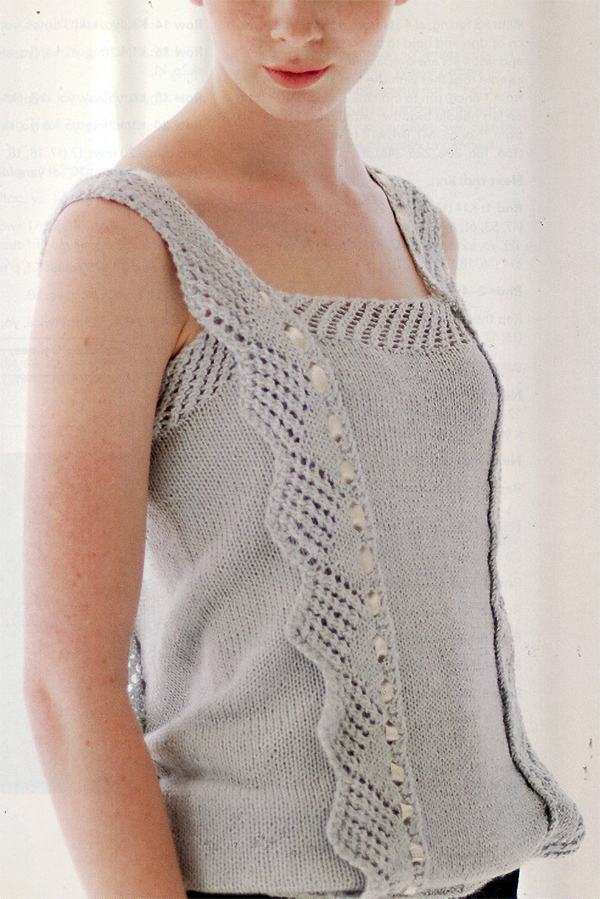 Delysia Camisole
This sleevless top combines the streamlined silhouette of the 1920s with feminine details of lace and ribbon in a camisole that looks equally stylish on its own or over a T-shirt. Designed by Jordana Paige. Sizes XS(S, M, L, 1X, 2X). DK weight. One of the patterns in Brave New Knits: 26 Projects and Personalities from the Knitting Blogosphere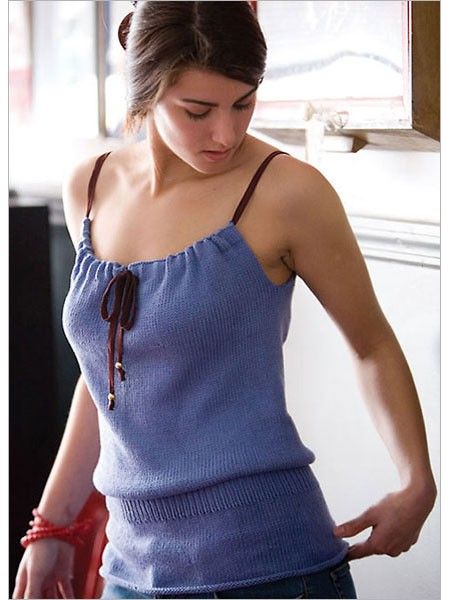 Summertime Tunic
Easy pattern for simple tunic is a breeze to knit – you don't even need to shape armholes. Long ties threaded through foldover casings provide both armhole and neckline shaping. Finished Size: 29" (33, 37, 41, 45)" bust.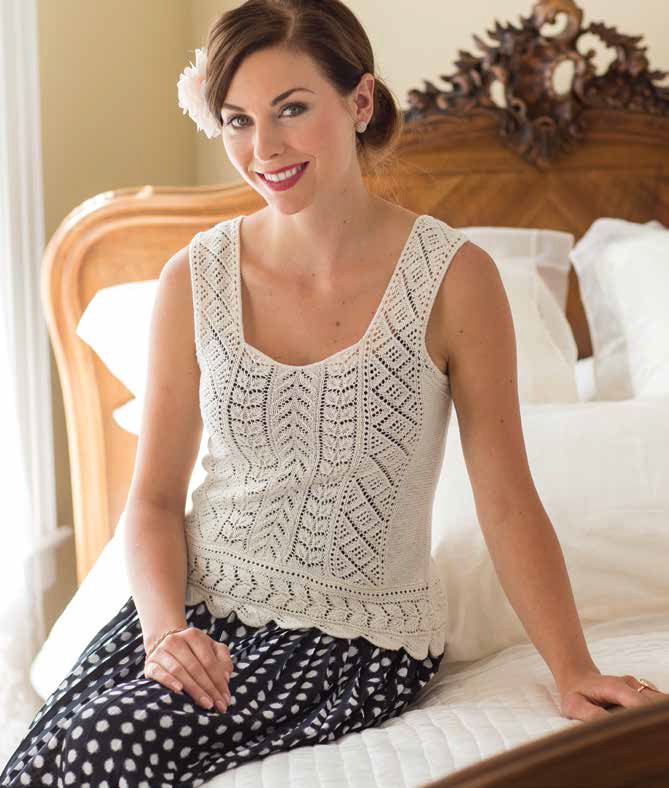 Hidden Delight Lace Camisole
Knit the front and back panels separately and stitch them together on the sides.Finished Size: 32½ (34½, 36½, 38½, 40½, 42½) inches (82.6 [87.6, 92.7, 97.8, 102.9, 108.0] cm) bust circumference. Designed by Karen Hooton.