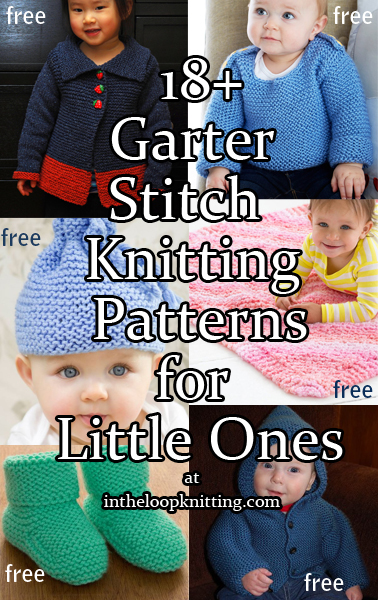 Knitting Patterns in Garter Stitch for Babies and Kids including sweaters, hats, blankets, booties, and more.
To get the knitting patterns, scroll down the page to the individual pattern you want and click on the link to that pattern.
These patterns are not my designs but links to other designers who have generously shared their patterns. If you have questions about how to knit a specific pattern, please contact the designer directly.
All links on this site are for informational purposes, but please note that some links are to affiliate sellers that pay me a small commission on purchases.
Free Patterns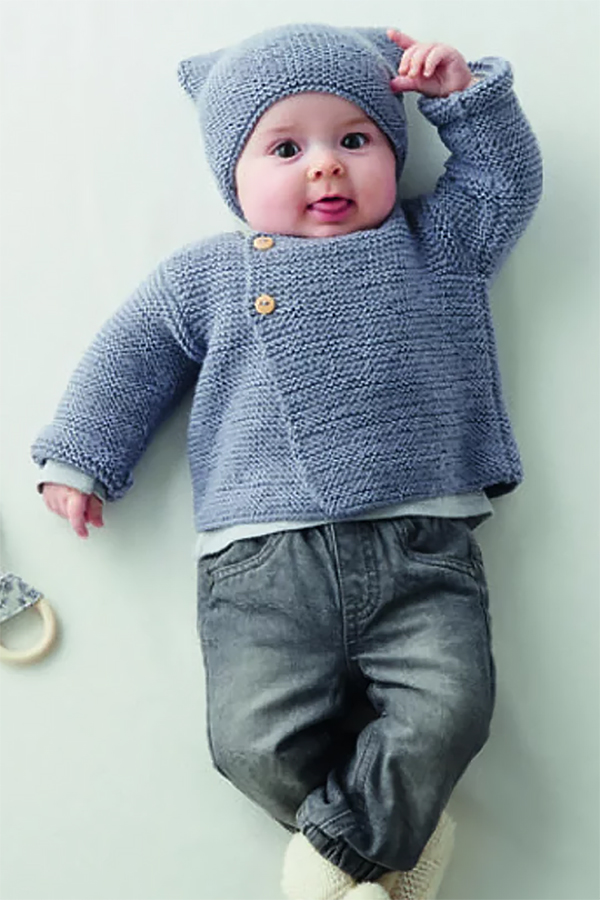 Baby Cardigan and Hat
Long-sleeved sweater with offset front and straight topped hat knit in garter stitch. Sizes Newborn to 6 Months. Suitable for beginners according to the designer Phildar. DK weight yarn.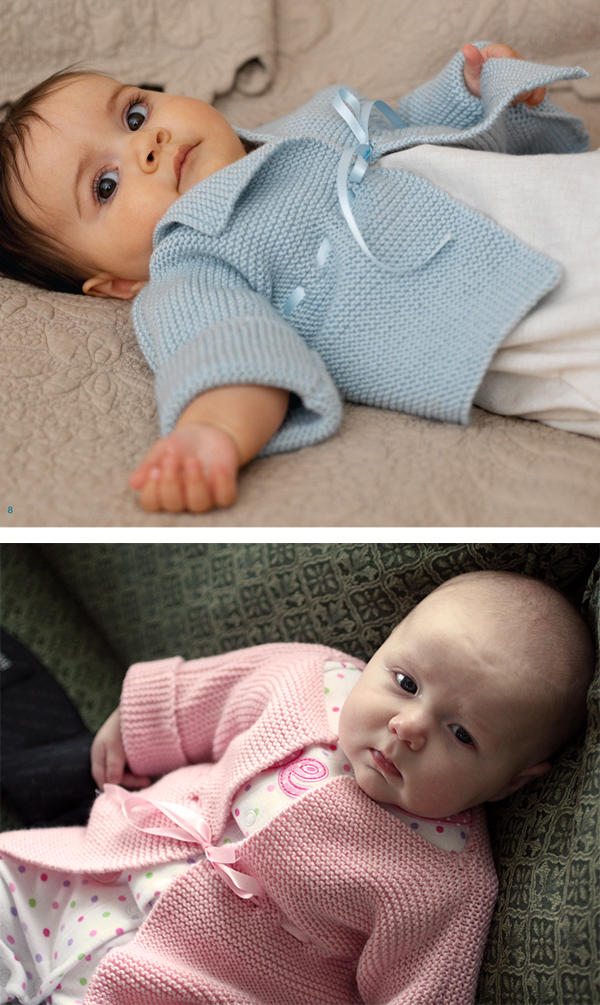 Garter Stitch Matinee Jacket
Easy garter cardi with eyelets to thread a ribbon through. Sizes 3-6 months, 6-9 months, 9-12 months. Rated easy by many Ravelrers. Designed by Debbie Bliss. Pictured projects by the designer and KNITTYSCRAPPER. Sport weight yarn.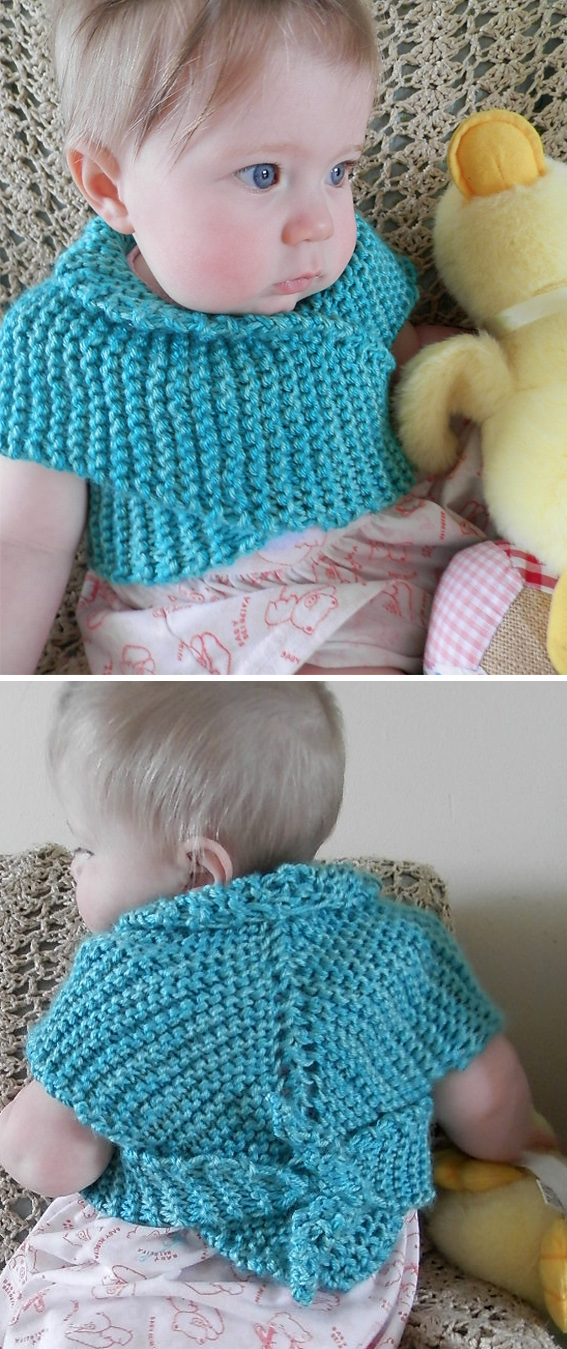 Cedar's Spring Baby Shawl
This adorable baby shawl is knit in garter stitch and designed to fit babies from around 10 months -18 months. It is knit by holding two strands of worsted weight yarn together. Designed by Kristen Cooper.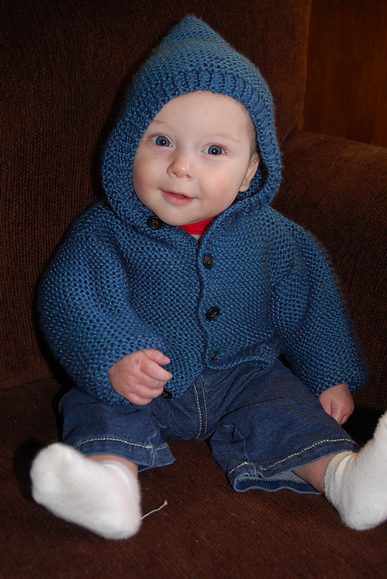 Storybook Baby Hoodie
Hoodie cardigan in baby and child sizes from Lion Brand Yarn. All pieces are worked flat in garter stitch (knit every row). Sizes: Newborn, 3–6 months, 12–18 months, 2 years, 4 years. Pictured project by casey2k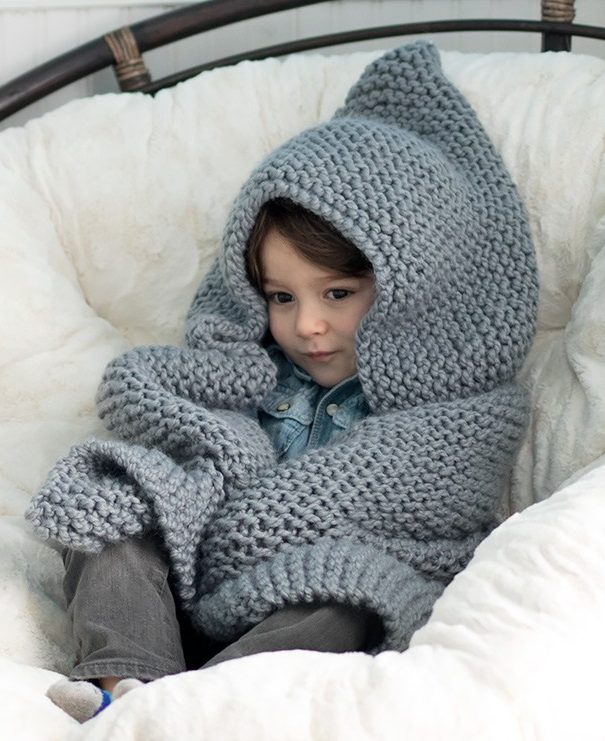 Hooded Baby Blanket
This blanket is knit in 2 pieces with garter stitch and seamed. Designed by Gina Michele who says it is perfect for beginners.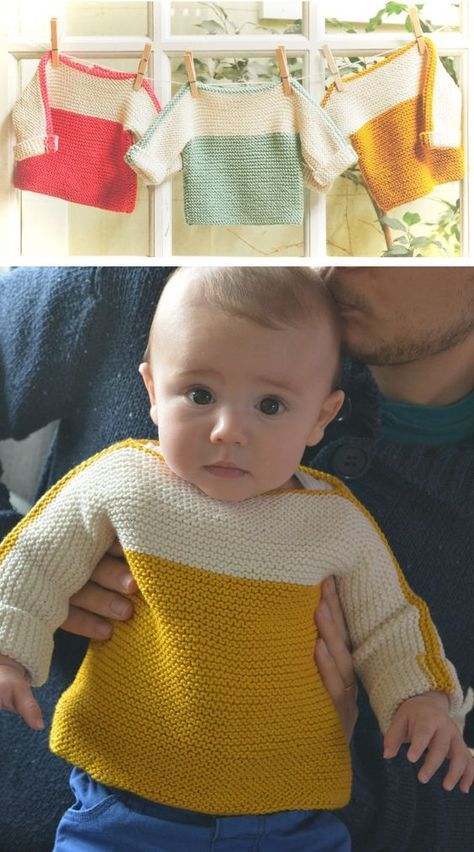 Easy Macaron Baby Sweater
Inspired by the colorful French macaron sandwich cookies, these pullovers are knit in garter stitch with a boatneck neckline and a one button closure in the back. Sizes Newborn, 3 months, 6-9 months, 12-18 months, 2-3 years, 4 years. Rated easy by Ravelrers. Designed by The Noble Thread in DK yarn. Pictured project by Alexandra Belmont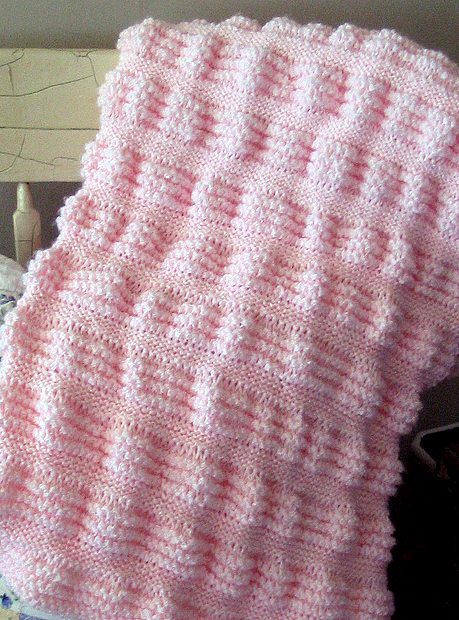 Garter Stitch Ruffles Baby Blanket
This easy reversible blanket is knit completely in garter stitch with two strands of yarn held together. It gets its ruffled look by switching to large needles for a puffier section and then make to smaller needles for a tighter gauge. Consider two yarns or different texture or color to add interest. Designed by Diane Starke. Pictured project by KathInOC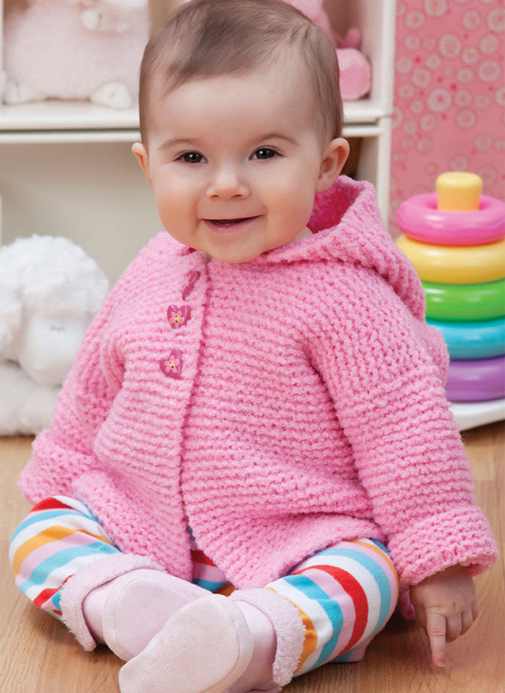 Play Date Cardie
This easy hooded baby cardigan sweater by Lorna Miser is knit in garter stitch. Sizes 6 months to 24 months.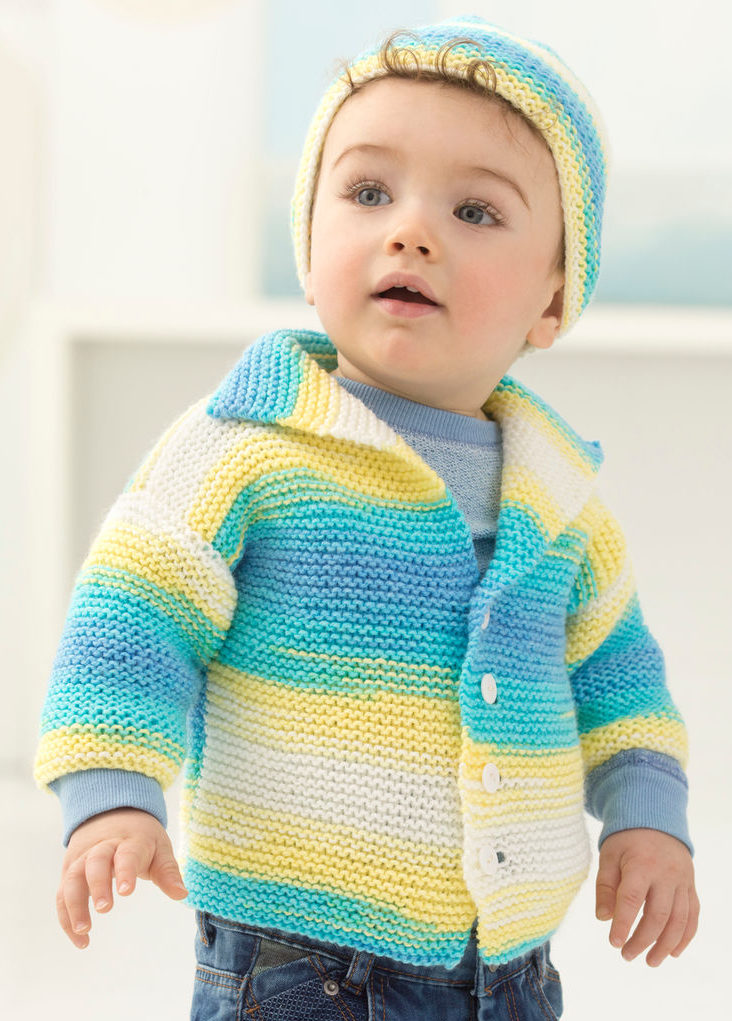 Brooklyn Cardi and Hat
Easy baby cardigan sweater in garter stitch with matching hat pattern. Size Finished Chest About 22 (24) in. (56 (61) cm). Takes one skein of the recommended yarn 1117 yards.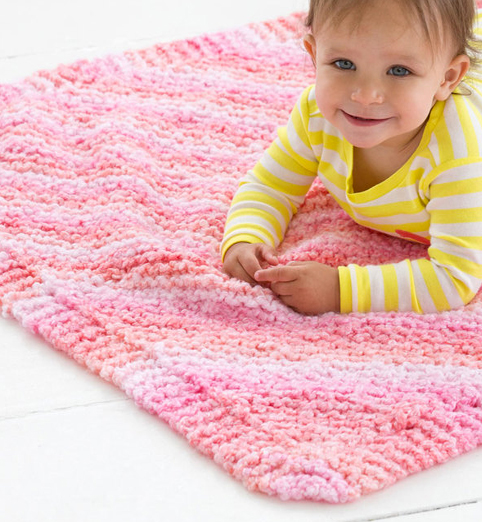 Cuddle Bug Blanket
Easy garter stitch blanket is knit diagonally. Knit with multi-color yarn for a diagonally striped effect. Designed by Nancy J. Thomas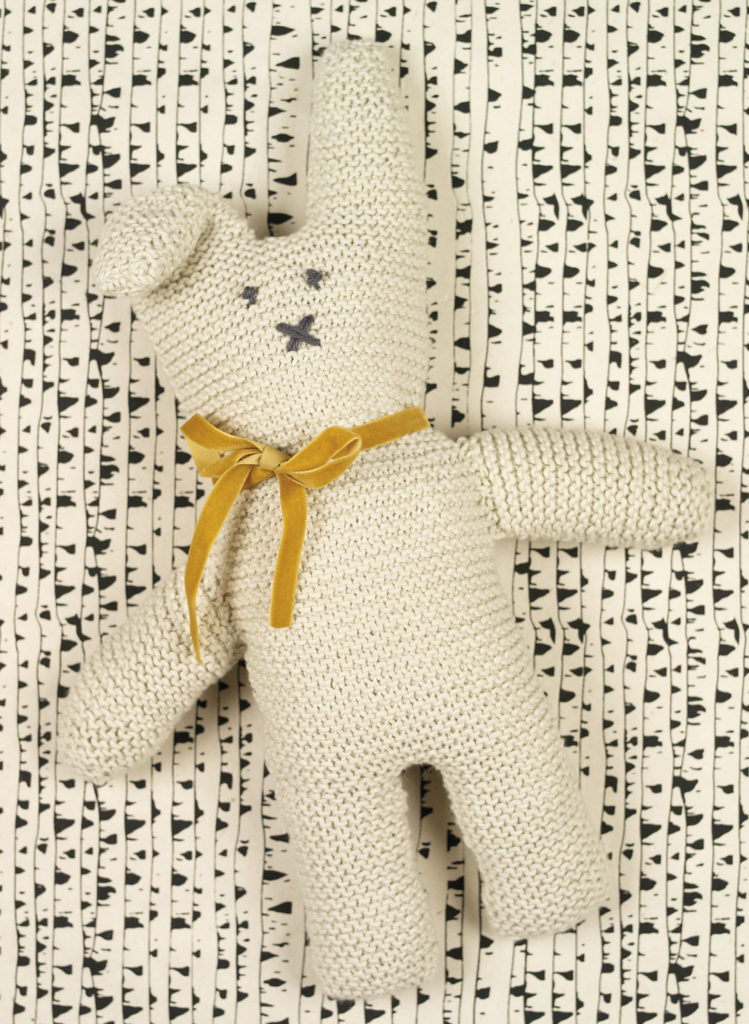 Cottontail Rabbit
Easy bunny softie toy knit in garter stitch and shaped with increases and decreases. Designed by Erika Knight. Approx 36cm/14 1/4in in height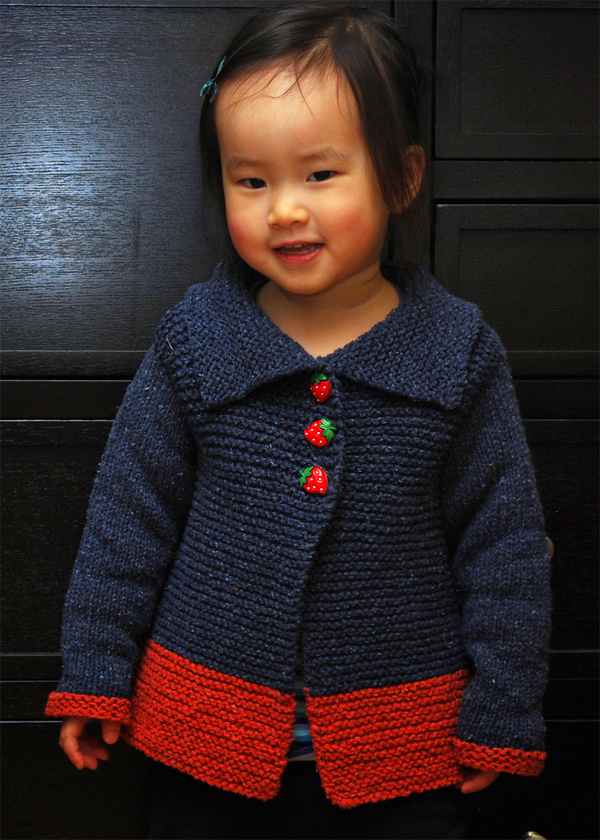 Sawtelle Cardigan
Easy sweater pattern for child sizes 2-12 knit in garter stitch and seamed only at shoulders. Designed by Amanda Keep Williams. Free with registration at Annie's. Pictured project by jennyishi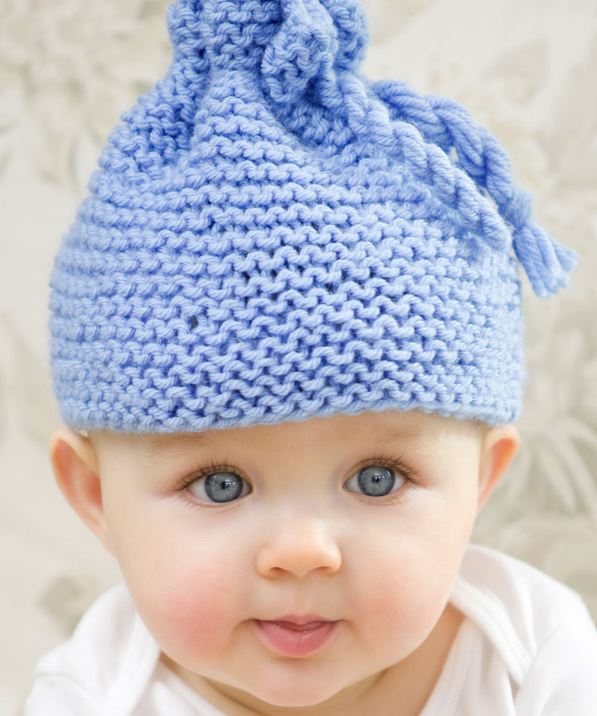 Garter Stitch Baby Hat
Kathleen Sams designed this easy baby hat that's perfect for beginners.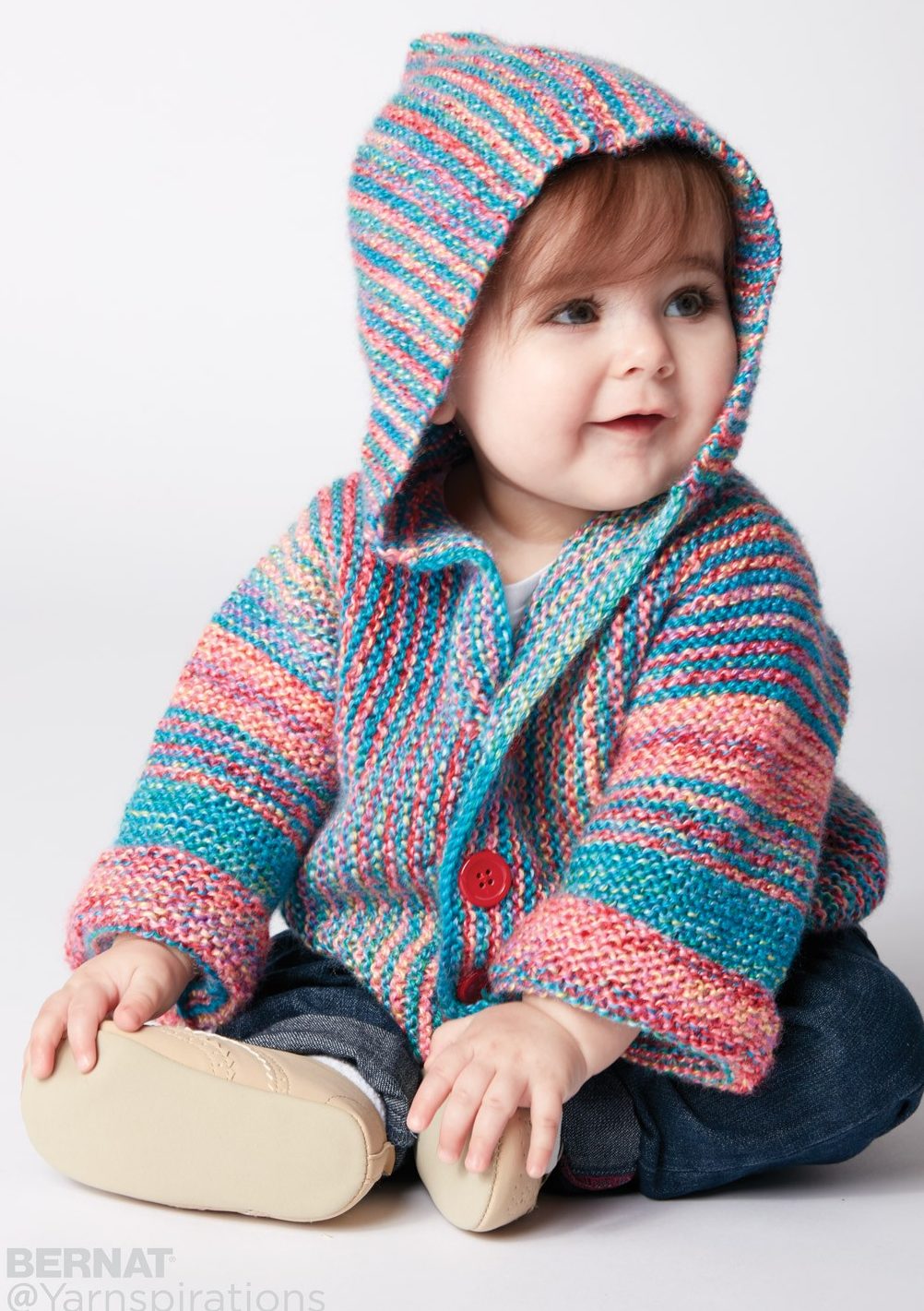 Show Your Stripes Baby Jacket
This easy hooded baby jacket is knit in garter stitch. The sweater is knit in one piece from side to side and the stitches are picked up to knit the hood. Sizes 6 and 12 months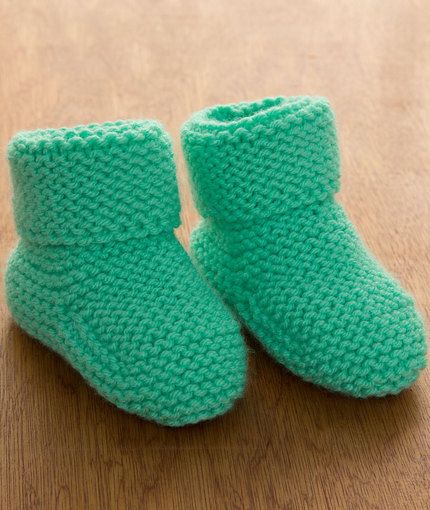 Garter Stitch Baby Booties
Easy booties in boot style to stay on baby's feet. Only takes one ball of yarn.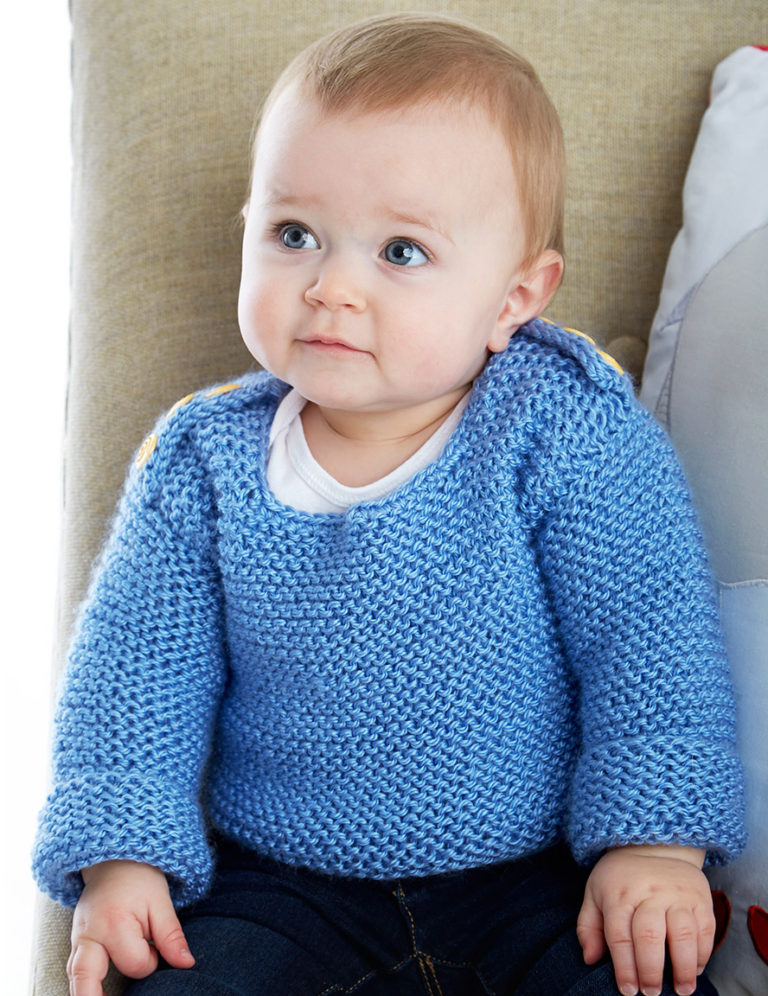 Baby Sweater in Garter Stitch
Easy pullover sweater suitable for beginners. To fit 6 (12-18) mos.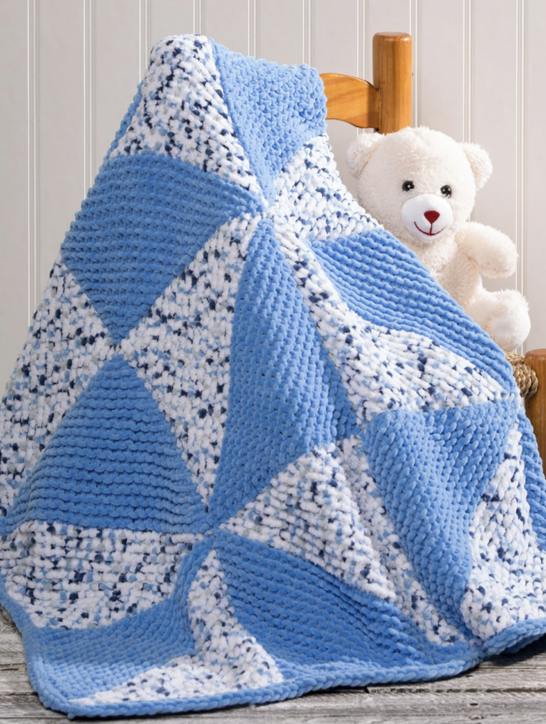 Pinwheel Baby Blanket
This easy colorful and reversible blanket is made of squares knit diagonally in garter stitch in two colors and then seamed to form pinwheel shapes. Designed by Premier Yarns Design Team for bulky yarn. Finished size 32 inches square.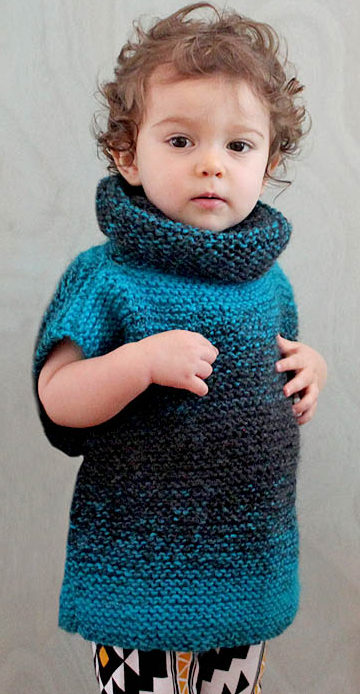 3 Square Child's Sweater
Gina Michele's super easy pullover is constructed of three squares knit in garter stitch. Sizes 1-2 years, 3-4 years, 4-5 years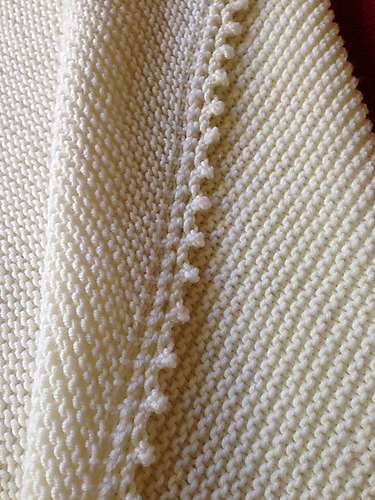 Cambria Baby Blanket
Pam Mausar's blanket is garter stitch that makes a diagonal pattern because of increases at the beginning of the rows for the first half of the blanket and decreases in the last half. The picot border does require picking up stitches. Ravelry knitters have rated this as easy. Pam says that you can use any weight yarn.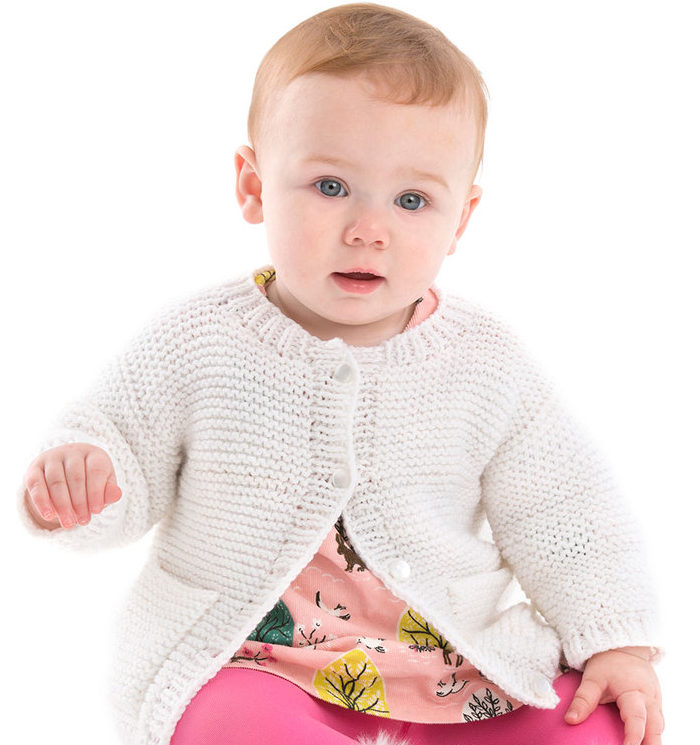 Year-Round Baby Cardigan
This easy sweater pattern by Lorna Miser is knit in garter stitch. Sizes 6 months to 24 months.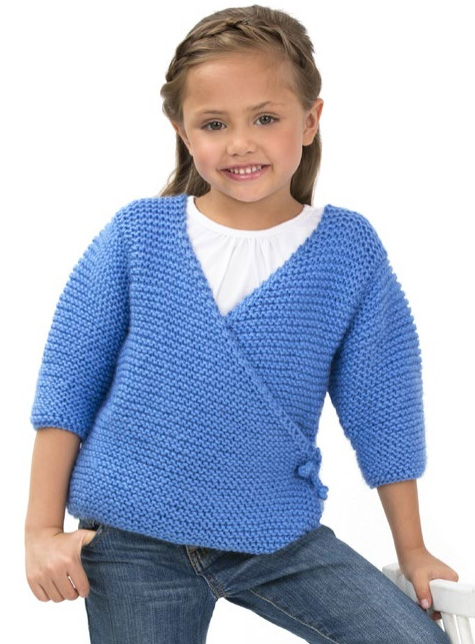 Cute Kimono Cardigan
Easy pattern by Ann E. Smith from Red Heart for a wrap cardigan in garter stitch. Sizes 2, 4, and 6 years.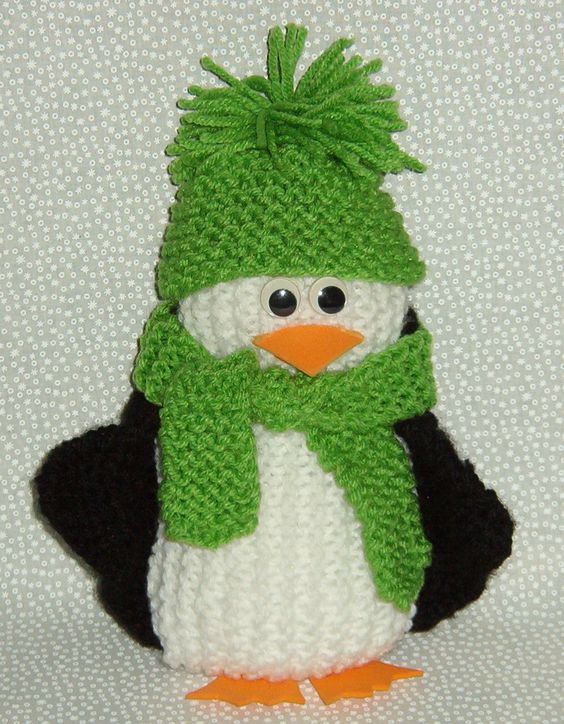 Stacey's Perfect Penguin
This bean-bag penguin softie toy by Messmerland Knitting is an easy pattern knit in garter stitch and embellished with safety eyes, felt feet and bill. Comes with patterns for her own scarf and hat!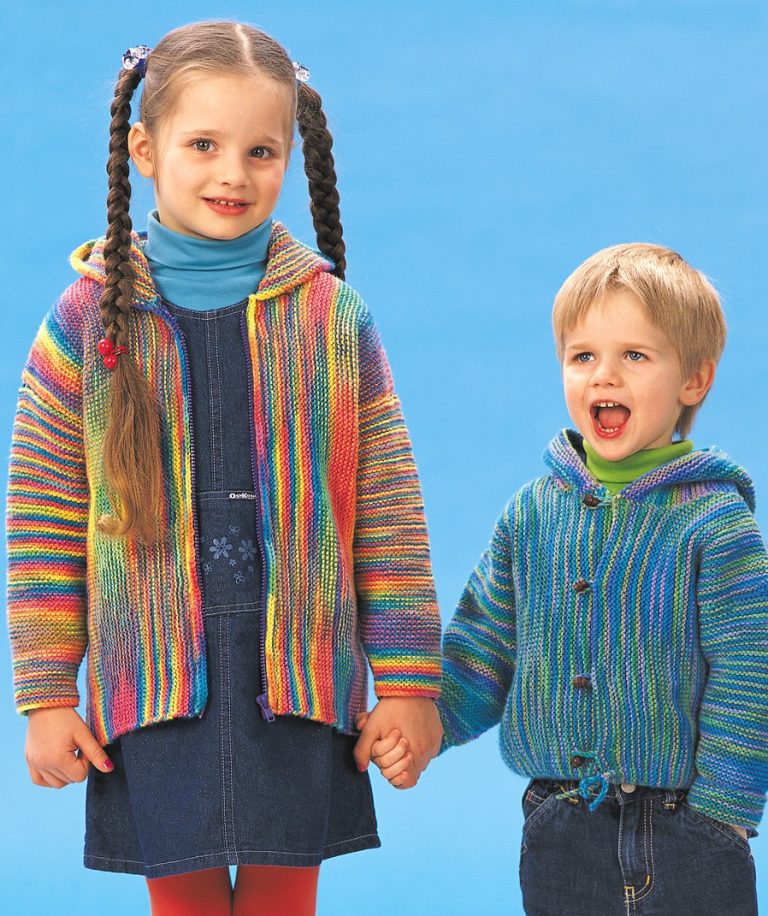 Garter Stitch Jackets For Children
These hooded jackets designed by Patons for girls and boys are knit side to side to create an unusual vertical stripe in ombre yarn.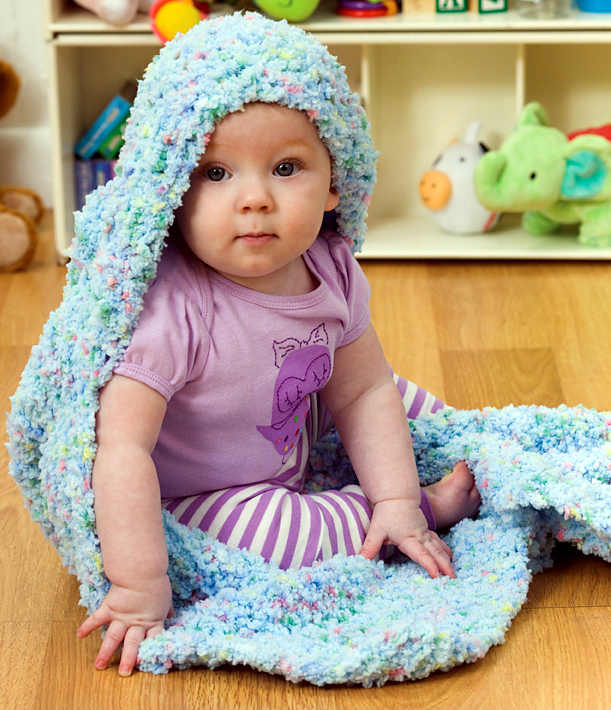 Hooded Baby Blanket
This beginner baby pattern is a garter stitch baby blanket with a hood that is knit separately and sewn on to keep those precious head and ears warm.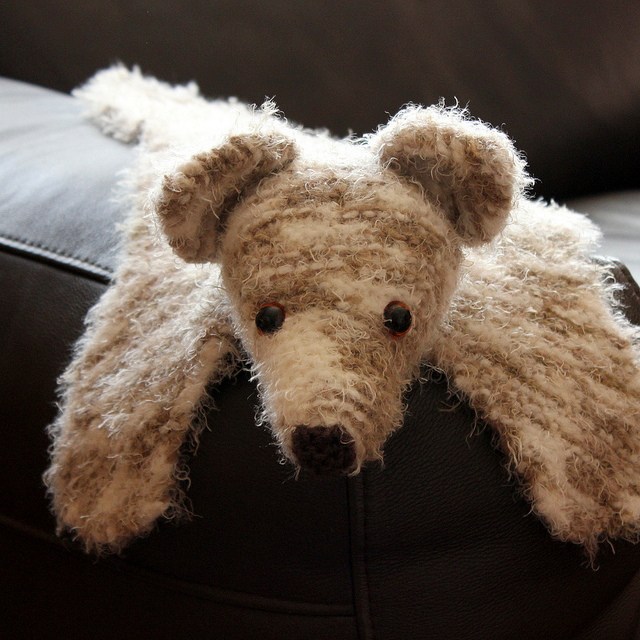 Fuzzy Comfort Blanket
Sharon Maher's design is both a teddy and a blanket, worked in a simple garter stitch. Use a furry yarn for maximum impact. Length: 51 cm (20 in) Width: 36 cm (14 ¼ in)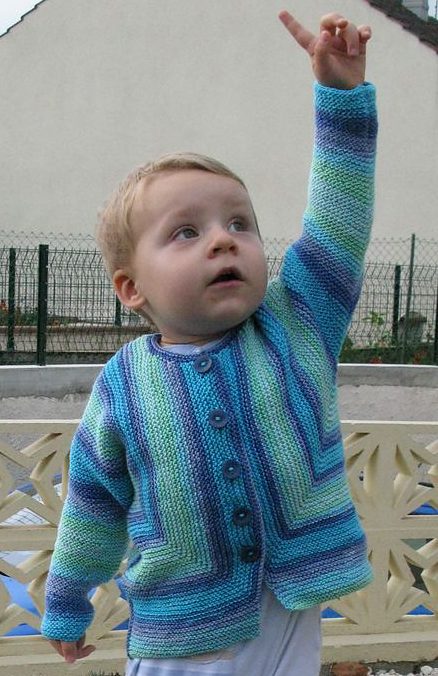 Garter Stitch Jacket for Little Ones
Cardigan by DROPS Design created for multi-color yarn. Sizes 1/3 – 6/9 – 12/18 months (2 – 3/4 – 5/6) years . Pictured project for sofyg
Patterns for Purchase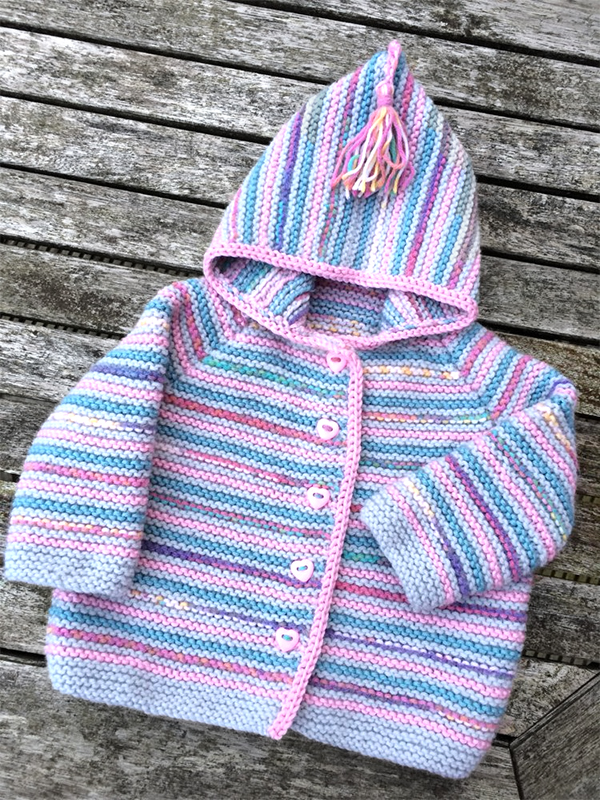 Pippa's Baby Cardigan
Hooded baby sweater knit in garter stitch. Sample knit with several colors of yarn so it's great for stashbusting or self-striping yarn. Size 18 inch chest = 3 to 6 months. DK weight yarn. Designed by Daisy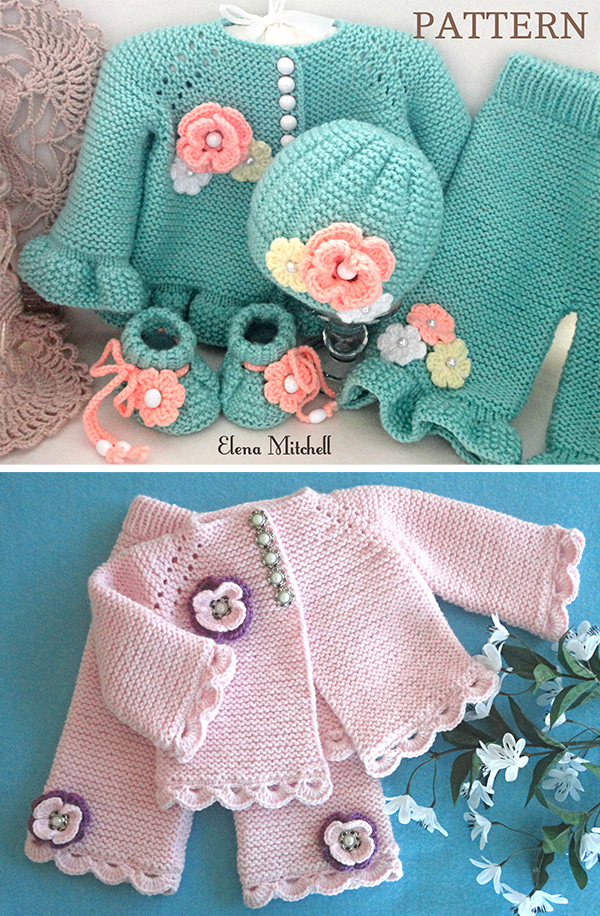 Garter Stitch Baby Layette Set
Baby cardigan, baby pants, hat, and 2 styles of booties knit in garter stitch. Options for knit edging or crochet edging. Sizes 0 – 3 months and 3 – 6 months. Worsted weight yarn. Designed by Elena Mitchell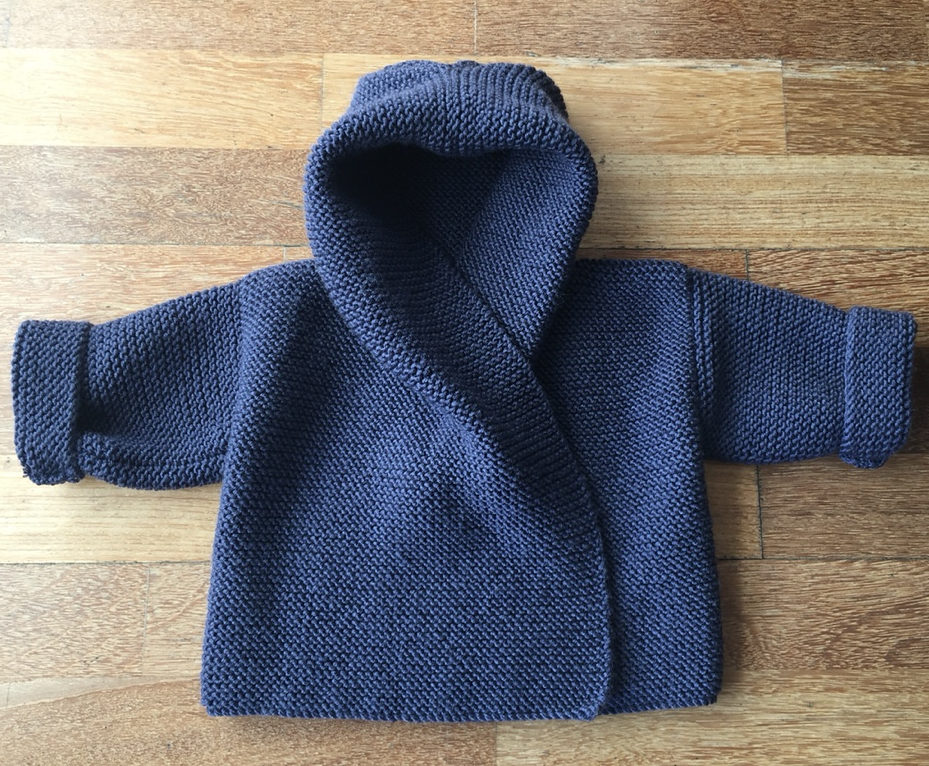 Baby Hooded Wrap Cardigan
Quick and easy hoodie in garter stitch in 3 sizes to fit chest: 41(46:51)cm, 16(18:20)in. Ages:0-3m(3-6m:6-12m). Designed by Audrey Wilson. Pictured project by parksidepurler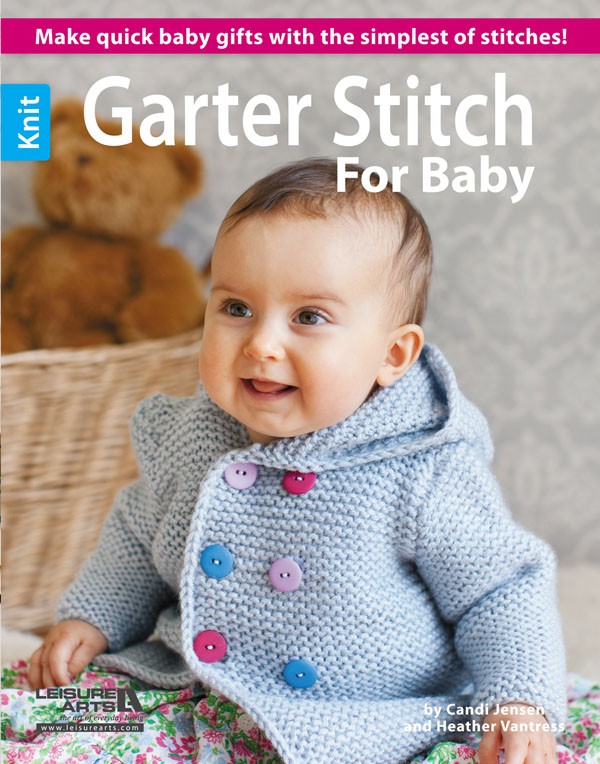 Garter Stitch for Baby eBook
10 Designs to knit using various weights of yarn: Baby Hat, Leg Warmers, Ripple Stripe Blanket, Teal Stripe Blanket, Hooded Sweater, Vest, Sweetie Toy, Booties, Mitts, and Fingerless Mitts. Designed by Candi Jensen and Heather Vantress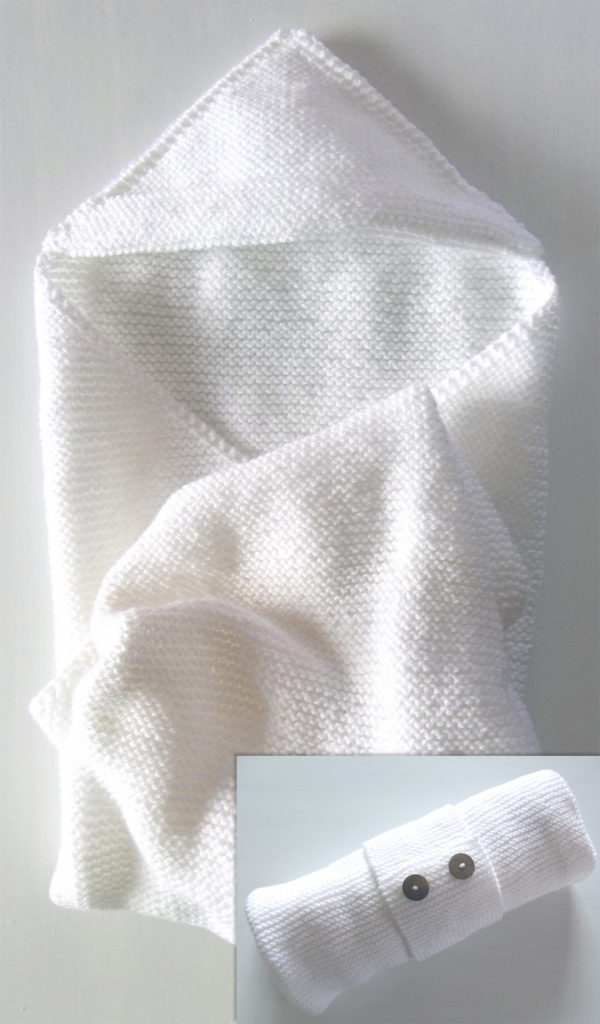 Baby Hooded Wrap and Roll Blanket
Easy knitting pattern by Audrey Wilson.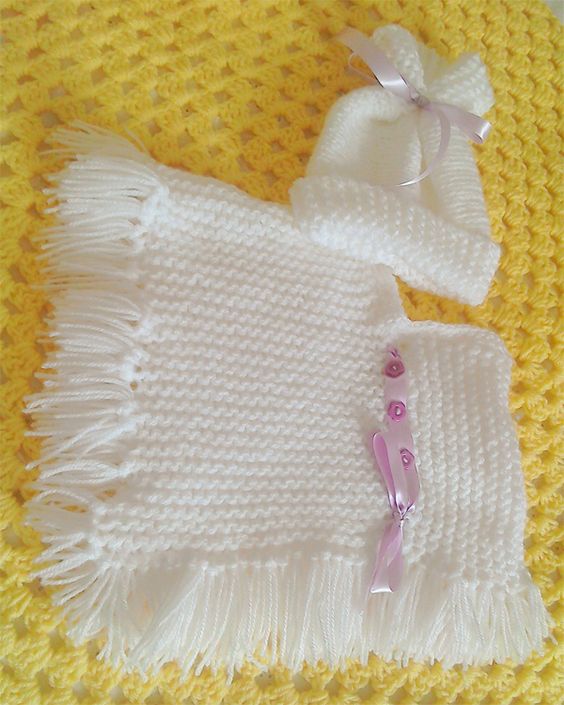 Garter Stitch Baby Poncho and Hat
Easy baby poncho using garter stitch with a matching hat. Two options for hat – envelope hat and beanie. Options for poncho with or without fringe.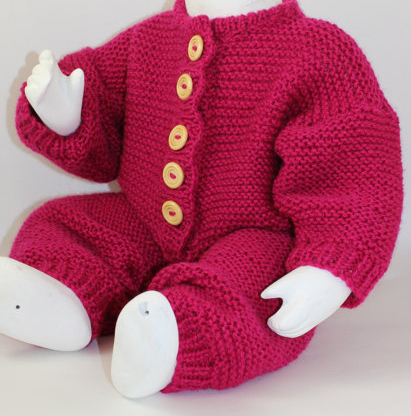 Baby Onesie
This garter stitch onesie is worked flat on straight needles in aran weight yarn. 5 sizes XS( 0-3 months), S (3-6 months), M (6-9 months), L (9-12 months) and XL (12-18 months). Designed by Christine Grant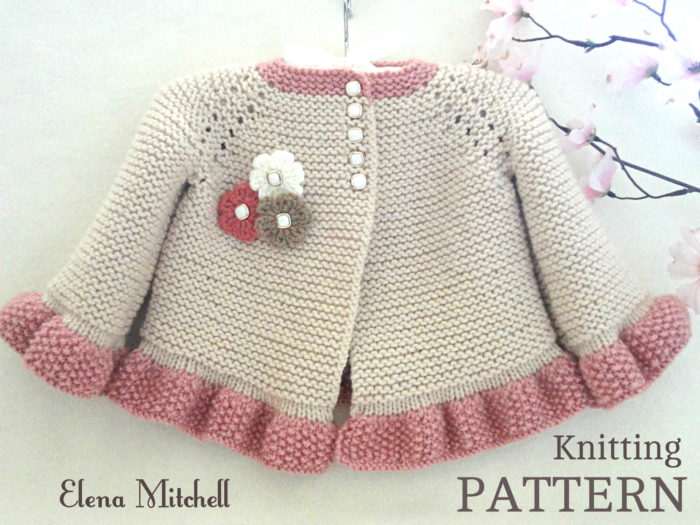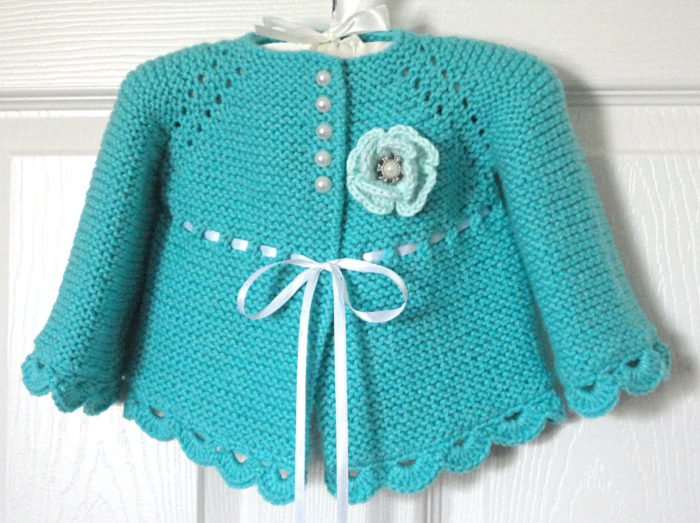 Garter Stitch Baby Jacket
Baby cardigan knit in garter stitch with options for knit edging or crochet edging. Sizes 0 – 3 months and 3 – 6 months. Worsted weight yarn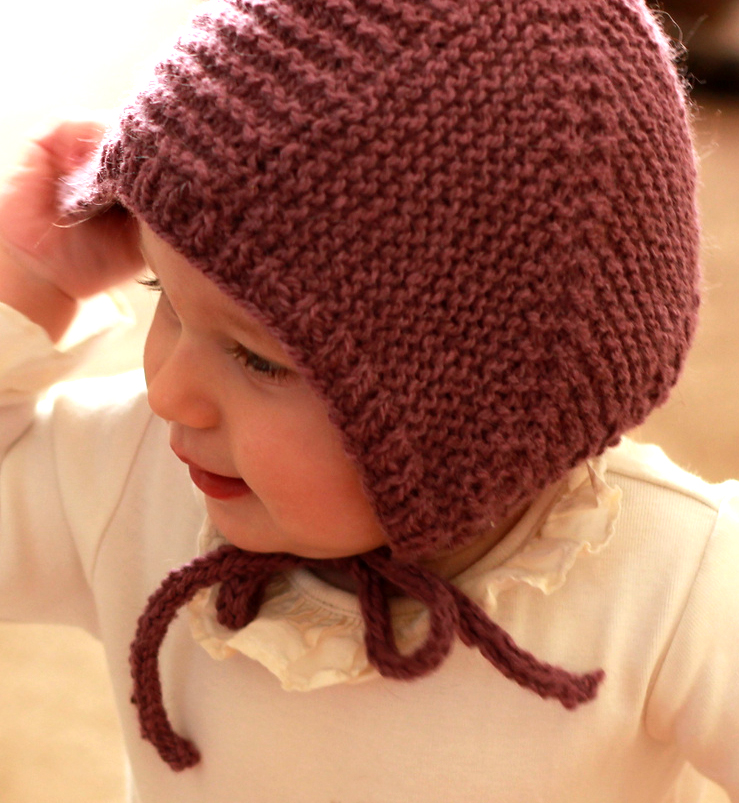 Pilot Cap
A quick and easy aviator hat in garter stitch. Sizes from newborn to large child. Desgned by Abby Belnap. Pictured project by kseus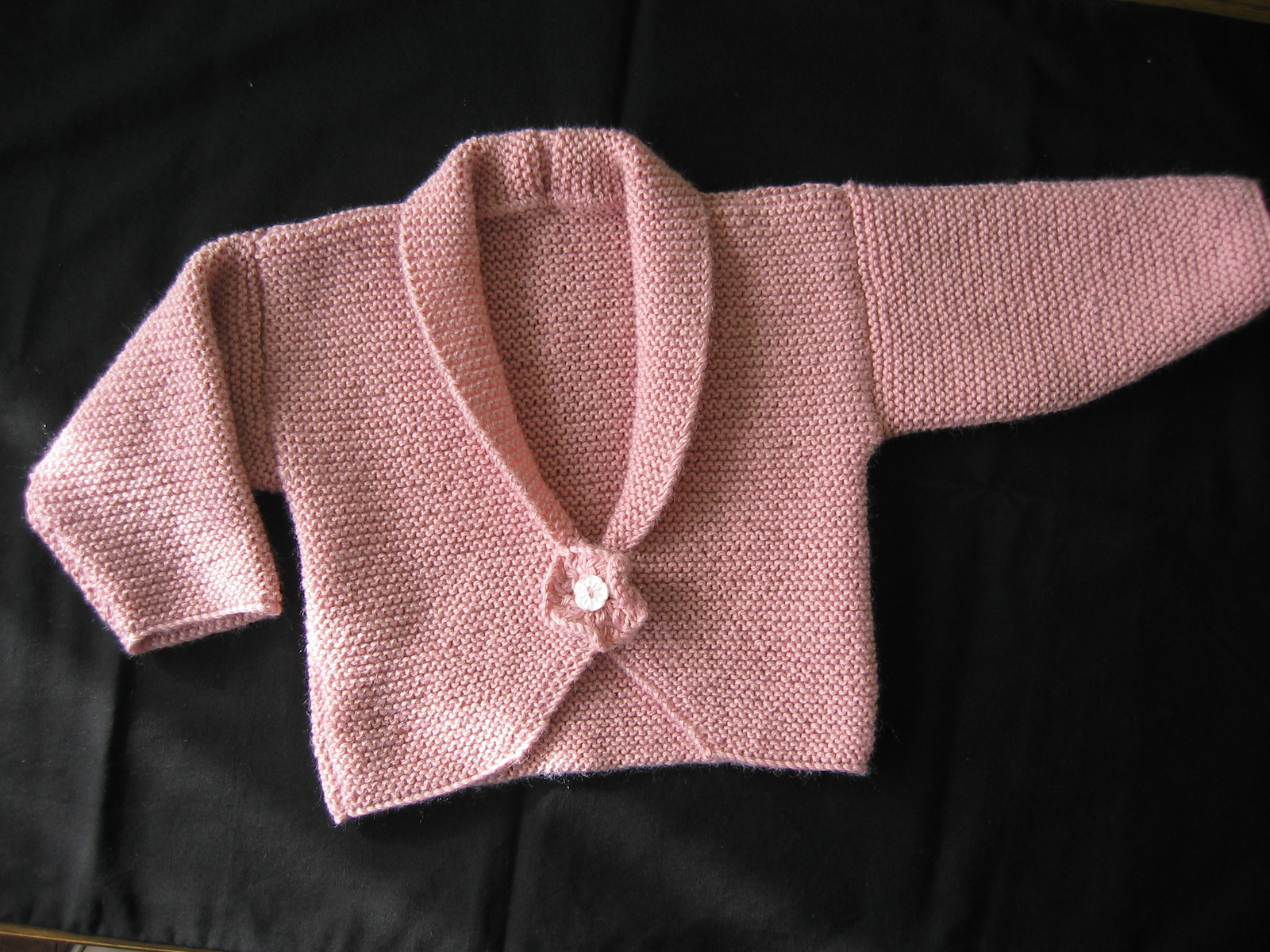 Baby Peony Garter Stitch Cardigan
Very quick and very easy to knit designed by Audrey Wilson. Sizes 0-3months. 3-6 months. 6-12 months. Pictured project by Aloysius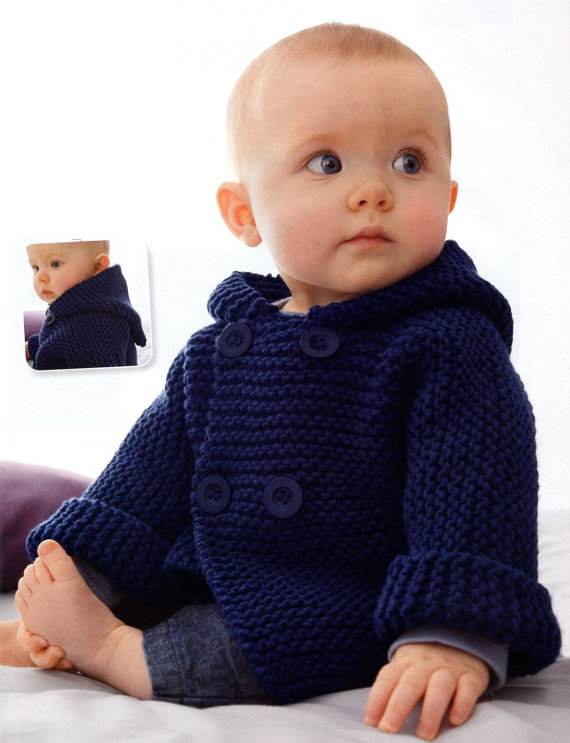 Baby Hooded Jacket
Garter stitch hoodie in sizes sizes 3, 6, 12 months.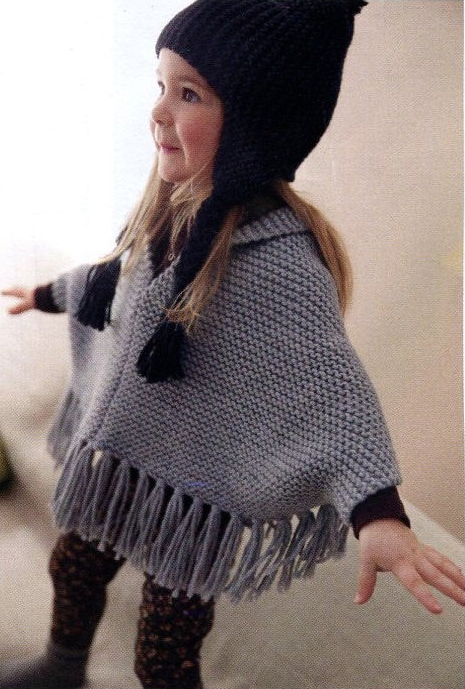 Easy Kid Poncho and Ear Flap Hat
Fringed poncho with sleeves in garter stitch with hat are quick knits in bulky yarn. Sizes 2, 4, and 6 years.