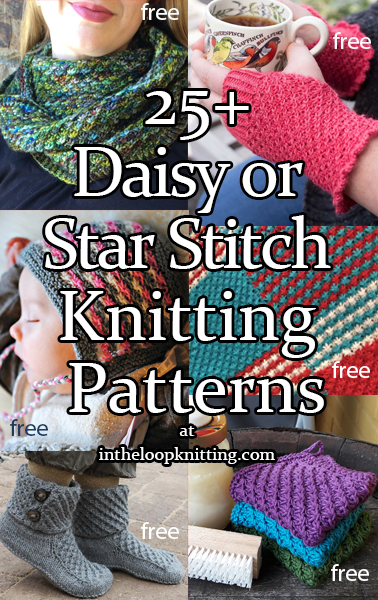 The daisy or star stitch is a 4 row repeat stitch cluster that resembles a flower or starburst.
To get the knitting patterns, scroll down the page to the individual pattern you want and click on the link to that pattern.
These patterns are not my designs but links to other designers who have generously shared their patterns. If you have questions about how to knit a specific pattern, please contact the designer directly.
All links on this site are for informational purposes, but please note that some links are to affiliate sellers that pay me a small commission on purchases.
Free Patterns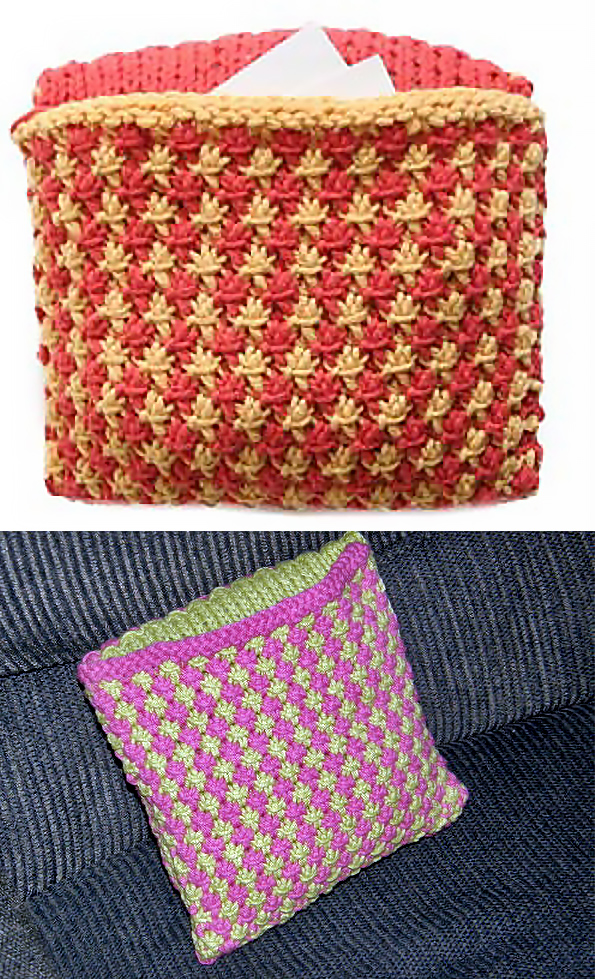 Starry Treasure Pillow
This small pillow features a pocket that's perfect for holding small items or for delivering a little note or a tiny gift. Knit with a two-color variation of the star stitch. 6½ x 6½ in. (16.5 x 16.5 cm) Worsted Weight. Pictured projects by the designer, Joanne Seiff, and grammabunny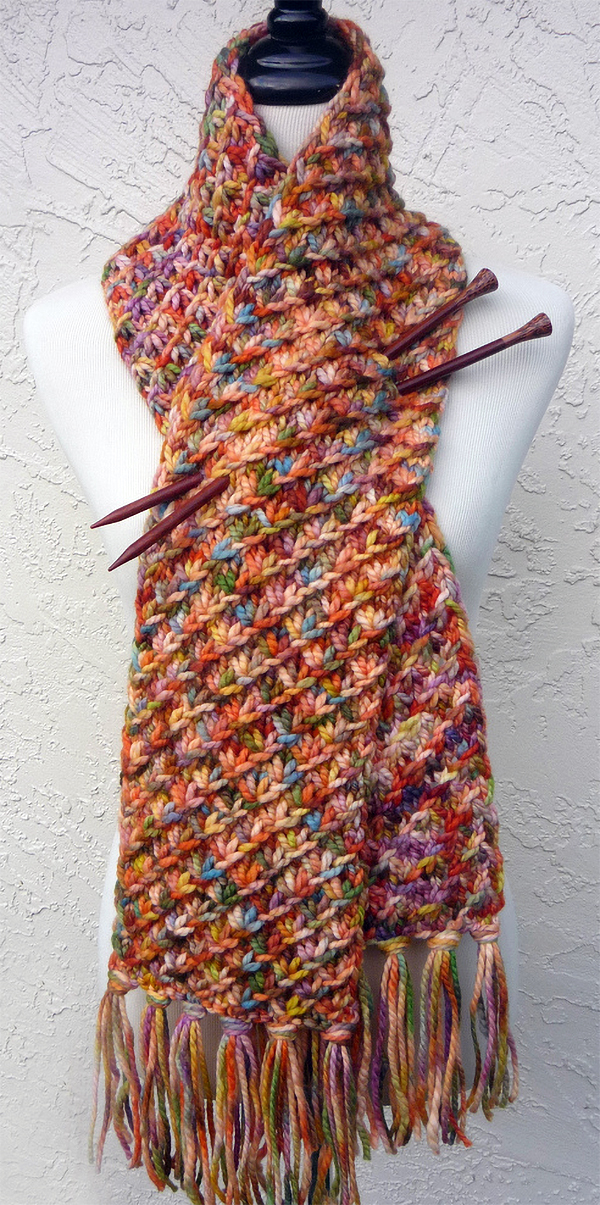 Star Stitch Scarf
The Holding Hands, Feeding Ducks Scarf is knit with an all over star stitch. Designed by Morgen Dämmerung. Any weight yarn. Pictured project by MyDailyFiber. Rated easy by most Ravelrers.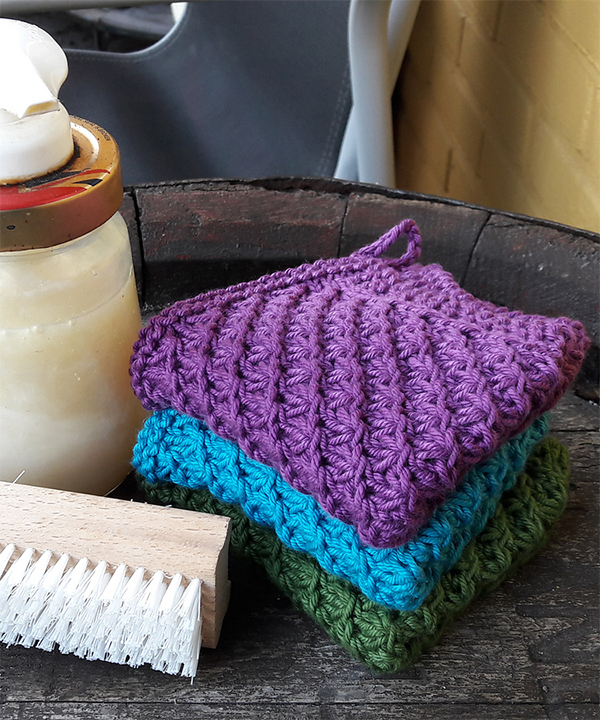 Stars Dishcloth
Cloth knit with star or daisy stitch. Great texture for wash or dish cloths that's pretty too. Designed by Love 2 Knit Dishcloths. Pictured project by CharysW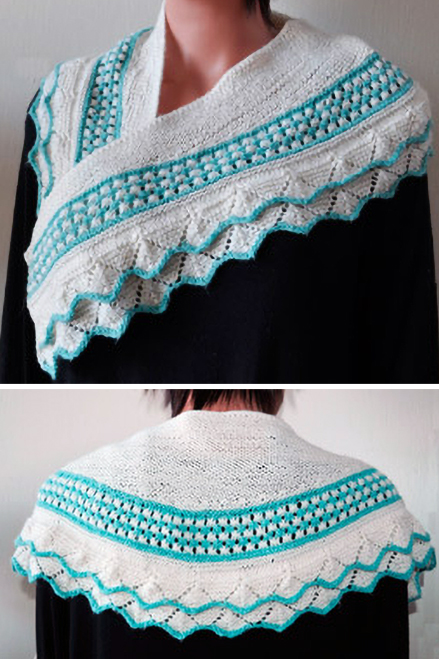 Lace and Star Stitch Shawlette
Two color shawl features garter-stitch and star-stitch body with with a double layered peaked lace edging that is easily created by knitting the bottom and top separately and knitting together before starting on the body. Designed by Gail Tanquary for Crystal Palace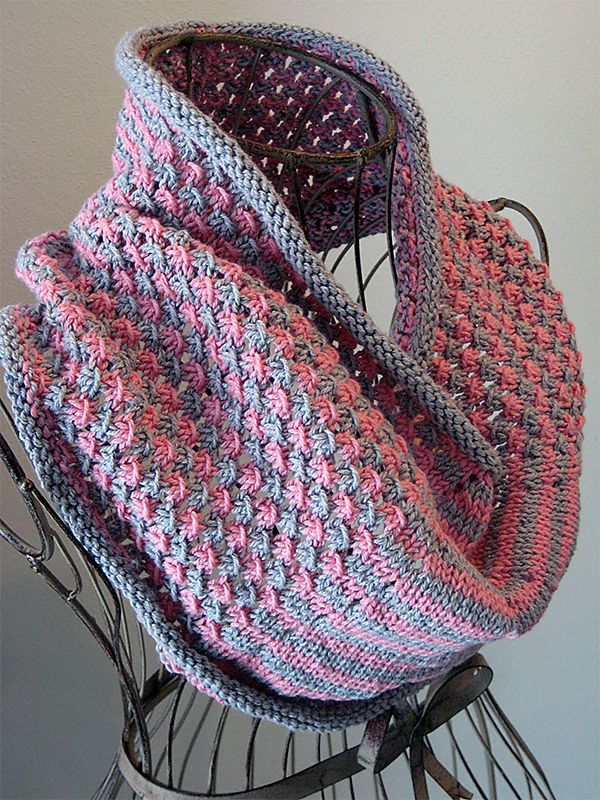 Striped Star Stitch Cowl
Two color cowl knit in the round with sections of stockinette stripe and star or daisy stitch stripe. 130 - 140 yards of each color yarn. Designed by Gretchen Tracy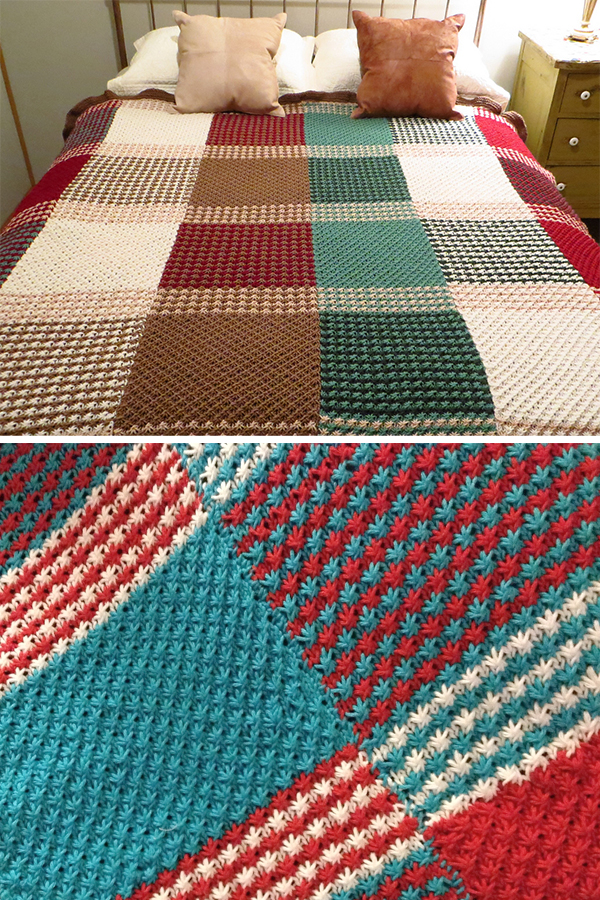 Star Stitch Afghan
Blanket knit with star or daisy stitch in multiple colors to form a textured plaid design by Patons. Worsted Weight. Pictured projects by Blw66 and terese625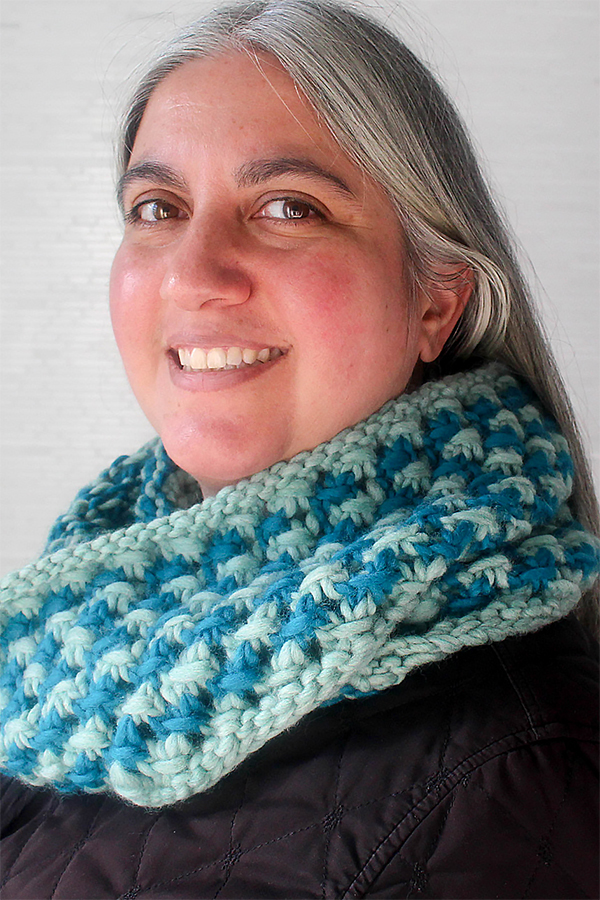 Ocean Star Infinity Scarf
Easy openwork star stitch in 2 colors of bulky yarn creates a quick cowl. Designed by Underground Crafter One of the free patterns in the free ebook 7 Free Knitted Cowl Patterns.

Daisy Stitch Top
Sleeveless top knit in the daisy stitch with open back you can wear over camisoles or nothing at all.Sizes A) 34/36, B) 38/40, C) 42/44, D) 46/48, E) 50/52. Designed by Yarnplaza.com. DK Weight.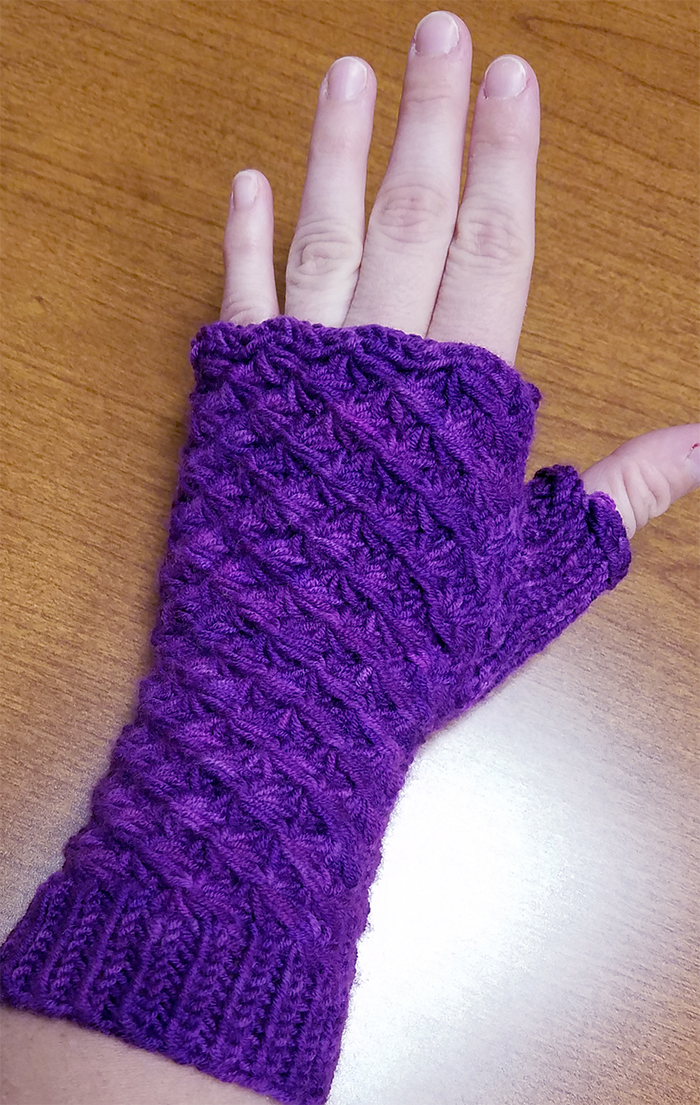 Daisy Fingerless Mitts
These mitts adapt the daisy stitch to be knit in the round. DK weight. Designed by Jennifer Stovall.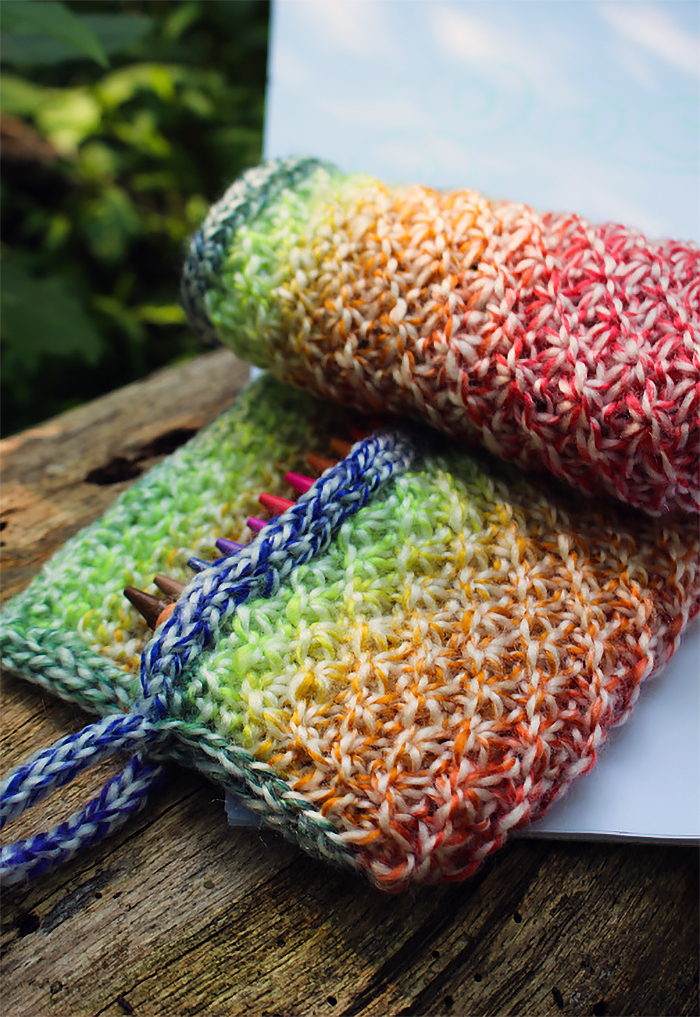 Travel Craft Roll
This clever tote to carry crayons, crochet hooks, knitting needles, is knit with a star stitch. 9" high x 14" wide before folding, not including icords. Designed by Tanis Gray.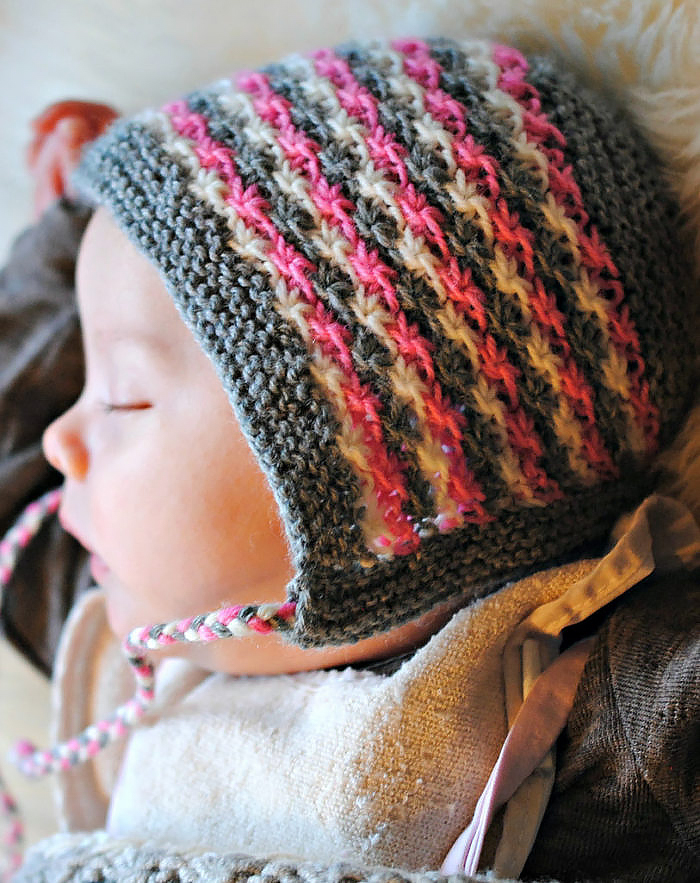 Daisy Stitch Baby Bonnet
Stripes of daisy stitch make a unique baby hat. Size newborn up to 12 months. Designed by Nina Figenschau. Fingering weight. Available in Norwegian and English.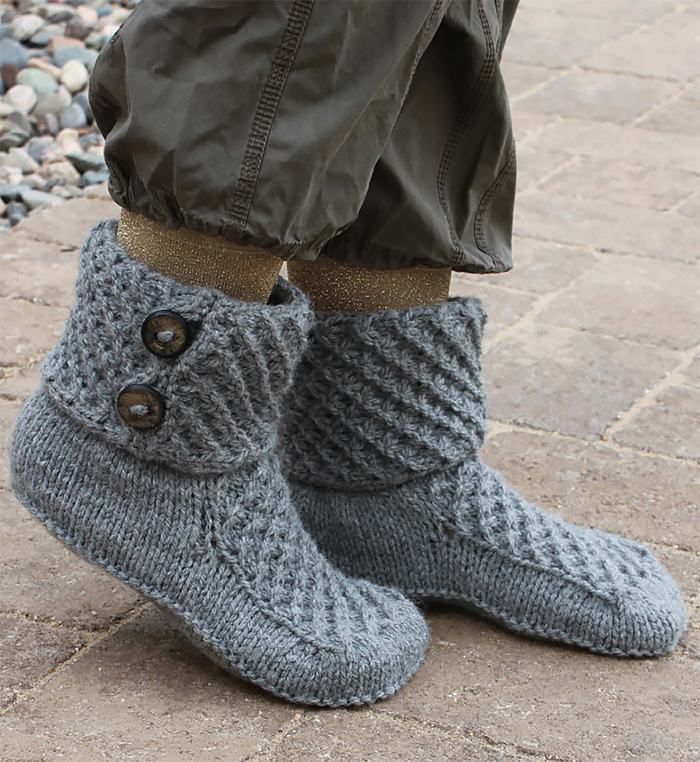 Walk of Fame Slippers
These cozy slipper boots feature a 4 row repeat star stitch on the uppers and cuffs. Fast knit in bulky yarn. Woman's S (M, L). Designed by Lena Skvagerson . This pattern was featured in Season 7 of Knit and Crochet Now! and is free with registration at Annie's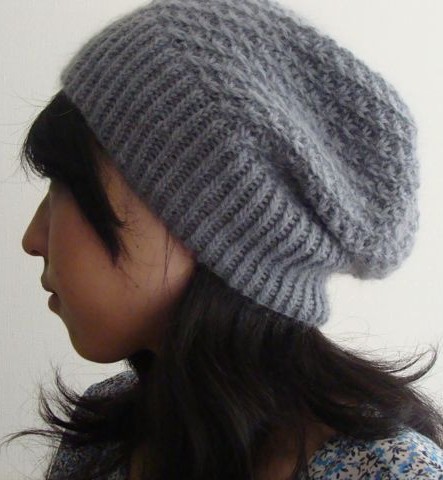 Hingiku Hat
87knit's slouchy beanie features the daisy stitch and a wide ribbed brim. A really great way to use this stitch and a quick knit.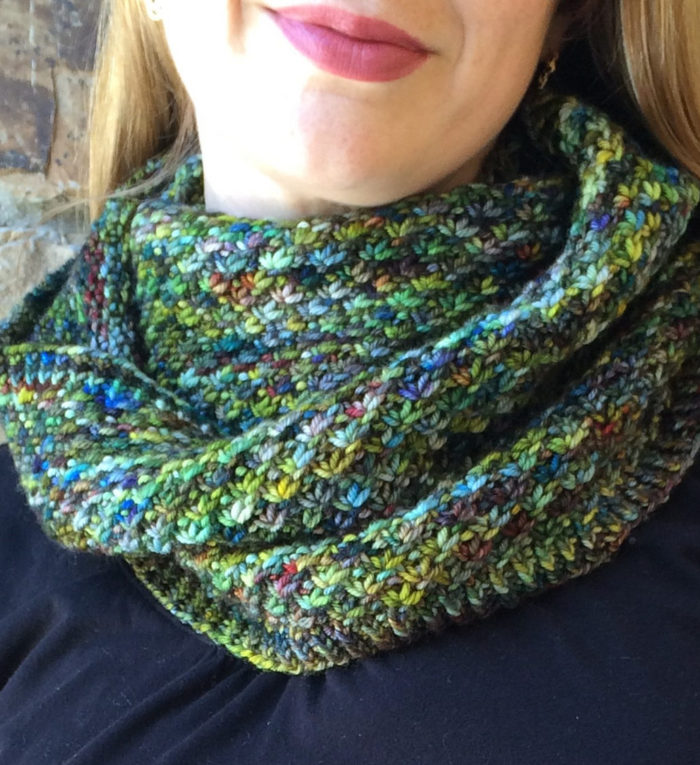 Denver Cowl
The daisy stitch of this infinity scarf pattern is perfect for showcasing variegated yarn. Worsted weight yarn. Designed by Veronica Parsons. Pictured project by Katinka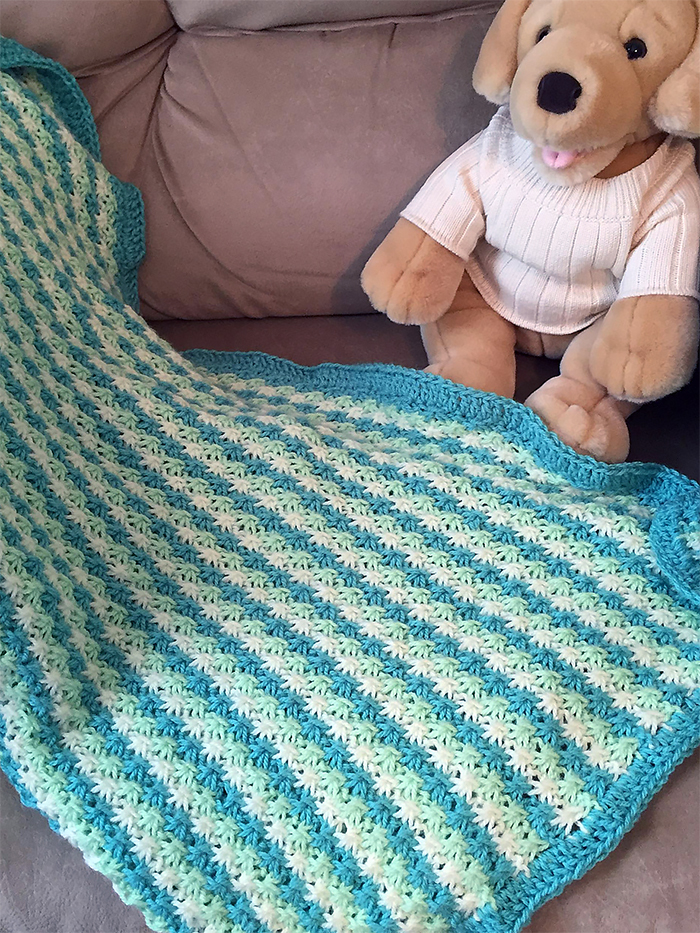 Daisy Stitch Blanket
Stripes of daisy stitch make a colorful textured baby blanket. Size about 50 x 70 cm or (20 x 27,5 inches). Designed by Nina Figenschau. DK weight. Available in Norwegian and English. Rated easy by Ravelrers. Pictured project by Ezada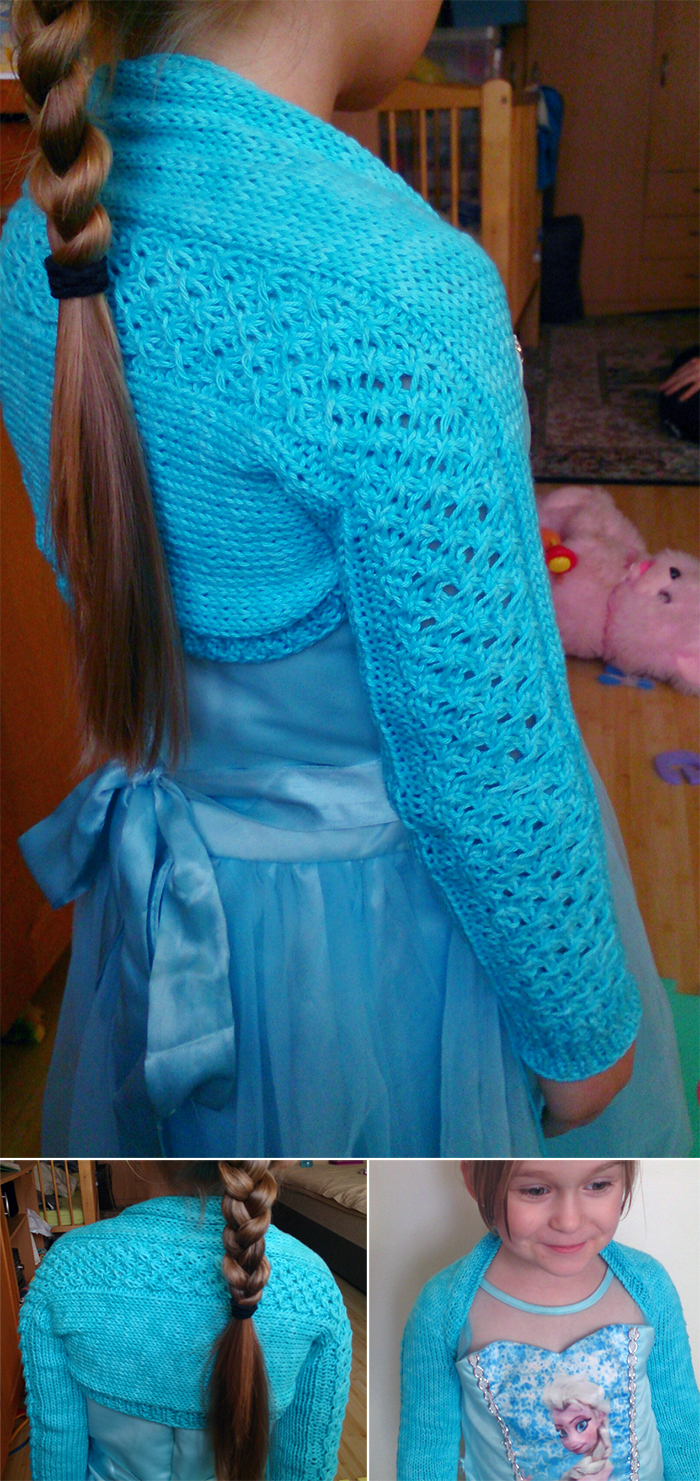 Daisy Lace Child's Bolero
This easy long-sleeved shrug features a band of daisy stitch along sleeves and back. Sport weight yarn. Designed by Kirsti Ummelas. Available in English and Estonian.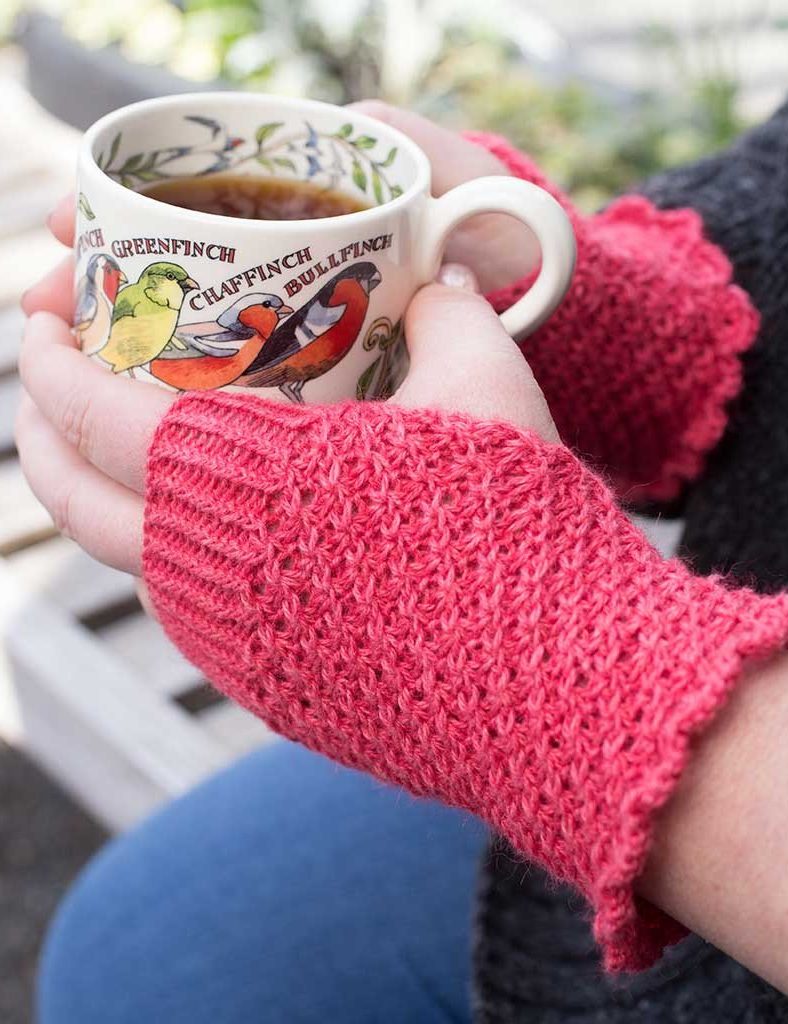 Daisy Stitch Fingerless Gloves
These fingerless mitts are knit flat and seamed, starting with a knit scalloped edge, continuing with daisy stitch, and finishing with twisted rib stitch. 2 sizes. Designed by Churchmouse Yarns and Teas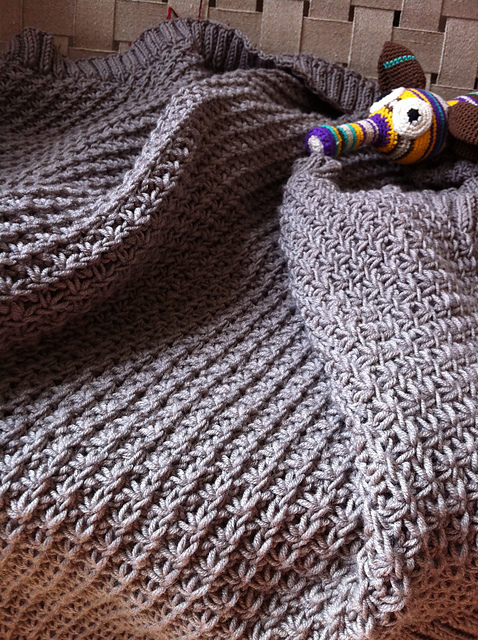 Daisy Stitch Baby Blanket
Marie-Louise Hauge designed this sweet all-over pattern.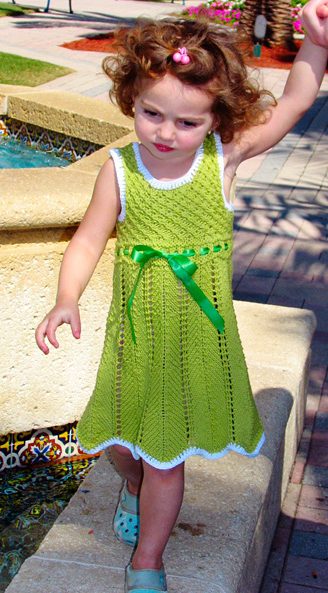 Elenka
Inna Aleksandrova's lace toddler dress features a ripple lace skirt with a daisy stitch bodice and eyelet waist for ribbon. Sizes 2T[3T, 4T, 5T] (shown in size 3T)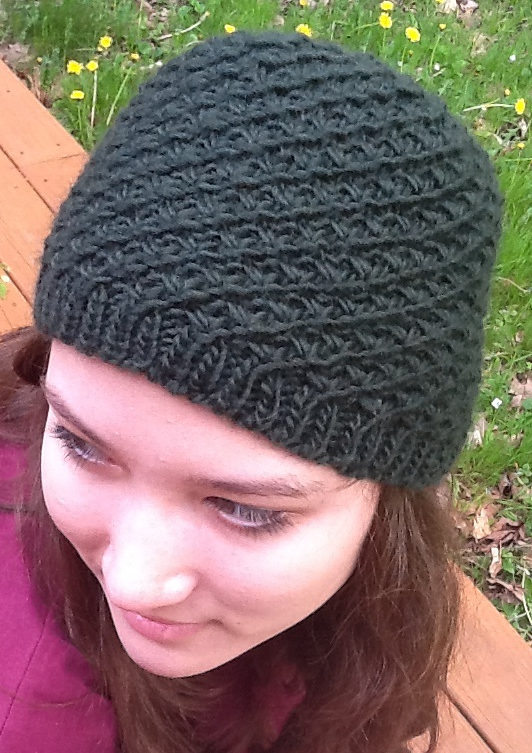 Godric's Hollow Hat
Star stitch (or daisy stitch) forms a swirling design inspired by the hat Hermione Granger wears in Harry Potter and the Deathly Hallows Part 1 during the Godric's Hollow scene. Designed by Rebecca Beam. Pictured project by JustineLark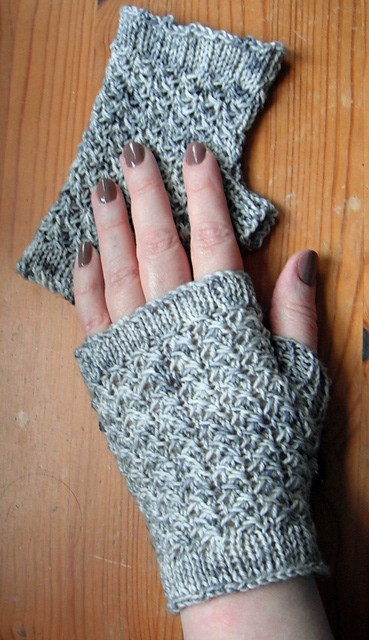 Arya's Gauntlets
These fingerless mitts were designed by Julie Coburn with modified star stitch to resemble chain mail. Pictured project by Euchronia
Patterns for Purchase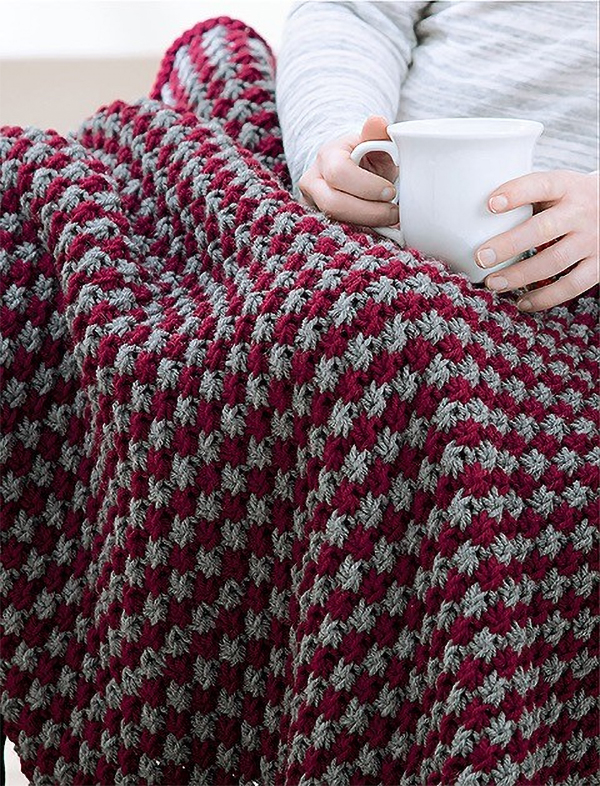 Make in a Weekend Daisy Stitch Throw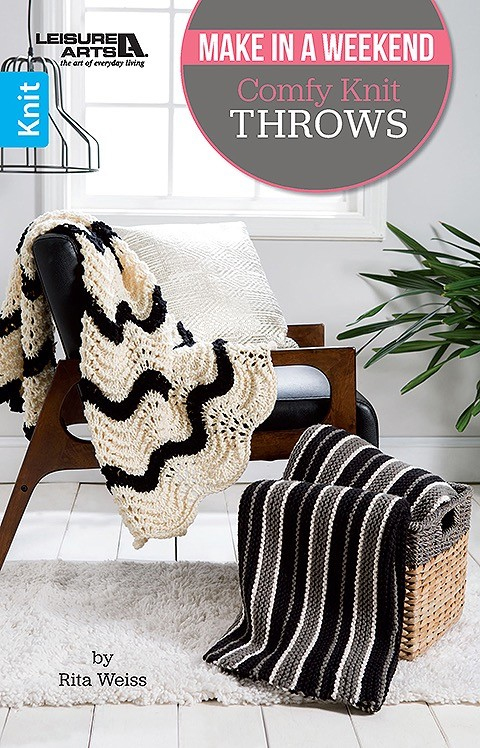 Scarf knit with cluster daisy stitch with option ruffle. Quick blanket knit with 2 color star or daisy stitch. Designed by Rita Weiss. One of the 10 patterns in the book Make in a Weekend Comfy Knit Throws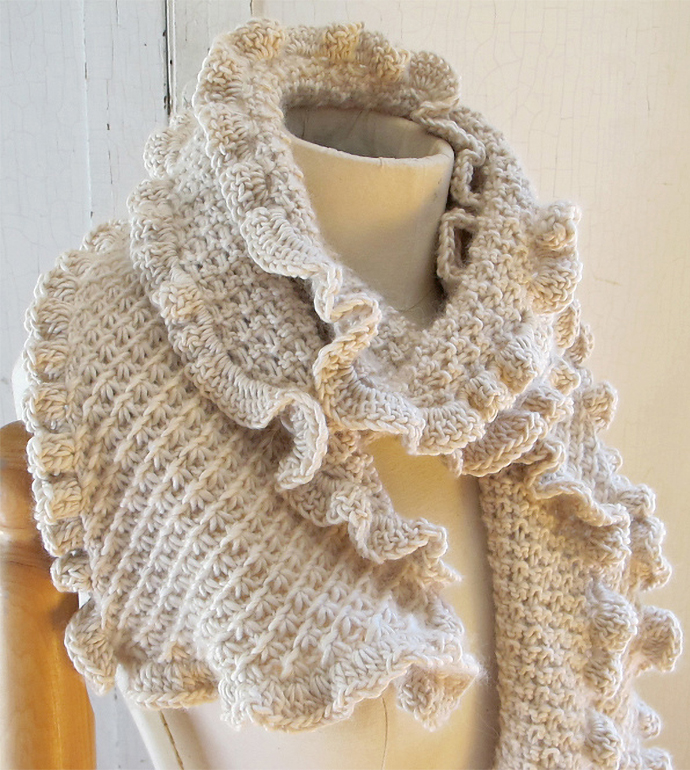 Ruffle Scarf
Scarf knit with cluster daisy stitch with option ruffle. Designed by Jess Wrobel. Worsted weight yarn.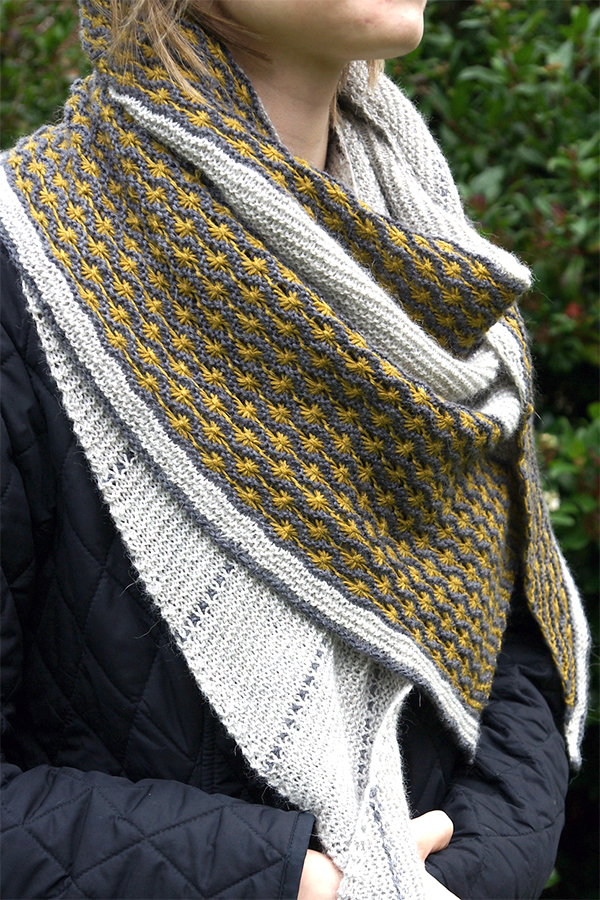 Picking Daisies Shawl
Asymmetrical triangle shawl knit with daisy stitch, slip stitch, and garter stitch. Fingering weight yarn. Designed by Melanie Berg. Pictured project by fruitbat who created a video on how to knit the daisy stitch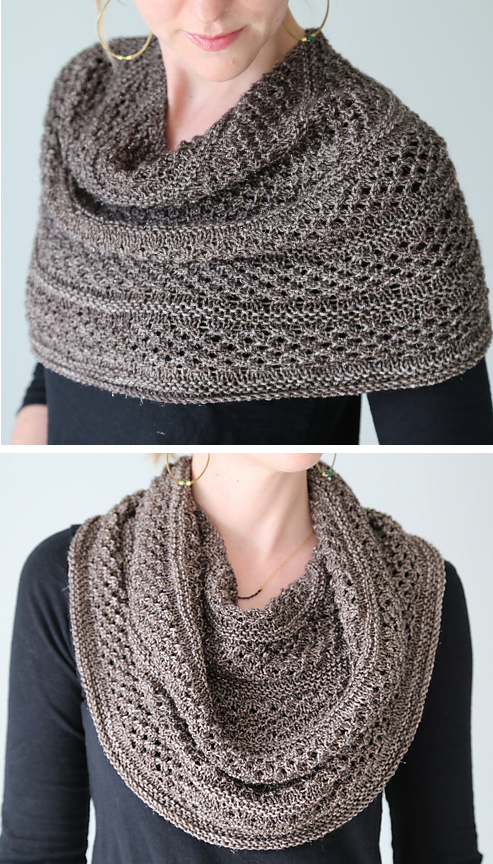 Starshower Cowl
This wrap can be worn as cowl, shoulder cozy, or shawl. Knit in star stitch that showcases variegated sock yarn. Designed by Hilary Smith Callis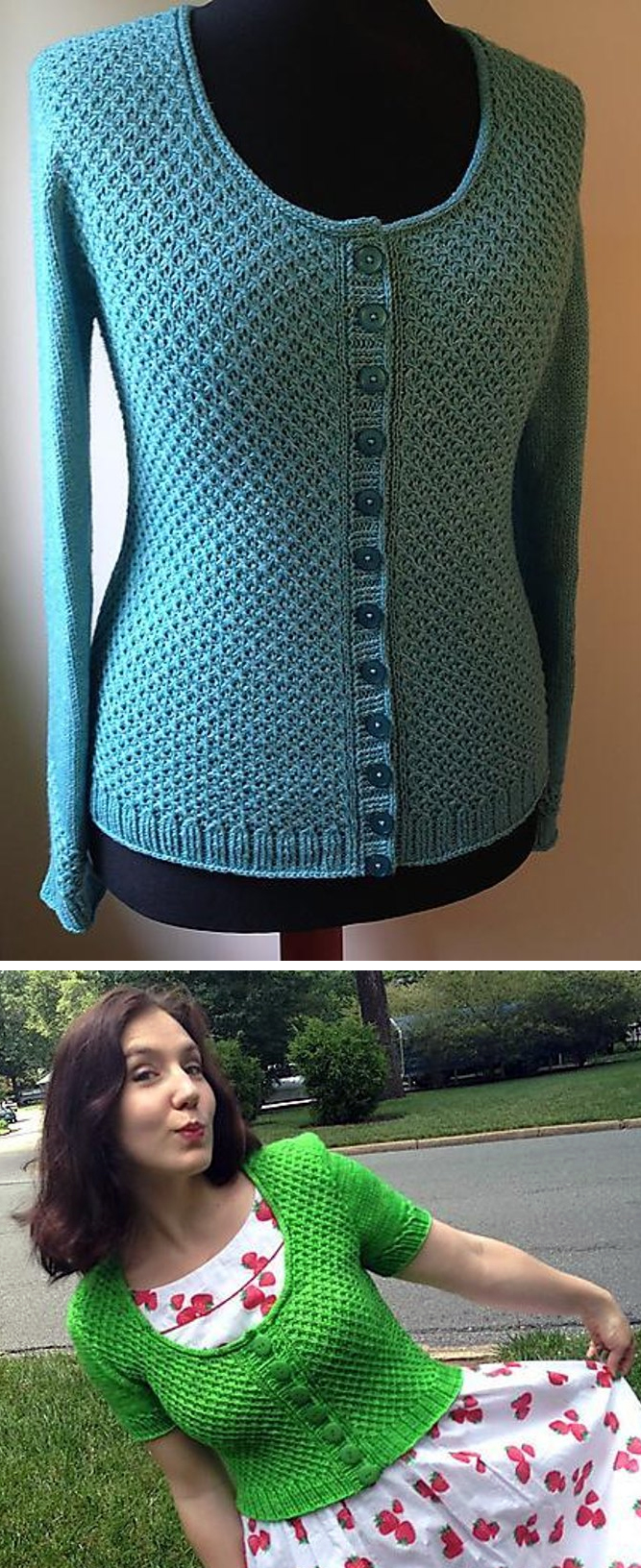 Daisy Stitch Cardigan
Spring is Pink sweater uses the daisy stitch to create diagonal lines of texture. Choose your favorite look: cropped or long cardigan with short, medium or long sleeves. Sizes 29 (32, 34, 36, 38, 40/42, 44/46, 48/50)". Designed by Hanna Maciejewska.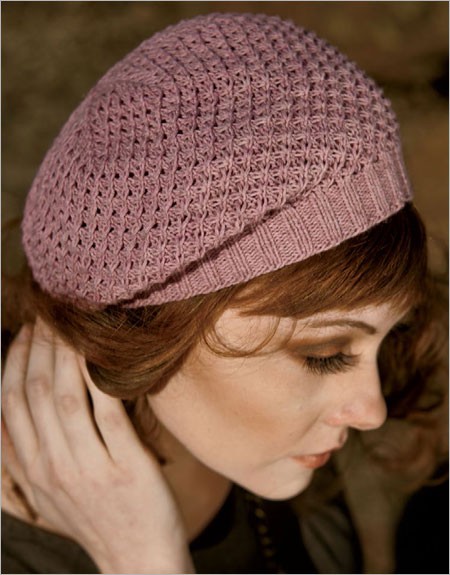 Aotearoa Beret
An all-over star stitch pattern makes this slouchy beret easy but unique. Designed by Mary Formo. Fingering weight yarn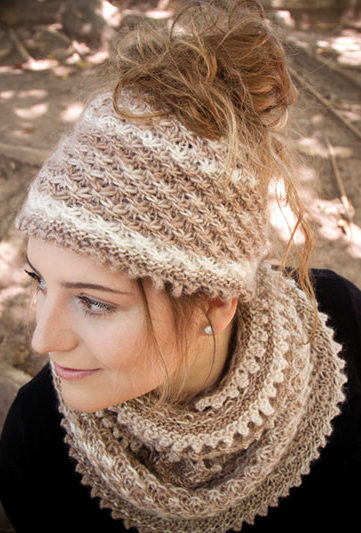 Autumn Dust Messy Bun Hat & Cowl
This set is knit with the dandelion or star stitch, and the cowl is long enough to wrap twice around your neck. Sizes S (M, L)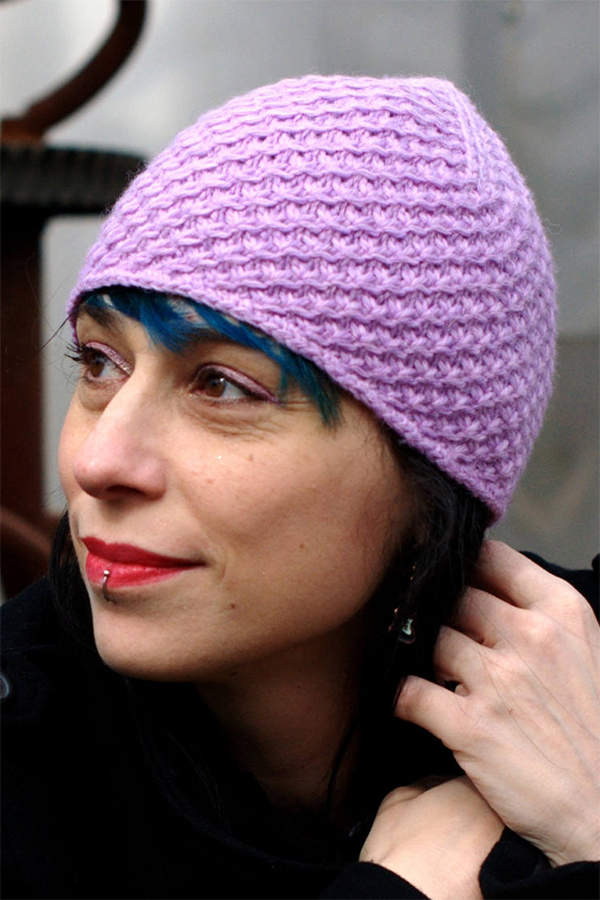 Star Beanie Hat
Knit with a classic star stitch adapted for knitting in the round that creates a spiral effect. 4 sizes. Designed by WoollyWormheadHats.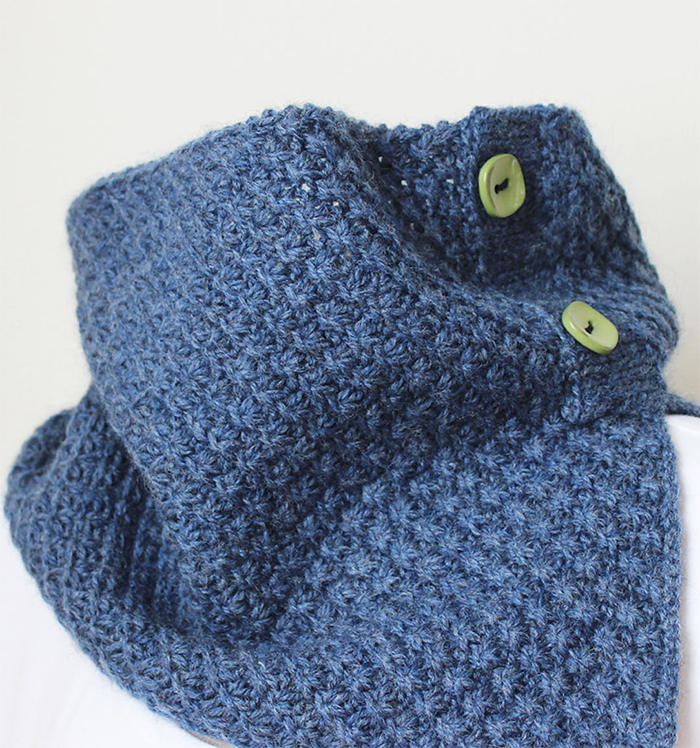 Little Daisies Cowl
Neckwarmer knit with a textured daisy stitch. Designed by Monique Gascon. Worsted weight yarn.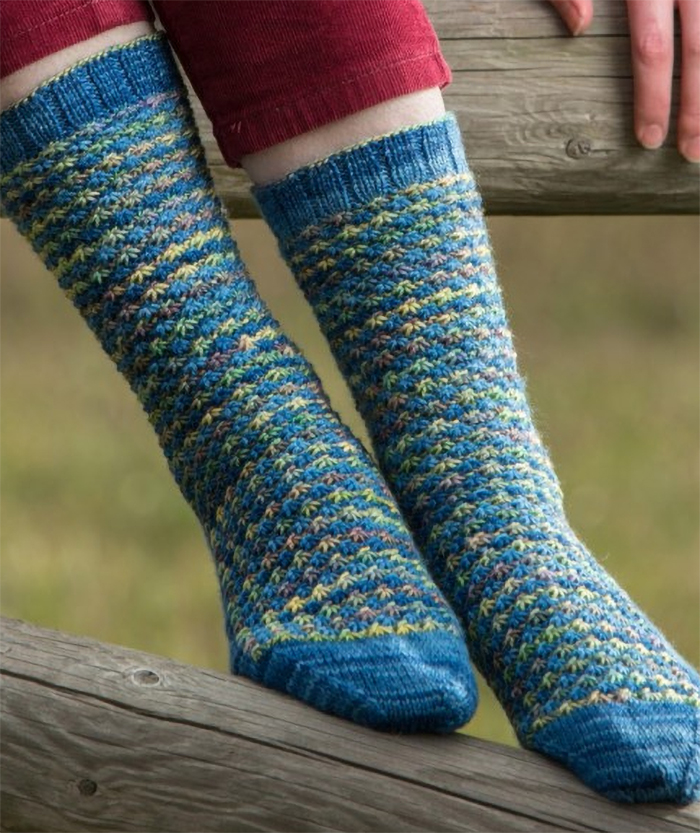 Daisy Field Socks
These daisy stitch socks look great with variegated yarn. Sizes 7½ (8½, 9¼)" (19 [21.5, 23.5] cm) foot circumference. Designed by Maria Leigh. Fingering weight yarn.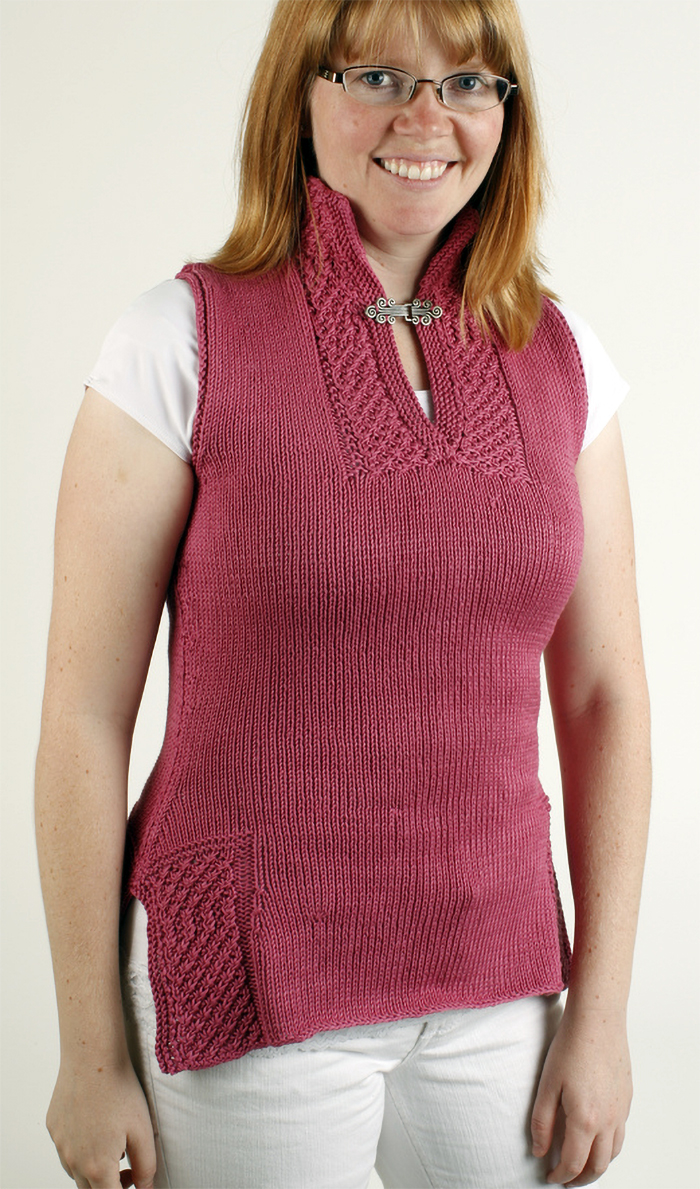 Daisy-Stitch Tunic
This knitted tank is worked in two pieces, then seamed together. A cluster stitch pattern adorns side slits and the Mandarin-style neck placket and collar. Waist shaping in this tunic creates a fitted look. Sizes 33, 36, 38 1/2, 41 1/2, 44, 48" bust circumference. Designed by Jean Suzuki. Worsted weight yarn. Pictured project by trex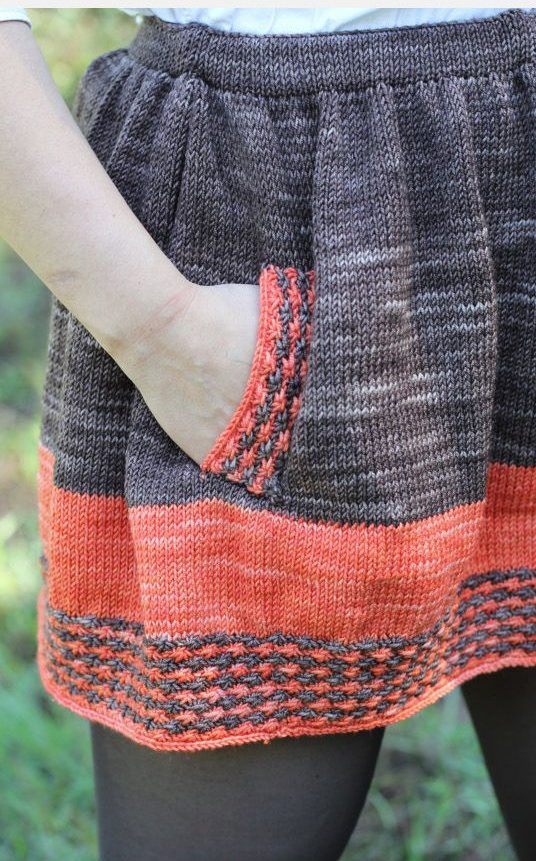 New Girl Skirt
Inspired by the style of Zooey Deschanel's character Jess on New Girl. Circle skirt features an elastic band, pockets, stripes and daisy stitch. Finished Size 29 (31, 35, 39, 43, 47, 50) waist measurement.